Top 10 Weirdest Shoes Found Around The World
Some people love to wear shoes that can make them feel comfortable; others make sure that they match their outfits, while another group goes for footwear that really makes them stand out. Well, if you find yourself in the latter category, then this article is going to fit you like a glove. Below, we have a list with the most bizarre shoes you'll ever see that will make you stand out. Let's start shopping!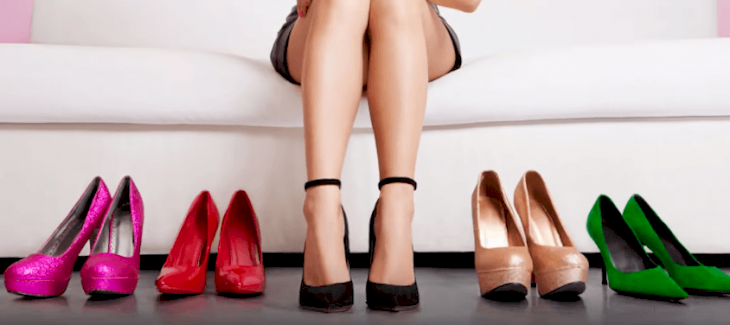 1.  Gun hoof shoes
When you're keen on both taxidermy and weapons, the result is the shoe style that we have for you below. These eccentric boots are the creation of Iris Schieferstein, who is a sculptor, artist, and 'fashion taxidermist' that has been working with dead animals as the raw material for her masterpieces for more than twelve years.
Iris claimed that she is a fan of the way horses move, so she decided to use that as a muse for the shoes. However, she does not limit to the equine; her polemic work also includes doves and snakes. So no wonder why Lady Gaga likes this designer so much. If you loved her art, be ready to pay the staggering amount of $5,000.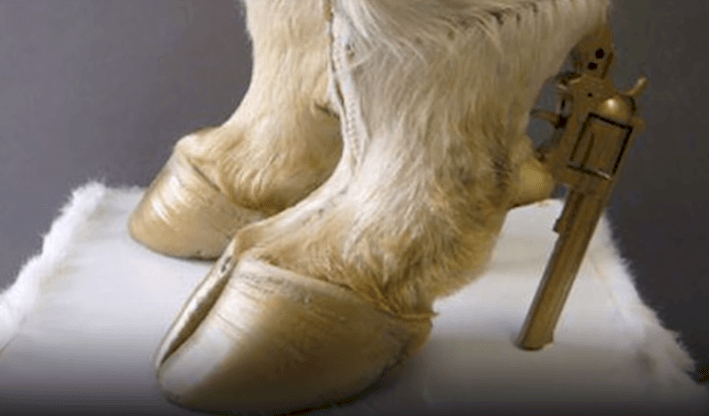 2. Fish shoes
If your ethical values do not allow you to wear taxidermied products, then this model that we bring you could be an excellent option to use animals on your feet. The trendy fish shoes are made of environmentally friendly rubber material that is waterproof and wear-resistant. 
They remind us about the rage a few decades ago of those Big Mouth Billy Basses, but we are not sure if they are linked. What we do know is that they are very comfy and perfect for indoor, outdoor, shower, beach, and even for a friend's party, and you can find them on Amazon for less than 23 bucks.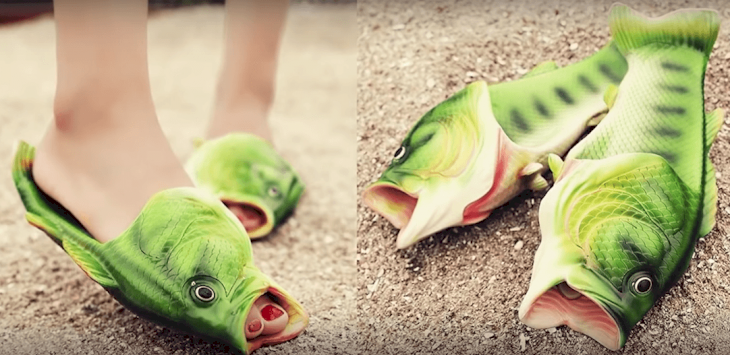 3. Invisible shoes
In this case, we do not refer to the transparent plastic high heels that were in vogue a few years ago. This footwear is perfect for those that are a little bit shy or ashamed of their feet since they promise to divert attention from them. The Brazilian designer Andreia Chaves invented them.
She worked in collaboration with the Amsterdam rapid prototyping studio called Freedom of Creation to print a series of these 3D pumps. They are very original, but one tiny problem for women is whether they reflect up their skirt. But don't worry! There is also another design without the mirrors to avoid any problem.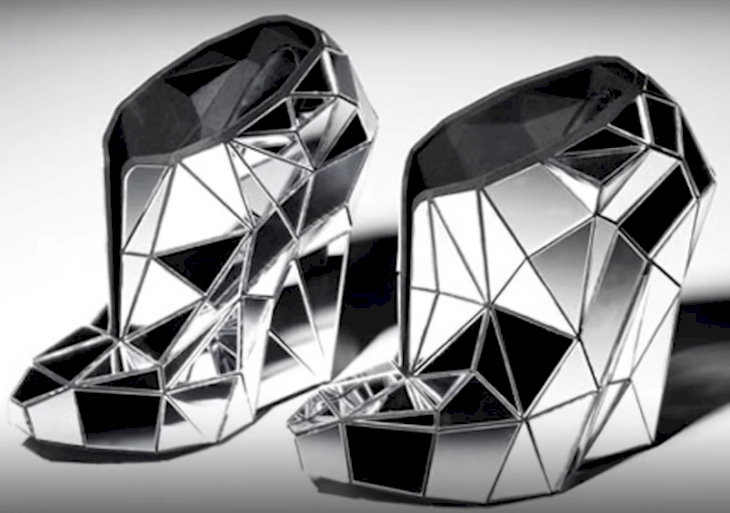 4. Goat hair slippers
The name Gucci evokes glamour and elegance to our minds, but maybe you're about to think differently when you see this creation of the Italian brand. We are not quite sure if they were inspired by a Shih Tzu dog, cousin It from the Addam 's family or Chewbacca from Star Wars, but they are out of control.
Gucci recommends matching them with floaty skirts and dresses or keeping it casual with a good pair of jeans. But for us, no matter what you wear, they will guarantee you the full attention of people. If you are ready for that, you also have to be willing to pay $1,800 for these slippers made of 100% goat hair.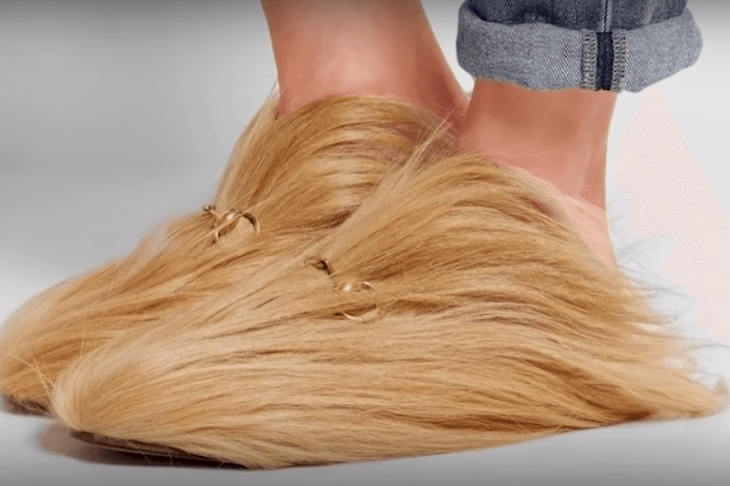 5. Pigeon shoes
People are freaking out over a Japanese shoemaker called Kyoto Ohata who created a pair of hilarious pigeon-type heels. The main reason for these shoes is to avoid scaring pigeons away when strolling down the sidewalk since we all have felt guilty when a flock of birds takes flight because of our presence.
So what is better than to disguise our presence with a pair of these? We are sure that our feathered friends will be more than grateful. A good thing? You don't have to pay much for these heels. What is even better is that if you are feeling crafty, you can make your own. There are tutorials on the Internet that are quite easy.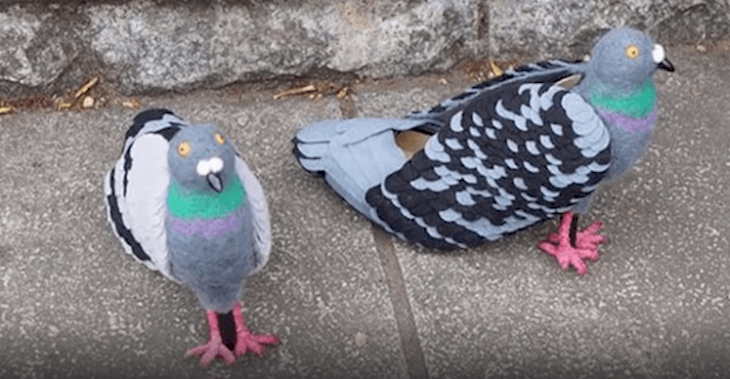 6. Selfie shoes
Have you ever struggled to get the perfect selfie? We know that carrying around a selfie stick is old-fashioned and tedious; thus, the ideal solution for you has already been thought: the selfie shoes. Get ready to put into practice all those yoga lessons because you are going to need them for these.
They come with a dock that tucks into the lengthened shoes for you to slide your smartphone in. Created by Miz Mooz, the selfie shoes were part of a simulated campaign for April's Fool Day, but who knows if the footwear brand is going to give it a try? We would definitely buy these handy high heels!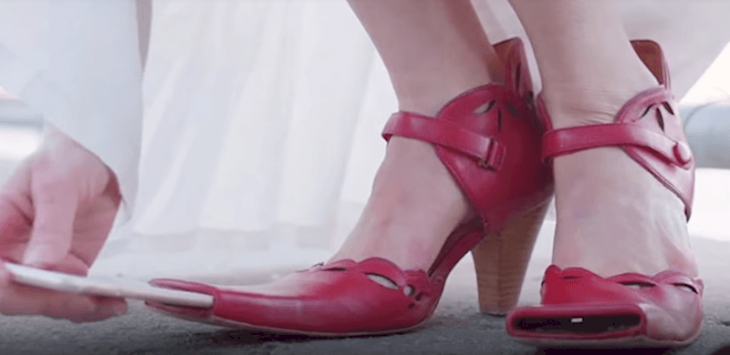 7. Ex shoes
Trying to get over your breakup? Some people deal with a broken heart through chocolate or ice-cream, a journal, or a dozen pairs of shoes inspired by all the exes you've had. The latter is the case of Sebastian Errazuriz, an artist and designer from Chile that works in NY. 
This guy created a collection representing each of his twelve past lovers and is called '12 shoes for 12 lovers.' We bet some of them can be very hard to wear, but it is intriguing to get to know the story behind each pair such as 'Ice Queen Sophie' or 'The Rock Alice.' Isn't it funny to try to guess their backgrounds?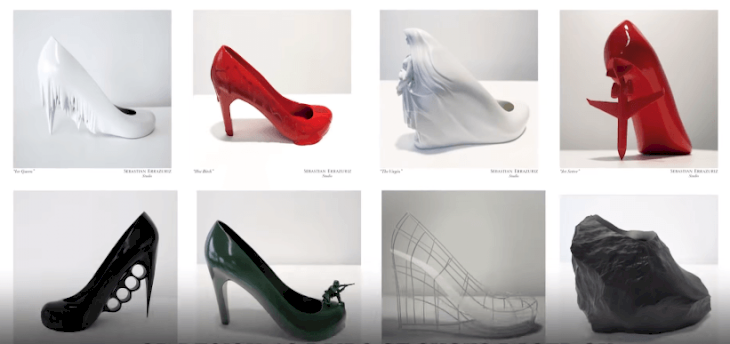 8. Ice blocks
Do you want to know how it feels to walk on ice without slipping or worrying that they will melt? United Nude designed the best but crazy shoes that resemble a block of ice. With 21 centimeters high, they were created with the use of a 3D printer and stitched leather to create the straps. 
Although this piece looks like sculptural art for your feet, we are unsure whether it is a good idea to use advanced technology for this. It cannot be easy to walk 21 centimeters above the ground, but they will definitely guarantee to turn heads.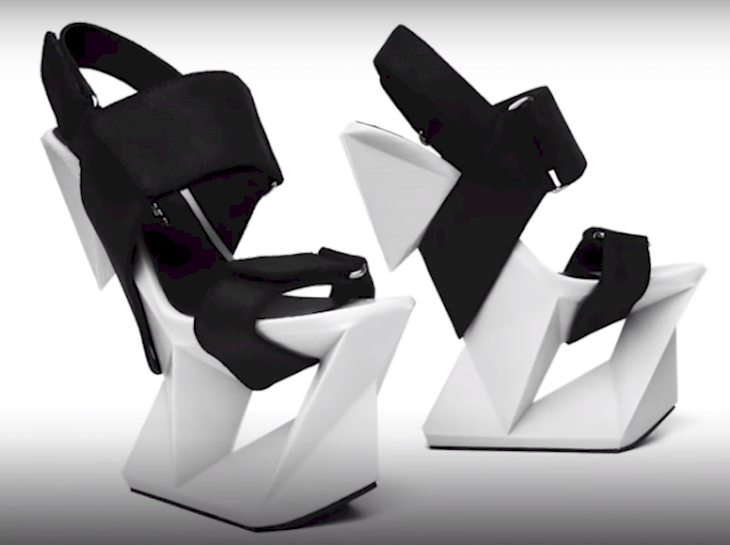 9. Hello Teddy
If you want a childish touch to your outfit, make sure you buy a pair of this stuffed-animal shoes by Etsy Seller. Only teddy bears were harmed in the manufacturing process. Don't worry about copycats because each pair is customized with hand-painted rainbows, clouds, and stars. Talking about one of a kind pair of shoes!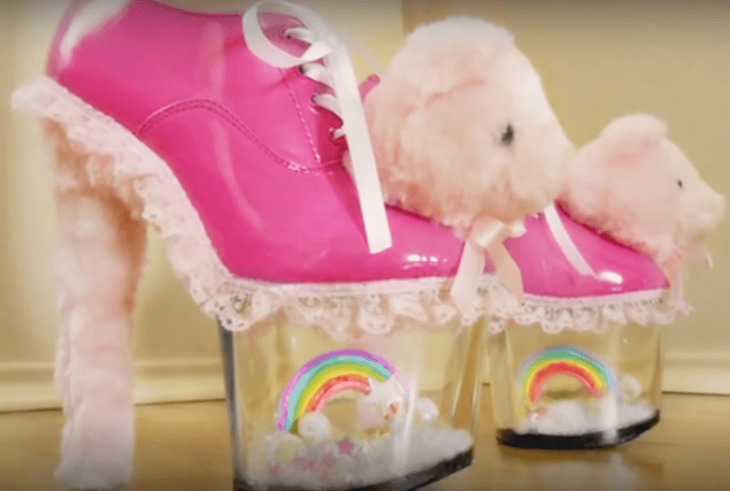 10. Octopus shoes
If Lady Gaga likes a footwear designer, he or she has to be both creative and bold, and those are precisely Kermit Tesoro's traits, to say the least. This shoemaker came up with the idea of octopus shoes while on vacation at the Munch Museum in Norway. He found out octopi were fascinating and decided to use them as his muse.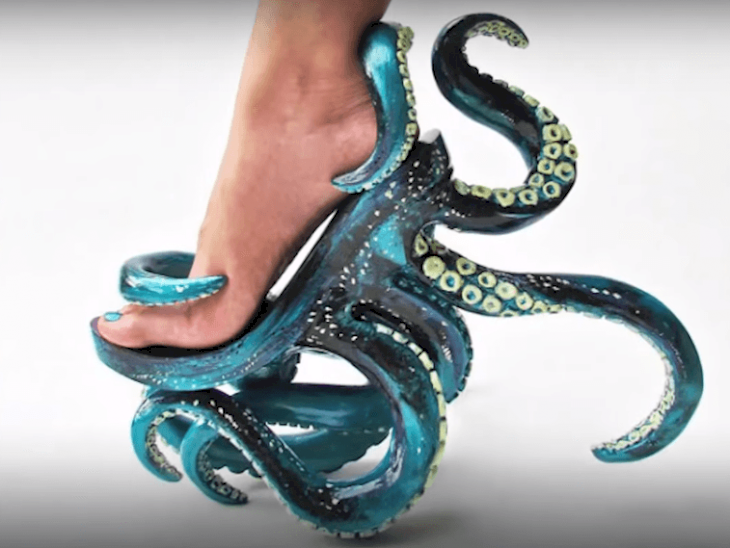 Which of these shoes did you think that were the most peculiar? Would you try a pair of those? Share your thoughts with us in the comment section below, and don't forget to take into account these creations for your next shoe shopping. Until next time!