Crucial Things That Marvel Fans Often Fail To Notice About Corvus Glaive
Fans of the Avengers movies will be glad to hear that we've discovered some interesting facts about Marvel's Avengers: Infinity War character, Corvus, the general in Thanos's Order. This movie packed loads of various aspects into one storyline, and some of us certainly didn't get the chance to grow with those performers. 
Naturally, there were a few that ended up being cut, and one of was a backstory about the ultimate villain, Thanos with his insidious Black Order. There are many things we never realized about this villain and today we take a more in-depth look into some surprising discoveries that may put your mind at ease. 
So, who exactly is Corvus Glaive? 
Corvus Glaive is a member of Thanos' Black Order. He was chosen for his skill in battle and tactical abilities in combat and because of this, being a significant advantage to Thanos, was selected to lead the Order. He is the husband of fellow order member, Proxima Midnight. His first mission in order to prove his worthiness and please his master was to attack Earth.
He struck the Jean Grey School for Higher Learning but was summoned when Ebony Maw found Thanos' son, Thane. Hyperion violently destroyed Corvus while Thane overpowered the group and froze both Thanos and Proxima in amber. Thankfully, Corvus had a mighty glaive, and he was able to revive himself and returned to a normal state.
He then sought Namor who freed Proxima and Thanos and requested that they form an alliance together and join his Cabal, and aiding him in the destruction of Earth. However, Namor soon found that he detested the tactics used by the Cabal and vowed to work with the Illuminati to defeat them instead.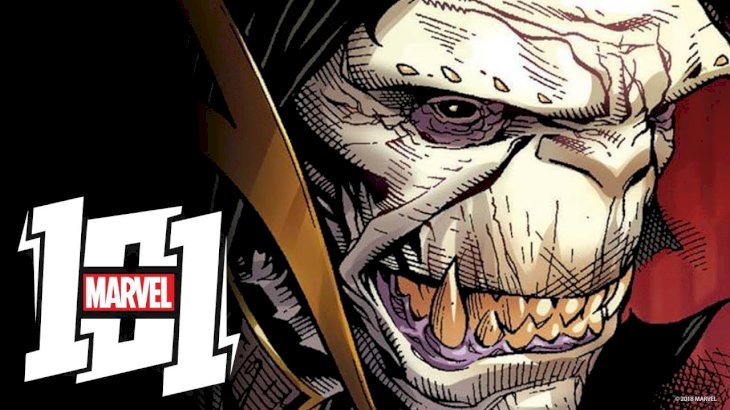 The ultimate betrayal
Namor was betrayed and ended up being stuck on a soon-to-be-destroyed planet, Earth. They all succeeded in escaping and vowed to get their revenge. Together, they crafted a "life raft" and managed to live beyond the destruction of all the universes. The Cabal ended up on Battleworld where they advanced to attack the locals.
However, God Emperor Doom scattered the group to the various corners of Battleworld, and both Corvus and Proxima were imprisoned by Apocalypse. By the time the mainstream Marvel Universe was rebuilt, he had managed to return to his own home and proceeded to make his own Black Order where he slowly built his army throughout the galaxy.
When Thanos returned, the two battled with Corvus' former master as the victor. He certainly didn't want his life to end by the hand of Thanos, so what he did was take pieces of his destroyed glaive and killed himself instead. Corvus was later resurrected when the Black Order reformed by Challenger.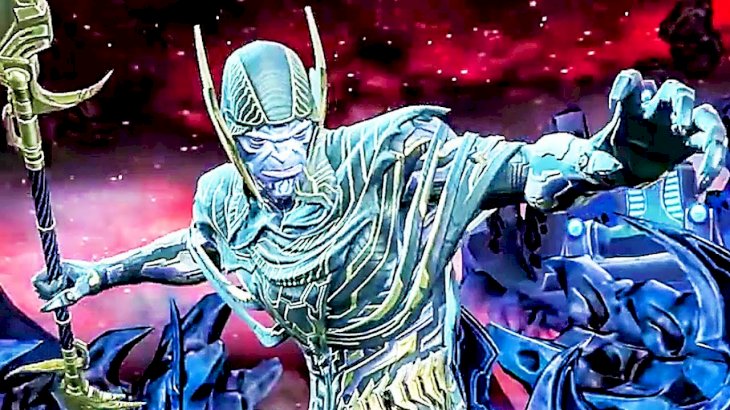 Now the group consisted of Black Swan, Ebony Maw, a psychic projection of Supergiant, a revived Proxima Midnight and Black Dwarf. The team faced off against an alien version of the Lethal Legion formed by Grandmaster in a contest where Earth was the battlefield. Rogue killed Corvus because he was enraged by the death of the Human Torch.
After their contest was over, somehow, Corvus once again turned up alive as he and the rest of the Black Order regrouped on the planet Angargal. They then received an offer they could not refuse by the Grandmaster.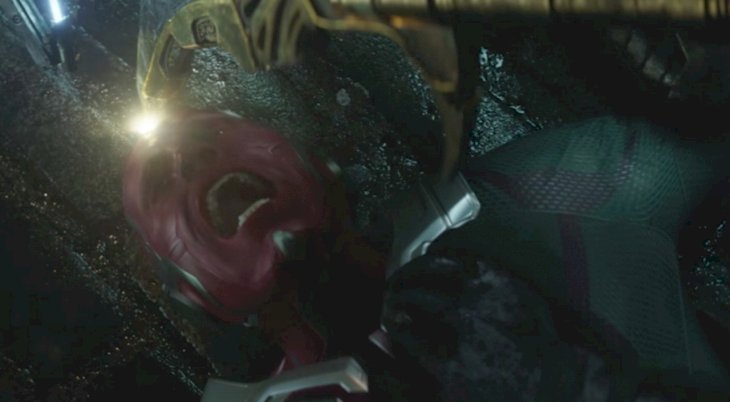 What powers does Corvus have?
Corvus possesses the standard characteristics of a super-powered being which includes super strength, speed, endurance, senses, and some invulnerability. His immortality stems from his weapon, a glaive, that when remaining in one piece allows him to survive practically anything, including being obliterated by Thanos. 
The glaive itself can slice through any known thing both animate or inanimate. Corvus also has the power to recall his weapon back to his hand when thrown with a gesture. It certainly looks like he is an all-powerful villain or powerful ally if on the side of good, but he does seem to rely solely on the glaive, don't you agree?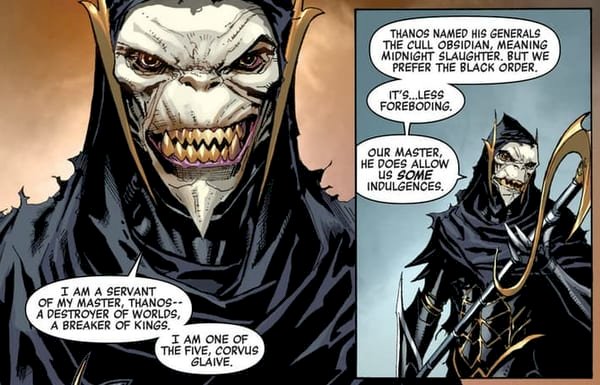 Corvus's role in the Avengers
Corvus Glaive appears in Avengers: Infinity War, voiced and motion-captured by Michael James Shaw. He and the Children of Thanos aid Thanos in obtaining the Infinity Stones. Glaive and Proxima Midnight are both sent to reclaim the Mind Stone from Vision. Soon, they do battle with Captain America, Black Widow, and The Falcon, and in ensuing Melee, he is beaten by Black Widow after a brutal encounter.
During the Battle of Wakanda, he appears to be missing, but when Scarlet Witch abandons Vision to go onto the battlefield, it is exposed that he was hiding in Shuri's lab from the very beginning because he was plotting to get the Mind Stone all along. He then ambushed Shuri but was badly injured by Vision who attacked him.
When Captain America finally showed up to help, he was almost incapacitated, but in the end, Vision impaled him in the back with his own glaive. That was indeed an action-packed scene with a bitter ending. We certainly never knew that such a powerful weapon could scratch the surface of someone like Vision.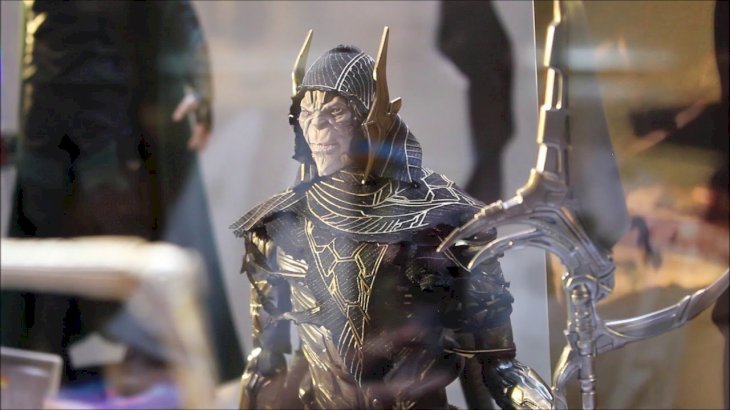 What we never knew before
For those of you who have followed all the Avengers movies, you'll agree that it was somewhat disappointing when we didn't get the chance to see all the outstanding members in the Black Order that were in the comic books. 
So, our main guy for the day is none other than Corvus Glaive, who is part of the original comics, a master general and an amazing strategist like all the other children he adopted. Well, not adopted really, more along the terms of kidnapping.
Unlike his siblings, Nebula and Gamora, Corvus remained loyal to Thanos all along and also has a special relationship with one of his fellow members of the Order as mentioned earlier, Proxima, even though the glaive was destroyed by Thanos.
So, we know that they are married, but according to the Russo brothers, this was something they wanted to delve into when it came to Infinity War. Sadly, they couldn't find the time to fit everything in but what they did do was assure the fans that their marriage is still going strong.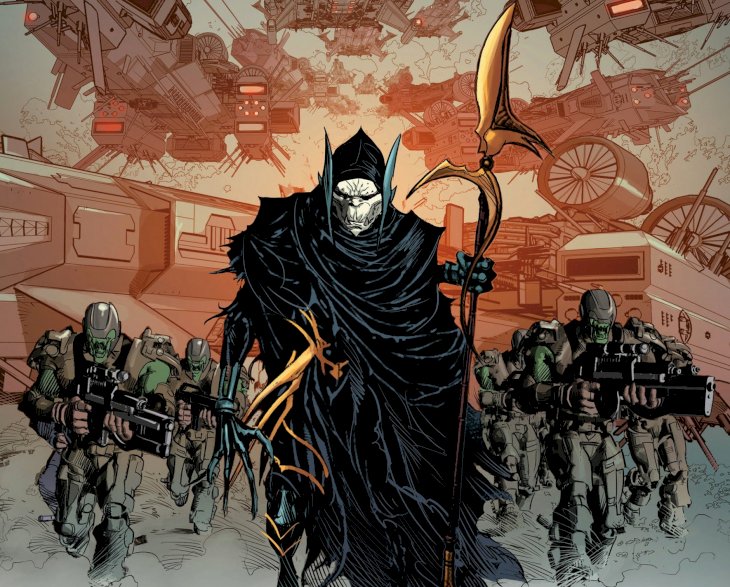 We saw this hinted in the movie when Proxima was extremely upset upon discovering that Corvus was wounded during the battle with Black Widow, and that was basically the only clue we got regarding their relationship. Now, more about the weapon we briefly touched on earlier as well, but this kind of stuff you can't just make up. 
If you remember Infinity War, you'll remember that there were many awesome weapons with superpowers like the Infinity Gauntlet who everyone would absolutely love to have at their disposal, not to forget Stormbreaker! The thing is, for those fans who have not read the comic books, they would not realize that the Glaive wielded by Corvus is actually one of the most potent weapons in the universe!
That's right! It is capable of splitting atoms, and as we mentioned above, it can destroy anything that is organic or inorganic. Nothing is safe from the power of this destructive weapon! In the comics, Corvus used this weapon to slice Hulk's skin, which is a task indeed. This weapon is incredibly dangerous, but that is not the only thing Corvus has in common with his glaive.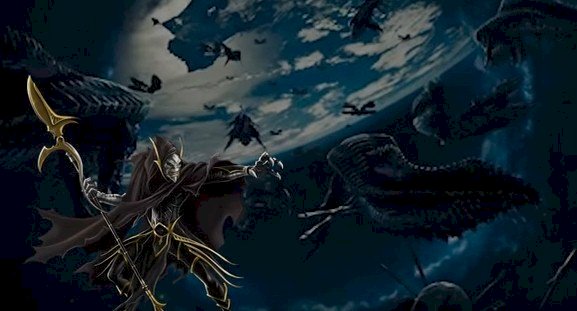 No matter what happens, if his weapon survives, so does he. Thus, the only way to destroy Corvus is to obliterate the glaive totally. If you compare that to the Infinity Gauntlet, that is pretty impressive. At the beginning of Infinity War, do you remember that even Thanos was so impressed by this weapon that he borrowed it when he boarded the Asgardian ship?
Corvus was using it in the beginning to take down the Asgardians and then handed it over to Thanos, who then killed the mighty Heimdall. We know there were a lot of things left out in this movie, but this seems to prove how mighty the glaive actually is. We know someone like Thanos doesn't need a weapon to take someone out like Loki, so that was a significant hint.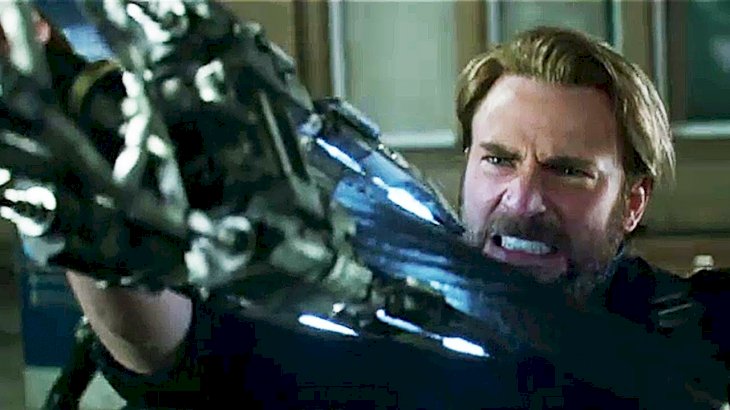 Remember when Corvus and Vision are fighting? Corvus pierces Vision's body with the glaive, and it works its magic, destroying his body bit by bit, and we know that Vision's body is made out of an ultra-strong vibranium substance. Corvus' Glaive even defected the supersonic waves from the energy blast from Shuri, so yes, the glaive is the ultimate weapon.
So, perhaps this weapon will come in handy when it comes to killing those villains that never cease to die. In the right hands, the glaive could actually do some good. Let's hope the good guys get hold of this weapon and use it to save the universe once and for all! After all this information we really can't wait to see the next addition to the movie and watch who battles who and which weapons they will use to defeat the villains.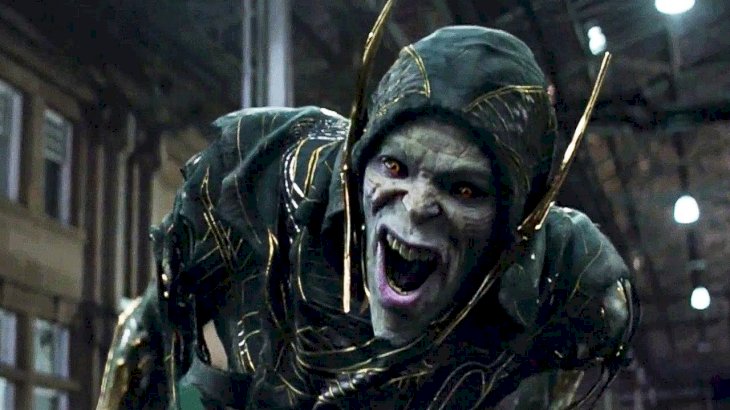 Wow, that was super informative, and we actually love that glaive! What did you think about this powerful weapon and what do you think will happen with it and Corvus in the future? Tell us what your thoughts are in the comments section below. Remember to share this with your MCU-loving friends and family and keep up-to-date with us for more Marvel-ous articles! 
Source: Youtube/CBR, Wikipedia
Check out these popular articles as well: