Dog The Bounty Hunter Reveals The Hot Nickname He's Got For Beth
66-year old American bounty hunter and a former bail bondsman, Duane Lee "Dog" Chapman and his wife, Beth Smith are such an adorable couple. Following Beth's battle with cancer and their upcoming new TV series, Duane has opened up on Beth's health struggles and how it has affected their love. Duane poured out his heart about their audacious story and here is all we know about it.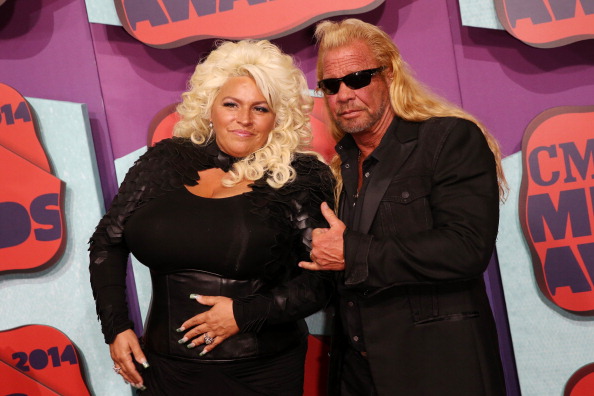 BETH'S FIGHT WITH CANCER
In November 2018, Beth was diagnosed with stage four throat cancer, after having dealt with stage two in 2017 and going for a 13-hour surgery to remove a tumor from her neck. After the discovery that the tumor was back, she was immediately rushed into surgery to remove the life-threatening blockage in her throat. She has since been in the hospital receiving several treatments.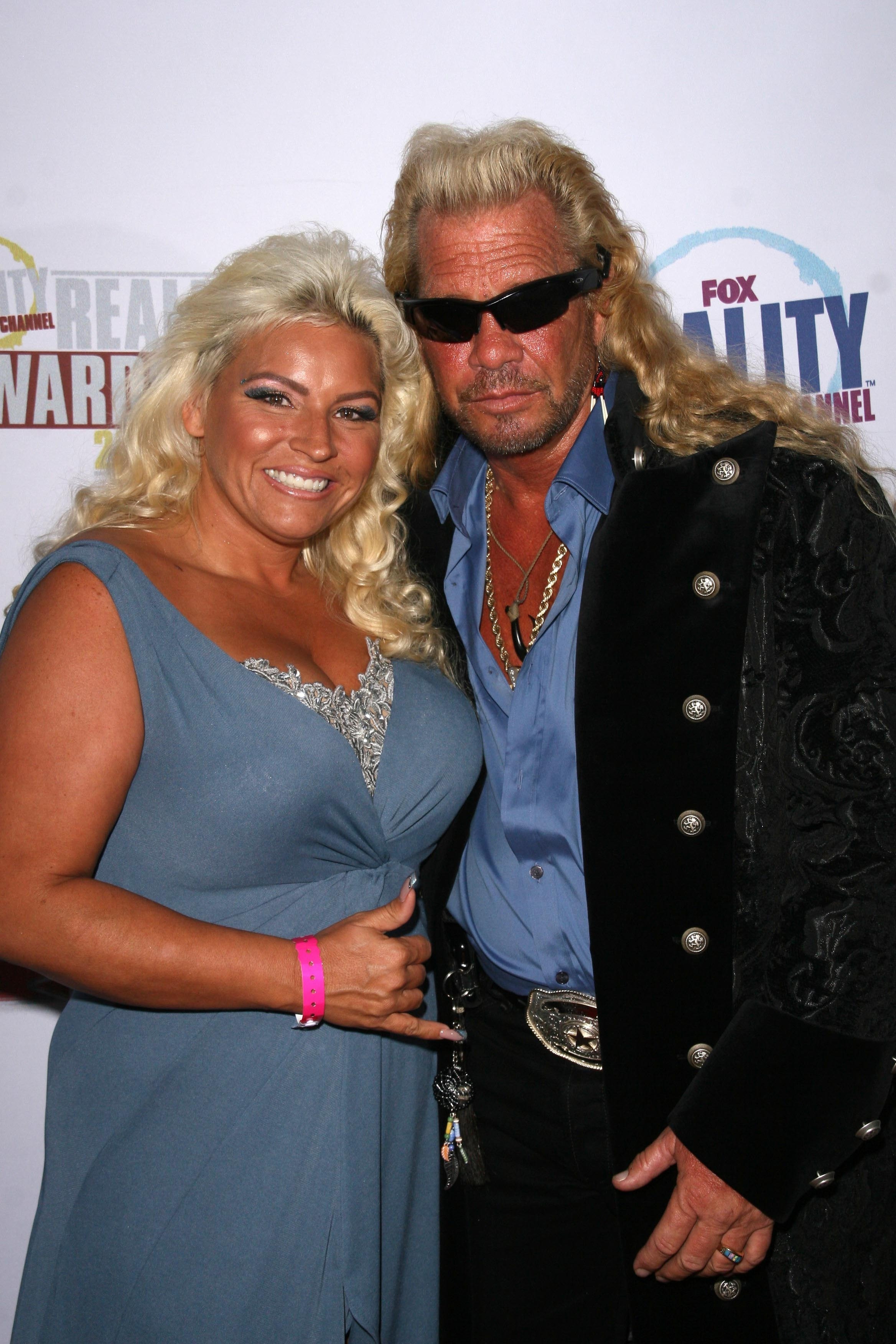 DUANE'S UNFLINCHING SUPPORT FOR BETH
Beth's health issue must have been hard on the couple and their family, but Duane has been a strong support for his wife. On November 29, Beth shared a photo of her lying in a hospital bed with Duane next to her; she captioned the photo:
"Another bend in the Road yet not the End of the Road."
While speaking to Holywood Life, Duane shared an update on his wife's health after she was diagnosed with stage four cancer last year. He explained while trying to hold back tears:
"The other day she said to me, 'I'm not sure, but I could be dying.' She said, 'I want you to look where I'm at. I'm on the road, chasing bad guys with my family, Duane.' You know, when we're out there chasing bad guys we don't think about it. It's not even real."
Duane also spoke about his frustration with conventional treatment and revealed that Beth wouldn't be subscribing to it, even though she began chemotherapy in January, as reported by TMZ. He said:
"They don't work. They don't work! There's nothing, they've got nothing. They've got a bill to send you. It's a multi-trillion dollar industry, cancer, and they lie to you. Watch, someday they're going to get sentenced. It's criminal what they do."
BETH IS "FEELING FINE"
Duane revealed that Beth is "feeling fine,"  and we are so glad about the news. He also spoke about how strong she has been for the filming of their upcoming show. The bounty hunter said:
"Listen, we filmed 16 hours straight the other day and caught the guy. And I go, 'Baby, baby, you feel okay?' And Beth goes, 'Yeah, and we better catch this guy!' I asked if she wanted to take a break and she responded, 'Is the guy in custody yet?' And I'm like, 'Oh my God, she's nuts!' She's always been a hard worker. I'm a kicked back, easy guy. She is like, 'Get up, get ready; we got to go, this and that.' Same exact woman right now. Same exact everything."
ADORABLE AND SEXY PET NAME GIVEN TO DUANE BY BETH
Although Duane and Beth have been married for 13 years and been together for nearly three decades, they still have pet names for each other. Duane gushed about his wife.
"She don't say to me, 'I love you, honey.' She goes, 'I'm in love with you, Big Daddy,' I told her to call me Dog, and she goes, 'I'll never do that!' I said, please say, 'I'm in love with you, Doggy!' She's like, 'I'm not doing that!'"
Well, sexy monikers are not the only thing they share, Duane also revealed other nicknames Beth had given him. While explaining why Beth has resolved to non-conventional cancer treatment, he said:
"Oh man, this one doctor was bawling, and I thought, 'You son of a b***h, you ain't even met her. How are you crying so easy?' I can't even do that on the show, and I cry easy. I'm half Apache. Beth jokes that I'm the Cry Baby Bounty Hunter. I swear. She joked that the name of the show should be the Bawl Baby Bounty Hunter."
DUANE'S INTENSE LOVE FOR BETH
True love surely exists! Duane disclosed that he fell in love with his wife "all over again" throughout the process of her fight against cancer.
"I've always loved her, but I told her the other day, 'Honey, I fell in love with you again. I love you more right now than I ever have.' If you don't really love the person, if you're not really in love with them and you're afraid to say that, you go, 'Love you too.' And as a human, you love them. But when you say, 'I'm in love with you.' See the difference? We've been together for almost 30 years. I don't know anybody but her, really."
He also revealed how he is trying his best to keep her happy and how he is not willing to give up on her.
"We just took off a couple of days ago to do a three-week shoot, and the first thing I thought about was, 'Oh my God, my honey's got cancer!' So I've got to keep her busy. I'm sure that's scriptural somewhere. I've got to keep her busy and off her mind and all the positive things, and I'm not going to let her die.

I'm Chiricahua [a Native American tribe], and I believe in G-O-D. That is my name spelled backward, and I've never had such a challenge in my life. I am there for her, and I'm not going to let her die."
THE NEW REALITY SHOW
While everyone is talking about Beth Chapman's battle with stage 4 throat cancer, her husband Duane "Dog" Chapman revealed that they are being optimistic and giving full attention to their new TV show. The couple is currently filming their upcoming series, 'Dog's Most Wanted for WGN.' First, the 66-year old disclosed how much of the couple's personal space would be aired on the show.
"Well, the bedroom is off limits," Duane laughed. "So far we're so busy catching the bad guy. The show is our first focus. This is what we do and what we've done every day."
Duane also explained how he and Beth's new show, 'Dog's Most Wanted' is different from their former A&E series -'Dog the Bounty Hunter' which ran for eight seasons.
"Well, we are still bounty hunters. So we used to go after bail jumpers in Hawaii, and now we're after the top 10 in the U.S. Marshal, top 20 in the Marshals' Realm, and some FBI. So the ones that if you take them off the streets, the streets are safer.

Beth is crazy, and she wanted to take them out. She'd love to take out the cream of the crop, and she's right. It makes you feel so much better to get a guy that's wanted for beating up women instead of the guy that wrote bad prescriptions, you know?"
WHAT ELSE TO EXPECT FROM THE SHOW
It looks like fans will be in for a surprise when they see the level "Dog" and his team have to go to take down the bad guys. He also revealed:
"WGN America ordered 10 shows, and I promise these guys don't go down like they used to. You've got to shoot them, you've got to taze them. We don't use lethal weapons. You've got to take them down. They just don't come down."
DUANE'S LATEST VENTURE
Recently, Duane announced a new partnership with FL-based addiction experts, Treatment Alternatives (TA) Boca Raton. Duane explained why he took on the collaboration and why the company is essential to everyone.
"Narcotic overdoses, just last week, took over the number one killer in America. Yours and my life expectancy has gone down two years because of the guys that do dope. So somebody's got to stop it."
Boca Raton also revealed in a statement they released:
"By teaming up with TA, Dog continues his mission to help those suffering from addiction find the help they so desperately need."
Going through serious health issues like cancer can be very traumatic, hence the need to have firm support from loved ones and friends. We are glad that Beth isn't alone in her struggle, even though Doctors gave her a 50-50 survival chance, her husband has vowed that he would keep her alive. What do you think about the inspiring story of "Dog" and his wife? Are you anticipating the arrival of their new show? Let us know in the comment! Share this article with friends to inspire and brighten up their day.
Source: Hollywood Life, TMZ, Hollywood Life
Get More Amazing And Related Articles Here: