Meghan Markle's baby name causes a heated debate on the Internet between two sides of the Atlantic ocean.
Just as promised, the Duke and Duchess of Sussex have announced Baby Sussex's name just a few days after being born! Let's welcome little baby Archie Harrison Mountbatten-Windsor to the world. Yes, we know - we're just as surprised too. Archie wasn't on the name of expected name choices. Most people were betting on favorites such as Alexander, Arthur, and Albert. So, what gives? Let's find out!
Managing editor of Majesty royal magazine, Joe Little, commented on the topic: "I don't think anyone of us saw either of these names coming." As far as he is aware, Archie does not have any British royal connotations - and Harrison is a totally new name for the Royal Family. Plus, Harrison is a totally new name for the Royal Family as well. So, what's the explanation behind Harry and Meghan's unusual choice?
THE MEANING BEHIND THE NAME
When we look at the meaning behind the name, Archie makes more sense as a choice for a royal boy. Archie means "genuine", "bold" or "brave." Even though it might seem strange to the US public, it's actually a popular name in Britain. At least, compared to the United States. The full name originally was Archibald, but it's now been shortened and used more often.
Looking at statistics, Archie ranks 18th on the most popular boy's name list in England and Wales in 2017. In fact, 2,803 baby boys were named Archie that year and its stayed in the top 50 consistently ever since 2003. Harrison, however, ranks more popular compared to Archie in the US. Although it's still found more common throughout the UK, coming in 34th place as the most popular boy's name in 2017. And this is where it gets even more interesting - which might explain the couple's choice. The name Harrison was originally used as a surname, meaning "son of Harry." Of course, this is rather fitting in the Sussex's case!
Mr. Little said:
"It may well be it's a name that Meghan is familiar with and again that's why they are using it. Archie has a British feel to it, whereas Harrison is more of an American name. The first Harrison that springs to mind is Harrison Ford. They have wanted to do something a little bit different, and they have done."
TRIBUTES AND COURTESY TITLES
Some had wondered whether either of the new baby's grandfathers' or great-grandfathers' names might appear like a middle name - either Philip or Charles on the royal side or Thomas on Meghan's.
Many people made assumptions that the new baby's grandfathers' or great-grandfathers' name would be incorporated into their title as a middle name - either Philip or Charles from the royal side or Thomas from Meghan's. It was also widely believed that the Duke and Duchess might somehow pay tribute to Prince Harry's late mother, Princess Diana, by giving the boy a male version of the Princess' name. But, as Mr. Little said, "Again, it's down to the parents. It's their choice."
When it comes to a courtesy title, Harry and Meghan have also chosen to opt their son out of the option. Since Archie has become the first-born son of a duke, it was expected that he would assume the title of Earl of Dumbarton. But his parents have chosen to do otherwise. Instead, Baby Sussex will simply be known as Master Archie.
Royal commentator Richard Fitzwilliams added to the topic, praising the couple on their choice. Fitzwilliams applauded them by saying that Harry and Meghan have demonstrated individuality by choosing non-traditional royal names and that it was "marvelous" and would "rejuvenate the monarchy."
"It's a unique choice, by a unique couple who are doing things in a unique way," he said, adding: "We are talking about brand Sussex, which is an international brand."
A NAME THAT'S PREDICTED TO RISE IN POPULARITY
Even though the royal couple has been known to stir some controversy here and there, they're actually not the first ones to give a British royal baby a name that is not traditionally royal. If we rewind a little bit to the Queen's first granddaughter, the royal was named Zara Phillips. And the choice apparently "caused quite a sensation" after it was announced, according to Mr. Little.
Now, let's take a look at some famous Archies. There were a couple of popular figures that came to everyone's minds as soon as the name was announced. For one, many people instantly associated the name choice with Archie Andrews from the Archie comics in America, as well as the Netflix show 'Riverdale.' A couple of other famous figures include Archie Panjabi, who starred in 'The Good Wife', and Archie Mitchell, a villain the BBC soap 'EastEnders.'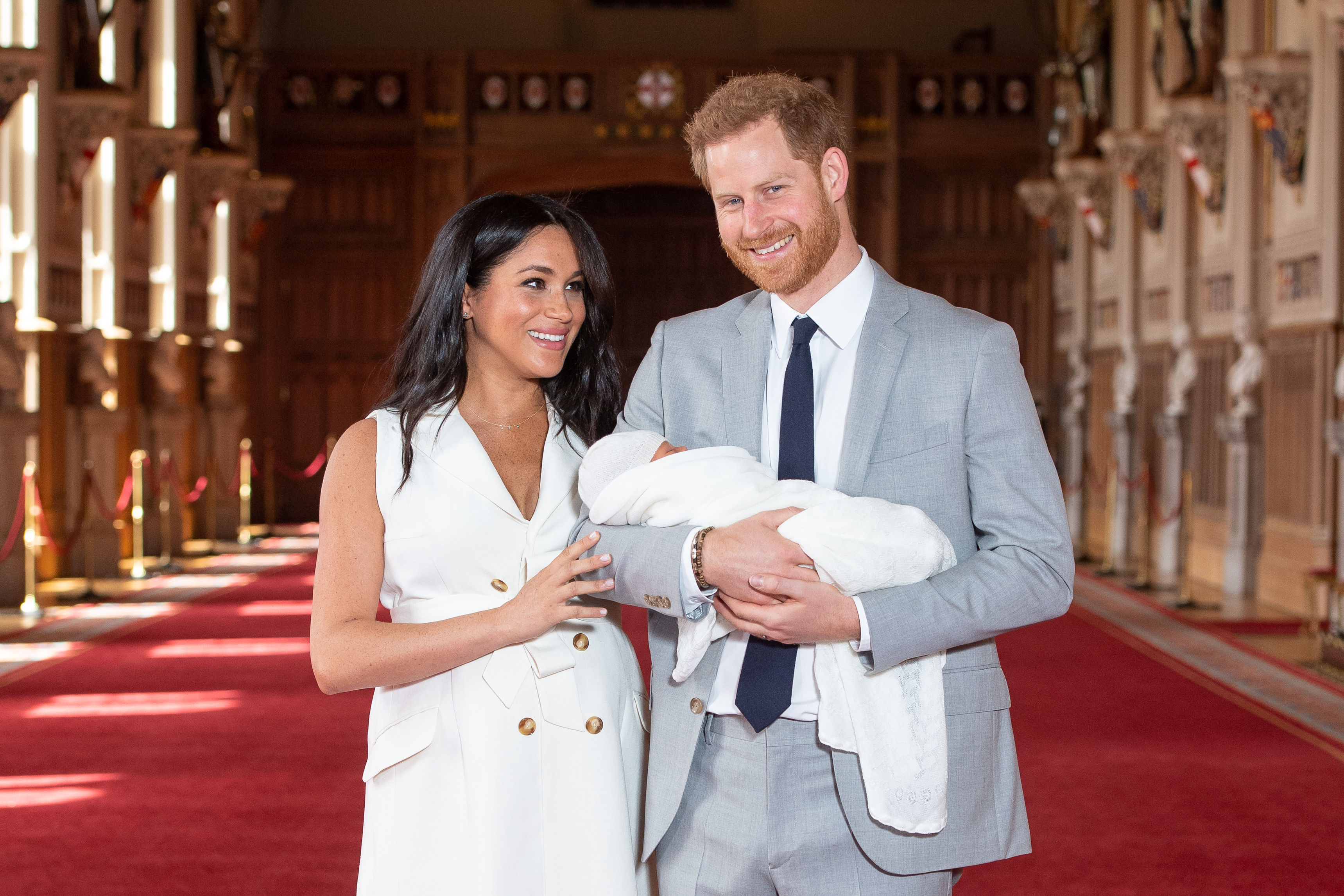 According to the family history website Ancestry, the name will continue to grow in popularity, even though it's not everyone's top contender at the moment. This is simply because other royal baby names have been observed to have an impact on name choice and popularity. As a matter of fact, George and Charlotte have jumped up the rankings in the UK, along with William and Harry.
Mountbatten-Windsor is a surname that was created in 1960 and has quite an interesting history behind it. It combines the surnames of both the Queen and Prince Philip and was done when the couple married. In fact, the double-barrelled name was a concession to the Duke of Edinburgh. Apparently, the Duke complained that his children wouldn't bear his name - so they decided to fix the problem.
When it comes to the Cambridge's, all three children of Kate Middleton and Prince William have Cambridge on their birth certificates. Royal author Penny Junor commented on the topic and believes that the Duke of Edinburgh would be "absolutely thrilled" with his surname being used.
"Prince Philip was never allowed to call his children by his own surname," she said. "I think that's a really nice tribute to Harry's grandfather."
Now that we've cleared that out of the way, let's check out some our favorite Twitter reactions!
MASTER ARCHIE: THE COMMOTION IT'S CAUSED ON TWITTER
Yep, we all thought it:
Really kind of Meghan & Harry to cater their royal baby name to the Riverdale crowd. pic.twitter.com/5JlriEG1cW

— Emma Gray (@emmaladyrose) May 8, 2019
*Watches Riverdale once* #archie pic.twitter.com/byAakFJ7OZ

— Stephanie McNeal (@stephemcneal) May 8, 2019
Honestly, this classic tweet by the official Archie Comics Twitter account had everyone rolling:
i'm baby

— Archie Comics (@ArchieComics) May 8, 2019
And of course, we can always count on Netflix to raise our spirits too:
Archiekins!

— Netflix US (@netflix) May 8, 2019
Archie, Earl of Riverdale

— Netflix Canada (@Netflix_CA) May 8, 2019
Alas, some weren't too happy about the name choice though:
is there anyone I can appeal to about this

— Archie Bland (@archiebland) May 8, 2019
To be honest, most people love it:
😩❤️archie❤️😩

— KATY PERRY (@katyperry) May 8, 2019
ARCHIEEEEEEEEEEEEE!!!!!!!

— christine teigen (@chrissyteigen) May 8, 2019
Archie is cute!!! Cute name, cute kid, everything's great!

— Charlotte Alter (@CharlotteAlter) May 8, 2019
In all honesty, Archie is a pretty darn cute name and we can see why the Duke and Duchess decided to stray from the norm. And of course, they've done what they do best! We can always count on the couple to surprise us with something new. We're just glad that their baby boy is finally with us, and the couple can now breathe with relief! What do you guys think about their name choice? Let us know your thoughts in the comments below! And make sure to check out our related articles about the royals for the latest updates.
Related: