The Most Impressive Special Effect Of MCU
Samuel Leroy Jackson is a renowned  American actor and film producer. Over the years as a professional actor, he has been the recipient of various accolades and awards. Additionally, Jackson is one of the actors whose movies have made the largest total gross revenue.
Jackson has featured in so many movies, but he is most generally known as MCU's Nick Fury. With his approval, his image was adapted for the Ultimate model of the Marvel Comics character, Nick Fury, and he has been the one playing the role of the character in many MCU movies.
For one of the latest Marvel movies,' Captain Marvel,' he played the role of a younger Fury. Jackson is one of the actors who have refused to age; you might not believe it, but he is a septuagenarian! Nonetheless, for him to have played the character of a younger Fury, we are sure some strings had to be pulled. We have all the juicy details on how they interestingly made Jackson look so young in 'Captain Marvel.'
JACKSON DOESN'T LOOK HIS AGE
If you'd love to see a younger Jackson, then you should see 1994's 'Pulp Fiction.'
However, the twist is that he still looks pretty much as youthful as he was back then. Digressively, Jackson earned a Best Supporting Actor Oscar nominee for the role of a hitman, Jules Winnfield, in the movie.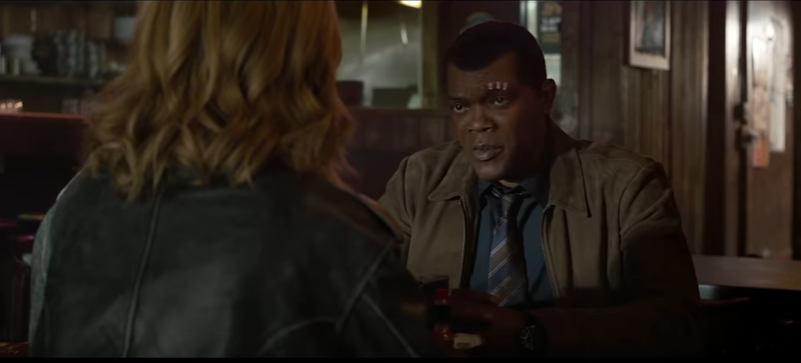 He also portrayed a character in 1988's 'Coming to America' alongside Eddie Murphy. In the film, you'd see Jackson still as cool as he is. Currently, he is one of Hollywood's highest-grossing actors.
NICK FURY IS 25 YEARS YOUNGER IN CAPTAIN MARVEL
One of Marvel's latest movie, 'Captain Marvel' featured a young version of Nick Fury. He and Captain Marvel are earth's sole hope to halt a Skrull invasion. Beautifully, the S.H.I.E.L.D. lead, and the person who played the character of 'Captain Marvel' is the renowned female Oscar winner, Brie Larson. She bagged an Academy Award for her role in 'The Room.' Since 'Captain Marvel's' timeline is set in the 1990s, and a prequel to other Avengers movie, Nick Fury is 25 years younger in it.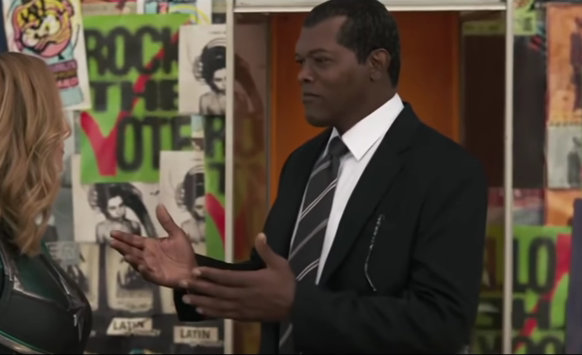 HOW CGI WAS USED TO MAKE JACKSON LOOK YEARS YOUNGER
Thanks to CGI (Computer-Generated Imagery), de-aging makeup is now a thing of the past. Nowadays, computer graphics applications can be used to simulate youth and age. Lola Visual Effects (Lola VFX) implemented some special effects for the 'Captain Marvel' movie. Due to the youthfulness of Jackson's skin, they decided not to use a body double. Ryan Fleck, the co-director of 'Captain Marvel' told Fandango about the decision not to use a younger double for Jackson.
"The traditional way of doing this process is you have to have a younger double, basically in every setup, who basically performs the scene after the actor, and then you kind of take pieces of their face and put it on the actor. Fortunately, we did tests and prep, and we realized we didn't have to do that with Sam because he looked so good already."
Instead, they chose instant facelift by hauling some of the skin back from his neck. Of course, Nick Fury would never opt for such a thing, but that one ploy enabled the CGI team to trim, constrict, and smooth Jackson's face. Since he appears in most of the movie, filming the scenes and then re-filming with a body double is both time and cost restrictive.
Furthermore, the Lola team assessed some of Jackson's movies from the past: 'Die Hard: With a Vengeance,' 'Sphere,' and 'The Negotiator' to get an understanding on how his appearance changed when he was in his 40s.
They reconstructed 40-something Fury by narrowing pores, remodeling his jawline, and re-illuminating shadows to suit Jackson in his younger days. CGI also made Jackson look like young Fury by altering his posture moderately and slimming slightly.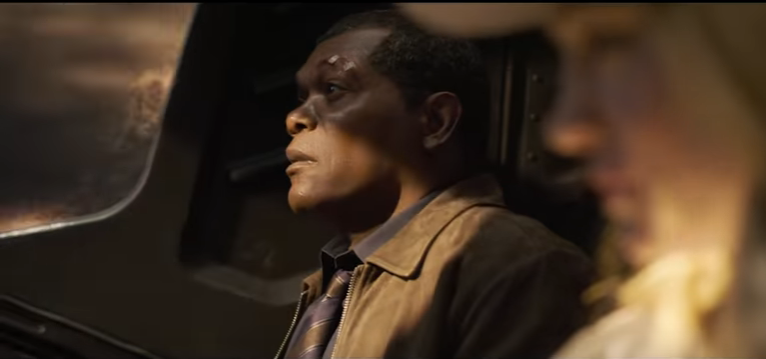 WHAT HAPPENED TO NICK FURY'S E.Y.E.?
One of the things we find interesting about the Marvel movies is that they traverse universes with comic books. According to the comics, Nick became vision impaired in a WWII grenade bomb, and over time he has lost 95% of his sight. Given that, he's still fit in 2019; the Marvel fan universe has concluded that Fury has received injections of anti-aging Infinity formula. They also speculated that, on the norm, he could have become blind 75 years ago.
In the movie 'Captain Marvel,' Fury isn't wearing his trademark eyepatch. This is because Marvel Studios has poked at the idea that Fury's eyepatch happened due to a struggle with Captain Marvel's alien cat named Goose.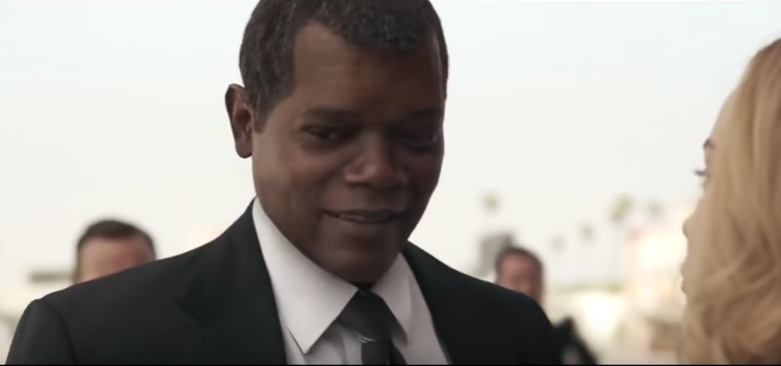 WHAT IS NEXT FOR MARVEL CINEMATIC UNIVERSE?
Over 11 years, three stages, and 22 films, fans have devotedly tagged along with the exploits of the Avengers in the MCU. It is widely known that 'Spider-Man: Far From Home' is the last film to conclude the third phase. Sadly, 'Avengers: Endgame' denotes an ultimate end for several major characters.
However, we believe the end of this phase will open the door for the next batch of MCU films. We know 'Black Panther,' 'Doctor Strange,' 'Guardians of the Galaxy' sequels have been confirmed.  Nonetheless, we are yet to get a release date. Also, Jac Schaeffer is working on a 'Black Widow' film, but it's speculated to be a prequel to be released in May 2020.
Undoubtedly, MCU has loads of exciting and intriguing movies forthcoming, and we are so excited about it. We cannot wait to fall in love with new superhero characters!
We are amazed at how Jackson has managed to stay almost the same way over the years. Jackson is 70 years old now, but he does look younger. However, if you doubt Jackson's anti-aging process, you can binge watch all the Avengers movies to see his ever-youthful character play of Nick Fury.  Hopefully, we would keep seeing him reprise his role as Nick Fury in the forthcoming MCU movies. Are you amazed at how they made Jackson look so young in 'Captain Marvel?' What do you think about Jackson's appearance in the film? We bet you found this article exciting, so share it with your friends who love Samuel L. Jackson.  
Source: CheatSheet, Mashable, Fandango
Get Excited With More Amazing Marvel Articles Here: