Kate Middleton Loves Recycling Outfits And Looks Beautiful Everytime
Kate Middleton joined the royal family in 2011 when she married Prince William, and she soon became a fashion icon. That's to be expected with all the money in the world at your disposal, but you might be surprised to learn that the Duchess of Cambridge actually recycles many of her outfits. Just like the rest of us, she changes it up with other accessories. That's humility! Let's enjoy these awesome wardrobe choices!
25. The Duchess used this navy-inspired Alexander McQueen outfit in 2011, and then in 2014. Her hair is the only difference here, otherwise, we would think it's the same day.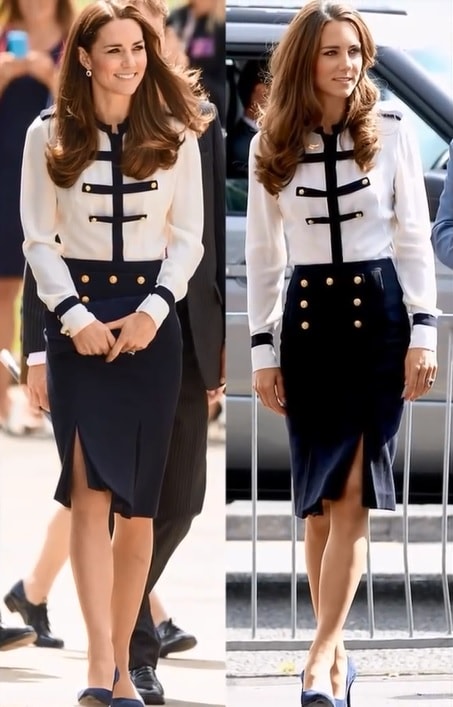 24. This cream-colored gown looks completely different with that sash in the middle. Additionally, Kate added a different hat and purse to the mix, and it looks like a brand new outfit. This dress was also designed by Alexander McQueen.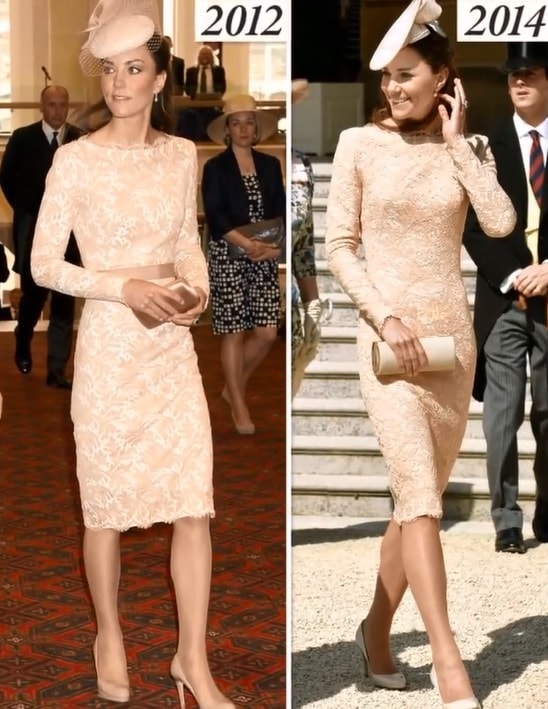 23. She decided to wear this amazingly cheerful yellow dress designed by Roksanda Ilincic for a trip to New Zealand in 2014. She rocked it again in 2016 at Wimbledon.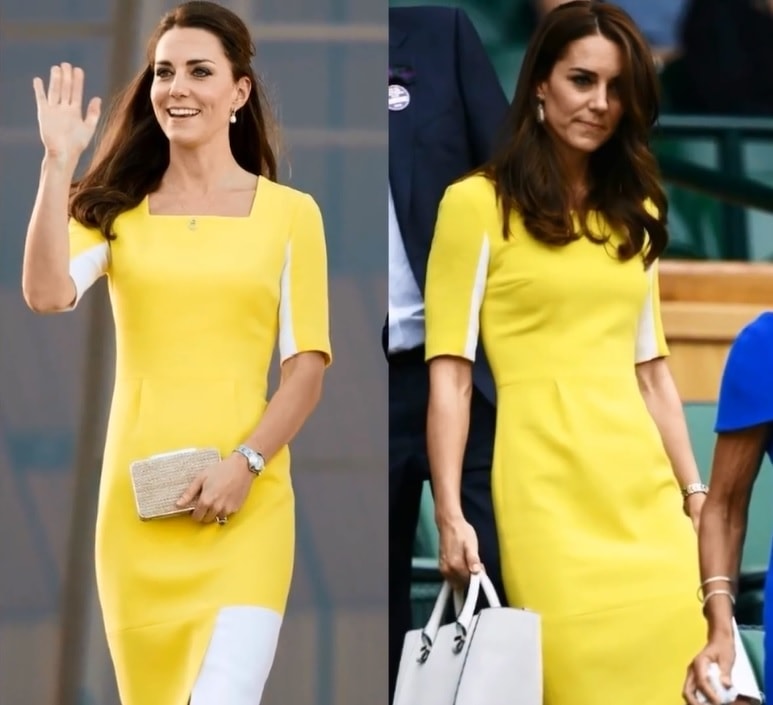 22. In this case, Kate recycled a pair of jeans and a black-and-white-striped t-shirt. However, the outfit looks completely different thanks to a different jacket and wedged shoes. Clearly, the second occasion was a lot more formal.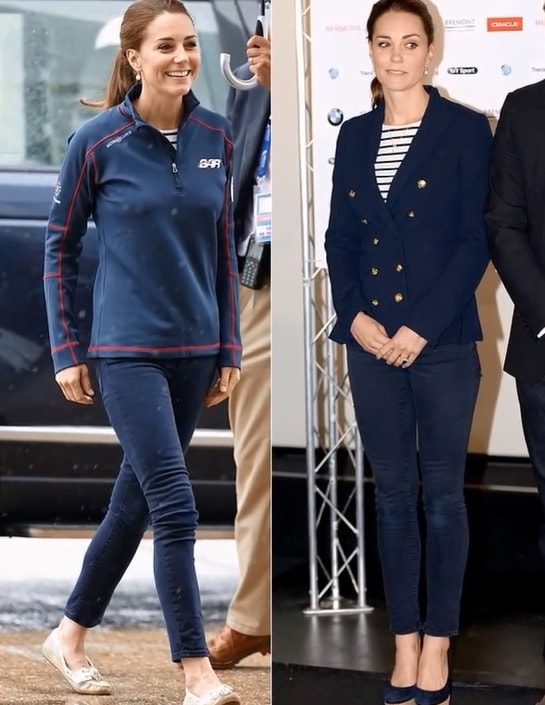 21. Kate really has several favorite designers as this is another ensemble from Roksanda Ilincic, and this shift dress is perfect for any day. With her up-hairdo, it looks formal, while a loose, flowing style is perfect for other times.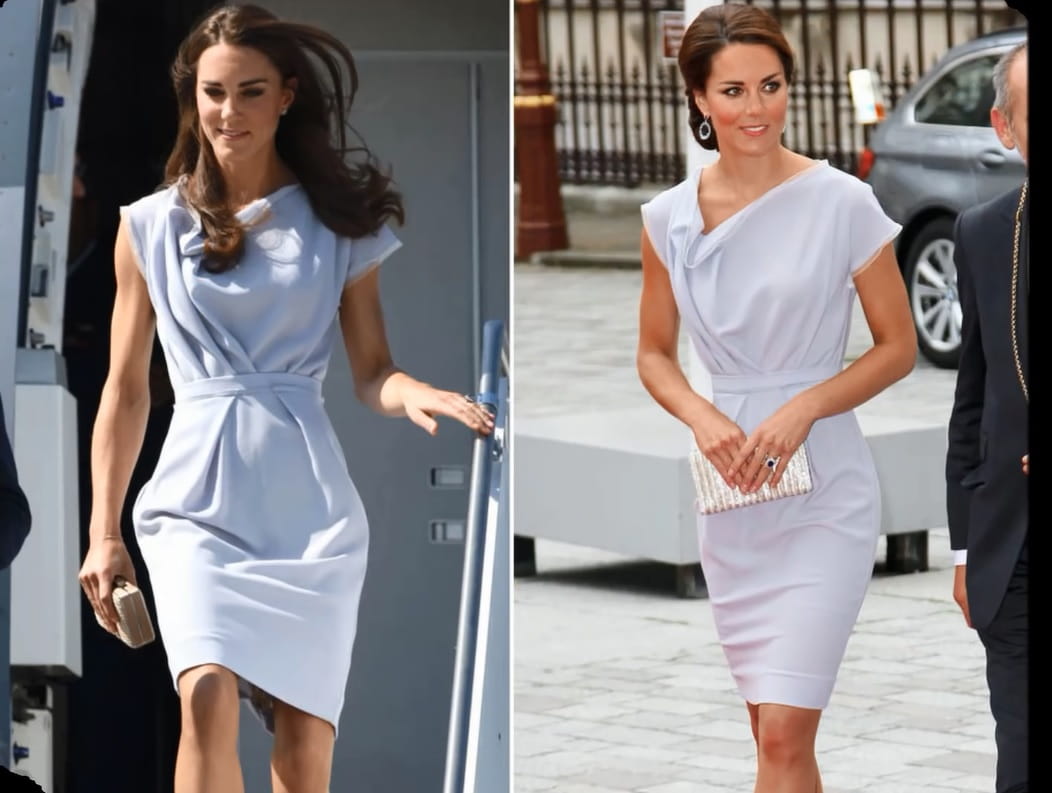 20. Aside from recycling dresses, the Duchess would often buy the same on two different colors. This blue gown was designed by Emilia Wickstead, and Kate used it twice in 2012. But, she also owns it in pink.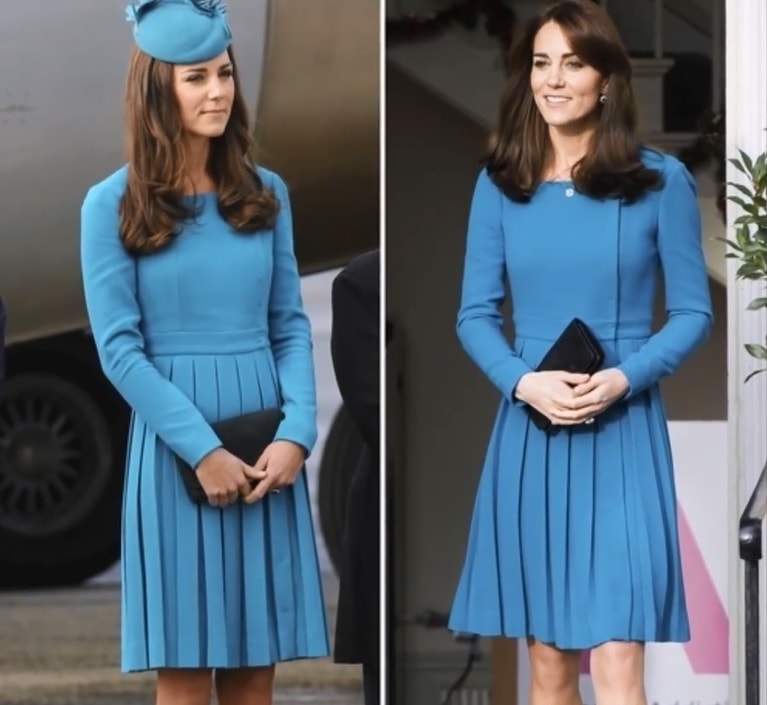 19. This beautiful champagne-colored coat dress is so perfect for Kate that she has worn it a lot. It was designed by Jane Troughton, and she was spotted in it in 2006, 2011, 2012, and another time after that. Using different accessories is the key.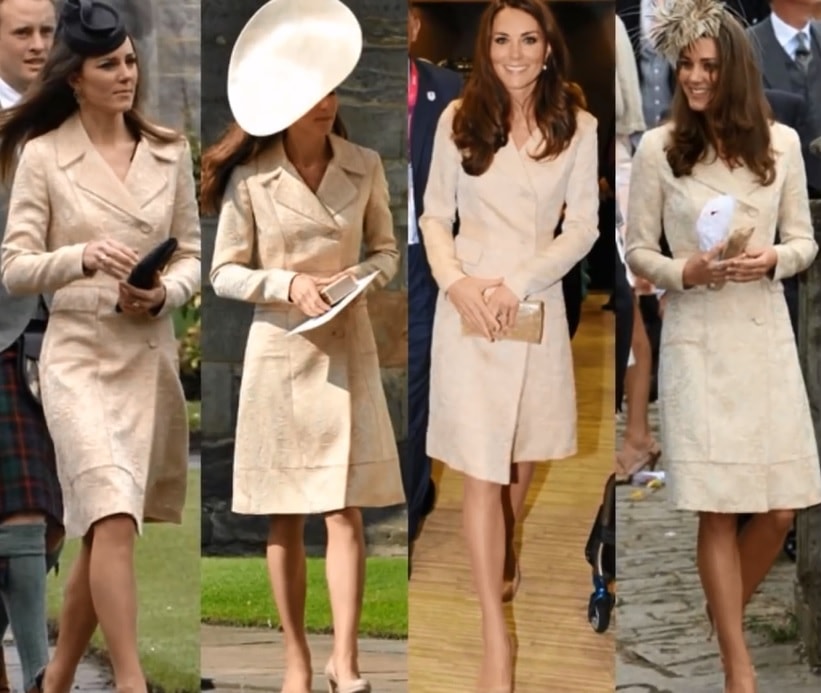 18. It has been said that this red coat is one of Kate's favorites, and it was made by Armani. Clearly, she changed the rest of the ensemble, except for the boots. She was pregnant on one occasion and still looked gorgeous. We love the versatility!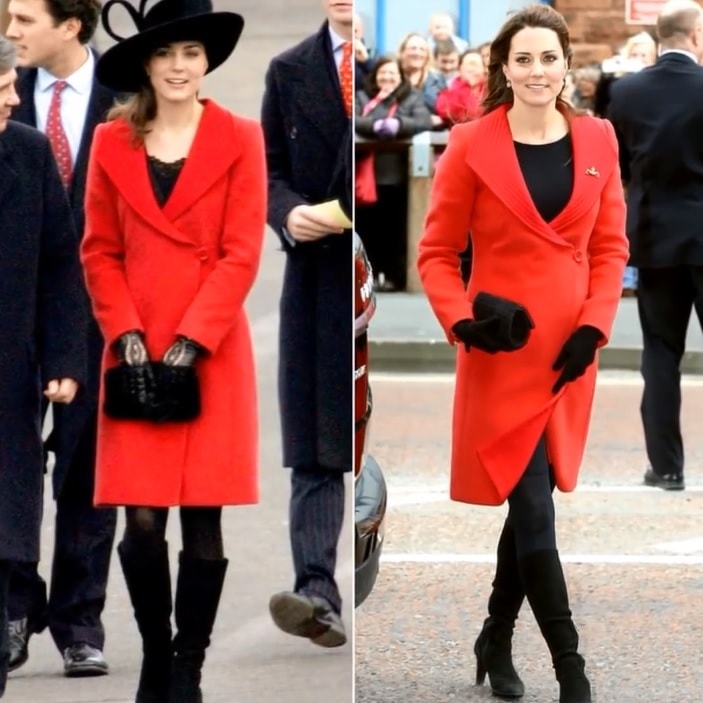 17. This classic knit-patterned dress is perfect for less formal events, where she needs to connect with the public. It was designed by Tory Burch, and it looks stunning on the Duchess.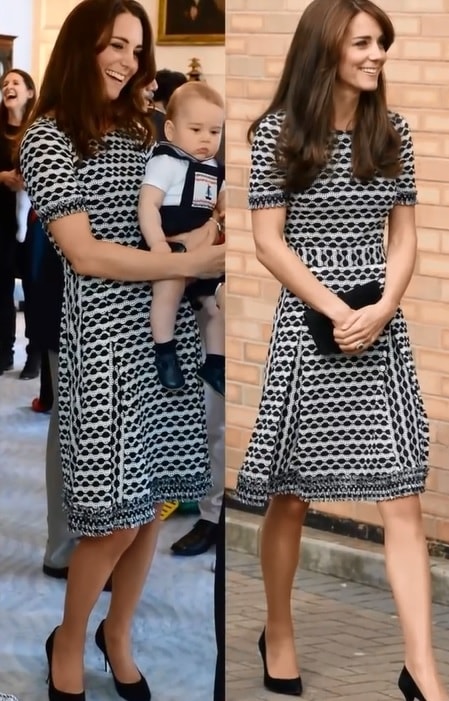 16. Kate does love her red-colored outfits. This amazing skirt suit was created by Luisa Spagnoli, and Middleton wore it in 2011, 2014, and in 2017. Clearly, it is also one of her favorites.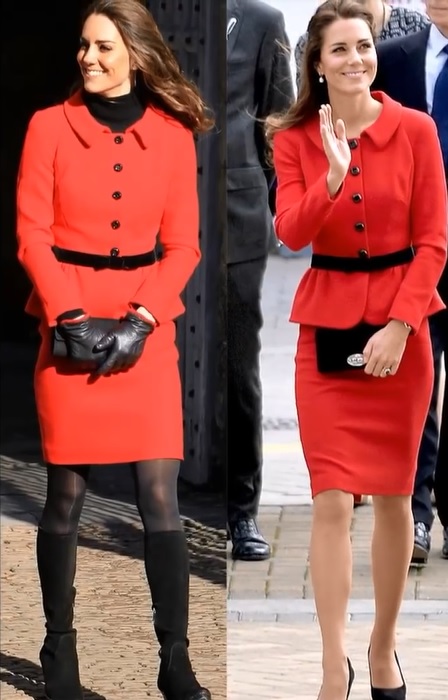 15. The Duchess of Cambridge is almost like Queen Elizabeth II, who likes to wear colorful outfits to every event. Red clearly suits her, and this gorgeous pick was designed by Alexander McQueen.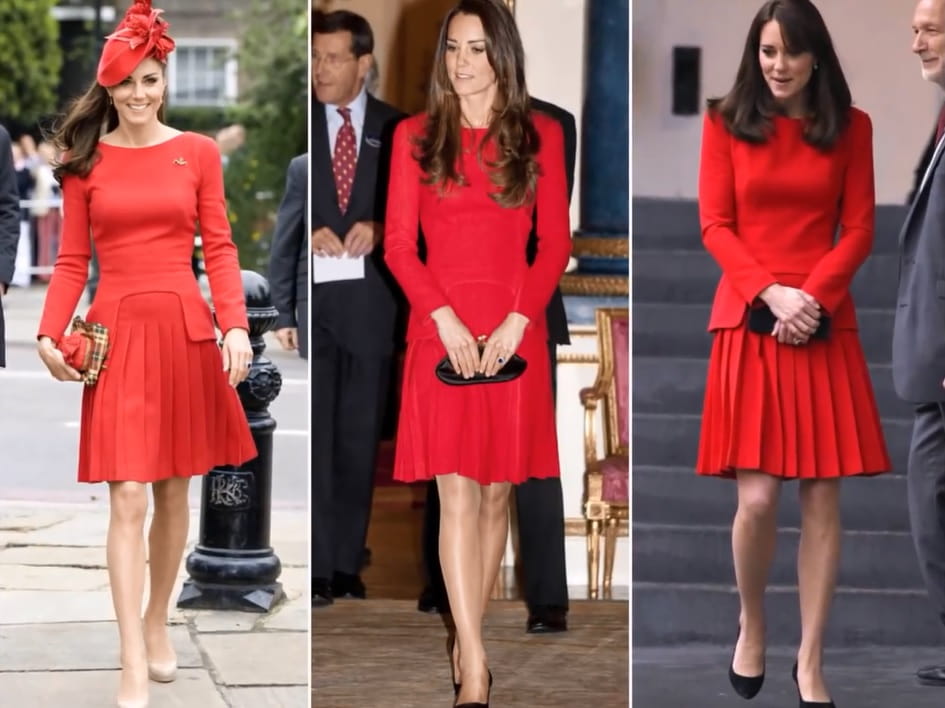 14. The Duchess wore this outfit, created by Orla Kiely, for the first time in 2012, and she recycled it in 2015, proving that dresses can definitely work for many events.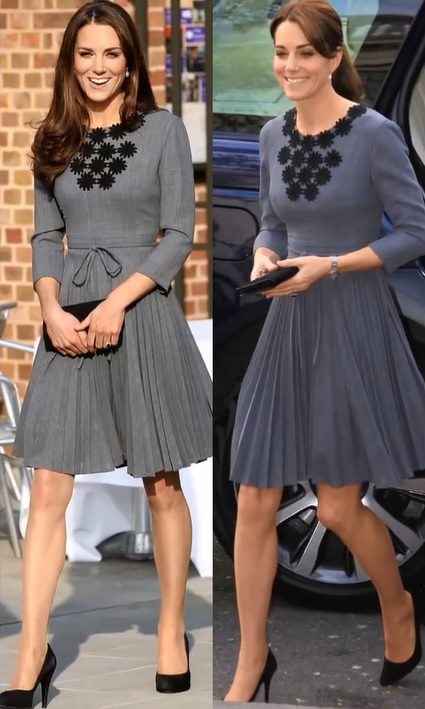 13. This green gown looks beautiful and effortless on the Duchess. It was designed by Diane Von Furstenberg, and Kate wore it twice in July 2011.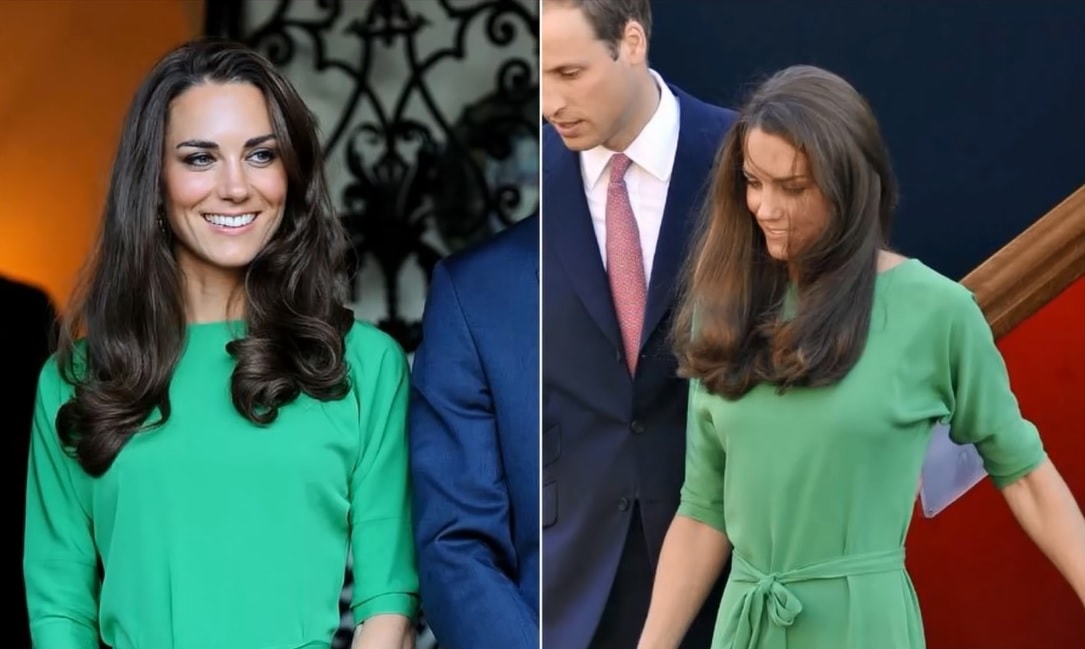 12. The Duchess of Cambridge cannot hide her love for Alexander McQueen. She wore this coat during a 2012 visit to St. Andrew's, where she met Prince William. She used it once again on Christmas 2013.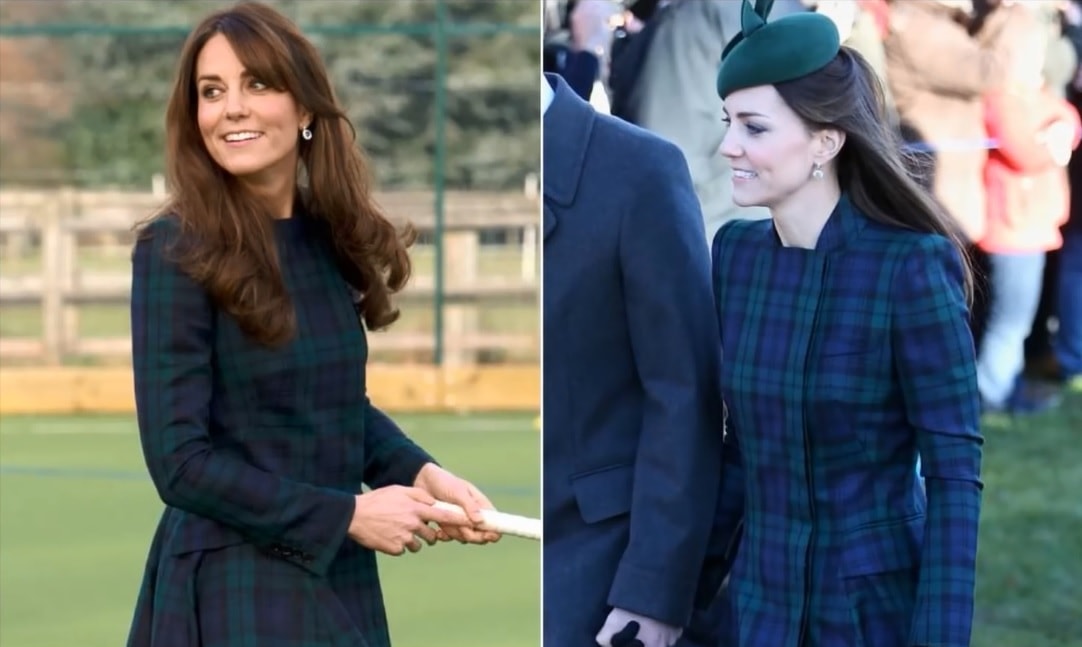 11. This is another coat that Kate beautifully recycled, and it looks great with a different hat, purse, and even a necklace. This pick was also designed by Jane Troughton. Colorful clothes suit her best just like the Queen!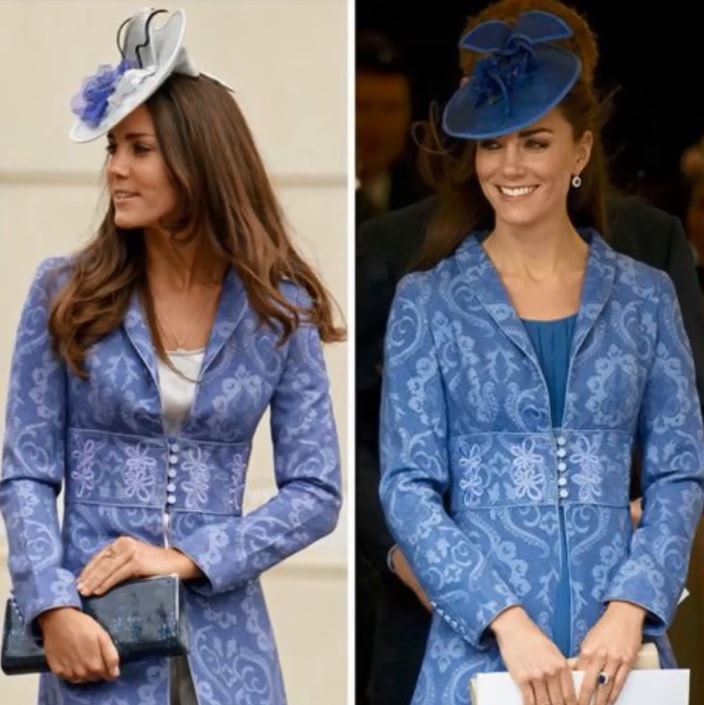 10. The Duchess loves this St. Patrick's Day outfit designed by Emilia Wickstead, which she debuted in 2012 for the Aldershot Barrack event.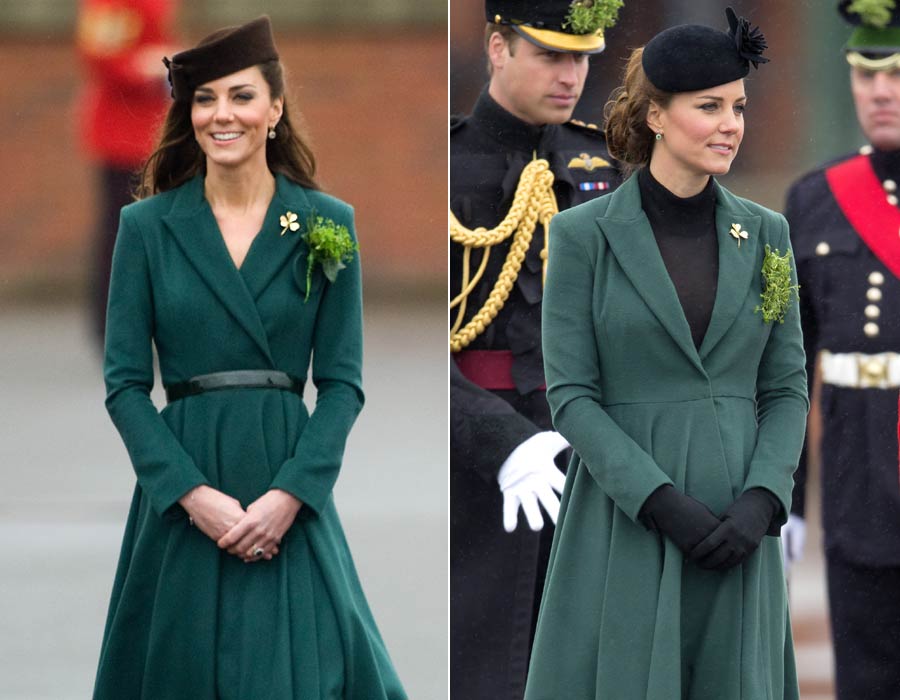 9. This cream-colored dress that makes her look ethereal was designed by Roland Mouret, and she changed her hairstyle as well as added a Zara necklace to wear it again.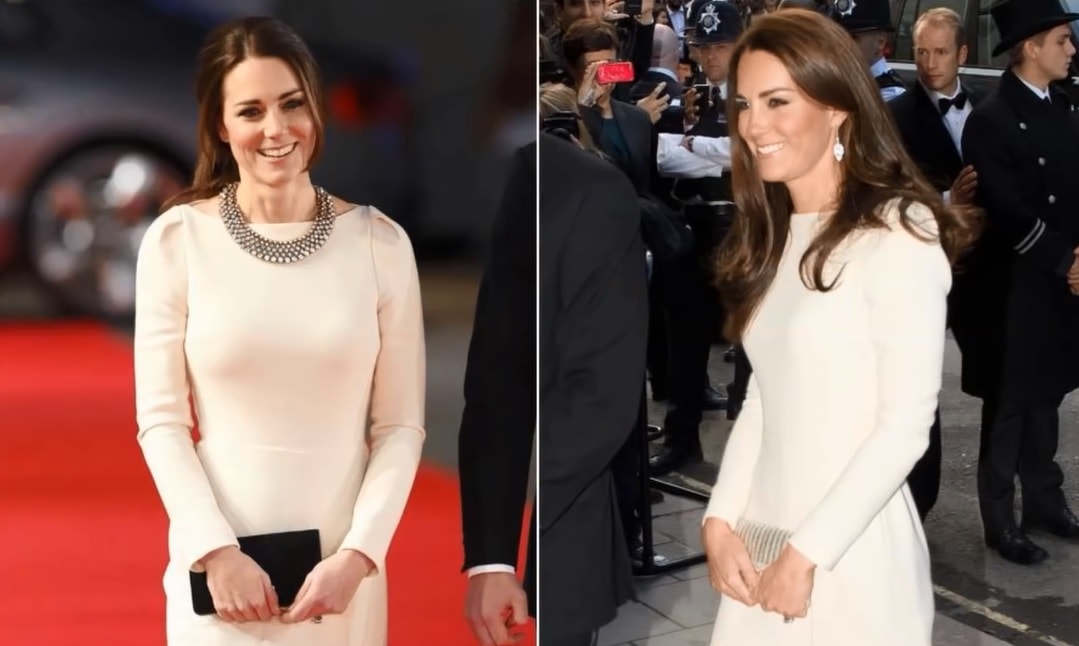 8. Kate was seen twice with this M. Missoni tweed blue coat in 2012. The Duchess wore it in March and another time in June. Her styling is so different that it does not look like the same outfit.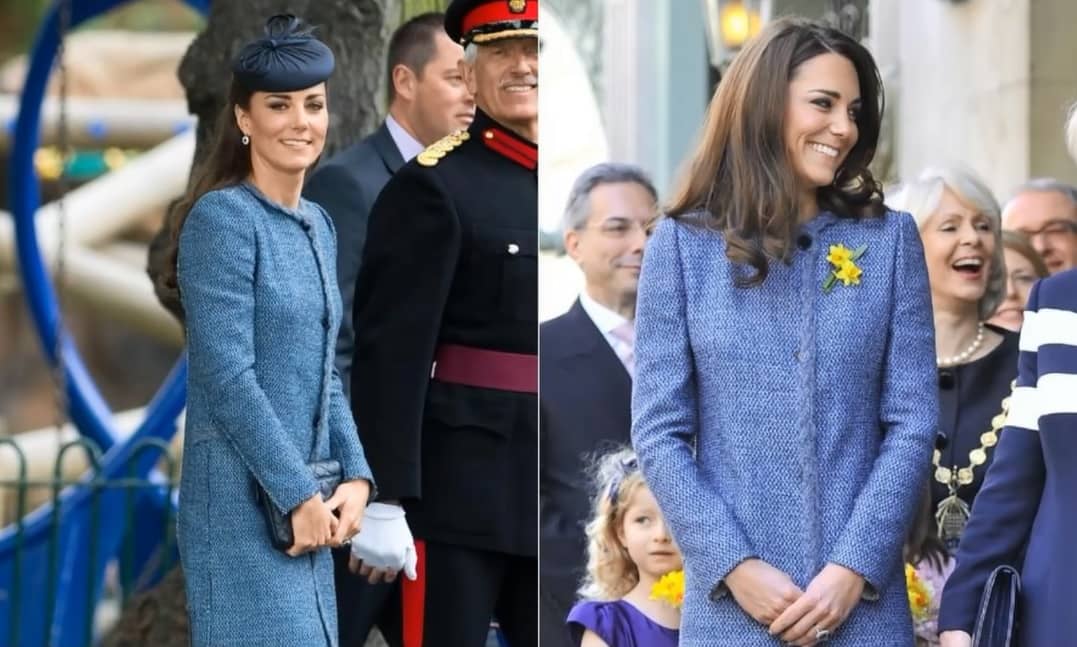 7. This is another Orla Kiely creation, and she wore the patterned gown to the Only Connect program in November 2013, and before in February 2012 to visit a school.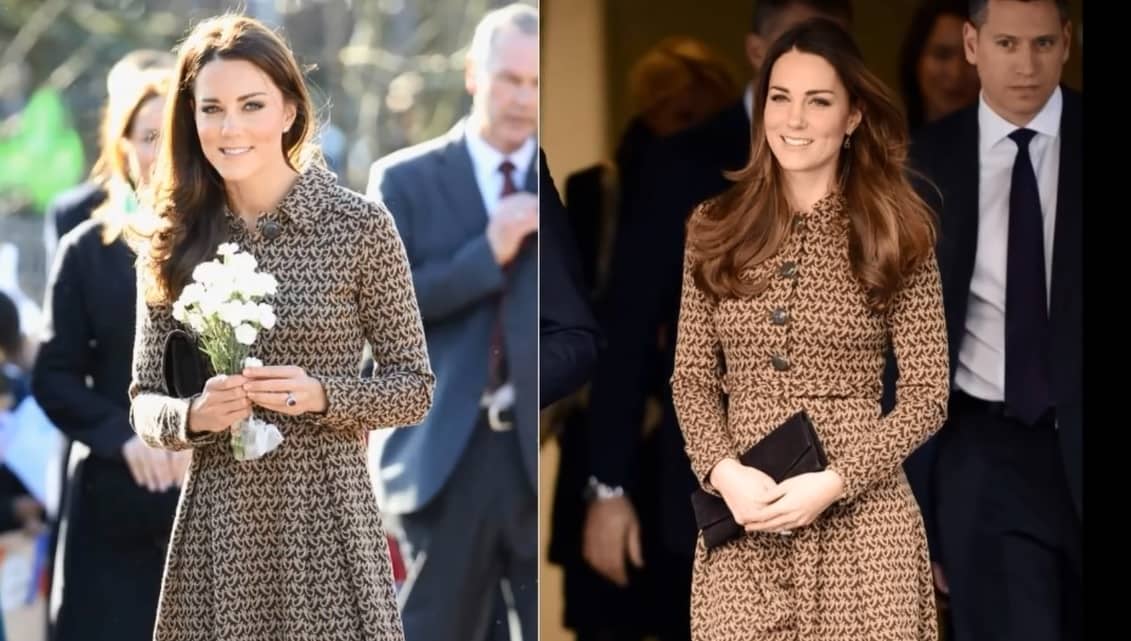 6. This beautiful black lace dress was designed by Temperley, and the Duchess had to wear it twice. The first time it was for her 30th birthday celebration, and then, she reused it a year later during a dinner in London.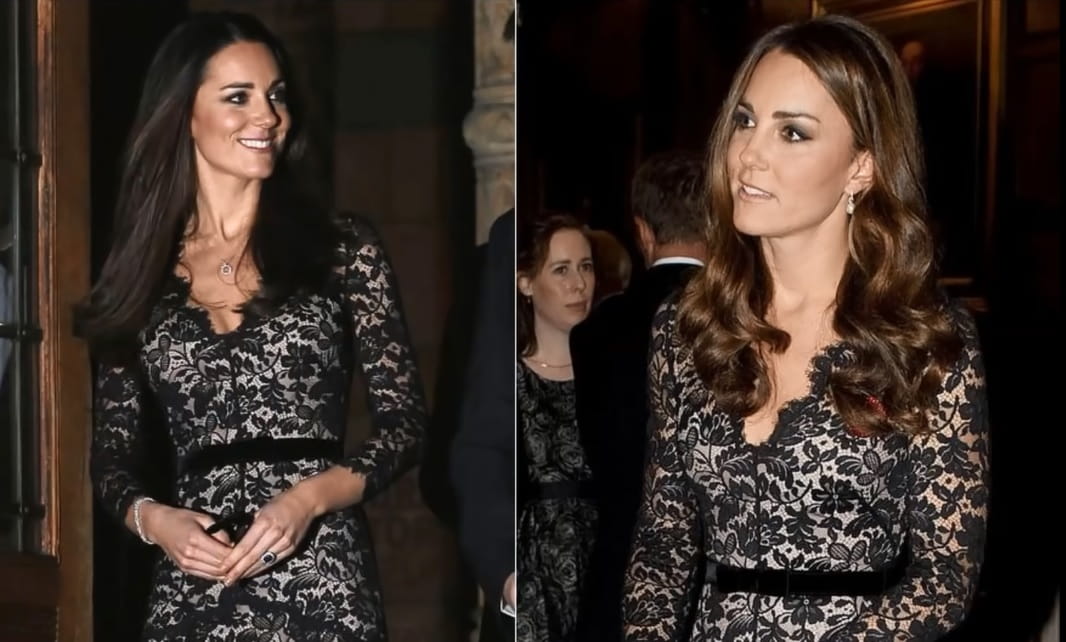 5. She has been seen many times with this coat dress made by Katherin Hooker. However, most people remember her at a wedding in 2009, and then at Prince Philip's 90th birthday party.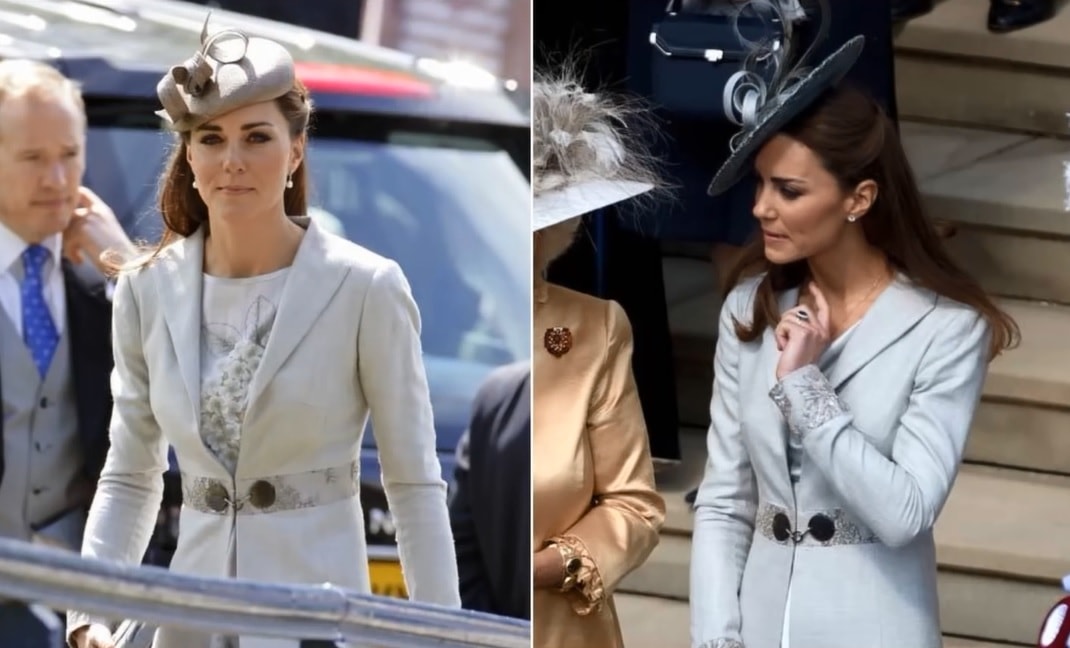 4. This another coat designed by Orla Kiely which the Duchess wore to an event in Liverpool, and before for a children's hospital visit. The look feels completely different thanks to the black turtleneck. Meghan has similar tastes in clothes as Katherine.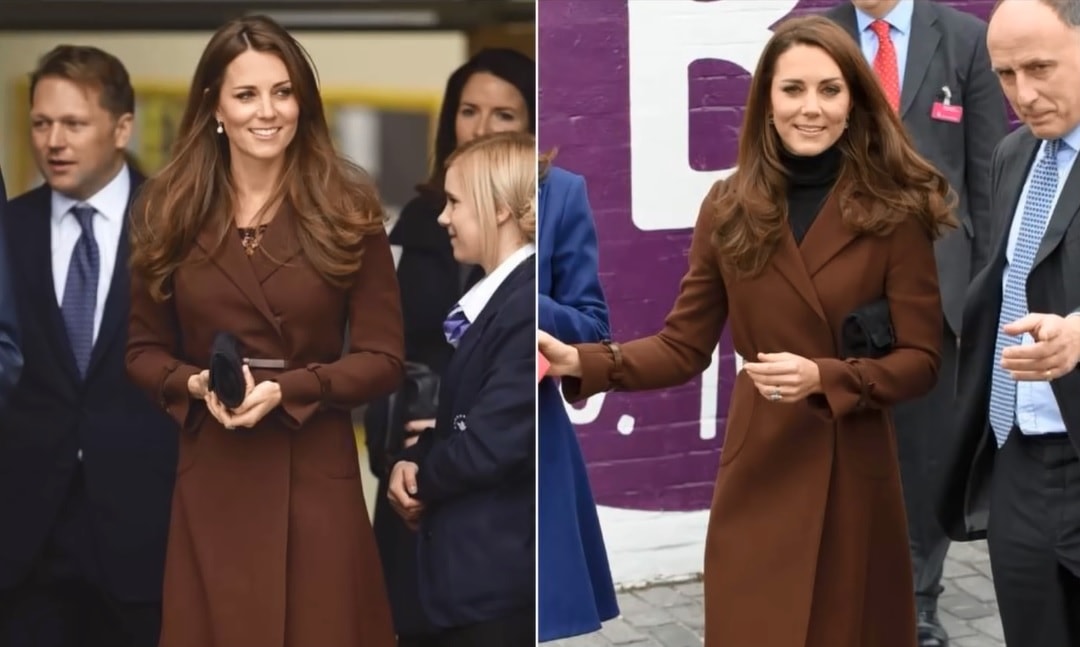 3. The Duchess decided to go for this cream sailor gown designed by Sarah Burton for Alexander McQueen. She was first seen in it during a royal tour of Canada and the U.S., and once again to watch Andy Murray. Check out why Prince George is always wearing shorts!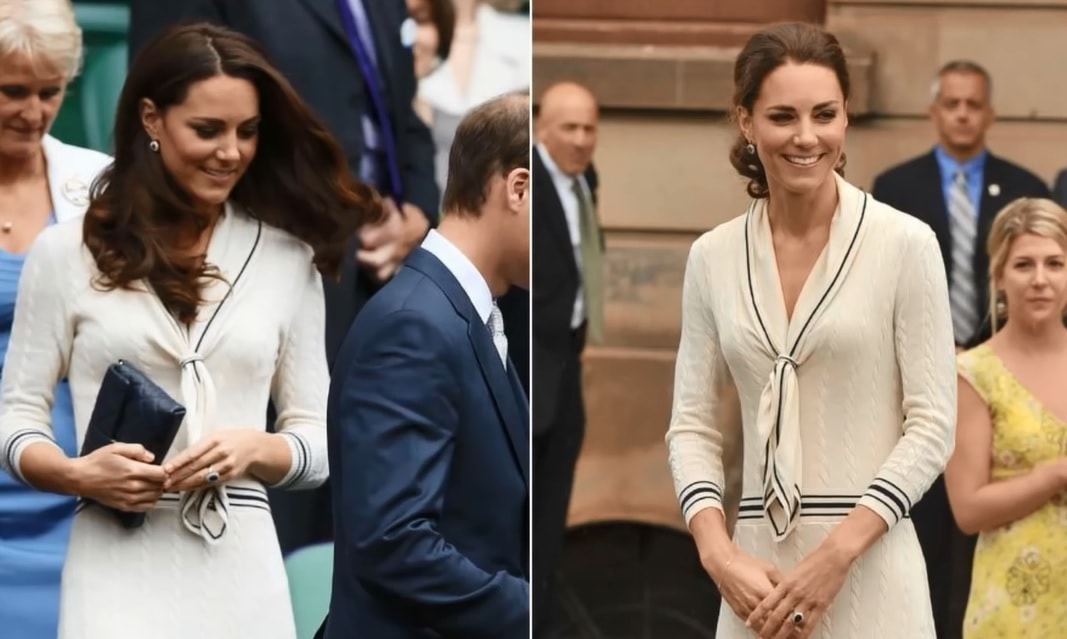 2. This is another example of the Duchess adding different accessories to change the feel of an outfit. She wore this one for the first time before her marriage to William during an out-on-the-town night in London. Some of her clothes are not as expensive as Meghan Markle's choices!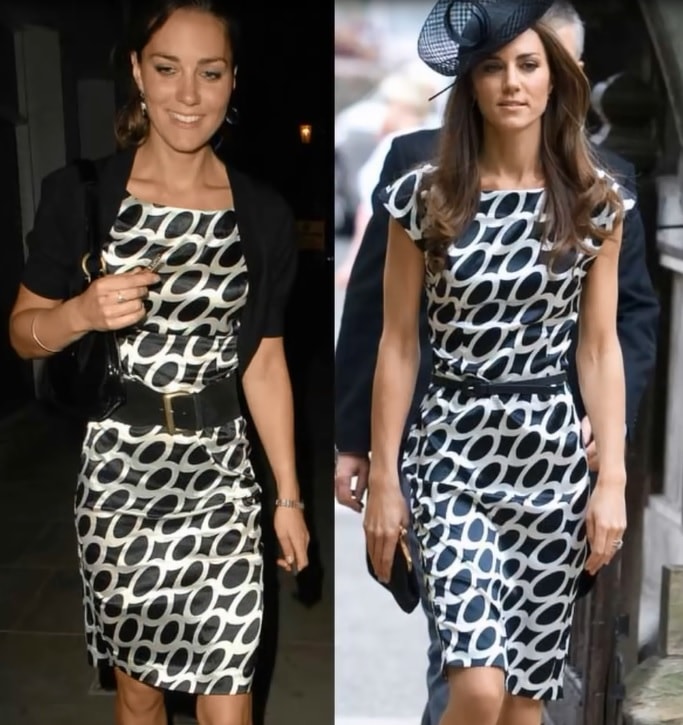 1. The Duchess is a big fan of Seraphine, especially for her maternity clothes, and she used this floral printed gown twice in 2015. She attended a pottery workshop with it. Meghan Markle also wore great maternity ensembles!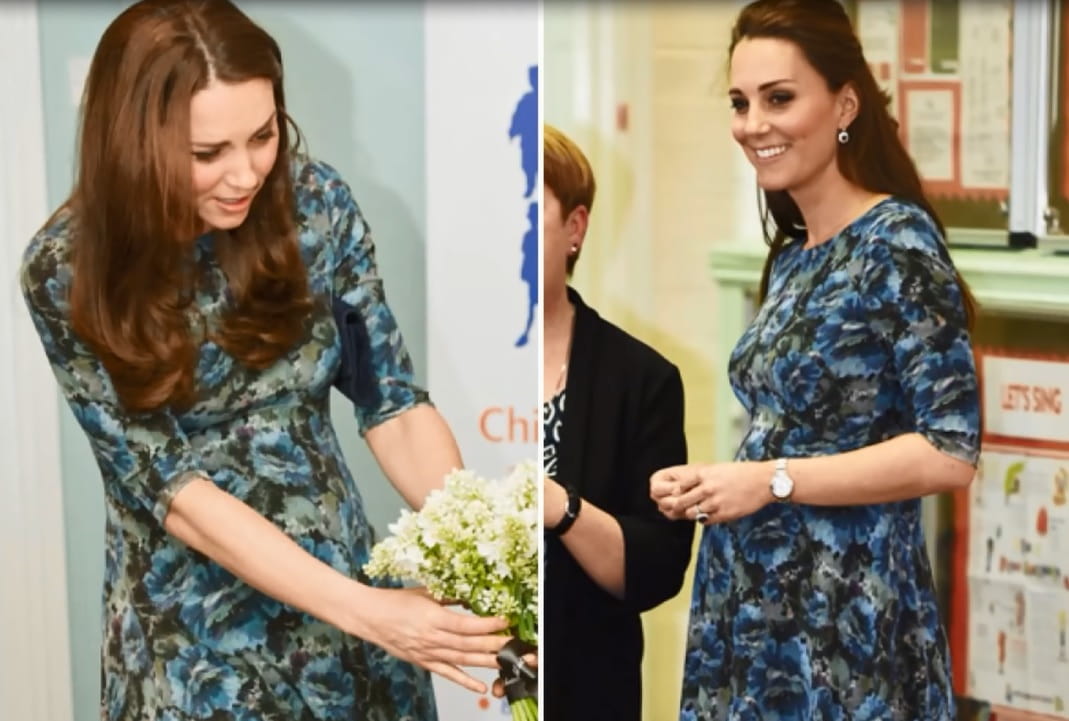 It's not surprising that Kate managed to earn the heart of Prince William. She is down-to-earth and humble, and that makes us love her more. Let us know what you think of the Duchess' outfits. If you liked this article, share it with your friends who know how to accessorize well. See you next time!
Source: Hello Magazine, Youtube/Ajax, Youtube/Royal Fashion Channel, INSIDER, Hola US
Related: