Risky And Stylish Royal Looks By Kate, Meghan, And Diana That Went Beyond The Traditions
Being a woman of the Royal family definitely isn't an easy task - especially when the smallest details regarding style, fashion, and looks are hounded! Queen Elizabeth has a clear set of explicit, as well as unsaid rules, which the royal women are expected to follow when it comes to dressing the part. But, that didn't stop Diana, Kate, and Meghan from bending and breaking the rules every once in a while. We've compiled a list of some of the most riskiest outfits our favorite royals have sported!
47. Duchess Kate: Wide Leg Trousers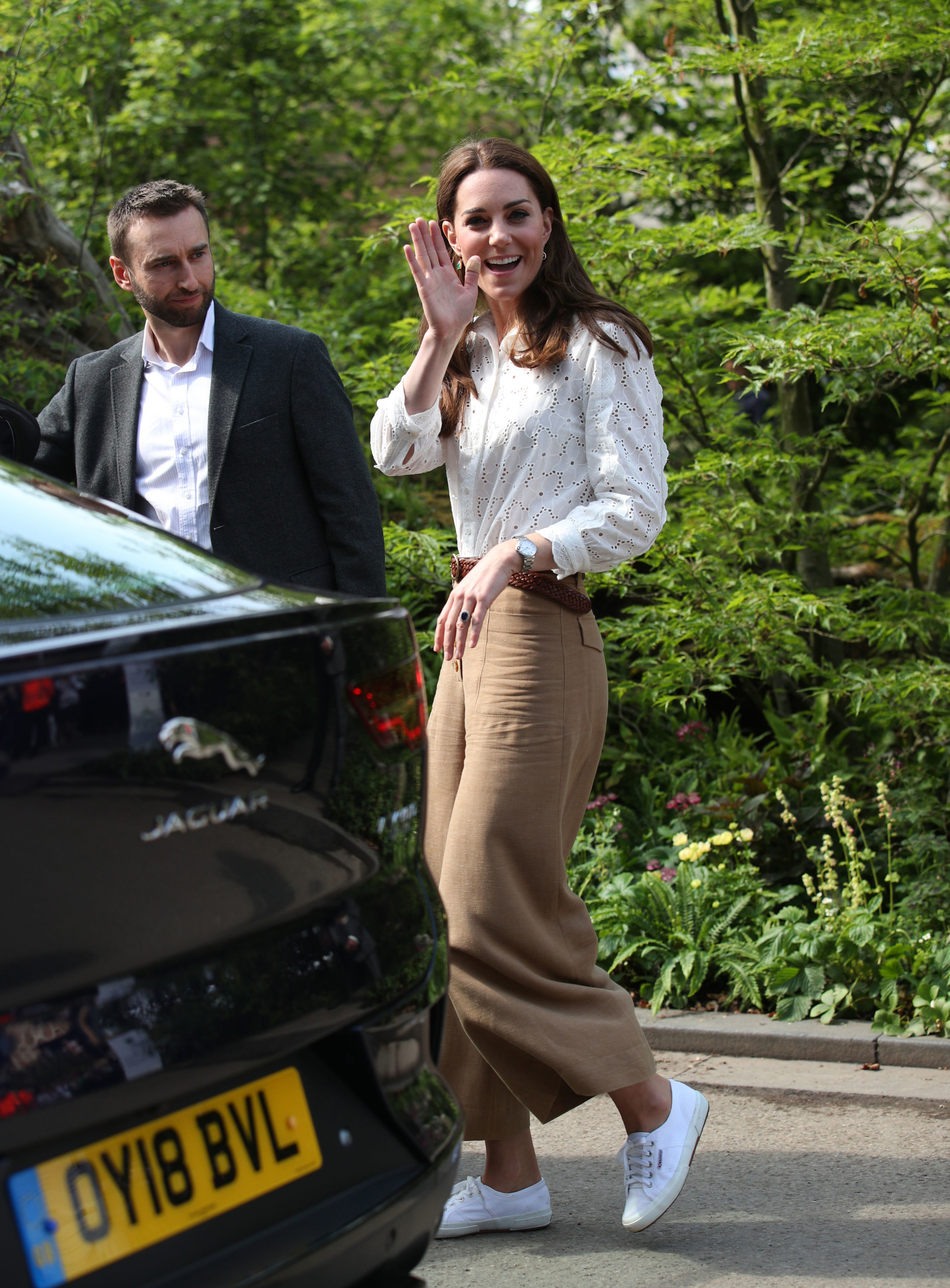 A trend that's come back full force from the past, Markle is always on top of her game and has been seen sporting wide leg trousers and culottes fairly often. Middleton, on the other hand, is a little more classic when it comes to her style, which is why many people were surprised to see the Duchess step out in wide leg trousers. Because the trend is stylish and very modern, Queen Elizabeth most likely would have preferred to see Kate wear something more similar to a tea dress, or timeless slim fit trousers.
46. Princess Diana: Low Back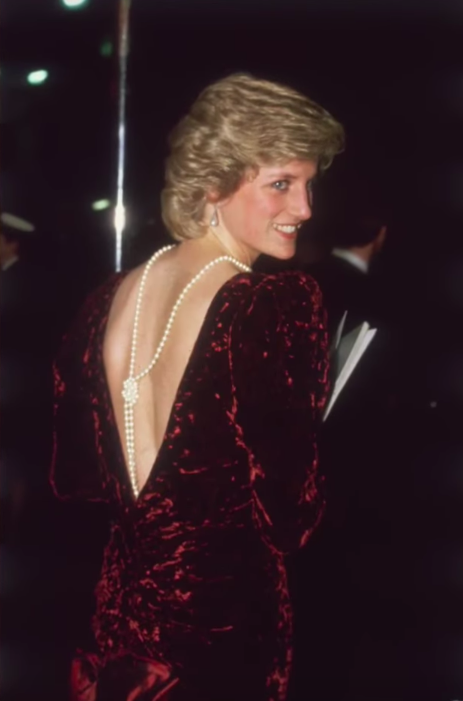 When it came to fashion, Princess Diana was notorious for paving her own path. Lots of the princesses outfits broke royal rules and traditions. One of these looks was the crushed velvet dress the royal wore at Saddlers Wells theatre when meeting ballet dancer. The look was absolutely stunning, featuring a beautiful burgundy color with an oversized bow on the back. And, the one thing that stood out the most, is the extremely low back we're sure Her Majesty probably didn't approve of.
45. Meghan Markle: Pantsuit
Meghan Markle wears a pantsuit to her first royal evening engagement: https://t.co/jFq9ooAqCF pic.twitter.com/6WodbemUZ0

— Footwear News (@FootwearNews) February 2, 2018
Queen Elizabeth has a specific preference for Duchesses, desiring that the duchesses choose skirts and dresses over trousers in public engagements. However, the Duchess of Sussex ignored this rule multiple times. Meghan believes that a trouser set can be just as elegant and sophisticated as a dress, and we couldn't agree more!
44. Duchess Kate: Low Rise Jeans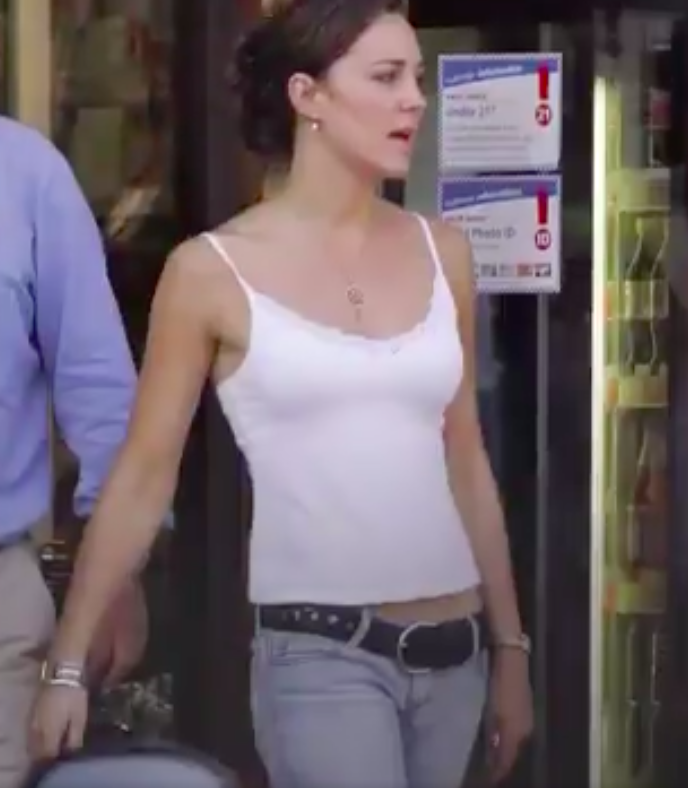 Everybody remembers the huge low rise jeans trend from the 2000s. In fact, this was around the same time that Prince William and Kate Middleton started dating. Kate here is pictured in her college days from St. Andrew, sporting the most casual look we've ever seen her in! With a cami tank top, and her jeans slung around her hips, topped with a messy updo, Middleton truly looks like one of us. And we're sure that Her Majesty wouldn't have approved!
43. Princess Diana: Wedding Look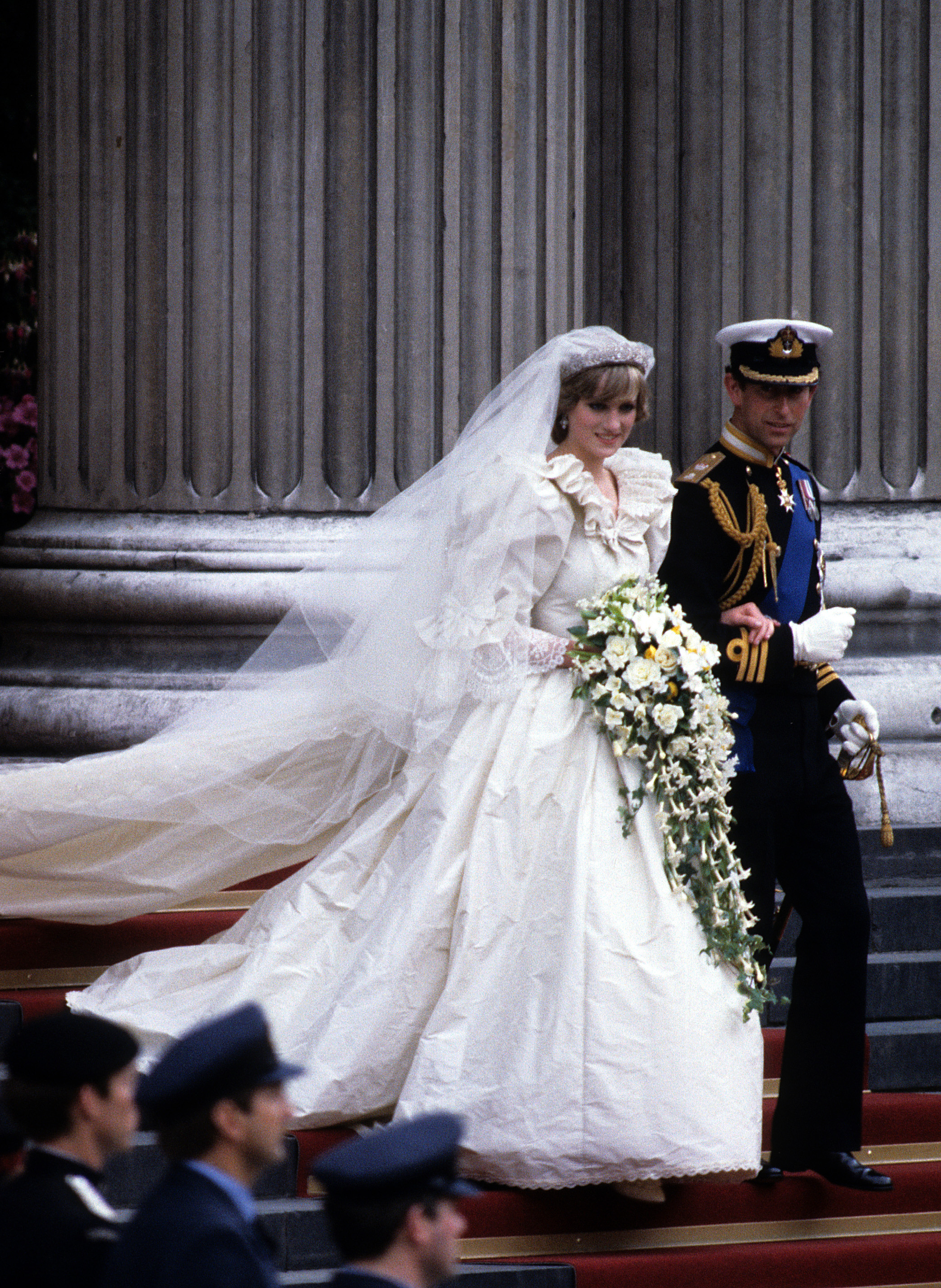 Princess Diana's dress was a shocker for its time. The '80s are remembered for their over the top and extravagant wedding gowns - which is exactly what the princess aimed for, with her oversized sleeves and voluminous skirt. Even though the Queen has to approve of the Royal wedding gown before its worn, she most likely had some mixed opinions about the grandness of Diana's look since the Queen's dress was the complete opposite - simple and sleek.
42. Meghan Markle: Leather Skirt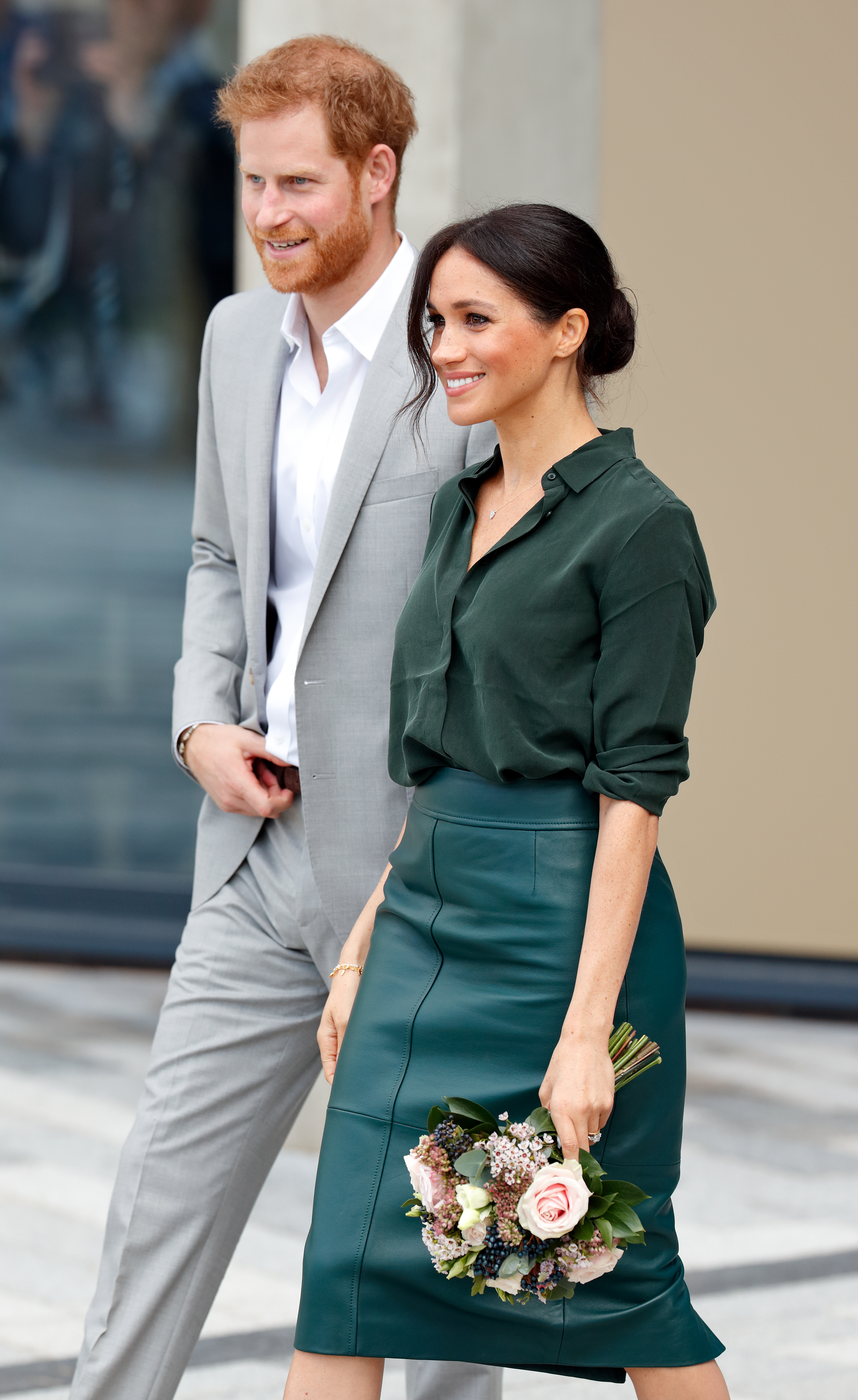 Meghan Markle has pushed almost every boundary when it comes to royal fashion, including rocking a leather skirt! The Queen and royal fans alike were shocked to see the Duchess step out in a risque leather skirt in October 2018. Of course, the leather skirt has a certain edgy look to it, but the leather manages to give off a sleek, high-fashion fell, whilst staying modest and elegant enough for a royal.
41. Kate Middleton: Rainboots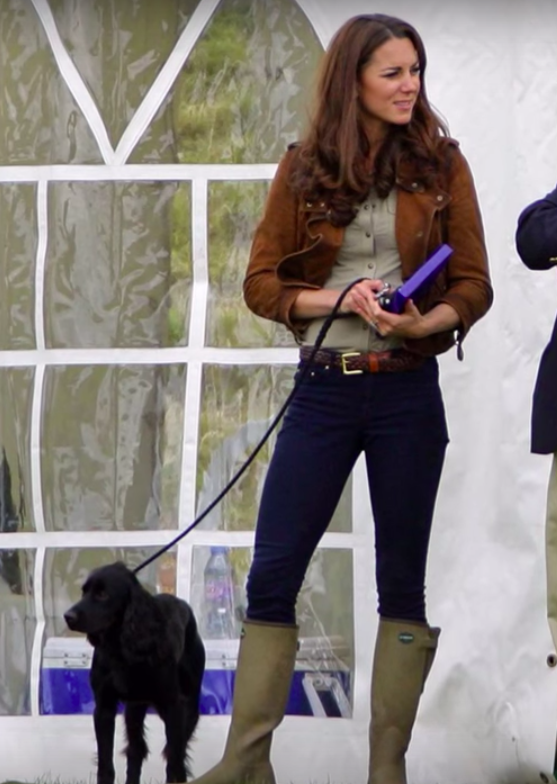 Whilst rainboots are a go-to favorite for many people on a rainy day, the Queen probably feels differently about them. In 2012, Middleton was seen at The Golden Metropolitan Polo Club in green rainboots, which have become her staple accessory in the past few years.
40. Princess Diana: Low Neckline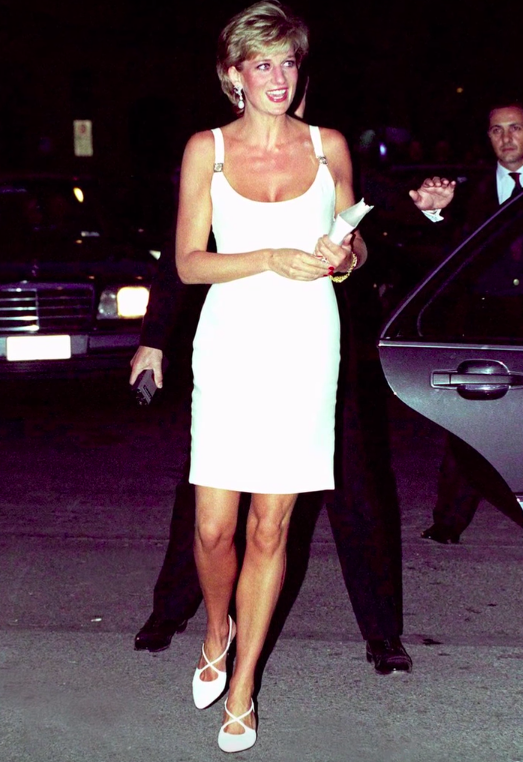 Low necklines have always been a big no-no for the Royals. When you're royalty, modesty and conservative fashion is the way to go, so we can only assume that Queen Elizabeth probably didn't approve of Princess Diana's lowcut looks, such as this one from a Charity Dinner at the New York Hilton Hotel.
39. Meghan Markle: High Slit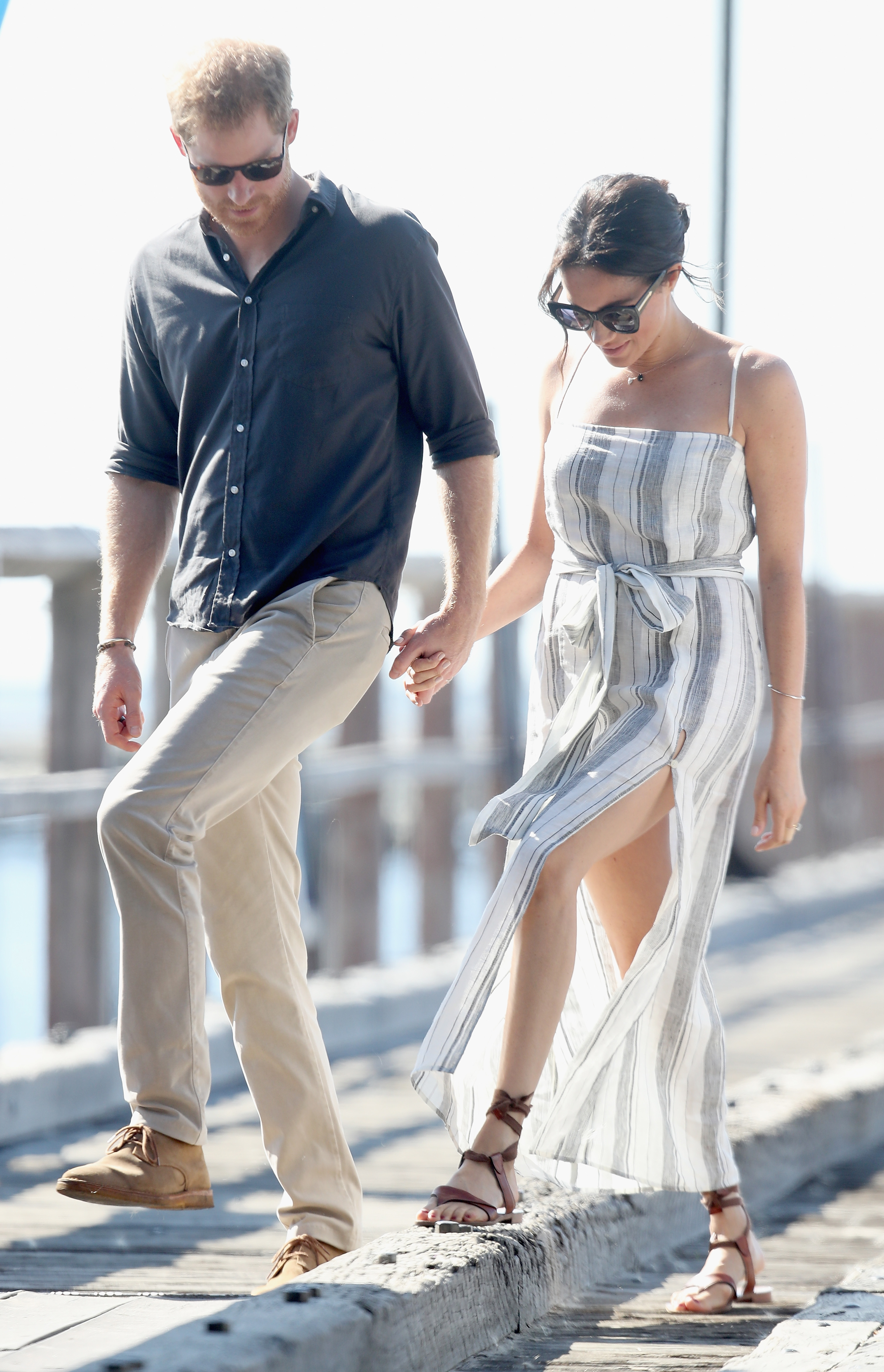 Prince Harry and Meghan Markle were enjoying a casual walk on their trip to Australia in October, but we're sure that Markle's look caused the Queen to raise her brows. Although the striped, breezy linen Reformation dress is totally stylish and modern, it wasn't necessarily the most appropriate choice for a royal, since the slight is dangerously high. With the conservative and modest hemlines the royals usually opt for, this dress doesn't fall into that category.
38. Kate Middleton: High Street Brands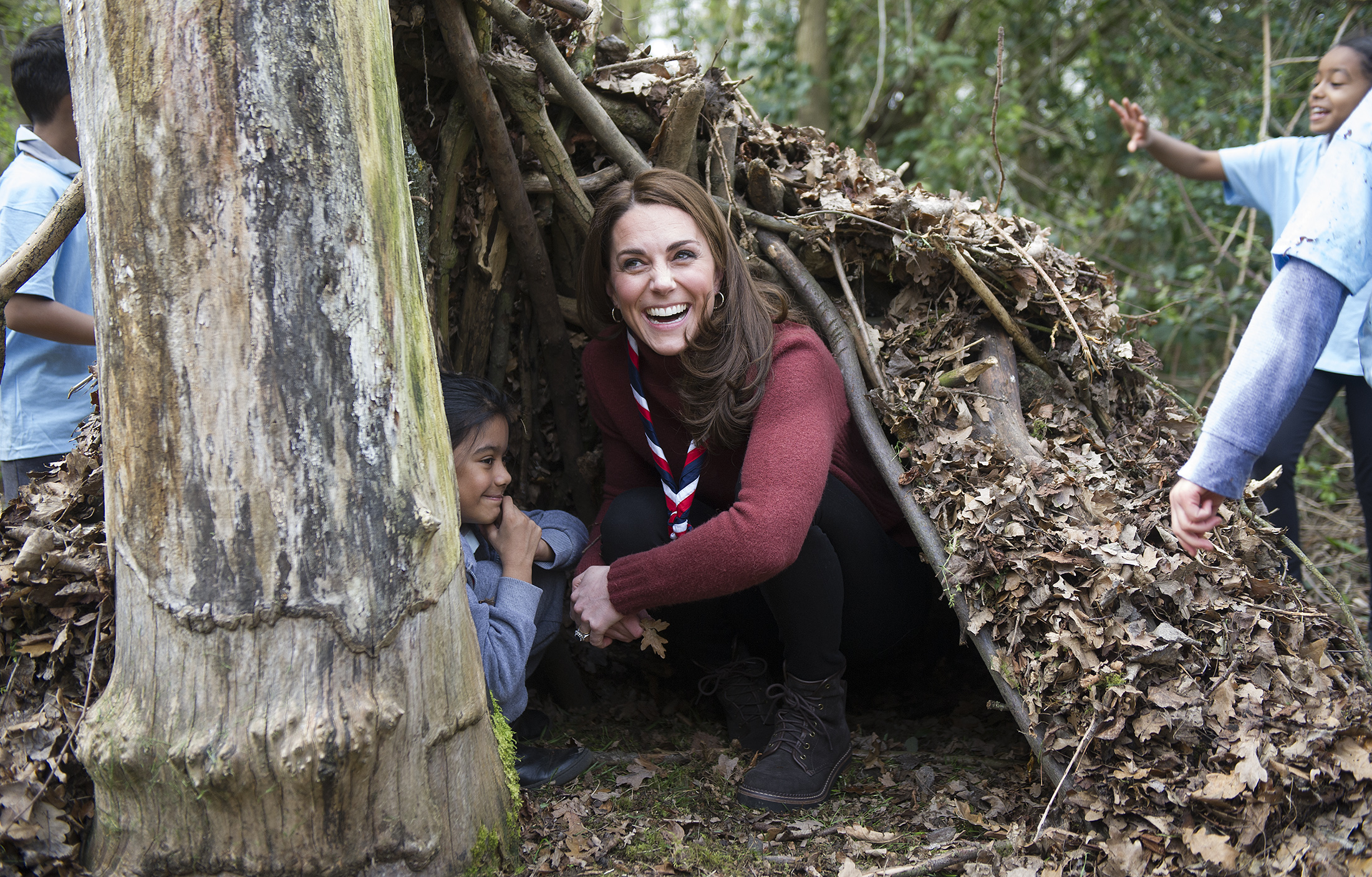 Her Majesty is an avid fan of colorful designer pieces. And whilst Middleton loves a pretty designer piece as well, the Duchess doesn't stray away from high-street brands. Which, most likely, wouldn't satisfy the Queen as Kate steps out in a $50 J.Crew sweater.
37. Princess Diana: Wedges
Queen Elizabeth has let everyone know that she strongly dislikes wedge-style shoes, by publicly commented on the fashion piece. Which means she definitely disapproved of this 1981 look by Diana. Overalls, plus bright pink wedges? This equals a less than happy Queen.
36. Meghan Markle: Sheer Skirt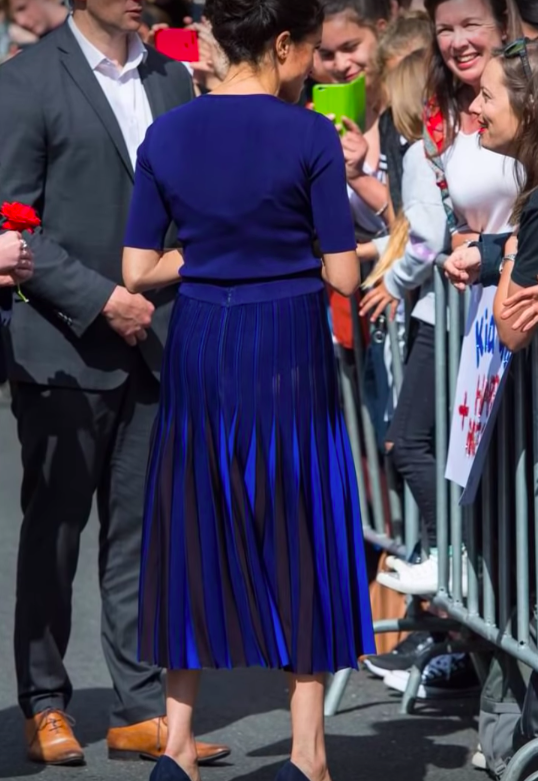 We're still not sure if Markle was aware of the fact, but this royal blue outfit ended up turning a lot of heads since it was, unfortunately, totally see-through. One thing is clear though, and that's the Queen definitely wasn't impressed once the pictures were released.
35. Kate Middleton: Non-Weighted Dress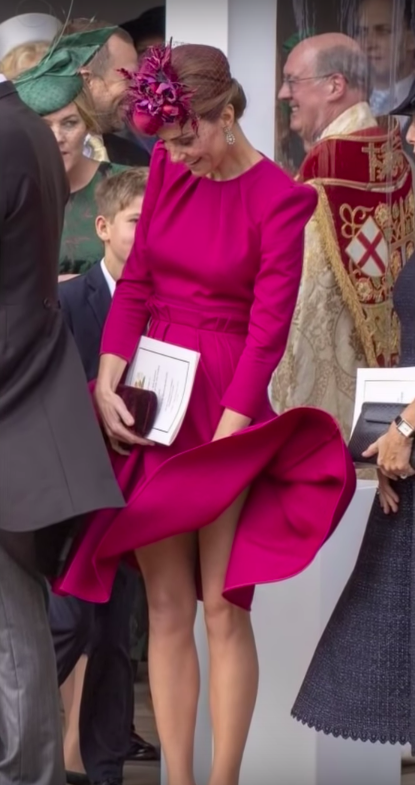 The monarch has shared her fashion hack of sewing weights into the hemline of her dresses, in order to keep them from flying up on a windy day. It also helps the dress stay put in all the right places. Alas, Kate decided to follow her own rules and opted out of using the Queen's tip, as we've seen her dress fly up on numerous occasions.
34. Princess Diana: Bike shorts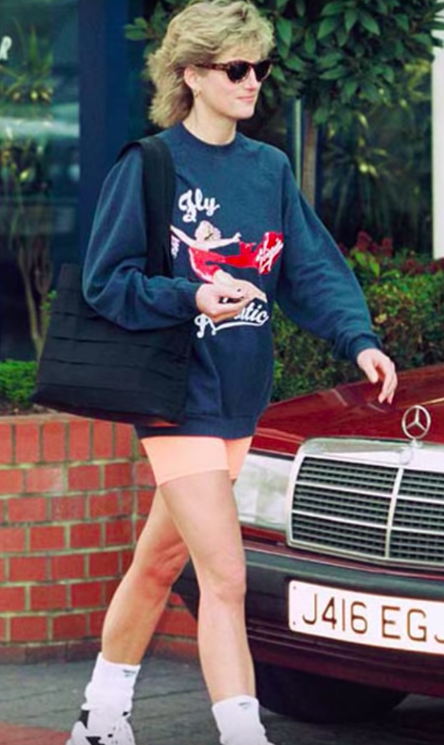 In the '90s, Princess Diana loved to sport some bike shorts on her casual off-duty days. Of course, we loved to see the royal in relaxed and comfortable outfits - Queen Elizabeth, however, probably wouldn't say the same. Especially for shorts that are this small.
33. Meghan Markle: Off-The-Shoulder Neckline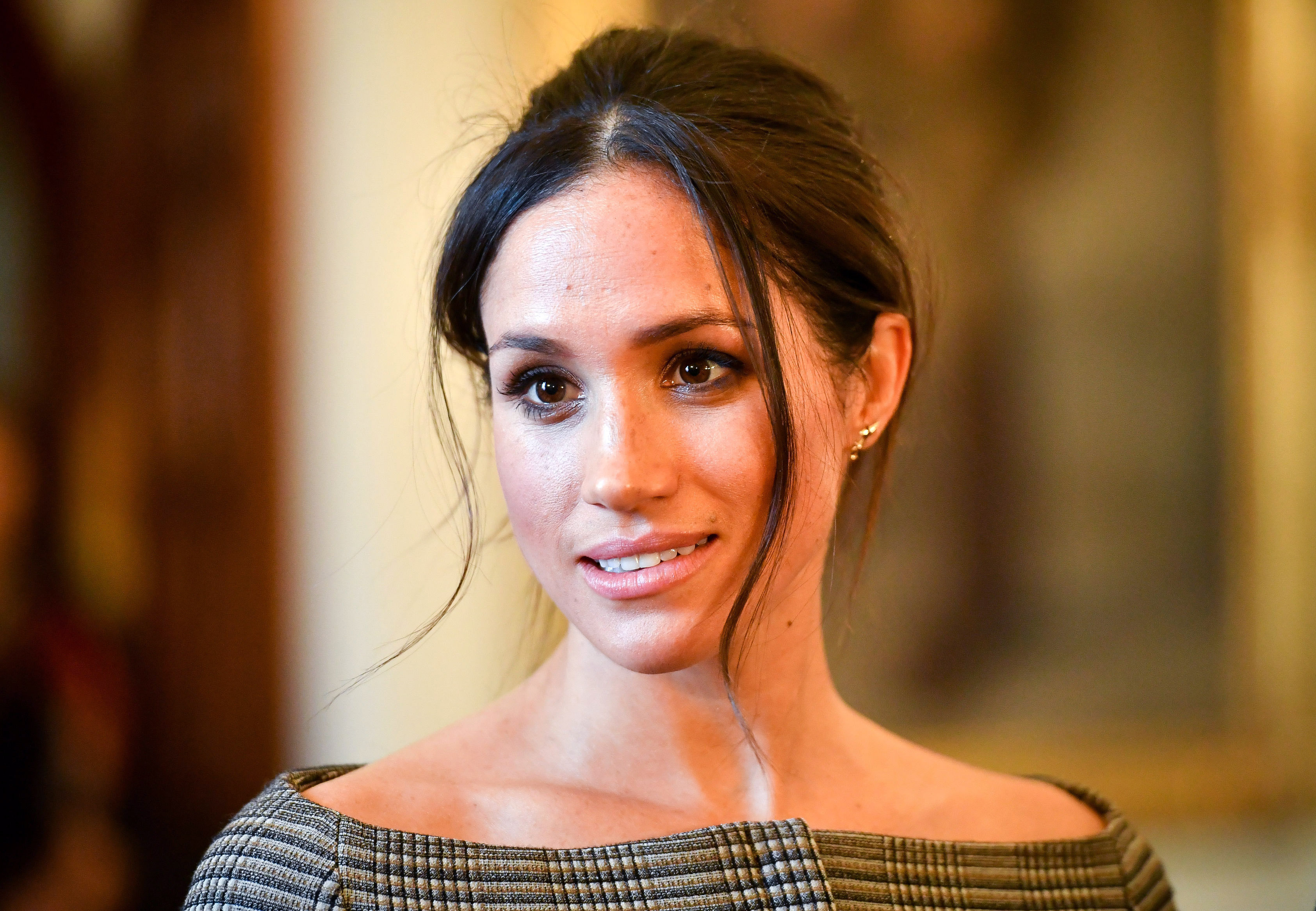 Necklines should be kept modest - an unspoken rule that's been made obvious by the Queen. Even though Meghan's off-the-shoulder look isn't entirely revealing, it's for sure a little daring compared to typical royal style. And again, while we love that Markle finds a way to still look polished and professional whilst incorporating modern trends and her own taste, the Queen, probably, feels differently.
32. Kate Middleton: Country Mishap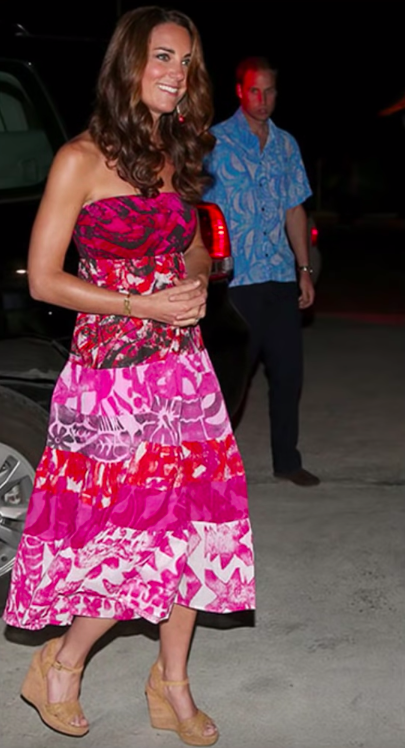 Prince William and Kate Middleton made a trip to the Soloman Islands in 2012, while on an official royal tour. Usually, royals are expected to dress to honor the country they're visiting by wearing their local colors and patterns. Unfortunately, the Duchess went through a mix-up and wore the neighboring Cook Islands colors instead to an official Soloman Islands dinner. The Queen was probably not happy with the mishap.
31. Princess Diana: Sheer Skirt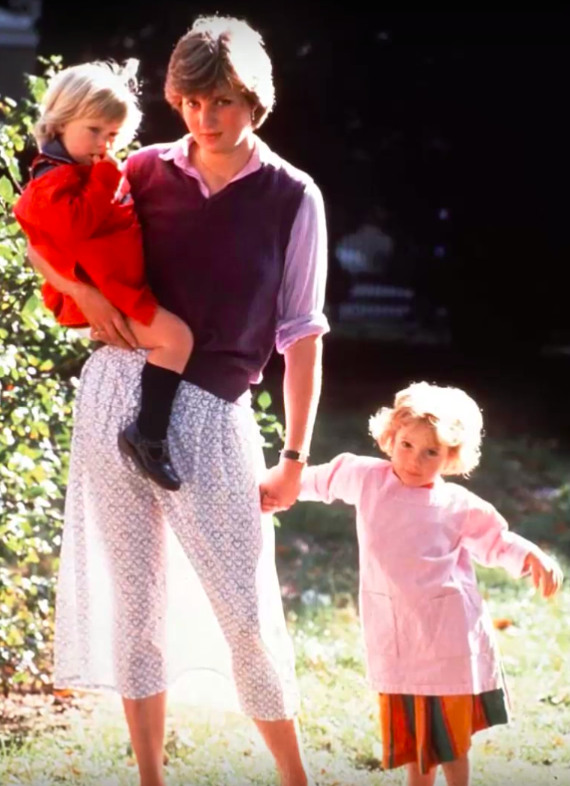 This shot of Princess Diana has become one of the most iconic photos of all time. The skirt appears sheer thanks to the sun, elegantly displaying a silhouette of her legs. The photo was taken when the royal first starting dating Prince Charles, so we're sure that the Queen warned the princess afterward to adjust her wardrobe appropriately for royalty.
30. Meghan Markle: Mismatched Earrings
Markle has made it clear with her fashion choices that she prefers a less traditional style, especially regarding accessories. One of her most scandalous looks was when the Duchess stepped out with two mismatched earrings. Royals mostly opt for more minimalistic jewelry, choosing dainty diamonds and pearls - which is very different from Markle's choice. And although we love that Meghan isn't afraid to display her individuality, the Queen probably minded.
29. Kate Middleton: Short shorts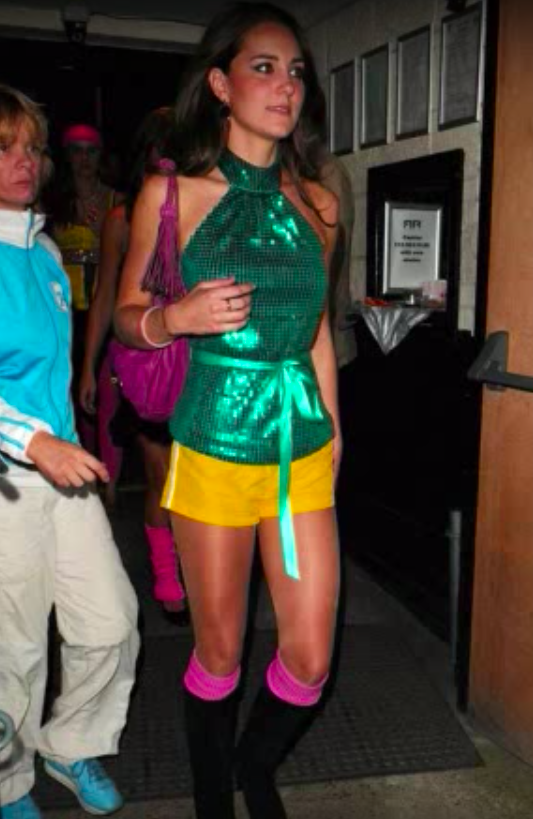 They really are just like us! Middleton seemingly went through her own party-phase in 2008, as the Duchess was pictured dressed up for an '80s themed roller disco party. Of course, this was a one-time thing and not something the duchess would regularly wear, but we're positive that Her Majesty would like to bury these pictures! For any other famous person, this wouldn't be a big deal, but for Kate, who now represents royalty, it definitely puts her in the hot seat for a scandal.
28. Princess Diana: Engagement Look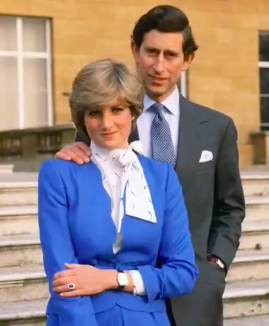 Also making the list of the most controversial looks, Diana made fashion history with her azure blue set that she wore to Buckingham Palace for her public announcement of her engagement to Charles. Many were shocked to find out that the royal pulled the outfit from the Harrods department store last minute! Apparently, Diana had tried to visit Belville Sassoon, a high-end boutique, but was turned away by the French sales assistant who advised her to visit a budget-friendly store. Of course, after realizing her mistake and realizing who Diana was, the royal was welcomed back into their boutique.
27. Meghan Markle: Pants vs. Dresses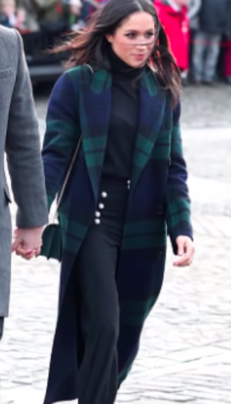 Meghan shocked the world when she was seen wearing these wide leg pants for a public appearance. Before Markle's time, royal women were expected to wear dresses and skirts for official outings - but the Duchess opted for tailored pants instead. We love her progression, but the Queen's probably not too satisfied Meghan's defiance.
26. Kate Middleton: Colored Denim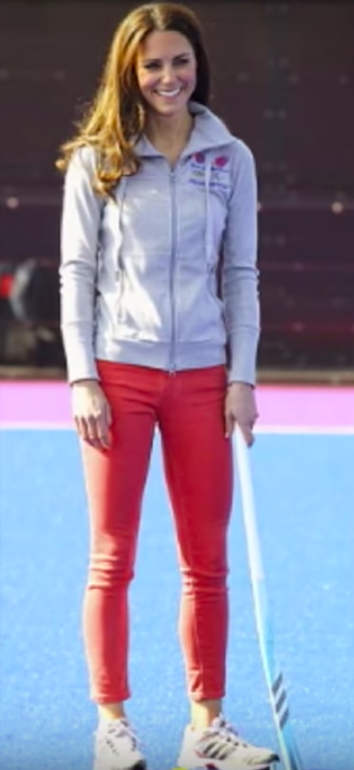 Queen Elizabeth loves to incorporate some color into her wardrobe, but only if its an outerwear piece or a tailored suit. Kate Middleton's choice of coral pink jeans in 2012 definitely livened up her outfit, but the Queen more than likely found it a bit garish. Instead, we're sure the monarch would have had Middleton opt for a colored purse or jacket, rather than jeans.
25. Princess Diana: Oversized tailoring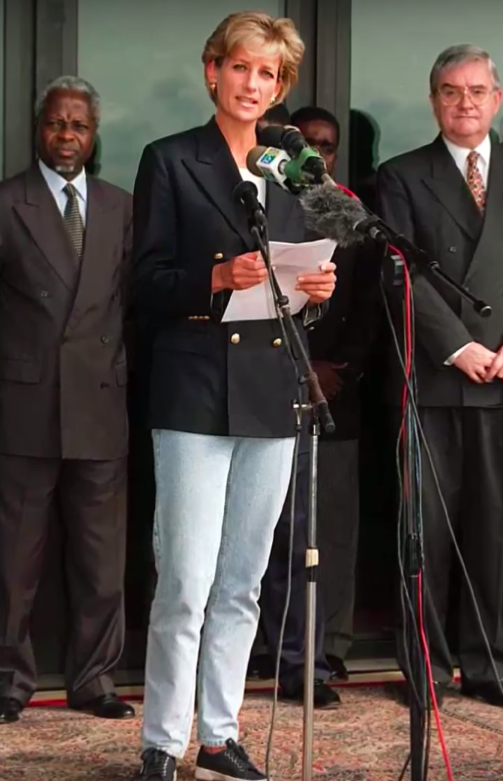 Oversized blazers and tailoring became an iconic look for Diana. The royal clearly had a talent in figuring out what was in style and predicting future trends, since the exact same fashion is seeping back into our current world, decades later. Although super stylish now, back then, the princesses oversized and not perfectly fitted clothing was extremely controversial.
24. Meghan Markle: All Black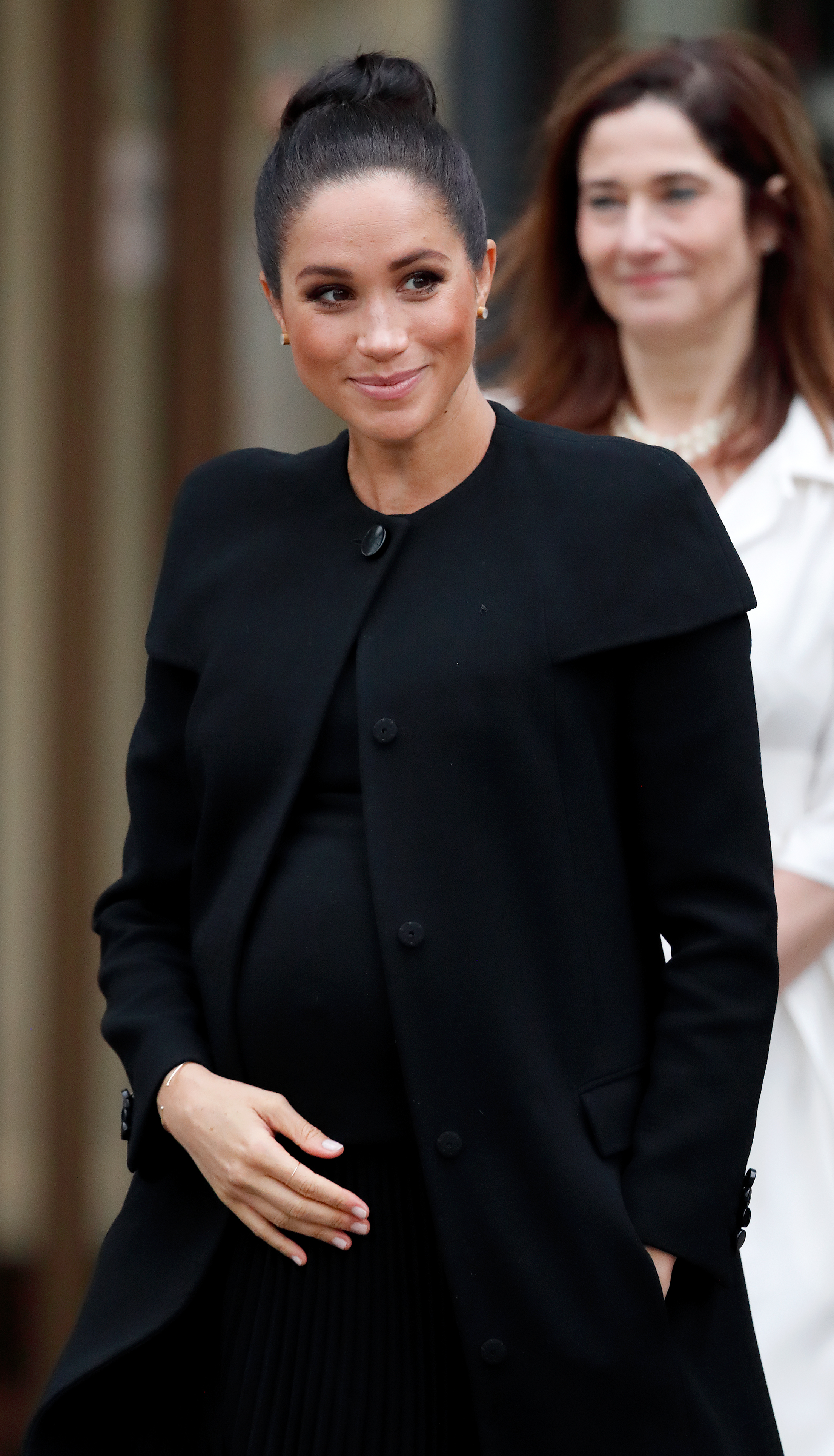 Kate Middleton took note of Queen Elizabeth's eccentric and bright wardrobe, by gravitating towards bright pieces of her own, as well as colorful pastels. Markle, however, has shown that she's not afraid to stand out and stays true to herself by continuing to display her love for blacks and neutrals through her outfits. We love the minimalist and chic look the Duchess has opted for, but the Queen probably wouldn't say the same.
23. Kate Middleton: Baseball Cap
When it comes to hats, Her Majesty is a huge fan, but only for specific styles, such as traditional British fascinators. Casual baseball caps? Not so much. But, that didn't stop her daughter-in-law from rocking one! Although it might be the perfect choice for sailing, the Queen probably thought otherwise.
22. Princess Diana: Revenge Dress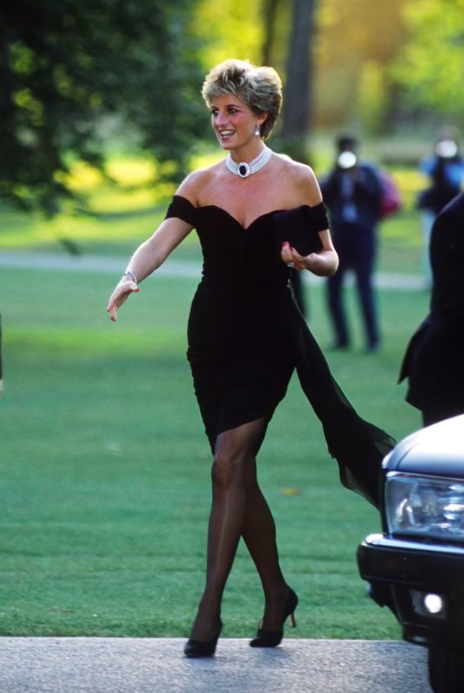 This look became Princess Diana's most iconic outfit. The off-the-shoulder minidress was dubbed the "revenge dress" since the princess wore it right after Prince Charles publically admitted to cheating on his wife. The leggy, revealing dress couldn't have been more perfect as a power outfit choice, with all eyes on the princess that evening at the Serpentine Gallery benefit. This, arguably, marked the moment where Diana's love for bold fashion was born.
21. Meghan Markle: Statement Jewelry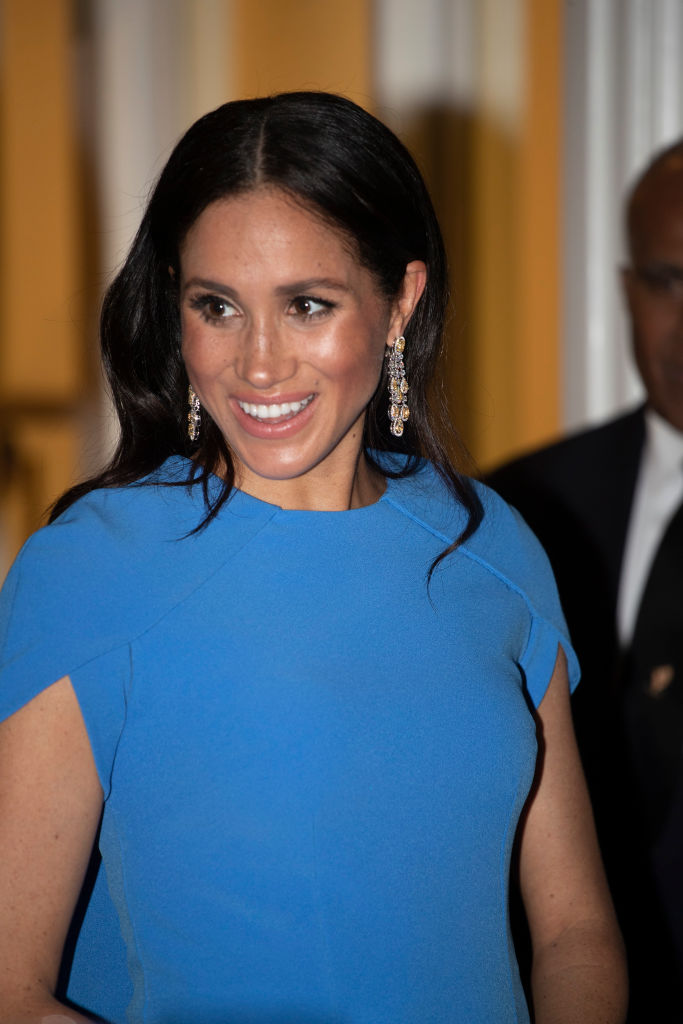 Kate Middleton wasn't ever a big fan of exaggerated costume jewelry since she's always seen wearing pearls and dainty diamonds instead. Which, most people assumed, Markle would transition to as well once she became a royal. The Duchess was known for her edgy wardrobe, so statement jewelry probably wasn't an easy thing for Meghan to give up. 
20. Kate Middleton: Slouchy Boots

When she was a commoner just like us, Middleton usually opted for more casual styles. However, despite her simple looks, the Duchess still managed to look like she walked out of a Ralph Lauren catalog, with her polo t-shirt, cable knit sweater, and white mini skirt. The outfit looks amazing on her, but it's not really a look for royalty.
19. Princess Diana: No hat
British royals are often expected to wear fascinators and hats for public affairs, but this was one rule Princess Diana often broke! According to British Vogue, the princess was international with her wardrobe and put a lot of thought into the perception every single piece gives off. And when it came to hats, the princess believed that it made her seem unapproachable. She even stated once, "You can't cuddle a child in a hat."
18. Meghan Markle: Ripped Denim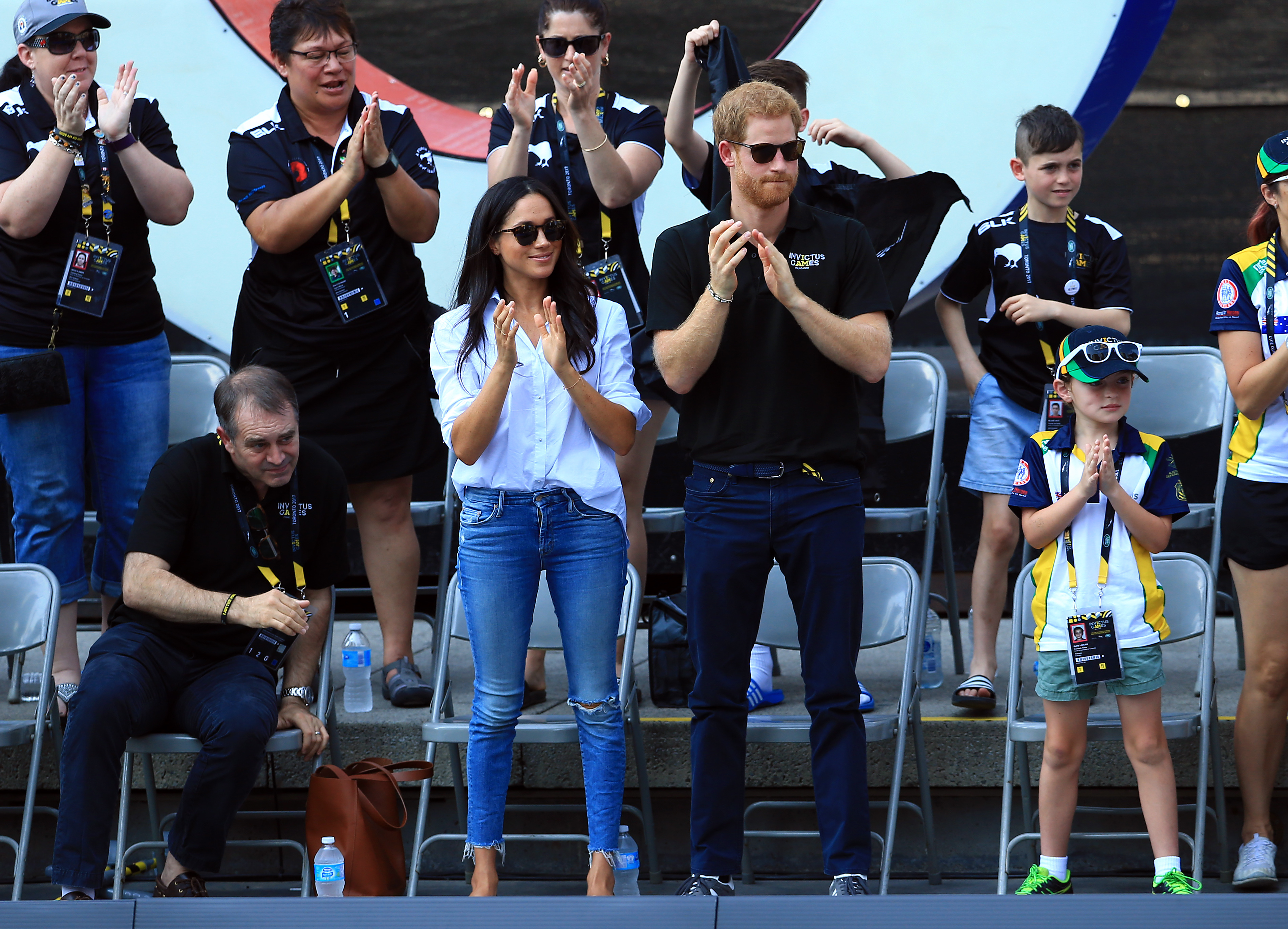 Surprisingly, denim isn't totally off the table for royals. Kate Middleton, for example, has been spotted rocking dark denim in a tailored skinny fit, looking casual but professional and appropriate at the same time. Markle, however, definitely has her own approach to denim and has worn distressed styles multiple times!
17. Kate Middleton: Strapless Neckline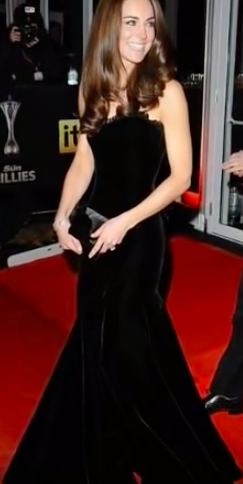 It's not surprising that Queen Elizabeth expects the rest of the royals to wear modest, high necklines in public. But, it looks like Kate Middleton might disagree with the monarch's practice. Kate's velvet look from the 2011 Sun Military Awards was quite controversial at the time, due to its strapless neckline and figure-hugging shape. The dress was arguably more fitting for a celebrity, rather than a royal figure.
16. Princess Diana: No gloves
Refusing to wear hats wasn't the only thing Diana did. The princess apparently wasn't a fan of wearing gloves either! A previous royal tradition, the princess opted to keep her hands bare, in order to allow skin-to-skin contact with those she met. Even though it was previously expected that royals shouldn't be touched, especially the ones who were higher in the social hierarchy, Diana changed the rules with her humility and down-to-earth attitude.
15. Meghan Markle: Dark Nail Polish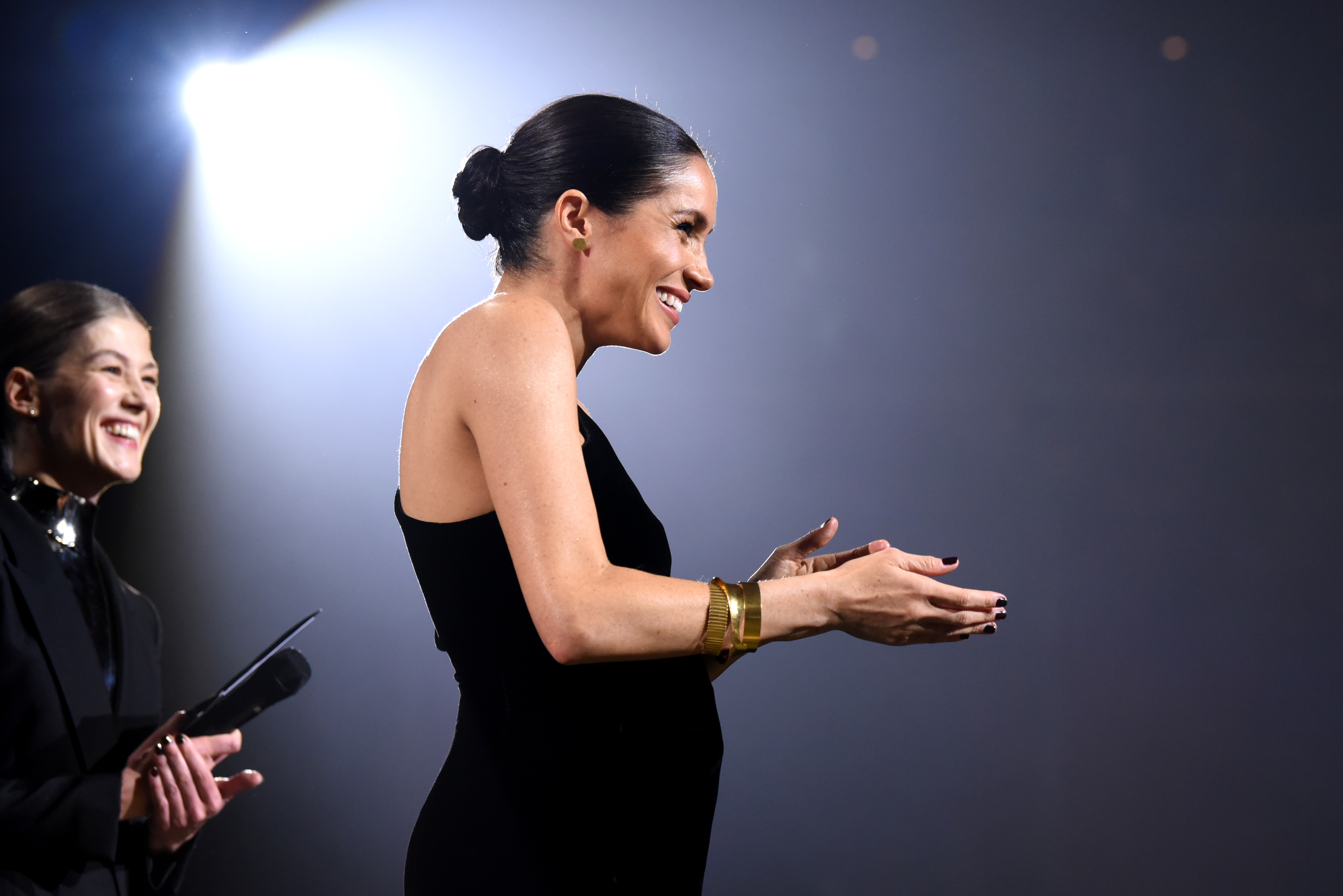 Something as minimal as nail polish is another controlled factor for the royals! And Meghan Markle probably had the most trouble dealing with this one. Middleton has never been seen wearing nail polish, and the Queen has also sported a soft pink manicure for over 30 years. 
14. Kate Middleton: Sparkly Dress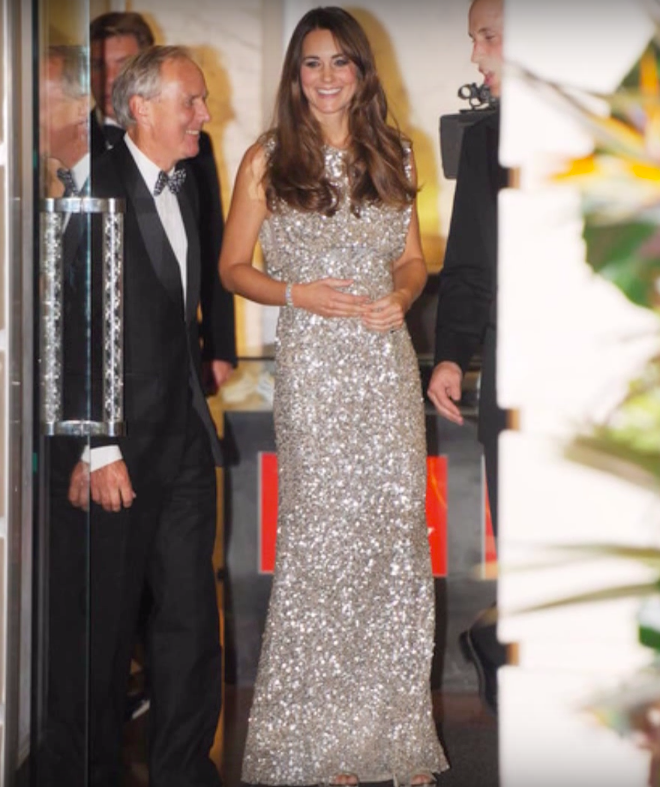 The monarch often opts for simple bright colors, instead of embellishments and textures. Kate, on the other hand, seemed to have a love for the latter. The Duchess stepped out in a sparkly number at the Tusk foundation gala dinner, dressed in glitter from head to toe. Of course, she looks absolutely fabulous! However, the sultry look probably didn't sit well with the Queen.
13. Princess Diana: One-shoulder neckline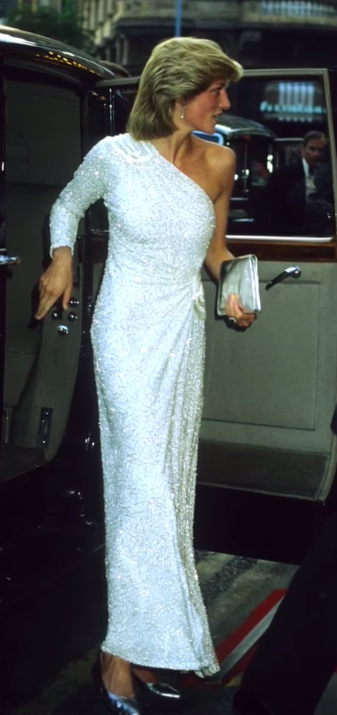 Princess Diana loved to rock trendy cuts and styles when it came to dresses, including this one-shoulder neckline. Since nothing similar has ever been worn before a royal, this was definitely refreshing to see - even though she caused quite the commotion multiple times.
12. Meghan Markle: Handbag vs. Clutch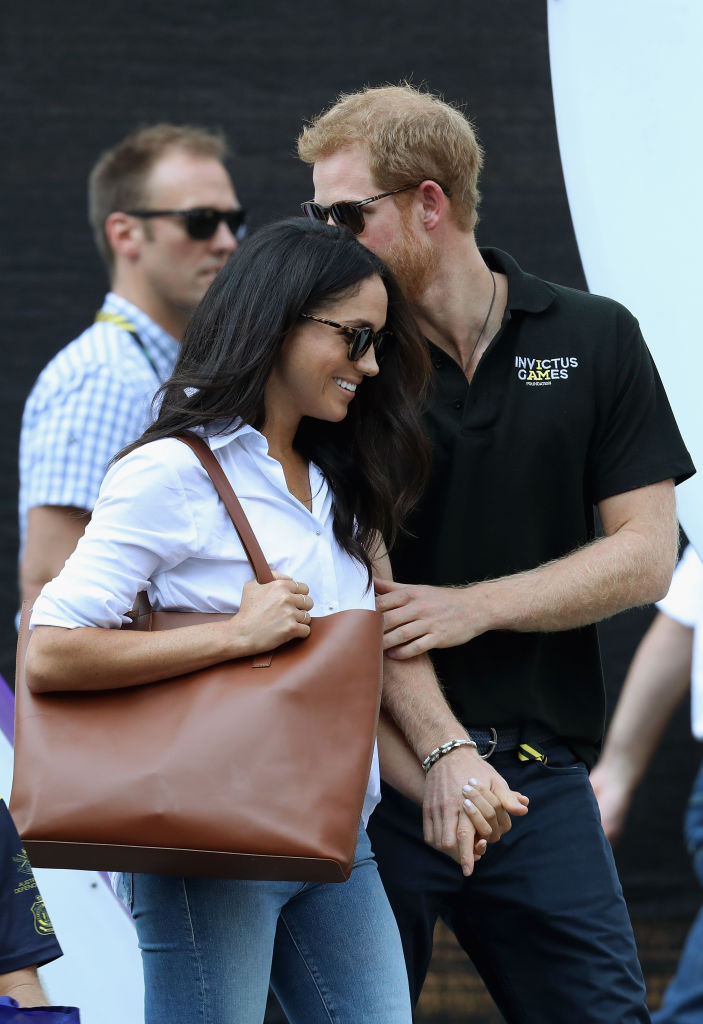 One of the unspoken rules the Queen has laid down has to do with carrying clutches instead of totes and handbags. Kate Middleton and the monarch are avid followers of this rule, but it seems like Markle was unaware. In one of her very first public appearances with Prince Harry, Meghan showed up with a burgundy and navy tote bag, rather than a clutch.
11. Kate Middleton: Tracksuit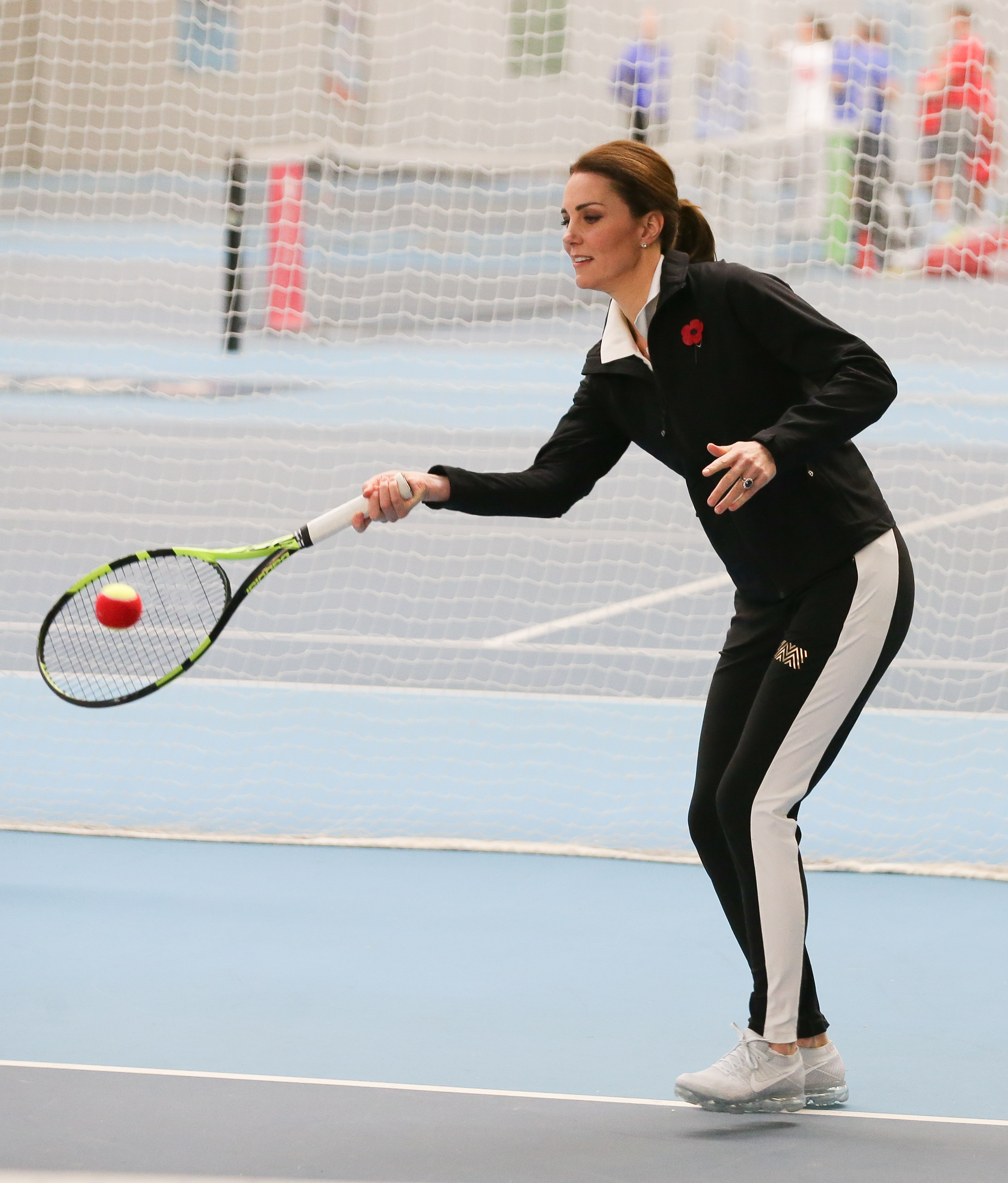 Middleton finds a way to do the one thing most of us seemingly struggle with, and that's looking refined even when dressed casually! However, recently, the Duchess opted for a super casual look, with ski jacket and a pair of side-stripe athletic pants. Although extremely relaxed, Kate still managed to look gorgeous! But, Her Majesty probably had a different opinion.
10. Princess Diana: Wore necklace as a tiara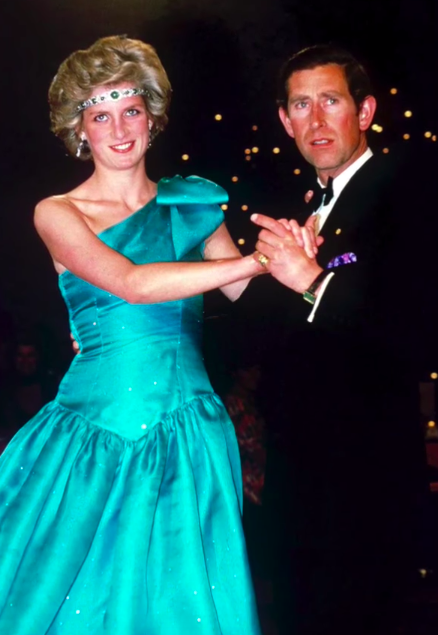 The Princess of Wales was a fan of styling clothes in interesting and new ways, and this outfit from a gala in Australia is an example of that. Diana's sparkling headpiece was a gift from the Queen, and was actually a necklace! It was first remodeled for Queen Mary, then inherited by the monarch in 1953, who passed it down to the princess as a wedding gift. Although this probably wasn't the way Queen Elizabeth had pictured Diana to wear the piece, we hoped she loved the royal's unique take on it!
9. Meghan Markle: Dramatic Smokey Eye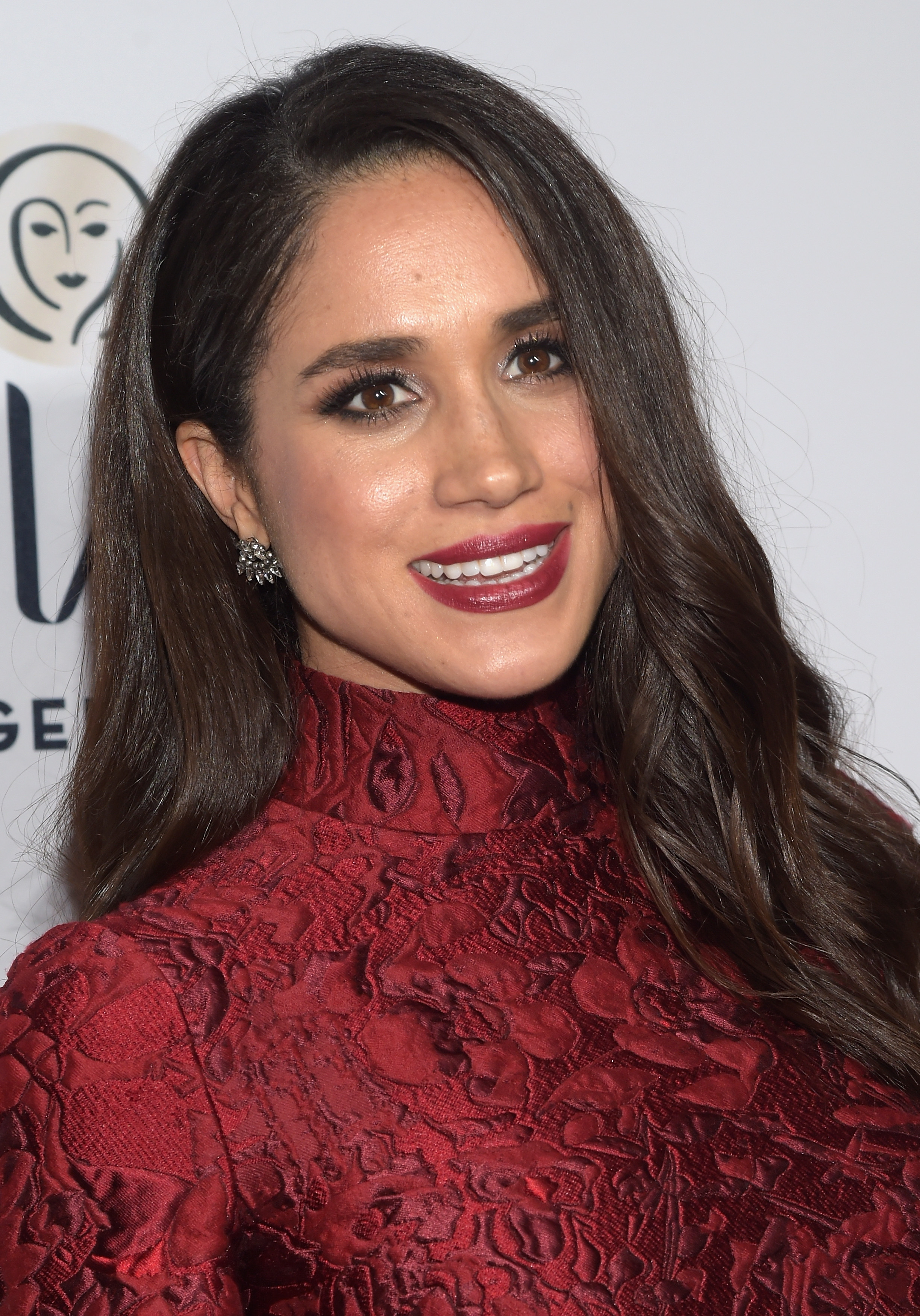 Before becoming a royal, Meghan Markle was a big fan of a show-stopping smoky eye. The former actresses signature makeup look involved glowy, light skin, with a natural lip color, paired with a contrasting dark lid. Queen Elizabeth and Kate Middleton are clearly the opposite, who are always opting for a minimalist, natural look. Which is why we can assume that Meghan's dramatic smoky eye probably wasn't approved by the royals!
8. Kate Middleton: Sheer Cutouts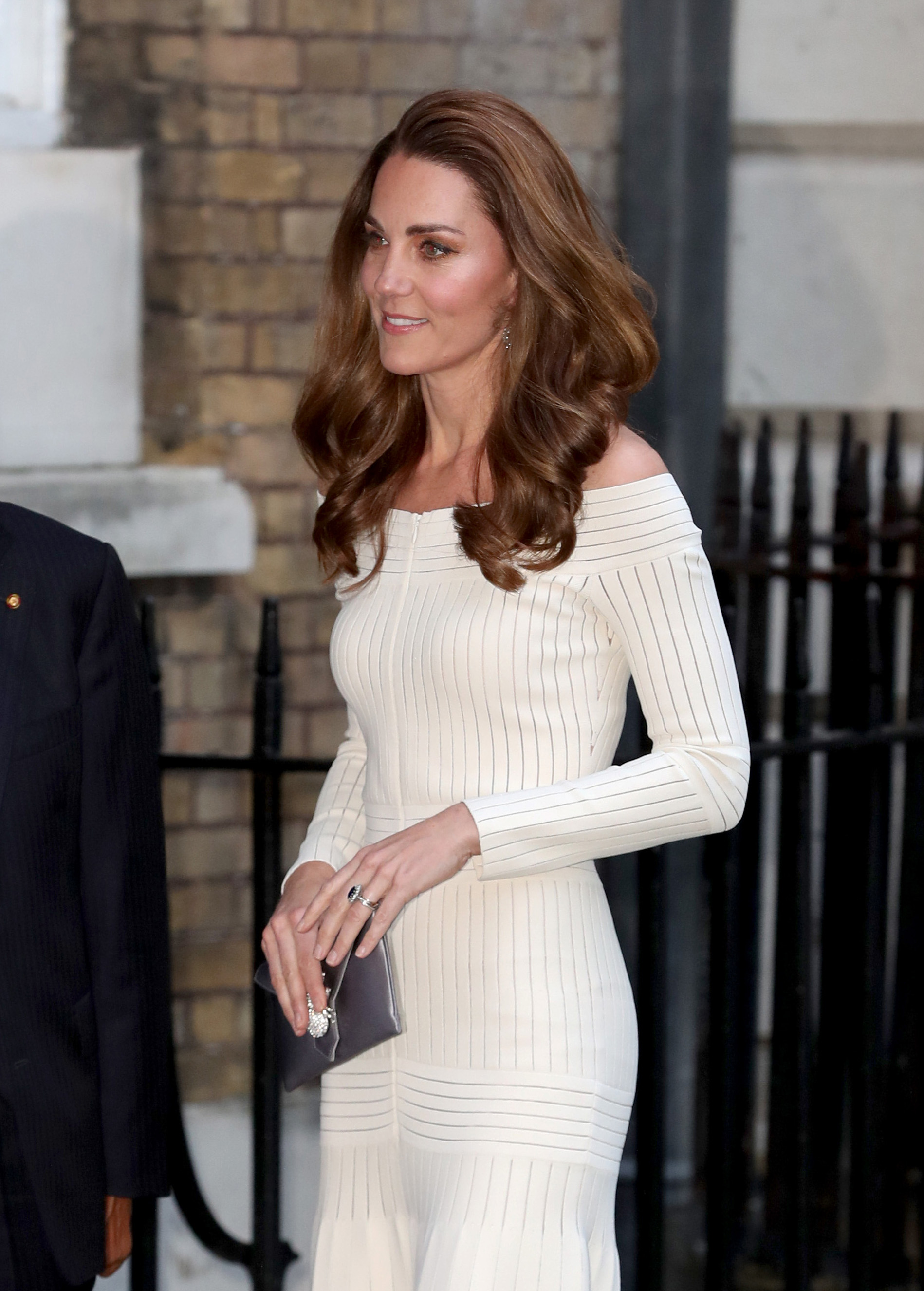 Whilst the Duchess of Cambridge has sported riskier looks, Middleton's sheer cutouts were definitely a little scandalous. Positioned in every direction, that covered the entire length of the dress, the outfit required a slip underneath, as it was pretty risque. Especially considering the off-the-shoulder neckline too!
7. Princess Diana: Casual fashion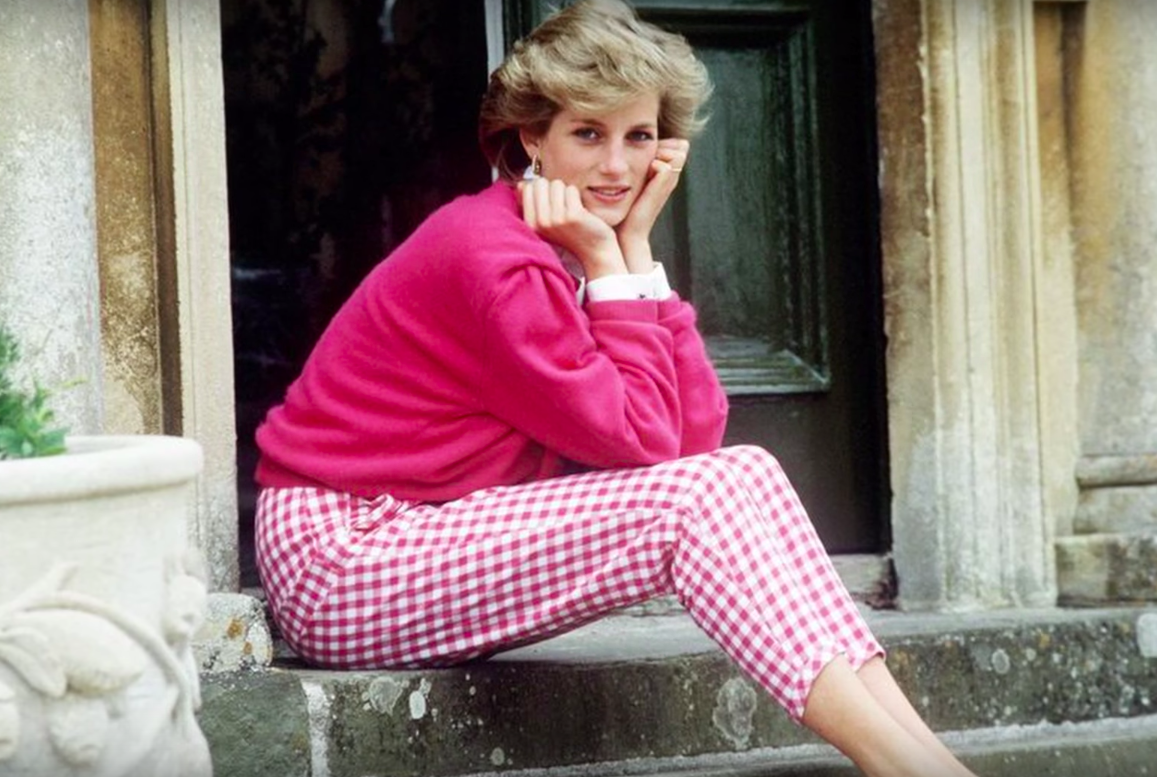 Casual fashion became acceptable for the royals all thanks to Princess Diana. Before her down-to-earth personality, this type of uniform would never have been worn within the royal family.
6. Meghan Markle: Wearing Canadian Brands
The Royals are obviously patriotic, so it's important for them to support local fashion brands that are based out of the UK. Middleton and the Queen have assisted numerous British brans by rocking their pieces on a regular basis, bringing the public's attention to them. Markle, however, is proud to rock her Canadian-based pieces instead, a country she worked in for many years.
5. Kate Middleton: Knee-Baring Hemline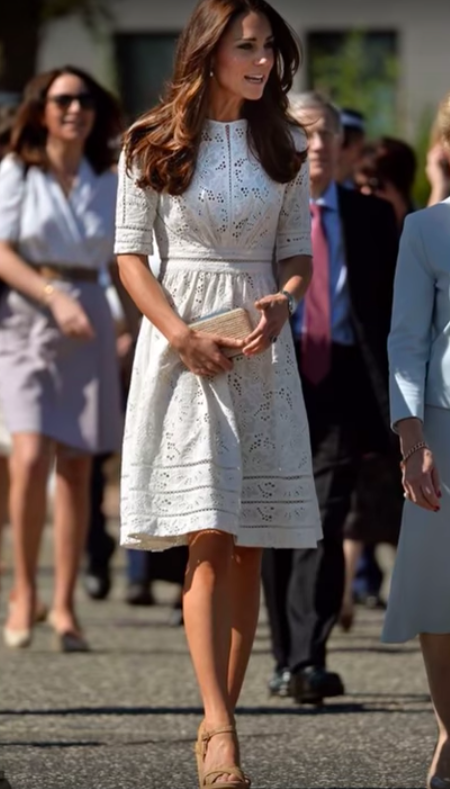 Dress length and hemlines are another important royal style protocol. Even though the Duchess is cautious to wear tea dresses which go past her knees, she has broken the rule on a couple of occasions by wearing something a little more thigh-baring. 
4. Princess Diana: Flashy textures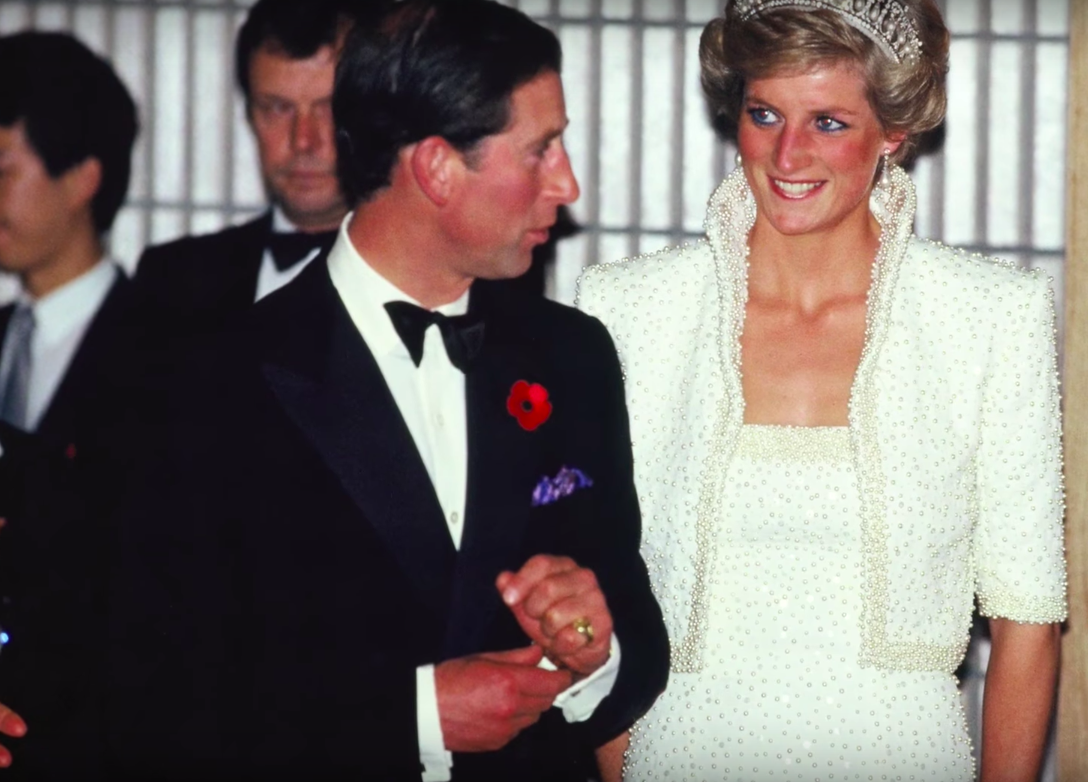 Diana loved to stand out from the crowd, and she did exactly that with her glittering, textured outfit! From flashy sparkles to embellishments, the princess was a huge fan of flashy textures. And this specific look did a perfect job at depicting this. Although it's definitely not something we would have seen the Queen dressed in.
3. Meghan Markle: Messy Bun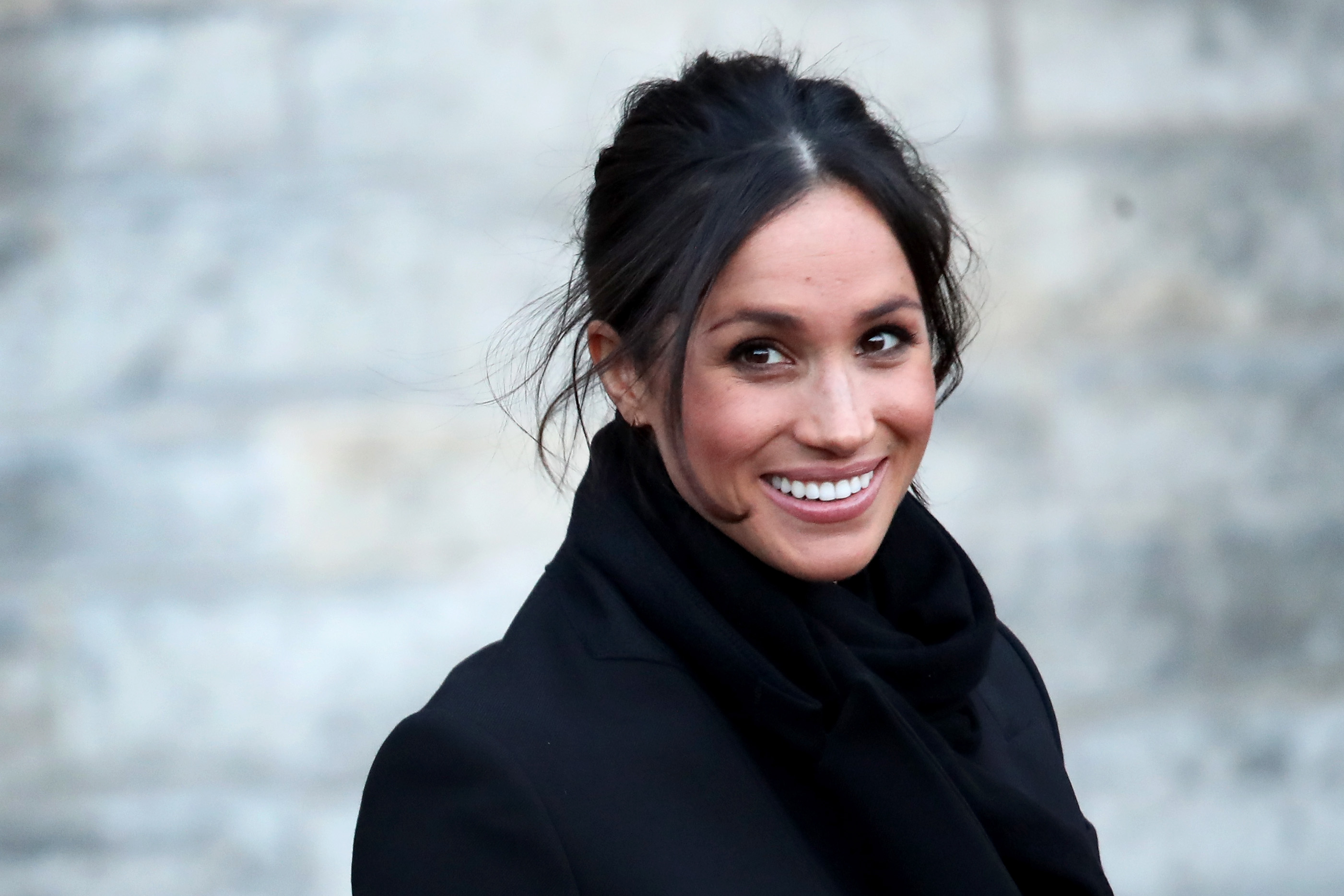 Polished and proper is the royal family motto, especially when it comes to grooming. Middleton has always stepped out with her shiny locks perfectly coiffed, and her updos always tucked into a sheer hairnet. Markle, however, decided to prove that these polished and proper looks are of the past, as she has stepped out into public with a loose, messy bun on numerous occasions. She still manages to make it look elegant, but the Queen probably doesn't agree with the style.
2. Kate Middleton: Cowboy Hat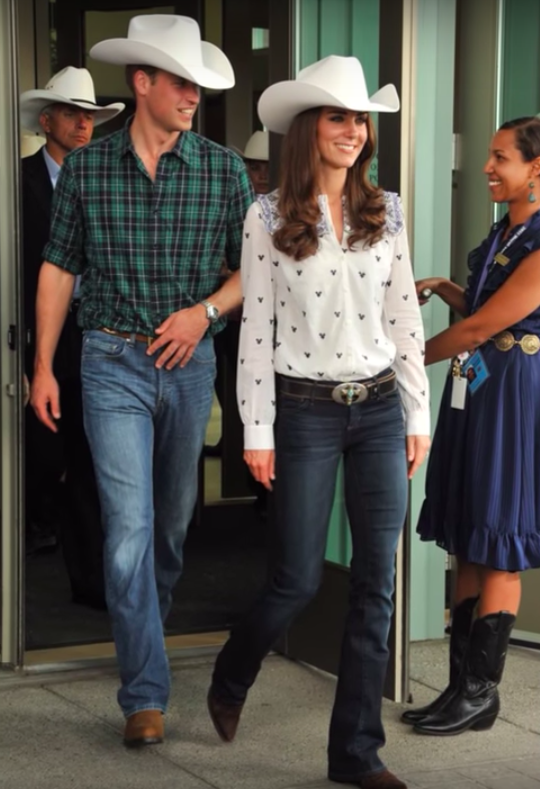 The Queen definitely wouldn't have approved of the western-inspired look. In 2011, Prince William and Kate attended the Calgary Stampede, and decided to dress the part too! Rocking a white western cowboy hat, with an oversized bull belt, along with traditional cowboy boots, Middleton nailed the theme. Alas, even though it was done in good fun, the Queen most likely didn't approve of these commoner-level outfits.
1. Meghan Markle: No stockings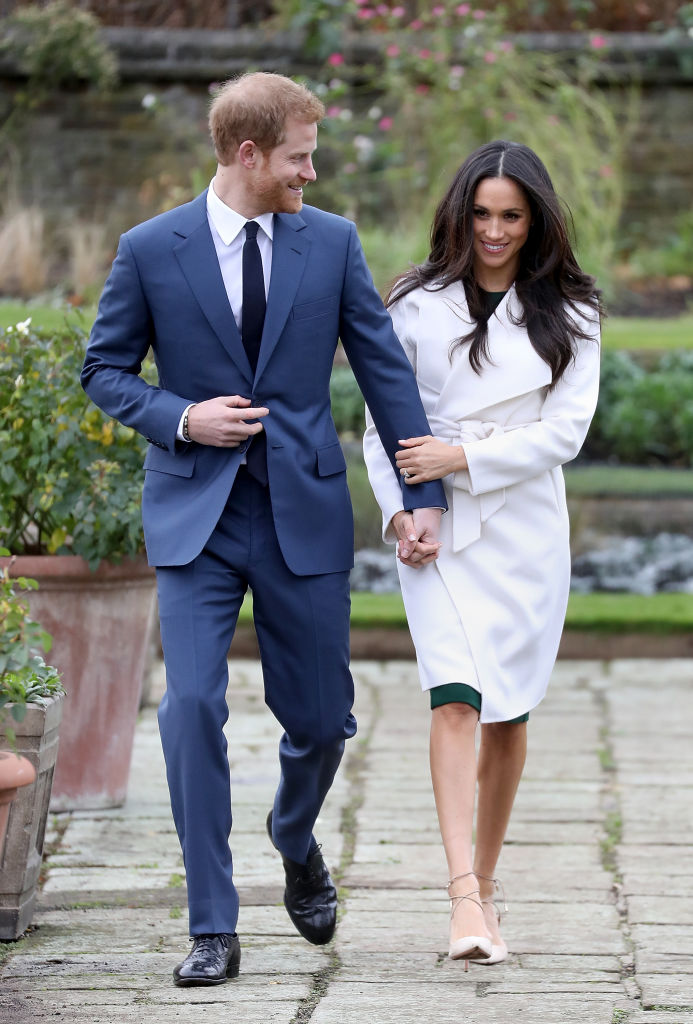 Royal fans were shocked to see Markle step out to announce her engagement without stockings! After all, this is the number one royal style rule to keep in mind. Middleton and the monarch always make sure to keep their looks discreet by wearing sheer stockings, even though many might argue that this is a look of the past. Markle seems to agree, hence her rule-breaking!
As times change, so do traditions and rules - especially anything regarding fashion. And, although the Royals are all about presenting the proper image, there definitely isn't anything wrong with going stocking-less once, or sporting a classy-looking messy bun at a public event ... or is there? Tell us what you think!
Sources: Fame10
Related: