What Does It Like To Live A Lavish Life Of The Kardashian Kid
The Kardashian-Jenner clan is one of the most richest and famous families, and as such, their children are living in it. Although the oldest of these children is barely ten, they have seen all the luxuries life has to offer. From lavish birthday parties that cost more than some weddings to trips around the world in private jets, these kids are living their best lives.
It's hard not to envy their lifestyle as they are living the life some only dream of. It is so ridiculous that little North got a $4,000 pure-breed Pomeranian dog for her fourth birthday! To get more details about the posh lifestyle of the Kar-Jenner kids, stay tuned. 
GRANDIOSE, FANCIFUL BIRTHDAY PARTIES
Birthdays come only once a year, but the Kardashians-Jenners children have the best parties that will be talked about for a year until their next. Forget birthday cards and caps or store bought gifts, the Kardashians take birthday parties to the next level. They have costly parties in which their parents go all out for them. When Kim Kardashian shut down Disneyland in 2015 for her daughter's second birthday; we thought we had seen it all. Then Kylie Jenner did more with a theme park party for her daughter's one-year-old birthday party in February 2019. 
The party was accompanied with a cake that had a carousel, an actual gift shop at the venue, fries served in Louis Vuitton boxes, and carnival rides. Kylie went over the top for her daughter, Stormi Webster creating a different world for the guests at the legendary party, with the party aptly named 'stormiworld' after her father's album, 'astroworld.' Rumors are that Kylie hired a celebrity wedding planner, Mindy Weiss, to plan the party. There's no doubt this party cost more than most people's salary.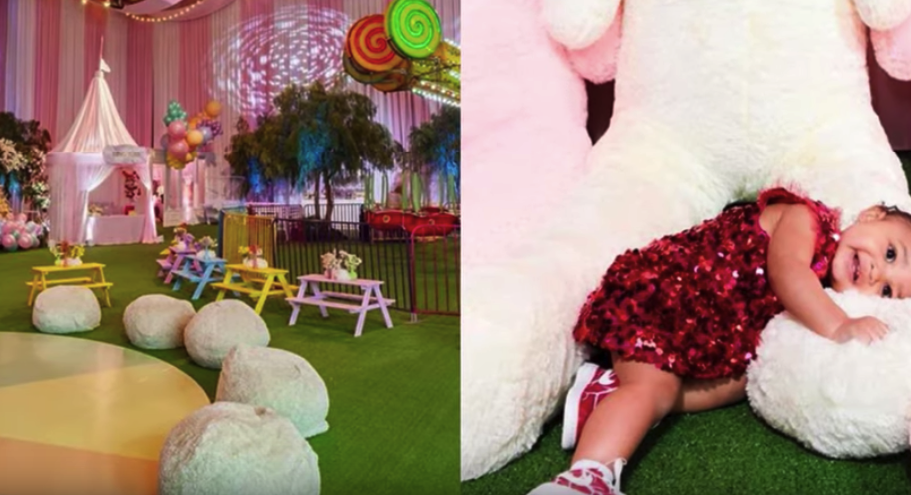 If you think Stormi is the only kid who got an elaborate party from her superstar mom, you're wrong. Chicago also had one of the most expensive one-year-old birthday parties. The party had an Alice in Wonderland theme complete with a baby-sized topiary maze in the hallway, a three-tiered cake with a smiling Cheshire cat, and a bouncy house at the backyard.
Guests were able to see Alice and the Queen of hearts and even play real-life chess. Kanye and Kim put effort into their daughter's first birthday as they turned their house into the Queen's garden just for the occasion. Interestingly, Chicago was more concerned with running around the house.
Since we're still on first birthdays, we can't leave out True's fairytale-like pastel birthday party. Khloe Kardashian also hired Mindy Weiss like other Kardashian-Jenners moms for her little girl's party. Just like the tradition of extravagance, this party had cascading pastel colored balloons, a huge topiary letter that spelled out True. They even had unicorns at the party. We admit they're not unicorns, but only a Kardashian gets to ride a pony on their first birthday.
Khloe Kardashian went on to twin with her daughter in powder blue outfits accessorized with diamonds. The guests came in through a cloudy mist on the floor and even picked beautiful donuts from a pastel-colored canvass. Khloe indeed went extra for this party. Well, birthdays are only once a year. So, let's get to know exactly how they live their daily lives, gallivanting the world.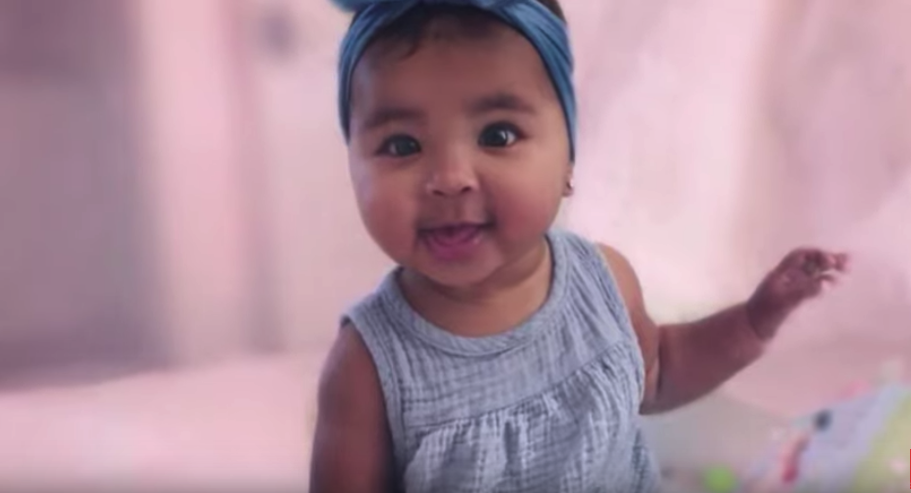 EXPENSIVE RIDES
Just like everything the Kardashians do, they also travel in style. Remember when Kourtney Kardashian reminded us she doesn't travel with her children in a minivan by posting a photo of two of her children sitting on a $122,000 Mercedes SUV. Let's not get started on how much the pink Fiat for her kids is worth, but just so you know, it's crazy expensive. As Kourtney Kardashian is a fan of getting the kids their ride, you need to see the little yellow Mercedes G-Wagon she gifted her niece, Chicago, for her first birthday. Kourtney must have gotten this idea from Kim's neon Mercedes G-Wagon, which costs $240,000. We are curious whether it has custom made car seats for her four children.
Stormi, ever since her birth has had only the best available as we saw a picture of her mum, Kylie Jenner, pushing her in a $12,000 Fendi stroller. She was only two months old then, but when she was about ten months, her mother upgraded her transport to a custom made Lamborghini.
The mini Lamborghini can be bought on Amazon for $389, but we are sure that the Louis Vuitton monogram must have added a little bit more cost. Though baby Stormi can't ride yet, there is a remote control with which her billionaire mom can control the car. How comfortable!
LUXURY FLIGHTS
Flying around with children can be quite challenging, but it's the opposite for the Kardashian-Jenner clan. They usually fly in private jets, so don't expect to meet one of the Kardashian-Jenners kids on a plane. We noticed how comfortable the seats looked and how spacious the aircraft Kim and Kanye traveled in when she shared a picture of her family of five on Twitter in 2018.
Khloe Kardashian also showed us exactly how baby True likes flying; in a luxurious jet, in October 2018. This was when they were traveling to Bali for a family trip, at the time, True was just six months old.
EXORBITANT VACATIONS
Travelling on a private plane is enough luxury for some people but not the Kardashian-Jenners kids - they enjoy a lot more than that. As of June 2019, we have been loving every scene of season 16 of 'Keeping up with the Kardashians' as it has been sharing with us their family vacation to Bali. 
Kourtney also went on an extravagant trip to Italy with her children in May 2018. We couldn't help but drool over pictures in which she was rocking a matching swimwear with daughter Penelope. They even celebrated Penelope's sixth birthday during their visit to Italy; we wonder how much fun the kids must have had. 
This reminds us of when Kylie took her baby, who was not even a year old, on vacation. The vacation venue is so exclusive we still don't know where it is. But we're sure baby Stormi enjoyed herself as the place looked idyllic with beautiful sunsets and palm trees. They even matched swimsuits in the color lime green.
For Stormi it is much more than just the vacation, as she even packs for traveling in style in custom made Louis Vuitton duffel bags which costs at least $3,850 each. Maybe the bags contained her beautiful sneakers collection or her $20,000 Hermes bag. We never can tell.
DESIGNER ONLY
Remember when Kim went to Japan on vacation and bought Louis Vuitton bags for all of the Kardashian-Jenners kids. Kim didn't even splurge on these bags as all 8 cost $1,100 a piece. Maybe it's for them to be able to pack their clothes on their luxurious vacations, we're not sure. 
Clothes for them means only designers. If we were to check what North would pack, it would be one of her numerous fur coats which some cost $3,500. True has to pack her Gucci t-shirt that costs $180. For Penelope, she has to pack her $385 Gucci slippers; you know something comfortable to wear around.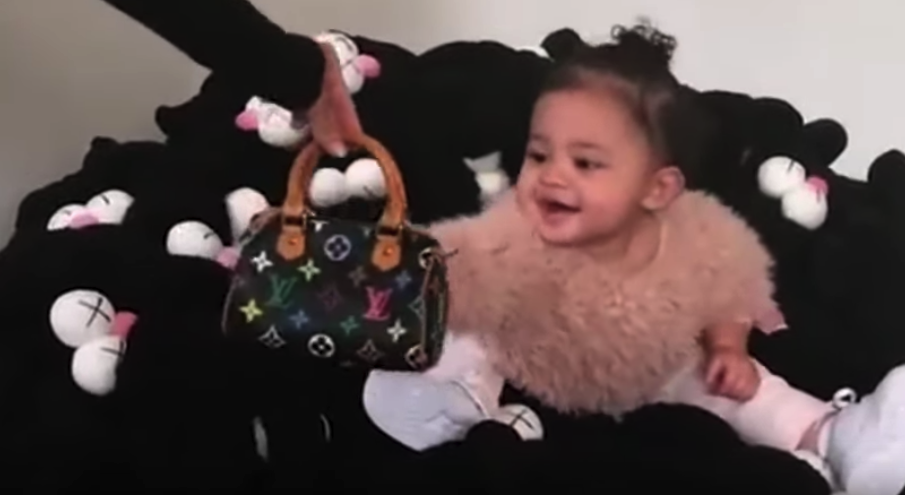 EXPENSIVE, OVER THE TOP GIFTS
For all the times you asked for lots of things for Christmas and didn't get it, a Kardashian kid wishes for it, gets it and five other things. Last year in December, Penelope got a pony as Christmas gift. Though it wasn't a live pony, still it was the size of a live pony which she could ride around the house. 
For her fourth birthday, North West got a puppy. We know lots of kids get puppies, but not just any kid receives a $4000 purebred Pomeranian. Just like their fancy lifestyle, the puppy got a fancy name; Sushi. Sushi was even already trained by Cesar Milan, a well-known dog expert. Sometimes these kids even get gifts they have no use for like the custom made Adidas Yeezys that Adidas sent to Kim's kids, which only comes in adult sizes. 
Baby True also got diamonds for her first birthday, which she rocked on her birthday. Khloe Kardashian liked this gift so much she posted several clips of it saying thank you. Also for Valentines, True got lots of gifts, but the one which caught our attention was the Streamline luggage. Streamline gifted True one of their big, black boxes in which the baby herself could stand in. The box didn't come empty as it came filled up with makeup brushes and beauty tools from Artis. Even Stormi Webster got countless gifts at her first birthday party as DJ Khaled came through with her first Chanel bag. We wonder what one-year-old needs a designer bag.
We do not deny that their famous lives are stressful as they have to be on camera frequently and try to grow up as normal kids. But we have nothing to worry about as the Kardashian-Jenners moms know how to take care of their kids and relieve them of the stress from media. What do you think of this lifestyle? Is it too much for the kids? Or is it normal considering the family they were born into? Tell us your thoughts in the comments section and share this article with a friend today.
Source: YouTube/The Talko
Get More Related Articles Here: