15+ Things That Are Actually Much Bigger Than We Could Imagine
Sometimes perspective can fool our sight and make us see things in a different way. In some cases, we are used to seeing the world from our eyes and do not really perceive the magnitude of what surrounds us, or in the case of these images, how big things can be compared to us, and how small we are in this world.
50. LOOSE IN THE CITY
Have you ever encountered a moose? In the cartoons, they are very friendly, but the truth is that they are really huge. It's hard to say why they give this very kind vibe, but it might their cute and wide faces. In fact, many moose look almost similar to the loveably goofy, donkey, although they are much bigger in size. However, it is most likely for another reason: Bullwinkle. The 1960s cartoon showed a sweet but kind of dumb character, and people think that is what actual moose behave like in the wild. But, Alaskans and Canadians would tell that they can be pretty dangerous creatures.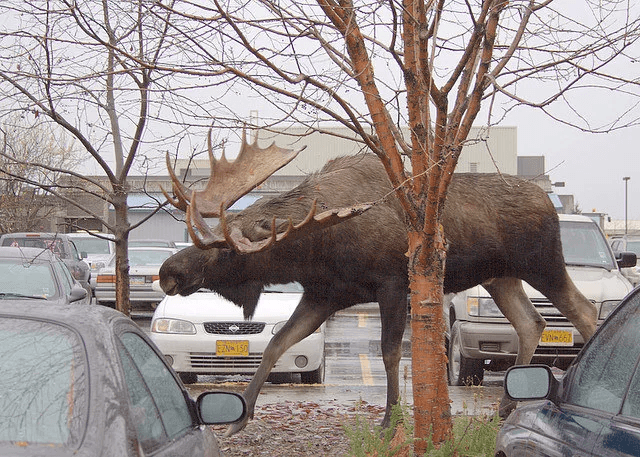 If you encounter one in your travels, it's better to keep a safe distance. One time, a family of them stopped traffic at Alaska's Denali National Park, and all the drivers respectfully let them walk without disturbance. Their actions were not just because they wanted to see how majestic their bodies were. Most people in the area know that a moose has to be respected because you don't want to encounter an angry one. There have been several recorded incidents involving these gorgeous animals. In 2013, a mother moose refused to get away from a road and fought with a truck driver. Let's admire them from afar!
49. BIGGER THAN EXPECTED
And the traffic signs are a very similar example. We are very used to seeing them from the comfort of our car. It's hard to imagine our modern times without these helpful guides, but it's even harder to think of a time when the world didn't need them. They didn't always exist because traffic wasn't what it is today. The first road signs were big inventions, and they were used by the ancient Romans. There's actually a pretty interesting history between. Roads can be traced back to the Bronze Age, but the Roman Empire really liked the idea.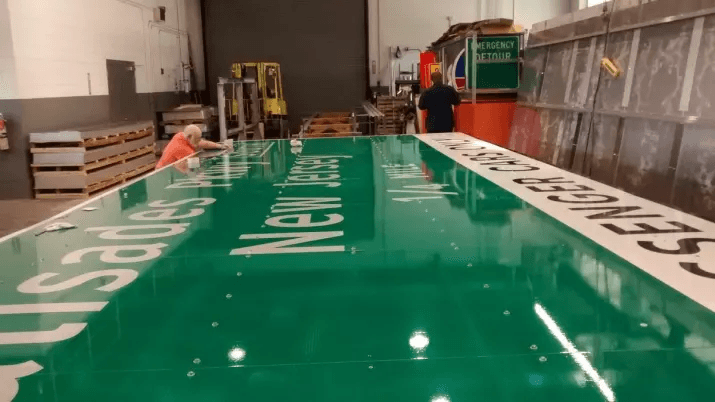 They went on to build a system of bridges, roads, and tunnels that went from Portugal to Constantinople. They discovered that armies could move better this way, and they could also exchange goods. Therefore, their empire thrived thanks to the system. The first road was the Via Appia, also known as the Appian Way, created in 312 B.C. Several milestones were placed at certain locations, and they would often state who had to take care of that portion of the street. They also added mile markers to detail the distance until Rome.
48. ONE BIG CREATION
We know that the Great Pyramid of Giza is really big, but surely you can understand better the name if you compare it with a person. The creation is the most important symbol of Egypt and known as the last of the Seven Wonders of the World. It's near the city of Cairo, and it took around 21 years to complete during the rule of King Khufu 2589-2566 BCE of the 4th Dynasty. Before the completion of the Eiffel Toward in 1889 CE, this structure was the tallest ever made by humans. For 3,000 years it held that title, and it was unlikely to be defeated until modern times.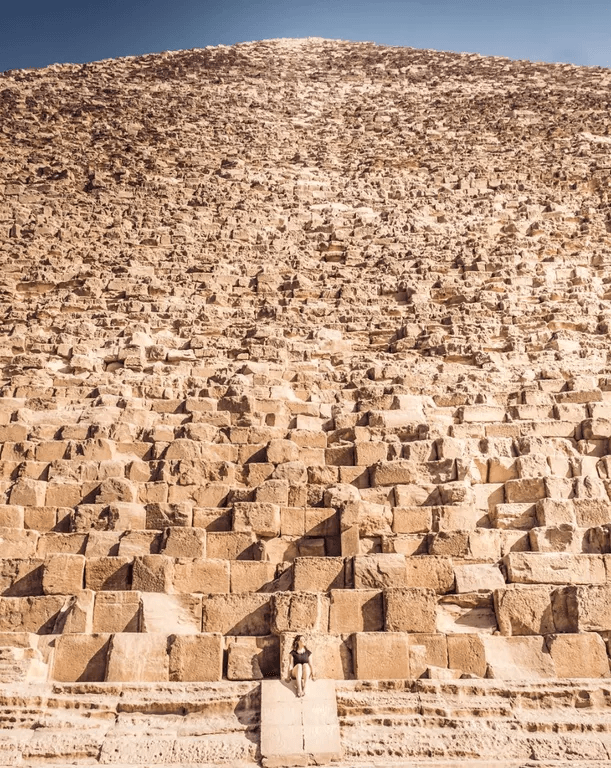 Some historians believe that it was actually the Lincoln Cathedral spire in England, made in 1300 CE, that surpassed the height of the Great Pyramid of Giza, but no structure will ever be as impressive as what lies in the Egyptian desert. It reaches 146 meters (479 feet) and its base is 230 meters (754 feet). Additionally, it has around 2 million blocks of solid stone. Considering how heavy and huge these stones were, researchers still cannot fathom how they managed to raise them up and place them as they did.
47. OLDEST TREE
Although we currently populate much of the world, we must not forget that there are trees that have much more time on earth. This is considered the largest tree in the world, and it's a giant sequoia, also known as Sequoiadendron giganteum from California's Sequoia National Park. It was nicknamed General Sherman and measured around 52,500 cubic feet or 1,487 cubic meters in volume. To compare, that's around the same volume of an Olympic-size swimming pool, which is normally around 88,500 cubic feet. Furthermore, this tree is estimated to be around 2,000 years old, and that might seem really old, but it is actually a middle-aged giant sequoia.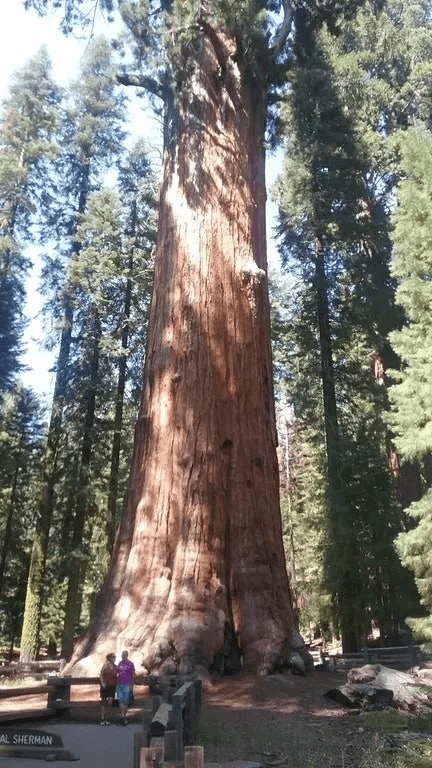 Some specimens have been estimated to be around 3,220 years old, at least according to their tree rings. When General Sherman lost a branch in 2006, it actually destroyed a walkway and fence right beneath it. It is considered the largest tree based on its trunk volume and not the branches; so, that event didn't lose him its standing. It is also very tall at 274.9 feet or 83.8 meters, but that's not even close to the record holder of the tallest tree. A specimen called Hyperion is considered the tallest at 379.7 feet, or 115.7 meters.
46. ONE STRIKE AND IT'S GONE
And in space, there are objects much larger than we can imagine, as this comet compared to the city of Los Angeles. You might think that this image is just meant to shock most people, but it is actually a comparison of a real comet. It's called the 67P/Churyumov–Gerasimenko, and it's a Jupiter-family comet that has an orbital period of 6.45 years. It was first seen in 1969 by the Soviet scientists Klim Ivanovych Churyumov and Svetlana Ivanovna Gerasimenko, who gave it its name. It soon became the target of the European Space Agency's Rosetta mission, which went to space on March 2, 2004.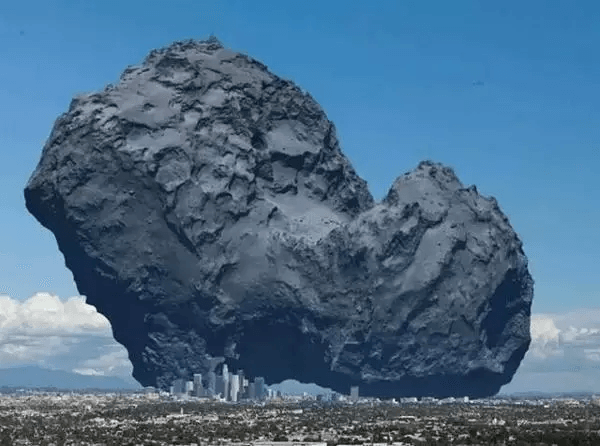 It finally encountered the comet on August 6, 2014, but finally landed on the surface on November 12, 2014, which made it the first spacecraft to land on a comet nucleus in our history. On September 30, 2016, the Rosetta was done with its mission after it got to the Ma'at region of the comet. Luckily, Rosetta collected a lot of data, especially regarding the surface of 67P. It changed when it was close to perihelion and created circular shapes that grew a lot in just one day. There was also a tear in the neck region, which expanded.
45. SO FAR AND YET SO CLOSE
Take for example the moon by comparing its size with that of the United States of America. We are a bit small, right? It might not be the most impressive structure in outer space, as it doesn't have active volcanoes or a surface filled with nitrogen. However, it has always been pretty important to humans in general. Earth is actually the only planet capable is seeing a total Solar eclipse thanks to our moon, and it also helps regulate the tides of the ocean as well as the tilt of our planet. Considering how small it is compared to our planet, that's actually pretty impressive.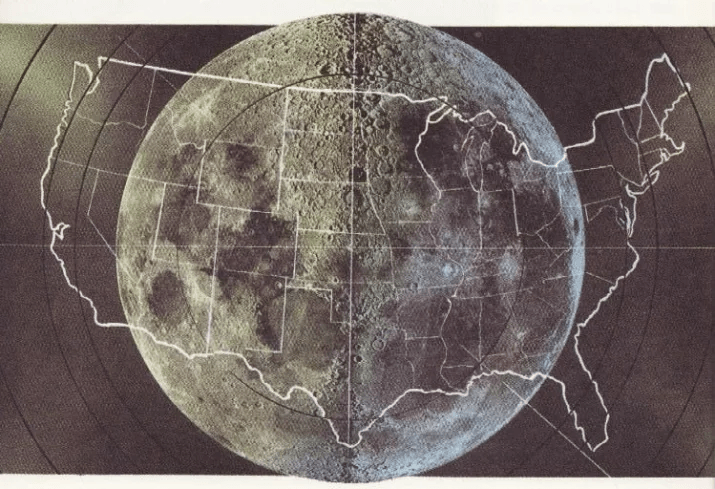 The moon is just about a quarter of the Earth's diameter with 1/81th of its mass. But, other moons are actually much smaller than their orbiting stars. Its average distance from Earth is 238,857 miles, and it's hard to tell how big it actually is because it only occupies a small part of the night sky. That only varies at certain times of the months when it might be a bit closer. The closest point is 238,900 miles and called perigee. The farthest point is called apogee and it's 252,700 miles away from Earth. Its diameter is 2,159 miles.
44. BIGGER THAN THE EARTH
Another example related to space, this is a representation of the number of Earth planets that would fit in our Sun. So, the answer to how Earths can fit into the Sun is 1.3 million. That's a lot of planets, which makes us question the existence of other similar kinds, which might contain intelligent life, but that is another topic. The Sun is 99.86% of the mass of the Solar System, and the remaining .14% is actually taken by the giant planets like Jupiter and Saturn. For anyone interesting in doing the math themselves, the Sun is 1.412 x 1018 km3, while the Earth is 1.083 x 1012 km3.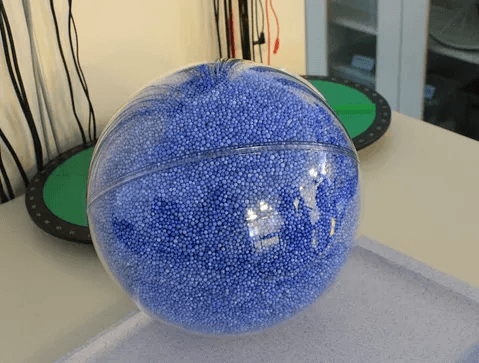 Dividing the Sun's volume by the Earth's volume results in 1,300,000. But, the Sun is actually average sized compared to other stars such as the red giant Betelgeuse, which has a radius 936 times bigger than the Sun. That means that it has a volume of hundreds of millions of times grander than the one we see every day. But, the largest celestial body humans have discovered is the VY Canis Majoris, which is estimated to have a radius from 1800 to 2100 times bigger than the Sun.
43. SO MUCH CASH
An example a little closer to our pocket. This is the difference between $10,000 in $100 bills and $10,000 in one dollar bills. The history of using paper as money is pretty interesting, and you might be surprised to learn that some early experiments with them failed because people didn't trust it. They preferred the use of gold and silver coins. But, in 1861, the U.S. needed to back up the Civil War, and Congress issued the Demand notes of $5, $10, and $20 bills. These notes were redeemable in coin and were originally nicknamed Greenbacks, which is still used today.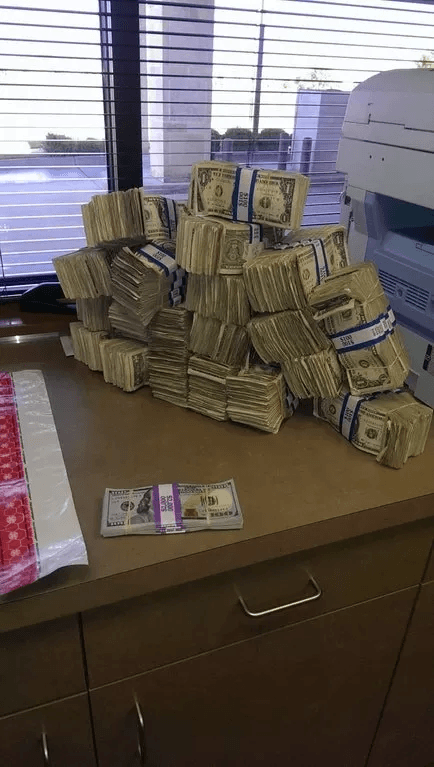 The first one dollar bill was created in 1862 as a Legal Tender Note and depicted the face of Salmon P. Chase, President Abraham Lincoln's Treasury Secretary. A year later, the National Banking Act created a banking system and national currency. Banks had to purchase securities from the government for their National Bank Notes. The current design of the dollar bill goes back to 1963 when it became part of the Federal Reserve Note, but it still retained a lot of the creation from 1929. The most important part of the bill is, of course, the portrait of George Washington by Gilbert Stuart.
42. NUMBERING THINGS
And speaking of numbers and the comparison between them, many people do not understand the true magnitude of a billion. While we are all used to listening to large numbers, especially in the news, it's hard for our brains to actually imagine a large amount. Furthermore, the term for one billion is different in the United States and in the United Kingdom. In the old UK, a billion was a million-million, meaning 1,000,000,000,000. Meanwhile, in the U.S. is actually a thousand million, ergo 1,000,000,000. The U.S. has continued to use their definition of a billion, and they have the word trillion for the old UK version.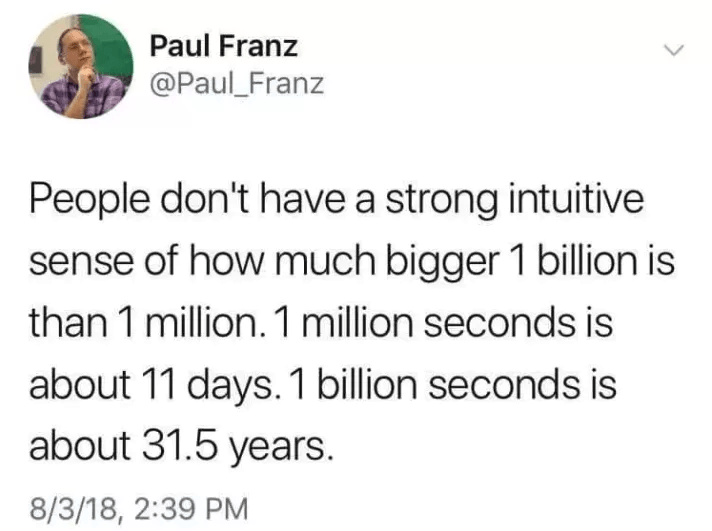 In 1974, the United Kingdom adopted the U.S. standard, but it is hard to picture that kind of amount. Some people tried to exemplify this by trying to decipher how many Cheetos would fit in a van. However, the problem became too complicated because each Cheeto is different and curved in dissimilar ways. Luckily, someone came up with a simpler example, which uses time to explain. If billion had the old UK meaning still, it would be 32,000 years.
41. THE BIGGEST SHIP
We've all heard the story of Titanic, and we've seen the movie, but today's cruise ships are a little bigger. In 1912, it was the biggest ship of the time, but not many people realized that it can be considered really tiny compared to some of today's most popular cruise ships. The big one in this picture is the Oasis of The Seas which started sailing the ocean in 2009. The Titanic was a "royal mail" meant to transport people and mail from NY to the UK. The Oasis is considered a "pleasure resort" for the Caribbean.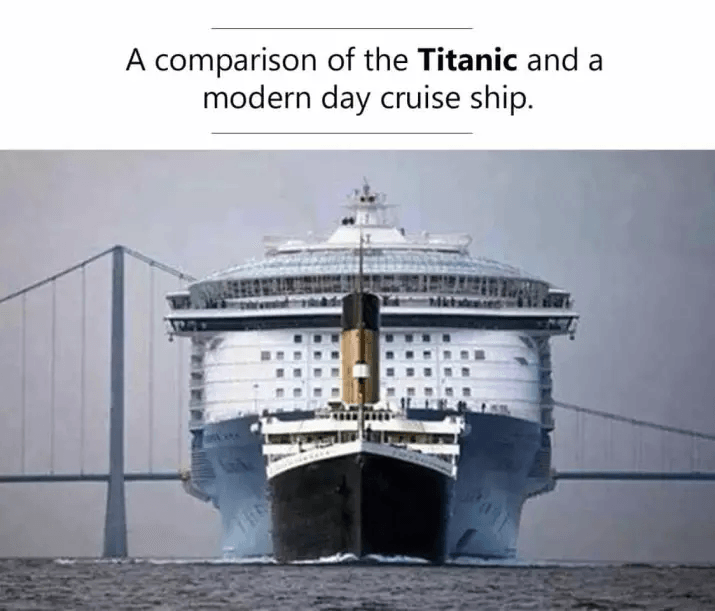 They had completely different purposes and are separated for almost a hundred years. Additionally, the Titanic was made in Belfast, and the Oasis was built in Finland. Their different functions were evidenced in the décor and the facilities. It's almost crazy to compare them because they have nothing alike except to exemplify how the biggest ship that infamously capsized so many years ago was not as big as current boats.
40. IS THAT A TRUCK?
Have you ever seen the giant mining trucks? In this picture, you can compare it with a school bus to see its size. That big vehicle is the Caterpillar 797, which is an ultra class, two-axle, mechanical haul truck created by Caterpillar Inc., a company from the United States. They have been in production since 1998, and the current model, the 797F, has the largest haul truck payload capabilities in the world. It carries up to 400 short tons. In 1997, the original Caterpillar was designed to carry 360 short tons in order to meet the demand of large-scale mining and reduce the cost.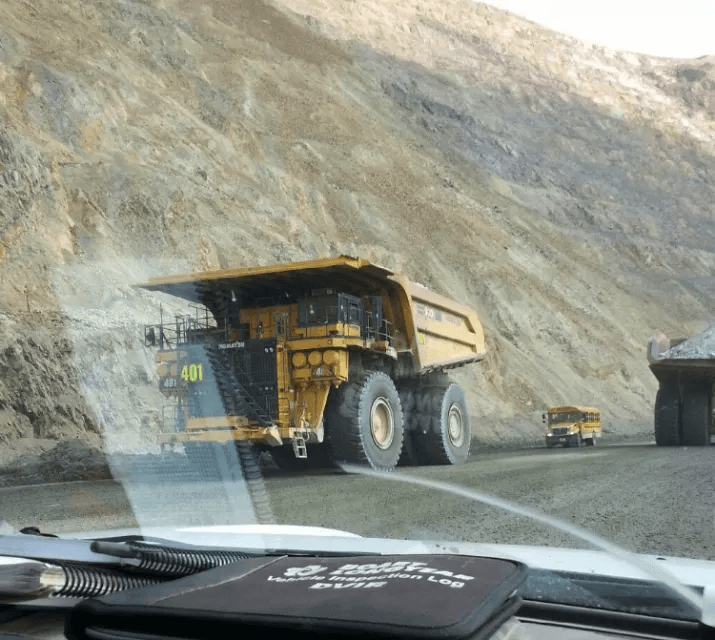 The engineers of Caterpillar Inc. used computer design to achieve such a powerful truck, and it was the first time that CAD tools were incorporated into a Caterpillar truck. The first of its kind was presented on September 29, 1998, in the assembly plant in Decatur, Illinois. They used the empty Arizona grounds for testing and were soon being produced for the Bingham Canyon Mine. They marketed for the entire country in 2000, and by 2001, they started appealing to international enterprises.
39. BIG FLUFFY BALL
This beautiful and hairy creature is an adult Wombat, they live in Australia and their size is compared to their tenderness. These are actually small marsupials that look like a mixture of a bear, a pig, and a gopher. They are most natural at digging due to their shorts legs, smalls, and broad feet with fierce claws. Just like kangaroos and koalas, these animals have a pouch, but wombats have them in their backs. Also, their poop comes out in little cubes. They are normally around a medium-sized dog, i.e. 30 inches long and weight around 55 to 88 lbs.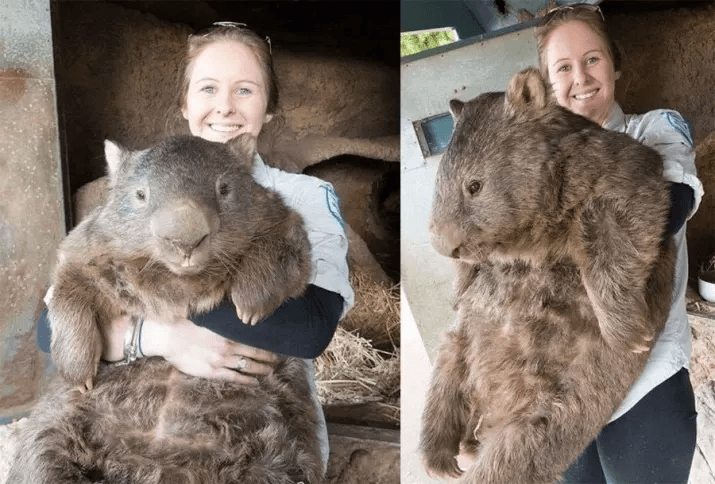 They are most commonly found in Australia and Tasmania, specifically in mountains, forest, and grasslands. They made burrows as homes and some of them can be almost 650 feet underground, according to the San Diego Zoo. They might make several burrows away from the other and change to different ones in a year. Some can be pretty social, while others like to be alone. In fact, the hairy-nosed wombat likes socializing and living with around 12 others in one home. According to National Geographic, a group of these animals is called "a mob" or "a colony".
38. THE SCARIEST PREDATOR 
In this image, we can notice the enormous difference in size that exists between the wolves and the coyotes. While coyotes normally look like wolves, they have many differences. Some are even called "barking dogs", and they are considered part of the dog family. Red wolves are considered the most similar to coyotes. However, coyotes also have bushy tails that point towards the ground and weight 10 kg. Meanwhile, wolves are bigger in size weighing around 25 kg. Additionally, the legs of a coyote are noticeably thinner than most wolves.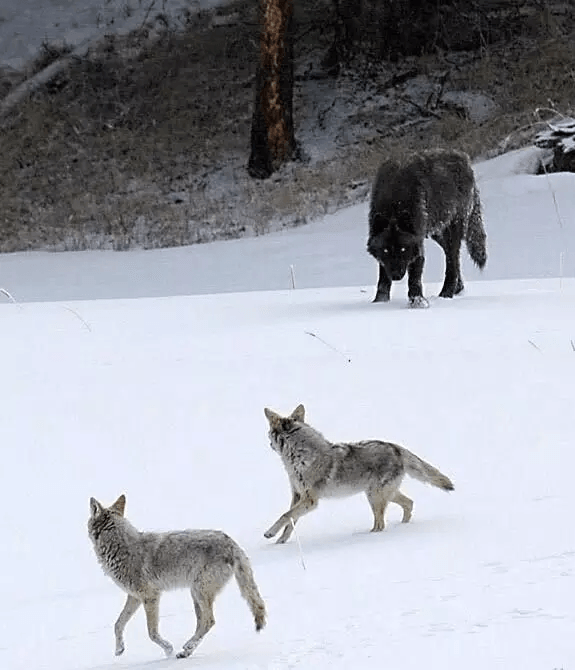 The tiny dogs can be found in several parts of Canada, while wolves are located in Alaska, Northern US, Labrador, and parts of the Yukon. In terms of food, coyotes like smaller animals like mice and rabbits as well as few veggies and carrion. Now, wolves are natural predators that hunt in groups for deer, moose, and goats. Furthermore, they mark territories to corral their prey. Coyotes stay away from humans and would not harm them. In fact, they eat the mice that would normally damage crops.
37. ONE BIG BREATH
We know that horses need a lot of air to run as they do, but their lungs are really impressive. Once a horse finished a long race or completed a Grand Prix show jumping round, it would have passed around 1,800 liters of air through its lungs. This is the equivalent of six bathtubs full of air or two five-gallon buckets of air in each lung. During a race, the air it inhales is 380 liters of oxygen, and the rest is gas nitrogen. The oxygen passes to its blood and around 95 liters of it is used.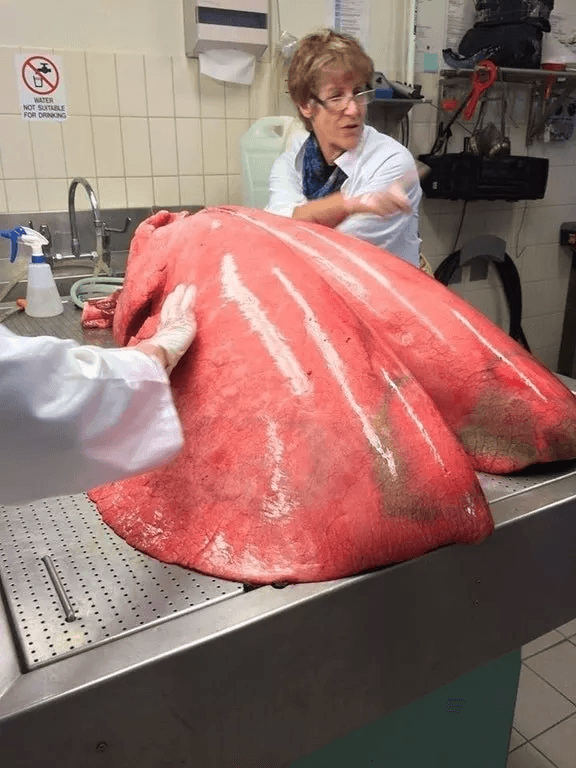 The energy a horse needs to complete a race will mostly come from aerobic metabolism (around 70%). It's the same amount for a jumping show, but for a cross-country portion of a 3-day event, a horse might get 90% of its energy from the air. This kind of metabolism uses oxygen to get energy from glucose inside the mitochondria. The rest of its energy comes from anaerobic metabolism, which also converts glucose. The difference is that anaerobic metabolism is fast but not that great; so, it can only be used for a short period as it builds lactic acid. Aerobic metabolism is slower but great at making the energy used for running.
36. LOOKING AROUND SPACE
We love seeing images of the Mars Curiosity Rover but we have never considered how big and heavy it should be. Unlike stationary landers, rovers can search more lands and are controlled better. Additionally, they placed themselves in good spots during the winter, and scientists can learn more about handling robotics from their use. There have been four Mars rovers handled by the Jet Propulsion Laboratory: Sojourner, Opportunity, Spirit, and Curiosity. In January 2016, NASA revealed their studies from Curiosity and Opportunity, the latter sadly is now gone. They were searching for signs of ancient life and to make a biosphere.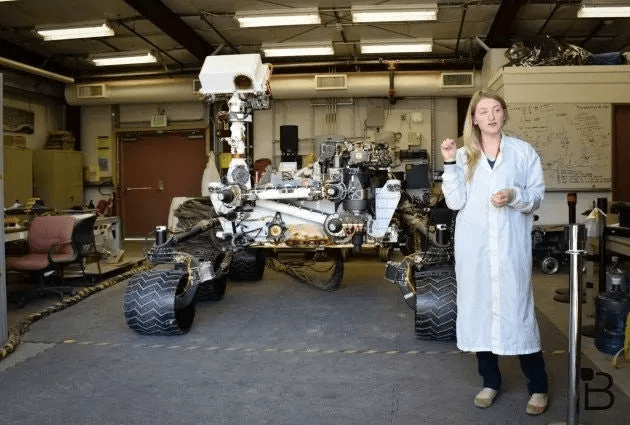 They also looked for signs of water, such as rivers and lakes, that would indicate that it was somehow habitable once before. The search for this evidence was its main priority. In June 2018, Opportunity lost contact when it went into hibernation mode due to a dust storm. Furthermore, on February 13, 2019, NASA revealed that Opportunity would be ending its mission after they failed to activate it once again.
35. THE DAVID 
We would all love to be in the presence of this sculpture once and realize in person how small we are. David is known as one of the great sculptures of the Renaissance, and it was created between 1501 and 1504 by the renowned artist Michelangelo. It measures 17 feet and depicts the Biblical hero called David, who was a popular subject for art in Florence. It was commissioned as a series of several statures from such important figures that would go along the roofline of the east end of the Florence Cathedral.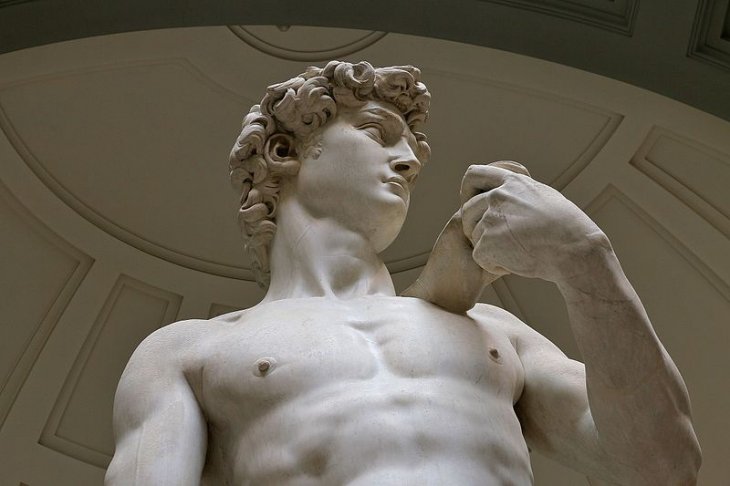 However, it was later placed outside the Palazzo Vecchio, in a public square called the Piazza Della Signoria. It was revealed in 1504, but in 1873, it was moved to the Galleria dell'Accademia in Florence, and the original location now holds a replica. Due to the hero depicted in the artwork, the statue became a symbol of the defense of civil liberties in Florence, which was a separate republic at the time and threatened by powerful states as well as the Medici family. David's eyes looked toward Rome with a bit of judgment in them. In 2010, a fiberglass replica was erected on the Florence Cathedral for just one day, and it was how the Operai who commissioned it originally wanted it.
34. THE TALLEST MEN IN THE WORLD
And, if you ever wondered about its actual size, in this picture you can see Yao Ming standing next to a guy who is very tall. In fact. the guy in the picture if Kevin Love, who plays for the Cavaliers and measures 6 feet 10 inches, but clearly the Hall of Famer, Ming, was much larger than Love. At the time, another large basketball player also snapped a picture with the famous athlete. Lauri Markkanen from the Bulls measures 7 feet, but Yao Ming is 7-foot-6. But, Yao Ming is not considered the tallest man in history. That record is held by a man named Robert Wadlow.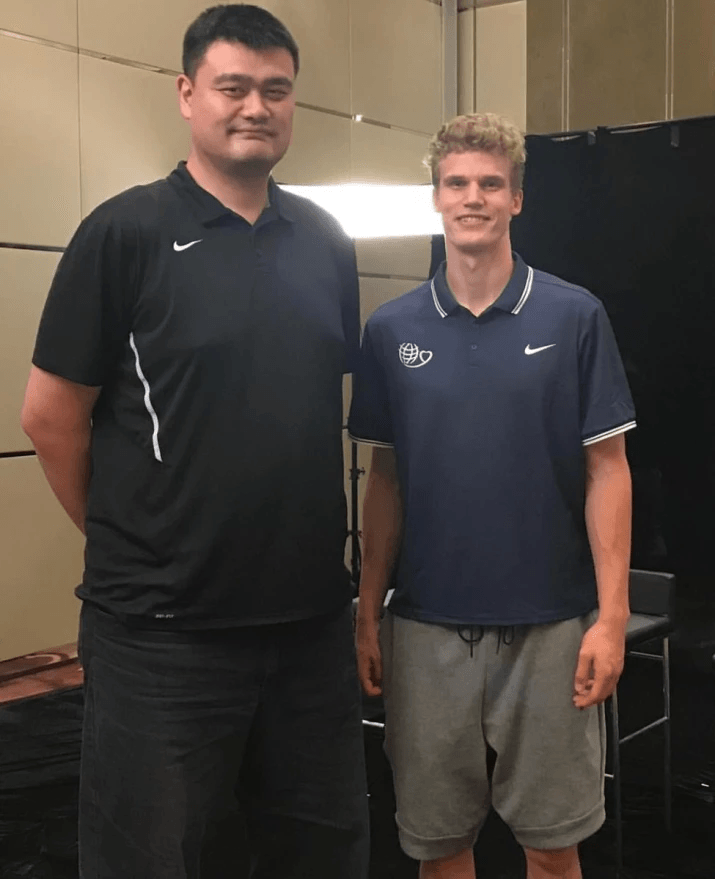 He was last measured on June 27, 1940, and reached a height of 8 feet 11 inches, or 2.72 meters. "He couldn't go anywhere without being stared at and drawing a crowd. Some people would bother him, you know, because of his height. They might come up behind him and pinch his leg or something else, you know, or even maybe try to kick him in the shins, make sure he wasn't on stilts,"  said Harold Wadlow, Robert's brother.
33. JUST ONE MORE SLICE
When it's a cheat day, you can get any pizza you want, but the one in this picture is very impressive. It was made at Big Lou's Pizza in San Antonio, Texas, and it has a diameter of 42 inches. That would be a whopping 3.5 feet of the delicious Italian treat. One of their big pies is called Super and aside from its impressive size, it also weights 27 points with each slice measuring around 21 inches. Their sauces and doughs are made every day; so, clients can definitely enjoy a freshly-made gigantic pizza.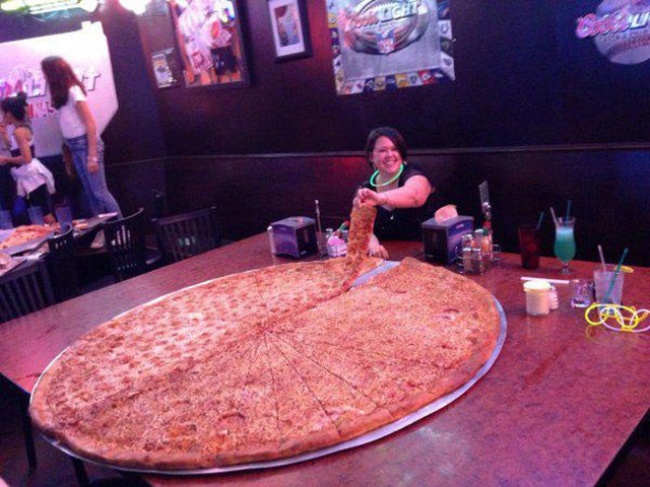 Naturally, these pies are only served in-house (how would they transport it, anyway?), but it's not the biggest pizza in the restaurant. Big Lou's has an even bigger version with the 62-inch pie. The problem is that the massive one has to be ordered a lot earlier, while the 42-inch pizza can be bought in the shop regularly. If you want a big pizza to take home, they have a 37-inch version, which is still massive and would only fit in SUVs and such vehicles. People found out about these pies after it appeared on 'Top 10 Biggest Pizzas in America' and the show 'Man vs. Food' from the Travel Channel. Even Big Lou said, "It was a marketing scheme that backfired in a good way."
32. BIG SHOES TO FILL 
Doing shopping for your grandson who is a basketball player be like. Some Reddit user shared a picture of his grandma who found a show size 20 at the Goodwill store. There are many rumors that big feet indicate certain things, especially for me, and those things might not be true. However, according to several scientists, the size of your feet can actually mean some things. A team of Swedish researchers connected shoe size to life expectancy, and the results stated that men with average-sized feet have longer lives, while men who need big shoes could die earlier.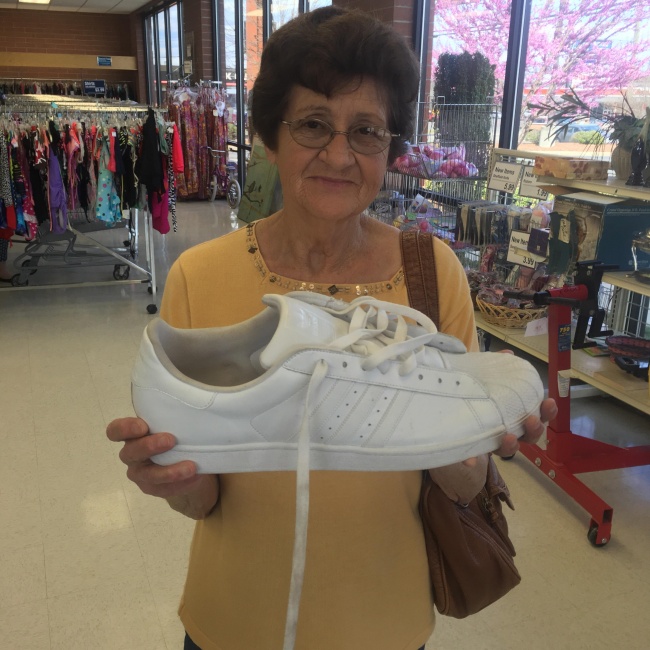 "We have no doubt people can live longer than their shoe size would indicate. But this would be true only if they adopt an unusually health-oriented lifestyle, with careful attention to diet and exercise." But, feet are not related to the size of a man's genitals. No evidence has been found to support the claims and several studies have actually disproved it. The University College London conducted research between 104 men and said it the rumors were "a common misconception". In 2011, a study from Turkey wasn't so sure because there was a certain link between height, weight and the size of manhood, but it wasn't completely accurate.
31. RED, YELLOW, AND GREEN
We see so many traffic lights in the distance in our daily routine, that we have never stopped to consider the real size of these objects. The first traffic light was actually invented by J.P. Knight, a railway engineer. It was placed in front of the Houses of Parliament in 1868. It looked like other railway signs, with red and green lamps. Sadly, it exploded soon after and killed a cop. People were not so quick to have another one after that accident. The modern versions we know were actually created in America, and the red-green ones were placed in Cleveland 1914.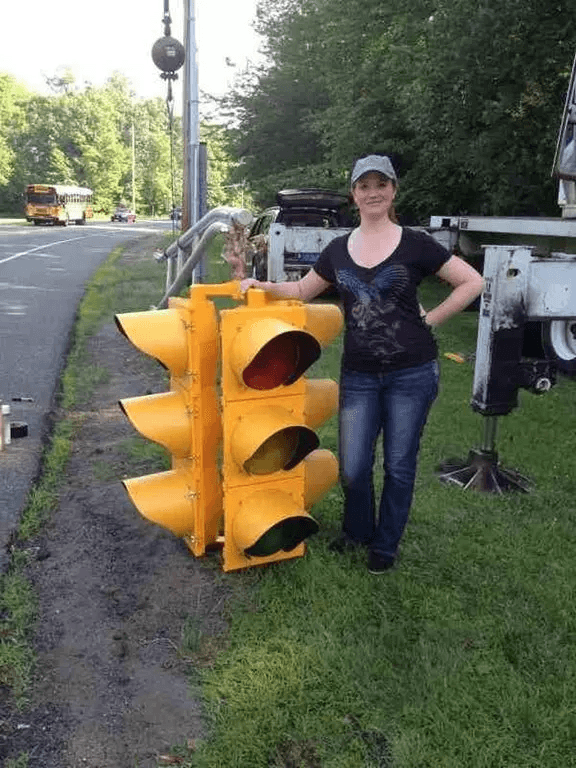 The three-colored signals were installed in New York in 1918, but those were operated from a tower in the middle of the street. Britain took some times before adopting that kind of signals again, and St. James' Street and Piccadilly were the first to have them in 1925. Police used switches to handle those. The normal modern versions like the one in this image are the most universally accepted these.
30. NOT ENOUGH COFFEE
Let's hope that it's at least decaffeinated. The world is obsessed with coffee, but there is one country that most people associated with the special bean brew. Colombia has been known for the drink, and they have been brands that sell, including their own kind of Starbucks franchise called Juan Valdez. However, one Colombian town hoped to reach to two world records. One was to make the world's largest cup of coffee and one for the largest coffee tasting. One huge cup of coffee has around 20 tons of the liquid, and they built it in Chinchina's town plaza.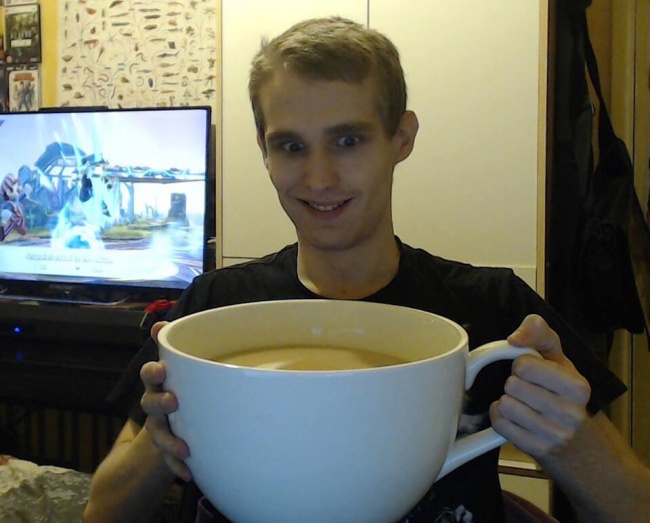 The town is in the center of Colombia's mountainous coffee-growing region. They hoped to build up the local coffee culture and farming. They ended reaching the record of the largest coffee cup, which held 22,739.14, and it was announced on June 15, 2019. More than 50 people worked around a month to complete the project. Additionally, the brew that was placed used Arabic beans, which are the most popular for fancy roasts.
29. ONE LARGE BENCH
It seems like mothers, fathers, and grandparents would also fit there. This is another Guinness World for the largest bench ever made, and it's held by So Appenzeller Kase Gmbh, and it measures 1013.32 meters. Additionally, it is located in Jakobsbad, Kronberg, Switzerland, and they got it on August 18, 2012. On the other hand, the bench has several names along its length, but people have to sign up for it on Facebook, and it is probably all filled up by now. Look at how many kids fit on it, and the same amount of adults might also fit perfectly.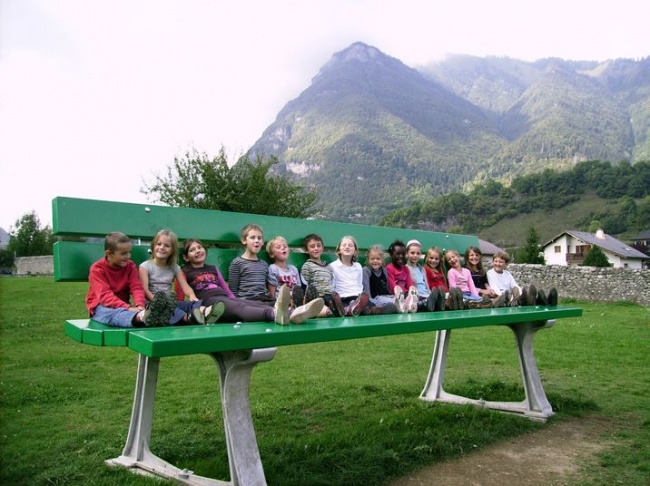 In theory, it has been said that around 3,000 people can actually sit there comfortably. Can you imagine sitting in such a chair? First, you need to use a ladder to go up and sit, but the view from Switzerland looks absolutely marvelous. It would be a great Instagram moment for anyone that is obsessed with traveling.
28. IS THIS THE RIGHT CALCULATOR? 
It's high time to start preparing for the SAT. Here is another example of a bigger-than-normal object. No one needs such a huge calculator. Only a few people actually require complicated ones, but the one in this picture would work for simple math problems. Sadly, it would not even fit on a desk. Long ago, it was hard to imagine anything simplifying the math, but modern technology has made it possible. These machines as they are known today were created in the 1970s, but old mathematicians had tools that they used before the 20th century.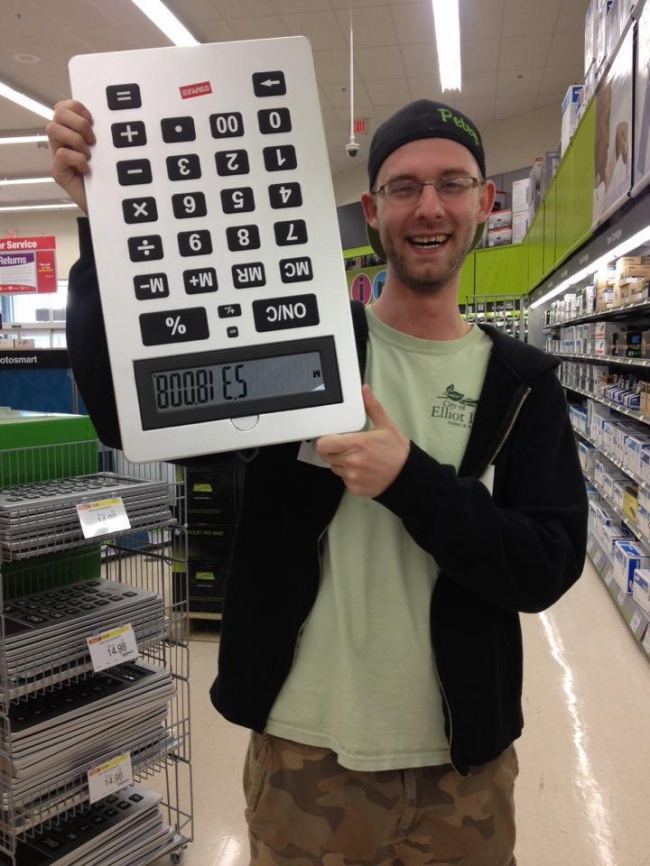 The first of its kinds was the abacus, estimated to have been created in Sumeria in 2500 B.C. It was a simple table of columns with beads or stones that stood for a number. They were only used for adding and subtracting. However, they needed something for multiplications and divisions. In 1617, the Scottish mathematician John Napier created Rabdology, which calculates with rods. The person using these rods changes the vertical position of the name along with the multiplication table, and it reads them horizontally to get the final product.
27. THE RIGHT KNIFE 
When you REALLY love salads, you have to find an easier and faster way to make them. Solingen, Germany, and Seki, Japan were considered the leaders in sword making before they became master of cutlery. Knives have an interesting history that goes from a weapon to a cooking device. In 1669, King Louis XIV ordered all table knives to have blunted heads because one of his advisors reminded that they could lead to violence. To this day, knives are still associated with blood and fights. A Scottish pathologist even said,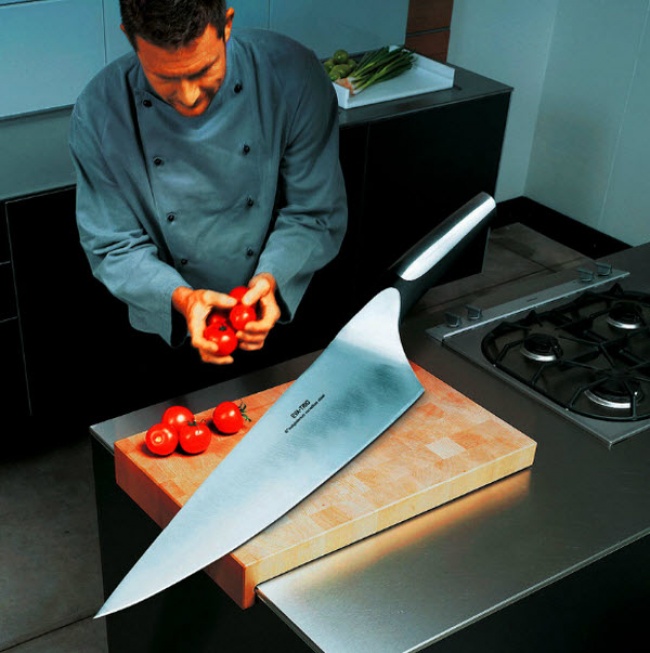 "All the statistics show that for the last 15 years, victims of stabbings, whether fatal or seriously injured, are caused by kitchen knives such as steak knives rather than knives bought specially for the purpose." In fact, Han Xin, a hero from China, was killed by a chef's knives. The story says that he had a spell on him that prevented sword or spears from stabbing him. He went on to conquer the country until he encountered a housewife with a cooking knife. Modern chefs today have special knives, and some cannot even work without their favorite. Meanwhile, Germany and Japan are still considered the best makers of their kind.
26. WE ALL NEED A PICK ME UP 
You should have thought twice before ordering double-cappuccino. Coffee is a major part of most people's lives, and we spend an awful amount of money at the local shop almost every day. Some people need more than others, but almost everyone wants, at least, one cup. With the trappings of modern life, the disposable coffee cup was invented, and some don't even consider their importance. They might not be the most efficient method, and they are definitely bad for the environment, but they are the reason why we don't have to stay in a shop until we are done.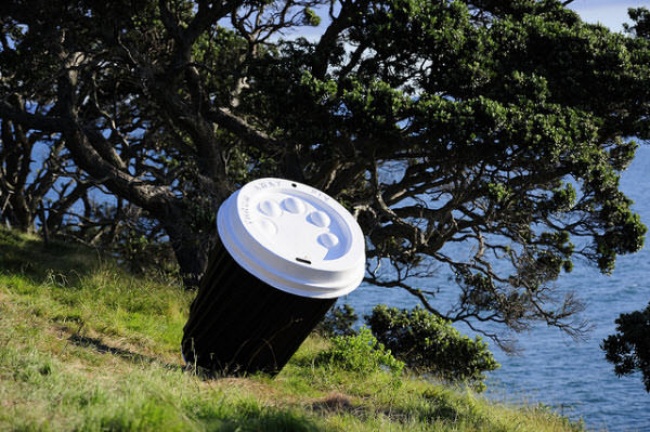 Its history began in the early 20th century. After the Civil War, drinking plain water was popular, and everyone delighted in fountains, barrels, wells and more. Unfortunately, people would share the same metal cup. Once Americans learned about germs and disease spread, they didn't want to share with others anymore. In 1907, Lawrence Luellen invented the disposable paper cup and called it Health Kup. It was later named Dixie Cup. After the Spanish flu in 1918, people worried even more about getting sick, and that's when the popularity of the Dixie Cups skyrocketed.
25. IT'S JUST FOR ONE
There are McDonald's in almost every country in the world, and they synonymous with spending and unhealthy eating. However, most people spend around $10 on a normal day, but there are others who will gladly spend more. The person in this image has clearly given the franchise restaurant a lot of cash for that breakfast order. But for the price of $890.80, you could get a "Big Max". A man named Moshe Tamssot wanted to see how far the new sandwich platform of the franchise went. It was called Create Your Taste, and the original cost was just $24.89.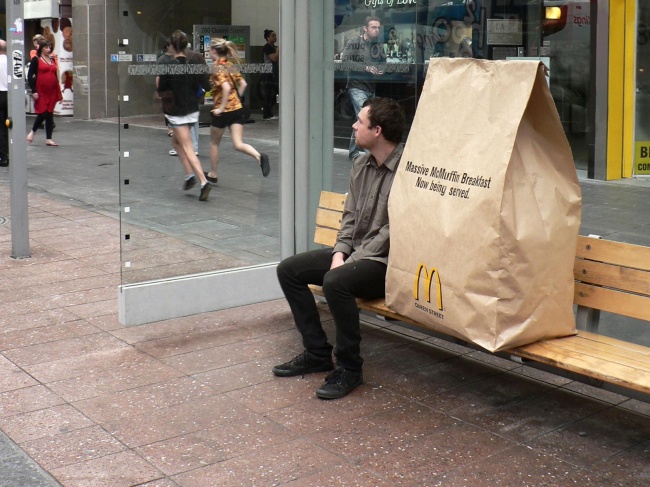 Tamssot's order featured a 3.8-pound burger with a lot of toppings, several kinds of cheeses and sauces. One employee said, "That's as big as we could make it without it falling apart." However, Tamssot didn't actually have to pay that much money, as he revealed that there was a glitch in the prizing system of the restaurant. However, his video made the franchise arrange it so that others wouldn't take advantage of the problem and not pay what was owed. Of course, this is not the case as this picture, but it's not the first time that people wanted more and more of McDonald's menu.
24. NOT ENOUGH CHOCOLATE 
That man should be a bit happier than he is on that picture. Come on! What can be better than gigantic Toblerone? These chocolate bars come in a lot of sizes, but every once in a while, you find a picture of someone who has purchased the massive specimens, which weighs around 4.68 kilograms. Last year, Amazon UK was offering the treat for 59.99 pounds, but some people were quick to point out that it wasn't that great of a deal. Would you be able to eat such a bar of big chocolate in one go or would you share with other people?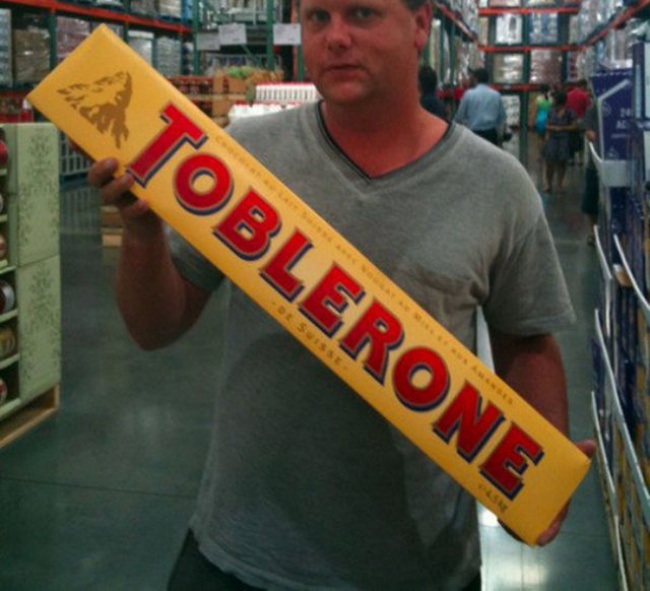 The sale was not as great as it seemed, because you can actually buy a normal-sized bar which weights 360 grams for 4 pounds on Morrisons. Therefore, by buying 13 tiny bars, you get the same amount of chocolate at 52 pounds. So, the big bar actually costs 8 pounds more. Morrisons also sells a huge bar which weighs 4.5 kilograms for 57 pounds. Either way, it is better to buy the small ones, if you want more chocolate. Additionally, it must be way easier to eat the tiny version than the triangles of this huge piece of candy. 
23. GIANT MARKETING
Isn't that a perfect option for the hot summer day? Everyone loves a Slurpee from 7-Eleven, but it was accidentally created by a man named Omar Knedlik in 1959. He was the owner of one Dairy Queen in Kansas that didn't have a soda fountain. He kept the soda bottles in the freezer, and people loved how they were almost frozen. He started looking to make an air conditioner that would freeze the drinks quickly, and after 5 years, he managed it. They were originally known as "ICEE" and then, it changed to Slurpees.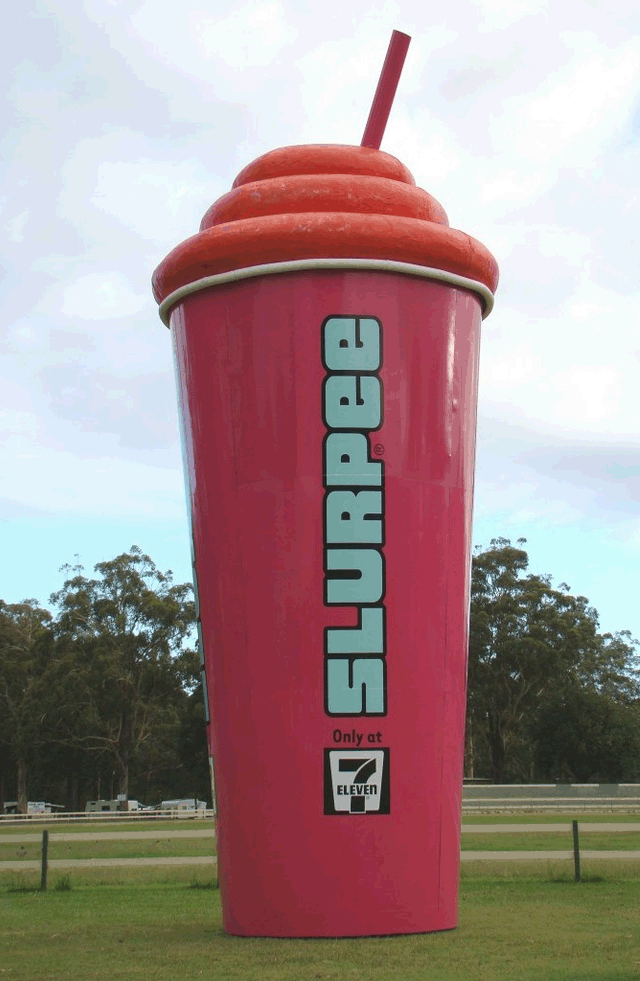 The ICEE Company allowed other places to get the ICEE dispensing machines with exclusive distribution rights, and one of them was 7-Eleven. The executives soon decided that they wanted a market under a new name. In 1966, they gathered to brainstorm and director Bob Standford was drinking the stuff through a straw. He remarked that there was a "slurp" sound when he drank and Eureka! They kept the name, and the rest is history. There are more than 34 flavors in America depending on the location such as dragon fruit, watermelon, and green apple.
22. RIDING THE WAVE 
Surf's uuuuuup! Finding the perfect wave to surf is a dream for many people, and some of the biggest waves can be dangerous. There was one wave that raised higher than a red tower and kept going up while the onlookers watched in awe. This particular wave appeared in November 2017 off the coast of Nazare, Portugal. Brazilian surfer Rodrigo Koxa was the one who rode. It was considered the biggest wave ever ridden at 80 feet. Now, riding a big wave is not just about being the best, it's also about luck, but those huge events don't happen all the time. Some avid surfers might not even witness such a thing in their lives.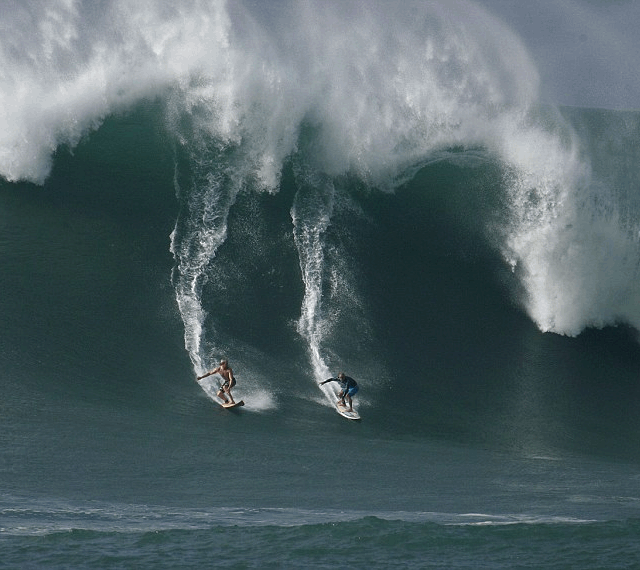 It's hard to predict the appearance of wind-driven waves, which are the most common. According to Sharon Gillman, a biological oceanographer at Coastal Carolina University in South Carolina, said, "There are waves of all sizes and shapes rolling into the beach at any given time. If they're not stopped by anything, waves can travel across entire ocean basins … so the waves at your beach might be from a storm half a world away."
21. THE BIGGEST BALL
I guess this guy will have to switch to basketball or tennis. Although it may seem like it, this wasn't an accident, it was part of an advertising campaign for Nike, one of the greatest sports and goods company in the world. It controls around 60% of the market and a cultural phenomenon. Its name from the Greek Goddess of Victory, but it looks like Nike might actually have been the goddess of Shoes. The business started between 1963 to 1964 when track coach Bill Bowerman and runner Philip Knight started a venture to import cheaper, high-tech shoes from Japan.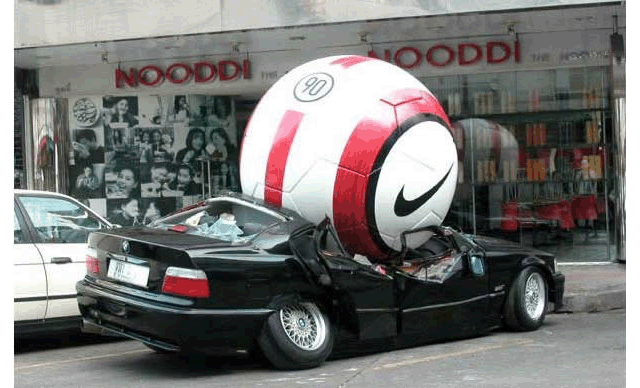 They wanted to give an alternative to the German-dominated market. Their original name was Blue Ribbon Sports, and they sold Japanese Onitsuka Tiger (ASICS) running shoes. In 1965, Jeff Johnson joined their company as the first salesperson, and he sold shoes off a van during track meets and similar events. They got their first store was located in 3107 Pico Blvd, Santa Monica California. They went corporate in 1967, and they continued using their original name until Bowerman decided that he wanted to create better shoes than the Japanese. During breakfast, Bowerman was inspired to create the infamous Nike Waffle Outsole, and the rest is history.
20. THE BIGGEST BURGER
Not sure what is more amazing: that abundant food or his excited eyes. This is another example of a typical food item that people have turned into a huge creation. It takes several pounds, two big buns, and many toppings to create such as burger, and many people around the world have tried building the biggest. One restaurant who tried was Mallie's Sports Grill & Bar in Southgate, Michigan, USA, but they used a thousand pounds of meat, cooked it in a custom-made oven that was originally a shipping container and had to use a forklift to place it in a bun.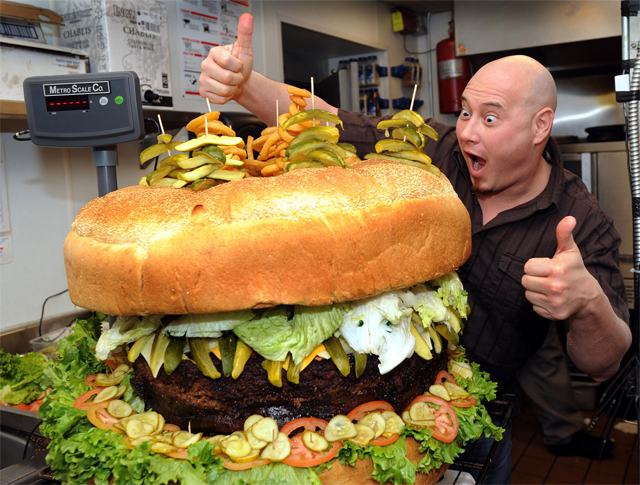 They also used 500 pounds of toppings to create such a massive burger. They managed to break the world record several times for the largest commercially available burger. It weighed a total of 1774 lbs, with the buns and the 300 lbs of toppings and others. It could be purchased for almost $5000 in their normal menu. The record holder, Juicy's Outlaw Grill in Oregon, before them made a 777 lbs burger. However, since 2008, Mallie always strives to get the record in their name back. How many friends would you need to eat such a massive burger? Is it even possible?
19. BUT CAN YOU PLAY IT?
It seems like that music hall has to hire twice more musicians to start giving violin concerts. This iconic giant fiddle is located in Sydney's waterfront, and in 2015, it celebrated its 10-year anniversary. It is 17 meters tall and was created by artist Cyril Hearn, and it was first presented in January 2005. The Big Fiddle is still considered the largest illuminated of its kind in the world, and it was made in honor of Cape Breton's Celtic heritage as well as music made with the instrument. Anyone on a cruise near Sydney can see because it's near the cruise ship pavilion.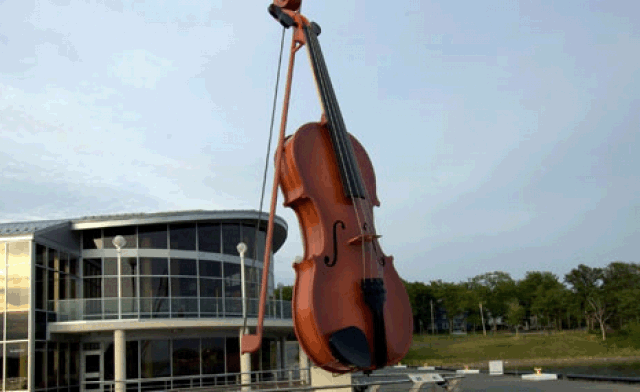 Both locals and tourists have loved for the past decade, and the company advertising its birthday celebration in 2015 confirms it. Marc Botte from 902 Advertising Group said, "What we've found is there are hundreds and hundreds and hundreds of pictures with the hashtag "BigFiddle". Tourists are coming here taking selfies with the fiddle, but they live in Hamburg, Germany, or in Italy or Scotland, or the United States." Several activities were organized for the event such as a giant square dance. Additionally, local artists were commissioned to make artwork based on the sculpture. Ironically, the fiddle was in renovation at the time; so, it didn't make an appearance for its own birthday.
18. HOW DO YOU GET ON?
The only thing that bothers us: so which way are they going? While the use of bicycles is not that popular anyone thanks to cars and other public transport, some people still retain the use of them. The two men in the image are not riding the most common kind of bike either, but there are people who still prefer this method instead of gas-vehicles. Aside from being better for the environment, riding is also a great way to burn calories. The first bicycle was made by French engineer Pierre Michaux, and its believed that he used old designs by Leonardo Da Vinci.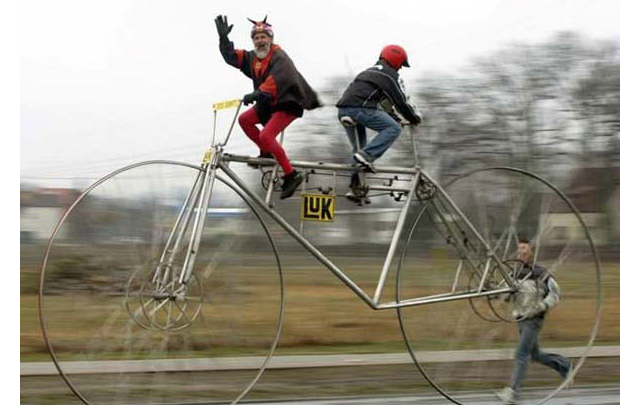 Soon after Michaux's invention, others started redesigning it to make things better. Soon enough, it was part of mainstream culture. However, before Michaux, there was German Baron Karl Drais, who made a two-wheeled transportation device and called it "Dandy Horse". It is also believed that this invention led to the modern versions of bicycles. An interesting variation is the unicycle, which uses only one wheel. It was introduced shortly after penny-farthing bicycles. They were used to teach train drivers to maintain balance with its big wheel. It's hard to imagine riding such a giant bike because balance is even more important in this case.
17. SHE NEEDS A LADDER
She should have put on her high heels before taking that picture. This is part of pickup trucks designed by Ford for the F-Series. The company has created this kind of SUVs since 1948, but they were smaller before. However, this one is considered part of the Ford Super Duty range, with the Class 6-7 Ford F-650 and F-750, and Class 8 versions of the F-750, which have been made since 2011. The current F-650 and F-750 are made in the Ohio Assembly facility in Avon Lake, Ohio. The location was originally a joint business with Navistar International, the Blue Diamond Truck, located in Mexico.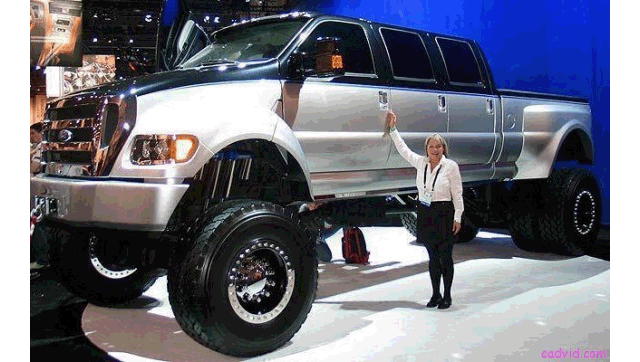 The trucks are currently on their eighth generation after their joint venture ended, and they moved to Ohio. The cab was similar to the 7th generation, but Ford made a whole new chassis. Additionally, the carryover cab was made to adapt to body manufacturers. Furthermore, the off-the-shelf powertrains were swapped by engines and transmissions by Ford. Instead of the Cummins diesel, the medium-duty trucks have the 6.7L Power Stroke V8 similar to several Super Duty trucks. Would you like driving a car like this, or is it too big?
16. ONE IS NOT ENOUGH
When you have been on a diet for two hours and you now deserve a reward. Humans need food to survive, but chocolates are like little pieces of heaven that no can give up. KitKats have been a popular brand for a long time, loved by many children and adults, but not many people know how they started. Their history goes back to 1935 when the first chocolate-covered wafer cookies were launched in London. Of course, it was known as "Rowntree's Chocolate Crisp" back then, but they changed it to "KitKat Chocolate Crisp" after two years.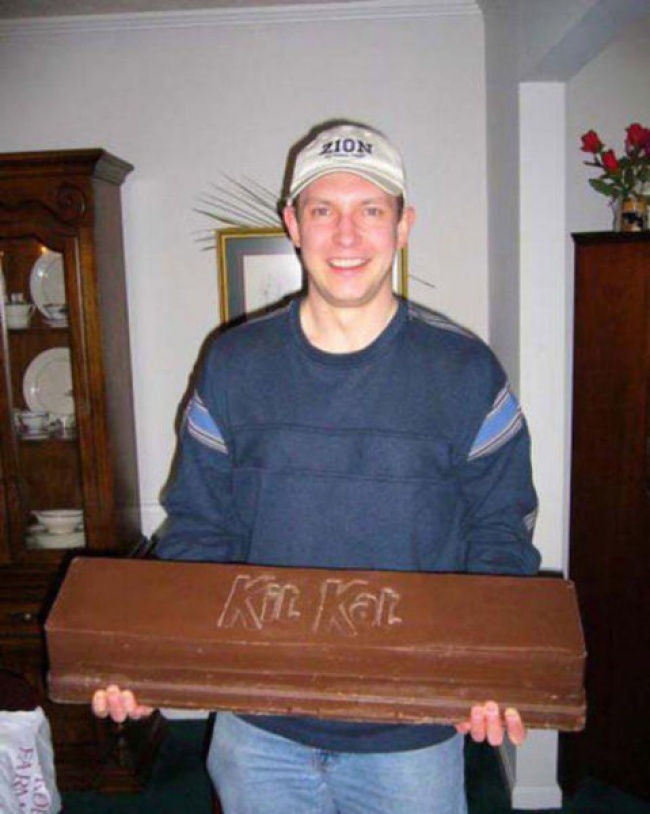 After WWII, they decided to just keep "KitKat". Another interesting note is that the flavor of the candy changed several times in those years because of food shortages. The company had to experiment with the recipe, and they even adopted blue wrapping (it was originally red like the one we currently see). Luckily, once the war ended, they went back to milk-based chocolate and the red covering that has become iconic over the years. It's hard to tell where exactly they got the name "KitKat", but the use of "Kit Cat" or "Kit Kat" for any food item, apparently, dates to the 18th century. There was a popular club in London called Kit-Cat, and they served mutton pies called Kit-Kats.
15. IT MIGHT NOT BE SUITED FOR A BATH
It did not fit someone's bathtub so now the whole city can play with the ducky. Rubber ducks are actually a big part of Western pop culture, and naturally, most people associate them with bathing time. It's a common toy that it always kept in the bathroom reserved for children's cleaning time. It's normally made out of vinyl plastic or other rubber-like materials. Its history goes back to the rise of the rubber industry in the 19th century. The first toys of this kind were created from a harder rubber called vulcanized rubber, invented by Charles Goodyear.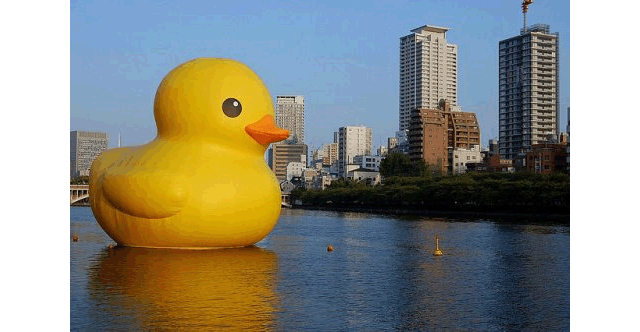 However, that version didn't float, and it was meant to be a chew toy. In the 1940s, sculptor Peter Ganine made a duck and patented it. He soon starting advertising this as a floating toy, and over 50 million were sold. Aside from the iconic yellow duck that many people have in their homes, there are many varieties. Some ducks are even embodying different professions, stars, and famous figures. Some toys glow in the dark, have sounds, change colors, include an LED light inside, and others can even swim with a wind-up engine. We bet you had no idea that rubber ducks were that popular?
14. IS THAT A HORSE OR A DOG?
We guess it was just a small cute puppy when he bought it. That's a picture of a huge English Mastiff, which is considered the biggest dog breed. It has an average height of 36 inches, and it can weight anywhere around 200 to 230 pounds. No burglars would dare invade your home with such a massive puppy handing around. The biggest English Mastiff ever seen weighed 343 lbs. However, despite their scary size and intimidating appearance, these dogs are actually known for being docile and totally sweet. Anyone that loves big dogs would be lucky to have one of them.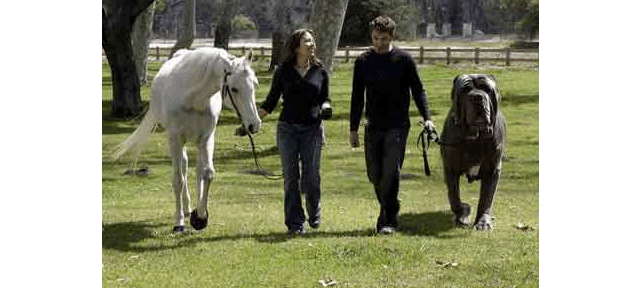 Another large dog breed is the Caucasian Shepherd, which comes from Eastern Europe. But, these dogs are better suited for people who know how to train and make them socialize. They were originally livestock herders, and they are not that great around other dogs due to their territorial tendencies. They can weight around 220 pounds and be as tall as 30 inches. If you are looking for something, there is Saint Bernard, famous for the movie 'Beethoven', but unlike the previous one, they are loveable dogs and perfect for a family. They can weigh around 200 pounds, and reach heights of 35 inches.
13. NOT THE MOST EFFICIENT CHAIR
When you invite your tall friends for tea. This is actually a sculpture by Giancarlo Neri, who was born in Naples in 1955. He was originally a professional soccer player for the New York Apollo team from the American Soccer League. The artwork is called "The Writer", and it consists of a 9-meter table and chair built out of steel and wood. It symbolizes "writer's block", which is what happens when a writer can't keep going for some inexplicable reason. They are stuck in a chapter of their books or in a sentence and cannot figure out how to make their story go forward.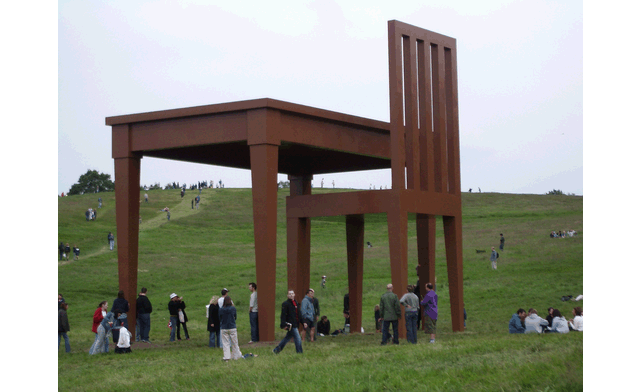 It was first presented in Rome, and in 2005, it appeared on Hampstead Heath in London. This is not the first time that an artist has created this kind of work, as you will see a piece by Robert Therrien further on this list. But, there is a huge debate when it comes to being original in the world of art. Some people hate when their peers use the same palate as they did for a piece, even if it's different. History has even questioned the brilliance of Shakespeare because he allegedly "borrowed" many ideas from Christopher Marlowe. What do you think about it?
12. FOR ALL THOSE SPECIAL MOMENTS
Now all of your family members are going to be in that annual family photo. This camera was actually created by a Taiwanese designer and called the sculpture "Nikon D800X Super Kit". It took a year to finish and includes a 14-24mm interchangeable lens, a battery grip, and many other features that similar to many famous Nikon cameras. People are Nikon Rumors found the story and helped translate what happened so that people would know more about this XL version. Jim Huang took to the NR comments and translated, "He is a Nikon user and working for YAGE Image House Car Art Studio."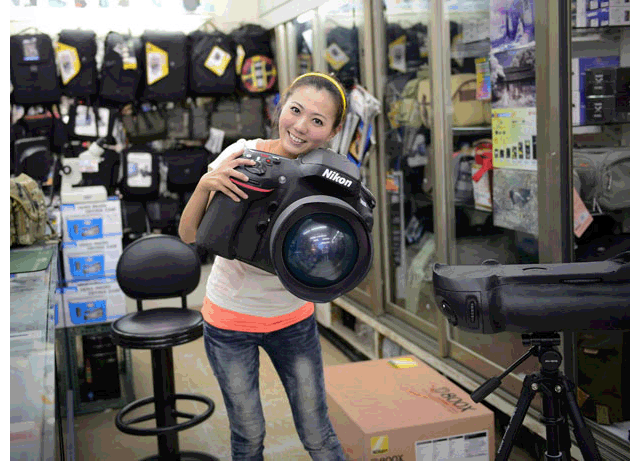 "He spent his time after work to make this lovely 'D800X.' The lady holding the camera is one of the salesperson(s) in his favorite camera store, so she is not the creator." It's hard to say if it functions very well, or if it has a great resolution, but there were many rumors that it worked once upon a time. What would you need a huge camera like that for? People are obsessed with different cameras and their lenses to capture the best photos, but it's hard to pick out which one is the best as there so many options.
11. USE IT FOR BIG TREES 
You better be careful if you know your neighbors have such thing on their backyard. This ax measures 15 meters (49 feet) and weights more than 55 tons. The head alone is 7 meters (23 feet) wide. Meanwhile, the concrete stump is 10 meters (33 feet) in diameter. It was created and built in 1991 by the Woodstock company, and there is even a time capsule in the ax-head. We wonder what is inside it. The plaque reads:
"The World's Largest Axe. This giant ax symbolizes the importance of the forest industry, past, present and future, to the Town of Nackawic and the Province of New Brunswick. 1991."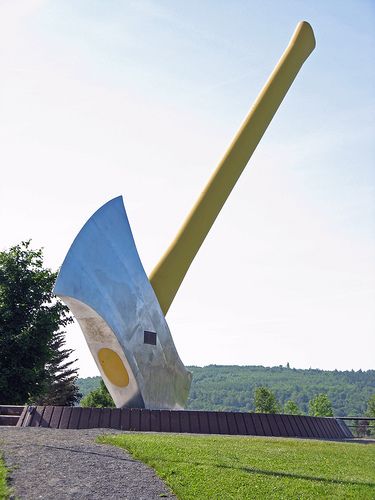 Axes go back beyond the Stone Age, the first era where humans started making and using tool to produce things. Its name comes from the fact that most tools were made from stone. The oldest axes were also known as "hand axes" had no shaft and were used by Homo Ergaster around 1.6 million years ago. Homo Ergaster refers to fossils of Homo genus from Eastern and Southern Africa. Ergaster is the Greek word for "worker", and it came when archaeologists discovered tools like stone axes and cutters. The hand ax had a pear shape and a board handle, and it was used for many tasks like killing animals to digging.
10. THE BIGGEST GNOME
We're still not sure if it's actually cute or creepy. The plaque might say that it's "The World's Largest Garden Gnome", but in reality, it's the third largest. Anyone looking to visit Kerhonkson, New York, which is on the western side of the Hudson River Valley, and near the Catskills. Travelers generally find out about this attraction from an app called "Roadside America". This is Gnome Chomsky, which was once the world's largest, but then Iowa and Poland built bigger versions. It is located near Kelder's Farm. Would you love taking a picture next to Mr. Chomsky?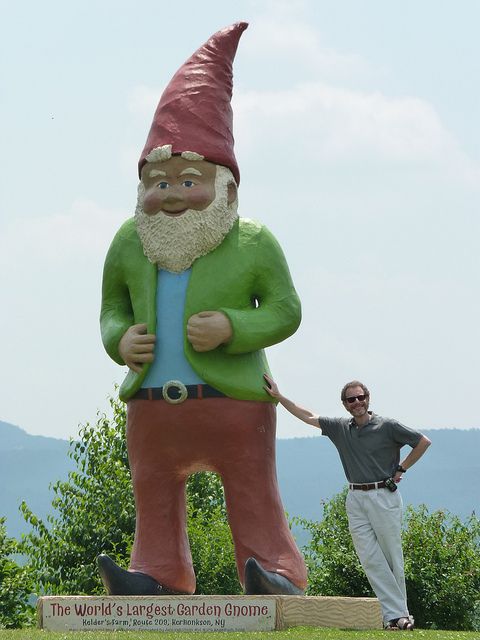 The only thing that some tourists have dislike is that there are no souvenirs available that feature the gnome in question. You can buy other things like a wooden nickel, but anyone would get a kick out of a postcard or a fridge magnet. The Frisbees were cute because they read "(Not) The World's Largest Garden Gnome". It might be odd to stop out of your way to see such a sculpture, but many people with families might love having that weird road trip memory. Sometimes, the oddest things can bring the most happiness at the perfect time.
9. WHY IS IT UPSIDE DOWN?
The question remains the same: is it cute or actually creepy? This is another weird sculpture that people would definitely enjoy having in their photo album. As part of the summer openART biennale in Örebro, Sweden several years ago the Dutch artist Florentijn Hofman made a 13-meter yellow bunny from local materials. It was located near the St. Nicolai church right in the middle of the city, and it is called "Stor Gul Kanin", which means "big yellow bunny". The piece was created to question the use of public areas and the monuments chosen for cities.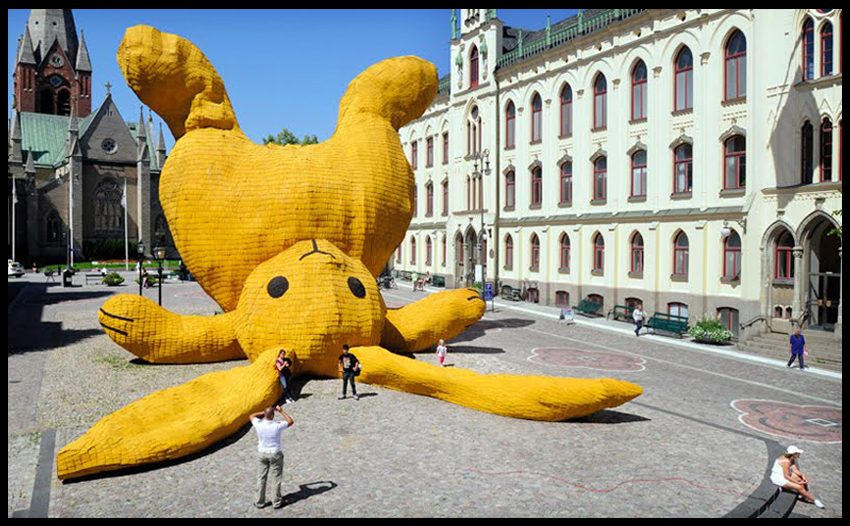 The artist believes that the world is a playground, and many of his other creations are big-scale toys and animals to illustrate his perspective. The bunny was placed upside down because Hofman meant for it to have fallen from the sky, and lean against the Engelbrekt shrine. The artist begs the question, "What is the use and purpose of public space?" Of course, Hofman didn't complete it by himself. 25 local craftsmen helped for free, and that was really important for the artist. He wanted people to feel connected to the artwork. It's mostly made out of shingles, wooden armature, concrete, and metal.
8. FOR THE BIGGEST SHIRT
For those whose laundry constantly pile up. This huge clothespin was created by Mehmet Ali Uysal, a professor of art at Middle East Technical University. It was originally made for the Festival of the Five Season in Chaudfontaine Park, located on the outskirts of Liège, Belgium. It looks like the artwork used the original weird hill formed naturally to make it seem like the giant clothespin was holding it together as we would a drying shirt on a sunny day. It's hard to say why the artist decided to make such a weird piece and how it inspired him, but it's not the first time Uysal uses nature to create such illusions.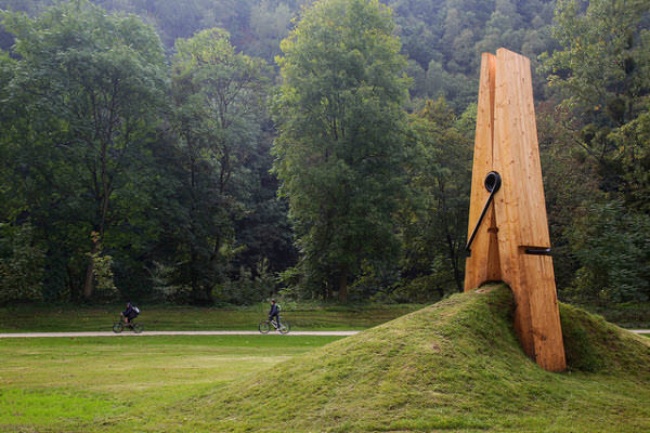 In fact, in 2016, the artist had an exhibition in New York, where he used suspended fluids, and images that melted out of the frames. It was the first exhibition for the new space of Sapar Contemporary in Tribeca, and the Turkish master wanted to trick everyone's eyes with his other pieces. He loves using space in many scales as well as building, deconstructing, reshaping any object in many different forms. He started studying urbanism in Turkey, but changed careers to plastic arts and moved to France. He started gaining fame in his home in 2005.
7. FOR THE BIGGEST EGGS
Do you see that too? This girl is walking that pan barefoot? On many summer days, some people might feel like they are literally eggs frying in a pan, and this artwork is a great representation of that emotion. Australian artist Andrew Hankin knows that his town can experience scorching heats, and he was inspired to make a giant pan located on a Sydney beach. It's called "We're Frying Out Here", and it's part of a series named "Sculpture by the Sea". It's just as simple as its name: a frying pan with san inside it. It was very real despite looking like an optical illusion.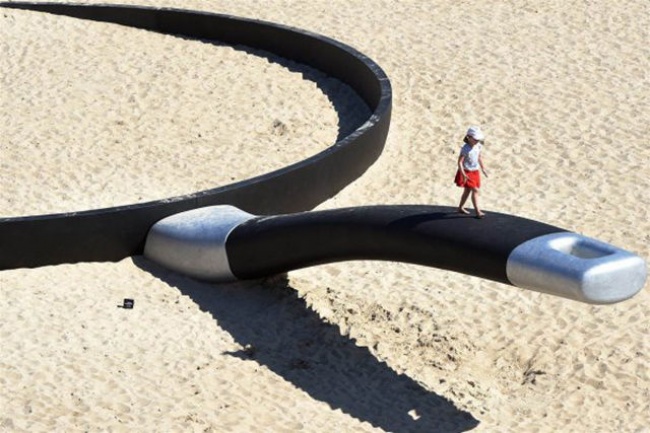 It was also a great way to remind beachgoers that sunscreen is important and that they needed to keep away from the sun sometimes. Additionally, children had a lot of fun playing in it and climbing the handle. Hankin is also a senior copywriter at Ogilvy, and he partnered with Sunsense, a sunscreen brand, for the project. He revealed, "It's a great honor to have been selected into Sculpture by the Sea but an even better feeling to have been able to create a sculpture with an important message behind it."
6. IS IT A SCULPTURE?
This one you can't miss while walking past. This artwork was made by Berlin artist Stefan von Essen, and it's exactly what it looks like: a giant banana peel. Several pieces were made and placed in local shopping malls. There is a huge myth that people can slip on a banana peel, and it must have been the inspiration for this sculpture. However, is there any truth to the legend? Has anyone ever actually fallen due to stepping on the fruit peel? The rumors actually started in the 1900s when bananas became popular in the U.S.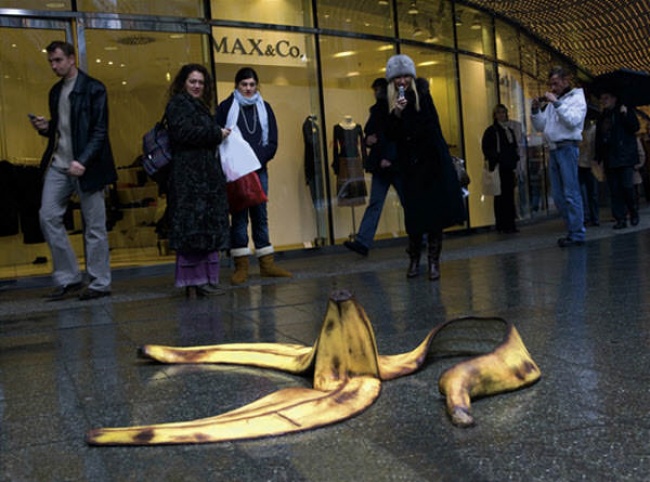 People would leave the scraps on the sidewalk, and once they rotted, they became slippery. Apparently, enough people started falling due to the discarded peels that some towns came up with anti-littering laws. Comedies have used this weird phenomenon as the bases for many skits since then. However, MythBusters investigated it, and while it's true that a fresh banana peel can be slimy, one is not enough to make people fall. You would have to place a peel over peel for several layers to achieve the hilarious event. Of course, the older they are, the yuckier they become.
5. CAN'T BE USED FOR DINNER
What should be the size of the house which is supposed to fit that furniture? Similar to the creation shown earlier, Robert Therrien also creates objects that are completely similar to the original versions, but on a bigger scale. During an exhibition at the Scottish National Gallery of Modern Art in Edinburgh, Scotland, he featured several common-day objects like these chairs and tables. The artist was born in Chicago in 1947, but he lives in Los Angeles. His work has led to many showings at prestigious institutions like the Gagosian Gallery, Los Angeles County Museum of Art, Museum Nacional Centro de Arte Reina Sofia, Madrid and the Museum of Contemporary Art, Los Angeles, and many others.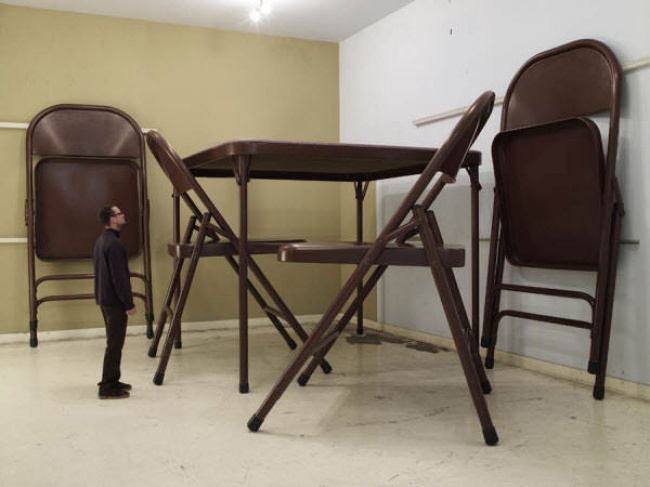 "Sometimes people ask whether I am a romantic or a realist artist. I would hope that I fall between the two. . . The ideal artist looks at the future and the past at the same time. The romantic artist spends more time looking backward. The realist attempts to work in the present but emphasizes the future. However, if you try to predict the future, you seldom succeed." —Robert Therrien
4. ONE BIG PIECE 
Shouldn't she be more excited about finding that? Lays chips have been popular around the world for decades, but not many people know their history. In 1932, Herman Lay first opened a snack food company in Nashville, Tennessee. In 1938, he bought the potato chip business "Barret Food Company" based in Atlanta, Georgia. He renamed it "H.W. Lay Lingo & Company". The entrepreneur took his car all over American, selling his chips from the back of his car. In 1944, the official name of the company was shortened to "The Lay's Lay Lingo Company", and they became the first snack food makers to buy commercials on television.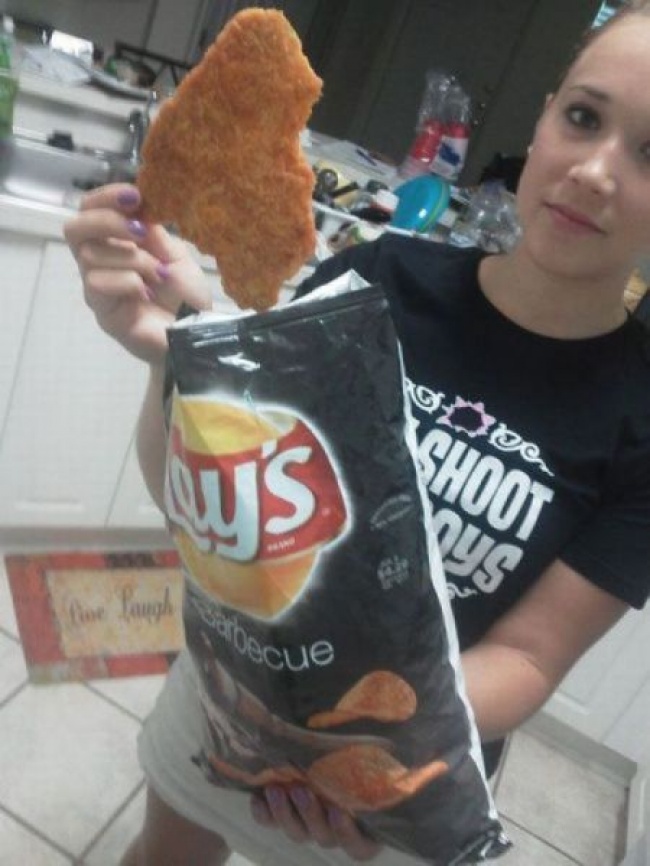 They also used Bert Lahr as their star spokesperson. In 1961, Derrick Lothert's Frito Company and Lay's partnered up and became Frito-Lay Inc. They made around $127 million a year, becoming the largest in their field. The company soon introduced their famous slogan "betcha can't eat just one", and the potato chips were considered a worldwide sensation. In 1965, they merged with the Pepsi-Cola Company, becoming Pepsi Co, Inc., and the rest is history.
3. WAITING FOR IT TO POP
If he doesn't stop now, there'll be a dreadful explosion. Not every balloon comes in such a big size, and while they are mostly made from the same material, some are sturdier than others. The earliest balloons were actually created from pig bladders and animal intestines. The Aztecs made balloon sculptures with cat insides to give to the gods. Even 'Swiss Family Robinson' and 'Moby Dick', which date to the 1800s, have talked about making balloons with whale intestines. The first ones made out of rubber were created by Professor Michael Faraday in 1824 to use for his hydrogen studies at the Royal Institution in London.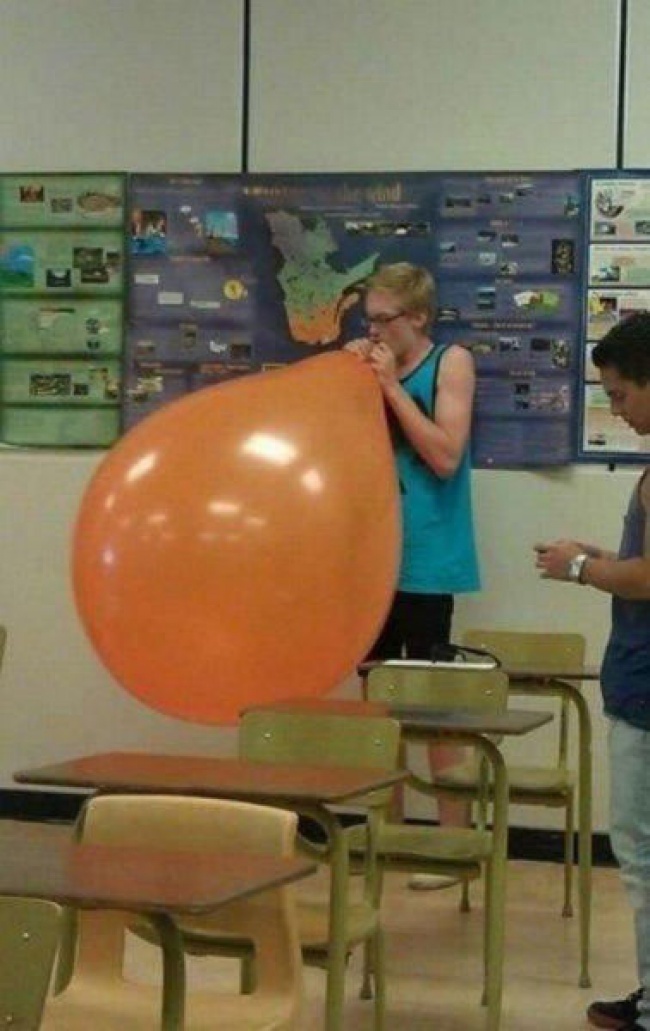 He wrote about his findings at the Quarterly Journal of Science that year, explaining, "The caoutchouc is exceedingly elastic. Bags made of it...have been expanded by having air forced into them until the caoutchouc was quite transparent, and when expanded by hydrogen they were so light as to form balloons with considerable ascending power...." He would make his balloons out of two sheets of rubbers placed and tied together by the edges. The inside would have flour to avoid parts sticking together because the rubber would meld automatically.
2. CHOCOLATE LOVER
He promised he would eat just one candy bar. No more than one! The history of the Snickers is just as interesting as the one from Lays chips. In 1930, Mars presented the candy bar, and its name came from the owner's favorite horse. It has nougat, peanuts, and caramel covered in chocolate. It was originally advertised as "Marathon" in the United Kingdom and Ireland until 1990. At the time, Mars decided to unite the produce with the U.S. version.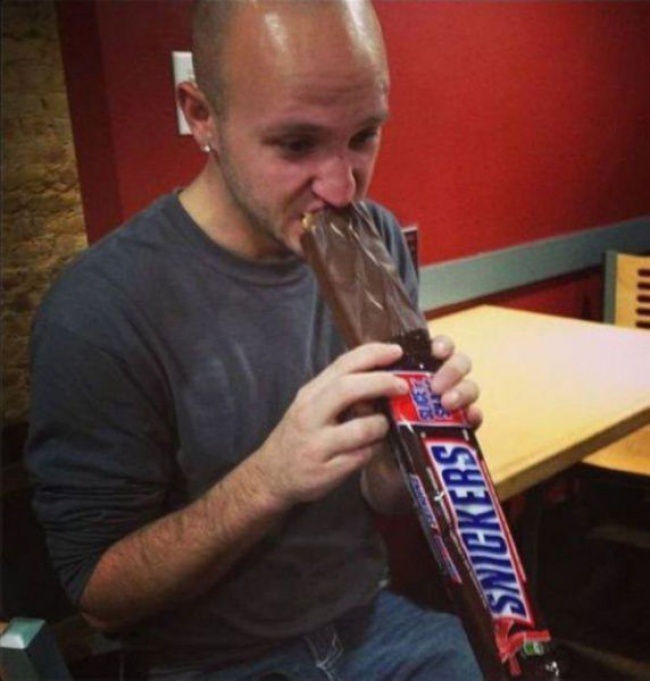 There are many versions of the Snickers bars such as "mini, dark chocolate, ice cream bars, Snickers with almonds, Snickers with hazelnuts, Snickers peanut butter bars, Snickers protein and Snickers with Extra Caramel, as well as espresso, fiery, and sweet & salty". Interestingly, in December 2000, The company in Australia recalled several Snickers and Mars bars from their stores because of many threatening letters which hinted that some chocolates had been poisoned. The last letter the business received contained one bar which had rat poison, and there were apparently seven other bars that had been laced with the toxic chemical. It said that those had been placed for public sales.
1. BIG CLAWS
This is the claw of a juvenile Crowned Eagle. This is something shocking to see because we hardly realize how big these animals are. As you can see, they can be really dangerous. It is also referred to as the African crowned eagle or the crowned hawk-eagle. These birds can be found in sub-Saharan Africa, but especially places were there many forests. It's the only member of the genus Stephanoaetus that still exists today. When humans discovered Madagascar the second species, Malagasy crowned eagle (Stephanoaetus mahery), became extinct.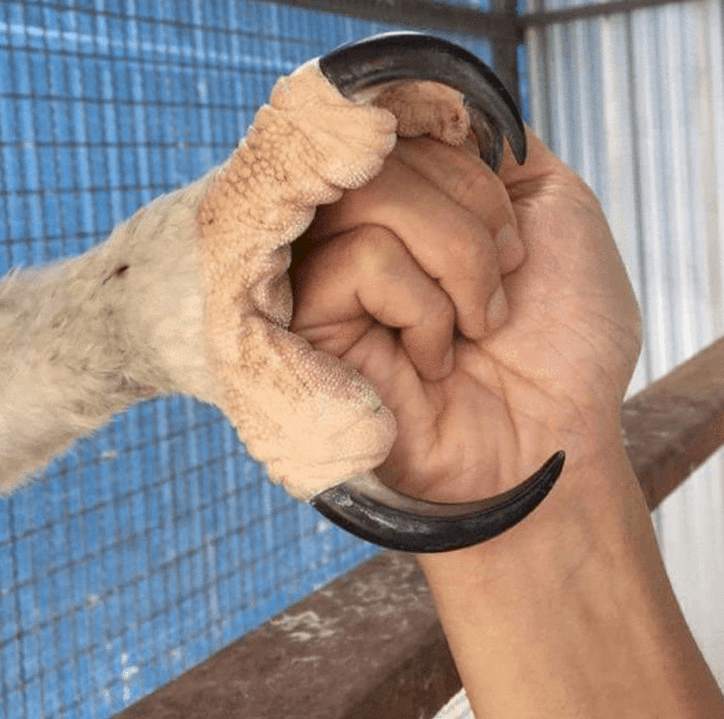 They mostly eat other animals like ungulates, hyrax, and small monkeys. Sometimes, they might take birds or lizards. Their long tails can reach 90 cm (35 inches) in length, but it is not as big as the Martial Eagle, Africa's largest. However, it is the mightiest of these birds because it can catch heavier prey. They often take bushbucks which can weight around 30 kg.
BONUS: ONE BIG HAND
We all know that gorillas are really big creatures, but maybe you had not really considered the difference in size. It might seem like our hands are almost completely alike, and it is true that we share many similar features, especially when it comes to holding and performing certain functions. However, there are a couple of differences that everyone should understand. Both human and primate hands have opposable thumbs. In other words, they have a finger that can tough the other four digits in their hands. But, human thumbs are longer and more flexible than anything primates have.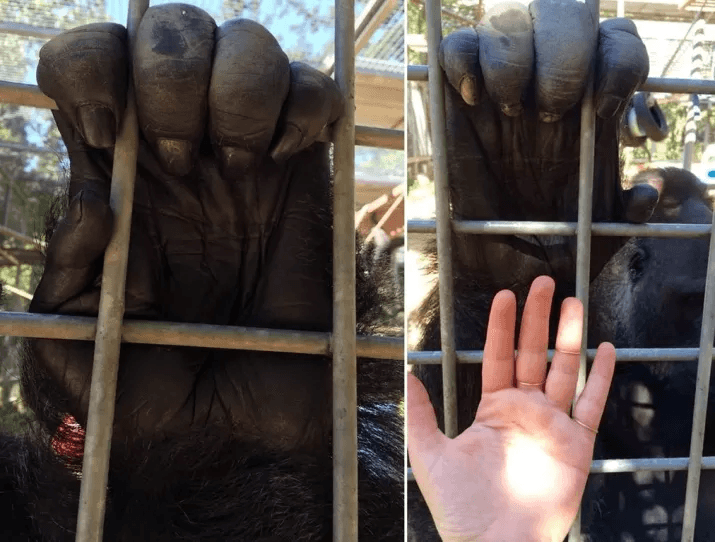 Some scientists say that monkeys would have a lot of trouble with longer thumbs. It would actually get in the way of them trying to hold a tree when they swing. When it comes to the rest of the fingers, primates also have four, but human digits are shorter and much thinner than most monkeys. This is also to help them swing from trees. Furthermore, human hands are much more mobile than primate, as we can rotate our wrists, extend, and flex. Primates, particularly those who use their knuckles to walk, are much less flexible with movements. Their wrists bones are made to avoid bending or extending while the gorilla moves around.