Hilarious (And Some Disturbing) Texts From Ex Girlfriends That We Put Into Collection
Dealing with ex-lovers can be really stressful. When they don't understand that they need to let you go, they will do any kind of weird things to catch your attention. This time we will talk specifically about ex-girlfriends, and you will see real conversation captures that will make you cringe. Let's start!
60. I DON'T WANT YOU BACK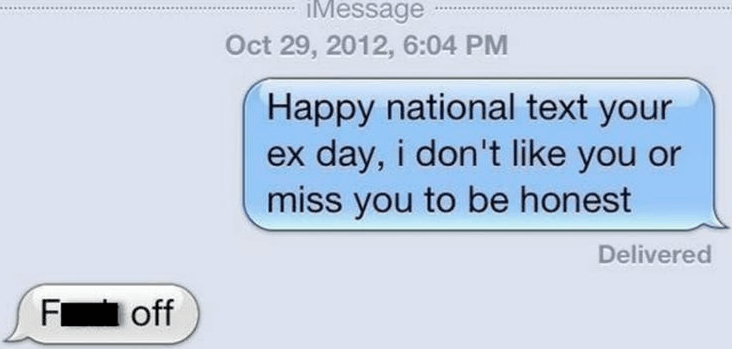 Did you know that national 'text your ex day' is actually a thing? Now you do. But, something awful must have happened between these ex-lovers because one of them clearly didn't want anything from the other. Not even time can heal the wounds in that heart, and we can definitely relate to the struggle. Once you are out of our lives, it's done!
59. NO RING FOR YOU!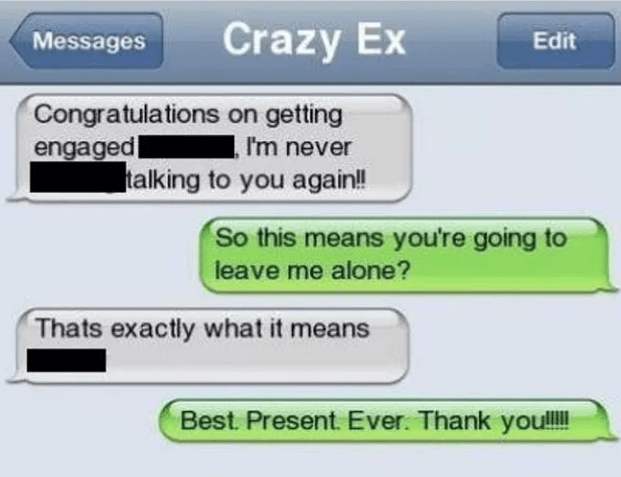 The best message this guy could ever receive. But, you have to feel sorry for the girl because no matter how alright you are after a breakup, finding out your ex got engaged to someone else is not easy. Feelings of envy suddenly start popping out, even though you want nothing with that person anymore. It's definitely a green monster!
58. THE MACHINE HAS SPOKEN!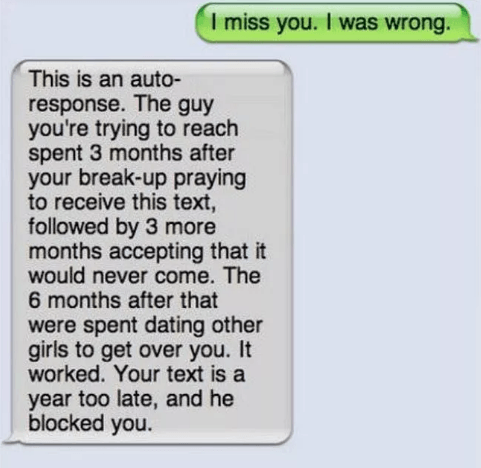 We wish all the cell phones had an auto-response like this. You can probably program your cell to make a big message with just one word nowadays, but sometimes, it would be better if it knew already. Some people feel weird about blocking their ex-lovers, but it doesn't mean that you want to talk to them again.
57. ONE LAST FLING?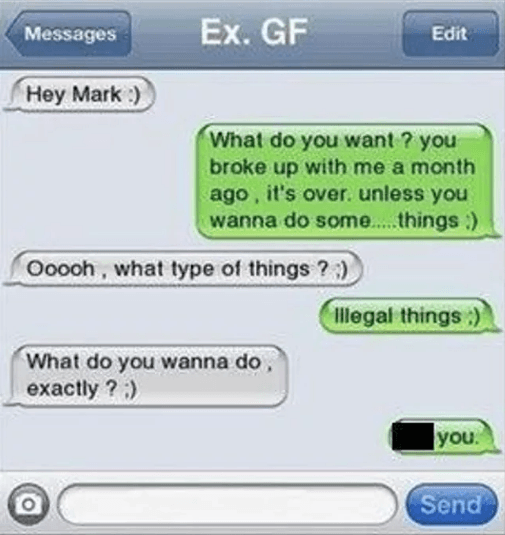 You can't expect to come back after a month as if nothing happened. But some exes think they could sneak into our DMs, and have their naughty way with us. Devilish people will play the game until someone gets burned, and hopefully, the former lover will finally understand that we don't want them back!
56. WHERE IS IT?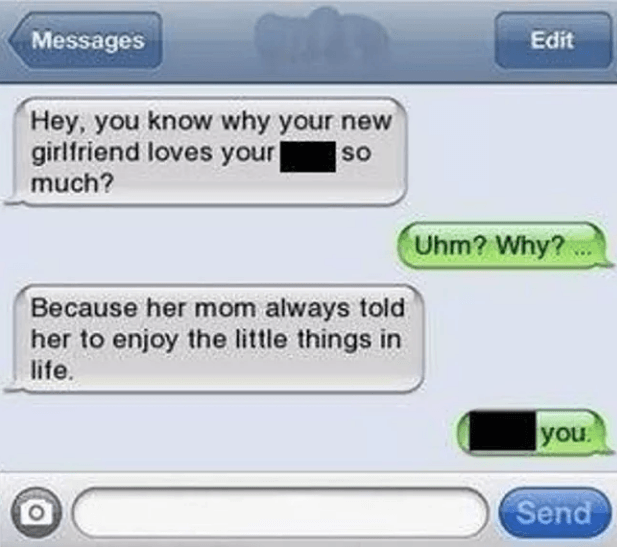 This guy is still trying to recover from that burn. One of the worst cheap shots an ex-girlfriend can take is a dig at their former lover's manhood. Men never take that too well, especially if they were already insecure about it. It can funny at times, but there are moments where we best not mess with someone. 
55. YOU DON'T LIKE MY SIMS?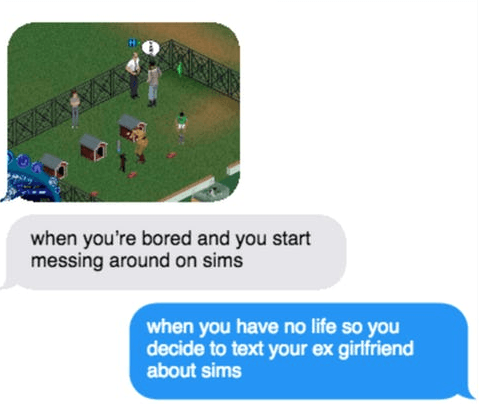 Sometimes people look for the most desperate excuses to text their exes, and a major issue about breaking up is that you also lost a friend who got used to. You hanged around all the time and shared jokes; so, naturally, you might want certain aspects like that back. But, it's better to just let go!
54. IT'S A TRAP!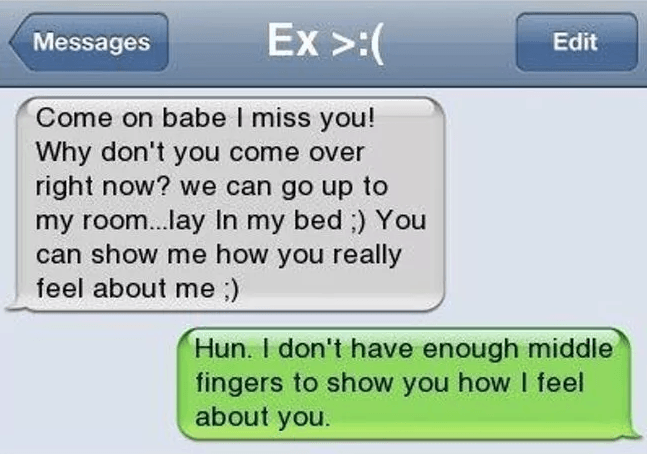 Be honest and never hide your feelings! However, most of the time, when you receive one of these messages, it's just a booty call. Never fall for that line ever because chances are that he doesn't want you back at all. He just wants sexy times, or he might be bored with his current flavor of the month.
53. GIRRRRL, THIS IS AWKWARD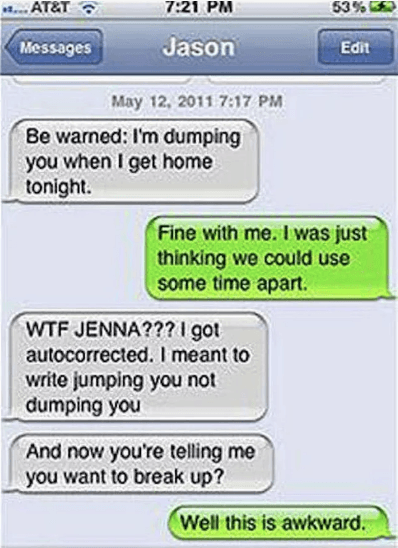 This could be one of the most uncomfortable situations of all times. Sometimes, autocorrect can definitely be the kiss of death, although there is a chance that Jenna didn't want to lose face in that situation and just agreed to play along. We feel bad for Jason, who had no idea his girlfriend would dump instead of giving him a good time. 
52. BUT, WHAT ABOUT MY XBOX?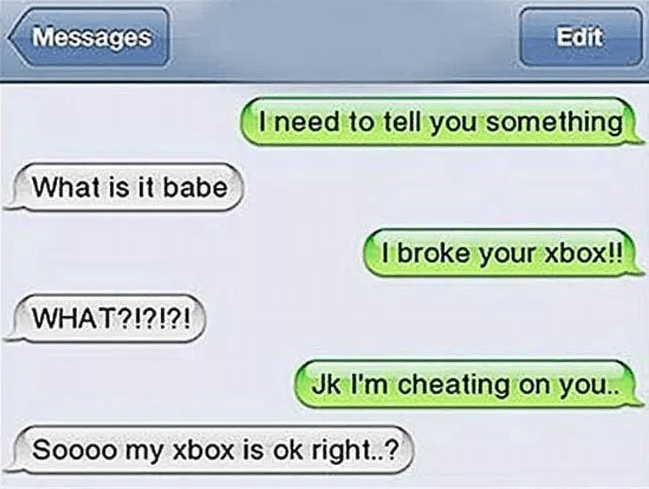 This man really knows his priorities. The fact is that girlfriends come and go all the time, but Xboxes can be expensive. Most people would forgive a cheating girlfriend over one who "accidentally" breaks your most valuable item. There's a limit to how much patience someone can have, but we are glad that it game console was ok!
51. REVENGE IS A DISH BEST SERVED... ON FIRE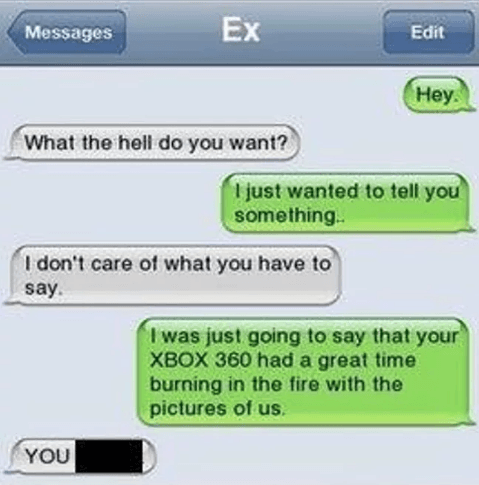 It is better to have your heart broken instead of XBOX 360. Sometimes, a breakup is so bad that you don't want anything to do with that person. We understand not wanting to hear from them again, and we also get those that want revenge. Burning the ex's console might be a bit much, but he probably deserved it.
50. TURN AROUND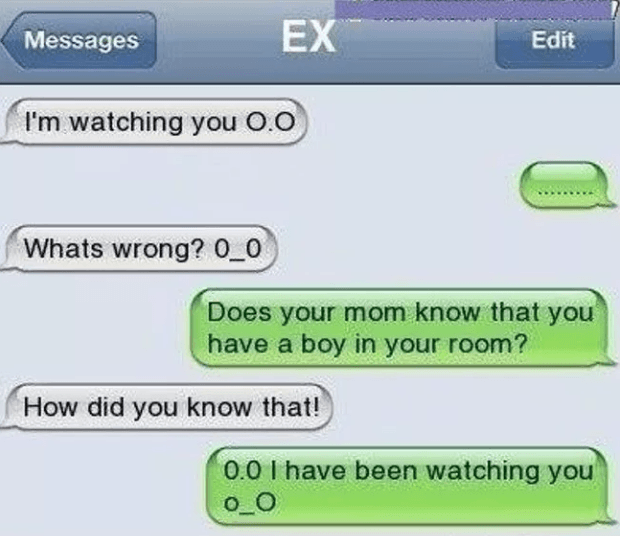 We guess it's more creepy than funny. Sometimes, your ex will try to scare you or blackmail with something, but this person found out the hard way that turnabout is fair play. Also, that ex was definitely sneaky having a boy in her room with her parents home. We wonder if he called her mother. 
49. JUST GIVE IN TO THE DARK SIDE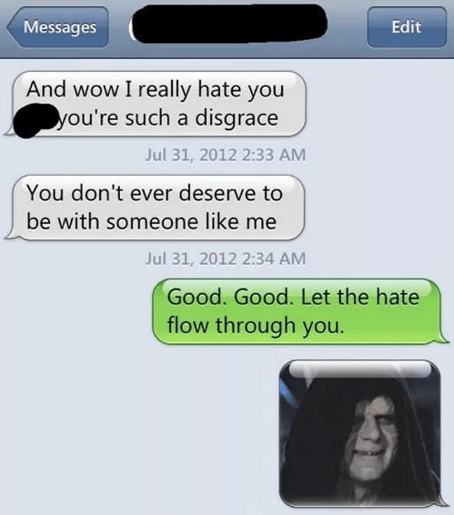 There's no surprise your ex hates you. Just let it go. But, there is something particularly awesome when you can scorn your ex with memes or movies references. We hope that girlfriend hated 'Star Wars' in the first place because that would just make it especially evil. You go to the dark side, we have cookies!
48. WHATEVER, BABE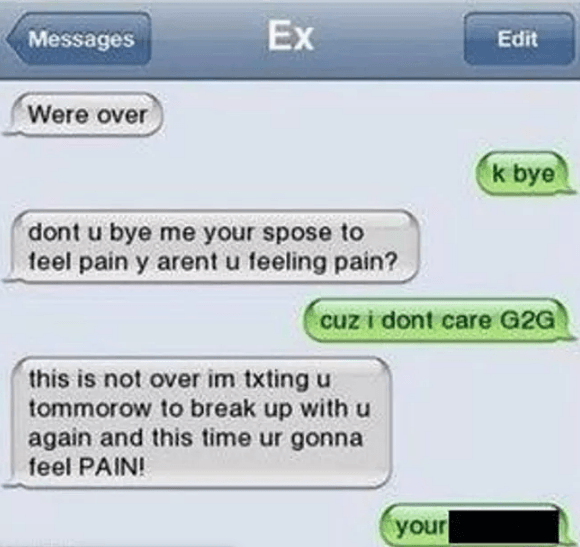 Were they texting this way even when they were in love? It can often be hard to understand the way kids message each today. There is no attention to grammar, and you have to be familiar with someone to truly understand what they are saying. These kids have no idea that "were" and "we're" are completely different. 
47. NO SEQUELS FOR YOU!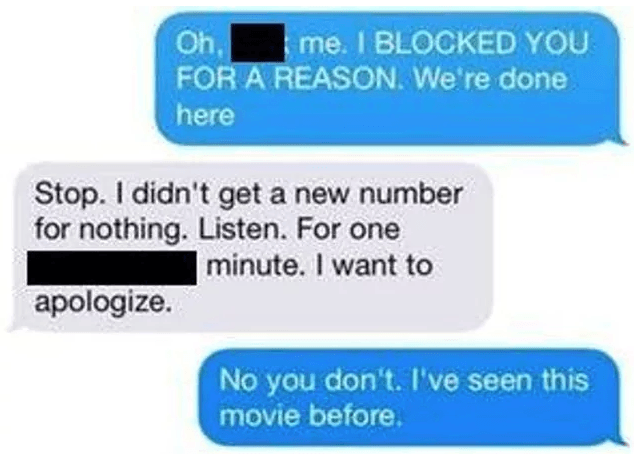 This girl got a new number just to text her ex but things didn't go as expected. Sometimes, there is no amount of apologies that can solve a problem. Some errors are simply unforgivable, especially for former lovers. Also, it seems like that guy forgave for something before, and it wasn't a good choice.
46. NOT GETTING THE MESSAGE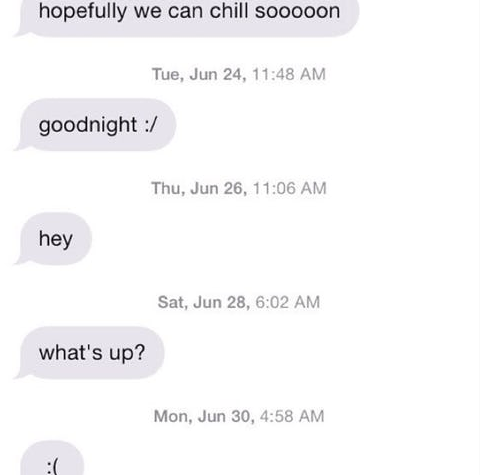 Some people just can't accept that their exes don't want to know anything about them. It's very sad having someone continue to text you no matter how many times you ignore them. They need to grow a backbone and just let go. There are so many options out there to be pinning for your ex.
45. FREAKSHOW ALERT!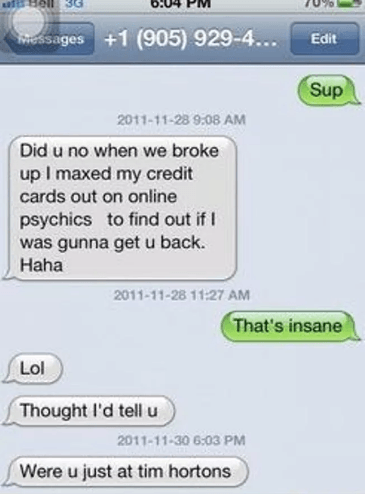 Fortunately, they aren't together anymore. So many people believe that psychics work, but no that many would spend all their money to find out something like that. It's just silly, but this person is clearly turning from a big clingy to a complete psycho. Good for the guy who ran away before things got too crazy. 
44. CHEATING IS NOT A MISTAKE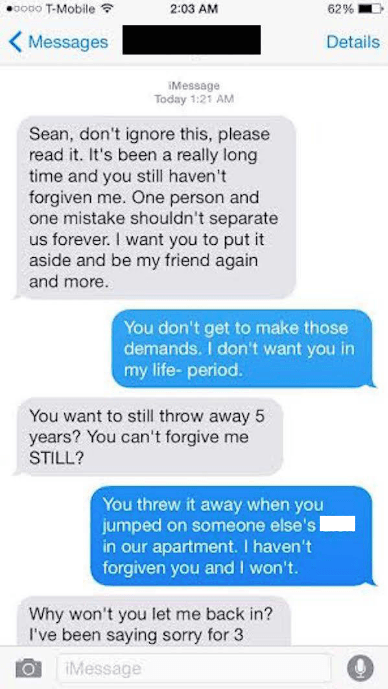 Saying sorry doesn't always help. There are many people who don't think cheating is a big deal, and they also believe that they can be forgiven for anything no matter what happens. However, Sean was not willing to let his ex-girlfriend walk back into his life after so much pain. Fool me once, shame on you. Fool me twice, shame on me!
43. I NEED TO TAKE CARE OF ME FIRST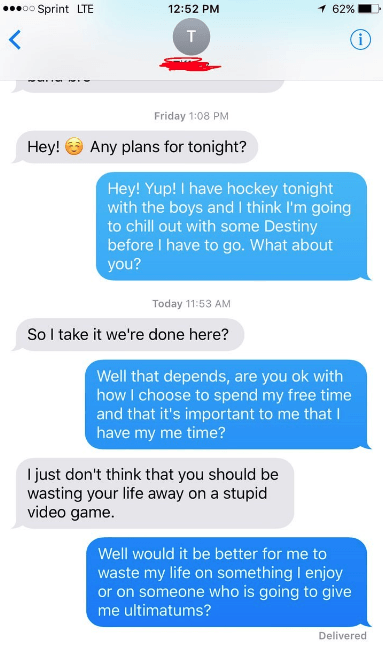 If someone gives you ultimatums about the most ordinary things, run away from them! Some people think that couples have to spend all their time together, and they don't understand that everyone needs space. Having separate hobbies and different interests can actually strengthen relationships. 
42. FAMILY IS FAMILY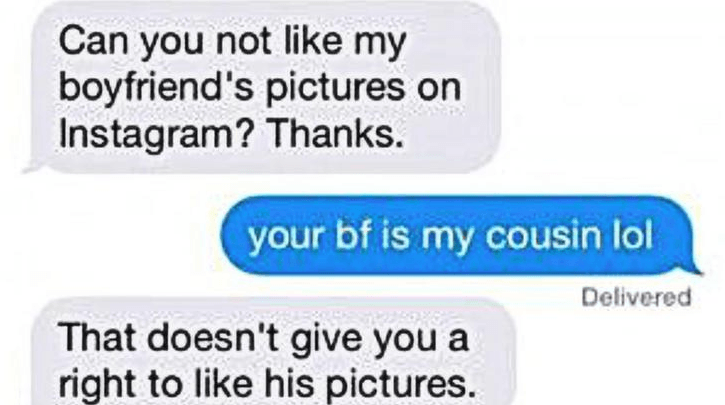 There are some really possessive girlfriends out there. However, this girl right here takes the whole cake for herself. That's just insane. Family members are not a threat to your relationship. They are an important part of your lover's life. Also, one "like" on Instagram is not the equivalent of flirting or cheating.
41. BORING... BYE BYE!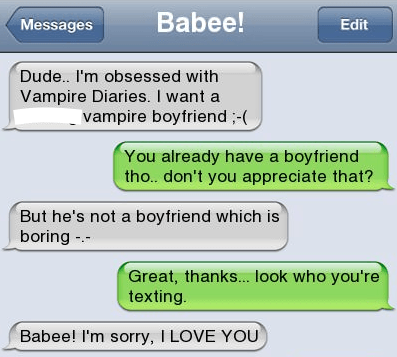 She texted the wrong number, and when she realized it, it was too late. The vampire craze of the early 2010s was a big deal, but that's no reason to fail on your man. Additionally, you have to think practically because those shows or movies do not portray what a relationship with an undead man would really be like.
40. THE MACHINE COULD STEAL YOUR BOYFRIEND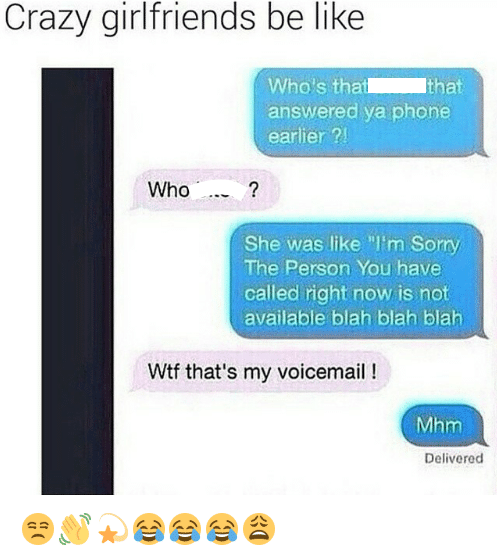 It is incredible how jealous some girlfriends can be, but here is another example of someone who should really use their brains before accusing their boyfriend of possibly cheating. Even with the explanation, it seems like the girl was not convinced it was the automatic voice mail message. Is she dumb?
39. NOT STRONG ENOUGH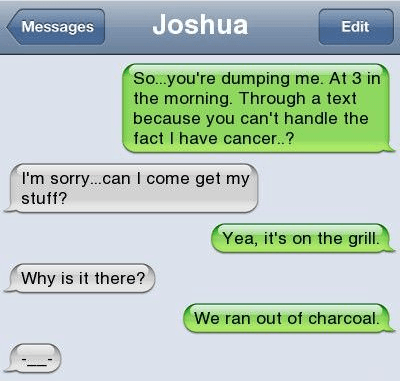 This was probably a fair ending for their relationship. You don't anyone in your life that cannot handle sickness, even if it's the worst kind. That kind of people are not strong enough to build a future together, and it's better to let them go. However, that doesn't mean that they can get their stuff back!
38. CHECK YOUR GRAMMAR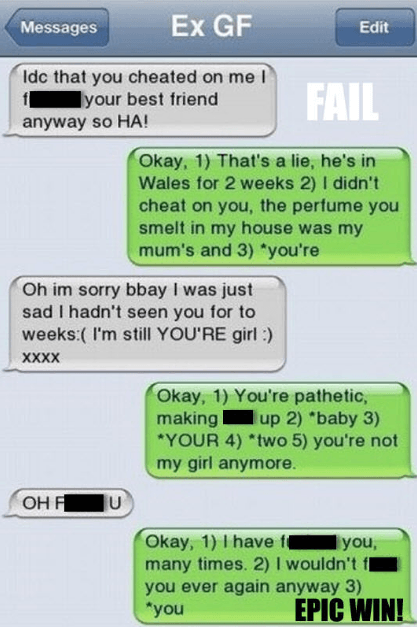 After reading this, you will feel the relief of not having a girlfriend like this. First of all, she is a liar who cannot spell to save her life, and she continued to make matters worse. That guy was definitely smart to dump her after that craziness. Once you are old enough, you understand that dramatic people are the worst.
37. SCARY EXGIRLFRIEND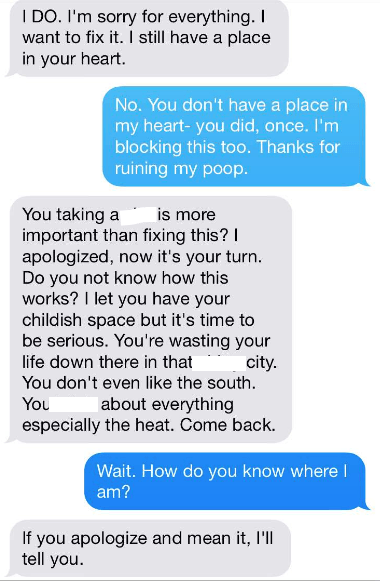 Some guys should be terrified of their exes because there are some girls that could give FBI agents a run for their money. It's not even a joke how a woman with the help of her friends can find out everything you wanted to hide from her in the first place. Hopefully, she got the message, and they never spoke again.
36. BETTER THIS WAY

Some things are meant to stay unchangeable. Here is another example of an ex coming out of nowhere to someone who clearly doesn't want them anymore. Both parties have to respect themselves enough to just stay away from each other and move on with their lives.
35. I DON'T TO LISTEN TO YOU ANYMORE
When you realize that you have to do additional things for your ex to realize that you two have broken up. Also, you can finally stop tolerating the things you hated in the first place. On the other hand, who texts their ex to say that their breakup was the best decision ever? That's a little too transparent.
34. THE TRUTH HURTS
Citing your ex's lack of culture as a reason to break up with it is an elegant but evil way to end the relationship. That can be a major problem in a relationship. You want to be different enough from each other to keep things interesting, but you also need to have many similar likes. It's all about balance.
33. TWO YEARS AND YOU'RE STILL TEXTING?
When you know that she simply will not disappoint you with her answers, you send this kind of messages. We cannot believe that even after all that time, the guy was still trying to get something out of her. Obviously, she didn't ruin him. He came broken from the factory, and it's pathetic.
32. THERE'S NO GREATER HATE THAN THAT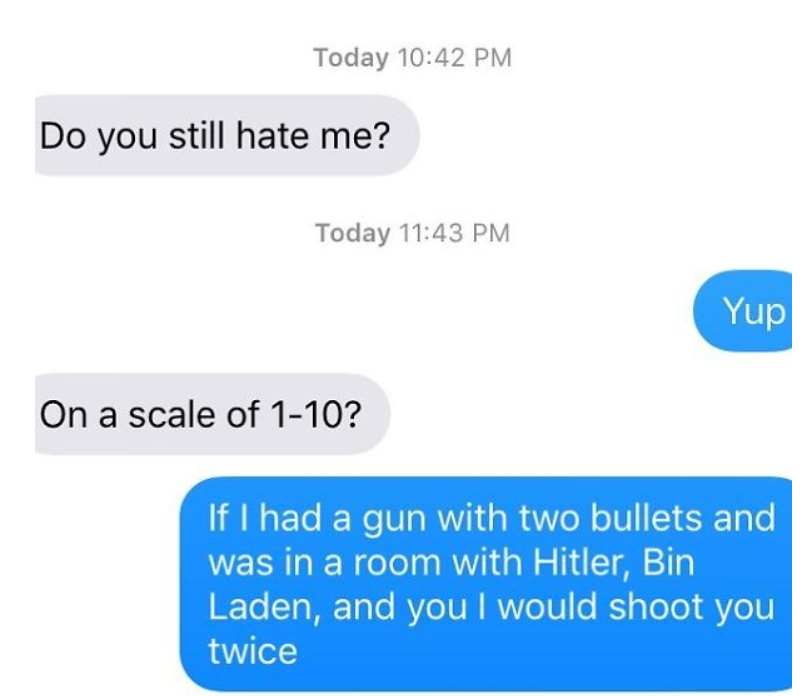 Wow, we don't know what that person did, but Hitler and Bin Laden were some of the worst people in the world, and she would still leave them alive to kill the ex. It has to be something awful for someone to take that stance on an ex-lover, whom she probably once loved deeply.
31. THAT'S JUST AN INSULT
When you know exactly what to say to the person who broke your heart and can not avoid being as explicit as possible. Also, the excuse "we can still be friends" is just an insult. As if people would want to hang around the person who hurt them. Just like Ariana Grande would say, "Thank you, next!"
30. SO FUNNY
This person who laughed to death for the message that his ex sent him. When laughter attacks, you can not control it. The best revenge is knowing that you have moved on while your ex is still hoping to get you back. There's just some satisfaction in a text like that, and it's just a delight to see this moment.
29. SOME RELATIONSHIPS ARE ERRORS
What do you think about this person pretending to be a machine and sending an error message to her ex so she understands the message? Some exes can be funny, but they definitely get the message across. They don't want the person back, but they will take the opportunity to make fun of them.
28. NOT FUNNY, MAN
This person cannot avoid being as sincere as possible when his ex writes to him, but we can not support his methods. Sometimes, you have to scare someone so that they will get the message. It's a bit extreme, but some can confuse a rejection for playing "hard to get", and it's totally annoying.
27. LUCIFER WAS BETTER
This person who thinks he received a message from the evilest being in the universe but apparently was not very wrong. However, if the real devil is anything like Lucifer on the show, he would probably be a better ex-lover than this one that person doesn't even recognize. 
26. SOME ARE SO FAKE
When your ex needs advice and you do not have time for her, you should respond to her in the best possible way. We wonder if that guy is saying that his ex-girlfriend is completely fake as a person, or warning her because she got her boobs done. Either way, this a burn she will not recover from easily.
25. REALITY CHECK
This conversation was not as planned for any of them. Someone must go to the doctor, just to be sure. This guy wanted to appear manly and protect his girl from a clingy ex-boyfriend, but things clearly backfired in the worst possible way. The new boyfriend probably got rid her quickly after that.
24. A PERFECT BONFIRE
Fire is always a good response when you are dealing with a cheater, but you must be careful not to overdo it. Before you break up with a girl, it's important to take your things with you first. You never know what girls will do when they are hurt, and fire is clearly a popular revenge method.
23. JUST SAY YES
May 7, 2016
Sometimes, you just need to agree with everything he says to make him leave you alone. You just have to nod and smile in these moments, while thinking about finding a new man that will be different. Also, if you want to avoid more problems, sometimes being docile can be more helpful than trying to continue the conflict.
22. JUST STOP!
Some people just do not understand and you have to be careful with them. This is almost too scary. It really makes you think about the person you like right now and how they might end up like that. Please, God, spare us from the crazies and let us find a normal love that will make us happy.
21. *EXPLICIT* YOU!
Silence can help them understand, but sometimes you will need the help of the police. Some people don't understand that no message is also a kind of message. But, they might too stupid or wrapped in their stuff to see beyond their noses. Wake up! It's over!
20. SWEET DREAMS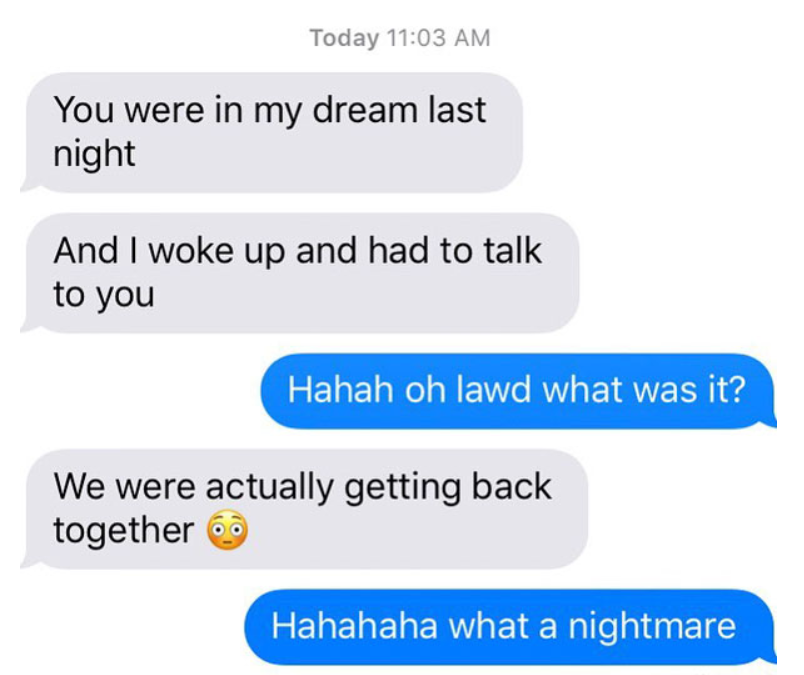 That looked like a romantic conversation... at first. Your ex might end up regretting the decision to break up or reconsider after some time apart, but it's hard to recover an old flame. Some things are just meant to end, although one party might want to change things up. It's just better to forget. 
19. BEING ALONE IS BETTER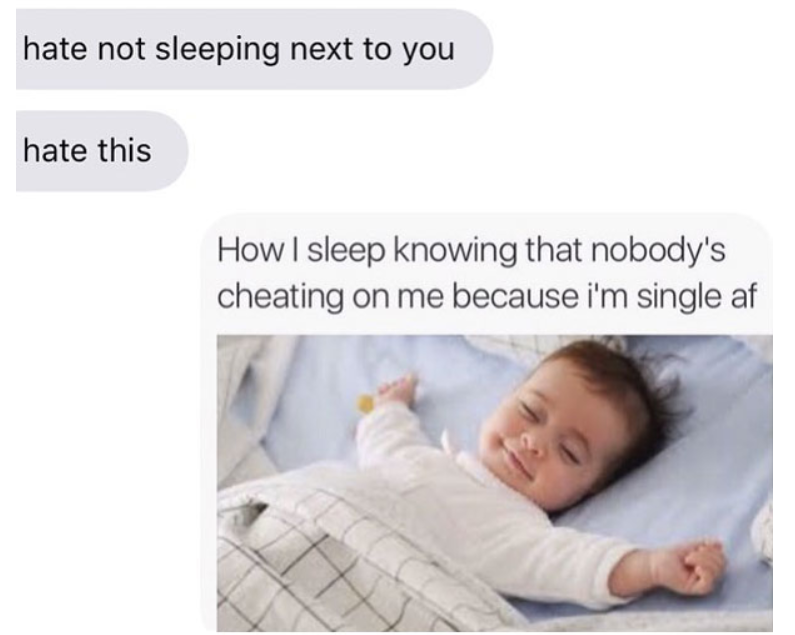 It seems like he gotta learn how to sleep without his ex now. Sometimes, worrying that the person you love is being unfaithful can hinder your sleep, and it's not a pleasant feeling. When you are single, you don't have to worry about such matters, and you get to stretch out on a cool bed. 
18. THE SUN OF MY LIFE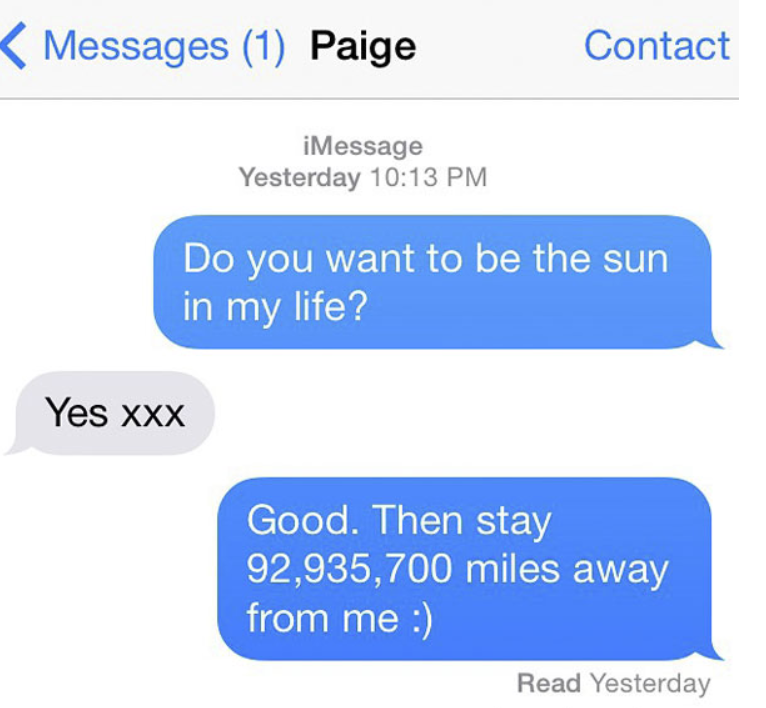 Isn't that the most beautiful way to break up with someone? It's the most poetic thing someone can do, and it can be pretty funny because people get creative. However, sometimes you can end up hurting someone who might have thought that you both could recover the relationship. Be careful with revenge!
17. A WARM BED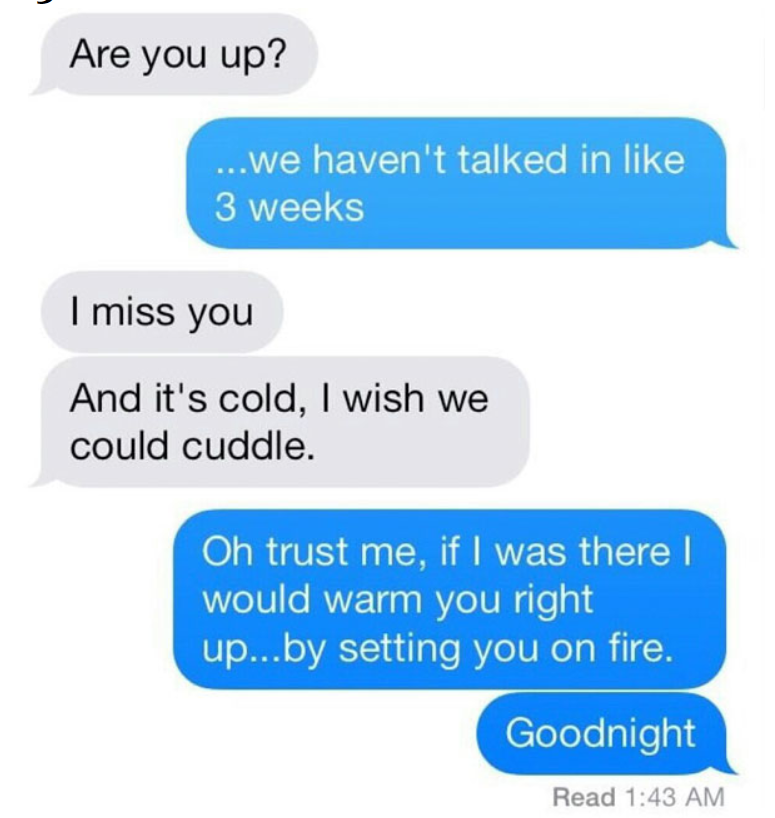 No way he's going to text her again. Those ex-boyfriend texts are the worst because it's late at night, and they are thinking of finding any warm body available without much consideration. He is definitely not talking about cuddling, and just wants one thing. It will not even be satisfying in the end.
16. KEEP UP THE GOOD WORK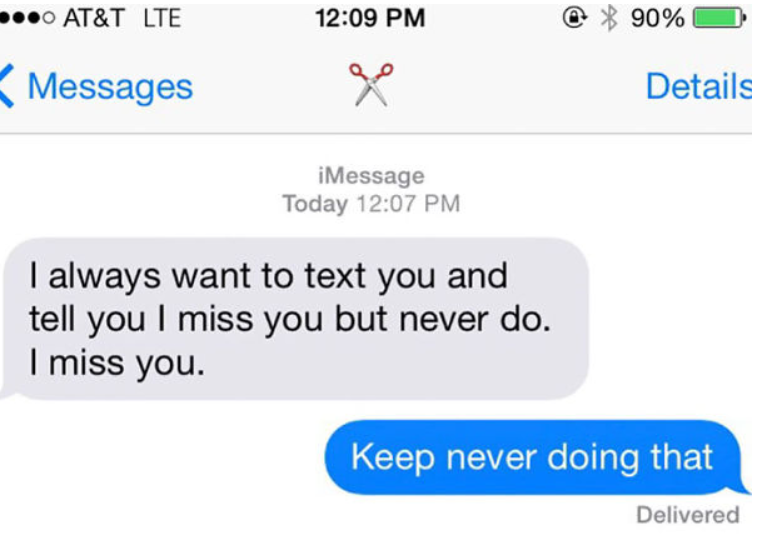 You just have to keep moving on and stop thinking about texting your ex. No matter the reason for your breakup, and even if you miss him, you cannot go back. There are plenty of fishes in the sea, and it's all about loving yourself before finding someone who does as well. Forget him!
15. EVERYTHING ENDS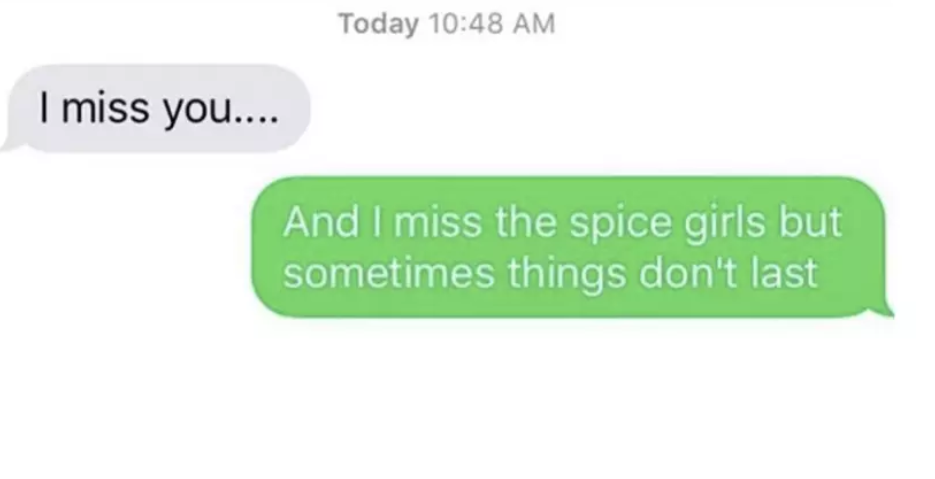 We all miss the things we loved at one time, and this girl was a fan of the Spice Girls, but she is definitely not going to miss that guy that decided to sneaky into her messages after things ended. The ex-boyfriend has to learn that if he bugs her, she will say goodbye because that's the way it is.
14. SARCASM IS THE BEST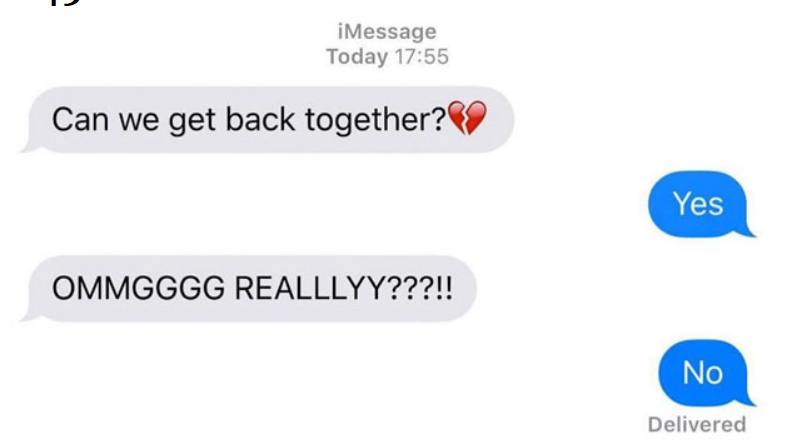 We guess the answer is pretty clear. There are people who cannot understand sarcasm, but texts can often be misleading because it's all about tone sometimes. This person wanted to get a bit of revenge on an ex, but it wasn't worth it to keep going. Just come out with the truth and be done with it. 
13. SORRY FOR BEING AN IDIOT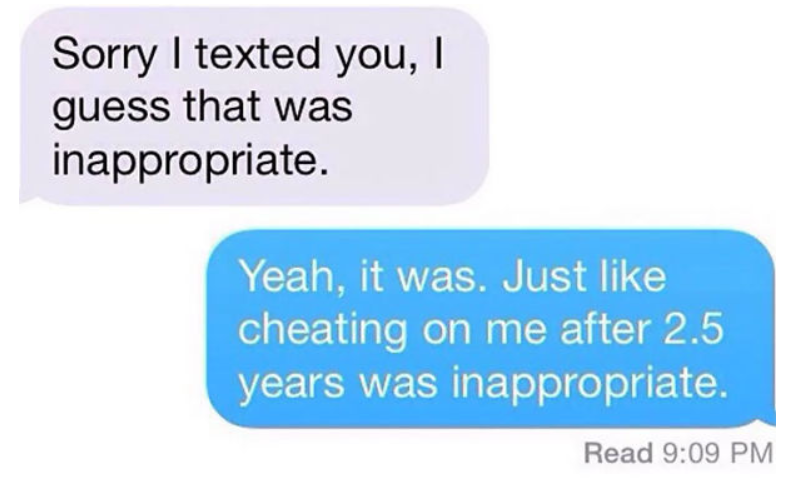 So what is really inappropriate: texting your ex or cheating on him/her? The answer is obviously both, but cheating is worse. Although, texting someone after doing such a horrible thing like it never happened is despicable. 
12. NO CLOTHES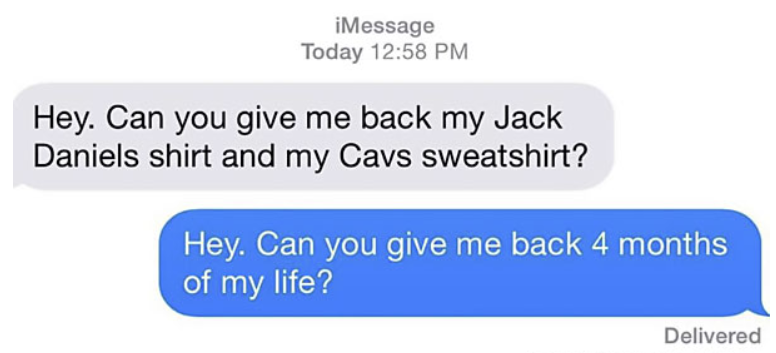 It seems like they'll never talk again to each other. They better not! Unfortunately, time wasted is not something you can get back ever. It's not an object, but it's worth money. The only good side is that she learned from the experience. 
11. PAYBACK WHAT YOU OWE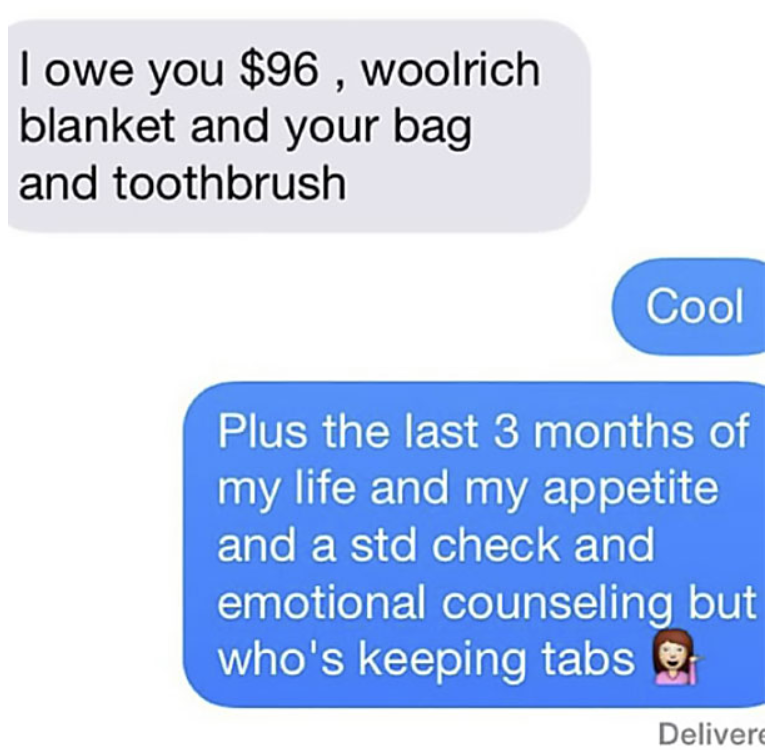 This is another example of how certain things in a relationship cannot be given back. You cannot return pain or emotional stress. You cannot change experiences, you can only learn from everything that comes in your path. But, we hope that she is doing better and there were no STDs in the process.
10. A NIGHTMARE OR A DREAM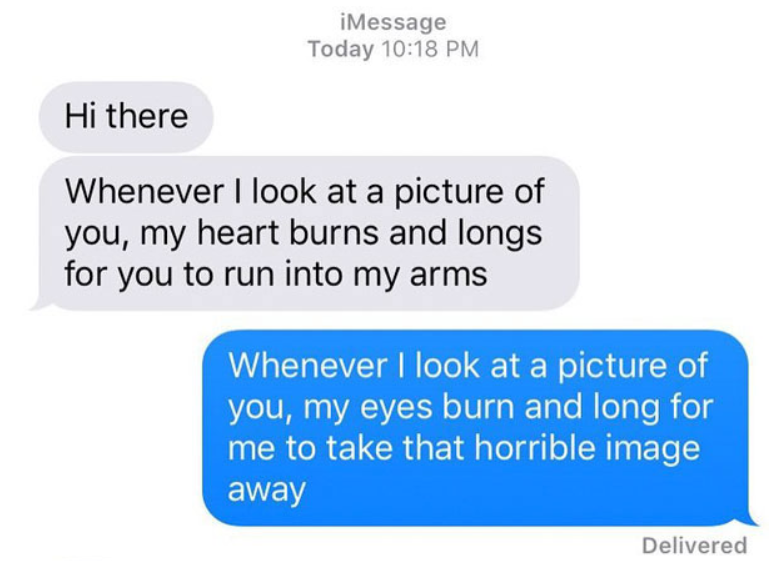 Oopsie... that message no longer sounds so romantic. They say that everyone we meet sees us in a different way, and relationships are great examples of that. At some point, they probably loved each other, but now, one can only see a nightmare she wants to forget. 
9. HATE ALL AROUND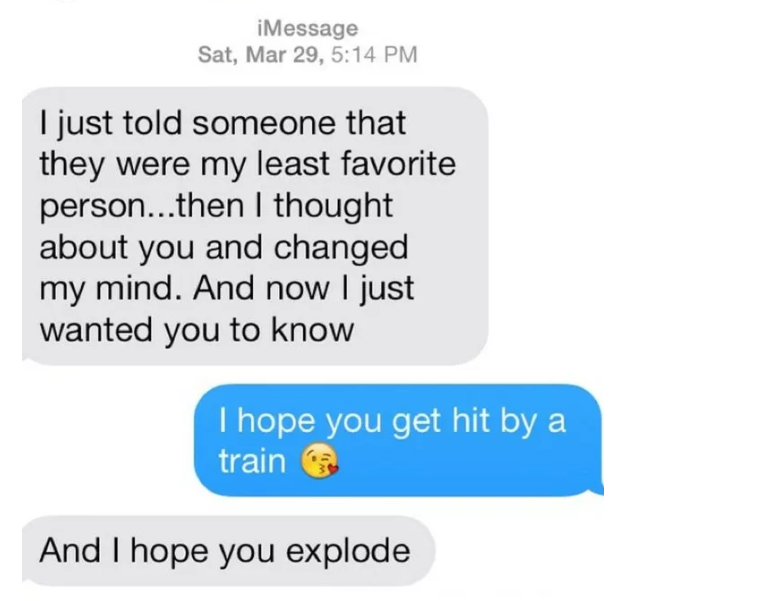 Is that love? Or hate? Or maybe both? There are examples of one ex trying to get the relationship back, while other wants nothing to do with that person. And then, there are these two people who hate each other in the best way possible.
8. FAMOUS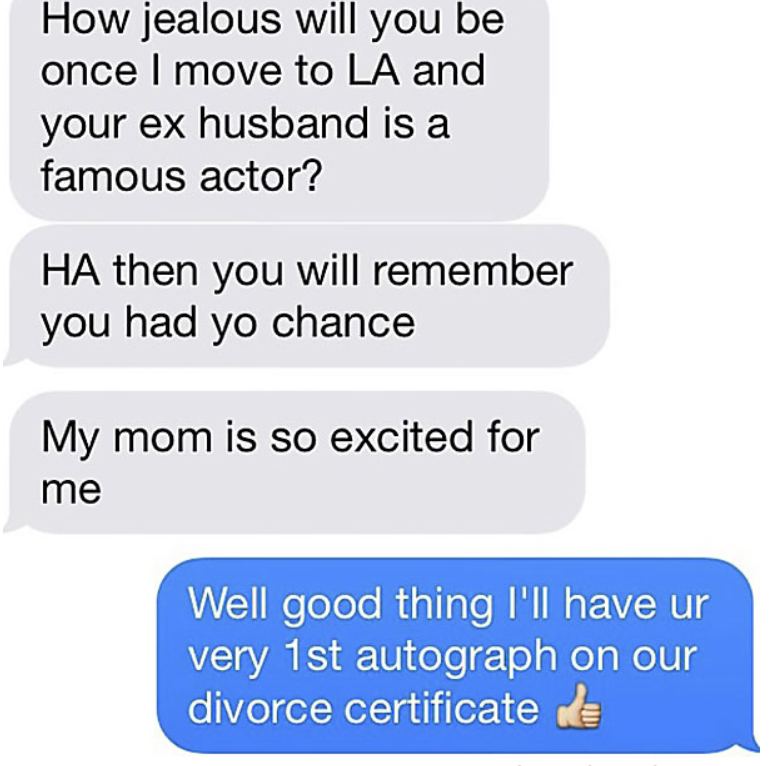 WOW! Who would expect that kind of reaction? But, she makes a very real point. If her husband ends up being famous due to some crazy twist of fate, she can sell stories about him to the press. Better yet, if she wants to be even pettier, she can sell photos of when he wasn't "famous". 
7. CHECKING THE TIME

It's completely infuriating when your ex-boyfriend decides to send a message as if you can just continue to be friends. Some people might be accused of being oblivious, but others do it on purpose to be even more frustrating. Get some common sense and leave that girl alone!
6. WE ALL WOULD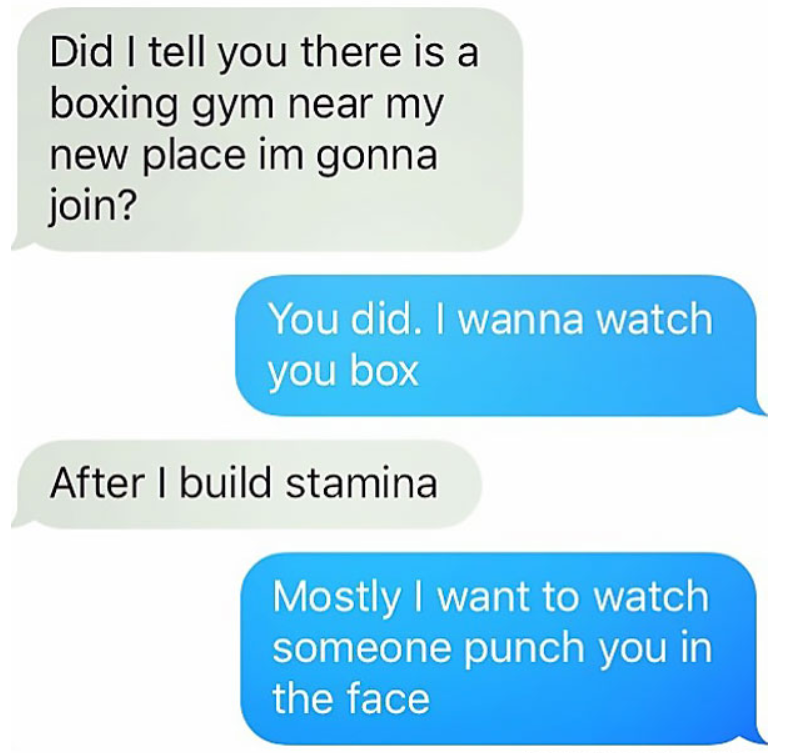 That person better train harder. Otherwise, that will not end well. However, we can all agree that watching our ex get punched in the face in a professional fight would be completely satisfying. Someone needs to pay for the pain in our hearts, and boxing can be exhilarating.
5. AS LONG AS YOU DON'T MAKE A MESS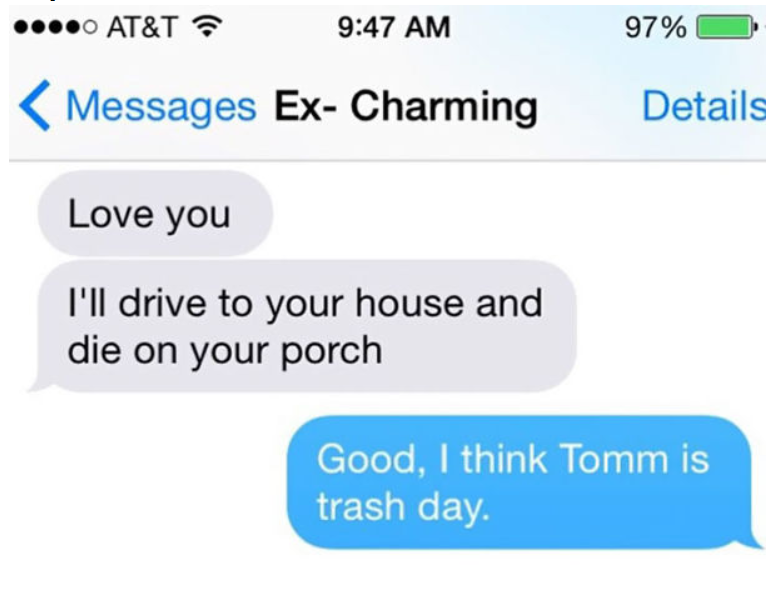 Why would you even want to die on someone's porch? Weird, isn't it? But, this girl doesn't give a d**m about her ex at all. She couldn't care less if he wants to do crazy things to himself. The confusing part is also that some people think messages like that will work to get a former lover back.
4. BURN!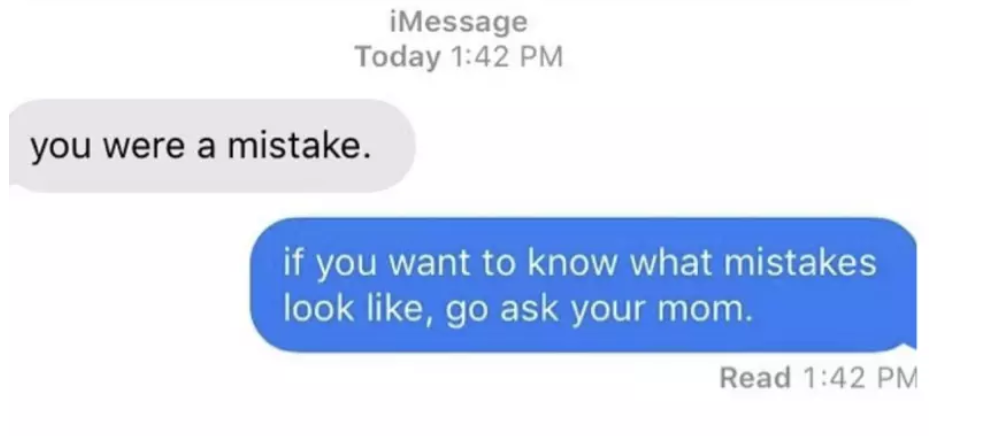 Cruel joke. But let's face it - the good one. Why would anyone text their ex to say something like that? Once things are over, they are done. Move on! You end up looking sad, and open to that kind of rebuttal that is a great comeback.
3. COOL, BYE!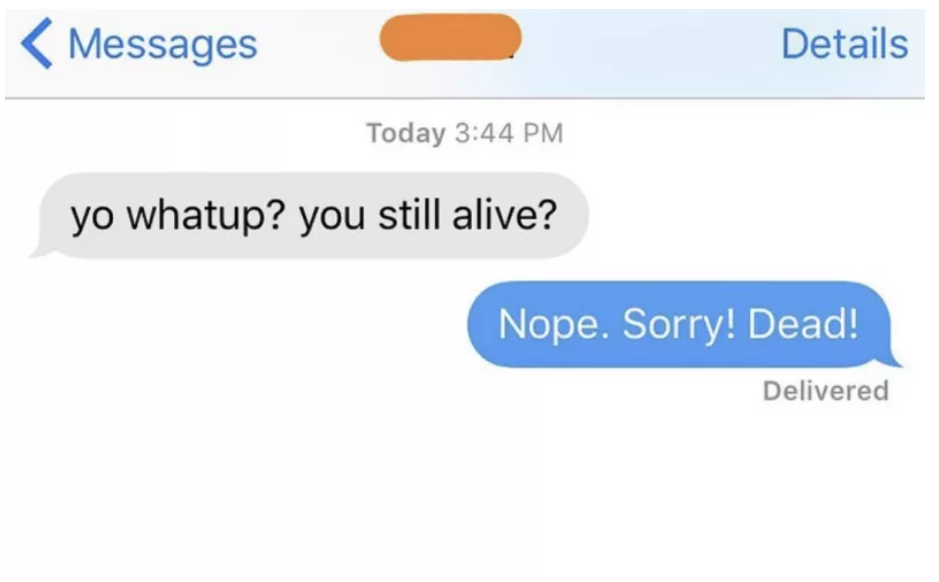 Probably the best way to get rid of the annoying ex. This is another example of someone trying to slide into their ex's text messages, and not getting the desired results. Additionally, it's so sad how the first person was trying to appear cool, and the rebuttal was a brutal shutdown.
2. DISAPPOINTING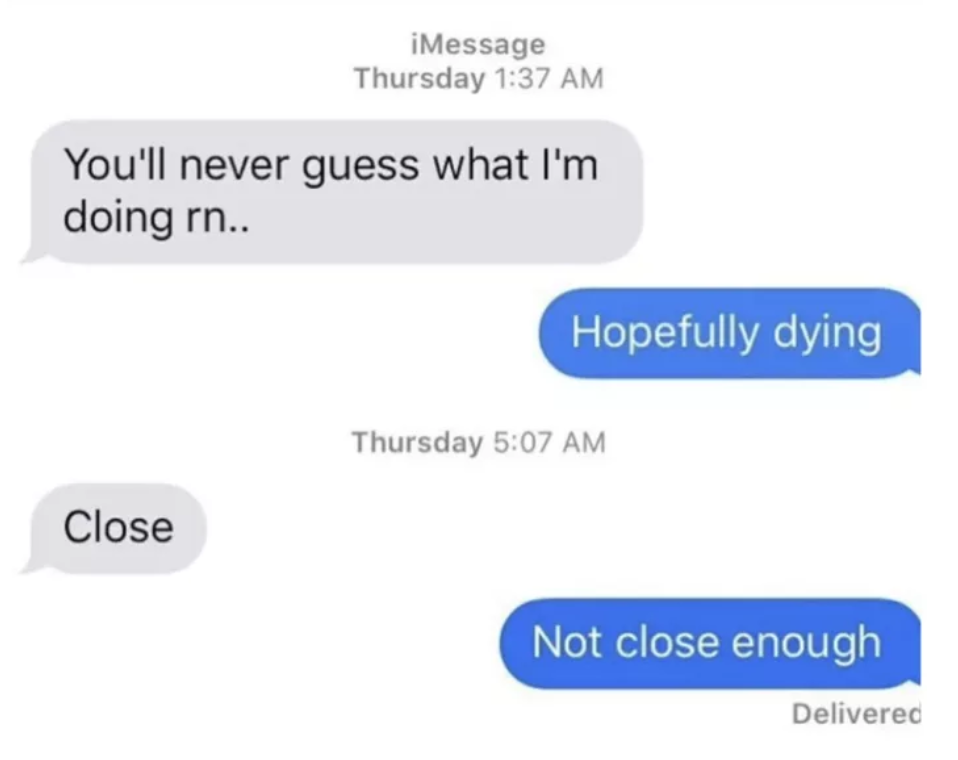 They probably broke up in a terrible way. Otherwise, where else does this hatred may come from? Sometimes, we cannot get what we want, and but we do wonder what that person was doing that is apparently close to dying.
1. LET'S MAKE IT CLEAR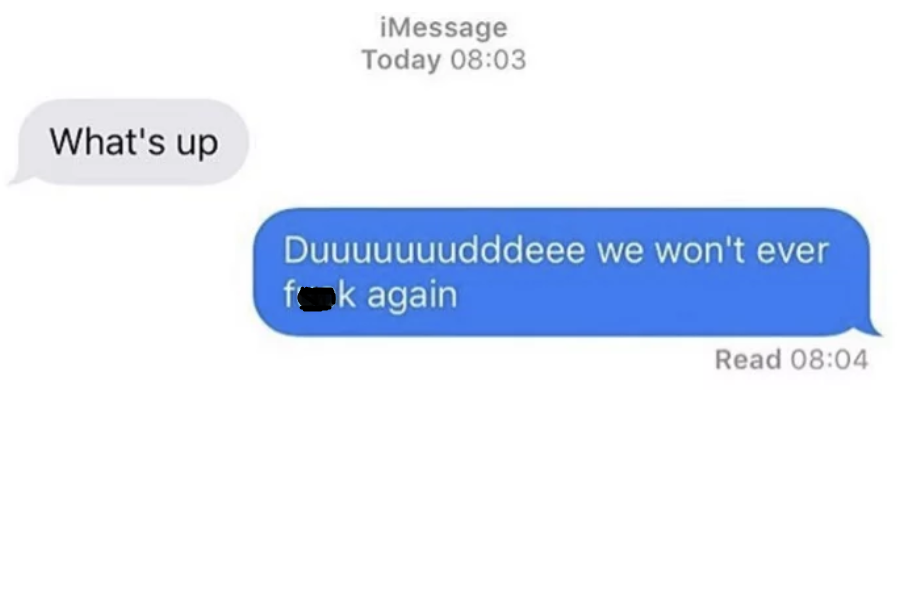 This is another ex that tried to be cool like James Dean, and the girl was having none of his funny business. She doesn't want a booty call or her ex's bad skills in the bedroom. Move one, duuuuuude! This girl is done with you!
Now tell us, which one of these captures made you laugh the most? Tell us more about it in the comments section and share it with your friends so they can laugh as well. And don't forget to check our others lists.
Source: Ranker, The Talko, Viral Luck, Buzz Feed, Emlii
Related: