Demi Moore's Three Marriages and Three Children
Demi Moore has made for herself quite a name in the movie industry. All her life, Demi has had to grab opportunities that came her way and remained focused on her goals. Today, she is an amazing actress with a lot of impacts. However, her prominence couldn't have been made possible without mentioning her marriages to famous Hollywood men. Since the 1980s, Demi Moore had three children and high profile marriages that ended in divorce. Despite her Hollywood fame, Demi's failed relationships ended amicably, at least in public. Read on to find out about Demi's adventurous love life.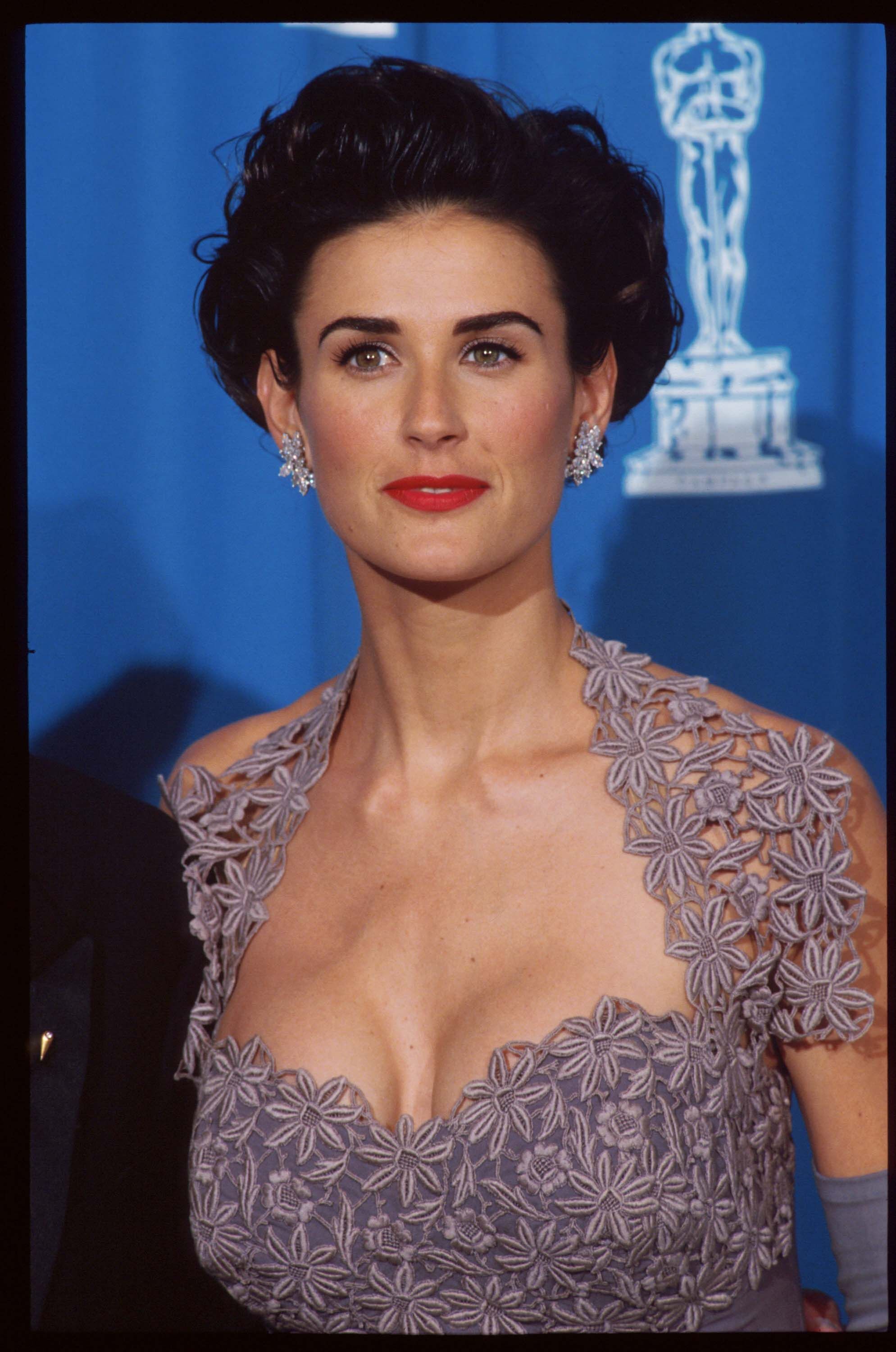 DEMI MOORE'S EARLY LIFE
Demi Gene Harmon was born on November 11, 1962, to an Air Force Airman, Charles Harmon and Virginia (nee King). The couple split up two months after they were married, and Demi Moore was born. The actress was three months old when her mother remarried Dan Guynes, a salesman for a newspaper agency. Due to her step-father always changing jobs, Demi moved from city to city as a child. To the actress, the man who raised and nurtured her was Dan Guys, as she did not have a close relationship with her biological father.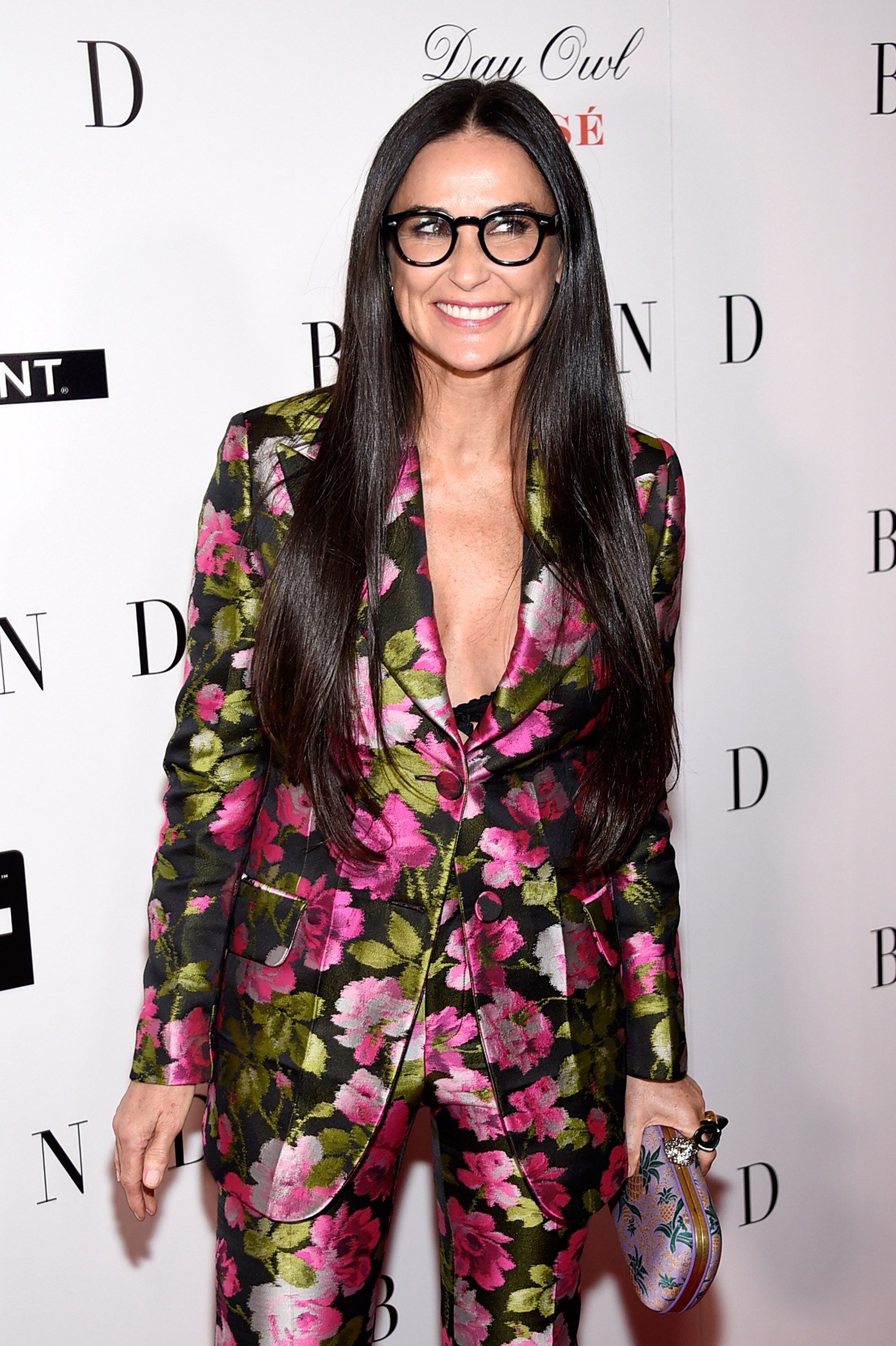 DEMI'S FIRST MARRIAGE
The world got to know the actress as Demi Moore when her career took off. Initially born as Demi Gene Guynes in Roswell, New Mexico, she took the last name of her first husband, Freddy Moore before they got married in 1980.
After the pair tied the knot, Demi had a brief songwriting career during which she co-wrote lyrics to 'It's Not A Rumour' with her rock musician husband. Even though Demi still receives royalties for her efforts as a songwriter, her relationship with Freddy only lasted four years.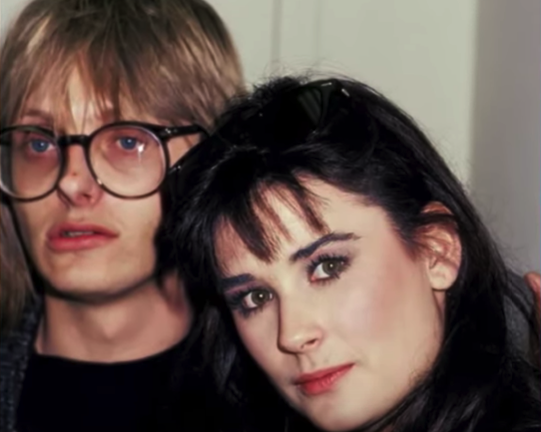 While filming "St. Elmo's Fire" after her divorce from Freddy, Demi met Emilio Estevez. The couple got engaged, but with both having jam-packed working schedules their postponed wedding 1987 never happened.
DEMI AND BRUCE WILLIS HIGHLY PUBLICIZED RELATIONSHIP
Instead, Demi met Bruce Willis at a movie screening in Los Angeles, and the pair decided to get married four months later on November 1987 in Las Vegas.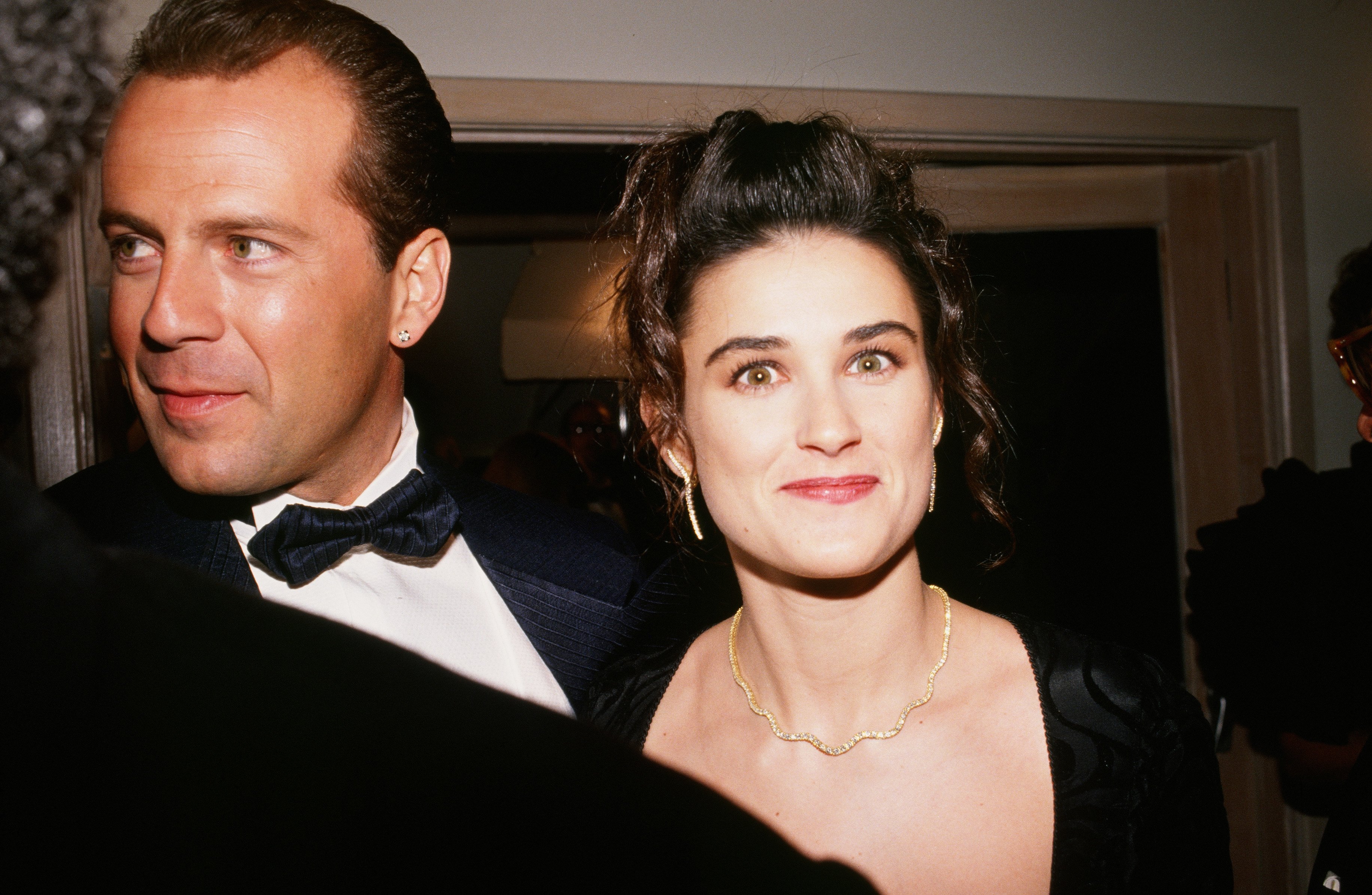 Named after the British novelist Rumer Godden, Demi gave birth to their first daughter, Rumer on August 16, 1988. Scout Willis came into the world three years later on July 20, 1991, while their youngest daughter, Tallulah was born on February 3, 1994. But a few years later while shooting "G.I. Jane," the trouble in their relationship became apparent when Bruce never visited Demi on set.  The couple appeared together for the movie's premiere in 1997, but according to the producer they already had problems for about two years and that "they were more like comrades, supporting each other at a public event."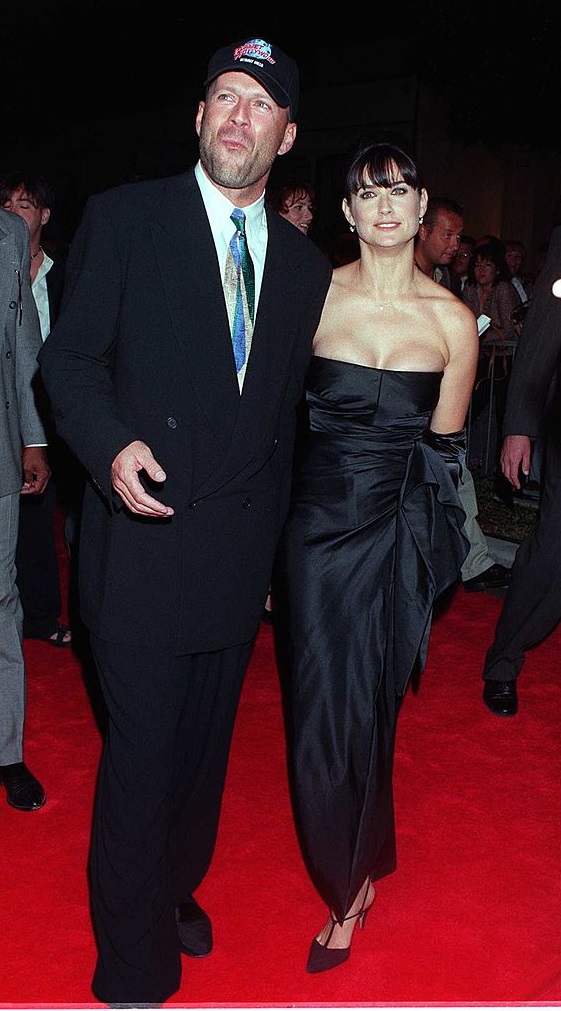 Meanwhile, the couple continued to focus on their acting careers and taking care of their daughters. "They're both good parents," Susie Hart, an acquaintance of Demi said. "Bruce is more the disciplinarian. Demi is the more carefree type. She's more like a big sister or girlfriend." Shortly before Bruce's movie, "Armageddon" premiered in 1998, news of their separation hit the media. Demi Moore and Bruce Willis were one of the hottest couples in the industry at a time.  Although Demi and Bruce tried to raise their kids with love in Idaho, their separation brought other events to the table.
The kids were soon exposed to the world and everything that came with it. However, a lengthy separating followed before Bruce filed for divorce on October 18, 2000, in Haily's Blaine County courthouse.  During that time, the couple divided their $20 million-worth joint real estate in Hailey and made sure their daughters had time to adjust to their impending split. "They wanted to make sure the kids were really grounded," a friend told PEOPLE.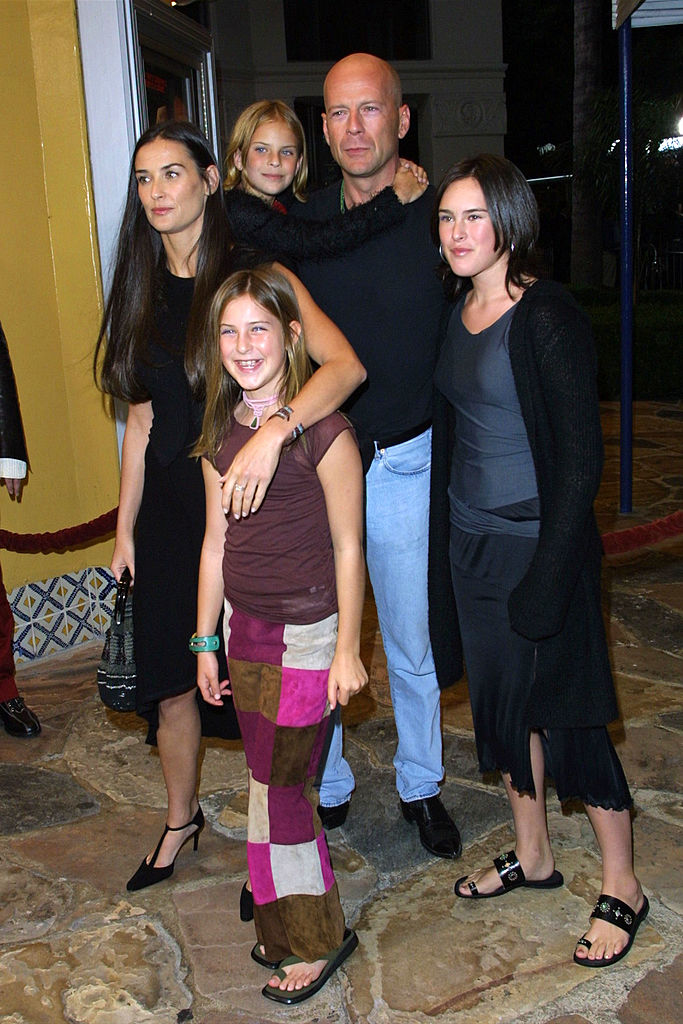 THEN CAME ASHTON KUTCHER
Three years after her split from Bruce, Demi met Ashton Kutcher during a casual dinner in New York in 2003. Ashton won the hearts of Demi and her daughters, who later called him MOD, short for "My Other Dad." The couple got married two years later in September 2005 during a Kabbalah ceremony held at their Beverly Hills home in front of 100 guests.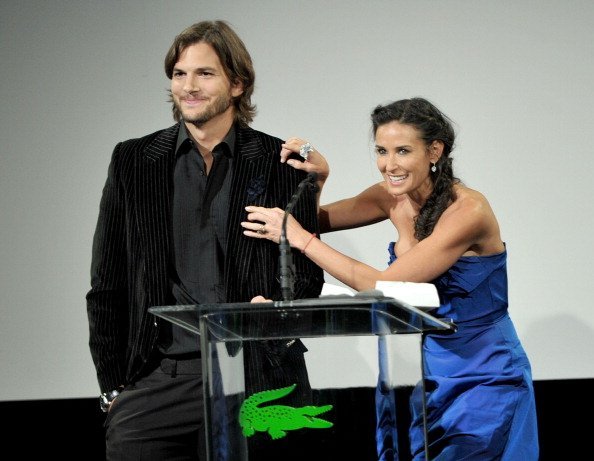 Their marital bliss lasted until Ashton got accused of cheating on Demi for the second time. According to reports, 22-year-old Sara Leal alleged that she had a one-night stand with Ashton on his sixth wedding anniversary with Demi in 2010. Just the previous year, 22-year-old Brittney Jones claimed that she had sex with Ashton when he went to Israel as part of what he described as a spiritual journey.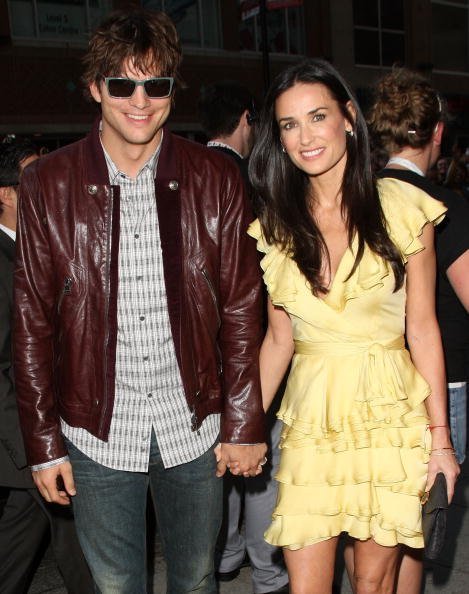 "It is with great sadness and a heavy heart that I have decided to end my six-year marriage to Ashton," Demi said in a statement on November 2011. "As a woman, a mother, and a wife, there are certain values and vows that I hold sacred, and it is in this spirit that I have chosen to move forward with my life." There were rumors that Demi did not always get along with her daughters, especially after her divorce from Ashton Kutcher. However, Demi has been seen on many occasions having a great time with Rumer Wills, her eldest daughter.
HER BEAUTIFUL DAUGHTERS HAVE FOLLOWED IN HER STEPS
Demi's daughters had since grown up, and all followed in their acting parent's footsteps. Rumer began acting at the tender age of five and played her mother's onscreen daughter in the 1996 film "Striptease."  She also played her father's onscreen daughter in "Hostage" nine years later. Named as Miss Golden Globe 2008, Rumer also won season 20 of "Dancing with the Stars."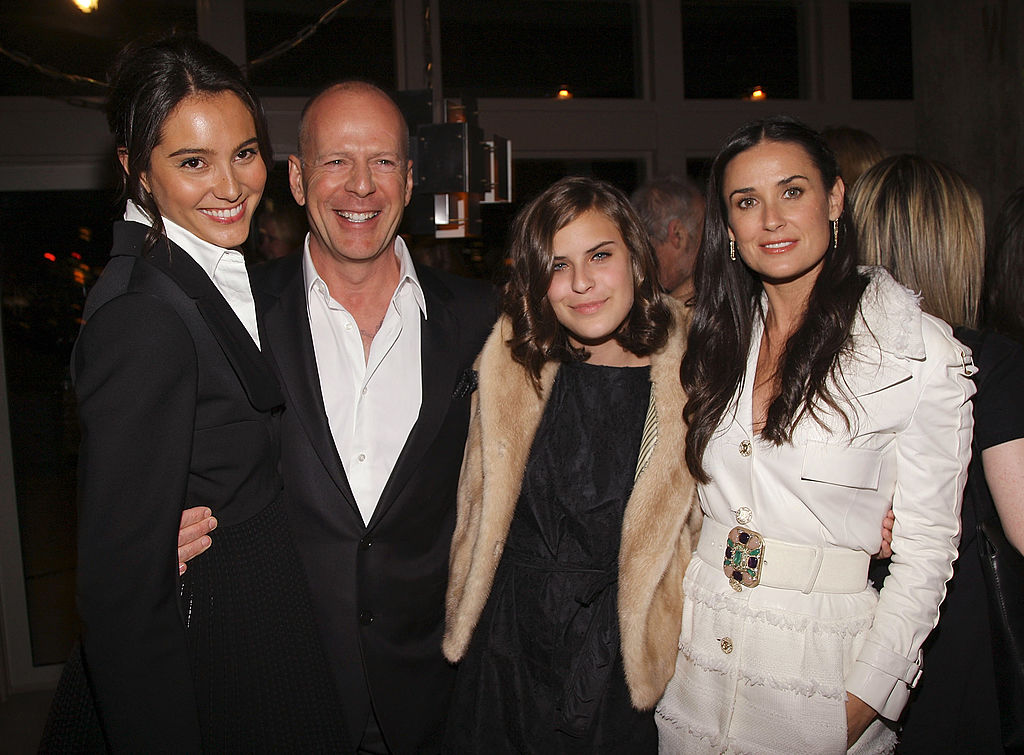 Named after a character in the book, "To Kill A Mockingbird," Scout became known for her roles in the 1995 film "The Scarlet Letter," "Bandits" in 2001, and "Moonrise Kingdom" in 2012. The youngest of the Moore sisters, Tallulah, or Lulah as she is affectionately called, also starred in "The Scarlet Letter" and "Bandits," but also stood out for her role in "The Whole Ten Yards" in 2004. On May 20, 2019, Demi shared sweet words to her daughters in reply to one of Scout's Instagram posts. "I absolutely adore you all, and I am so incredibly proud of you. You are all stunningly beautiful, and I am in awe. Your strength, generosity, and [love] are shining through with dignity! I love you!" Demi wrote.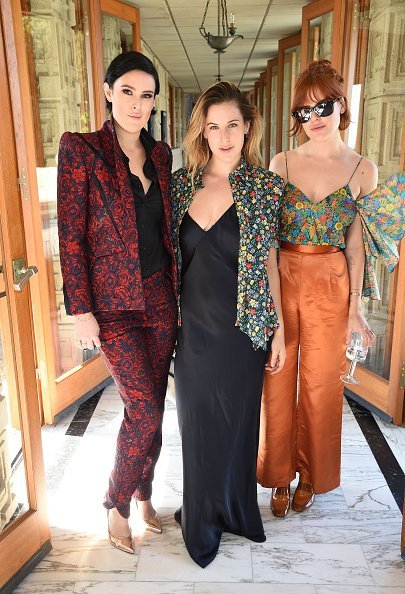 Read More: I Love Lucy's' Little Ricky Is All Grown Up! Look At Him 61 Years Later
CAREER SETBACK
When Demi Moore began her career, fans could barely do without her, and this is not only because she was pretty, she was also a rare talent. While she acted in many fantastic movies, things began to go from bad to worse for her. She was often featured in some film that ended up being chewed by critics, and most of them had low ratings. This contributes to why we have not seen or heard from the actress for a while now. 
While Demi often headlined due to her career or relationships over the years, she had gone relatively quiet after her rise to fame during the 1980s and 1990s. After a brief appearance in the television series "Empire," fans wondered why the actress had disappeared from the big screen.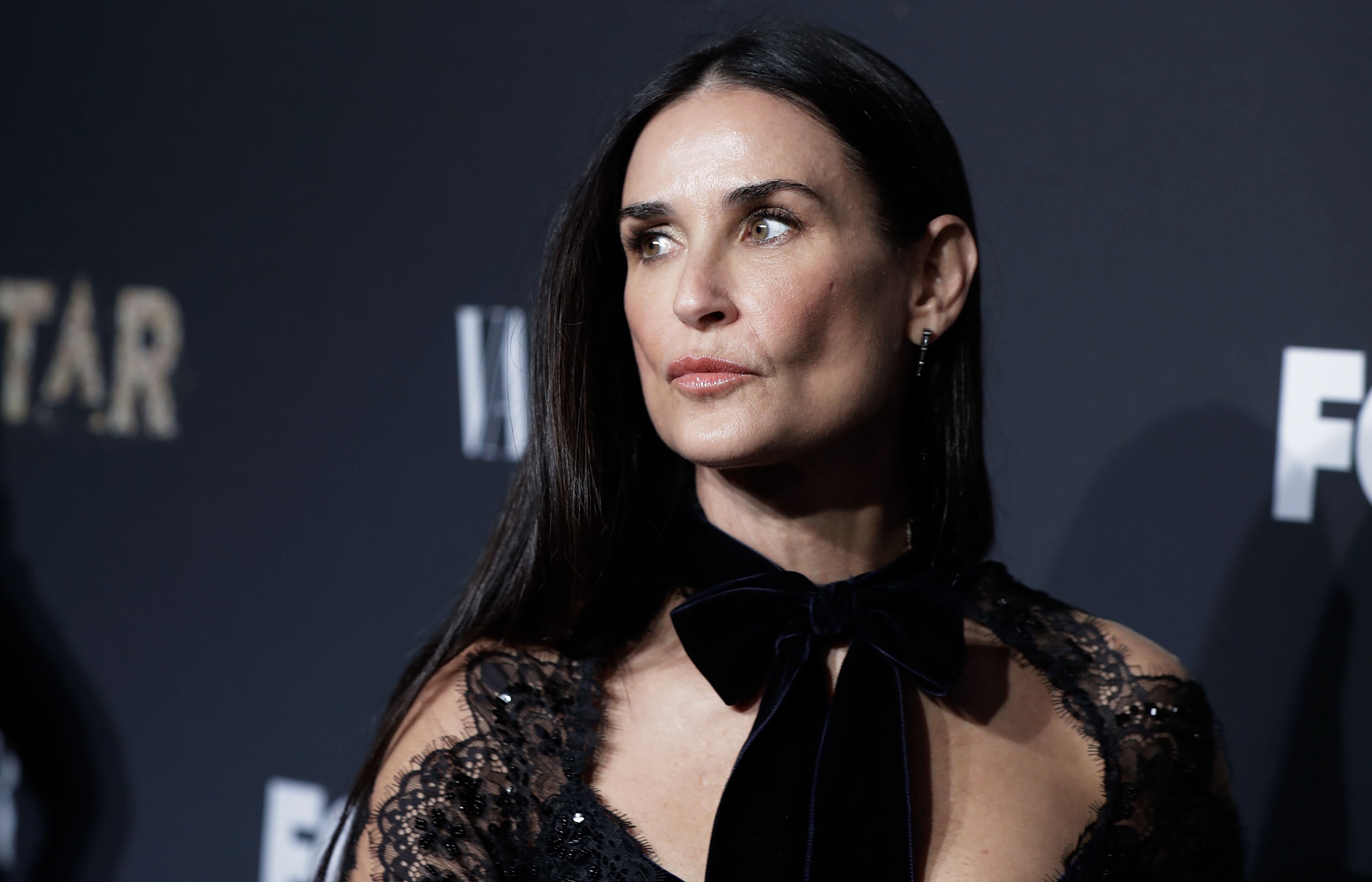 A lot of things have happened with Demi Moore over the years, and while she has not been making a good impression, we cannot completely rule out the fantastic things she has done in the movie industry. In spite of her setbacks, she can be proud of a lot of things, including raising three beautiful and talented daughters. If you are a Demi Moore fan, what would you say to the actress right now? The comments section is open for all!
Source: Nicki Swift, The Things 
Get More Related Articles Here: