Pamela Anderson's Sons are All Grown Up and Look Just Like Their Mom
CHAPTER 2
KID ROCK
When Pamela made the shocking announcement, she had just started dating singer Kid Rock, but they split up two years later in 2003. After running into each other on a yacht owned by a mutual friend in St. Tropez in July 2006, Pamela and Kid Rock rekindled their romantic flame.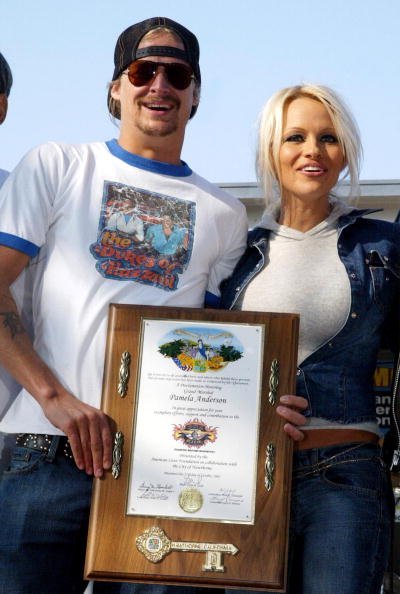 On July 18, 2006, Pamela announced their engagement on her website, followed by their wedding ceremony on July 25, 2006, on a yacht close to St. Tropez.
But then came the release of Sacha Baron Cohen's comedy film, "Borat" in November 2006. Pamela and Kid Rock attended a screening of the movie at the then-president of Universal Pictures, Ron Meyer's home, but after seeing the movie Kid Rock "started screaming at Pam, saying that she had humiliated herself and telling her, "You're nothing but a whore! You're a slut! How could you do that movie?" 
The source of Kid Rock's rage came from a specific scene during the film, where Sacha went into a Virgin Megastore and tried to put Pamela in a traditional marriage sack to take her back to Kazakhstan to become his wife.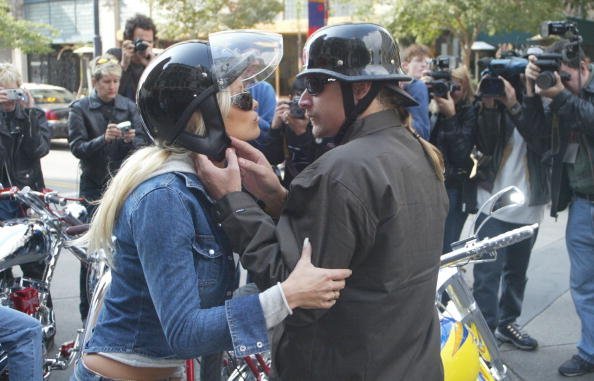 While shooting the scene, Sacha didn't realize that Pamela "clipped her jaw" when he flung her over his shoulder and later said that she had "lost two things" that day.
"One, she lost a tiny bit of bone from her jaw, and secondly, she lost a husband."
With Pamela and Kid Rock's marriage out of tune due to "Borat," the couple filed for divorce later in November, which got finalized early in 2007.
Go to the next chapter to read about Anderson's whirlwind marriage to Salomon & about her humble son Brandon.