20+ Surprising Images that Reveal the Truth Behind Hollywood Green Screens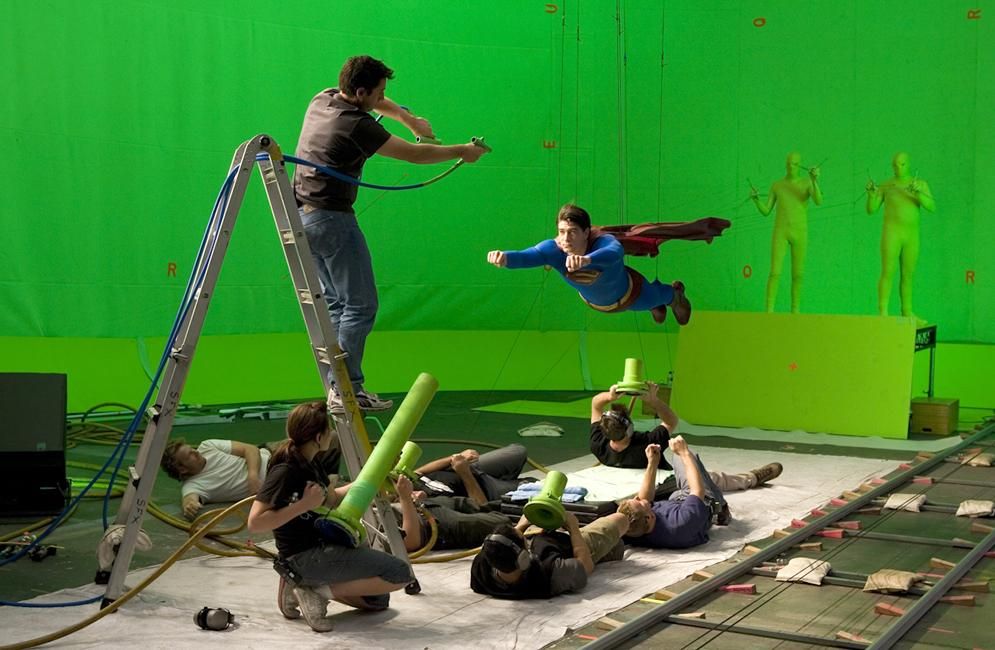 Have you recently watched a film that defies gravity, or depicts witchcraft or superheroes? It's likely that the moviemakers used Computer Generated Imagery, or CGI, to make the real movie magic come to life. Believe it or not, the 1973 feature film 'Westworld' was the first significant use of CGI in a feature film! Of course, it's not quite the same as the 2016 HBO series that we know today, but it is the original version that the series is based off. The film used CGI to show Yul Brynner's point of view, and it launched an entire era of CGI in film. 
A Little CGI History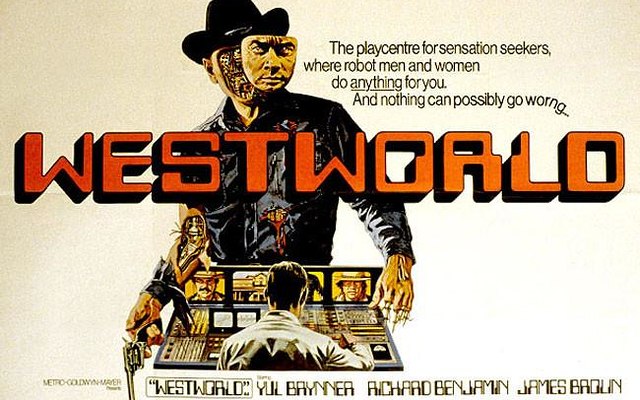 You might also be surprised to learn that some of your favorites have pioneered new technology in CGI. Fight Club, The Matrix and Star Wars Episode One all came out in 1999. They all used the new tools available in novel ways, and it's thanks to these filmmakers, and the filmmakers before them that we have such hyper-realistic graphics now. Can you imagine the Marvel Universe films without CGI? I don't think so! Sorry to like, ruin the illusion for you, but without CGI, Spiderman, the Hulk, Deadpool and Iron Man would all be kind of er… normal, if it weren't for this technology!
Harry Potter And The Order Of The Phoenix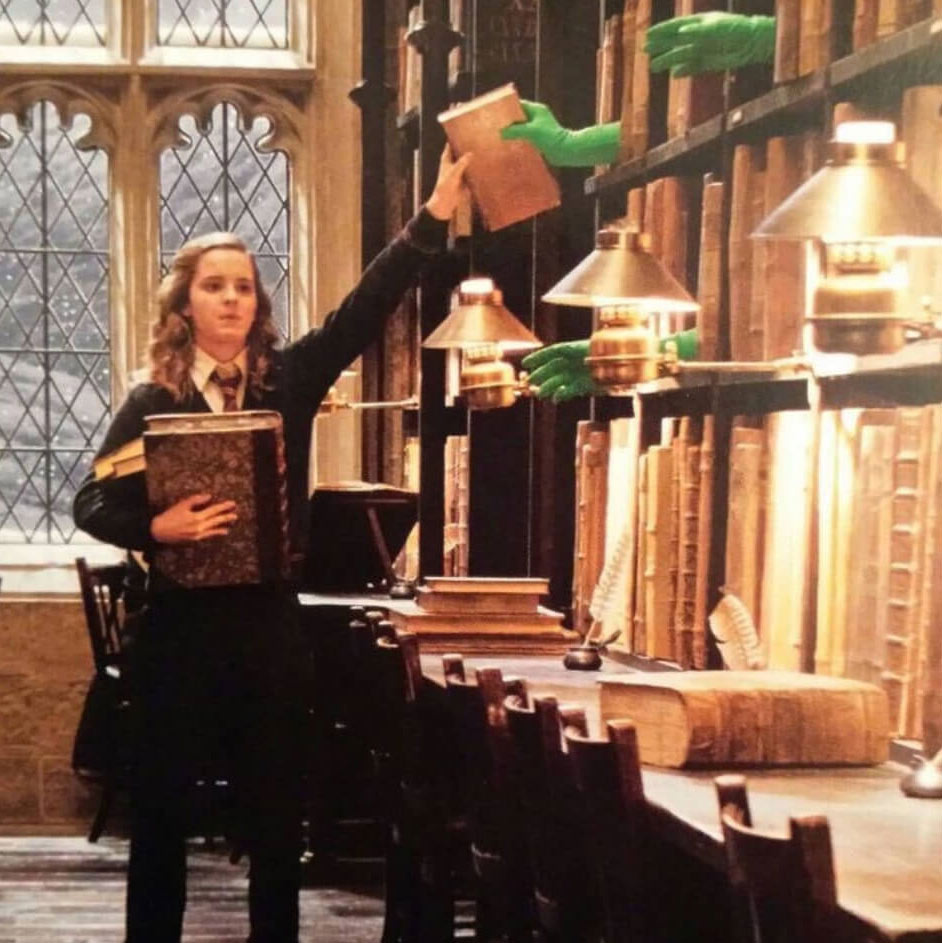 While it might not be a great start, we refuse to believe that this photo is real. It's clearly fake because there are hands there where magic would actually have just happened? We think that this is probably just a bit of propaganda created by the Ministry of Magic to throw all the muggles off the scent. Yeah, that's definitely what is happening here. We know what we saw on the big screen! Oh… wait. OK, so we might not be ready to concede that this is a real image, but we will say this: we believe in magic. Do you?
Game Of Thrones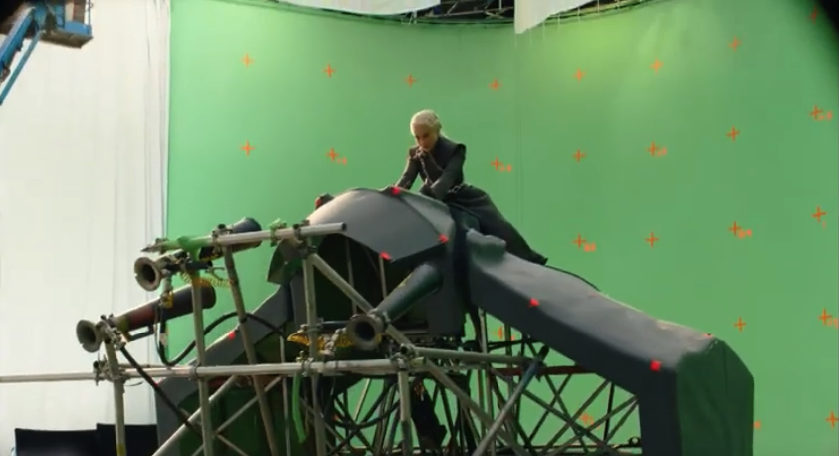 It's pretty hard to get the theme song out of your head once you hear the words 'Game of Thrones,' and similarly, we think it's going to be hard to unsee this picture of Danaerys with her uhh… dragon. Thank goodness we've already watched the whole series, or we might have found it a lot less believable! Of course, they needed to use something in the place of the dragon for the CGI magic to work. But we have to ask: couldn't they have used something a little more terrifying?
Beauty And The Beast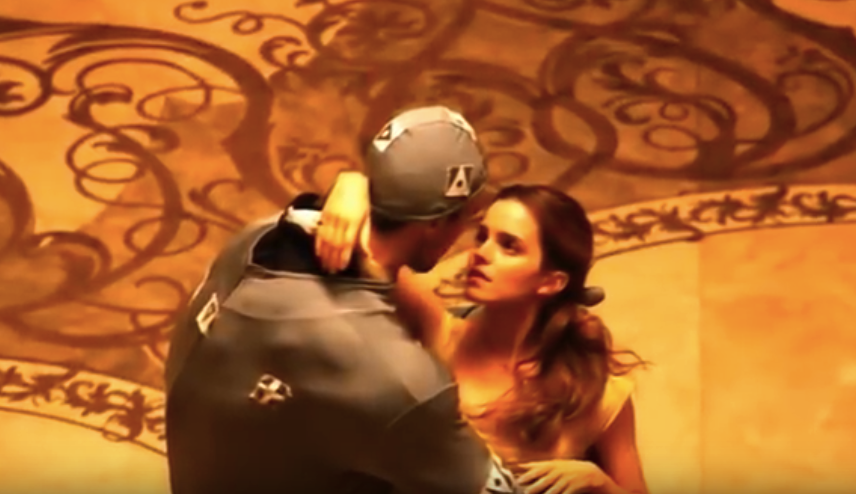 Have you ever tried to have a conversation with someone when they're dressed like an absolute twit? It's difficult to keep a straight face sometimes, especially if it's a really goofy Halloween costume. This one really takes the cake though! Dan Stevens' padded suit is one of the stranger forms of ballroom attire we've seen. We wonder if Emma Watson had trouble taking him seriously in this outfit! One thing's for certain: she's definitely a professional for acting alongside Stevens as a grey blob.
Life of Pi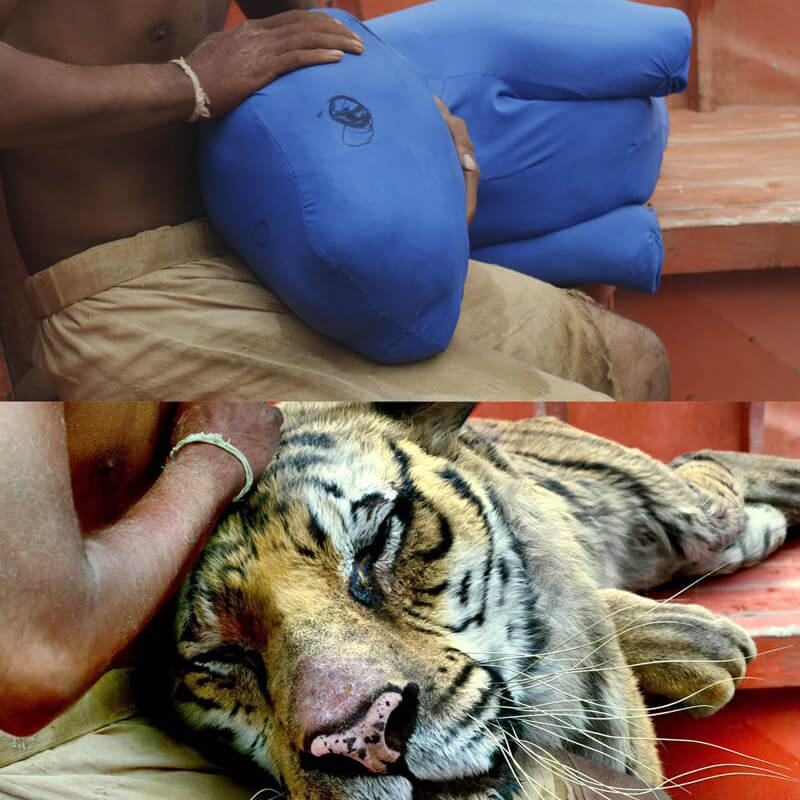 Don't you think that this picture looks a bit lonely? It must have been pretty strange for Suraj Sharma to act out so many scenes without so much as a domestic house cat to keep him company. This incredible blockbuster was hugely successful and won an Oscar for Best Visual Effects. What you might not know is that the studio that produced most of the film's special effects also made big films like Babe, but unfortunately it went bankrupt in 2013. Why? It seems that there's just too much competition with foreign studios that have subsidies and tax exemptions! Oh dear.
Space Jam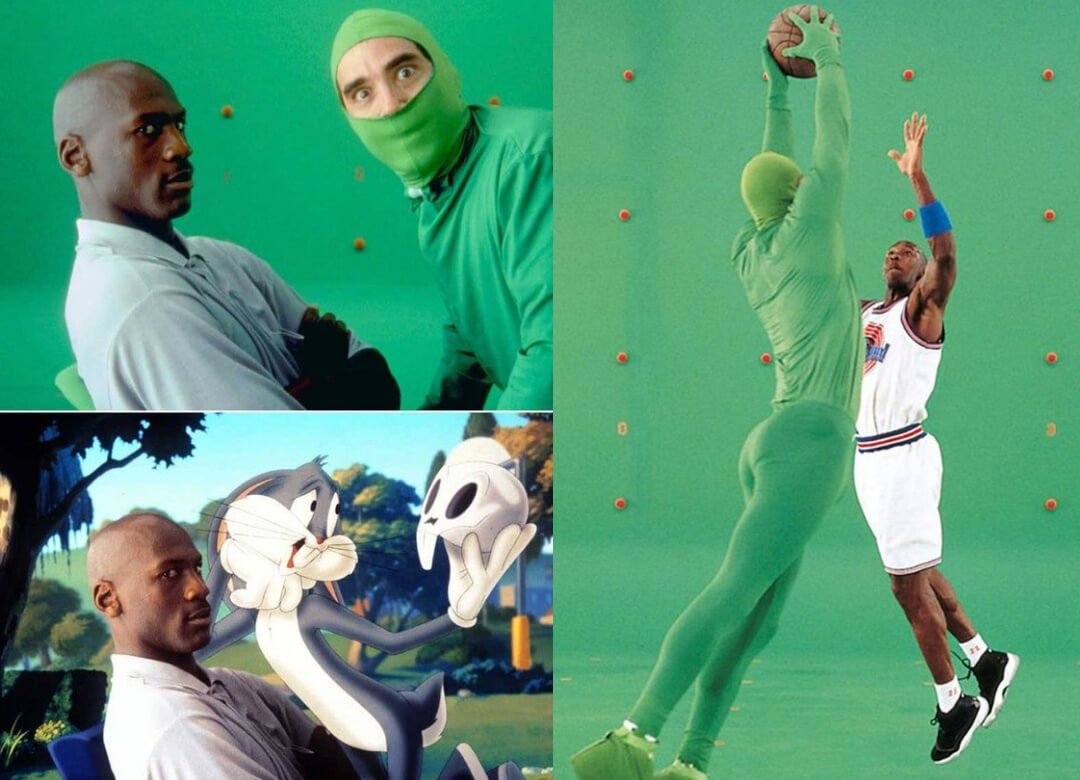 We're sorry that you had to see this. It's kind of like the first time someone tells you about Santa Claus, right? Anyway, Michael Jordan did a top-notch job performing alongside guys like this in green morph suits! He has to be one of the most underrated actors of all time, especially considering that he doesn't come from an acting background. Moreover, almost every critic that reviewed the film agreed! Leonard Maltin even said that: 'Jordan is very engaging, the vintage characters perform admirably ... and the computer-generated special effects are a collective knockout.'
Titanic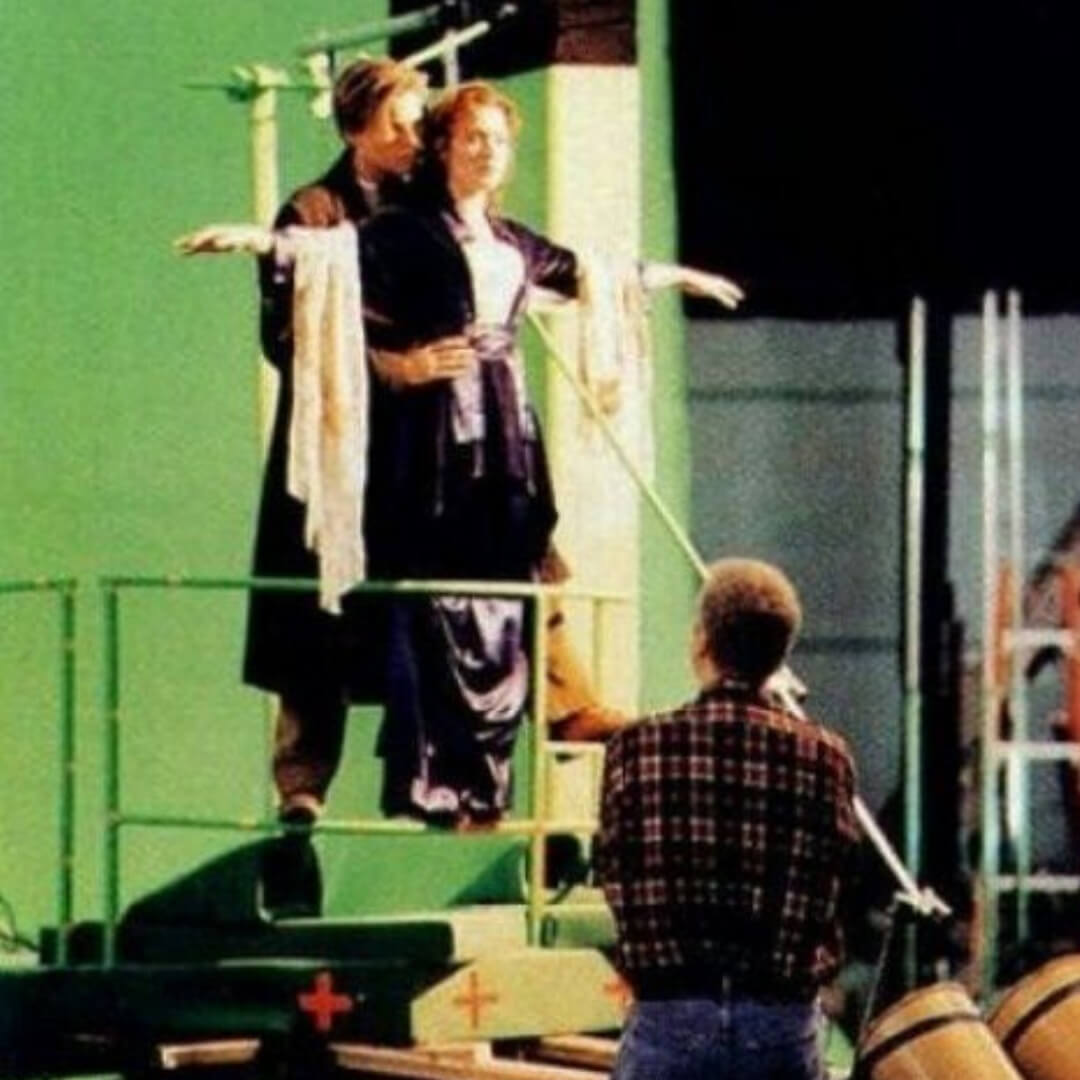 Of all the green screen pictures we bring to you today, this one is definitely one of the more painful ones. At least in Life of Pi, there was a boat that was actually floating on water… Although we guess that the Titanic was quite a lot bigger! As you know, the 1997 film was written, directed and produced by James Cameron. Unfortunately, the film earned him a reputation as a hardass, to the point where Kate Winslet decided that she would never work with him again. Yikes!
The Avengers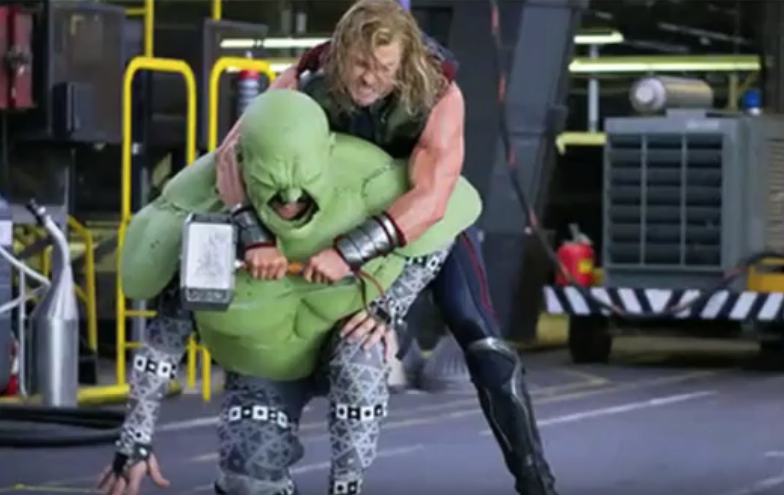 The Hulk is one of our favorite action heroes because he's kind of like a two-for-one deal. Not only do you get a nuclear physicist, but you also get a green rage monster! If that's not your thing, just focus on the nuclear physicist bit. You really have to hand it to Mark Ruffalo here though, because he basically has to play and act two characters in one film. It must be very strange playing such different personalities at the same time! Thank goodness for CGI though, which makes his job a whole lot easier. 
Mad Max: Fury Road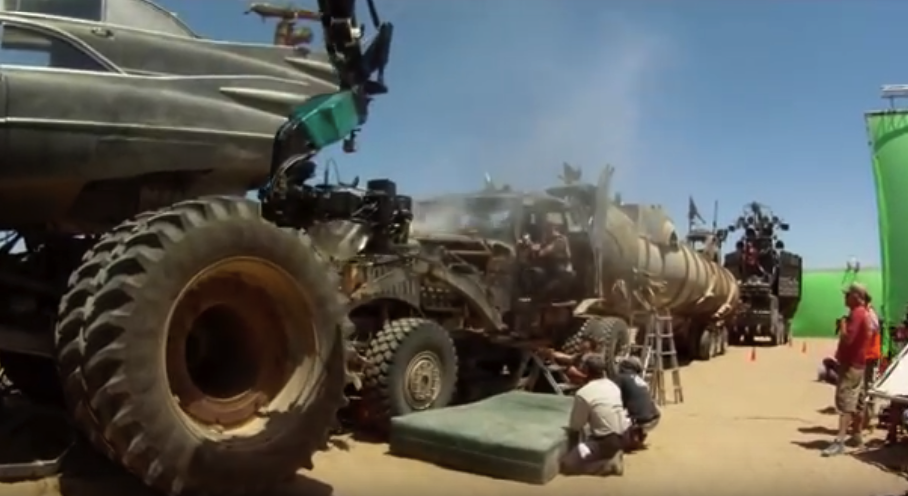 This badass 2015 action movie is the fourth in the Mad Max series and featured Charlize Theron and Tom Hardy in the leading roles. Many critics named it as the film of the year, and it would go on to be nominated for ten Academy Awards. And it won six of them! But did you know that the film had quite a difficult history, though? Director George Miller thought up the concept in 1998, but thanks to delays related to the September 11 attacks, and unusual weather patterns. Which is kind of ironic if you think about the post-apocalyptic storyline of the film, right?
Game Of Thrones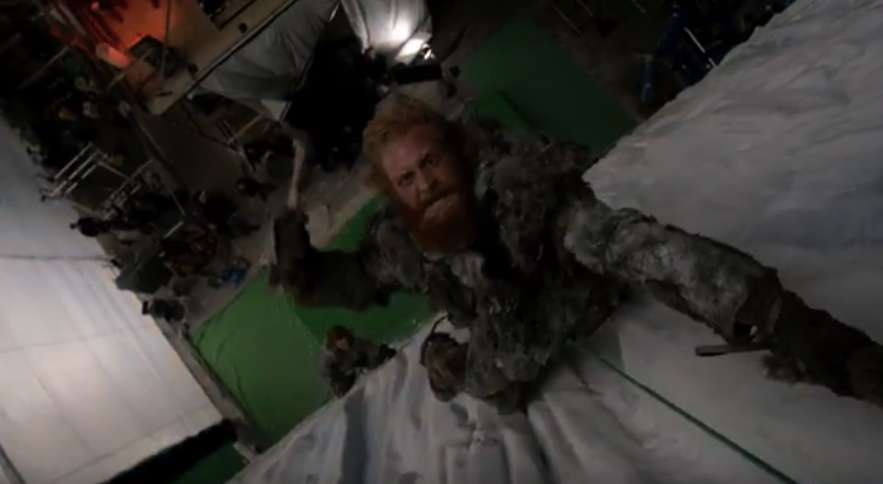 Still got the Game of Thrones theme stuck in your head? Well, if you didn't before, we bet you do now! There are so many special effects in the long-running HBO series that it was bound to feature at least twice on this list. And with all the scenes depicting that enormous wall, there's no way that they could have put less than 100% effort into figuring out how to really make it look believable. We hadn't even thought about how they'd done it before, but now it makes sense that they wouldn't just build a massive, 200 meter-high wall. 
Pirates Of The Caribbean: Dead Man's Chest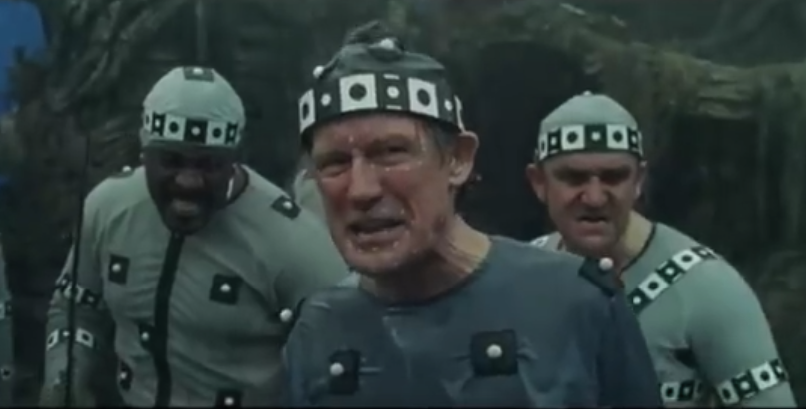 The Captain of the Flying Dutchman isn't a very good-looking fellow by any kind of standard. Unless maybe you're an octopus! In this Pirates of the Caribbean film, Bill Nighy acted out his entire role without prosthetics or even a wig. Isn't that amazing? The CGI in this film made everything so much more believable, and now that we know how Life of Pi and Titanic were made, we can't help but be impressed by just how much work must have gone into the special effects!
Guardians Of The Galaxy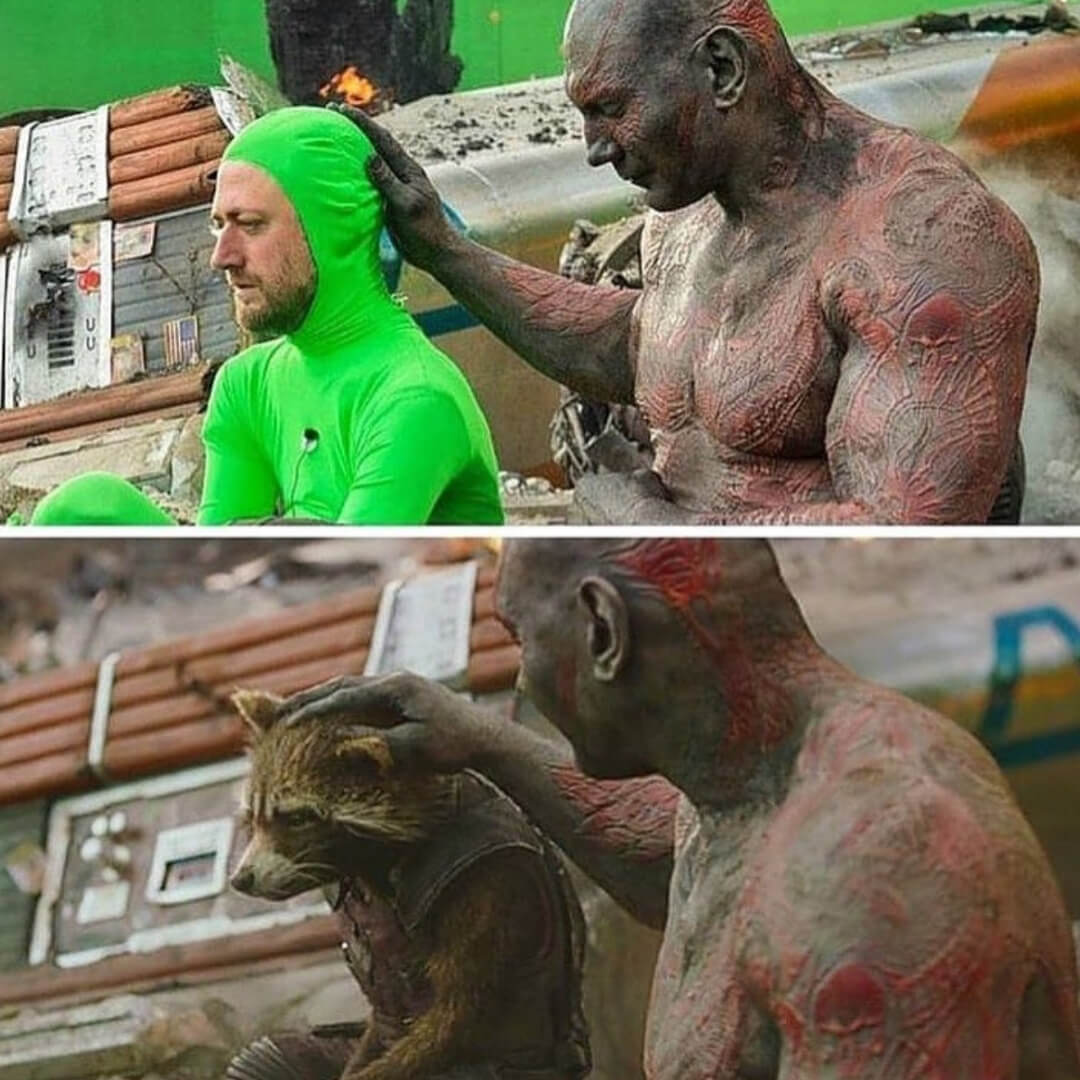 If you've ever wondered about who played Rocket in Guardians of the Galaxy, you might be surprised to learn that it's basically two people. Sean Gunn did the physical grunt work and played the little guy during filming so that other actors had a reference point. The voice was provided by super stud actor Bradley Cooper. So how did he figure it out? 'At first, I was literally just doing Bill the Butcher from Gangs of New York, and that didn't really work. We saw this sort of animatronic thing as I was doing it, and then it became like a hybrid of Daniel Plainview and Gilbert Gottfried. That's where we wound up!' The more you know!
Harry Potter And The Half-Blood Prince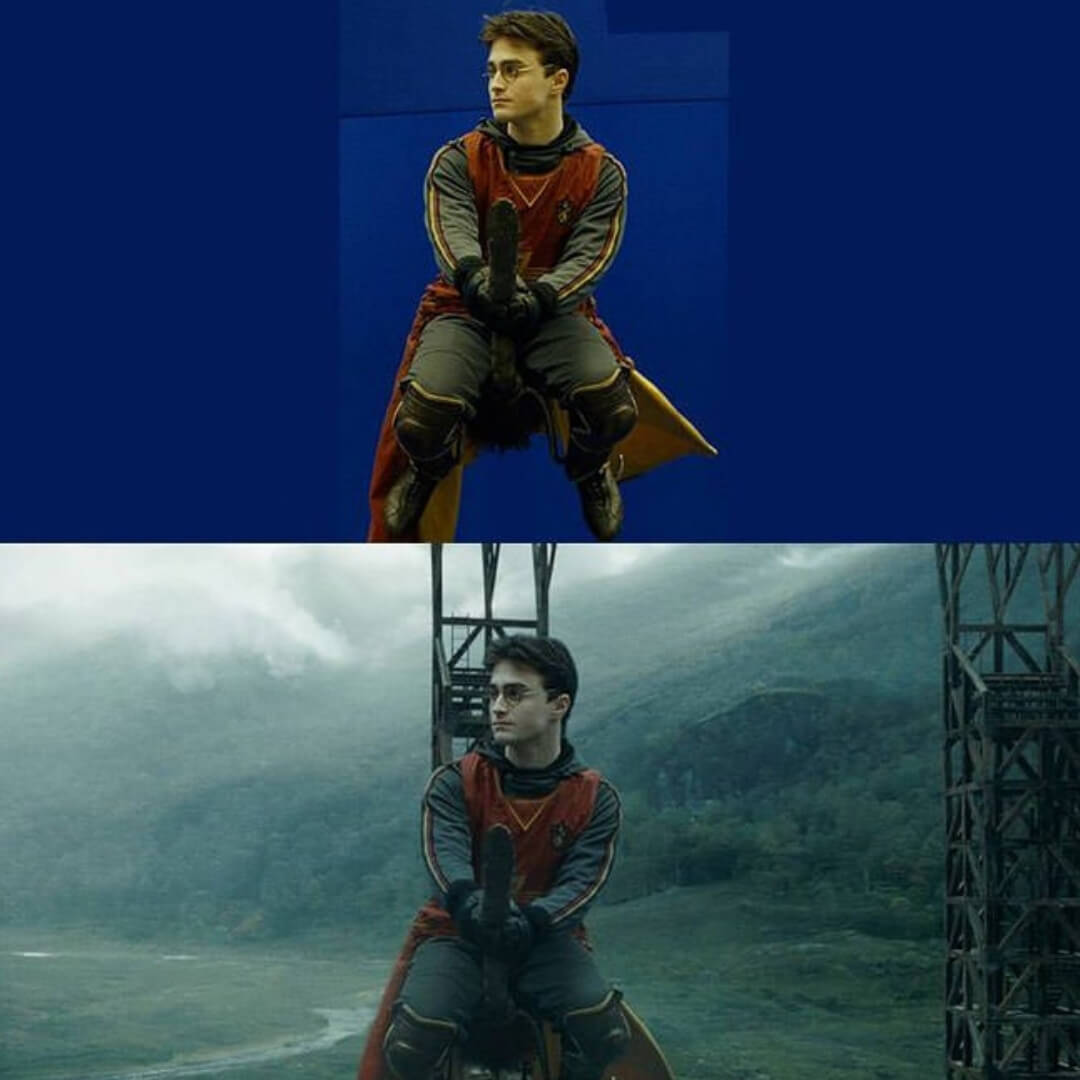 Ah, yes. Another piece of propaganda from the Ministry of Magic. We know the real truth about Harry Potter, but just in case any Muggles come across this article… it's definitely CGI. In this image we see Daniel Radcliffe playing Seeker for Gryffindor in a game of Quidditch. Rather than just sending him up on his broomstick to play the match, they chose instead to film it behind a blue screen, and animate in the movement later. Yup. That's exactly how it went down. Nothing to see here. 
The Matrix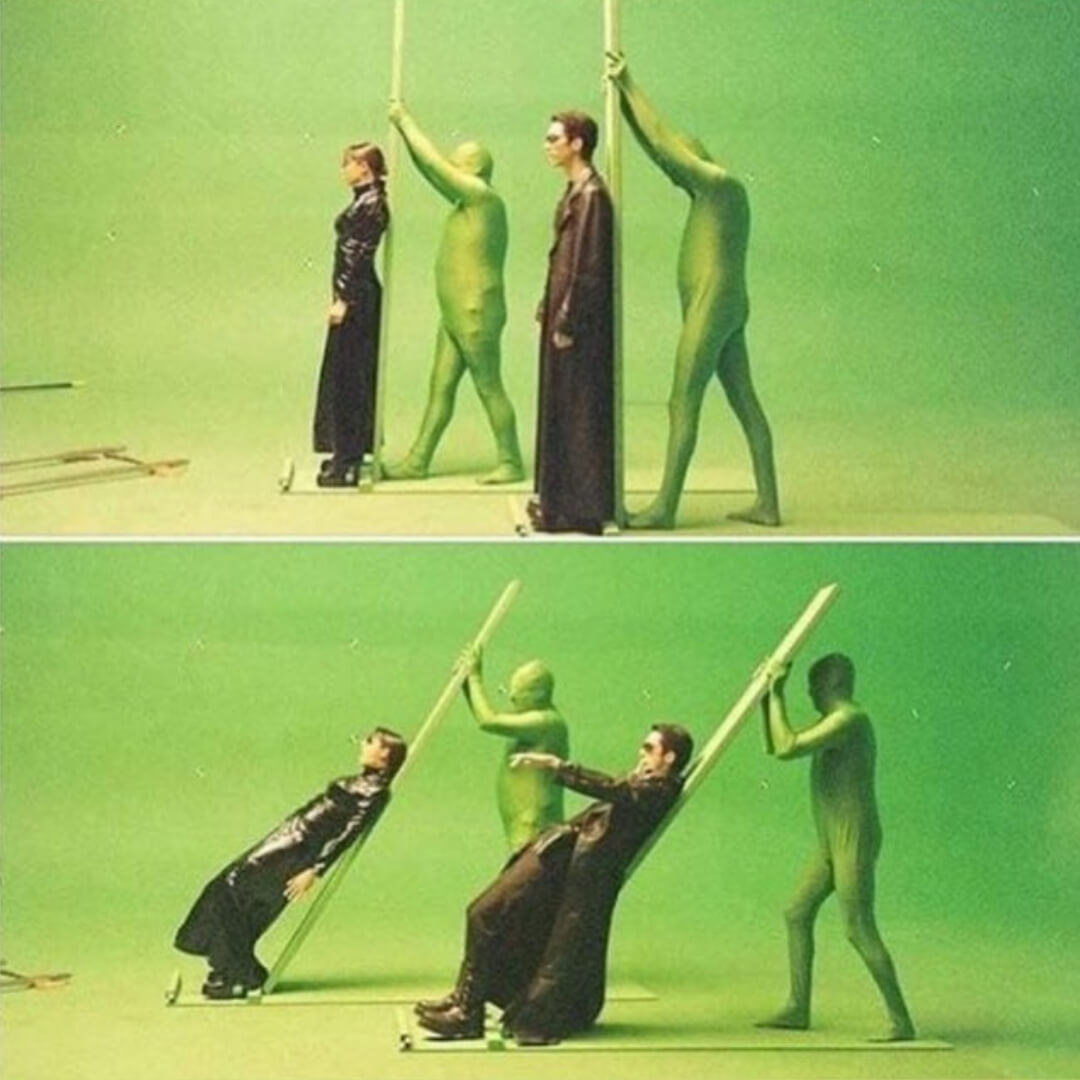 This picture really has us questioning how much of The Matrix was actually shot anywhere that wasn't a green screen. With its dark, futuristic themes, the film was filled with computer-generated special effects. And that includes many of those fight scenes! The actors had to train very hard before filming even began, and they had many stunt people onset to make sure that the movie was just as action-packed as people expected. All this hard work paid off and now The Matrix is one of the most talked-about films of all time! 
The Avengers
This shot gives us some insight into how strange it must have been for Mark Ruffalo acting out his scenes as The Hulk. It also looks like he's standing back a little more than he would if he was acting normally. Maybe this is to allow for the space that the Hulk takes up? Pretty neat, huh! In comparison, Chris Hemsworth and Chris Evans' jobs were a total walk in the park compared to what Ruffalo had to do. Although they did have the task of taking him seriously dressed up like that!
The Dark Knight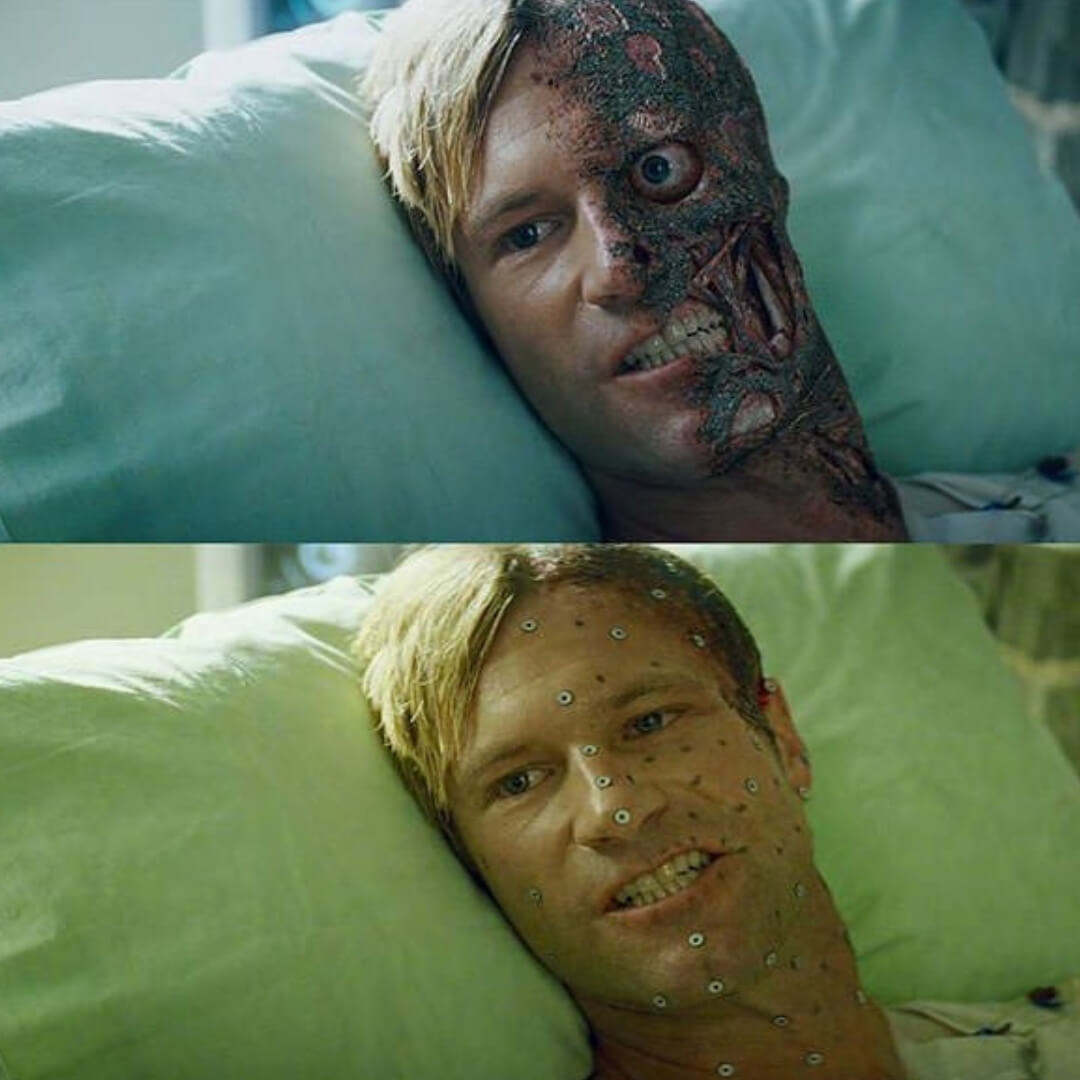 If you remember this scene in the film, you'll know that Harvey Dent was having a bit of a Hulk moment. Aaron Eckhart, who played Dent, is going through something of an identity crisis. We can't imagine that this would have been an easy scene to shoot because the actor had to make one side of his face a little scarier than the other side. While it might have been easier for him with prosthetics, there must have been a good reason why they chose to go with CGI instead. Maybe it's just cheaper! 
300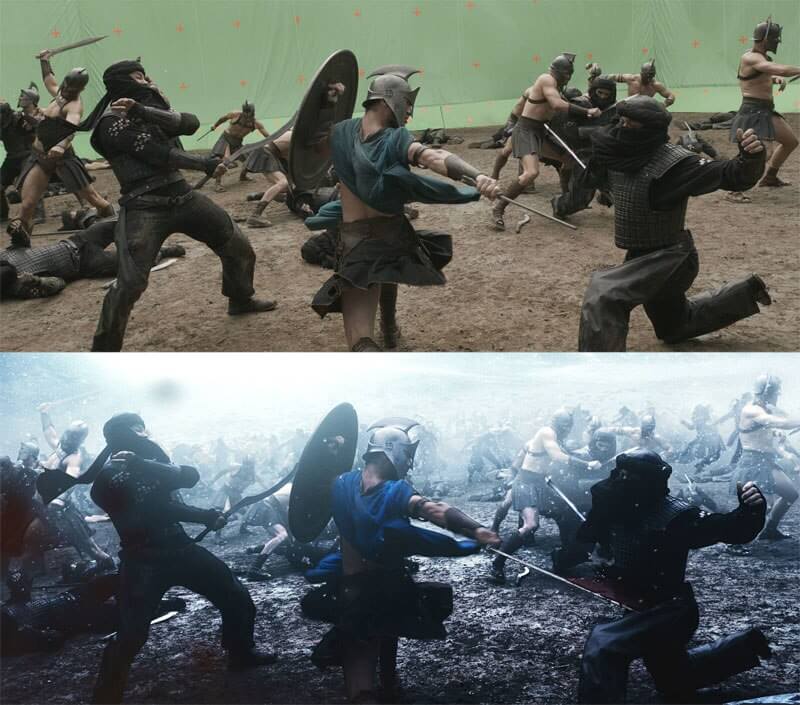 This image from the set of 300 shows us how movie-makers approach big battle scenes and crowd scenes. Rather than gather hundreds (or even thousands!) of extras, film-makers can instead take a snippet of a limited crowd, and make it look like a much bigger crowd using CGI technology. How cool is that? Many of your favorite films have used this kind of crowd simulation software to make the story seem more realistic. Gone are the days of having 300,000 extras on set! (Yes, that really happened.)
The Matrix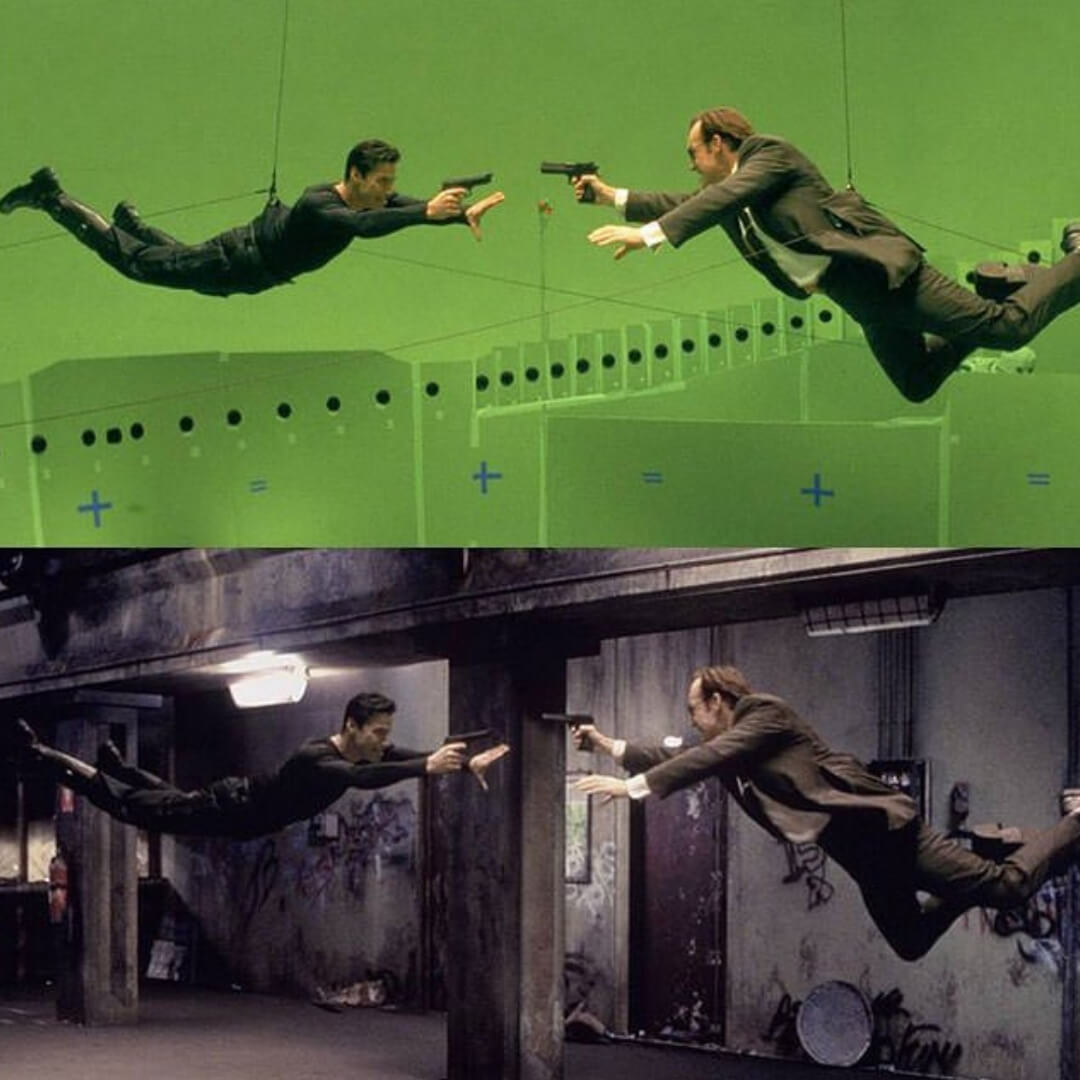 As you know from one of the previous slides, the Matrix took a lot of computer graphics to make the film look convincing. This whole subway scene is actually just an enormous green screen, and of course, the actors had to be suspended from the ceiling. How else would they have gotten those 360-degree shots of Neo in these fight scenes? It's truly incredible the things that Keanu Reeves can do. Oh yeah - if you're a bit of a Keanu fan, you might also like this article!
Rise of the Planet of the Apes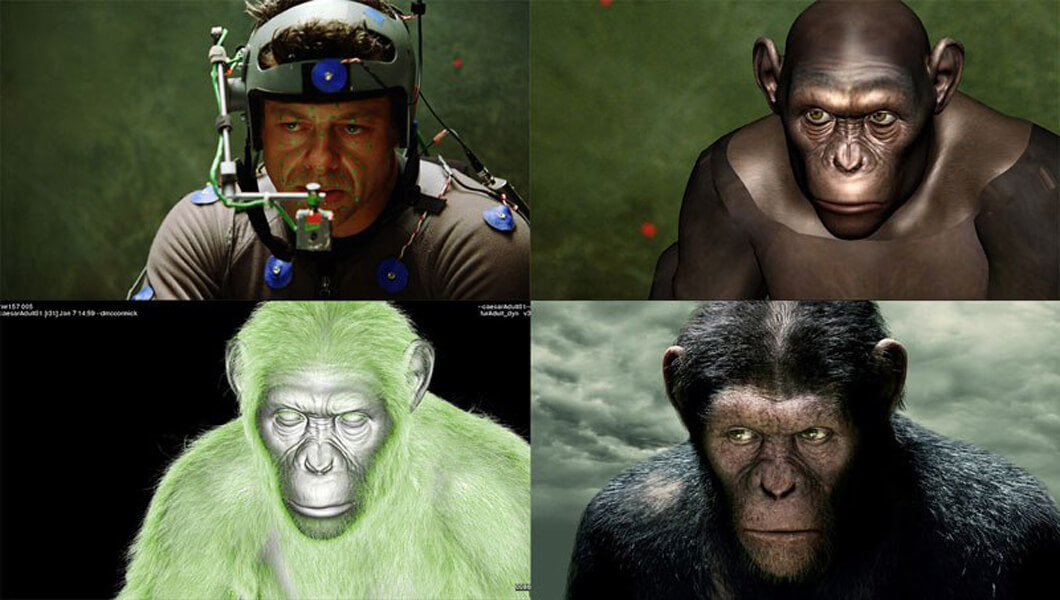 Just like in Godzilla, there weren't many apes that were free to play Caesar for Rise of the Planet of the Apes. Instead, they put Andy Serkis into a special suit and got him to play the ape instead. If you think the name sounds familiar, Serkis is best known for his performance in The Lord of the Rings films. This talented actor played one of the most difficult roles of all but totally nailed it. So who was he? Gollum, of course. And he even did the voice! From stoor hobbit to talking ape, Andy Serkis can do it all. 
Godzilla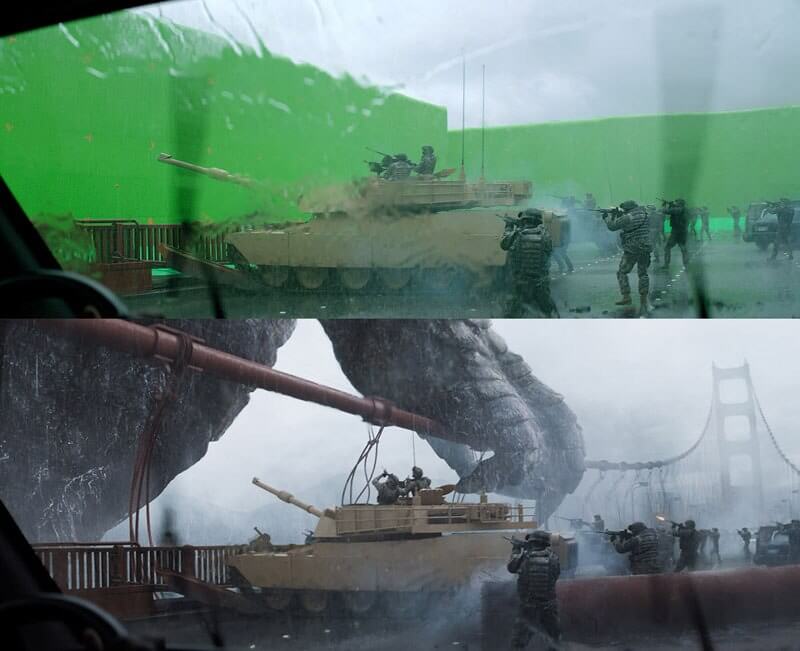 This next image is bound to shock you! Did you know that Godzilla isn't actually a real, giant lizard, just hanging out someplace? Yep - you heard it here first, folks. When they put out the casting call for the part of Godzilla, no one replied. The production team was a dragon short, and so they had to fill the empty spot with some good old-fashioned CGI. Mind-blowing, we know! But didn't they do a good job? It's incredible how realistic this ended up looking on-screen.
X-Men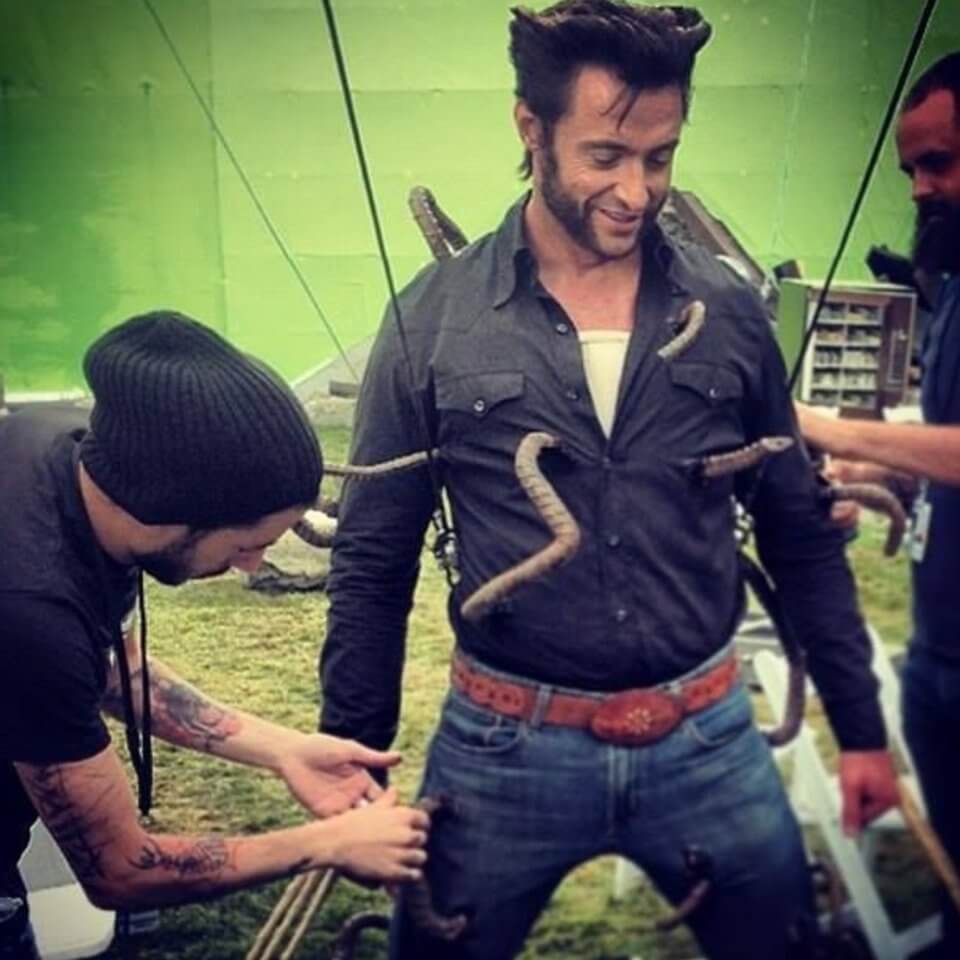 Now that we've seen Hugh Jackman do Wolverine, it's hard to think of anyone else in this role. His natural rugged looks lend well to the character, and we sometimes forget he's not actually a mutant even in other films! Oops. In this picture, our beloved Wolverine is having prosthetic snakes fit onto him ahead of filming. We can only guess that it's to show how he regenerates and heals, no matter what kind of danger that he might run into. 
Kill Bill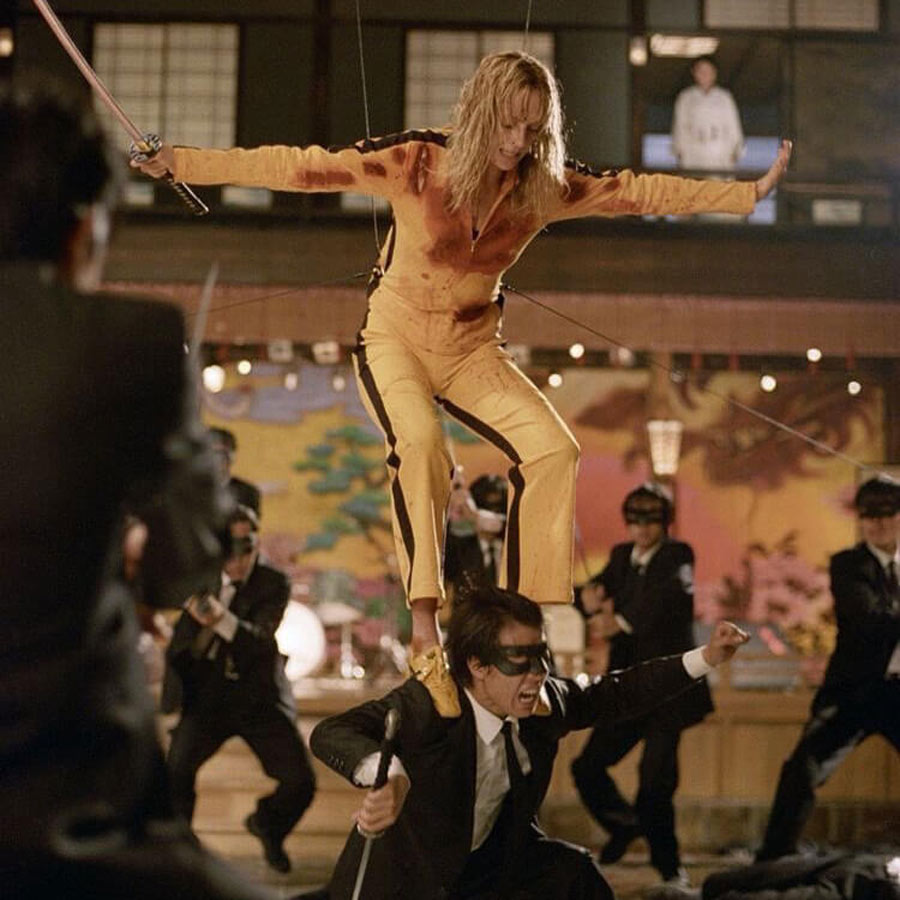 While it would be nice to believe that Uma Thurman could defy gravity with her fighting skills, it's sadly not the case. Just like Keanu Reeves in The Matrix, Thurman had a little assistance with her acrobatics to ensure that it was as impressive as possible on-screen. Trouble is, she was so impressive that it seems like Tarantino's run out of ideas or something for making Kill Bill 3. What can we expect? Well, Thurman's real-life daughter, Maya Hawke, made an appearance in Once Upon a Time in Hollywood, so maybe she'll be back in the third film!
Infinity War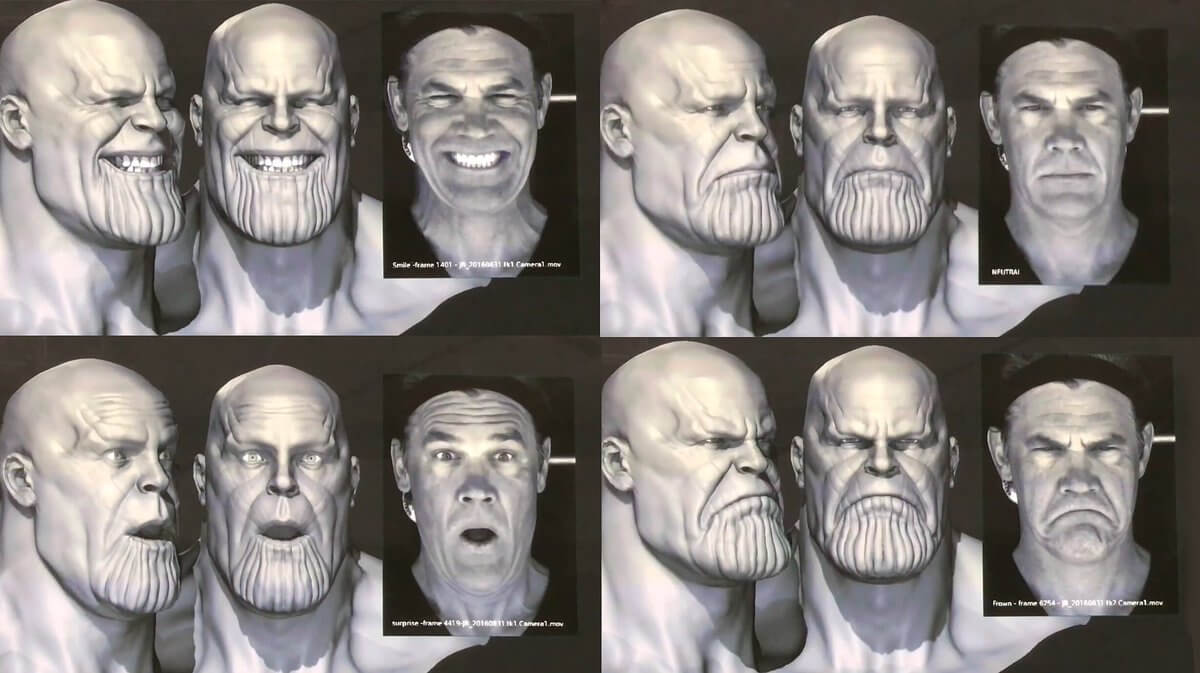 One thing that we've always wondered about big-budget movies is whether they just have enormous sets with run-down buildings everywhere. And in films like War of the Worlds, Ghostbusters, or indeed Avengers: Infinity War, there are a lot of these buildings! But it turns out that they don't need huge cities that have already been devastated to make these films happen. In Infinity War, they just put up big blue walls where the buildings would be, and the CGI was added in post-production. Neat!
Boardwalk Empire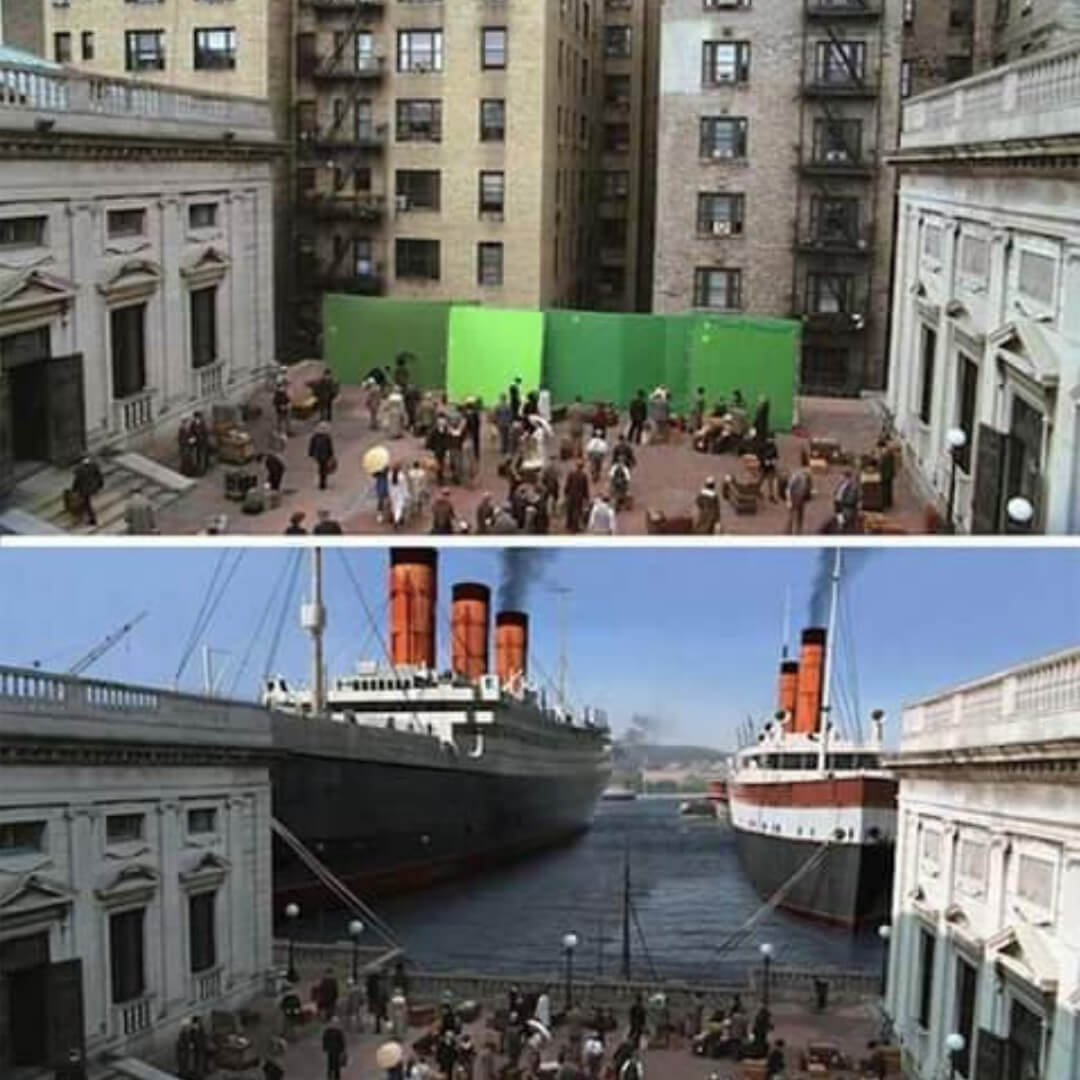 This image is particularly breathtaking. It must have been quite challenging to film some of the larger outdoors scenes from Boardwalk Empire, because of the time period in which the series is set. But rather than head out to a dock, renting out some cruise ships and hiring hundreds of extras, they just had to put up some green screens. It really goes to show just how much this technology has changed the way that Hollywood does things!
Gravity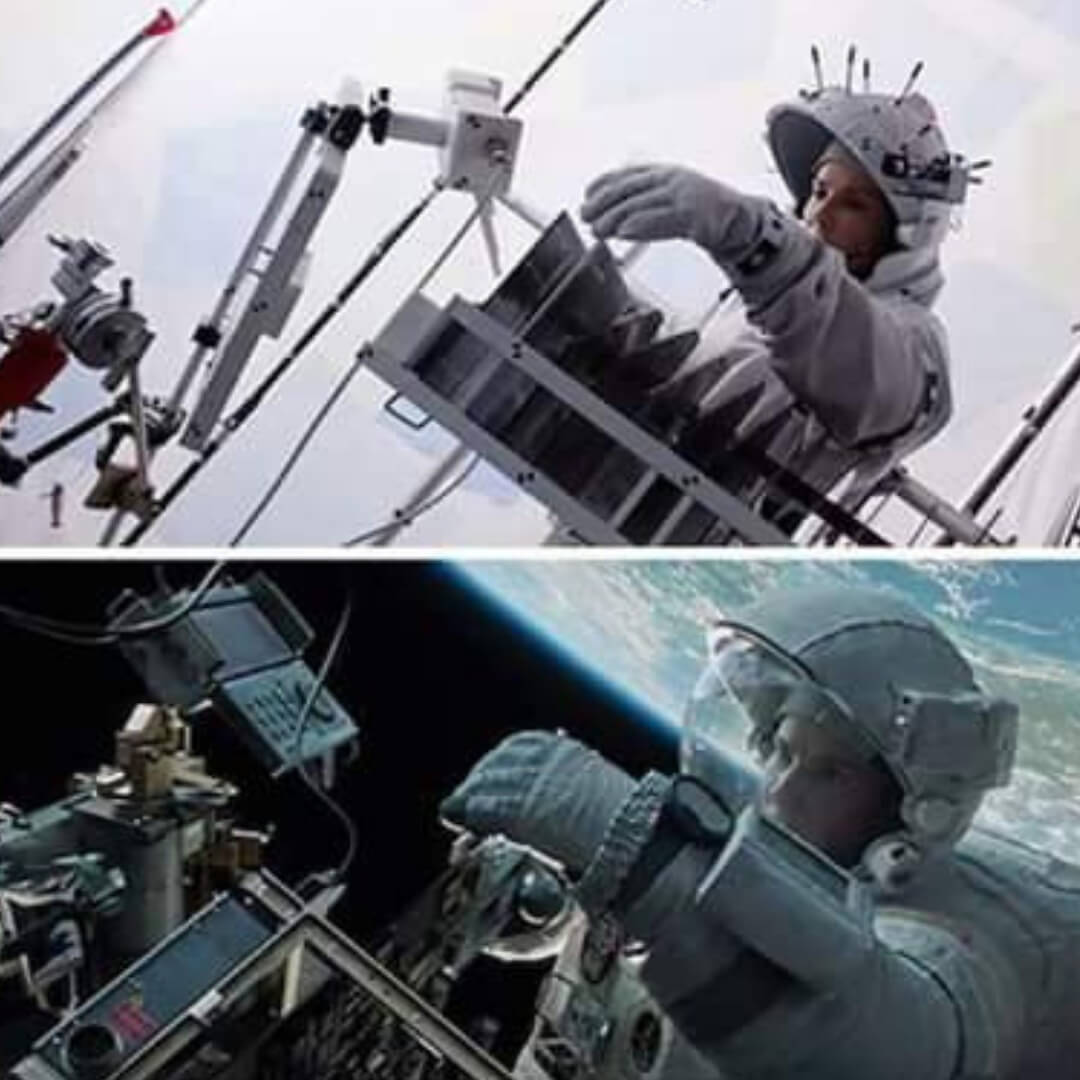 Sandra Bullock is one of the most awesome women in Hollywood. Ever since we saw her in Miss Congeniality, we've kept an eye out for more of her films because she manages to find in her characters that perfect balance between strength and sensitivity. She has to have a great imagination! In the outer space film Gravity, Bullock had such a bare set that she must have had to visualize where everything was, and how it would feel being in such a small space. Give this woman an Oscar!
A Good Day to Die Hard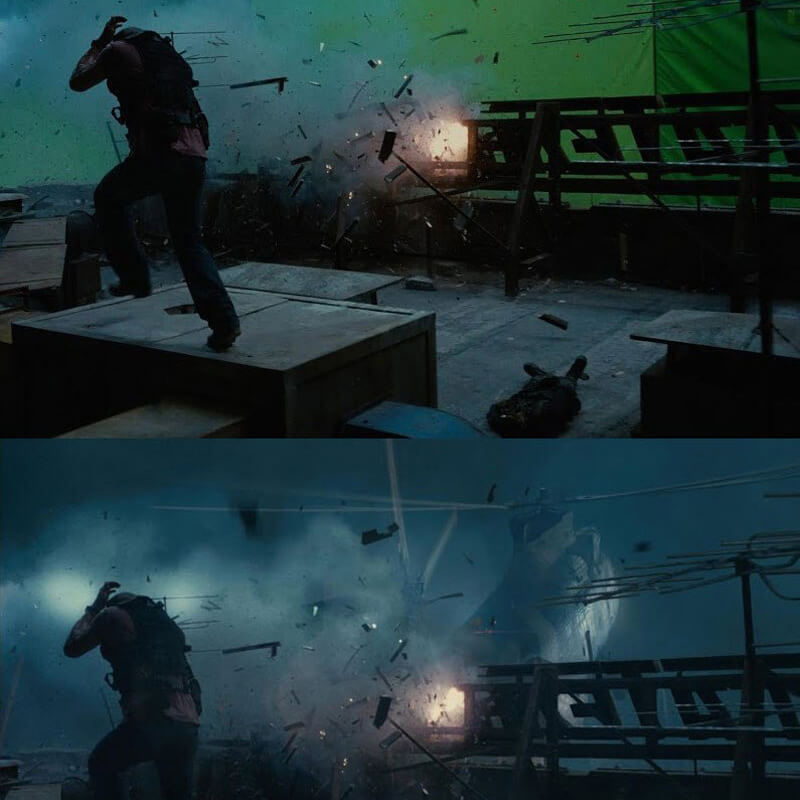 Bruce Willis is one seriously tough guy. Is there a bear outside eating your trash? Or maybe you've been falsely imprisoned as an undercover CIA agent? Either way, in both situations we'd definitely call Bruce Willis if we could. In this particular Die Hard movie, Willis' character gets caught up in a terrorist plot. There are so many big explosions that you'd be forgiven for thinking it was Michael Bay film, but it was actually directed by Skip Woods. Want another fun fact? It was released on Valentine's Day!
Tron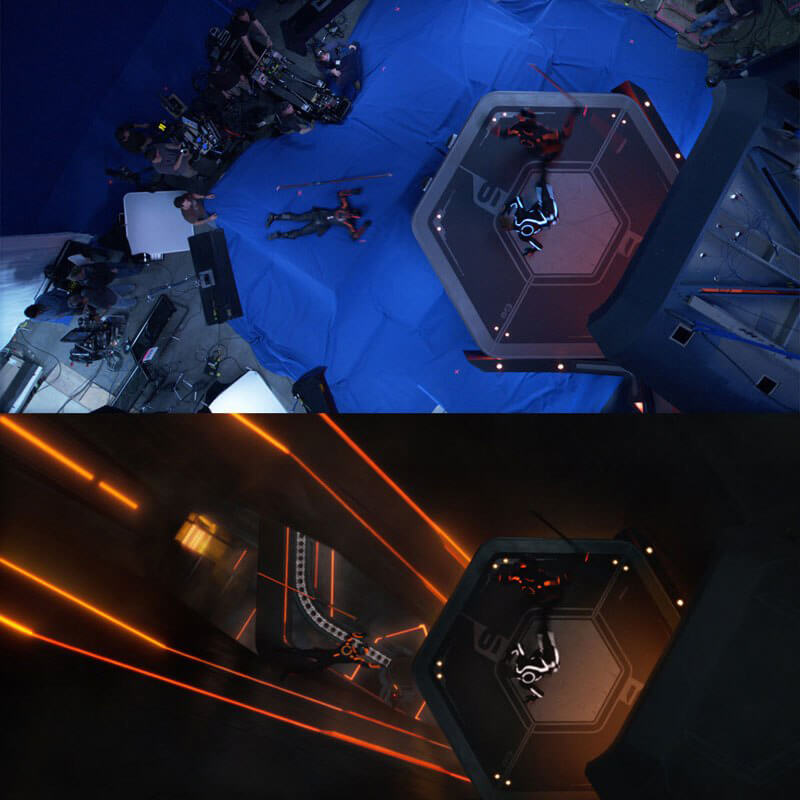 If you really can't get enough of special effects, then Tron: Legacy is for you. The 2010 film is a sequel to the original 1980s classic and is packed to the brim with awesome effects. You know what this means: lots of green screens! Steven Lisberger directed the 1982 version and returned to help produce the 2010 film. What's even cooler is that the first Tron was something of a pioneering film in the history of computer-generated images in movies, and was one of the first of its kind! How cool is that?
The Chronicles of Narnia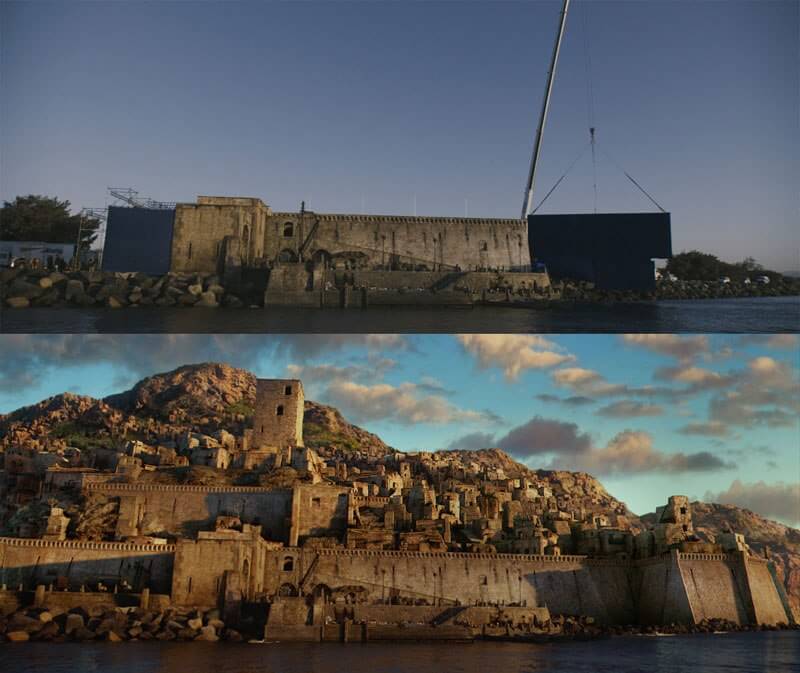 In the film series based off the C.S. Lewis books, the Chronicles of Narnia tell of a magical, faraway land, where four young children find all kinds of adventures. How do they get there? Well, through a wardrobe of course! It might come as a surprise, but unfortunately, there was no trace of the original wardrobe. The filmmakers working on the Narnia series had to use some pretty big-budget CGI instead to create the awe-inspiring fantasy world where the Pevensie children roam.
Superman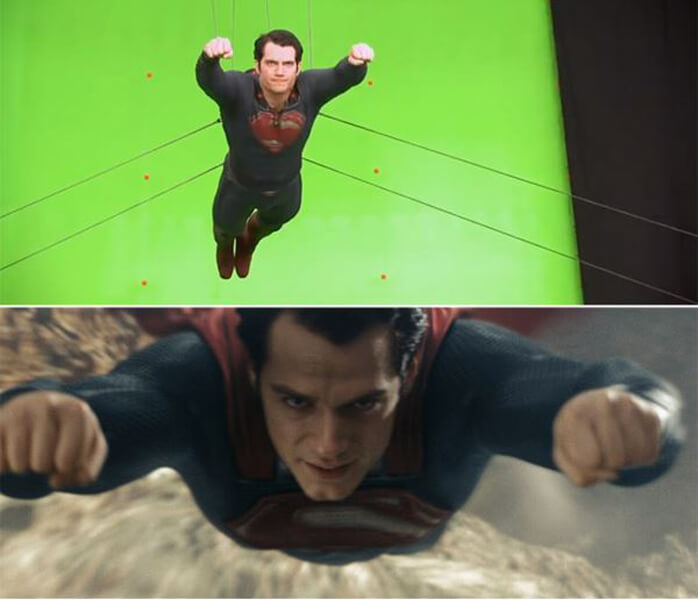 Is it a bird? Is it a plane? Nope! It's a man suspended in mid-air surrounded by green screens! Nearly everyone has had one of those awesome dreams where you can fly. It's so much easier than walking, don't you agree? Lucky for Superman, he doesn't have to fall asleep to get airborne. With a little cinema magic and some good-old-fashioned acting, Clark Kent is up, up, and away. We can only imagine how much time he saves being able to forego those annoying airport queues…
Which one of these facts surprised you the most? One thing's for sure: we're super glad that CGI has come so far. Without it, we wouldn't have the movie magic that we have today. Think of how boring the Oscars would be without it! Anyway, if you enjoyed this article, be sure to share the fun with a friend.