Three Marriages of 'Pretty Woman' Star Richard Gere
We all remember this heart-throb from some of our old, favorite classic movies. From playing the mysterious, yet steamy LA millionaire Edward in 'Pretty Woman,' to busting out some (unexpected!) sexy dance moves in 'Shall We Dance?' Richard Gere has definitely stolen the hearts of many women. And, it seems like his fans weren't the only ones captivated by his charisma ... with good looks, it seems, comes many troubled relationships. Keep reading to find out all the details about his many failed, troublesome relationships.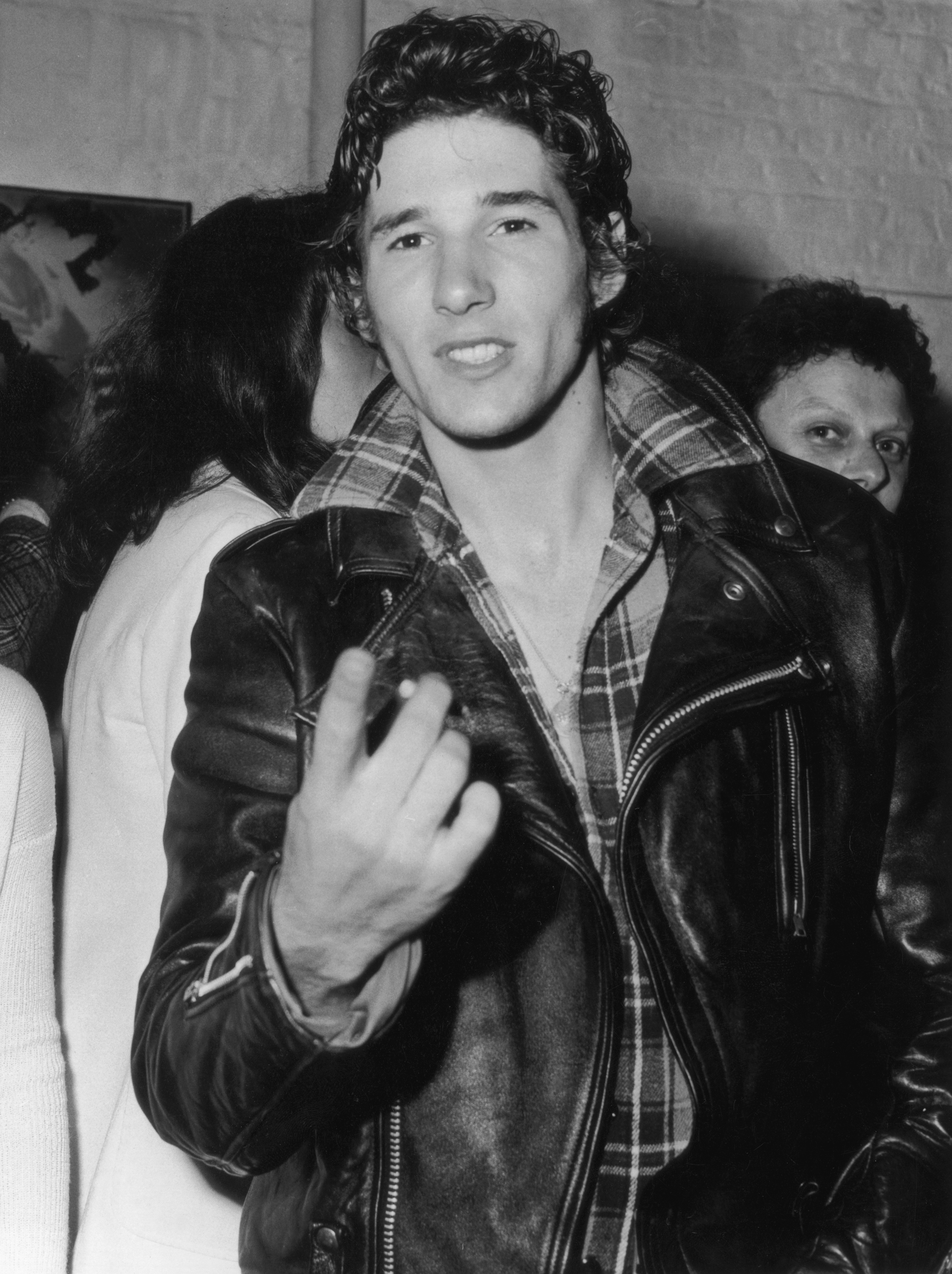 ---
Embarking on a trip down memory lane, we looked closer at Richard's high-profile unions and how his personal life unfolded. After high school, Richard Gere attended studied philosophy at the University of Massachusetts on a gymnastics scholarship, where he briefly studied philosophy. After two years, he left school to explore his interest in theater, became a pop musician, and went on to gain extensive experience as a stage actor.
In the early 1970s, Richard landed the role of Danny Zuko in the musical Grease in London. He also received acclaim for an off-Broadway appearance in Killer's Head, then made his big-screen debut with a small role in Report to the Commissioner. Richard's acting career truly began to rise in the 80s. In 1980, he earned the title role in American Gigolo. Two years later, he embodied the romantic lead opposite Debra Winger in An Officer and a Gentleman. Actor and humanitarian, Richard Gere may have starred in blockbuster films like "Runaway Bride," but in reality, he is happily married for the third time.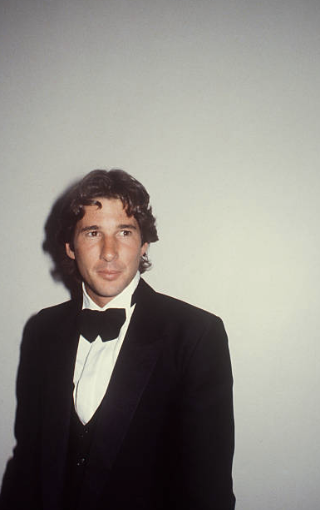 ---
CINDY CRAWFORD
Richard Gere tied the knot with the then-26-year-old supermodel Cindy Crawford, a year after the release of his highly successful 1990 film with Julia Roberts, Pretty Woman on December 12, 1991. The couple, who was named by PEOPLE as the "Sexiest Couple" in 1993, said their vows at the Little Church of the West in Las Vegas, Nevada.
As a child, Cindy spent a short time on welfare. She also had one younger brother, Jeffrey, whose life was taken by leukemia when Cindy was 10-years-old. At the age of 17, she began modeling and has been featured on more than 600 magazine covers worldwide, including PEOPLE, Elle, Harper's Bazaar, Allure, and Vogue. After becoming a model, she raised millions of dollars for the research and prevention of leukemia.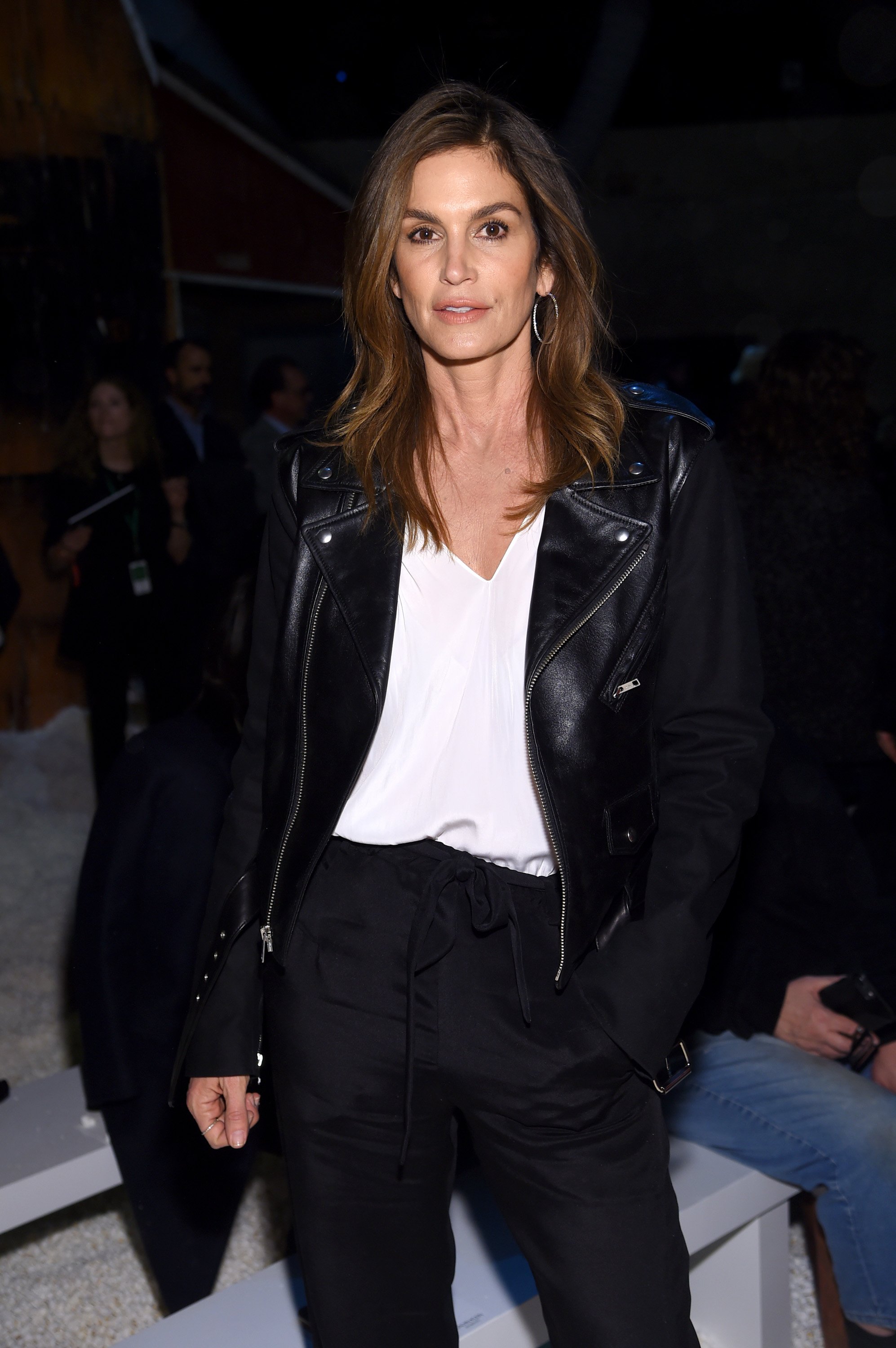 ---
During their marriage, Richard continued acting in blockbuster films, got involved with humanitarian work, and became a co-founder of the non-profit, Tibet House. And, in 1995, he served as the President of the Jury at the 19th Moscow International Film Festival. Their respectively busy schedules dealt their marriage a devastating blow, while the 17-year age gap also played a part. On December 1, 1995, Richard and Cindy divorced. They remained on "friendly" terms after the split, though Cindy shared years later that he felt like a "stranger" to her.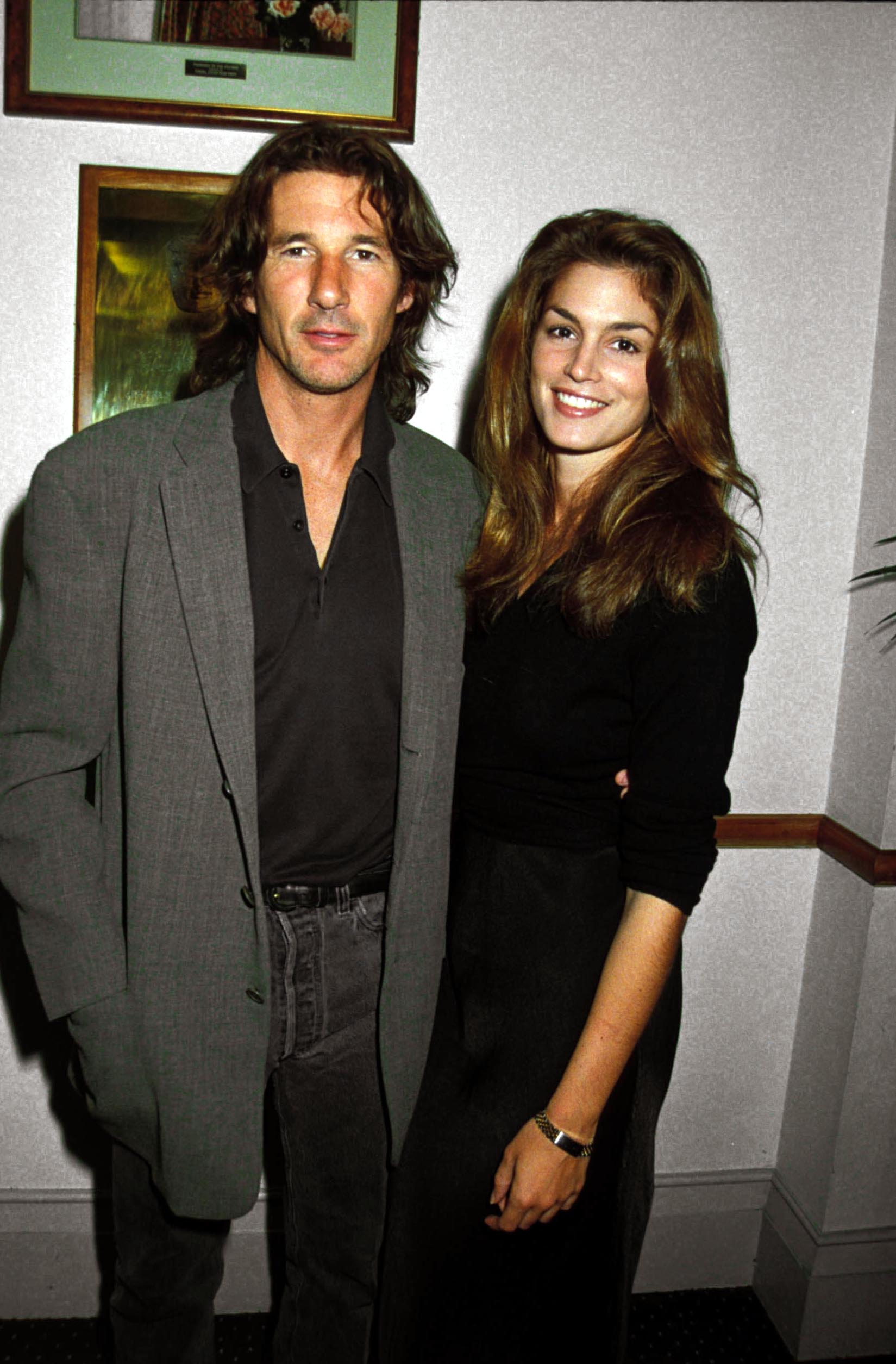 ---
"I think part of the problem in our relationship was that we were a lot of other things, but I don't know if we were ever friends – like peers, because I was young, and he was Richard Gere," Cindy said. "And then, as I started kind of growing up and growing into myself – it's hard to change the nature of a relationship once you're already in it."
The supermodel said she learned many things from Richard, including "how to be famous." Both have declined to share many details about their relationship, Cindy explaining, "If I felt that there was a great good that could come of it, I might have shared more, but I didn't think that there was anything for other people to learn or benefit from." She married Rande Gerber three years later, with whom she has two children.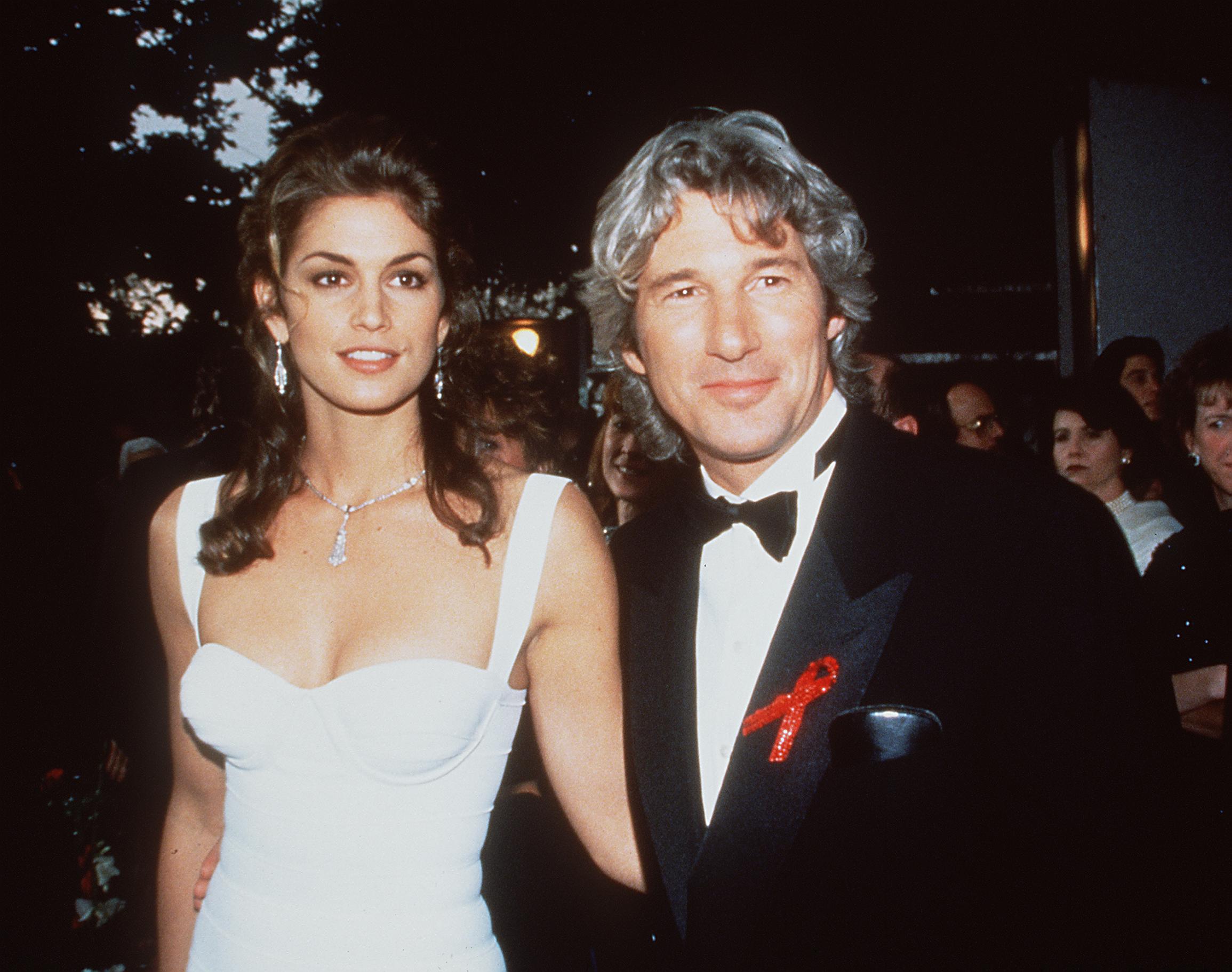 ---
CAREY LOWELL
Richard dated Bond Girl and "Law & Order" actress Carey Lowell for several years before she made the actor a first-time father at the age of 50. She gave birth to their son, Homer James Jigme Gere on February 6, 2000. The actor made sure to be present for the special moment his son came into the world.
He reportedly felt so "over the moon" that Handel's Messiah boomed through the speakers of a portable CD player in the delivery room shortly after. According to Sharon Simonaire, an interior designer and close friend who introduced the couple, the delivery went well and gushed that the baby "was incredibly happy, blue eyes wide open and beautiful lips and skin, a little brown hair. He's perfect."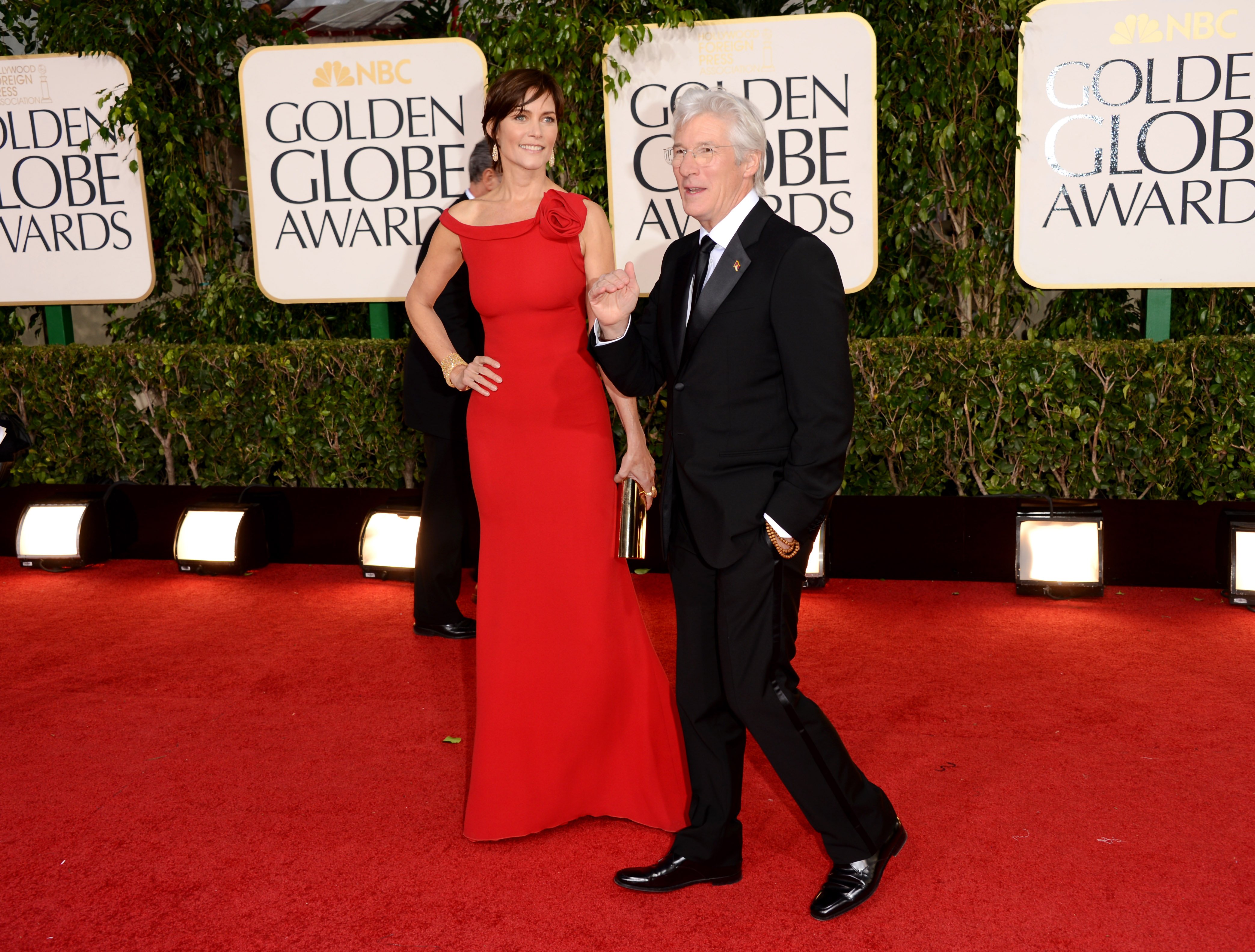 ---
Carey, also a Tibetan Buddhist, and Richard named him after their fathers, Homer Gere and James Lowell. The term jigme means "fearless" in Tibetan. It was previously believed that Richard had little interest in becoming a father. First wife, Cindy feared he would have cared more about Buddhism and India than a hypothetical child. However, Richard warmed up to children after spending time with Carey's daughter, Hannah, from a previous marriage.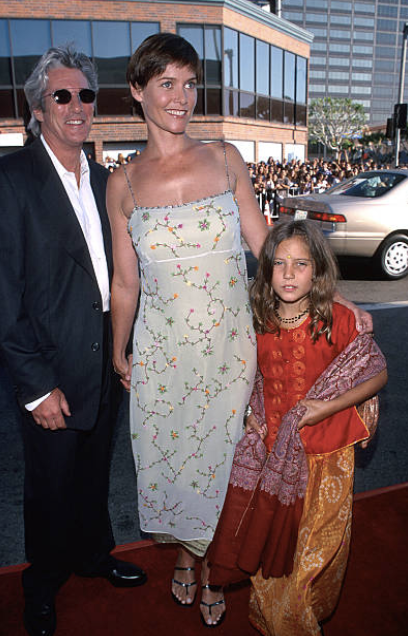 ---
The couple married two years later on November 9, 2002. They kept the affair low-key with a private ceremony at their home in New York. Their son and Carey's daughter were the only people present. Ten years later, Carey filed for divorce and cited the reason for her being outgoing and enjoying a good party while Richard preferred quiet and privacy. The split was highly publicized and took over three years to settle in court. Manhattan Supreme Court Justice Matthew Cooper finalized their divorce on October 18, 2016.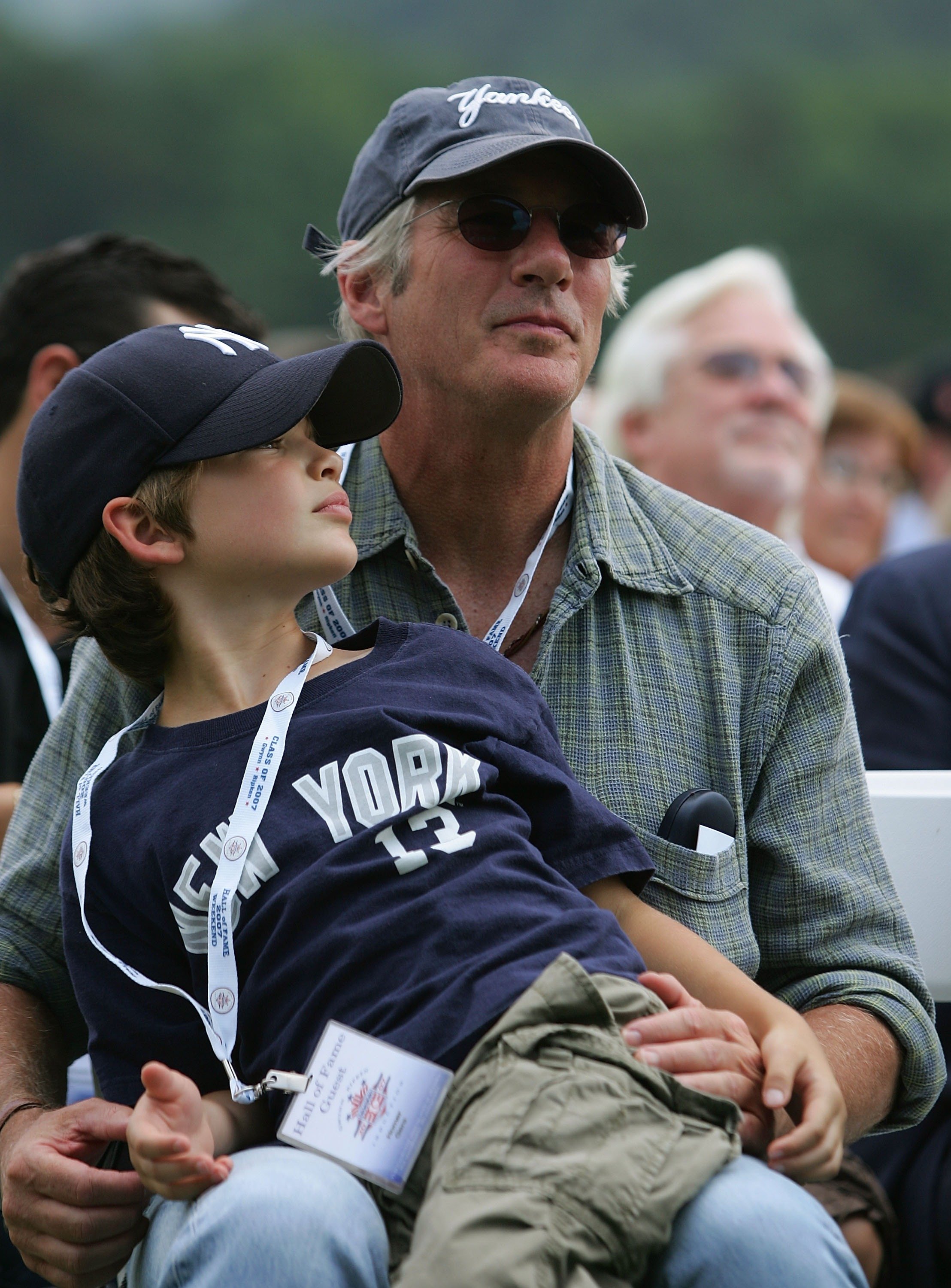 ---
ALEJANDRA SILVA
Alejandra Silva was born in Spain, but as a child moved to Dorset in the United Kingdom for school. After graduating, she returned to Madrid for university. Alejandra's father, Ignacio Silva Botas was a successful businessman and served as the Vice President of the Spanish soccer club, Real Madrid, for five years, an organization Alejandra did charitable work for. In 2012, she married Govind Friedland and gave birth to their son, Albert. They established a hotel, Hotel Villa Treville, which she also managed, in Positano, Italy.
---
Their marriage was brief, though, with the divorce being finalized in 2015. While also in the midst of divorce proceedings with Carey, Richard stayed in Alejandra's Positano hotel. A friend of Alejandra's introduced her to the Hollywood star, and the two felt a "very strong connection" from the start. With both going through divorce proceedings at the time, Alejandra said it brought them together.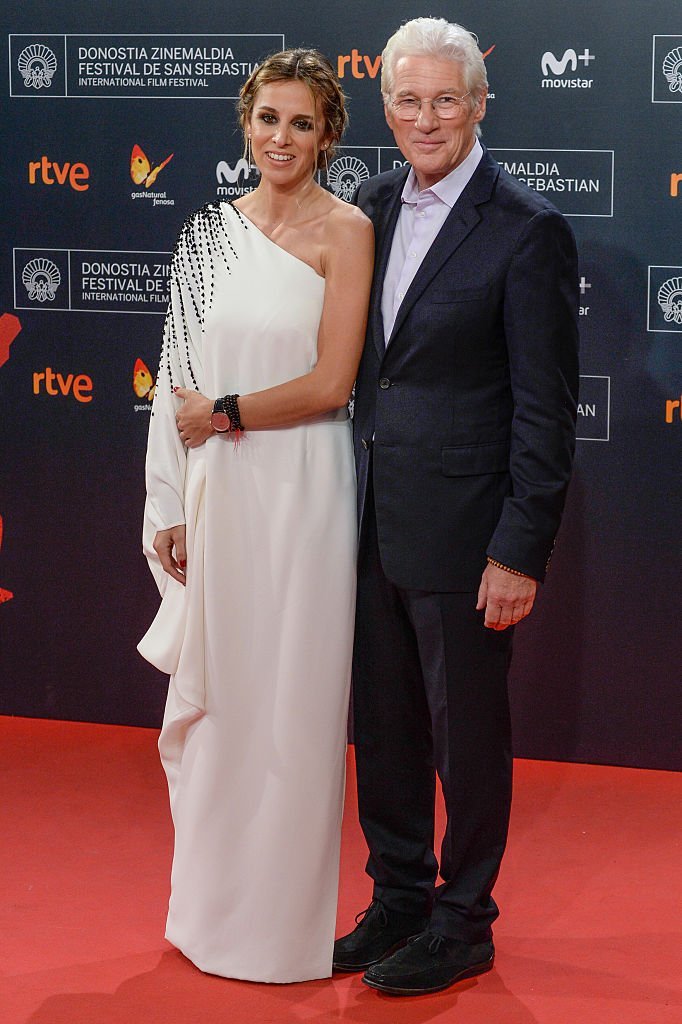 ---
Richard sent Alejandra flowers every day until she agreed to go out with him. She said she often feels like she's in a true fairytale, "what could be more romantic than a man who writes you songs every day?" The pair reportedly met as family friends when Silva was a young girl, reconnecting years later at the hotel.
"Love stories with a complicated beginning, where you have to overcome difficulties together, can bring you closer... I'm sure I did [have some doubts] at some point. In the beginning, he was more convinced than me. But from very early on, we felt that we were destined to be together," Alejandra said in March 2019.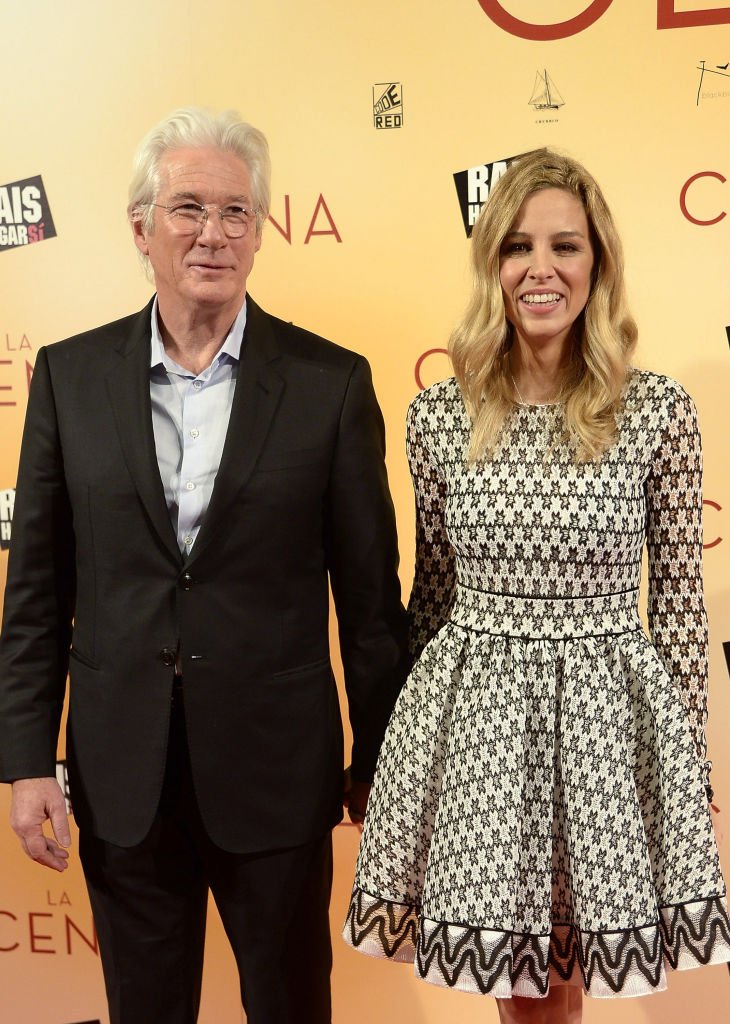 ---
Alejandra converted to Buddhism and moved to New York before Richard proposed to her during a private moment in a romantic hotel in St. Paul de Vence, France, on her birthday. The couple married in a secret ceremony on Richard's ranch outside New York City on April 2018. They kept the festivities going with a wedding party in May attended by several Tibetan monks. She firmly believes that universal energies are on her side when it comes to her relationship with Richard, even though he is almost double her age.
"Our karma was attracted the moment we saw each other," she said. "I'm not ignoring our age difference and what it means to be with a Hollywood star, but when there's such strong karmic energy, the problems disappear."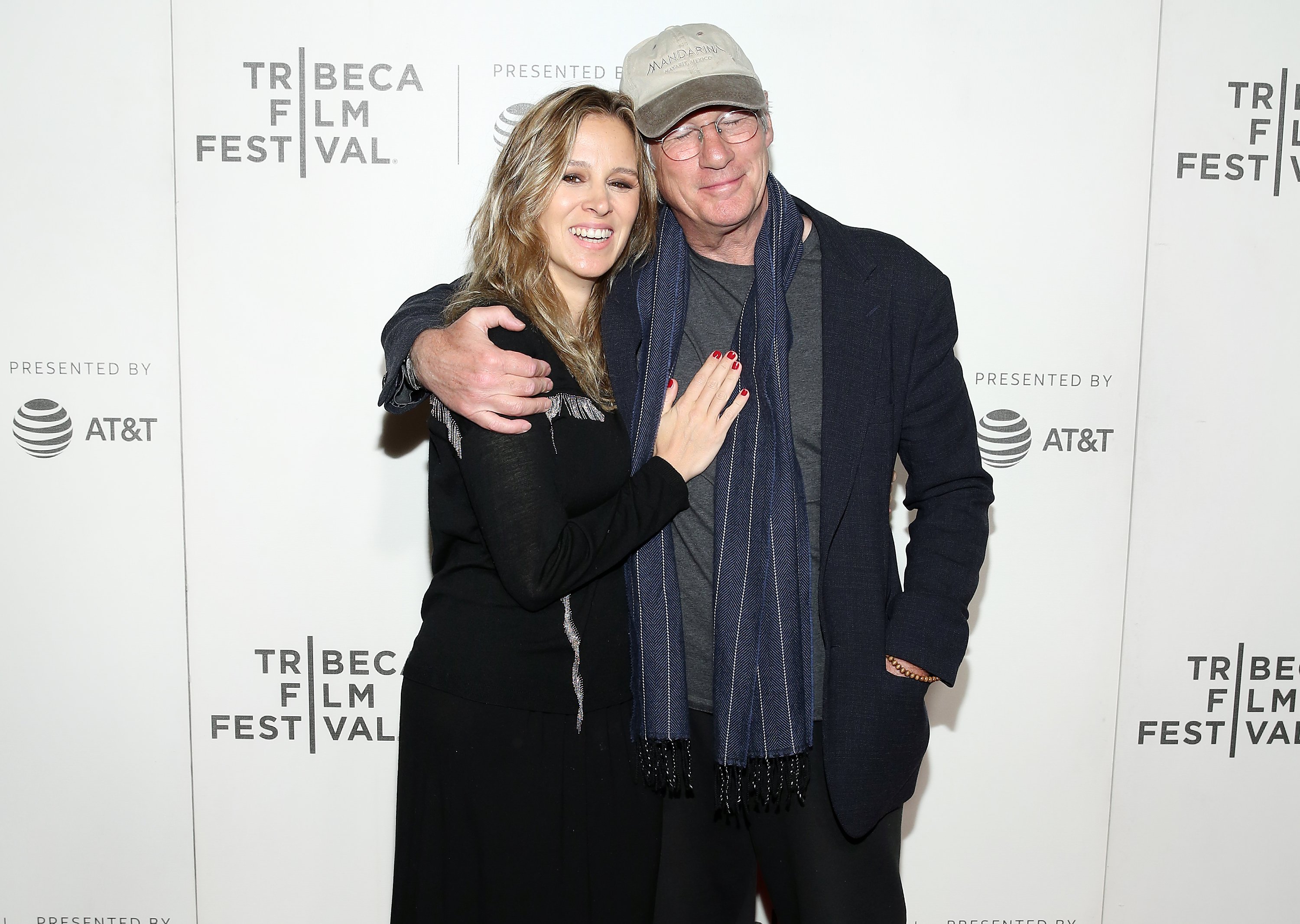 ---
Exciting news followed when the 35-year-old Alejandra announced her pregnancy in September 2018. The pair welcomed their first child and son together in February 2019, but only revealed their son's traditional name of Alexander later on. Nonetheless, Richard and Alejandra are dedicated to their family and helping those in need. Alejandra's charitable work didn't end with Real Madrid. She also runs a non-profit called Rais Fundacion, which aims at eradicating homelessness in Spain in five years.
"I've slept on the street to understand the struggle of the homeless," Alejandra said. "I'm not scared of rolling up my sleeves and diving into work. If I do something, I put 100% effort in. If I can't, I'd rather not do it."
---
When the non-profit hosted a screening of Richard's movie, "The Dinner" in December 2017, Alejandra spoke to Hola! and shared that she admires Richard's humanitarian nature and philanthropic instinct. "What I love most about him is his humanitarian side. He's a very empathetic person," she added.
Off the Screen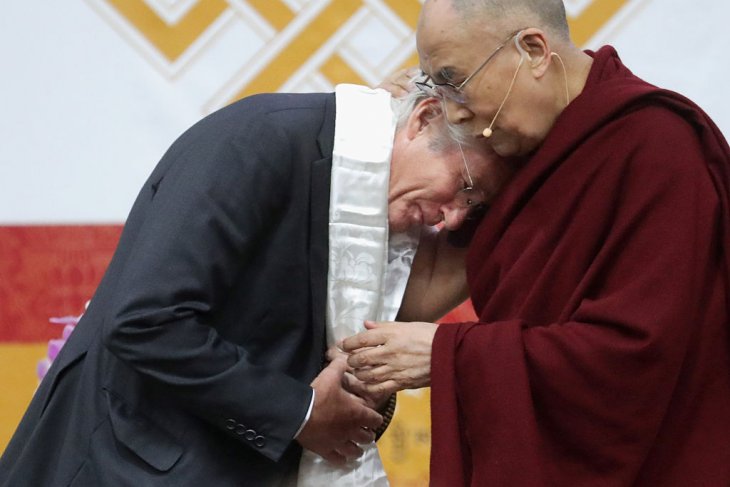 ---
Richard has not only appeared in a long list of on-screen roles, but before the United States Senate Committee on Foreign Relations, The European Parliament, and the United Nations Human Rights Commission. In many of these appearances, Richard spoke about human rights' importance to him.
In 1987 the longtime Buddhist co-founded the Tibet House, has served as the chairman of the board for the International Campaign for Tibet since 1995, and instituted The Gere Foundation "to help sponsor human rights in Tibet and support the Dalai Lama." Richard also supports charities that help those suffering from AIDS, especially in India, and is an activist for prison reform in the United States. He also gives multiple forms of support to Survival International, to protect the rights and lands of often exploited tribal communities in the most remote areas of the world. 
---
Gere's Messiah
Richard's son, Homer, grew up to be the spitting image of his father and the two have a close relationship. Homer supported his parents' decision to divorce, and at age 16, when the divorce became final, he lived primarily with his mother, Carey. Homer frequently appears alongside his father, as well as his step-mother, Alejandra. He attended the 44th annual "Giffoni Film Festival" in Italy with Richard in 2014, followed by their 2017 vacation, also in Italy.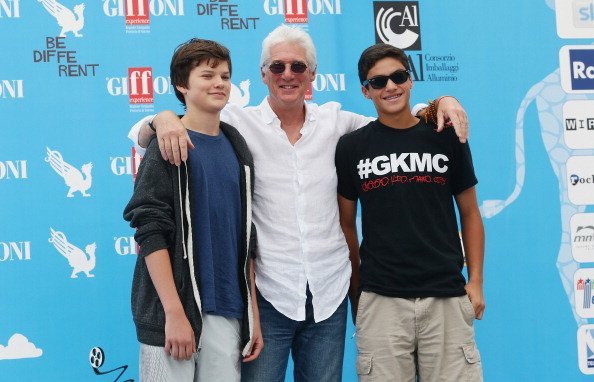 ---
Now, almost twenty years old, the younger Gere has taken his father's desire for privacy to a higher level. The only social media page available for him is Facebook if it truly is his. It is unknown if he is enrolled or attends college. Earlier this month, the family of four was traveling together in Italy, and father and son were observed working out together.
Source: IMDb, Wikipedia, Daily Mail, Instagram, Biography, MSN, People, Hello, The Sun, TVOM