Celebrities Which are Unexpectedly Related
With the popularity of shows like PBS' Finding Your Roots and NBC's Who Do You Think You Are? and the ease of using genetics and ancestry software, you could be related to literally anyone! Family trees are complex and confusing as they grow throughout time. As the series mentioned above have shown, it seems that Hollywood actually might run in the veins. Stage names and personas make it more challenging to suspect, but some of these celebrities were shocked to find out that Hollywood ran in their family. 
KATE SPADE AND DAVID SPADE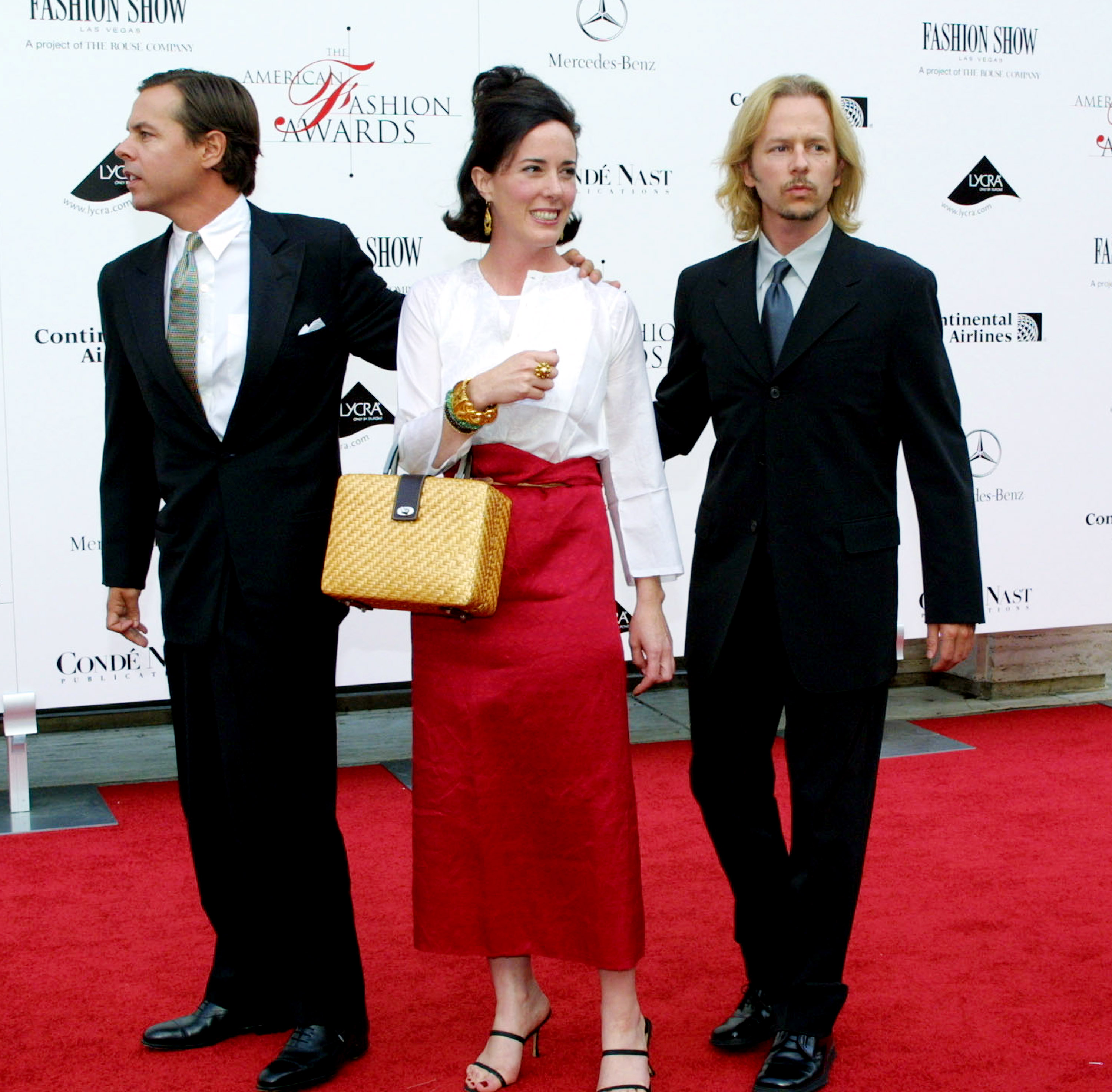 Kate Spade was hailed as a handbag and accessories designer and for her major accomplishment of building a billion-dollar brand from scratch. Her brother-in-law is none other than comedian and actor David Spade. Spade has been in plenty of movies and TV shows. Kate Spade was married to David's brother before taking her own life last year.
JONAH HILL and BEANIE FELDSTEIN

Jonah Hill is well known for his roles in Superbad, The Wolf Of Wall Street, and 21 Jump Street. However, the actor changed his surname from Feldstein to Hill for his acting career. His is little sister Beanie Feldstein decided to keep their last name as she made her way in the industry. She recently appeared as the best friend in Lady Bird. The two have an older brother, Jordan, who was briefly married to Clint Eastwood's daughter Francesca. 
BRUCE DERN AND LAURA DERN

Laura Dern has often starred alongside her mother, actress Diane Ladd, but has never appeared with her father, Bruce Dern. Laura has been winning over audiences and critics for decades. There's no shortage of success and talent in the Dern family.  
MELANIE GRIFFITH AND DAKOTA JOHNSON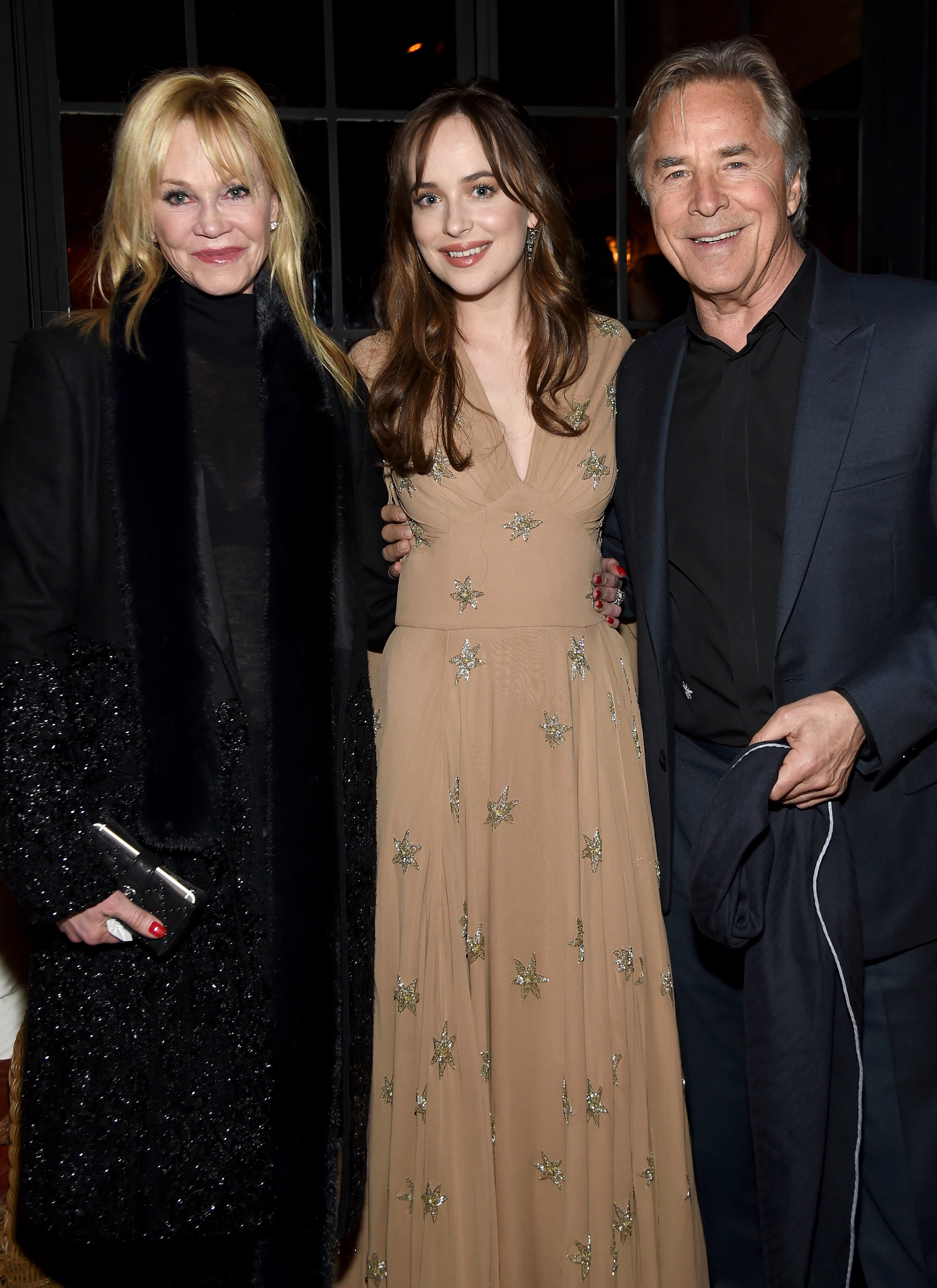 Melanie Griffith bared it all in the 1984 Brian De Palma hit Body Double. Thirty-one-years later, her daughter Dakota Johnson was cast as Anastasia in 50 Shades of Grey, appearing completely nude on-screen in some provocative scenes with her co-star Jamie Dornan. Melanie Griffith's mother, Tippi Hedren, appeared in Hitchcock's The Birds. Three generations of fame!
JENNY MCCARTHY AND MELISSA MCCARTHY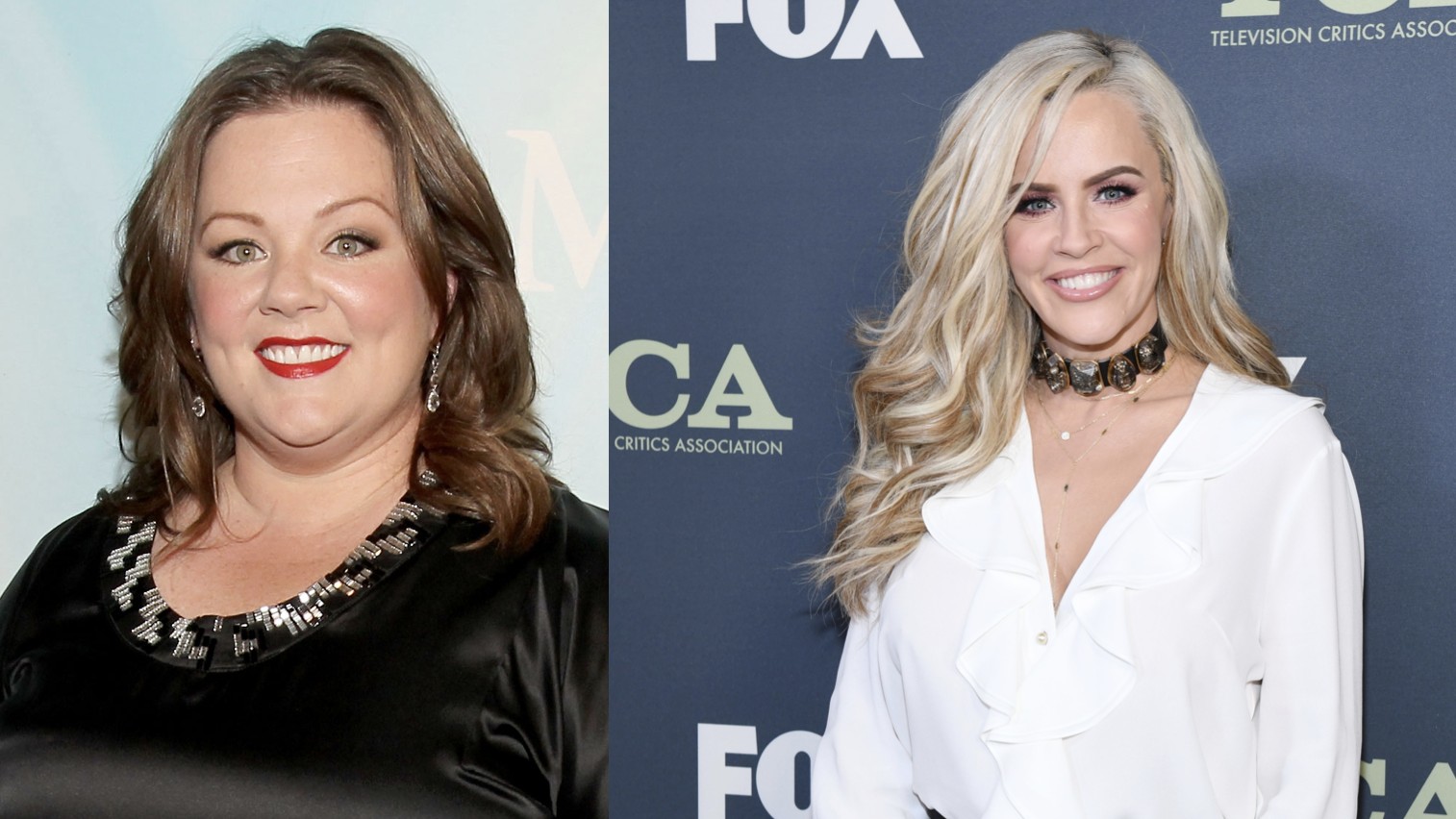 While McCarthy is quite a common name, it turns out that Jenny McCarthy and Melissa McCarthy are actually related. It was reported that Jenny helped her cousin land a role in her short-lived sitcom. Melissa has done quite well on her own, though. With Gilmore Girls, Mike & Molly, and a long list of hit comedy movies, The cousin's roles may have flipped!
GUY RITCHIE AND KATE MIDDLETON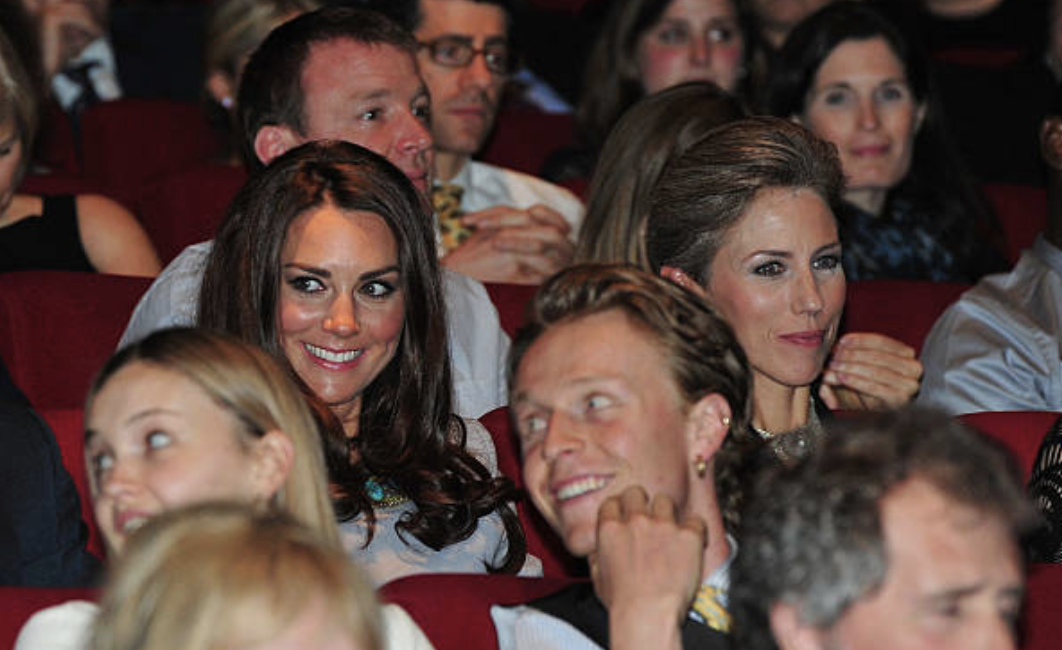 Ritchie claims to have a close relationship with his sixth cousin, the Duchess of Cambridge! The director was invited to her 2011 wedding to Prince William.
EMILY BLUNT AND STANLEY TUCCI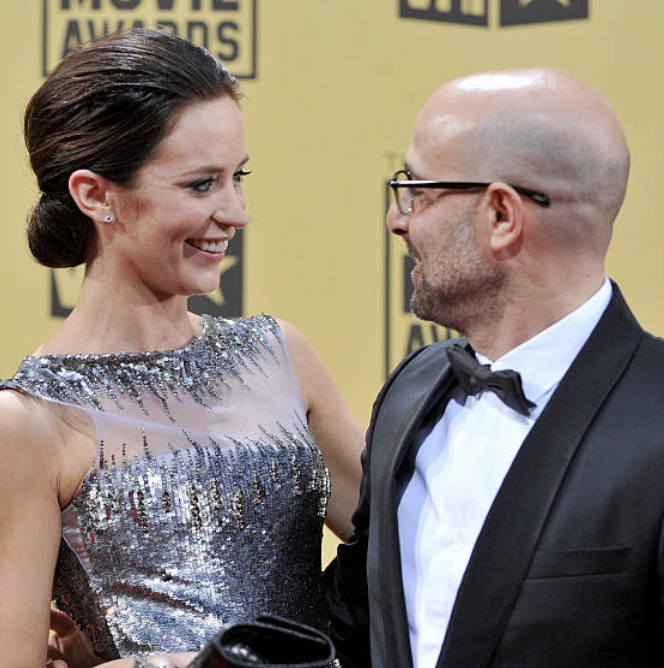 Blunt and Tucci starred opposite one another in the hit movie The Devil Wears Prada, but in real life, the two are related. Tucci married Blunt's sister Felicity Blunt, a literary agent.
GABRIELLE UNION & SAWEETIE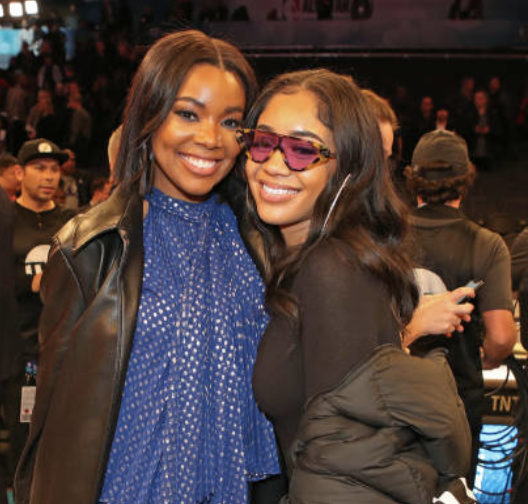 Actress Gabrielle Union used Twitter to reveal that "Icy Girl" rapper Saweetie is her cousin! 
CONAN O'BRIEN AND DENNIS LEARY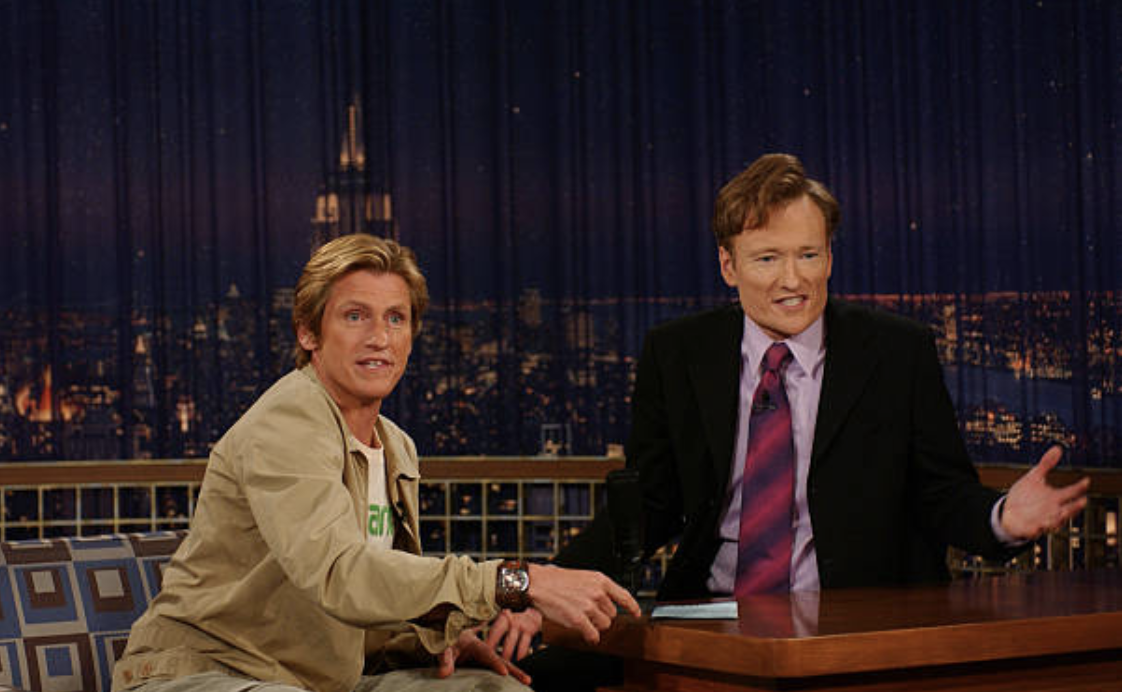 Hilarious late-night talk show host, Conan O'Brien is instantly recognizable from his infectious laugh and trademark ginger hair. It turns out that standup comic and actor Dennis Leary is his third cousin by marriage. Both hail from Boston with American-Irish heritage. They often refer to one another as "cuz" when they cross paths on talk shows and at events. 
WARREN BEATTY AND SHIRLEY MACLAINE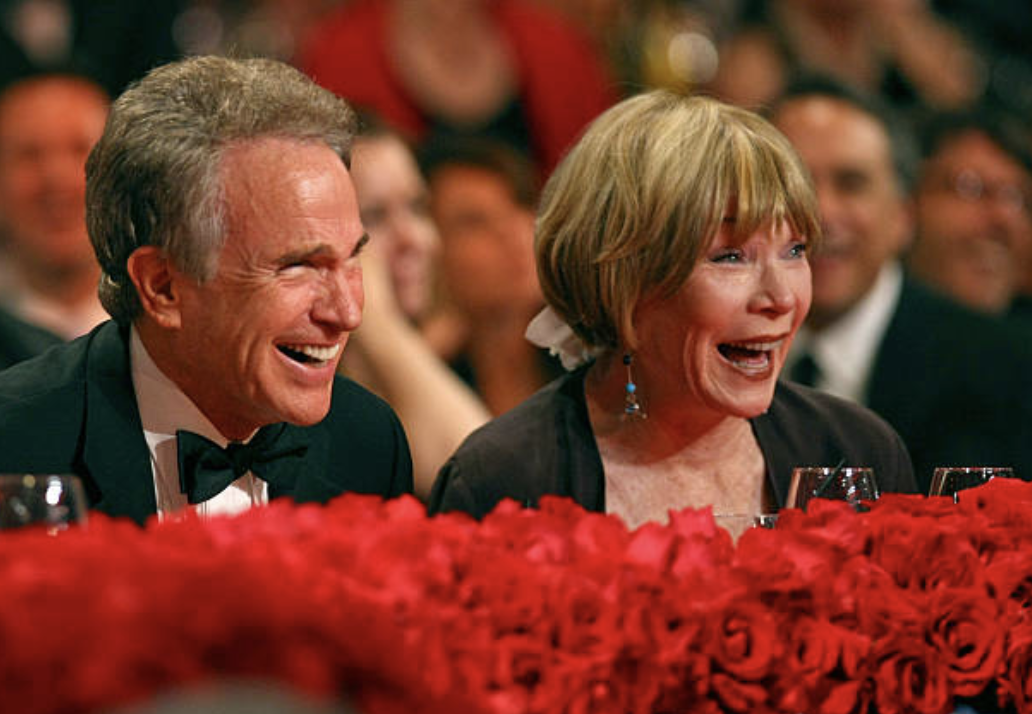 It might not have been initially noticeable after Shirley MacLaine changed her name from Shirley MacLean Beatty. Still, it is now a well-known fact actor Warren Beatty is her younger brother. Despite both quickly becoming famous in their early 20s, they have never co-starred in a film. They both appeared in the 1999 documentary Forever Hollywood.
NICHOLAS CAGE AND FRANICS FORD COPPOLA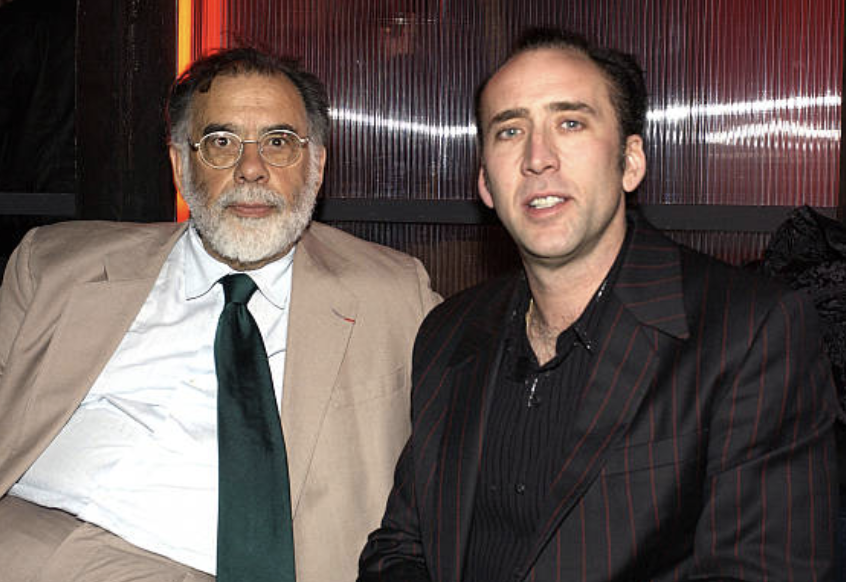 Nicolas Cage had a small role in Fast Times at Ridgemont High when he was 17-years-old, but he was billed in the credits as Nicolas Coppola, not the name we see in his movies now. His uncle is the famed winemaker-filmmaker, Francis Ford Coppola. Not long after, Cage changed his name to prove himself and not use nepotism to rise to the top. 
JASON SCHWARTZMAN AND SOFIA COPPOLA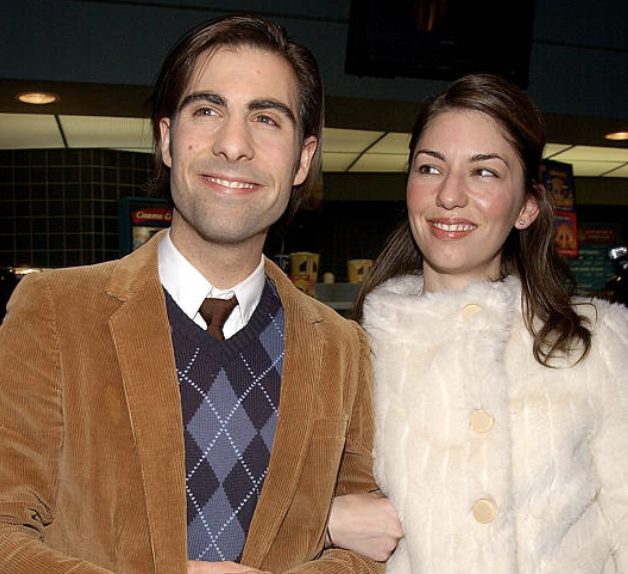 The Coppola family's industry ability spreads beyond Nicholas Cage and Franci Ford Coppola! Coppola's daughter, Sofia, is also an accomplished director, with titles including Lost In Translation under her belt. Francis' sister is Rocky star Talia Shire, whose son is actor Jason Schwartzman, known for Rushmore and a slew of others.
RASHIDA JONES AND PEGGY LIPTON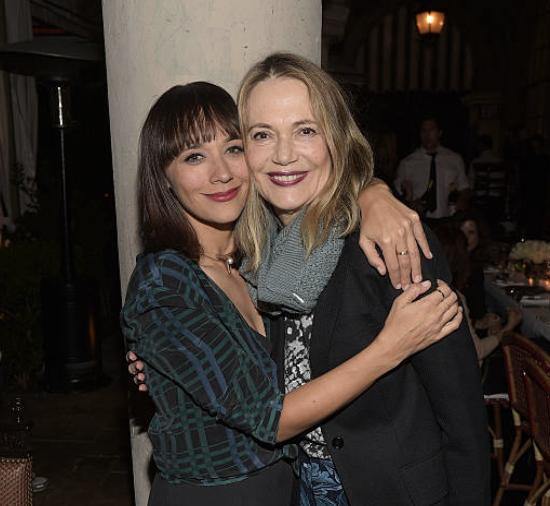 The much-loved actress, known for her role in the drama series The Mod Squad, Peggy Lipton lost her battle with cancer at the age of 72, but her legacy lives on through her daughter, Rashida Jones, whom she had with Quincy Jones. Rashida made a name for herself on the hit shows, The Office (US version) and Parks and Recreation, 
QUINCY JONES AND TUPAC SHAKUR

The Jones family also includes one of the all-time most famous and talked about rappers, Tupac Shakur. Quincy Jones and Peggy Lipton's other daughter is Kadida Jones. She was engaged to the late rapper at the time he was murdered. Kadida still refers to him as the love of her life and says she intended to live out her life with him. 
JAMIE LEE CURTIS AND JANET LEIGH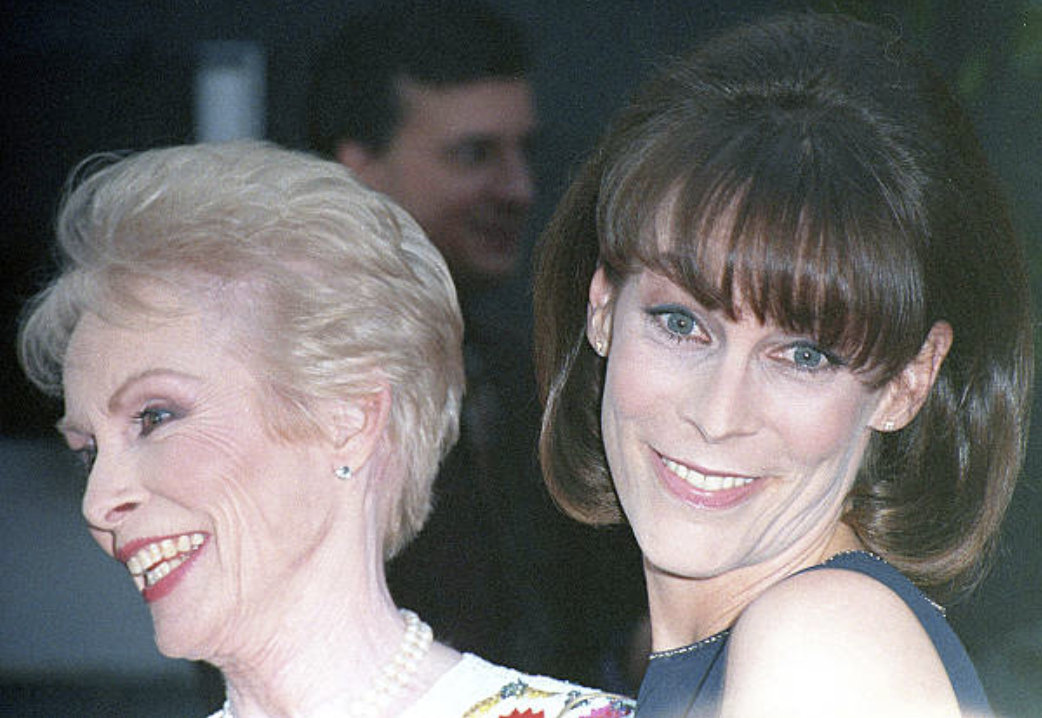 Jamie Lee Curtis is one of many who changed a name, so their legacy status wasn't obvious. Her mother Janet Leigh appeared in the infamous shower scene in Hitchcock's thriller, Psycho. To carve her own legacy, Curtis changed the spelling of her mother's maiden name, although she kept the surname of her father, Tony Curtis. Years later, Jamie Lee Curtis also appeared in a thriller. She starred as Laurie Strode in the Halloween franchise. 
BONNIE BEDELIA AND MACAULAY CULKIN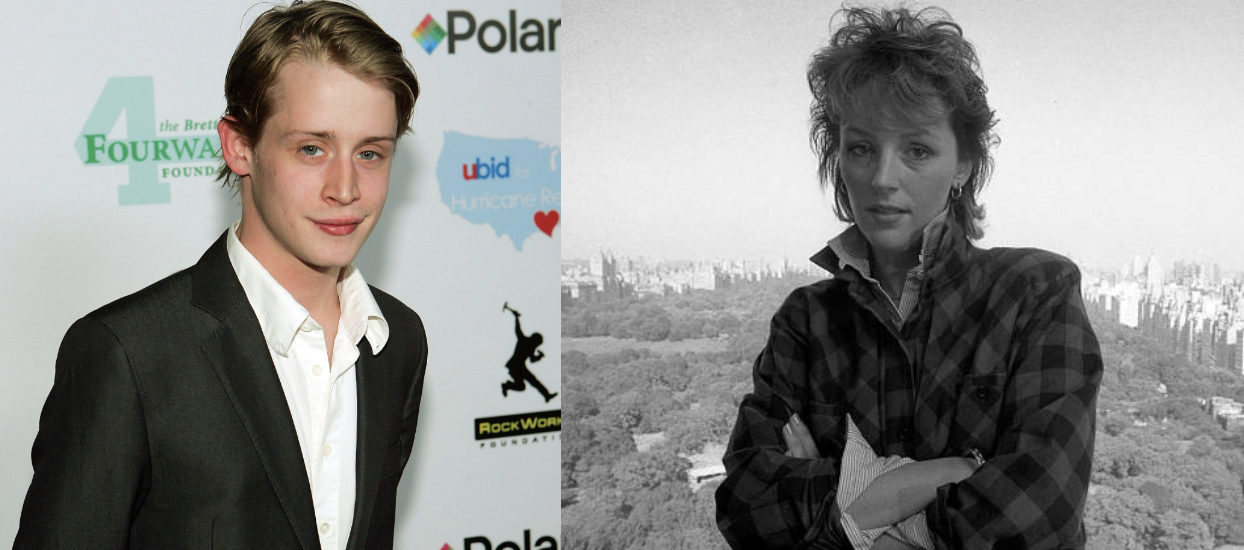 Macaulay Culkin comes from a long like of actors, including his aunt, Bonnie Bedelia, who starred opposite Bruce Willis in hit movie Die Hard. Both have starred in hugely successful Christmas movies! Home Alone ended up becoming one of the top-grossing Christmas-themed films of all time, and Macauley, a famous child star. 
DAMON DASH & STACEY DASH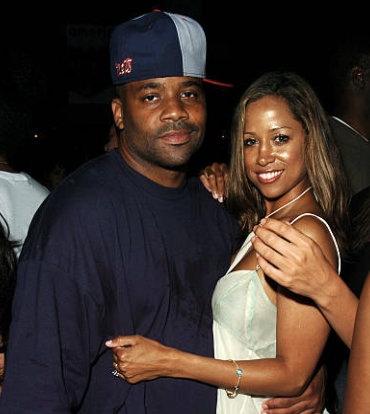 Family relationships are often complex, and the Dash family is no stranger to that! There are times entrepreneur Damon Dash hasn't claimed actress Stacey Dash is, in fact, his first cousin!
BONO AND EVE HEWSON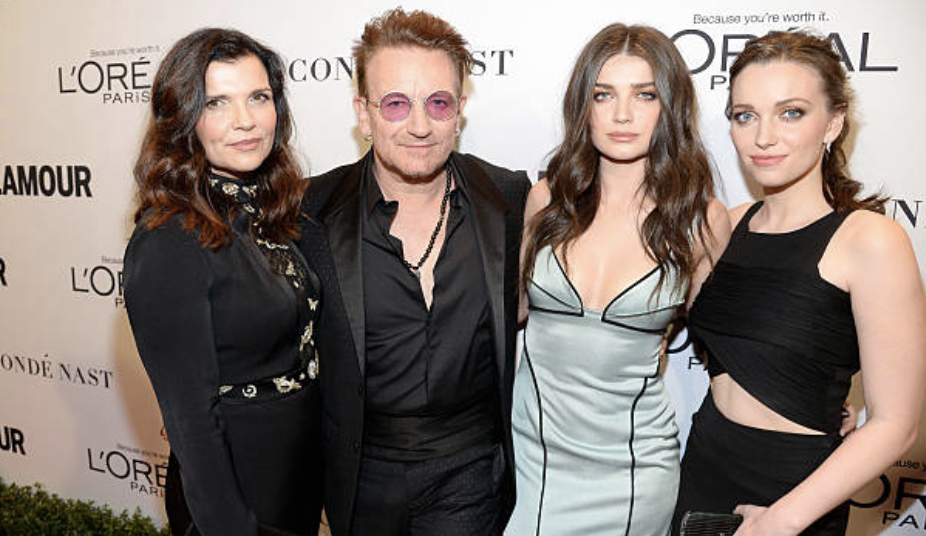 If you thought you saw a resemblance between the star of the television drama series The Knick and the famous singer/songwriter Bono, you were correct. Bono married his wife Ali Hewson in 1982, and together they have four children. Eve followed her father into the limelight. The Irish actress was also cast in a Netflix psychological thriller, Behind Her Eyes.
MARISA TOMEI AND JULIANNE MOORE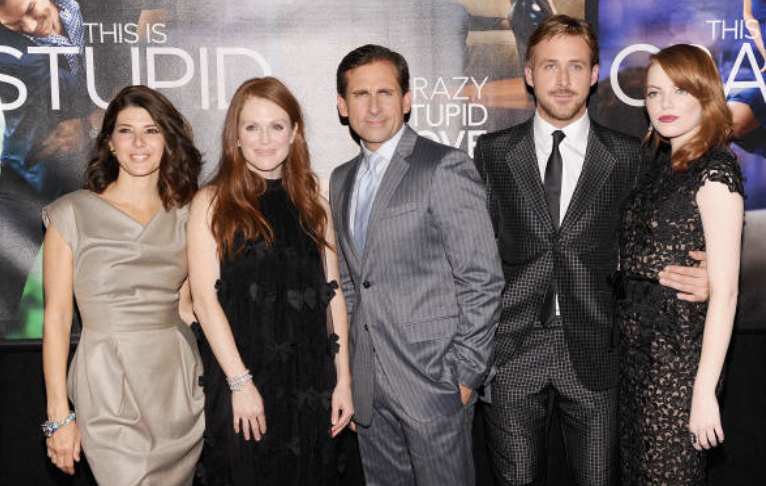 Thanks to the PBS show Finding Your Roots, Marisa Tomei and Julianne Moore discovered they were related. Before finding out about their family history on the series, the Oscar-winning cousins both starred in the 2011 film Crazy, Stupid, Love. Moore played Steve Carell's estranged wife, and Marisa appeared as his fling. 
MATT DAMON AND BEN AFFLECK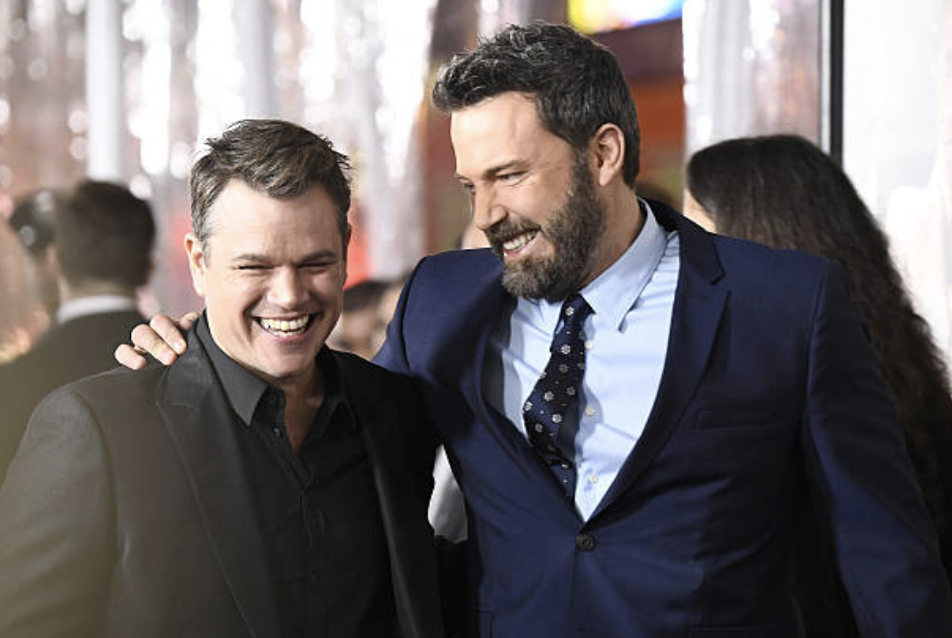 The bond Matt Damon and Ben Affleck share may have to do with more than their mutual interests and life-long friendship. They actually have family trees that go way back. The Boston natives trace their heritage back to an English bricklayer named William Knowlton. He emigrated from England to the colonies in the 1600s. 
ROB SCHNEIDER AND ELLE KING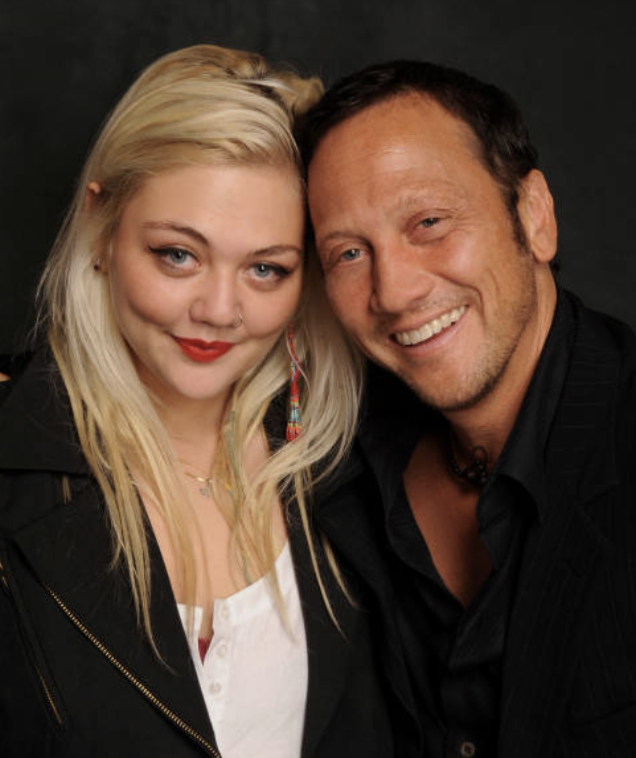 Elle King gained fame with her hit single, "Ex's and Oh's," but already learned the rules of that game from her famous father. Born Tanner Elle Schneider, her father is funny-man Rob Schneider. Elle took her stage name from her mother, London King, a former model.
STEVEN SPEILBERG AND JESSICA CAPSHAW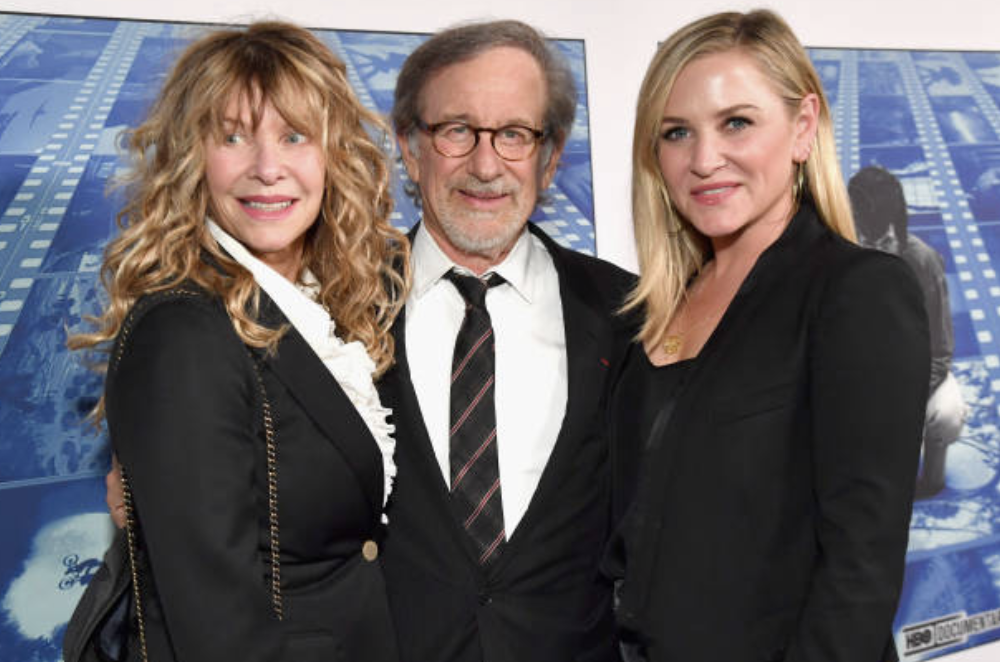 Oscar-winning director Steven Speilberg fell in love with the lead actress of Temple of Doom, Kate Capshaw. When they married, Jessica Capshaw became Speilberg's step-daughter. Capshaw was a series regular on Grey's Anatomy for a bit. 
BLAKE LIVELY AND ROBIN LIVELY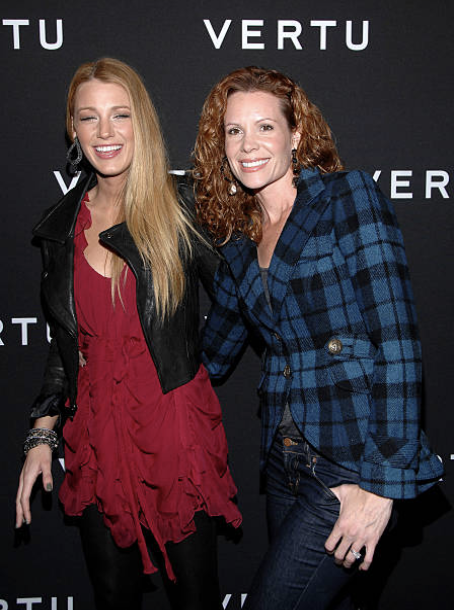 Although they share a last name, most don't know that Gossip Girl and A Simple Favor actress Blake Lively is a half-sister to the Teen Witch actress, Robin. With a 15-year age difference, Robin and blake share mother Elaine Lively, who was a Hollywood talent scout.
LIONEL RICHIE & SOFIA RICHIE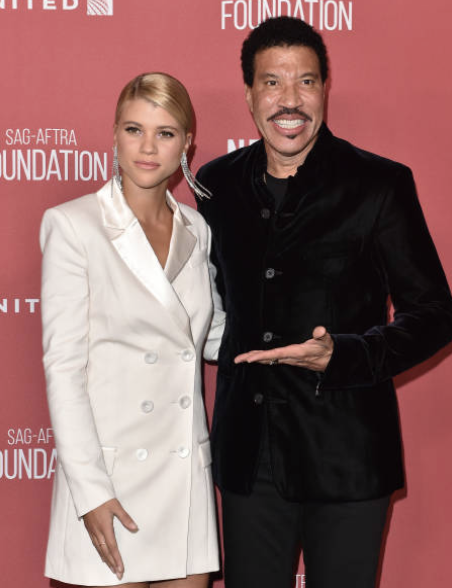 Model Sofia Richie is singer Lionel Richie's daughter! Her godfather was Michael Jackson, and she's rumored to have said that the visits to Jackson's Neverland Ranch are some of her favorite childhood memories. She also reportedly became friends with Jackson's daughter, Paris. Nicole Richie isn't related by blood to either. The actress was adopted at a young age.
SHEILA E & NICOLE RICHIE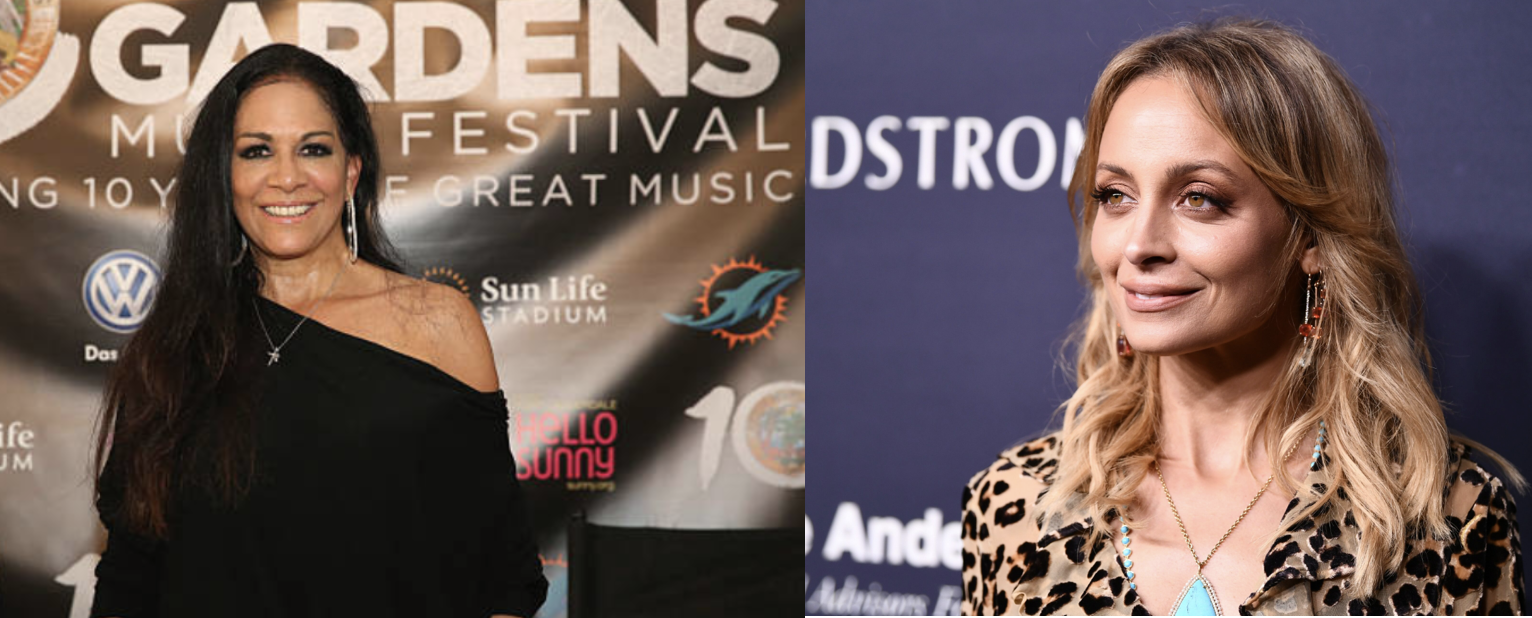 However, iconic drummer Sheila E is the biological aunt to Nicole Richie. Sheila E played with George Duke, Lionel Richie, Marvin Gaye, Herbie Hancock, Diana Ross, and, yes, Prince. 
TIMBALAND AND PHARRELL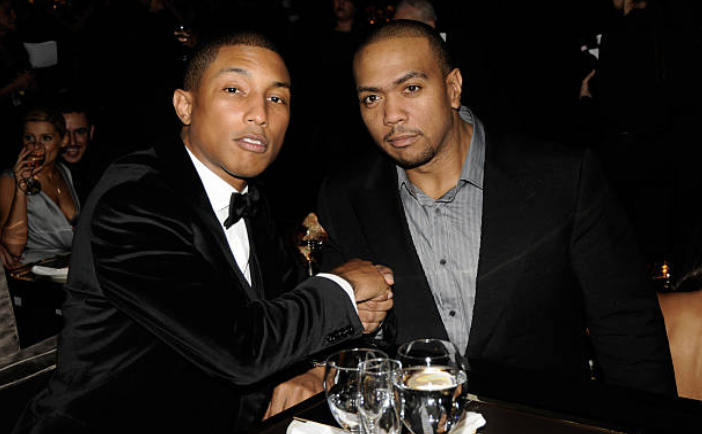 Timbaland is the cousin of the hit-making producer/artist, Pharrell! They're related through their grandmothers. On "The Cruz Show," Timbaland revealed that he and Williams were in a musical group together called, Surrounded by Idiots.
JUSTIN BIEBER AND RYAN GOSLING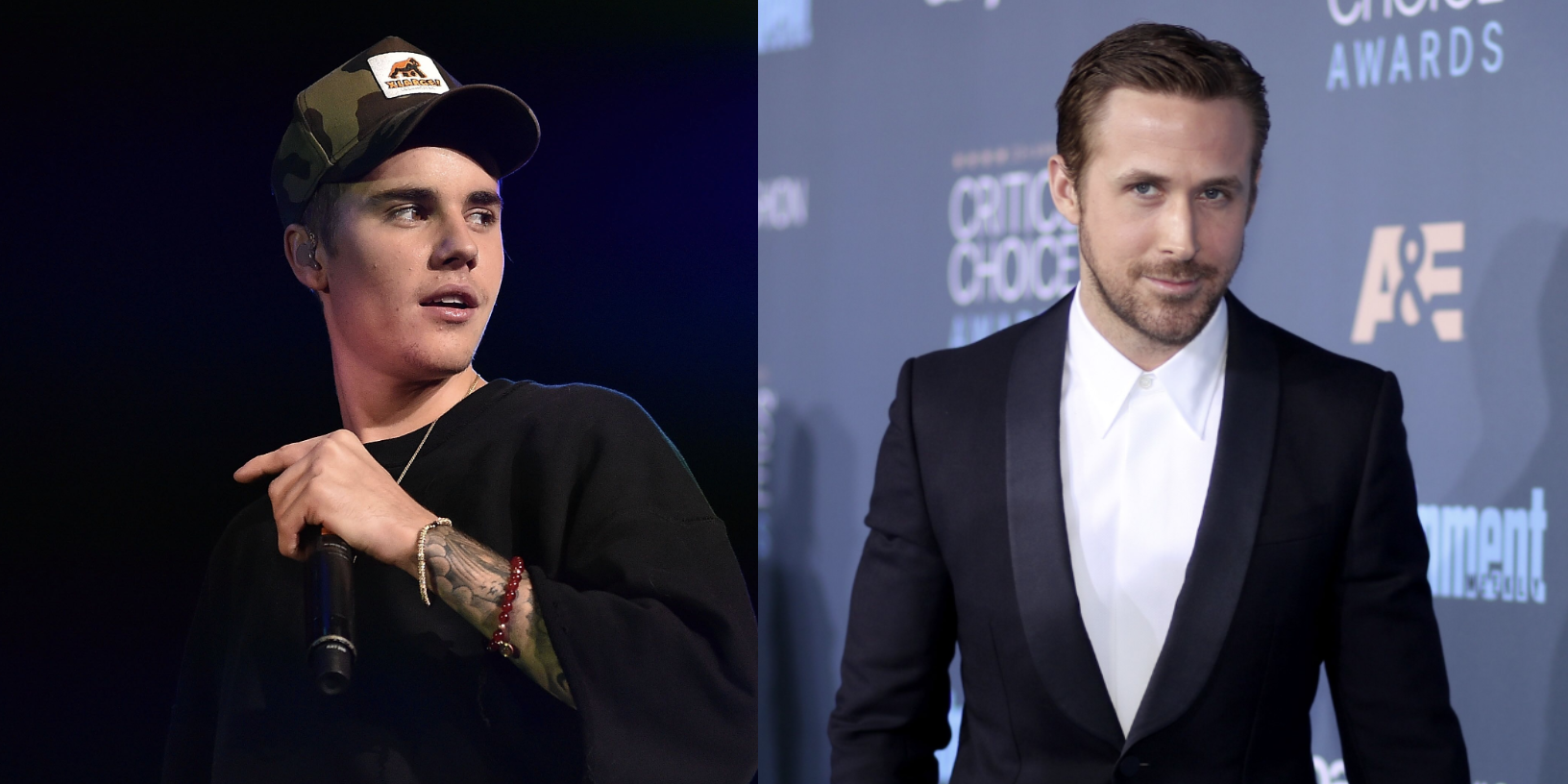 Two of Hollywood's biggest heartthrobs are related! Justin Bieber posted his family tree on Instagram to show that he is 11th cousins with Gosling, once removed. Singer Avril Lavigne is also related to Bieber, as his 12th cousin. Exclaim explained: "Bieber's 11th great-grandparents are Gosling's 10th great-grandparents, with Lavigne's slightly more immediate family branching off from Bieber's third cousin nine times removed."
DAKOTA FANNING AND THE DUCHESS OF CAMBRIDGE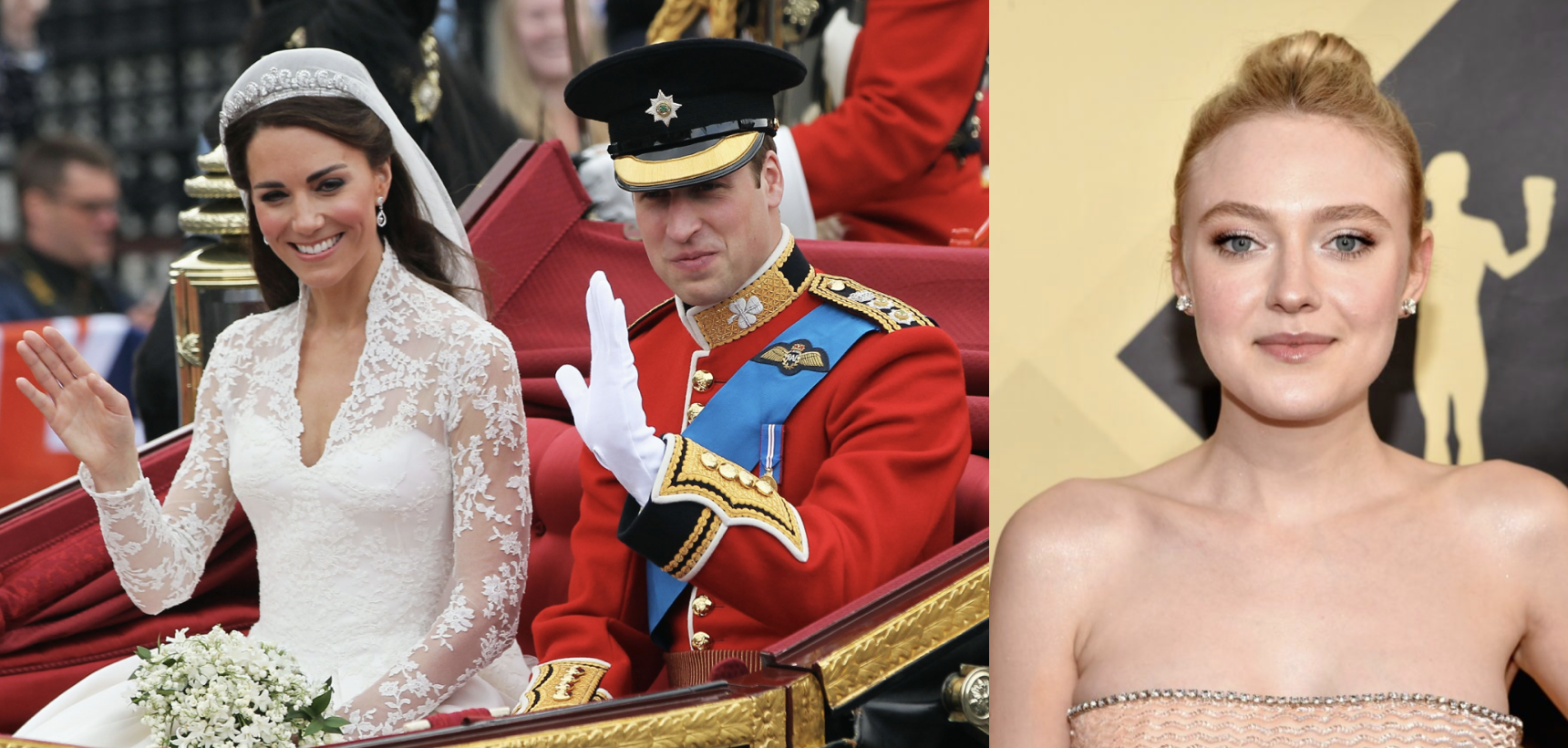 Twilight actress Dakota Fanning and Kate Middleton, the Duchess of Cambridge, are both distant relatives of King Edward I, making them cousins! Meaning Fanning is not only related to historical royalty but modern-day! Apparently, Middleton already had royal heritage before she married the Prince.
PRINCE CHARLES AND RALPH FIENES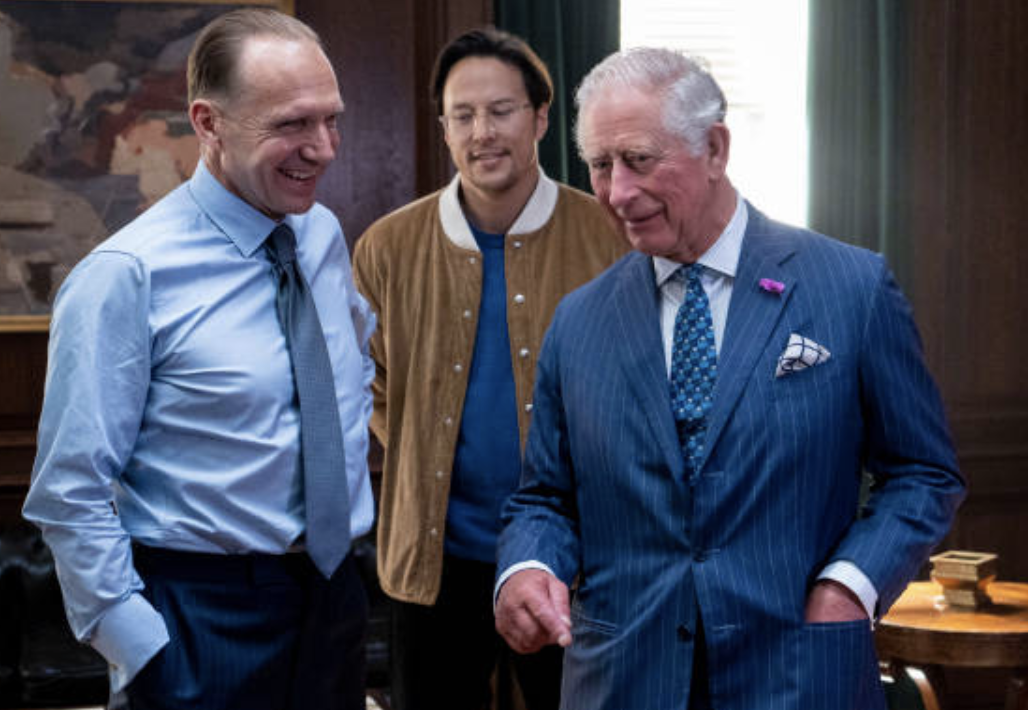 Ralph Fiennes is quite a successful actor, starring in blockbusters that include the Harry Potter franchise, James Bond, and The Grand Budapest Hotel. But he is also related to Prince Charles, the first in line to the British throne! The Prince and actor are eighth cousins, and their shared heritage can be traced back to King James II of Scotland.
AL ROKER AND LENNY KRAVITZ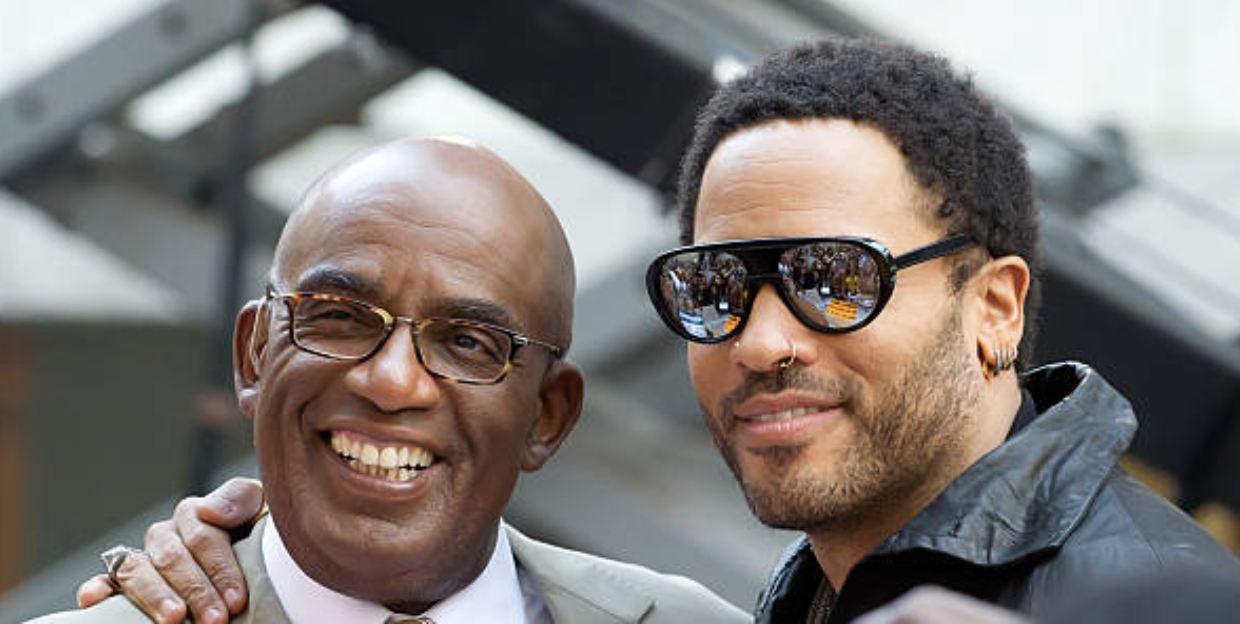 Lenny Kravitz's mother was Roxie Roker, shares a last name with the same origins as the TV anchor, Al Roker - making Al Roker and guitar genius Lenny Kravitz distant cousins! When Kravitz appeared on The Today Show in 2011, the two joked about their relations of being second cousins. Kravitz's mother, Roxie, was famous for playing Helen on The Jeffersons.
GEORGE WENDT AND JASON SUDEIKIS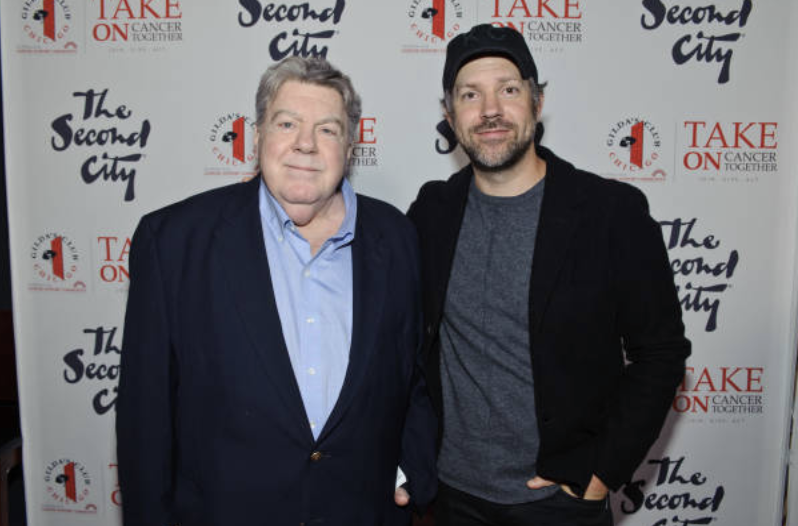 Who didn't love George Wendt as the beer-guzzling "Norm" on the hit '80s/'90s sitcom Cheers? Growing up, Jason Sudeikis used to try to get autographs from his favorite celebrities on the show. It wasn't too hard for him, though. Wendt is his uncle, and Sudeikis often tagged along to the set! Sudeikis made his name in the industry as a comedian and actor, starring in many notable movies. His most famous films include Horrible Bosses, and We're The Millers.
RILEY KEOUGH AND ELVIS PRESLEY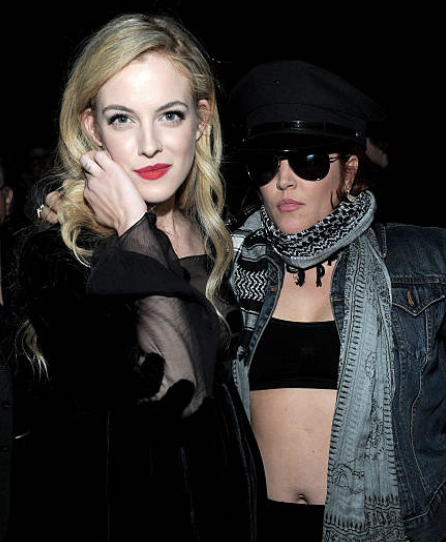 Being a descendant of The King of Rock n' Roll is definitely cool. American actress, model, and producer Riley Keough's mother is none other than Lisa Marie Presley, Elvis Presley's daughter! Elvis was her grandfather! Though he passed in 1977 and Keough never met him, she still has some incredible and iconic heritage.
CHRISTIAN BALE AND GLORIA STEINEM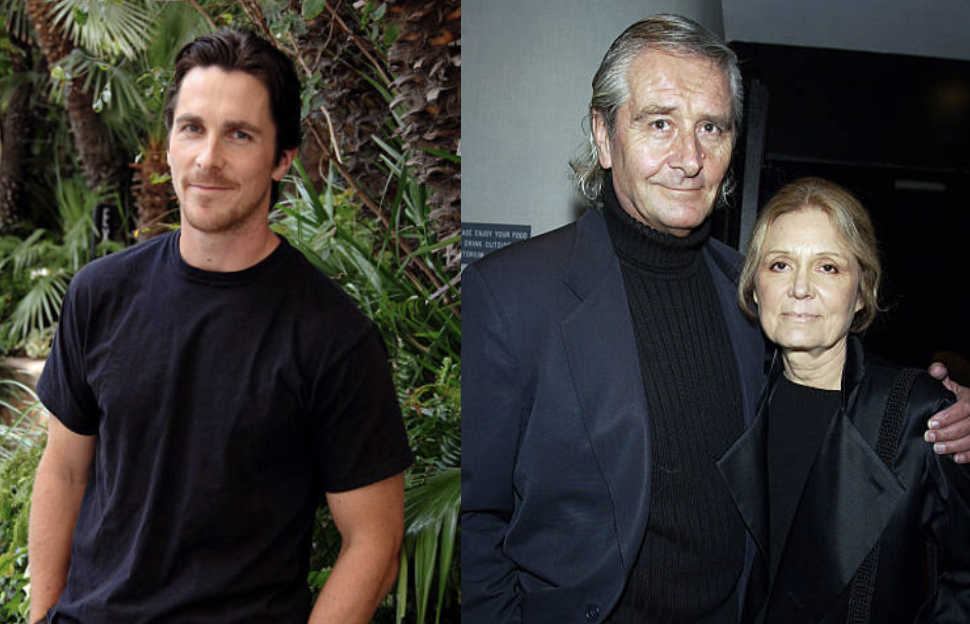 The famed feminist, activist, and author Gloria Steinem and Batman actor Christian Bale has more in common than being controversial at times. In 2000, Steinem married David Bale, Christian's father. The two were married until David died in 2003. 
JOHNNY DEPP AND QUEEN ELIZABETH II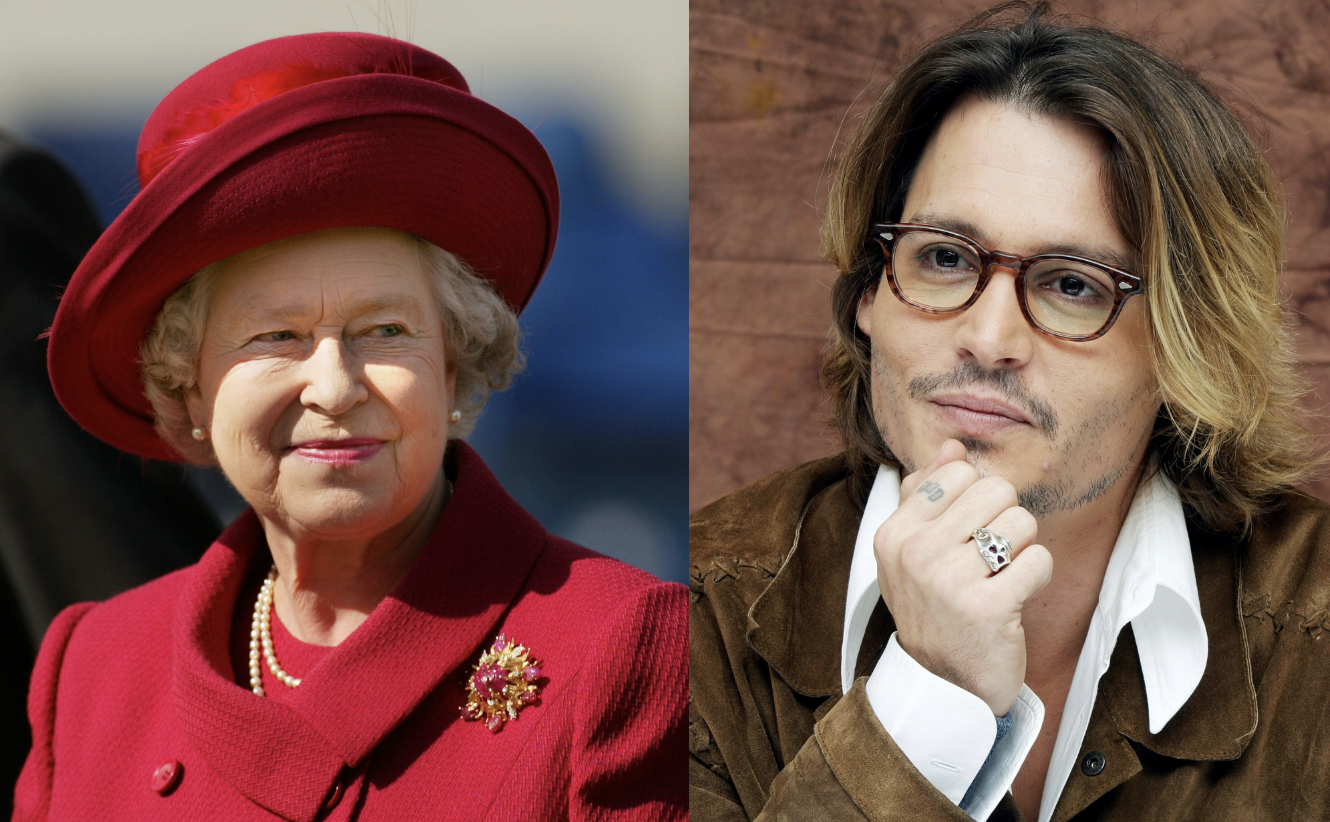 Both Depp and the Queen are descendants of Edward III. The actor is a 20th cousin of the British monarch. One branch of Depp's anecstral tree descended from Sir William Gascoigne and his wife Margaret Percy.
HILARY DUFF AND QUEEN ELIZABETH II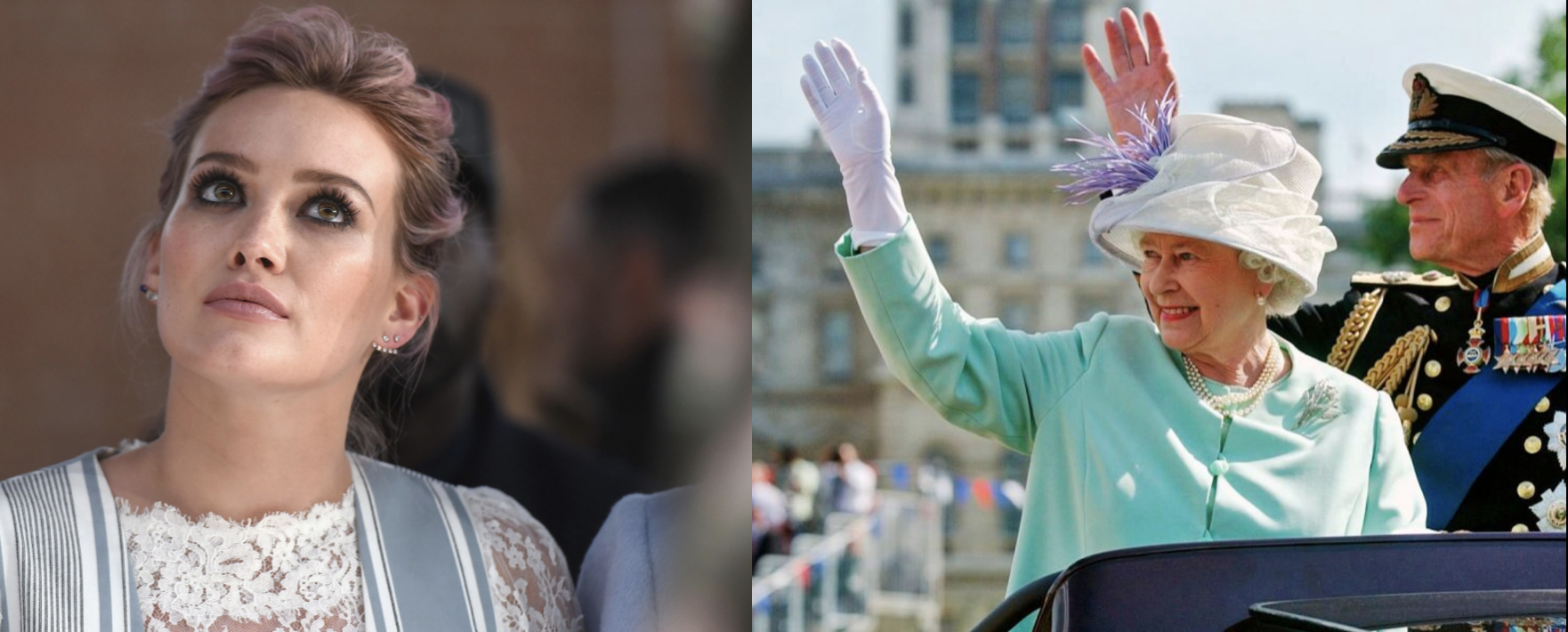 As an 18th cousin, the Younger star is reportedly the closest American celebrity relative of Queen Elizabeth II. Duff reportedly knew that her dad, Robert Duff, came from a prominent, well-off family, but knew little of her mother Susan Colleen Cobb's familial history. Experts traced her story and discovered that her 21x-great grandfather was 13th century royalty and one of the most prominent figures in Scottish history - the King of Scots, Robert the Bruce!
BARBRA STREISAND AND JOSH BROLIN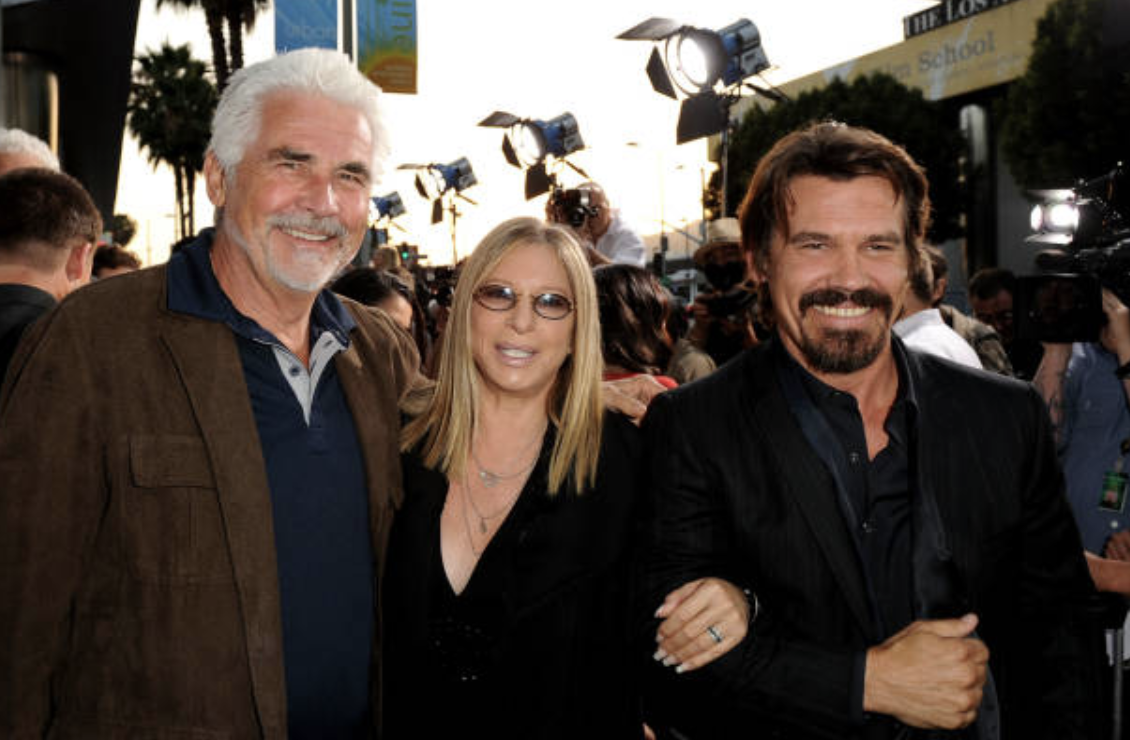 Barbra Streisand brings immediate visions of Broadway, Yentl, and Meet The Fockers. But, she's also stepmother to Josh Brolin. Josh's father, James Brolin, and Barbra have been married since 1998. The younger Brolin has said Streisand is a "very typical Jewish Grandmother" who adores and dotes on his younger daughter.
SNOOP DOG AND BRANDY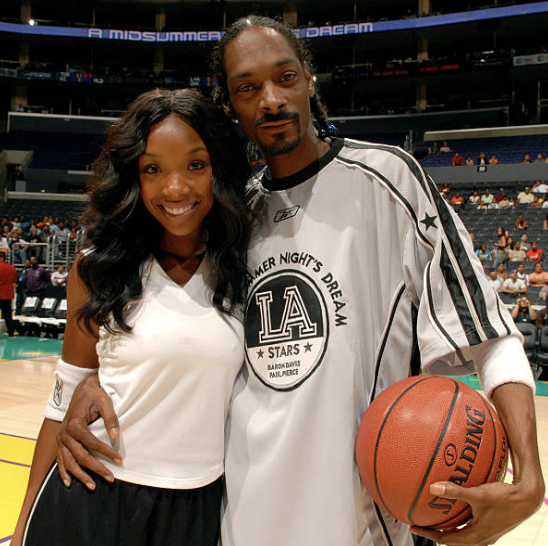 When people hear actress and singer Brandy's family, they probably think of her brother, singer Ray J. But they have another very famous family member who's a tad more famous than them. Snoop Dogg is their first cousin! It was a well-kept secret for years, but they outed themselves, with Snoop saying, "We never really told the world because we weren't trippin' off of that, but that's my family."
BRYCE DALLAS HOWARD AND RON HOWARD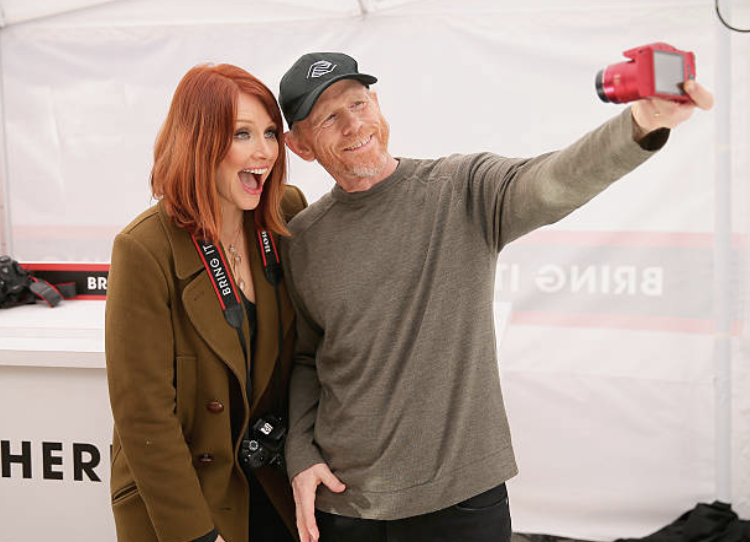 Bryce Dallas Howard made a name for herself when she debuted as Bryce Dallas, initially dropping her famous father's last name. Hilariously, her father, Ron Howard, mistook actress Jessica Chastain for his daughter at a press event. Perhaps Bryce also avoided using the Howard name because Ron told the world that her middle name paid homage to the city where she was conceived!
GOLDIE HAWN AND KATE HUDSON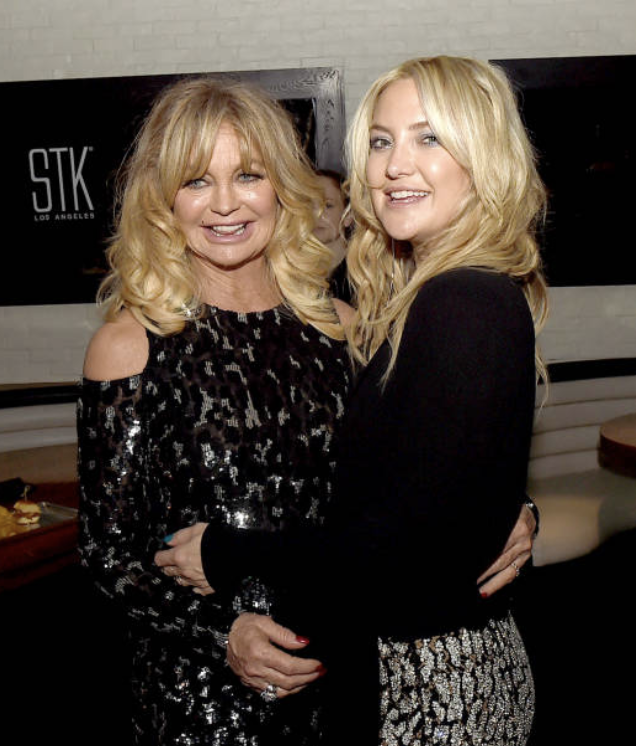 If you noticed the resemblance or saw these two out and about or on red carpets together, it is because they are mother and daughter. Actress Goldie Hawn was married to and had two children with Bill Hudson. One of them was actress Kate Hudson. Since her divorce, Goldie has been with Kurt Russell for a few decades, with whom she has one child, Wyatt Russell. The two never married. 
TRACEE ELLIS ROSS AND DIANA ROSS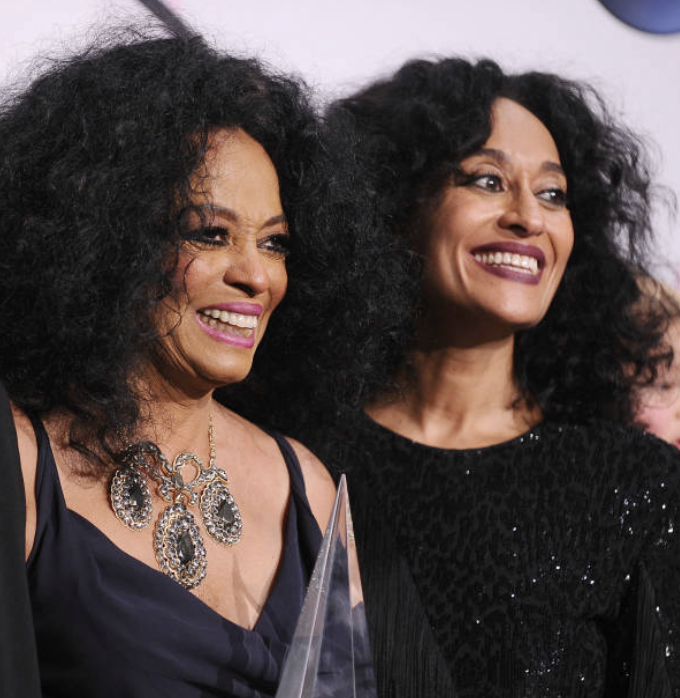 The star in Golden Globe-winning series Black-ish, Tracee Ellis Ross, has done quite well outside her mother, Diana Ross' shadow. Diana is often seen supporting her daughter at award shows and events. Not long ago, Tracee returned the favor, joining her mother on stage during one of her Las Vegas shows.
GWYNETH PALTROW AND KATHERINE MOENNIG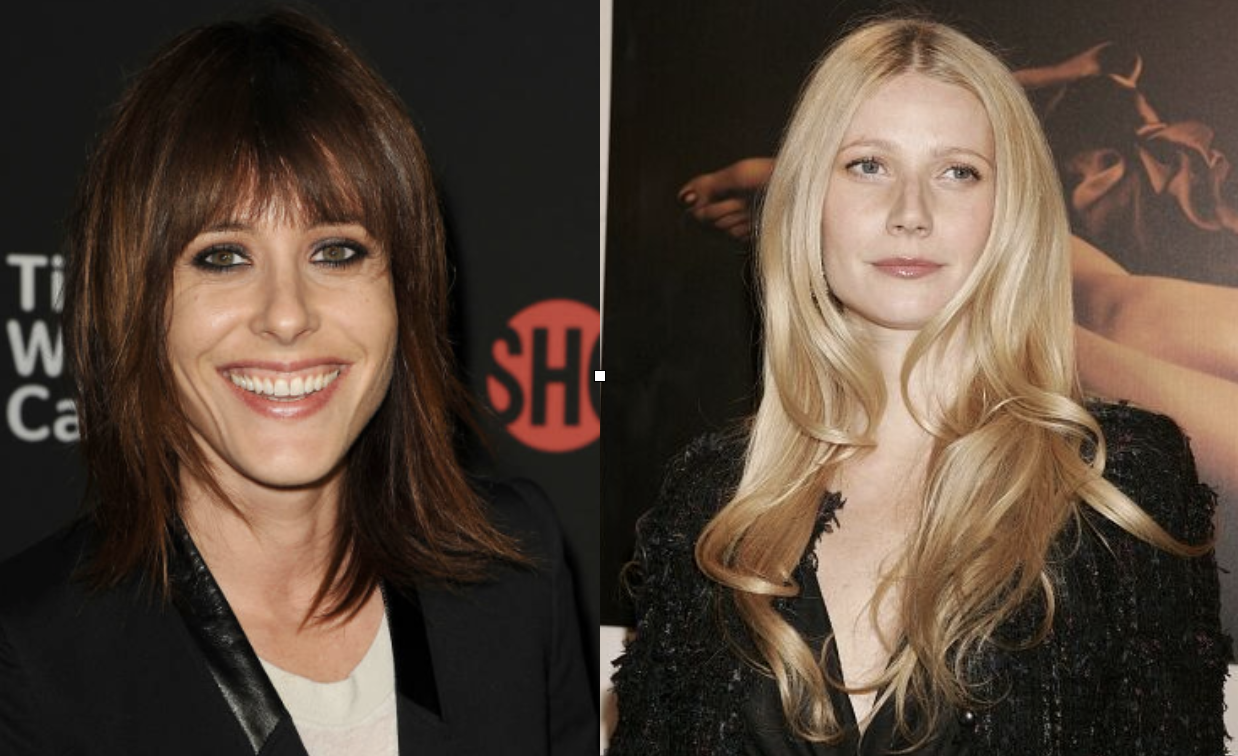 American actress Katherine Moennig is most known for her role as Shane McCutcheon on The L Word, and recently, Ray Donovan. But did you know her paternal cousin is award-winning actress and GOOP founder, Gwyneth Paltrow? Moennig's friends have been known to call her "Alt.Gwyn" due to their completely different styles and appearances.
KIEFER SUTHERLAND AND SARAH SUTHERLAND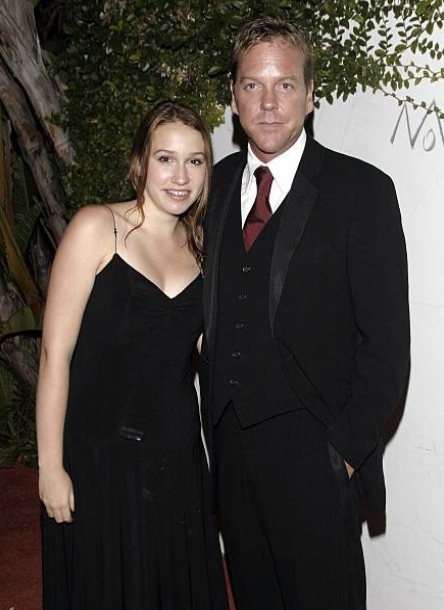 The Sutherland family has made quite an impact on Hollywood!. Keifer Sutherland got into acting from his father, Donald Sutherland, whose acting career has stretched more than five decades. Keifer's daughter, Sarah, also joined the family business, appearing in Veep as Selena Myers' daughter and is set to star in the 2020 Drama Like a House on Fire. Keifer named his daughter after fellow Brat Pack-era star Sarah Jessica Parker. 
ALEXANDER SKARSGARD AND STELLAN SKARSGARD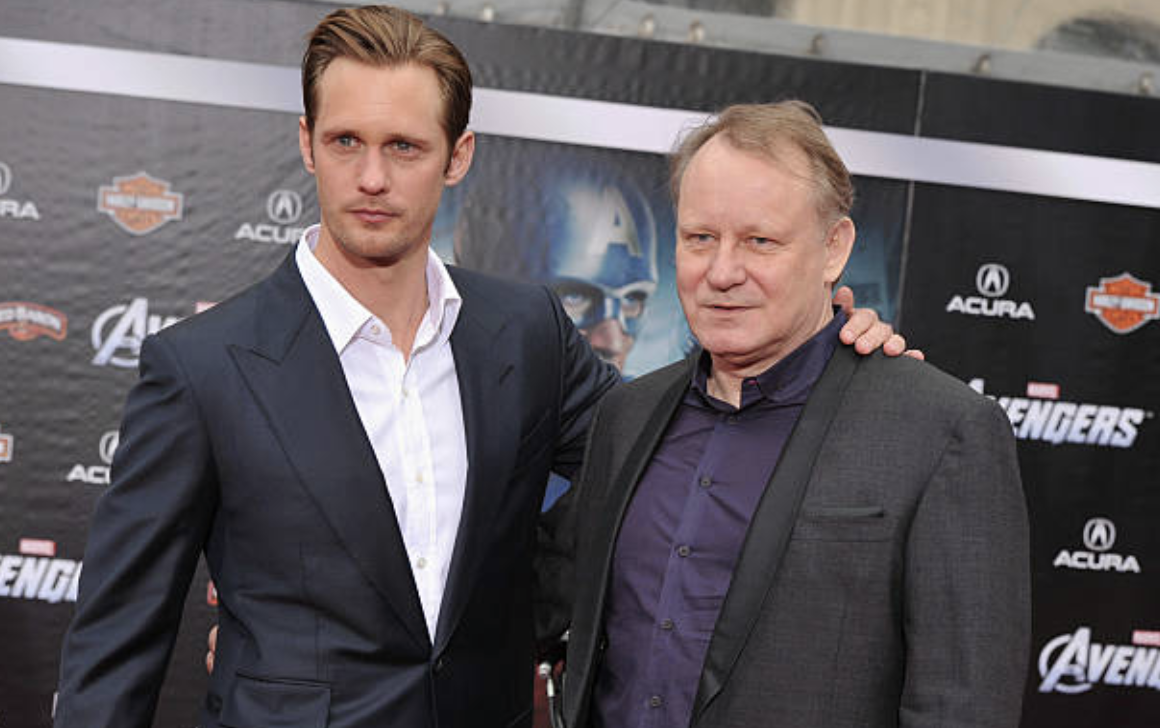 Alexander Skarsgard often talks about his father's skill as a chef, but Stellan Skarsgard has also been hailed for his roles in Breaking the Waves and Good Will Hunting. He also had a significant role in Marvel franchise movie Thor. Alexander followed in his footsteps with equally substantial roles in Tarzan, and HBO shows True Blood and Big Little Lies.
ALFIE ALLENA AND LILY ALLEN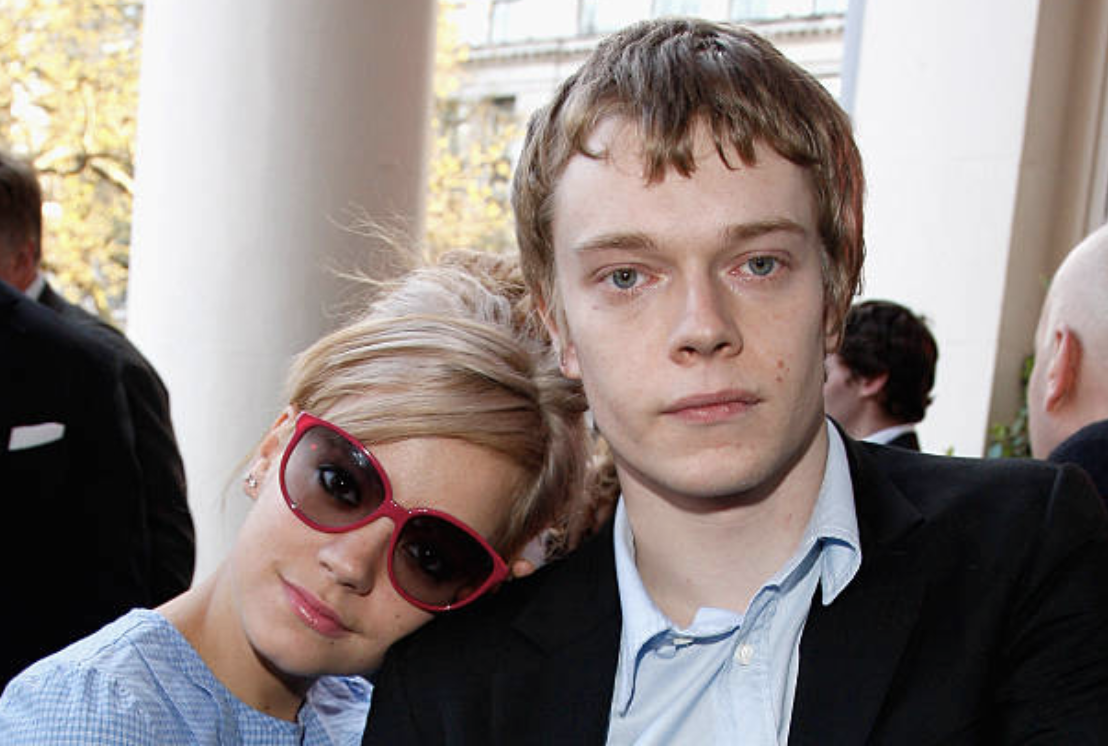 Their mother, Alison Owen, is one of the most prominent English film producers. Their father actor, Keith Allen, is a well-known Welsh actor and television presenter. Lily and Alfie have plenty of entertainment in their blood. Lily Allen is a prominent singer, belting out hits including Smile and The Fear, which earned Grammy nominations. Alfie Allen shared his parent's interest in acting and won the coveted role of Theon Greyjoy in the HBO series Game of Thrones.
JASON PATRIC AND JACKIE GLEASON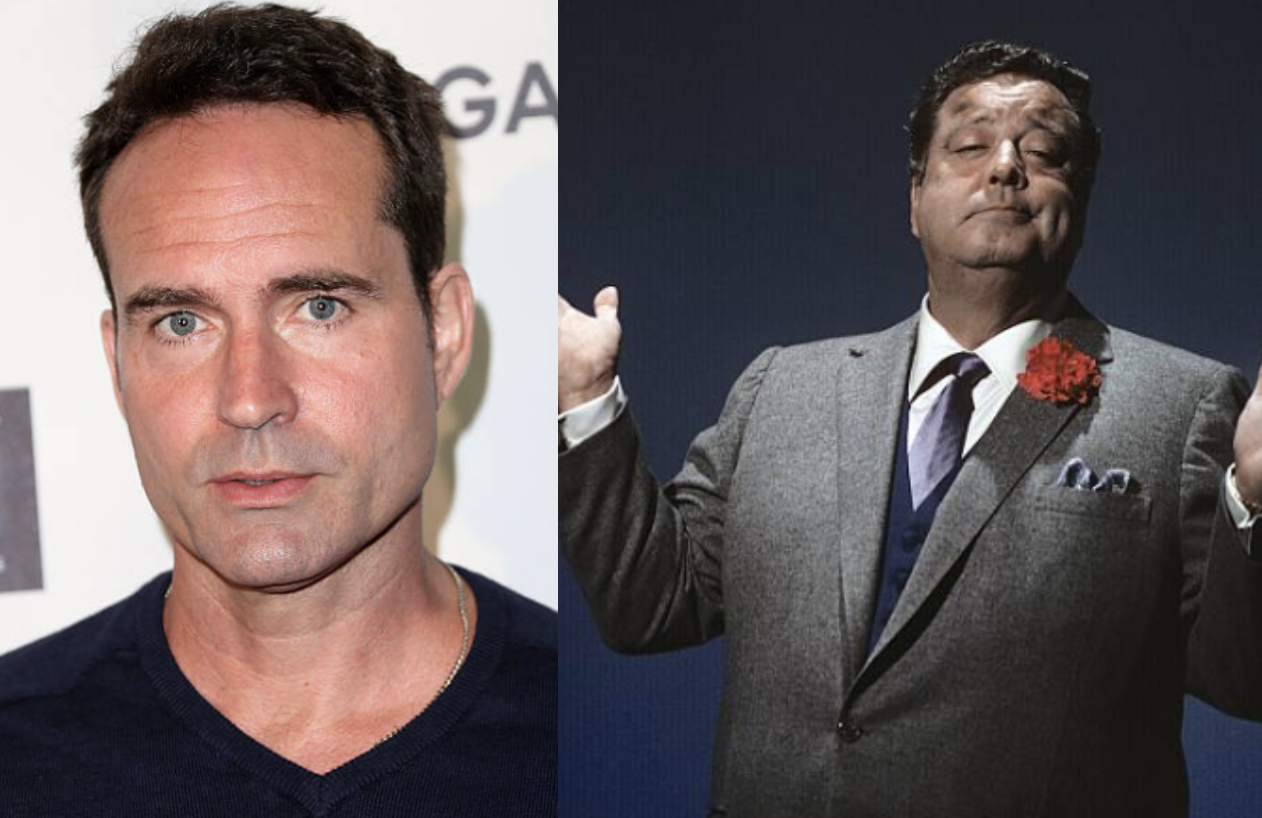 Jason Patric is best known for his roles in The Lost Boys, Sleepers, Rush, and Speed 2: Cruise Control. His father was actor/playwright Jason Miller who won a Pulitzer Prize and Tony Award. However, his grandfather was The Honeymooners and The Dukes of Hazzard star Jackie Gleason! Patric's father, Jason Miller, married Jackie Gleason's daughter Linda Miller. 
MADONNA AND HILARY CLINTON

Clinton revealed on The Ellen DeGeneres Show that she and the Queen of Pop are 10th cousins. The politician and Madonna share the same great-great-great-great-great-great-great-great-great-grandparents, who were 17th-century  Quebec residents. It turns out Clinton also has blood-ties to Anon other than Angelina Jolie! Well, it seems as though the two are 9th cousins twice removed. They are both related to another Quebec-er, Jean Cusson, who died in St. Sulpice, Quebec, in 1718.
HALLE BERRY AND SARAH PALIN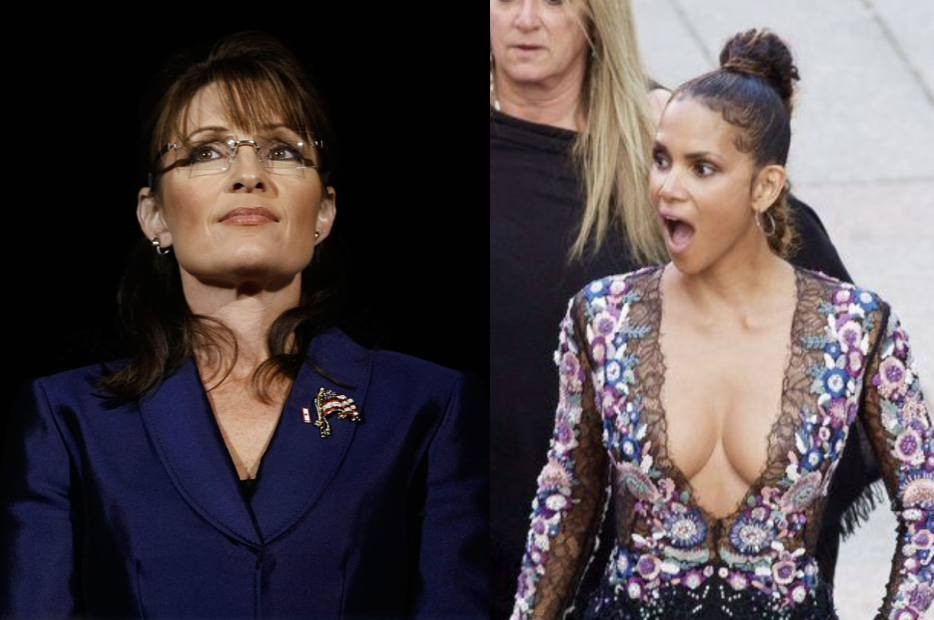 The actress revealed in October 2012 that she is related to the former Alaska governor, but didn't elaborate on how only that someone sent her the information that Palin is a distant relative.
BEYONCE AND BIANCA LAWSON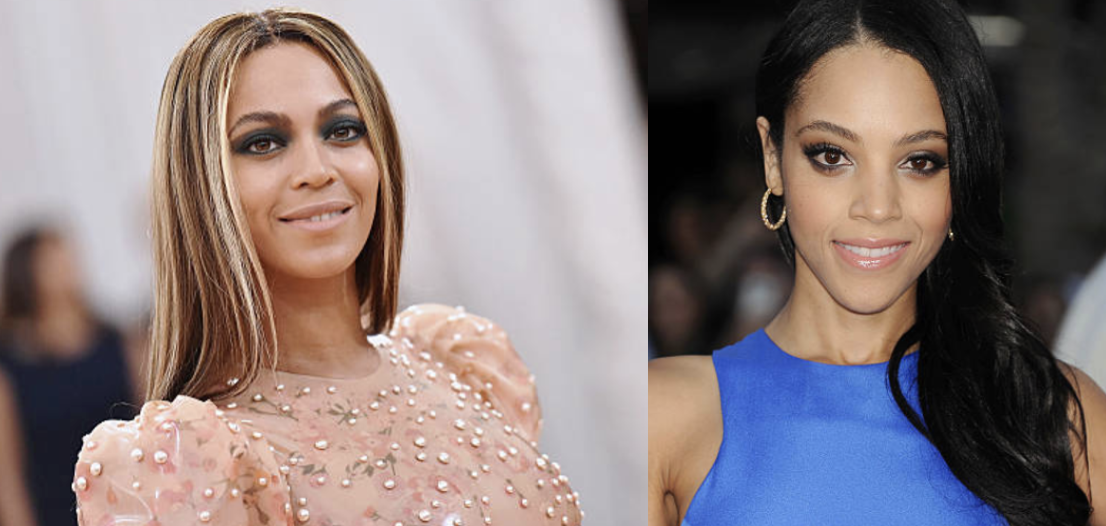 Everyone and their dog knows about Queen Bey and Solange - but did you know there is another sibling? Sort of. Bianca Lawson's father, Richard Lawson, married Beyoncé's mother, Tina Knowles. The two famous families became intertwined — making Bianca and Beyoncé step-sisters! Lawson was already an actress (in Pretty Little Liars, Saved by the Bell) before the marriage.
LIEV SCHREIBER AND PABLO SCHREIBER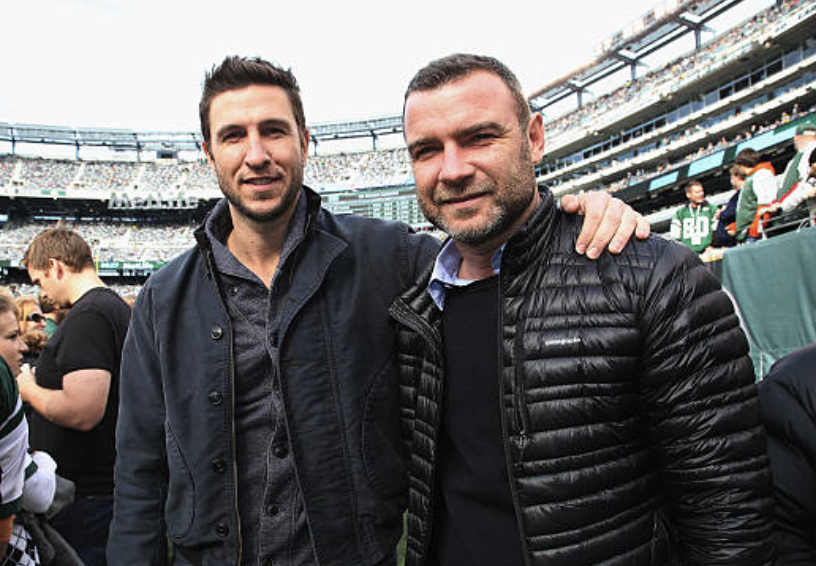 You probably know Pablo Schreiber as "Pornstache" from Netflix's "Orange Is the New Black. He also joined Weeds towards the end of the series. And, he's the half-brother of Liev Schreiber, who starred in "Defiance" and "X-Men Origins: Wolverine," and in the title role in Ray Donovan. They've been in one movie together and spend time together off-screen.
If the celebrities were shocked about their ancestral ties, we were blown away by them! There are also a few familial jam sessions we'd love to happen! There are bound to be so many more we haven't found yet, so if you see any we missed, just add them in the comments below!