Alan Alda of MASH and His Wife Are Proud Parents of Three Beautiful Daughters
Famous for his portrayal of the boozing, womanizing, Korean War-era surgeon, Alan Alda couldn't be less like the character "Hawkeye" from M*A*S*H*. He and his wife, Arlene, have been married for an impressive 62 years, and together they have three daughters and eight grandchildren! The award-winning actor and director stayed firm as being first and foremost a family man. He may have referred to the M*A*S*H* cast being "a dysfunctional family," but his real-life family was far from it. Let's get familiar with the Alda family.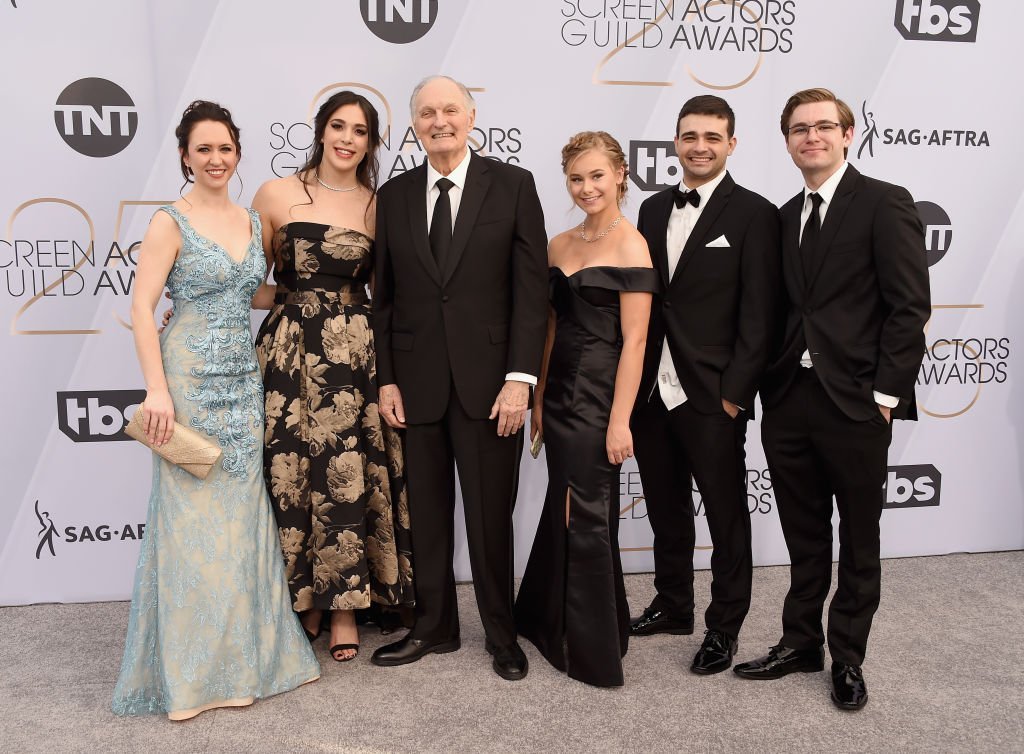 ALAN ALDA
Born in 1936, in New York City, Alda made his Broadway debut in 1959 and his film debut in 1963. But, his successful career began many years earlier. Alda's father was also an actor and burlesque performer, which led to the family rarely staying in one place for very long.
When he was two-years-old, the family was in Toronto for one of his father's shows. The senior Alda had an idea to photograph young Alda smoking a pipe for the Toronto Daily Star to spark a bit of sensation. The headline read "CHILD OF TWO SMOKES PIPE; ONCE BROKE MOTHER'S NOSE."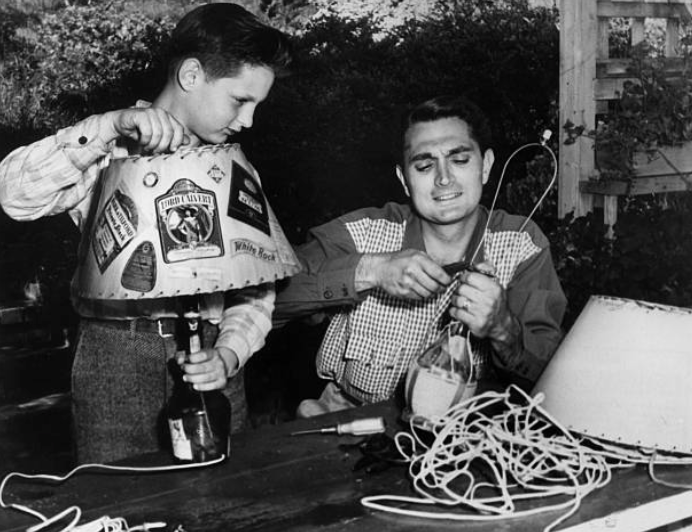 But his childhood was more of a drama than comedy. A former beauty queen, his mother was mentally unstable, and he suffered a bout of polio as a child. He was given a painful treatment regimen, consisting of applying hot woolen blankets to his limbs and stretching his muscles.
In 1956, a student at Fordham University in the Bronx, Alda met Arlene Weiss. Weiss was attending nearby Hunter College. They bonded at a mutual friends dinner party when a rum cake accidentally fell onto the kitchen floor. Alda and Weiss were the only two guests who did not hesitate to eat it. A year after his graduation, they were married.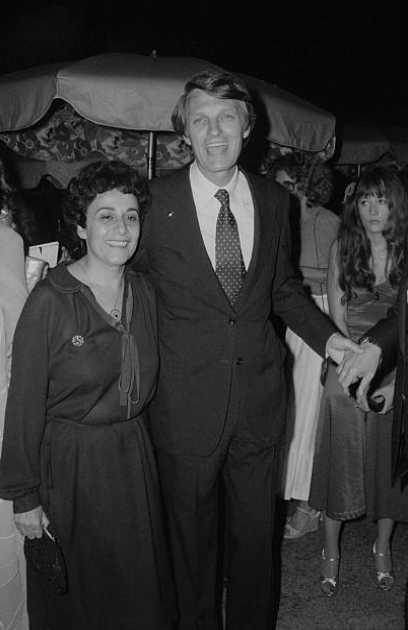 After M*A*S*H* Alda mainly focused on his film career, appearing in comedies like Sweet Liberty and A New Life, which he also wrote and directed.
He also worked with director Woody Allen several times, including the films Crimes and Misdemeanors and Manhattan Murder Mystery. His last film with Allen was Everyone Says I Love You in 1996, in which he reunited with his former M*A*S*H co-star David Ogden Stiers.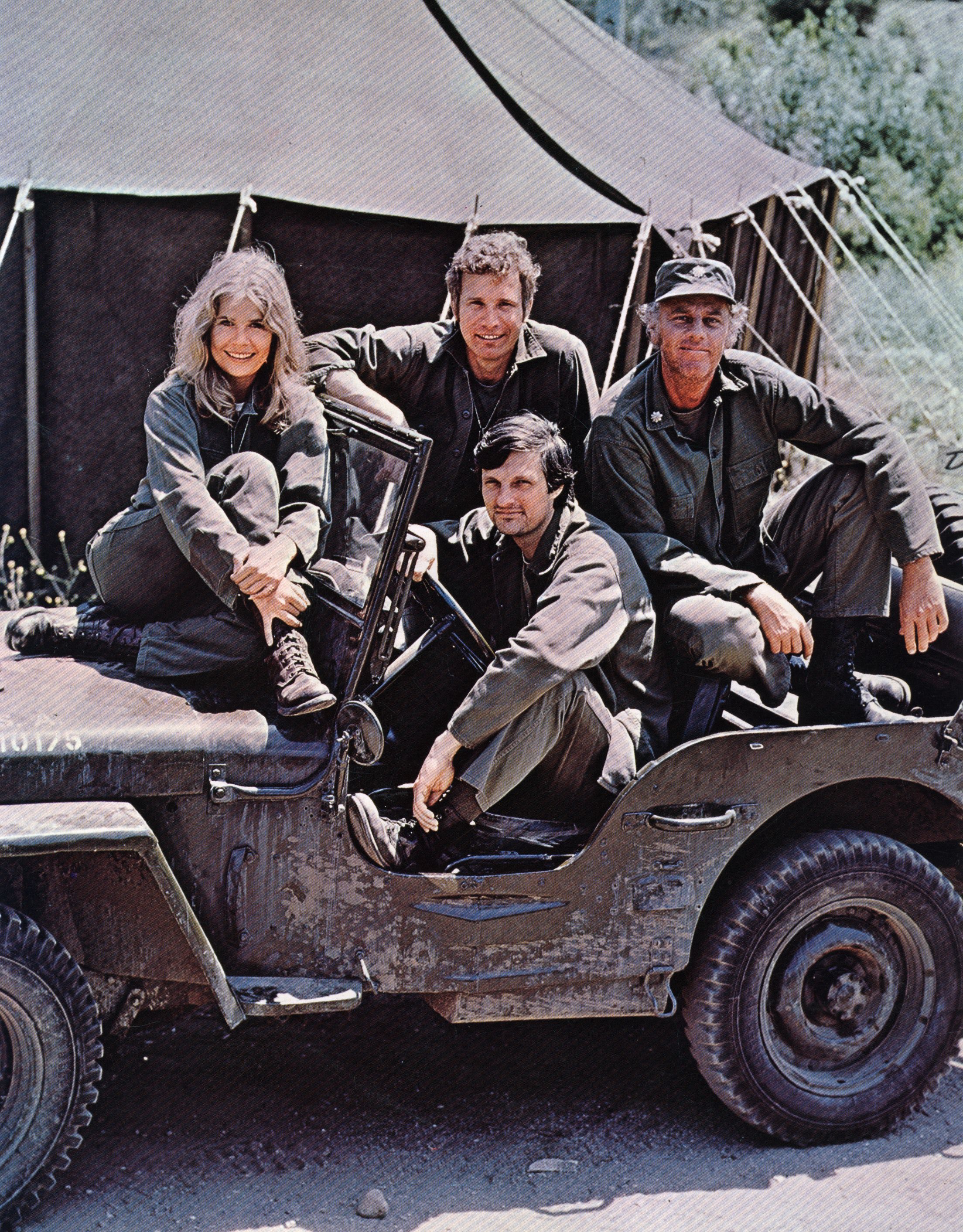 He portrayed the President of the United States in Michael Moore's political satire Canadian Bacon. Around this time, there were rumors Alda was considering a run for the United States Senate in New Jersey. However, Alda has always denied this. In 1996, he played Ford Motor Company's Henry Ford in Camping With Henry and Tom and appeared in the comedy Flirting with Disaster. In 1999, Alda appeared on ER for five episodes, which earned him a nomination for Primetime Emmy Award for Outstanding Guest Actor in a Drama Series. He also became a regular cast member on NBC's The West Wing, until the show's finale in 2006.
During this time, he also hosted Scientific American Frontiers, which began on PBS in 1990. He joined the series during the fall season of 1993 until it ended in 2005. In July 2018, Alda started hosting a podcast titled Clear + Vivid with Alan Alda and appeared in Season 6 of Showtime's Ray Donovan. To date, Alda has received 31 Emmy Award nominations, two Tony Award nominations, won seven People's Choice Awards, six Golden Globe Awards, and three Directors Guild of America awards. He received his first Academy Award nomination for his role in The Aviator in 2005.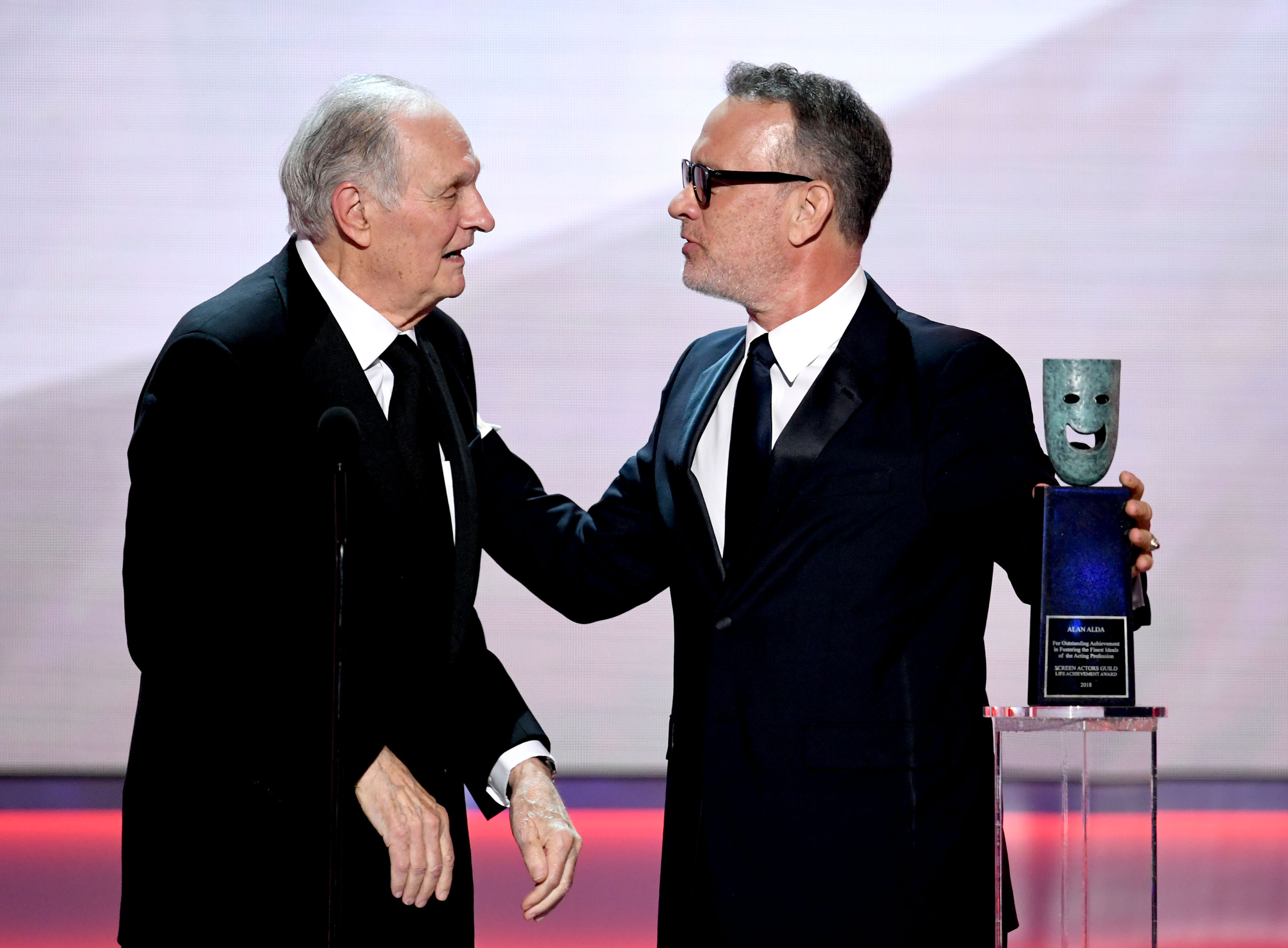 ARLENE ALDA
The lady Alda is a musician, photographer and writer. She began her career playing clarinet professionally, moving on to photography and later writing children's books. Alda authored 15 children's books, including the bestseller, Sheep, Sheep Sheep, Help Me Fall Asleep, Arlene Alda's 1,2,3, which won an American Library Notable citation.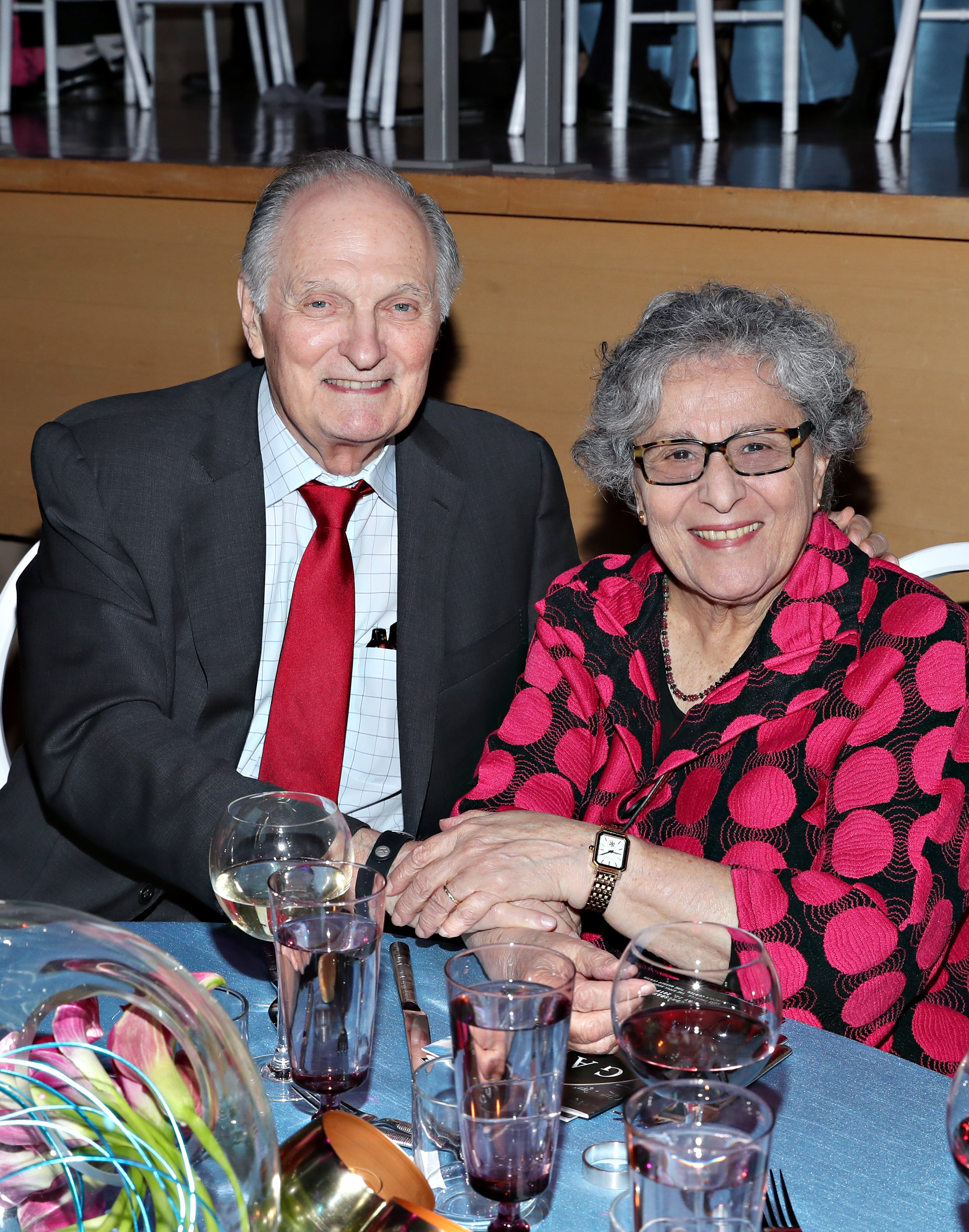 THE SECRET TO THEIR LONG, HAPPY MARRIAGE
After more than six decades, the Alda's appear to have mastered a blissful "til death do us part." Do they know something many people don't?
"My wife says the secret of a long marriage is a short memory," Alda said. "It seems to work! I don't think we spoil each other, we just love each other. Without her, I wouldn't do an awful lot because every time I'm leaving the house to do some work, she says, 'You're going to be great.' And I say the same thing to her. She's a writer and a photographer, busy all the time, and I'm very proud of her."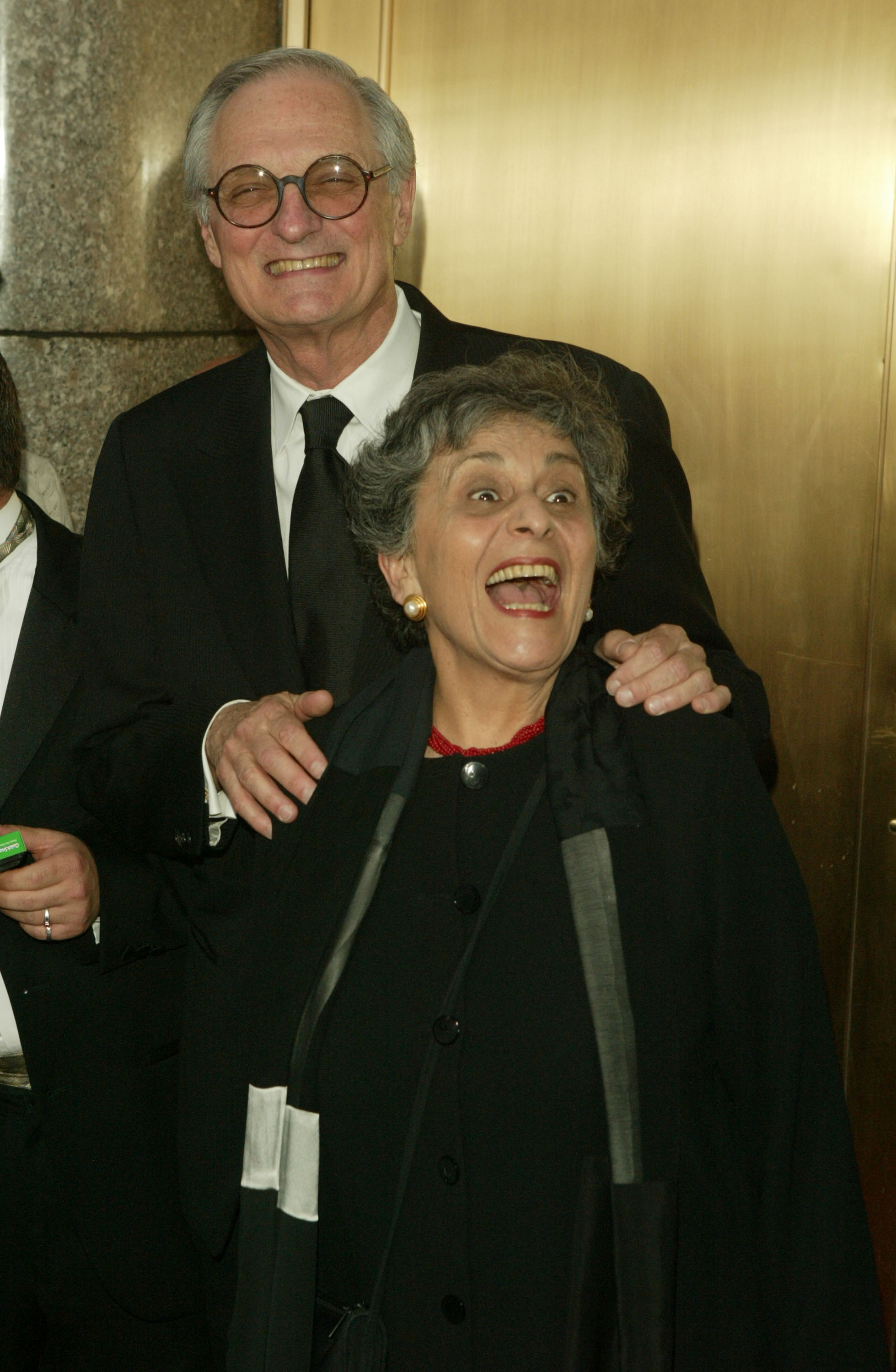 It probably didn't hurt that after he was cast for M*A*S*H*, he stuck to the agreement the couple had made to give their offspring childhoods unlike Alda's. As a young actor, getting work was difficult for Alda, and he constantly struggled to support his wife and their three children.
He took work as a cab driver, a doorman, and sometimes a clown. When he was finally cast in the television series based on the film M*A*S*H*, the role of a lifetime, he almost turned it down! Alda loved the Hawkeye character and thought the script was great but didn't want to uproot the family to California. And so, Alda commuted from Los Angeles to New Jersey.
"Well, I thought this is great. This is one of the best things I ever read. But it's too bad I won't be able to do it because it would be shot in California and we lived in New Jersey and our children were just entering high school."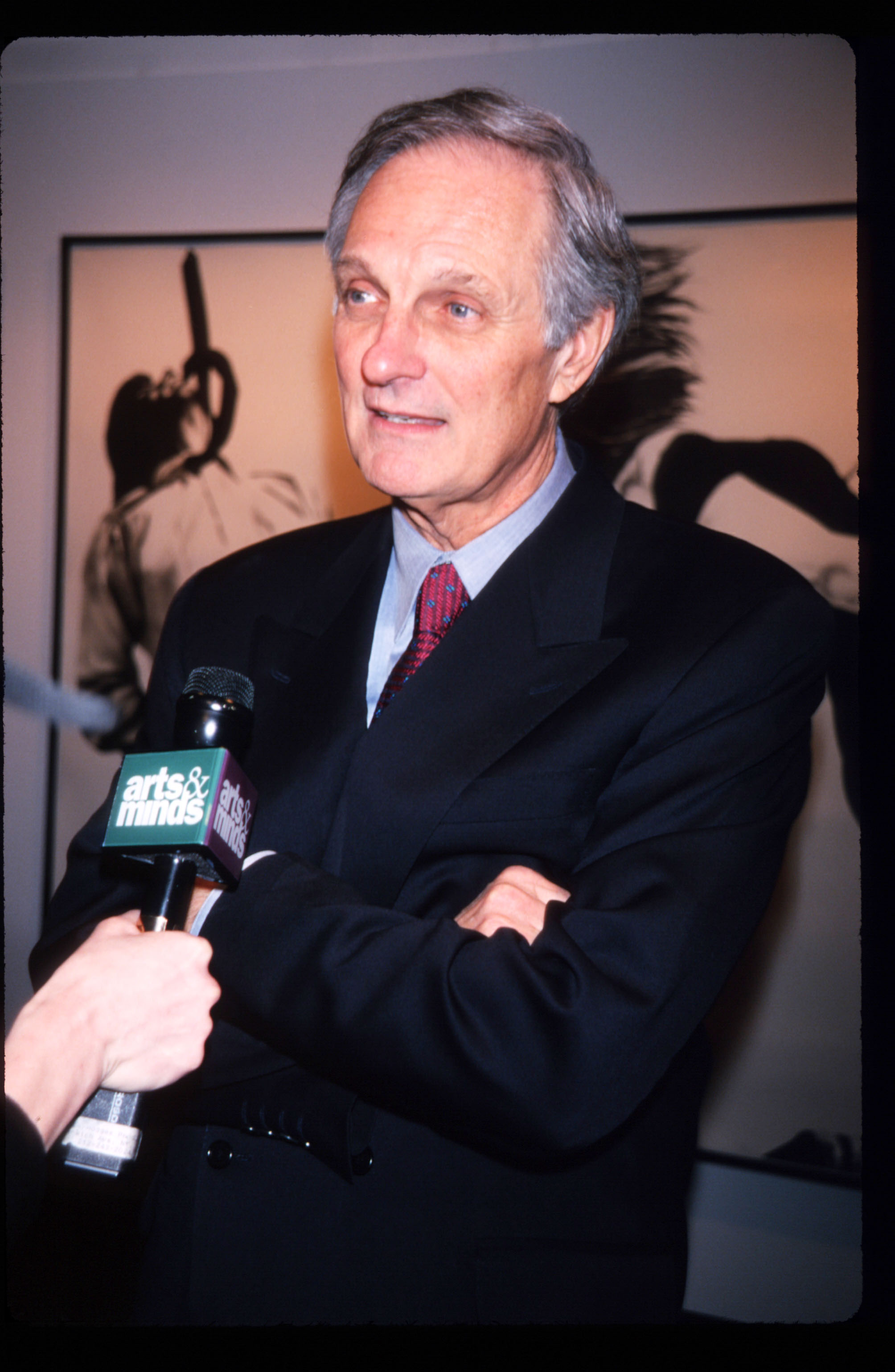 A few years ago, Alda was diagnosed with Parkinson's Disease. In 2015, Arlene noticed a difference in the way Alda's arms moved when he walked. She said he also began acting out his dreams while sleeping. Alda discussed the diagnosis with People, stating,
"My life hasn't changed much. I just applied my curiosity to it. I'm constantly reading and trying to figure out the best approaches. So far, it's really interesting. I think it's helped me understand a little better that everybody has something they're coping with."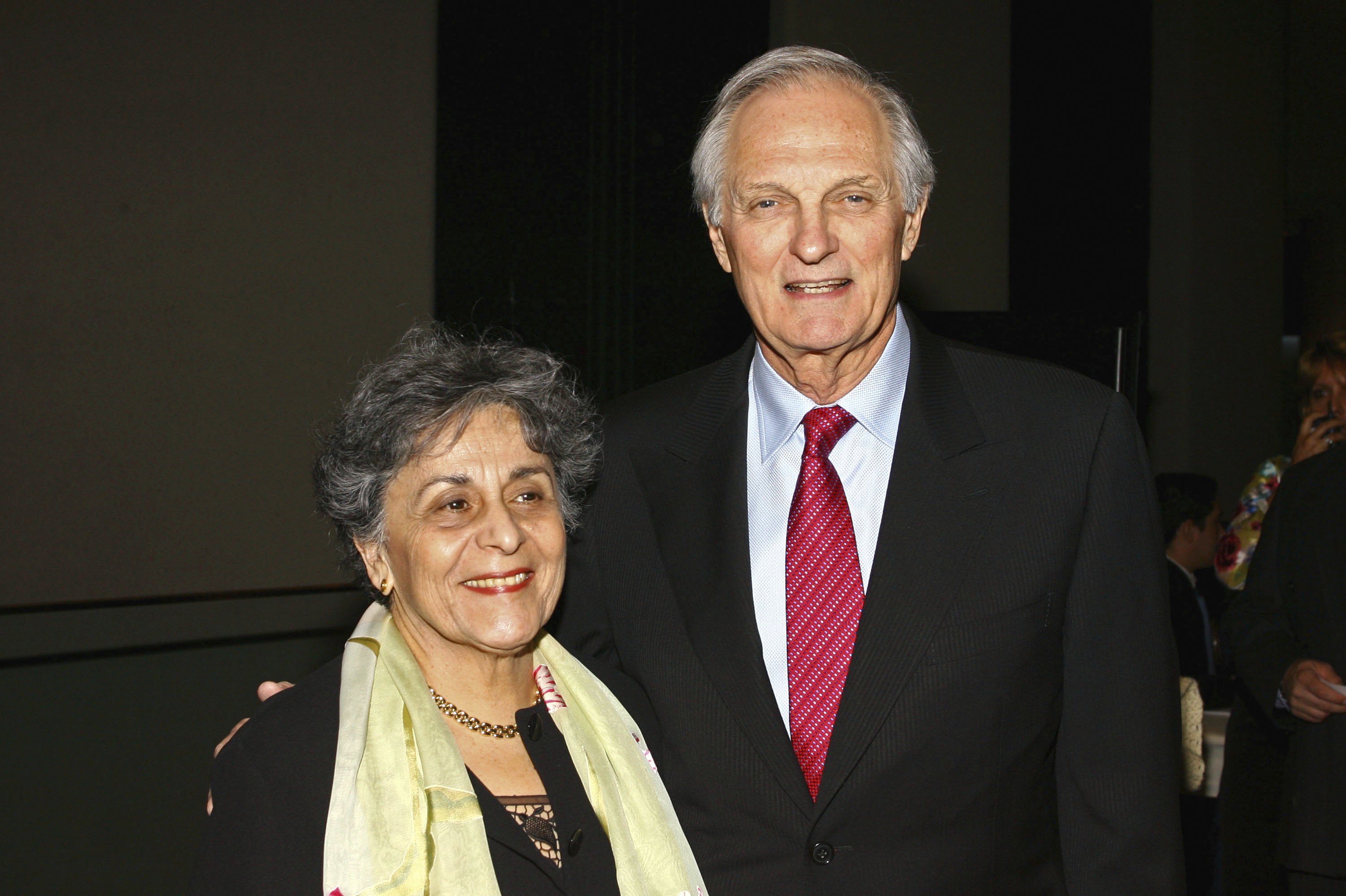 Perhaps Alda captured the secret to a successful family in his memoir, Never Have Your Dog Stuffed: "The only answer that I can give you is that we love each other," he said. "Respect is the gigantic thing, where you have fun together, just being -- just being pals.
And when you got all of those things together, then you're in clover. "Earlier this year, when Alan accepted the SAG Life Achievement Award, all of them were by his side on the red carpet before he walked upstage to receive the recognition of his colleagues.
EVE ALDA
Born on December 18, 1958, 60-year-old Eve Alda is the eldest of the three daughters. Of the sisters, she was the least likely to pursue a career related to entertainment and has mostly stayed out of the spotlight, preferring a traditional lifestyle.
Alda attended Connecticut College, where she majored in psychology. She also studied at the Simmons School of Social Work in Boston. Her son, Youtuber Jake Alda Coffey, doesn't share his mother's penchant for avoiding showbusiness. Coffey is known for The Little Picture, Check the Trunk, and Inside the Operating Theatre.
ELIZABETH ALDA
Born on August 20, 1960, 59-year-old Elizabeth Alda is the second-born Alda. Contrary to her older sister, Eve, Elizabeth Alda initially felt drawn to her father's profession and was given the opportunity to act alongside him in the 1981 film The Four Seasons, as Beth Burroughs.
Alan Alda also wrote and directed the film. She reprised that role in the series derived from the film, which aired for 13 episodes. In 1986, Alda landed her last role in the comedy/horror film Night of the Creeps, followed by a dramatic career shift.
"Elizabeth [was an] actress for a while. But then decided she didn't really care for acting. She became a teacher of the deaf, and a special education teacher in general," her father Alan told Saturday Evening Post once. "[My daughters] all have advanced degrees, and I'm very proud of them," he also gushed to the news outlet.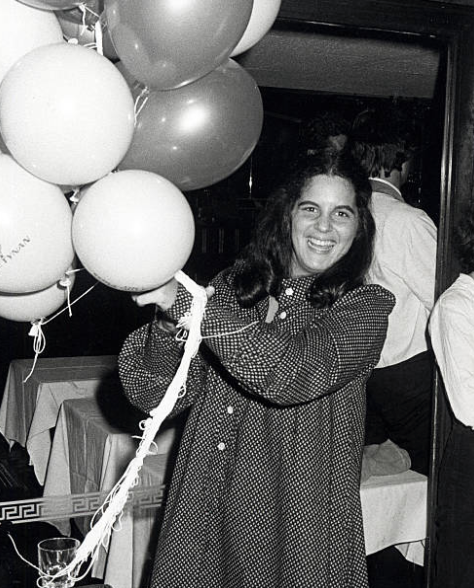 BEATRICE ALDA
The Alda's welcomed their third and final child on August 10, 1961. Beatrice Alda began her career in the show business industry in The Four Seasons film and TV series.
After a few other acting jobs, she moved on to become a writer and director. In 2008 she released the documentary Out Late, followed by Legs: A Big Issue In a Small Town in 2016. Both films were co-written and co-directed with her partner Jennifer Brooke, with whom she shares four children.
THINGS YOU DIDN'T KNOW ABOUT THE ALDA FAMILY
Alan Alda's father, Robert, gave him his stage name. Alphonso Giuseppe Giovanni Robert D'Abruzzo performed under the name Robert Alda. Alda is a portmanteau made from the first two letters of the first and last names. Robert Alda also appeared in episodes of M*A*S*H*!
Before the show about the fictional 4077th medical unit stationed in South Korea during the war, Alda served a six-month tour during the Korean War. As part of the Army Reserve, he was responsible for a mess tent. 
"They had designs of making me into an officer, but, uh, it didn't go so well," Alda said during a Q&A at Southern Connecticut State University.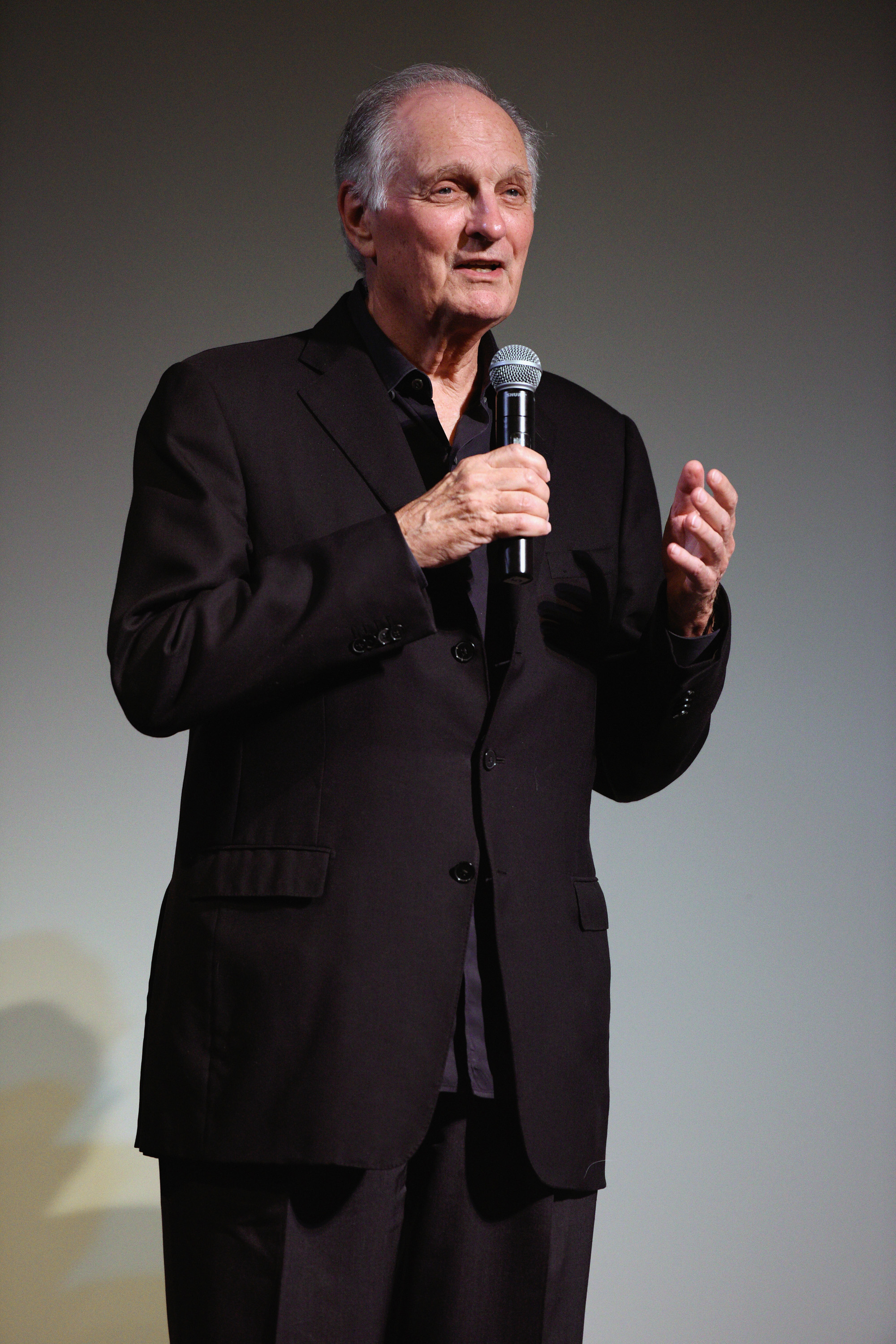 Alda's father moved from the stage to the screen during the 40s, appearing in the musical comedies Rhapsody In Blue and Cinderella Jones. He also earned critical acclaim for Douglas Sirk's melodrama Imitation of Life. On stage, Alda's father was best known as the star of Guys and Dolls and What Makes Sammy Run?. He won a Tony for the prior.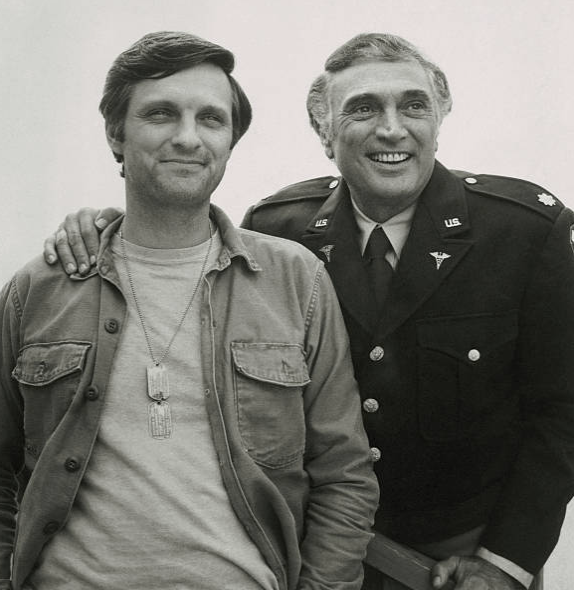 In his memoir, Alda unabashedly shed light on his family growing up. His mother had paranoid schizophrenia, which left an indelible mark on him. When he was six-years-old, he witnessed his mother try to stab his father.
"She thought people were trying to kill her. She thought I was trying to kill her. She thought I was trying to kill her very often," Alda said.
"I resented her for not being a mother. I didn't just resent her - I hated her for it," he wrote. "In those days, you didn't even talk about it. It was a shame, a dishonor to the family to have any kind of mental illness in the family."
In his book, he shared painful recollections of his mother's illness and is very frank about how he reacted to it. Alda also said that although feelings like those are painful to admit, it's essential for families to do that, no matter how uncomfortable. Despite the pain his mother's mental illness caused, the family never discussed it. After his mother passed, Alda oddly found comfort in her safe deposit box - an old photograph of himself as a boy. On the edge, it read, "My beloved son, Allie." It made Alda realize that behind the psychosis, the illness, the mental disorganization was a woman who loved her son.
Alda lost his role as an only child after his parent's divorce, when his father remarried. Robert Alda and his second wife, Flora Martino, gave the younger Alda and half-brother, Antony Alda. He grew up in Italy before moving to the US to attend Juilliard to study musical composition. In the end, he turned to acting and directing.
His most notable credits include small roles in Melvin and Howard, Homeboy, and National Treasure. He also appeared in Sweet Liberty, which was written and directed by his older half-brother, and once on M*A*S*H*. Antony Alda died on July 3, 2009, from cirrhosis of the liver. Early in his career, he shared the pressures of growing up as part of a family dynasty with the Los Angeles Times:
"It works for you and against you," he said. "People figure you know what you're doing because you grew up around acting. Other people think you got the part because of your name."
Click 'Continue reading' to find out how Albert from 'Little House on the Prairie' looks now. He is 52 years old and looks more handsome than ever!