20 Facts about 'Mister Ed' Fans Might Not Know
Mister Ed stole the hearts of viewers everywhere, and the horse became a megastar through the hit sitcom named after him. From 1961 to 1966, Wilbur Post and his talking horse captivated their audience with comical tales. Although the show didn't enjoy massive rating success, it gained recognition from those who did watch. After nearly half a century of re-runs, since the show ended, there may be some things about the show that fans still don't know. Here are 20 facts about the show:
1. The Character Traces Back to 1937.
The character of Mister Ed was created for a series of short stories under the title, The Talking Horse. Liberty magazine began publishing the stories on September 18, 1937. In the magazine stories, Mister Ed not only spoke but got drunk! The show's concept is similar to the 'Francis the Talking Mule' movies from 1950-55, in which the title character is a talking horse, but only talks to one person.
2. A Secretary Pitched the Show
UCLA graduate Sonia Chernus pitched the idea for the show. She was working at Warner Bros. as a secretary to director Arthur Lubin in the 1940s. Chernus was a fan of Walter Brooks' short stories about the talking horse, and introduced them to Lubin. She pushed the idea and was given the screen credit reading "Format Developed by Sonia Chernus."
3. Clint Eastwood Appeared on the Show
The Hollywood legend Clint Eastwood made a surprise appearance on the show as himself. He was in one episode called "Clint Eastwood Meets Mister Ed," in season two of the show. The episode features Clint Eastwood moving into the Post's neighborhood. Shortly after, Mister Ed sets up a party line with his house, which causes nothing but problems for Mr. Eastwood. In real life, Bambook Harvester could answer the phone - but couldn't say hello!
4. George Burns Produced the Pilot
The executive producer of the show was George Burns. For some reason, no one else showed interest in bringing the talking horse to the masses. He also financed the $70,000 pilot episode and later appeared in the second season of the show. In season 2, episode 18 George Burns is offering $25,000 for a great new novelty act, so Wilbur begs Mister Ed to talk to Mr. Burns.
5. Eddie Albert Was Initially Offered the Role of Wilbur
The Green Acres star was offered a role in Mister Ed and My Three Sons but turned both down. He decided to focus on his film career instead. In 1962 he played a womanizing Persian peddler, and in Who's Got the Action? and The Longest Day, about the Normandy invasion.
He also portrayed a crazy United States Army Air Force colonel in Captain Newman, M.D. in 1963, opposite Gregory Peck. In 1965, Albert began his role as Oliver Wendell Douglas, a lawyer who left Manhattan for a simple life as a farmer in Green Acres.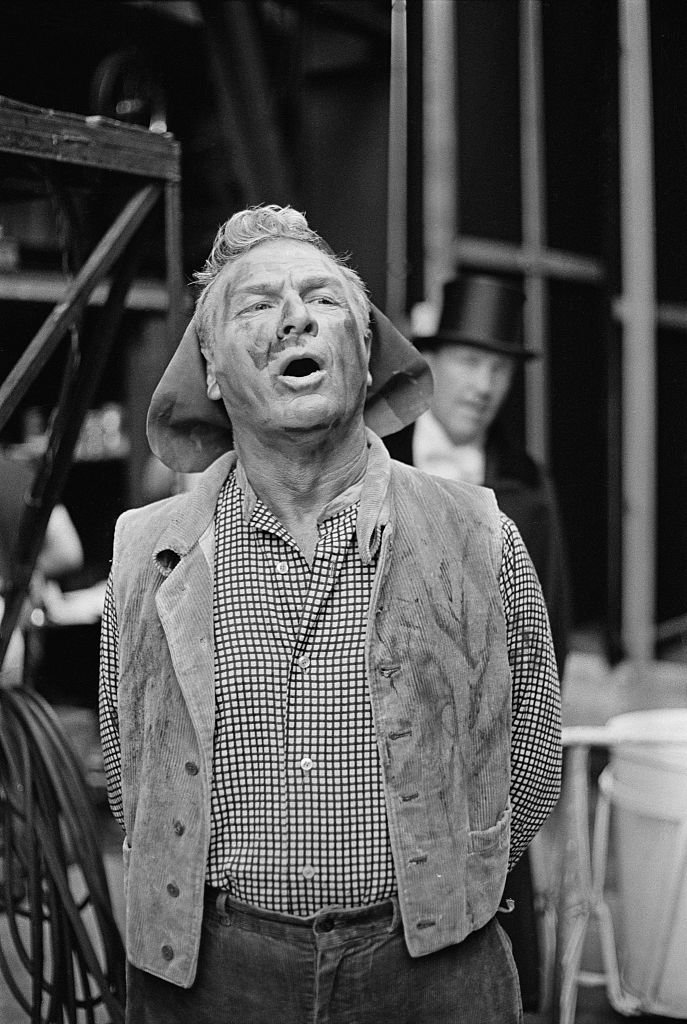 6. Scott McKay Played Wilbur in the Pilot
The 1958 pilot was called "The Wonderful World of Wilbur Pope" and starred Scott McKay. Alan Young played the role of Wilbur for the whole of the series. Young's film debut came with Margie in 1946. In 1950, The Alan Young Show began airing on television.
The series received rave reviews and several Primetime Emmy Awards, including Best Actor and Most Outstanding Personality for Young. After the show was canceled, Young continued on in films, including Androcles and the Lion, Gentlemen Marry Brunettes, and two George Pal films, Tom Thumb and The Time Machine.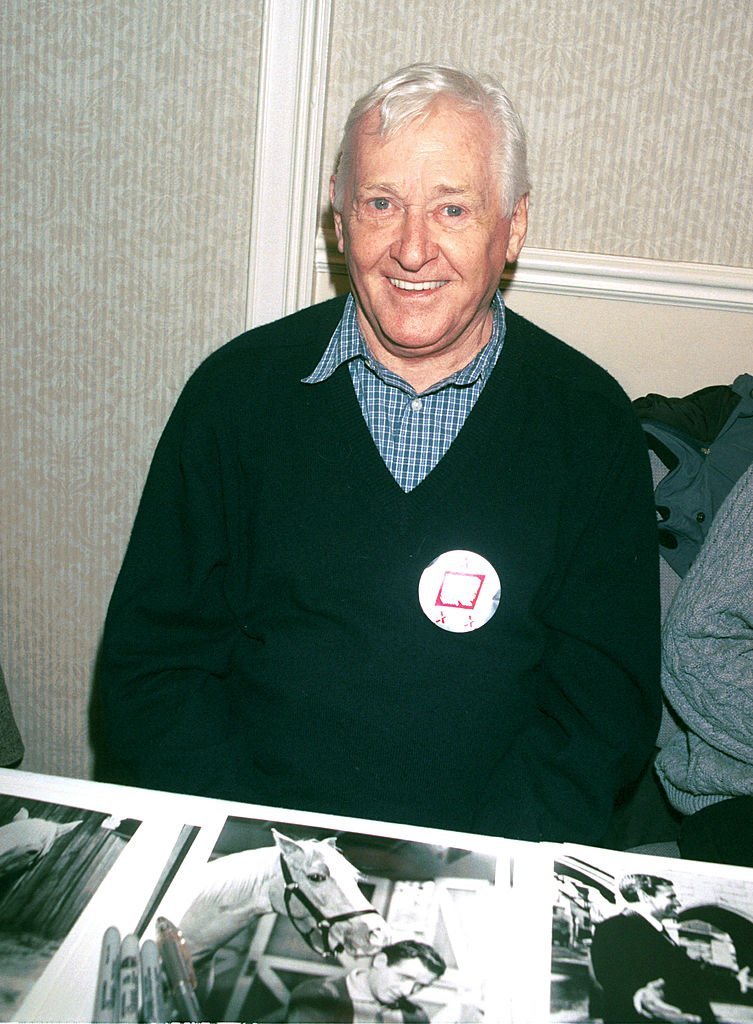 7. Fox Reboot "Mister Ed" in 2004
Sherman Hemsley, who starred in The Jeffersons and co-starred on All In The Family, voiced the infamous horse in Fox's remake of the show. It was revealed that Zoolander creator, Drake Sather, who wrote, and produced the revamp, was only doing it for money, for which he was ashamed.
The lack of apparent 'artistic integrity' reportedly pushed him over the edge and committed suicide before production was complete, and the pilot was not released. In 2017, the pilot was leaked online:
8. First Seven Episodes Had an Instrumental Version of the Theme Song
The lyrics for the iconic song didn't' exist until after the seventh episode! Jay Livingston and Ray Evans wrote the song, and Livingston sang the lyrics as a placeholder. The network decided he was a perfect fit and kept his version. Years later, a fundamentalist religious group in Ohio claimed the song was satanic when played in reverse.
In 1986, Jim Brown and his colleague Greg Hudson claimed that "Someone sang this song for Satan" and "the source is Satan" were audible. Around the country, teenagers burned over 300 records and cassettes of secular music with alleged satanic messages. Brown said that "Satan can be an influence whether the songwriters know it or not. We don't think they did it on purpose, and we're not getting down on Mister Ed."
9. Studebaker Automobile Company 
 The original sponsor for Mister Ed was the Studebaker Automobile Company. Thus the Post family drove a 1962 Lark convertible. However, the company later withdrew its sponsorship due to financial reasons. Founded in 1852 the auto manufacturer was originally a producer of wagons, buggies, carriages, and harnesses and established a reputation for quality and reliability.
The Lark was a clever and compact design, and very popular in its first year, selling over 130,000 units and delivering a $28.6 million profit to the automaker. However, Lark sales began to dropped dramatically after the Big Three manufacturers introduced compact models in 1960, and Studabaker's financial situation became critical. The last Studebaker automobile rolled off the assembly line Hamilton, Ontario, Canada, on March 17, 1966.
10. Bamboo Harvester
Born in California in 1949, Bamboo Harvester was the son of two purebred horses. He was also owned by Lester "Les" Hilton. Bamboo Harvester also called the shots, deciding when he was finished for the day. Reportedly, he would simply walk off the set when he was ready to call it quits. He developed multiple illnesses during the shows run, and, years after the series ended, Bamboo Harvester passed away at the age of 30.
11. A Celebrity from Day One
Bamboo Harvester's father, Harvester, was also a revered show horse with the Palomino Horse Association. The world would come to know him later in life, but the locals in San Fernando Vallet cherished him as a foal. Although he was born and bred into a celebrity, his personal walk to fame began with a gallop through the Pasadena Rose Parade, an invitation-only extravaganza. It's considered the red carpet for horses, and Bamboo Harvester made an impression year after year. 
12. Allan "Rocky" Lane Voiced Mister Ed
Star Allen "Rocky" Lane was the uncredited voice behind the iconic horse. His voice made the character extremely distinct. Lane's name was withheld from credits, and he was alluded to by the producers only as "an actor who prefers to remain nameless." After the show became a hit, Lane campaigned the producers for screen credit but accepted a raise in salary instead. The voice of Mister Ed gained further acclaim when The Beastie Boys used a sample of it in their song "Time to Get Ill."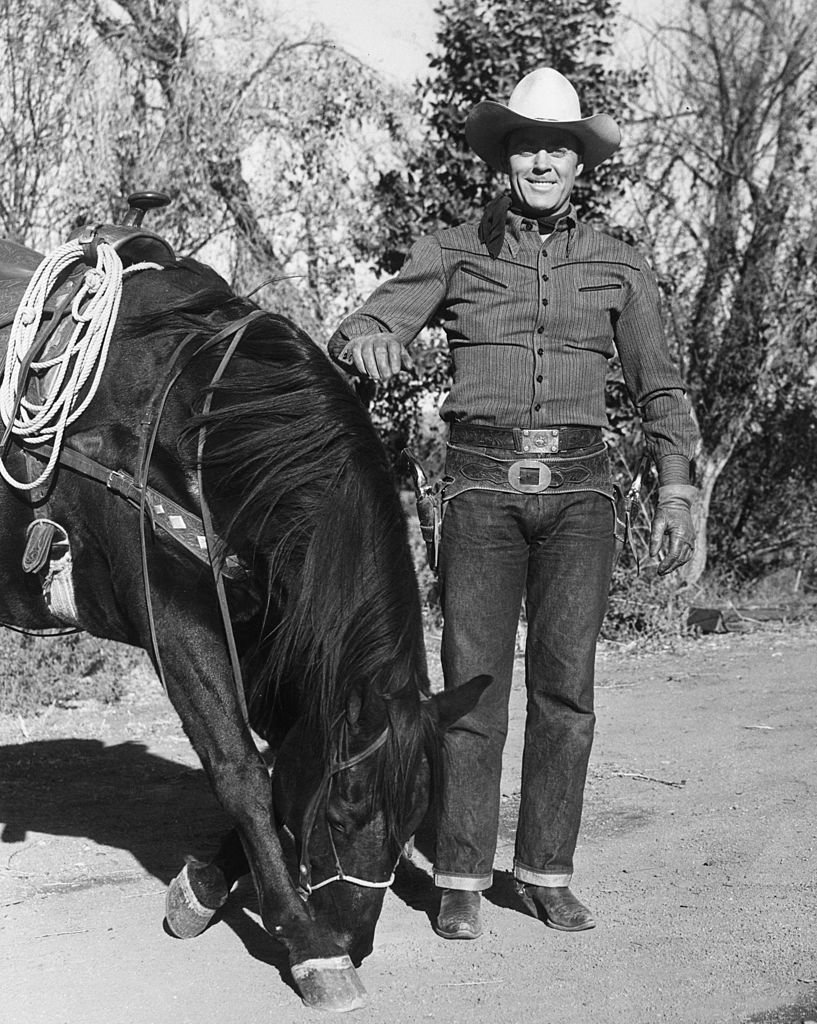 13. Stunt Double Named Pumpkin
Bamboo had his very own stunt double named Pumpkin, who looked identical to him. The only difference was a gold spot on the horse's white patch, which the crew covered with makeup when shooting scenes. Pumpkin was always on set, and posed for most of the publicity photos, and trained to "talk" like Bamboo Harvester.
Pumpkin also learned the same tricks in case Bamboo Harvester ever had to be replaced. He also stood in for many public appearances, with a noted appearance in the Hollywood Christmas Parade. Bamboo Harvester had to be on set early that morning, and the trainers were worried that the parade would put undue stress on the horse. Pumpkin stood in instead, with no one the wiser, performing perfectly in front of a massive crowd.
14. Big Appetite
Bamboo Harvester consumed 20 pounds of hay and a gallon of sweet tea each day. Alan Young told people they used peanut butter to get Bamboo to move his lips. He later admitted he made it up. Initially, Les Hilton used string to initiate movement, but the intelligent creature didn't need that for long. He began moving his lips when Hilton touched his hoof and later graduated to moving them as soon as Alan Young finished speaking.
15. Syndication
Although Lubin wasn't successful in finding a network to produce the show, he managed to get single-sponsor identification on over 100 stations. Production began in November 1960, although Lubin did not direct early episodes because he was working on a film in Europe. Mister Ed's syndication proved its worth, and CBS picked up the series after 26 episodes.
16. Scrooge McDuck
Alan Young portrayed Wilbur Post, and it is the role he is best known for. In 1974, he began voice acting. He played Walt Disney's Scrooge McDuck for over thirty years, including the 1983 Academy Award-nominated short film Mickey's Christmas Carol and various other films, TV series, and video games. His later roles in animated series included Megas XLR, Static Shock, House of Mouse, The Ren & Stimpy Show, Duckman, Batman: The Animated Series and TaleSpin.
In 2002, Young had a cameo as the flower store worker in Simon Wells' remake of The Time Machine, and in 2010, he read H.G. Wells's original novel for 7th Voyage Productions, Inc. Young continued appearing on sitcoms with television guest roles, including Gibbsville, The Love Boat, Murder, She Wrote, St. Elsewhere, Coach, Party of Five, The Wayans Bros., USA High, Hang Time, ER, Maybe It's Me, and Sabrina, the Teenage Witch.
17. Replacing an Actor
Larry Keating (Roger Addison) passed away during the third season. He had previously worked with George Bruns when he portrayed Harry Morton on The George Burns and Gracie Allen Show, from 1953 to 1958. In 1963, during the third season of Mister Ed, Keating was diagnosed with leukemia.
Despite his illness, he returned when filming began for the fourth season, completing three episodes for the 1963-1964 season, and continued working up to the week before his death on August 26, 1963. Leon Ames joined the show as Colonel Gordon Kirkwood. Ames is best known for playing father figures in films like Meet Me in St. Louis with Judy Garland, Little Women, On Moonlight Bay, and By the Light of the Silvery Moon 
18. Too Blonde
Alan Young had naturally light blonde hair, but it blended in too much with Mister Ed's coat and mane. To combat the problem, a makeup artist regularly dyed Young's locks. After the show, he let it go back to its natural color.
19. Stubborn
According to some reports, Bamboo Harvester was an extremely stubborn horse. He would only take instructions from his trainer, Les Hilton. Hilton had to attend all filming days to give Mister Ed directions. Alan Young claimed that Bamboo Harvester saw his trainer as the disciplinarian father figure. When scolded by Hilton for missing a cue, the horse would move to Young for comfort, treating the actor as a mother figure. 
20. Initial Name
When the show was in the development stage, the producers revealed they wanted to name Alan Young's character Wilbur. Young, who owned a piece of the show, thought the name was such a poor choice that he claimed if the show didn't succeed, he wouldn't be held accountable.
21. Awards
Humans aren't the only ones to receive recognition and awards for their performances. In 1962, Mister Ed received the Patsy Award. The PATSY Award was originated by the Hollywood office of the American Humane Association in 1939. The decision to honor animal performers came after a horse was killed in an on-set accident during the filming of the film Jesse James. The letters are an acronym and stand for Picture Animal Top Star of the Year. A later acronym was also included: Performing Animal Television Star of the Year. 
22. Second Choice
The pilot episode featured a different horse! In fact, the pilot was recorded with an entirely different cast. A Chestnut gelding was initially cast as Mister Ed, but proved unruly and reportedly had a breakdown. Bamboo Harvester was cast for the second pilot, which featured what would become the show's cast. It became the first official episode to air on national television. 
23. One-Take Wonder
Despite the rock-star tendencies that arose occasionally, Bamboo Harvester was entirely professional. It was common for the horse to complete his scenes in one take! His scenes were often complicated, involving a fair amount of physical activity, stunts, and training. Scenes often included teaching the horse how to play different sports or ride a skateboard. One producer said Bamboo Harvester was the easiest to work with - it was the humans who were always messing up the shots. 
24. Theories Surrounding Bamboo Harvester
Perhaps the most discussed event in the life of Bamboo Harvester was his death. Multiple theories surrounded his mysterious and untimely death. One theory suggested he was euthanized due to illness in a small Oklahoma town. Alan Young wrote in his autobiography that Bamboo Harvester died later than many previously thought.
He wrote he visited the horse in his retirement at a stable in Burbank, CA, and the horse eventually died of old age. Another theory was that Bamboo Harvester was running free at an Oklahoma farm where he ultimately died of old age in an undisclosed year. And still, another theory has Les Hilton scattering the horse's ashes in an undisclosed location in Calfornia.
Although networks don't air Mister Ed re-runs regularly anymore, you can catch up on your favorite episodes again! In 2014, Shout Factory released a 22 disc set containing all 143 episodes of the series and bonus features.