The Good Place Cast's Real-Life Couples
The Good Place is one of the most popular and unexpected TV series. An intriguing plot, hilarious jokes, and enchanting actors - this sitcom has everything we need! Unfortunately, the last Season 4 is the finale of this show.
If you desperately want to know more about The Good Place's cast's personal lives, this article was made especially for you!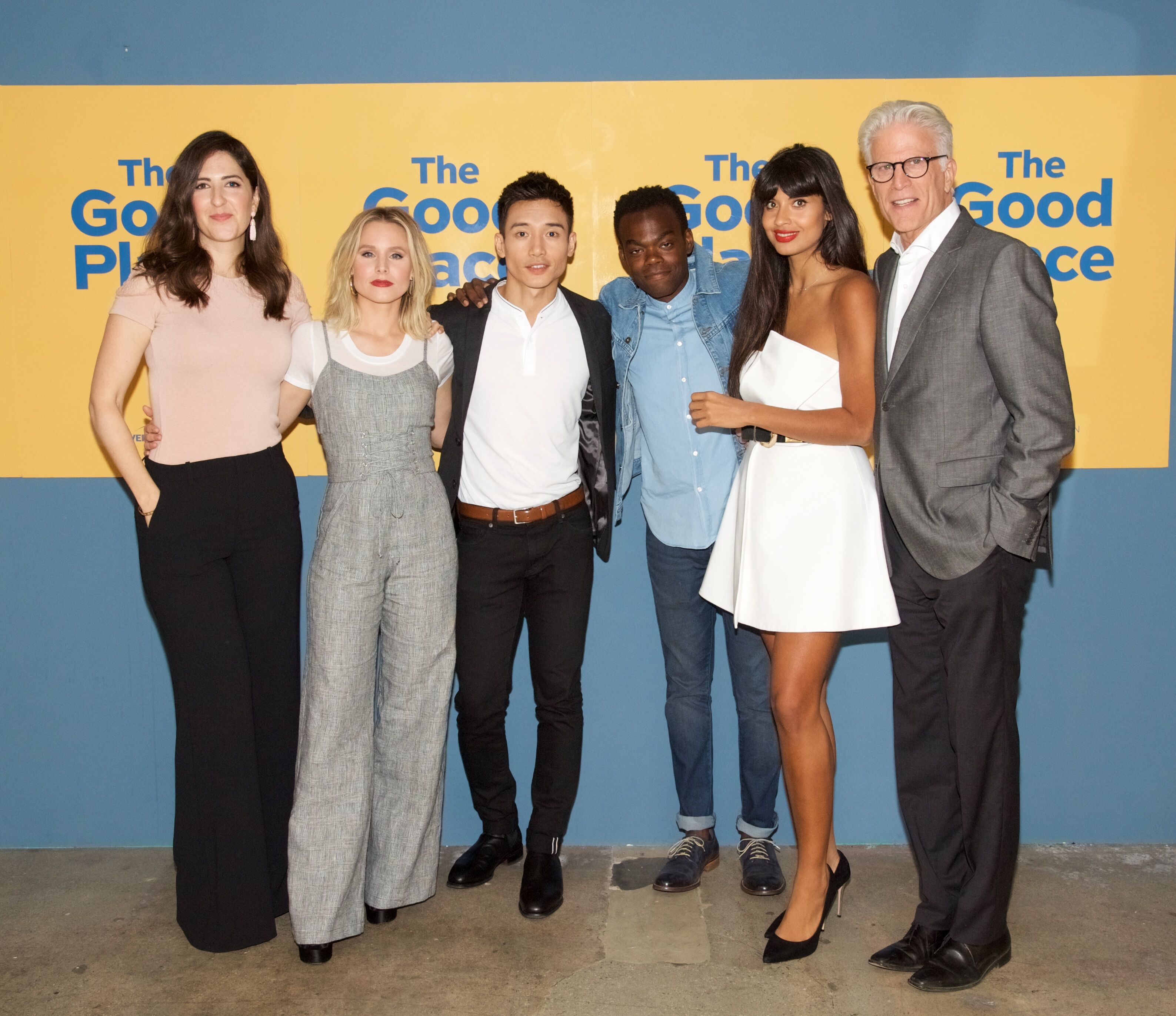 Who from the cast got engaged on Twitter? Why D'Arcy Carden wanted to end her acting career right before the pilot of The Good Place? How does Kristen Bell manage to combine all her parts of life together? Let's clarify it right now! 
D'Arcy Carden as Janet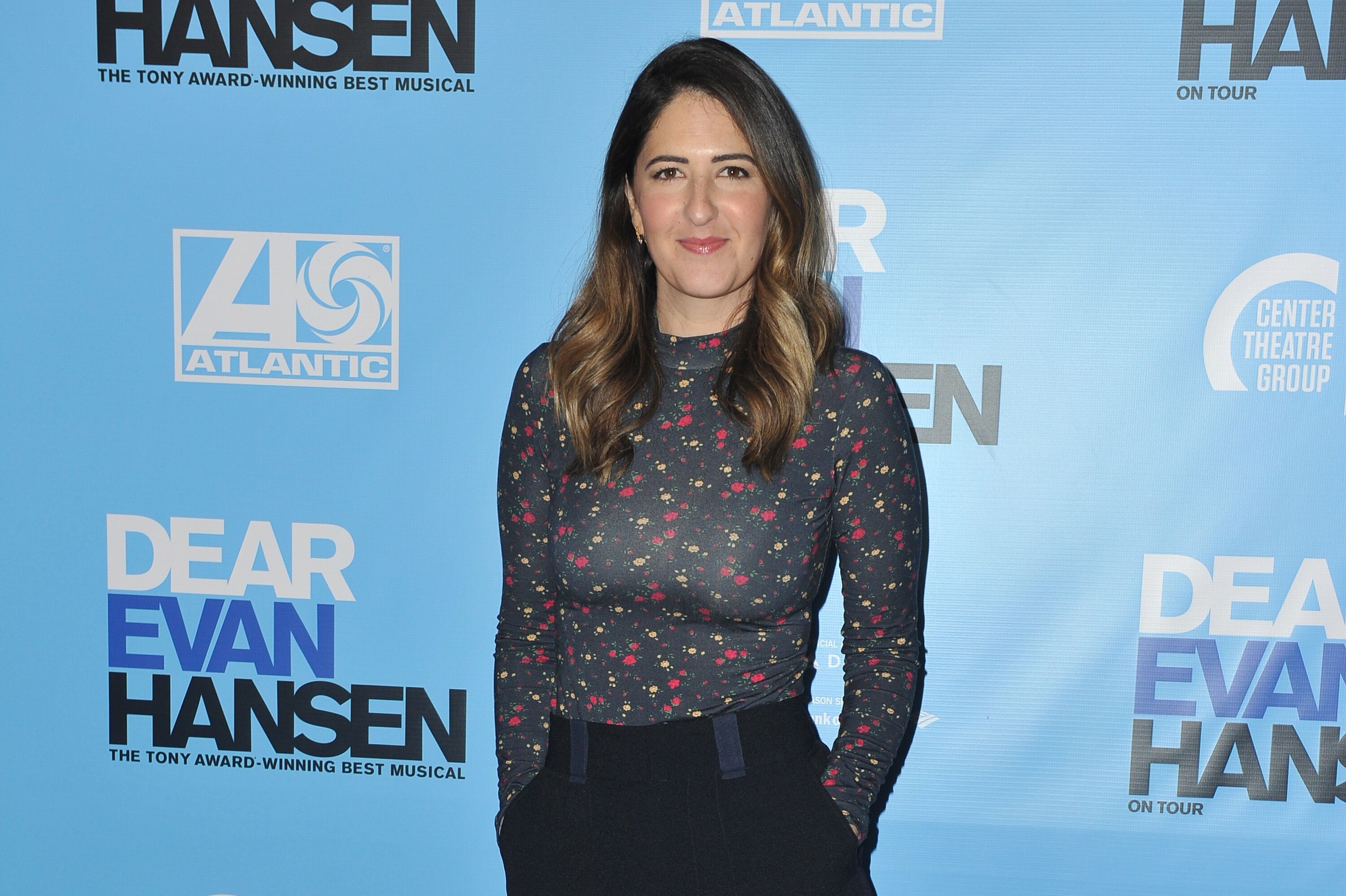 The Siri-like personal assistant who possesses all the knowledge in the universe would not have been so great without D'arcy Carden. Before she auditioned for The Good Place, she thought that she was done acting - just like her co-star William Harper (check out his story in a few minutes!).
A month before the audition, she "had this sort of epiphany: "D'Arcy. You're not gonna do the thing you thought you'd do, be on a TV show with a bunch of funny people. Those dreams you had are not gonna happen, but that's OK, because you get to perform every night at the UCB.'" When she auditioned for The Good Place, she did not know a single thing about the show other than the fact that Mike Schur created it.
At her audition, "an older woman was after me – much older – and a 16-year-old boy was before me – auditioning for Janet. So they really didn't know what they wanted. A 16-year-old boy! Who, by the way, is a genius."
The actress was sure the 16-year-old was going to get the role, but the creators had another opinion. D'arcy perfectly captures Janet's warm robot vibe even though she struggled to find that perfect balance between a human and a robot as she described, "to not be too robotic and not be too human". "It just was harder than I thought."
Carden is happily married to the producer Jason Carden. The couple tied the knot after dating for several years, since the start of their college days. People who have witnessed the terrific chemistry between Carden and his wife wonder how the two met in the first place.
They were both cast in the same play in San Francisco, California and found that they loved to hang out together. That's precisely what they did and discovered that they were both suckers for Disneyland, among other things.
They fell in love with each other and worked together in a couple of plays before deciding to tie the knot. Today, they are practically inseparable and are still best friends. Jason Carden loves the fact that his wife tweets regularly, and she is convinced that he would become a hermit without her. The two really are #couplesgoals!
Manny Jacinto as Jason Mendoza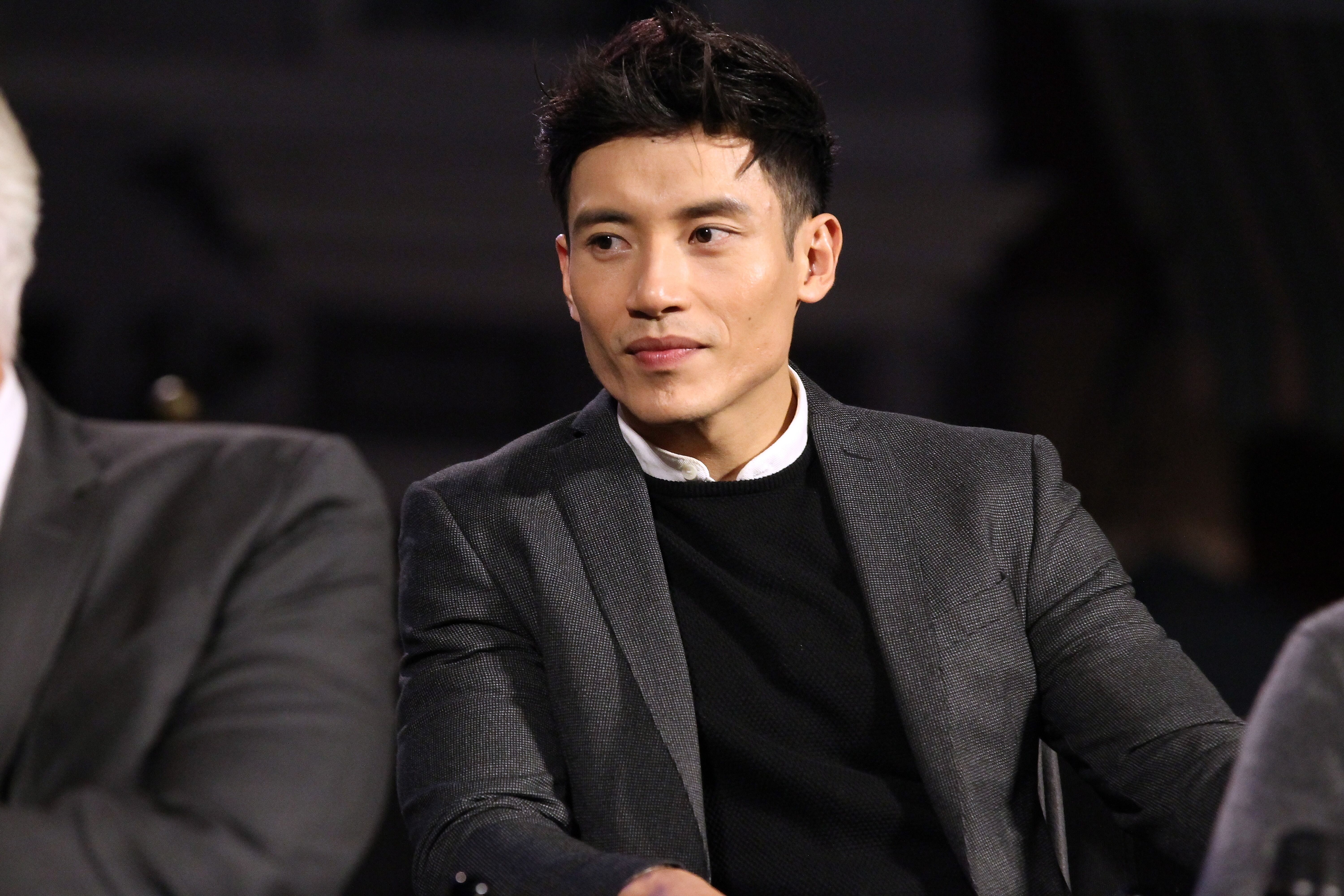 In The Good Place, Jason Mendoza is the show's sweetest (and funniest and dumbest) character. In real life, for Manny Jacinto, it turns out playing such a character means taking your role very seriously. The actor says that he is a mix between Jason and Chidi. "Obviously, the Jason-ness comes naturally. But the Chidi-ness is the anxiety. Like, there are definitely times when I can just get too into my head."
Manny is the youngest on the set, he is 32, and has the most to learn when compared to everyone else's life experience and work ethic. " think I'm the one that's like, "Ah man, I need to buckle down and focus and make sure I don't get fired. I'm not sure if I'm proud of that or what."
Jacinto has a keen interest in dance which started from the hip-hop classes he took during his college days. He even won a hip-hop dance competition and still enjoys dancing whenever he gets the chance.
And how about his love life? Manny dates the young actress named Dianne Doan. You might have seen her on Vikings or Descendants. In the recent interview with GQ, he told journalists about his trip to South Africa and a new hobby. While Dianne was filming in the new movie Warrior there, he was practicing in film photography. 
Dianne and Manny's Instagrams are full of photos of these two sweethearts. So let's hope the couple will be happy. 
Jameela Jamil as Tahani Al-Jamil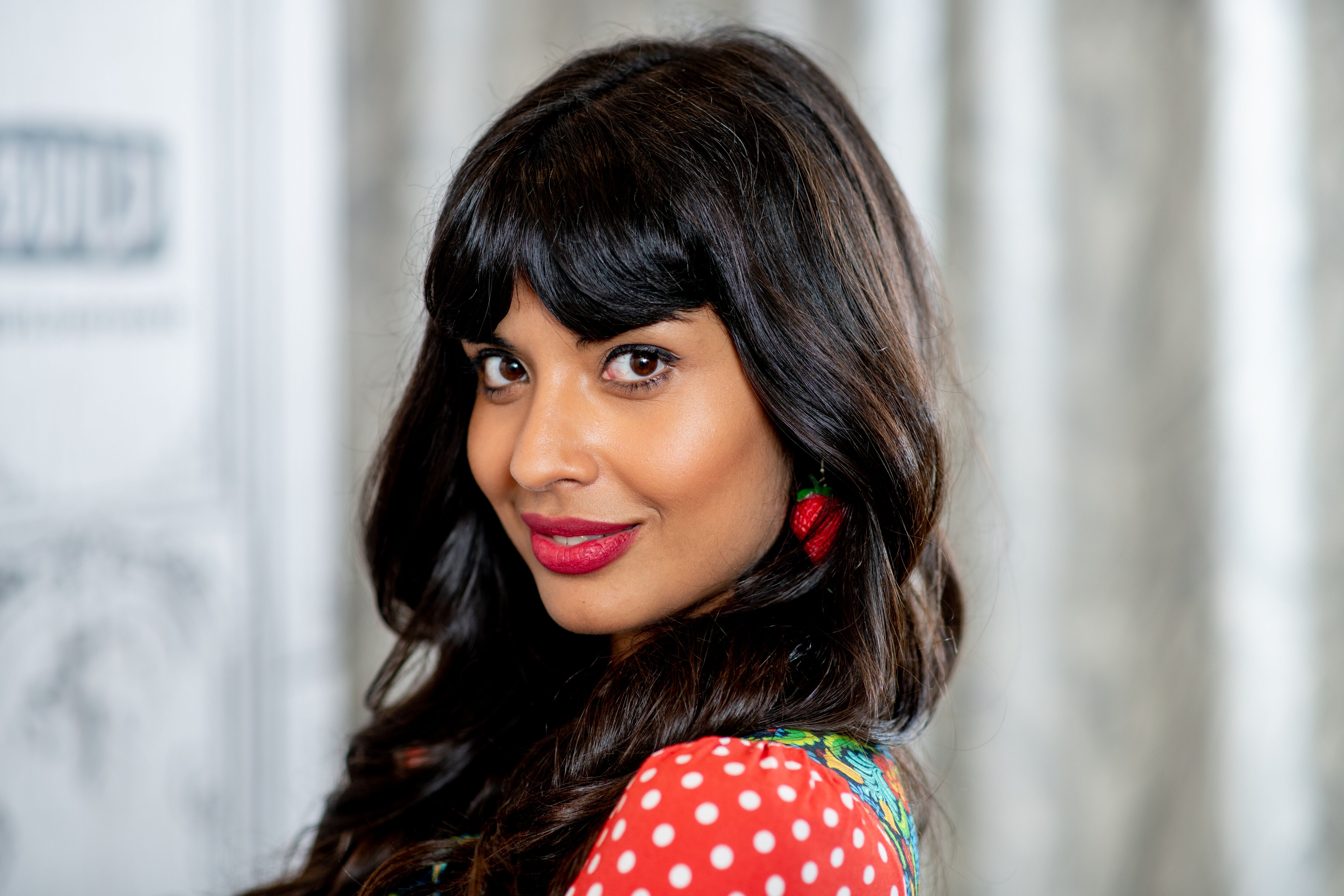 The self-obsessed Pakistani-English character who is eternally jealous of her sister is played by Jameela Jamil, a 32-year-old British TV host who had never appeared in a scripted TV series before. "Oh god I honestly had no experience," she said.
"Although, at the audition, they asked me that question and I panicked and lied. I told them I had "done some theatre in England." Which was technically true. I had one line in the stage play of Oliver at primary school, I played his dying mother. I was six years old."
And that was all! Can you believe it? She said that she had "beginner's luck," adding that she never intended to be an actress. Jamil said Schur didn't give her all the details of the show during the audition process. The lines she had weren't even part of the show. 
Nevertheless, Jameela seemed to be almost an exact fit for the topic of the show. At 17 years old, Jamil survived a near-death car accident. Moreover, her teens were a real disaster as she was a total academic and very socially inept around her peers, constantly saying or doing the wrong thing. Jamil explained: 
"I didn't really have a group of friends till I was 19, and I didn't kiss anyone until I was 21. It was a bloody nightmare. I am the only woman I know who loves getting older because it's another step away from my god awful teens."
For a long time, Jamil herself hasn't mentioned a boyfriend in her interviews. She did once write in Cosmopolitan that she fell in love with a married man before she knew he was married. "Married men will only break your heart," was the name of the 2015 column. 
"I didn't want him until he no longer belonged to someone else. And thank God, because three years later they're still together. In fact, they've just had baby number 2 and are outwardly, at least, happily married."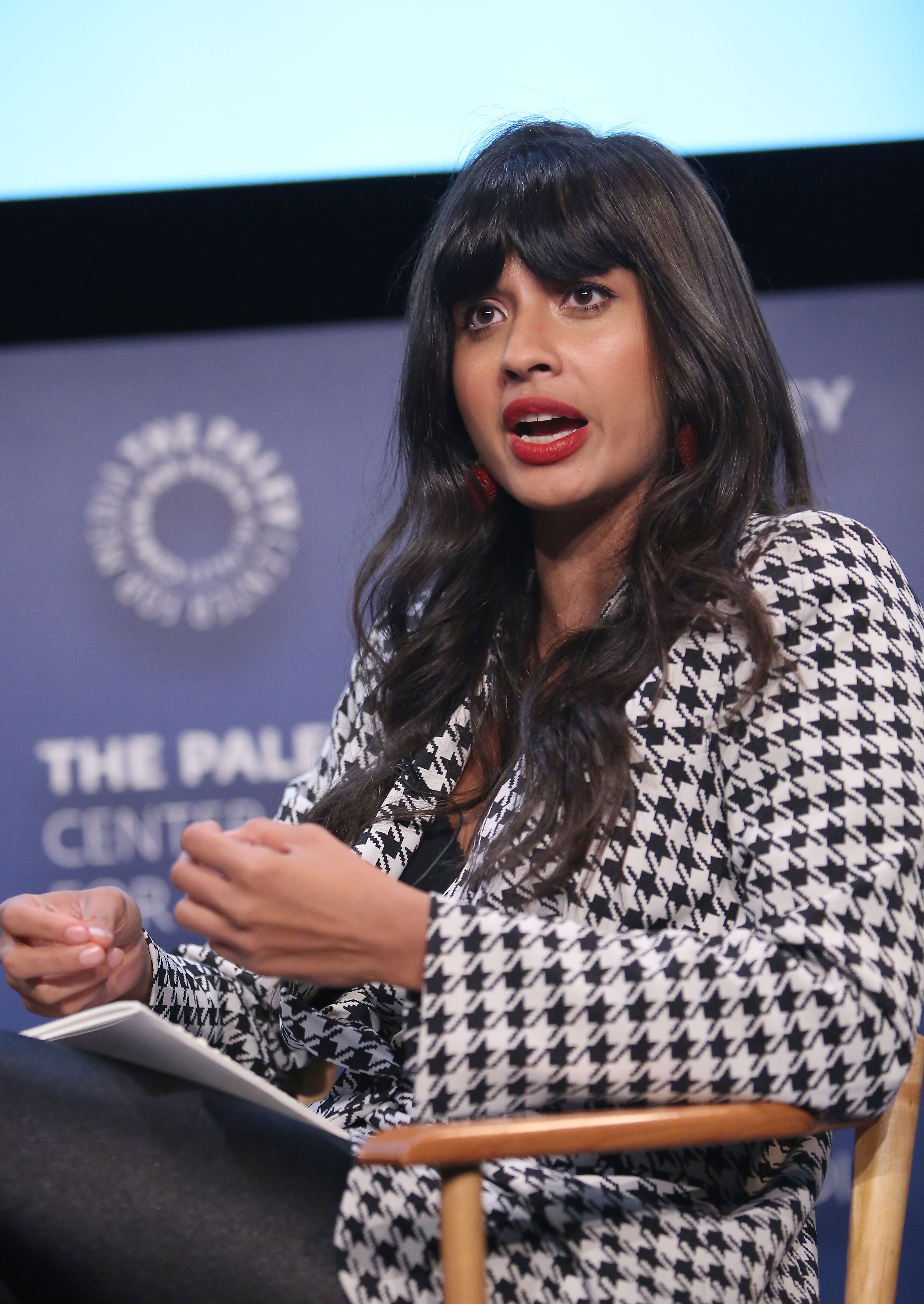 Who is this mystery man? Well, we still don't know, but what we do know is that Jamil has finally found her true love. On 4 April 2018 Jameela astonished her followers on Twitter after she announced her three-year relationship with her boyfriend, uploading a photo of him on Twitter. Jamil shared a picture of her and the one and only James Blake and wrote that they had just celebrated three years of their deep love and fulfilling relationship. They kept their relationship semi-secret for a while until Blake tweeted a photo of the two together. The caption was only three words but said a lot more.
In a 2016 interview, Blake`s girlfriend was only referred to as a "British comedy writer and actor." But later he confirmed that his girlfriend is Jamil. Later he said, "She was instrumental in helping me grow," explaining that she was an influence for The Colour Of Everything. "Very often, you only make changes when you feel like there's something to save. That's an incentive to look in the mirror."
Today Jamil claims she's the happiest she's been in a long time. Maybe Blake has something to do with that. Maybe it's because of the happiness she's found that their relationship seems so strong. Perhaps it's both.
William Jackson Harper as Chidi Anagonye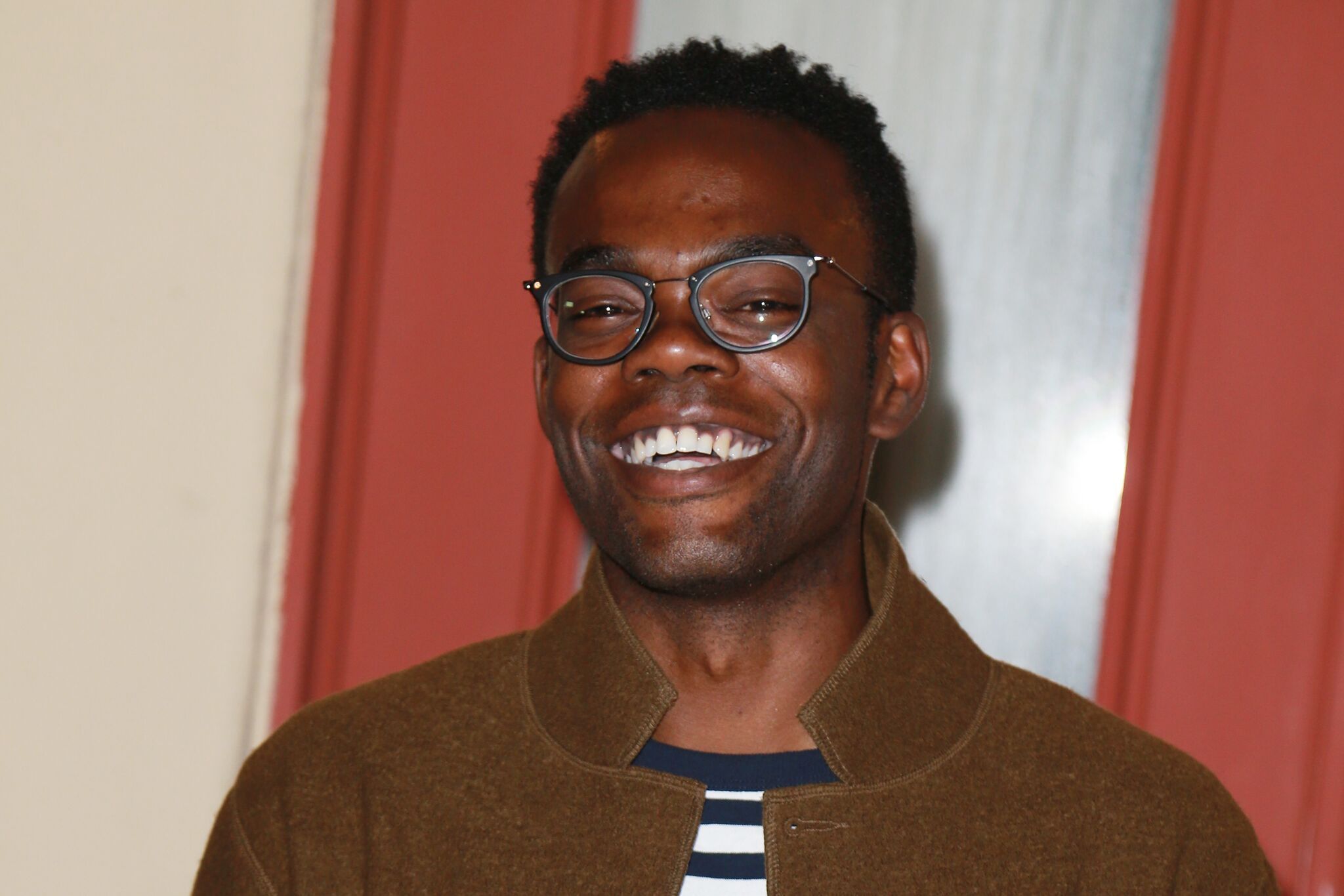 "Probably the best thing to do is to not force your will upon anyone else," Harper says. "And I'll stop there – because if I say anything else, I'll probably disagree with myself within five minutes."
When the actor got the iconic part, he shared an overview of the character with his girlfriend. And the minute she heard, she said: "Oh, well that's just you. Always locked up and paralyzed and never sure what to do next – that's just you, man."
He was not excited to hear that... although surprisingly for Harper, his quirky anxiety and charming moral backbone were accepted as both hilarious and lovable. In fact, the actor was so tired of previous failed projects that the audition for The Good Place was part of what Harper had deemed his last pilot season, as he was considering taking a permanent break from acting.
The actor explained, "I still liked acting quite a bit but just trying to make ends meet was starting to consume my every waking thought."
What happened next turned his life upside down. The show made him not only a star but brought him a second family. "I didn't expect to love my castmates as much as I do. I thought that we would all get along, but I didn't anticipate how much I would miss them when we're not working together." Aside from his show live, Harper turns out to be a real computer games geek. And Harper is a bit ashamed of his little quirk. 
"Oh man. Honestly the video game thing, for a guy my age, I feel like I nerd out pretty hard. I have a buddy in L.A. whenever I go out; I stay with him. We got pretty deep into some old school role-playing games from the PS1 and PS2."
At the age of 39, it seems like William has a girlfriend to attend to. His social media posts speak volumes. They seem to suggest that he is in love with an actress named Ali Ahn. According to his Instagram, William and Ali spend a lot of time together and she accompanies him at official events and parties.
Besides his current, blossoming relationship, there is no evidence about his previous love affairs. Similarly, there doesn't seem to be any whispers about him possibly getting married. Though there's one thing we know for sure - the actor's biggest love, as seen on Instagram, is his dog.
Ted Danson as Michael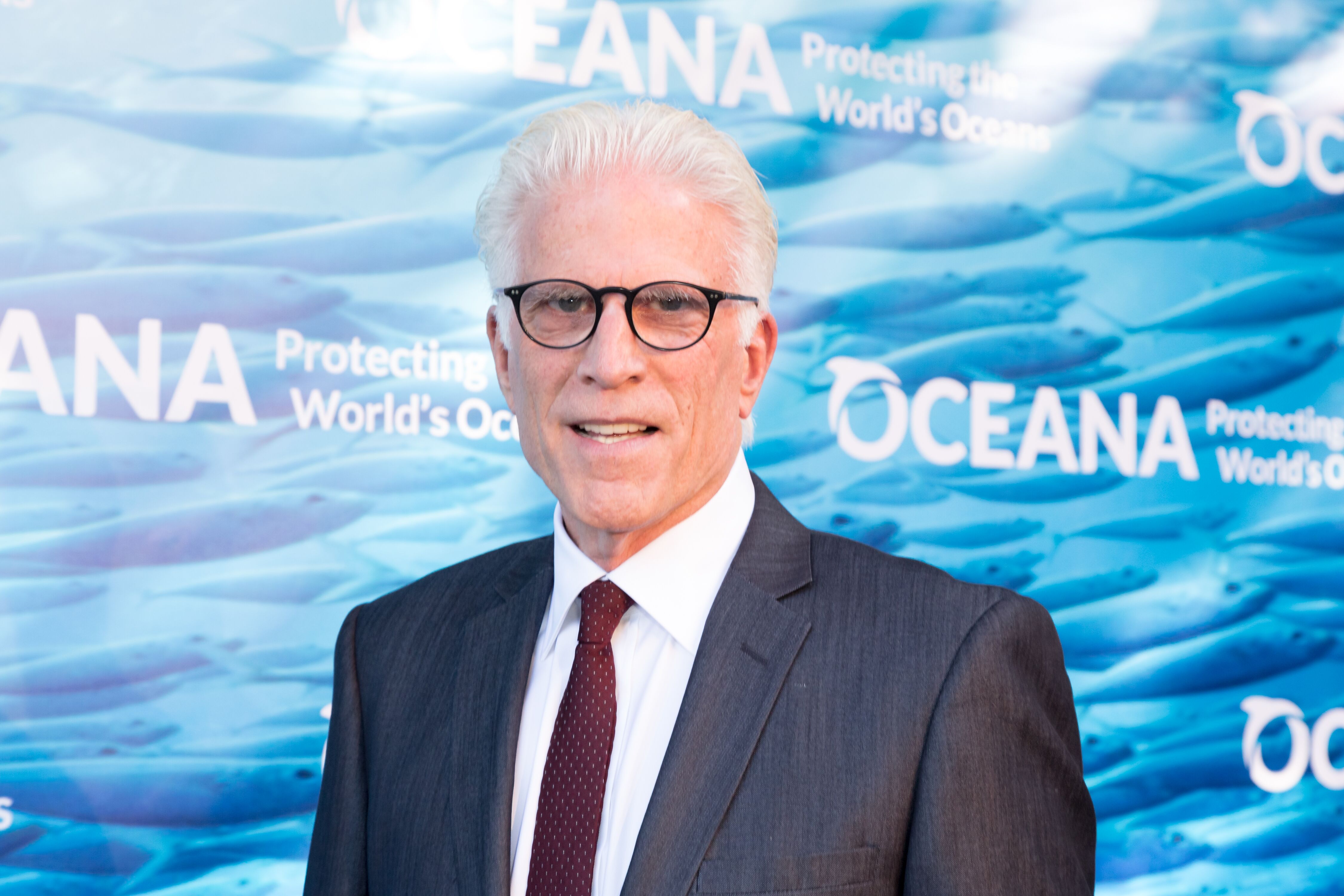 The happiest years of Ted Danson's life came after he let his hair go gray. Today after 71, Ted Danson is back starring in a hit comedy but he has spent the past quarter-century redefining himself. He tried it all: from a serious actor in dramatic roles in Damages and CSI, to an author and leading environmental activist. 
The one who helped him find his real self was Oscar-winning actress Mary Steenburgen. When they met on the set of the road movie Pontiac Moon in 1993, Ted had recently gone through a costly divorce from his second wife, producer Casey Coates who he shares daughters Kate and Alexis with, and had ended his relationship with Whoopi Goldberg after 18 months of dating. And Steenburgen was a single mother of two children, who came just in time when Danson needed to be rescued.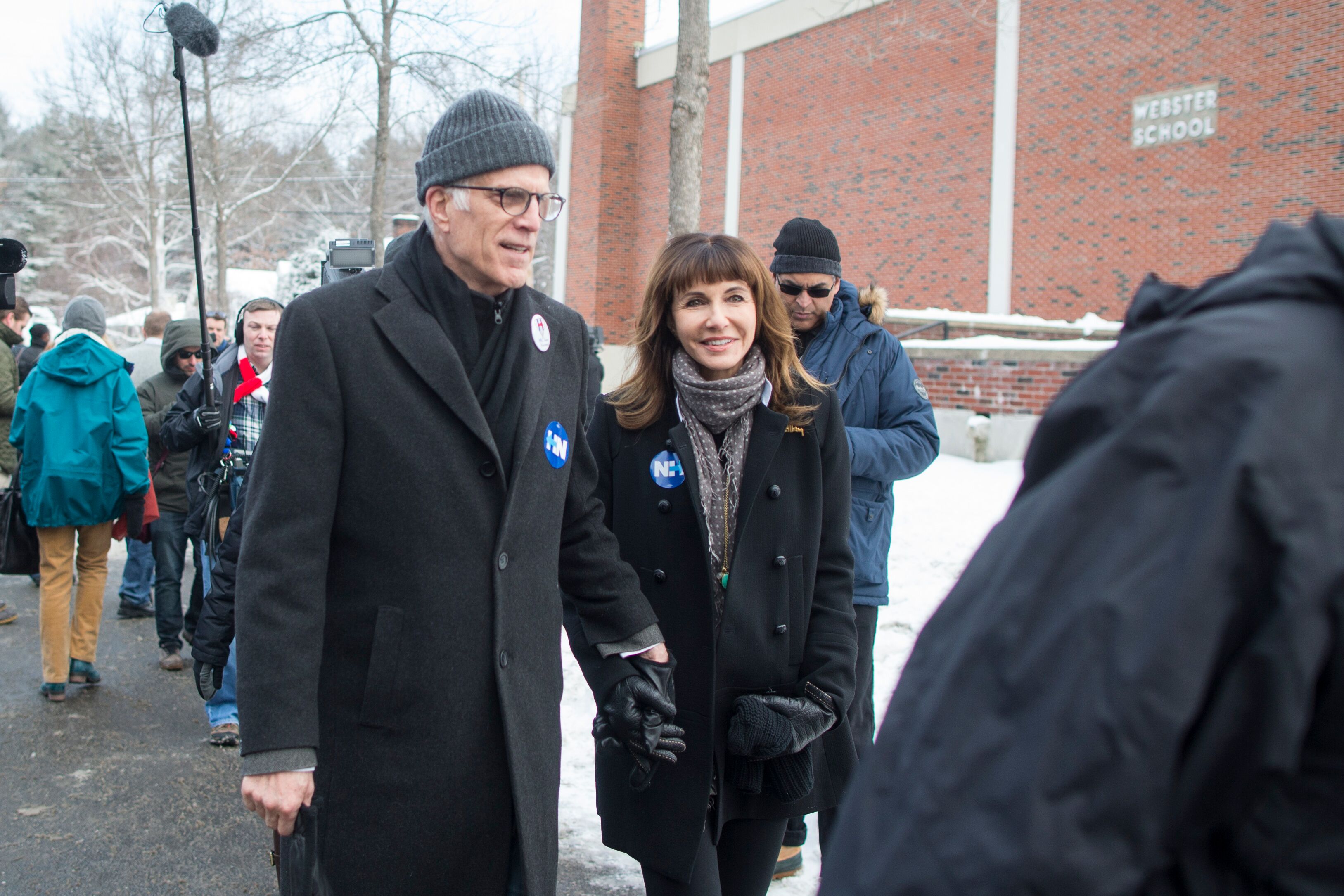 "I was a mess-and-a-half," he admits, crediting therapy with getting him through that time. "I thought, I'm incapable of being in a relationship. But I was working on myself. Ironic how life works in those moments. Once you throw your arms up and surrender, a lot of times things come your way."
Danson credits Steenburgen with helping him quiet an undercurrent of anxiety that no level of fame or success can quite squelch. When asked to spill the secret to their happiness, Ted has only one explanation. "I'm married to Mary Steenburgen."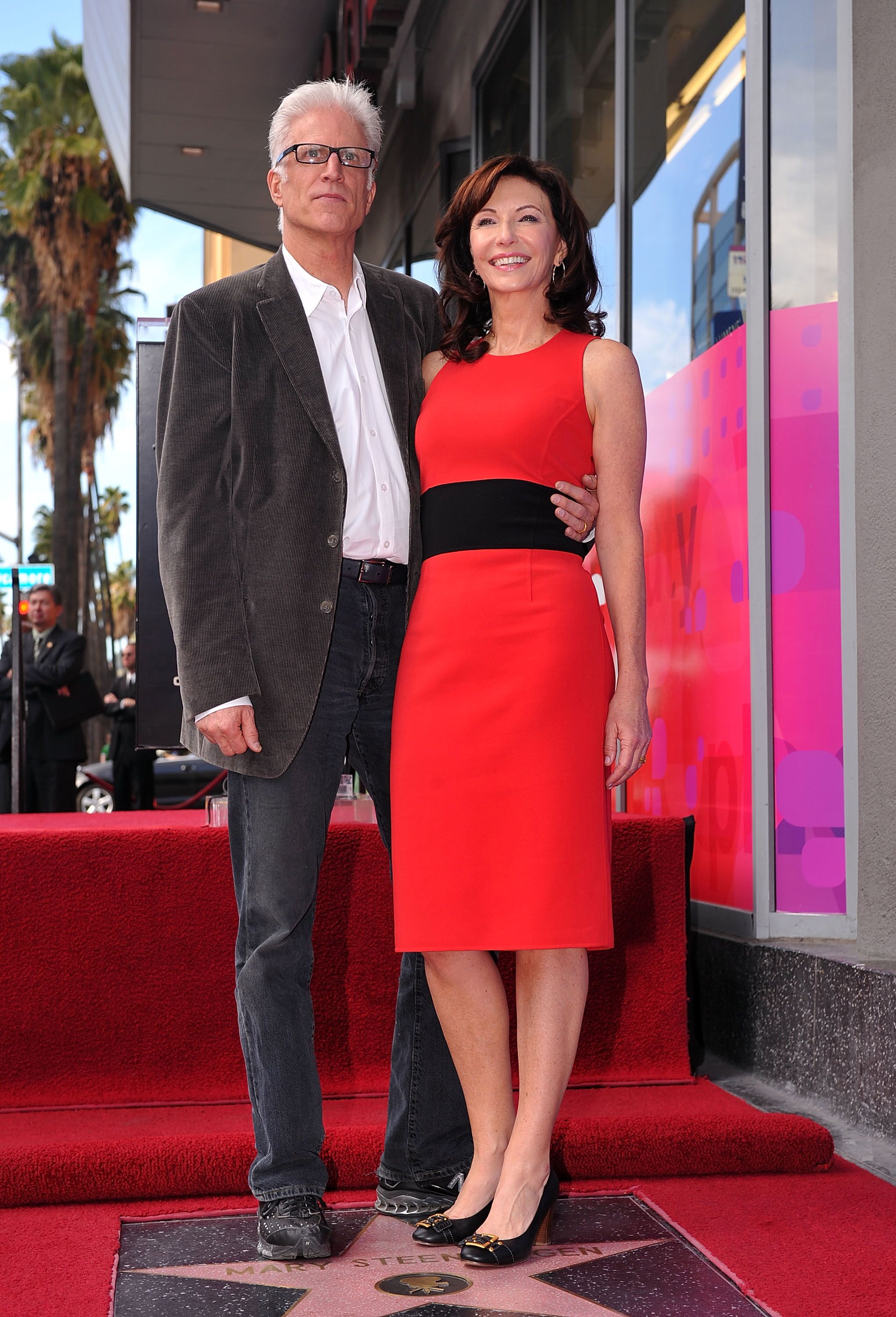 Indeed, after 23 years together, Ted and Mary are still crazy about each other. "Creative passion" is how Ted describes their relationship. I love her sense of fairness and right and wrong. And I don't think you're supposed to say this when you're almost 70, but she's very sexy."
Kristen Bell as Eleanor Shellstrop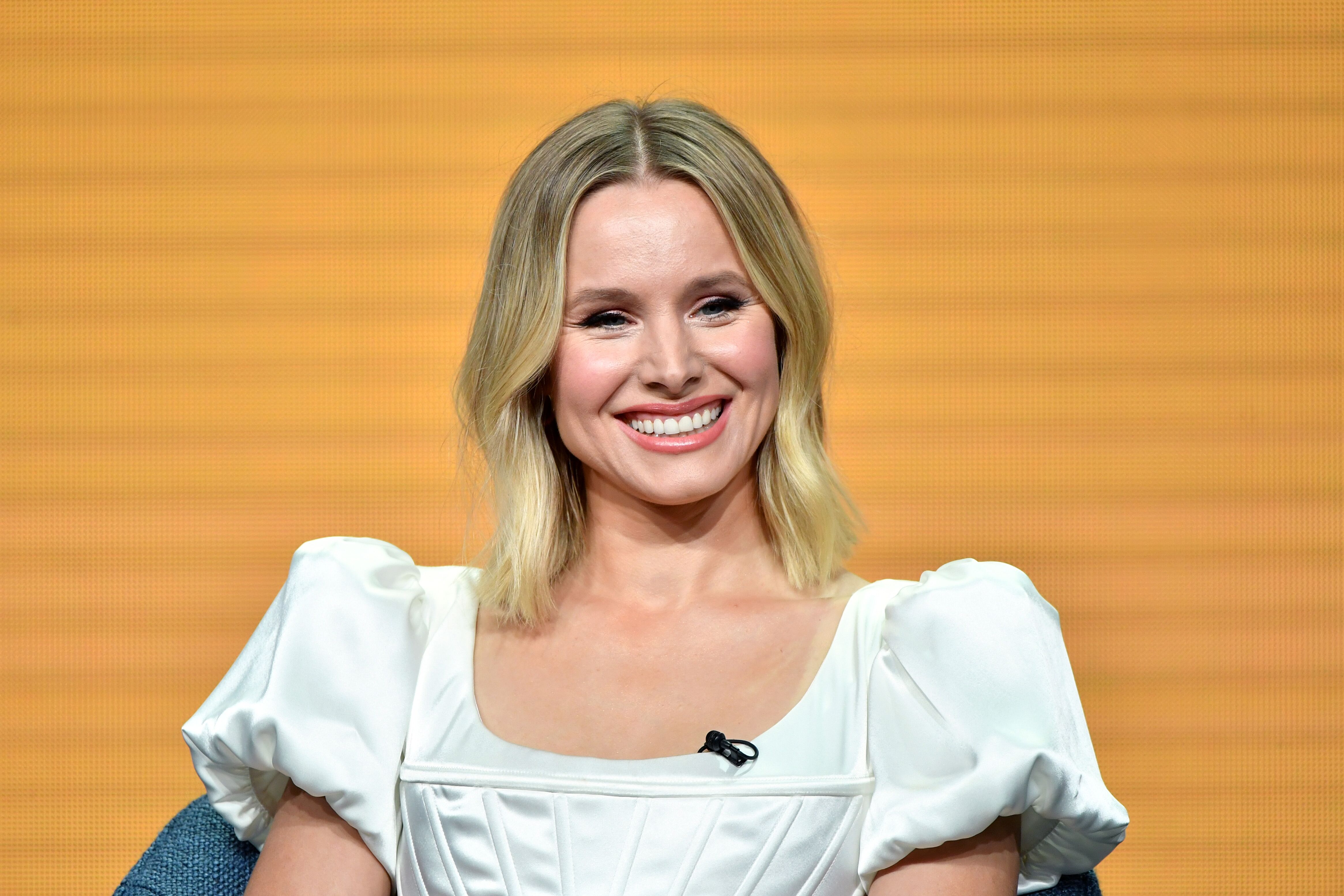 Kristen Bell and her husband, the comedian and actor Dax Shepard, are aware that their marriage is a huge inspiration for all. While they were dating, he surprised her on her birthday with a live sloth, and her ecstatic, sobbing meltdown went viral!
The duo waited until the supreme court legalized gay marriage, and on the day they did - Kristen immediately proposed to Dax on no other place than...Twitter! Kristen Bell knows people love how real she and husband Dax Shepard are, on social media and in real life.
Still, Bell cares deeply about protecting the privacy of their children. She does not share their photos and she stands up to paparazzi who try to sneak a pic of them. "As open as we are, we've agreed to a certain amount of openness. And the rest is ours. And it will stay ours," states the couple.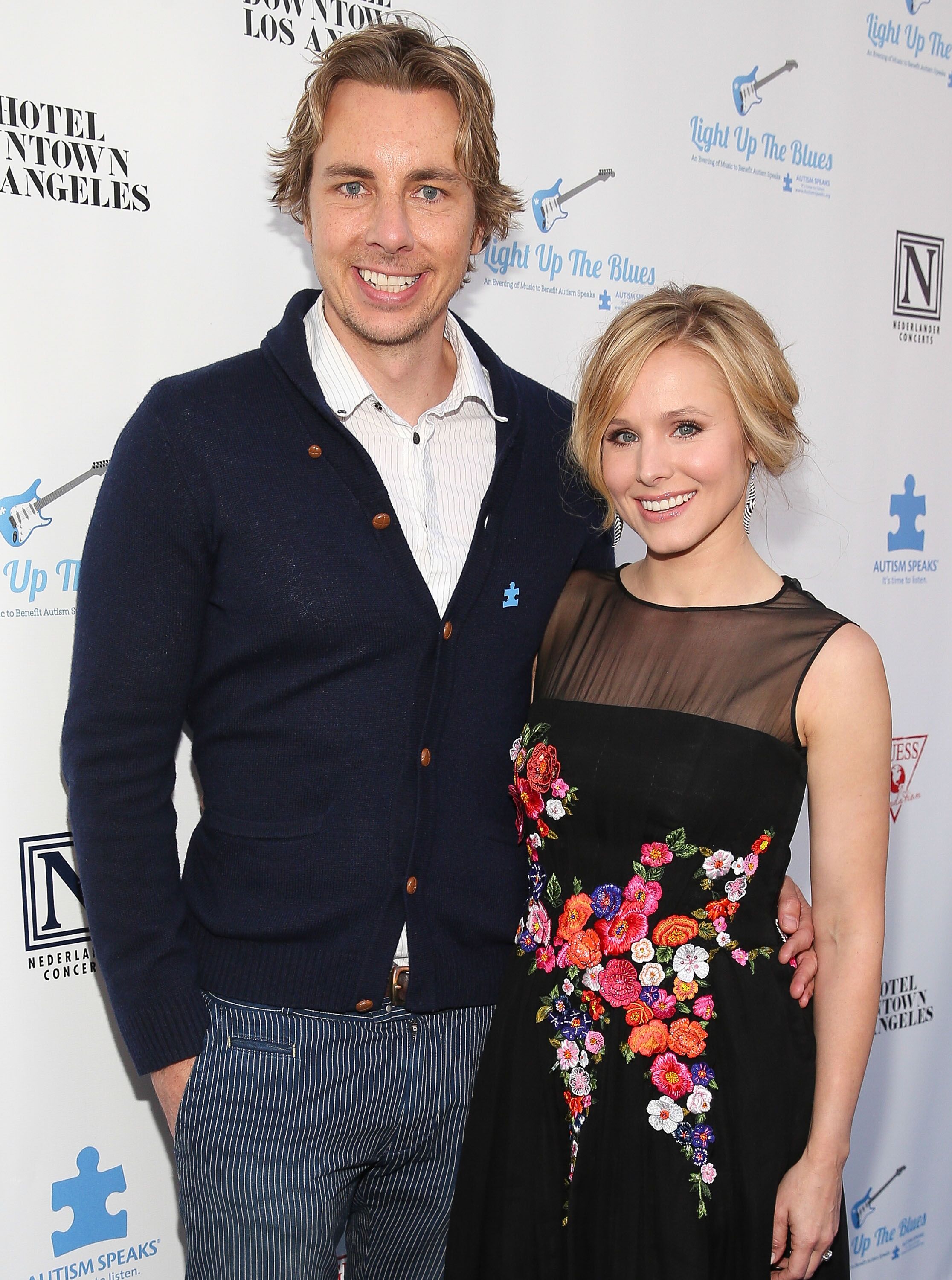 The pair always seem to be on the same page, although Bell says she is the polar opposite of her husband - and that's no exaggeration. We disagree on 99.9% of things and we argue all the time," says Bell. "The 0.1% of things they share, she notes, are crucial". "We both have the type of brain that likes to be stimulated by the devil's advocate point of view, so it totally works."
Dax has a bit of a different point of view: "If I had to sum it up in one word, (marriage is) work," he said. "And it's often uncomfortable work, but it needs doing or we won't stay together."