Ellen and Portia: An Inspiring Love Story
While they seem to be perfect together now, their journey towards happened started as a nightmare. Everything Ellen DeGeneres ever feared happened to her. And her wife Portia de Rossi for a long time "just didn't want to be a lesbian"! Why and which life events did these two ladies have to go through? We are about to find out.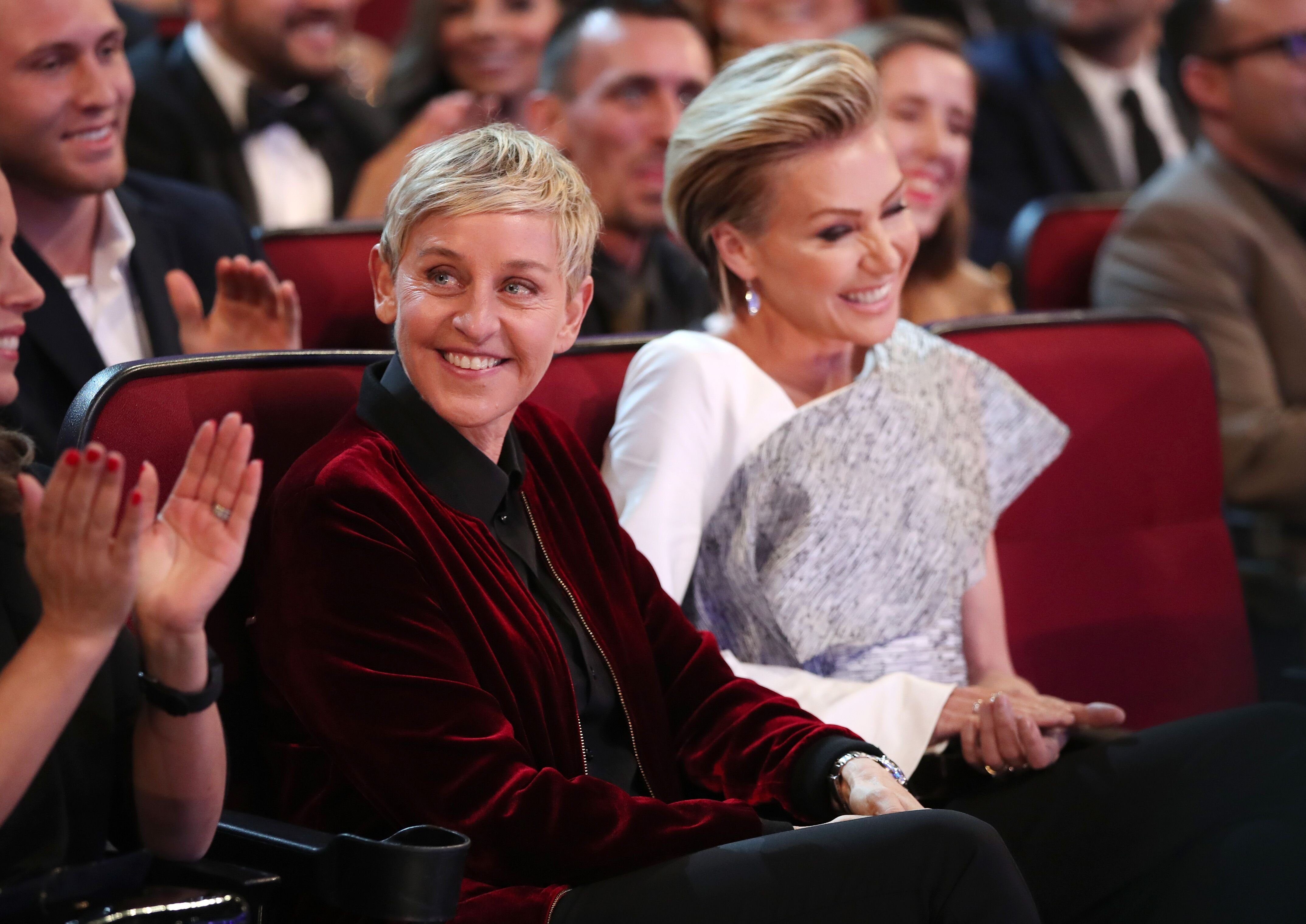 Two separate worlds
A very confident, independent and sometimes quite perky actress. And a vulnerable, very shy and sincere stand-up comedian. Different worlds apart but both women are trying to cope with tragedies they've been through.
Growing up in Australia, Portia came from a family where her mother was struggling to provide for her and her brother after the tragic loss of their father. The 11-year-old Portia did everything to help out her mother. So already at that age, Portia worked as a model and starred in TV commercials. All the pressure made her suffer from eating disorders.
With time, the crazy schedules and overwhelming pressure of adulting turned the little girl into a strong-willed, ambitious but very unhappy woman, who struggled with her sexual identity. De Rossi successfully played the typical "ice queen" characters in Ally McBeal and Arrested Development, who always had dysfunctional relationships. And it seemed like De Rossi played the very same role in her own life.
She suddenly married filmmaker Mel Metcalfe and for 3 years she stayed with him for only one reason - to get a green card. But then she realized how wrong that was and for the very first time - tried something she really wanted but was also afraid of.
De Rossi fully committed to her new relationship with the writer and filmmaker Francesca Gregorini. They were dating for two years, but whenever interviewers asked Portia if she was gay, the actress denied it or avoided answering those questions. De Rossi was very afraid for her career prospects…
Meanwhile, Ellen also tried living life in disguise. Her first relationships with women were carefully hidden from cameras. She fell in love with poet Kathy "Kat" Perkoff. It was a complicated relationship having two young artistic personalities, with loud arguments and break-ups. But one morning, after another break-up, 20-year-old Ellen found out that her girlfriend got into a car accident and did not survive.
Together with the great shock, she faced some money troubles. Ellen had to move into a tiny little basement apartment, where she was sleeping on a mattress on the floor.
And so with this horrible situation and painful memories of Ket, Ellen found the only thing that kept her going - writing. And that's how tragic events turned in material for her first-ever stand-up performance that would eventually become her life-changing moment. That is when Ellen came up with her famous phone call to God.
She thought of an idea of how amazing it would be if we could just pick up the phone and call up God and ask questions and get answers… It just unfolded, and Ellen wrote the entire speech. It was a great success. And while her career was making its headway, her personal life was still kept in total secrecy.
Ellen even got her movie colleagues to specially accompany her to events so that the press thought she was dating men! One of these organized dates was with Johnathon Schaech, as he later revealed in an interview. She kept lying about her life until one night when the comedian chose her own happiness over social acceptance and she finally came out as a lesbian It was a great relief for Ellen personally but a total disaster for her career.
"Everything that I ever feared happened to me," she told the Los Angeles Times that year. "I lost my show. I'd been attacked like hell. I went from making lots of money on a sitcom to making no money."
Ellen subsequently struggled to find work and she was in permanent mental distress. It took Ellen years to get back on her feet and finally in 2003 she managed to become a big hit with her self-titled talk show that we all know. It was just a year before Portia de Rossi entered her life and changed it completely.
Love at first sight
In one very famous interview with Oprah, Portia confessed that with Ellen it was love at first sight. The actress said that she knew from the very first moment that Ellen was the one, although it took her 3 whole years to finally express her feelings.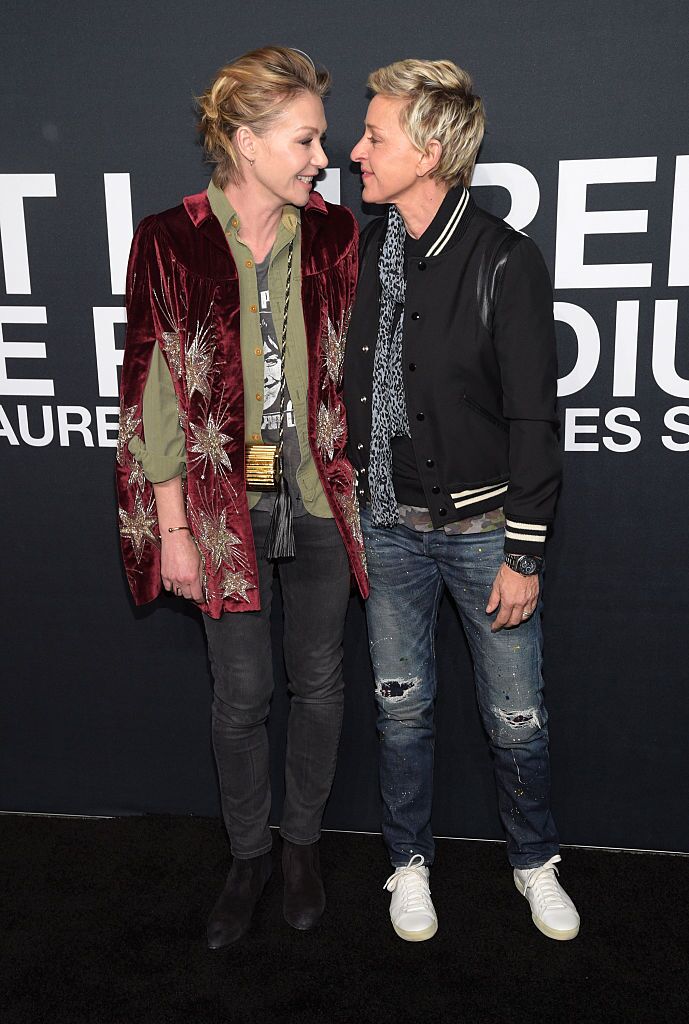 As you now know, Portia was a very closeted person and did not want to lose her job because she dated the most famous lesbian in Hollywood. But when the two saw each other again at a photoshoot, according to Portia, Ellen took her breath away. Ever since Portia's heart was captured.
And so de Rossi broke up with her then-girlfriend and moved in with Degeneres as soon as possible. But with their commitment, Portia faced her biggest fear. "I just didn't want to be a lesbian," de Rossi said on The Conversation With Amanda De Cadenet. 
Portia confessed that for a long time she had these ridiculous images in her head that said that there were no out celebrities or politicians or anybody she could see as an example and follow. But Ellen became that for her. And so she took the risk to finally come out as gay in public.
It was the Golden Globes 2004. Portia was very nervous as she knew that this very night she would have to deal with the press after the show. She knew they would definitely ask about her new relationship with Ellen. "And that was the first time that we actually stepped out together as a couple, but for me, it was the first time I stepped out as a gay woman, really." - Portia recalls.
By the end of 2005, they shared a two-bedroom home in L.A. and parented three rescue cats. In love. Wishing for a day when they would legally say their vows to each other.
In hope for marriage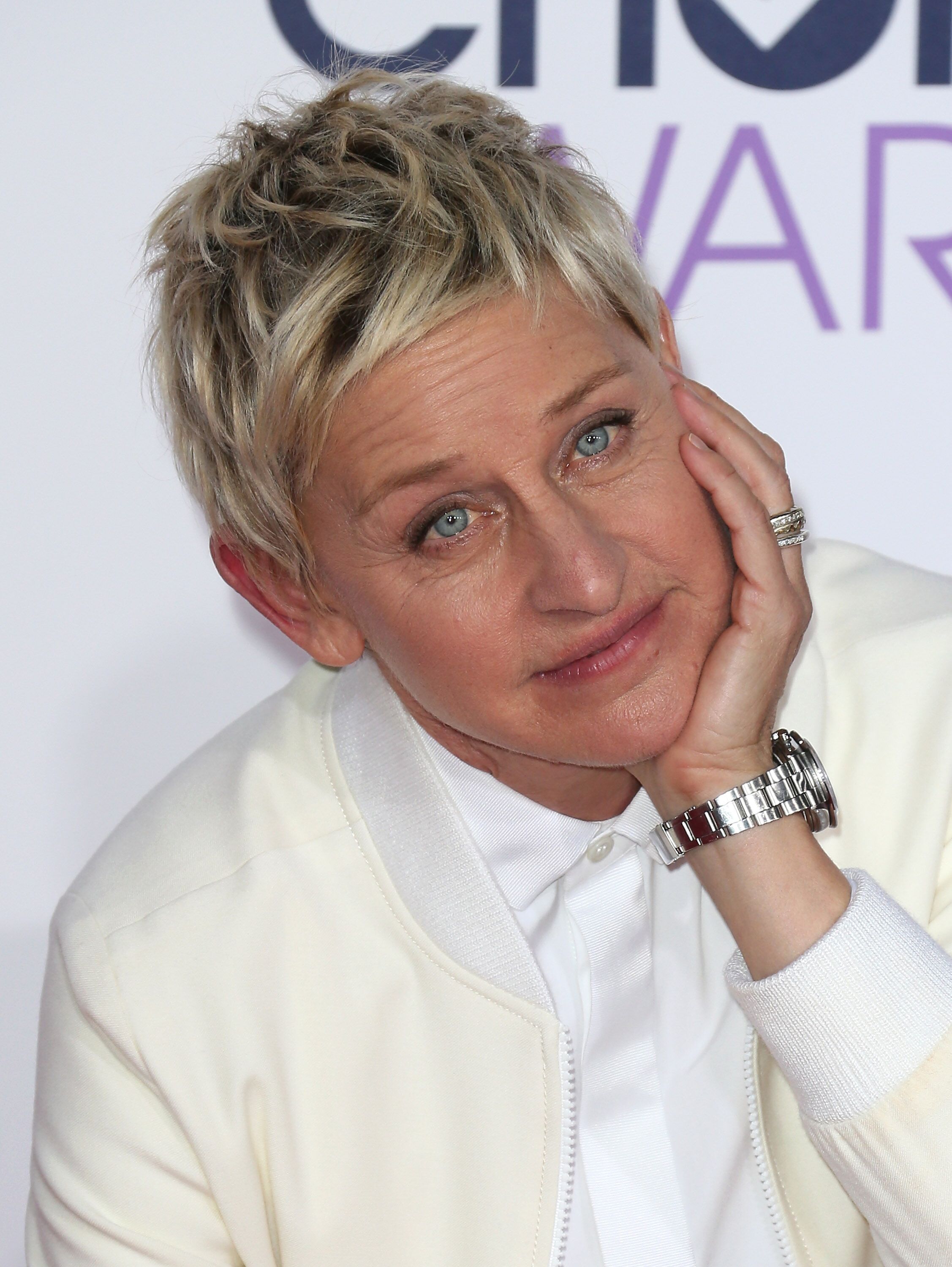 It was important for the couple to get legally married. Much later, when Oprah invited the two for an interview, Ellen explained their views. She said that anybody who's married knows that there is a difference. 
"There's an anchor, there's a safety. I'm going to be with her till the day I die and I know that." Degeneres said.
The only thing that did not allow them to get what they want - was the Law. So when in 2008 The California Supreme Court historically ruled that same-sex couples have a constitutional right to marry, Ellen and Portia waited no longer. They said "I do" in a very intimate and romantic way, with only 19 guests to witness their wedding.
DeGeneres' mom Betty came to support her daughter and de Rossi's mother Margaret Rogers, flew over from her home in Australia to be present on this important day. Their house was filled with excitement, tears of joy and happiness for one another. Portia shared that Ellen has become the only person she wants to hang out with. That she is not only her lover but a real best friend and she just wants to be with her forever But mostly, Portia is grateful to Ellen for becoming the person she has become by simply being with her.
But with great happinness comes a lot of hate, rumors and 24h attention from the paparazzi and media. The divorce rumors started and with time became really huge. But the couple saw this as a positive thing! Portia shared that even though it might sound ridiculous, when those rumors started happening she thought, "Oh, now we're finally accepted." 
And Ellen, of course, made fun of it all. Once, she had been flipping through a tabloid with a cover that stated her marriage was crumbling and was disappointed to find out that there were no specifics in there. "I will never know what's tearing my marriage apart," she quipped.
Despite how positive the couple's attitude was and how well they ignored the silly rumors, fictional stories about their messy split wouldn't go away... That is when Ellen was compelled to speak out more forcefully. Along with other loving words about her wife - Ellen revealed: "The truth is, and this is corny, I fall more in love with Portia all the time. I really do," she insisted to People.
That finally calmed down the tabloids… but with the one topic resolved, another one appeared a moment later! This time, articles went crazy about Ellen and Portia expecting babies. The story started when the couple was once asked about their 15-year difference and so Ellen gave a response. The age gap, of course, has never been an issue in the pairs' marriage. 
But what Ellen commented a moment later - gave the press some details for new rumors. In her interview with People, the comedian said that age only became a concern when it came to starting a family. "That's the only time I think about age; I think we should do it soon." adding that when she`s around babies, she just melts. Of course, it was enough to make rumors swirl. So the celebrity couple had to come up with another official statement. And during one of Ellen's shows, they announced that kids are not an option for them.
"We just decided we like our conversations not being interrupted and our furniture without sticky grape juice on it," the host said.
Instead, they are happy parents to pets. More so, they named one of the puppies "Kid" so that when people ask when they're going to have a kid, they can say, "we do!" After 11 years of being happily married the two have found the key to a successful relationship - having priorities.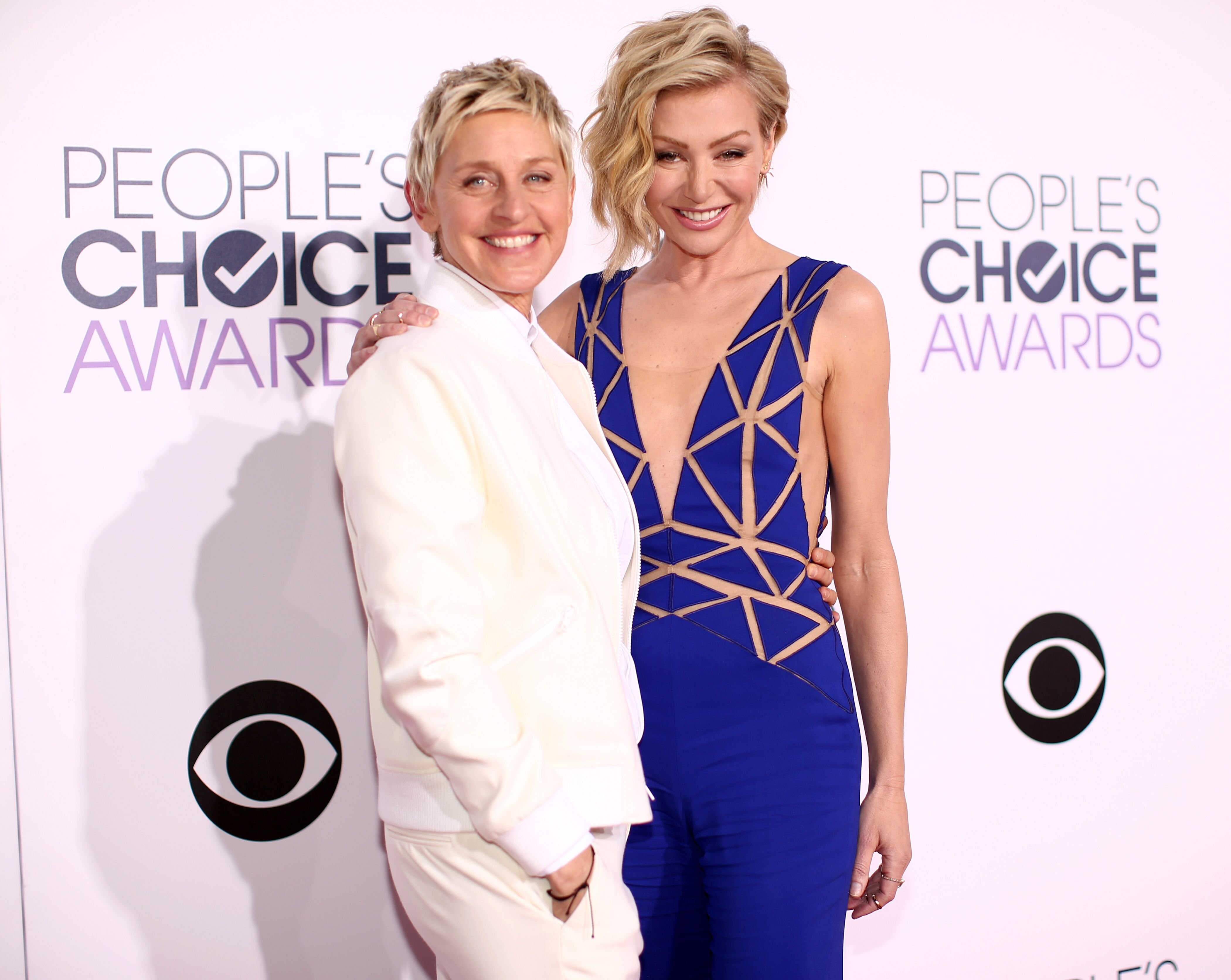 "Our priorities are each other," DeGeneres said. And on their recent wedding anniversary, Portia wrote on Instagram that being Ellen's wife is the greatest thing that there is.
It's easy to forget now just how much courage was required from Ellen to come out on the most public of stages almost 20 years ago when it was a totally different world. But she did overcome her fears and today we have this inspiring example of a loving couple.