50 Oldest Restaurants in the US: Visit Every State
The US has had taverns and inns serving food and drink since the Pilgrims arrived, but restaurants as we know them - private tables, servers, and menus to order from - is a relatively new concept. The nation has a history of great food and long-standing establishments. Dining in the establishments where pioneers, soldiers, and settlers enjoyed hearty meals, in an old train car, or a place referred to as a snake pit can be thrilling experiences. We compiled a culinary roadmap of the most historic restaurants in all 50 states. Tales of the proprietors' endurance and dedication before electricity, phones, or cars and reliving the thrill of a nation dining out for the first time are bound to inspire. Happy dining!
Alabama - The Bright Star
When the Bright Star restaurant opened in 1907, it was a tiny café with 25 seats around its horseshoe-shaped bar. Its ever-rising popularity led to three relocations before finding its forever home in 1914. Décor from the Bright Star's original design remains, including antique ceiling fans, hand-painted murals, and mirrored walls. Guests feast on Greek-style beef tenderloin and snapper, southern-style broiled seafood platters, lobster, crabmeat au gratin, and hearty seafood gumbo.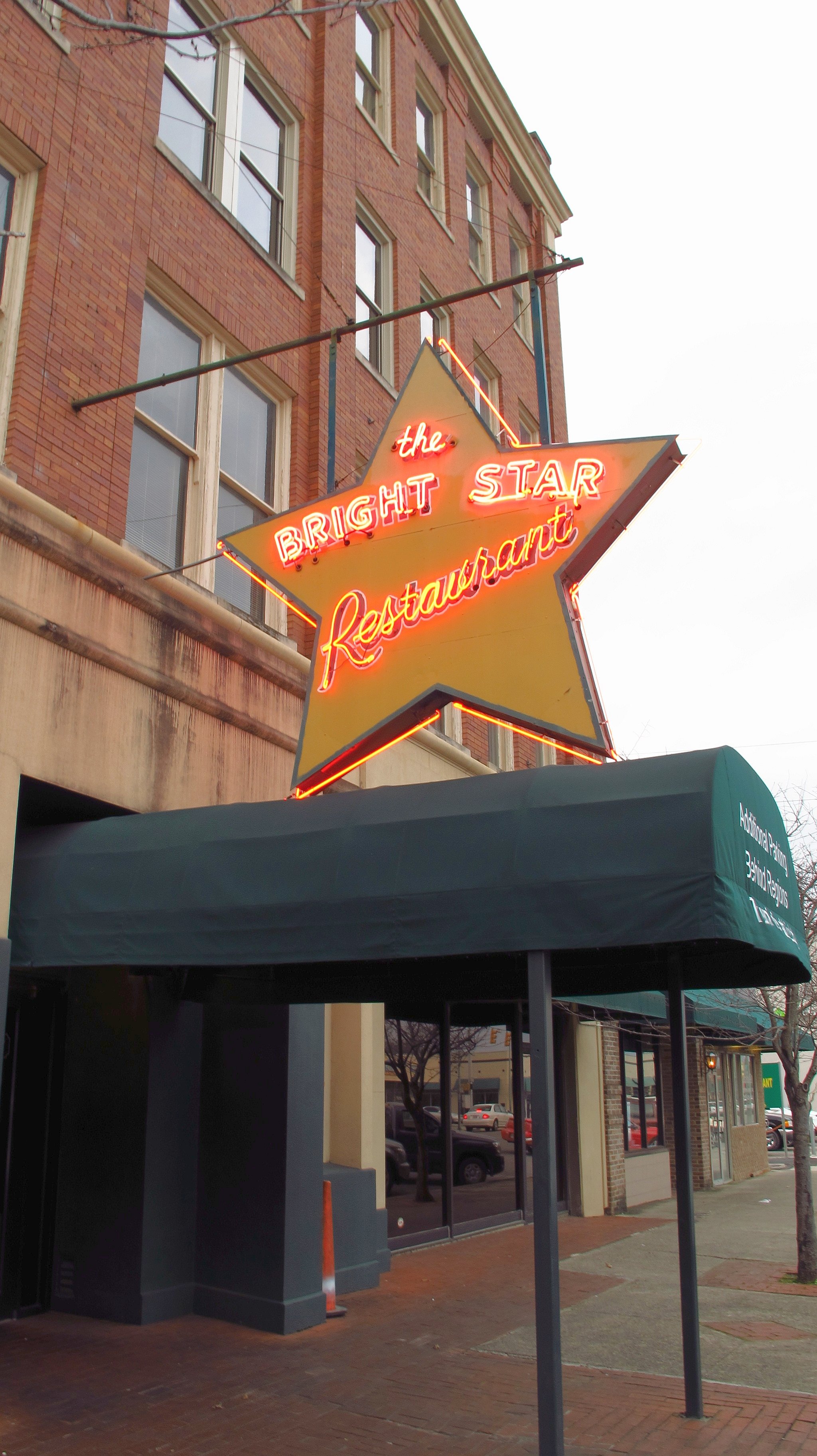 ---
Alaska - The Historic Skagway Inn
The Historic Skagway Inn has worn many different hats since its creation in 1897. It was a tavern for Gold Rush prospectors, a boarding house, a brothel, a family home, and a frontier inn. It still offers comfortable accommodations and good food as a bed-and-breakfast. The Skagway Inn features locally sourced king crab legs, fish and chips, halibut cakes, and caribou medallions, and over 100 years of rich history.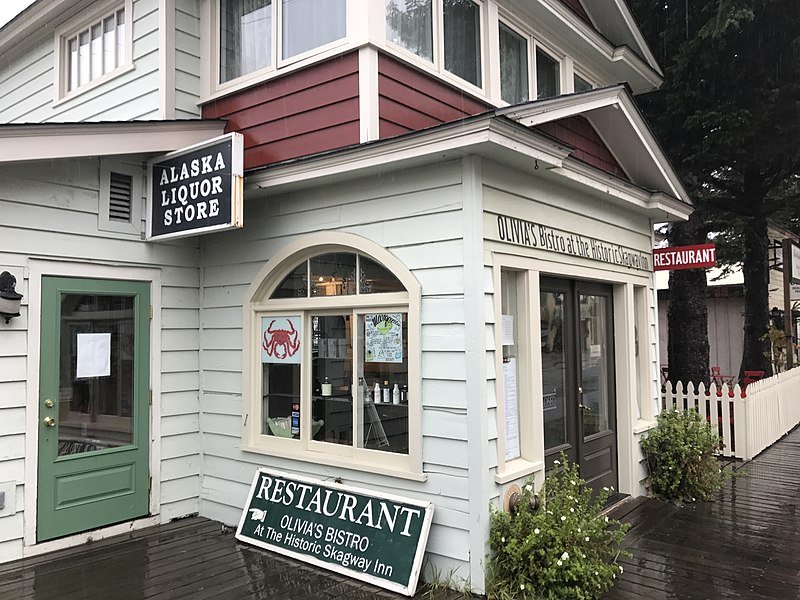 ---
Arizona - The Palace Restaurant And Saloon
If the lore of Tombstone, Billy the Kid, and Wyatt Earp strike your fancy, you can grab a drink and a meal where Virgil and Wyatt Earp once hung out! The Palace Restaurant and Saloon in Prescott, Arizona, maintains the antique bar where Doc Holliday and other Cochise County bandits once drank and shared their stories. One of the many saloons on "Whiskey Row," the Palace was centrally located, and therefore hosted political races, mineral claims sales, and cattle spreads.
Since its establishment in the 1870s, it never lacked wild times. Within those walls, Doc Holliday is rumored to have won $10,000 in a poker game. The Palace was so well-loved that, during a 1900 fire, locals banded together and carried the original Brunswick bar to safety. Thanks to them, you can have a steak and whiskey at that bar today.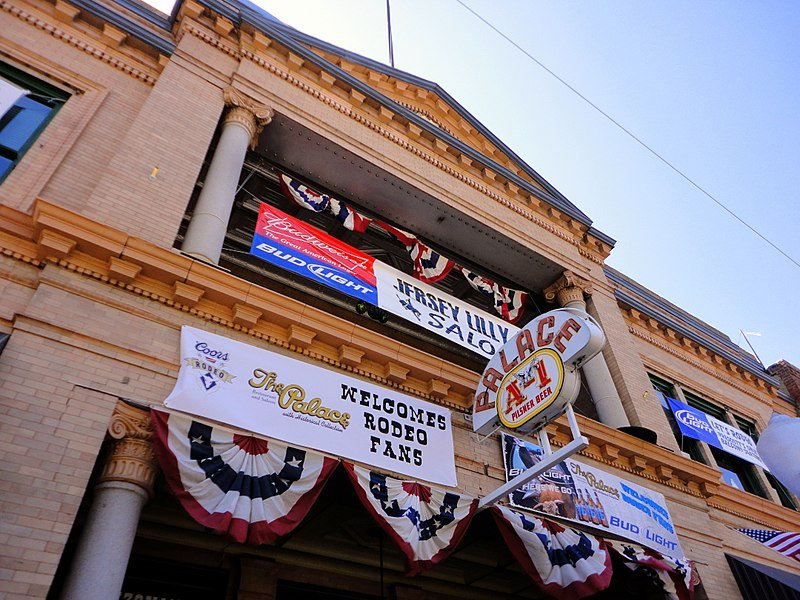 ---
Arkansas - Oark General Store
Located in northern Johnson County near the gorgeous Ozark highways, the Oark General Store has been a reliable place for a warm meal and much-needed supplies since 1890. It is the oldest continually operated store in all of Arkansas and retains much of its old-world charm. Oark's proximity to natural wonders like the Mulberry River and the wild national forests makes it an ideal spot to stop for a bite. American comfort food - thick cheeseburgers, BLT sandwiches, pie with ice cream - are all available at the general store and gas station.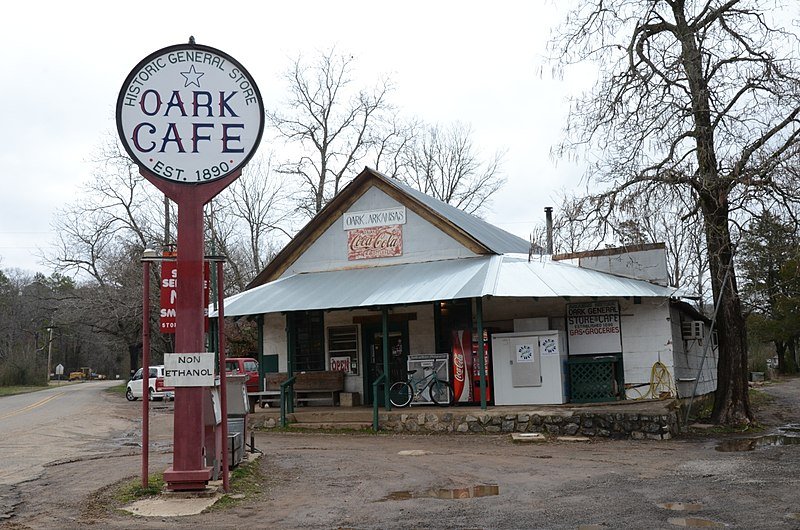 ---
California - Pacific Dining Car
For four generations, the Pacific Dining Car in Downtown Los Angeles has served savory steaks out of an old railway train car. The original owners, Fred and Grace, rented a lot at 7th and Westlake and modified a train car to house their restaurant. In 1923 they lost the spot to skyrocketing rent. Since their establishment had wheels, they moved the restaurant to 6th and Witmer, where it stands today. The PDC takes well-earned pride in its prime, personally selected cuts of beef, expertly aged onsite. The PDC grew in popularity, adding extensions to meet demand while never losing its original flair.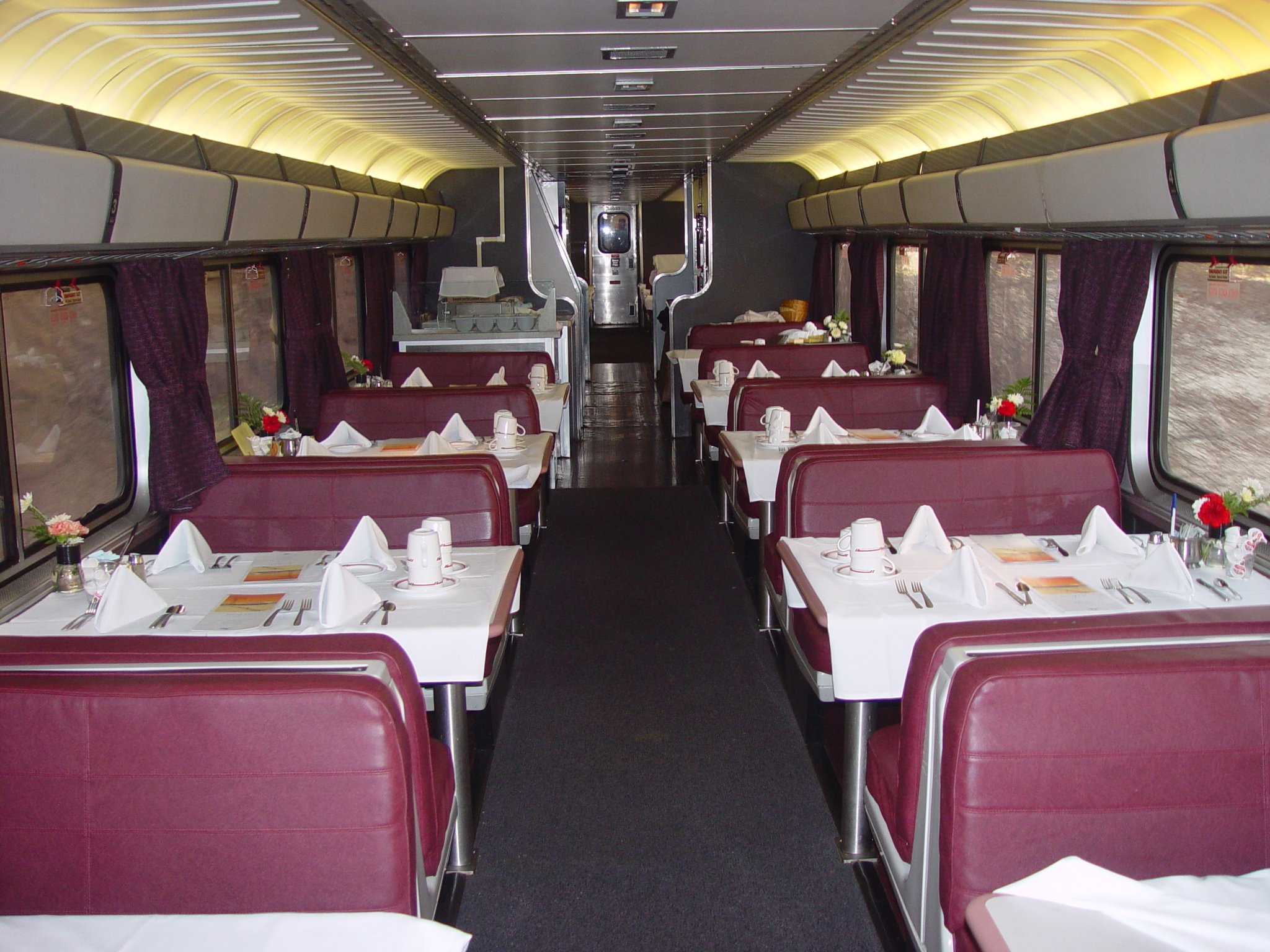 ---
Colorado - Buckhorn Exchange
Buckhorn Exchange serves traditional Colorado cuisine like quail, buffalo prime rib, salmon, elk, baby-back ribs, game hen, and classic beef steaks that have made them famous since 1893. Founded by Henry H. "Shorty Scout" Zietz, a man who rode with Buffalo Bill and Sitting Bull for years, attracted silver miners, cowboys, Native American chiefs, railroad workers, and gamblers alike. Located in Denver, Colorado, the Buckhorn immerses guests in a historic atmosphere from the moment they arrive. The décor comprises hunting trophies, genuine artifacts, and a wealth of memories from its famous clientele.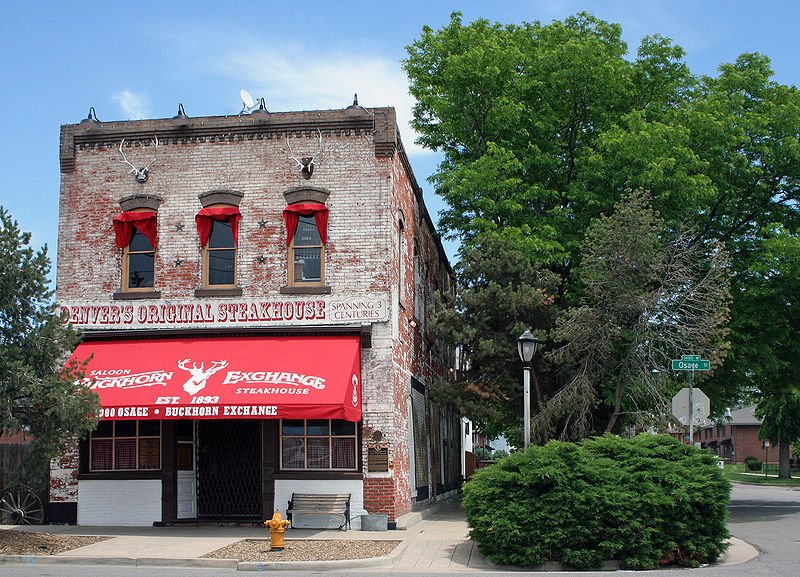 ---
Connecticut - The Griswold Inn
The Griswold Inn is as old as the country itself. It began operating in 1776 and has kept its doors open since. Throughout its history, the Griswold has been a comfortable place for those traveling by land, sea, or river. The inn features a historic dining room where one can sample a curated menu of poultry, seafood, and steak, keeping traditional, American cuisine alive. It also offers a classic, hearty Sunday Hunt breakfast in the spirit of British soldiers who lodged there during the War of 1812.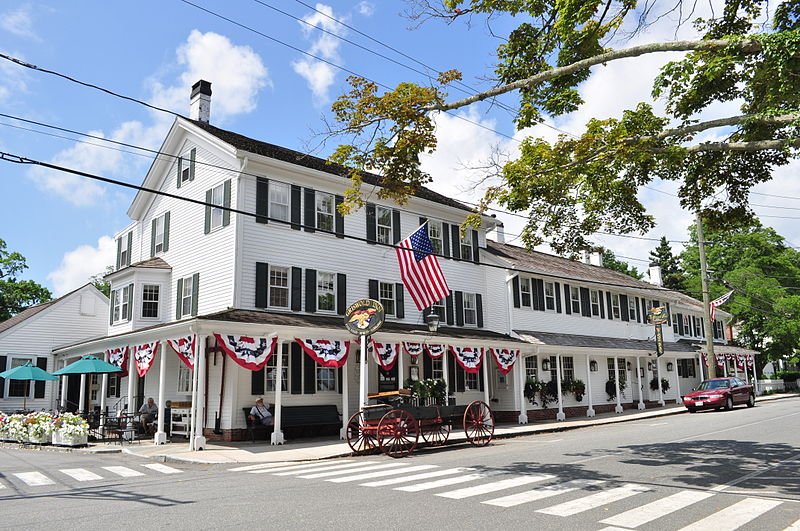 ---
Delaware - Jessop's Tavern And Colonial Restaurant
The building that became Jessop's Tavern was erected in 1674 and served as the residence to Abraham Jessop, a barrel maker. The Tavern has known many names, including the Captain's Log Restaurant and the Green Frog Tavern. Today, it provides an authentic range of foods honoring the Swedish, Dutch, and Belgian cultures that strongly influenced the region.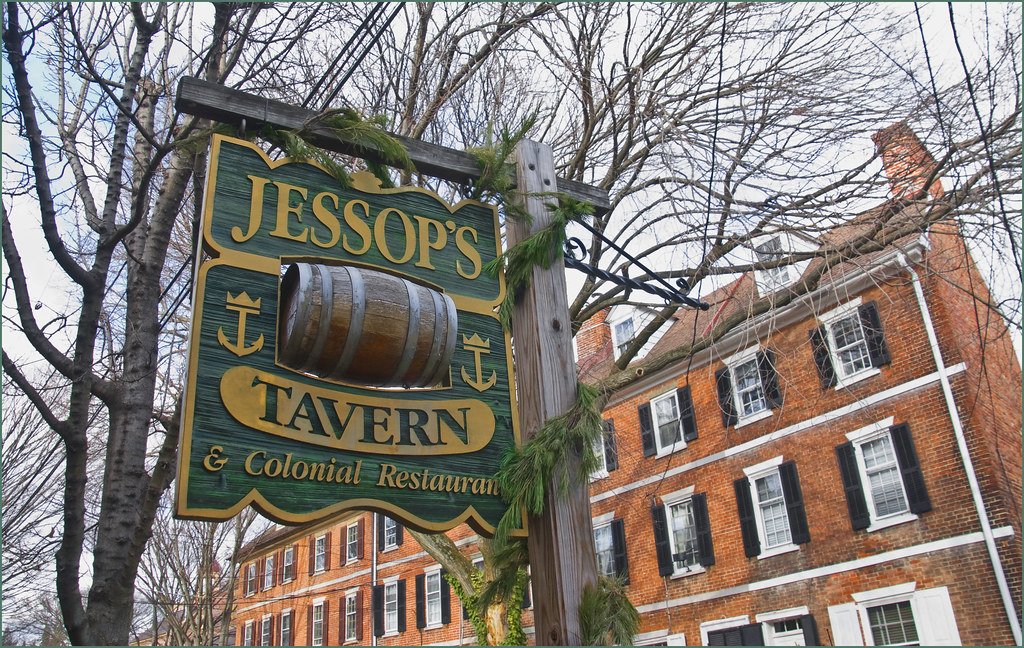 ---
Florida - Columbia Restaurant
The Columbia Restaurant was founded in 1905 by Casimiro Hernandez, Sr., a Cuban immigrant. The restaurant is still family-owned and operated, serving authentic Cuban coffee and food in an elegant setting. Marble archways, indoor palms, sunny atriums, and sparkling chandeliers, every inch of the building tantalizes. Its luxury has attracted several famous names, including Babe Ruth, Steven Tyler, Bruce Springsteen, Stephen King, and Liza Minelli.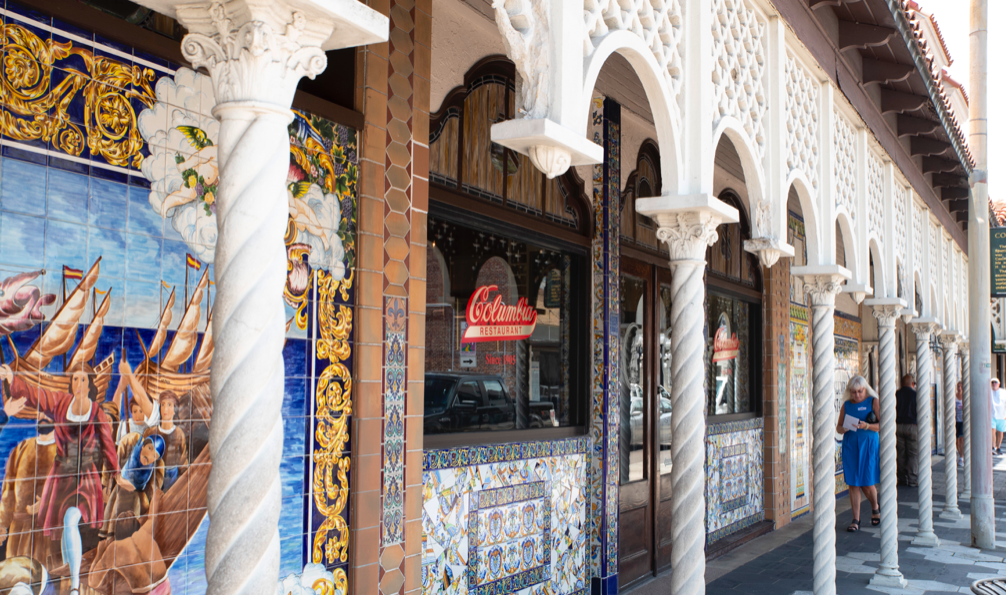 ---
Georgia - The Plaza Restaurant And Oyster Bar
Since 1916, The Thomasville Plaza Restaurant and Oyster Bar has been an institution. Phenomenal seafood fare quickly grew the business, and it relocated to its current location on Broad and Smith soon after opening. The menu includes seafood hushpuppies, Greek-style red snapper, flavorful steaks and chops, and of course, fresh oysters. Enjoy them as shooters, steamed, Rockefeller, or as Devils on Horseback. The hand-picked selection has kept the Plaza going strong for over 100 years.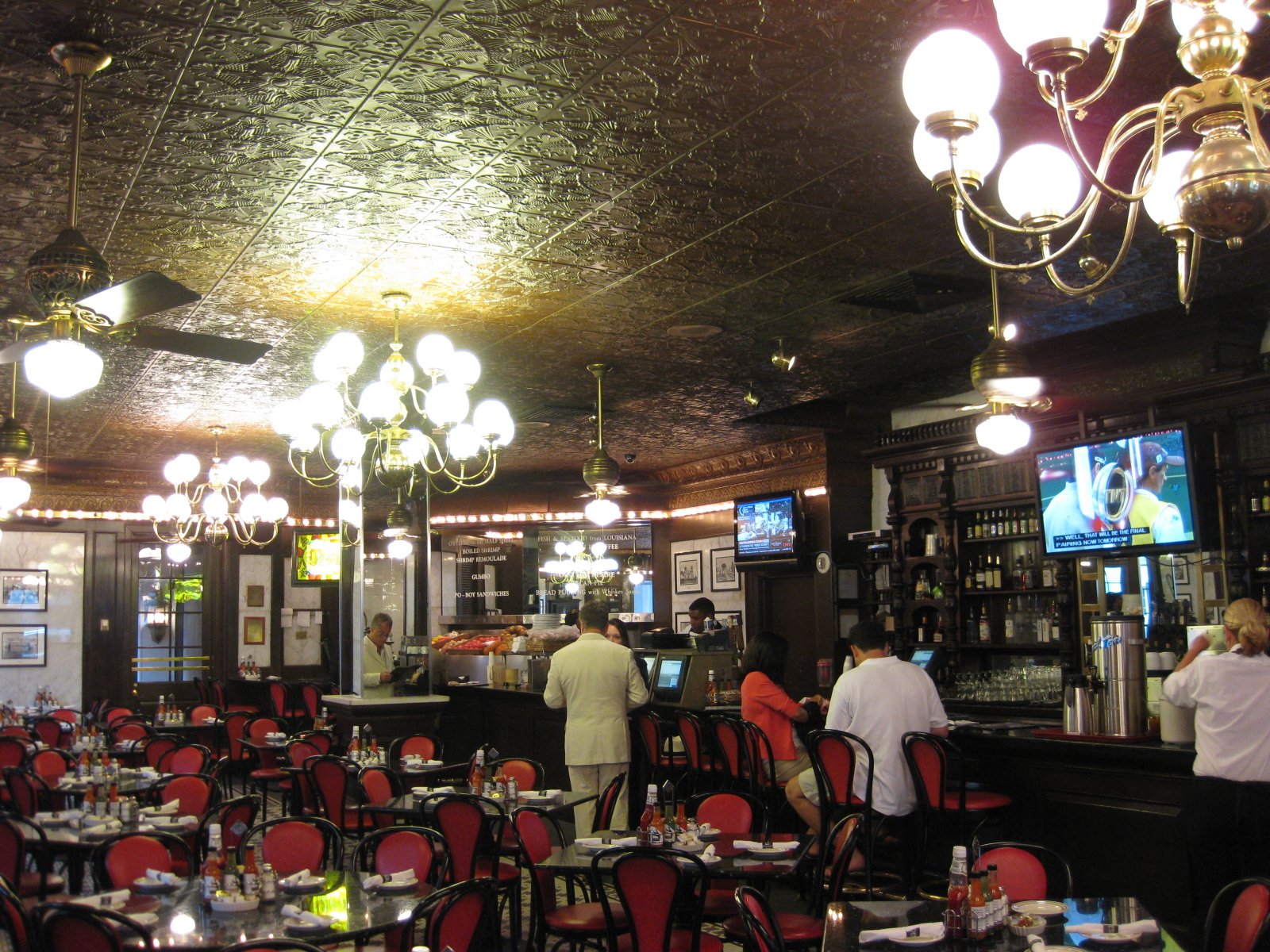 ---
Hawaii - Manago Hotel
The restaurant at the Manago Hotel in Hawaii's Captain Cook community is one of the oldest restaurants in the state. It started as a simple two-cot-and-futon rest house, growing with each generation of the Manago family, as they put their love and hard work into the establishment. Since 1917, it has been feeding hungry workers on the coffee plantations and providing a place of ease and rest to travelers. During WWII, the Manago was contracted to feed the soldiers who occupied a nearby school. The menu offers delicious fish dishes of Mahi Mahi, Opakapaka, Ahi tuna, and ono.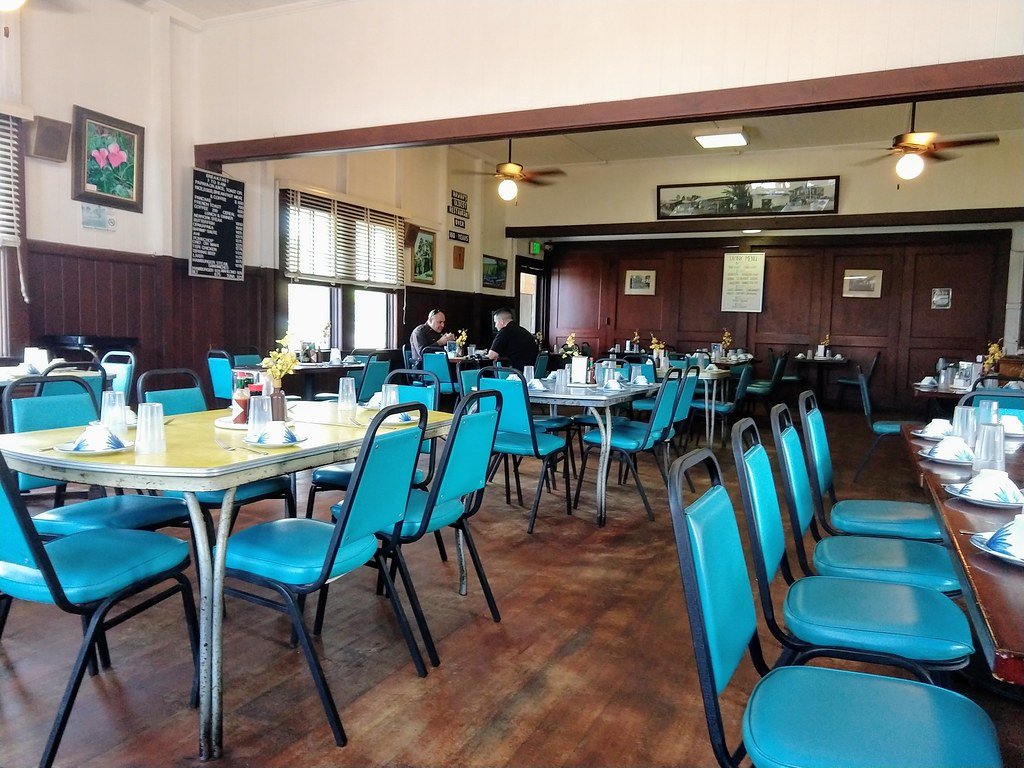 ---
Idaho - The Snake Pit
Near the fork of the Coeur D'Alene river lies the Snake Pit. Established in 1880, the Snake Pit began as a boomtown bar and layover hotel for railway travelers. Loggers and miners frequented its rustic halls, and it briefly served a stint as a house of pleasure. Though it has known many names over the decades - including The Clark Hotel and the Enaville Resort - the restaurant's current title may have been inspired by the water snakes that filled the areas near the outside toilets before indoor plumbing. Supposedly, customers used to catch these snakes in jars and show them off at the restaurant. It is the home of long-loved antique furniture and a magnificent fireplace constructed from rocks supplied by members of the town. The decor can be enjoyed while feasting on barbeque, steaks and burgers, and a scoop of huckleberry ice cream.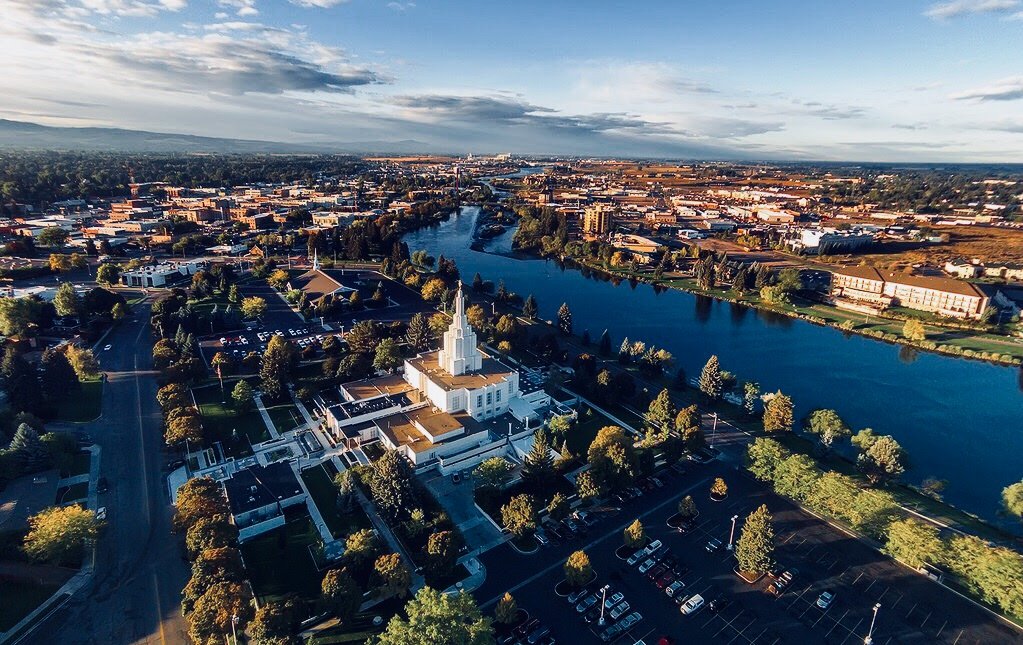 ---
Illinois - The Village Tavern
The Village Tavern in historic Long Grove, Illinois, has been a favorite of locals since its opening in 1847. It is a warm and welcoming family restaurant with a beautiful mahogany bar stretching over 35 feet. The Village Tavern offers hearty meals and a place to soak in the aesthetic of yesteryear. The Tavern's original bar survived the "Great McCormick Place Fire" of the 1960s. Guests enjoy an all-you-can-eat fish fry's on Friday nights and tender, juicy prime rib on Saturdays.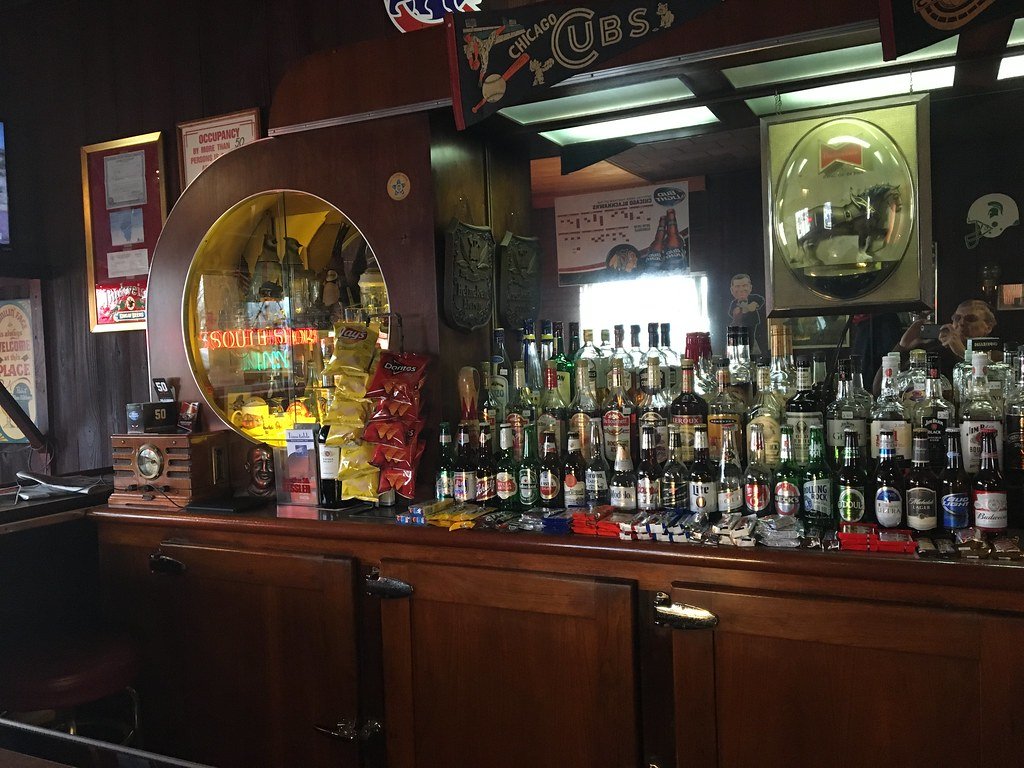 ---
Indiana - The Log Inn
Long Inn guests enjoy meals in the same room President Abraham Lincoln once did! In 1844, visited The Log Inn began as a stagecoach stop and trading post in 1825, offering relief to weary travelers. The restaurant serves family-style comfort food that includes fried chicken, mashed potatoes with gravy, veggies, hot buttered rolls, and homemade slaw. If you pop in during the right season, you might score a slice of its famous strawberry pie.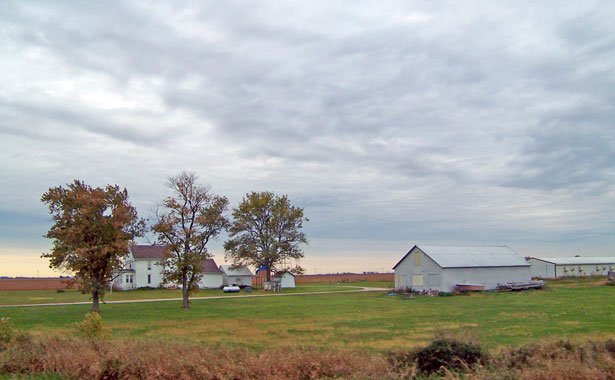 ---
Iowa - Breitbach's Country Dining
Breitbach's Country Dining has been owned and operated by the same family for six generations! The great-great-grandfather of Breitbach's current owner began this eatery and watering hole in 1862. Since then, they have offered delightful home-cooked country favorites. In 2007, the original building burned down in a gas fire, as did its reconstruction. The Breitbach's owners used a small building across the parking lot to keep hungry patrons fed. Called "The Gathering Place" while the new building was under construction, the auxiliary remains a place to taste local wines and products. It's a beautiful addition to the country dining experience.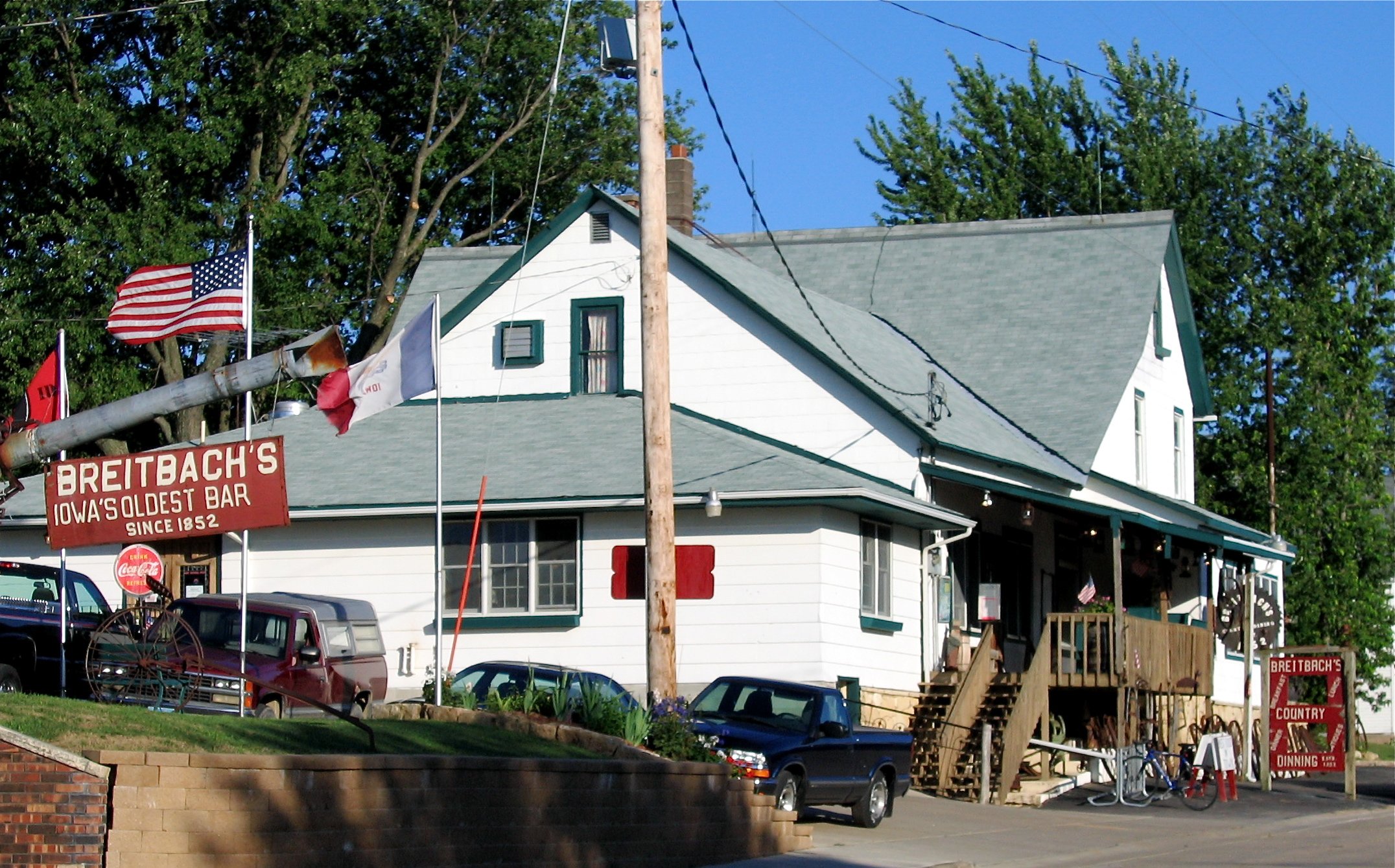 ---
Kansas - Hays House
Hays House was built in 1857 by Seth Hays, the great-grandson of infamous Daniel Boone. The original cabin of Hays House served as a trading post and eatery on the well-traveled Santa Fe Trail. The Hays House served as much more than a diner and saloon. The US Government rented the space to distribute mail and hold court. It was even used for church services. A local legend says that during a fire in 1886, the villagers rushed to save their beloved tavern. Today, Hays House boasts an impressive collection of crystal on display, a cellar, and plenty of intriguing antiques. Diners are encouraged to wander and explore the grounds after enjoying one of their hearty meals.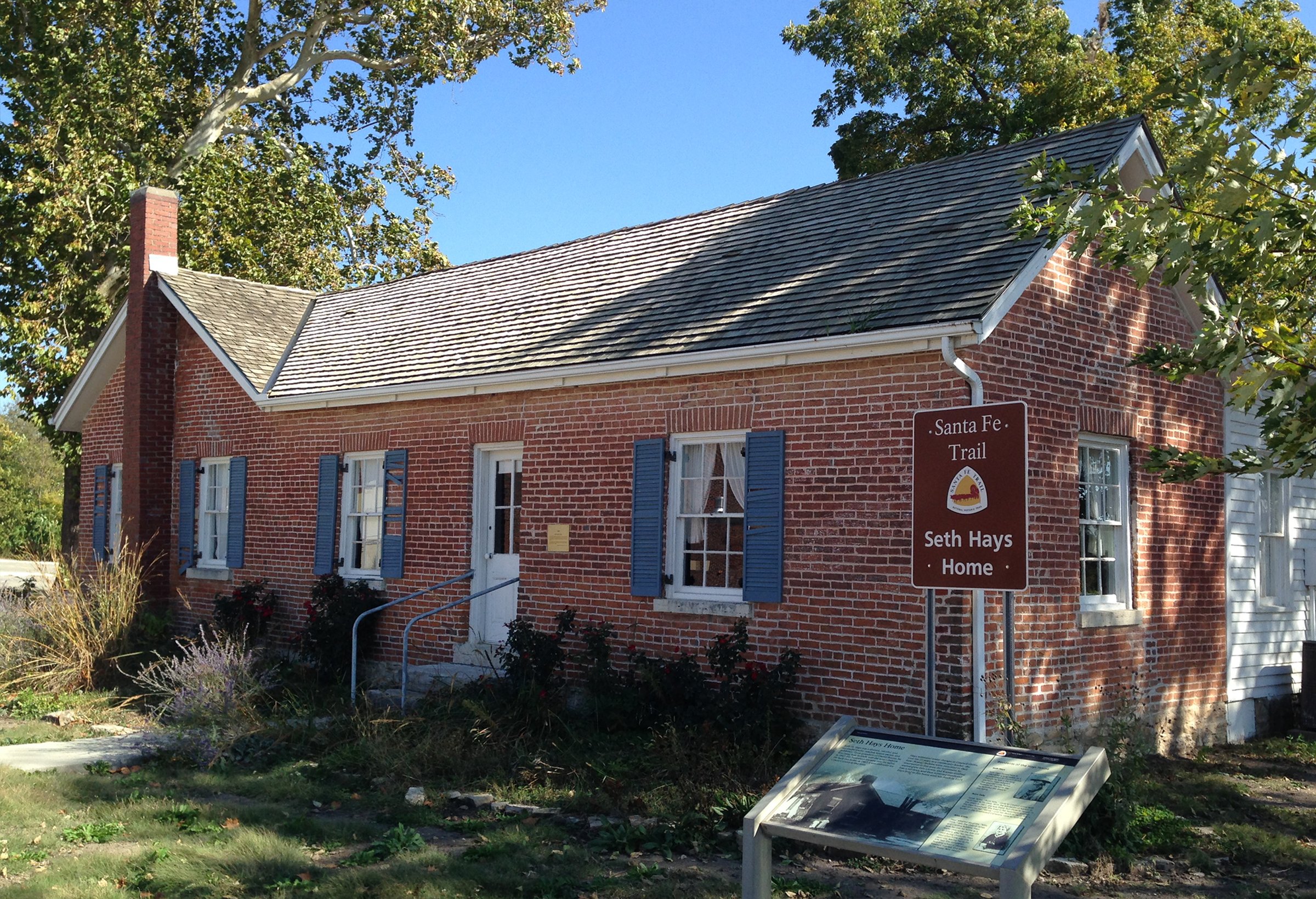 ---
Kentucky - The Old Talbott Tavern
The Old Talbott Tavern has been operating as a rest stop, tavern, and eatery since 1779 and is reputed to be the oldest stagecoach stop in the country. The bar once served as a base for General George Rogers Clark, Andrew Jackson, and one member of the entourage of exiled King Louis Philippe is purported to have painted the murals of birds that adorn the walls.
Allegedly, Jesse James also stayed in the tavern and, after some drinks, thought the painted birds were moving. He fired his gun at the wall, and the holes left behind are still visible today. In addition to the smoky local bourbon and authentic southern dishes, you might also encounter a ghost! Many guests have reported a mysterious lady in white haunting the halls, and more than a handful of strange sightings of balls of floating light have woken sleepers in the night.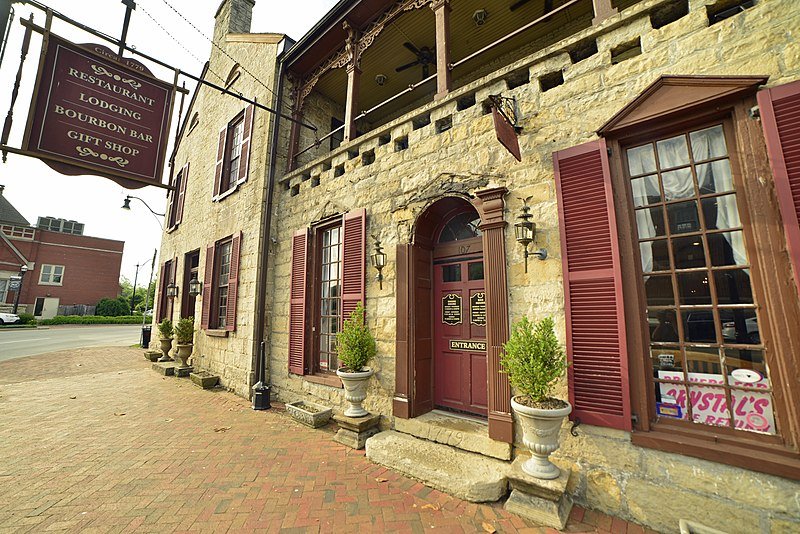 ---
Louisiana - Antoine's Restaurant 
In 1840, 18-year-old Antoine Alciatore established Antoine's Restaurant in New Orleans. He and his wife filled the elegant restaurant with heart and soul, and before long, popularity demanded a larger location. The relocation spot in 1868 was just down the block from the original eatery, and Antoine's has remained there ever since.
Eventually, Antoine's son Jules took over. He is rumored to have created the original recipe for oysters Rockefeller, and the family has long kept the recipe secret. Ownership of Antoine's has passed through the generations, and the family's hard work has created a wondrous dining experience that has attracted countless celebrities. The menu features French and Cajun cooking, and guests enjoy beautiful brunch spreads on Sunday mornings accompanied by live jazz music.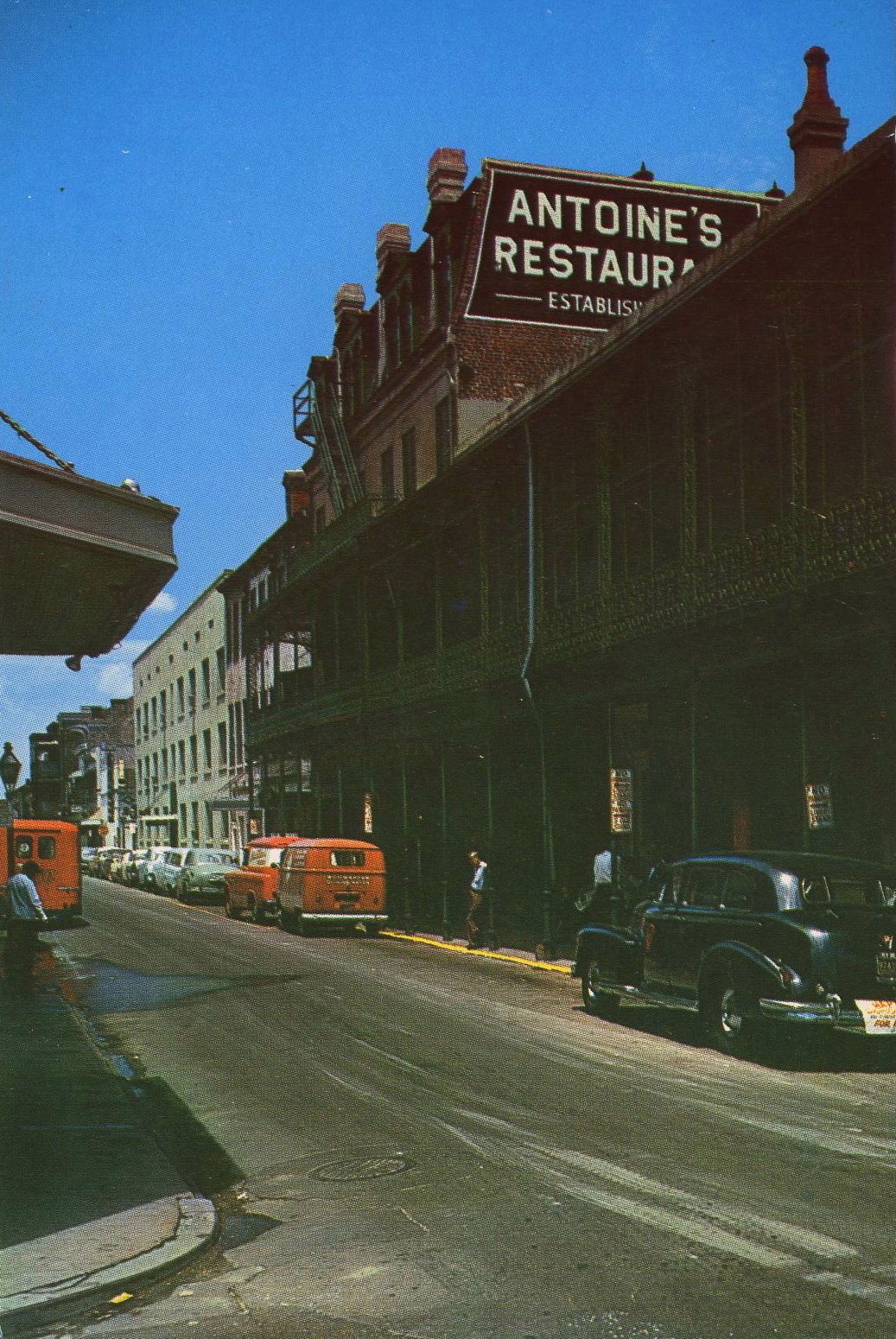 ---
The oldest restaurant in Maine operates out of a Pollard train car - one of only two surviving cars in America. Since 1927, the diner has prided itself on serving hearty breakfasts and American lunch favorites, like fried chicken sandwiches, burgers, and tuna melts. All stereotypes aside, their tuna melt has been named the greatest in lunch-counter history!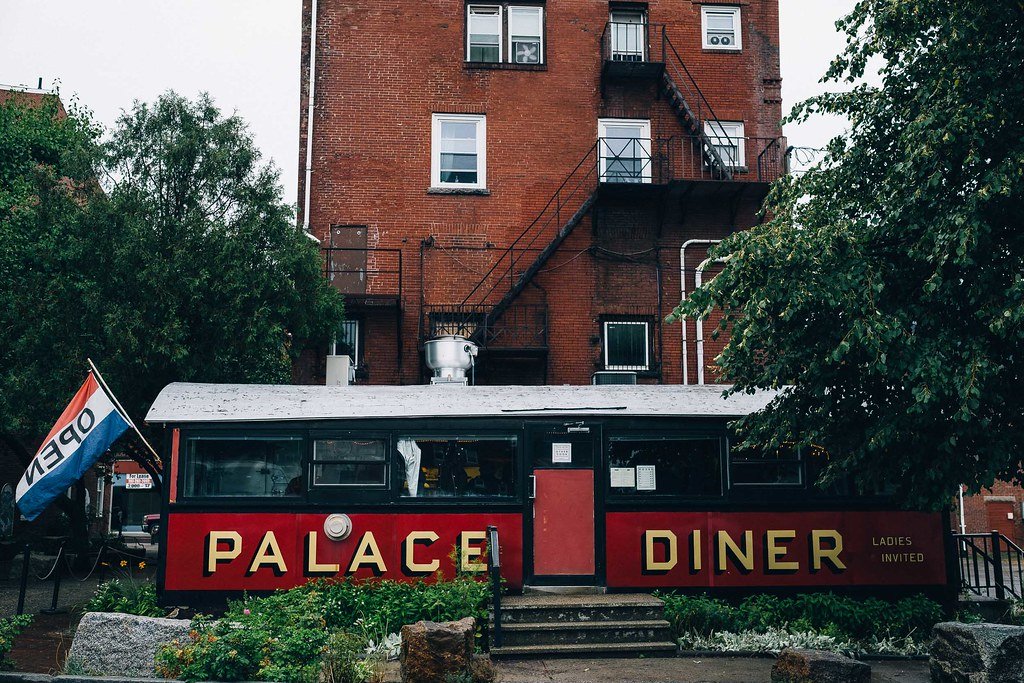 ---
Maryland - Robert Morris Inn
This treasure of the Maryland coast once belonged to prominent Oxford merchant Robert Morris as a private residence. He resided there circa 1738, and after his passing, the historic home was converted into an inn. Though it changes names several times, throughout the 1800s, the Robert Morris Inn operated as a tavern and hotel. It is adorned with slate floors, timber beams, paneled walls, and hosts roaring fires. Hungry guests have Salter's Tavern, the main dining room, or outdoors on the picturesque verandas and terraces in which to dine. Seasonal dishes combine Maryland's seas and fields with traditional cooking styles and recipes wherever you choose to dine.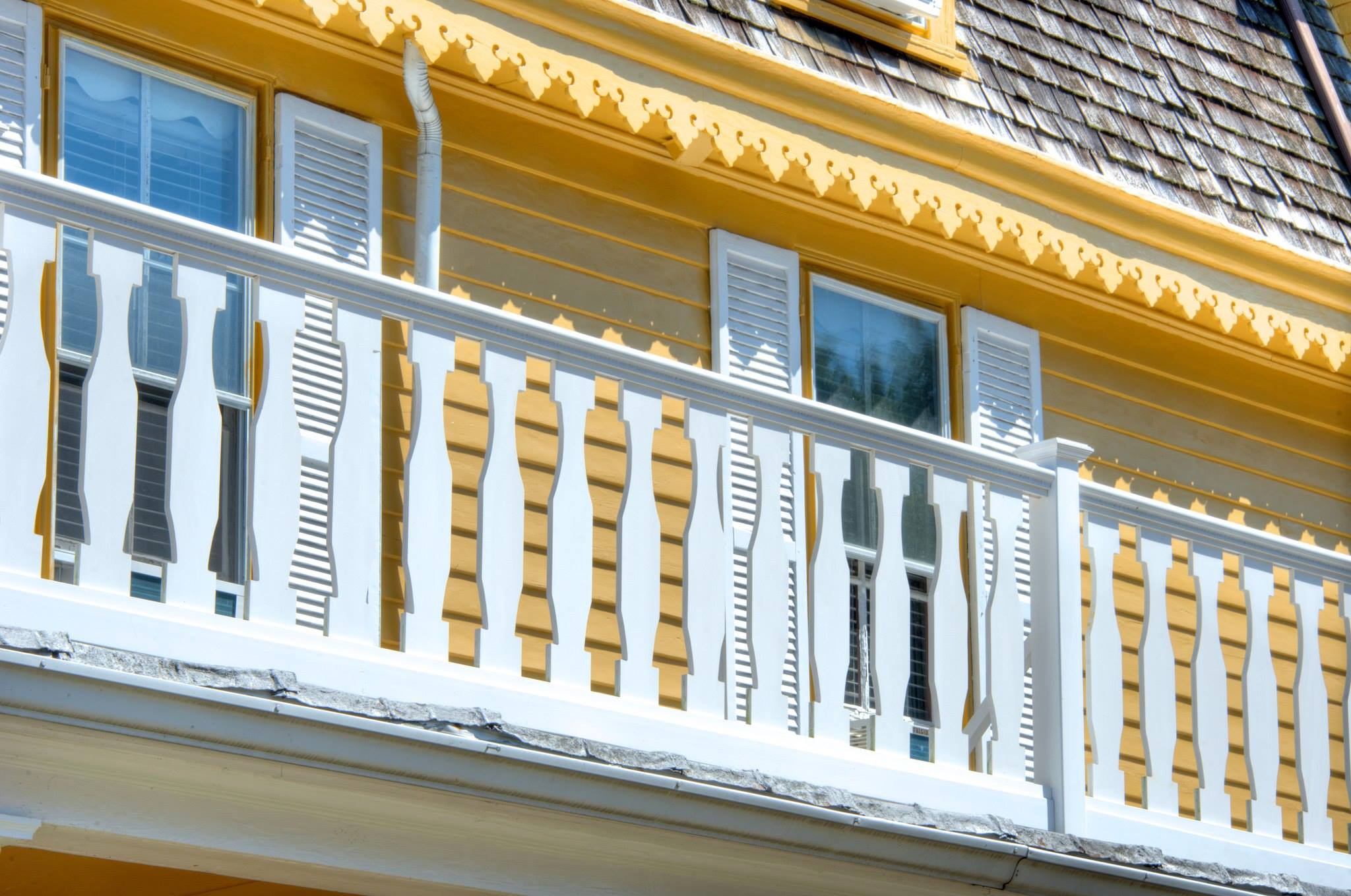 ---
Massachusetts - Union Oyster House
The building that became the famed Union Oyster House of Boston has stood for over 250 years. It began as a shop selling fancy upscale goods and later as the printing location for the revolutionary newspaper The Massachusetts Spy in 1771. The exiled King of France, Louis Philippe, took up residence in the building's upper stories. There, he taught French to local young ladies before returning home to take the throne in 1830.
The early 19th century issued in an oyster craze and the demand led the owners to open the Union Oyster House in 1826. Daniel Webster frequented the busy oyster bar, and it was also a favorite of the Kennedys! The Oyster House dedicated a booth in memoriam of JFK. The mainstay of the restaurant is their fresh variety of oysters, but they're equally known for east-coast specialties, like lobster rolls and their homemade clam chowder.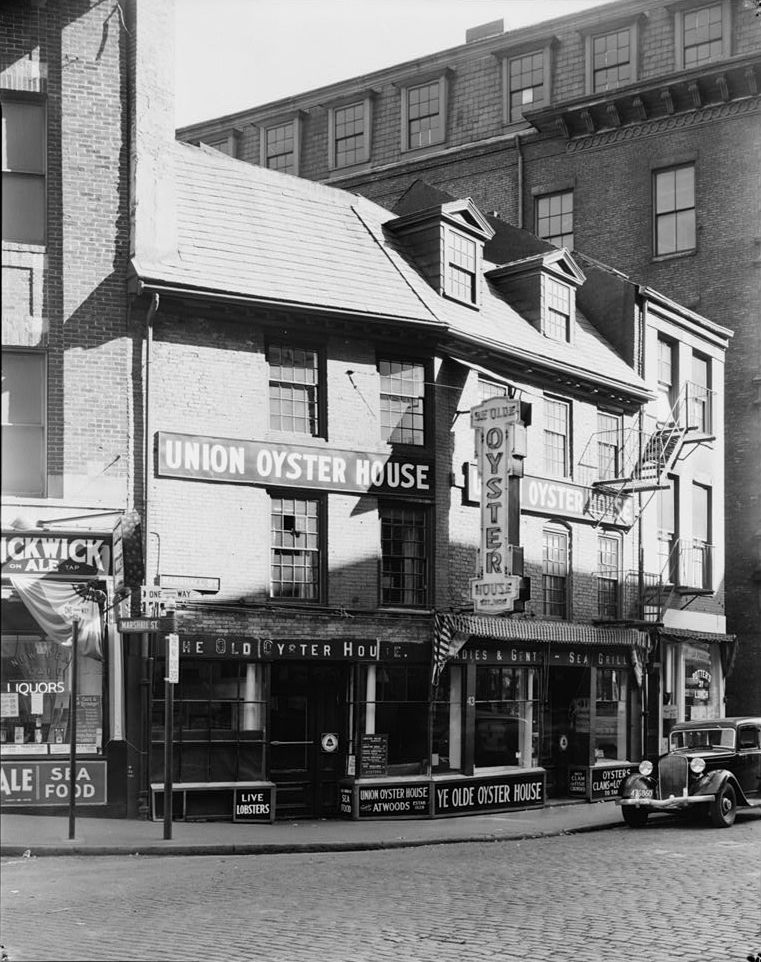 ---
Michigan - White Horse Inn
What started as a general store in 1848 evolved into lodging for railway and stagecoach travelers. In the 1870s, the inn rented rooms for 50 cents, and guests dined on boiled mutton with oyster sauce and a mug of beer for an additional 10 cents. The establishment was given the moniker the White Horse Inn in the 1920s, and today serves guests fresh, modern takes on pot pies, WH pickles, and cowboy mac and cheese.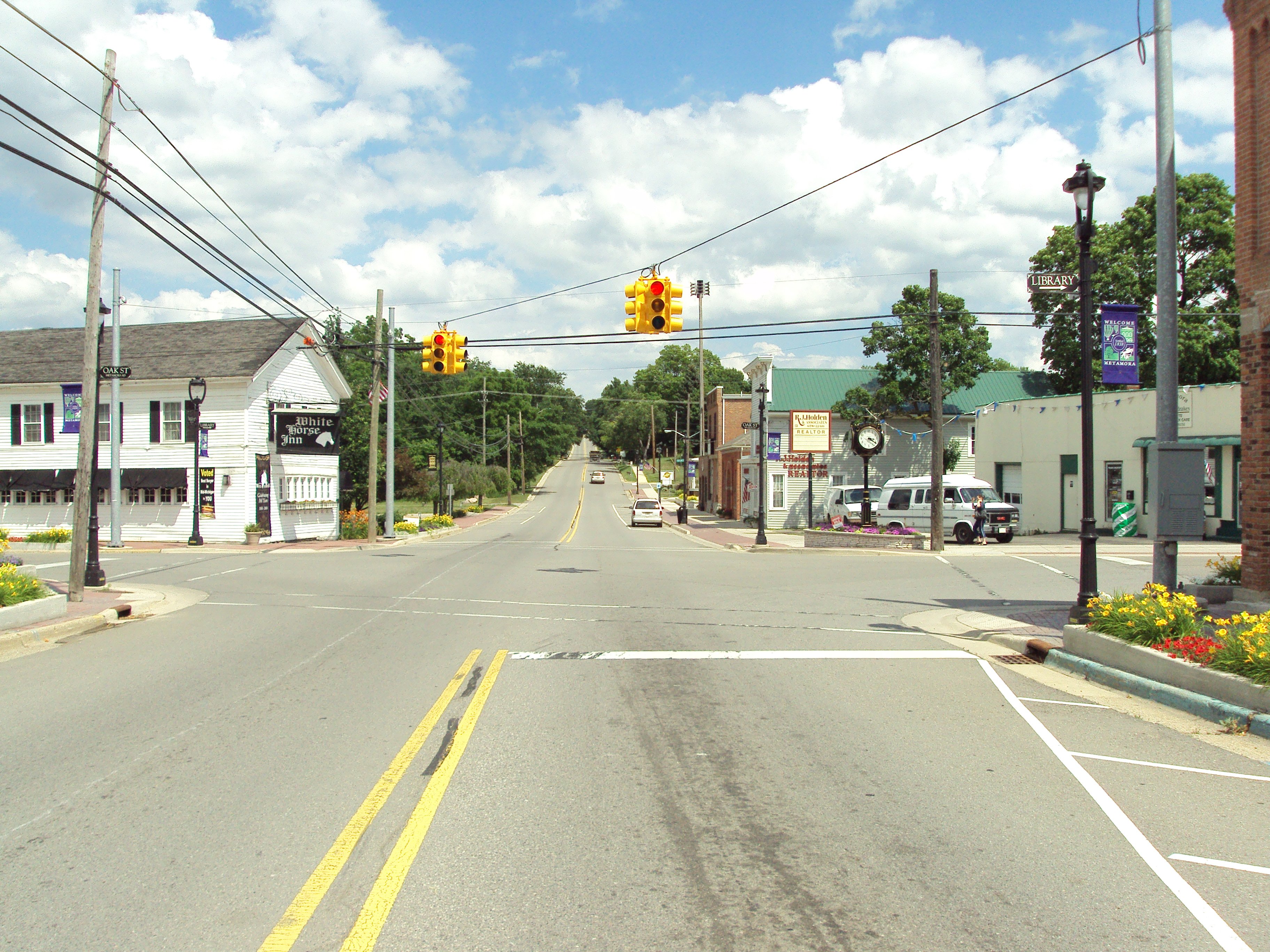 ---
Minnesota - Pracna On Main
The original Pracna on Main opened in 1890 in Minneapolis. It's brick walls, stained glass windows, elegant archways, and airy dining room attracted a great many customers - until prohibition kicked in. However, Pracna enjoyed a great revival in the 1970s. Popular menu items include "cobblestone" meatloaf, the 1919 root beer float, and the famous turkey sandwich known as "The 1890."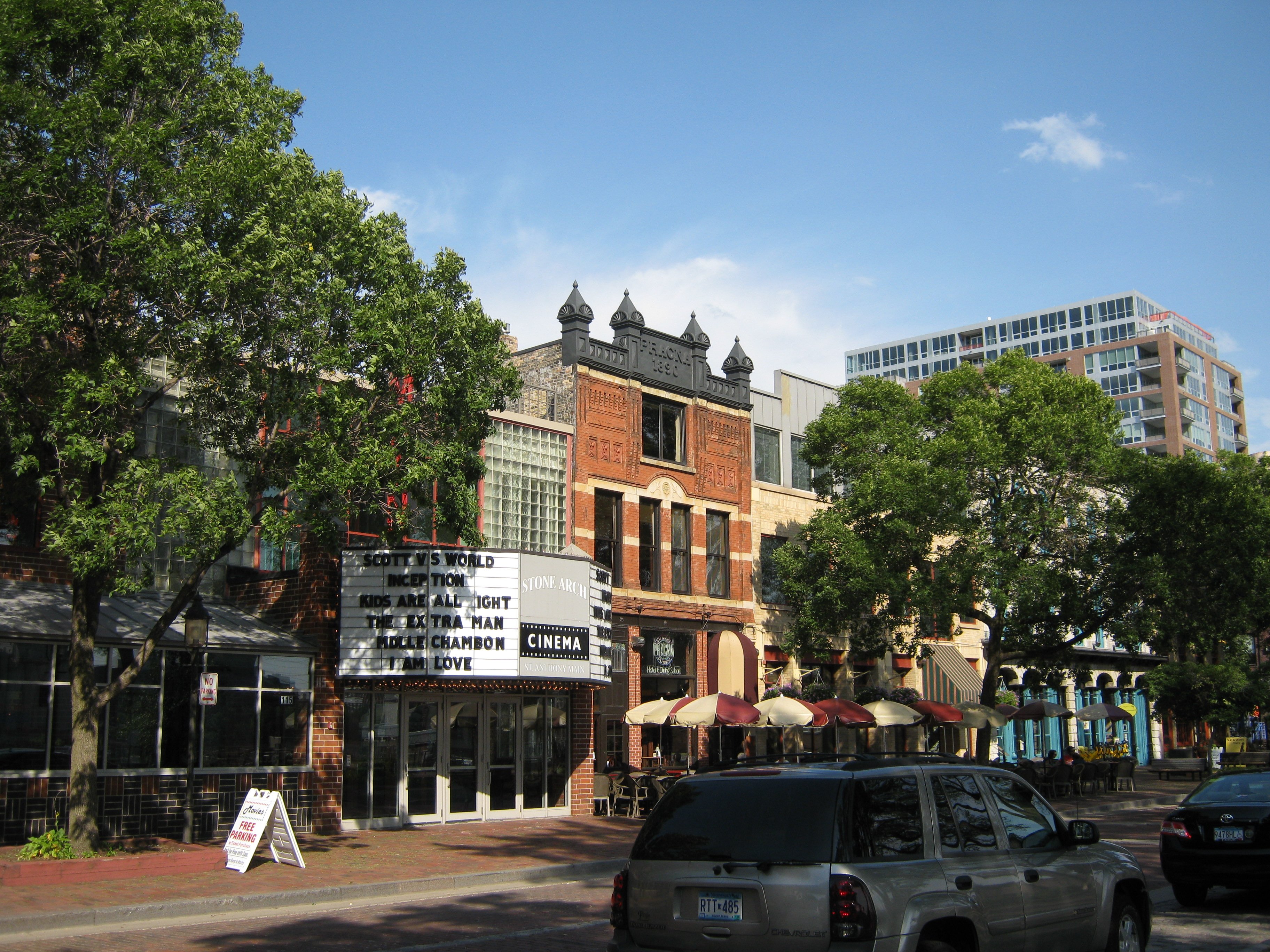 ---
Mississippi - Weidmann's
In 1870, Swiss immigrant Felix Weidmann opened his restaurant at the Union Hotel. What started as a counter with four stools evolved into a booming business, and Weidmann's relocated to its current location in 1923. The walls display countless photographs, illuminating only a few of the many tales that have happened inside.
Today, Weidmann's of Mississippi is a cozy, hometown pub with a stunning menu, offering modern takes on the original recipes, as well as new dishes that have become classics in their own right. Each table is set with crackers and a signature peanut butter crock. This set-up began during WWII when a butter shortage gave Weidmann the idea to add peanut butter as an alternative spread for crackers.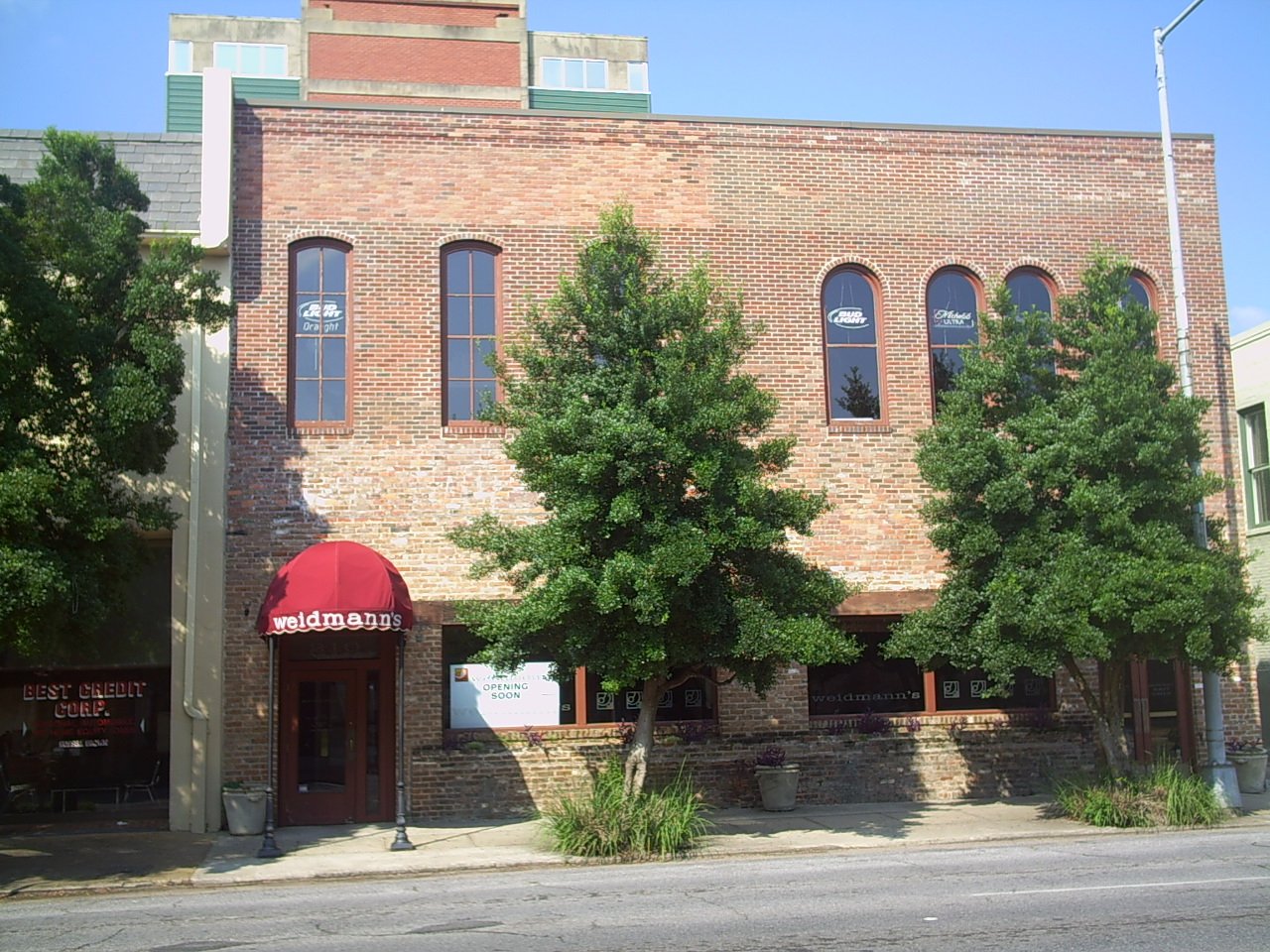 ---
Missouri - J. Huston Tavern
Missouri's J. Huston Tavern is the oldest continuously operating restaurant west of the Mississippi River. Built in 1834 by Joseph Huston, it was designed to be a family home. The steady stream of travelers heading west prompted Huston to open his doors and offer food and lodging. The years that followed brought more and more business, and soon the house was renovated to include a ballroom, larger kitchen, and mercantile store. Today, three historical dining rooms are available for southern fares like fried chicken, mashed potatoes with gravy, creamy coleslaw, and smoked pork chops.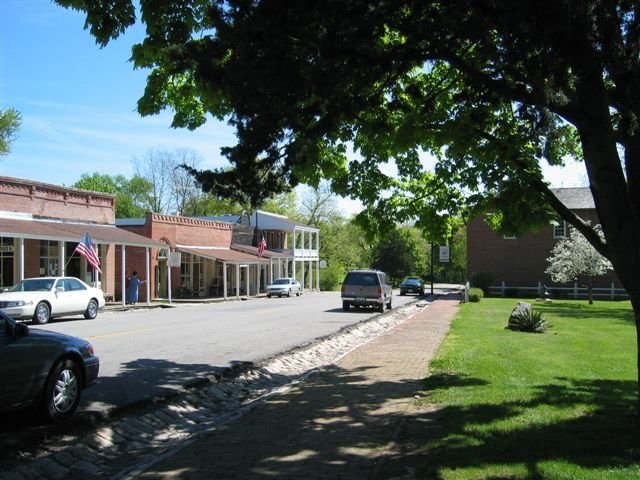 ---
Montana - Pekin Noodle Parlor
Care to attempt a guess as to where the nation's oldest continuously operating Chinese restaurant is? In the mid-19th century, Chinese immigrants left their homeland in search of opportunity in America. Some heard tales promising easy gold mining motivated some, others were trying to escape a dangerous political climate. One such immigrant was Hum Yow, founder of the Pekin Noodle Parlor in Montana. The Pekin Noodle Parlor opened in 1870, offering a variety of Cantonese, Burmese, and Szechuan style dishes.
Both the antique decor adorning the first floor and the food menu are relatively unchanged. The parlor's lower-level room was once used as a gambling room and an herb shop, and some of the equipment and containers remain in public view. Ownership of the Pekin Noodle Parlor was passed down through Hum Yow's family, and his great-nephew and his son are currently at the helm.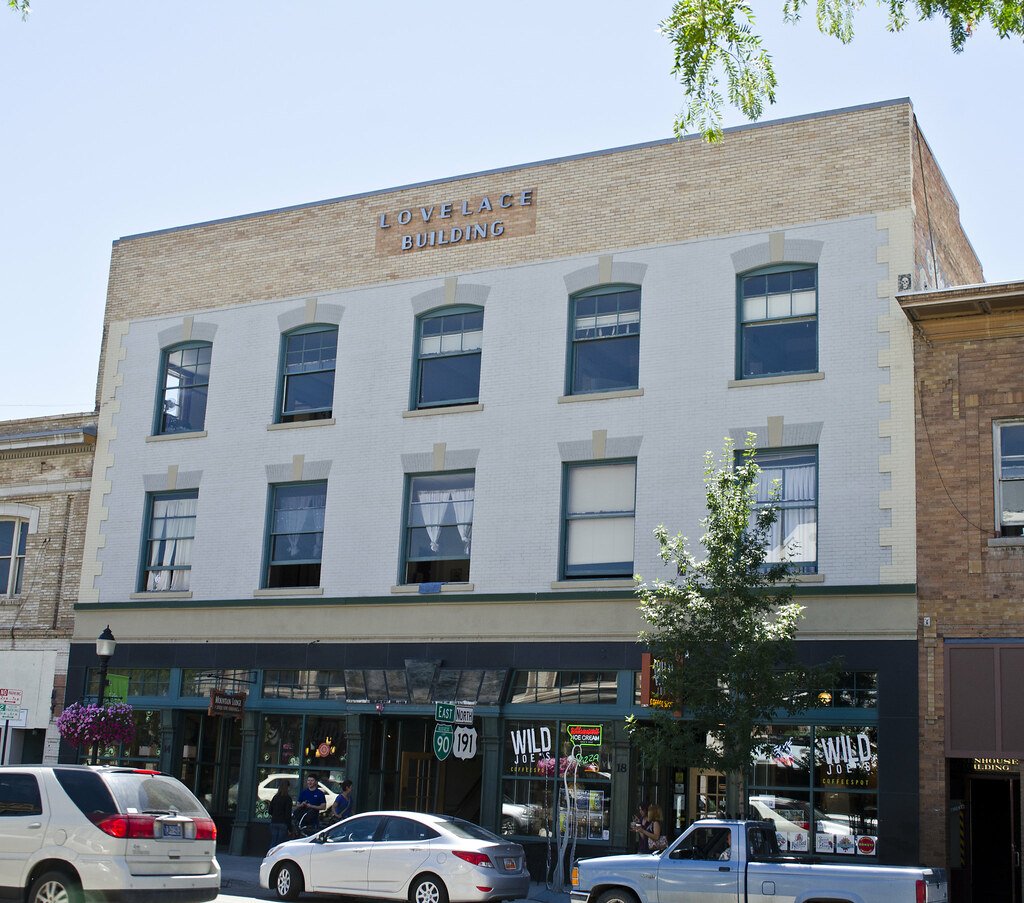 ---
Nebraska - Glur's Tavern
Glur's Tavern in Columbus, Nebraska, was built in 1876 - and remains one of the oldest continuously operating taverns west of the Mississippi River. The name was given to the eatery and bar in 1914 when Louis Glur purchased it. Local legends have William "Buffalo Bill" Cody once paying for his fare with a genuine $1,000 bill. The establishment has been offering traditional American cuisine and cold beer to locals and passersby for over 130 years.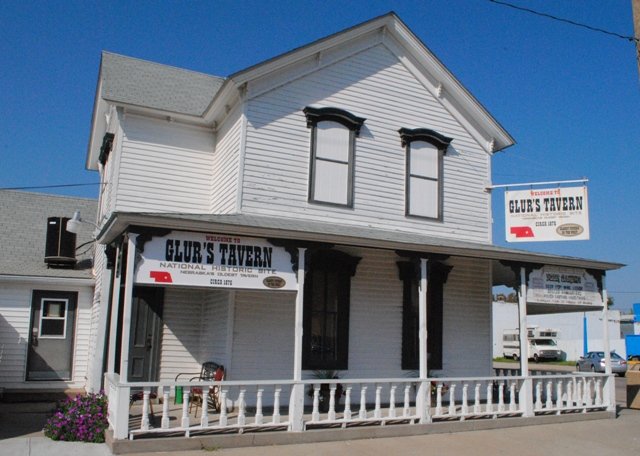 ---
Nevada - Casale's Halfway Club
Roughly halfway between Sparks and Reno, Nevada, Casale's Halfway Club has been in its original location since 1937 and has celebrated good business and mountains of delicious food ever since. The family-owned Italian restaurant is famous for not only its pizza and mouth-watering ravioli, but for the atmosphere of warmth that demonstrates the passion and close bonds of the family that has loved it for generations. Casale offers a simpler time, where one could linger over aromatic pasta laid out on red-and-white checkered tablecloth, sip a glass of wine, and laugh with old friends.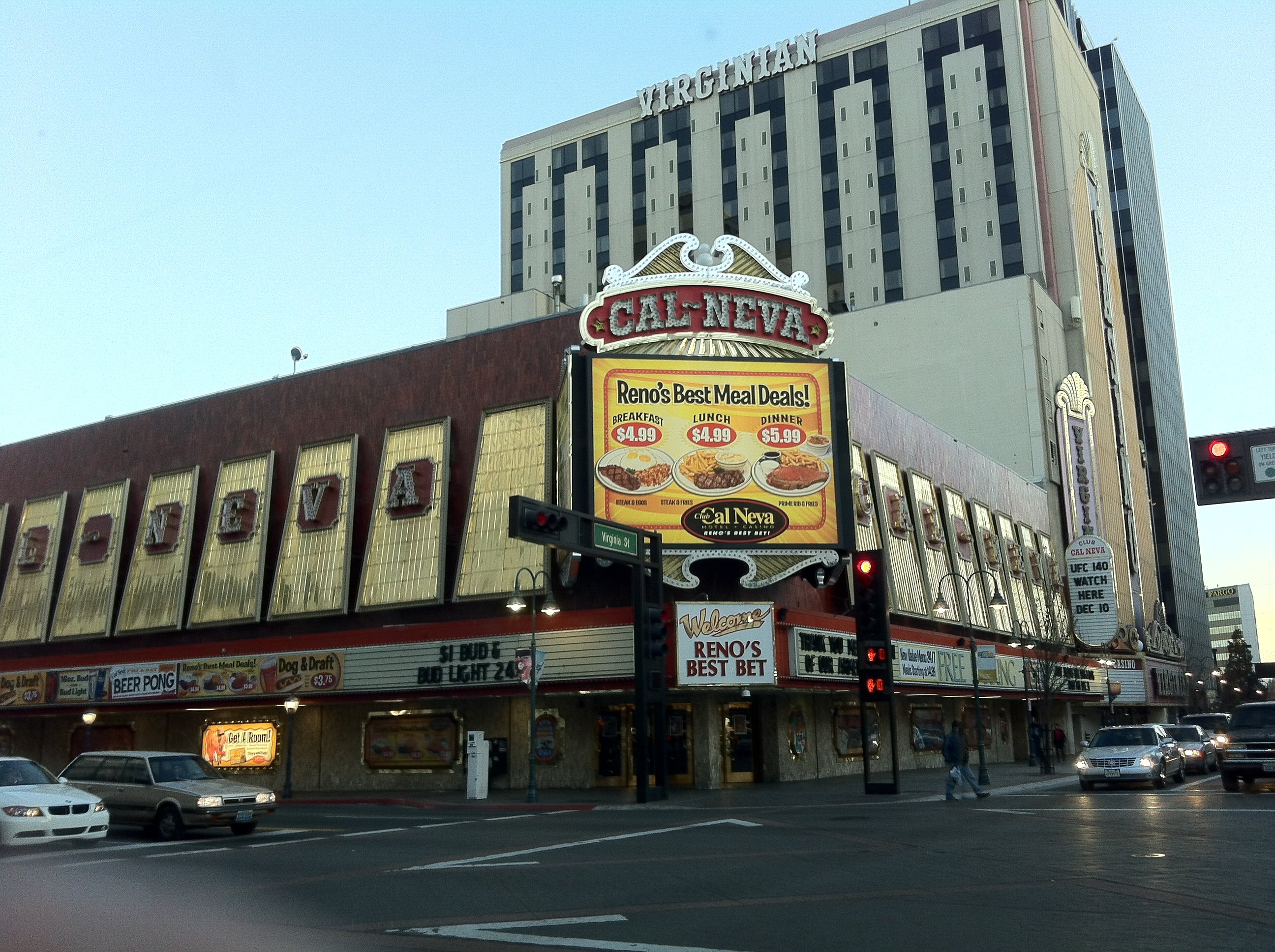 ---
New Hampshire - The Hancock Inn
The Hancock Inn began offering its authentic New England dining experience in 1789. The bed-and-breakfast is home to thh Fox Tavern, and the building features hand-painted murals, with much of the original architecture withstanding the test of time. Each room is uniquely decorated with antiques. Its full immersion for any history lover. Pot roast with a cranberry citrus compote, lobster and corn hushpuppies, and crispy golden fish and chips top the.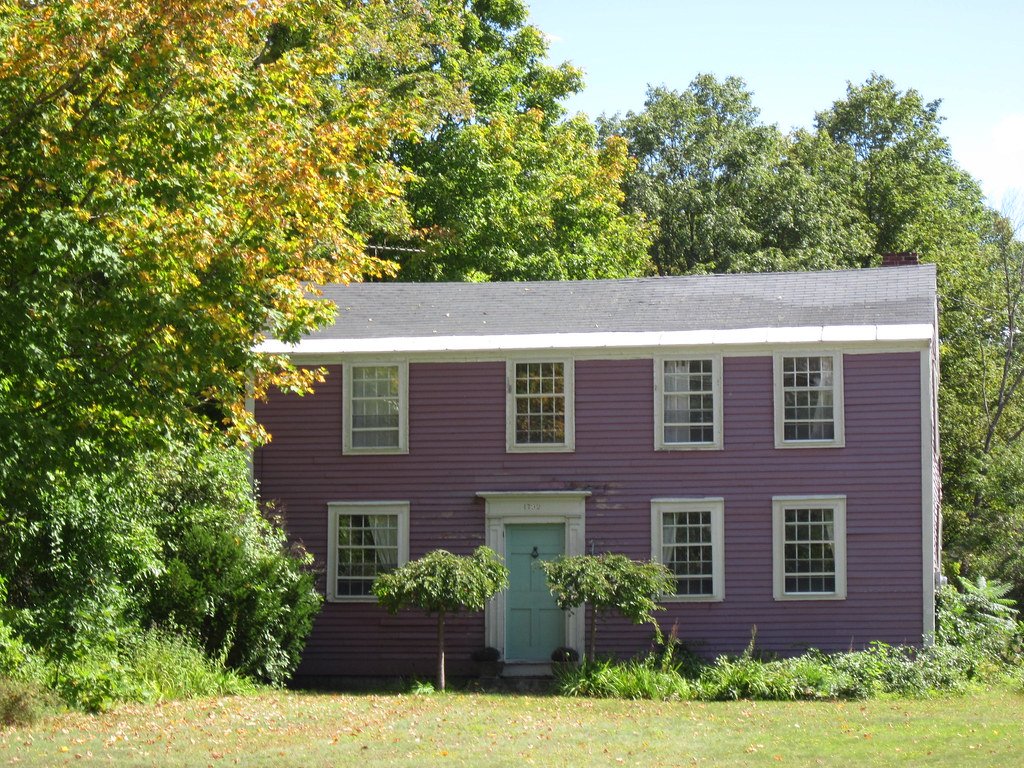 ---
New Jersey - Cranbury Inn
Built in 1750 and 1765, it took two taverns to create Cranbury Inn! Cranbury was allegedly a stop along the Underground Railroad, and the flue space looks to have been remodeled for a hiding place. The building once operated as the town's telegraph and Justice of the Peace offices. During that time, "Judge" Wincklhofer served as innkeeper and justice, performing marriage ceremony's in front of the inn's historic fireplace. The inn continues to host weddings today.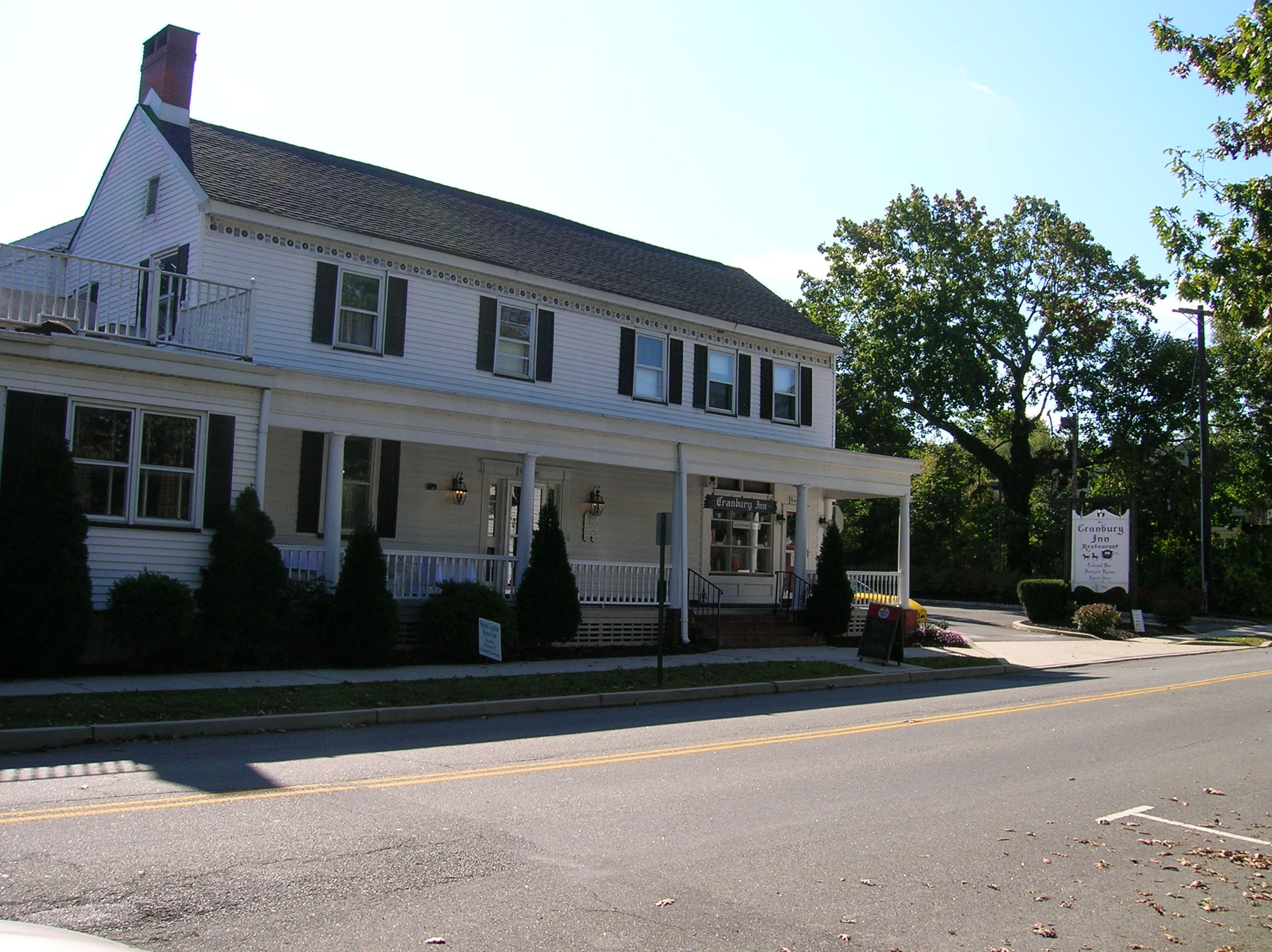 ---
New Mexico - El Farol
El Farol in New Mexico is famous for its traditional Spanish cuisine, including tapas, paella, and tortillas. In addition to the fare, the restaurant hosts flamenco shows and live music. Established in 1835, before New Mexico became a state, El Farol began as a humble cantina. It is the oldest restaurant in New Mexico and was once known as La Cantina del Cañon, or "the canteen of the canyon." It became El Farol ("the lantern") in 1963 when it changed ownership.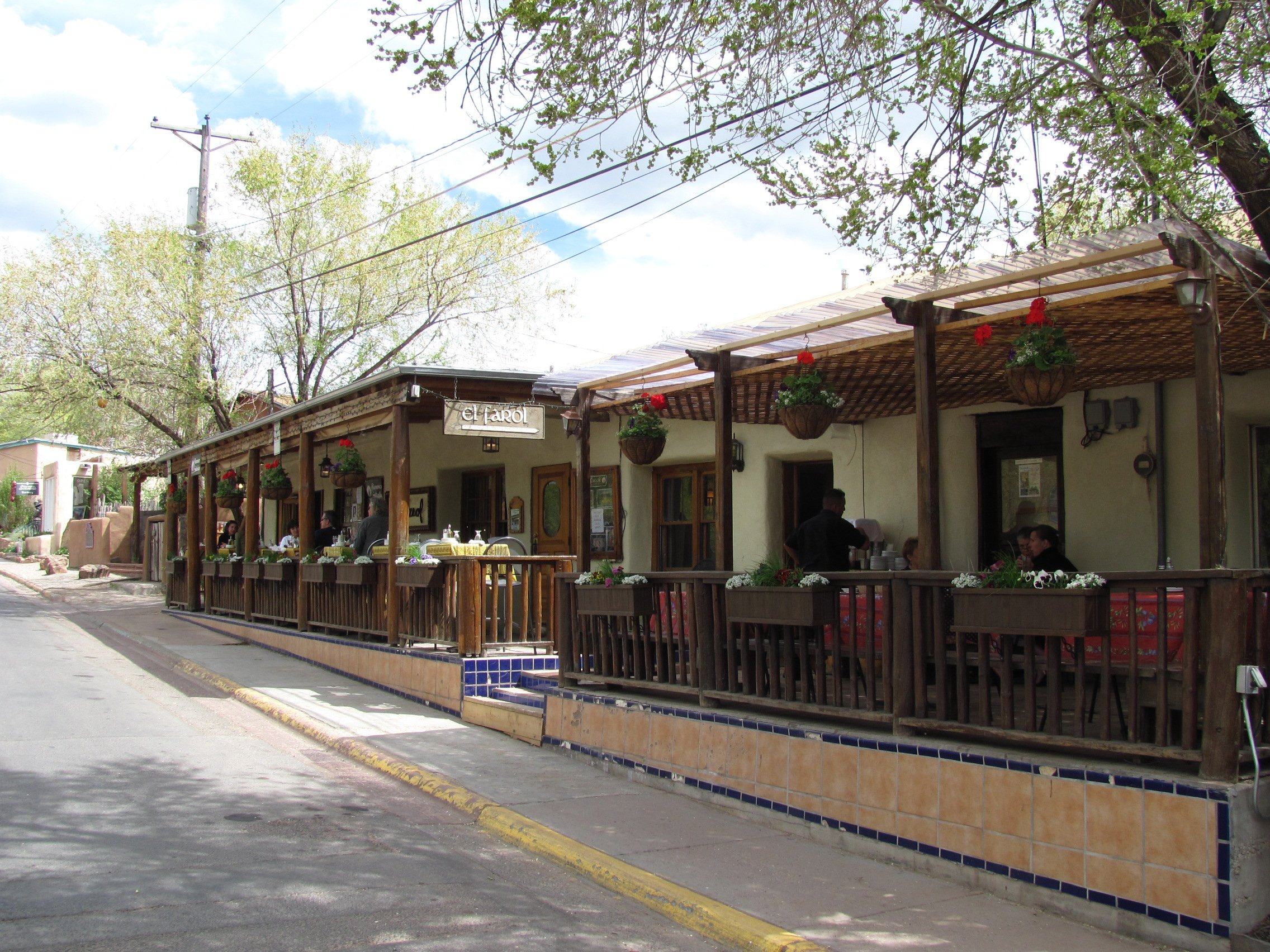 ---
New York - The '76 House
This historic tavern served as a principal meeting place for revolutionaries during the US's fight for independence. George Washington and other essential generals sought refuge in the '76 House. Originally called Mabie's Inn, it was colloquially known as "Andre's Prison" as it kept infamous spy Major John Andre captive after his betrayal of the revolutionary army. Over the years, strenuous and meticulous efforts have been made to preserve the tavern and its history.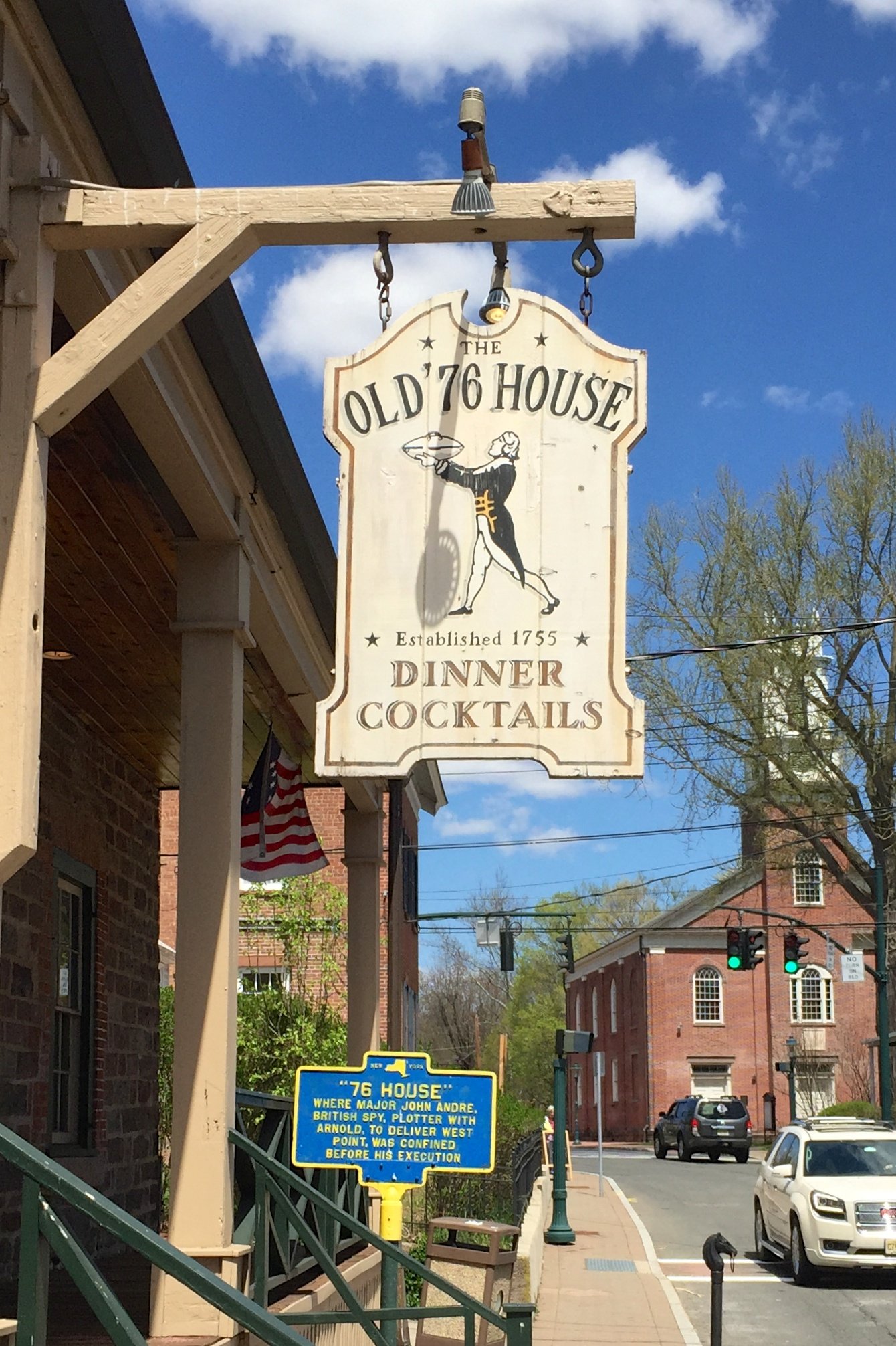 ---
North Carolina - Carolina Coffee Shop
The Carolina Coffee Shop claims the title of the oldest restaurant in the state of North Carolina, serving breakfast, lunch, and dinner in a modern southern style. Established in 1922, the Carolina Coffee Shop became such an institution that when a group of UNC grad students heard the restaurant might close its doors, they invested to preserve the historical landmark. With nearly a century of serving coffee and classic cuisine, the Carolina Coffee Shop is sure to stick around.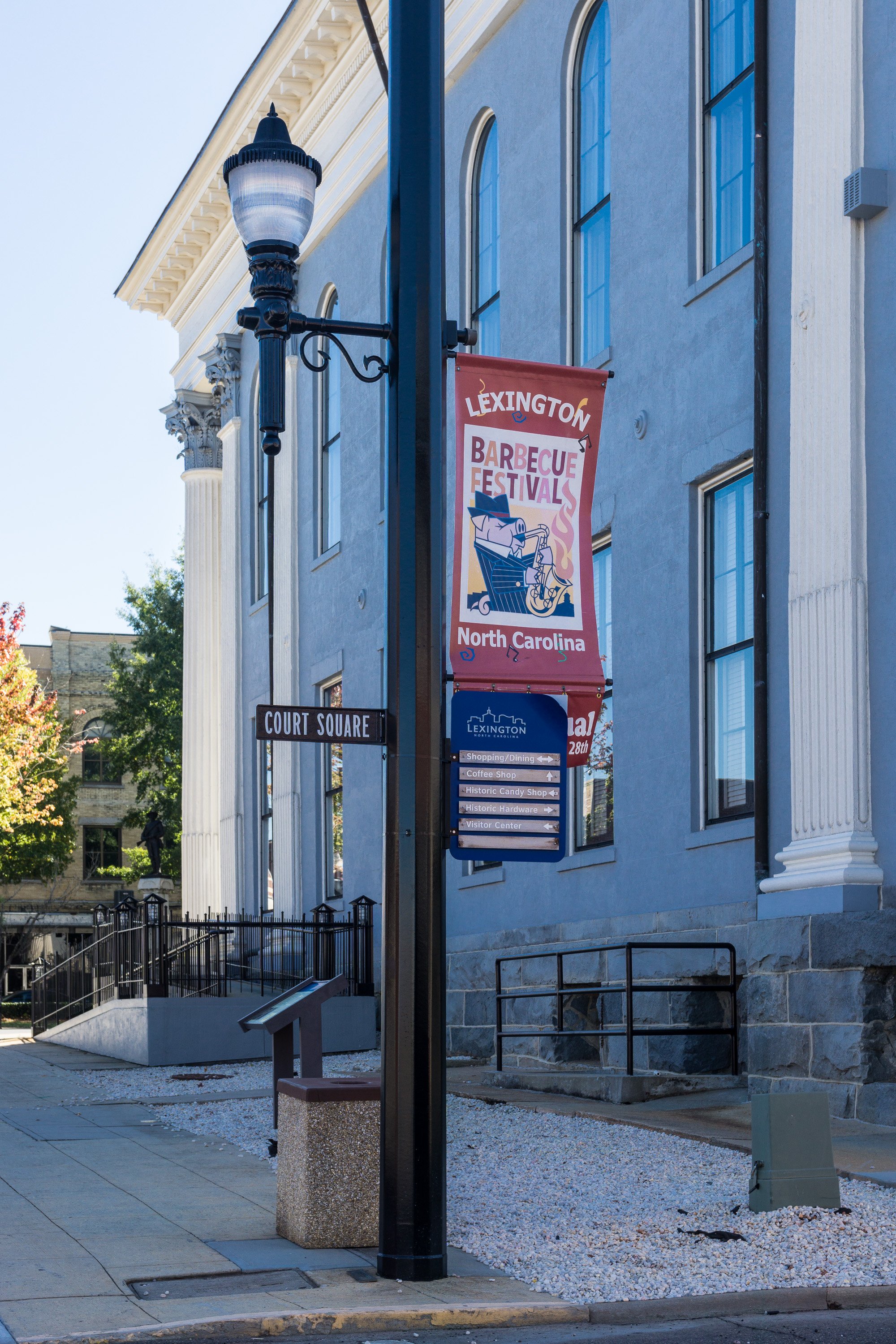 ---
North Dakota - Peacock Alley
Though North Dakota's Peacock Alley opened its doors after prohibition, the Patterson Hotel (which formerly housed the bar) served its patrons alcohol since before the law was repealed. The hotel was a secret watering hole, gambling den, and likely a brothel. It is rumored that a secret underground tunnel connected the hotel to a nearby train station. Today, the restaurant prides itself on superb cuts of beef and top-quality ingredients. The old-world architecture is just one part of its charm, as the walls are covered with photographs of the establishment's storied past.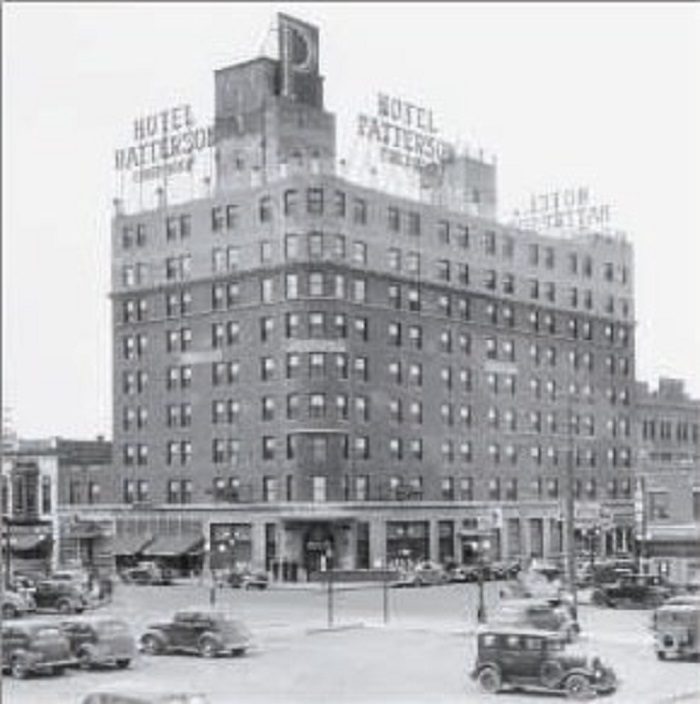 ---
Ohio - The Golden Lamb
The Golden Lamb dates back to 1803 when Jonas Seaman bought a license to open a public house of entertainment. Since many who passed by couldn't read, Seaman, named the establishment after the image of a golden lamb that hung above the door. Over the last 200 years of its hospitality, it has seen 12 US presidents dine within its walls. It's also the longest continually operated business in all of Ohio. The building features a museum inside a converted innkeeper's bedroom, where guests enjoy the tales and legends that began in this enduring eatery.
---
Oklahoma - Cattlemen's Steakhouse
Cattlemen's Steakhouse began offering hearty meals to hardworking ranchers, cowboys, and farmworkers in 1910. The demand for beef on the East Coast was rapidly increasing, causing the Stockyard City area to transform into a bustling town where cattle couldn't be sent to Oklahoma City fast enough. The restaurant has remained mostly unchanged for decades and is a homage to those who passed through its doors.
The savory steaks have attracted the likes of Reba McEntire, Gene Autry, John Wayne, and Ronald Reagan. One of Cattlemen's fascinating tales involves a wager over the ownership of the establishment. Previous owner Hank Frey put up the restaurant against a local rancher named Gene Wade. He agreed that if Wade could roll a hard six (two threes) at dice, then Cattlemen's would be his for the taking. Wade matched the bet with his entire life savings and won the restaurant in one roll. The number 33 remains a symbol of good fortune at the steakhouse.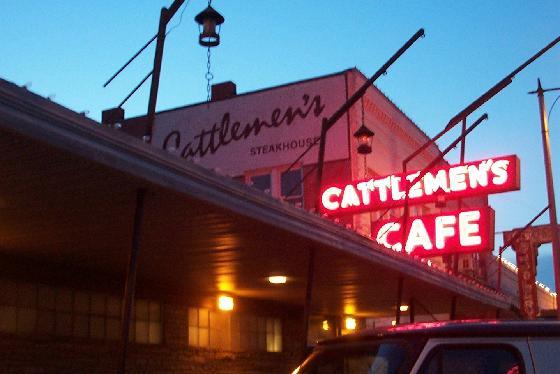 ---
Oregon - Huber's Cafe
The oldest restaurant in Portland, Huber's Café, opened in 1879 as "The Bureau Saloon." Not long after, the name changed when M. Frank Huber purchased the café. In the 1890s, buying a drink guaranteed a free turkey sandwich and coleslaw. The restaurant's beginnings were meek, with a bar and a handful of booths. But Huber and Jim Louie, the Chinese immigrant he employed, worked hard, and it eventually relocated to its current, larger building. After Huber passed, Jim Louie took over the management of Huber's. The Huber and Louie families managed the business together and took an equal share of the earnings. Today, the Louie family owns and operates Huber's.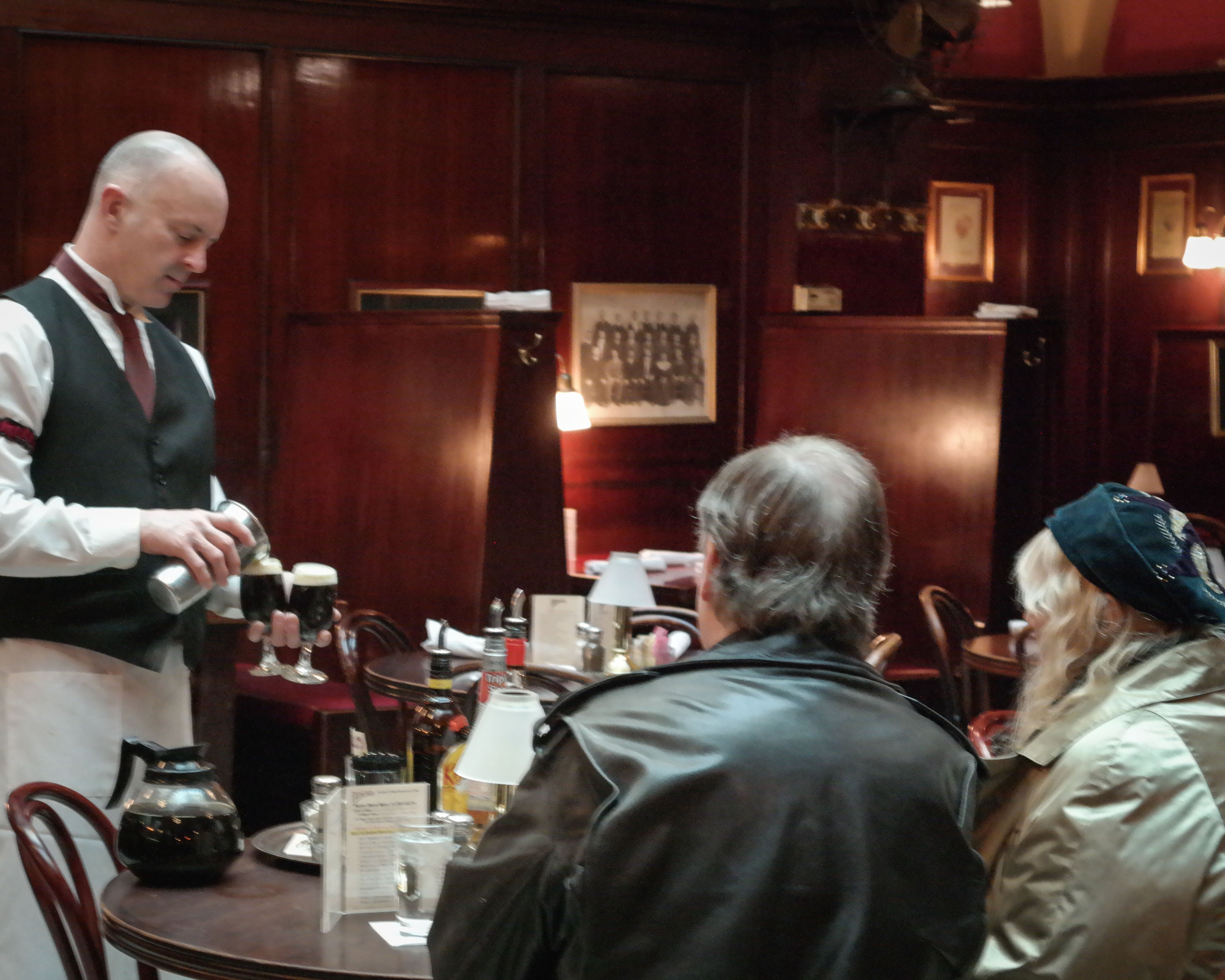 ---
Pennsylvania - McGillin's Olde Ale House
In 2010, McGillin's Olde Ale House celebrated its 150th anniversary. Philadelphia's oldest pub has been serving beer and food since Irish immigrants Catherine, and William McGillin established it in 1860.The couple ran the bar while raising 13 children in their home above it. It was initially christened the "Bell in Hand Tavern," but the strong family presence led it to become known as McGillin's. Historic relics adorn the walls, including several signs from businesses that rose and fell during its long history. Numerous accolades have been given, including "Best Place to Watch the Game," "One of the Most Authentic Irish Pubs in America," "Best Happy Hour," and "Top Karaoke Spots in Philadelphia."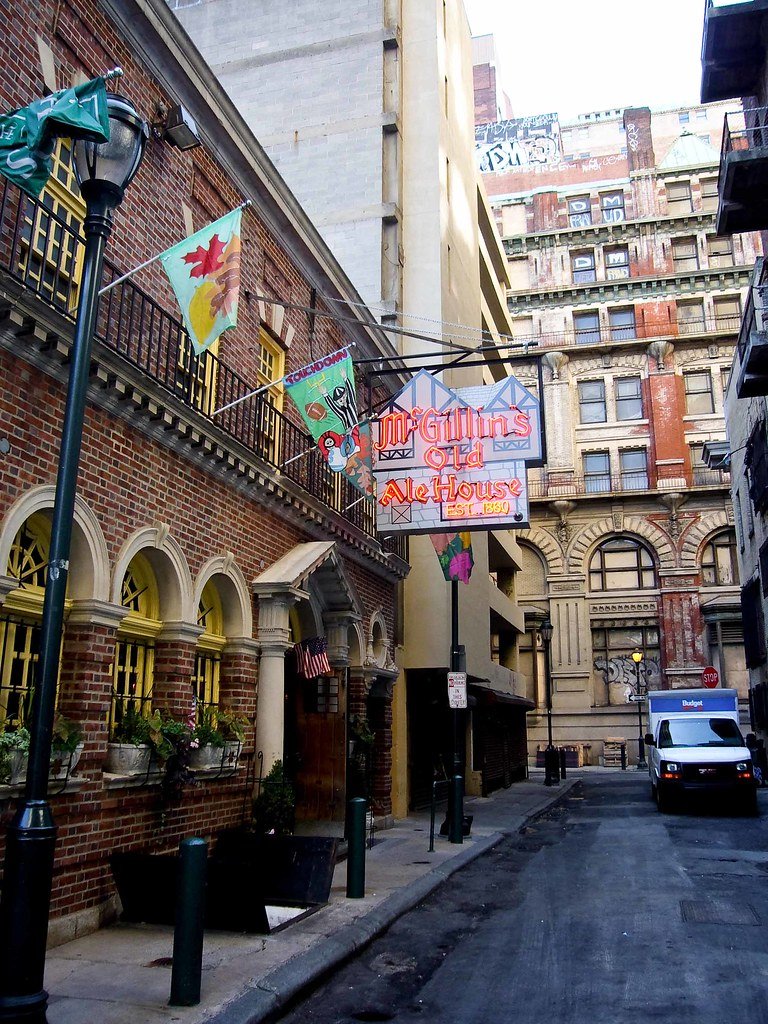 ---
Rhode Island - White Horse Tavern
The White Horse Tavern is considered not only the oldest operating restaurant in the US but also one of the ten oldest in the world. Its origins date back to 1673! The building was initially constructed as a home for Francis Brinley in 1652, and later acquired and transformed into a tavern. It served as a meeting place, court, city council, and the colony's general assembly in its early days. In 1954, the building was saved from demolition and enjoys protection as a historic landmark.
Charleston's historic downtown district is home to Henry's, South Carolina's oldest continuously operating restaurant. Since 1932, Henry's has been known for excellent seafood, strong drinks, and a wild night out. Its signature dishes include Carolina cannonballs, she-crab soup, and shrimp and grits. Guests can choose to sit in the original diming room, on the southern porch, the rooftop patio, the speakeasy bar, or live it up in the exclusive dance lounge.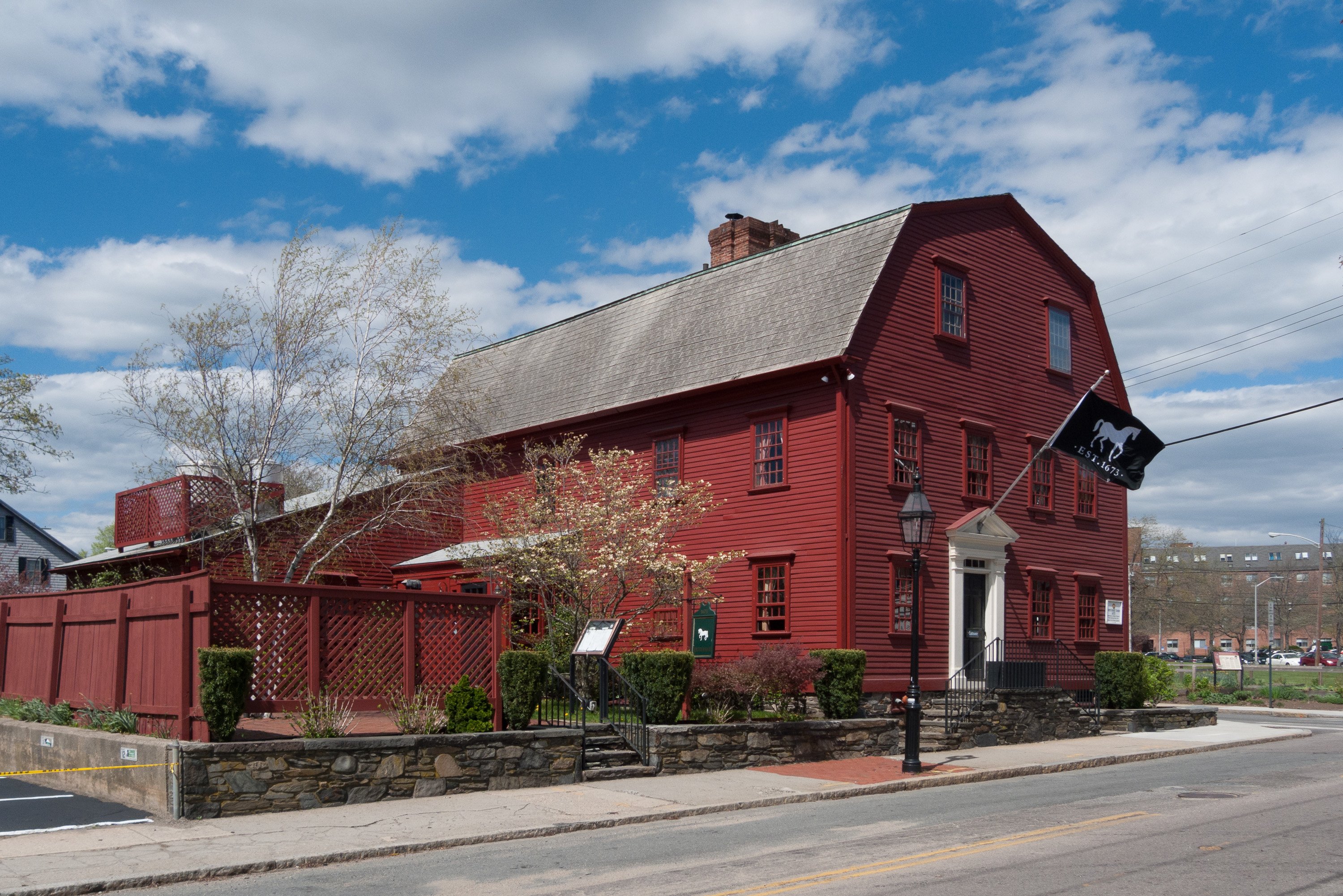 ---
South Dakota - Legends Steakhouse
The Legends Steakhouse, located inside South Dakota's historic Franklin Hotel, officially opened its doors in 1903. Its origins can be traced back to Deadwood's original founding as a gold-mining camp. In 1875, the area was rushed by people looking to make their fortune. Developers were eager to construct a hotel, but after multiple attempts, only in the foundation was laid. Just after the turn of the century, Franklin became a reality.
The hotel featured many luxuries for the time, including private baths, fountains, live music venues, a cigar store and newsstand, a restaurant, telephones, and a working elevator! Famed characters like Teddy Roosevelt, William Taft, and Buffalo Bill Cody were often present. However, after the infamous stock market crash in the 1920s, the Franklin paused its operation and converted into apartments. Once gaming was legalized in 1989, a substantial remodel took place, and the Franklin transformed into a premier restaurant and casino.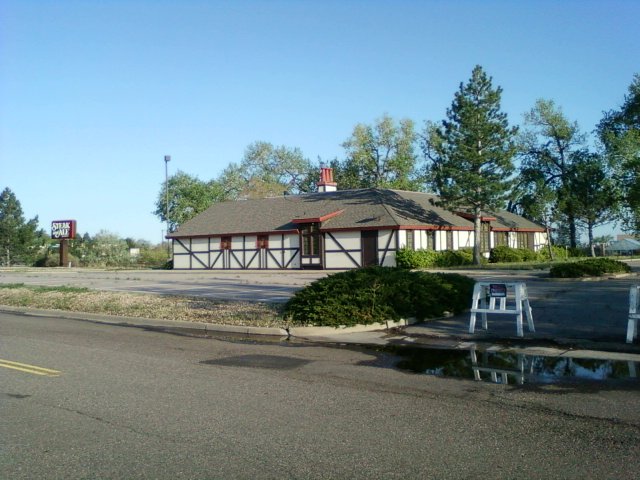 ---
Tennessee - Varallo's
The oldest restaurant in Tennessee, Varallo's of Nashville, opened in 1907 and has been serving southern breakfasts and lunches ever since. Famous for their chili, comfort breakfast food like buttermilk pancakes, French toast, biscuits and gravy, and bacon and eggs top many people's lists. Their lunch menu offers fried catfish sandwiches and country fried steak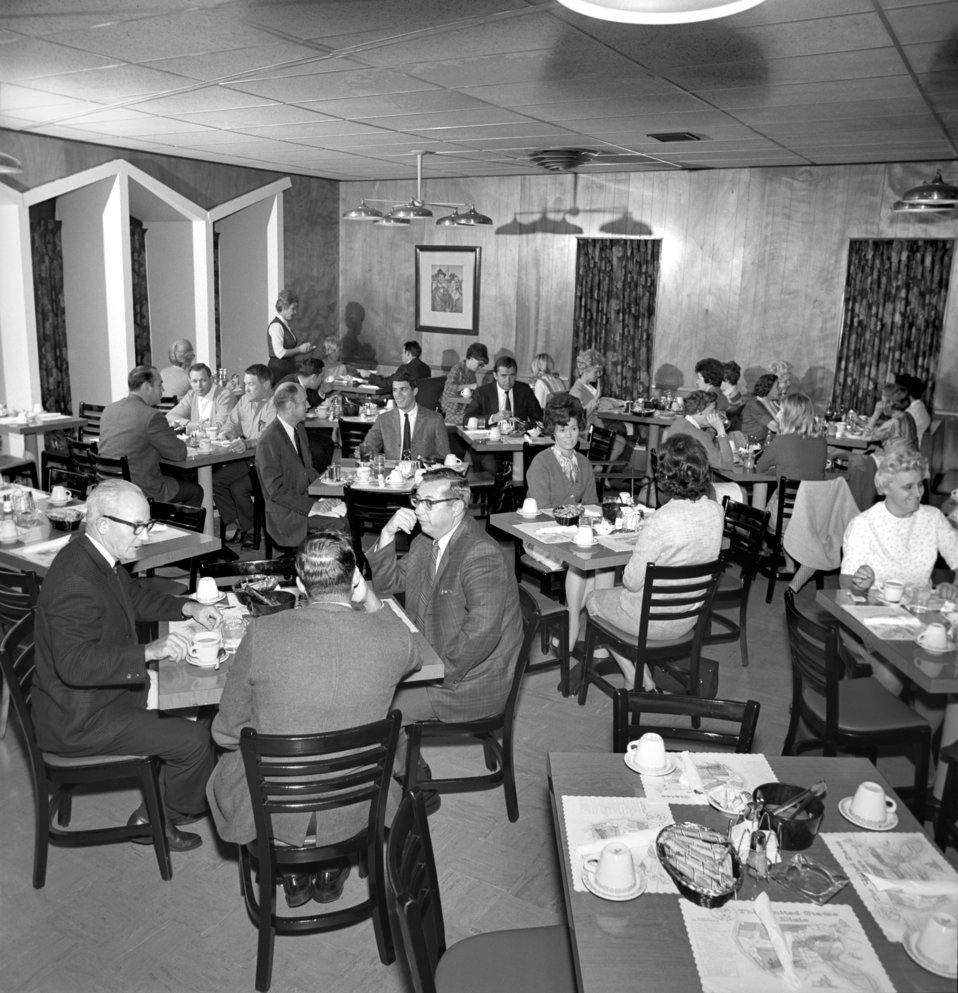 ---
Texas - Cisco's Restaurant Bakery
A top contender for the best breakfast in Austin, Texas, Cisco's Restaurant Bakery has been serving Tex Mex for over 62 years. Fan favorites at Cisco's include migas and huevos rancheros, accompanied by complimentary tortillas. The restaurant is still run by the founding Cisneros family, who are committed to preserving the landmark restaurant's past. Former President Lyndon B. Johnson frequented Cisco. Its proximity to the state capitol has led it to become a known hangout for those involved in politics.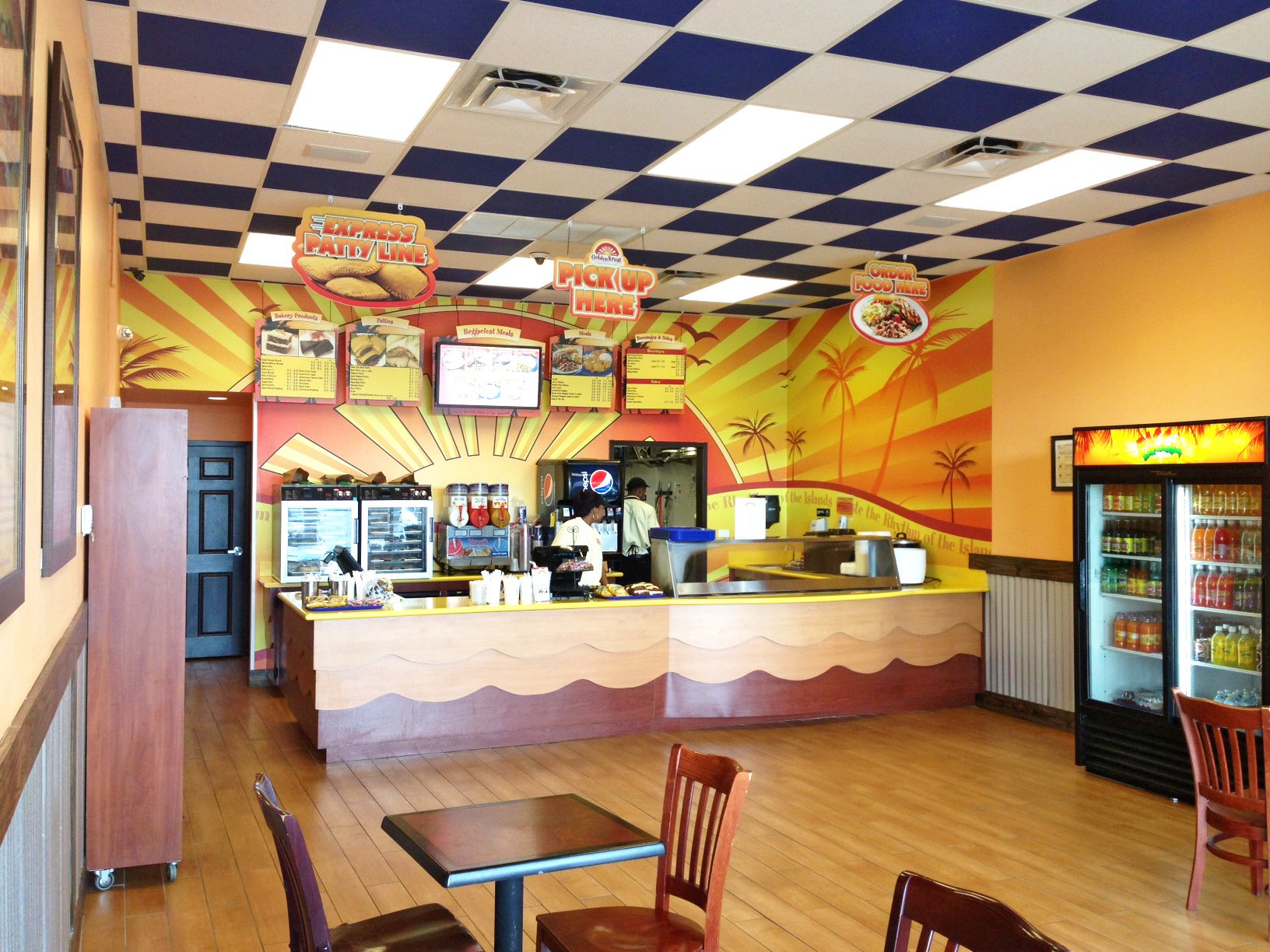 ---
Utah - The Bluebird Restaurant
Established in 1914, the Bluebird Restaurant, kept the vintage excitement and community feel of the soda fountain alive. The blue-tiled fixture and line of stools is front and center in the restaurant. The ceiling and walls were hand-painted, and a ballroom and mezzanine are available for special occasions. The restaurant faced difficulty during the Great Depression, but the loyalty of a few dedicated employees and the owners helped the Bluebird continue to thrive to this day.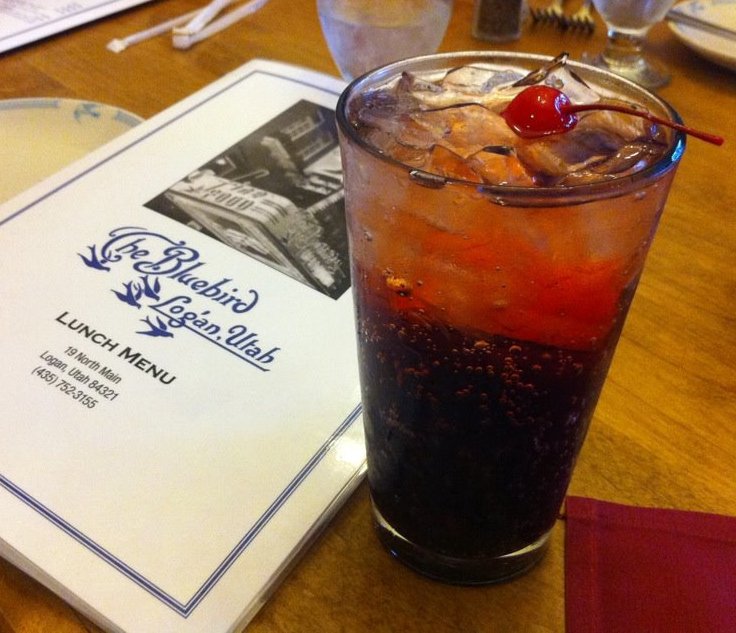 ---
Vermont - Ye Olde Tavern
Ye Olde Tavern opened its doors in 1790 under the name "Stagecoach Inn." The tavern's marble porch was added in 1850 when it operated under the name Lockwood Hotel. It was renamed again ten years later as Thayer's Inn, a name that stuck for five decades. During those years, Manchester County's first telephone was installed in the building, and it served as an essential connection to the train station and the local marble quarry. The hotel closed briefly around 1900 but reopened after electricity was installed in the 1920s, followed by a renovation in the '30s. In 1975, the building received its final name and became a historic landmark.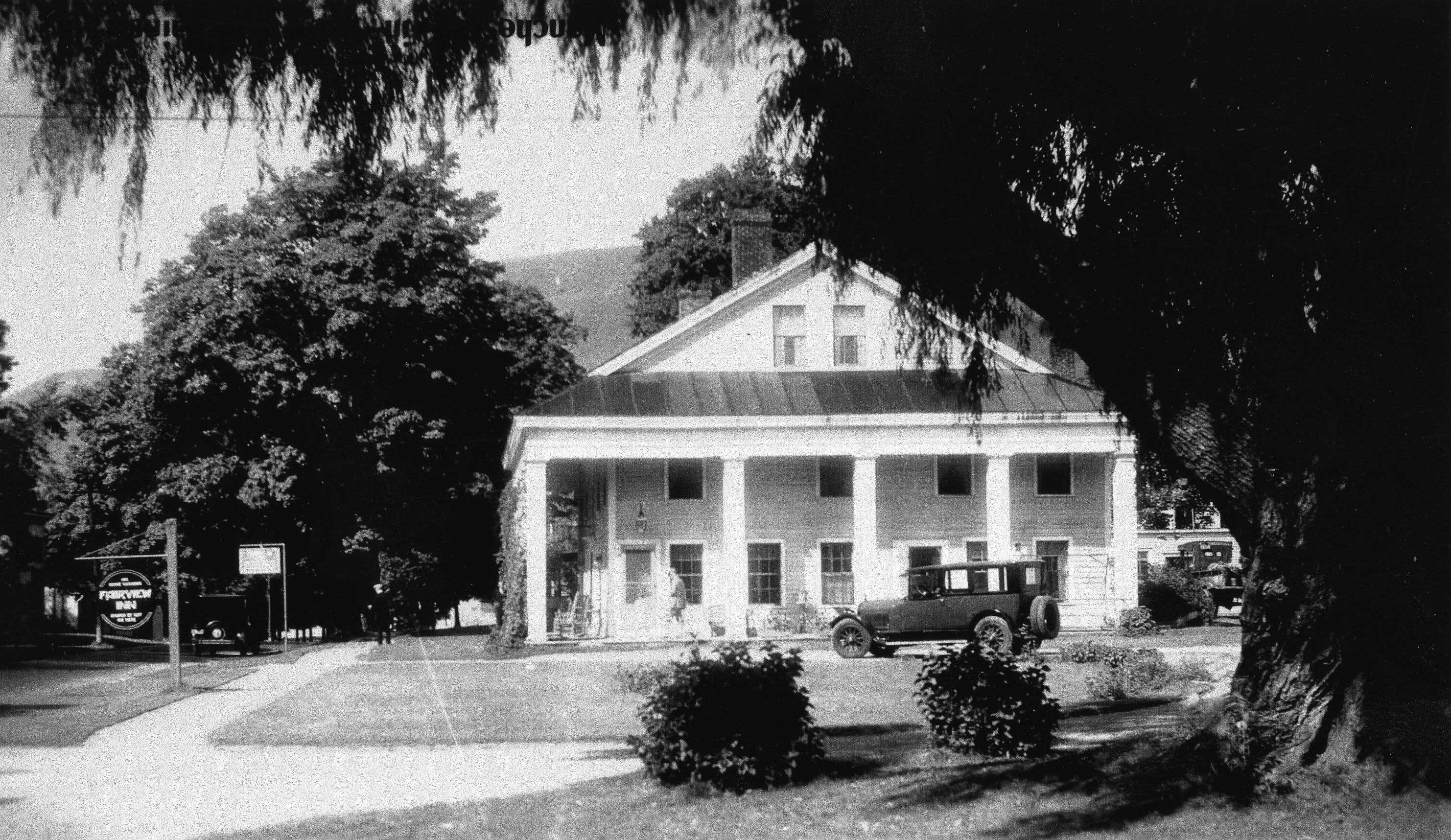 ---
Virginia - The Red Fox Inn And Tavern
The Red Fox Inn and Tavern was established in 1728, predating the birth of the USA by almost 50 years. Located between the Blue Ridge Mountains and Bull Run, it was a popular spot for travelers, including George Washington, who visited the building in 1748. During the Civil War, injured soldiers were cared for in the lower tavern rooms - and the pine bar located in today's taproom was crafted from the operating table used by the army's surgeon. It was renovated in 1812, adding an extensive wine cellar to keep up with customer demands. Today, the tavern and inn is a place for fine dining and deluxe accommodations.