The Marvelous Mrs. Maisel Cast's Real-Life Partners
"The Marvelous Mrs. Maisel" became a multiple award winner not only because of the show creators' hilarious work, but also thanks to amazing actors in the cast. But what do we know about their private lives? Why was Rachel Brosnahan hiding her marital status? What is the connection between Ellen DeGeneres and one of the show's actors? And why did Alex Borstein wear her old wedding gown for the Emmy Awards?
Rachel Brosnahan aka Miriam "Midge" Maisel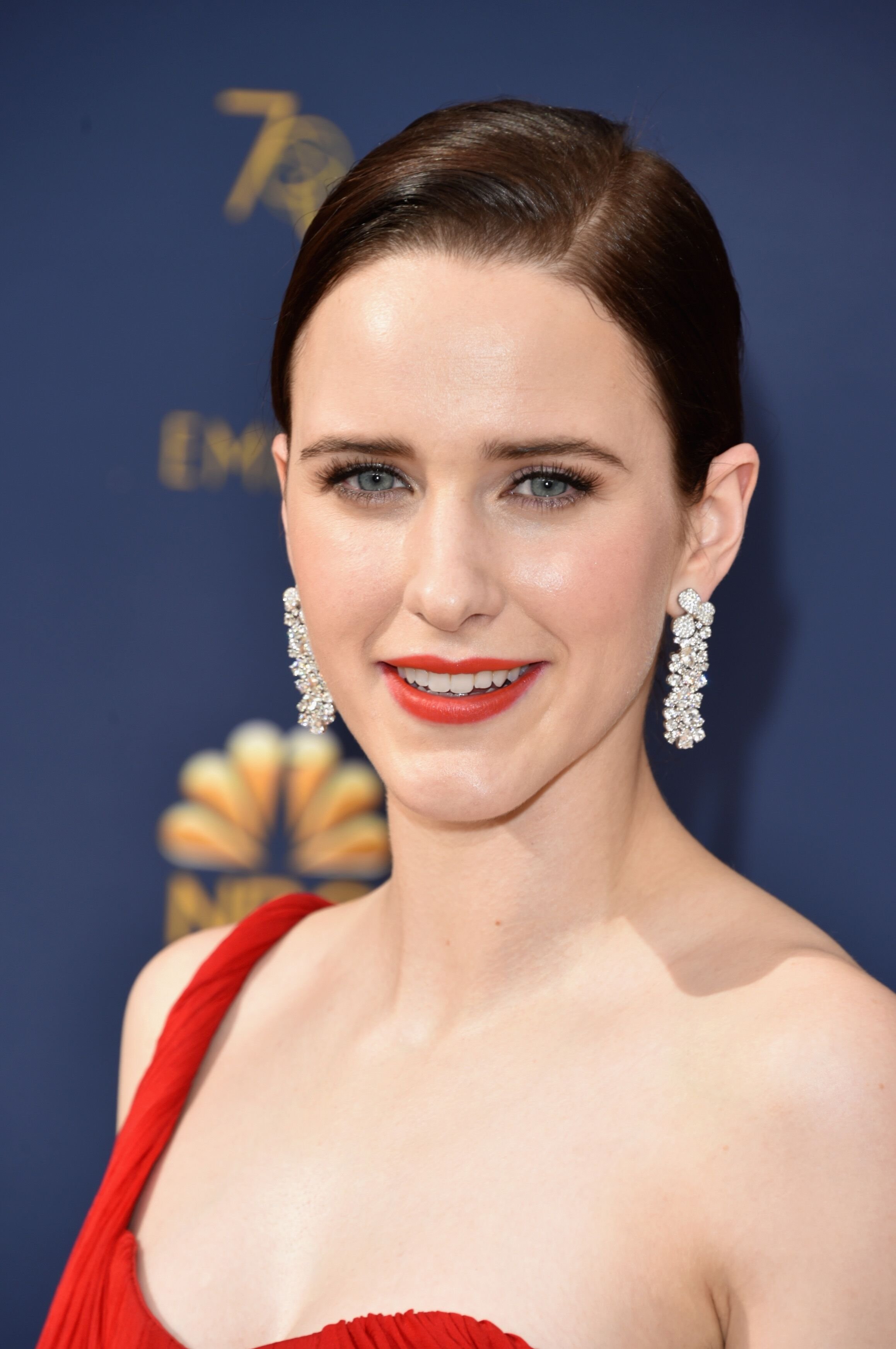 Before landing the role of a brilliant Jewish comedian, the 29-year-old actress used to mainly portray dramatic characters. Her previous TV work on House of Cards, Blacklist and Manhattan were everything but humorous. So did her current role include a special preparation or is it about her natural ability to produce tons of jokes? Well, it appears that Brosnahan did get some help becoming Mrs. Maisel. Rachel is good friends with writer-comedienne Jasmine Pierce, who served not only as inspiration for the role, but also a valuable advisor for her comedic antics. The actress showed up to her Mrs. Maisel's audition sick as a dog, but she actually credits her sickness for getting the role:
"When you don't feel well or you're over-exhausted, all of your inhibitions fall away. You do some of your most fearless work because you have nothing to lose."
So what do we know about Brosnahan's love life? Especially since she's kept it private for quite a long time. In 2018, the news broke that Rachel had recently tied the knot with actor Jason Ralph, as they were spotted wearing wedding rings on the Emmy red carpet. However, the actress later revealed that the couple had been married "for years" and had been together for even longer.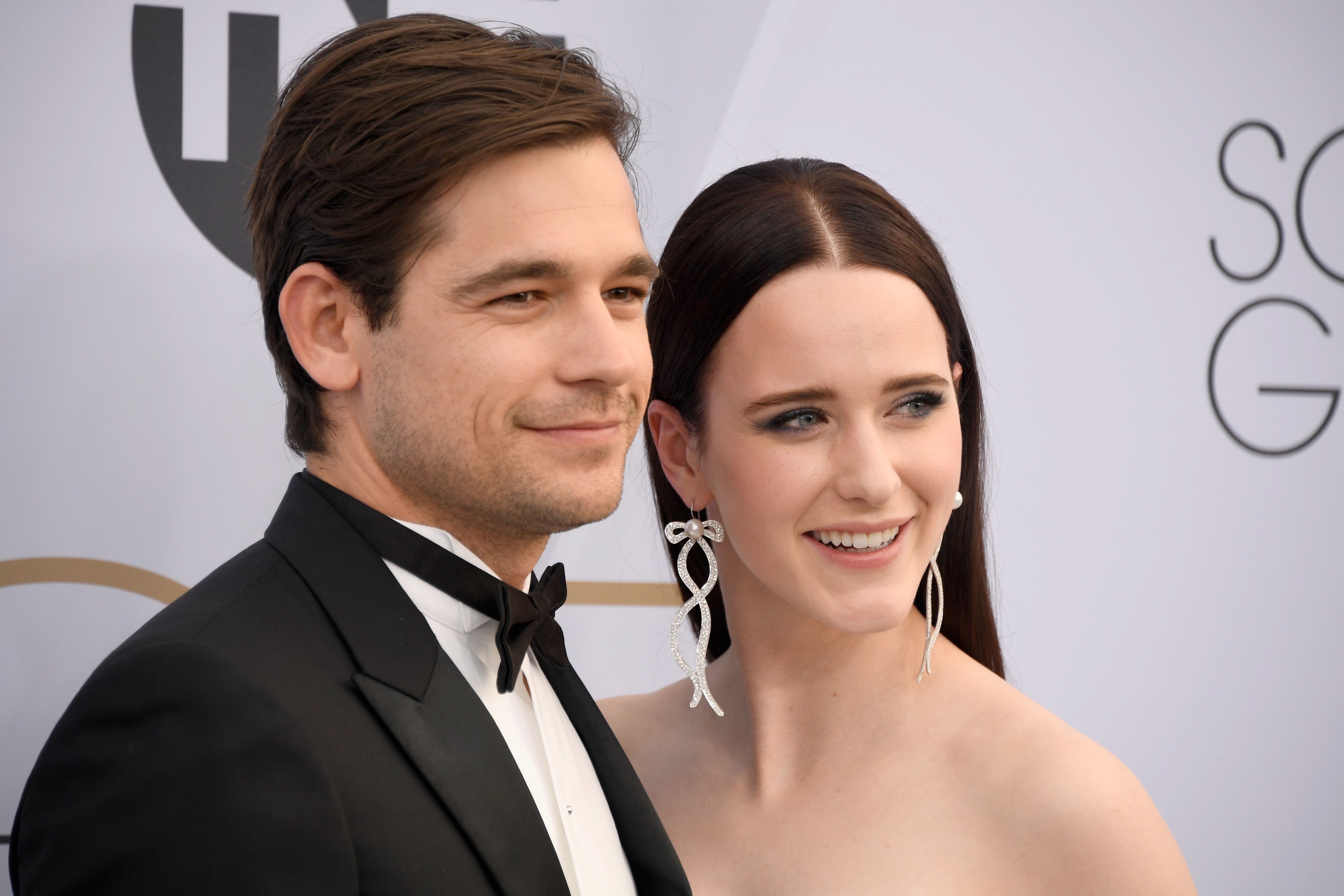 ---
So how did Rachel meet her partner in crime? Brosnahan and Ralph both worked on TV series "Manhattan", which ran for two seasons between 2014 and 2015. The pair also appeared in the 2014 movie "I'm Obsessed with You (but You've Got to Leave Me Alone)" together. Where else could you see Rachel's spouse? Jason was the lead in "The Magicians" and appeared in other TV shows including "Younger", "Gossip Girl" and "Madam Secretary."
---
The couple reportedly married in 2016, and are happy owners of two lovely dogs Winston and Nikki. So why did Brosnahan keep her marriage secret for so long? The actress referenced the sexist double standard that women face, particularly when being asked questions on red carpets. Contrary to the overall curiosity about her love life, Jason, who's also a lead in successful TV series, has almost never been asked about his relationships.
Ralph is Mrs. Maisel's number one fan. He often takes to Instagram to praise his wife and promote the show. For last year's Halloween, he even paid tribute to Brosnahan's character by dressing up as her. While accepting her Golden Globe on stage, Brosnahan mentioned her husband in the sweetest manner: "Jason, I love you. I wouldn't be here at all without you. Thank you." Awwww, looks like real couple goals, doesn't it?
Michael Zegen aka Joel Maisel
Before landing the role as Joel Maisel, Zegen appeared in "Girls", "The Walking Dead", "Boardwalk Empire" and "Rescue Me". Yet there's another part which Michael can be recognized for: he made over 50 appearances on "The Late Show With David Letterman" as "Dwight The Troubled Teen." When he first read the script of the show's pilot, Mr. Zegen had his eye on the role of Mr. Maisel. Although Michael thought it would be a small part, he felt it was what he really needed.
"I thought I was perfect for it, I really did. Even the description of him, I was like, 'Yeah, that's me.'" - shared the actor.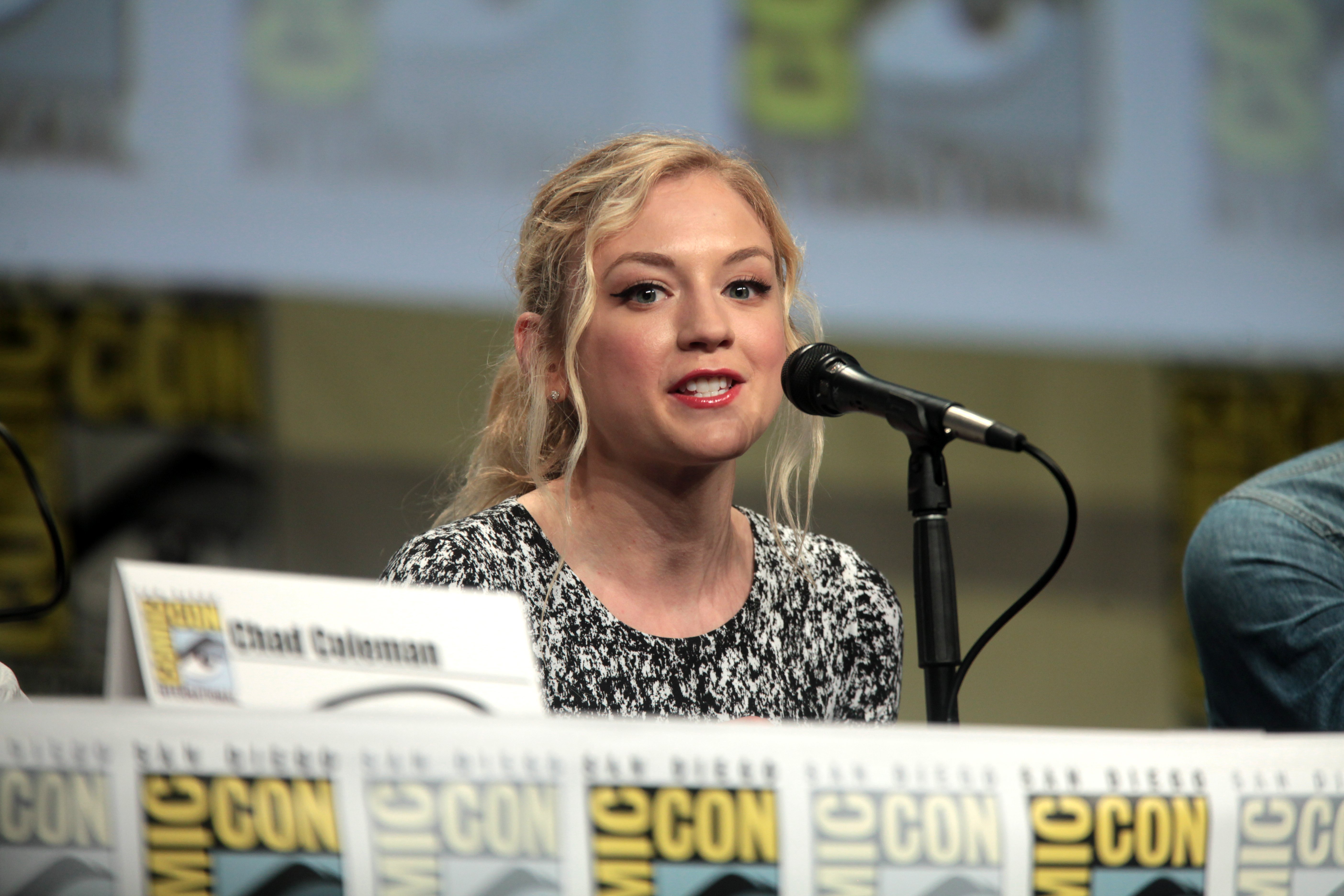 But what about the actor's love life? Zegen seems to be even more secretive about it than his colleague Brosnahan. On the set of "The Walking Dead" in 2012 he met actress and singer Emily Kinney, who played Beth Greene. The two started dating but their romance did not last long. The couple split up after a few months, and since then Michael has not been seen involved in any relationships. Zegen was even rumored to be dating his on-screen wife Rachel Brosnahan. The actors did a good job portraying their characters' romance, and they were seen together at a few events. But since Brosnahan revealed her real-life husband, Zegen, in the eyes of the media, has gone back to the "single" relationship status.
Reportedly, Michael has no children, but he often posts pictures of kids named Bella and Jack to his Instagram feeds. One of the posts hinted that the mother of the children is Allison Zegen. And since Michael has two brothers, he's probably a loving uncle to those sweet kids. We really hope that the actor will soon get the role of father to his own little Zegens.
Alex Borstein aka Susie Myerson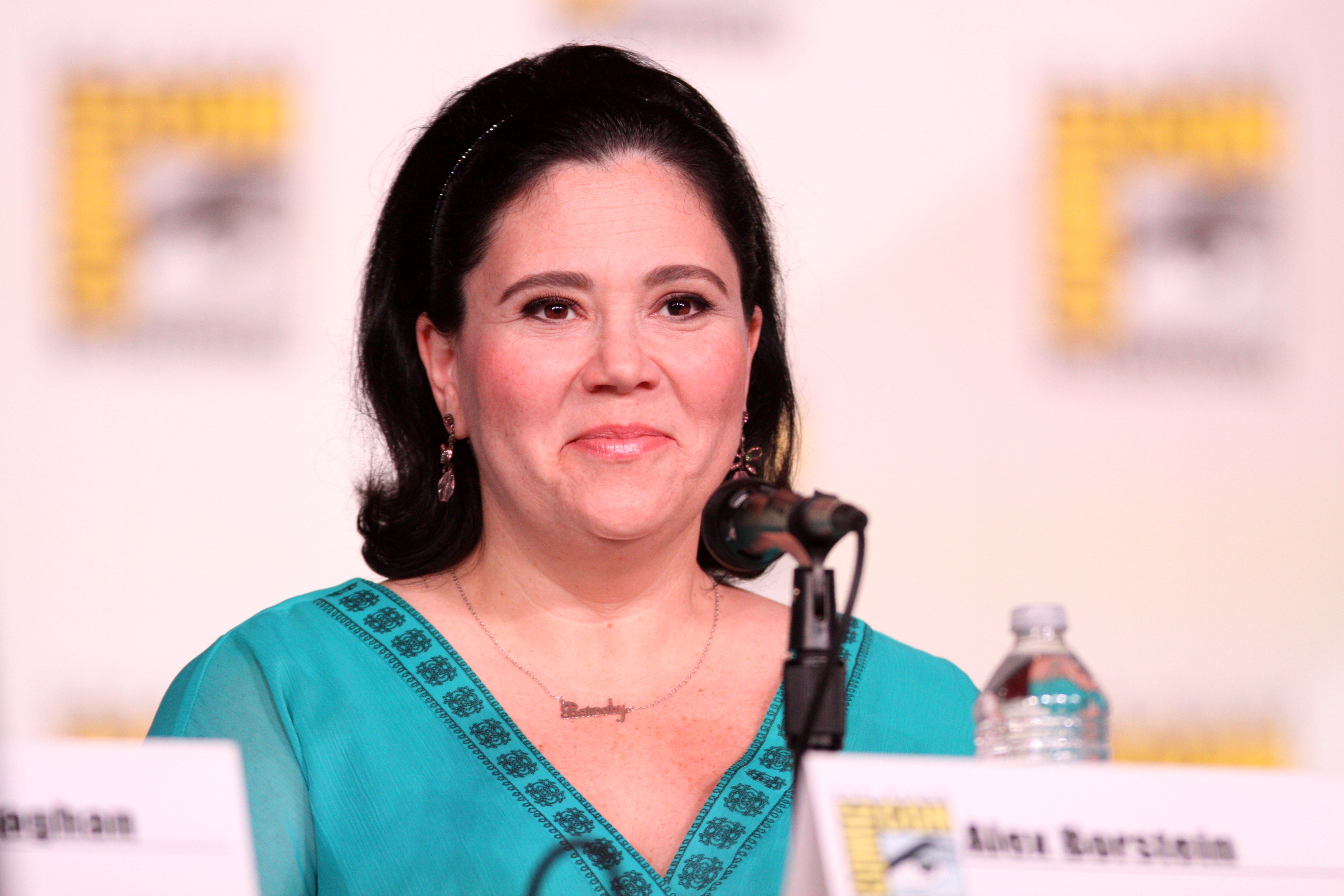 Season 3 finally showed us Susie without her newsboy cap, with loose wavy hair and there was even that moment with the green facemask! Still all those attributes hardly make her an example of refined femininity. But 48-year-old Alex Borstein, the actress behind Susie's character, enjoys wearing makeup, dresses and high heels in real life. Borstein speaks of her role very warmly:
"I think there's a lot of me in her, and a lot of her in me. We're both indefatigable little people, Susie and I. We're like a Mini Cooper—we've got a low center of gravity and kind of hug the road."
While show-fans question Susie's sexual orientation and family values, Alex is a straight divorced mother of two. Borstein met the actor and writer Jackson Douglas while studying improv at the ACME Comedy Theatre. After a few years of dating, Douglas proposed to her during the taping of a MADtv skit, and they tied the knot in 1999. Alex and Jackson welcomed a son named Barnaby in 2008 and four years later their daughter Henrietta joined their family.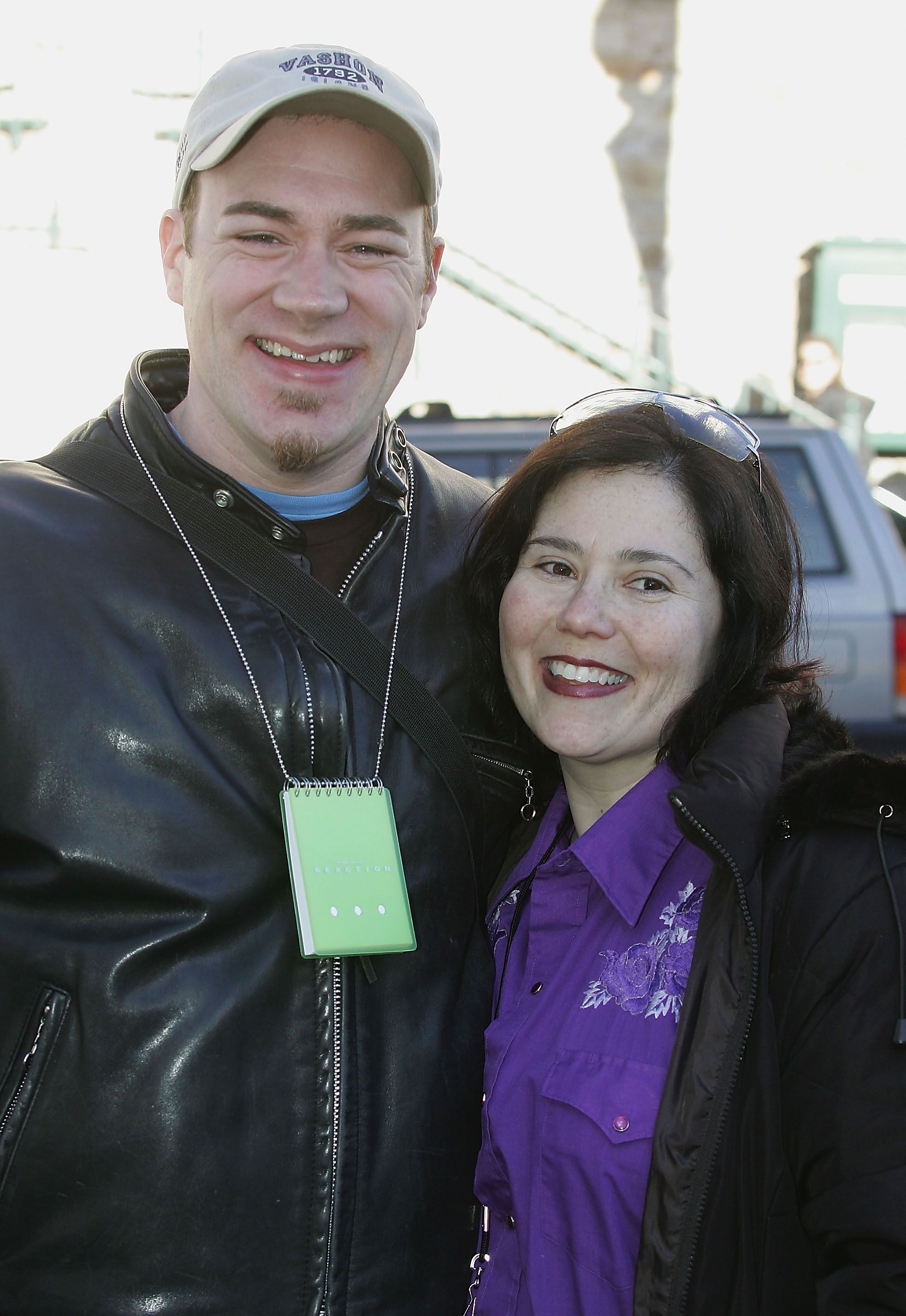 ---
The actress appeared in numerous TV series, including "Gilmore Girls" where she played not one but three episodic characters: Drella, Miss Celine and Doris. But in fact she had been cast to portray a much bigger role. Can you guess who? Sookie St. James who was eventually played by Melissa McCarthy. According to the plot, Sookie would later marry Jackson, a character played by Borstein's real-life husband Douglas. But she had to reject the role due to other contractual obligations.
---
After 15 years of marriage, Douglas filed for divorce, and it took 3 more years to finalize the agreement. In her interview with the Huffington Post, Borstein shared that the lesson she learned from her marriage was "don't get married": "If you believe in romance and if you believe in marriage, you also have to believe in divorce," she said. Perhaps, the actress' anti-marriage attitude developed from the court's decision to give her ex-husband half of her income?
As the couple did not have a prenup, the court stated that the ex-spouses would equally share all residuals and royalties for the work completed during their marriage. Borstein's longest career commitment is writing, producing and voicing Lois Griffin on "Family Guy". According to the documents, that job brings her $220,000 a month, and she had to give half to her ex. 
Funny thing is that for the 70th Emmy Awards where she won the Outstanding Supporting Actress in a Comedy Series, Alex Borstein wore her wedding gown. She later told Glamour magazine that: "The marriage didn't last but the dress did and I wanted to give it new life so now it's my Emmys dress. That's the truth." Recently Borstein was rumored to be dating her Family Guy co-star Seth MacFarlane. The on-screen Griffin spouses of 20 years went to the latest Primetime Emmy Awards together. So is there something special between the two in real life? The actors are close friends, but fans hope that their relationship has become romantic. 
Tony Shalhoub aka Abraham "Abe" Weissman
Midge's father, the neurotic but lovable Jewish mathematician Abe Weissman, is portrayed by the actor Tony Shalhoub. Despite being the son of Christian Lebanese immigrants, Shalhoub says the story of an upper-middle-class Jewish family does not feel so different from his own upbringing. The actor shared that he draws on his father while playing Abe Weissman. Tony is probably the most titled member of the cast, having multiple nominations and wins from different theatre, television and film awards. He used to embrace every job opportunity, and always did his best in the roles that he got.
As Tony once revealed: "I was one of those people who put too much emphasis on work and career and material possessions, and it took its toll on all my relationships, on my physical health, my emotional and mental health."
But despite being a hard worker, the actor is also a devoted husband of 27 years. And it would have been even more surprising if he had met his wife outside of his job commitments. But while working on Broadway in 1989, Shalhoub started dating his co-star Brooke Adams, who happens to be 5 years older, and the couple tied the knot three years later.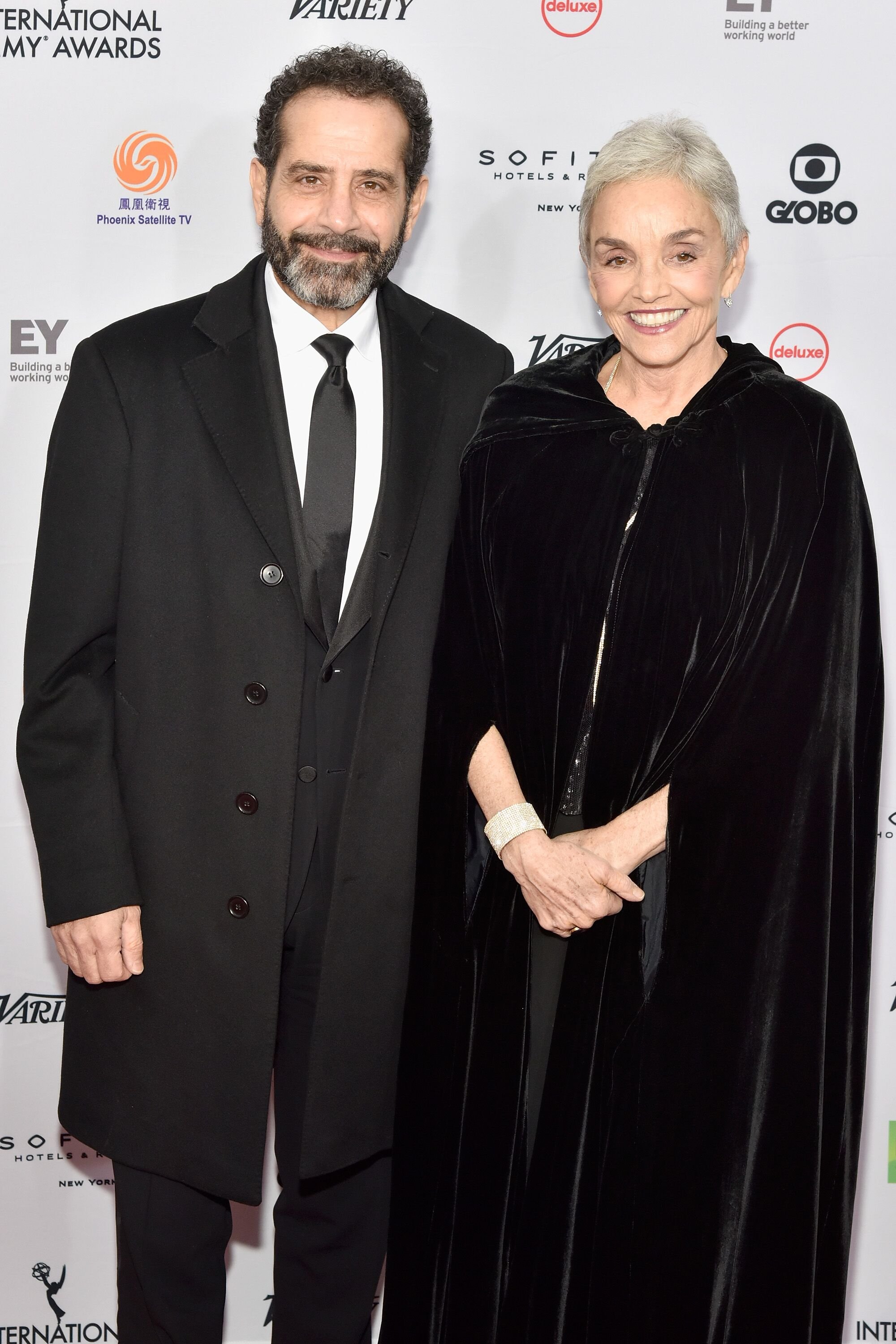 Before marrying Tony, Brooke was a single mother to her adopted daughter Josie Lynn. The girl was later also adopted by Tony. Together Shalhoub and Adams adopted their second daughter, Sophie. The couple has shared the screen in several films, like the TV shows "Wings", "Monk" and "BrainDead", and are now occasionally seen on the red carpet together.
Marin Hinkle aka Rose Weissman
Before portraying Midge's impeccable mother Rose Weissman, 53-year-old Marin Hinkle played in other TV series, including "Two and a Half Men", "Madam Secretary" and "Speechless." Hinkle's character is absolutely charming and the ideal woman with high standards. We can't help but admire Rose, especially when she gets emotional in her hilarious fights with Abe. As Marin once shared: "I've always felt like the reason I became an actor is because I look for more high drama than what I had at home."
So what about home? Hinkle is a happy wife of 22 years to the actor and theater director Randall Sommer. The couple met in 1992 and married five years later. They have a son, but have never revealed his name or age. Both spouses do not have profiles on social media and are quite secretive regarding their private life.
Kevin Pollak aka Moishe Maisel
Perhaps, this is what a model Jewish entrepreneur should look like: noisy, nagging and incredibly hardworking. He works even on Shabbat! Apparently, Moishe's character is so vivid because of the actor who shaped him. Kevin Pollak was named one of the Top 100 Comedians of All Time! He started giving stand-ups at the age of 10, and later switched his focus to acting as a wise and profitable career move. The actor has appeared in more than 80 films and over 40 TV shows during his career.
---
But Kevin's private life has not been as successful. He married fellow comedian, actress and writer Lucy Webb in 1995. Although they share two children and a production company "Calm Down Productions," after 10 years of marriage, the couple separated. Pollak filed for divorce in 2008, citing irreconcilable differences and the process was finalized in two years. Still many speculate Kevin's infidelity as the real cause of his complicated marriage.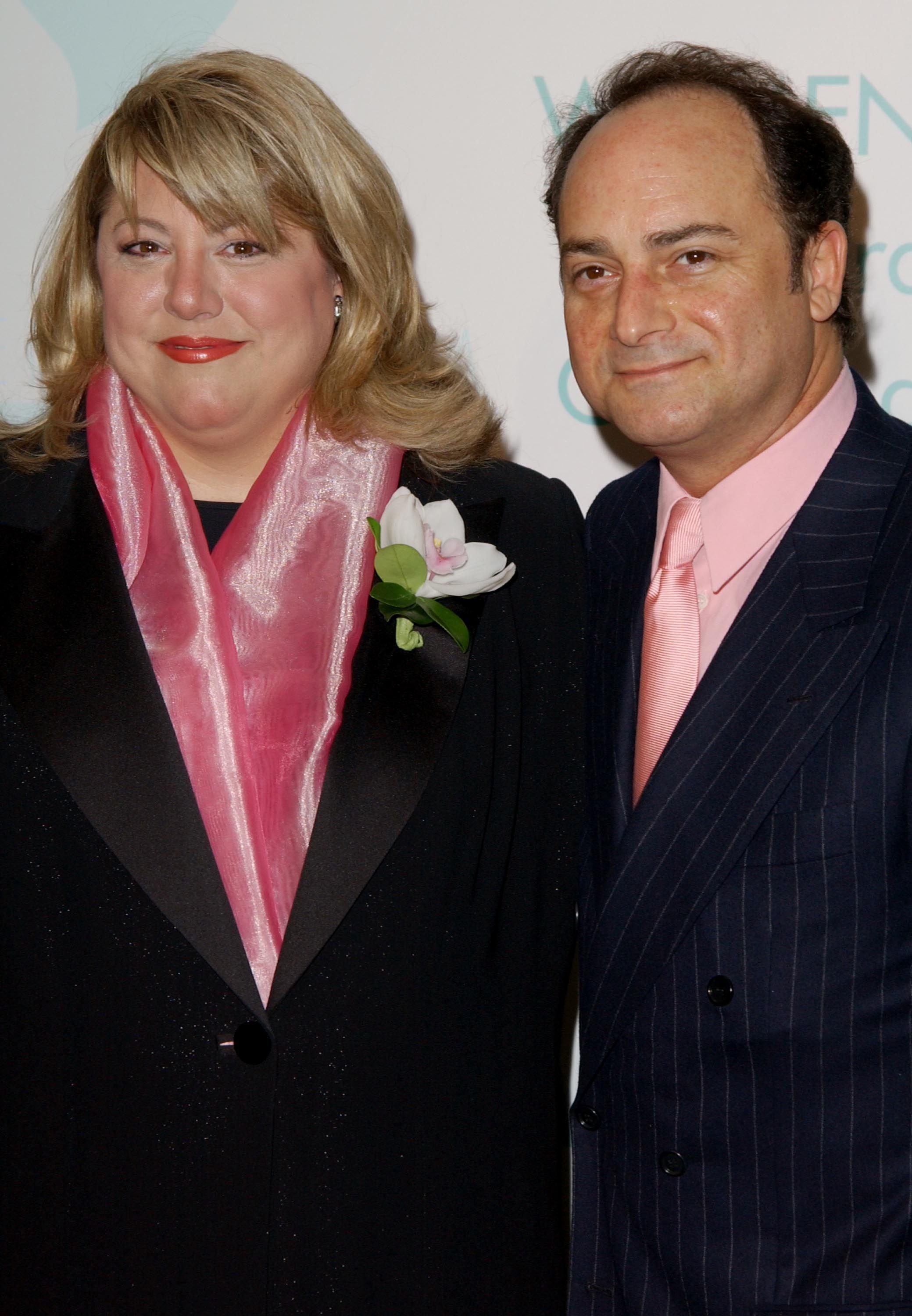 ---
Reportedly, the actor has been dating writer and producer Jaime Fox since he divorced his ex-wife. The two worked together on Pollak's chat show on YouTube, and are often seen together on the actor's Instagram page. So is there a chance of seeing Fox as the next Mrs. Pollak or is Kevin done with making things official?
Caroline Aaron aka Shirley Maisel
Some would say that playing a fussy Jewish mom is easy when you are Jewish. But during her career of almost 40 years, actress and film producer Caroline Aaron has successfully tried and worked with different roles in numerous films and TV shows. Caroline appeared in four films directed by Woody Allen. And not only is her career impressive: Aaron seems to have the longest marriage among the show's cast! She has been married to a real estate broker named James Foreman for, again, almost 40 years. 
---
Although the actress shared that they had not been dating long before the engagement: "I got married after I knew my husband six months." Aaron believes that the main secret of her long-lasting marriage is a simple kindness. Together with Foreman, she has two sons, Ben and Sydney. Caroline has acted with her on-screen husband Kevin Pollak before, has known her TV in-law Tony Shalhoub for 30 years, and now sees her son "Maisel", Michael Zegen as her third child. She shared that the cast of the show is very close, they enjoy each other's company behind the scenes and often go out together.
Luke Kirby aka Lenny Bruce
Before becoming the iconic comedian Lenny Bruce, 41-year-old Luke Kirby appeared in different Canadian and American TV shows, including "Rectify" and "The Astronaut Wives' Club". The actor has rather romantic views on love, as he once shared: "I believe in love at first sight, and I feel sometimes you have to just be open to whatever love is and let yourself fall."
---
Reportedly, Kirby was married to actress Alison Elliott in 2012, but the couple separated shortly. Luke then was rumored to be connected with Tom Cruise's ex-wife Katie Holmes. And though neither Luke nor Katie ever publicly confirmed that they were dating, the two shared red carpet together and were spotted walking hand-in-hand. Now Kirby is allegedly dating costume designer Andrea Sarubbi, with whom she has been in on-again, off-again relationship since 2013.
---
Jane Lynch aka Sophie Lennon
Whose image comes to your head when you hear the words "short-haired blonde, lesbian, comedian and TV host"? No, we're not talking about Ellen DeGeneres, although Jane Lynch is often confused with her. "Put that on your plate!" is her character's main phrase. Despite being really high maintenance, Sophie Lennon pretends to be a simple woman on stage because she wants to be popular.
Similar to that, Lynch was hiding her true self behind a mask in real life. Jane found it extremely hard to come out as gay to her parents, so she finally did it only at the age of 31. 
"I didn't want to be gay. I wanted to be... I wanted an easy life. And you know what? I am gay and I still have an easy life."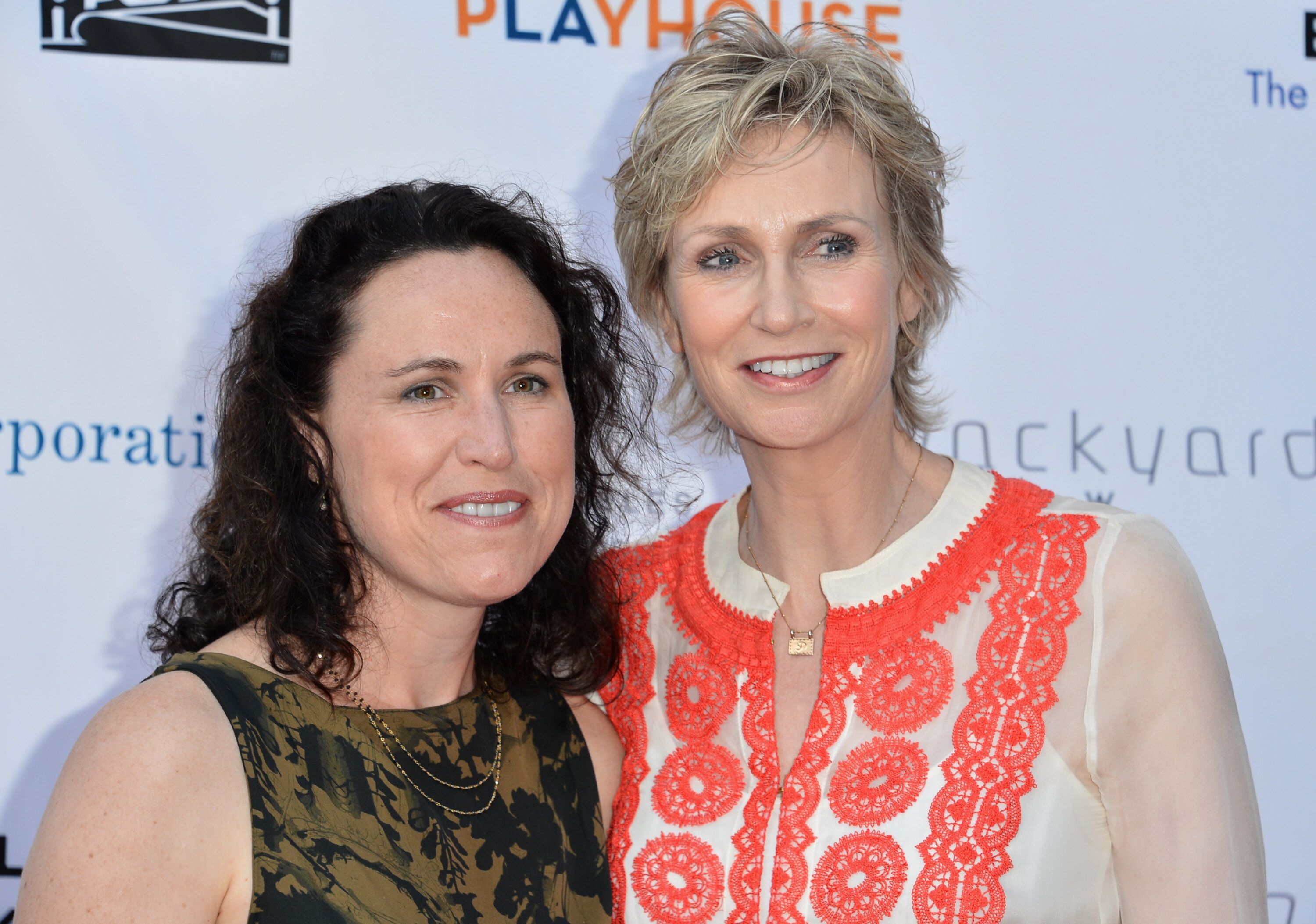 ---
In 2010 Lynch married her girlfriend Lara Embry, a clinical psychologist whom she met a year earlier. Before the two started dating, Embry adopted a daughter Haden with her ex-girlfriend. Lynch became Haden's stepmother and was very happy to get her parental experience in that way. As she once shared:
"I'm almost 50, and I thought that possibility was behind me, so this is a real delight. I never went through a biological clock experience. I never even heard it ticking."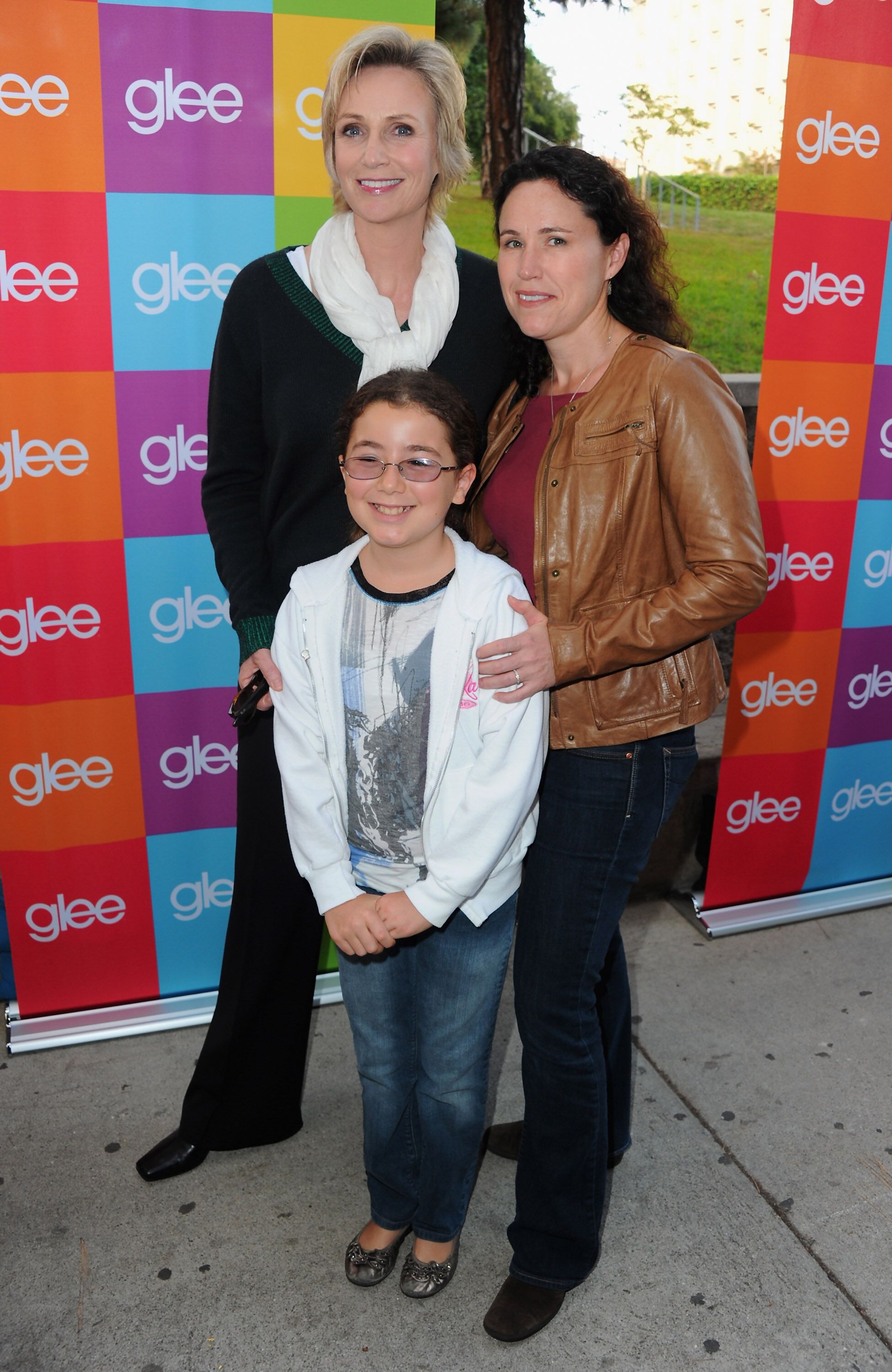 ---
After three years of marriage, Jane filed for divorce, following a 5-month-long separation. Now the actress is reportedly single.