Inside Justin Bieber's Tough Real-Life Story
First, he shocked fans with news about having Lyme disease and now he is ready to become a dad! More so, Bieber went through a year of celibacy and somehow lost his custody over a capuchin monkey! What else is happening in Justin Bieber`s life behind the camera? We're about to explore the dramatic but beautiful life of one of the biggest teen idols.
A rocky start 
This kid had no idea that within a year he'd be able to sell out Madison Square Garden in 22 minutes! And while you might think the fame came smoothly to the talented boy, Bieber's manager struggled to sign any contracts at first. Radio stations claimed that they were not interested in kids. Studios kept saying that, they had no platform for Bieber and sent him to work with Nickelodeon or Disney plus. And others simply didn't want to take risks with a 12-year-old boy whose voice could change at any moment.
So Justin had to use every opportunity to be heard. He woke up extremely early to join any morning radio show and hoped that someone would hear him. But Beliebers online changed the story drastically when they started to show up at every live set to support that sweet boy from Youtube. Basically the fans were the ones who made the studios change their attitude towards Bieber.
...And then Usher welcomed Bieber to the international world of music and show business. Justin's first meeting with his icon Usher wasn't at all smooth. In fact,
Bieber asked Usher to listen to his singing but the superstar simply ignored the request and sent the unknown boy away! It took time and effort for Bieber's manager to arrange an audition once again! And when Bieber reminded Usher of their first meeting, the star didn't recall that moment at all! Anyhow, Usher was indeed amazed by the audition and Justin Bieber finally got his chance to live the life he dreamed of… or so he thought.
Turning to the dark side
It felt fantastic to be famous, to be adored by girls. It seemed he could do whatever he wanted, despite how silly or dangerous it might have been. Fans were shocked to find their icon egging a neighbor's house, urinating in a mop bucket, and catching a DUI charge after drag-racing his Lamborghini in Miami Beach. And then that messy story with Justin and his pet animals occurred.
His snake got auctioned off, it seemed like his bulldog got ditched, then he hired a tiger for a party and at last, got a capuchin monkey. But not for long!  Apparently, Bieber failed to produce the required vaccination and import papers during his tour in Munich and so, the authorities took the poor capuchin out of Justin's hands!
"People love me, I'm the shit — that's honestly what I thought. I got very arrogant and cocky." - Bieber sadly recalls those days.
With all the mess, Bieber started having serious trust issues. He couldn't let go of the feeling that people were just using him to get more money. But most of all he was afraid to trust himself. With the countless mistakes made, more than anything else, Justin only wanted one thing - to get away from it all. Unfortunately, Xanax was chosen as the solution. And things got pretty dark.
"I think there were times when my security was coming in late at night to check my pulse and see if I was still breathing," Justin confessed to Vogue.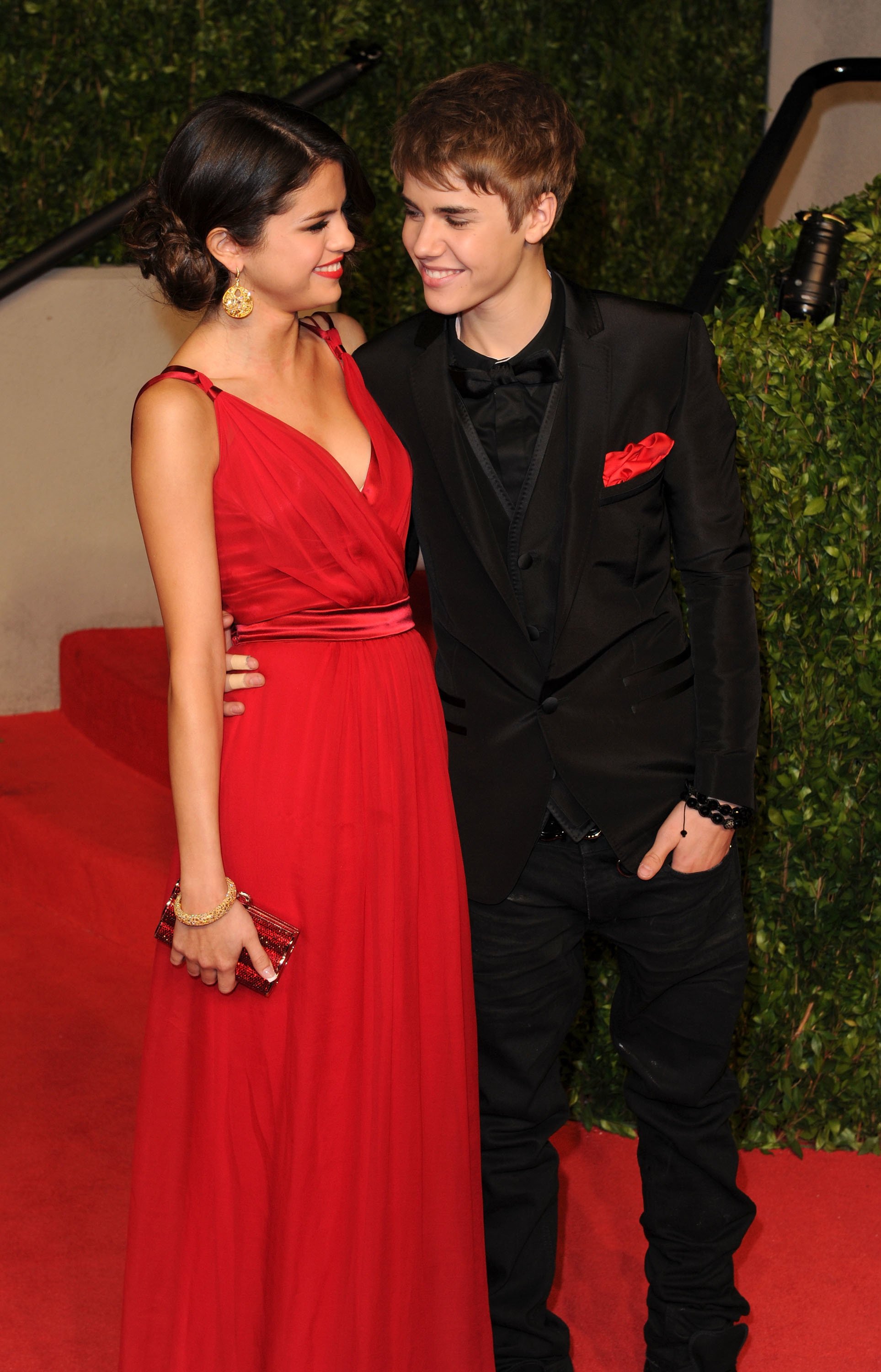 Things became clearer when love entered into Justin's life. His romance with Selena Gomez looked like a real fairy tale. With the helicopter rides, mutual passionate performances and crazy gestures like renting an entire stadium so the pair could watch a movie together. One fan on Twitter even called it a: "Teenage dream!" By the way, who was that? What? Hailey Baldwin?... Well, actually the two were just friends back then so it was pretty chilled… right?
Anyway, in reality it wasn't so dreamy for Gomez, as there were the occasional death threats from Bieber's fans and Justin himself wasn't in the best place during those times. Selena also was going through some really hard times, facing anxiety, panic attacks, even depression. The most frustrating thing was that she had no idea why she felt that way and only later did she find out that her horrible symptoms were caused by lupus. 
Imagine a relationship with all these problems and on top of that - harsh publicity pressure. We all know how this story ended. And though millions of hearts were broken when Selena and Justin separated, it seems that getting through the stressful split helped Bieber finally realize the truth about himself.
Discovering his true self
Justin was constantly getting into trouble with the law, being more and more associated with the image of a bad guy. Bieber's sound also changed a lot. His music transitioned more into EDM, leaving behind the days of sweet teen pop.
Behind the scenes Justin was numbing his pain to cope with everything. He went from one failed romance to another and at one point fans even thought that "Jelena" was happening again. But then, something deeply changed in Justin`s life. His transformation came somewhat unnoticed as his recent interview with Vogue revealed how the singer went through tremendous changes
"I just grew up and decided it was time to take control of my life. I realized that God gave me a gift and an incredible platform to share his light and it is my responsibility to live a positive life in exchange."
He stopped touring in 2017 and more so, went through a year of a self-imposed tenure of celibacy! Why so? The star revealed that he wanted to rededicate himself to God. Now, Justin truly believes that his diligence was blessed with a new happy relationship.
It only took Justin 12 weeks to get down on one knee and propose to model Hailey Baldwin. True Beliebers will, of course, disagree right away, saying that the two knew each other for much longer. That is true. But when the two first met it wasn't romantic at all and in fact, was arranged by their parents, as they became friends long before their kids did.
And Baldwin wasn't a belieber! Yeah! The girl found Justin cute but never was crazy about him. And while everybody had a crush on him, for the first few years Hailey had a weird age gap with Justin, which simply took away the right romantic vibe.
But, it is not so easy to get away from Bieber's charm and so, three years before the real romance hit, Justin and Hailey did try dating… But Justin was all about exclusivity at the time and it didn't work out for the couple.
"Negative things happened that we still need to talk about and work through," Hailey explains.
Baldwin states that there were even times where if she walked into a room, Justin would walk out! Fortunately, those days are gone and now Justin is ready to become a father!
But we will explain that a bit further on, and for now, let's figure out how Alec Baldwin's niece managed to capture Justin's heart.
A family man
Twelve highly disciplined years of ballet has never touched a drug, a careful and deliberate person, and rational to a fault! This is the profile of the lady Justin fell in love with. It comes as a surprise doesn't it? But not for Justin. "I'm the emotionally unstable one," revealed the star. And so, Hailey's logical and structural way of living is perfect.
More so, Justin always strived for a little more security in his life, because starting from his early years, there was a lot of uncertainty in the superstar's life. And Hailey was finally the woman who was able to show him a different perspective. As Justin says himself, Hailey is his force of calm. She is level. Justin seems to be madly in love with his beau and he isn't tired to share his feelings on social media.
He constantly posts his beautiful wife while writing truly romantic things about her. Starting from publicly honoring Hailey and wishing her a great shoot, and finishing with calling her his "baby boo" during interviews. But! It is not like the two are living a magical fantasy. 
"The thing is, marriage is very hard," says Hailey. - "That is the sentence you should lead with. It's really effing hard."
In her very sincere interview with Vogue, Hailey crushed the stereotypes of everything is perfect between the two and confessed that both she and Justin are still trying to deal with their fears and weaknesses. But Hailey finds this path beautiful, as they are going through those challenges together and that is the most important thing.
Sometimes those challenges are extremely overwhelming, especially with the neverending questions from press and fans. And recent rumors even claimed that Bieber got back to drugs and that's why he looks so unhealthy. Especially after photos emerged of the pop star with pallid and blotchy skin. But Justin finally opened up what was really going on with him and the truth shocked everyone. Turns out Justin's been recently diagnosed with Lyme disease.
The star suffered from unpleasant symptoms for months, trying to figure out what is really going on. And he was horrified to discover that he has a serious case of chronic mono which affected his skin, brain function, and made him really tired.
Regardless of how terrifying it sounds, Justin comforted his fans with the news that he is overcoming the disease and assured that he "will be back and better than ever." And that is not all! We all will be able to know what exactly happened to the star during those recent rough years, as his condition and struggles will be explained in a docuseries on YouTube! It's been almost 10 years since fans were able to see Bieber in a documentary. The last time was the docu-movie Never Say Never, which told the story of Justin's rise to stardom. 
And there's more huge news for the fans - apparently, Bieber is about to become a father! While doing a Livestream on Instagram, Justin opened up about his ambitions towards the upcoming tour and then turned to Hailey. The singer stated that right after the tour he and his wife will have a baby! Apparently Hailey was not ready to talk about it during the stream, so she accurately responded that the baby plan will come up "potentially" or "eventually" and added, "a couple of years." 
Could you imagine Justin as a father? What are your thoughts about that?