Magical Lives of The Chilling Adventures of Sabrina Cast
The success of the Netflix reboot of Sabrina has been something we can all marvel at. Some might even say, it's magical. We know that you're totally under a spell and so we've prepared this potion for you. Find out about the real lives of the cast from The Chilling Adventures of Sabrina, right here! 
Is Ross Lynch in love with Kiernan Shipka? Who makes the most money? And who has such a strong allergy to their colleague that they avoid even touching each other? Our magic wand has the answers. 
Gavin Leatherwood as Nick Scratch
---
Girls, be careful with this wizard, or he might just cast a spell on you! This handsome man has not only won Sabrina's heart, but also the hearts of millions of fans. After the show aired, everybody just became crazy about this pretty much unknown actor.
"The social media thing was crazy," Leatherwood told ELLE. "When I got the job I had 1100 followers, then it grew to 14,000 during shooting and that blew my mind and then seemingly overnight it grew to over half a million!"
Now the actor has more than 2 million followers, and we think it's just the beginning.
---
While growing up, Leatherwood shuffled from state to state He grew up in California and moved to Oregon with his family when he was 18. For a few years, Gavin worked for Urban Outfitters, but then he decided to change his life, packed his clothes and moved to NYC. That's where he met the actor who inspired the future wizard's acting career.
Gavin Leatherwood kept going to auditions, but only landed episodical roles until one day he decided to audition for the role of...Harvey Kinkle. What? Can you imagine that? Nick Scratch being portrayed by anyone else but the charismatic and slightly chaotic Gavin Leatherwood?
---
The creators of the Chilling Adventures of Sabrina thought so, too, and Gavin landed another role instead of the one he'd hoped for. Despite all his charisma, Gavin is nothing like his character, and he shared some details about himself in an interview with MTV:
That's the weird thing about TV versus reality," Gavin says with a laugh. "They think you're the character, but you're not. I'm a dork, truly."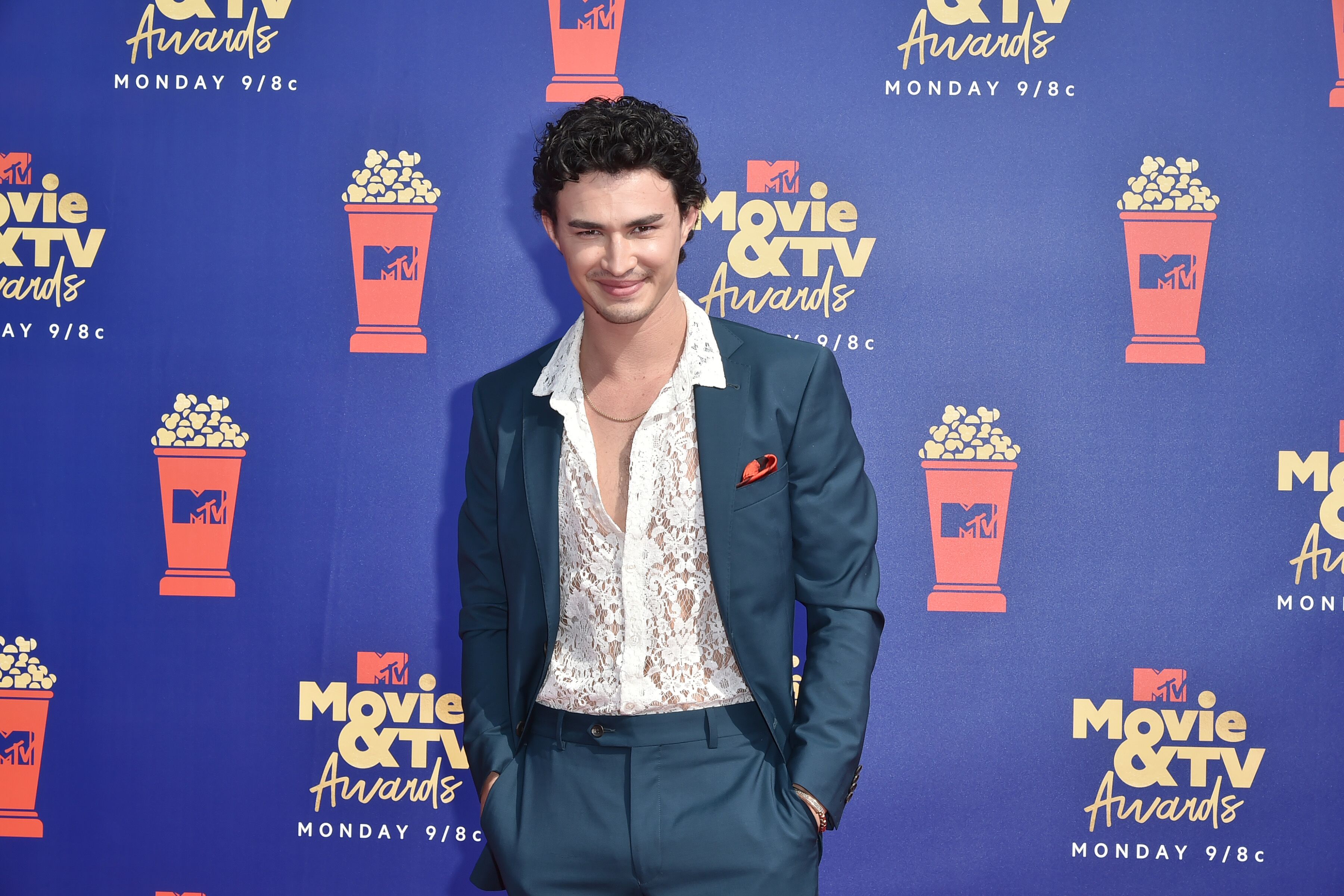 ---
Gavin dreams of portraying a shy person, and if he were offered to portray James Bond, he'd refuse. Doesn't it make him even more charming? That's what this truly hot wizard is like, and so now you should not be surprised when you find out that in an interview with Elle, Gavin revealed that he is single. 
"I'm still pinching myself," he admits "I was pushed to a point where I was so unhappy that I didn't know what I was doing. This feels like a beautiful dream."
Jaz Sinclair as Roz Walker
Fans of the show might have different opinions about Harvey's new girlfriend, but we know for sure that in the real world Jaz Sinclair is totally charming. In her interview for Buzzfeed right after season 2 aired, the actress confirmed that she was dating some mysterious guy; however, she didn't want to reveal who that was.
---

I'm a human first and a celebrity, pfff, seventh, you know? And think about it. If you love somebody, that's coming from one of the most intimate places of your heart. Imagine letting hundreds of thousands of strangers in on that and not being affected. I'm not there yet.
It's no surprise that Jaz Sinclair doesn't want to be assessed depending on who she is dating. Recently, she revealed her boyfriend's identity, and it turned out to be no one else but Ross Lynch.
---
The two had been rumored to be together not just only on the screen, but also in real life. These last few months Jaz and Ross kept posting pictures of themselves together and attended events together, and even though they didn't confirm anything for a long time in an interview Ross once revealed that Jaz was his best friend.
So, Jaz is like, my closest friend right now. I'm the favorite's favorite, that's what we always say... because she's everyone else's favorite, but if I'm her favorite, then it's like, 'OK cool. I can deal with that.'"
---
However, the actress is not only defined by her sweetheart, right? She achieved everything herself, and we are sure that Roz's role is just the beginning of her mind-blowing career. In an interview with Essence, she revealed that it's difficult to be a black woman in the industry, as everyone keeps questioning if she's worth anything or not.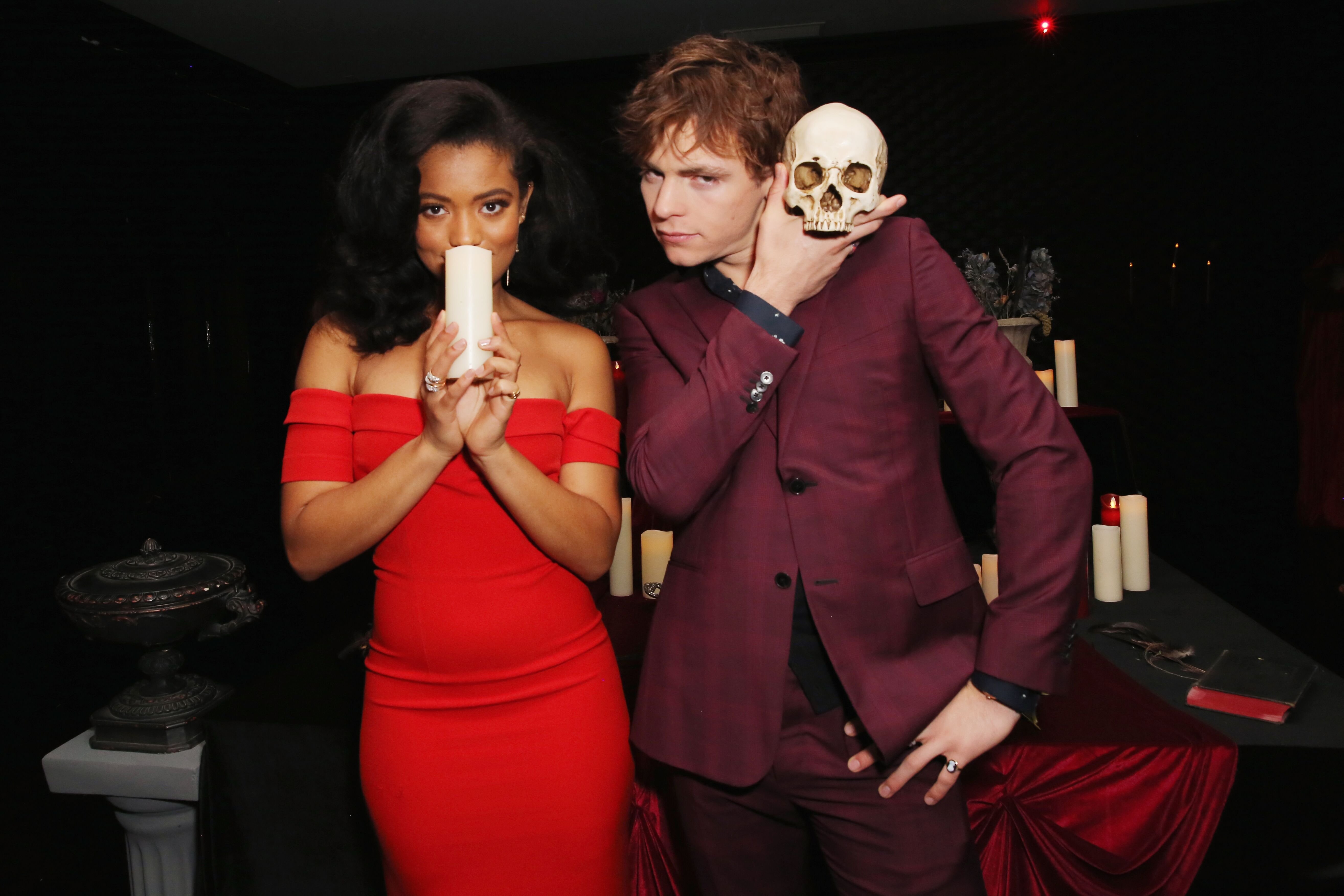 ---
The actress also jokes that she is like Clark Kent in a sense, because when she is outside without curly hair and glasses, nobody recognizes her. But we think a lot has changed since season 2 of the show aired, where her character, Roz, underwent some dramatic changes.
Thanks to her amazing work on TV, the net worth of this young actress is estimated to be about 3 million.
Tati Gabrielle as Prudence Blackwood
When this actress saw herself on the screen for the first time, she immediately realized what a nasty character she was portraying. Before portraying Prudence, Tati had never played such a complicated and multifaceted role. Even though she has been acting for 5 years already, Tati Gabrielle only became popular after she portrayed the charming villain. But who is she in the real world?
---
Tati is a real fashion icon! For Prudence - Tati would style her hair as finger waves, but some time after it became too exhausting. In her interview with Refinery29, she revealed that because of her hair she had to come to set earlier than everyone else. Thankfully, Prudence's life changed drastically in season 2 and that was a great reason to change her hairstyle and get rid of the waves.
In her numerous interviews about beauty and make-up, the actress shares her experience of accepting herself. She tells her followers that make-up is amazing, but at the same time, they are beautiful just the way they are.
---
Tati Gabrielle's net worth is about $500.000, and we think it's just the beginning for this tremendously talented actress! Despite the fact that Tati is a star, she keeps her love life very private. There were even rumors about her being gay! However, we don't think so, as there was a time when the actress tweeted about her boyfriend. Now many suspect she is dating her colleague Chance Perdomo, but we haven't collected any evidence of that.
Ross Lynch as Harvey Kinkle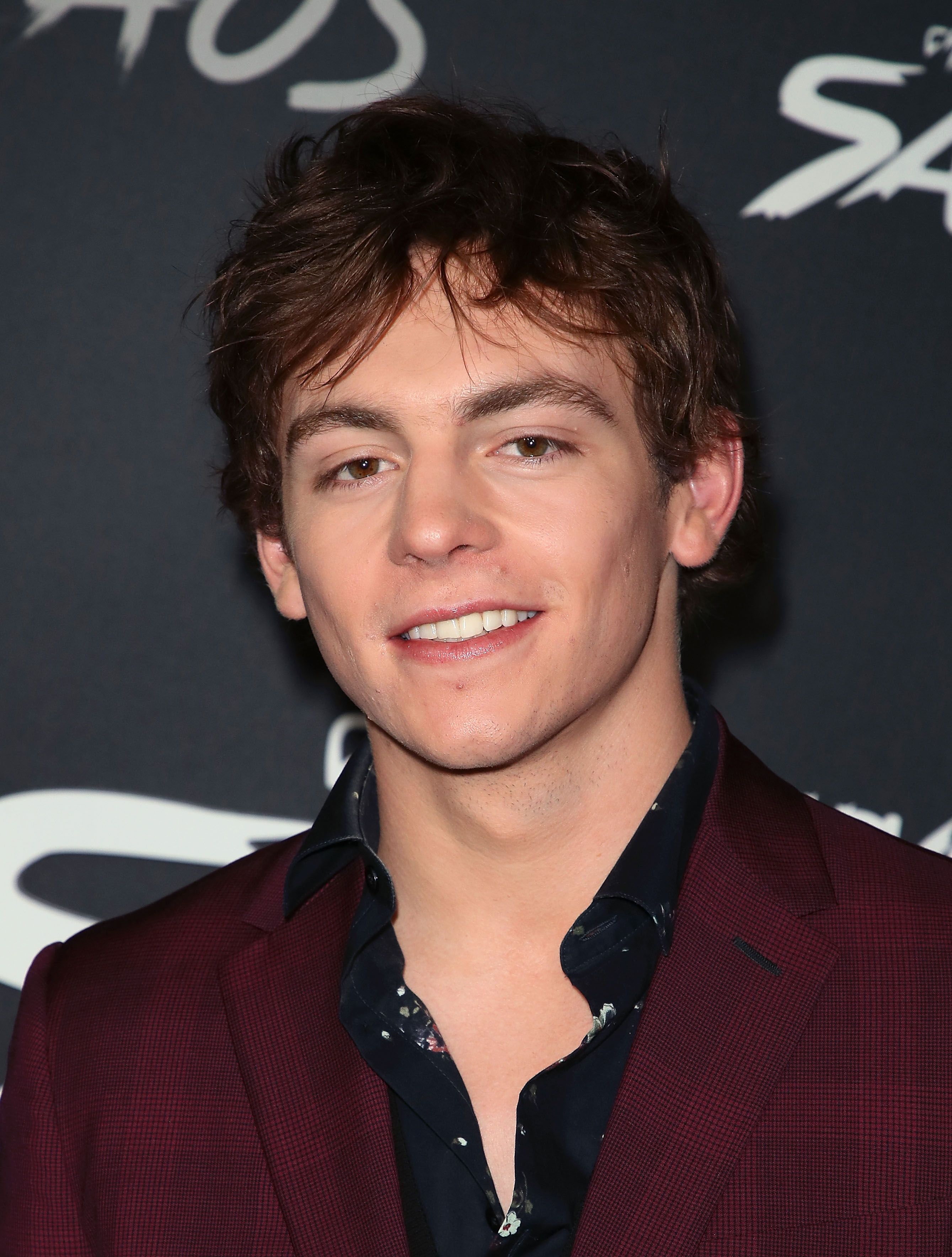 Woahhh, this actor is so multifaceted that we don't even know where to start! Even before Chilling Adventures of Sabrina started, Ross conquered the world not only with his acting abilities but also with the musical ones, as he is a part of the band The Driver Era along with his brother Rocky Lynch. Moreover, many remember him as a Disney star! Ross Lynch had a leading role in the show Austin&Ally.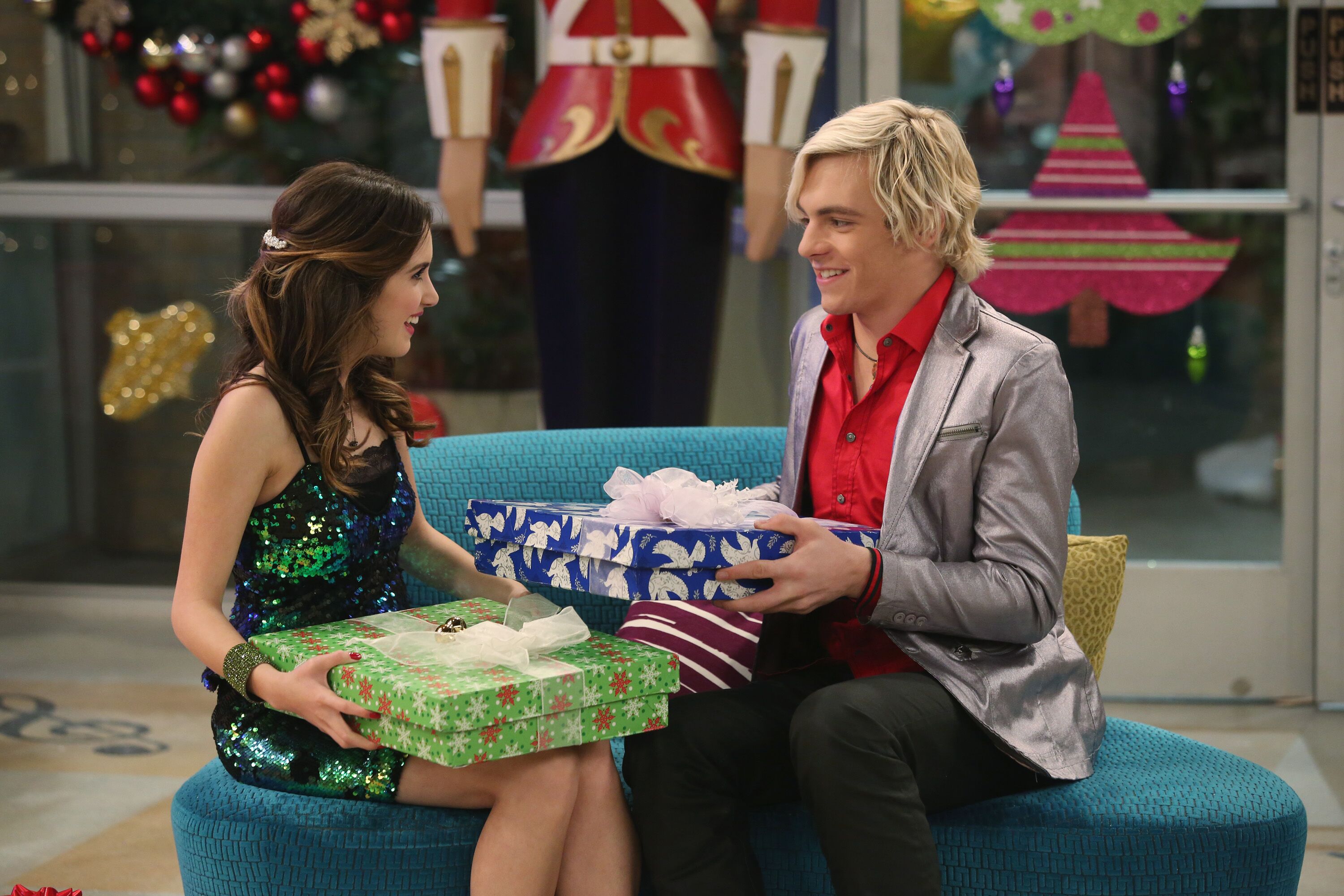 ---
Even though Chilling Adventures of Sabrina seems really dark, it is not the darkest role he has played so far in his career. Last year, he starred in My Friend Dahmer, in which he portrayed the serial killer Jeffrey Dahmer. Although in real life Ross is dating Jaz, he is crazy about Kiernan Shipka. The actor admired his colleague so much that for a while many had thought she was the one he was dating.
In an interview with Elle, Ross couldn't stop gushing about his co-star:
"Kiernan's great. I really like working with Kiernan. She's a joy to work with. Always on her stuff. She's working really hard right now," he said. "She's in every scene, on set all day. And she never messes up. Like, she's really taking care of herself. I'm happy that she's Sabrina. I'll leave it at that."
---
I doubt there's anything cuter than Ross's admiration for Kiernan! Lynch is not just a talented actor, musician, and Kiernan Shipka fan, but also a real model. Yes, this guy is so talented, that we might just not be able to list them all!In his first modeling experience, Ross got to model for Dolce & Gabbana for their first show in NYC. Is there anything that he can't do?!
---
If Harvey's a good boy in the show, in reality, Ross is a rather bad one! He dyed his hair blond, got a motorcycle and wants to try every kind of extreme sport it seems! However, Ross had to bring back his natural hair color for his role as Harvey Kinkle. You might ask why? The answer is simple!
With blonde hair, Ross and Kiernan would look more like siblings than a couple. That would be weird even for Sabrina, wouldn't it? Thanks to his numerous talents, Ross Lynch's net worth is approximately $5 million!
Chance Perdomo as Ambrose Spellman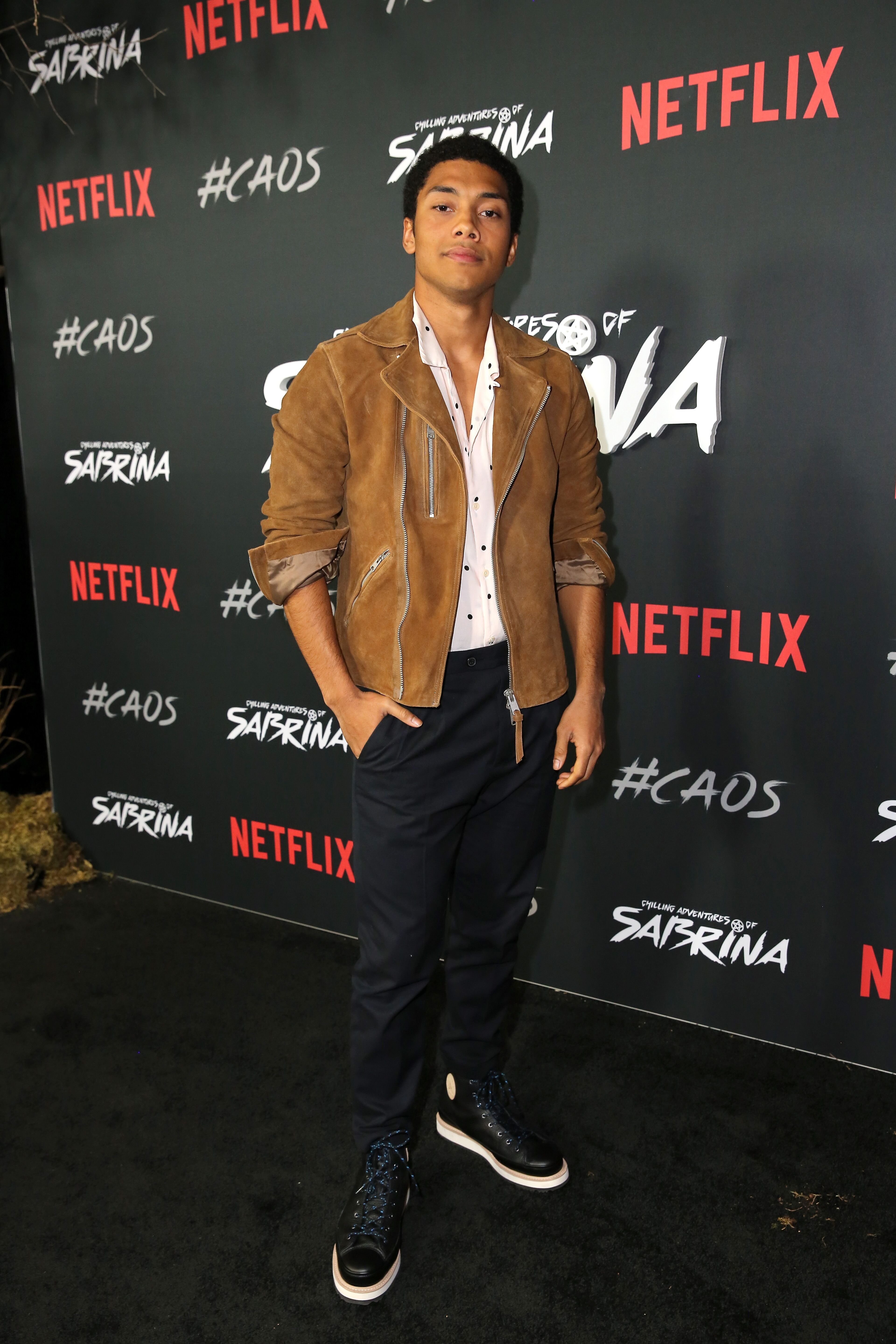 ---
This charismatic actor got into the character of Sabrina's cousin so well that now it's hard to believe that it's his first serious role. That's why this actor's net worth is much lower than his colleagues'. As of now, it's about $100.000. It wasn't Chance Perdomo's first attempt at getting into Sabrina's world. At first, he auditioned for the role of Jughead Jones in Riverdale, but as you know he didn't get it.
Still, Chance made such a great impression that he easily landed the role of cousin Ambrose. In the show Ambrose Spellman is pansexual, and Chance Perdomo is very proud that he is capable of portraying such a character. Perdomo revealed he is thrilled to "play someone who is representative of the world we live in.
I think it's so important to play Ambrose and, from the beginning, have him inform the world of his sexuality to show that it's not a buzzword that requires a lot of thought.'
---
However, before getting the role the actor wasn't too sure what pansexuality was, and so he had to study the topic in detail. Although the actor is glad to share his experiences in the show, he barely shares details of his love life. We can only guess whether he's dating anyone or not.
Kiernan Shipka as Sabrina Spellman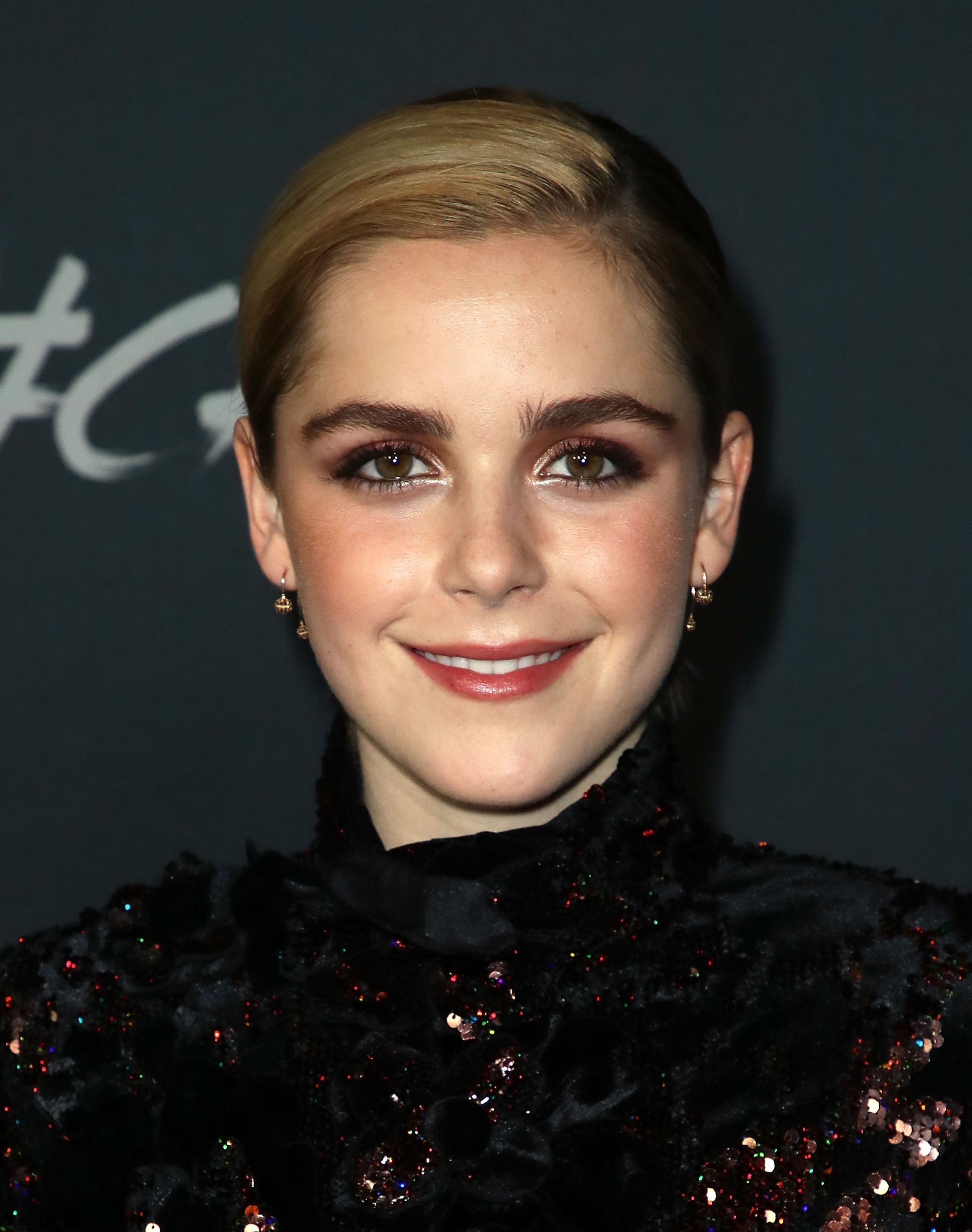 ---
Born in Chicago and raised in LA, Shipka made her first appearance on TV when she was only 5 months old in ER. After that, she landed a role in Mad Men at the age of six. Thanks to this famous role and of course to her work in Sabrina, the actress's net worth is $3 million! However, this role didn't just bring her money, it also opened the doors into the cinema world. She was spotted by Roberto Aguirre-Sacasa, the creator of Riverdale and Sabrina.
For a while he was thinking of giving Kiernan one of the most important roles in Riverdale, the role of Betty Cooper! Roberto told Entertainment Weekly:
"Kiernan was iconic in Mad Men, and I had even thought about her, I was like, 'Oh I wonder if she'd ever do Betty."
---
So when it was time to choose Sabrina for a new project in Archie's universe, it didn't take the showrunners long to invite Kiernan! It seemed that the actress perfectly fit the role of a young half-witch who's ready to do anything for her close ones. But what is a witch without her familiar? The problem is Kiernan is allergic to her familiar! If you paid enough attention, Sabrina doesn't pick up or touch her familiar that often!
The leading role in such a popular show brings not only fame and the necessity to touch your allergen, but also stress. Kiernan explained to Bon Appetit how she was feeling overwhelmed and losing sleep when she first started the series:
"I was so stressed out last season that I was getting really random hives. ...And other times I'd just cry for no reason because I was so sleep-deprived."
---
Thankfully, the young star learned to fight it, and now she knows what her body wants. If she feels tired, she just goes to bed, and on Sunday she simply doesn't leave her house and spends a day in bed. And we don't think she's doing that alone!
---
Despite the fact that for a while many had been thinking Kiernan was dating Ross Lynch, we know it's not true! So, who stole the heart of this beauty then? In West Hollywood Kiernan was spotted next to model Charlie Oldman, son of famous Oscar-winning actor Gary Oldman.
Soon after that, the guy posted a picture with Kiernan on his IG, and many thought that it confirmed their relationship! We don't know if it's true or if Kiernan and Charlie are just friends.
It looks like so far when it comes to the love-lives of these superstars, we're left with more questions than answers....or...maybe not? Check out this article on the real-life partners of the Chilling Adventures of Sabrina Cast.