Glimpse Into 30 Rare Photos That Tells History
A blast from the past! Since we're not aware of any time machines, our only way to peer back in time is to look at old photographs. People and events from the distant and not-so-distant past are fascinating. Some of these are impressive simply because the camera had existed! We hope this selection of photographs helps you to reminisce, learn something new, and draw the lines between our past and our present.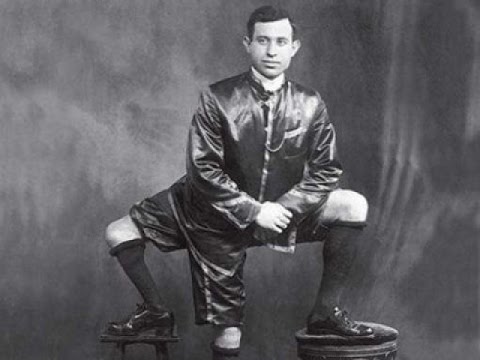 ---
1. A man stands on the first cables of the Golden Gate Bridge during its construction. The Presidio and San Francisco are in the background,1935.
It took some guts to work on the construction of San Francisco's Golden Gate Bridge. In the 1930s, there was an unwritten rule regarding high-steel bridge construction projects like this one. For every $1 million in cost, the engineers should expect one fatality among the workers. But the $35 million Gold Gate Bridge had an impressive safety record with only 11 deaths.
A vast net suspended under the worksite is credited with saving at least 19 people. Those 11 construction worker deaths are sadly overshadowed by the more than 1,500 people who have thrown themselves off the bridge, making it the top suicide bridge in the world.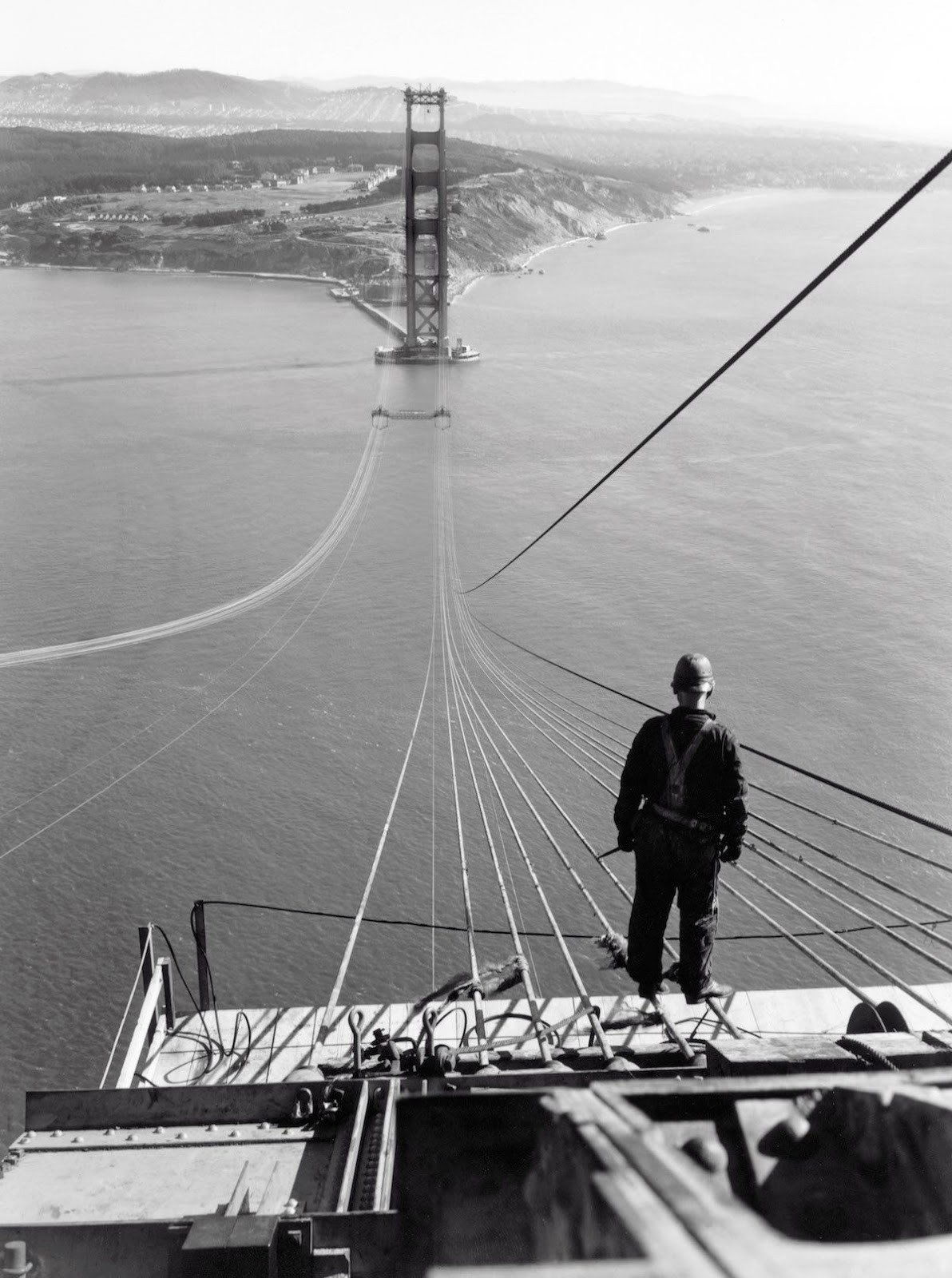 ---
2. Annie Edson Taylor, an American schoolteacher, became the first person to survive a trip over Niagara Falls. She went over in a barrel on her 62nd birthday, October 24, 1901.
Annie Edson Taylor had hoped to become rich with a unique publicity stunt. She planned to ride over Niagara Falls in a barrel. Taylor had a barrel custom-built for her that was watertight and padded. She sent the barrel over the falls with a cat inside as a trial run.
To her delight and the cat's, the feline survived! On October 24, 1901, the 63-year old former teacher climbed in the barrel, and her friends secured the lid. She was set adrift just above the falls where the current would pull her over. An awaiting boat pulled her out immediately after she went over, and the battered and terrified woman was found to be alive and uninjured.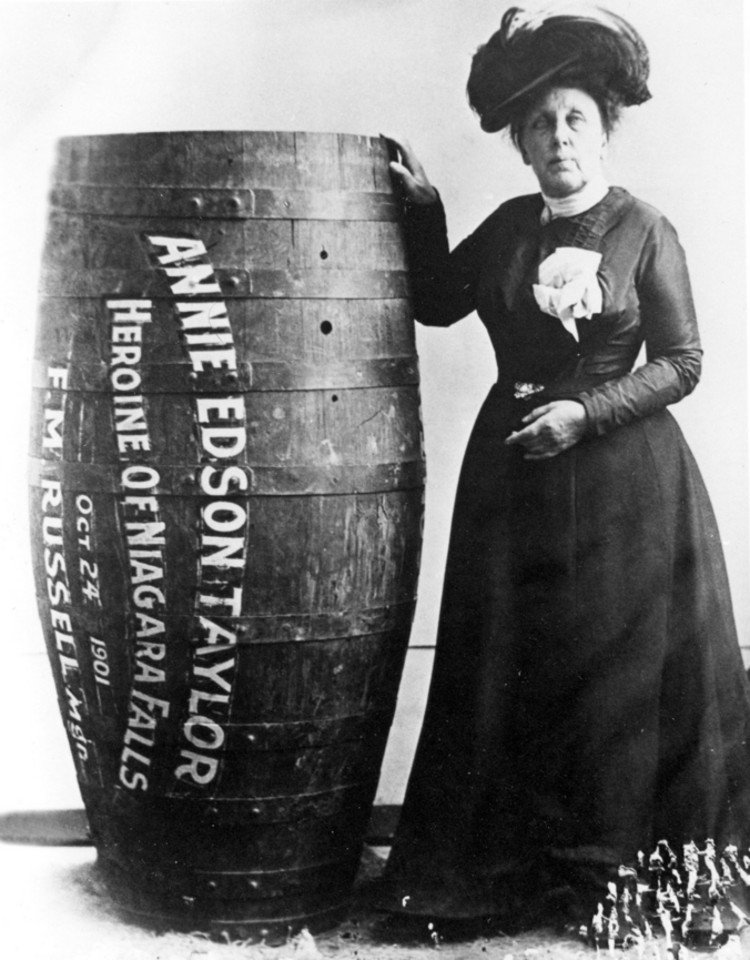 ---
She wrote and sold her memoir, which gave her a brief influx of cash. She fell into poverty, though, and died in relative obscurity, on April 29, 1921. An obituary in The Buffalo Express said she had been hoodwinked and bamboozled by "unscrupulous managers" during publicity tours. As a final disgrace, someone stole her barrel.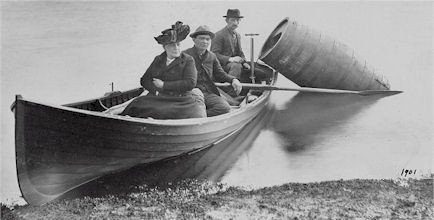 ---
3. A cold and snowy morning in London, 1955.
England is not known for its beautiful weather. If it's not rainy and foggy, it's snowy and cold. The hearty Londoners clearly don't let some bad weather slow them down. Pictured below are some gentlemen crossing the snow-covered Westminster Bridge, that extends over the Thames River in the heart of London. The famous clock tower, known as Big Ben, watches over them in the background, with an iconic London double-decker bus passing them in the background.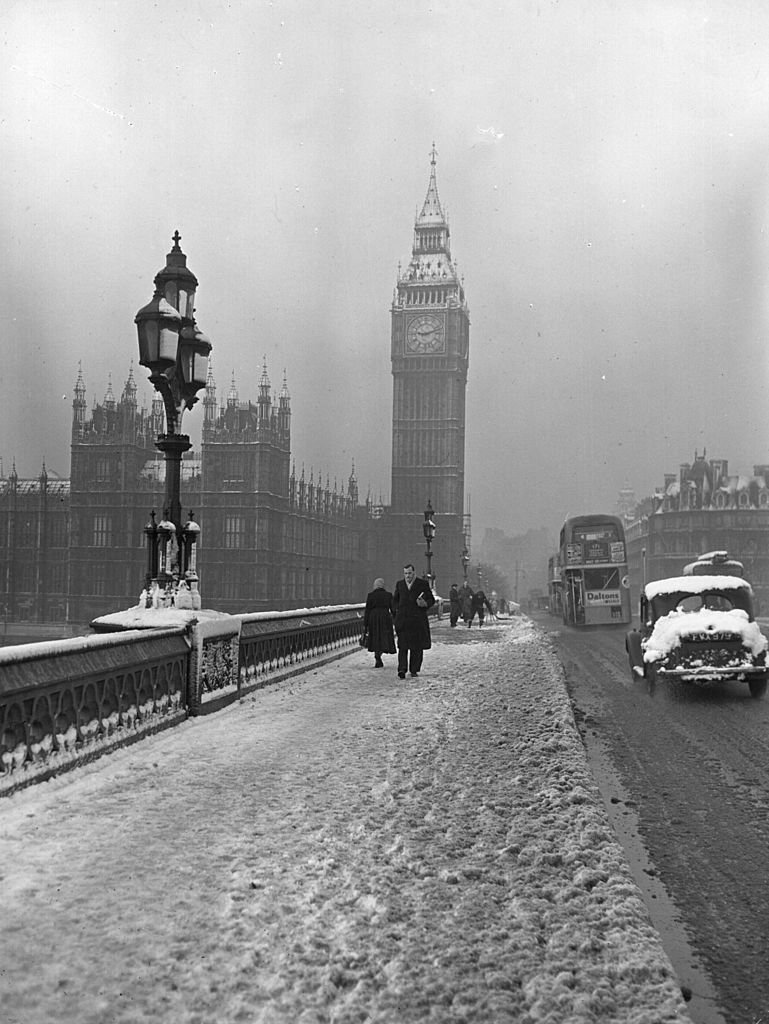 ---
4. Buying cigarettes from your hospital bed, aka the 1950s.
As crazy and counter-productive as it seems, patients could buy packs of cigarettes from their hospital beds. They could even smoke them in their hospital rooms! Before the surgeon general's warning linking tobacco smoking to cancer, heart disease, and a host of other ailments, the medical field didn't regard smoking as a threat to health.
On the contrary, they noted that smoking helps to calm a stressed person and curbs appetites, so they considered cigarette smoking to be a good thing.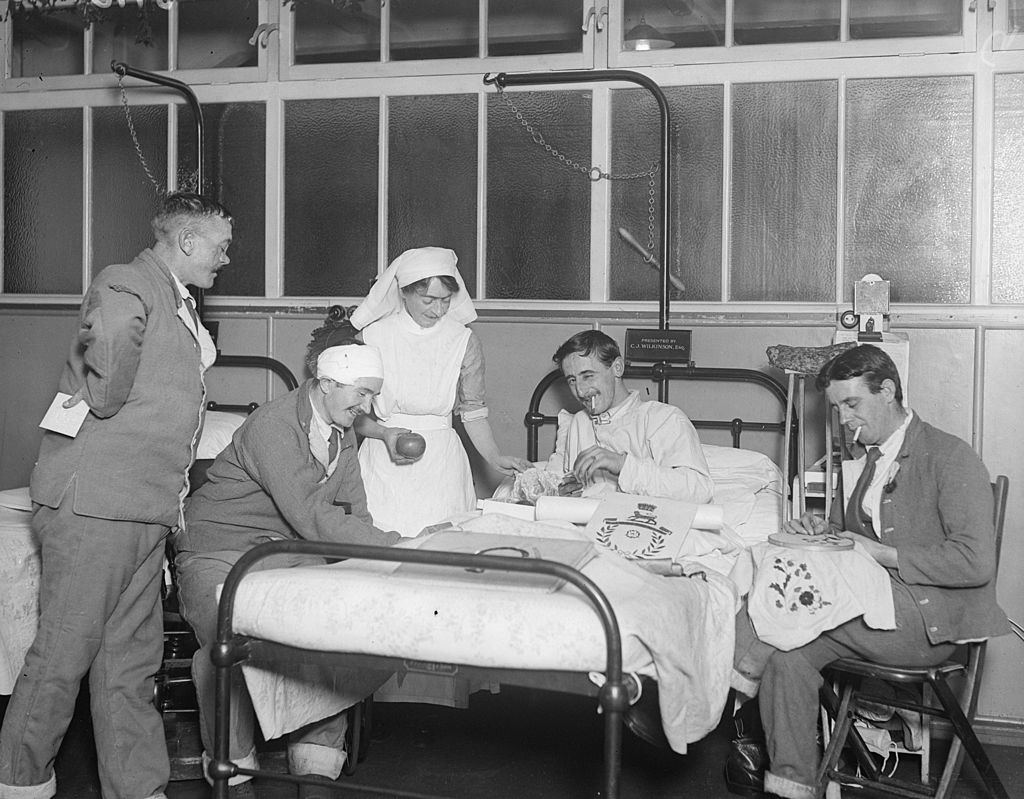 ---
5. A Traffic Cop with a manually operated traffic signal, Philadelphia, 1922.
Shortly after automobiles first hit the streets, they started crashing into each other. Very quickly, it became clear that there needed to be rules and systems in place to make sure people weren't driving into other cars or people or buildings.
Traffic signals were invented to signal motorists when to stop and when to proceed through an intersection. In the days before electric traffic signals, the only option was to have manual signals, like the one shown here. It was changed from 'stop' to 'go' by a traffic stop operator.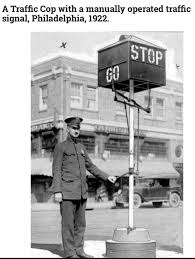 ---
6. Monowheel from the 1930s was called The Dynasphere.
Believe it or not, this crazy looking vehicle was built based on a drawing made by Leonardo da Vinci! Known as a monowheel, the design for this wheel was patented in 1930 by a British inventor named Dr. JA Purves, who modeled his design after Da Vinci's.
Purves was confident that his monowheel would be the next big automotive craze and said so in an article in Popular Mechanics magazine. The monowheel drove just fine, but it had one big flaw when braking or accelerating. The force would cause the driver carriage to whip around the wheel, much like when a hamster suddenly stops while running on a wheel. Oops.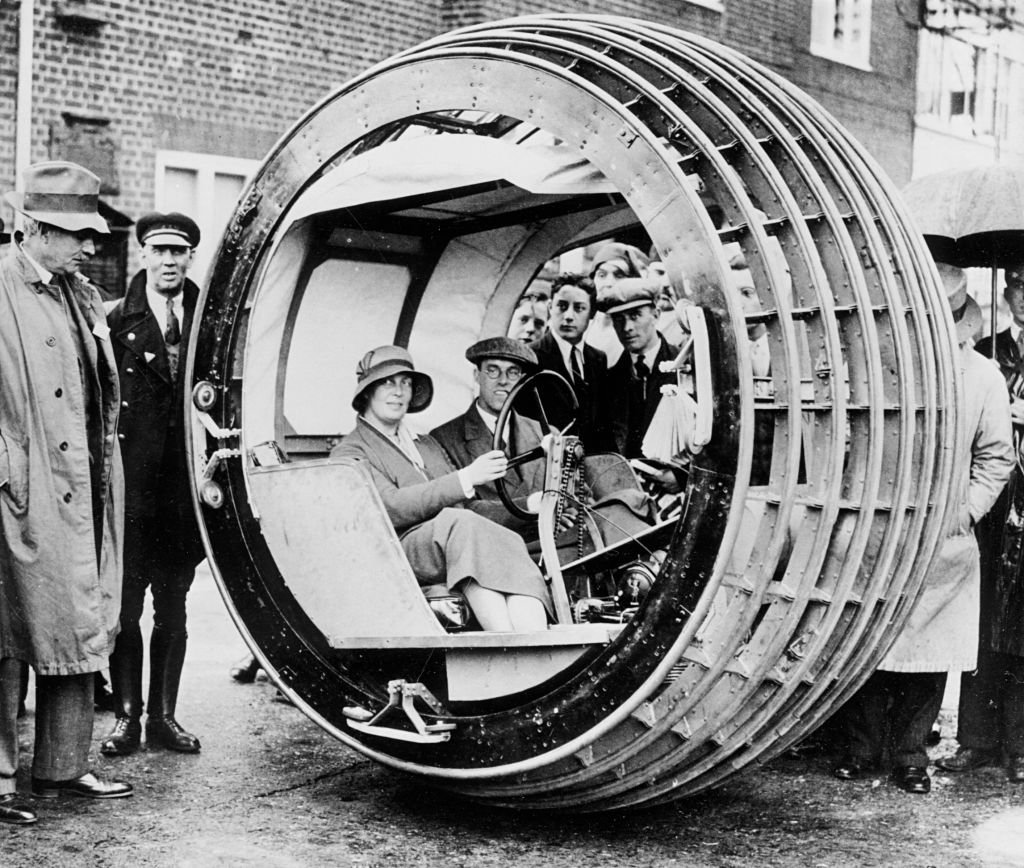 ---
7. Frank Lentini was born with a parasitic twin and had three legs, 4 feet, 16 toes and two functioning sets of genitals.
Frank Lentini, of Sicily, was born with a parasitic twin attached to his body, giving him three legs, four feet, and two sets of genitalia. The partially formed twin was connected to Lentini's body at the base of his spine and consisted of a pelvis bone, a basic set of male genitalia, and a full-sized leg extending from the right side of his hip, with a small foot protruding from its knee.
Lentini came to the United States when he was only eight-years-old and landed the only job available to him - a sideshow attraction in a circus. He joined the Ringling Brothers Circus first but eventually worked for every large circus in the United States. Lentini once used his third leg to kick a football across a stage, and his show name was briefly the Three-Legged Football Player.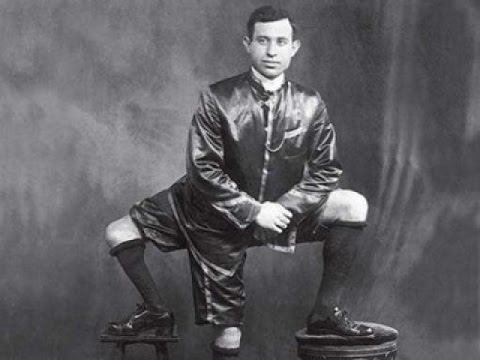 ---
8. John Lennon was sniffing coke in a Hard Days Night, 1964.
Not that kind of coke! Well, at least not in 1964. It was well-known that former Beatle John Lennon was a habitual drug user throughout the late 1960s until his death in 1980. His cocaine use was acknowledged by his first wife, Cynthia, and others who were close to the musician.
There were reports that Lennon was scheduled to have plastic surgery to repair a septum destroyed by cocaine use. He was killed just days before the surgery when a gunman shot him outside his New York City apartment building, the Dakota.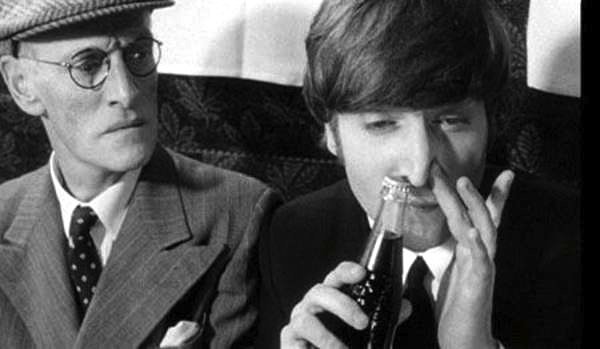 ---
9. The Historic US Route 50 is a major east-west highway, known as "The Loneliest Road in America."
Looking at the picture, it is easy to see why this portion of Route 50 is often called "The Loneliest Road in America." The highway runs from coast to coast, from West Sacramento, California, to Ocean City, Maryland, but it passes through some vast expanses of vacant, desolate country.
Life magazine dubbed it "The Loneliest Road in America" in its July 1986 issue. The name caught on, and Nevada now uses it as a marketing slogan for the highway. Along the road, you can still find a glimpse into another time in America's past. There are a few old gas stations, "motor courts" and diners hidden between newer buildings and businesses.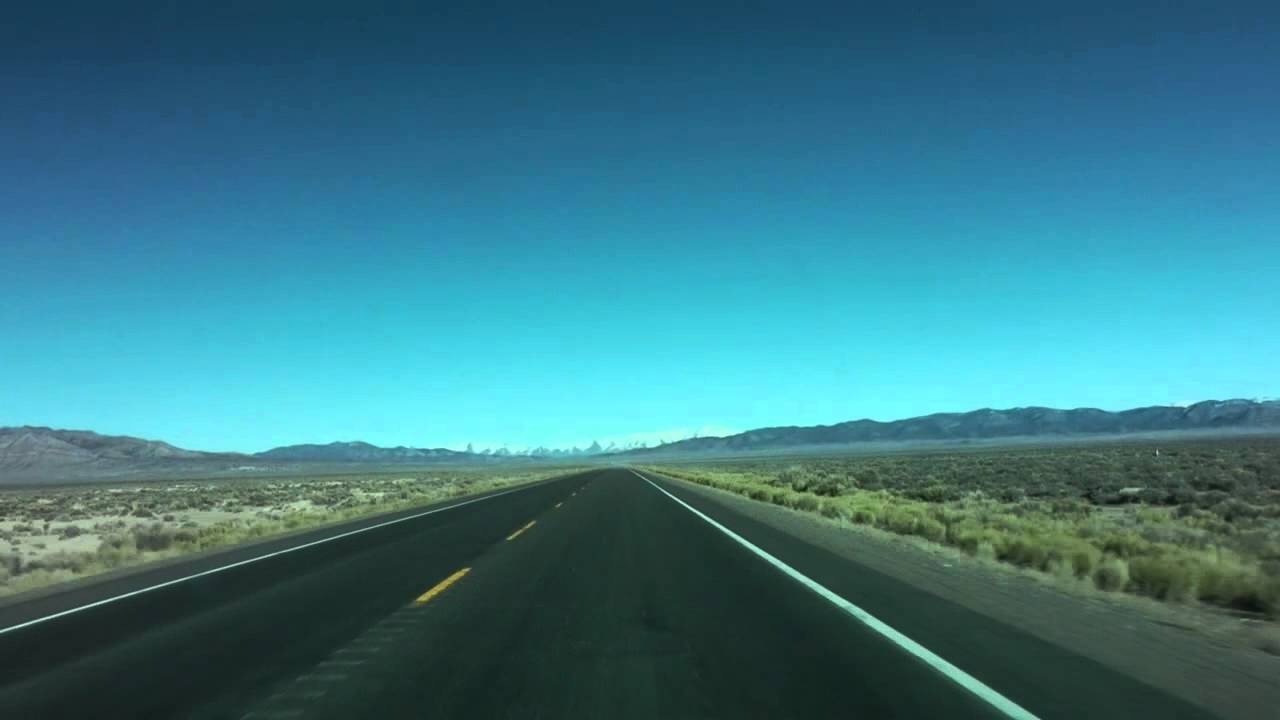 ---
10. An unknown man with an alligator gar that he caught in Moon Lake, Mississippi, back in 1910.
The alligator gar is often called a living fossil because the fish have not significantly changed or evolved in over one hundred million years. Found in the freshwater lakes and rivers of North America, the alligator gar takes its name from its resemblance to the American alligator.
The animals have a digestive system similar to sharks and a respiratory system allowing it to breathe on land or water. One of the largest fish in North America, the alligator gar can grow as long as ten feet in length. They are located primarily in the southern portions of the United States, extending into Mexico.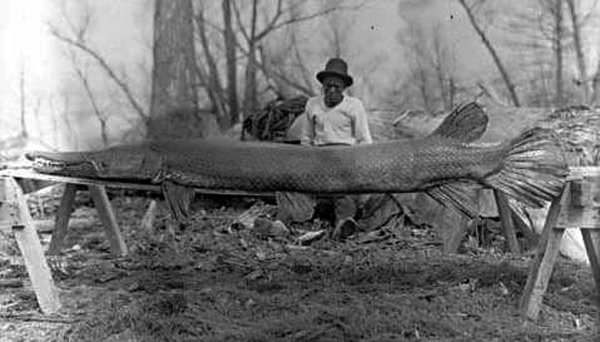 ---
11. Ralph McQuarrie, who created Yoda
Everyone who saw Empire Strikes Back instantly fell in love with Yoda, the impish little creature on Dagoba who just happened to be the most powerful Jedi in the universe. But, what we saw was not the original Yoda! If the original version of Yoda made it to the screen, the movie might not have made it to theaters. The initial idea for Yoda wasn't to use a puppet, but to train a costumed monkey.
That idea was squashed by several crew members who worked on 2001: A Space Odyssey years prior. They detailed how difficult the primates were to work with, and actors had to be hired to portray the animals regardless. Designer Ralph McQuarrie was brought in to help craft the character we know and love today. Aren't you a little curious to see Mark Hamil acting with a monkey, though?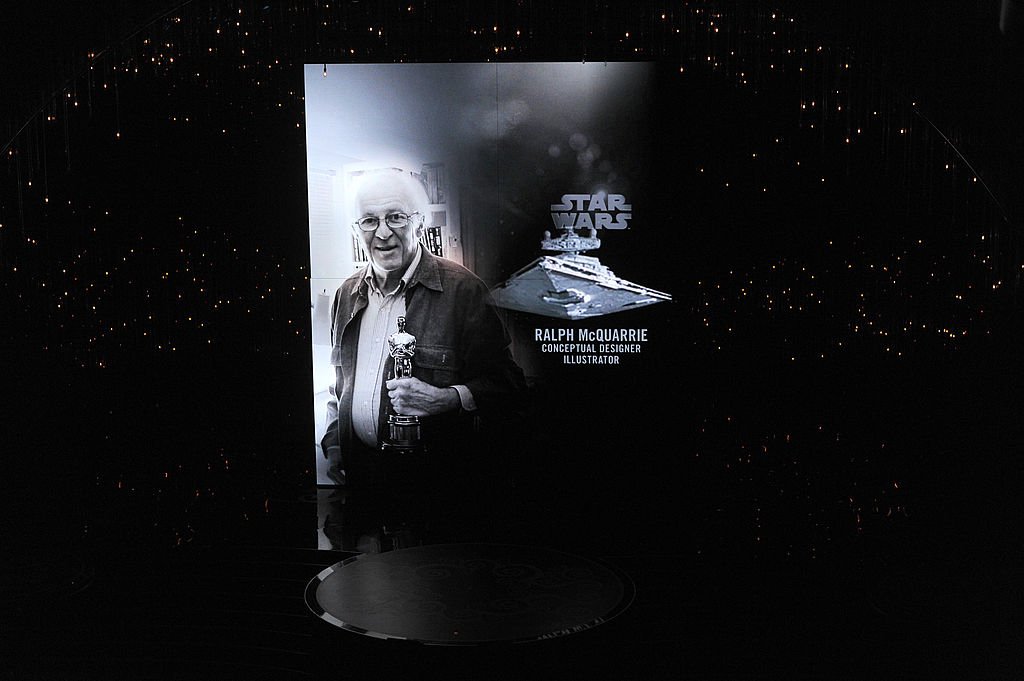 ---
12. A photo of the Starship Enterprise model and the men who built it in 1965.
When Gene Roddenberry pitched his idea for a space-based television series in the mid-1960s, he described the Starship Enterprise as a 'United States ship.' After the show was picked up for production, the art director, Matt Jeffries, was tasked with making a realistic-looking, futuristic starship model. The unique design of the spacecraft has stood the test of time, and variations of Jeffries' model are still being used in the spinoff TV shows and movies even today.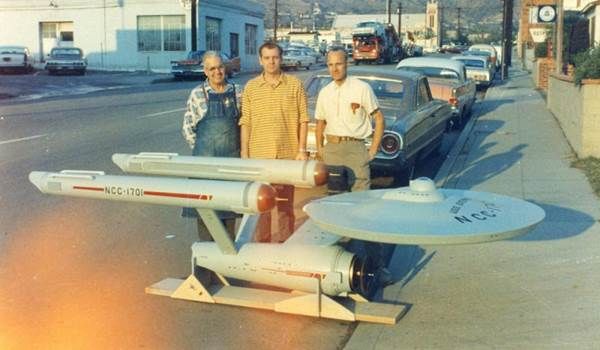 ---
13. A woman stands near the 1906 ground rupture in Marin County. The breach was the result of the 1906 San Francisco earthquake.
The 1906 earthquake that destroyed much of San Francisco created a noticeable gap along the entirety of the San Andreas Fault line. The San Andreas Fault is located at the boundary between the North American Plate and the Pacific Plate.
Identified in 1895 by a University of California at Berkeley geologist Andrew Lawson, it was named after the San Andreas Lake created by the fault. After the 1906 earthquake, Professor Lawson was able to determine that the fault line extended to the southern part of California. Following the Great Earthquake, the fault line was visible, as shown in this image.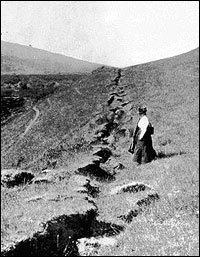 ---
14. During a promotional party for Sophia Loren in 1957, Jayne Mansfield made an appearance at Sophia Loren's table. What an appearance!
Why is that a big deal? Well, the truth is there may have been a bit of jealousy going on between the two stars. Sophia Loren was the hottest Hollywood celebrity until the beautiful newcomer, Jayne Mansfield, upstaged her.
This photo was taken at the same 1957 promotional party as the famous photograph showing Jayne Mansfield and Sophia Loren sitting at the table together, and Sophia Loren was caught giving Mansfield a major side-eye glance! That image is often referred to as the first photographic proof of side-eye. And as this photo shows, Mansfield wasn't shy about flaunting her assets. Loren did not seem happy to share the attention with the new blond bombshell.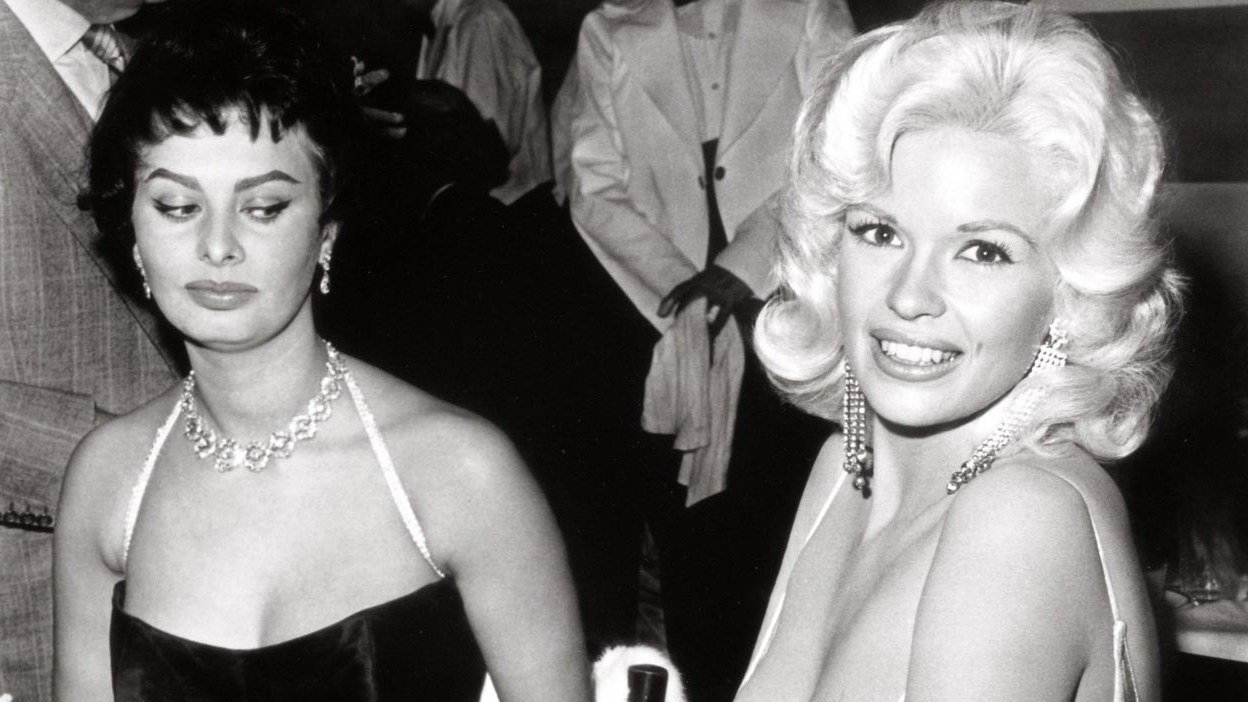 ---
15. Six-year-old Robin Williams with his beautiful mother Laurie in 1957
Robin Williams got a massive chunk of his talent from his mother, Laurie McLaurin Williams. Known as Punky to her friends and family, Laurie Williams was an actress, storyteller, model, artist, and accomplished tennis player.
A native of Jackson, Mississippi, she appeared in TV commercials in the 1950s but devoted most of her time to her family and her volunteer work. She was married to Robert Fitzgerald Williams, Robin's father, who was a Ford Motor Company senior executive. She passed away at age 78.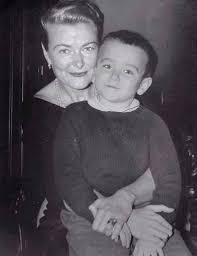 ---
16. WARNING: Creepy close up look at a mother wolf spider carrying her young!
They can continue to grow up to seven-years-old, and live for up to 14 years. Mothers carry their young on their backs for nine weeks, and their young nuzzle on tiny milk pipes on the mother's legs. Most species of spiders lay their eggs and move on, not sticking around long enough to know if their hatchlings survive. But the wolf spider is an exception.
They carry their egg sacs with them, attached to their abdomen by the spinnerets. After the spiderlings hatch, they crawl onto their mother's rear abdomen. The mother wolf spider can then care for her babies for several weeks until they are big enough to hunt for themselves. The wolf spider is the only known spider species involved in the care and upbringing of their offspring.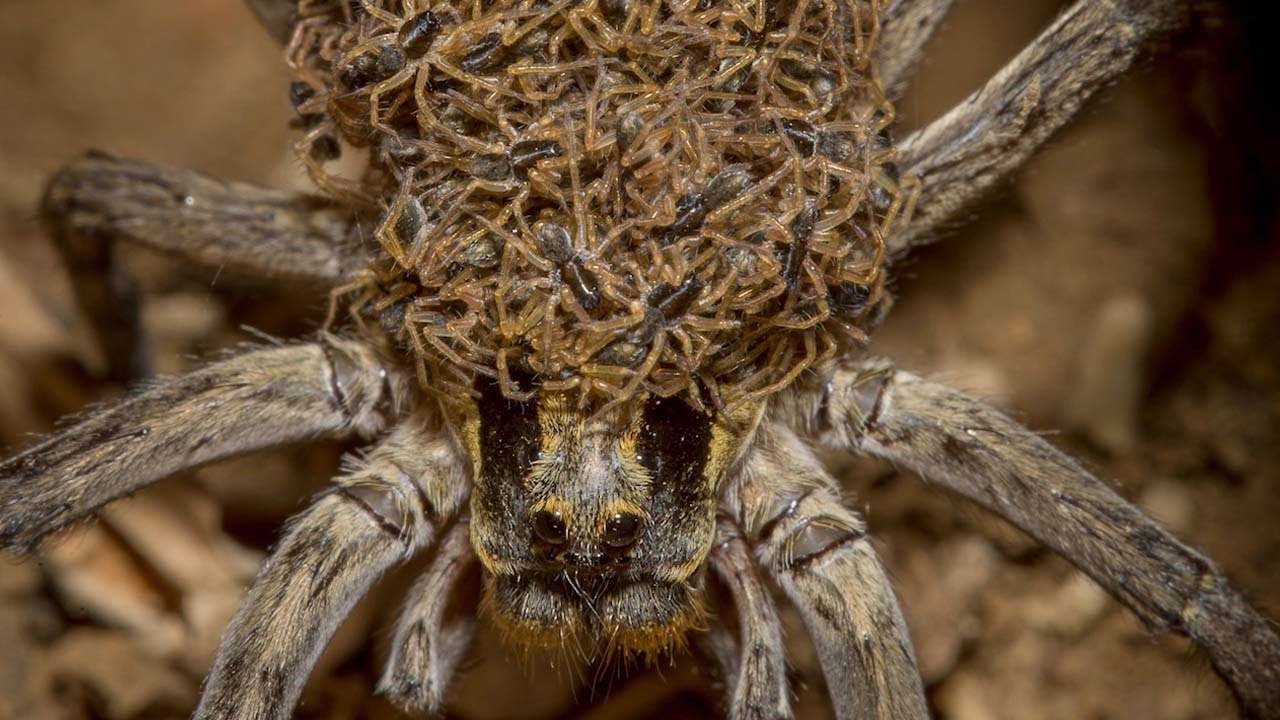 ---
17. Nineteen-year-old Jimi Hendrix during his time as a paratrooper in the US Army, 1961.
A wild and rebellious youth, a 19-year-old Jimi Hendrix was twice arrested for joyriding. Back then, judges gave most older teens a choice: join the army or go to jail. Hendrix chose the army and enlisted on May 31, 1961. He trained to be a paratrooper and even earned the Screaming Eagle award for his paratrooper skills.
As a soldier, however, Hendrix was undisciplined. He often failed to show up for inspections and was caught sleeping on the job. He was a terrible marksman and disrespectful to his commanding officers. On June 29, 1962, Hendrix was deemed unsuited for the military and given an honorable discharge. Bad news for the military, but amazing news for the music world he joined soon after!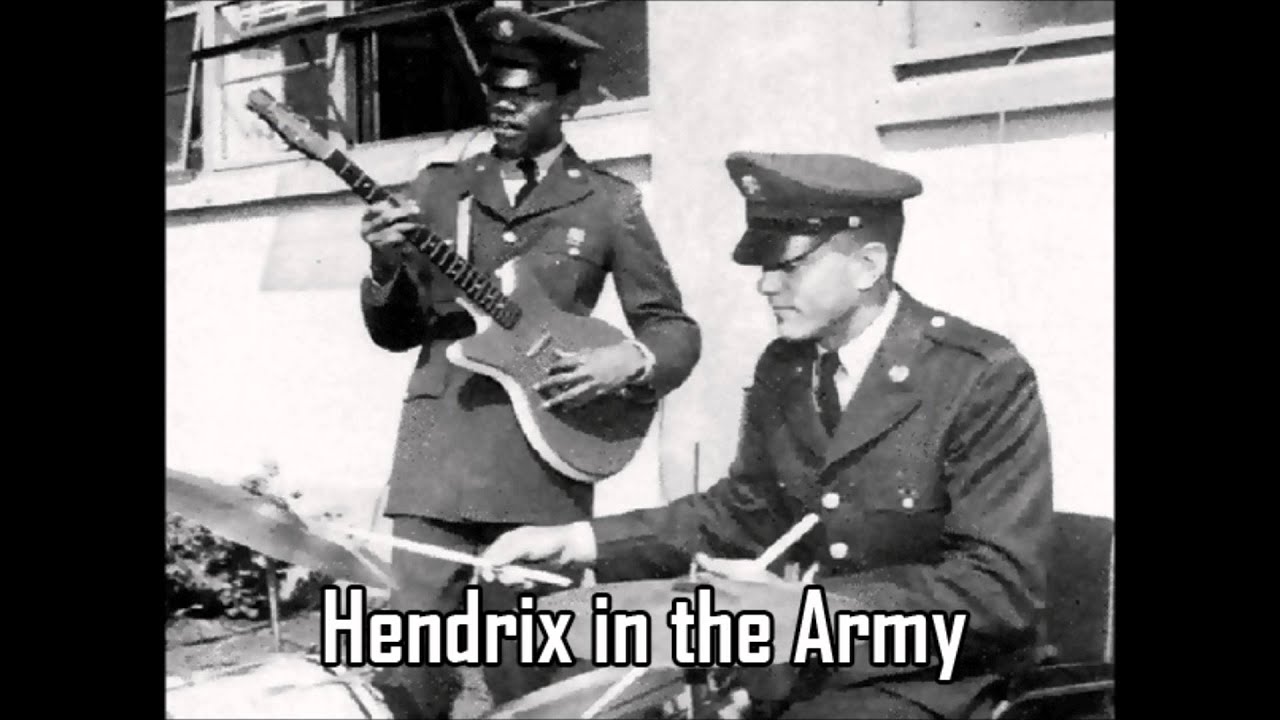 ---
18. John Matuszak was Sloth in the movie "The Goonies," 1985.
One of the more lovable characters of all time appeared in the 1985 film, "The Goonies." Sloth was the giant, malformed brother of the Fratelli's, the bumbling criminals that chase children throughout the movie.
It took hours for makeup artists to transform John Matuszak into the distorted, Baby Ruth bar eating, and misunderstood brute. The audience sympathizes with Sloth, who is terribly mistreated by his family. They lock him in chains and root for him to fail. So what does he do? He helps the Goonies find the treasure and escape!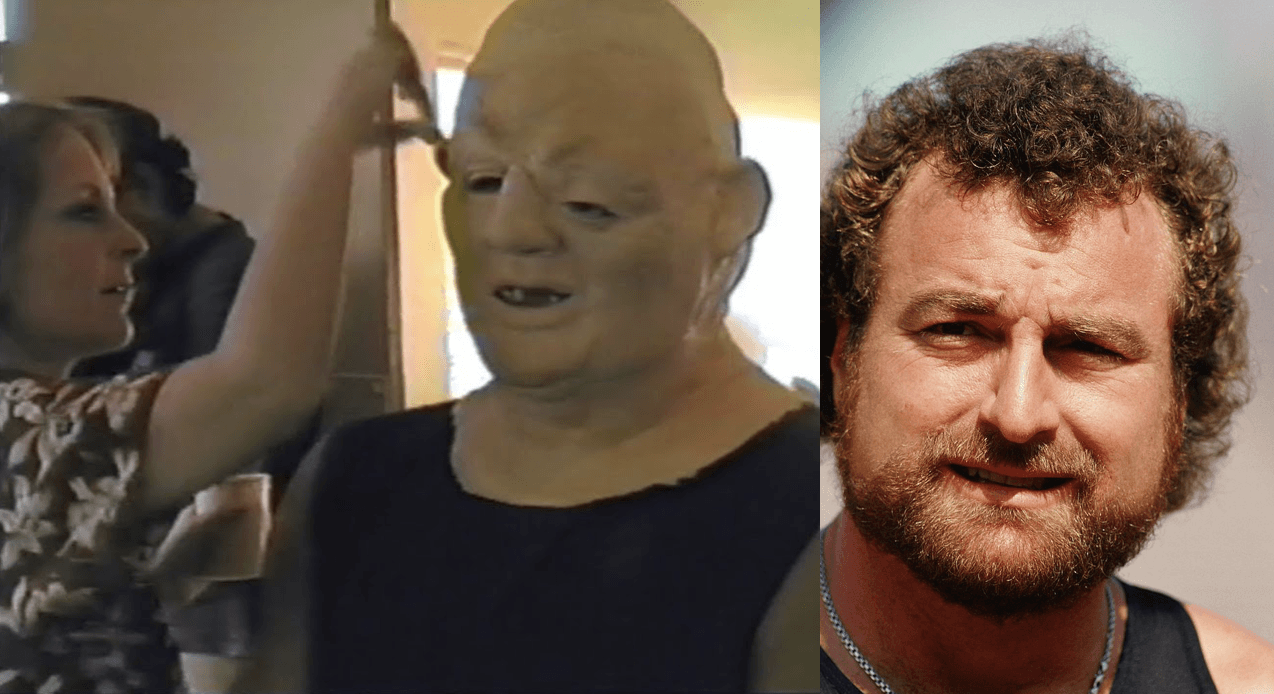 ---
19. Olympic cyclist riding his penny-farthings in 1938.
By the 1930s, penny-farthing bikes were already obsolete. Recognizable by their over-sized front wheel and comparatively tiny rear wheel, the penny-farthing bikes were at the height of their popularity in the 1870s and 1880s until the introduction of the modern bicycle design.
The quirky name of this style of bike comes from British coins. The penny is much larger than the farthing, like the wheels on this bicycle. The penny-farthing bike had been replaced by the standard bicycle when this image was snapped. CA Denny, a former Olympic cyclist was riding this 52-year-old penny farthing to the London offices of the National Cyclists' Union, where it was presented as an anniversary gift.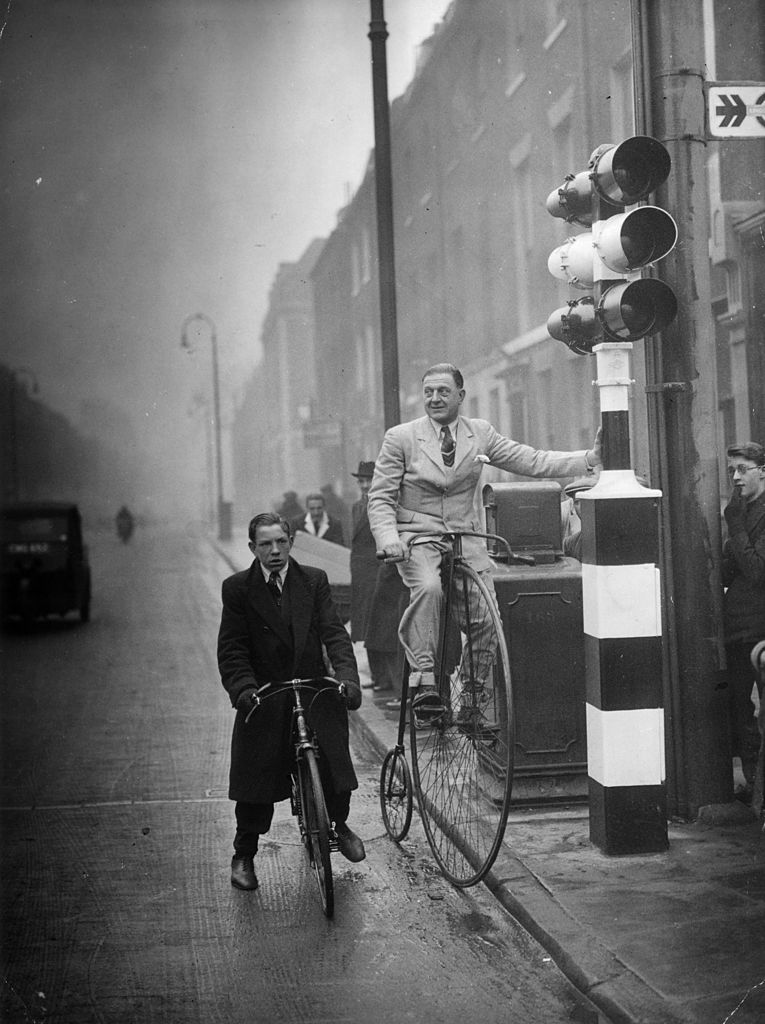 ---
20. The first wake-up service didn't occur in a hotel. Before the alarm invention, people were employed to go around with a long stick and wake others. A knocker-up was a profession in England and Ireland that started in the late 1700s and lasted well into the late 1920s.
Today, we rely on our alarm clocks or cell phone alarms to wake us up in the morning, but before these items were invented, people still needed to arrive at work on time. Most large, industrial cities had people working as knocker-uppers.
Knocker-uppers carried long sticks with them and went from house to house, rapping on bedroom windows to make sure that their clients got out of bed in time. Knocker-uppers earned a few pence each week from their clients and a bonus if they stayed at the window, incessantly knocking until they were sure the person was awake and ready to start their day.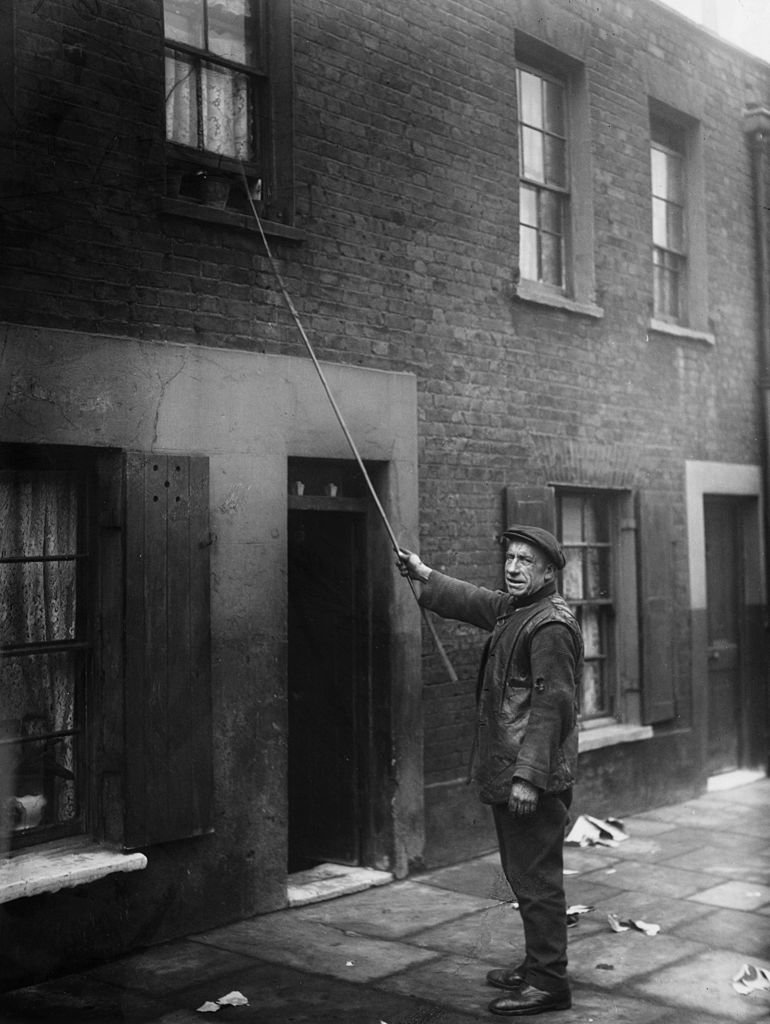 ---
21. A little girl hugs Leo of Reynalton, the six-time champion bloodhound, in Birmingham, England, 1935.
Wonderful with children, bloodhounds like Leo, a six-time champion shown here, are often used by emergency personnel to track lost children, missing people, and escaped prisoners. Bloodhounds are ideal for this line of work because they have an innate desire to hunt and track and an exceptionally sharp sense of smell.
Bloodhounds have been used by humans since medieval times to track lost people. Today's bloodhounds are thought to be descendants of hounds kept and bred at the Abbey of Saint-Hubert in Belgium. Leo looks loveable as can be in this photo from 1935 and loves getting hugs from his human.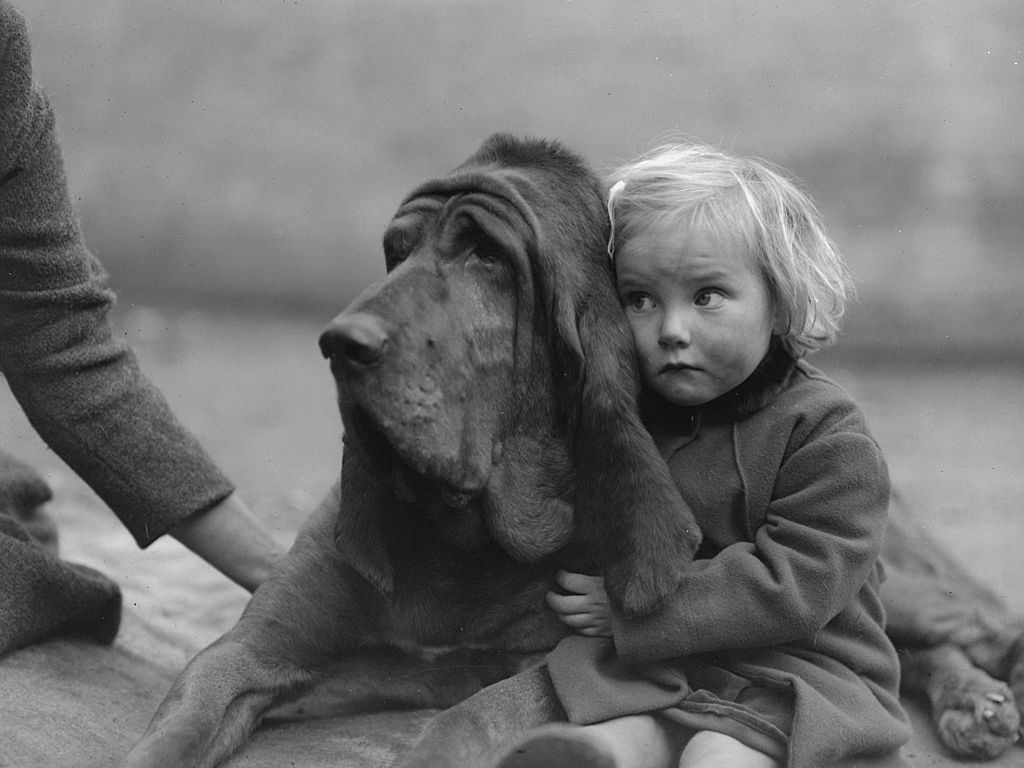 ---
22. During a promotional party for Sophia Loren in 1957, Jayne Mansfield made an appearance at Sophia Loren's table. What an appearance!
Why is that a big deal? Well, the truth is there may have been a bit of jealousy going on between the two stars. Sophia Loren was the hottest Hollywood celebrity until the beautiful newcomer, Jayne Mansfield, upstaged her.
This photo was taken at the same 1957 promotional party as the famous photograph showing Jayne Mansfield and Sophia Loren sitting at the table together, and Sophia Loren was caught giving Mansfield a major side-eye glance! That image is often referred to as the first photographic proof of side-eye. And as this photo shows, Mansfield wasn't shy about flaunting her assets. Loren did not seem happy to share the attention with the new blond bombshell.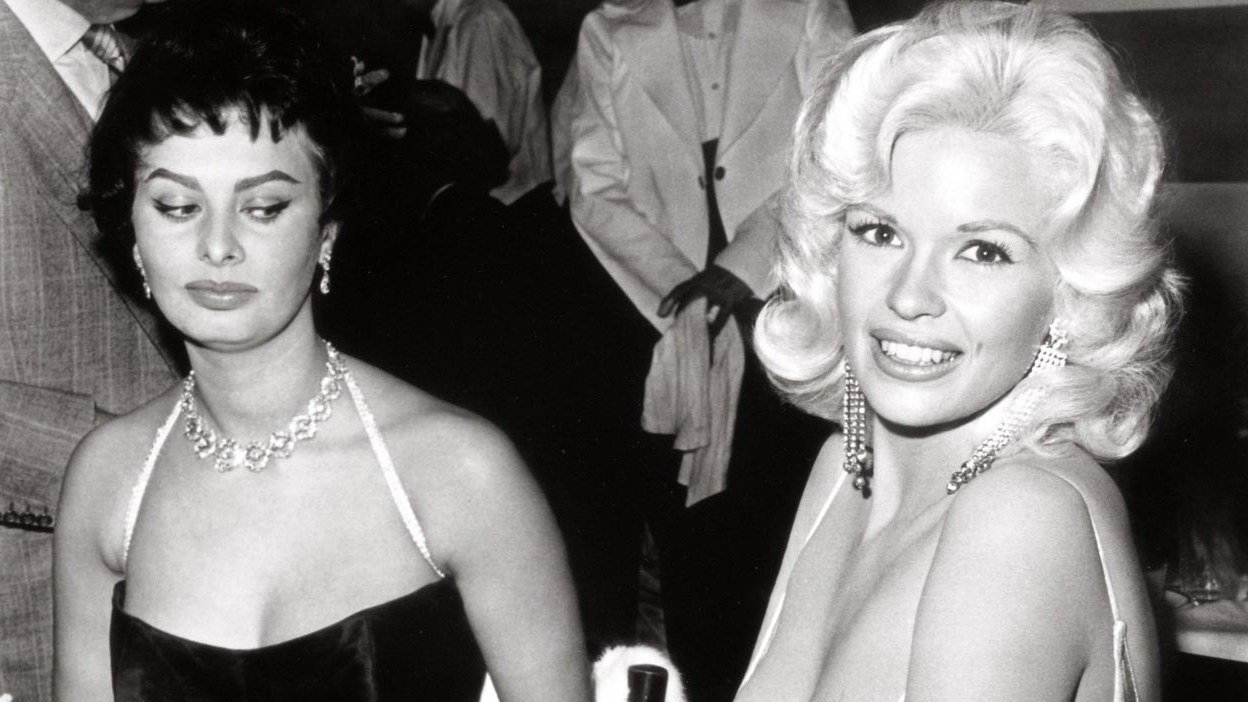 ---
23. In May 1910, European royalty gathered in London for the funeral of King Edward VII. Among the mourners were nine reigning kings.
In attendance at the 1910 funeral of King Edward VII, nine reigning kings were present. Thankfully, someone realized this was a great photo op and gathered the monarchs together for a historic photograph. It is most likely the only photograph in existence that shows the nine kings together.
They are, from left to right, starting in the back row: King Haakon VII of Norway, Tsar Ferdinand of the Bulgarians, King Manuel II of Portugal and the Algarve, Kaiser Wilhelm II of Germany and Prussian, King George I of the Hellenes, and King Albert I of the Belgians. In the front row, from left to right, are King Alfonso XII of Spain, King George V of the United Kingdom, and King Frederick VIII of Denmark.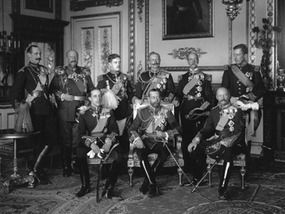 ---
24. Mark Twain in 1909, one year before his death.
Samuel Langhorne Clemens spent much of his boyhood and his young adulthood on the banks of the Mississippi River, working on the riverboats. He even took his pen name, Mark Twain, from a riverboat term for river depth that is two fathoms deep. He also set his most famous literary work, "Adventures of Huckleberry Finn," on the Mississippi River.
Celebrated as a novelist, essayist, lecturer, and humorist, Twain also wrote such classics as "The Adventures of Tom Sawyer," "A Connecticut Yankee in King Authur's Court," and "The Celebrated Jumping Frog of Calaveras County." Mark Twain was born in 1835 right after an appearance of Halley's Comet, and he always joked that he came in with the comet so he would go out with it too. He died in 1910, the day after the comet returned.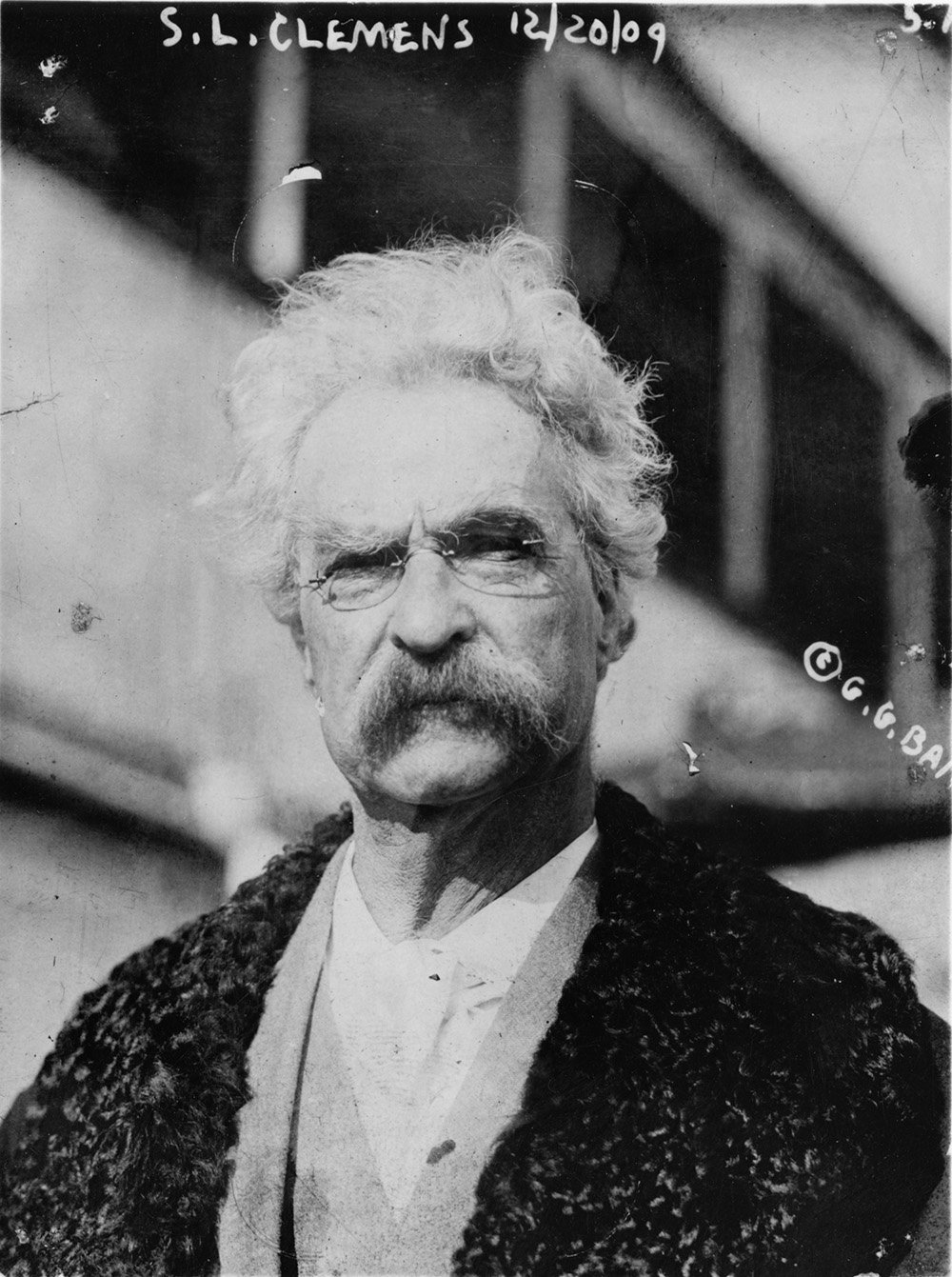 ---
Twain was known for his fondness of science, and he developed a long-lasting friendship with Nikola Tesla. The two spent much time working in Tesla's laboratory. Despite Tesla and Thomas Edison's rivalry, Edison befriended Twain.
In 1909 Edison visited MarkTwain at his home in Redding, Connecticut - and filmed him! Some of the footage from that day was used in The Prince and the Pauper (1909), a two-reel short film. It is said to be the only known existing film footage of Twain.
---
25. Marilyn Monroe traveled to Korea to entertain thousands of soldiers, right after marrying and honeymooning with Joe DiMaggio, 1954.
After Marilyn Monroe and baseball player, Joe DiMaggio, wed in California in January of 1954, the newlyweds flew to Japan for a honeymoon. While there, DiMaggio had to attend some baseball clinics, and the starlet used that time to fly to Korea by herself to entertain the US troops stationed there.
Monroe later said that the solo trip did wonders for her confidence. She felt accomplished in that she could travel internationally by herself. While in Korea, Monroe performed ten shows over four days. She felt bolstered by the success of the shows and that she conquered her stage and travel fright.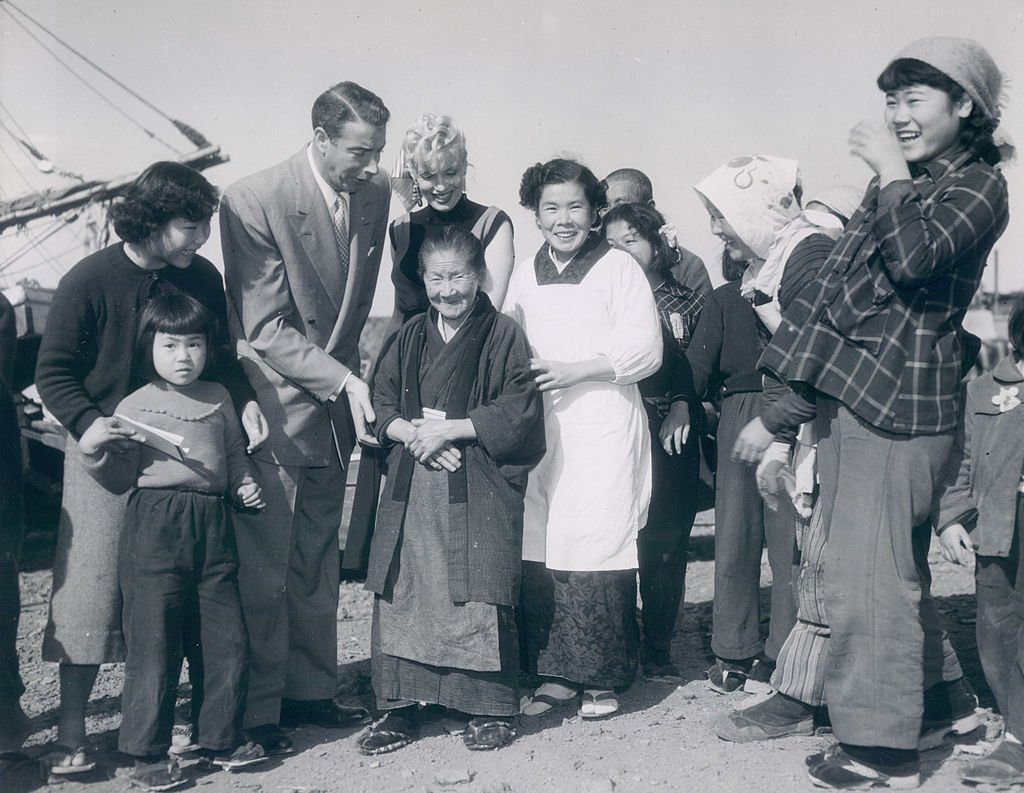 ---
26. Spring Equinox at the Chichen Itza Kukulcan Temple in Mexico. The sun's rays create a shadow in the shape of a serpent on the Mayan pyramid.
The ancient Mayan people were master astronomers and had complex methods for calculating astronomical events. They were also accomplished builders and constructed some of the tallest structures in the Western Hemisphere. They combined their love of astronomy and architecture often, as seen in the Chichen Itza Kukulcan Temple. When the sun's rays hit the pyramid during the Spring Equinox, the resulting shadow shows a giant serpent slithering down the staircase.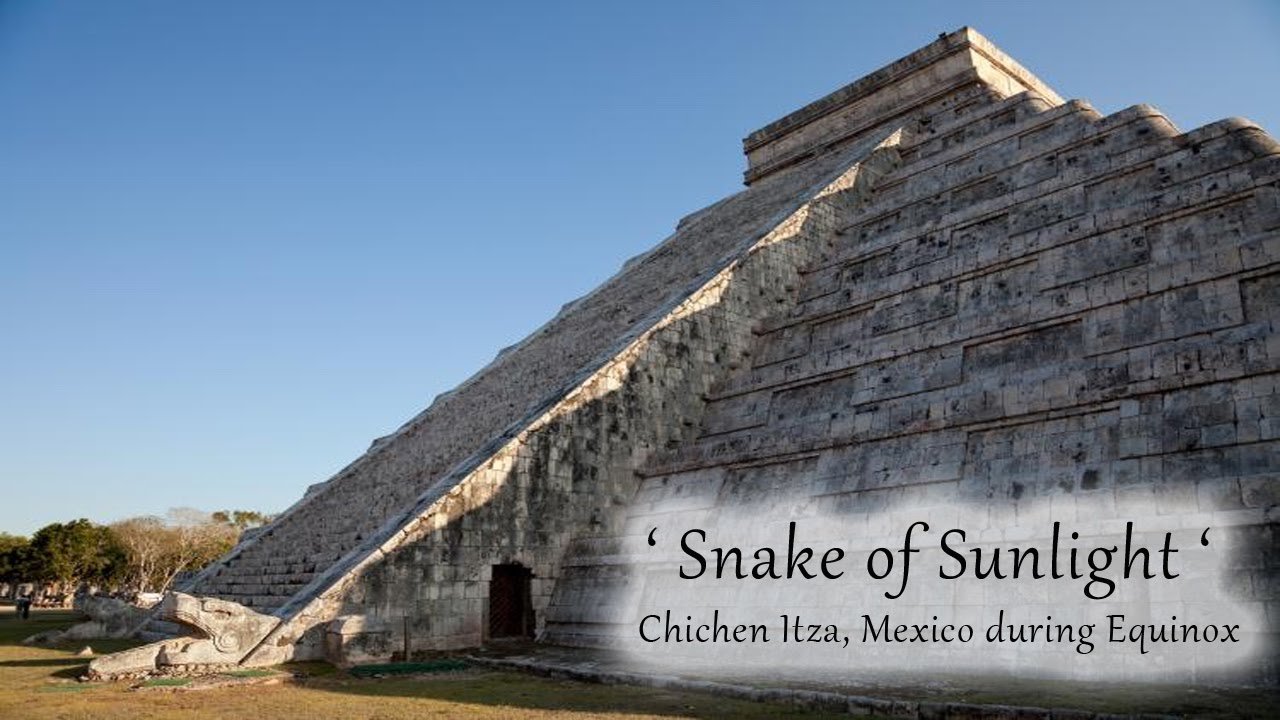 ---
27. The oldest Harley-Davidson in existence is from 1903. This rare Harley is marked Serial No. 1 and is on display alongside other vintage motorcycles at The Harley-Davidson Museum in Milwaukee, Wisconsin.
America's most iconic motorcycle company got its start in a shed in Wisconsin when William Harley and the Davidson brothers, Arthur and Walter, started building motorcycles. During this time, many motorcycle start-up companies were forming, but Harley's and the Davidson's quality and craftsmanship helped their product flourish when many competitors went out of business.
The Harley-Davidson Museum in Milwaukee showcases most of the company's line of motorcycles, including this one, the very first motorcycle the company built, in 1903. The bike was built to be a racing motorcycle. Two years later, on July 4th, a Harley-Davidson motorcycle won a 15-mile race in Chicago in just over 19 minutes!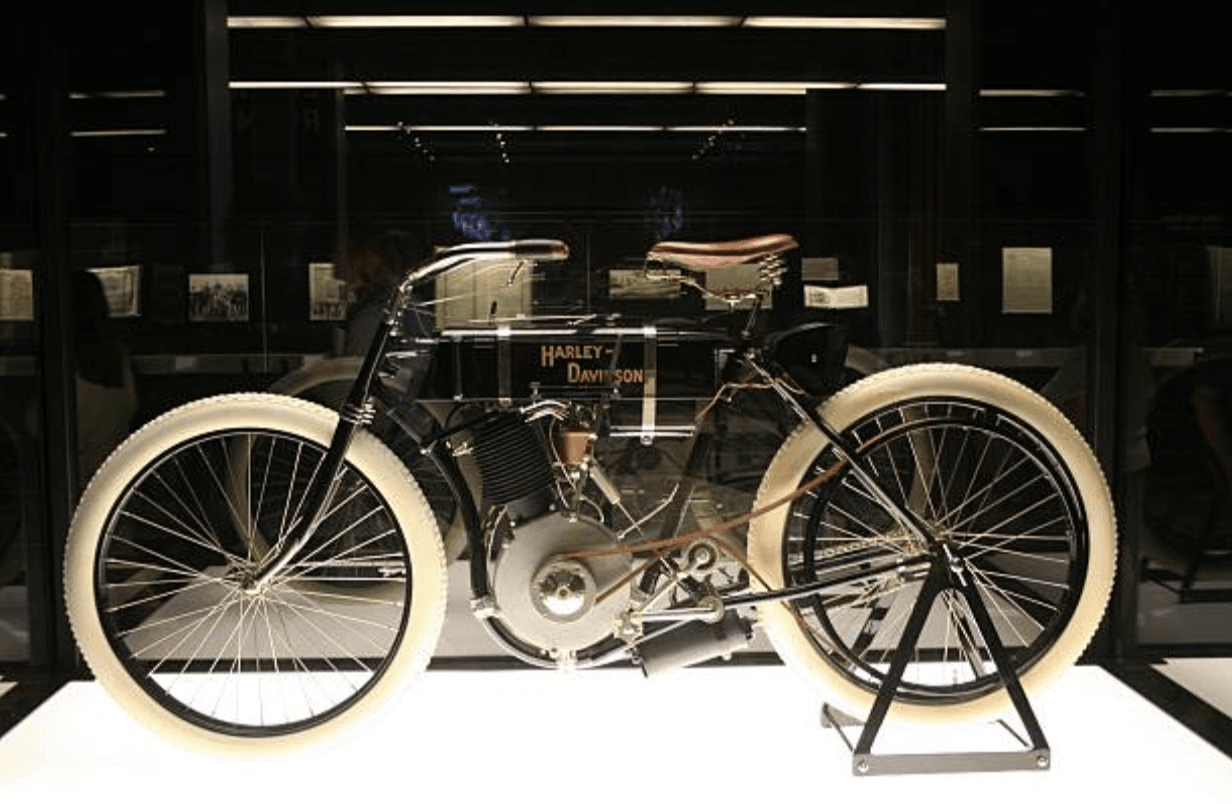 ---
28. The original Moulin Rouge (constructed in 1889) the year before it burned down, Paris, France, 1914.
This photograph of the Moulin Rouge is from just before a terrible fire that destroyed the famous theatre in 1915. The Moulin Rouge was rebuilt and now boasts a history of more than 120 years of bringing entertainment to Parisians. The Moulin Rouge has transformed itself again and again to meet the changing entertainment industry. From cancan girls to cabaret to live music, the Moulin Rouge has seen it all. The iconic theatre attracts more than 600,000 visitors through its doors every year.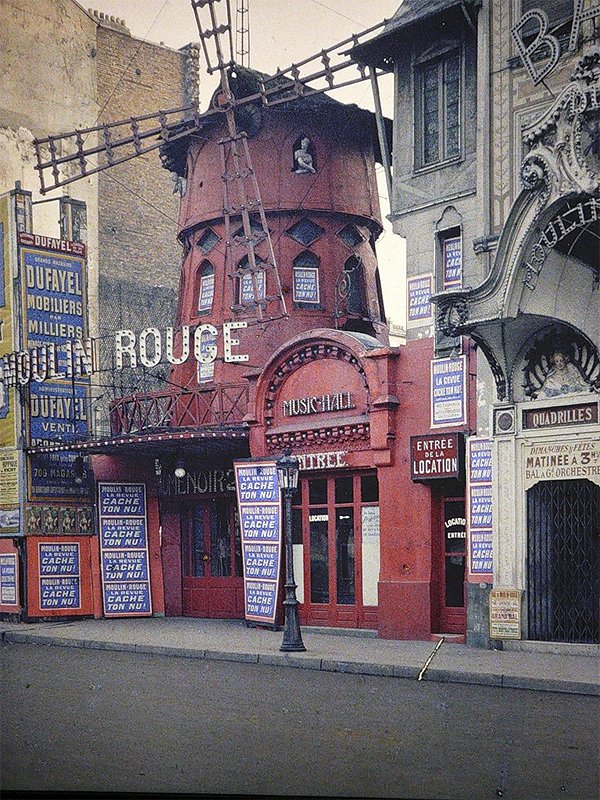 ---
29. Anna Nicole Smith and oil tycoon J. Howard Marshall on their wedding day in 1991. Anna was a 24-year-old stripper when she met the 86 year-old billionaire.
An odd couple for any time! Anna Nicole Smith was a young, beautiful stripper when she met her future husband, an 86-year old billionaire. The couple claimed to be genuinely in love as Anna tried to dispel gold-digging rumors.
Their marriage was short-lived. On August 4, 1995, Anna's husband passed away. His death was followed by a lengthy court battle over Anna's share of her late husband's fortune. They weren't separated for long, though. Anna died in 2007 of a drug overdose in her hotel room in Hollywood, Florida.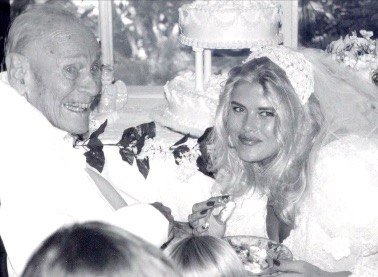 ---
30. Robert Wadlow, the Alton Giant, the Giant of Illinois, and the tallest person ever in recorded history.
Robert Wadlow had a condition known as hyperplasia of the pituitary gland, which flooded his body with unusually high concentrations of human growth hormone. As a result, Wadlow was continuously growing. But, the taller he got, the more strain was put on his bones and muscles. Wadlow had little feeling in his legs and feet, and by the time he was 22-years-old, he required leg braces when walking.
He became a celebrity after he toured with the Ringling Brothers Circus in 1936, appearing at Madison Square Garden and the Boston Garden. During appearances, Wadlow only wore his everyday clothes and refused the circus's request that he wear a top hat and tails. He viewed himself as working in advertising, not exhibiting as a freak.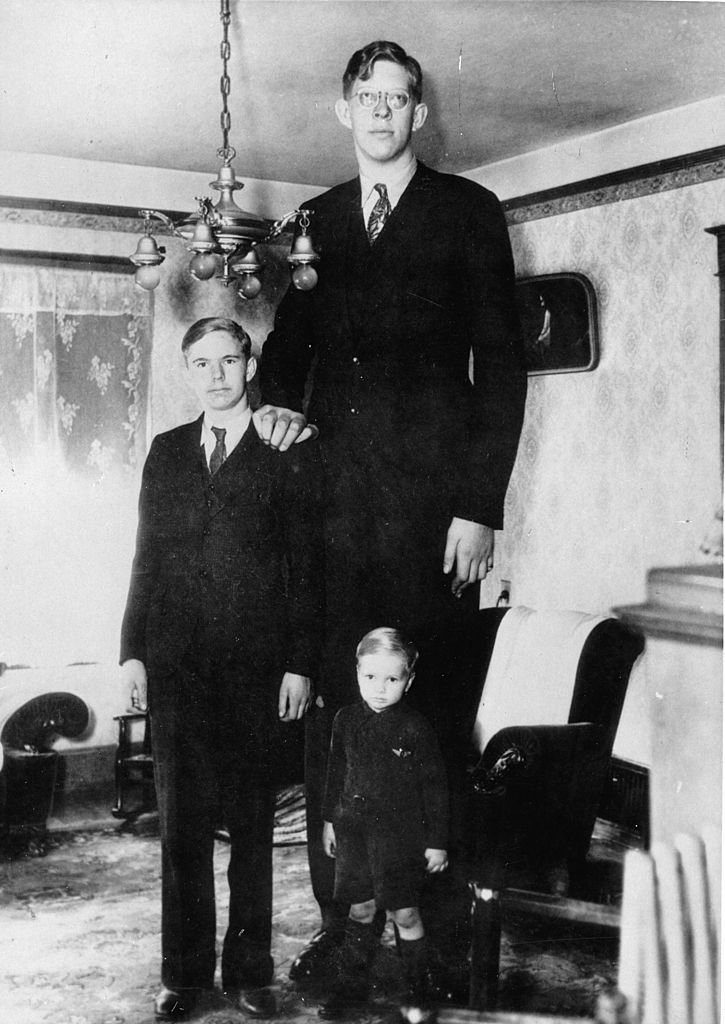 ---
In 1938, he began touring with the International Shoe Company, which made his shoes free of charge. On July 4, 1940, during an appearance at the Manistee National Forest Festival, one of his braces irritated his ankle, causing a blister to form, and leading to infection.
He was treated with a blood transfusion, but, due to an autoimmune disorder, his condition worsened. Wadlow died in his sleep on July 15, 1940. There was no indication he had stopped growing. Had he not died so young, there is no telling how tall he would have become.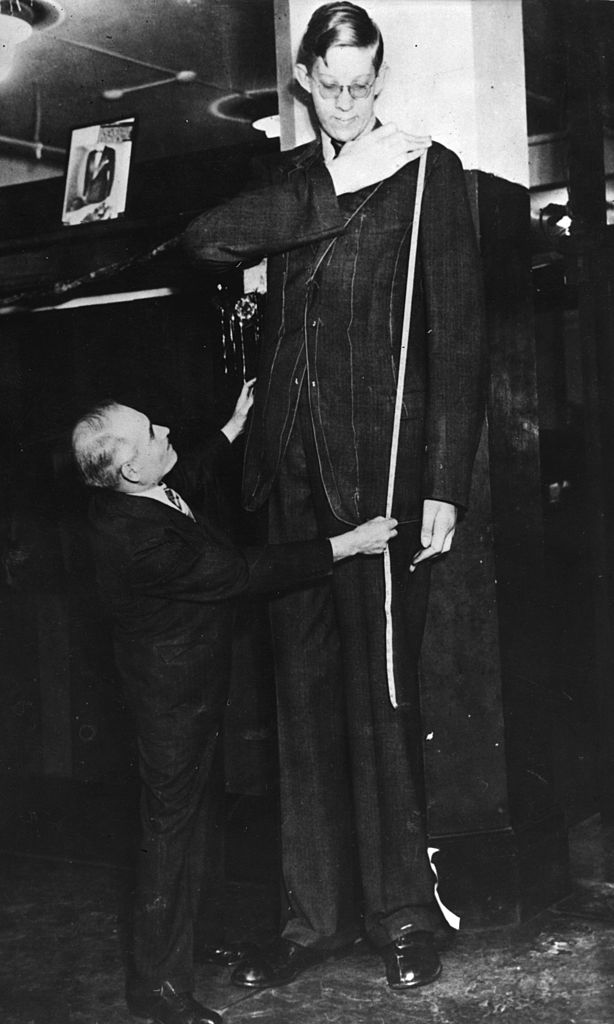 ---
To give perspective, this picture shows a museum's wax model of Wadlow, with the real-life basketball player, Shaquille O'Neal, standing next to it. At 7" 1", O'Neal is not used to looking up to anyone, but you can see here that Shaq is nearly two feet shorter than Wadlow at his tallest point, 8'11'.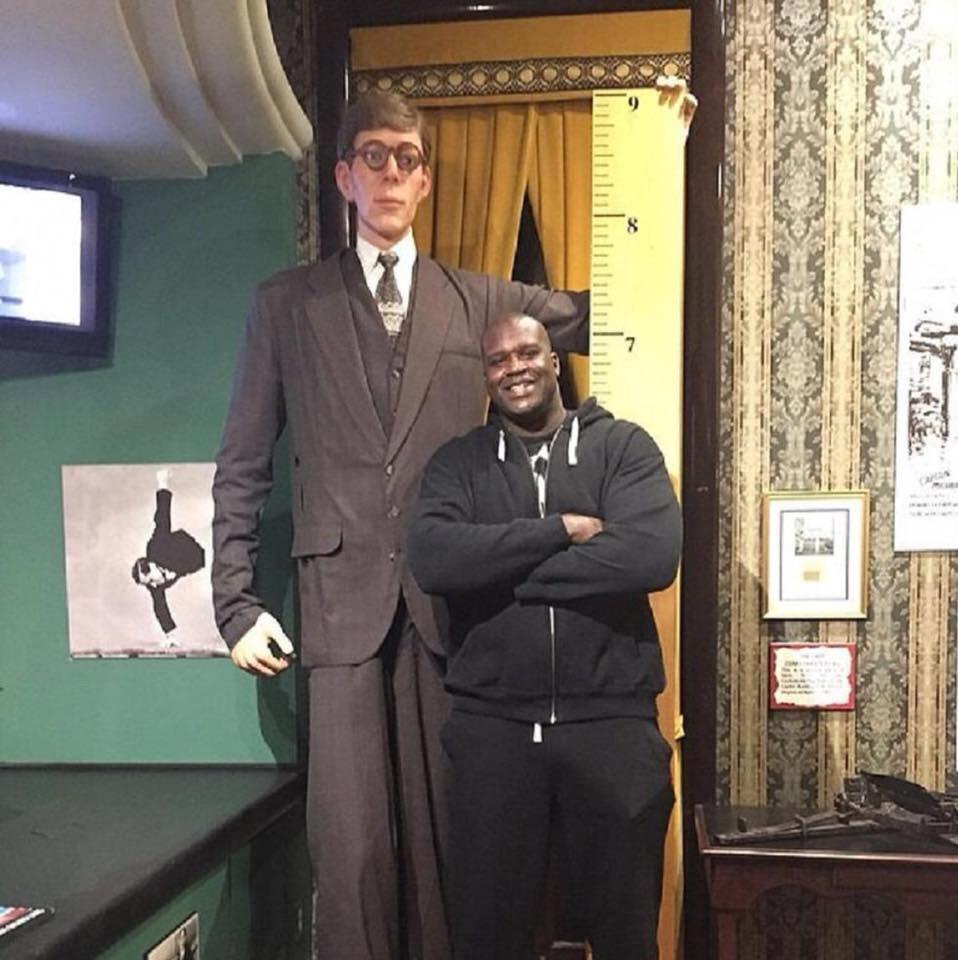 ---
There are so many amazing, historical photos, and we know this barely skims the surface! Which ones are your favorites? What photos do you think we should include next time? Tell us in the comments!
Source: Wikipedia