Behind The Oscars Triumph: The Real Lives of the Parasite Cast
The huge success of Parasite surprised everyone. Even the director himself. The South Korean movie won 4 Oscars and became the first non-English language film in history to win the Award for Best Picture.
But what do we know about the Parasite actors and creators? What personal experience helped the director to come up with the plot for Parasite and later to become a happy father and husband? Who from the cast isn't a professional actor? And who auditioned 17 times before getting her first role? Buckle up because we're ready to tell you all the details!
The director Bong Joon-Ho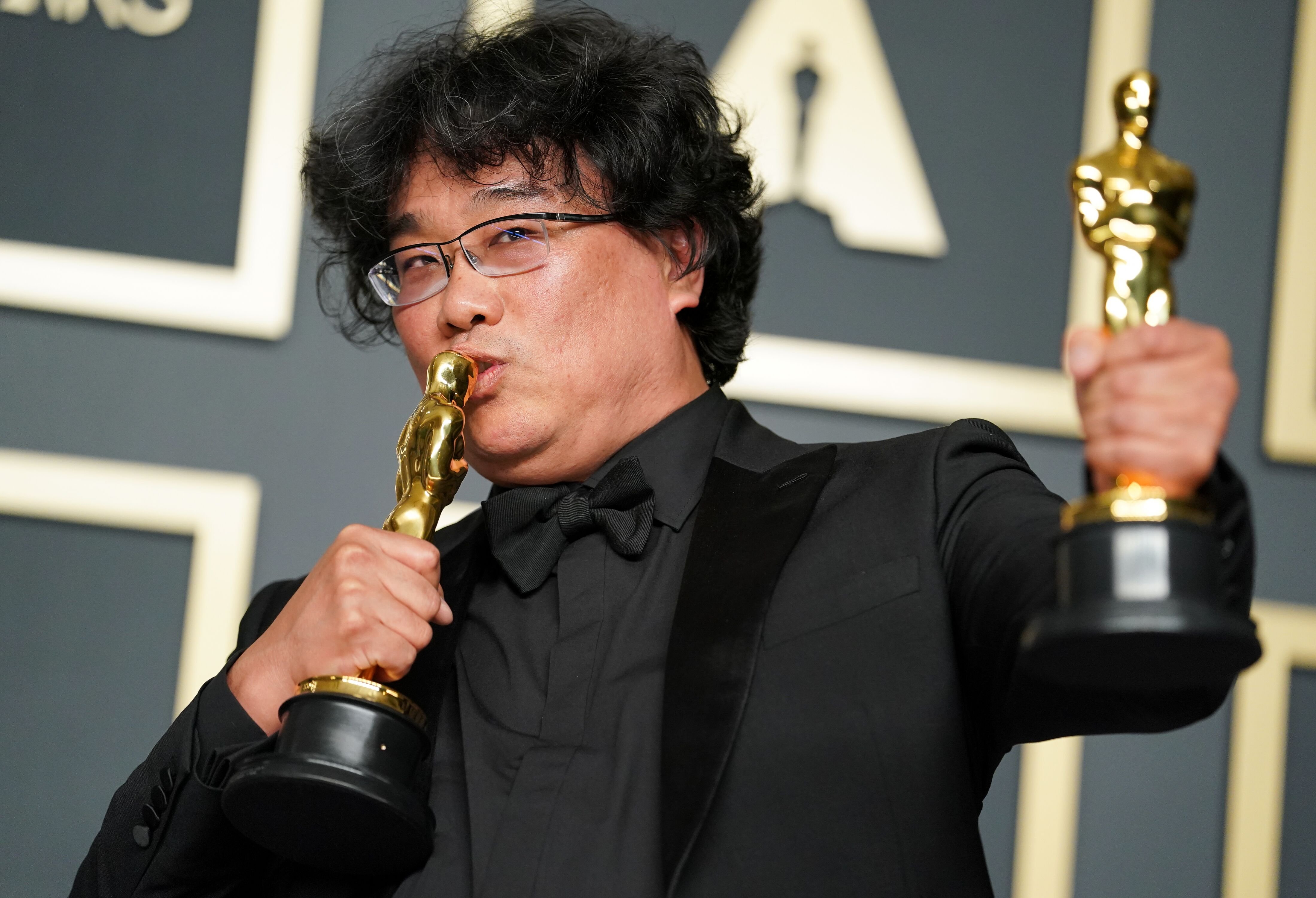 The most unbelievable fact about Joon-ho is about the inspiration behind Parasite. And about his wife. According to Hollywood Reporter, in his early 20's the young director worked as a math tutor for the son of an extremely wealthy family in Seoul. Believe it or not, but Bong got the job with the help of his girlfriend who had already worked as an English tutor for the family. Does that remind you of anything? Yes!
This is pretty similar to the story in the first part of Parasite! Bong's girlfriend recommended him and introduced to the wealthy family: 
"They wanted another tutor for math", Bong said. "So she put me forward as a trustworthy friend, even though I was actually really bad at math [...] That's how it works with those jobs. It's not as if they put out lots of ads looking for domestic help - you're introduced."
But luckily enough that story ended up much better than in the movie. Except for one thing… Bong was fired two months later. That's what happens in real life if you pretend to be somebody you aren't! Anyway, the silver lining of this story is that Bong later married his girlfriend and they have been together for more than 20 years! The happy couple has a son who is also a movie director. Although they don't like to share a lot about their private life publicly. As Bong once stated, the secret of his success is due to these easy rules:
"I try to maintain a very simple lifestyle", he says. "Drink coffee, write, and try not to meet a lot of people".
Sounds simple, right? And somehow it helped Bong to reach worldwide fame and a terrific net worth of $30 million, which is a real boost for the South Korean movie director. 
Let's get back to Bong and his wife. Their story started a long time ago but we can be sure that it was Jung Sun-Yong who helped Bong get to where he is now. She's kind of responsible for getting him in the situation that inspired his movie, right? Seeing her wiping away her tears each time Parasite won a new award is priceless. And the director himself knows better than anyone else that he is the luckiest man in the world.
Bong Joon-ho's wife can't stop crying on stage after "Parasite" takes it all. pic.twitter.com/XvDJfINevm

— Amy Kaufman (@AmyKinLA) February 10, 2020
After receiving his award for the best original screenplay he said that writing a script is a lonely process. And that he's thankful for his wife who has always supported him and been his inspiration. Isn't that true love?
Song Kang-Ho aka Poor Father
Can you believe that the man who portrayed the father of the Kim family isn't a professional actor? Despite the fact that he's been acting since 1991, Song never professionally trained as an actor. But nowadays Song Kang-ho is a living legend of the South Korean cinema. And his $20 million net worth is evidence of that! Again: take into account that he isn't a Hollywood actor, and his movies typically aren't screened all over the world. 
Of course, before stepping into cinema Song had experience playing in social theater groups after he graduated from high school. Not huge theaters though. The group he started working with mostly used instinctive and improvisational techniques, which helped Song become an improv actor. 
This is the same approach he used working with Bong Joo-ho. It may surprise many of you but they have worked together for more than 20 years and filmed 5 feature movies together! In order for you to better understand their director-actor's relationship let's compare them with Martin Scorsese and Leonardo DiCaprio or Robert DeNiro. Or with Quentin Tarantino and Samuel L. Jackson.
"We each made our start around the same time," Song said. "And as actor and director, we've traveled a very long, interesting, turbulent journey together — I think of our relationship as that of close friends and comrades."
We've already talked about Bong who considers his job to be a lonely one. So does Song.
"It's not just me," said Song. "I think this also applies to Hollywood actors and actresses. When you stand in front of the camera, it's a very, very lonely moment. There is no one to help you out. Everybody can only stand by to watch, so that's what makes it challenging and painful as well."
Or maybe this is just the South Korean approach to any kind of job, huh?
And what about Song's personal life? Just like the director of Parasite, Song is very passionate about his privacy. Every journalist who interviewed him was warned by his team: the actor doesn't respond to any questions about his personal life. But still, we managed to find out something interesting… 
Song is married. Happily married to South-Korean actress Hwang Jang-sook since 1995. And just like his on-screen Parasite character, Song has 2 kids: a son and a daughter. Although his kids are very different from those in the movie. His son always dreamed of becoming an athlete which was strictly against Song's will. But now, knowing that his son became a soccer player for the Suwon Blue Wings, a professional Korean football team, his father's objections sound odd.
Song Joon-pyung looks just like his father when he was younger! He is definitely famous, not just because of his famous father but also because of his athletic talent! According to some sources, he taught his father how to dribble a ball in one of the movie scenes his father acted in. That South Korean movie was called "A Taxi Driver".
And looking at Song's son's Instagram you can say for sure that he enjoyed hanging with the cast of "A Taxi Driver". Maybe one day we'll see Song's son on-screen as an actor too?
Lee Sun-kyun aka "The Voice"
The actor who played the father of the Park family, who's also known by his fans as "The Voice", because of his deep voice, isn't only a terrific artist but also a great singer! And his songs for soundtracks for movies he has acted in are proof of that! As is his total net worth of $5 million. Lee knows how to use his talents properly: in cinema, TV-shows and theater. 
And he's definitely a much more open person than his on-screen character. He is definitely more open about his personal life than the rest of the Parasite team! Lee even held a pre-wedding conference before his marriage to South Korean actress Jeon Hye-jin.
The happy couple dated for 6 years and got married in 2009 in a lavish ceremony. Lee confessed that he fell in love with his wife the first time he saw her at a party of a mutual friend. More than that he was a fan of her acting talent back in university days. So he was super nervous to even talk to her at the party:
"About 15 minutes, I gained the courage to ask for her phone number." - Lee remembered.
The wedding ceremony held another surprise for the guests: the couple announced that the bride was 11 weeks pregnant! In November 2009 their first son was born. And less than 2 years later they had their second son! As time has gone by, Lee loves to say that his relationship with his wife has just become more stable. Let's wish all the best to the happy couple and their lovely children!
Parasite kids
What about the younger actors and actresses? Perhaps one of the most persistent actresses on the list is Park So-Dam. No doubt she became very recognizable after portraying the daughter of the Kim family. But back in early 2010, she had a really tough time. Just like many others, she wanted to be an actress.
"When I was in high school," she said "I went to see the musical 'Grease' and thought the artists looked so happy, singing and sweating as they ran around the stage. That's when I decided what I wanted to do"
But real life was harder than that. It was almost impossible for Park to get her first role. She auditioned and was rejected 17 times! Park went on every audition a rookie actor could go to. Most people would lose faith in their dream and give up. But this is something that can't be said about Park So-Dam.
She started doing independent movies and short films instead, and that's how, a few years later, she had a chance to participate in a bigger South Korean feature. Which led her to the leading roles and finally - in 2019, Park got her most famous role so far in Parasite.
Another actor who struggled to make it is Choi Woo-Shik. The young man who played the son of the Kim family also had a dream to become a Korean actor. But his parents were worried about his future so they brought him to Canada where he spent 10 years of his life studying everything but acting.
His story may sound familiar to anyone who has ever moved to another country with a different culture. Cause... unfortunately Choi wasn't the most popular guy at school. Why? Because of the food, he ate during lunchtime. Once he brought rice with kimchi (which is a Korean spicy cabbage dish) and all the kids at his school started making fun of him.
The poor kid asked his mom to stop giving him Korean food for school but she didn't listen. Fortunately, Choi found real friends out there: other Korean kids. Together they found the perfect solution to this problem. They sat together at an "Asian table" for lunch every day so nobody could offend them there.
Time went by, Choi grew up but his dream of becoming an actor never left him. He begged his parents to let him go back to South Korea for auditions and of course, they didn't like this idea. However, his parents finally realized it was his life and his choice. Luckily the parents approved of Choi's wish and...the rest is history.