Stranger Things 4: Plot Details And Fan Theories
We all received a gift on Valentine's Day this year – Netflix has confirmed that one of the most beloved characters in Stranger Things is returning in Season 4! But this is not the only news about the most-awaited upcoming series. 
Hopper is back
Yes! Now it's official: the teaser trailer has revealed what we were not-so-secretly hoping for. The mysterious American prisoner somewhere in Siberia really is Chief Hopper. He is one of the rugged workers at a place that looks like a Soviet labor camp. And just in case you couldn't guess his whereabouts from the location and the music – the teaser is titled "From Russia with love..."
Considering what we know from the previous season's finale, it's safe to assume, that Hopper is at the same outpost where the Russians also keep their Demogorgon. The series creators and showrunners of Stranger Things, the Duffer Brothers, revealed that Chief Hopper "will face dangers both human…and other". So we think that maybe the Russians are using El's adoptive father for experiments and Upside Down activities?
name this movie pic.twitter.com/zUwvjQJGmc

— stranger writers (@strangerwriters) November 19, 2019
The Duffer Brothers also mentioned that - "Season 4 is shaping up to be the biggest and most frightening season yet". We heavily suspect that in the mysterious world of the Upside Down there are even more terrifying things like Demogorgons and the Mind Flayer, so anything is possible!
And while Hopper is struggling to survive in the Siberian snowy wasteland, "back in the states, a new horror is beginning to surface, something long-buried, something that connects everything…"  So… 
What to expect from the plot?
The Third Season of Stranger Things left us with many things to speculate about. Well, we already know from the teaser released last September, that "we're not in Hawkins any more".
┏━━┓┏━━┓┏━━┓┏━━┓
┗━┓┃┃┏┓┃┗━┓┃┃┏┓┃
┏━┛┃┃┃┃┃┏━┛┃┃┃┃┃
we're not in hawkins anymore
┃┏━┛┃┃┃┃┃┏━┛┃┃┃┃
┃┗━┓┃┗┛┃┃┗━┓┃┗┛┃
┗━━┛┗━━┛┗━━┛┗━━┛

— stranger writers (@strangerwriters) December 31, 2019
So apart from the prison somewhere in Russia, this may also refer to the new town, the Byers and Eleven have moved to.
The Duffers confirmed it, revealing in an interview that Season Four is going to "open up in terms of allowing plotlines into areas outside of Hawkins".
Our guess so far is that Eleven will somehow get her powers back, and once they are back – she will most probably be able to locate Hopper.  And it's most certain that afterwards El will find a way to bring the gang back together again and save him!
We expect that most of our faves will return this season, with some new faces. Why? Well there was a casting call announced on Facebook which took place in Atlanta, which is where Stranger Things is mostly filmed. So far, there have been three casting calls announced, for people to play extras and background characters. And we know that the details of these calls might give us a clue on what to expect in the upcoming season. But we'll come back to that a bit later. 
looking for new members... are you in? pic.twitter.com/P1xAWNUPss

— stranger writers (@strangerwriters) November 7, 2019
And now we'll talk about some plotlines that should be explored in Season Four. We know, thanks to the Stranger Writers Twitter account, the title of the first episode! It is called "Chapter One: The Hellfire Club" and is written by The Duffer Brothers. It definitely looks like a reference to the X-Men comics, as The Hellfire Club first appeared in the 1980 comic Uncanny X-Men #129. 
And the caption next to the image on Twitter was: "Looking for new members... are you in?" So maybe Eleven and the Byers kids are reading the comics and make new friends? Or does it have something to do with the fan theory that Eleven and Jean Grey have many things in common? Also, we'd love to see El's lab-sister Kali, aka Eight, again. 
January 24, 2020
We haven't heard from her since Season Two, although at the time director Shawn Levy hinted that there clearly are other numbers and he "can't imagine that the world will on. And this is all we know, so far, about the plot details of Stranger Things Season 4... But we'll definitely keep an eye on all news from the writers and showrunners. 
The timeline and release date
The first three seasons were set in 1983, 84 and 85, so we would expect the fourth season to be set in 1986, but… The fact that the teenage cast members are becoming older in real-life much faster than their on-screen characters, is a bit worrisome. 
For example, Caleb McLaughlin, who turned 18 last year, doesn't really look like the 15-year-old he is supposed to be playing in the show. And that is what one of the casting calls hints at. It was announced that the vintage vehicles, should be '1987 and older models only.' So we wouldn't be surprised if the events in Season 4 take place in 1987 or even later. 
But when will we finally be able to bingewatch the next season of Stranger Things? The Stranger Writers confirmed on Twitter that it's definitely coming in 2020. Both Noah Schnapp and Gaten Matarazzo revealed during the SAG Awards in January, that half of the season has already been written.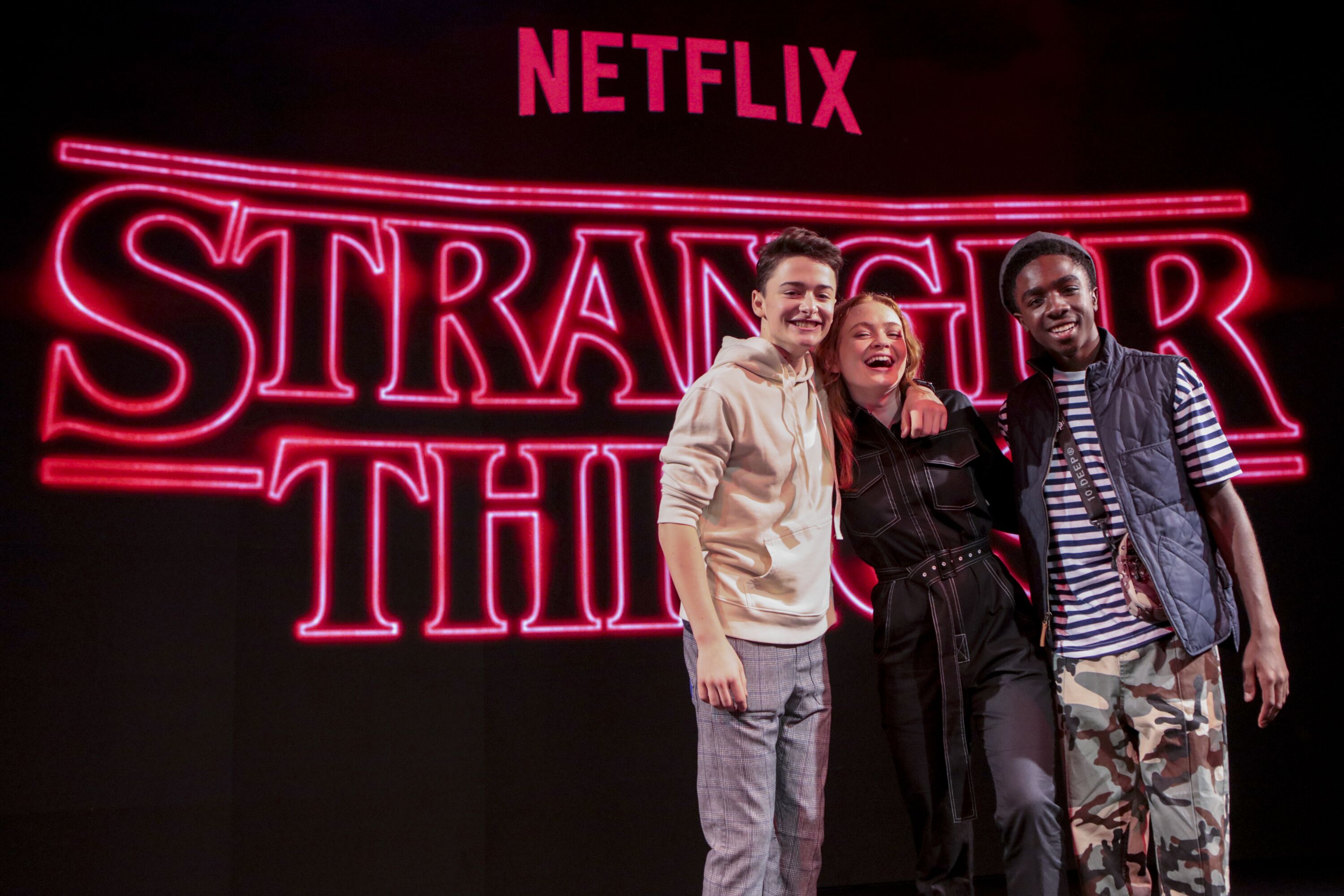 According to Netflix Life, filming for Stranger Things 4 has already started in Lithuania, and major filming will take place in Atlanta in March. According to TV Line, filming will wrap up around August 2020. Taking into account the time needed for post-production, it's safe to assume that the season's premiere will take place in late October, or even in December.
The fan theories
And what about the fans' theories? Are the Russians building a tunnel to the Upside Down? And what do Stranger Things and the Demogorgon have to do with Chernobyl? Let's reveal the most interesting of them! 
1. The Transfer Of Powers
Have you ever wondered where Eleven's powers went to? We bet you did! And some fans have a crazy theory that her powers didn't just disappear, they were transferred to none other than Chief Hopper! Otherwise, he wouldn't be able to survive the explosion, right?
The fan theory goes that when El lost her powers, Hopper somehow received them, probably because of the reactor blast. The powers enabled him to go to the Upside Down before the explosion. But as the gate was closed by Joyce, Chief Hopper had to find another way out, which happened to be in Russia. At the end of Stranger Things Season 3, we find out that the Russians feed their prisoners to a Demogorgon – but not 'The American'. Perhaps he's too valuable as a person and, just like Eleven, can walk through the Upside Down. 
January 14, 2020
Also, there's yet another theory of how El's adoptive father could have survived. Gaining mysterious powers because of some technological catastrophe is reminiscent of a classic superhero origin story… and we already know that the Duffer Brothers like these stories!  So we might very well have a character with psychic abilities in Season 4, even if it's not El.  
Moreover, some fans predict that Hopper was brainwashed by the Russians, or his memory has been wiped through a lobotomy. Well, a brain surgery totally explains his shaved head.  And with his memory erased, and his new superpowers, Hopper might even turn against Eleven and her friends! However, his memories could be restored when he sees El again.
By the way, this totally makes sense when we look at the leaked episode list of the upcoming season of Stranger Things. It hints that most of the cast will be separated for the entire season. Fortunately, it also reveals that they will reunite in Episode 8, titled "Together Again". We hope that it will include both the teenage gang and Hopper! And the same leak tells us that there will be 9 episodes in Season 4 of Stranger Things.
2. Dark Phoenix Theory
The title of the first episode, "The Hellfire Club", definitely looks like a reference to the X-Men comics. As you might remember, The Hellfire Club was an enemy of the X-Men from the classic "Uncanny X-Men" comic book series and "Dark Phoenix Saga". So is it a hint to the future events, or just another pop culture reference that Stranger Things is famous for?
It's not the first time Stranger Things has been inspired by the X-Men comics. Remember, in Season 3 Dustin called his radio transmitter "Cerebro", just like a machine used by Charles Xavier to detect mutants all over the world? But there were more subtle and at the same time more direct references to the X-Men too. In the very first episode, Will wanted to get Dustin's copy of X-Men 134 if he won a bike race home.
And in Episode 3 Dustin suggested that Eleven could be a mutant! Indeed, El's powers are similar to those of Jean Grey – a mutant, later known as the Dark Phoenix.  In the comics, the members of The Hellfire Club have manipulated Jean Grey into unleashing her destructive side. And a psychic named Mastermind, who could cast convincing illusions, tricked Jean into betraying her friends, the X-men. Doesn't that remind you of something?
Exactly! Eleven's lab-sister Kali is able to cast illusions, and she's part of a misfit street gang! Also, Kali leads a kind of vendetta against the people who experimented on her in the Hawkins laboratory. Maybe this storyline, that dropped off so abruptly, will finally continue in Season 4? Is it possible that Kali could cause Eleven to turn against her friends, just like Jean Grey did?
But another interpretation of the title of the first episode suggests that the Club is a real thing. It could refer to some new characters, who live in the city where the Byers moved to. And they could be totally into comics just like the boys from Hawkins are into Dungeons and Dragons. We'll find out for certain only after the fourth season of Stranger Things airs.
3. A Railroad to the Upside Down
In the second teaser trailer, we see Chief Hopper among the rugged workers at a place that looks like a Soviet labor camp. And it looks like the prisoners are building a railroad. The series creators have previously revealed that Chief Hopper "will face dangers both human…and other", so there is a fan theory that this railroad leads to the Upside Down! Because where else do we find all those terrifying things like Demogorgons and the Mind Flayer?
super excited to have Tom Wlaschiha in our Stranger Things family! pic.twitter.com/CjXMGWeA1e

— stranger writers (@strangerwriters) February 14, 2020
It's quite possible that the Russians are using Hopper, who has mysteriously crossed half the planet, to build the new gate to the Upside Down. Remember, it's the mid-80's, and the Cold War period is not over yet, so the Soviets might regard access to another dimension as even more important than having a nuclear weapon! And speaking of nuclear weapons…
4. The Chernobyl theory
The first three seasons of Stranger Things were set in 1983, '84 and '85, so we can expect the events of the 4th season to be set in 1986. And unfortunately, in April 1986 there was a nuclear disaster at the Chernobyl Nuclear Power Plant. What if that wasn't a nuclear blast at all, but the result of the Soviet experiments with the Upside Down?
Well, yes, thanks to the 'Chernobyl' miniseries we all know that this place is certainly not located in Siberia. But it's still quite possible that the experiments with the other dimension could somehow influence the flow of energy in our world, and mess up the operation of this infamous nuclear plant. 
A more simple version of this theory is that the Soviets will use the nuclear disaster in Chernobyl as a cover-up for their attempts to explore the deadly world of the Upside Down – or a battle with Eleven. Why not? Do you have a theory on what we will see in the fourth season of Stranger Things?