5 Times 'Sex Education' Was Changed During Production
Why did the showrunners want Otis to be a girl? What alternative ending did Otis and Maeve nearly have in the last scene from season 2? Whose real-life experience became the basis for that powerful library scene? And who persuaded Gillian Anderson to take the part after she literally threw the script into a bin? Here are 5 moments that almost made Sex Education look totally different.
1. Otis was supposed to be a girl
"What did I want to know when I was 16?" - The showrunner Laurie Nunn once asked herself and that's how it all began. Those moments that Otis goes through are basically what Lauri went through in her own life. She was 14 when her parents divorced and she spent her teenage years with a single mom.
Even though her own mother isn't a sex therapist, the relationship between them is similar to what Otis has with his mom. As Lauri recalls, she was kind of "mum's bad boy". So, naturally, because it was such a personal story, Lauri envisioned the leading character as a girl. But when it came to the screenplay it just didn't work out right! And the girl turned into a boy.
"There's something about a boy who's able to talk about emotions, who's able to be honest and kind of vulnerable, that makes it feel unique," revealed Laurie Nunn.
So that's how we got our awkward, slightly nerdy Otis, who trusts his heart more than his head. And Asa Butterfield has handled the job perfectly! Gillian Anderson even revealed that during filming she was very surprised by his professionalism and felt like a proud mom.
And Asa is the perfect match too because he knows exactly what it's like growing up with a mom who is so open-minded and easygoing... as his own mom is actually a psychologist!
2. Alternative ending for Otis and Maeve
As one of our fans hilariously pointed out: "That Isaac guy might be the most hated person in the world after the 8th episode"
Indeed, George Robinson's acting is so great that we don't think anyone can stand the guy after the final scene of season 2. But it turns out that the showrunners initially created an even crueler ending for Maeve and Otis. Let's go over the events of that fateful evening and see how things could've gone differently. 
(You've probably already guessed this, but we still want to warn you, there are spoilers ahead!)
So, after Otis told Maeve on the phone that he loves her, he ran to her campsite in hopes of them finally getting together. But - she had already left, so Otis asked Isaac to tell Maeve to check her voice messages. As we all know - he didn't. And the episode ends with shots of Maeve and Otis walking in different directions with smiles on their faces. 
In the alternative ending, Isaac still plays the role of the guy who ruins it all but then, during the part where we see Otis and Maeve walking in opposite directions, - the editing of the shots creates a totally different finale impression. There, we see Otis looking forward as if he sees Maeve… And right after that - we see Maeve smiling and looking straight ahead as well.
So this makes you believe that they aren't, in fact, going in opposite directions, but are walking towards each other. This scenario leaves us with the hope that they are finally getting together, but then in season 3, we discover that is not the case and in reality, they went in totally different directions! Oh, how confusing and cruel!
Laurie Nunn explained why the pair didn't come together and instead we were left hanging on that deleted voicemail situation. It's because of Eric! You see, because Eric and Adam were left with that super-sweet, romantic moment, according to the creator, Laurie Nunn, it would have been too much to have a happy ending for Maeve and Otis as well.
"Eric and Adam get their moment. But if you go around and give everyone their moment it may get a bit sugary," stated Laurie.
And although it sounds really unfair… there's a reason why Ross and Rachel had their seasons-long break and why in The Big Bang Theory, Sheldon became the main character after Penny and Leonard got their happy ending… We think we want Otis and Maeve to finally be happy but, as sad as it is - happy is boring.
3. Aimee and her bus story
That particular scene in the bus might never have happened if the show's creator hadn't experienced it in real life. And it is thanks to the brilliant Aimee Lou Wood that Laurie Nunn decided to put in the show.
Her character reminded Laurie of herself and so the show creator dared to live through that forgotten experience once again through Aimee's story. And even though this dark journey wasn't easy, the writer admits that it was a "cathartic" experience putting it all down on paper. Eventually, that disturbing situation inspired Laurie Nunn to create the memorable detention scene where all the girls revealed their own experience.
One more secret about this scene is that it was written in a very, very careful way. Turns out that the stories we hear from the girls are events that actually happened to the Sex Education writers in real life.
"We try to create a very safe space for people to share, as the content is very sensitive," revealed Laurie.
And that makes the whole scene even more powerful.
4. Gillian Anderson threw the script into the bin!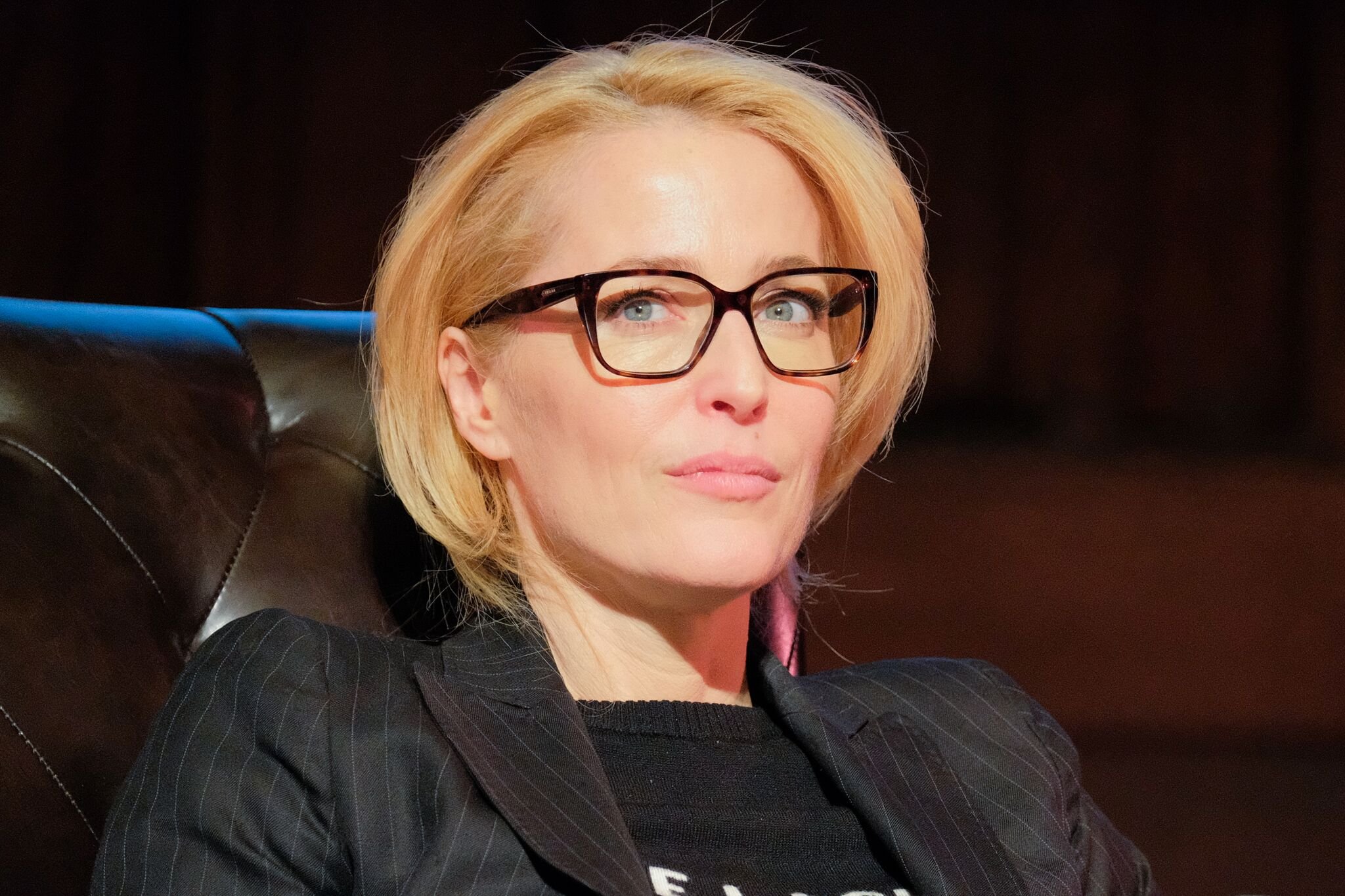 Even though landing a Netflix partnership was definitely a huge win for the show, there were many challenges still ahead. For instance, the biggest star of the show decided that the script was too broad for her and threw it away!
'When I first got the script, I threw it in the bin, which is true' - shared Gillian. 
She would've forgotten about the script entirely but her boyfriend, the creator of the TV series, The Crown, convinced her to give the script a second try! So she did and eventually ended up re-reading the script and found it hilarious! She can't even explain why she threw it in the bin in the first place, adding only that she was probably just in a bad mood.
The movie legend also shared that she thinks Sex Education's story is a very bold and truly important one, and she wishes there had been a TV show like it when she was a teenager. Anderson went through very turbulent relationships back then and she didn't know how to deal with them.
"I was in a relationship with a girl for a long time when I was in high school, and then I was in a relationship with a punk rock… And then I was in a relationship with somebody who was way, way older than me."
While it wasn't easy for the X-files legend, fortunately for today's teenagers - Sex Education is there for them to both entertain and guide them through tough times.
5. The show was dead before Netflix saved it
This story started out quite optimistically. The production company, Eleven, came up with a short idea about a teenage sex therapist on a school campus. And Laurie Nunn won the contest with her perfectly funny story. But after the final pilot script, the project seemed to face a dead end.
"We tried to find a home for it in the UK but we couldn't find the right fit. I'd written the pilot script but I thought that it had died." shared Laurie.
Plus, it was really hard to deal with a traditional broadcast network because everyone was afraid to be so explicit about sex, as the Sex Education title implied. 
Fortunately, Netflix found the script brilliant and saved it! And as we all know - they made a good decision to do so. The show had 40 million views in its first four weeks and was renewed for a second season only a month after it premiered!