A Closer Look At The Cast of 'I'm Not Okay With This'
Why did Sophia Lillis get mad at Wyatt Oleff's dad? How come the show made Richard Ellis literally burst into tears? And what terrifying secrets from that mind-blowing moment have recently been revealed? We're about to discover the most exciting details about the 'I'm not Okay With This' cast.
Sophia Lillis as Sydney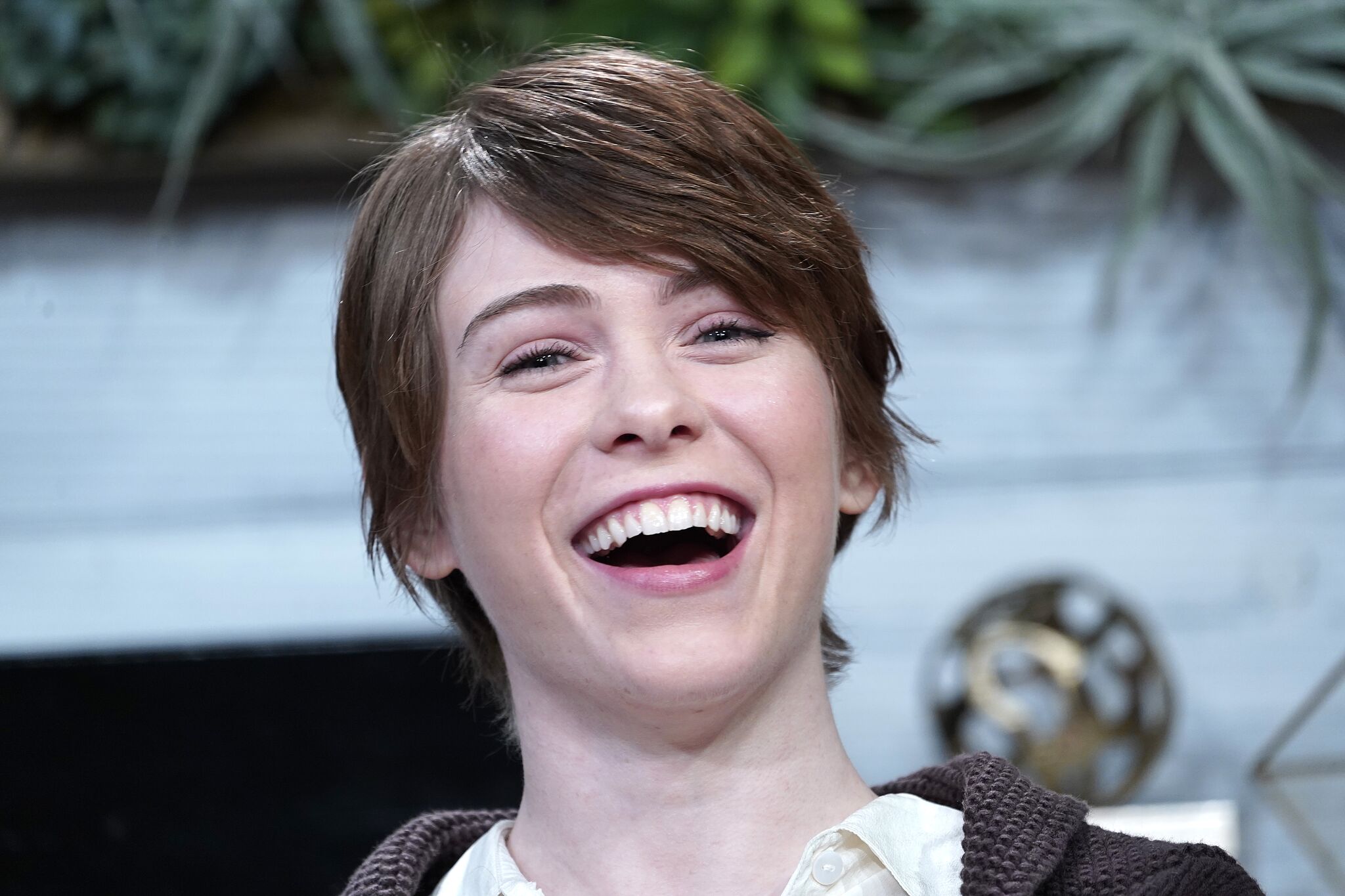 Stranger Things met 'The End of The F***ing World', and that is how we got a story about a troubled teenager with superpowers. We're sure you agree that Sophia Lillis, the brilliant star of IT, does a very convincing portrayal in this teenage drama.
Actually, the showrunners wanted Sydney to be more of a reckless Alyssa than a frightened Eleven! But when Sophia came on board, it was way more natural for her to behave as a girl terrified of her own abilities and keep everything inside like Millie Bobby Brown's character. While Lillis was totally okay with her character's personality, she had no idea how to deal with the high school aspect of it. 
At 18, Sophia has already earned an estimated net worth of $1.5 million. Battling Pennywise definitely helped with that. For the first part of IT, she received $65 000 and the second chapter earned her $150 000. Plus, her recent leading roles in Nancy Drew and the Hidden Staircase, and the dark fantasy horror Gretel & Hansel, have definitely boosted her celebrity status.  
While Sophia's career is taking off, her personal life doesn't seem to be a priority for her yet. This is what Lillis thinks of being in a relationship right now:
'I'm not really that kind of person to also be in a relationship period. No, I can't imagine me being in a relationship. Also, I'm a child'.
Outside of her co-stars, Sophia's closest friend is her twin brother Jake. He is only one minute older than his twin sis but appears to play the role of Sophia's big brother. Not only does he protect her, Jake also runs her 2 million-followers Instagram account. Yeah, he's the one who posts those stunning looks for her.
Everything's going pretty smoothly in Sophia's life, except for when she got mad at Wyatt Oleff's dad! Stay with us to find out the reason why.
Wyatt Oleff as Stanley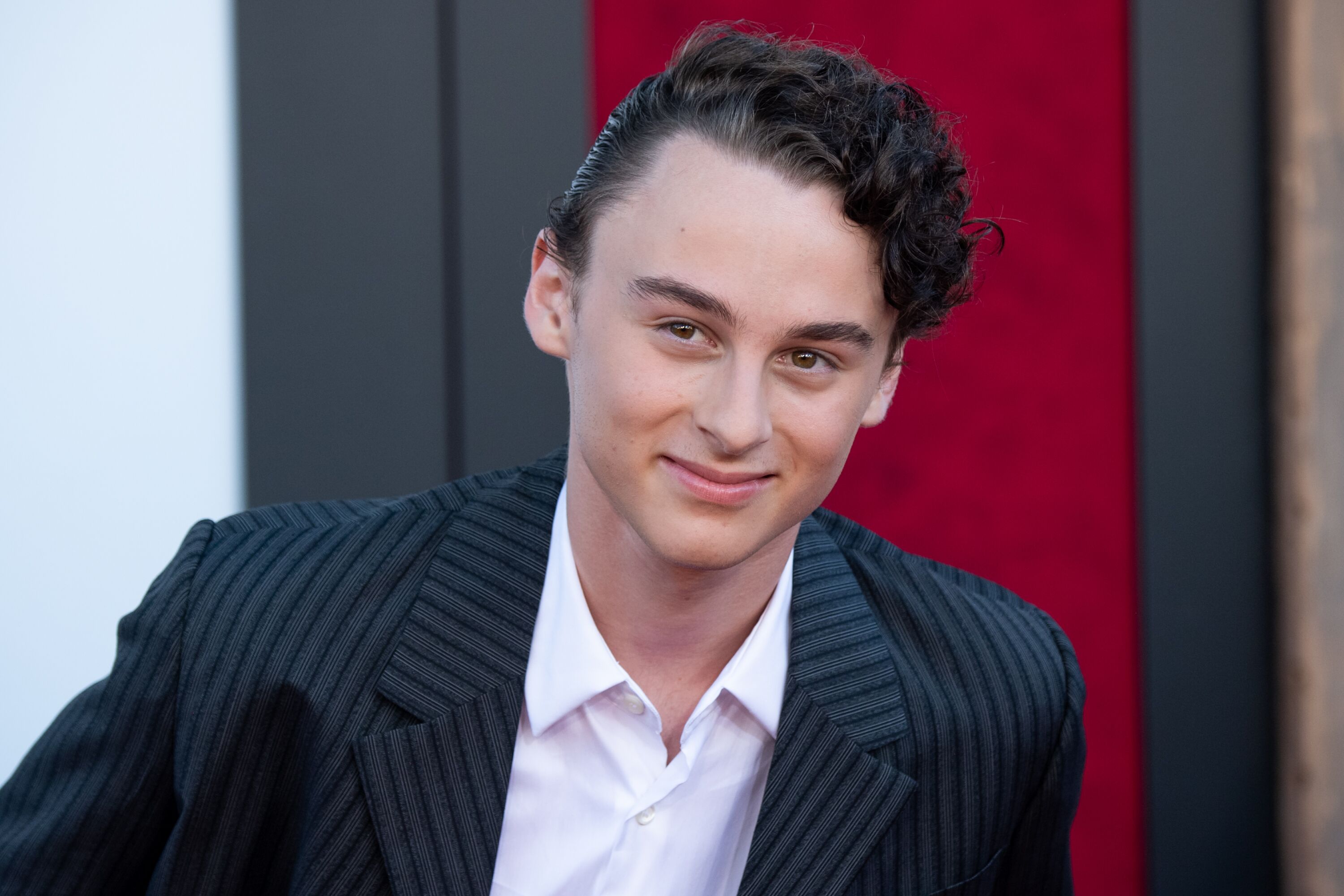 Stanley also has his own character parallel. The showrunners wanted to see if there was a way to create a Batman and Robin duo but with Robin falling in love with Batman. At the same time, the show creators didn't want the sexual component of Sydney and Stanley's relationship to be a driving force of the story. That's why Syd lost her virginity to Stan early in season 1 and the focus then shifted to their friendship journey.
And by the way, all those silly and funny moments we watch between the two are 100% natural, as Wyatt and Sophia became pretty close pals after their work on the two chapters of IT. With their great chemistry, these friends have a lot of fun together - but there's one thing that separates them. And that's Wyatt's dad. The thing is, Sophia holds a grudge against him. All because of one incident.
Sophia was the first to be cast on the show and the showrunners were looking for the best possible Stanley for her. When Wyatt was finally approved for the role, Sophia wanted to be the first one to tell him. Well, that was the plan but it was totally ruined by Wyatt's father, who, God knows how, received the happy news a minute earlier and, of course, told his son about it right away. So the girl got really mad at Wyatt's father. 
Aside from I'm Not Okay With This and IT, Wyatt has worked on many other projects. For instance, he played young Peter Quill in the Guardians of the Galaxy film series. And aside from that, Wyatt also had guest-starring TV roles in shows like Shake It Up! and Once Upon a Time. These days, Oleff's movies have made him a net worth of around $800 000. 
Unlike Stanley, Wyatt is pretty successful when it comes to relationships. The beautiful lady named Erin seems to have captured Wyatt's heart for the past couple of years, based on Oleff's Instagram account. It looks like the two really enjoy spending time together.
Another important lady in Wyatt's life, whom he simply adores, is RoRo and Wyatt brings her everywhere!  He takes her to the set, constantly posts pictures of her on his Instagram and once even went on a red carpet with her! What a creative approach. 
Well, Wyatt is full of extraordinary ideas! For example, he has his own theory about the end of season one. That mysterious man we hear in the final scene, according to Wyatt, is supposed to be a grown-up Stanley from the future who came to save Sydney! How about that? 
Sofia Bryant as Dina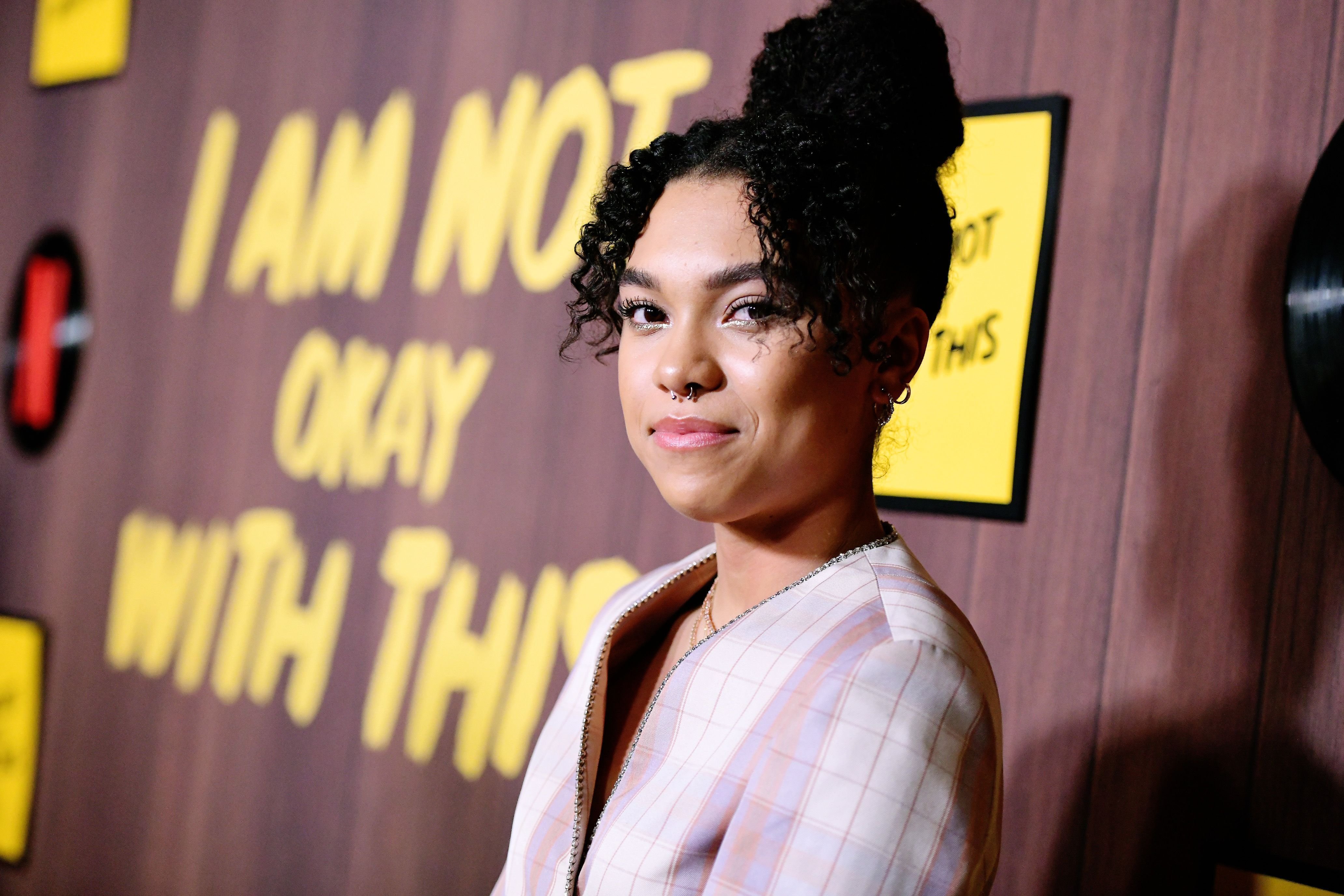 Sofia was extremely worried about her part, as unlike Wyatt and Sophia, she didn't have any big roles before the Netflix show. So at the first table read Sofia was so stressed out, she didn't even know how to breathe smoothly. Just like Richard, who plays her on-screen boyfriend Brad. They both were pretty much terrified by the new level of their careers. 
Together they found a way to help them reduce their stress. Which appears to be. .. hot wings! And that somehow became a tradition for both of them, so whenever they had a grumpy or a difficult day, they went out for hot wings!  This actually helped Sofia and Richard bond for their roles. Richard describes Sofia as a very shiny person, who always brings energy on the set and can easily arrange some kind of a party at 6 a.m. that no-one can help but join. 
Sofia has appeared in shows such as The Good Wife, Blue Bloods and The Code, but all that of course doesn't compare with her role in I Am Not Okay With This. The show has already helped the 20-year-old Sofia to generate a net worth of $500 000. Sofia shared that it was especially fun to portray her character as she is very similar to her real-life best friend. So Bryant often relies on her best friend's qualities when she portrays Dina.
Actually, Sofia really longs for her friends as many of them live in Finland. Even though Sofia lives in New York, she is half-Finnish and part of her family is back there. 
'I miss my family when I'm not there, but I also just, I miss the food; I miss the berries; I miss the air. It's a lot cleaner than Manhattan,' she said.  
Fortunately, her adventures with the cast ease her homesick struggles. 
Richard Ellis as Brad Lewis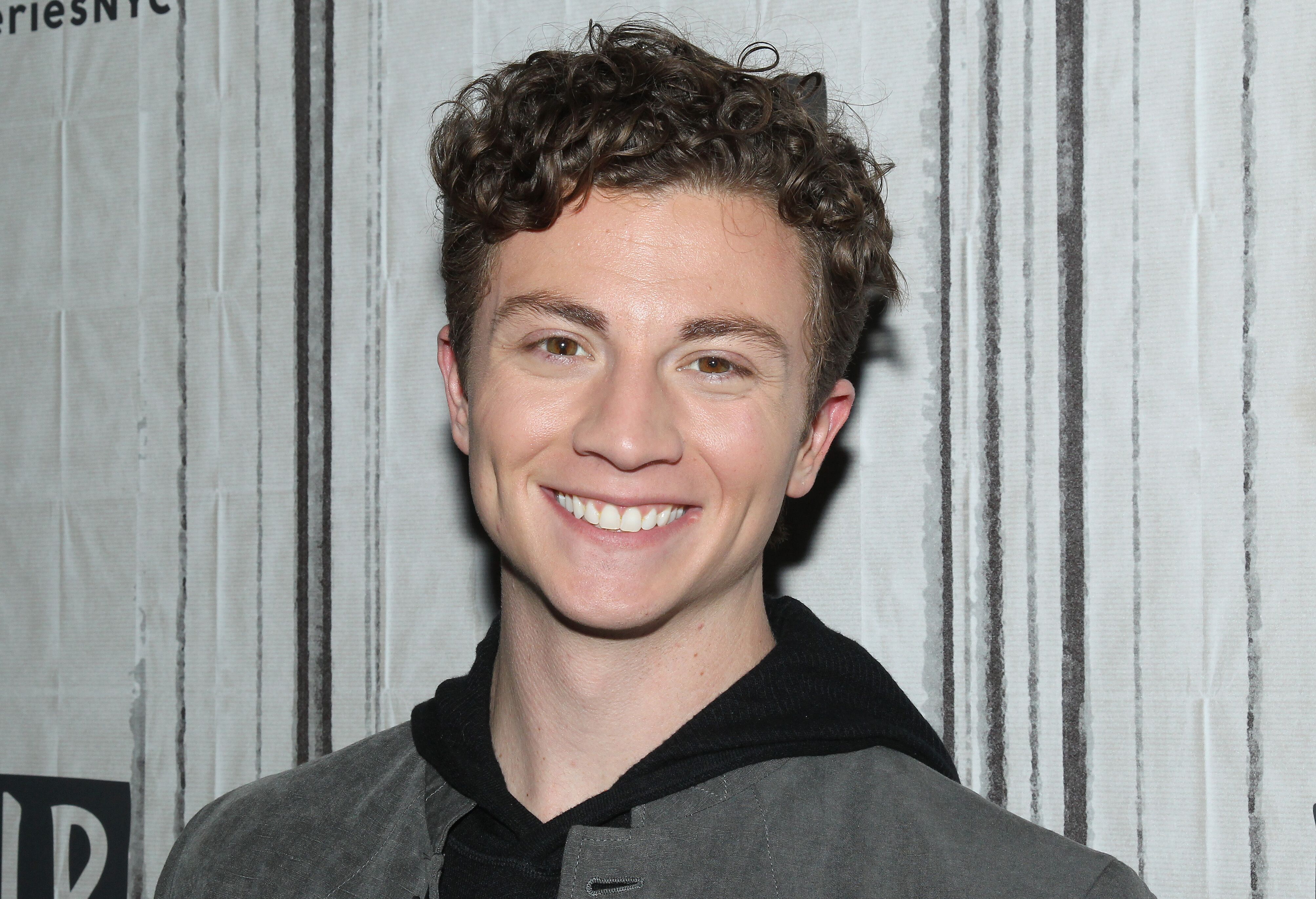 'All awful people just combined into one person' - that is how Richard Ellis describes his on-screen character. Despite Brad being not the best person, Richard enjoyed his part a lot! In fact, he was so happy to get the role that he literally cried during the fateful phone call. The thing is, Richard didn't hold out much hope for getting the role. When he auditioned, he saw Sophia Lillis and Wyatt Oleff already on the list and thought that he had no chance of joining such a celebrity cast. 
Before the Netflix show, Richard had only appeared in the Veronica Mars reboot and played the recurring role of Alex Peters in the drama series 'Should I Do It?'. So when he finally got the part in I'm Not Okay With This - he was both flattered and insulted. One the one hand - it was a great opportunity - but on the other - the showrunners decided that Brad was ideal for this mean teenager… which made him question himself a bit… Anyhow, the show helped Richard to grow his net worth up to $500 000,  which is pretty awesome for the start of his career. 
In real life, Ellis is nothing like Brad. Just watch how gently he plays his guitar. By the way, Ellis is pretty serious about his guitar and posts his performances on Instagram from time to time.
It's a shame we won't see him in season two... Although hmmm, who knows? Time travel is always an option in movies about superheroes, right? 
Richard revealed that it was super fun to shoot that MIND-Blowing scene. And eventually, he was the only one who managed to avoid being covered in blood. Turns out that there was a special 'dummy' with a balloon head full of blood. And the thing is, nobody from the extras knew how much was going to burst out. The showrunners kept telling them that there's a chance they'll get some drops on their clothes… But! As you saw in the episode, it was a total massive explosion and everyone literally freaked out. So all the fear and screams you see and hear on the show are real reactions.
And according to Sofia Bryant, their clothes smelled like barbecue sauce for a whole day after that. Also, there's a tiny easter egg for you - In Brad's second-last scene, he actually says that the night will be mind-blowing....oh, little did he know that he was 100% right about that.
Aidan Wojtak-Hissong as Liam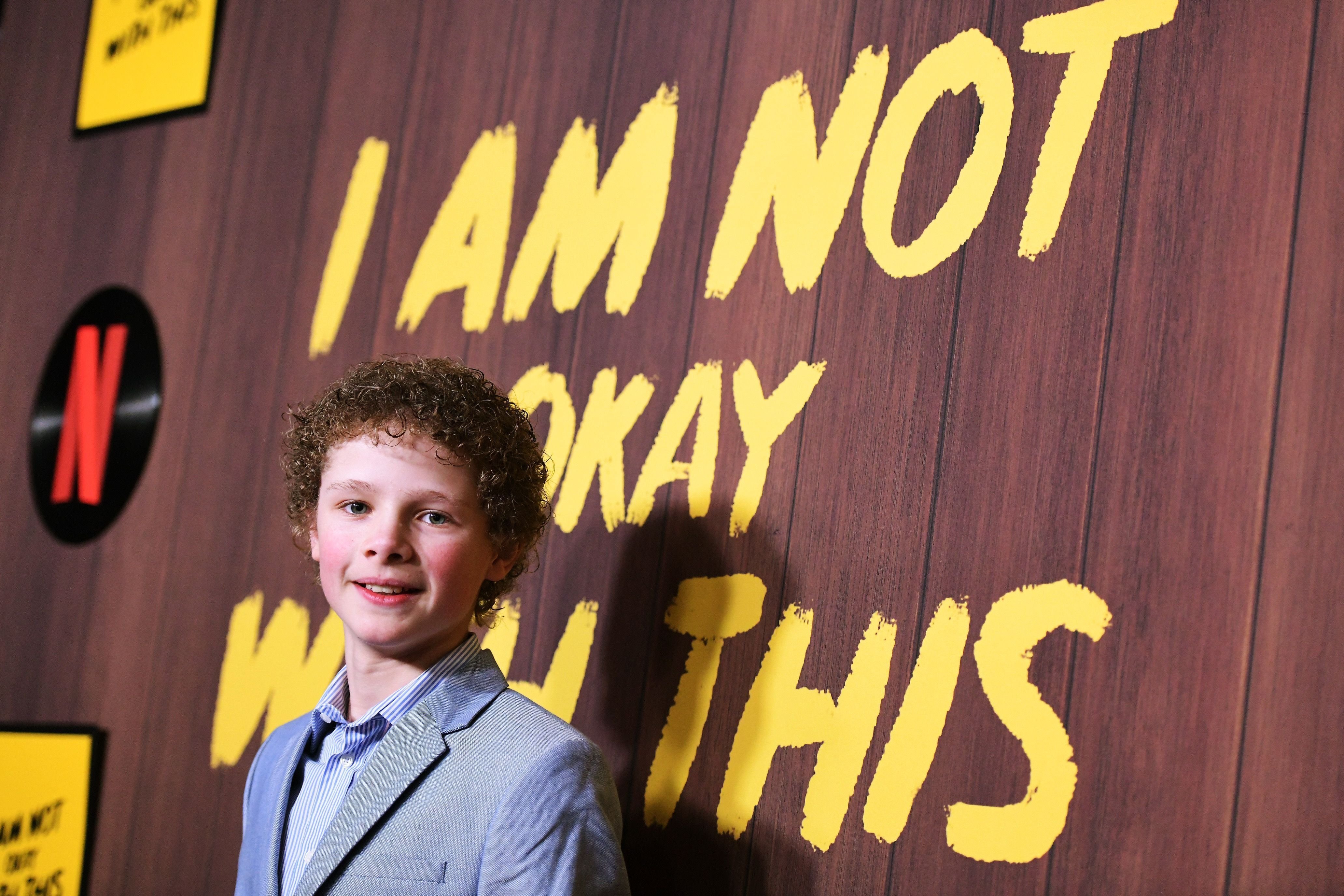 'That kid has confidence!' - said Richard, when he was asked about the little guy. Yeah, just as you see in the scene when Liam prepares that creative dinner, Aidan is amazingly grown-up and confident about what he is doing. 
Before the Netflix show, the Canadian boy had appeared in a number of TV shows, including Playdate and Falling Water. Plus, Aidan is also a voice actor and you can hear him as Leo in Let's Go Luna! Despite his young age, Aidan has already managed to gain an estimated net worth of $350 000! And he's only 12 years old!
Not much is known about him, but his co-stars revealed that Aidan is obsessed with Justin Timberlake and says that he loves his old hits like Sexy Back. More so, Aidan is an avid user of Instagram and often shares some hilarious posts, like this one with his dog, which he captioned: 'My Newfie, Olive, is so excited about IANOWT, she's drooling.'
Seems like everyone from the cast is simply amazing, just like the show itself. What else would you love to know about I'm Not Okay With This?