Inside John Krasinski and Emily Blunt's Marriage
How did John Krasinski talk Emily Blunt into working together on A Quiet Place 2? Why did their love story have an awkward start? And what mistake did Blunt make on her wedding day? Get ready to dive into the beautiful love story of a couple we can't help but admire - Blunt + Krasinski.
Before John met Emily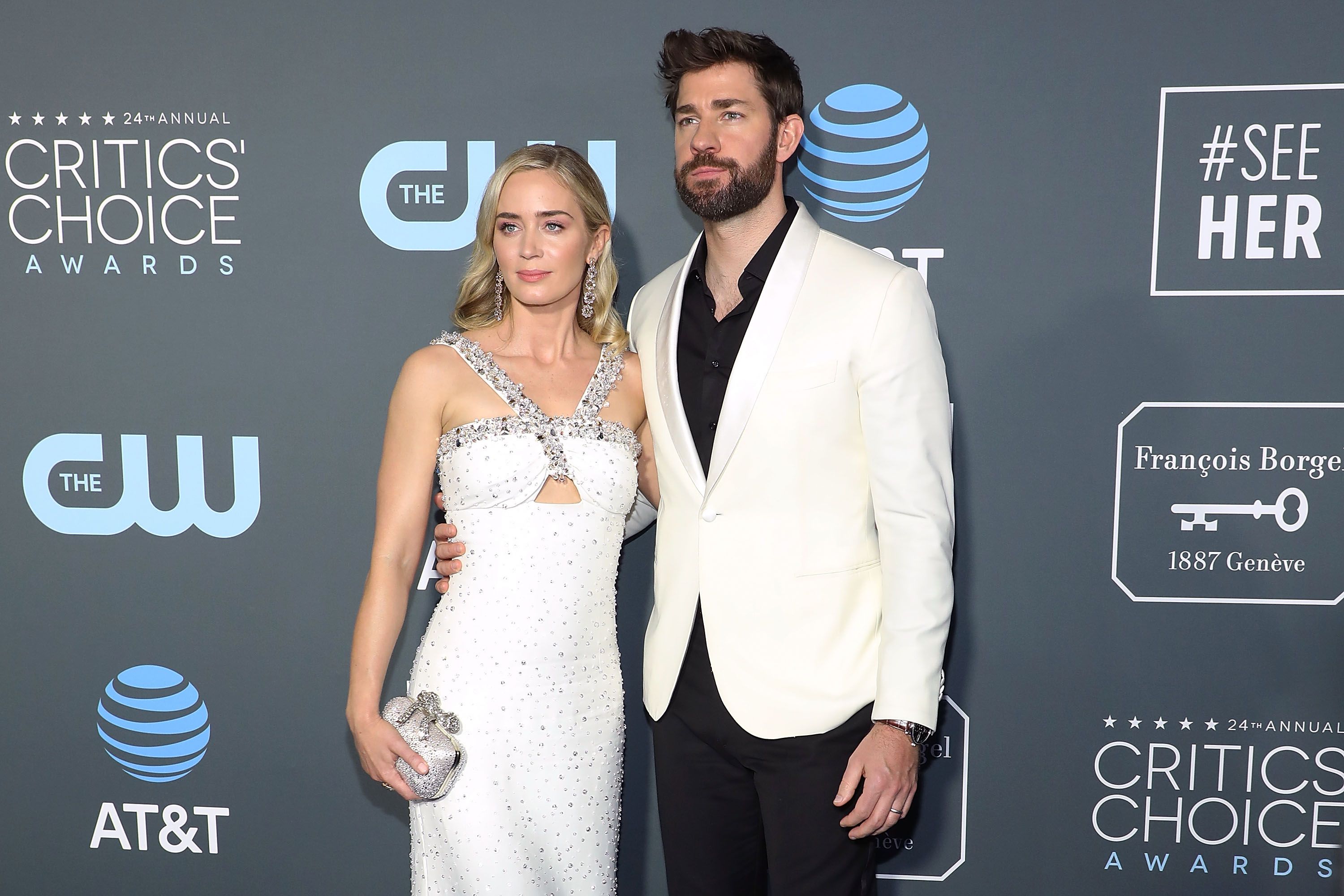 He was known as Jim from the American version of The Office. She was The Devil Wears Prada British star, who had already gained international fame. His first celebrity crush was Alyssa Milano, and she had a poster of Damon Albarn in her bedroom. And before these two lovebirds met, each of them had their own baggage of romantic history.
While he starred in one of our all-time favorite sitcoms for 9 seasons, we followed Krasinski's on-screen romance with Jenna Fischer aka Pam. But did this relationship ever move to real life? Nope. Well, John actually dated a co-star from The Office, but it wasn't Jenna.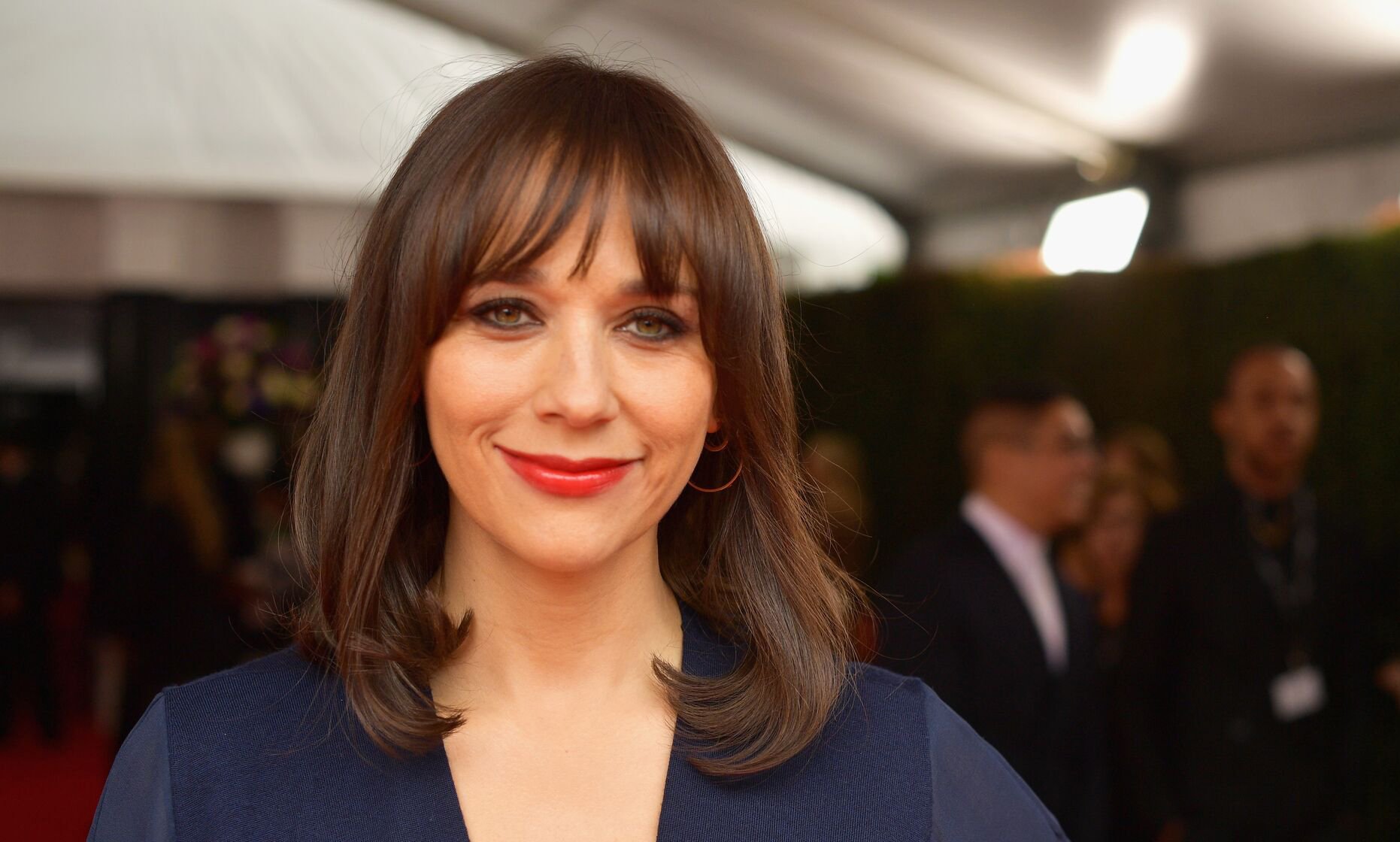 The actor went out with Rashida Jones who played another love interest of his character. The couple broke up in 2006 after a year of dating. And that's all! This is Krasinski's only pre-marriage relationship that went public. But John was also rumored to have a fling with Renee Zellweger in 2007, while they were both working on the film Leatherheads. Can you imagine them together?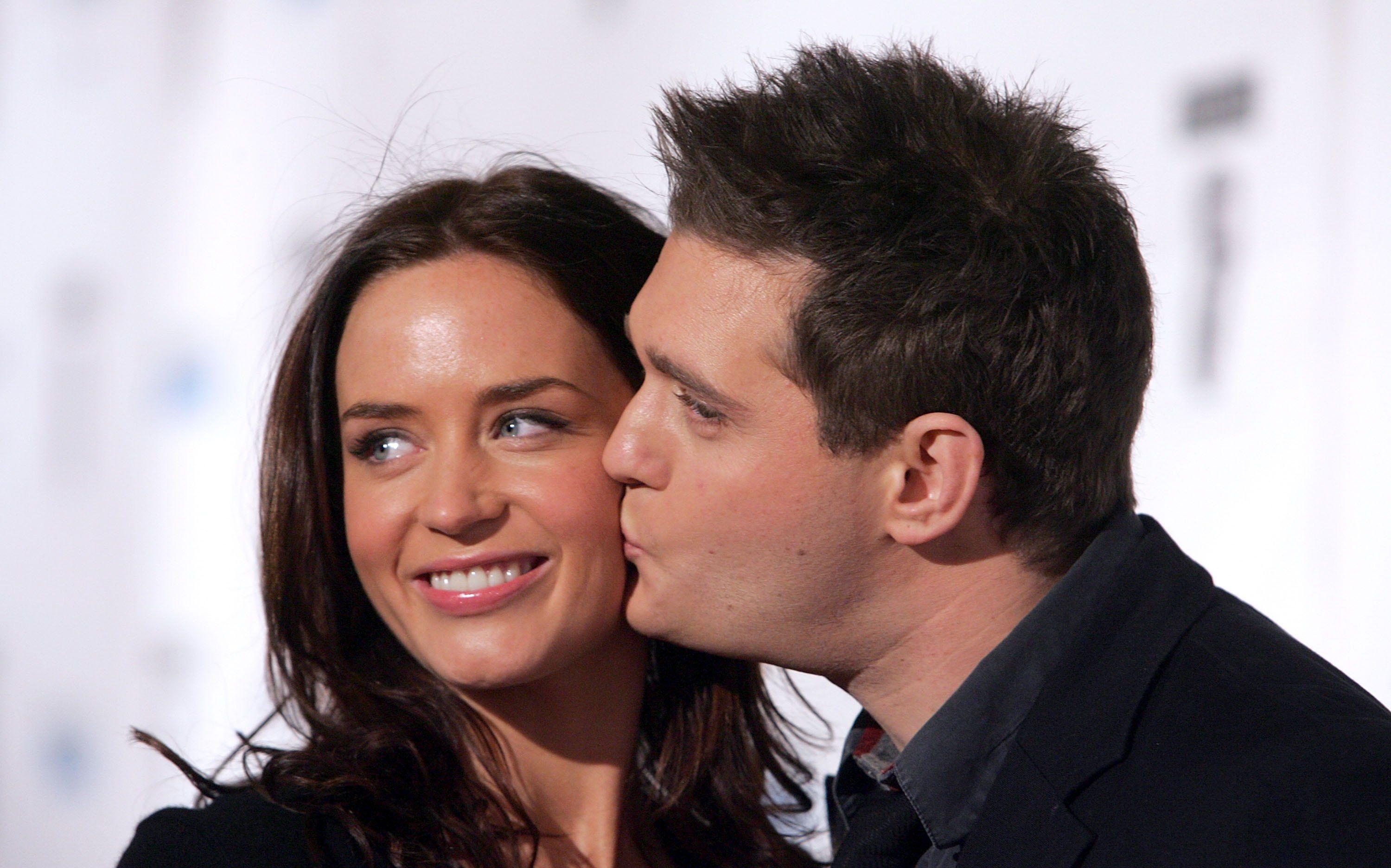 And what about Krasinski's talented now-wife? Emily Blunt also doesn't have a long list of confirmed romantic relationships. Still, the one that was not hidden from the media was with Canadian singer Michael Bublé. The couple met in Melbourne, backstage at the Australian television awards in 2005. Their relationship was quite serious, they even bought a house in Vancouver together. Blunt was the perfect muse for her then-boyfriend, and she even sang a brief part in the song, "Me and Mrs. Jones". Anyways, the pair did not make it through the 3-year itch, and they parted ways in 2008. Rumor has it that Bublé had an affair, but both ex-partners denied it. According to Michael, his split from Emily was just because they didn't fit together. Luckily, they both seem to have found their perfect matches.
From obsession to love at first sight
How would you react if you found out that your significant other was literally obsessed with you before you had even met? Yes, we're talking about creepy Krasinski here, that very guy who watched The Devil Wears Prada seventy-two times! But, he admits to having a few other guilty pleasures - like The Bachelor and The Bachelorette reality shows.
So, back to the story. John is joking that he only married Emily because he couldn't get Anne Hathaway. Still, being a huge fan of Blunt's, Krasinski decided to reveal his full-stalker status from the very start... only to find out that Emily was not too keen on dating a fan, so he had to play it cool afterwards. But how did these two actually meet?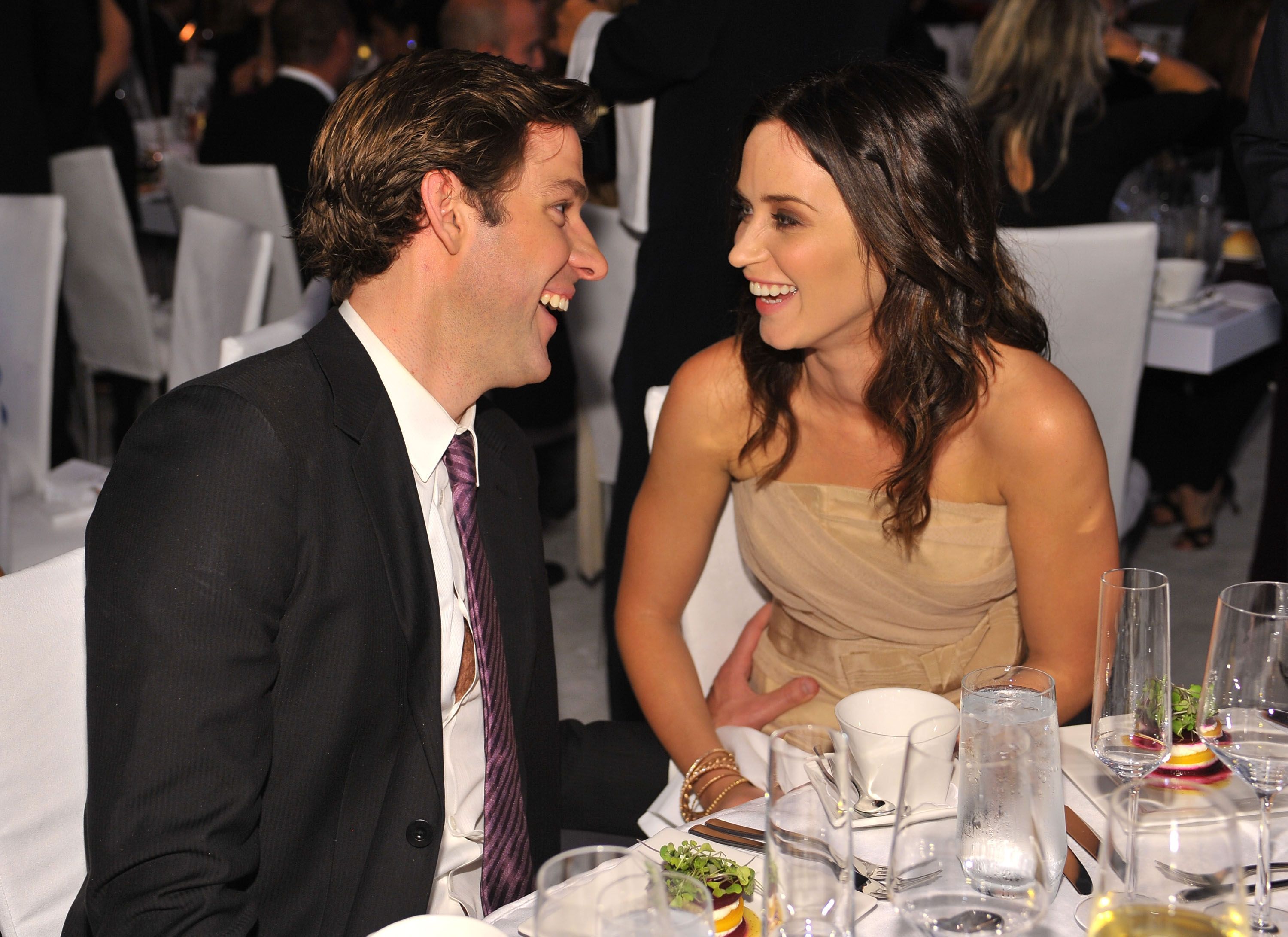 In a talk with Seth Meyers, Emily Blunt revealed that she was introduced to John by a mutual friend in November 2008. The actress recalls having dinner at a restaurant and talking about her happy, single life when Krasinski passed by. And although the now-spouses both felt it was love at first sight, Krasinski believed that Blunt was way out of his league. He thought there was no hope the relationship would work out, so to ease his potential suffering, John picked a rather non-conventional place for their first date… a gun range!
"I think that I was so sure that I would never end up with her ... that I was like, 'You know what, I'm gonna blow it right away and then that way you don't feel bad.'" he told Conan O'Brien in 2012.
Still, the actors later confessed that their first date also involved eating pizza at Krasinski's apartment. And the rest of the story is, quote "too dear to discuss". Well, what we know for sure is that there was no pineapple on the pizza (cause Emily hates it) and absolutely no red wine (as John is allergic).
Mr. Blunt and Mrs. Krasinski
Their mutual affection was instant, and both actors realized they were meant to be "disarmingly fast." Blunt describes their relationship as "our romantic comedy" and Krasinski says that the best days of his life started when he met his wife. John once confessed he had always wanted to get married. He looked up to the happy example of his parents, and planned to have a really cool wife who would also be his best friend. And once Emily matched that jigsaw puzzle, he did not wait long to propose. So, being in a perfect relationship for 10 months, Krasinski popped the question in August 2009. And Emily's reaction?
"She did cry after I cried and we cried and then everyone around us was crying. But it was great," told John.
The pair said their vows in a private ceremony in July 2010, and there could not be a better place for their nuptials. The wedding was held at George Clooney's former house on lake Como in Italy. John and Emily are close friends to Clooney, and they actually accompanied George on multiple double dates before he met Amal.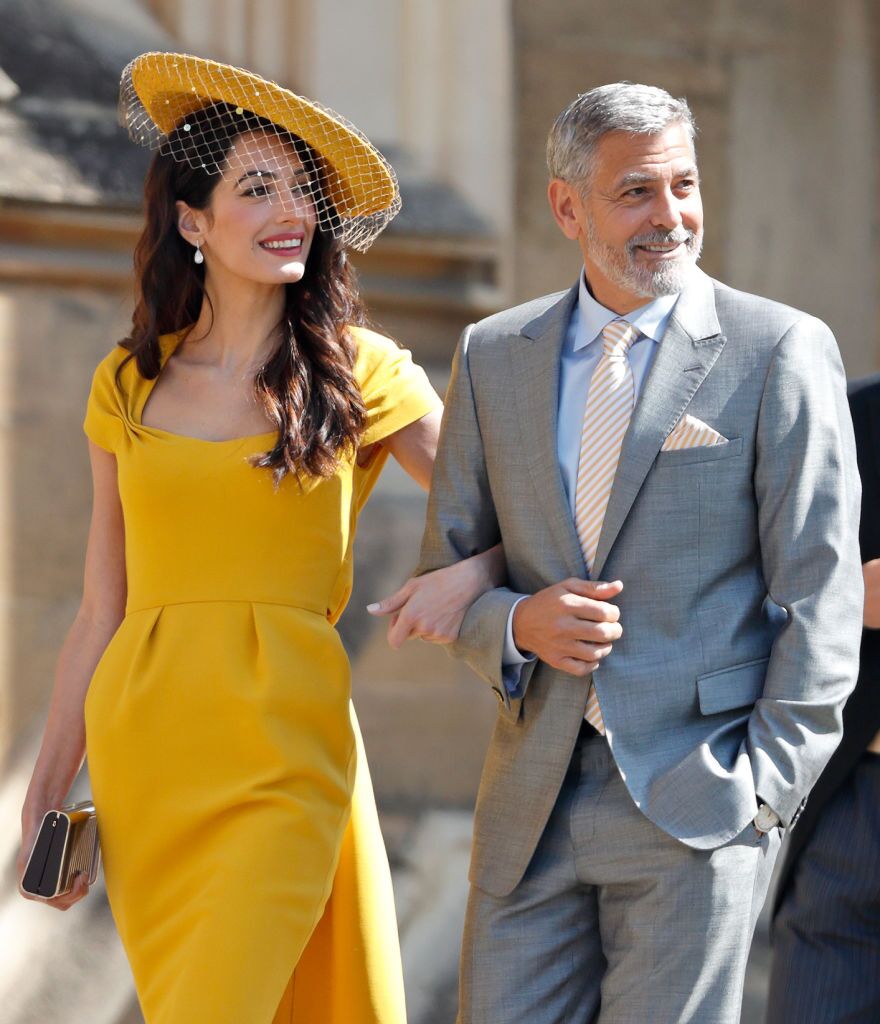 So was there anything that Blunt regretted about her perfect wedding day? Emily confessed that their nuptials were low-key - despite Clooney being included. And the only thing that went wrong was her abuse of spray tan, which gave her a tangerine tone to her bridal white. Can you imagine it?
Parenting joys and fears
Being head over heels in love, Krasinski and Blunt did not rush to expand their family right away. They did adopt a dog though, a red fox Labrador called Finn, before they even married. The couple welcomed their first daughter, Hazel, in February 2014. Their second bundle of joy, Violet, joined her big sister in June 2016. During both of her pregnancies, Emily was involved in quite challenging work commitments. She portrayed women who struggled with infertility: the Baker's Wife in Into the Woods and Rachel in The Girl on the Train.
The happy parents adore their girls and whenever they are not working, Emily and John spend quality time as a family. Dad Krasinski calls children the most important aspect of their relationship and admits being heavily manipulated by them. Every time the family gets together, the girls dictate what they do. Emily reads to Hazel and Violet before bed, and she wants to teach them to appreciate the process of reading physical books, page by page.
"My greatest hope is that they are truly happy and interested in life." says the mother of two.
John admits that sometimes parenting is scary, and his greatest wish is to protect his daughters at all costs. As he told People:
"The scariest thing about being a father is not having control of your kids' day-to-day life. Even when you drop off your 4-year-old daughter at school, you don't know what she's going to do that day, you don't know if other kids are going to be nice to her, or if she gets in trouble for something." 
Still, being in high demand as A-list actors, Krasinski and Blunt have a star nanny, Connie Simpson, to help raise their kids. Connie has a number of famous employers, including Justin Timberlake. She helped John and Emily to feel confident in their parenting role, and to let go of the fear of making a mistake.
A Quiet Place of their own
There were about a million reasons for Blunt and Krasinski to not work together on A Quiet Place. Emily had just given birth to Violet, and she was busy with preparations for the Mary Poppins sequel. The actress said that her mindset back then was too positive for a horror movie, and we can understand that. And just imagine the pressure everyone put on them, saying that this would end with a divorce! Yes, the spouses had been together for about 8 years then, and though John was Emily's biggest fan, they had never actually worked together. And Blunt did admit that her husband was a passionate perfectionist about his work. 
So, at first, Emily did not like the idea of starring in A Quiet Place. But as soon as she read the script, the actress knew she had to be a part of the film. According to Krasinski, when his wife eventually asked to star in the film, he felt like she was proposing to him. Though both were sort of nervous about their collaboration, it turned out even better than anyone could imagine, both on and off the set. No tension or disagreements, but honesty and exchanging of ideas made them even closer.
"For this movie, there's something about us being married that makes it more special," the actor said. "Everyone talks about having a secret language with your spouse, and we only got to communicate through our secret language. Without dialogue, we got to connect."
The couple agreed to leave work at work, and reconnect at the end of the day as partners and parents. Though he was a director and co-writer, John always deferred to his wife on all the big decisions.
"Anything I can think of, she makes 10 times better so that's a pretty good weapon to have on set," shared Krasinski.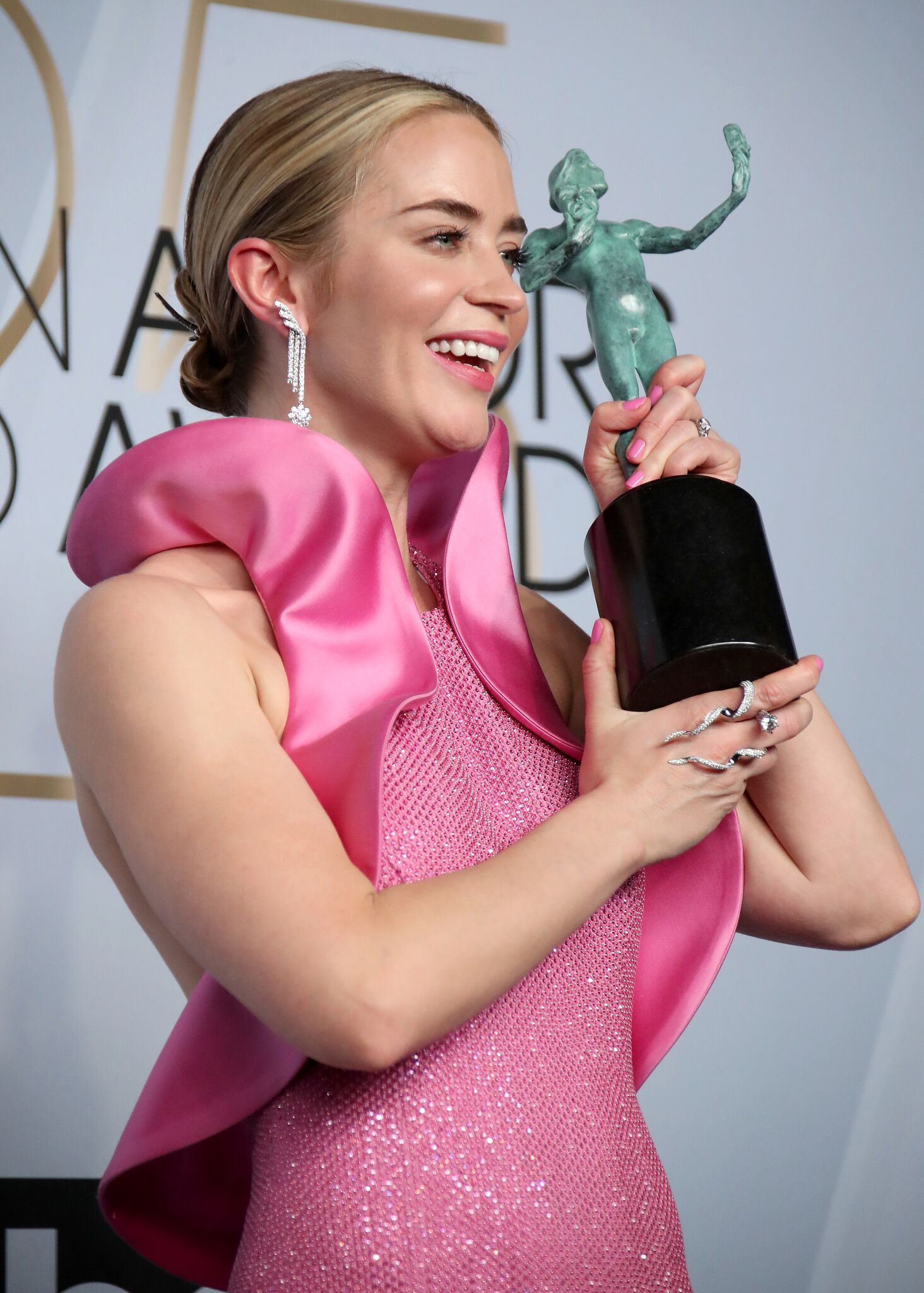 In 2019, Blunt received the SAG award for her role in A Quiet Place, and her acceptance speech was very emotional. But despite the success of the film, A Quiet Place sequel almost didn't happen. John had to convince his wife that the new movie would be as good as the first one, if not better. At first, Emily was strongly against the idea, but she did not want to discourage her hubby. So she asked Krasinski to write a script that could match the first one. And the script was so good that the actress could not refuse. Both spouses perceive the new film as something bigger than the original, and we can't wait to see how they worked their magic together!
The real couple goals
Amazingly, but Krasinski and Blunt have managed to evade any scandalous cheating rumors and left no chance for tabloid speculation. How is that even possible for two Hollywood celebrities? People who have worked with the couple, call them very down-to-earth, caring, kind and fun to be around. The spouses enhance each other's humor, making every joint public appearance hilarious.
Still, despite their somewhat extraordinary lifestyle, Emily and John strive to live a normal, boring life without labels. Krasinski says it feels weird when people get obsessed over his marriage, when in fact they're just like everyone else. Oh, come on, John! How many exemplary celeb marriages can you name, huh? Anyways, the actor and producer calls his wife a hero in every single way and proudly admits that he married up. And Blunt is happy with their union, too: "He is my perfect man. He is funny and warm and bright and confident and a sort of emboldening person to be around."
Neither John nor Emily has a jealous bone in their bodies, and they give each other freedom to live a full life outside of their relationship. One of the main factors behind their happy marriage is the fact that they fully understand and support each other in terms of their challenging profession.
"I'd come home and be like, 'I just danced with 30 lamplighters.'"

"And I'd be like, 'I just killed a child on page 10!'"
The pair always find time for each other, even when their work is on two different continents. When Blunt was filming Mary Poppins in England, Krasinski visited her every weekend, though he too was involved in a project. And whatever these two encounters, their life-changing union makes them invincible.
"Family is the foundation for why we are able to go off and have fun and have these incredible experiences," shared Blunt.
Well, we can only wish for you to find yourself someone who will make you shine like Emily and John do!