Great Pictures of Wildlife at the Chernobyl Exclusion Zone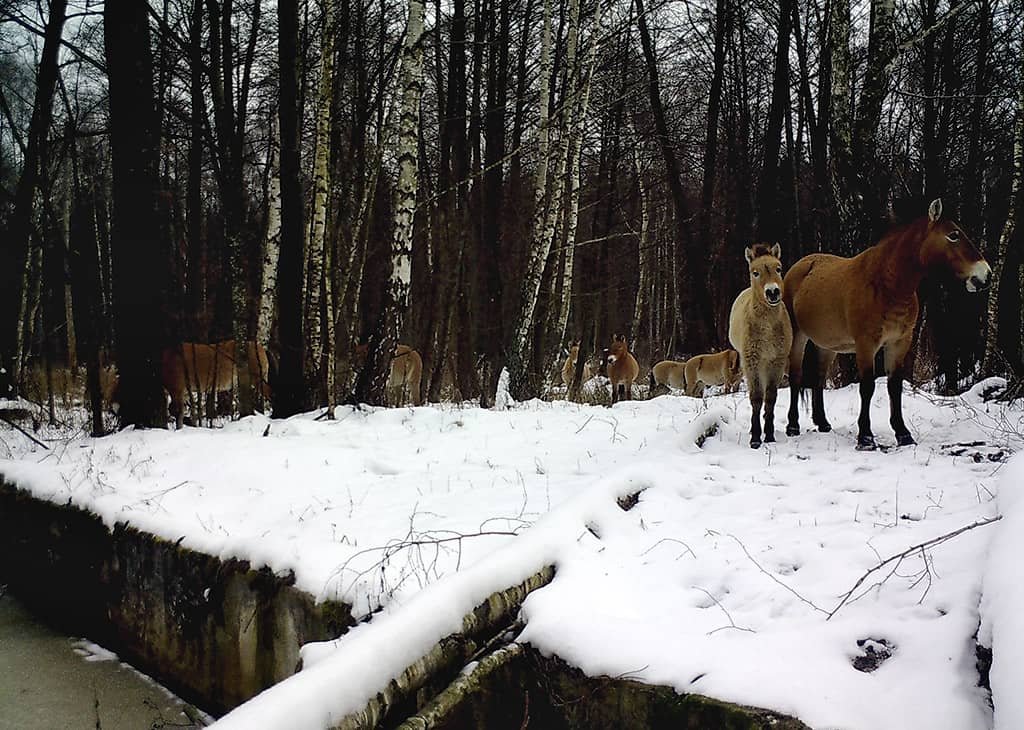 It's almost more than 30 years since the Chernobyl nuclear disaster, and things are only now starting to change in the area. Cameras were set up in the exclusion zone for a five-year project to see how wildlife would return. Sergey Gashchak and his team managed to capture some surprising moments of nature. You won't believe the ones caught at night. Let's take a look!
THE EURASIAN LYNZ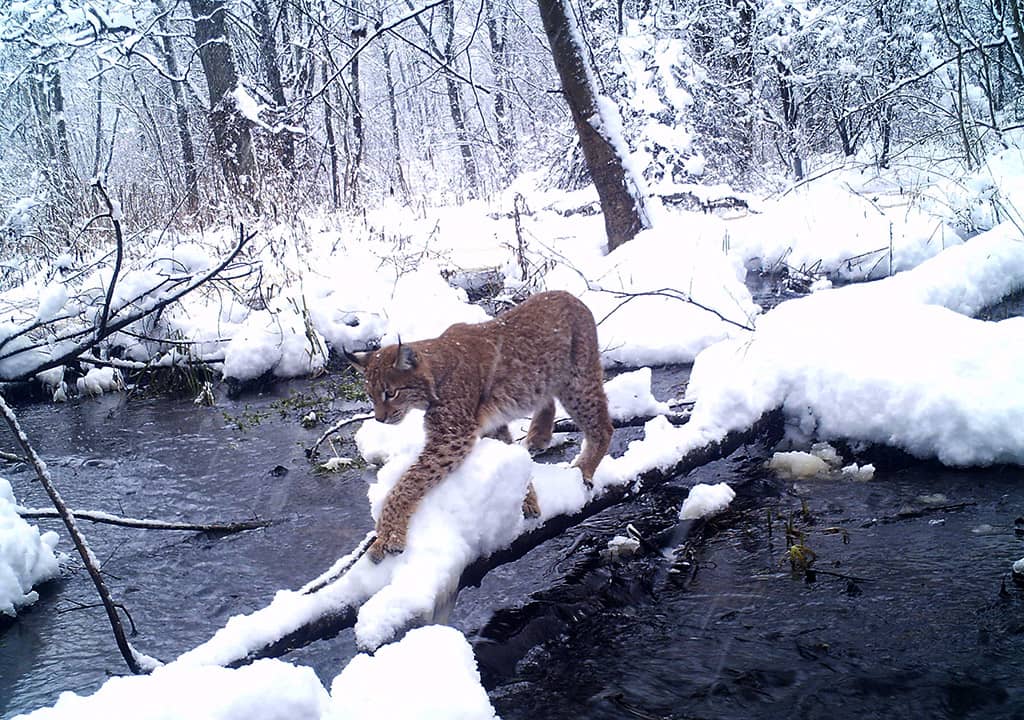 This picture was taken in December 2012 by the cameras. These cute felines can normally found in several parts of Europe, as well as Central Asia, Siberia, and more. They mostly enjoy being in forest areas with altitudes of 5,500 m.
THE RED DEER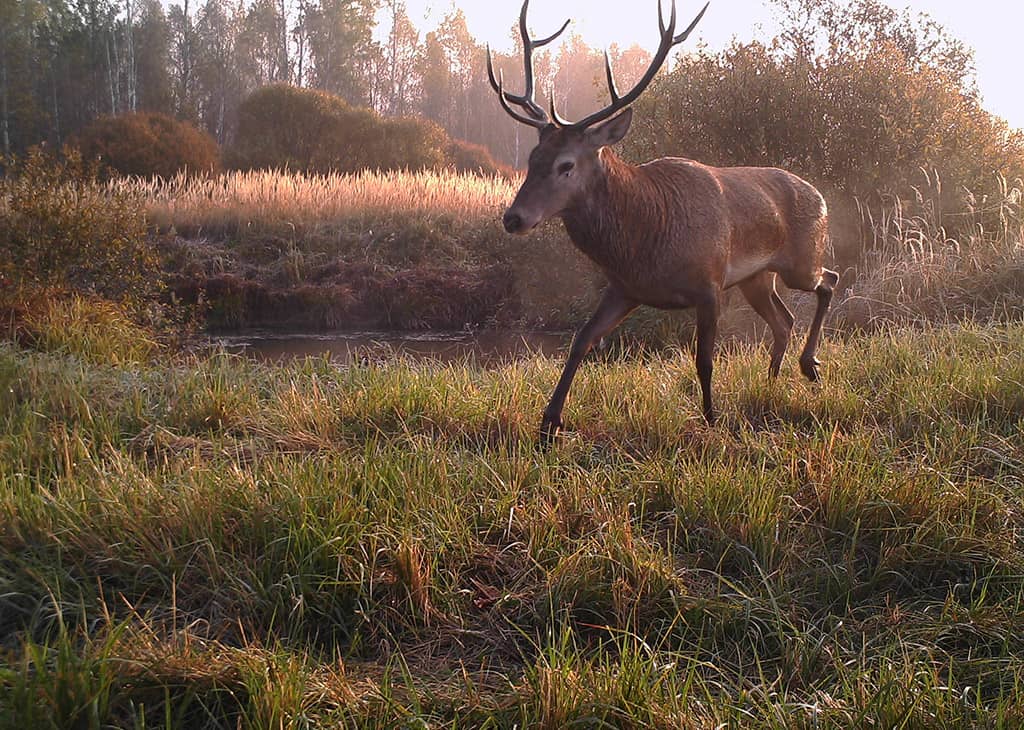 The exact date of this picture was never disclosed, but it was obviously not Winter anymore in Ukraine. This is one of the largest species of deer, and they can be found in Europe, many parts of Aria, Iran, and more. Meanwhile, it seems that biologists are still wondering if the animals are actually doing great in the exclusion zone, according to Jim Beasley of the University of Georgia's Savannah River Ecology Laboratory.
THE WILD BOAR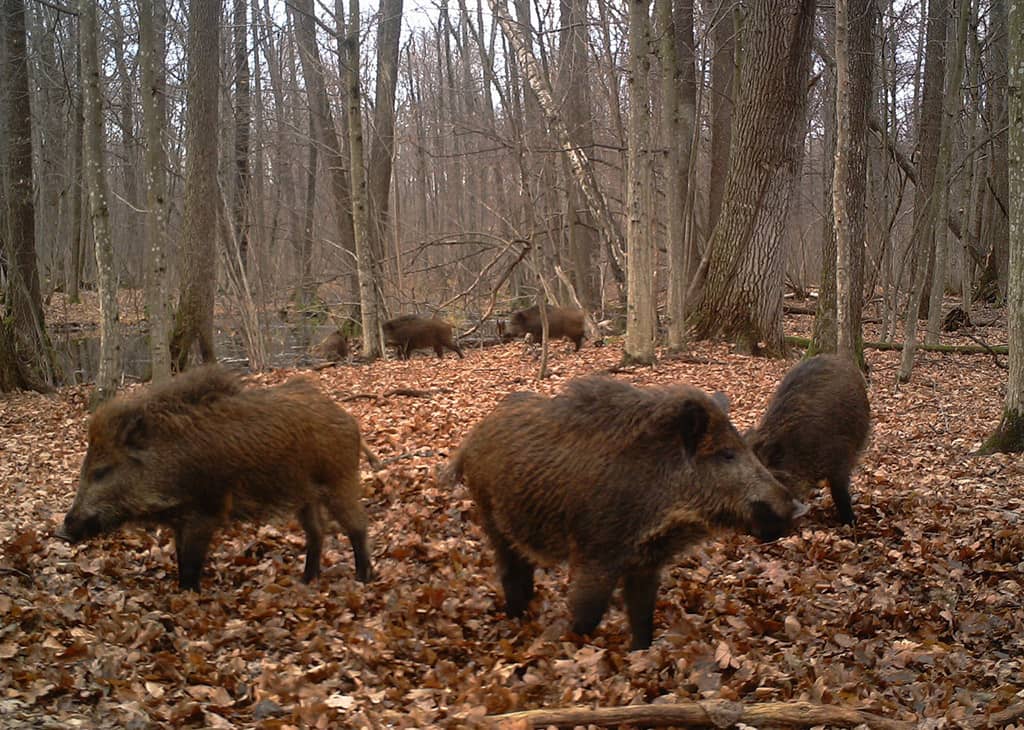 This image was taken in November 2012, once again by Sergey Gashchak and his team at Chernobyl Center, Ukraine. You might remember that Pumba from Disney's 'The Lion King' is a wild boar, and they look just like the animated movie too. The exclusion zone is right at the border between Ukraine and Belarus, and Beasley was surprised that many mammals have gathered at the Belarus side.
A WHITE-TAILED EAGLE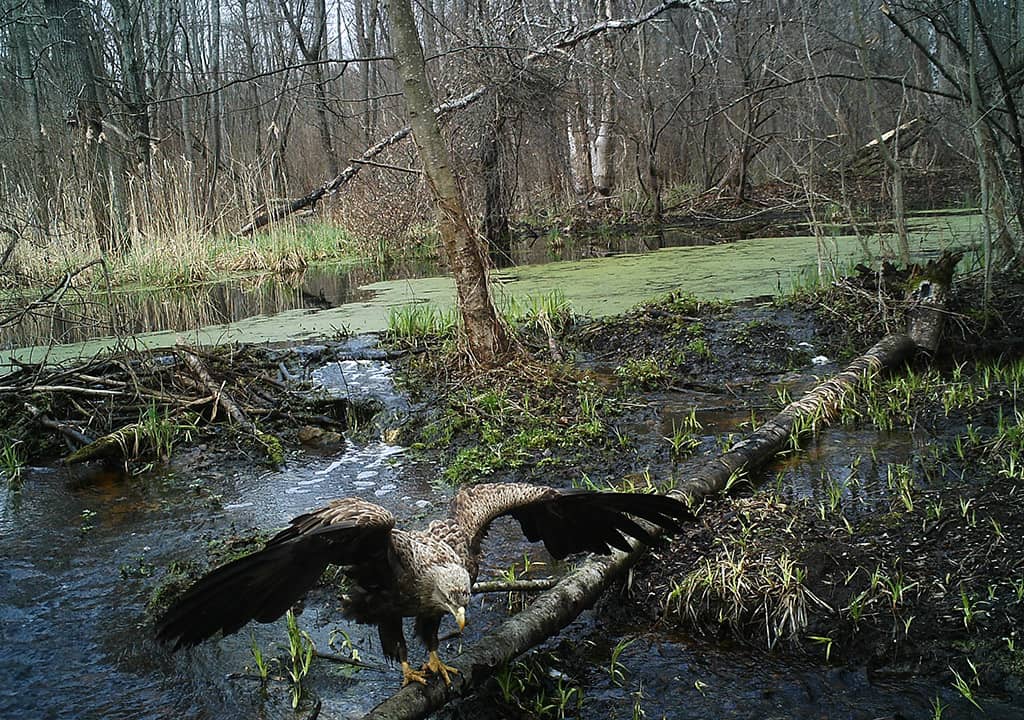 This picture was taken in January 2009, and although eagles are associated with America, there are many species found all over the world. In fact, this one is mostly found in Europe and Asia. Camera traps have been able to capture shots of all kinds of animals like bison, boars, badgers, and even wolves. Beasley says, "It's just incredible. You can't go anywhere without seeing wolves."
THE EUROPEAN CRANE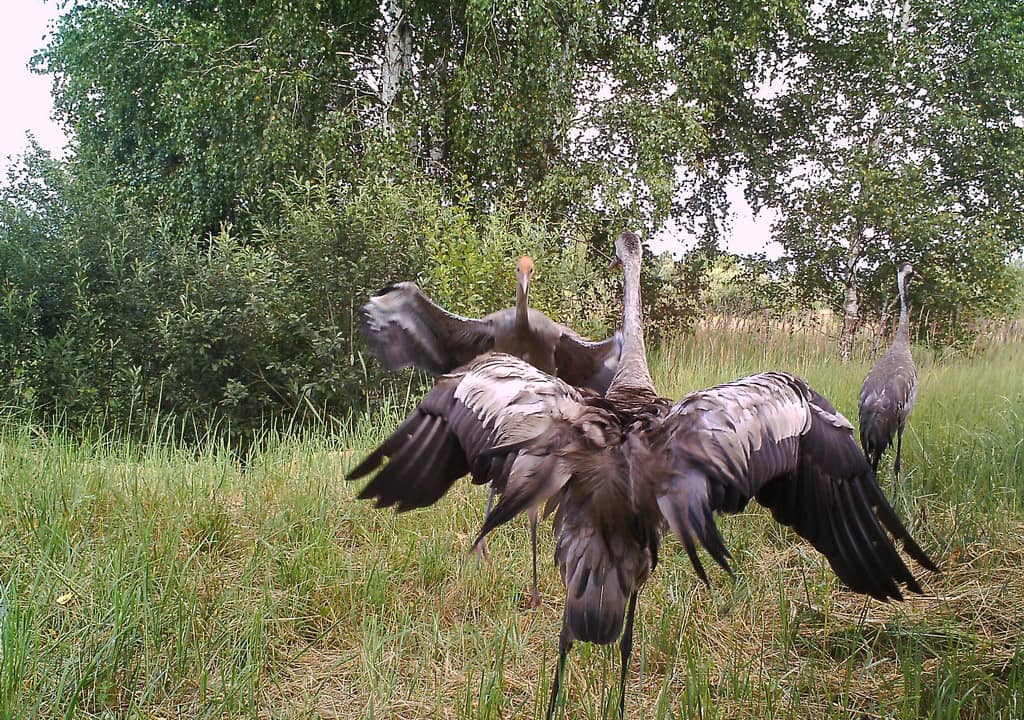 The picture was taken in July 2013 at the Chernobyl center. This whole project took five years, as experts wanted to monitor the zone around the nuclear power plant, which is an area of around 2,600 km2. According to Mike Wood, the project leader, "Our Ukrainian colleague, Sergey Gashchak, had several of his camera traps running in one of our central areas over the past few months in order to start to get a feel for what (wildlife) was there."
THE RED FOX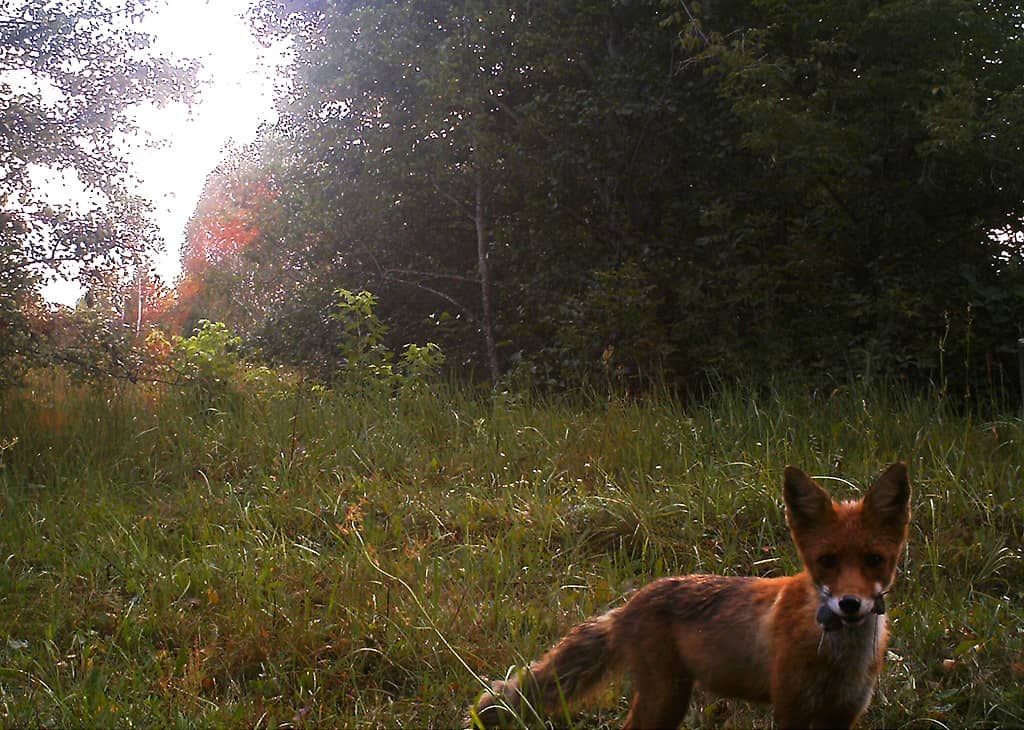 This image was taken in August 2014. The red fox is the largest kind of real foxes, and they can be found all over the northern hemisphere. From the Arctic Circle to North Africa and more. Meanwhile, during National Geographic's John Wendle's investigation, one biologist said that he was not going to find birds or any animal. But, that person was wrong.
A EURASIAN ELK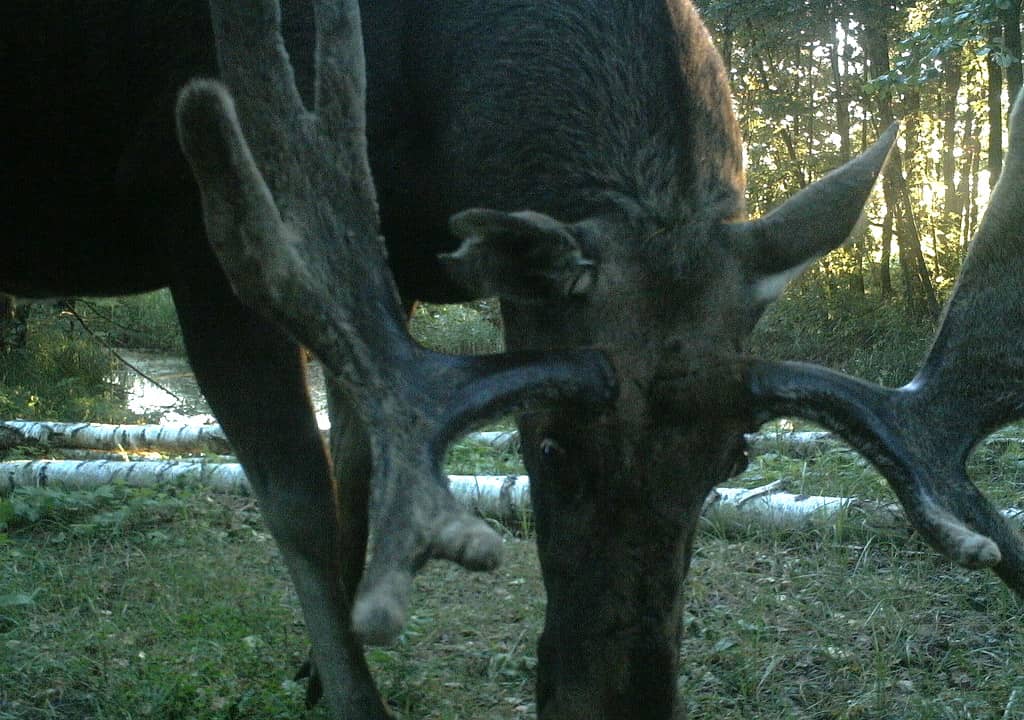 This image was taken in April 2013. The Eurasian Elk is more commonly known as moose, and it's the largest of the deer family. Their antlers are much sturdier, and they are heavier. Meanwhile, Beasley saw all kinds of animals during his exploration of the exclusion zone. So, even though biologists don't know exactly how they are being affected, it's clear that they like the area.
A GOOFY EURASIAN ELK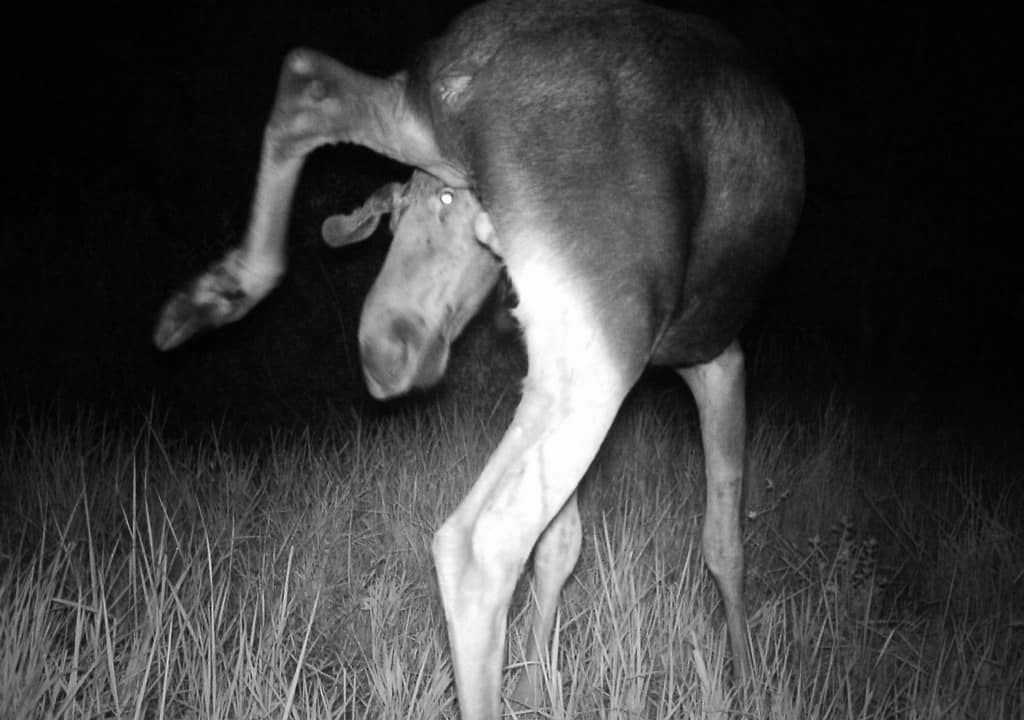 This image of another Eurasian Elk was taken in July 2013, and it's certainly different than the rest on the list. It's almost like the animal knew that someone was watching and made a silly pose. Animals have better sense than we do, and perhaps they know that they can live well in that land now. Many all of the efforts to restore the area after the disaster are finally paying off.
A ROE DEER CLOSEUP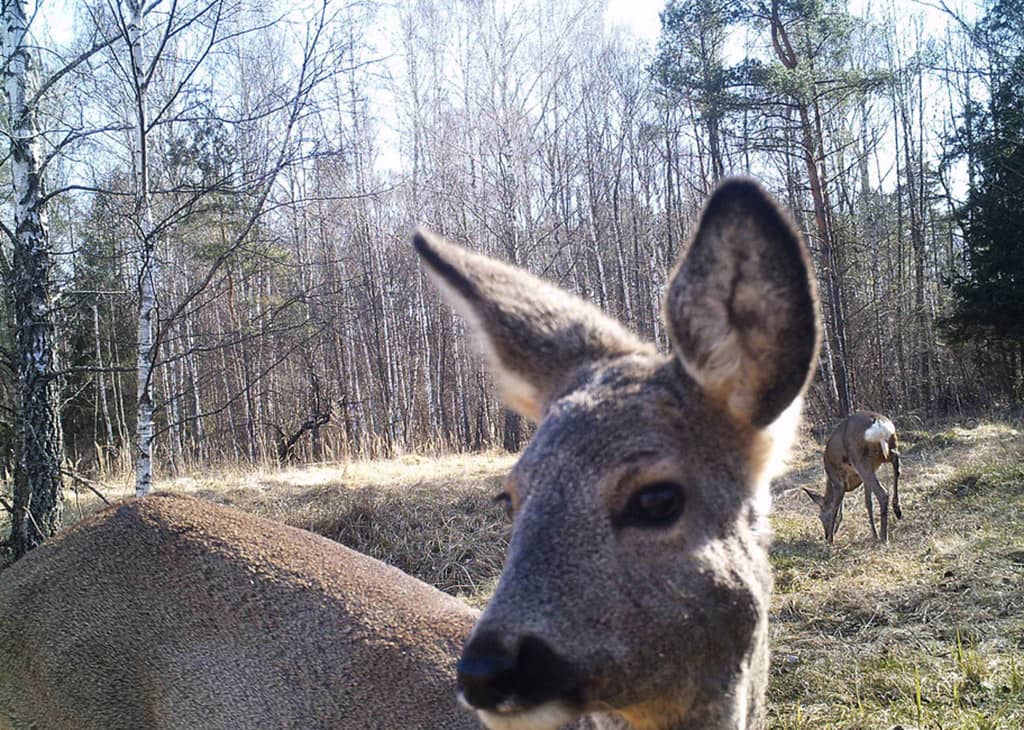 This picture of a roe deer was taken in March 2014 by Sergey Gashchak and his team at the Chernobyl Center. These animals are also known as chevreuil, and the males are sometimes called roebuck. They are a bit small and have red-brownish pelts. They also do great in the cold, which might be why they are thriving in that zone.
A BETTER VIEW OF A ROE DEER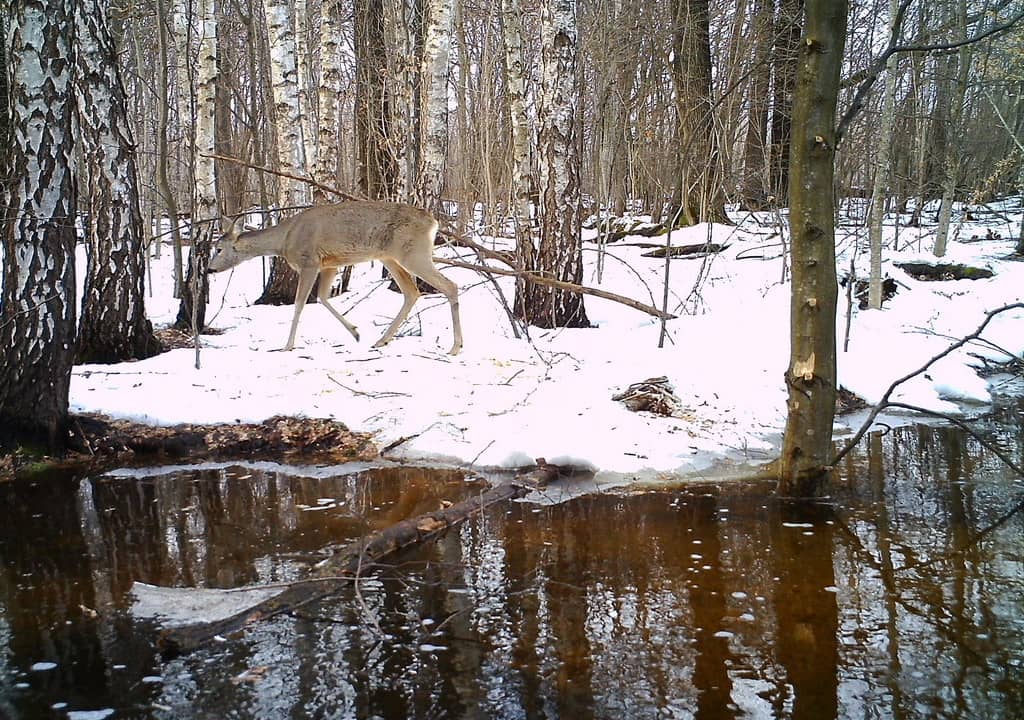 This is a better image of the roe deer, and it was taken in March 2013. It has been more than 30 years since the disaster, and the woods are finally recovering. Meanwhile, the debate on whether the area is safe or not for these creatures still rages on. Some, like Jim Beasley, published that the evidence disproves some studies that said that animals don't go into the exclusion zone.  
THE BROWN BEAR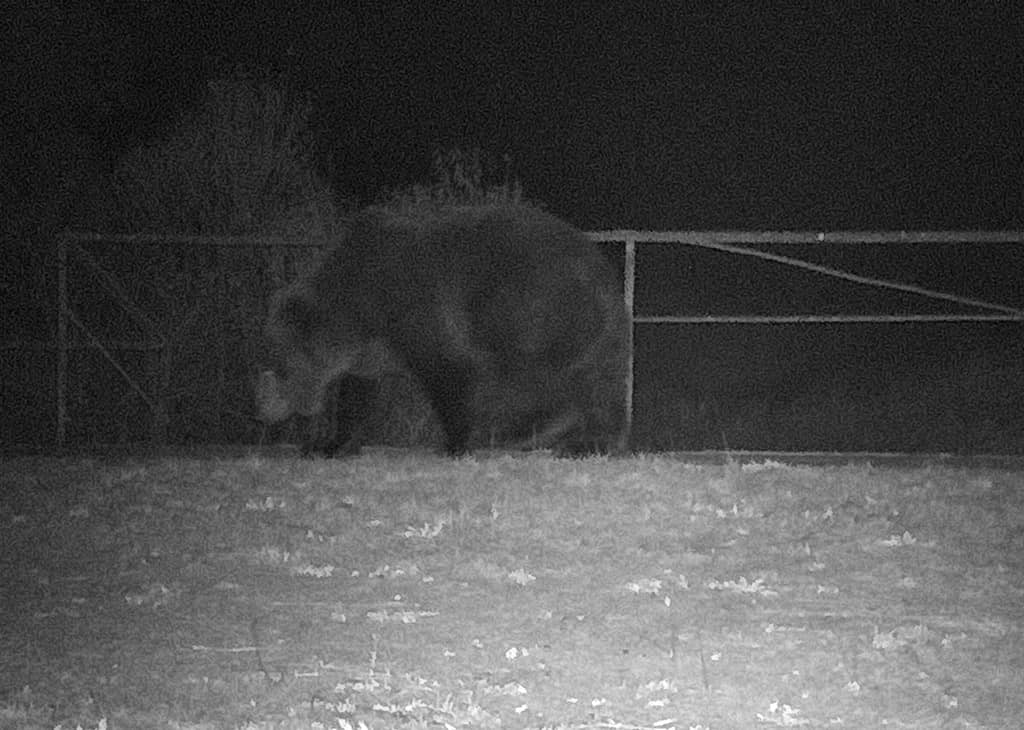 This is another amazing sight, but not just because it's another animal at the Chernobyl Exclusion Zone or CEZ. The fact is that brown bears had not been in that area for more than 100 years. So, everyone was surprised to have caught them on camera. This image was taken in February 2014.
UP CLOSE OF THE BROWN BEAR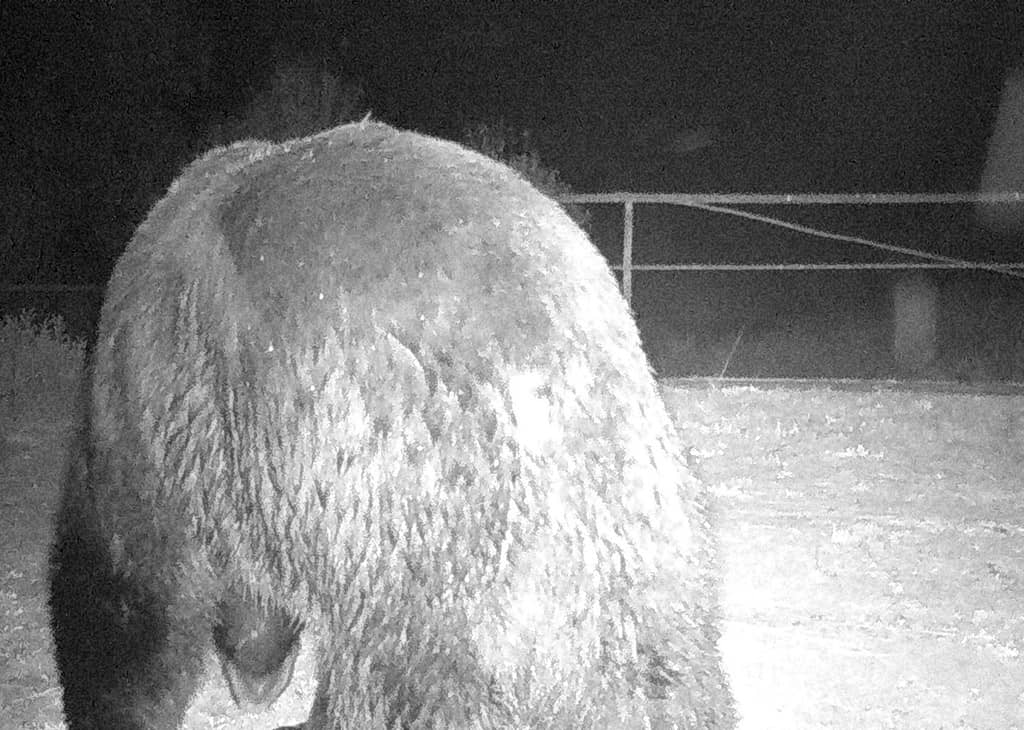 This image was taken in February 2014. It seems that many animals have thrived in the area because there is no human activity. But Anders Pape Møller from the University of Paris-Sud thinks that they are in danger. "Even if the actual dose for one hour is not extremely high, after a week or after a month, it adds up to a lot. These effects are certainly at a level where you could see dramatic consequences."
A PRZEWALSKI'S HORSE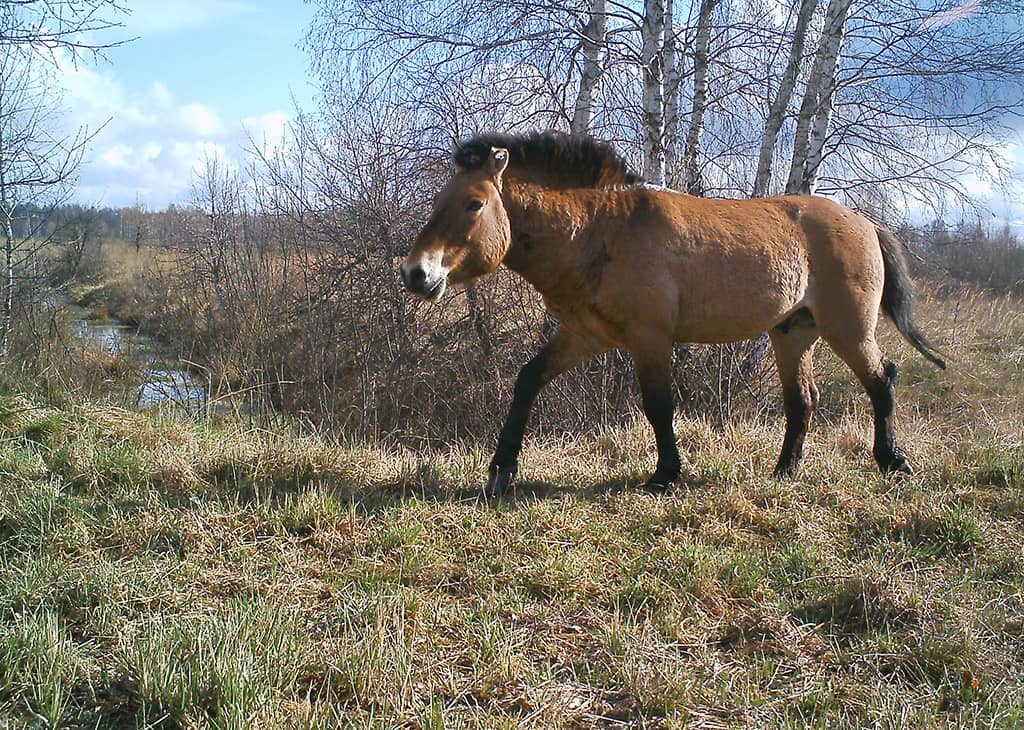 This picture was taken in April 2014, and it's another unbelievable sight because these horses were considered extinct in the wild. There were around 200 members of one herd, but poachers reduced them to 60. These are also known as the Mongolian wild horse or Dzungarian horse. The government of Ukraine is currently trying to make the area a nature preserve to stop poaching.
THE HERD OF PRZEWALSKI'S HORSE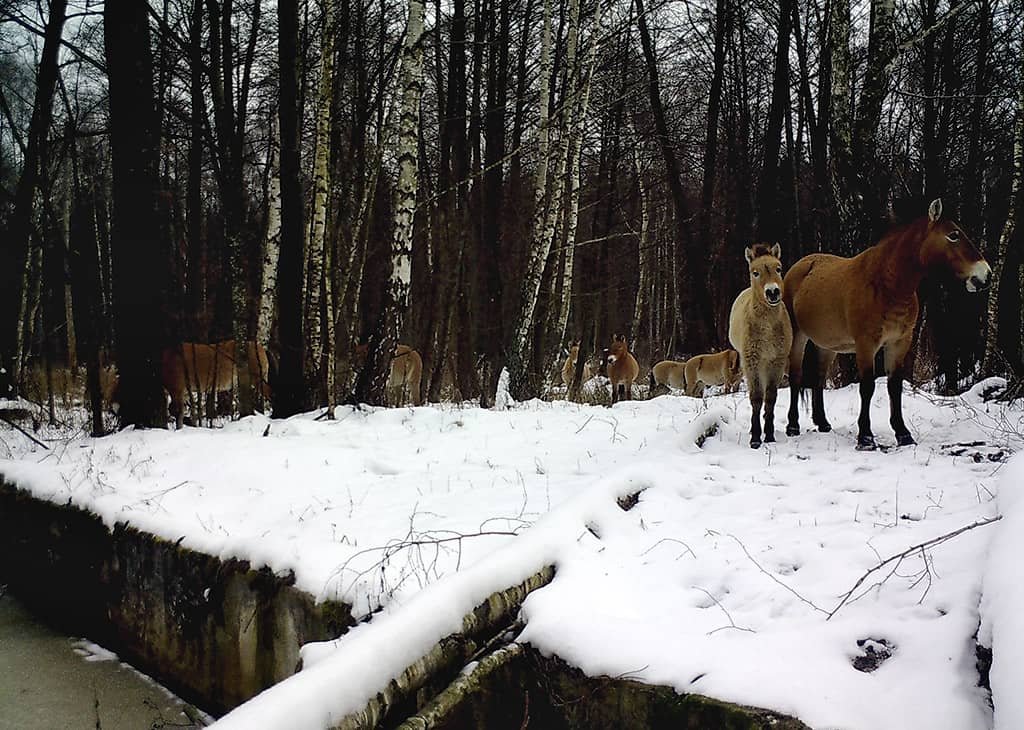 This image was taken in December 2013, and it's completely adorable. We hope that these animals get to live in peace and that poachers are dealt with in the proper manner. The Minister of Ecology and Natural Resources of Ukraine hopes that by making it a nature preserve, they will get more international support to get rangers.
THE FERAL DOG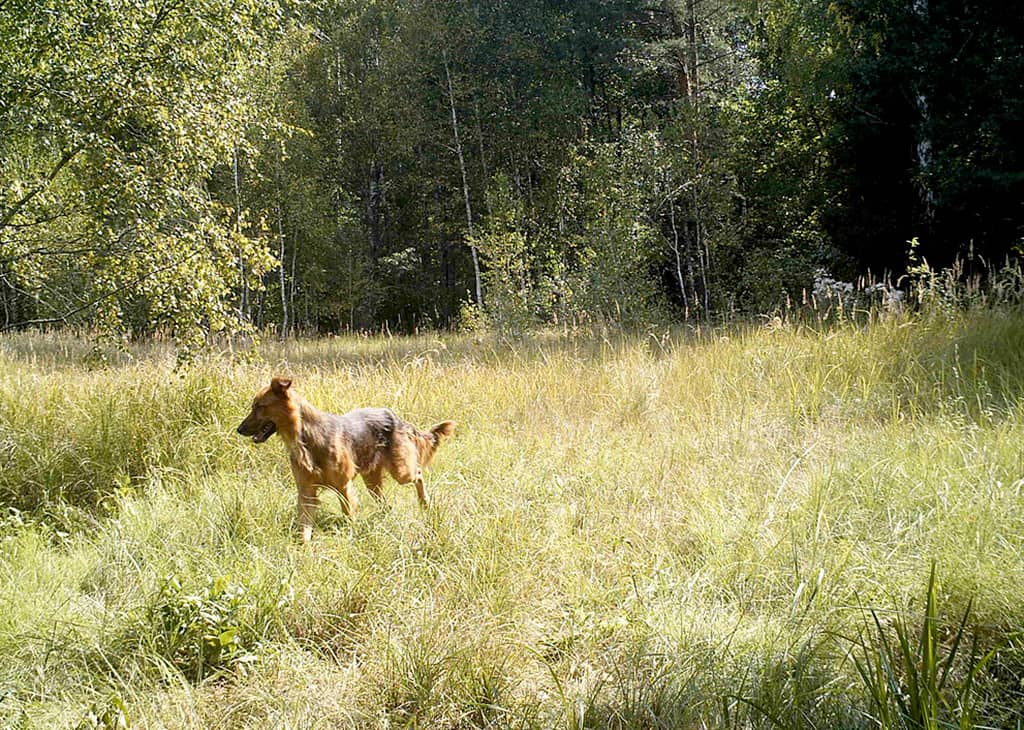 Aside from wildlife, there have been many sightings of dogs, and there's even a movement to get many of Chernobyl's puppies adopted. They have been decontaminated and are ready for a loving home. However, the remaining ones are presumed to be feral now. This image was taken in August 2013.
It's amazing how these creatures are slowly returning to an area that was so dangerous after the explosion. Perhaps, life will return to normal in that spot and other abandoned nuclear sites. Let us know what you think about this project. If you liked this article, share it with your friends who love nature. See you next time!
Source: IB Times, John Caunt, Telegraph, National Geographic