Top 10 Most Lavish Royal Weddings Ranked
Us commoners love a good spectacle. While a lot of us could not imagine buying a wedding gown or a cake for hundreds of thousands of dollars, it's still fun to see how the royals. There is our list of royal weddings with the highest price tags!
All cost estimates were found on TheList.com's Most Expensive Royal Weddings Ever!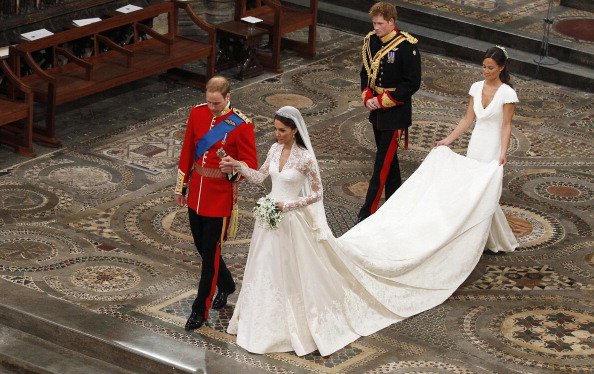 ---
PRINCESS MARGARET AND ANTONY ARMSTRONG-JONES
On May 6, 1960, Princess Margaret, Queen Elizabeth's sister, and Antony Armstrong-Jones became the first royal couple to have their wedding broadcast on television for the world to see. More than 20 million people tuned in to see 2,000 parishioners attend the ceremony at Westminster Abbey.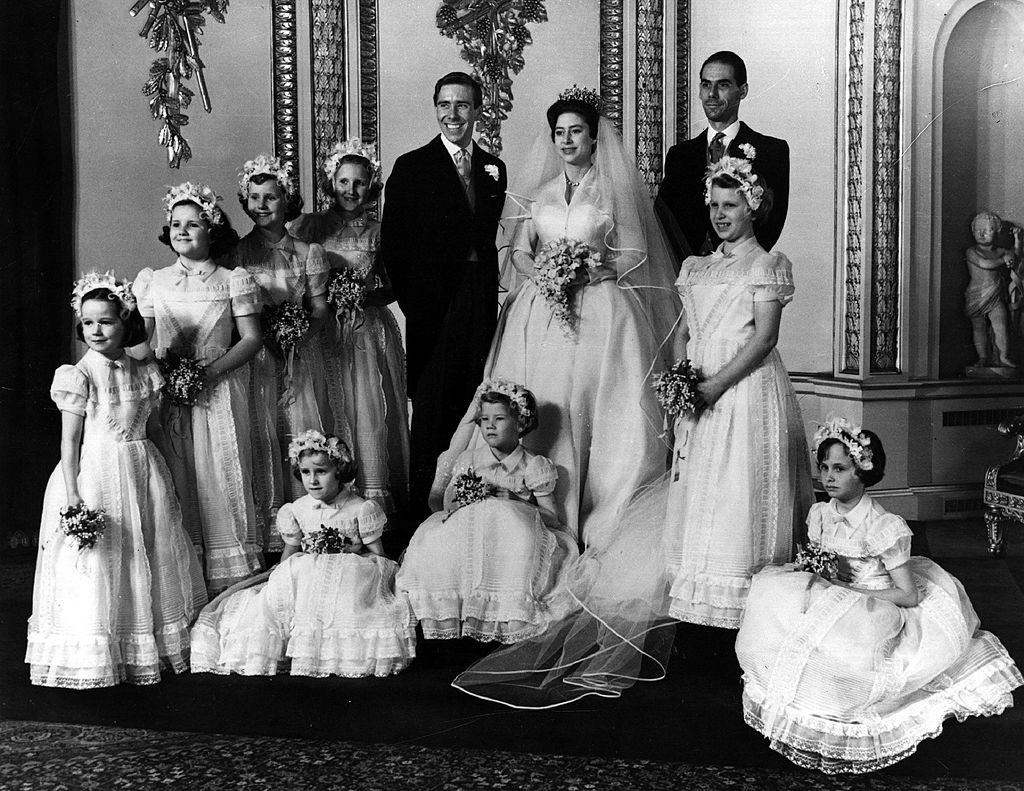 The congregation was led by the Archbishop of Canterbury, Geoffrey Fisher. Margaret wore a silk dress, designed by the royal couturier, Norman Hartnell. The skirt was made of 33 yards of fabric and a minimum of embellishments and beading. It was estimated that the wedding cost up to £26,000 which is about £168,700, or $212,000 after inflation!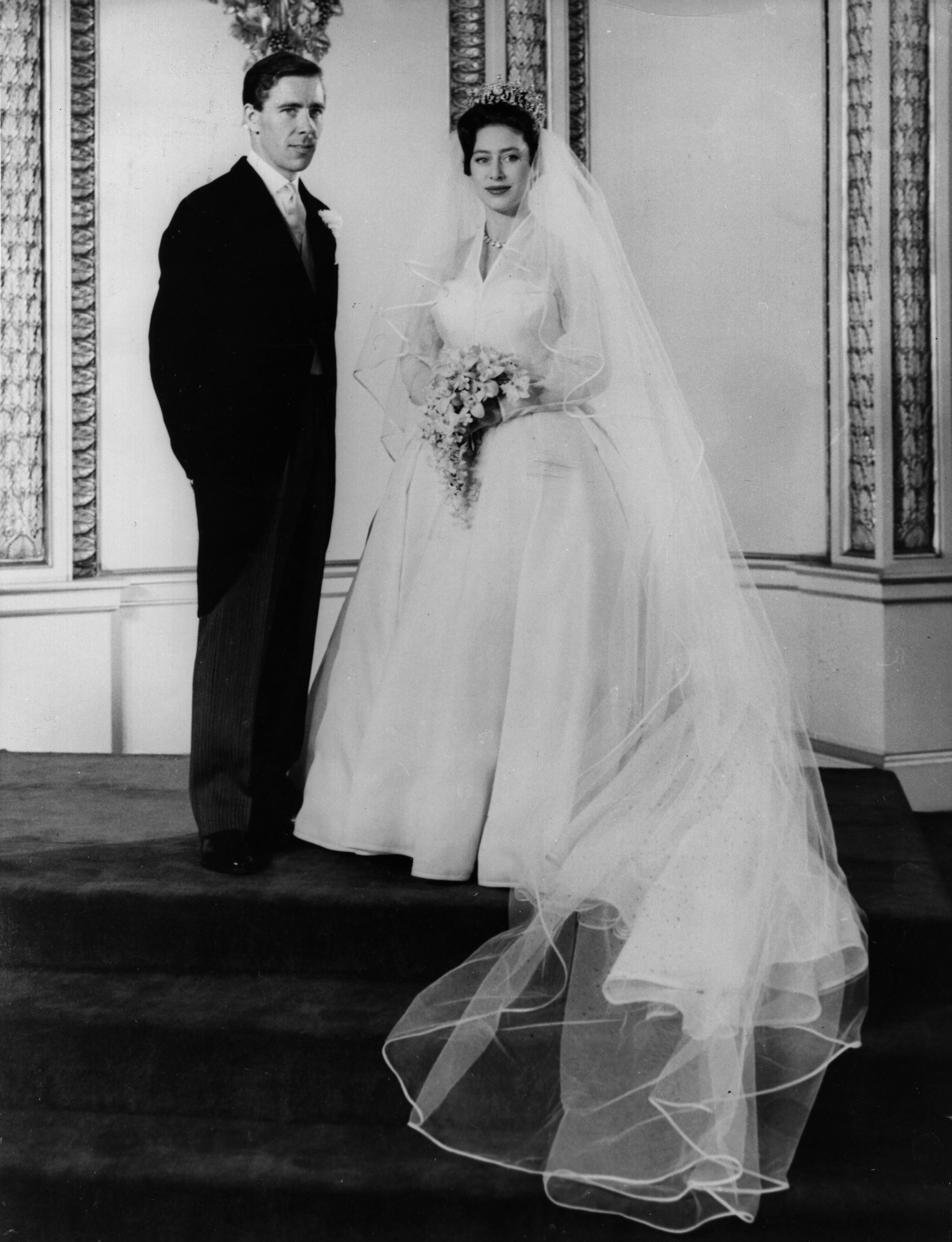 ---
THE POLTIMORE TIARA
The antique tiara was originally made for the wife of the household treasurer for Queen Victoria, Baron Poltimore. Garrard created the tiara for Lady Baltimore in 1870! The vintage piece was bought at an auction by the princess herself in 1959. The historic possession sold for £926,400 at an auction hosted by Christie's in London. The buyer is unknown.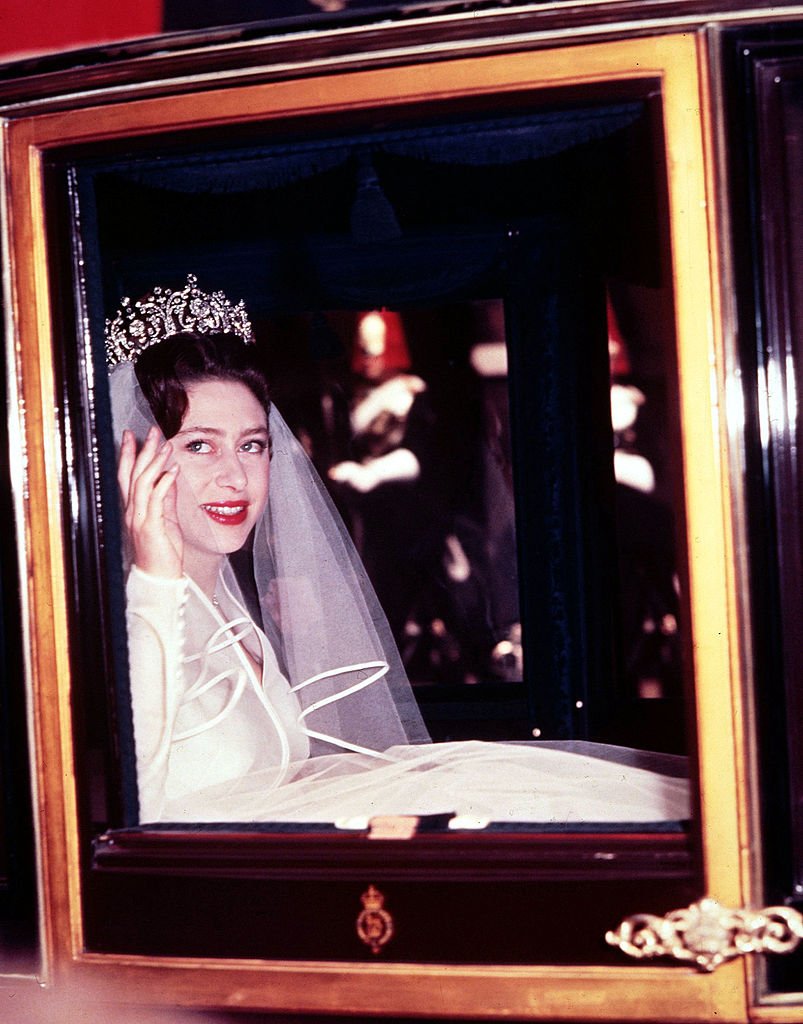 ---
PRINCE RAINIER III AND GRACE KELLY
Meghan Markle wasn't the first American actress to marry into a royal family! Grace Kelly was a well-known Hollywood actress from the early to mid-1950s for her roles in Alfred Hitchcock films. She made quite an exit from her successful filmography on April 18, 1956, when she wed the Prince of Monaco, Rainier Grimaldi III.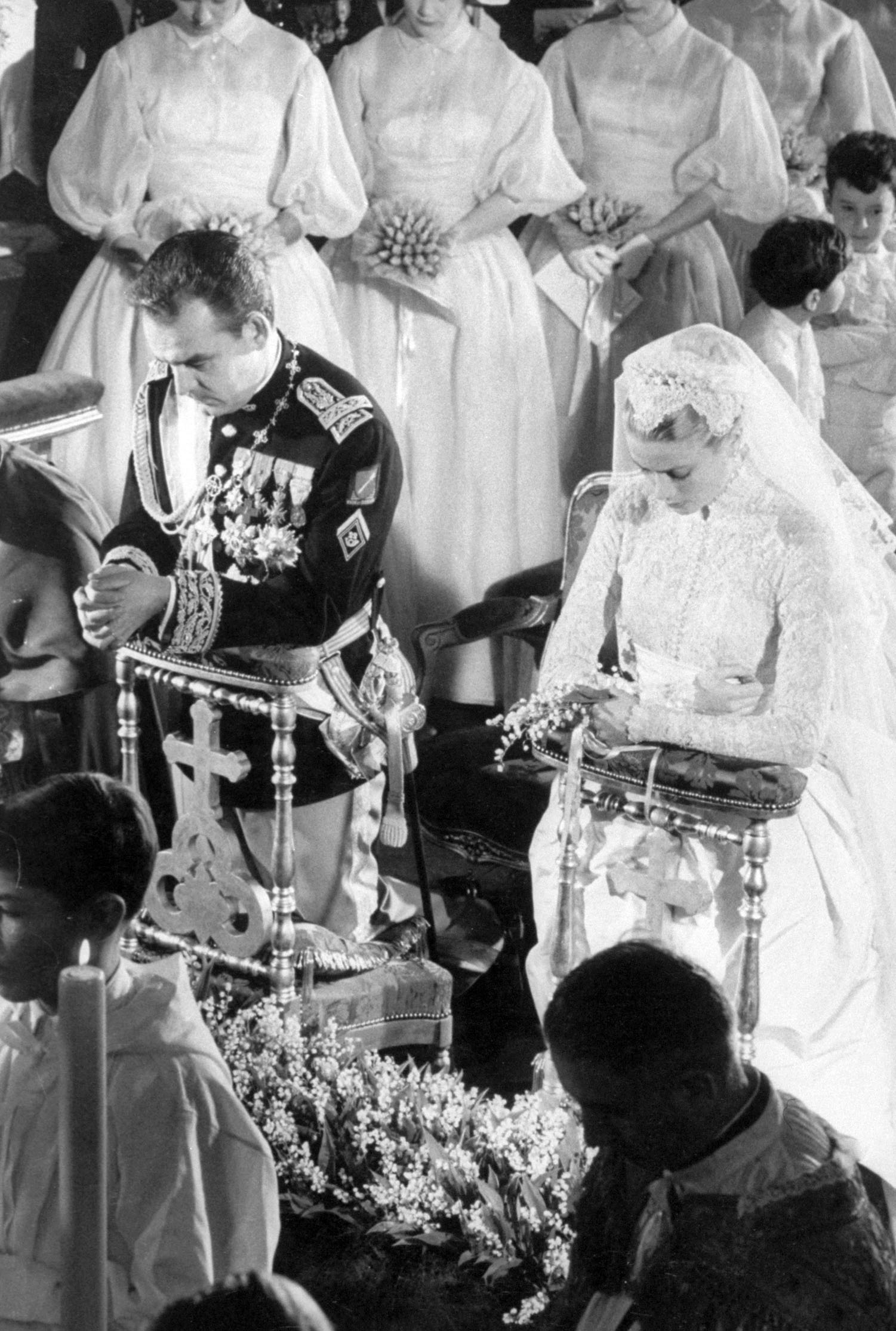 Kelly brought a little piece of Hollywood with her. Her wedding dress was a gift from MGM studios and designed by costume designer, Helen Rose. The antique lace gown featuring hundreds of pearls required six weeks and 30 seamstresses to complete. Instead of a tiara, Kelly wore a Juliet cap with a 90-yard tulle and lace veil.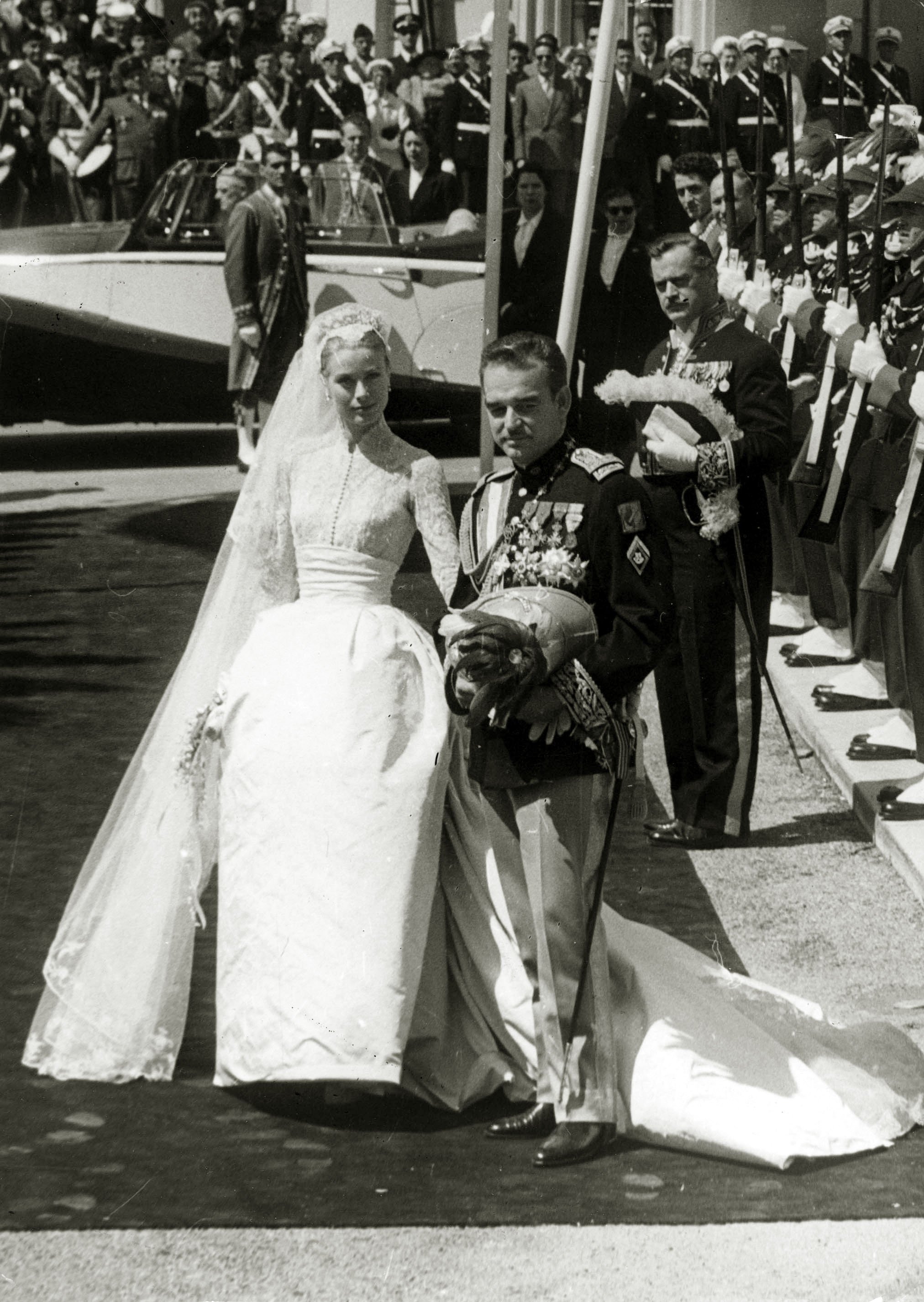 ---
THE AFTER PARTY
The couple exchanged vows in front of a congregation of 700 people. The afterparty menu included lobster, champagne, caviar, and a six-tier, 200-pound cake topped with a cage holding a pair of live turtle doves. Her father, millionaire Jack Kelly, also needed to provide a dowry of $2 million before his daughter could marry the prince.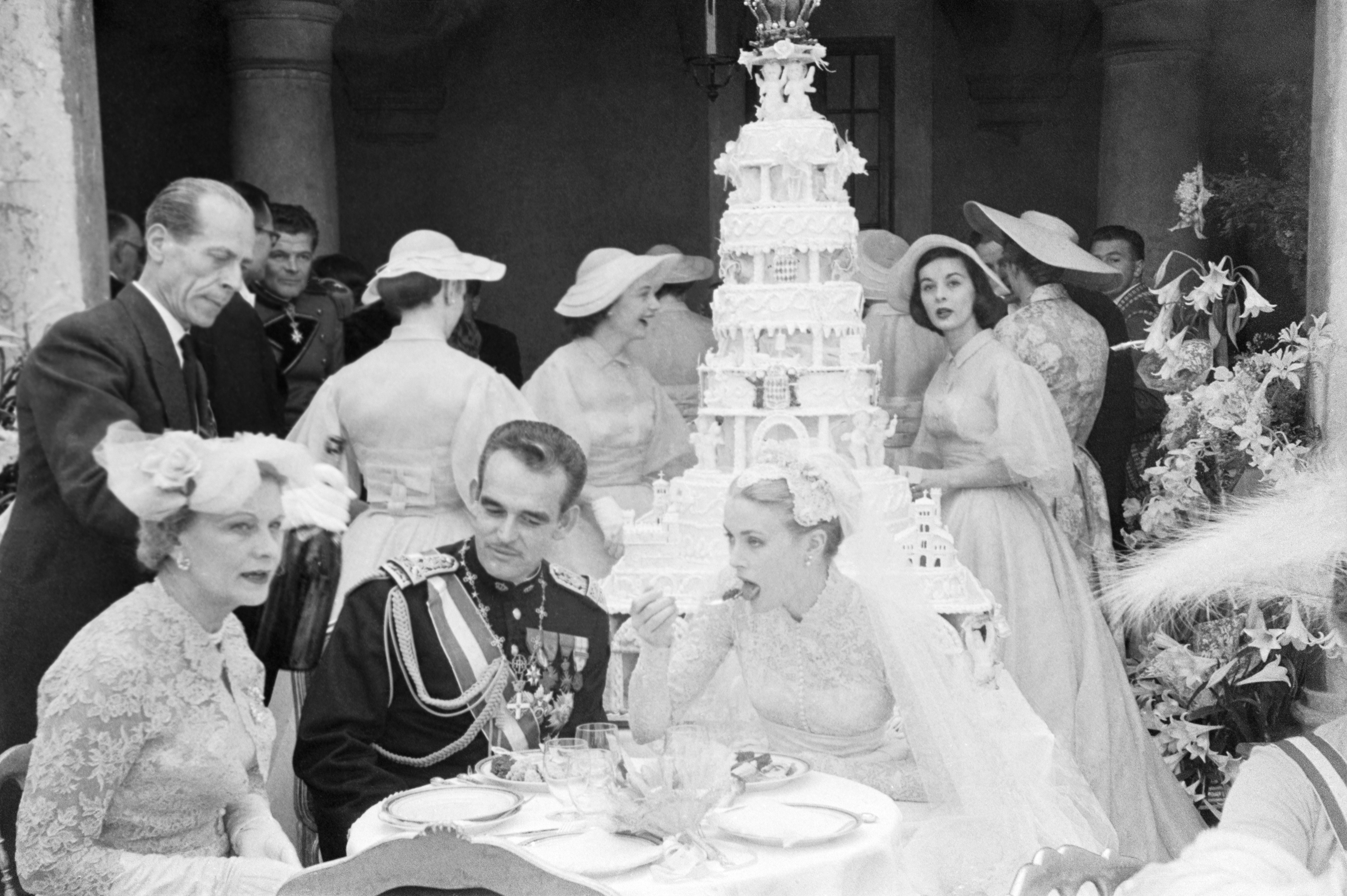 ---
SWEDISH CROWN PRINCESS VICTORIA AND DANIEL WESTLING
This romance started off surprisingly really modern. Swedish Crown Princess Victoria married her fitness trainer Daniel Westling in 2010, against her father's wishes, King Carl XVI Gustaf. The venue that the ceremony took place in may be familiar to those who follow the Swedish royals. The Storkyrkan Cathedral was the same venue used by the princess' parents 34 years before.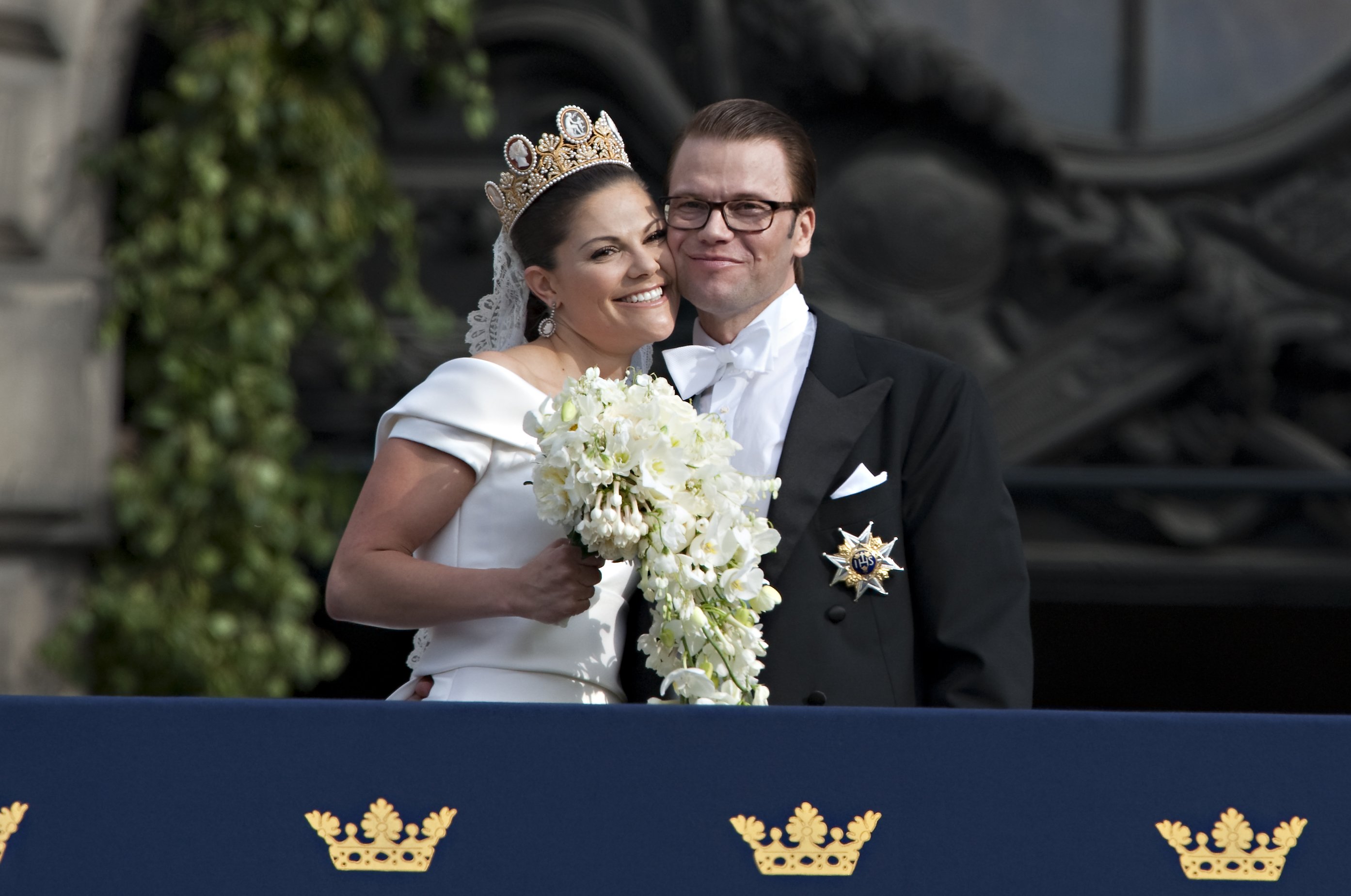 The June 19th wedding cost about 20 million kronor, or $2.63 million. The Princess' silk dress was designed by Swedish designer Par Engsheden and had a 15-foot train. Victoria brought a few pieces of history into the big day -- she wore the exact same veil and crown that her mother and grandmother wore at their own weddings!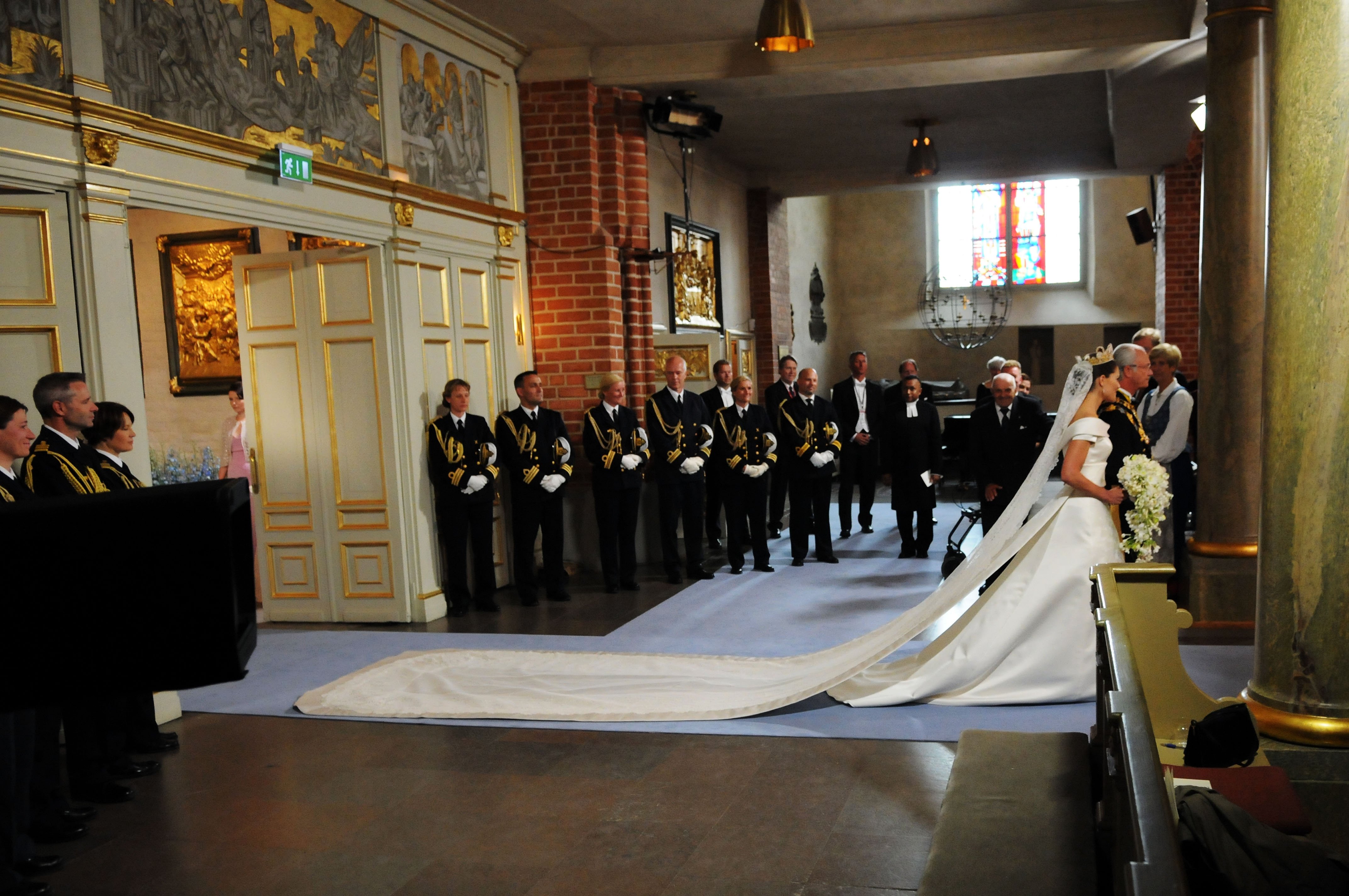 ---
PRINCESS EUGENIE AND JACK BROOKSBANK
Princess Eugenie married her longtime partner Jack Brooksbank during Libra season on October 12, 2018. The ceremony took place at George's Chapel at Windsor Castle — the same venue Eugenie's cousin, Harry, and Meghan Markle used. The royal wedding was estimated to have cost about £2.7 million. That is, $3.3 million.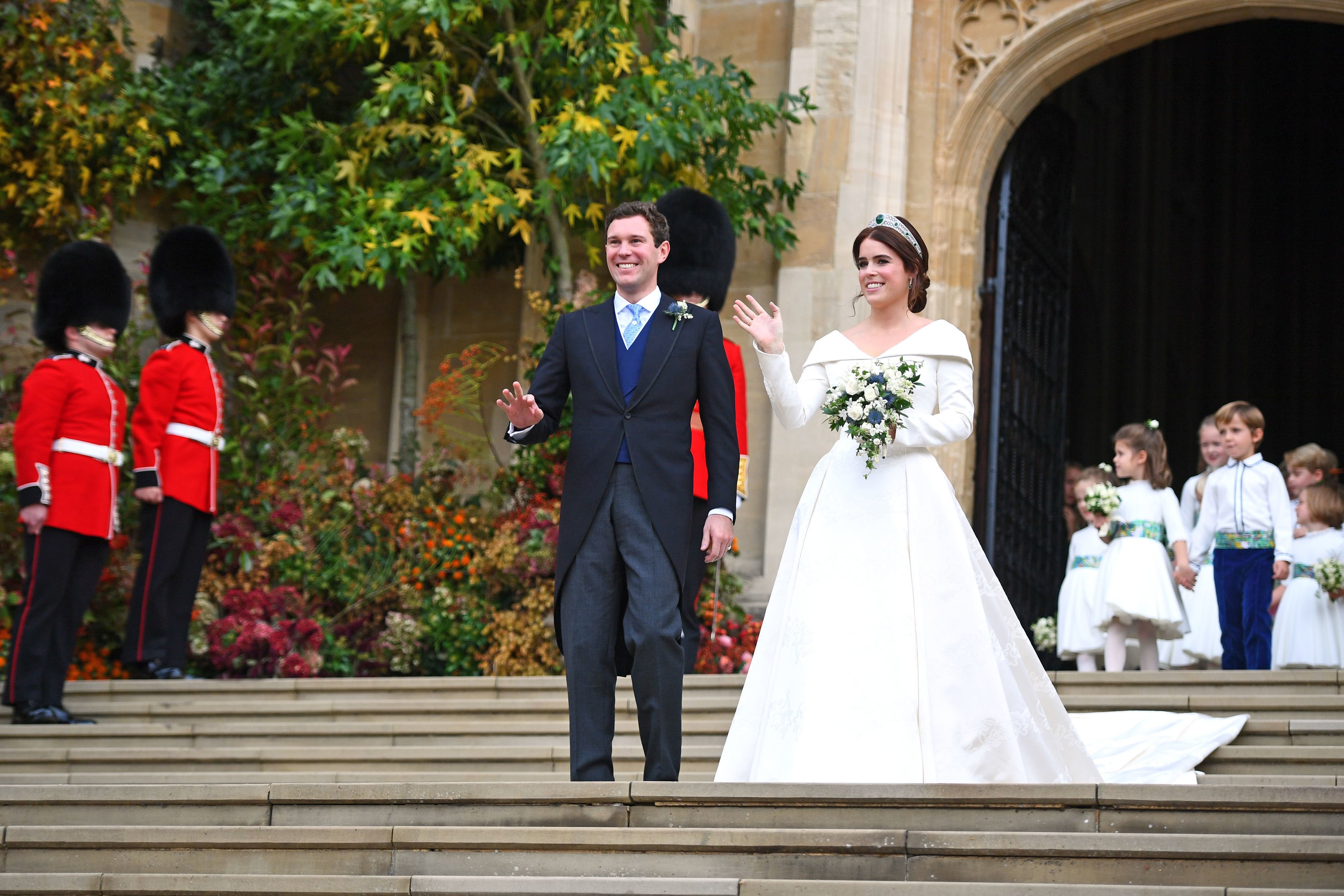 Like many royal brides, Eugenie wore two different dresses on her special day. The first gown was designed by Peter Pilotto and Christopher De Vos and featured a number of small symbols important to the princess like a Shamrock that represented Ireland. The second dress was a blush gown by Zac Posen, inspired by the shade of an English rose.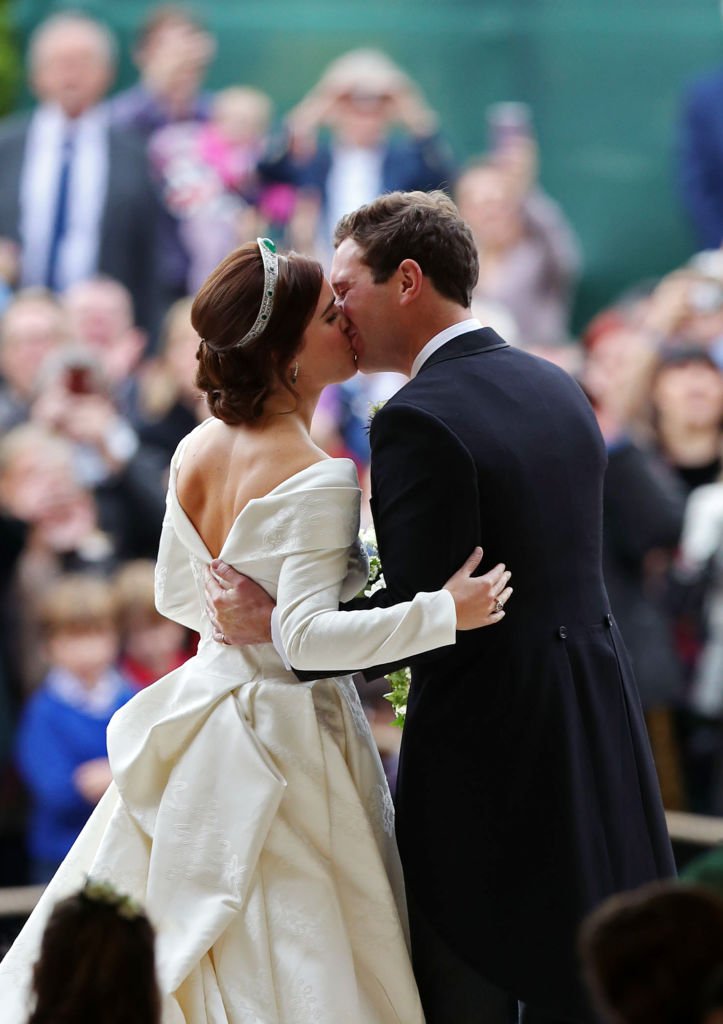 ---
CROWN PRINCE PAVLOS OF GREECE AND MARIE-CHANTAL MILLER
Exiled Crown Prince Pavlos and his bride had met on a blind date 1992, to which Marie-Chantal would call "love at first sight," in a 2008 interview with Vanity Fair. The couple would marry fast! The wedding happened six months after the proposal, on July 1, 1995, at St. Sophia Cathedral in London.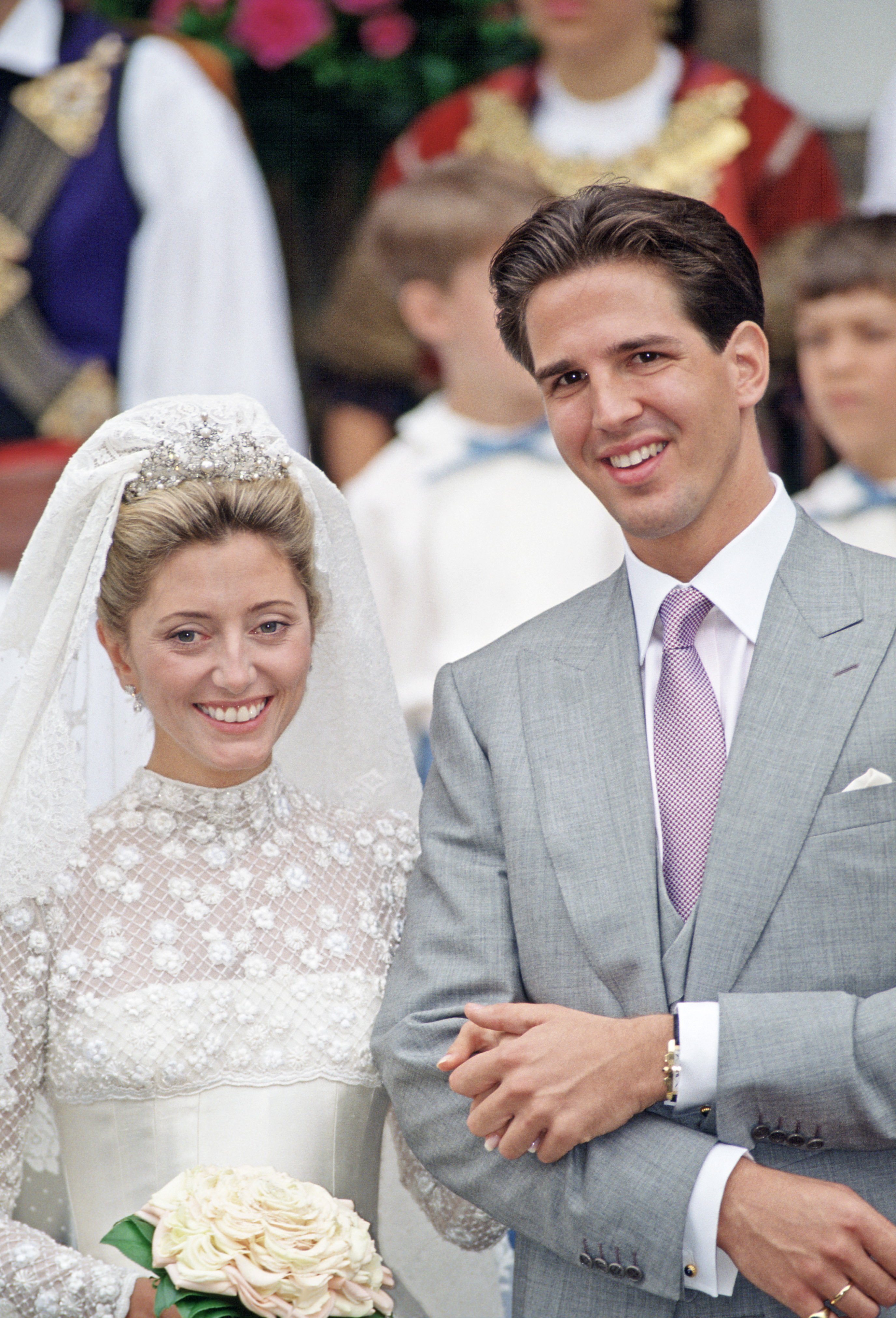 The bride wore an ivory silk, pearl-encrusted Valentino gown for the ceremony, which had taken 25 seamstresses and four months to complete. Before the couple's wedding, Marie-Chantal's father would pay a $258 million dowry. The celebration had over 1,300 guests in attendance and would cost an estimated $7 million.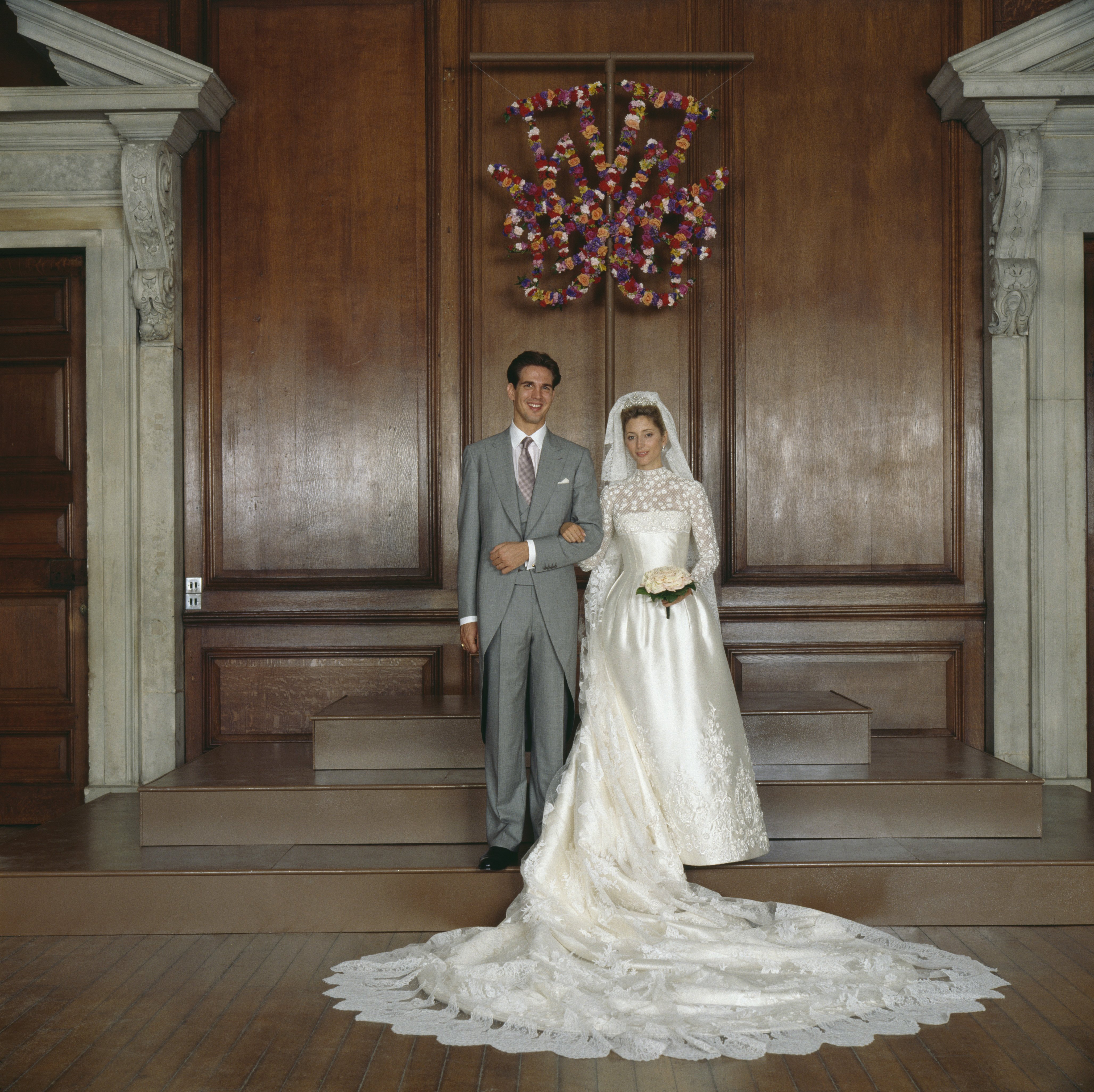 ---
SPANISH CROWN PRINCE FELIPE AND LETIZIA ORTIZ ROCASOLANO
The former international journalist for Spanish National TV married the Prince of Spain on May 22, 2004, at the Santa María la Real de La Almudena Cathedral in Madrid, Spain. The bride rode to the venue with her father Jesús José Ortiz Álvarez. According to BBC Mundo, the wedding had cost over $25 million. 
Why was the cost so hefty? Taking place two months after a terrorist attack in Madrid, the big day had to employ 20,000 police officers for security and had a guest list of over 1,700 people including 30 heads-of-state. Letizia wore a silk gown woven with Valencia silk designed by couturier Manuel Pertegaz.with a 10-foot, hand-embroidered veil.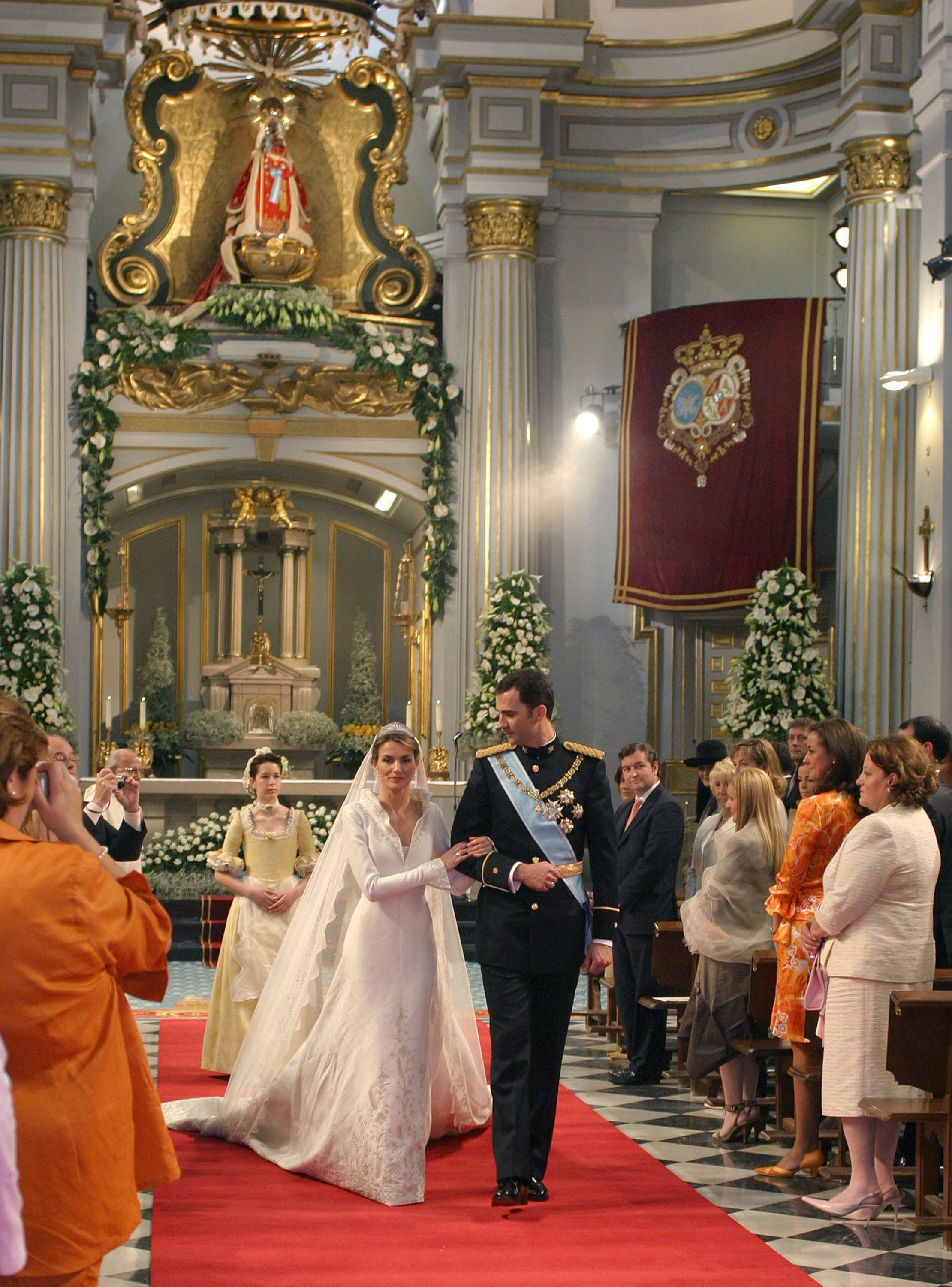 ---
PRINCE WILLIAM AND KATE MIDDLETON
Prince William and Kate Middleton's highly anticipated wedding was one of the biggest events of the early 2010s. The Westminster Abbey wedding happened on April 29, 2011, and was reported to have totaled  £23.7 million, or $34 million, with Kate's family making a six-figure contribution. CBS News revealed that all but $2 million went toward paying for security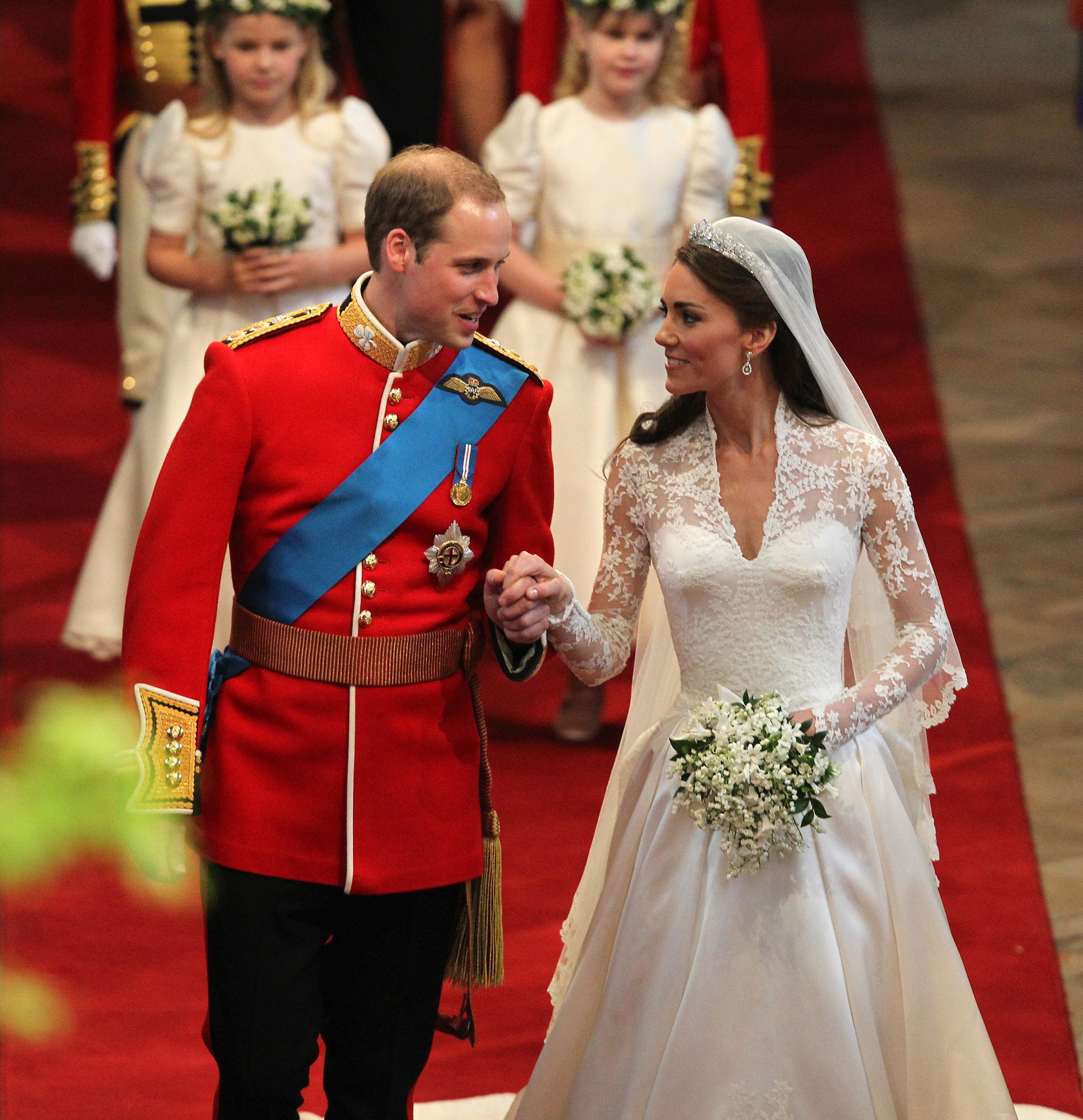 The $434,000, Victorian-style dress had a nearly nine-foot-long train. The dress was designed by Alexander McQueen creative director Sarah Burton and featured handmade lace appliqué sewn at the Royal School of Needlework, based at Hampton Court Palace. For the big day, Middleton borrowed the Queen's Cartier Halo tiara which was purchased by King George VI, Elizabeth's father.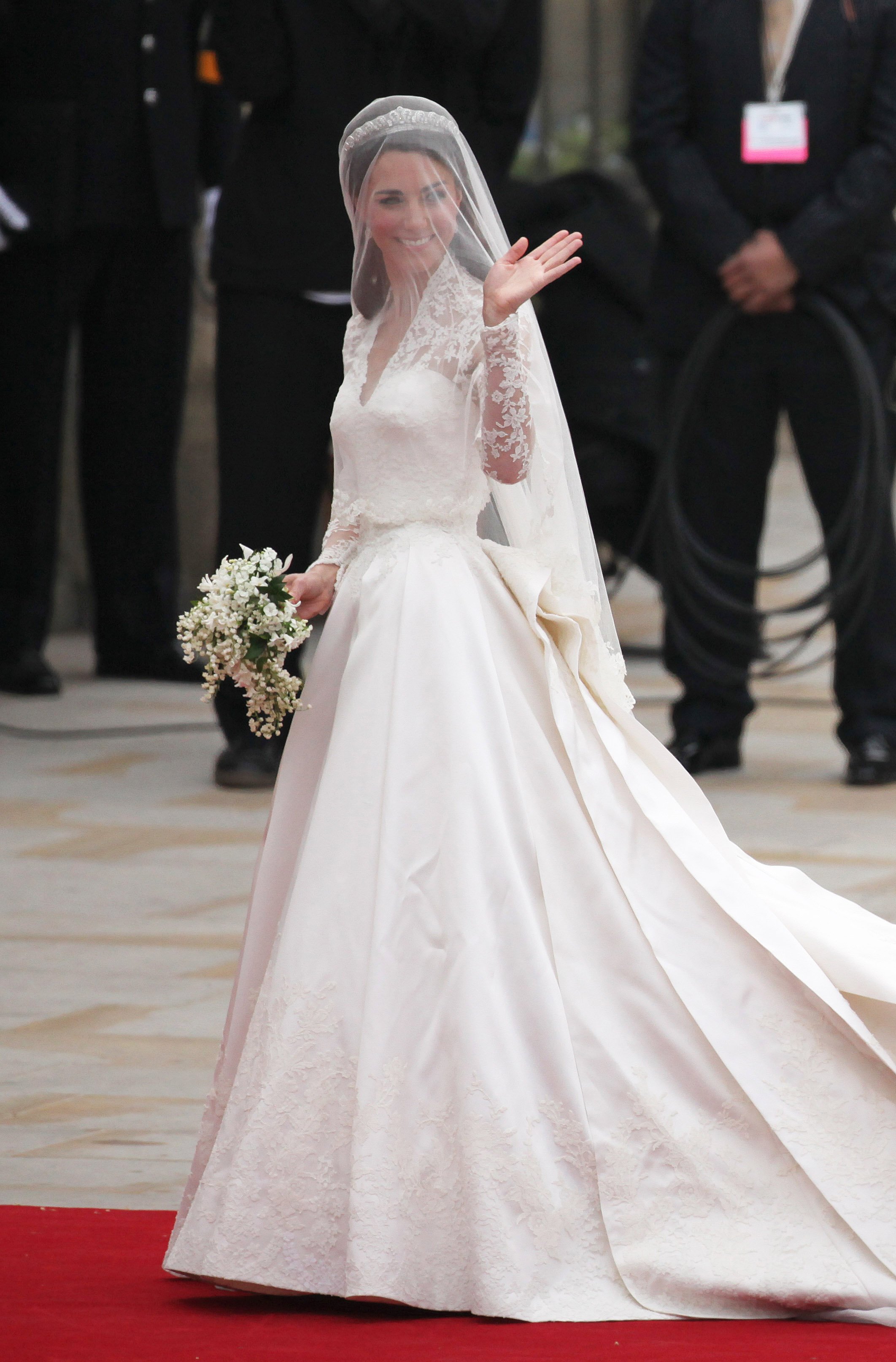 ---
PRINCE HARRY AND MEGHAN MARKLE
The most recent wedding on the list happened just two years ago. Like Prince Monaco, Harry married American actress, Meghan Markle on May 19, 2018. The couple wed at St. George's Chapel at Windsor Castle, which was considered the highest expense other than security. The total wedding cost was around $42 million with $38 million spent on security.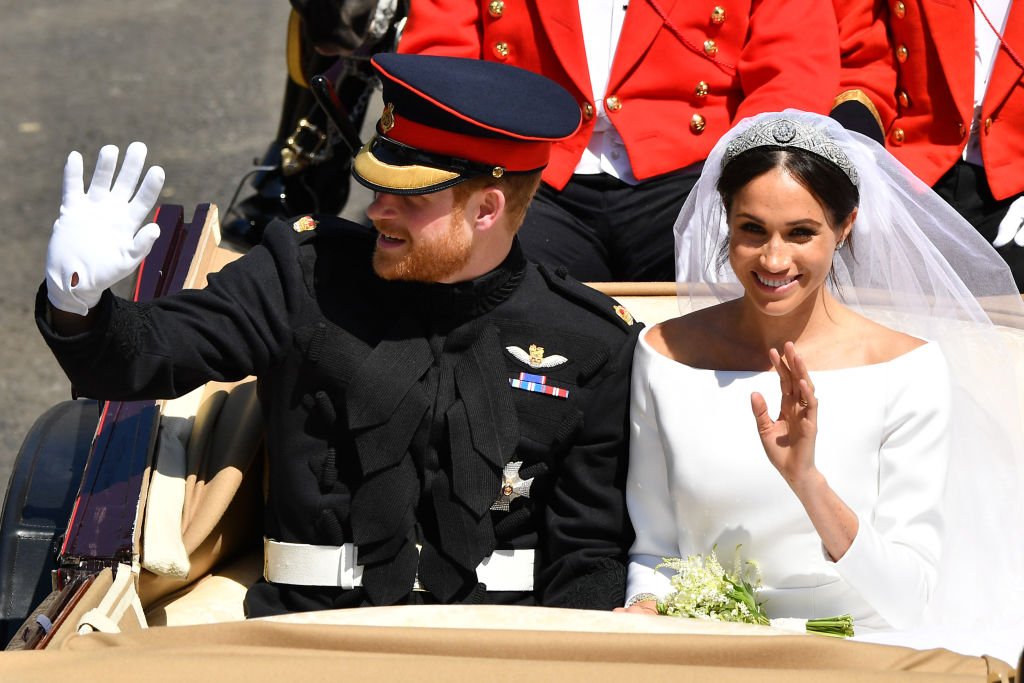 Like those before her, Meghan wore two dresses for her big day. Leading up to the wedding, media outlets tried to guess who the designers would be and Markle surprised them all, having her first dress designed by Givenchy art director, Clare Waight Keller, and her second by American designer Stella McCartney.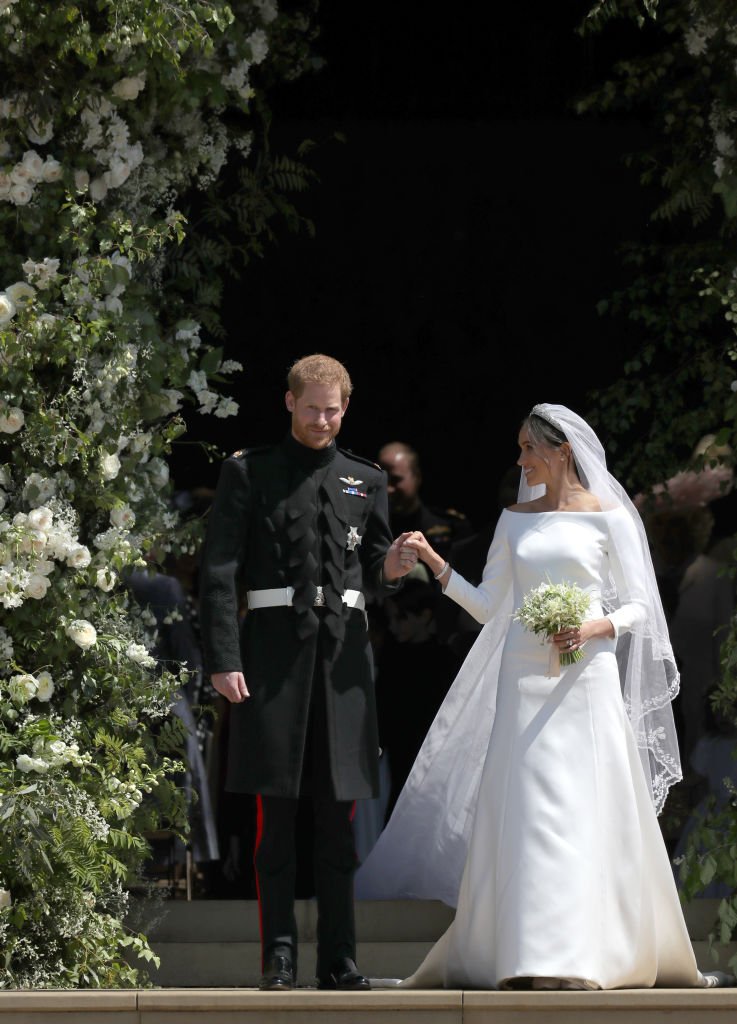 ---
PRINCE ALBERT II OF MONACO AND CHARLENE WITTSTOCK
The wedding between Grace Kelly's son and the South African swimmer was celebrated over a span of two days! Prince Albert II and Charlene Wittstock had a civil ceremony that took place on July 1, 2011, and the following day was the religious ceremony. Some of the guests who attended include the late Karl Lagerfeld and Naomi Campbell.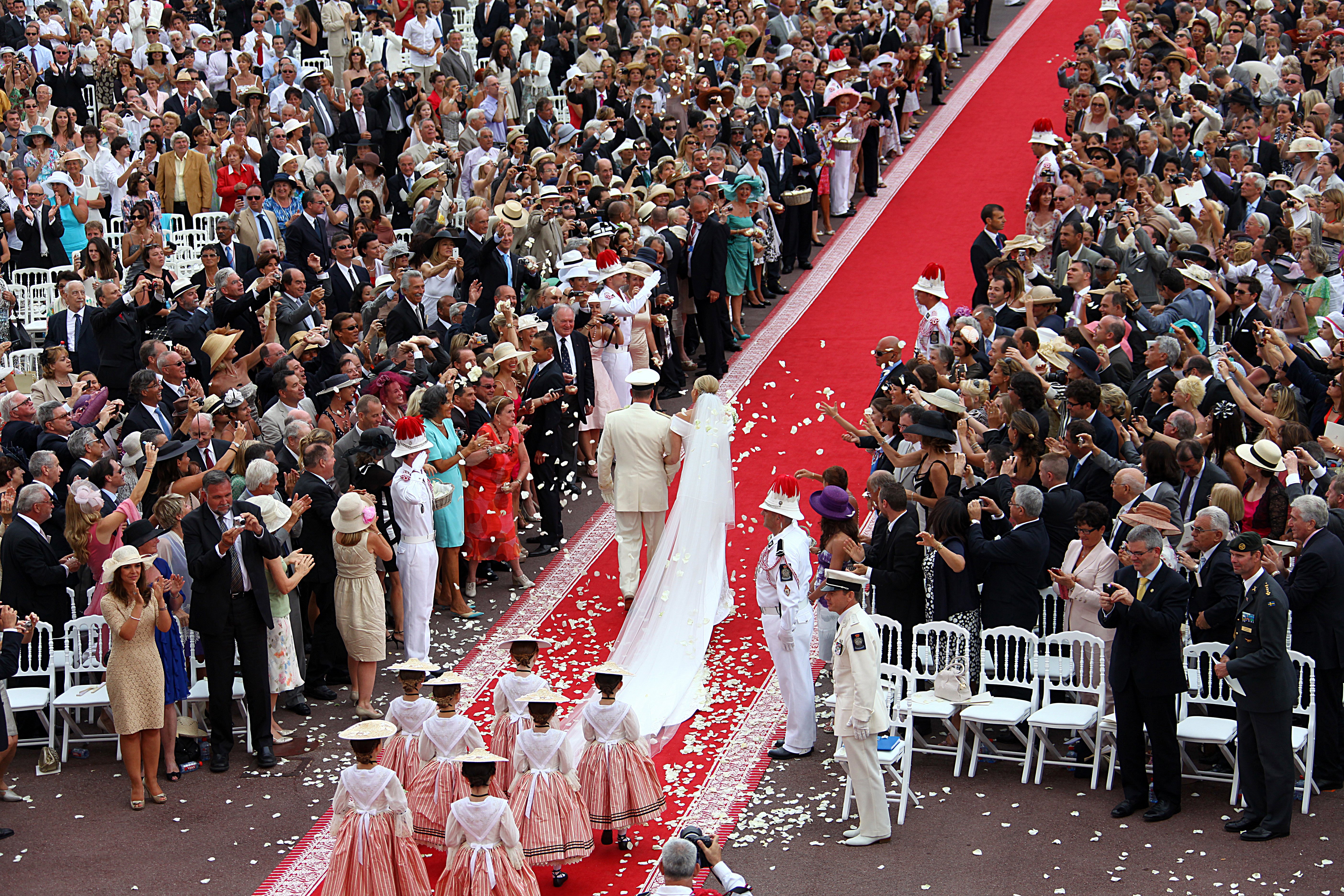 Charlene's Armani designed dress had a gorgeous five-meter-long train with 40,000 embroidered Swarovski crystals and 20,000 mother-of-pearl teardrops. It's no wonder it took a team of three seamstresses and over 2,500 hours to make the gown! Charlene also wore a custom diamond-and-pearl encrusted Tabbah's infinite cascade necklace. The entire wedding was estimated to cost over $55 million.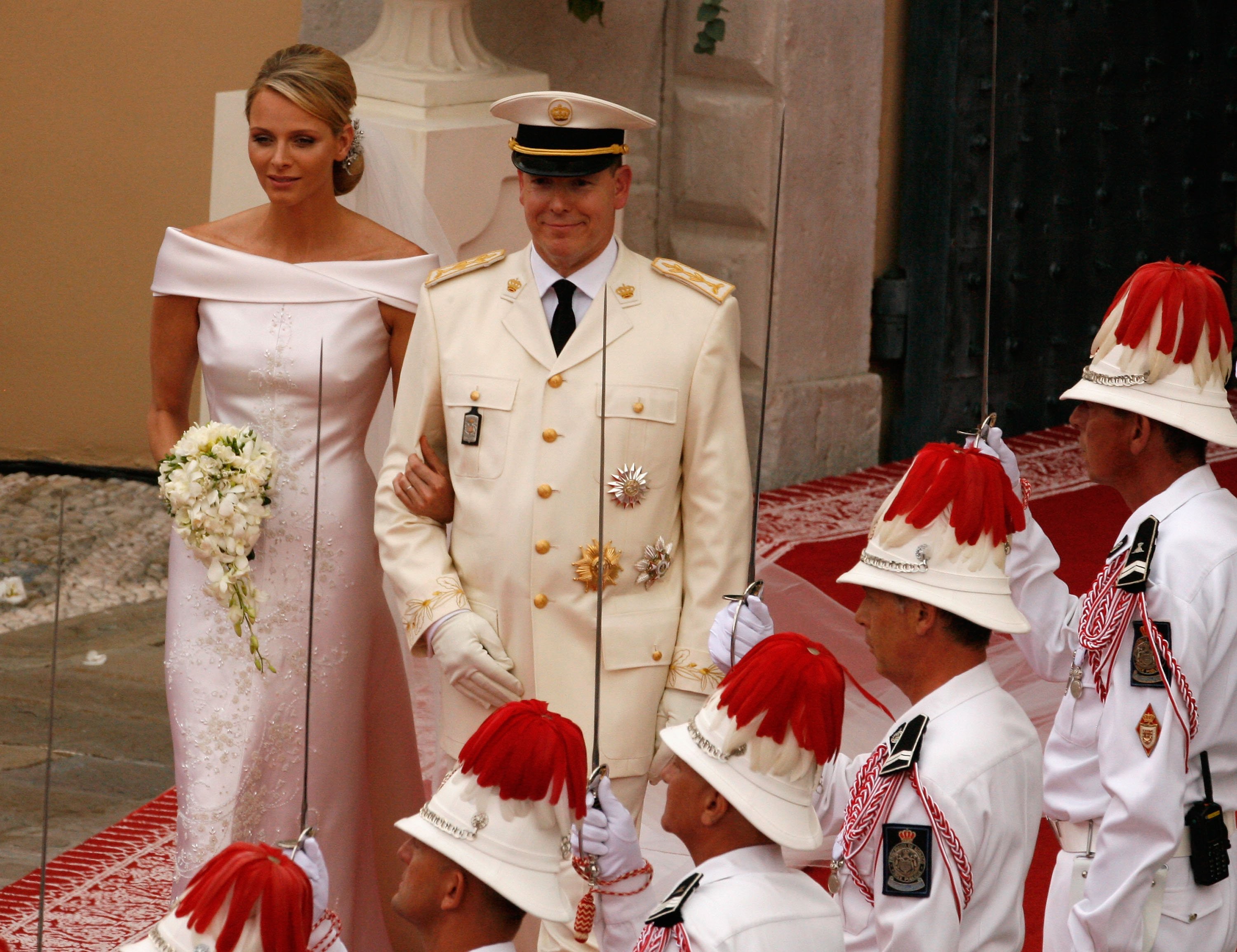 ---
PRINCE CHARLES AND LADY DIANA SPENCER
The people's princess, Diana Spencer, was married to Prince Charles on July 29, 1981. The wedding was attended by 2 million street spectators and watched by 750 million people on TV. The couple was among one of the only not married at Westminster Abbey but St. Paul's Cathedral in London. The last wedding held there was 1501!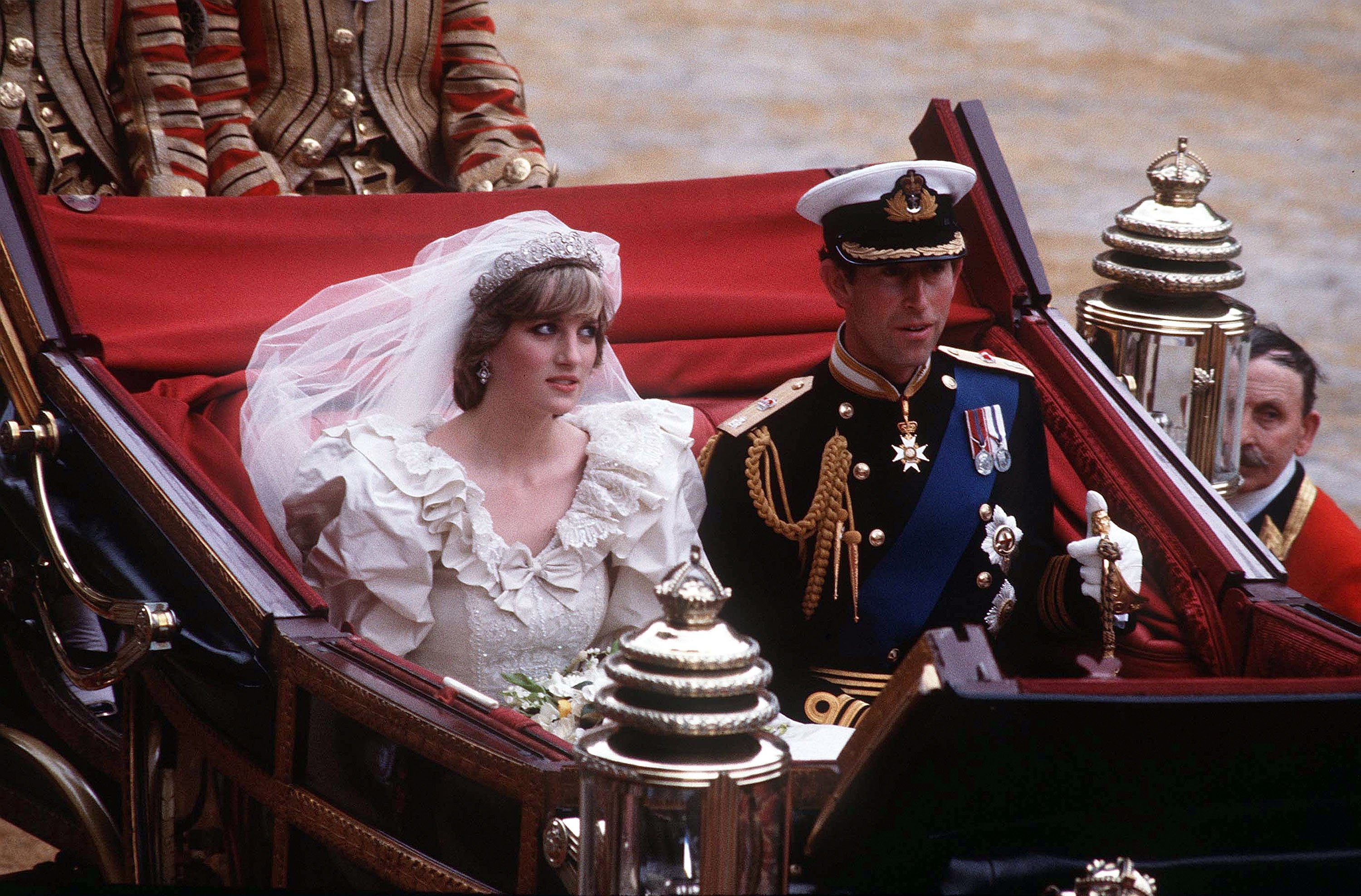 Diana's dress was one of the longest in royal wedding history, with a 25-foot lace and taffeta train. The dress, designed by David and Elizabeth Emanuel was covered in 10,000 pearls and cost over six figures! There were even 27 different cakes at the wedding so it makes sense that the wedding cost was about $70 million!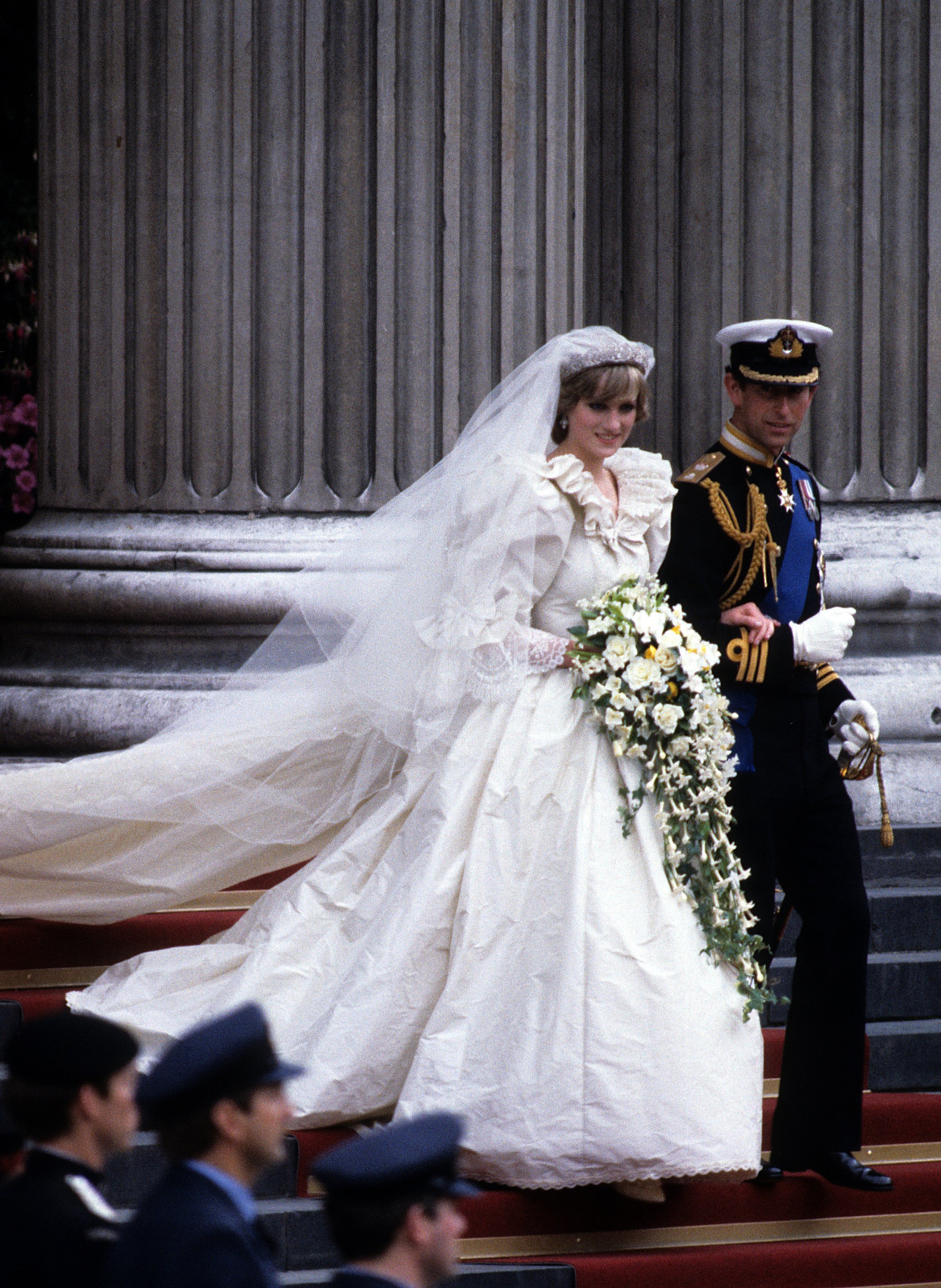 ---
THE BUCKINGHAM SMOOCH
Diana and Charles' wedding was the first for one really notable tradition. After forgetting to smooch Princess Diana at the end of the ceremony, the couple shared a kiss on the balcony of Buckingham Palace which overlooked thousands of wellwishers. Later, Prince William and Prince Harry would follow in their parents' footsteps on their own wedding days!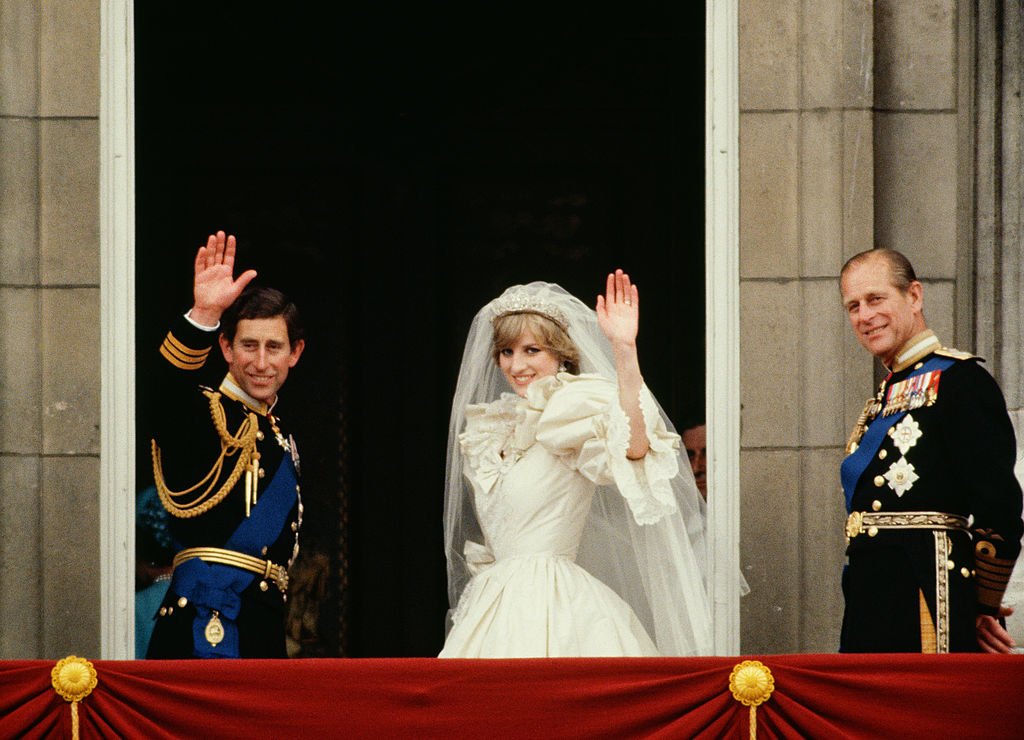 It's not hard for the public to get excited and lost in the grandeur ceremonies that members of royal families around the world are known for putting on. From Lady Diana Spencer's 25 foot-long train to Grace Kelly's 200-pound, six-tier cake, the royals always deliver extravagance in the most culturally satisfying way. What was your favorite royal wedding to watch? Share your thoughts in the comment section below!
Sources: TheList.com, USAToday.com, Vogue.com, UnofficialRoyalty.com, VanityFair.com, VanityFair.com, Vogue, CRFashionBook.com