Weird And Cute Rules Jason Momoa's Kids Must Follow
Why Jason Momoa's kids aren't allowed to watch TV, and what other strict rules are they obliged to follow? How did Jason's experience with his father turn out to be a motivating factor for Momoa becoming such a caring dad? And what drives him really mad about his 12-year-old daughter? Join us to discover the most fascinating, and sometimes really bizarre, sides of Jason Momoa's fatherhood.
---
Part 1: How the decision to become a father saved Momoa's life
After his parents split when Jason was still a child, he chose to live with his mom in Iowa. Because of that, he missed his Hawaiian father a lot. So, as a little boy, he decided once and for all: when he was an adult, he would do everything to be the perfect dad for his own children. 
---
But somehow, when Jason grew up and discovered acting, his "perfect family dream" got pushed to the background. Constant filming, motorbikes and many full-on parties became such a big part of Jason's life that he started losing control. It was getting really messy until one night he met Lisa Bonet and, slowly but steadily, Jason's lifestyle started to change for the better.
"I think I'd be in a whole worse place if I didn't have a beautiful wife and children. I'm very thankful for my family. They keep me in the sky but they also keep me grounded." - Momoa revealed in an interview with Men's Health.
The two clicked from the very first meeting, and after two years of dating, Momoa finally realized his dearest wish. He became a father. But with big dreams come great responsibility, and Jason found himself in a world of challenges he couldn't even have imagined before.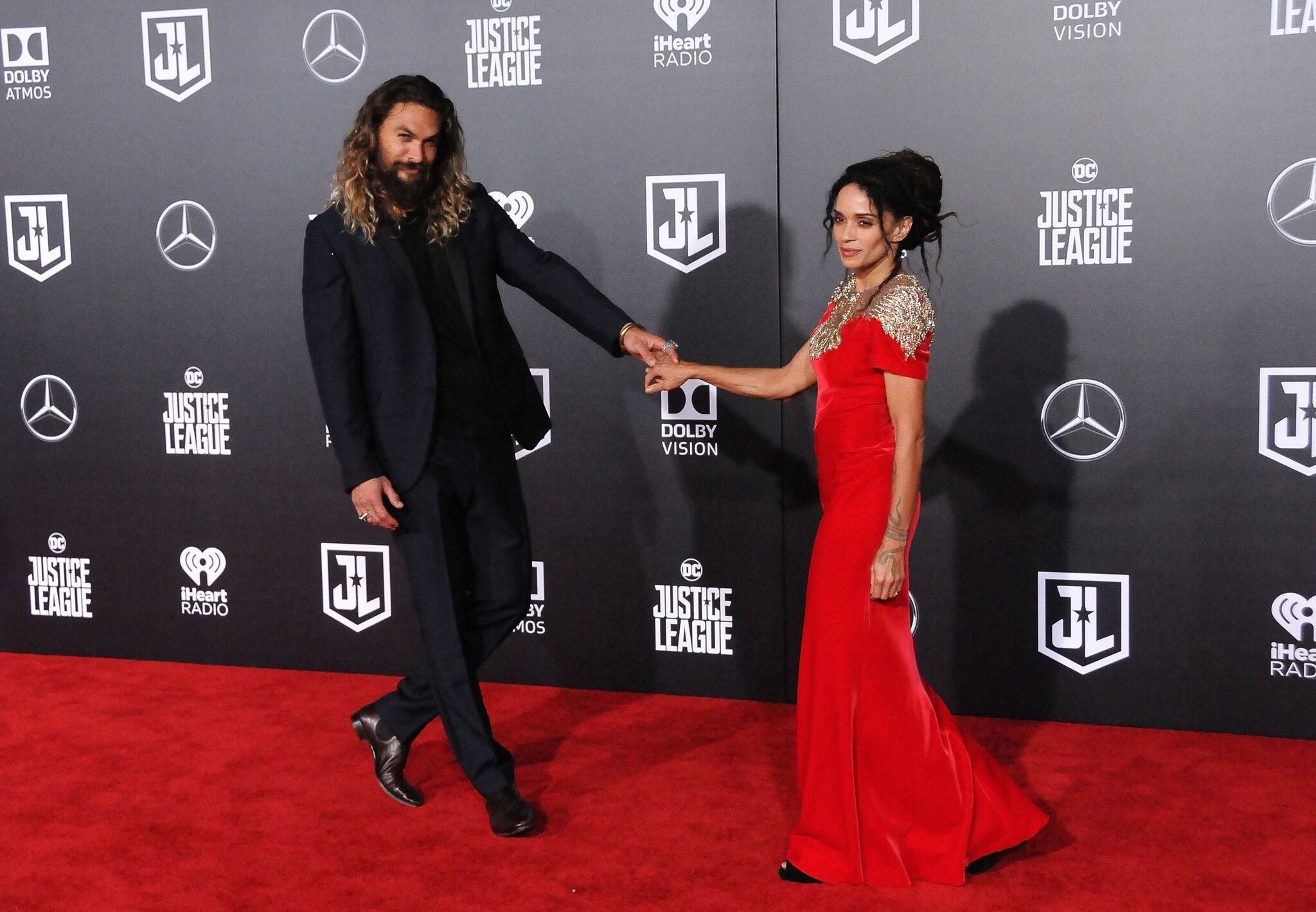 ---
Part 2: How Aquaman transformed into a Daddy-Bear
While the masculine image of Aquaman makes many think of Momoa as a rough kind of a guy, the truth is - he's nothing like that in his personal life. Yes, Jason isn't scared to express his gentle side, more so, he is happy to share it with his bears: Zozo Bear, Lola Bear and a Wolf.
---
Jason Momoa and Zoë Kravitz
The oldest Bear is Jason's stepdaughter Zoë Kravitz, who is Lisa Bonet's child from her previous marriage to Lenny Kravitz. And though it could have been awkward, as Momoa is actually only nine years older than Zoe, their relationship is nothing but adorable. 
One of the first times he hung out with his stepdaughter, he took her and her mom climbing. Zoe was a teenager back then and Momoa thought it would be a nice metaphor of his commitment to her. Just as she could trust Jason to hold her safely with the rope, she could also trust him to be there for her throughout her life.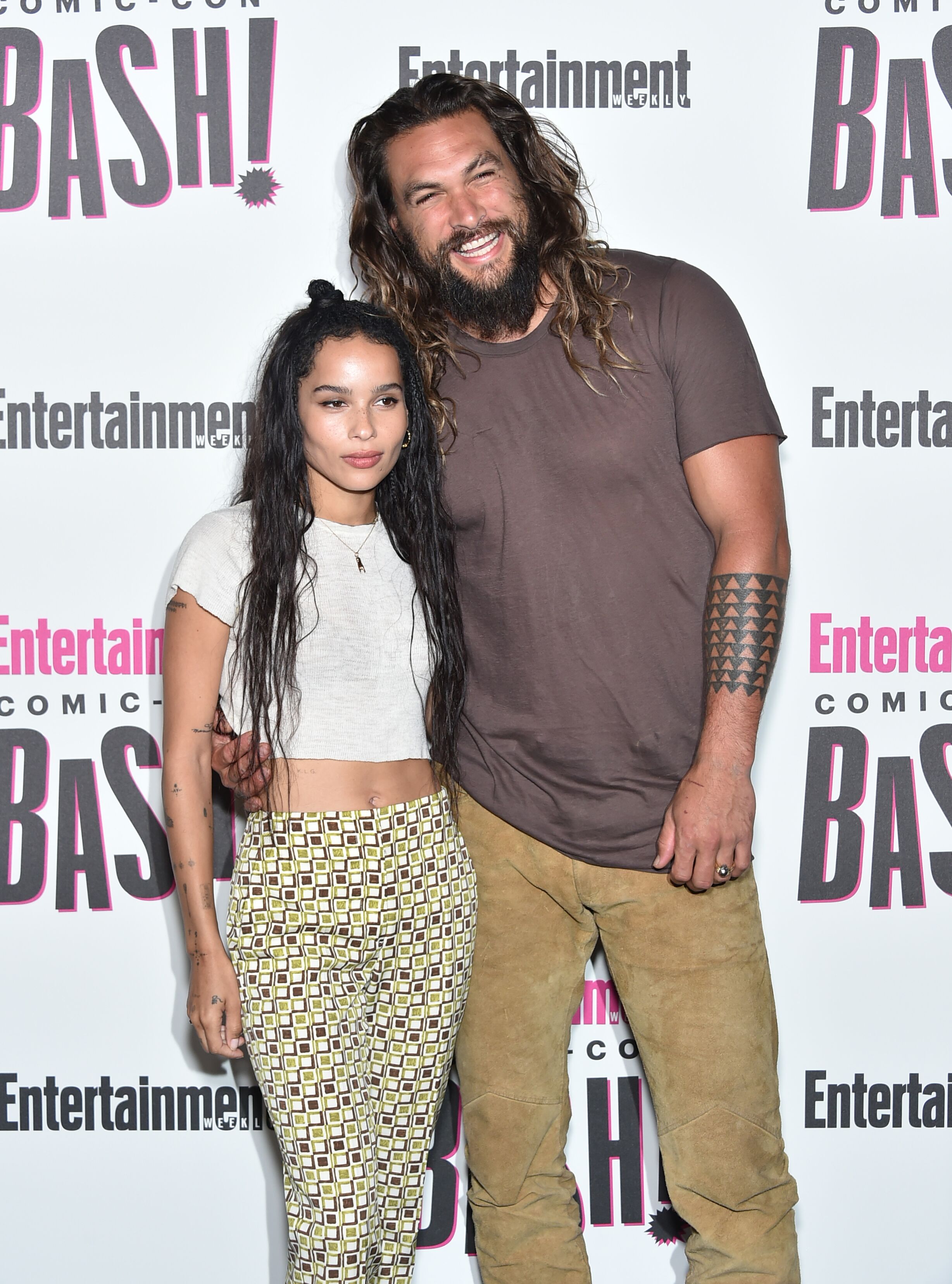 ---
And it looks like Zoe really trusts her new dad, as the two even got matching tattoos! Along each of their right forearms, both Jason and Zoë boast the same tattoo of a French phrase, which roughly translated, means, "always be drunk." Not a common thing to share with your dad, right? 
Despite the fact that Zoe went through her parents' messy divorce as a child, it seems like she is really happy with how things turned out: 
"My dad and my step-dad get along really well, and my dad loves and is close with my brother and sister. It's really beautiful. As long as everyone can be in the same room together, and have love for each other, it's totally healthy."
---
Whenever there's an opportunity, Momoa shares his love and support for his Zozo bear on his Instagram. For example, here's a post of Jason congratulating Kravitz for her new role as Catwoman. "I'm so proud of u zozo bear." Adding: "Lola and Wolfies big sister is CAT WOMAN😍😍😍 Unbelievable so freaking stoked." 
---
Lola Bear and Nakoa-Wolf
But most of his daddy time is, of course, spent with his 12-year-old daughter Lola and his 11-year-old son Nakoa-Wolf. And here's where Momoa's challenges move to the next level. With his kids growing up so fast, Jason fears that his crazy acting schedule might take too much of his time away from his precious family.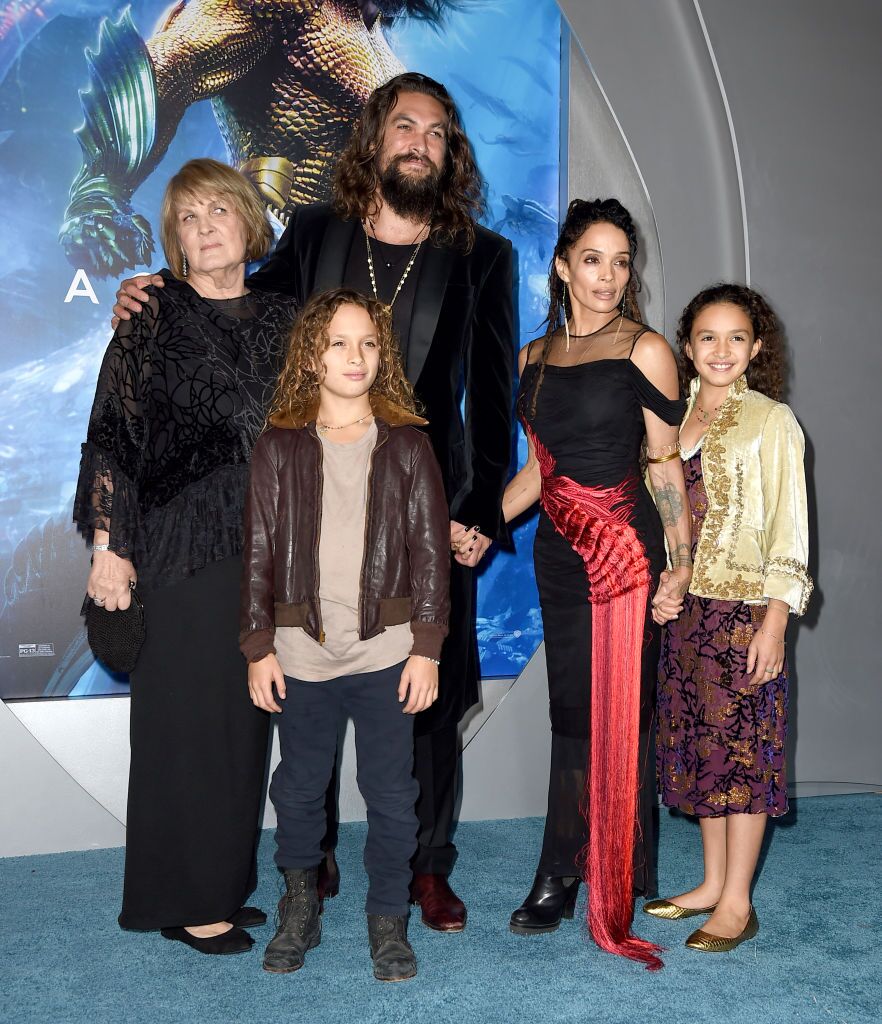 ---
That's why, whenever he is at home, Momoa tries to be there for the kids as much as possible. He shares every hobby of his with his children. We mean, literally - from going nuts on skateboards, to rock-climbing. And he even shares his biggest passion with them - motorbikes.
While some might say it's way too dangerous and too early for a 10-year-old to ride a real Harley-Davidson, Jason thinks otherwise. And seems like both his daughter and his son are extremely excited to learn how to ride together with their dad.
---
Momoa also makes a lot of effort to teach his kids to be eco-activists. And there are times when the celebrity dad and his children are even more radical than Greta Thunberg herself! Momoa went full Khal Drogo on Chris Pratt because he posted a photo with himself holding a plastic water bottle!
"bro i love u but wtf on the water bottle. no single use plastic. come on," Jason commented on the "Avengers" star's Instagram post.
But Pratt played totally cool about it, thanking Momoa and adding:
"My bad.  I don't want your home of Atlantis covered in plastic. Hear that kids? Reduce. Reuse. Recycle."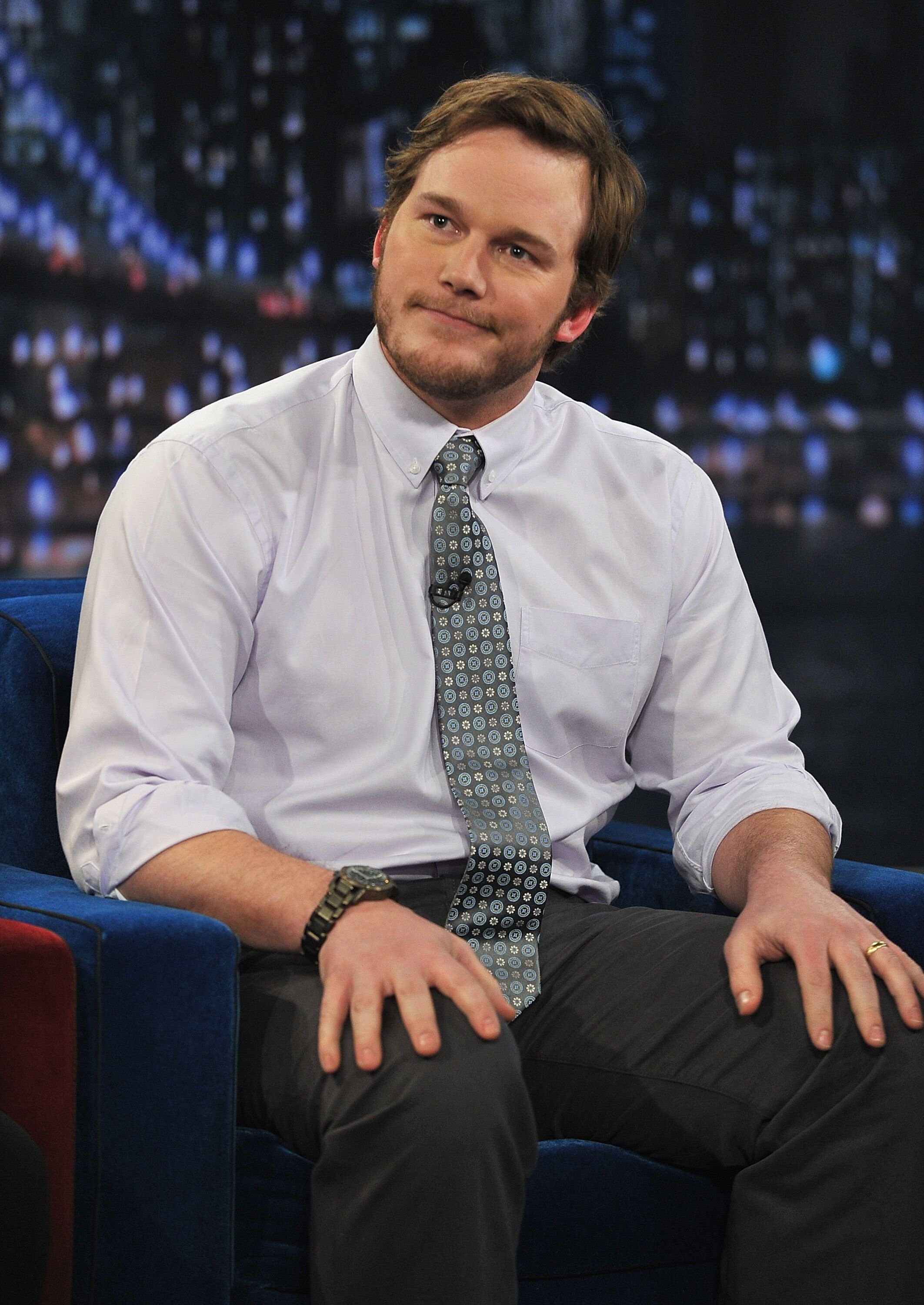 ---
Momoa's kids have definitely heard that and they are extremely conscious about plastic usage. Just look, how Wolfie answered when he was asked about his life's purpose. Without missing a beat, the boy replied: "To protect Mother Earth, of course." And that's no surprise, how could it be any other way with such an eco-friendly Mom and Dad!
Momoa's emotional side is reflected in his kids as well - especially in his younger son. When it was the premiere of Aquaman, the whole Momoa family went to see it. And can you believe it, every time Aquaman was beaten up or got hurt in any way in the movie, his son burst into tears?
---
Jason had to persuade the little guy that his daddy was fine and safe. Nakoa-wolf especially misses his dad when Jason's out shooting a movie. So once, to make things easier for the boy and to surprise her husband, Lisa Bonet took their kids and flew over to their Daddy-Bear during his long shooting for Justice League.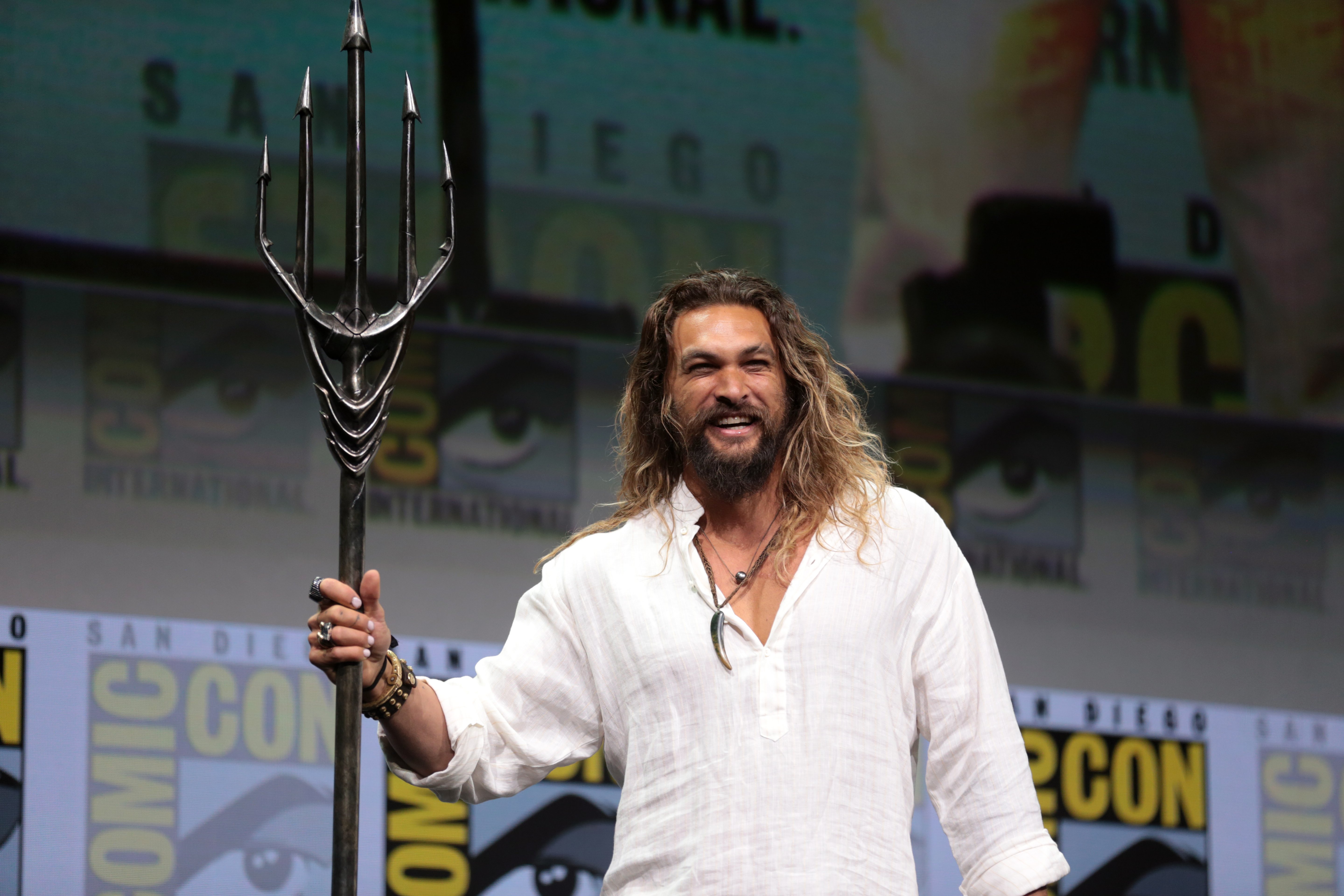 ---
Not only does Momoa love kids, but kids love Momoa even more! And not just his own kids… Once, Kelly Clarkson brought her little angels to her show to let them meet their idol, Aquaman! And, oh boy, were they excited!
Her kids asked the star the funniest questions, like whether he knows the Little Mermaid and where does Aquaman go to the bathroom? By the way, in case you were wondering, here's what Momoa answered: "Everywhere!"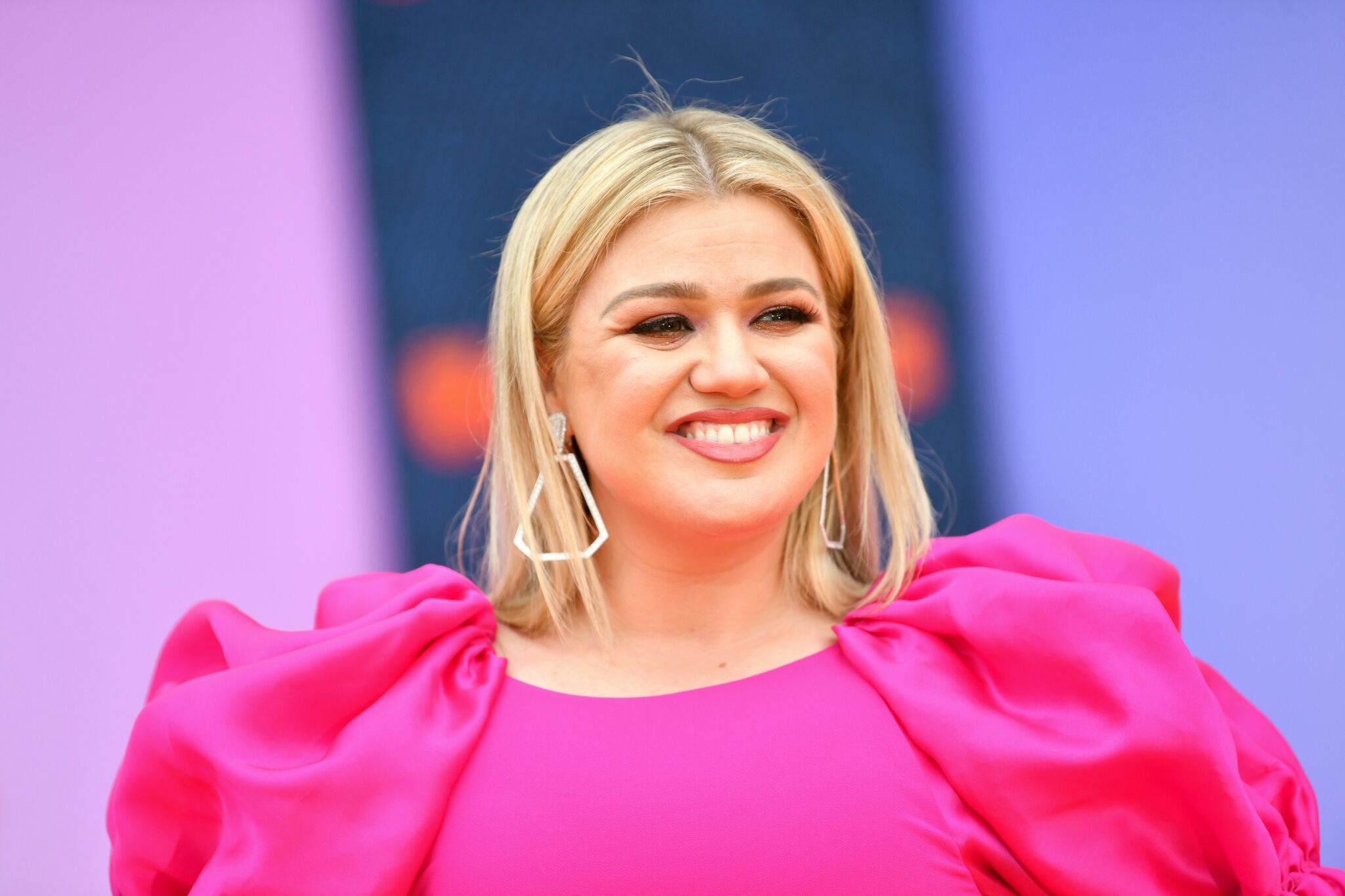 ---
Jason was pleased to entertain them and shared his fatherhood worries with Kelly. Turns out he can't accept the fact that his kids are growing up so fast. And when Kelly Clarkson asked Jason whether his 12-year-old daughter is thinking about dating, this is how Momoa reacted: "NO!!! NO!!!.. Lola is a saint. She is gonna be a nun". 
Oh, we don't envy the poor boy who dares to ask Jason's daughter for a date. The guy becomes really tough when talking about his daughter's possible boyfriend. But wait, there's more to add about the tough side of Momoa's family, so keep on reading!
---
Part 3: How strict rules help the Bear family stay happier
When it comes to the rules of the home, the kids know for sure who the main boss in da house is... This is of course... their mom! And Jason is totally ok with that. More so, he is happy they have it that way.
You see, Jason's filming schedule is jam-packed for at least the next three years. So he understands that it won't be him taking on the feeding, brushing and cleaning up after the children, it is all Lisa. Jason is thankful to his wife for looking after the house and kids and feels it's only fair that she has the final word in family matters.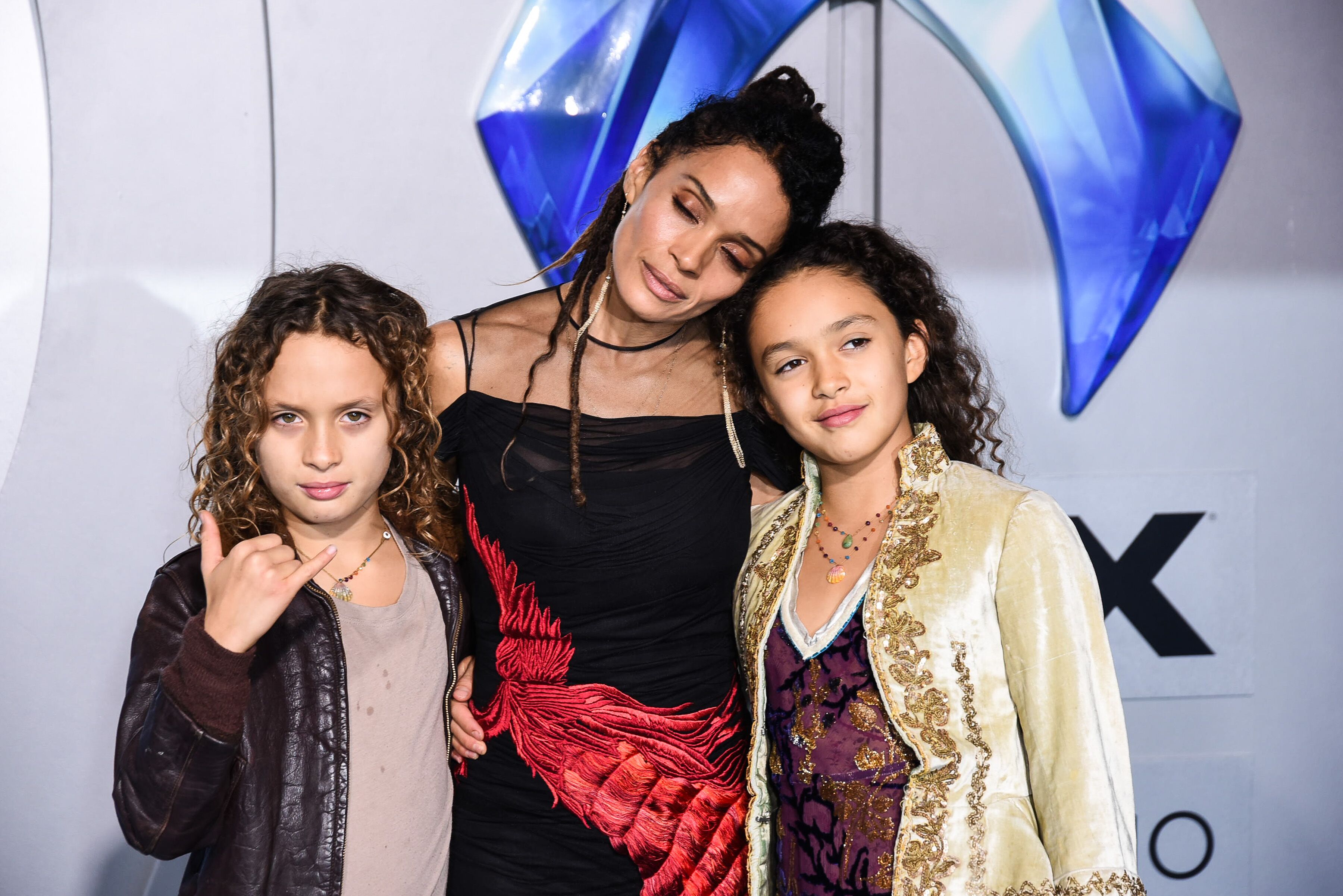 ---
"They're queens, man. Take care of your queen, and she'll take care of her king. Just do everything you can for her." Jason shared, adding "Mama is the boss - everyone knows that."
But truthfully speaking, Lisa can be really strict with the children. For instance, she doesn't allow them to have a TV at home, and according to Momoa, the kids haven't even had a chance to see Star Wars yet. More so, she makes sure that her kids stay away from social media.
"I feel strongly about remaining as media-free as we can. I really want to cultivate my children's imaginations. I love that they can go off and play for hours making paper airplanes." - Lisa Bonet revealed.
On the other hand, her kids have a great opportunity to develop their imaginations with reading. Though it seems like their children actually enjoy that style of living. The kids also enjoy outdoor activities like camping, fishing, paddleboarding, skateboarding and many others.
For example, at 12 Lola has already read all the books in the Harry Potter series. And her brother loves spending time with his skateboard more than anything. There's one more strict rule that keeps the family happy, which is - separated sections of the house. Turns out that Bonet's section of their house is on a sprawling five-acre ranch where she does yoga.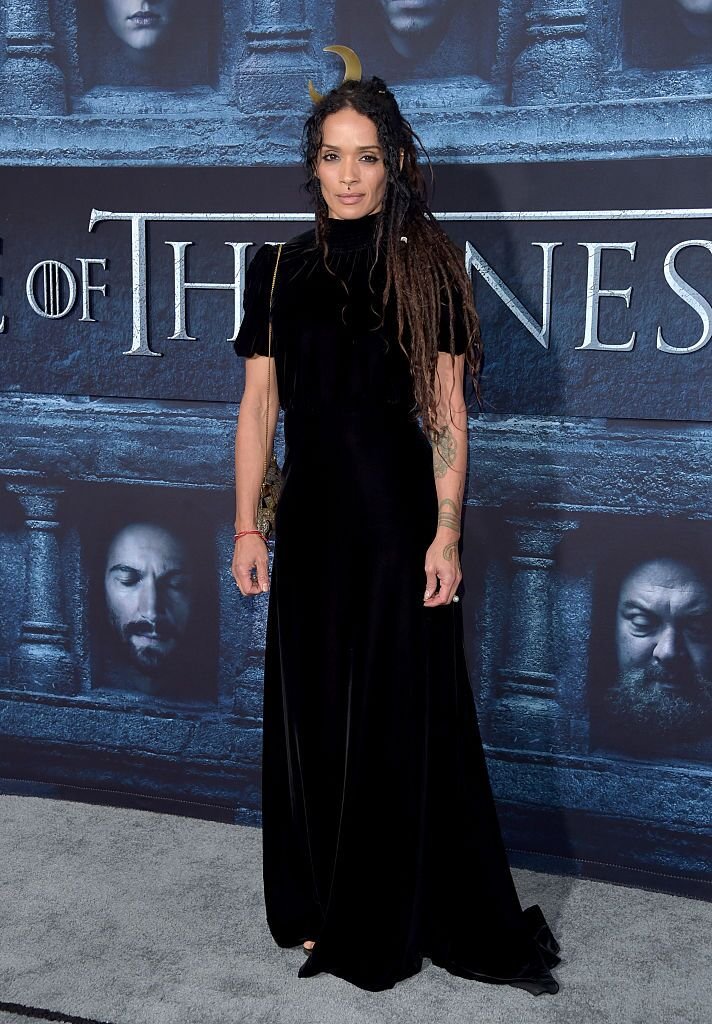 ---
And Jason has his own man cave. There, he gets sweaty having fun with his motorbikes, drums and guitars. Jason explained that in their house: "Goddesses belong up there," he said, holding one hand high above his head. Then, lowering it to the ground: "Dirtbags down here."
Lisa Bonet is highly inspired by her husband, just like the rest of the world. She thinks of Jason as a strong and generous leader, who embodies a rare form of masculinity in this day and age. And she can't thank him enough for his dedication to the family, especially because she didn't have that as a child:
"What's cool about Jason is that he's an alpha male who stands for love and family. And to circle back to my own wounds, having an absent father, then to be fully met by a man of that stature is really incredible."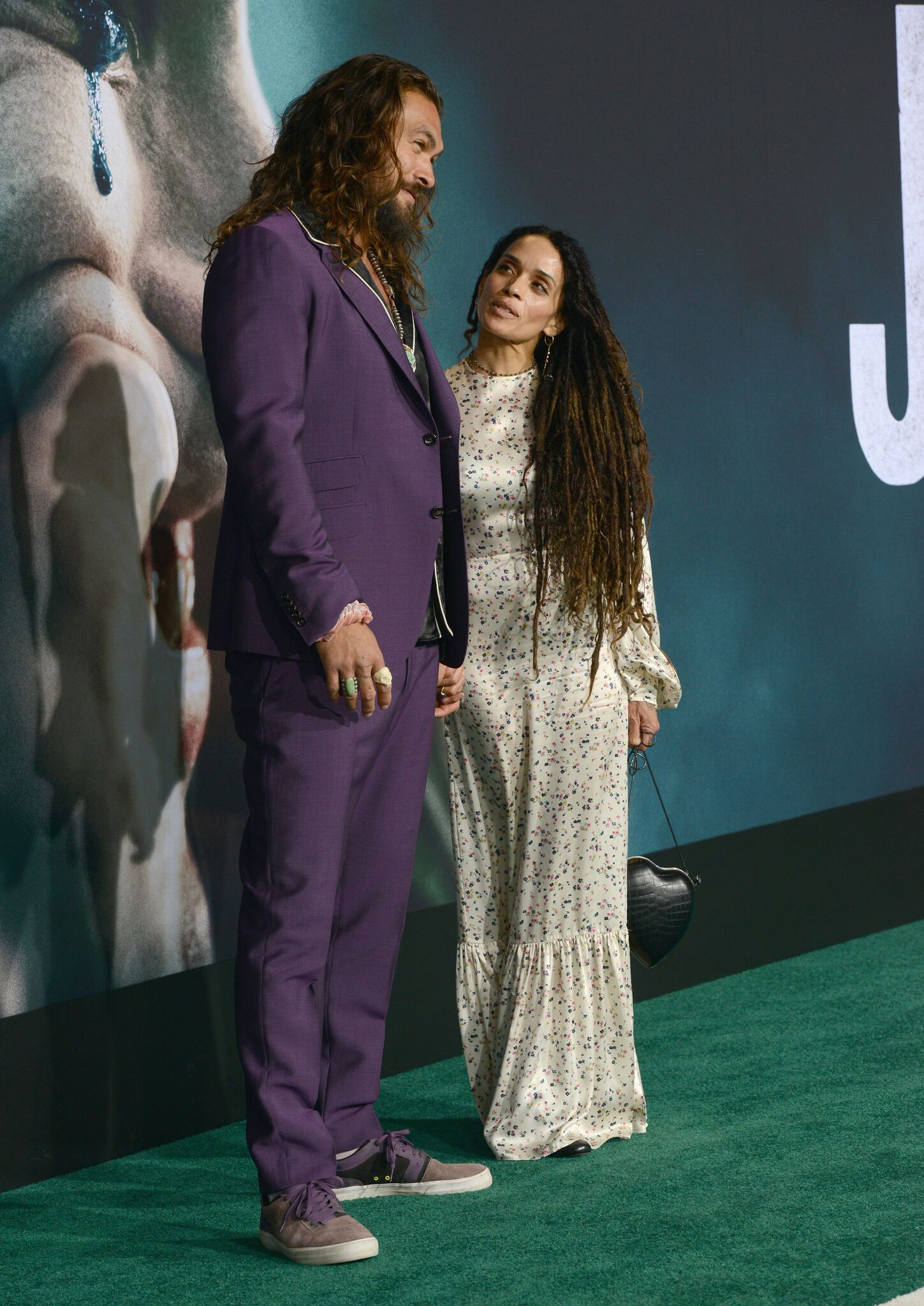 These days the family is setting a wonderful example by staying at home and encouraging others to spend some quality time with their families. But these are the Momoas, so don't expect anything ordinary about their daily routine.
Together with their kids, Bennet and Momoa live on a peaceful property in California with two dogs and a donkey that Jason once bought Bonet as a gift. Needless to say, this Bear Family is anything but ordinary!