The Weirdest Real Estate Listings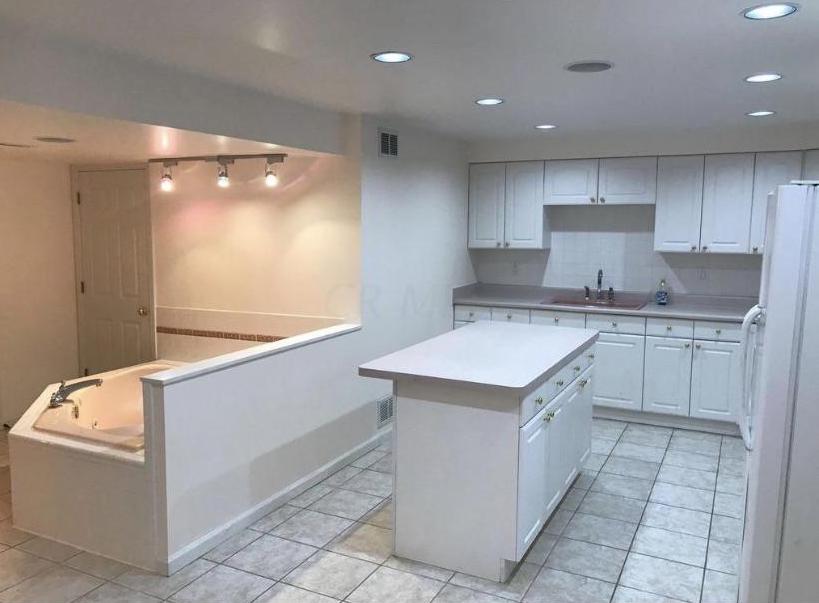 Selling your house is a major chore, but for some people, it's even a bigger chore. Why? Maybe there is something about their house that's a little...different. Or maybe it's that the realtor made some questionable choices when staging and photographing the house. Whatever it is, some real estate listings are just bizarre. We've rounded up some of the strangest listings in this article. If you're selling your house, please pay attention. Don't let this be you!
---
Green Thumb
This one might be OK, if you are color-blind. Most people who are color blind have a problem distinguishing between red and green anyway, so this house might not be a big problem for them.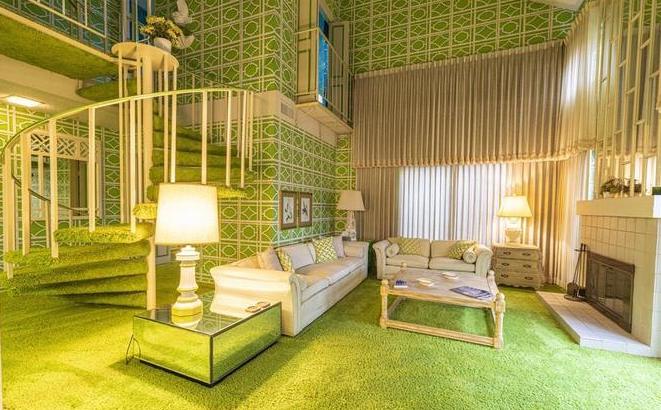 Of course, if you aren't color-blind and you live in this house for too long, you might develop it as a consequence. Or, at least not be able to see the color green anymore...
---
Huh?
This one is from Australia, and perhaps there are complexities to real estate that don't translate well, but this house seems a TAD overpriced. It's being sold for $1,051,00AUD. That's right, over one million dollars Australian.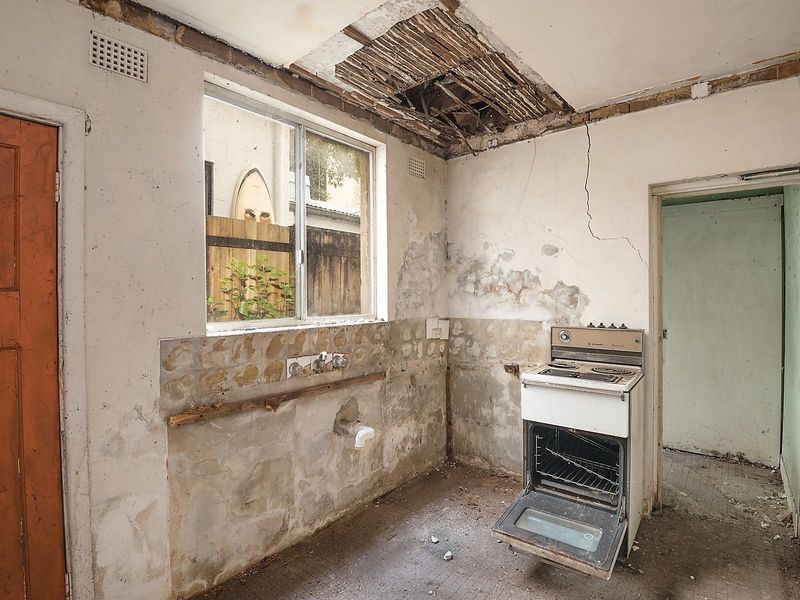 That translates to over USD 630,000, which is a lot of money for a house with holes in the roof and no appliances. Well, unless you count this electric range here. Maybe you get a discount if you take it.
---
Versailles
This one is taken from a listing in Michigan. Apparently, the owners really like living in a Louis XIV style French palace, even though it's in the middle of the suburbs in Michigan. It's already odd enough...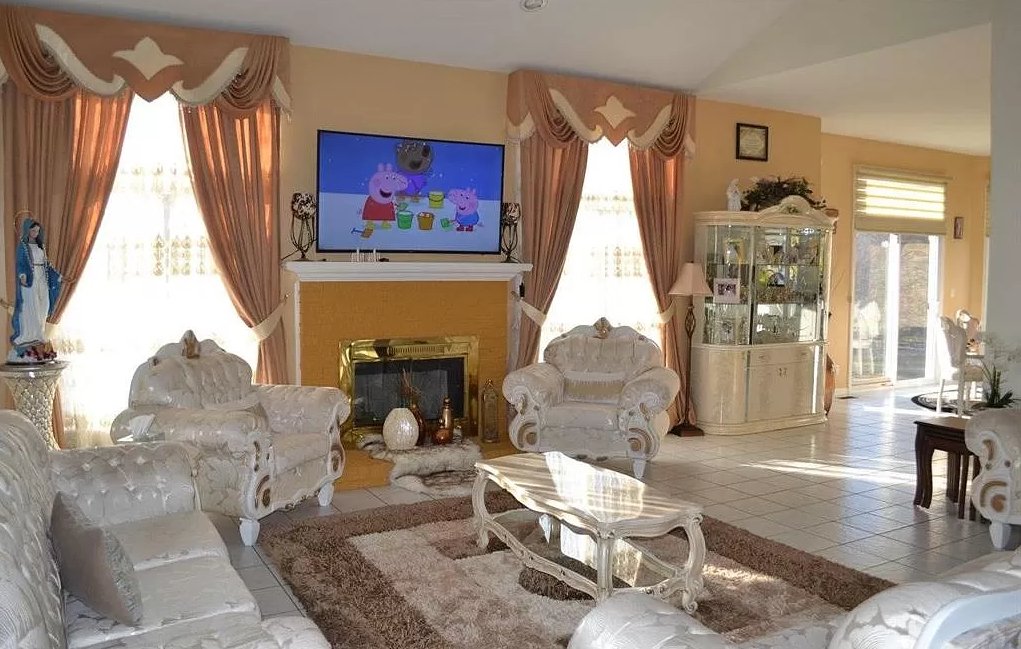 It's nice to see that the royalty of Michigan likes to watch Peppa Pig. Really, though, doesn't everyone like Peppa Pig? Royalty, they're just like us! Except that they live in Michigan.
---
The One-Bedroom
This is a picture from a house listed as a "one-bedroom terraced house" in England. Clawfoot tubs are really great, but this isn't exactly the optimum place for it. Also, maybe not the best place for, well, anything.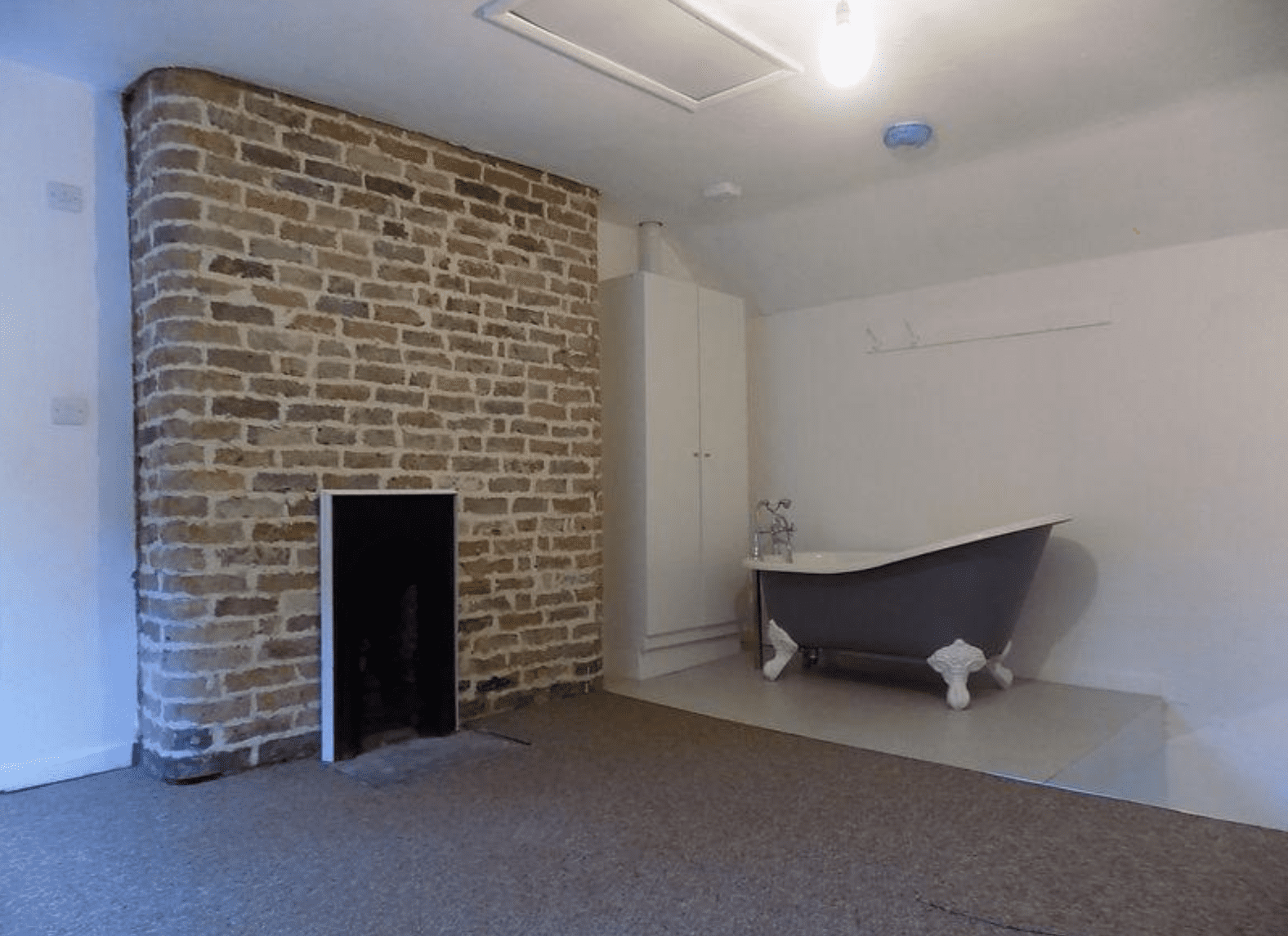 Also, the carpet shouldn't be that near the fireplace. That looks like a fire hazard. Fortunately, if that happens, you can dump out the clawfoot tub and put the fire out.
---
Medieval Castle
Have you ever gone to a Rennaisance Fair and thought, "I'd like to live here!" Well, now is your chance! This home in California seems to have it all, with the possible exception of a jousting area. Also, it doesn't look like a real medieval castle, just one from a Broadway musical from the 1970s.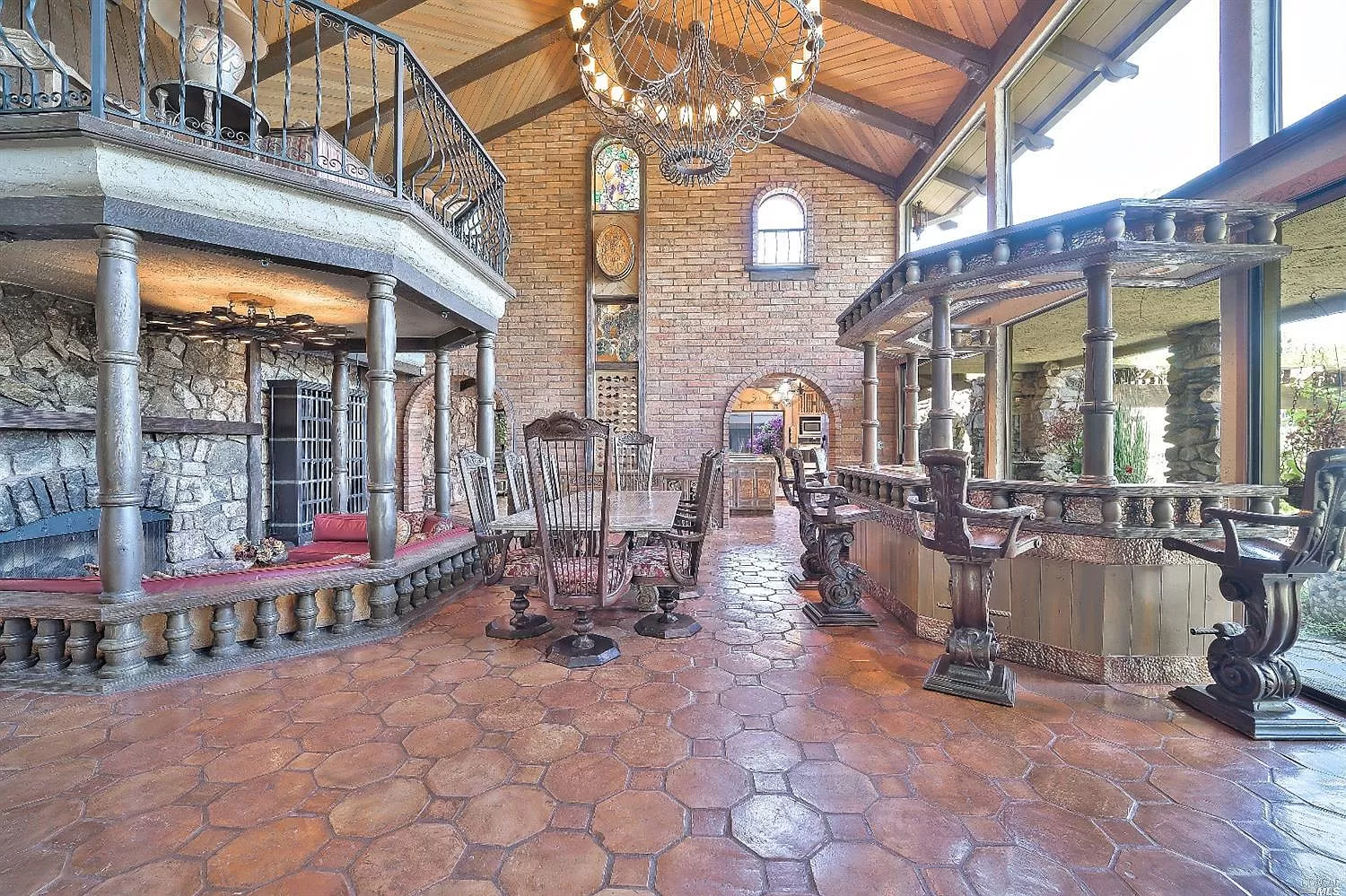 Still, it has its charms. You just better hope that the furniture comes with it because there isn't a lot that goes with medieval kitsch decor. That's not a look that you'd see at Pottery Barn or Ikea.
---
The Kitch-Room
Do you remember the episode of Seinfeld where Kramer had a garbage disposal installed in his shower? It's too bad that he didn't live in this house, because he could have just had everything in one room!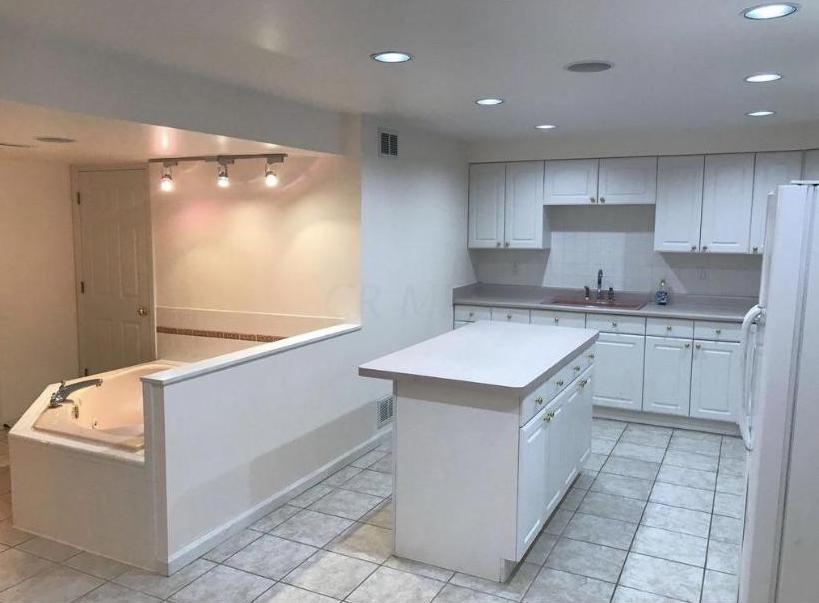 This is not from a cheap apartment either. It's from a listing that costs $2795 for rent per month in a nice suburb called Dublin, Ohio. This takes "open floor plan" to a new level.
---
The Shoffice
Speaking of odd places for a shower, here's another one. You put in a long day at the home office; you're sweaty and too tired to go all the way to the bathroom. This is a great solution!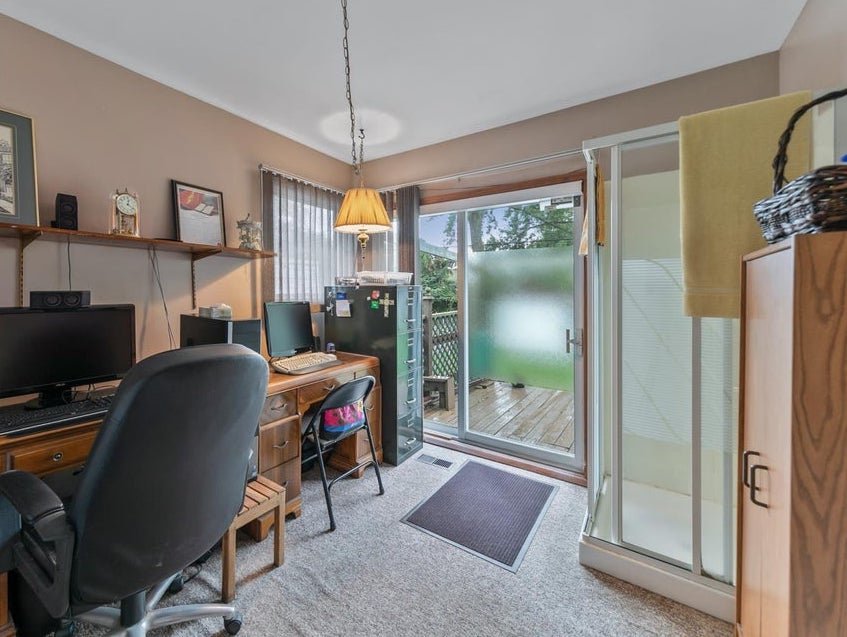 It's even really well-thought-out. Notice that the door to the back patio is (partially) frosted. Privacy won't be an issue in this home and you can take a relaxing bath when you want, that's for sure!
---
Mamma Mia!
Another house in Texas with a crazy theme. The good thing about this one is that in the kitchen, if you drop something, you won't notice it. For most people, though, it's just a bit too much decoration.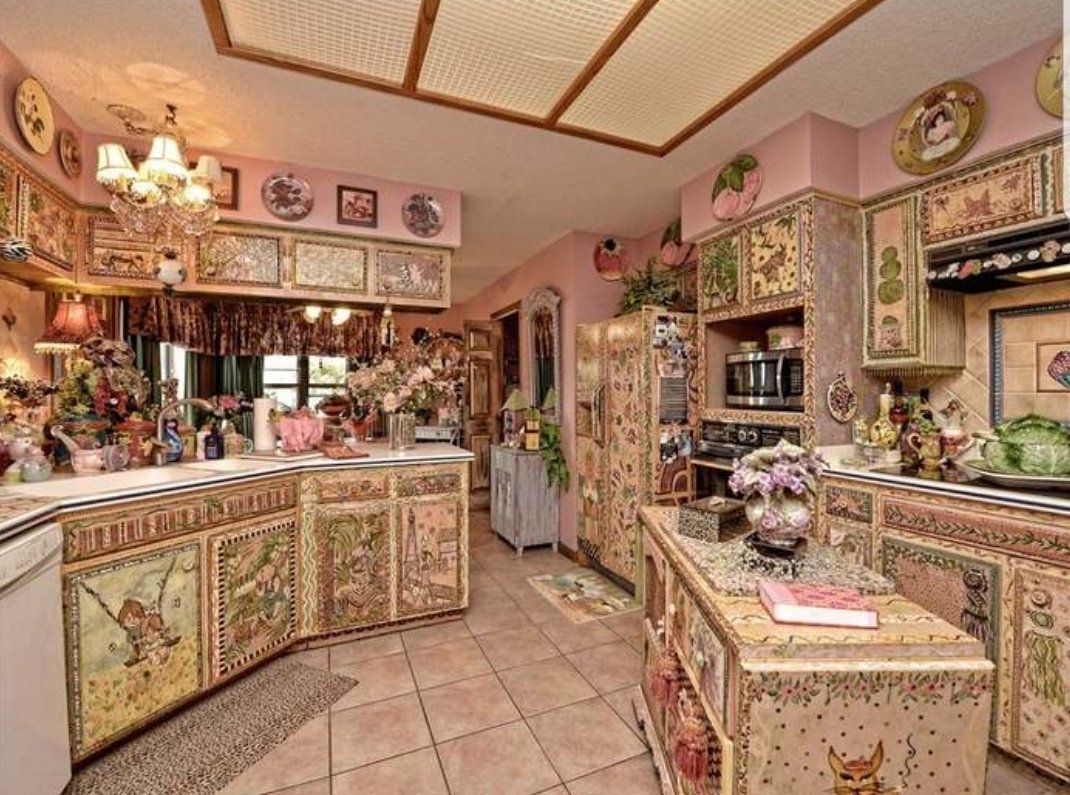 According to the listing, the entire house has been hand-painted. Who has time to do that? Did Rapunzel and Mother Gothel live here or something? It's a very strange sight...
---
It Really Loses Something Without The Statues...
Whatever is going on in this house, statues are involved, and lots of them. Tons and tons of statues, and they're apparently functional? Honestly, it looks like someone ran out of room on the inside for their figurine collection and just said, "Whatever."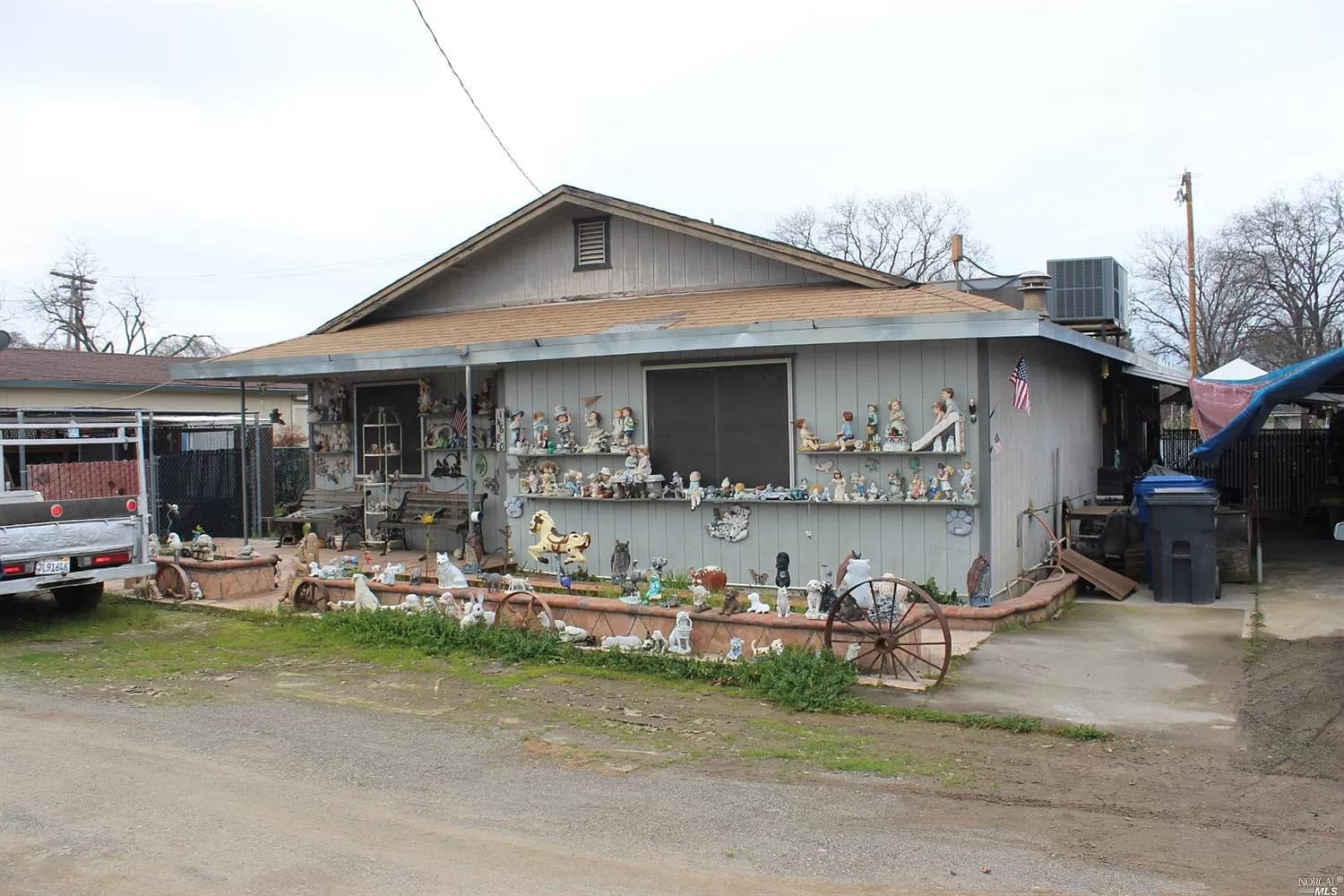 It's a good ling that the current owner has a trailer out in the front on the left-hand side. They'll need it to move all of those things. It loses a bit of charm without them, though.
---
What's That?
There are some truly strange houses in Houston. Here's another one! This certainly is a lot of tile in the house. It's everywhere, and it would be a bit of a strange design choice to have this much throughout the house anyway.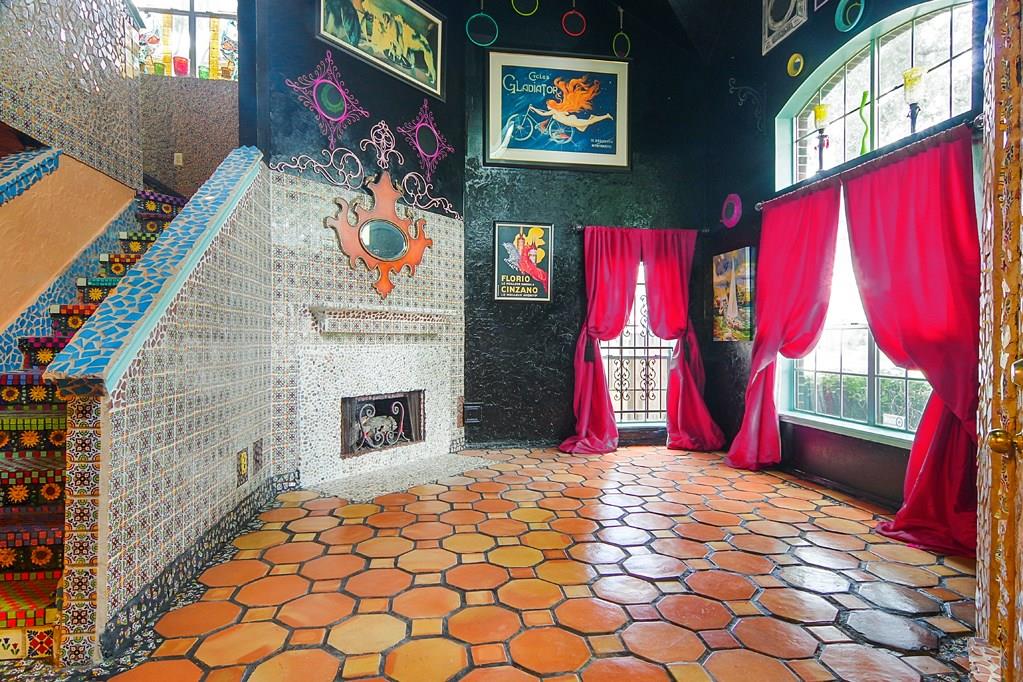 The symbols above the top of the fireplace are what really puts this one over the top. If you want to be in a heavy metal album cover from the 1980s, put a little wrought-iron furniture in this house, and you'll be all set.
---
Appliances
This house in Oklahoma has some uniquely bad placement of its appliances. It's not a terrible idea to put the laundry near or even in the kitchen. It saves time and would seem to be very efficient.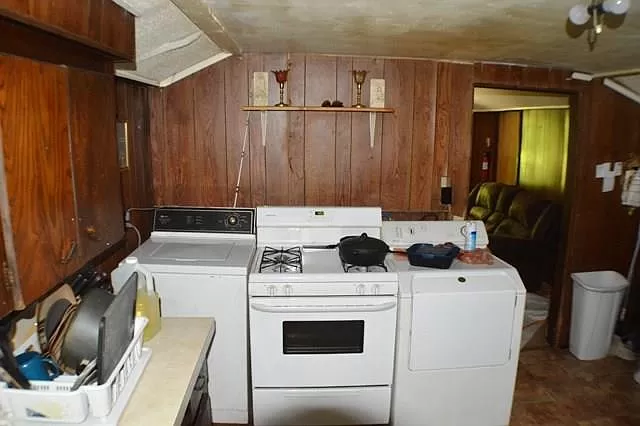 All of that being said, it's probably not a good idea to put it in the middle of that pair. How many times do you suppose that clothes accidentally got put in the oven? It would be a disaster!
---
The Long, Long Couch
This Omaha, Nebraska listing has some unique features. Besides the circular rooms and the grand piano (which is apparently never leaving the house since its the one thing in all of the empty house pictures), it has a unique couch in the living room.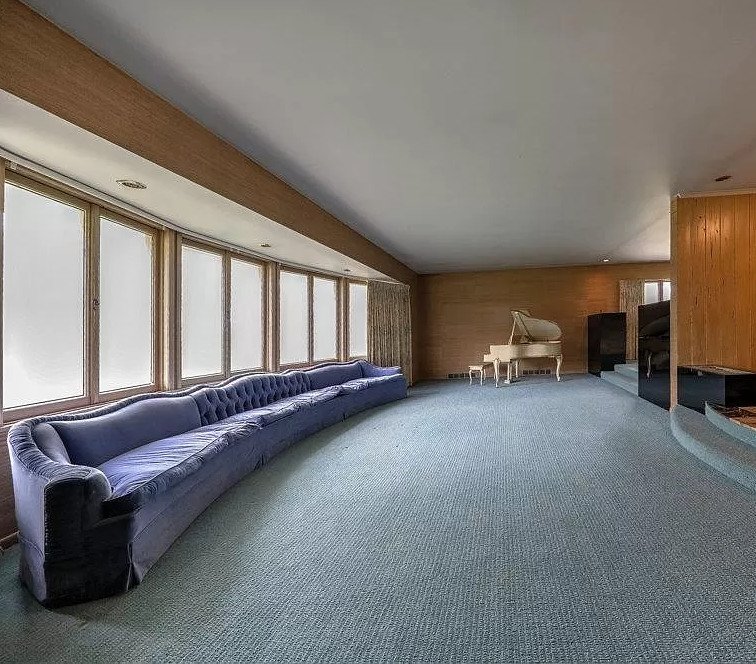 Hopefully, that couch comes with the house. It can't really go anywhere else, and what else could you possibly put in a space like that? It's specially made to be in there forever.
---
Everything Is Spinning
This house in Kansas also has a very open floor plan. It's not like some of the other weird houses where the bathroom is in the kitchen or something, but it's weird all the same. The floor really ties the whole house together, though.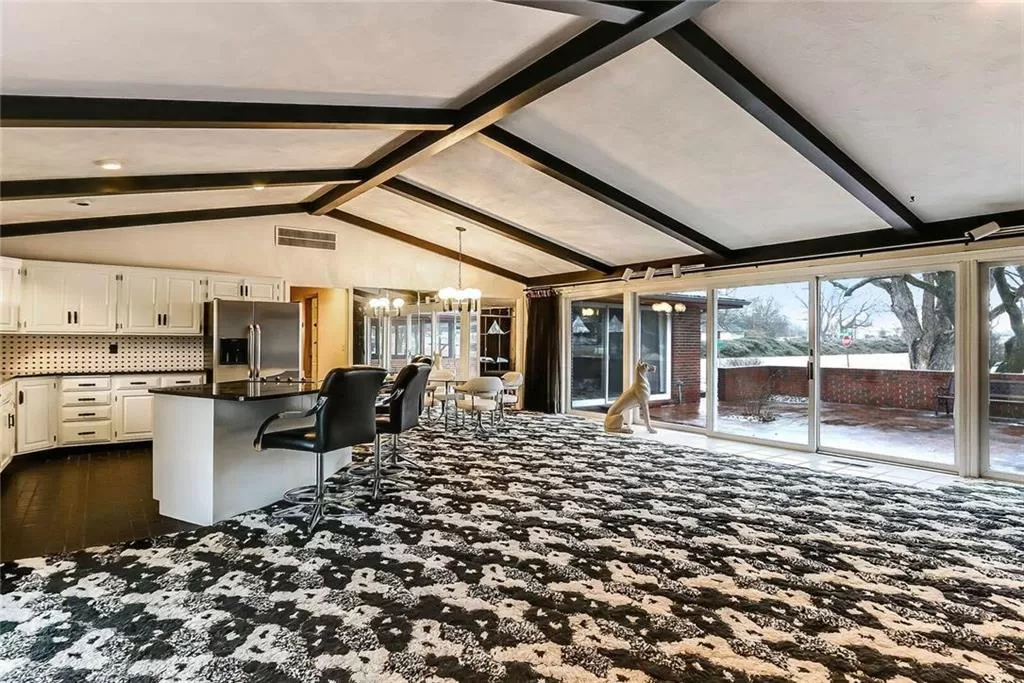 It also makes everything spin and will probably give you a giant headache if you spend too much time in that place. Maybe that's what happened to the last owners.
---
School Daze
This one was clearly a converted school in Michigan. The conversion is actually pretty nice, except they forgot to convert one rather large area in the house/school. The gym is still perfectly intact.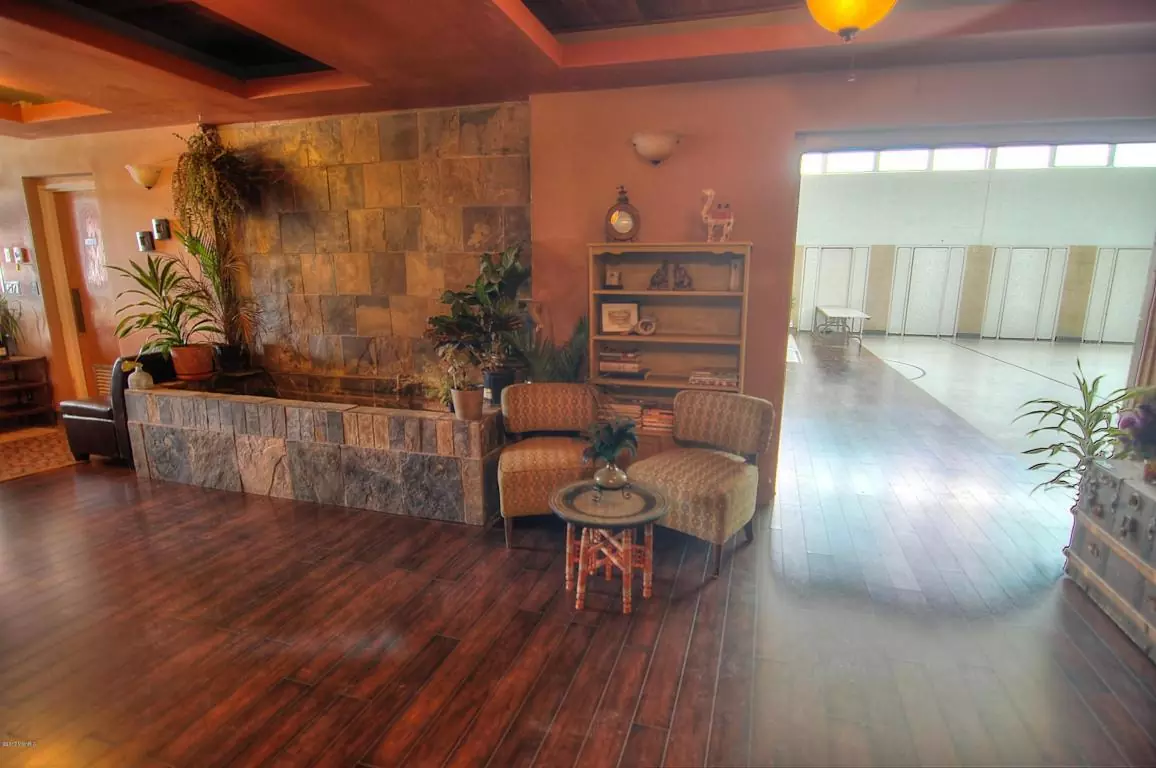 You can see the problem with the conversion in this picture. Besides that, would you really want to live in a school? At least you could ring the bell and wake the kids up in the morning.
---
The Blob
Sometimes, short sell houses need a little bit of work. This article has intentionally omitted homes that are just dirty and are obviously being sold because they were foreclosed upon. This is a special case though. Check out the walls.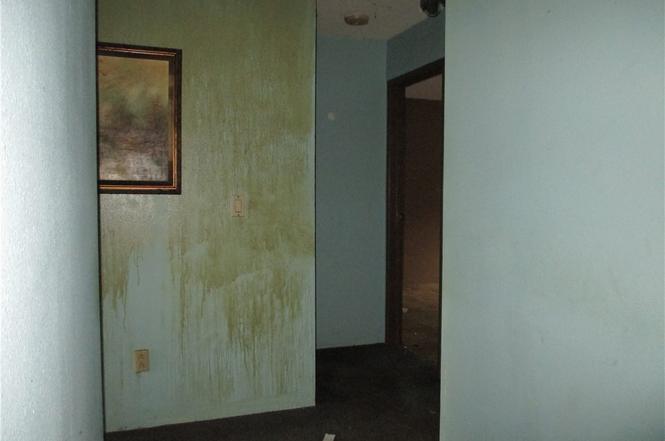 Normally, when you see mold in a house, it comes in the form of black mold, which is extremely toxic. This is some sort of green mold, which you have to figure is even worse. This house is so dirty that it shouldn't be sold. It should be condemned.
---
The Modern Saloon
There are a lot of people who want to embrace living that cowboy lifestyle. There are a lot of people who want to embrace a New Age lifestyle. Rarely do the two combine like they do in this Washington DC listing.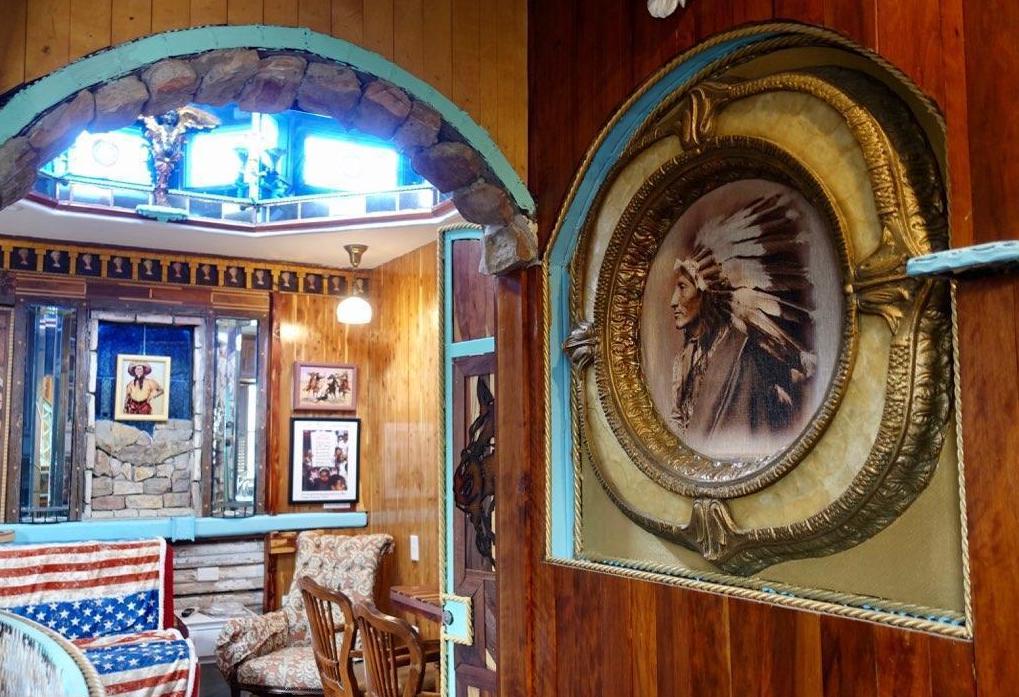 Between the pictures of cowboys, Indians, and sitting on the American flag couch, this is a good house to offend just about everyone! And there are also lots of natural stones and even a small observatory for when you need your meditation time.
---
So Many Patterns...
Wallpaper has sort of fallen out of fashion for many homeowners. Someone forgot to give this particular homeowner the memo though, as most of this house is covered in garish patterns hanging all over the house.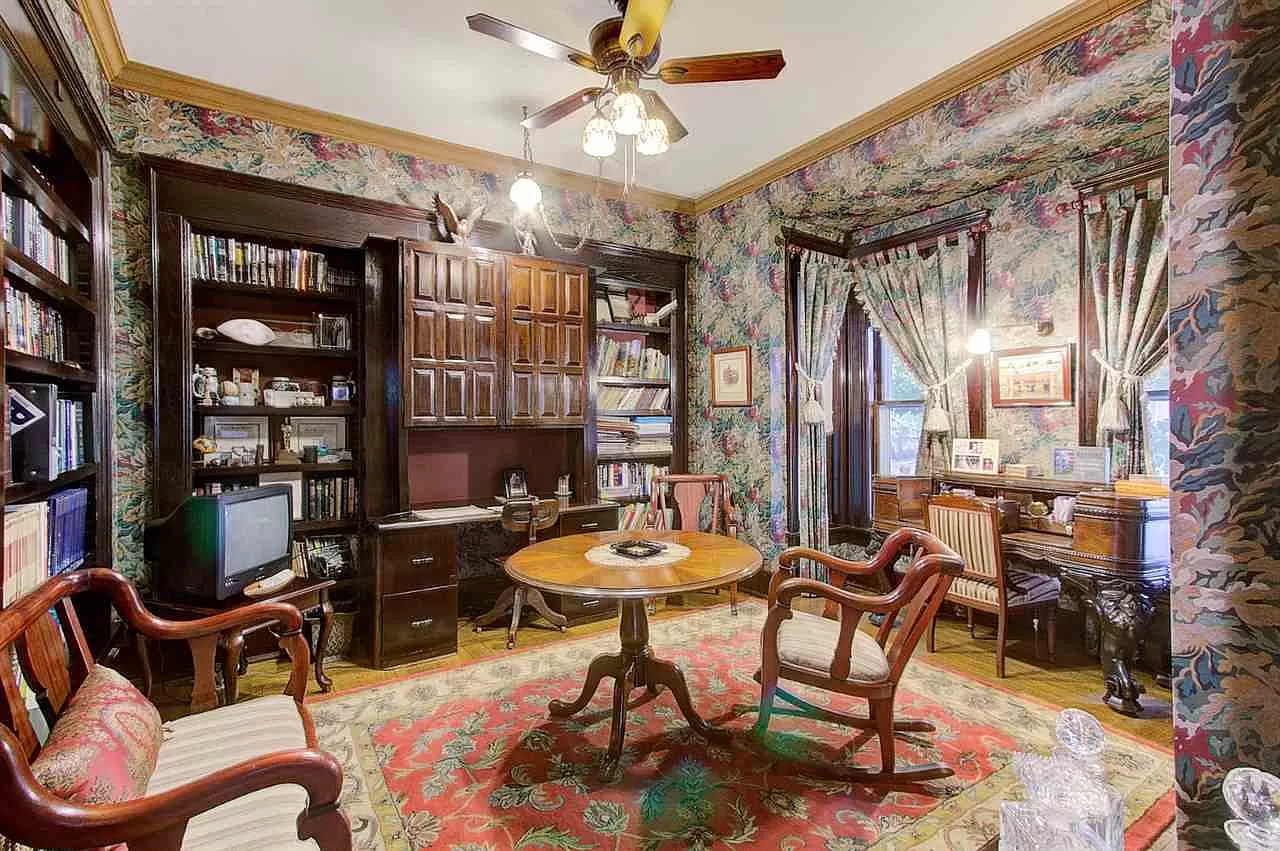 This house really needs a seizure warning. It's like one of those funhouse rooms where your depth perception is being fooled by the crazy patterns. At least the wood trim and gold leaf on the ceilings are nice.
---
Well, That's A Perk...
Sometimes when you're selling a house, you might have to put in little bonuses for buyers. Stuff like some of the furniture, or lawn equipment, maybe a home warranty, or whatever. Well, this particular seller had a unique rider on their home: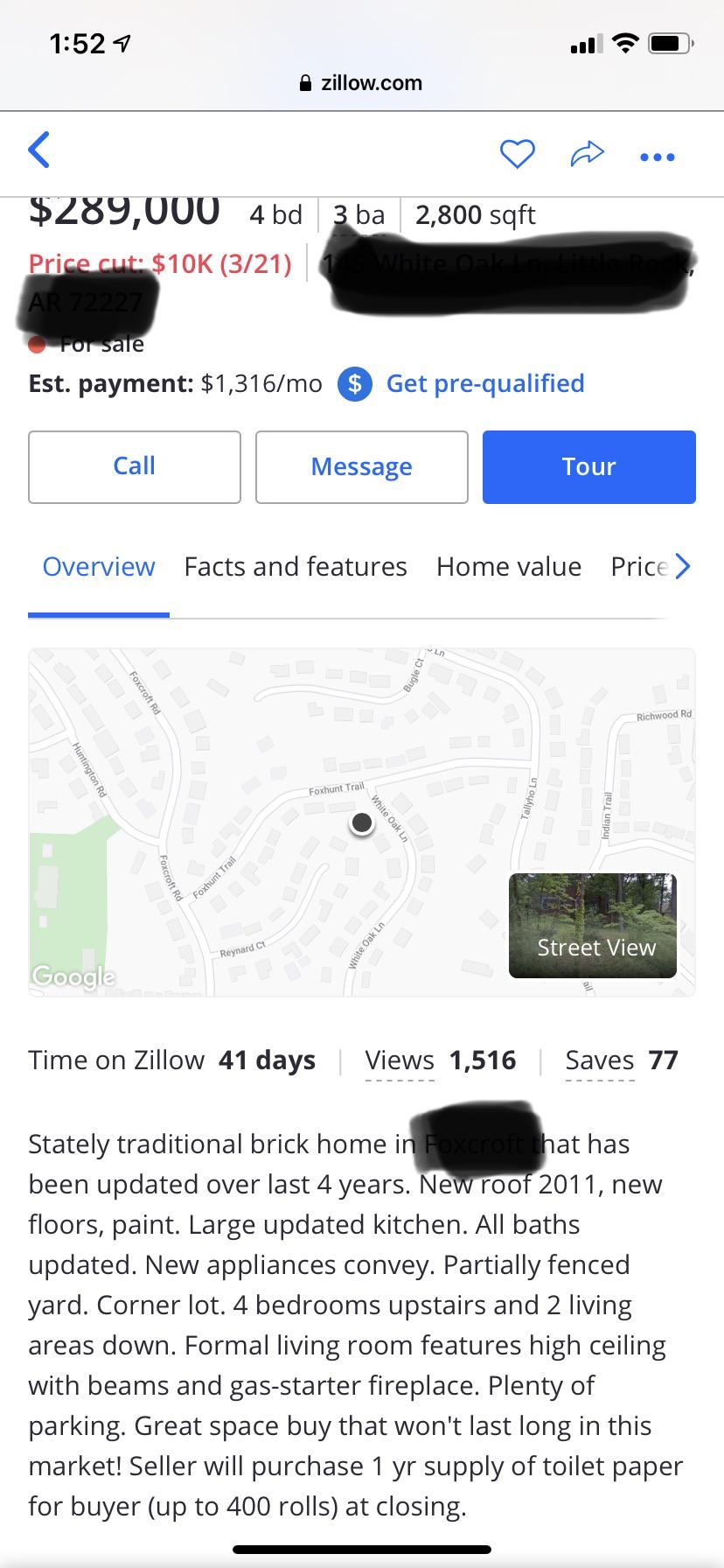 You have to wonder how they arrived at 400 rolls. That breaks down to about 16.666 24-packs of toilet paper, which doesn't make a lot of sense. Maybe that's something to deal with at the negotiating table?
---
Inverted Snow Lodge
Some people love the idea of living in an Alpine lodge. The warm fire, the cozy wood. Maybe even a soft comfy blanket for you and a significant other. That's what MOST people want anyway.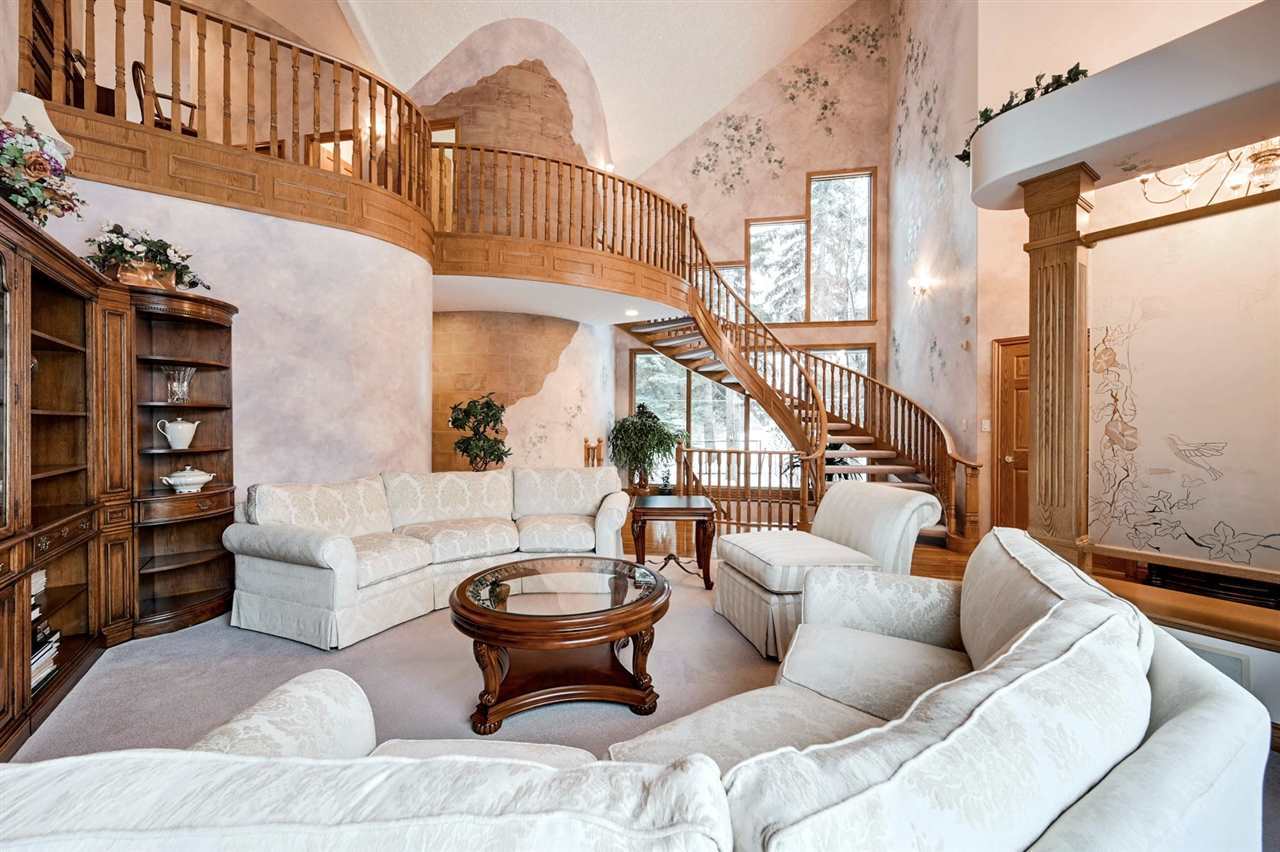 The snow should really be outside the house, not inside the house. It is in Canada though so maybe even with the snow on the inside, it's warmer in there than it is outside. Well, maybe not. The house is listed at over $1,000,000 though, so hopefully, everything is up to snuff.
---
Too Much Carpet
A little bit of carpet goes a long way. Sometimes you can have too much carpet, and sometimes it's in the wrong place. This is already kind of an odd-looking fiberglass bathtub. It looks just a little too small. The mirror placement is a bit odd too.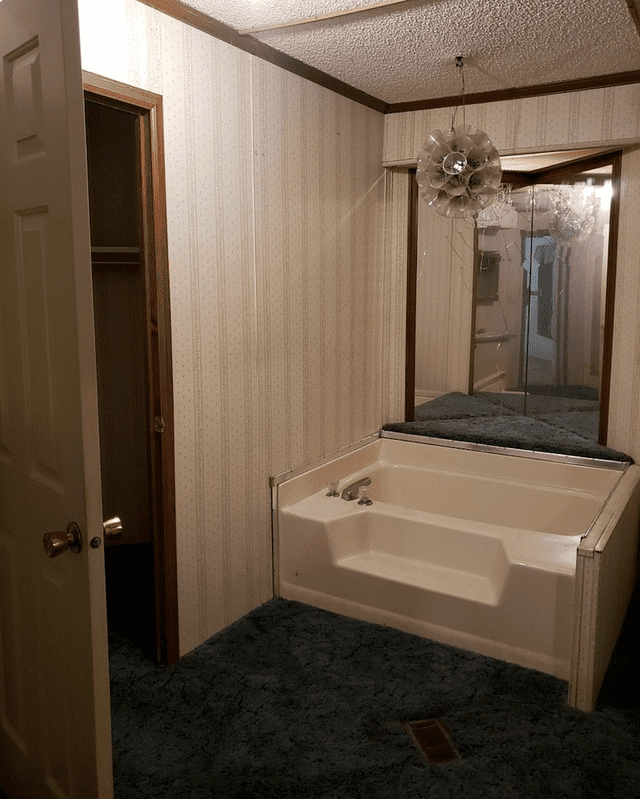 Who wants to see themselves when they get out of the tub in a mirror? Well, apparently this person did, because they've also included a small carpet landing on top of the tub? It's a bad look and kind of impractical as well.
---
Too Short?
This listing says that it's from a repurposed school that has been turned into homes. Before you look at the picture, it's good to get a bit of perspective, no pun intended. That sink is not at 5 feet off the ground, it's just that the ceiling is so low that it looks like it's tall.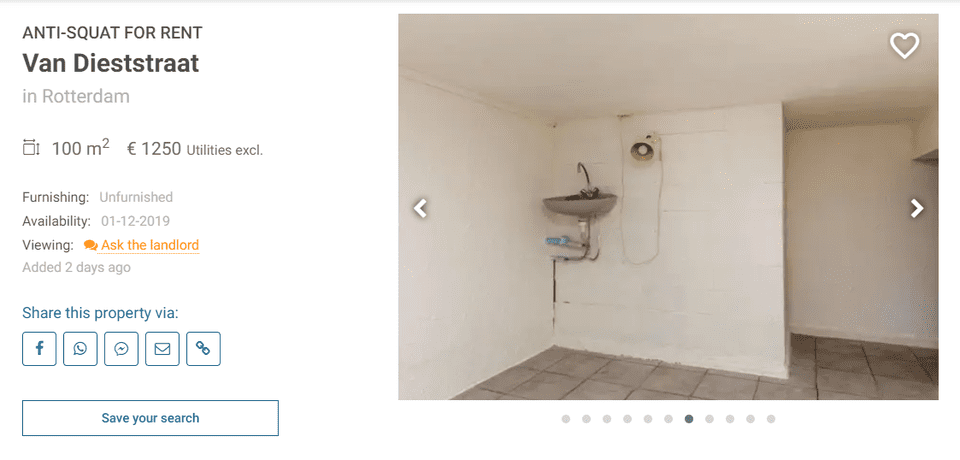 The other thing that jumps out is the word "anti-squat" in the listings. What does that mean? Why is this place 1250€ per month? Is there something missing here? Do you have to be really, really short to not bump your head?
---
Them Bones
This one speaks to how important it is to have a good stager and photographer when you are selling a house. Paleontology is a very cool science discipline, but you probably don't want to take your work home with you.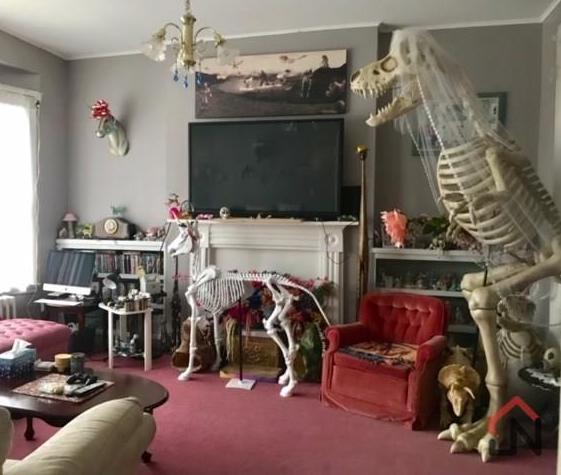 Just kidding, no real paleontologist would put a veil on a raptor skeleton like that. This is most likely the little house that the Addams Family had to move into in the first movie. Or the house of a very strange science teacher.
---
Compact Living Space
There's something to be said for tiny houses. Maybe even small studio apartments. They can be nice, even if they're a bit tight. This is a bit of a special case though. Some of the design choices on these are extremely confusing.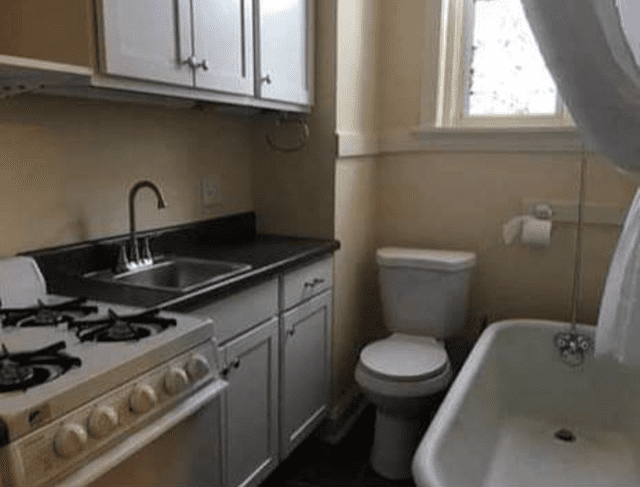 Most tiny houses are environmentally friendly at a bare minimum. It's not very anything-friendly to bathe, cook, and use the toilet all in the same room though. At least there's a sink to wash your hands.
---
Live Like A Pig
Usually, when you show a home, if the buyer isn't interested, the buyer's agent will provide feedback as to why they didn't like the home. In most cases, it's something simple like "bad color choices" or "wrong size for our family". Sometimes, they get a bit more detailed though:
Pigs are pretty cute, and they do make great pets. It's probably not the first thing that most buyers would like to see though. So, you have to wonder...what did the buyer's agent write in that feedback? Did they note the pig or the cat first?
---
Where's The House?
Sometimes, as a homeowner, when you're trying to sell your house, you just have to realize that your taste is "unique". Get some of your stuff out of the house so that the buyer can imagine what the house will look like when they live in it.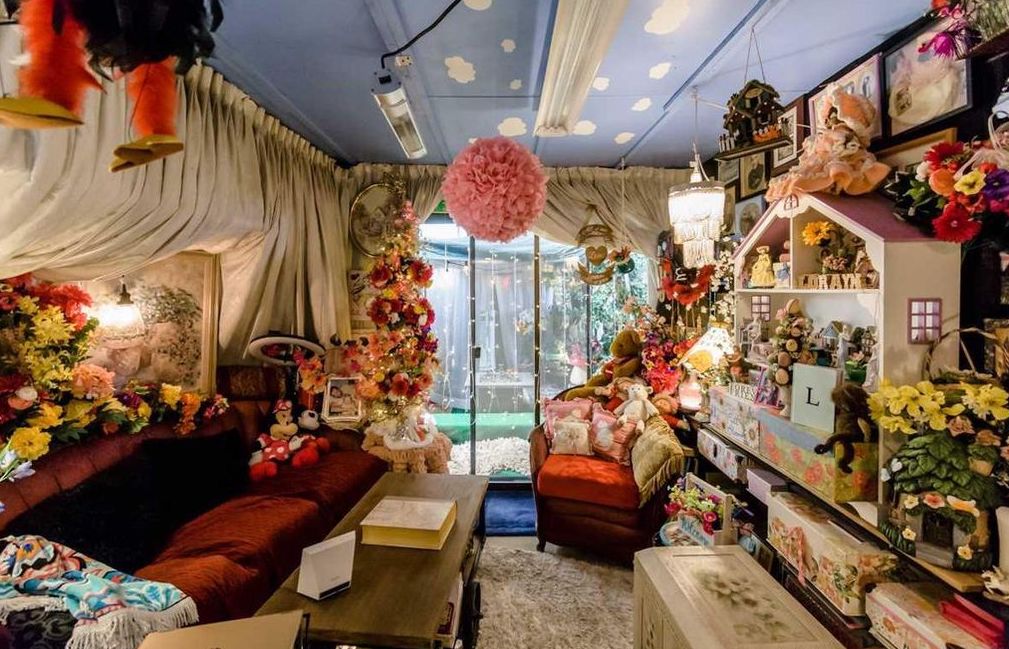 Or, in this case, get some stuff out of the house so that the buyer can see anything at all. What room is this supposed to be? You don't get to cop out and say "storage room" either. That would be cheating. This is...some kind of room?
---
It Always Feels Like...
This house looks pretty normal, but there's clearly something not right about it. It sure has a lot of TVs...and they're all tuned to the same channel...and it's a picture of the house. It's the same house you're walking around in. Well...that's odd...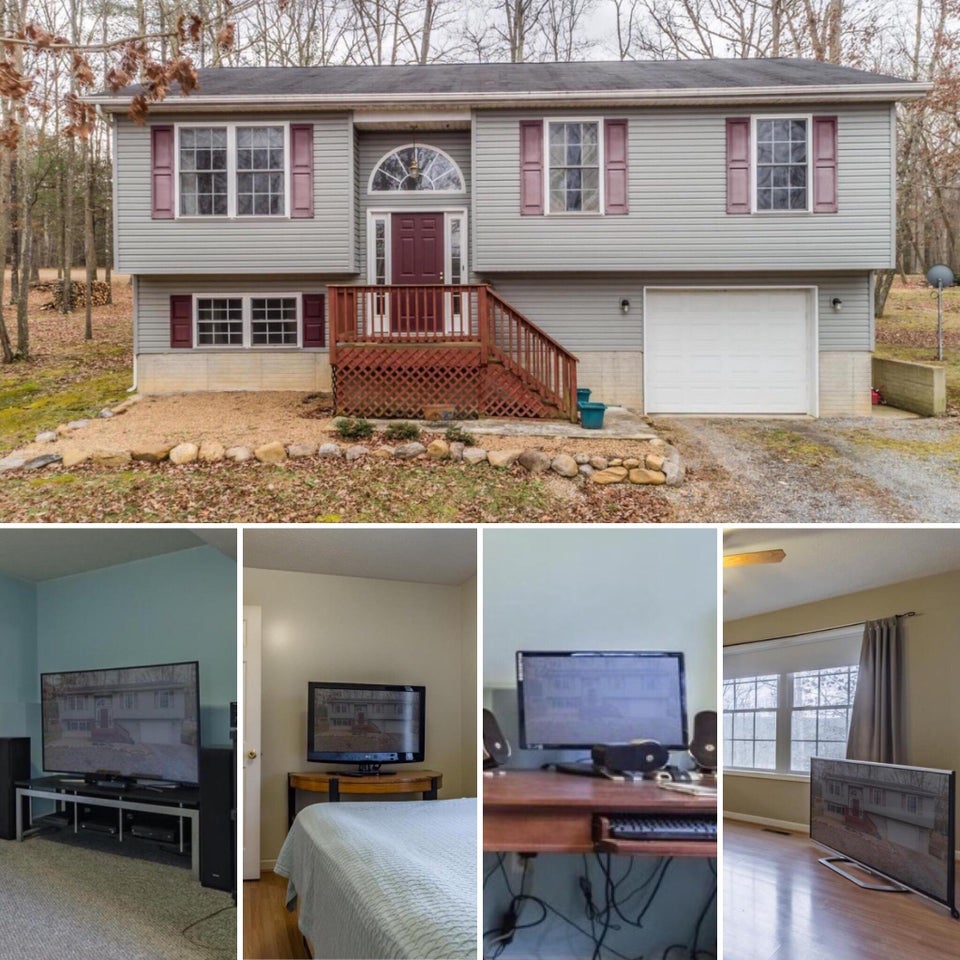 This is like an episode of The Twilight Zone in which your house is being broadcast 24 hours a day, 7 days a week AND you get to watch it too. Seriously though, what was the point of this for the agent. Clearly, some of those TVs have been set up especially for the listing. Why go through all of this?
---
Bear Down
This is a nice rustic cabin in Idaho. You can't really tell whether this has been staged or if that's just someone's normal furniture. If it's the latter, it's probably not in its normal place in the room. It might get a bit awkward.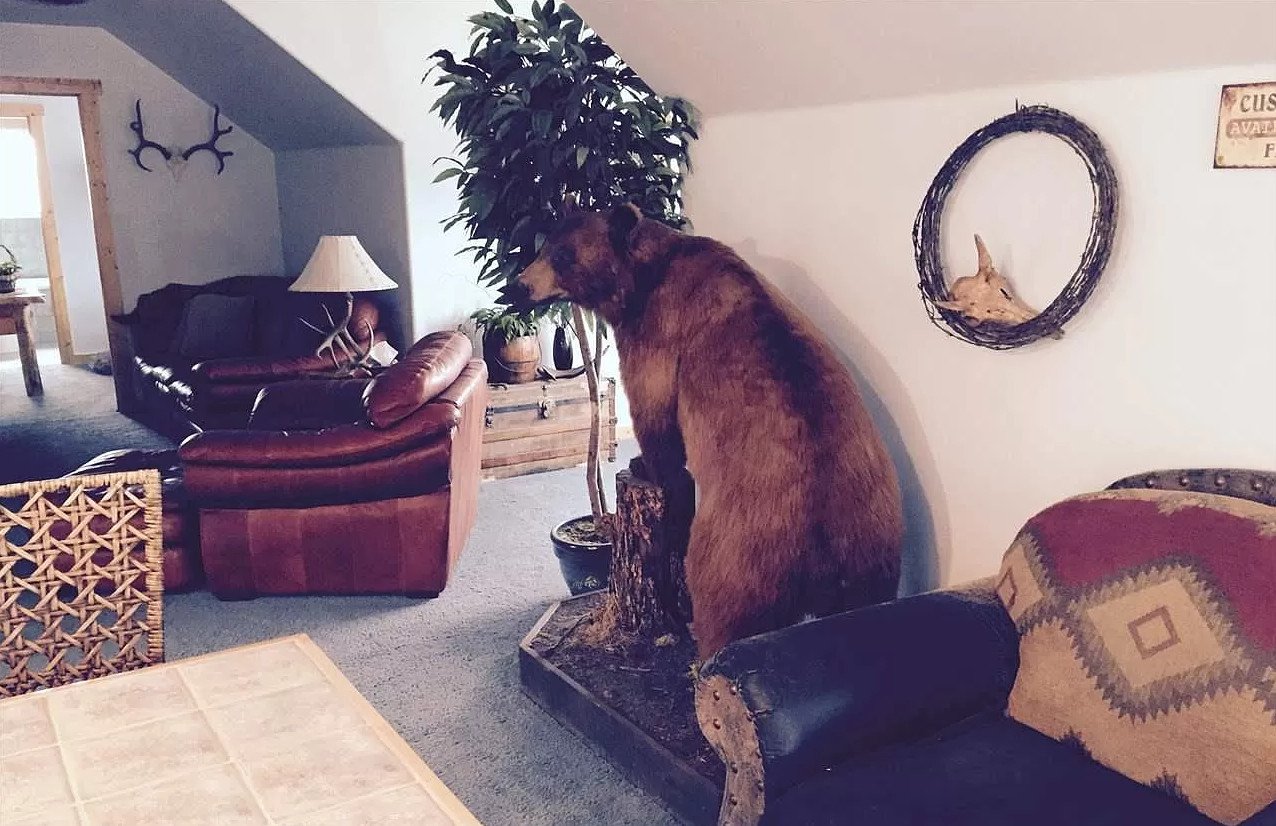 The big problem is obviously the giant stuffed bear and it appears that the bear's rear end would be right in your face if you sat in that chair there. Not a good place to be, and it really doesn't matter if he's stuffed or not.
---
The Ultra Modern
Have you seen The Incredibles 2? In that movie, the Parr family lives in a swanky, modern house that features a built-in swimming pool that goes right through the living room. Well, guess what? It's (almost) a real place!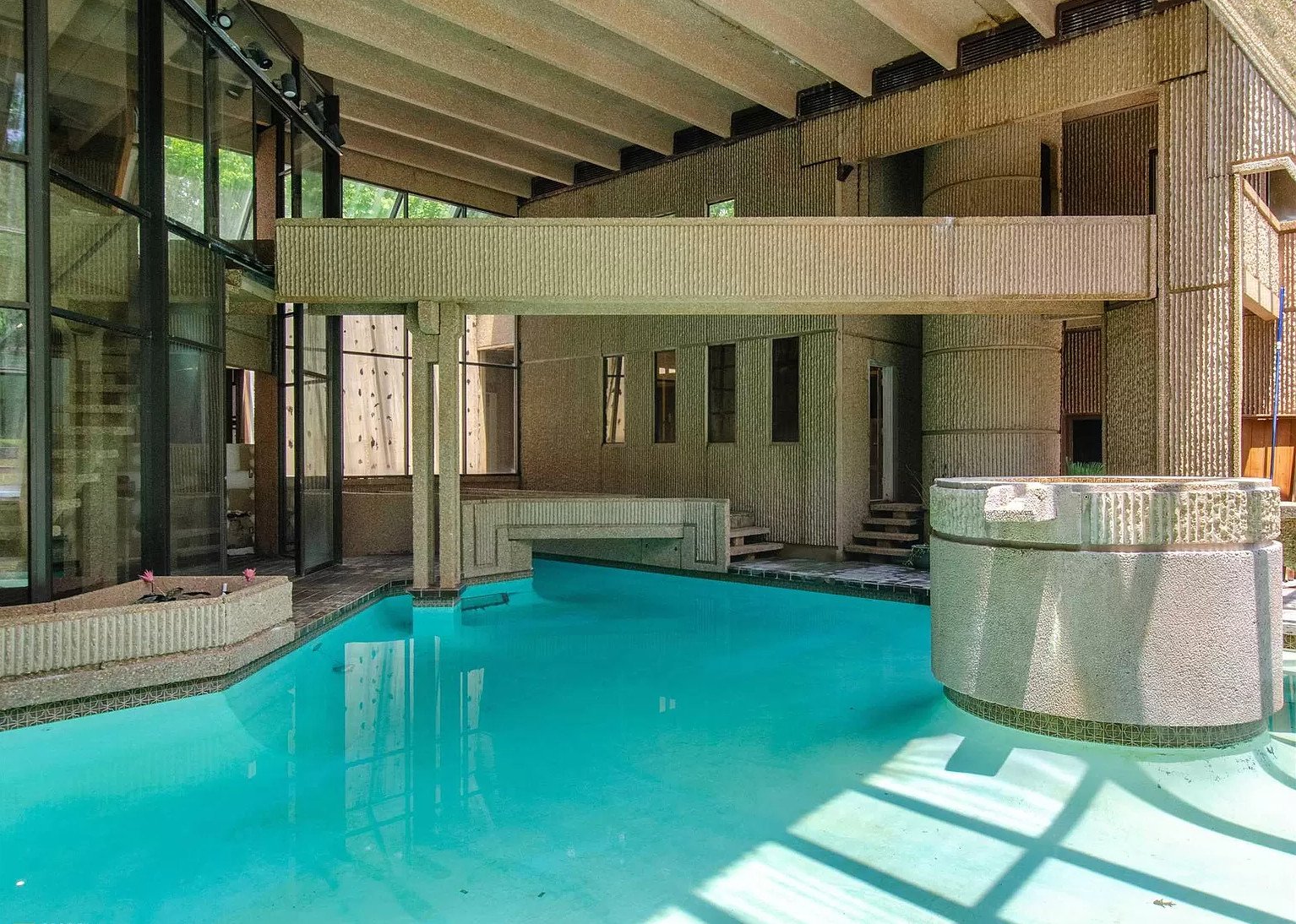 The only problem is that the movie took place 40 years ago, and apparently, this house has sat for 40 years with very little attention. Hopefully, that water in the swimming pool hasn't also sat there for 40 years also, because that would be a nightmare to clean.
---
Gas Station
If you saw this picture on a listing, how much would you say that the house is probably worth? $10? Or maybe you figured that the picture got stuck in the wrong listing. It could also be that someone just likes graffiti. That would make sense, right?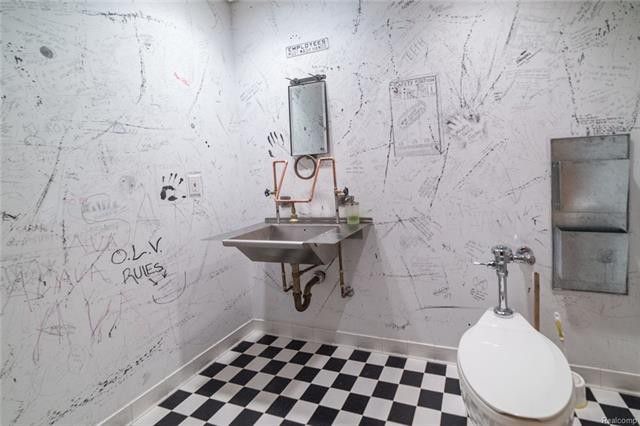 As it turns out, this house was a $1.4 million listing. The bathroom was done as a themed bathroom. Hopefully, they didn't emulate the smell of a gas station bathroom too.
---
A Real Castle
There have been a few of these houses that have looked like castles, and here's one that comes even closer. This Wisconsin house has it all, including 25 acres, and the promise of secret rooms and tunnels.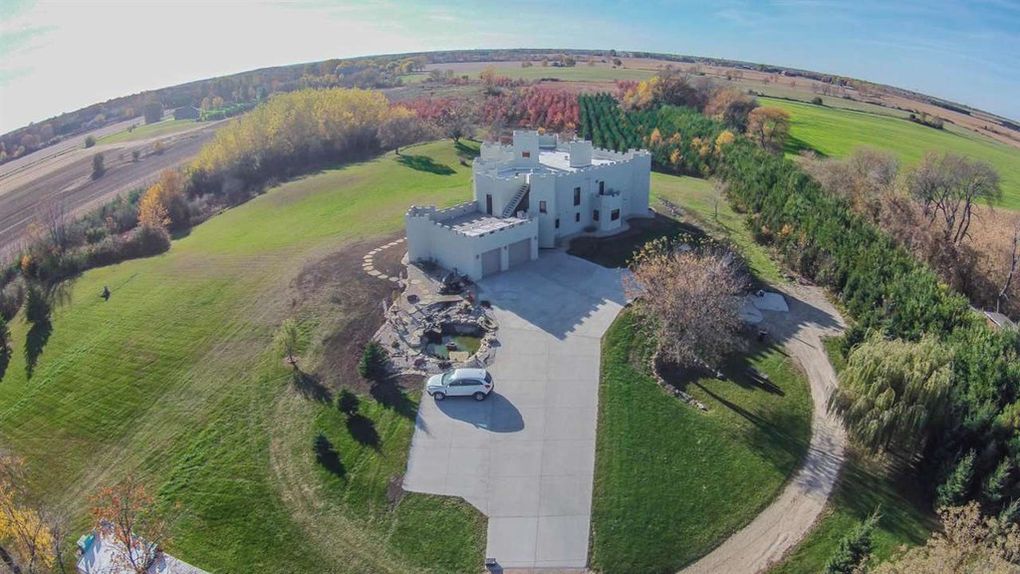 Then again, they're also advertising it as a place with B&B potential, which sounds like an exceptionally bad idea in a castle with secret rooms. One of them could be a dungeon or a torture chamber. An isolated B&B with secret rooms on 25 acres of land in rural Wisconsin? Don't stay there. It sounds like a bad idea.
---
You Aren't Fooling Anyone
Sometimes, people just put up a facade on their house to make it look nice in the pictures. That could be what is going on here, or it could be that the house is just falling apart. Either way, this is a very silly thing to do. Do they really think this is going to work?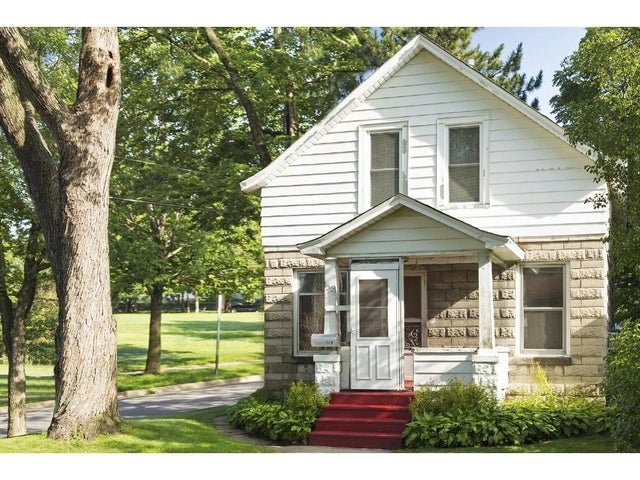 It's nice that they did the landscaping and even put down new carpet for the steps. (That's weird too, but keep your eye on the ball here.) Could they have at least tried to finish the door frame?
---
The Ice Cream Parlor
When you were a kid, did you ever want to live in an ice cream parlor? Well, someone sure did, and they also made all of the other furniture as loud and as obnoxious as possible too, and also cramped and uncomfortable.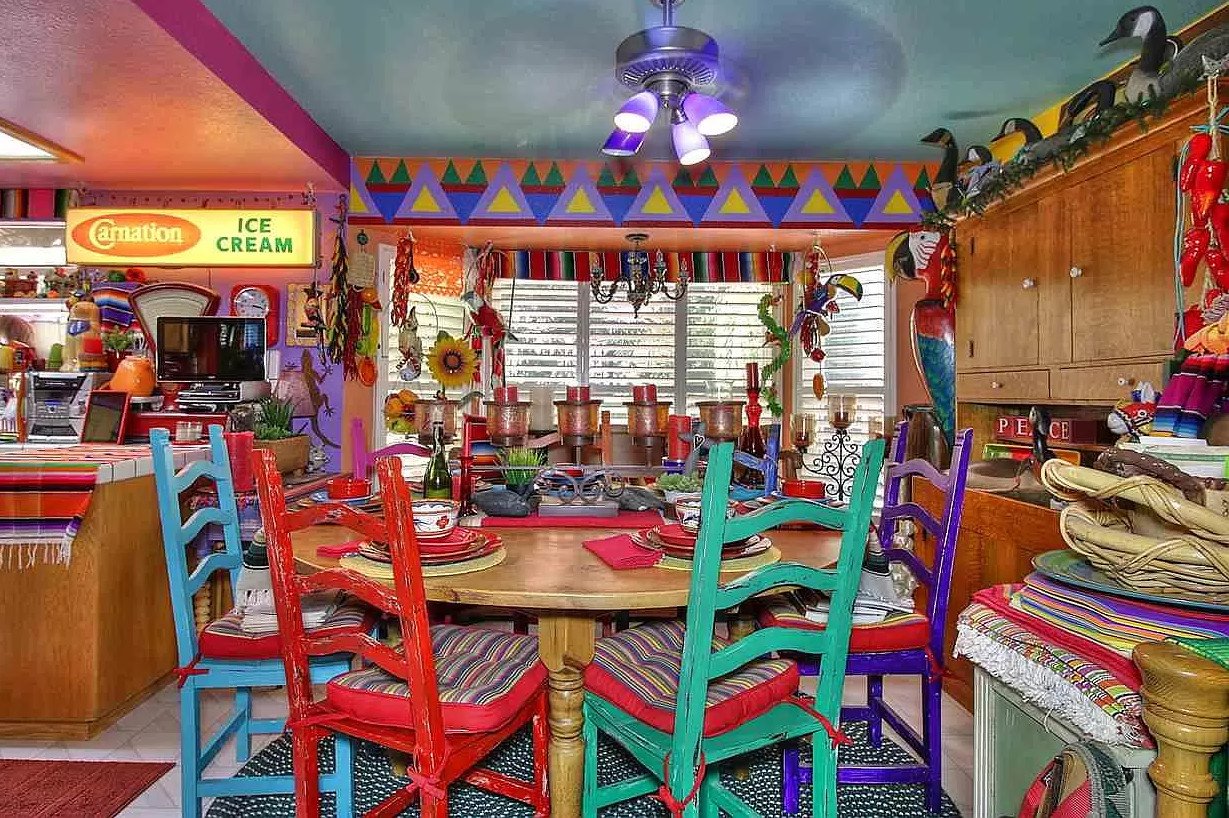 This house proves that dreams can come true. It also proves that sometimes you should put some dreams behind you. To be fair, the rest of the house is pretty cool, and it does have a great party patio, so maybe the ice cream stand just fits right in.
---
Teacher's House
This is a strange choice for any house. You have to hope that the people living here are some sort of educators, otherwise, this is a very odd choice for interior decorating. And where did they get this thing anyway?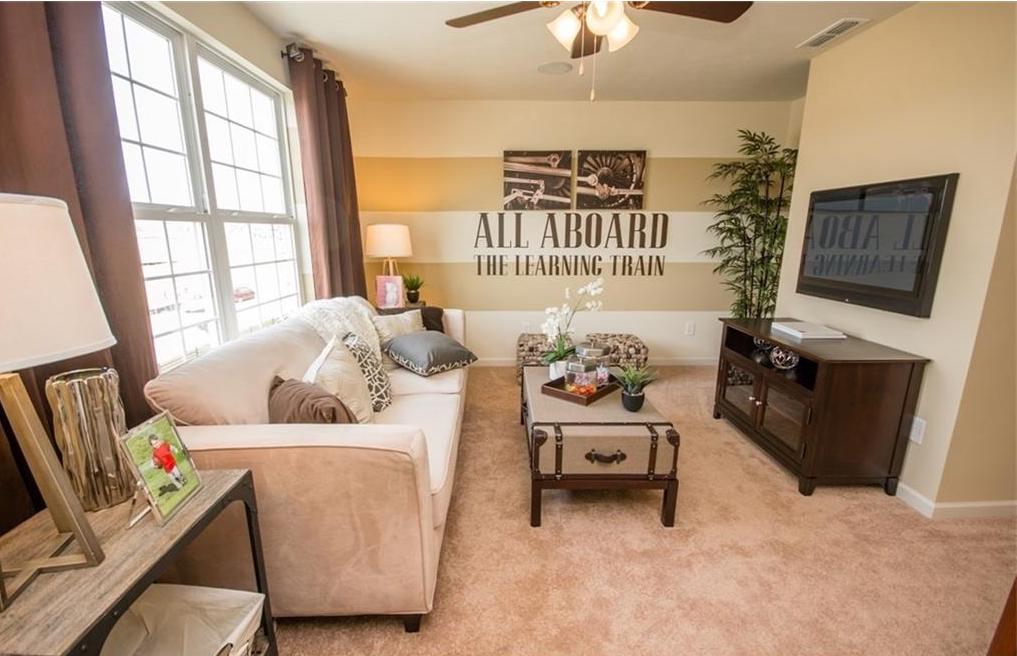 Wherever it came from, they probably should have learned more about interior design before putting that sign up on the wall. They should have also learned about other colors that were not beige or brown.
---
Another Kitchen
In most houses, all of the pipes do flow together into one central line, so you'll see bathrooms built on top of each other. This does not mean that putting a toilet in the kitchen is a good idea. Or putting everything next to the water heater.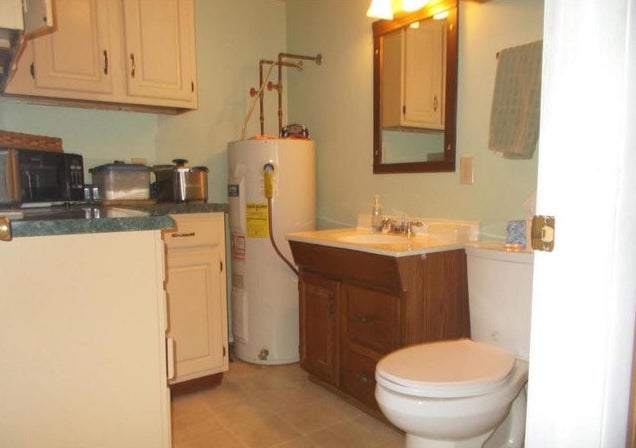 It looks pretty bad no matter how you slice it. There's not even a kitchen sink in this picture, so besides the toilet and kitchen being in the same place, there's no place to do the dishes either.
Those are all of the crazy real estate listings for today. Some of them are pretty strange, and some of them are actually kinda cool. Just make sure that you get them inspected before investing. If you enjoyed this story, please share it with your friends. Thanks for reading!
Sources: Reddit, Trulia, Zillow, Realtor.com, RealEstate.com Australia