Over 100 Kids In Total: Meet the 7 Biggest Families On TV
There are big families that have five or six children and their parents, which is already an imaginable handful, right? Well, on this article, we're talking about much much bigger families than that. In fact, we're taking a look at some of the biggest families that have been featured on television.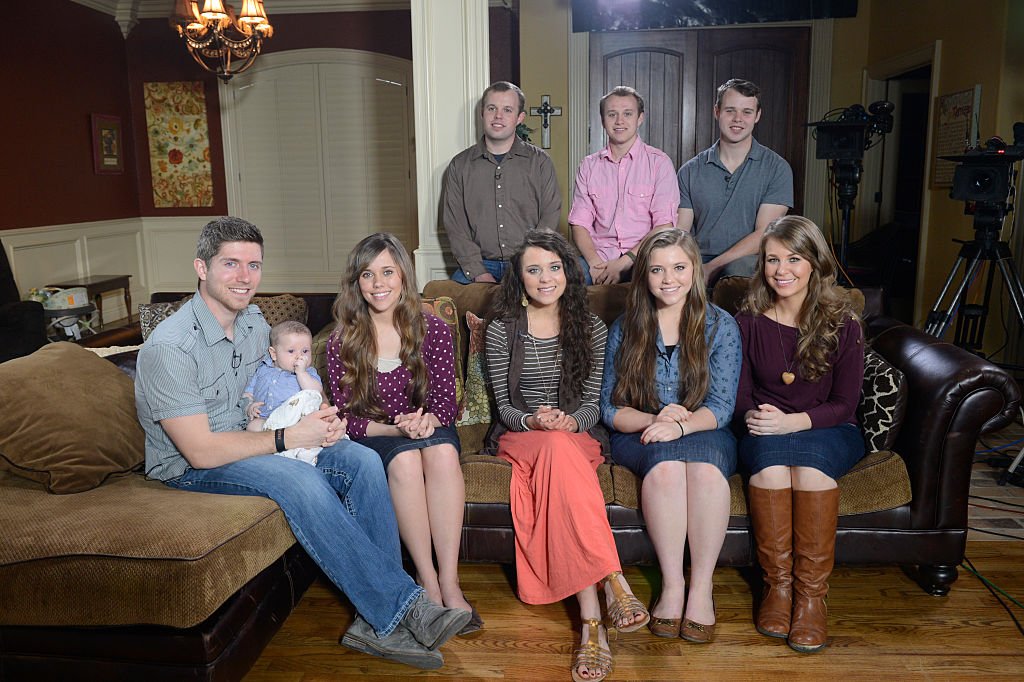 Before getting into the list, how many kids are you comfortable with? Okay. Now, how many kids do you think the biggest family on this list has? Prepare to get blown away, and delightfully surprised at the interesting broods these families have managed to build for themselves, plus the interesting stories that come with them.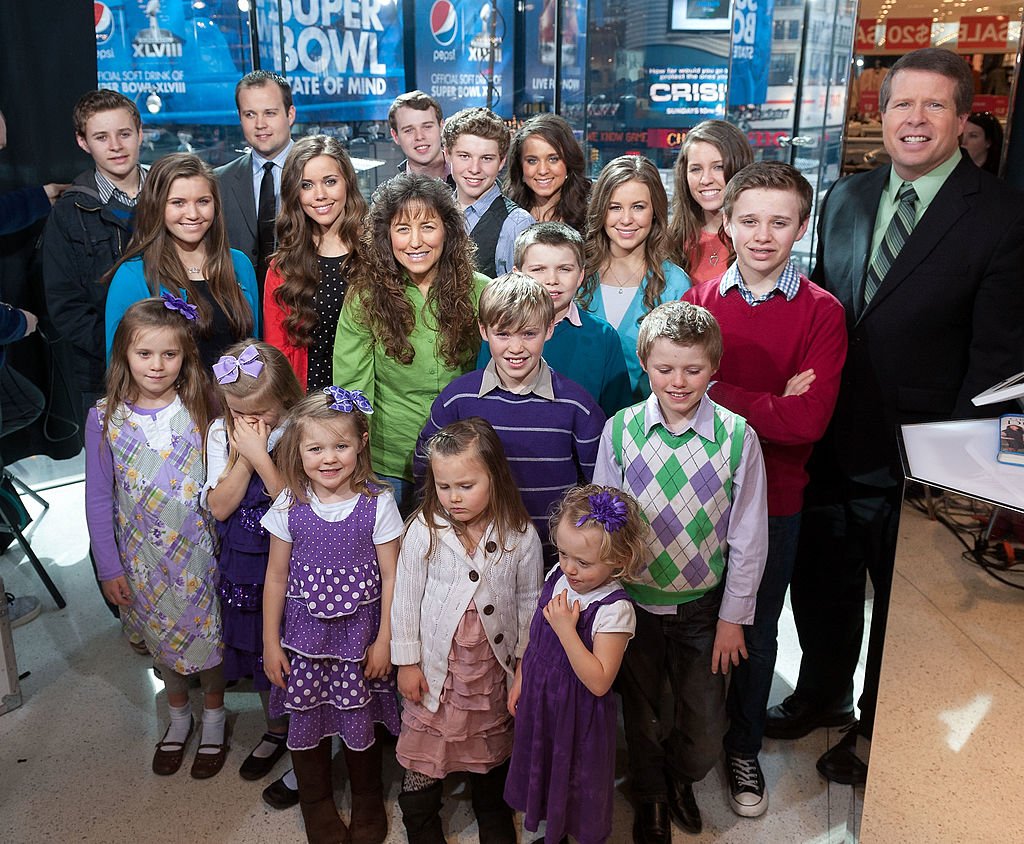 ---
THE GOSSELINS
Let's start things small, shall we? Most reality tv fanatics will be familiar with the Gosselins. Jon and Kate Gosselin were once a couple that starred in a TLC's reality show, "Jon & Kate Plus 8". The pair were featured in their own reality series no just because they had 8 kids, but because they had sextuplets.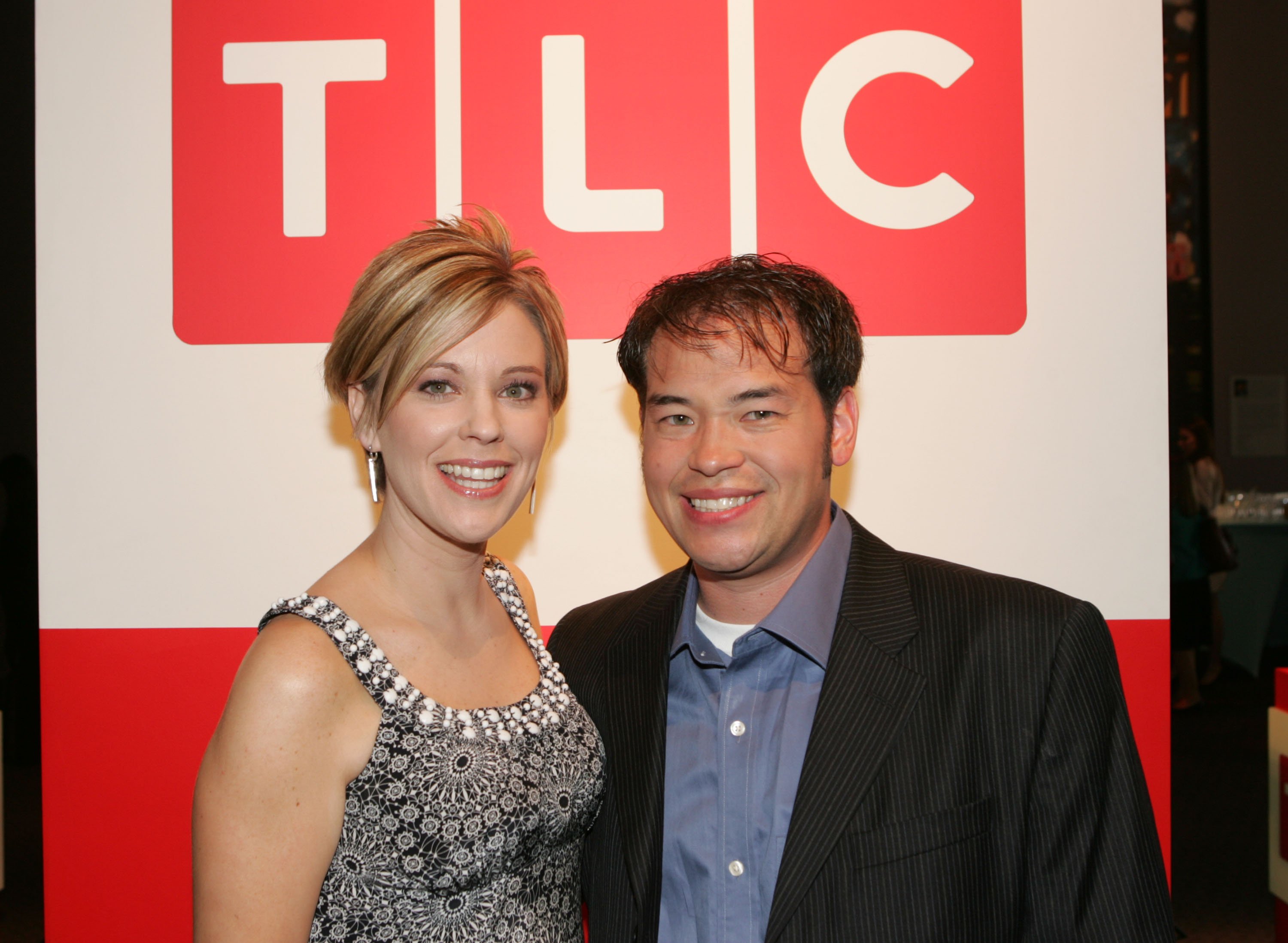 If you didn't know, sextuplets mean six kids born out of one pregnancy. Yup, Kate carried six babies in her womb at once. To say that she's a trooper is an understatement of massive proportions. Jon and Kate also share two older daughters. Rounding out the 8 in the title of their once-popular reality show.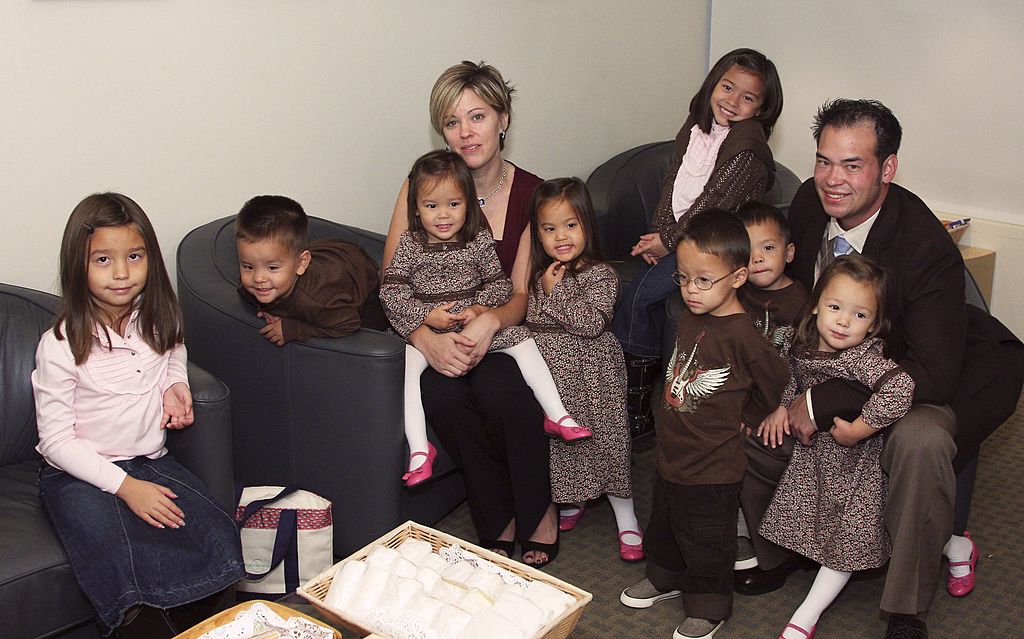 ---
COPIES UPPON COPIES OF THEIR KIDS
Oh, and those two older daughters, they happen to be twins too. Amazing right? Now, not to make anyone feel older than they already are, the sextuplets recently turned sixteen. Yeah, it's been that long since they were born. Imagine all the teen angst these parents have to deal with at one time.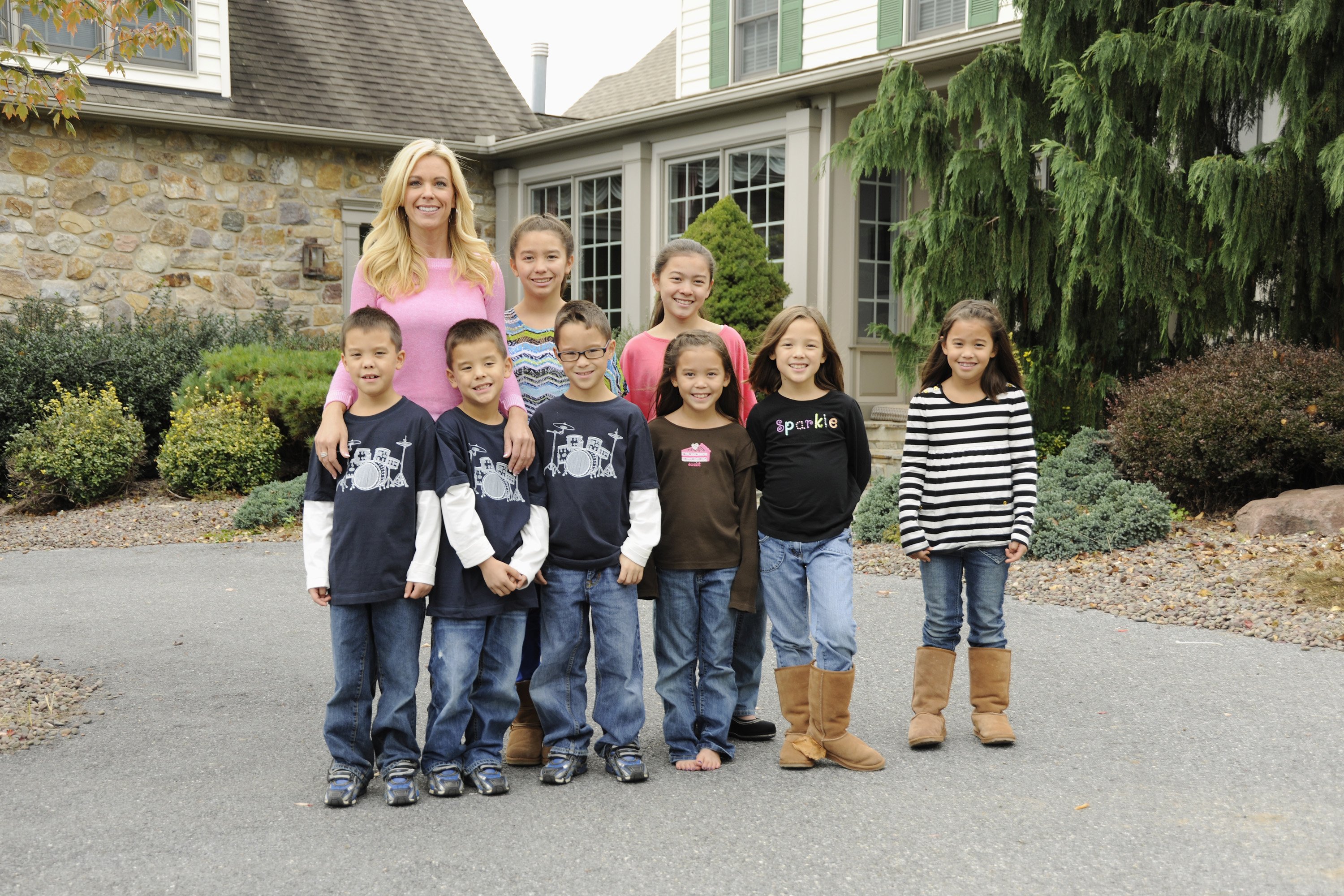 Though they're not together anymore, both Jon and & Kate took to social media to celebrate their kids' birthdays. Four of the six live with Kate and two live with Jon. The older twin daughters are off on their own at college. You probably also know Kate for her spin-off reality shows "Kate Plus 8" and "Kate Plus Date".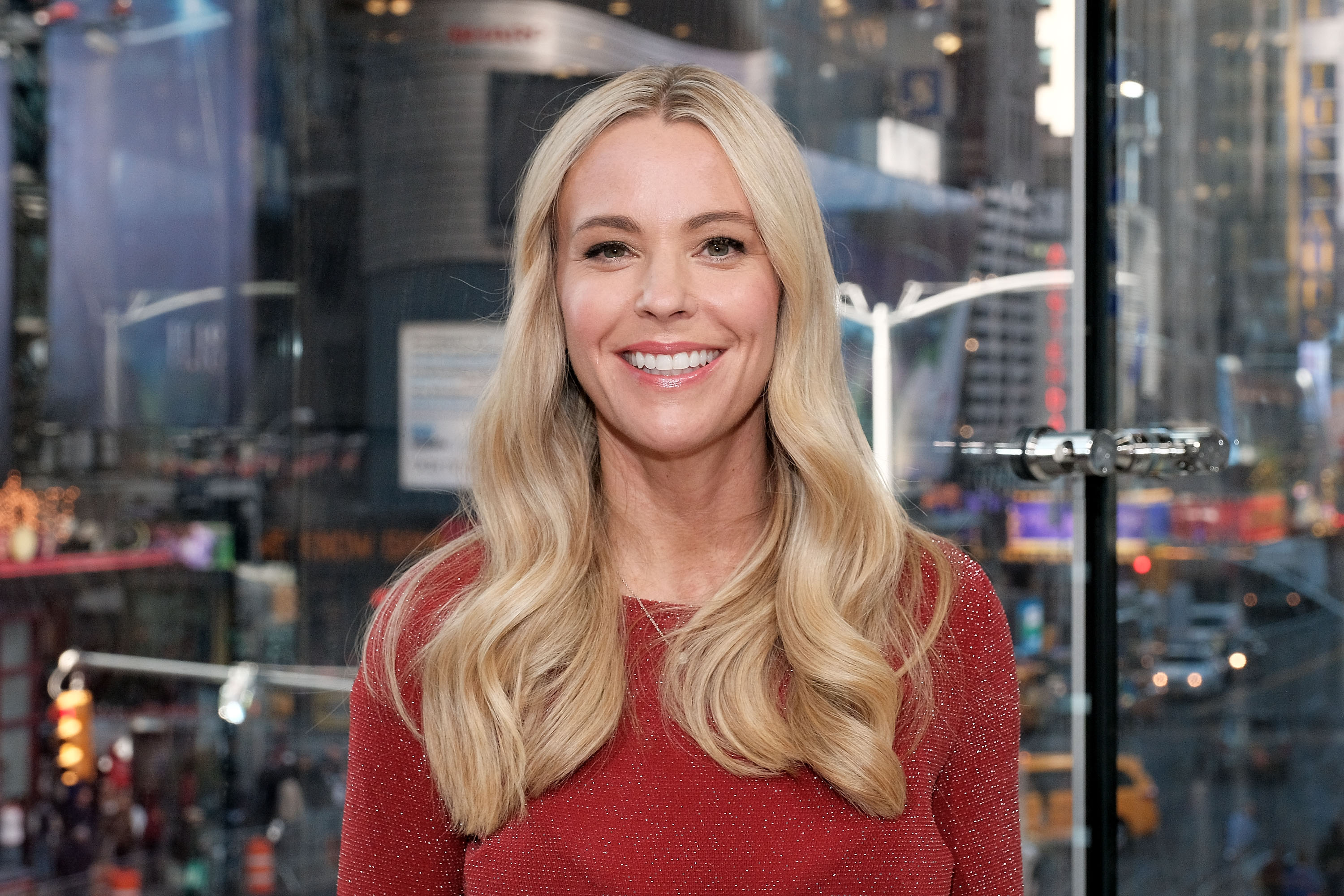 ---
SWEET HOME SEXTUPLETS
Taking over TLC's sextuplets obsession after the Grosslins split is the Waldorps. Eric and Courtney Waldrop welcomed six babies in December 2017. They certainly, and literally one-up TLC's previous reality tv family with one additional child in their wholesome brood of nine. Like Jon and Kate, the Waldorps have sextuplets, older twins but boys, and one more older son.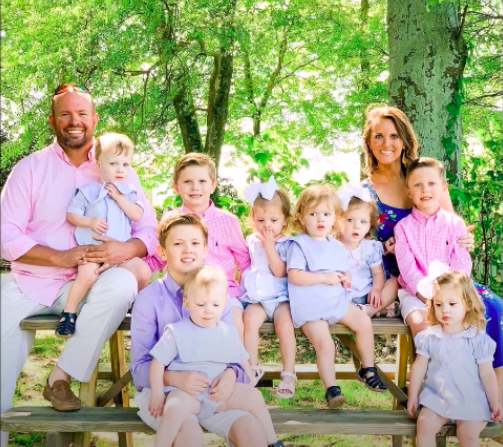 The rural Alabama based family of eleven are the stars of TLC's Sweet Home Sextuplets which chronicles their lives, struggles, and celebrations of being in such a big family. In early December of 2017, Us Weekly covered the tenous moments leading up to the delivery of the six babies, who were born at just under 30 weeks gestation on Dec 11.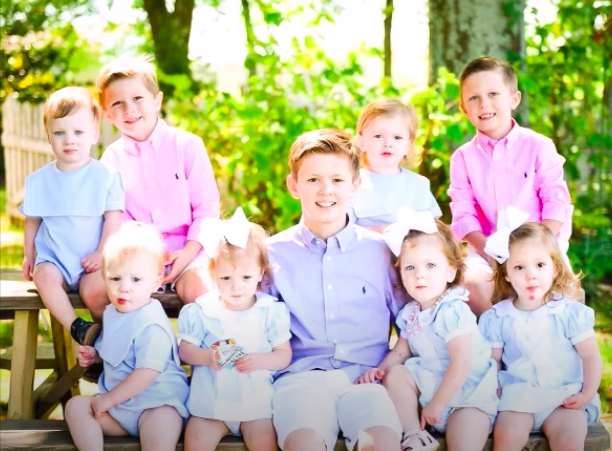 ---
HOLIDAYS ARE HECTIC TO SAY THE LEAST
Since their babies' arrival, it's been nothing but crazy fun for the Waldops and their viewers. With the tail end of every year being extra busy for them. People shares that for the Waldorps "this time of year is very busy for us as we plan and look forward to Thanksgiving and Christmas as a family of 11."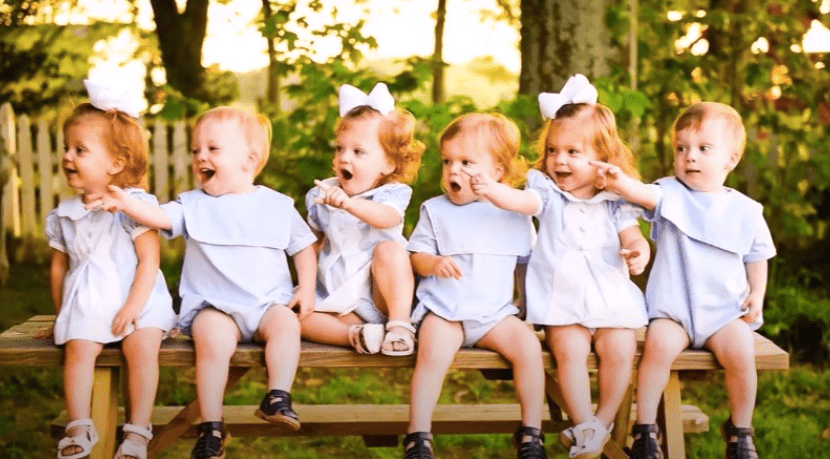 Eric and Courtney added, "The holidays have always been special for Eric and I and celebrating with our three big boys — but now that we have our six babies to share it with, it makes everything a little more special." People also reported that the Sweet Home Sextuplets had been renewed for a third season.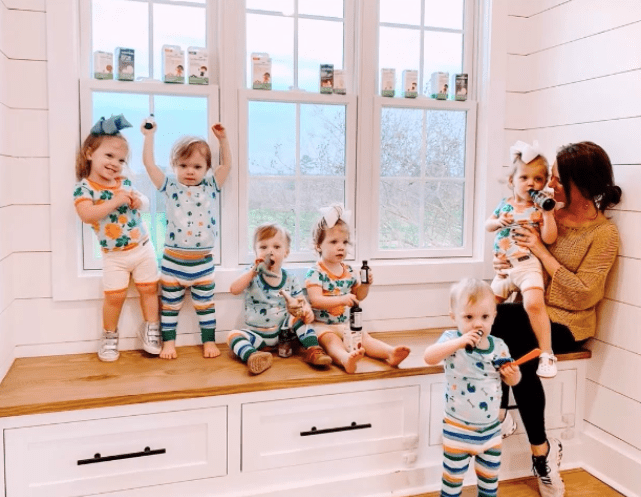 ---
13 IS TO ONE RATIO
Kicking things into overdrive is a family from Millstadt, Illinois. The Arndt family lead by parents, Rick and Cathy Arndt of Millstadt Illinois has 14 children. They have a total of 13 boys and one girl who range in age from 16 to 39. All of the children came by way of single births, no twins or sextuplets, none adopted.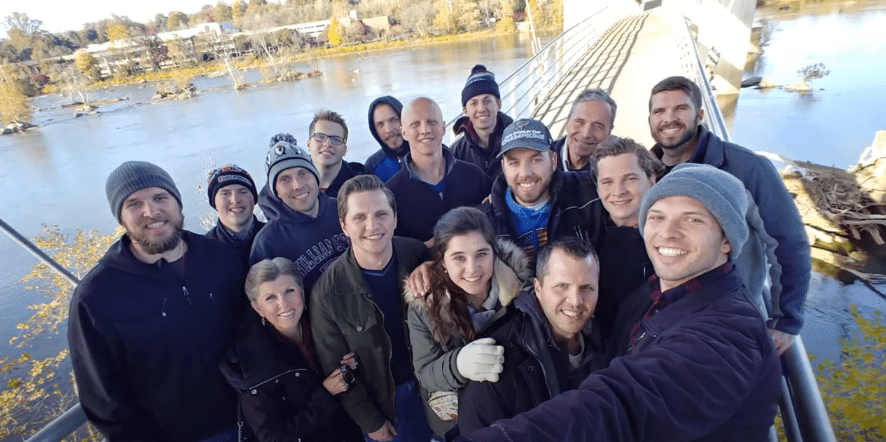 While the family doesn't have their own reality tv show that shares with the world the ins and outs of life in their home, the Arndts have a pretty sweet and active social media game. They have an active Facebook page title FamTeam - The Arndt Family. The page serves as a platform for them to share their life's thoughts.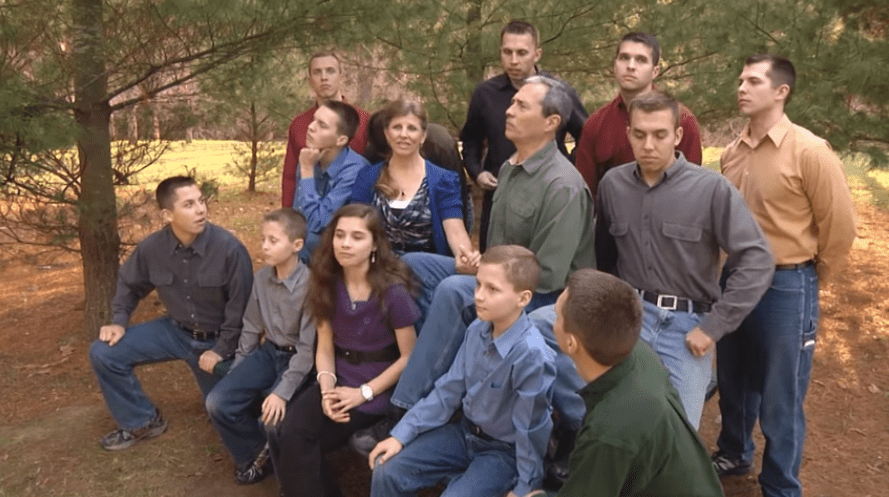 ---
OWNING IT ON SOCIAL MEDIA
Full of live streams and videos of their home in Millstadt, the 'FamTeam' page has a fairly solid following of 10k plus fans. They also used to have a family website that has since gone under maintenance. On the site, one would have been able to read interesting and trivial facts about the family and its members.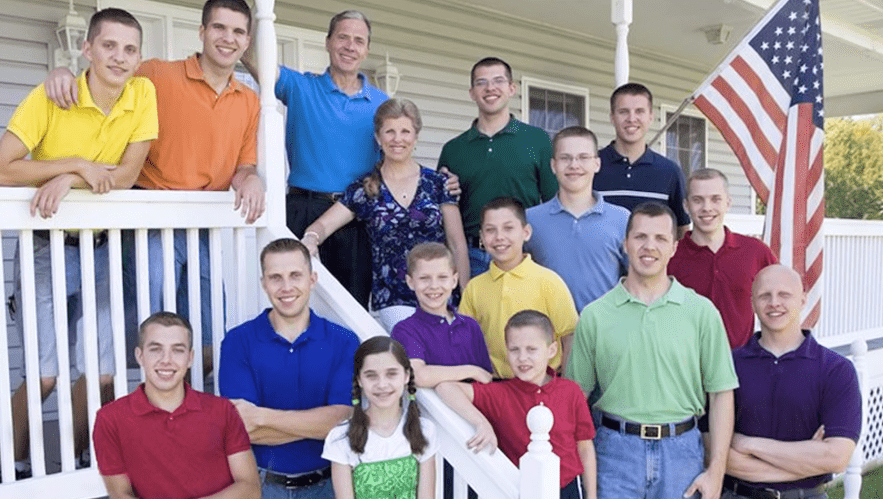 Some of those facts include: On average, there is an Arndt birthday once every 22.8 days. The only two months that do not contain an Arndt birthday are June and October. Mom and one of the sons are the only Arndts to share a birthday, January 21st. Every Arndt has blue eyes.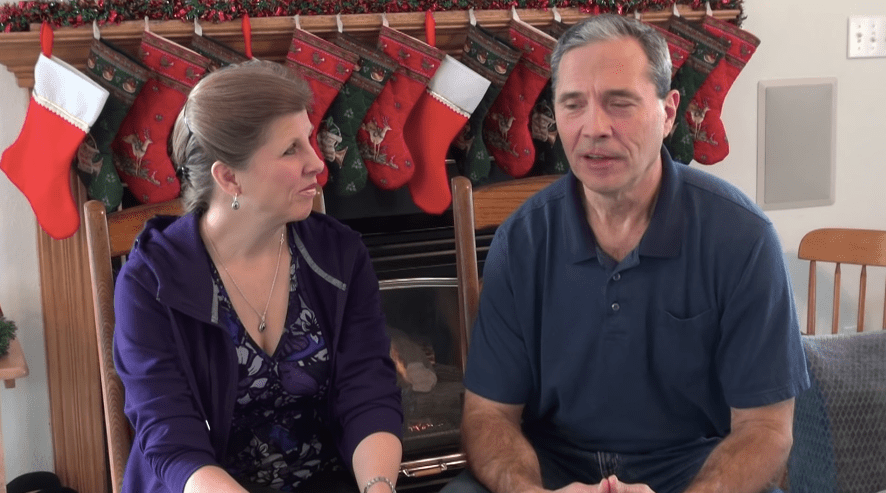 ---
KIDS BY THE DOZEN
Going back to families who were featured on television shows, and not just the news, are the Jeubs. The large family of 16 children and two parents were featured on, you guessed it, TLC. The show was called Kids by the Dozen. It was a show that featured various families across America with huge broods.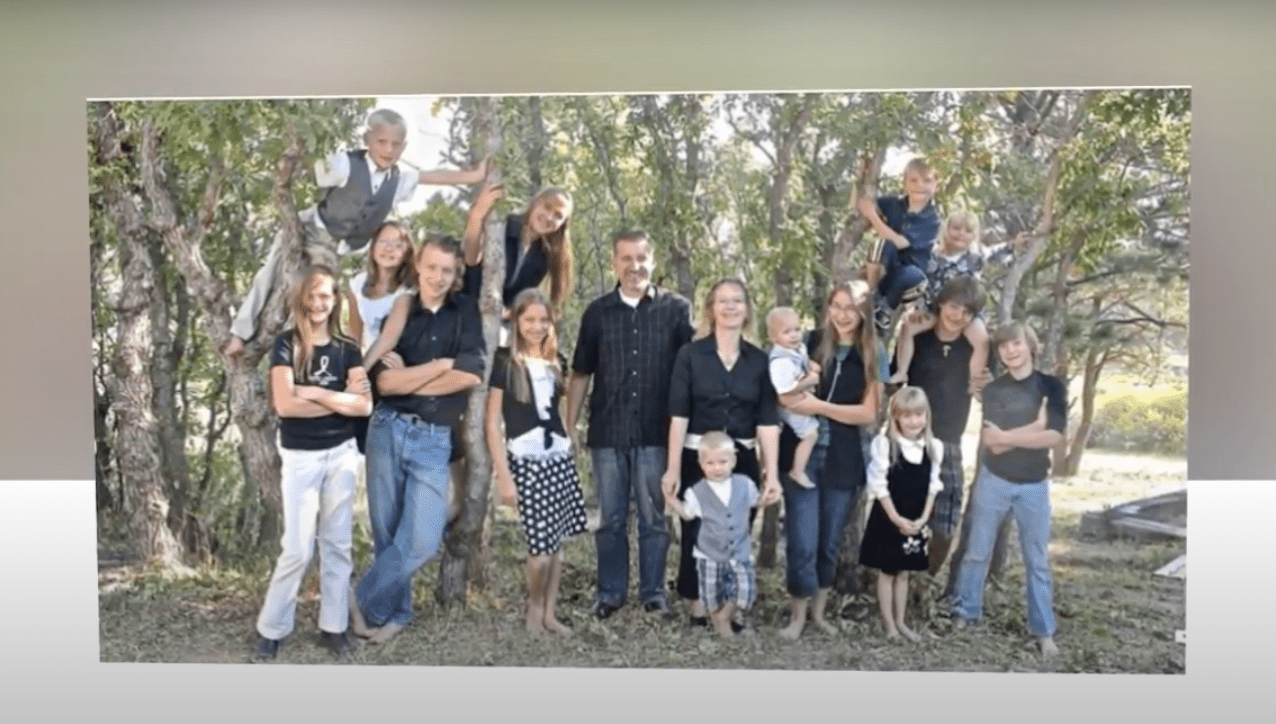 The family's patriarch and matriarch are Chris and Wendy Jeubs. Both are very staunch practitioners of the Christian faith. Chris is a well-known speaker, preacher, and author that goes around the US to promote his faith and help others find their faith. Chris and Wendy wrote a book called Love in the House that talks about their love, family, and faith.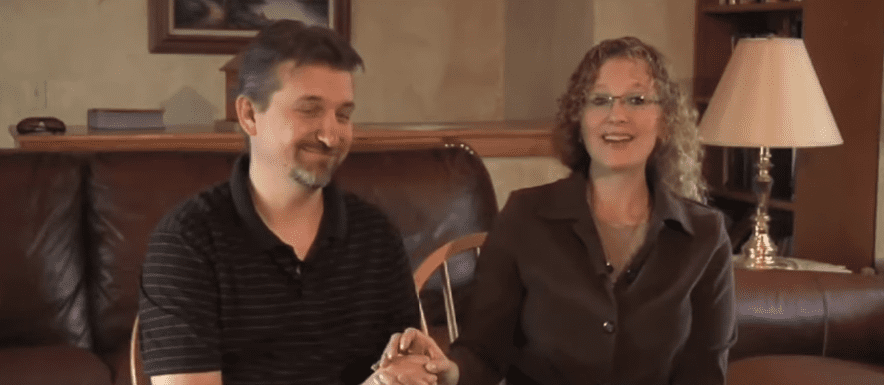 ---
QUIVERFULL
Since being featured on TLC's show in the late 2000s, the eldest of the Jeubs have since started their own families. The family's faith is centered on the Quiverfull movement which believes, in part, having as many kids as possible to be closer to God. One of their older daughters, Cynthia works as a blogger based out of Olympia, Washington.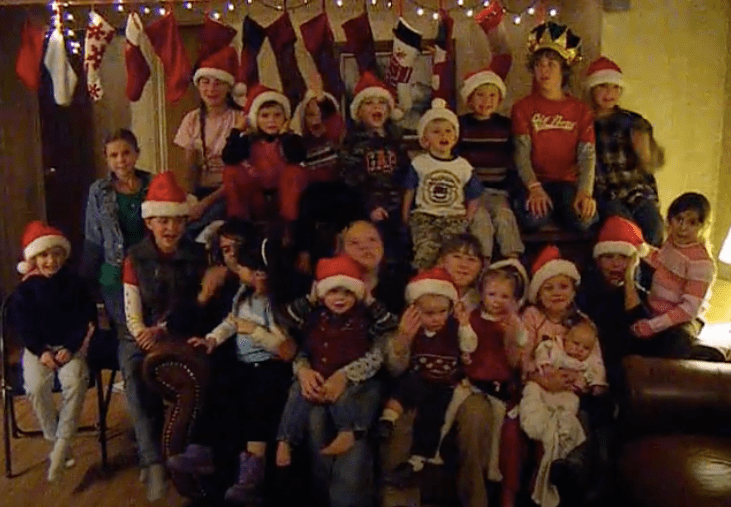 ---
THE HEPPNERS
Another family that was featured on Kids by the Dozen are the Heppners. This giant family from Warroad, Minnesota led by Miriam and DuWayne Heppner boasts of a brood of 17 children. Of those kids, 16 are biological and one adopted child. However, since being featured on tv some of their kids have gone on to marry and have families.
The Heppners have definitely upgraded themselves from huge brood to a young bustling clan. The family also has a Facebook page that gives their fans updates on how their family is doing. Though the page isn't as savvy as the Arndt family's, it's still pretty entertaining to get updates on how much their family is growing.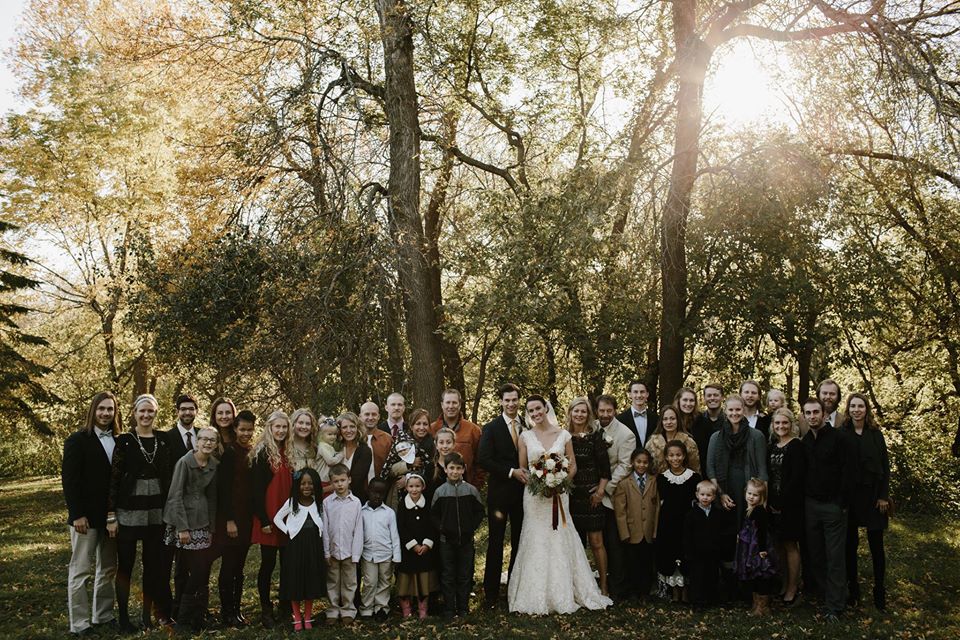 ---
EXPANDING THE FAMILY
The page's description proudly explains that "DuWayne and Miriam Heppner have been graciously and generously blessed with seventeen children, six daughters-in-law, two sons-in-law, and twenty-three amazing grandchildren." Imagine that's not even half of their children that have married. Exciting times are indeed ahead for the Heppners, they're just gonna keep growing.
---
MORE FROM THE WORLD OF REALITY TV
Another famous family that has been featured on TLC and UPtv is the Bates family of Lake City, Tennessee. You know them as the stars of UPtv's Bringing Up Bates which began in 2015 still continues to air. You might also know them for their short-lived TLC program, the United States of Bates.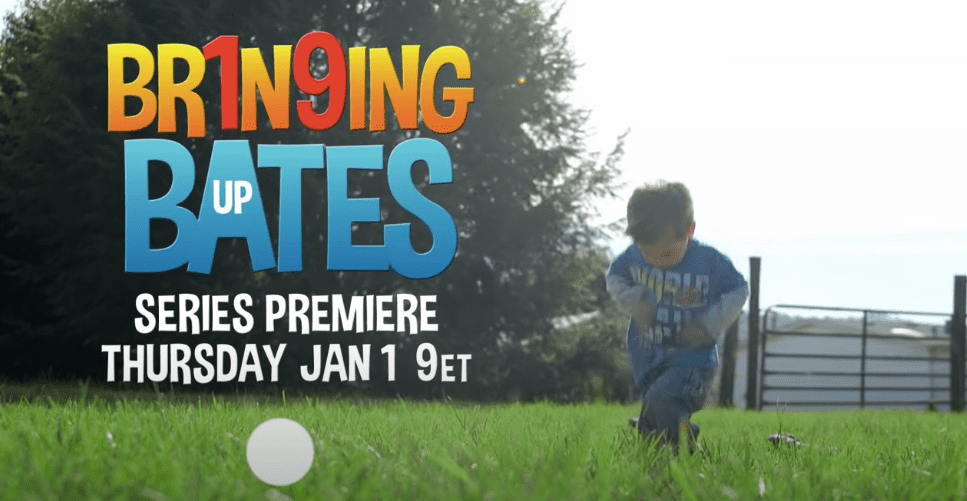 At the helm of the family are Gil and Kelly Jo Bates, who reportedly met while attending the same college. After getting married in 1988, they have since welcomed 19 children, over the past 32 years. Kelly Jo is a stay-at-home mom, while Gil has his own tree cutting business.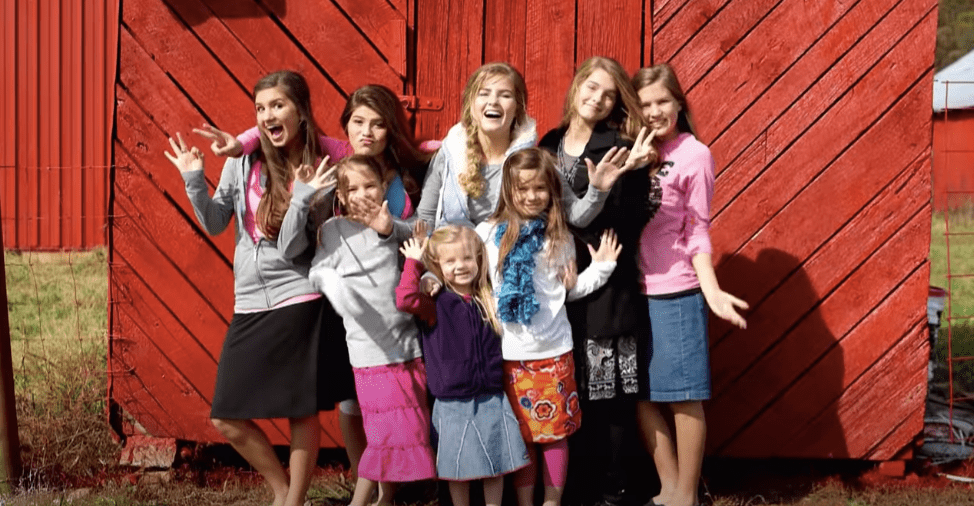 ---
BIG MOMENTS SHARED WITH THE WORLD
Over the years, the Bates family has been able to share important family moments and accomplishments with their fans thanks to their reality show. These include sending their older children, Tori, Trace, and Josie Bates to Crown College of the Bible in Powell, Tennessee. As well as Carlin and Erin, and their sister-in-law Whitney, opening the Bates Sisters Boutique.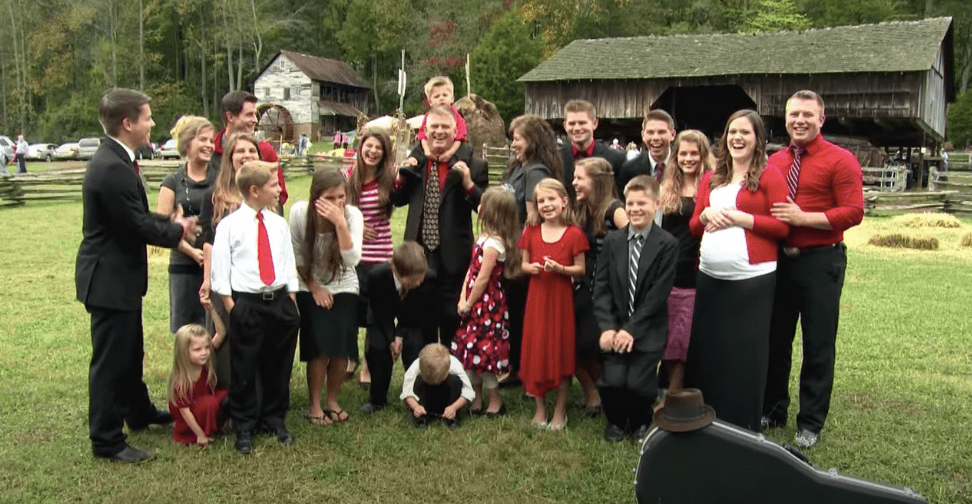 ---
ARE THEY STILL COUNTING?
The original family that had the world in shock by the sheer number of children they had are the Duggars. Michelle and Jim Bob Duggar, the parents of 19 kids who allowed cameras to film the ins and outs of daily life with so many children, on TLC's reality tv show called "19 and Counting."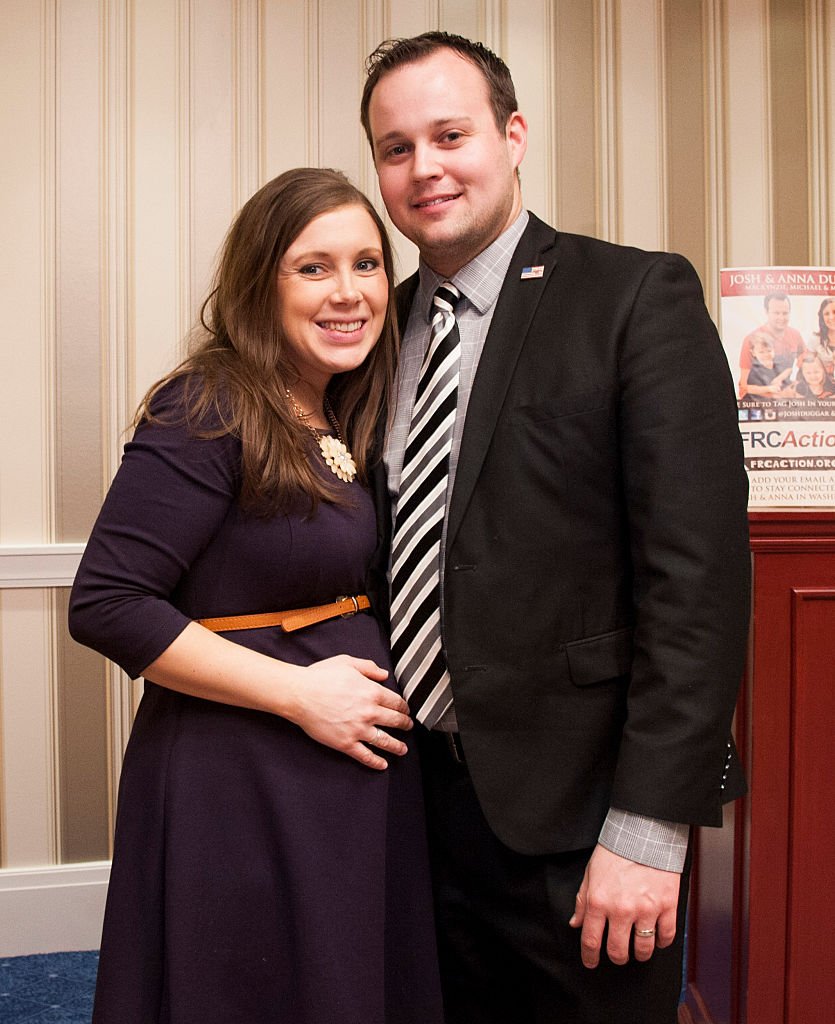 Now, the Duggar kids are growing up fast, and many who are over the age of 18 have gone off and started families of their own. But fans of the family are still getting updates on how the kids are fairing, and how life as grandparents are for Michelle and Jim Bob is like thanks to spin-off show, "Still Counting."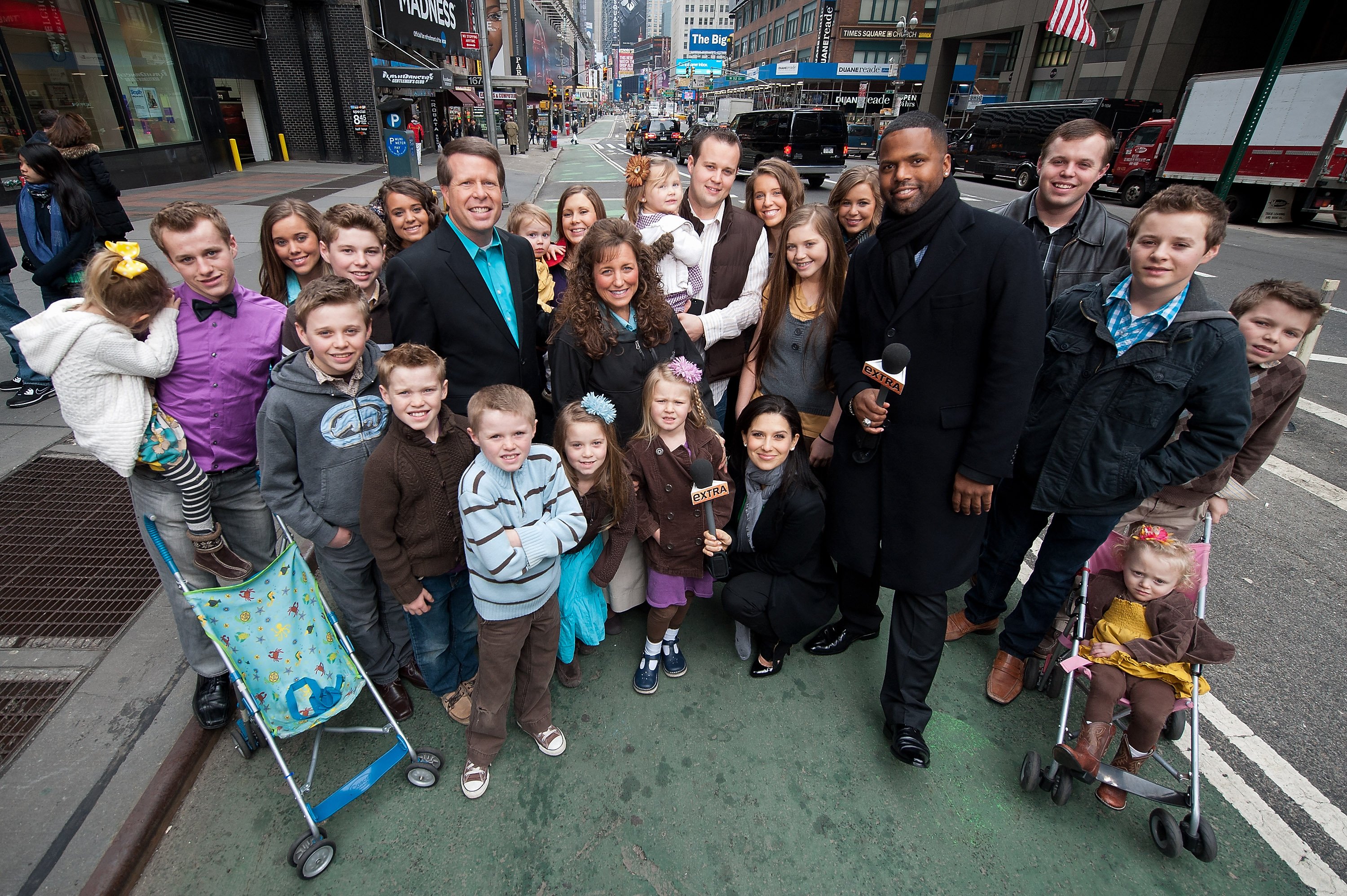 How would you handle having a huge brood of over a dozen kids? Would it drive you mad or would you relish at the honor of having so many children? Would you pitch yourselves into a reality tv show as well? Let us know in the comment section, and make sure to follow Amomama for more great content.
Source: ABC News, Huffington Post, US Magazine, Today, US Weekly, Entertainment Tonight, People