List of the Most Luxurious Royal Wedding Dresses
Every girl, and woman, dreams of their wedding day, no need to deny it. We wonder what the ceremony venue would look like, and, especially, what our dream wedding gown would be like. Although for some all that matters is that they are marrying the one they love. However, these women could have it all, so they did.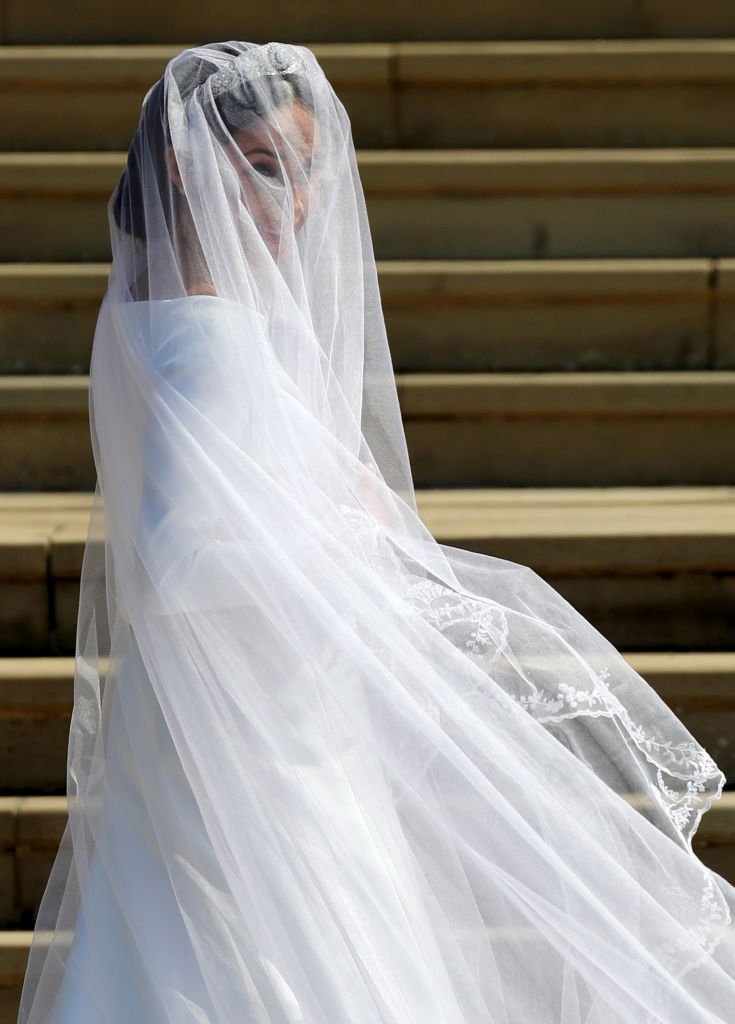 ---
#1 Camilla Parker Bowles, Duchess of Cornwall
Although it is not a typical wedding dress, it was most certainly beautiful. The light blue greyish gown, embroidered with golden patterns looked absolutely stunning on Camilla. Apparently, she thought so too, since, according to Hello Magazine, she, later on, wore it one more time to attend the opening of the National Assembly of Wales.
The couple got married in April of 2005. They had already been together years before, but it was only after they both got divorces that they decided it was time to follow faith. Although the couple does not have any children of their own, Camilla has two step-sons, and Prince Charles has two step-children.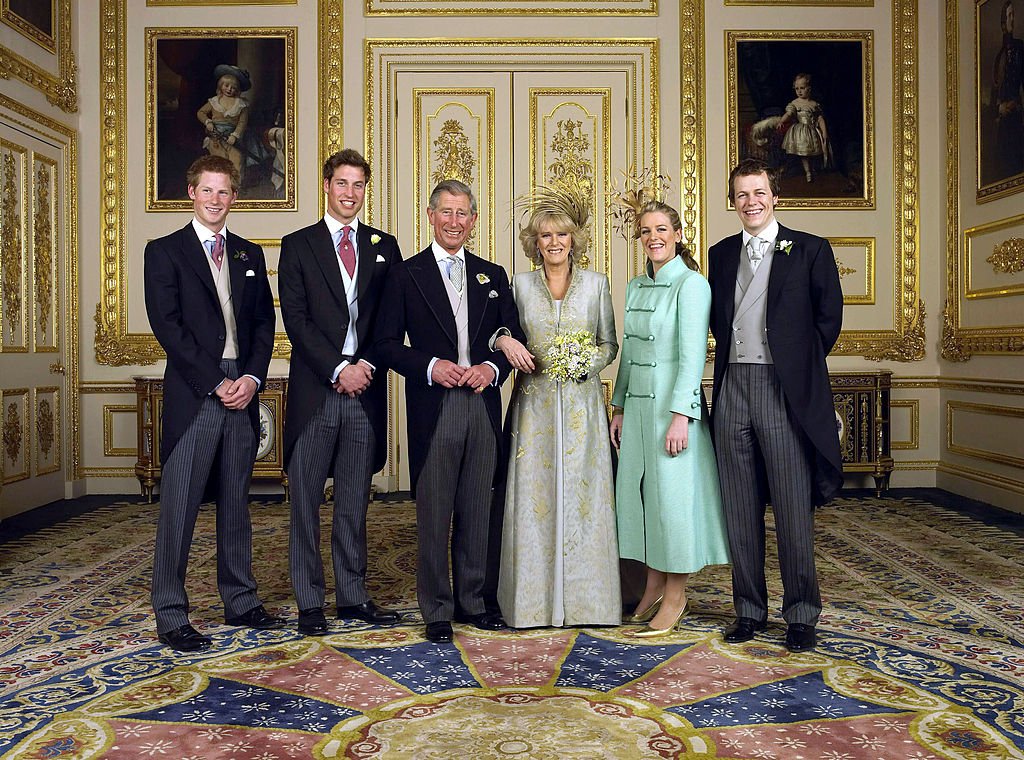 ---
#2 Princess Victoria of Sweden
The price of the dress was never revealed, but it is estimated, according to The List, that the entire ceremony cost around 2.63 million. The Princess and Daniel Westling got married on the 9th of June of 2010, in the same venue where the Princess' parents had gotten married exactly 34 years before. Her dress was absolutely dreamy and made of cream duchess silk satin.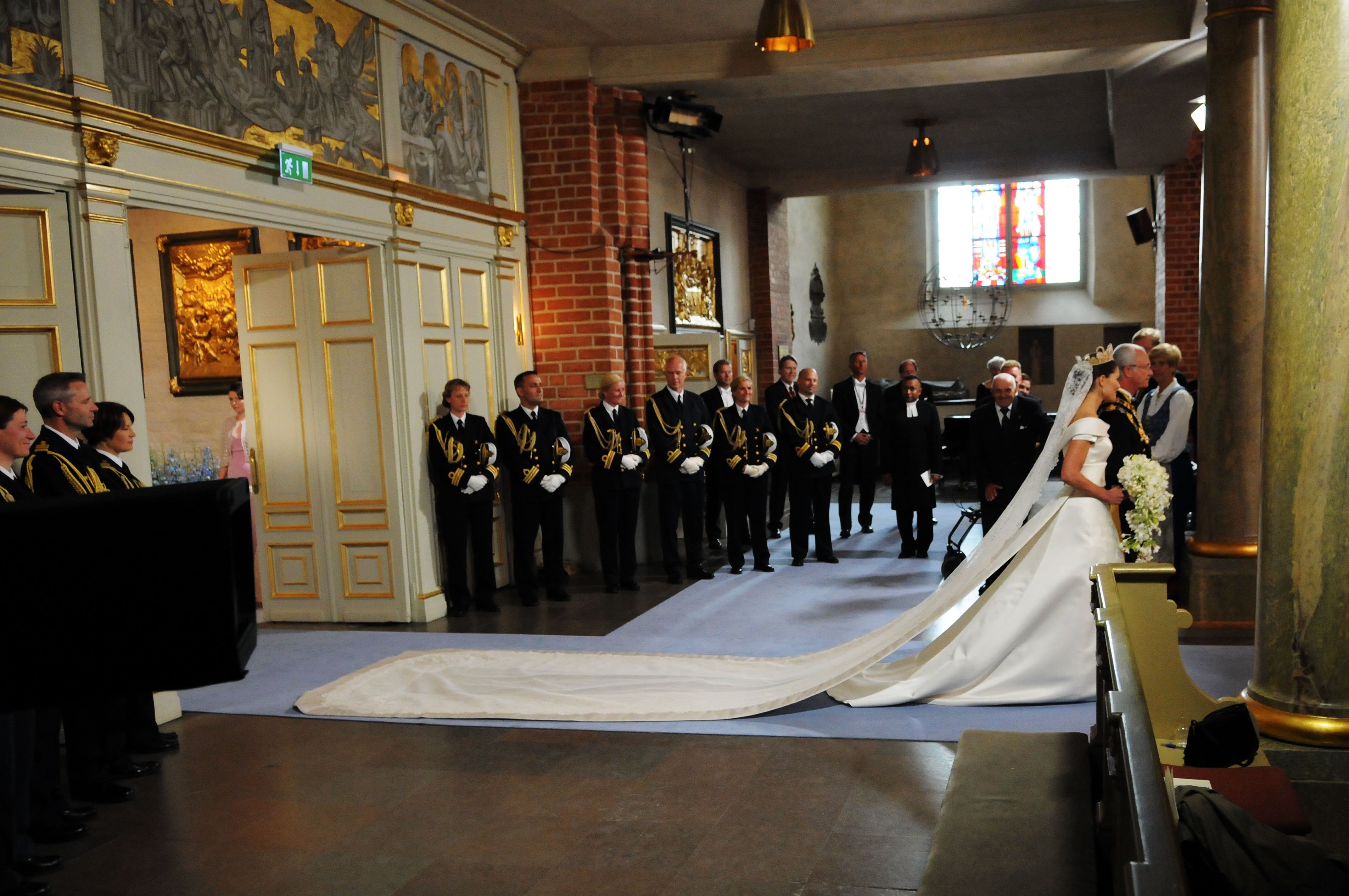 The wedding was broadcast and viewed by around 5 million people. The couple has since started their own family. In 2012, two years after the wedding, they welcomed their first child, Princess Estelle, Duchess of Östergötland, and in 2016, Prince Oscar, Duke of Skåne joined the family. We hope they live their happily ever after.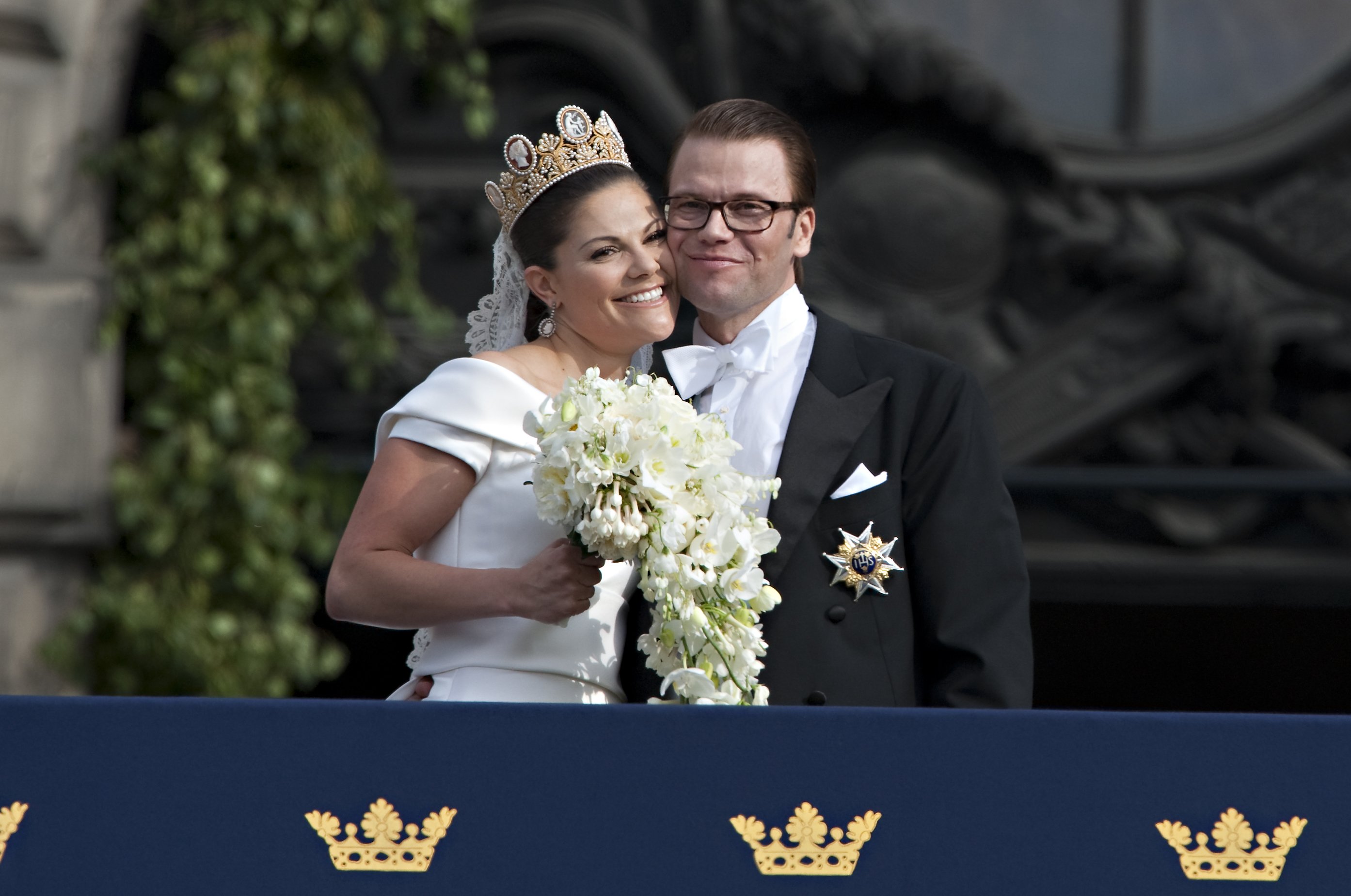 ---
#3 Princess Margaret
On the 6th of May 1960, Princess Margaret tied the knot with Antony Armstrong-Jones and the wedding will forever be remembered by everyone who watched it on TV. According to The List, it was the first Royal wedding to ever be broadcast, with over 20 million spectators.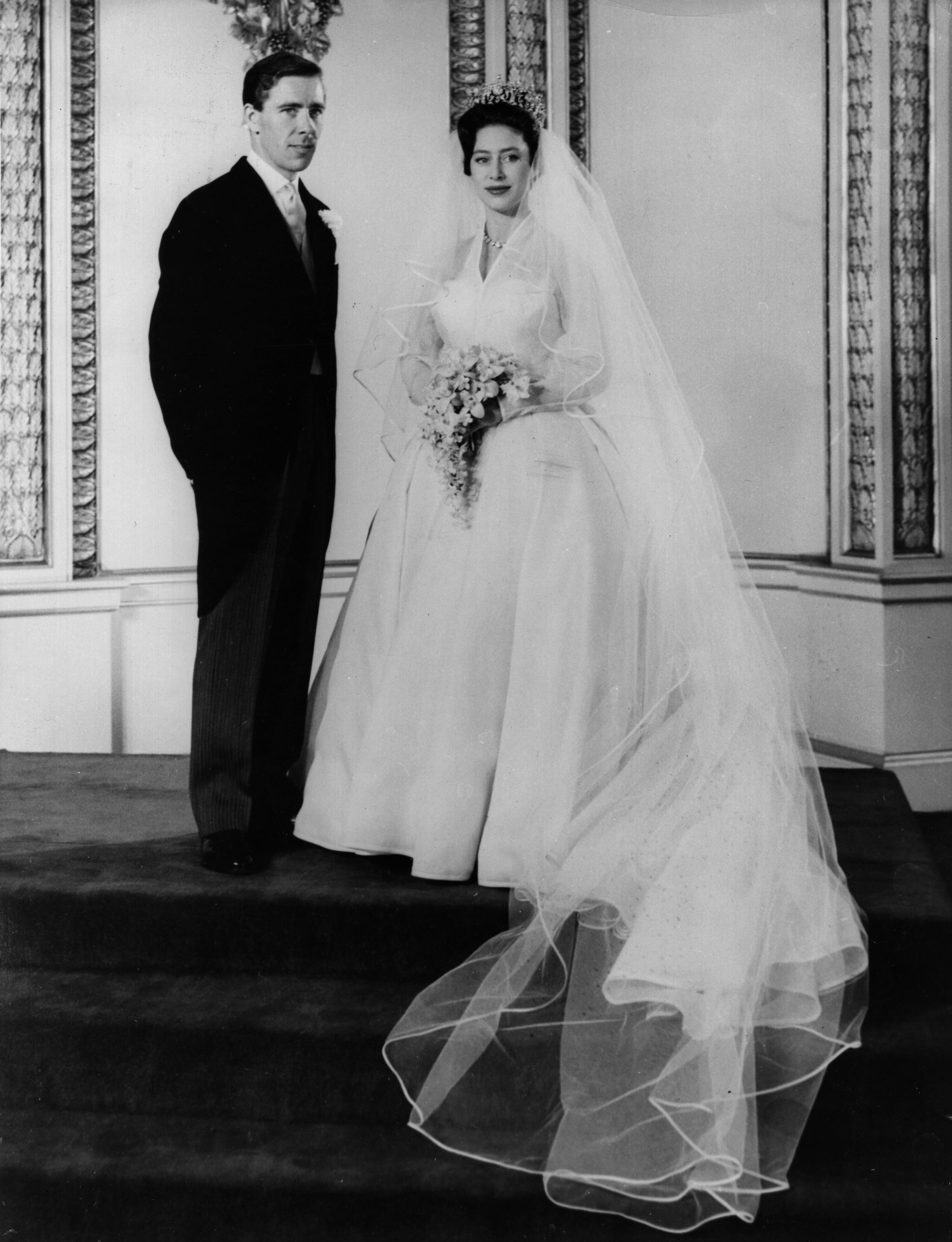 They got married at Westminster Abbey and it is estimated that the wedding cost at the time around 31,800 dollars. Nowadays, the exact same wedding would cost 206,720 dollars. The price of her Disney Princess dress is unknown, but it was absolutely beautiful. In 1978, the couple parted ways, already sharing one boy, David, and a girl, Lady Sarah.
---
#4 Queen Rania of Jordan
It was love at first sight. Just six months after the couple laid eyes on each other, they announced their engagement, and on the 10th of June 1993, Rania al Yassin and then-Prince Abdullah II of Jordan were married. According to Tribune, the multi-layered wedding gown was created by British fashion designer Bruce Oldfield.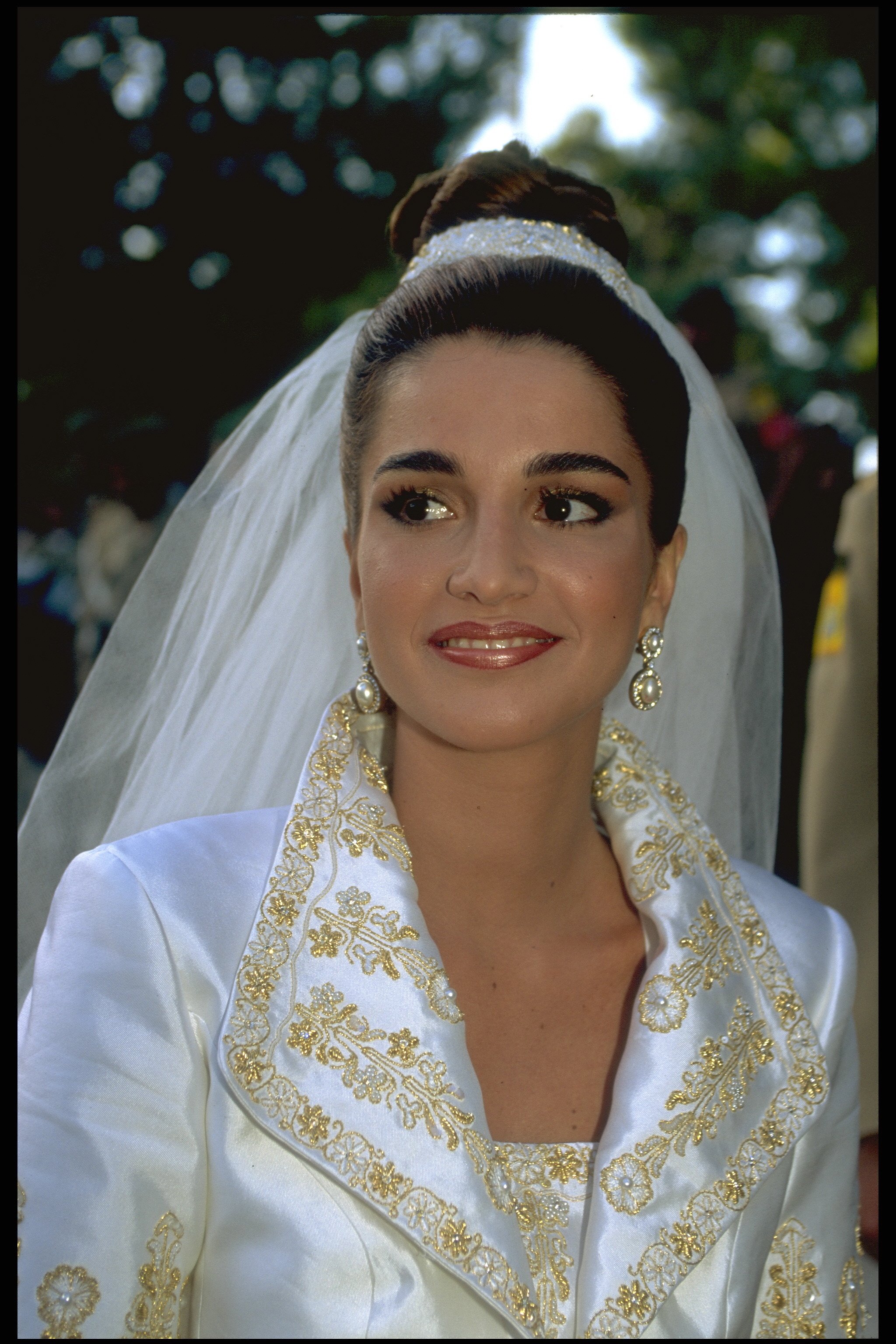 In 1999, Prince Abdullah II became King of Jordan and the bride became Queen Rania of Jordan. They welcomed their first child in 1994, Prince Hussein; afterward, in 1996, Princess Iman was born; next was Princess Salma, in 2000; and, finally, their last offspring, Prince Hashem, was welcomed to the family in 2005.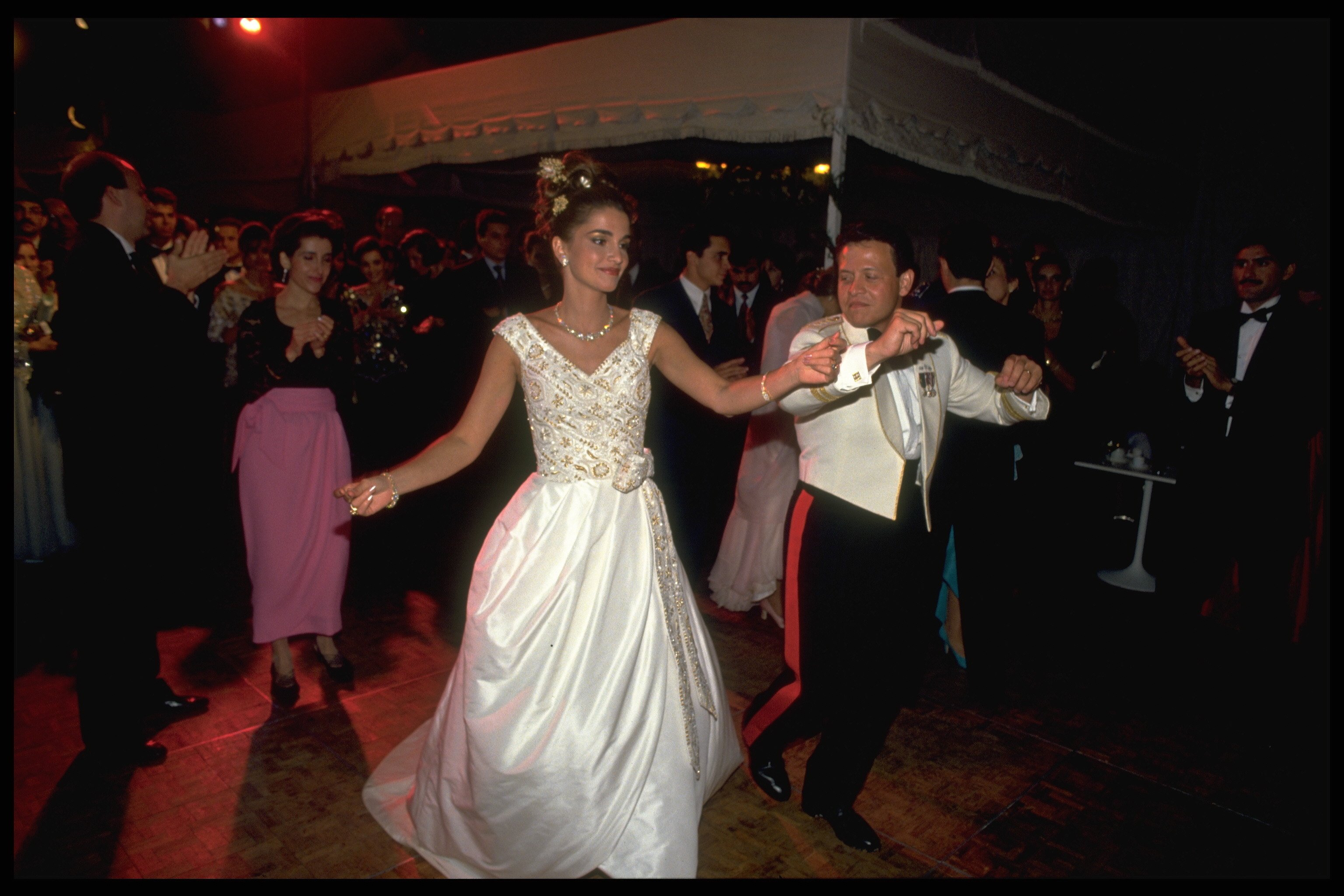 ---
#5 Charlene, Princess of Monaco
Charlene Wittstock, that would, later on, become Charlene, Princess of Monaco, tied the knot with Prince Albert II of Monaco on the 1st of July 2011. They were, and hopefully still are, in love, and they went big. According to The List, it is estimated that the total cost of the wedding was 70 million dollars!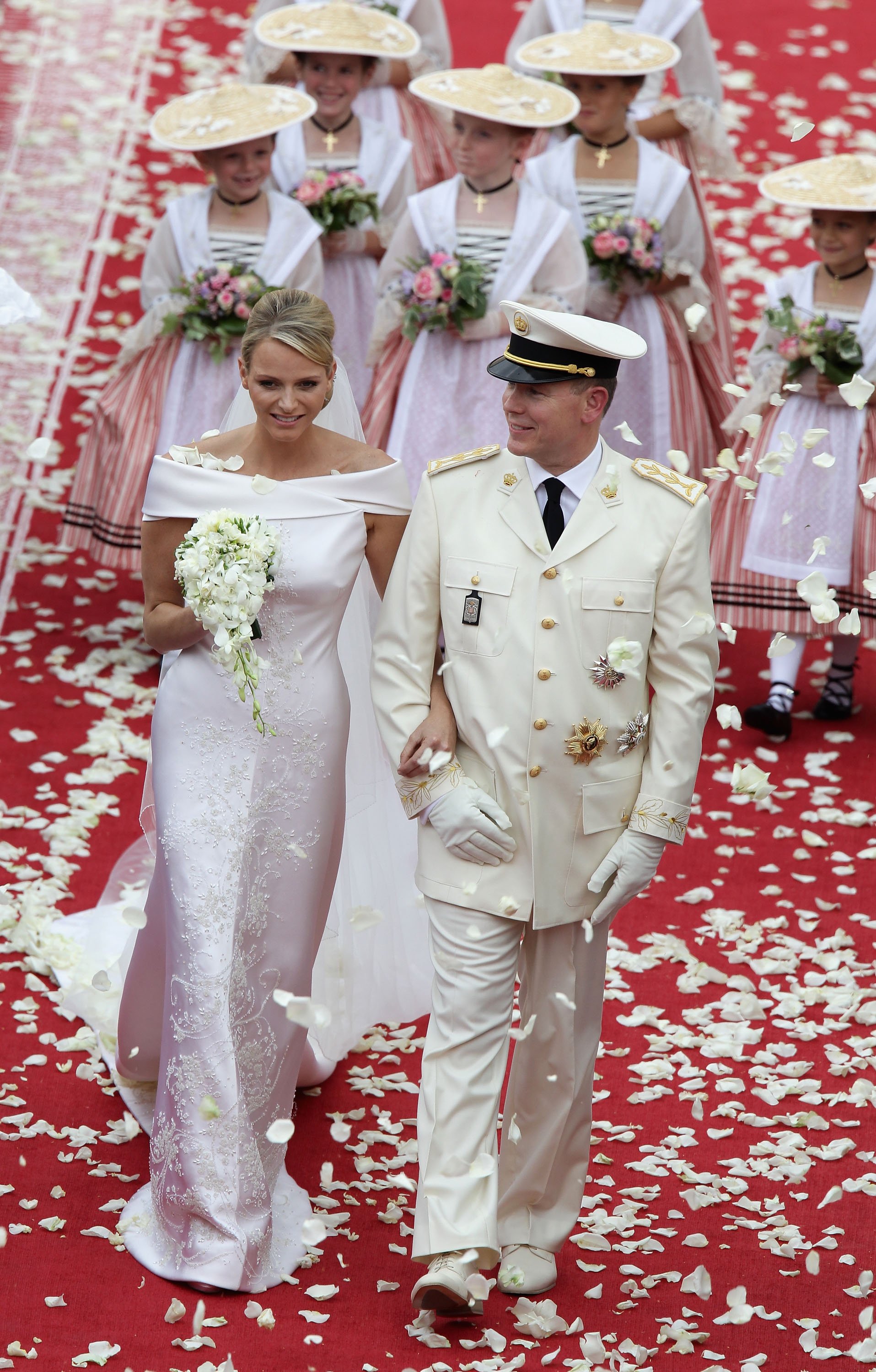 The couple exchanged their vows at the Royal Palace in Monaco and, later, there was an elaborate religious ceremony. The pair enjoyed their sweet alone time for three years and thought that they were having their first child. However, they had a little surprise when they welcomed twins, in 2014, Princess Gabriella and Hereditary Prince Jacques.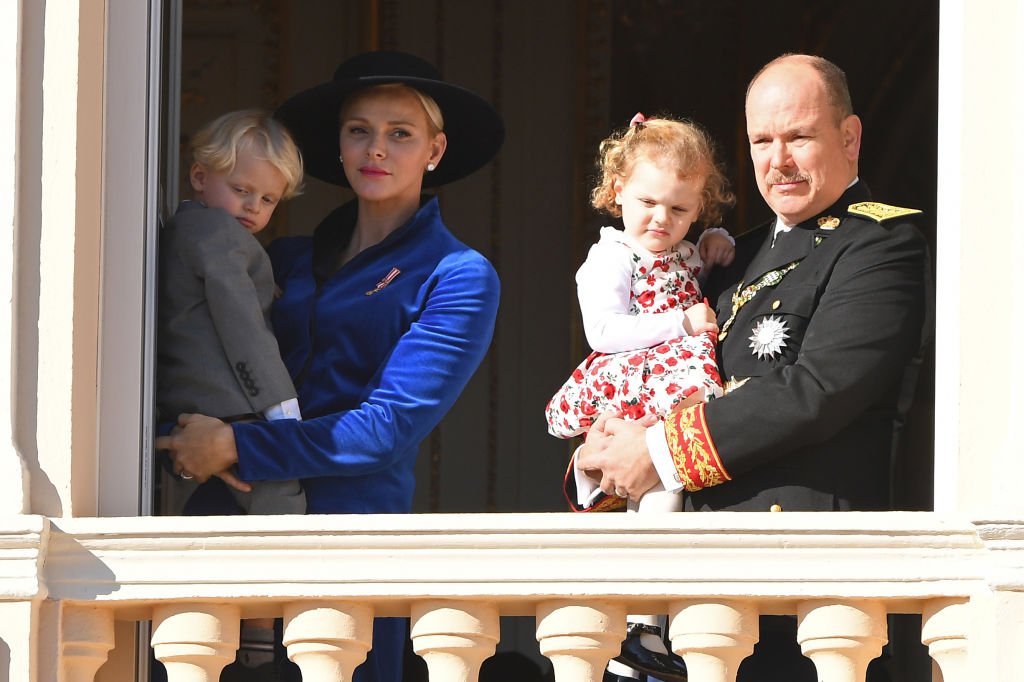 ---
#6 Queen Elizabeth II - Wedding Gown: 47, 100
Couturier Normal Hartnell was the creator of the absolutely stunning wedding gown that Queen Elizabeth II wore, and, according to Hello Magazine, he was aiming to create the most beautiful dress ever seen. Made out of ivory silk, it was adorned with 10,000 seed pearls and crystals. Of course, this stunning dress was not cheap, and it came at 47,100 dollars.
Queen Elizabeth II and Prince Philip, Duke of Edinburgh, have been living in marital bliss since 1947 and have welcomed to the world four children: Prince Charles, born in 1948, Anne, born in 1950, Prince Andrew, born in 1960, and, finally, Prince Edward, born in 1964. They will be completing 73 years of marriage in just a few days.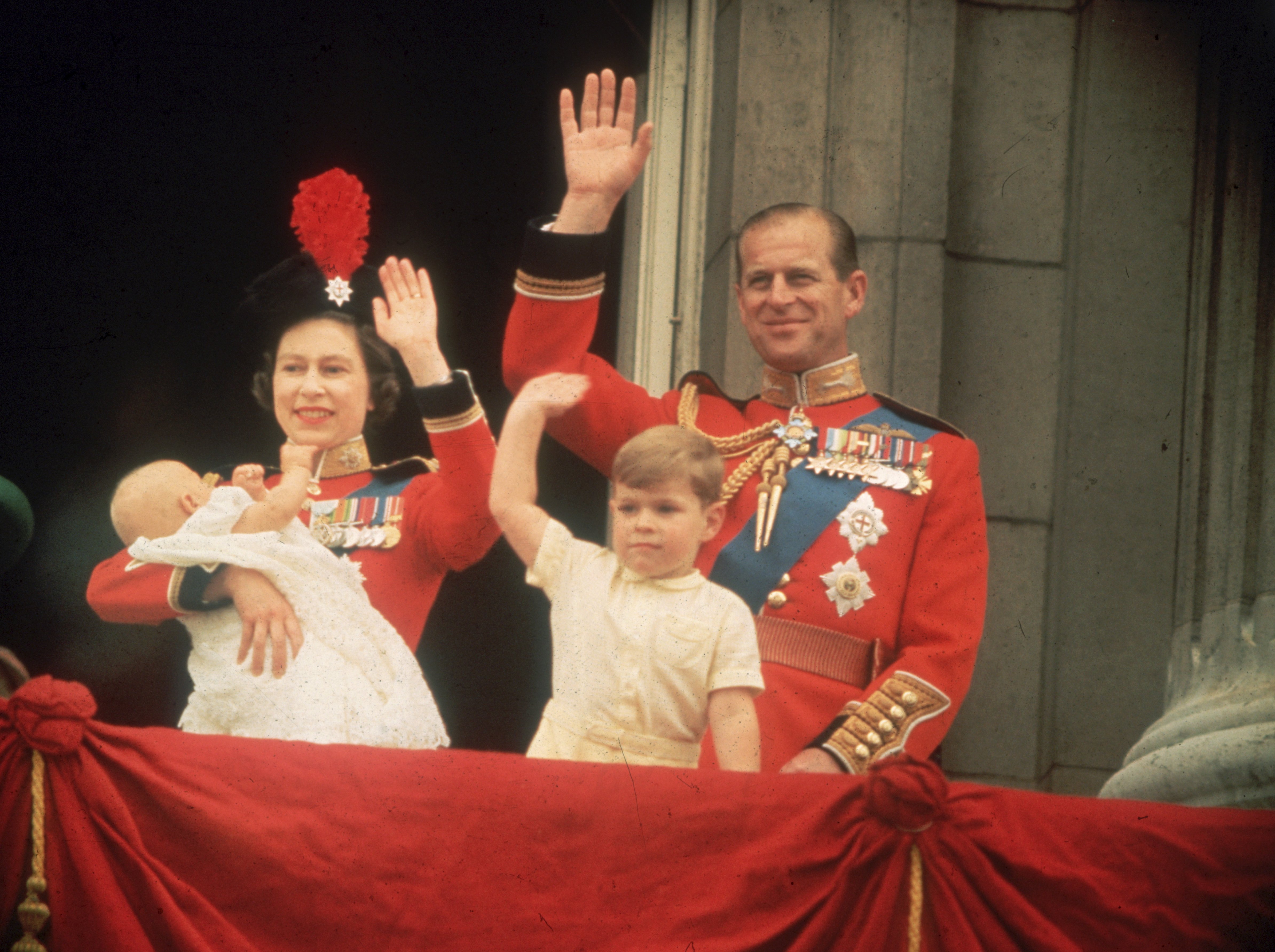 ---
#7 Princess Eugenie - Wedding Gown: 135,000
Member of the British Royal Family, Princess Eugenie got married to her long-time boyfriend Jack Brooksbank at St George's Chapel, Windsor Castle - the same place where Prince Harry and Meghan got married -, on the 12th of October 2018. Her absolutely stunning princess dress was created by designer Peter Pilotto and Christopher De Vos, and it cost around 135,000 dollars.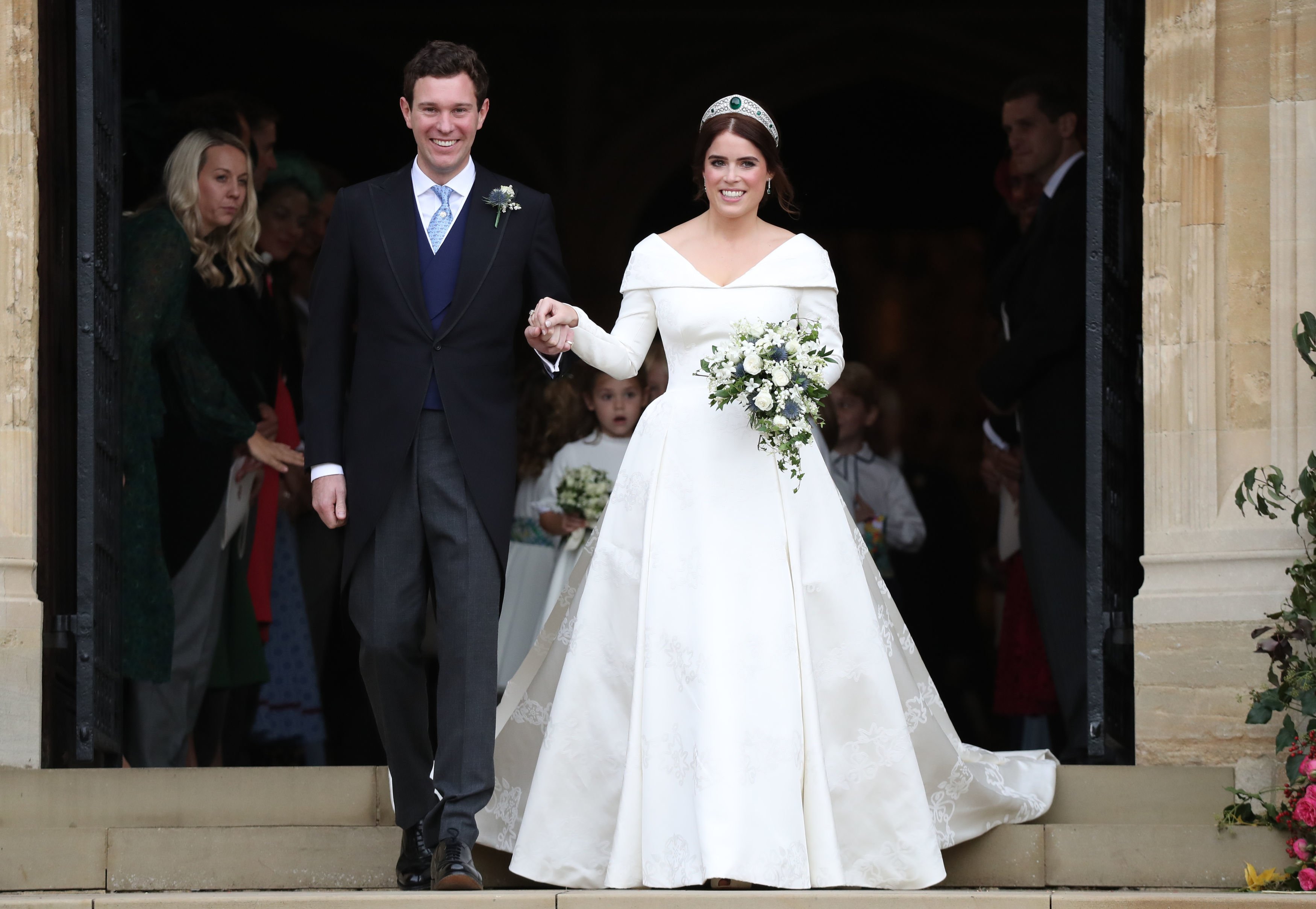 According to Hello Magazine, the dress included details that were all related to the history of the couple: a Thistly, to represent their love for Balmoral, a Shamrock in honor of the bride's family, and ivy dedicated to their home. They are yet to start their own family and are taking advantage of their alone time together.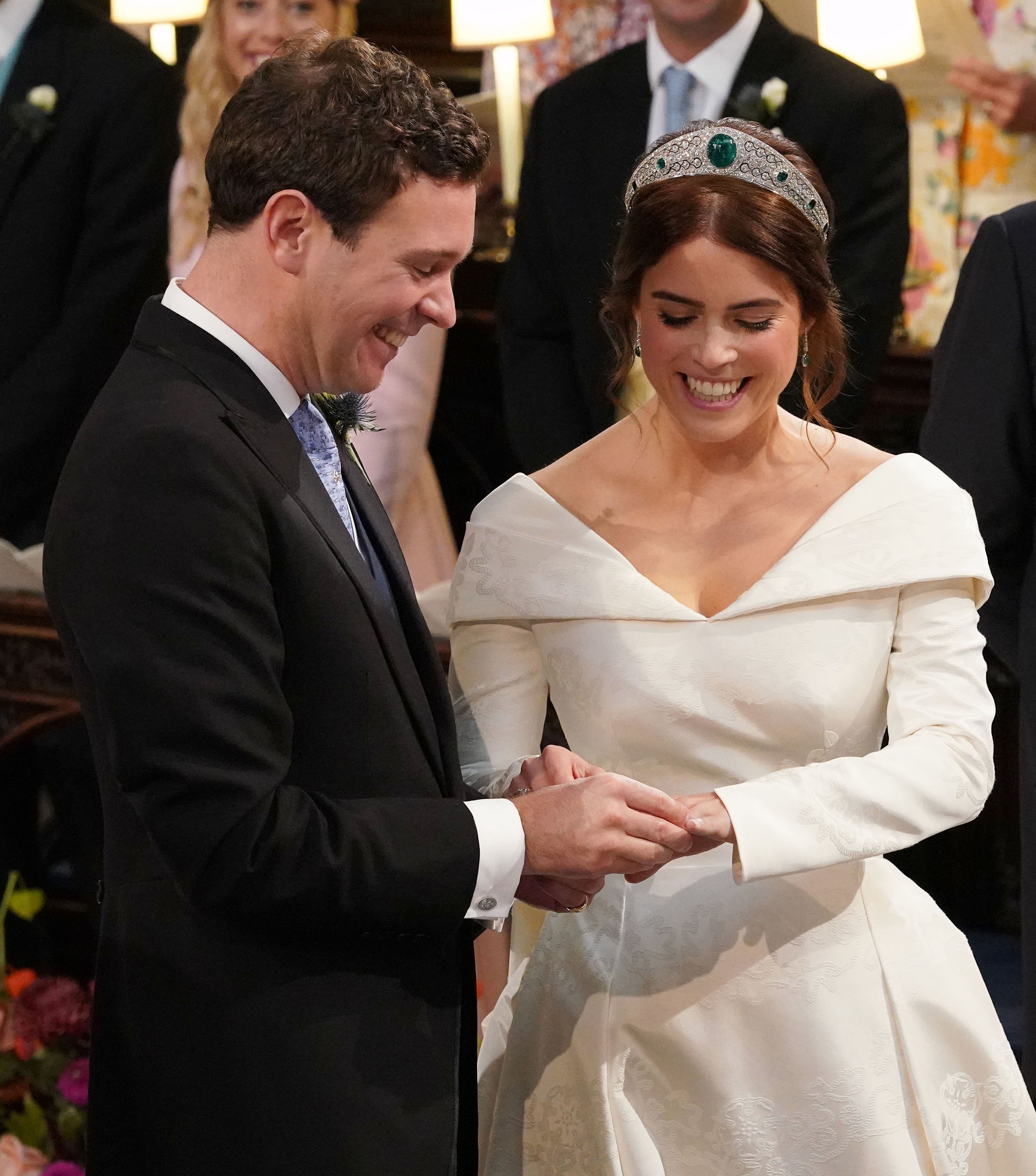 ---
#8 Grace Kelly, Princess of Monaco - Wedding Gown: 150,000
In 1956, the American actress, Grace Kelly, tied the knot with Rainier III, Prince of Monaco, and became the Princess of Monaco. Her dreamy wedding gown was designed by Helen Rose from MGM, the production company with which the former actress worked throughout her career. Complementing her figure and with several layers, the dress was nothing short of spectacular.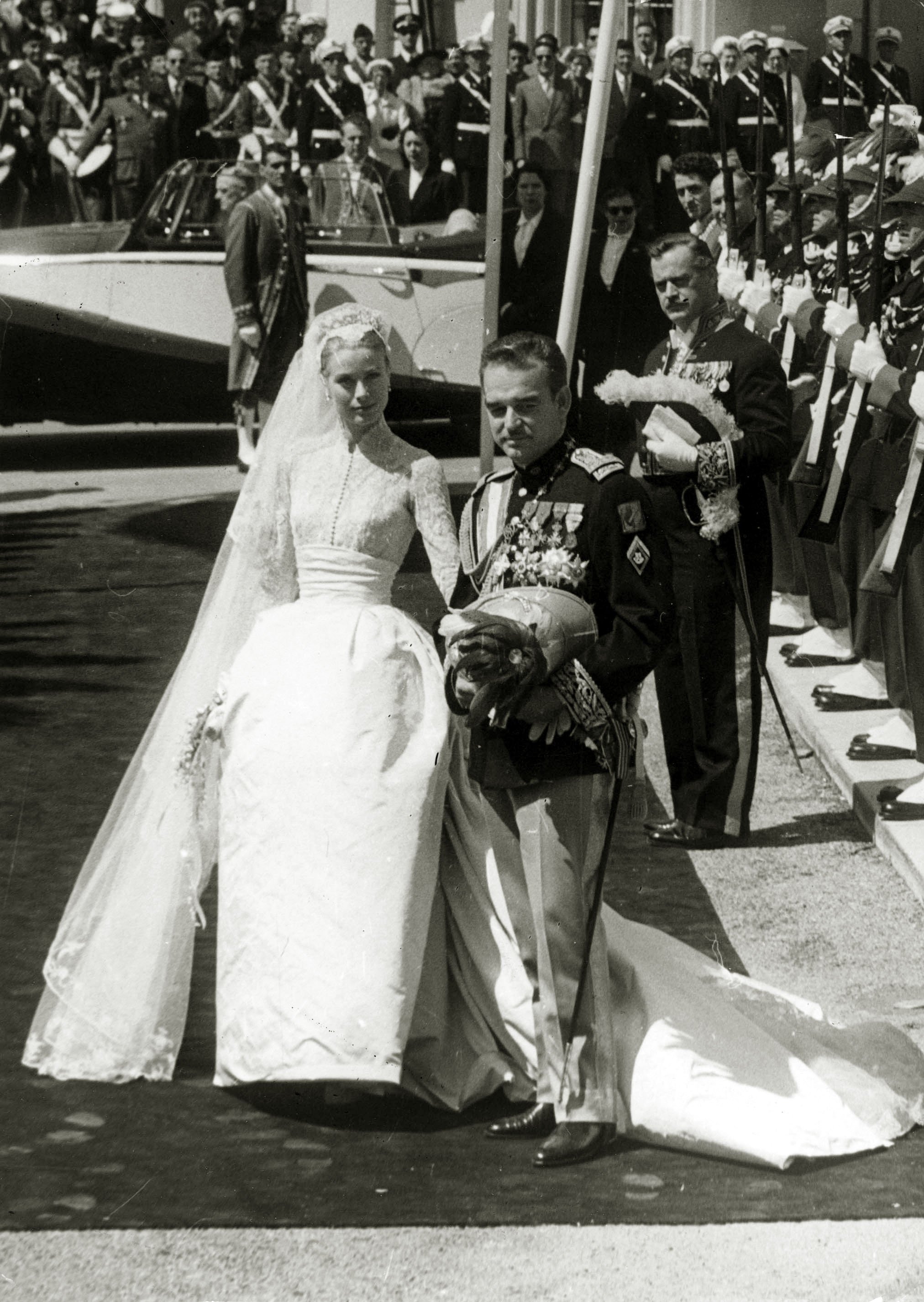 Believe it or not, we are still at the low end of prices, and it is estimated, according to Tribune that the beautiful gown cost 150,000, but it was worth it, although they have since both passed away. Throughout their marriage, they brought to the world two girls, Princess Caroline and Princess Stéphanie, and a boy, Prince Albert II.
---
#9 Princess Diana - Wedding Gown: 198,000
At the early age of 19, Diana got married to Prince Charles in Westminster Abbey. The dress had to be absolutely flawless given that it was not only the most special day of her life, but she was also being watched by thousands live and in broadcast. Her 25 feet long train was difficult to fit everywhere but it was as dreamy as it gets.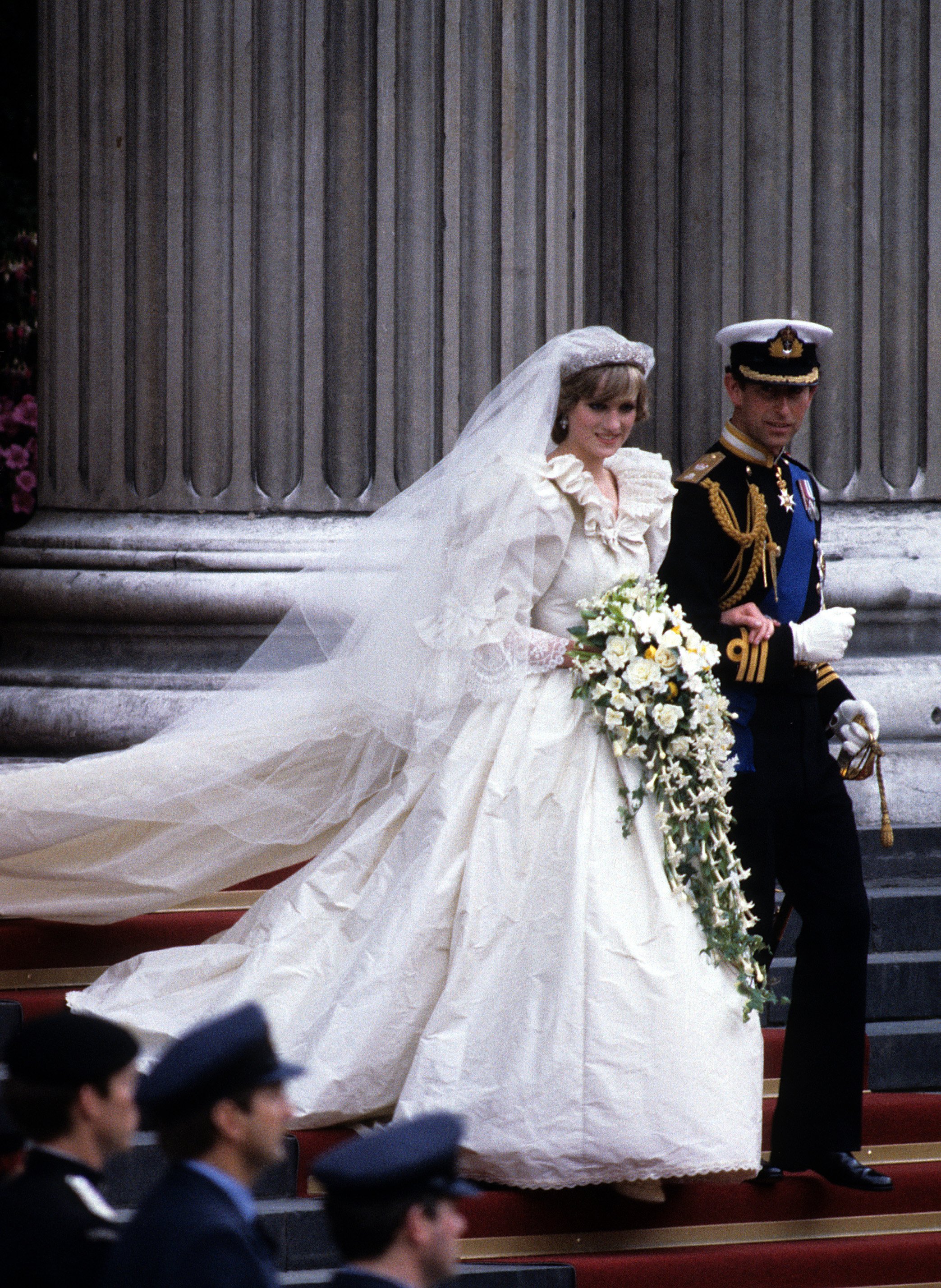 Her wedding gown was designed by David and Elizabeth Emanuel, and it was adorned with 10,000 pearls. According to Who What Wear, her veil was even longer than her dress train, with 153 yards. It is estimated that the dress cost around 198,000 dollars. The couple ended up getting a divorce 15 years later, and Princess Diana never got another shot at love.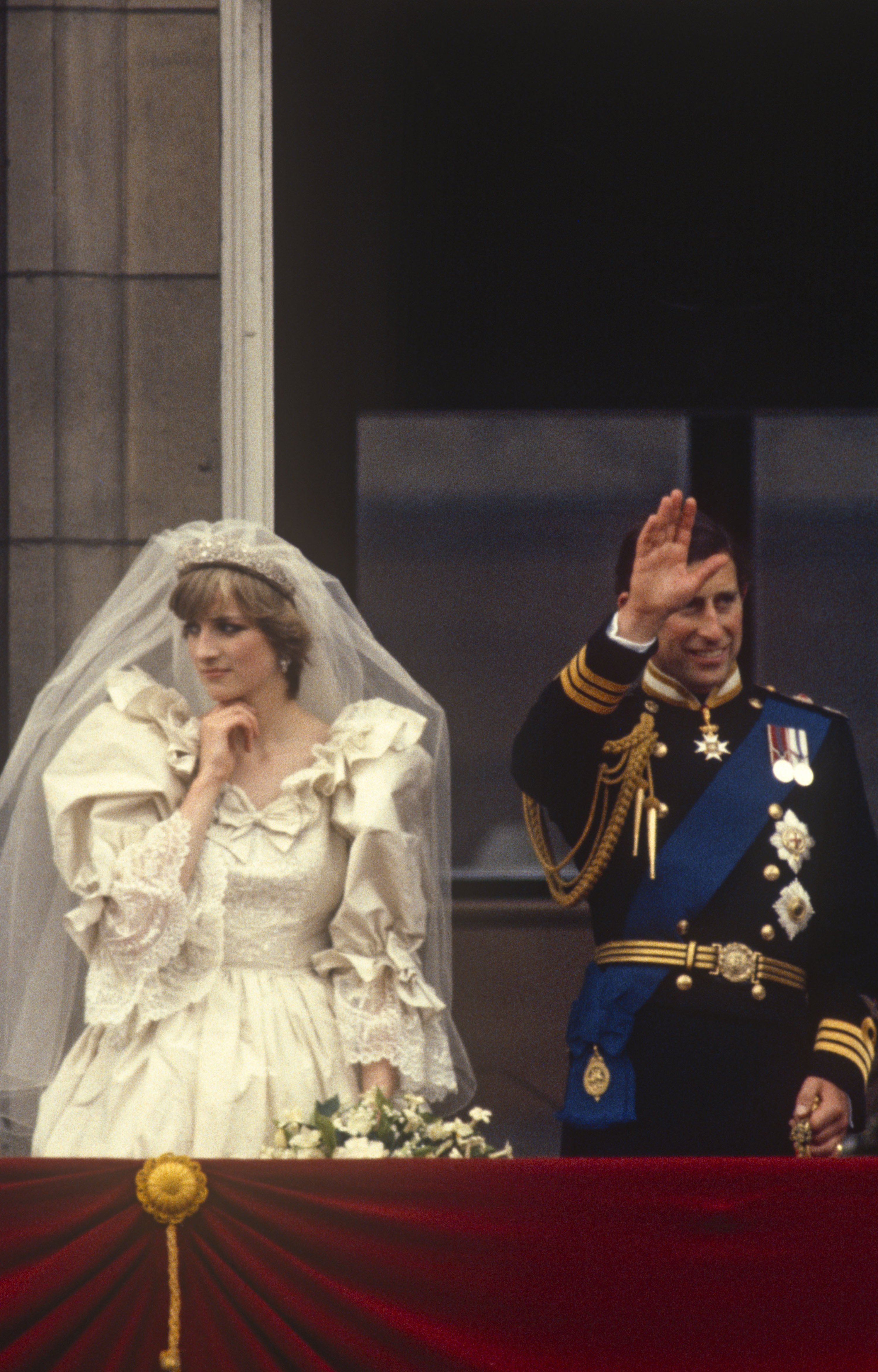 ---
#10 Countess Stephanie of Luxembourg - Wedding Gown: 250,000
The stunning couple, Countess Stephanie de Lannoy and Grand Duke of Luxembourg, Prince Guillaume, got married on the 20th of October 2012. The venue where they got married might be even dreamier than the wedding gown. They exchanged their vows at the Notre-Dame Cathedral. I told you; dreamy, right?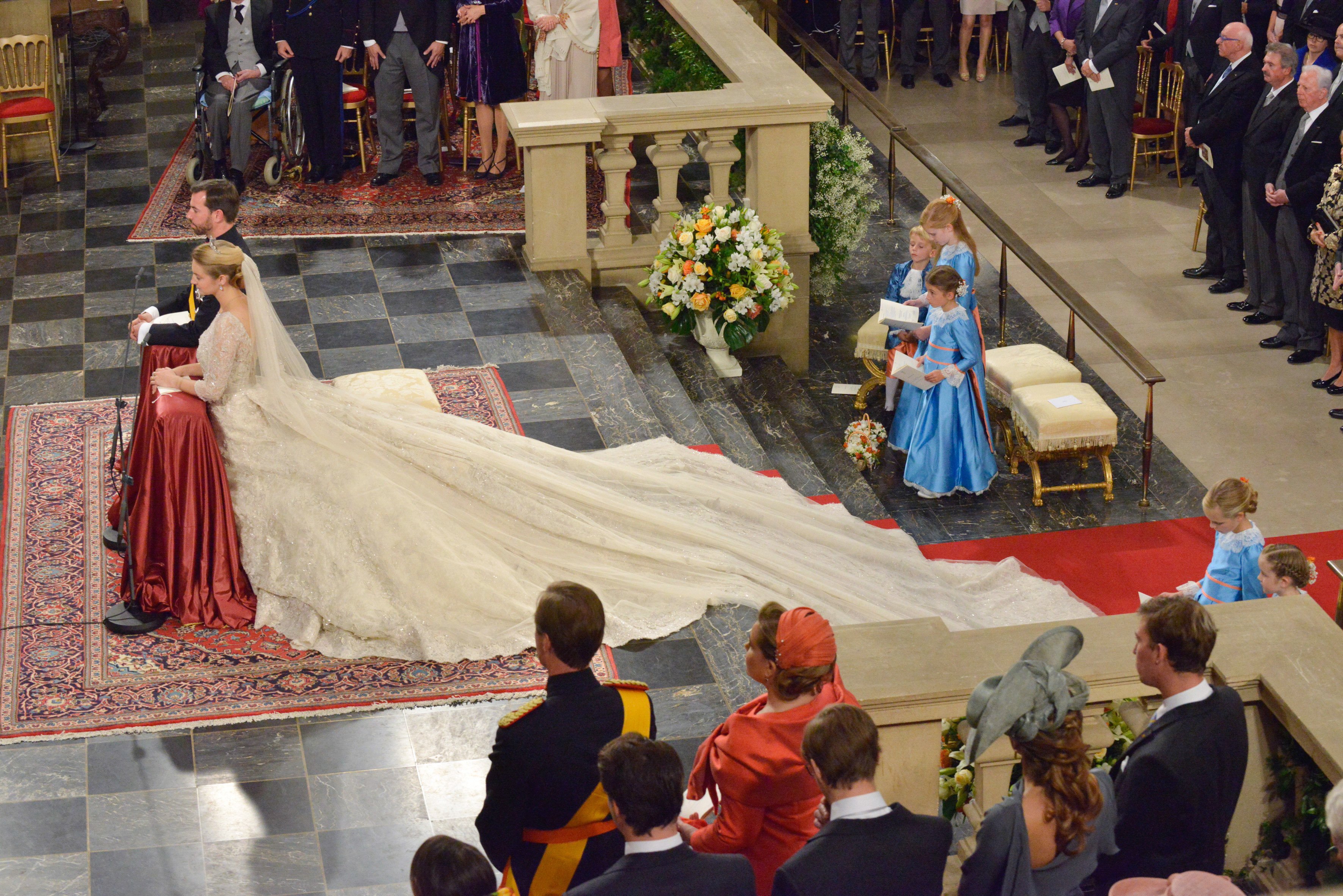 According to Town&Country, the dress was adorned with 80,000 transparent crystals and 50,000 pearls. It is estimated that it cost around a quarter of a million dollars. The couple, who has now been married for eight years, welcomed their first son, Prince Charles, on the 10th of May of this year. He is currently the second in line.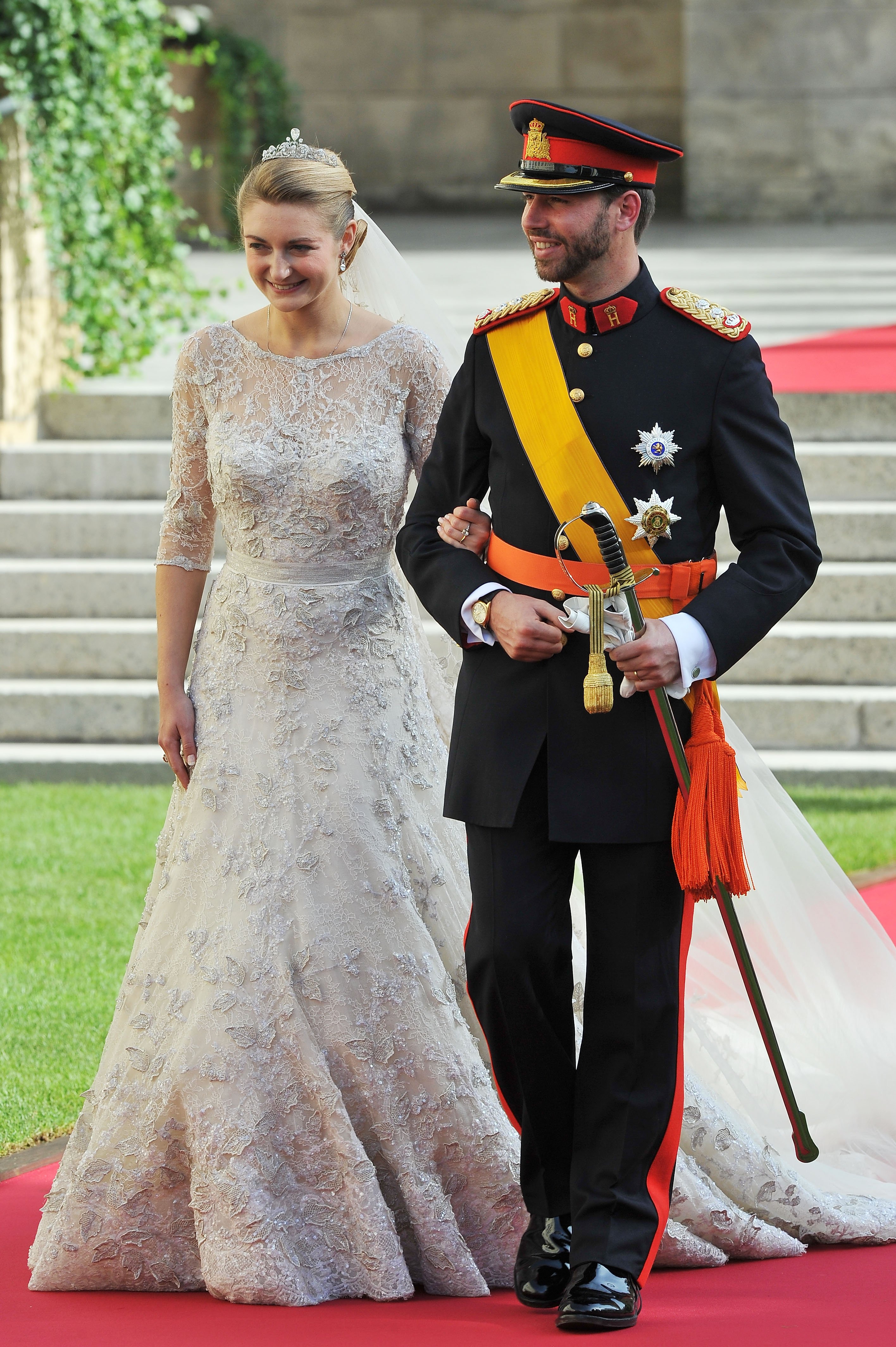 ---
#11 Meghan Markle - Wedding Gown: 300,000
Above it all, actress Meghan Markle wanted her dress to be delicate but also show-stopping, and it surely was. On the 27th of November of 2017, the couple announced their engagement and the speculations about the dress began. We love nothing more to see a commoner turn into a Princess; and she was more than up to the challenge.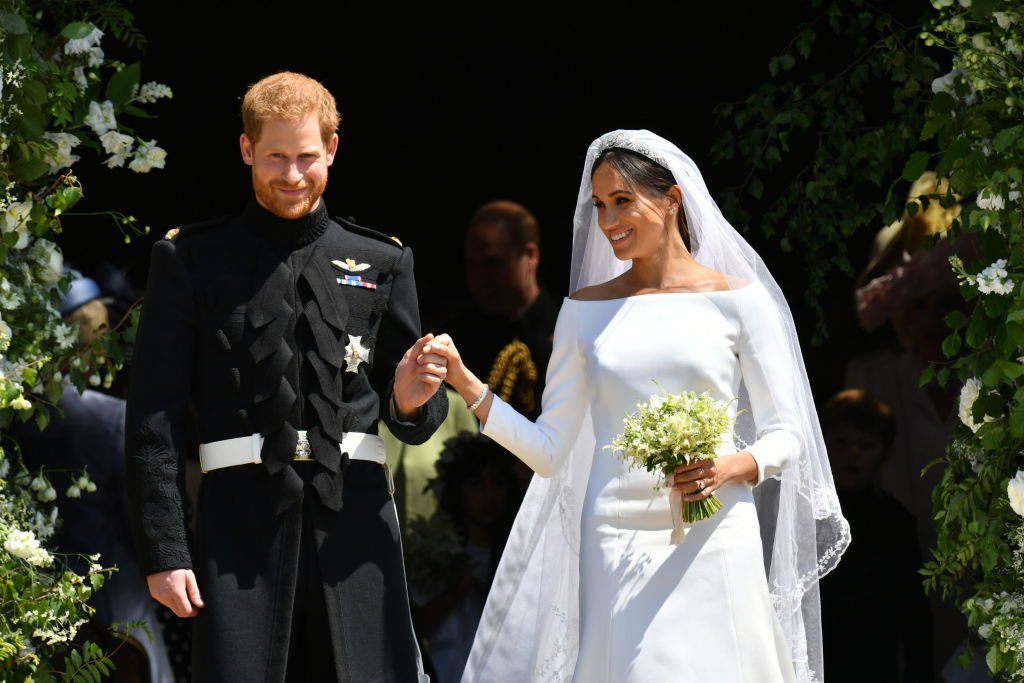 On the 19th of May of 2018, Prince Harry and Meghan exchanged their vows at St. George's Chapel, Windsor Castle, as a homage to Princess Diana, given that it was the place where she last laid. Aside from her 300,000-dollar-gown, according to The List, it is estimated that the wedding cost around 42.8 million. They have since welcomed little Archie, in 2019.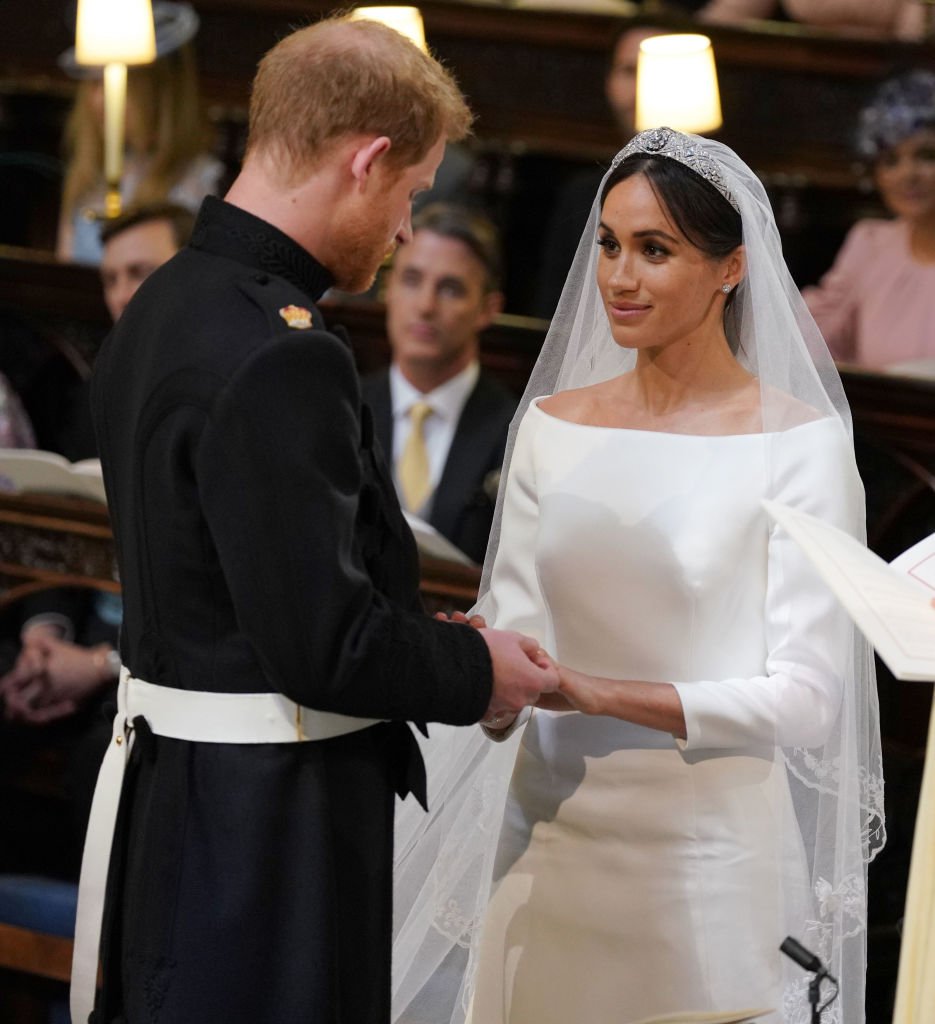 ---
#12 Kate Middleton A.K.A. Catherine, Duchess of Cambridge - Wedding Gown: 514,000
Her lace sleeves and long train were absolutely stunning and it seemed to match perfectly her personality: candid but modern. According to Hello Magazine, the gorgeous wedding gown was created by Sarah Burton for Alexander McQueen. It is estimated that it cost a little over half a million dollars. It is also estimated that the entire ceremony cost around 29.4 million.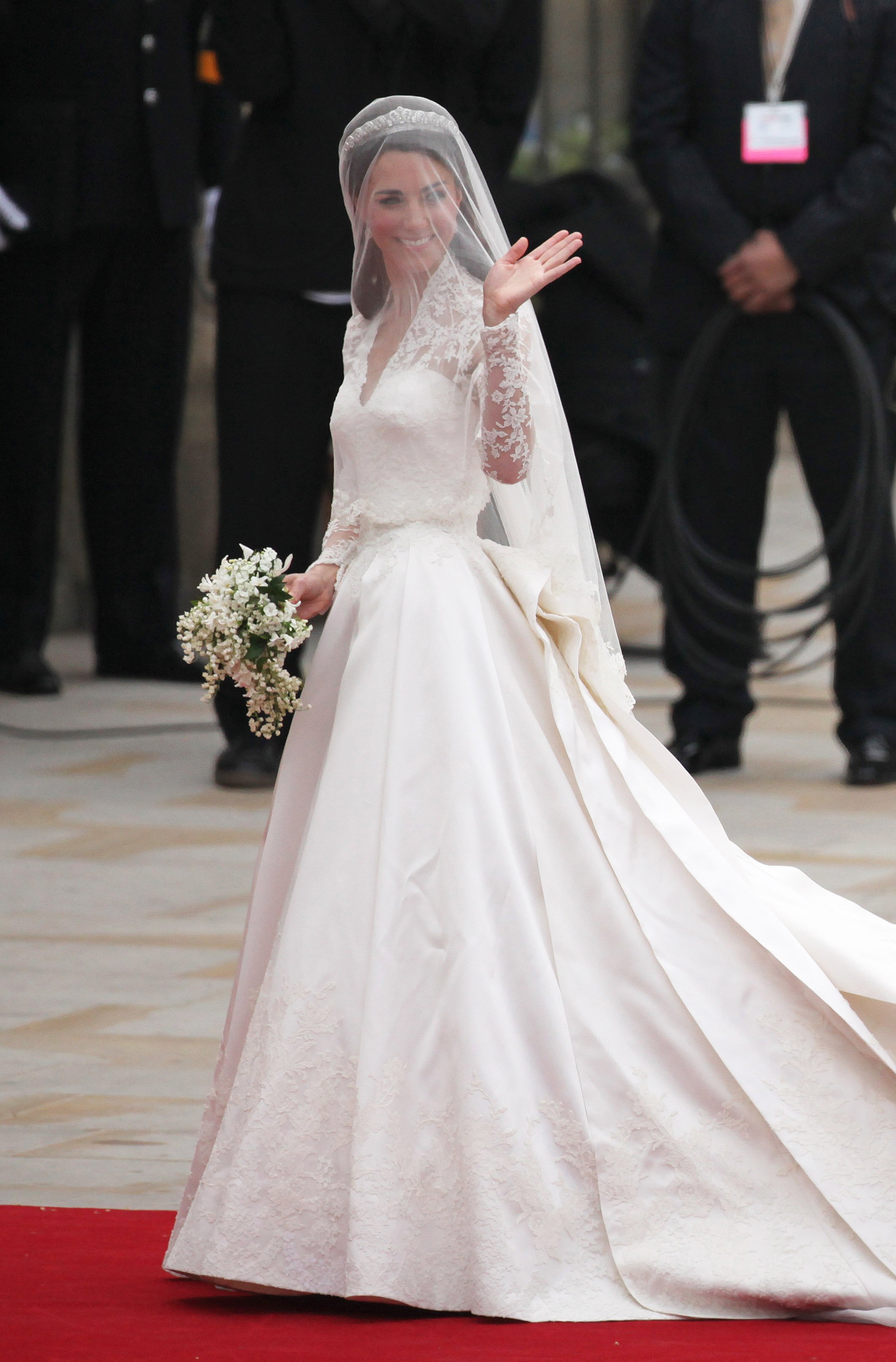 Like most British Royal members, the couple got married at Westminster Abbey, on the 29th of April 2011. They have since welcomed absolutely adorable children to their marriage. In 2013, Prince George was born, followed by Princess Charlotte in 2015, and last, but certainly not least, Prince Louis was welcomed in 2018.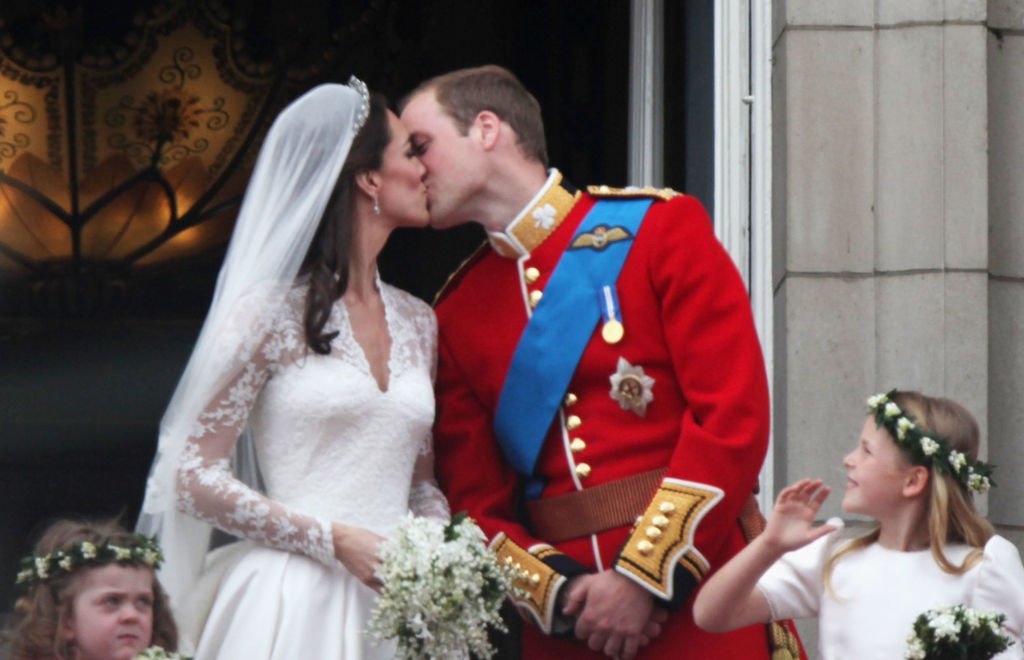 ---
#13 Marie-Chantal, Crown Princess of Greece, Princess of Denmark - Wedding Gown: 515,270
On the 1st of July 1995, the dreamy wedding between Marie-Chantal Miller and Pavlos, Crown Prince of Greece took place at St. Sophia's Cathedral in London. Her ivory silk wedding gown was created by Italian designer Valentino, and, according to Tribune, it is estimated to have cost 515,270 dollars, and it took 16 weeks to be finished. Talk about a well-thought dress!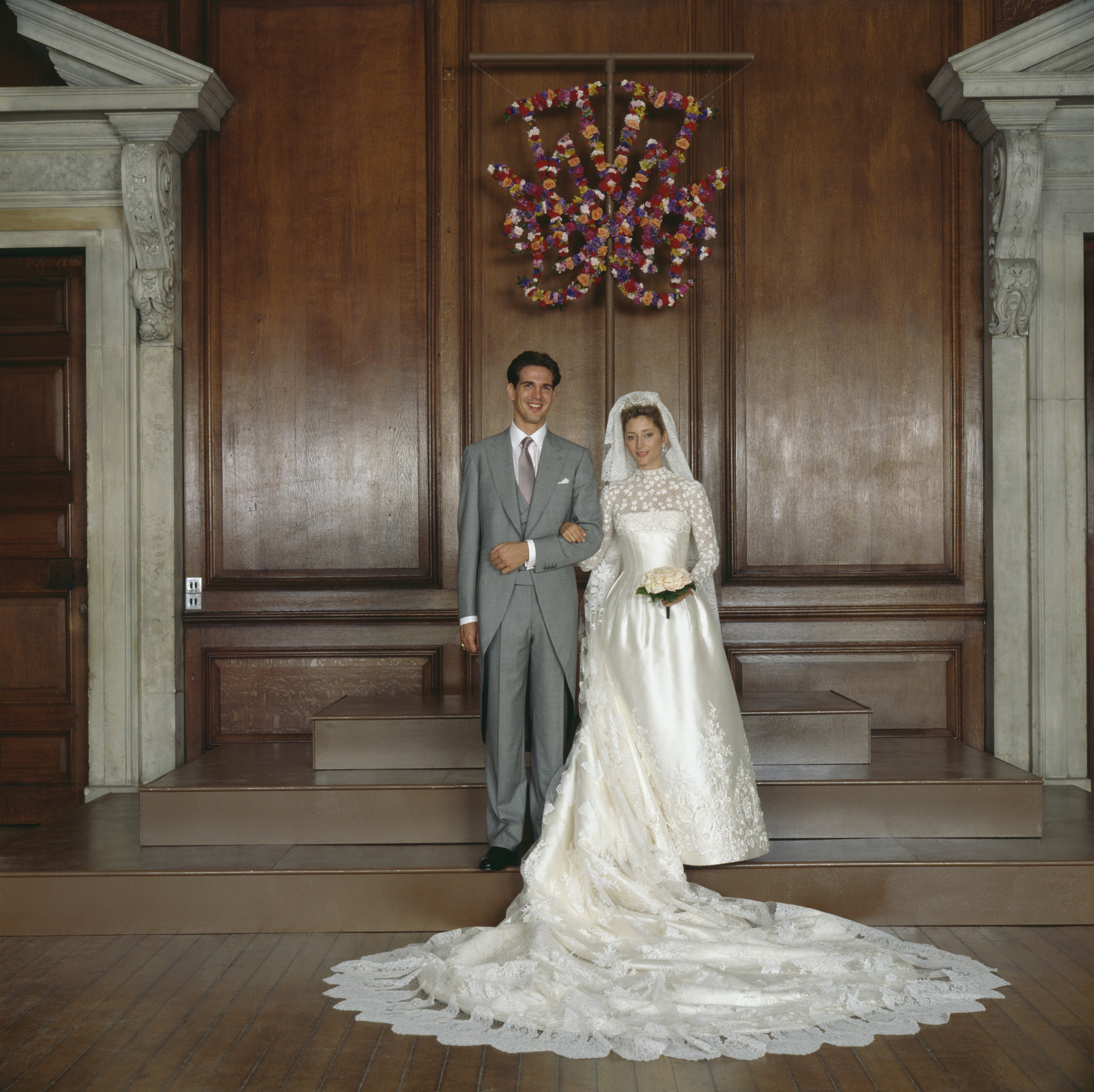 Just a year after their wedding, the couple welcomed their first child, Princess Maria-Olympia. Afterward, four Princes followed: Constantine-Alexios, born in 1998, Achileas-Andreas, born in 2000, Odysseus-Kimon, born in 2004, and, lastly, Aristidis-Stavros, born in 2008. The couple will be completing 25 years of marriage in just a few days.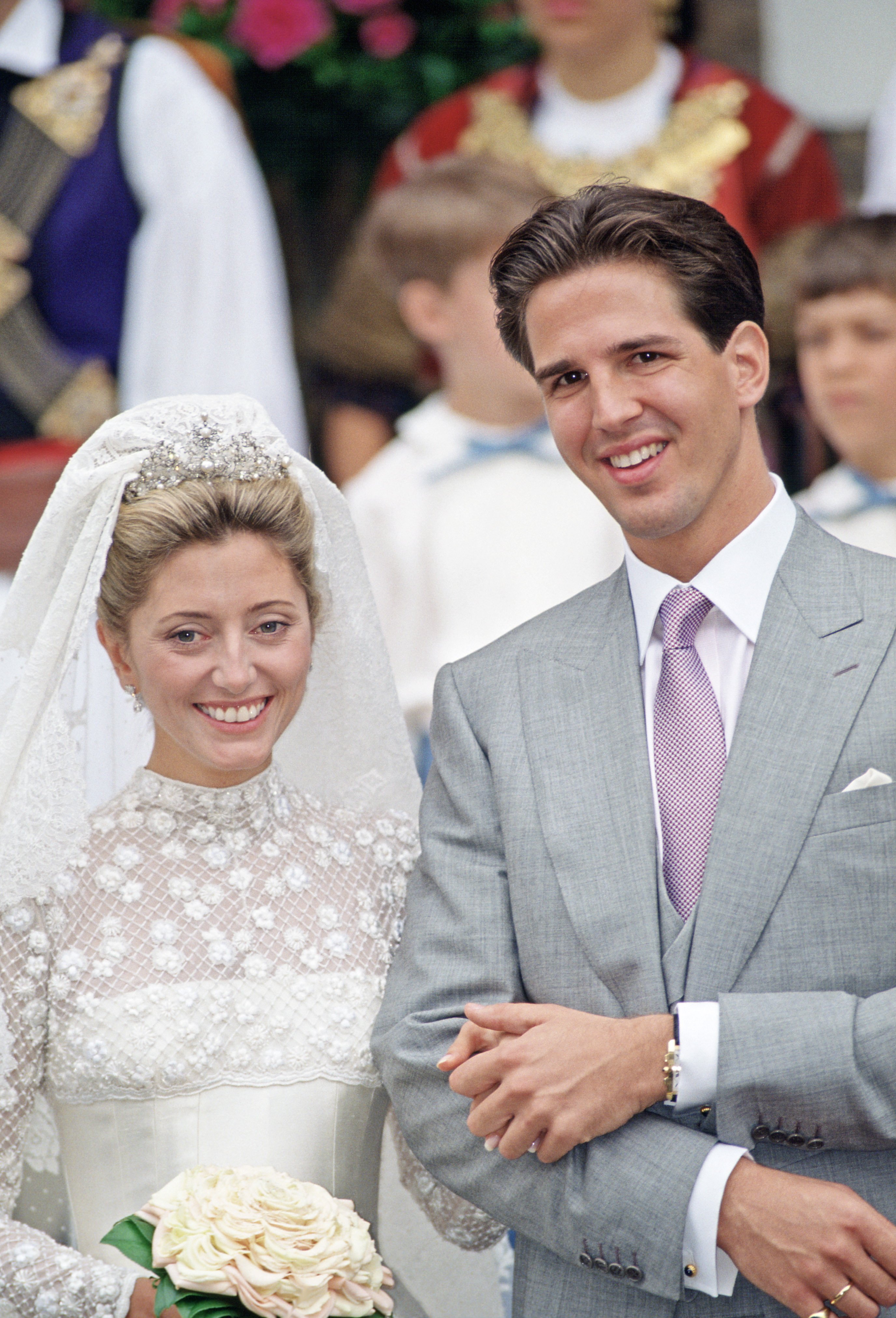 ---
#14 Princess Dayangku Sarah - Wedding Gown: 4 Million
She did not wear two, she did not wear three, but four wedding ensembles on the day of her wedding, according to Tribune. On the 9th of September 2004, Princess Dayangku Sarah married Crown Prince of Brunei, Al-Muhtadee Billah, and it is estimated that all her ensembles together were around 4 million dollars.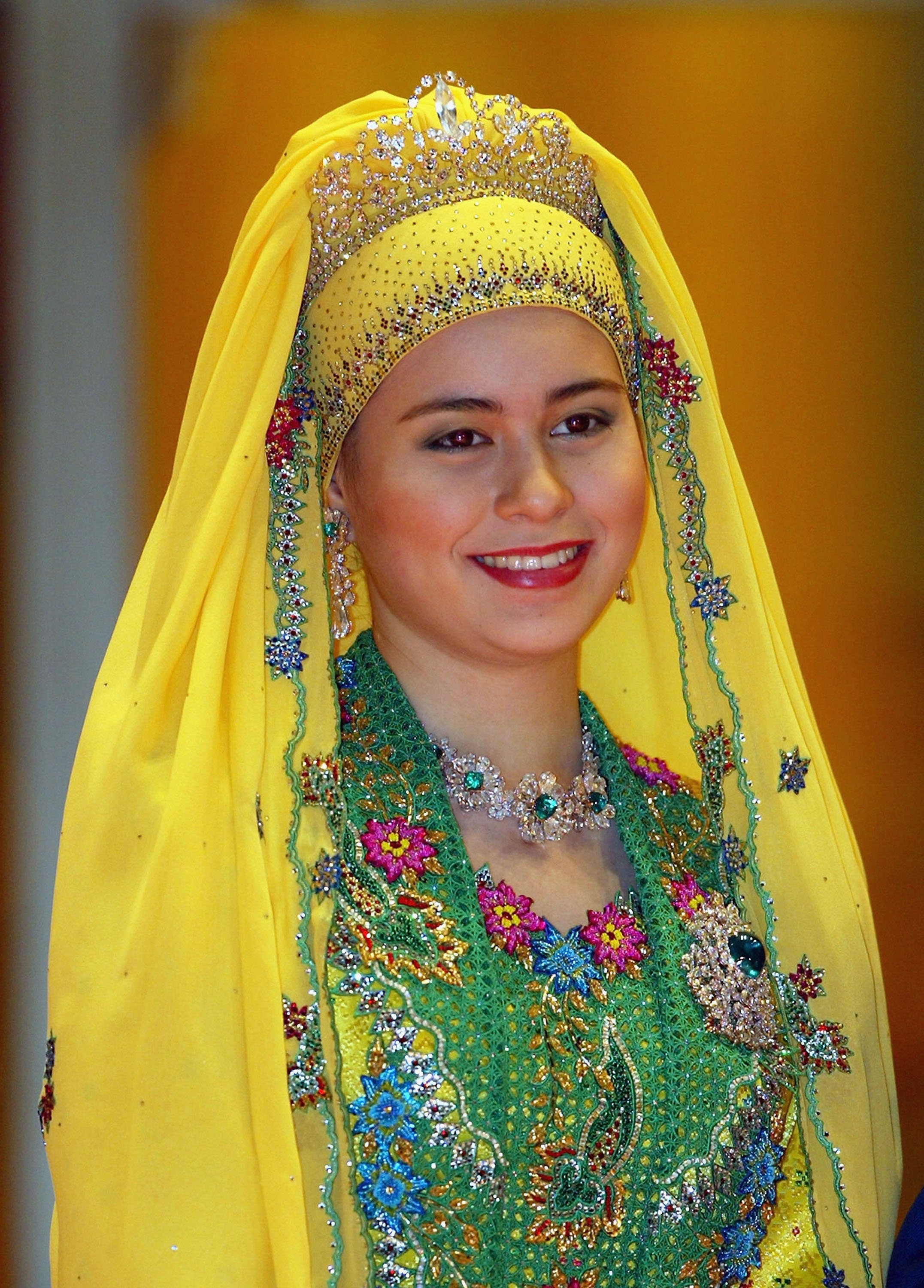 However much they might have spent that day, it was totally worth it. Since 2004, the couple has welcomed to their family as many children as the number of ensembles the Princess wore that day, which is four. The Princess gave birth to two boys, Abdul Muntaqim and Muhammad Aiman, and two girls, Muneerah Madhul Bolkiah and Faathimah Az-Zahraa Raihaanul Bolkiah.