List of Kate Middleton's Most Affordable Looks
The lovely Kate Middleton has been a style icon from her very first day as a royal. Over the years we've watched her evolve into motherhood with grace and elegance. She always manages to make heads turn, sometimes without even breaking the bank! Let's take a look at her best affordable outfits.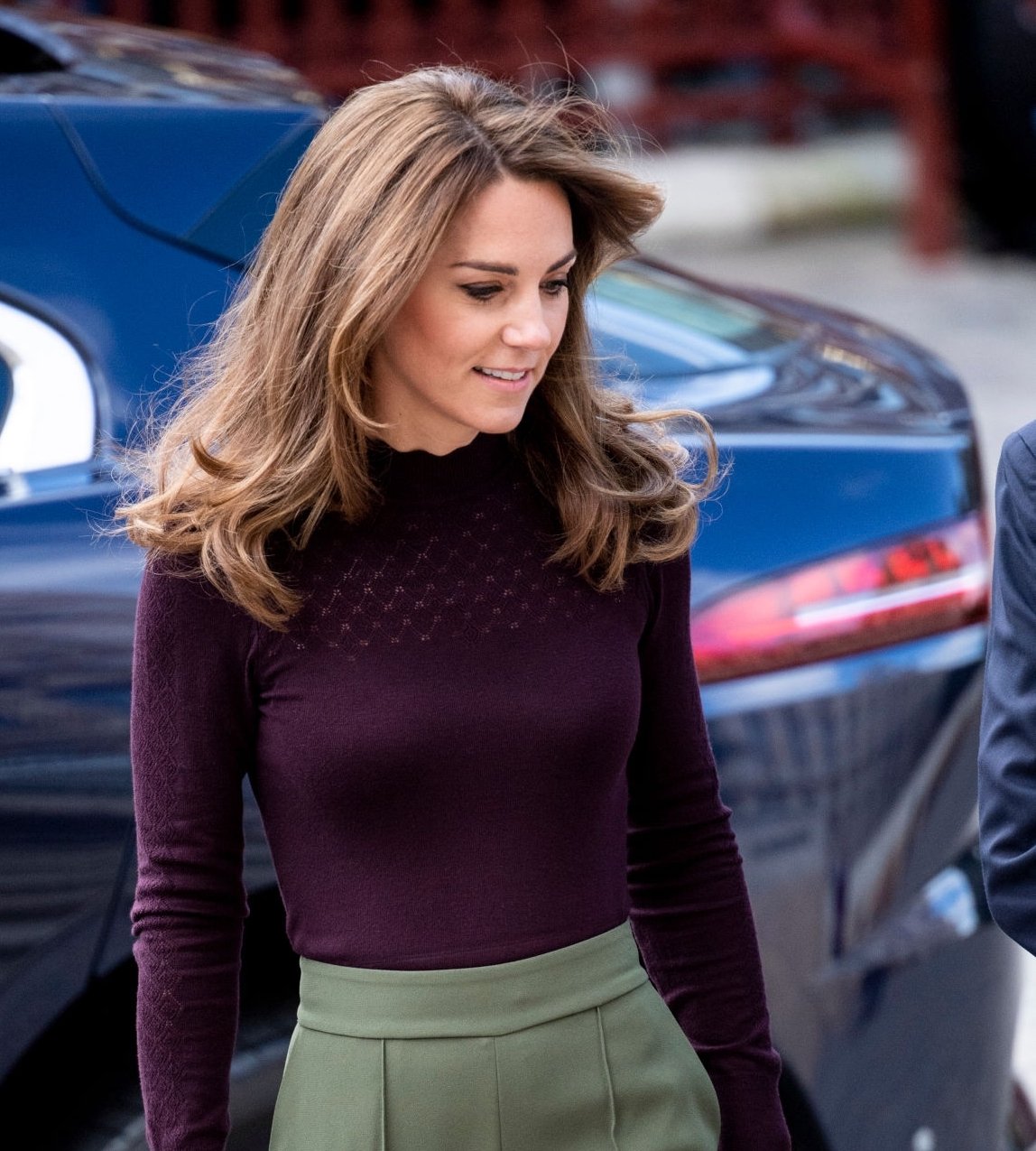 ---
Why Kate Is Often Called The Best Dressed Royal
The Duchess of Cambridge is a versatile fashion icon. She loves to wear almost anything, from floral dresses to classic ball gowns. She's also been know to rock the most stylish casual attire for her more relaxed events. While she certainly loves her designer brands, this royal often shops at affordable stores!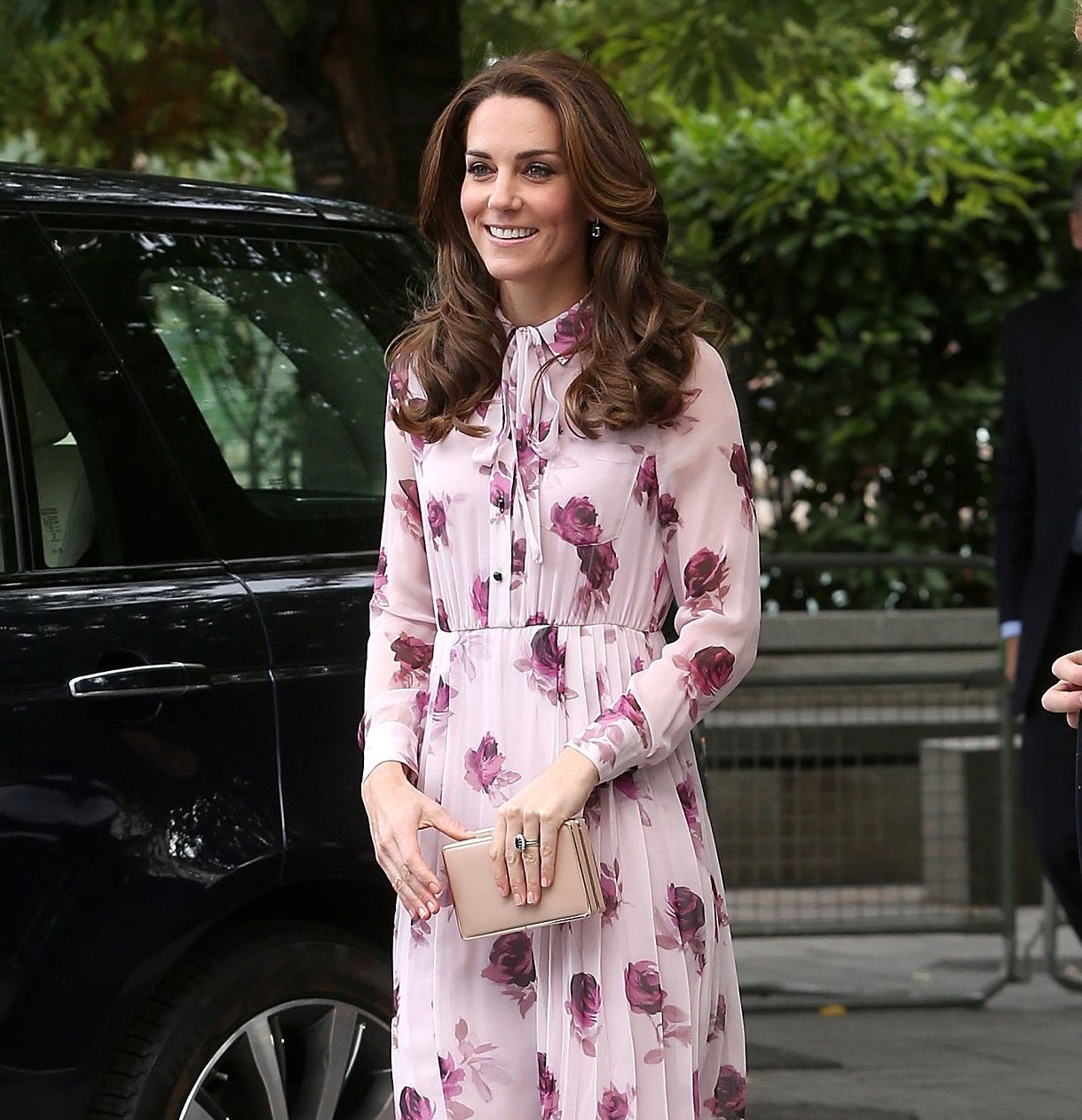 From The Gap to Zara and TopShop, she doesn't need to spend thousands of dollars to look good. Her youthful glamour never ceases to amaze audiences near and far. In fact, we've yet to see Kate make a fashion blunder! So far, every outfit she wears scores a 10 out of 10.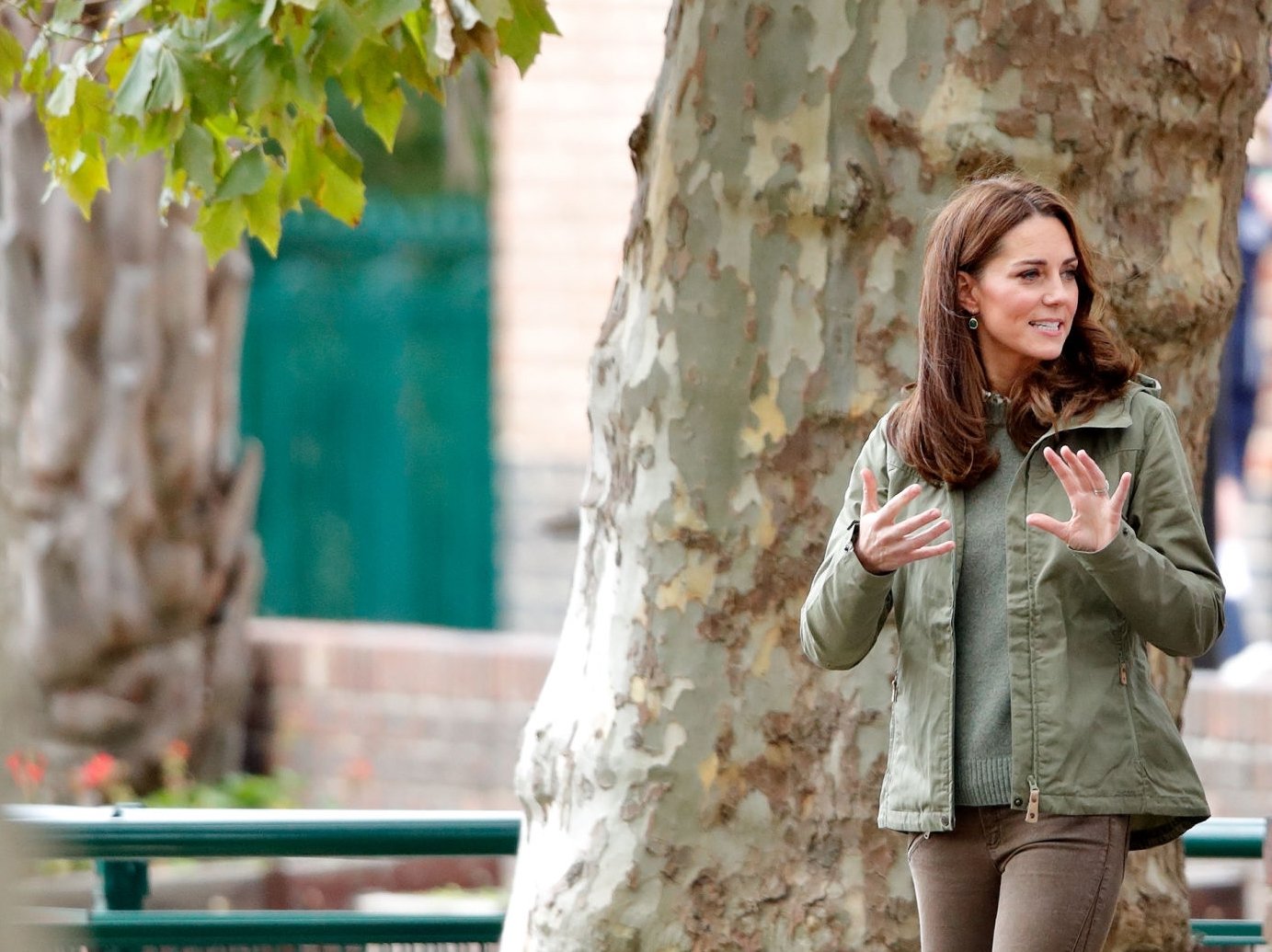 ---
15. The School Drop Off Outfit: $175
The world cannot wait to get a glimpse of the mini royals on their first day of school. When Princess Charlotte joined her brother at their educational institution all eyes were on them. However, we couldn't help but notice their always glamourous mother strutting by their side.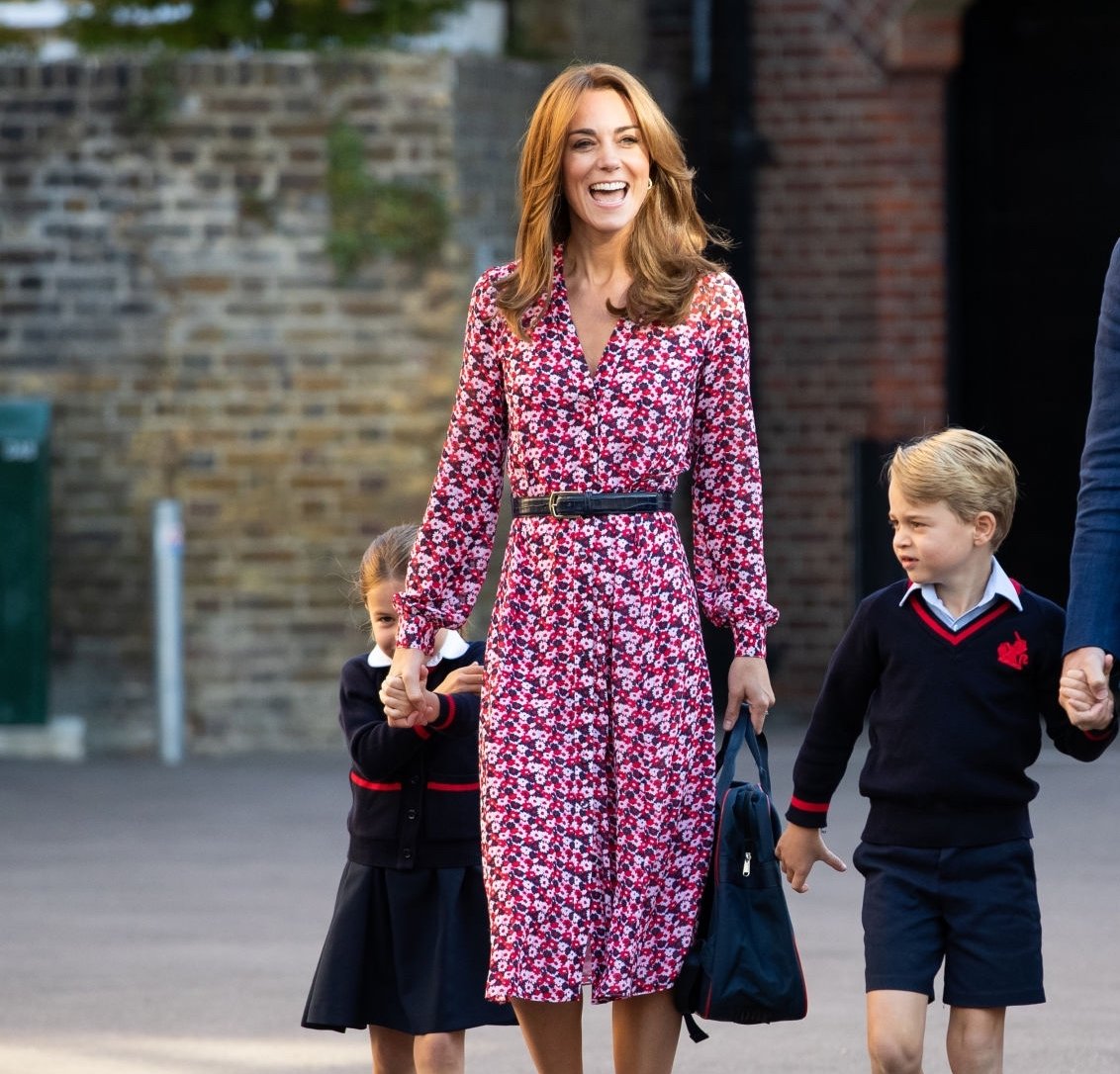 In September 2019 we fell in love with the Michael Kors dress Kate wore for the big school drop off. It was simple and elegant and all for only $175. The printed shirt dress was feminine and suited the Duchess perfectly. We wonder what she will wear when her youngest goes off to school one day!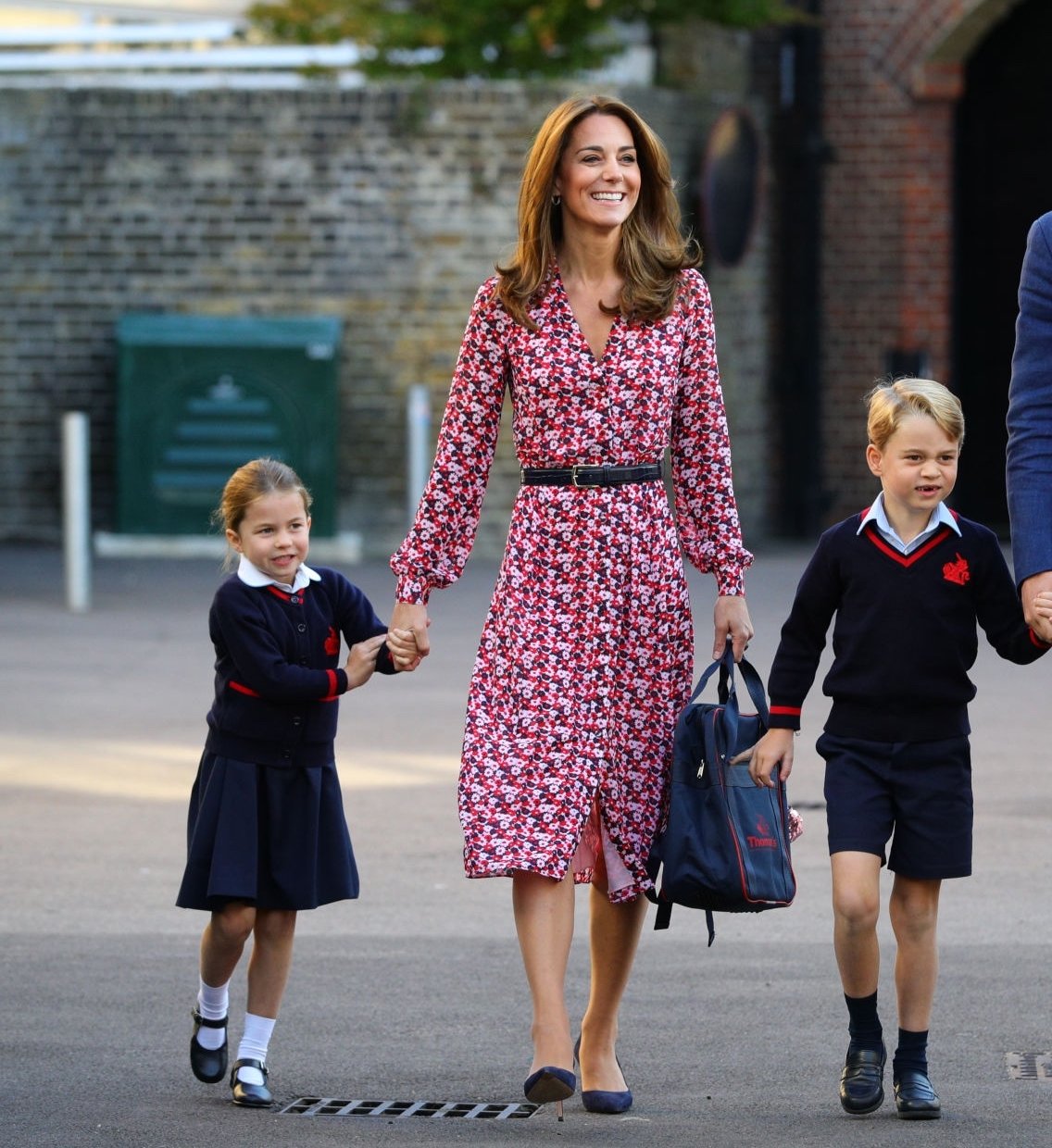 ---
14. The Perfect Garden Dress At A Surprising Price: $129
The Chelsea Flower Show is always a much-anticipated event for all garden lovers. Kate was overjoyed to play a role in this prestigious event. Her dress for the day was expectedly stunning. She looked like a flower queen in the long-sleeved floral midi dress from & Other Stories. The best part? It was only $129!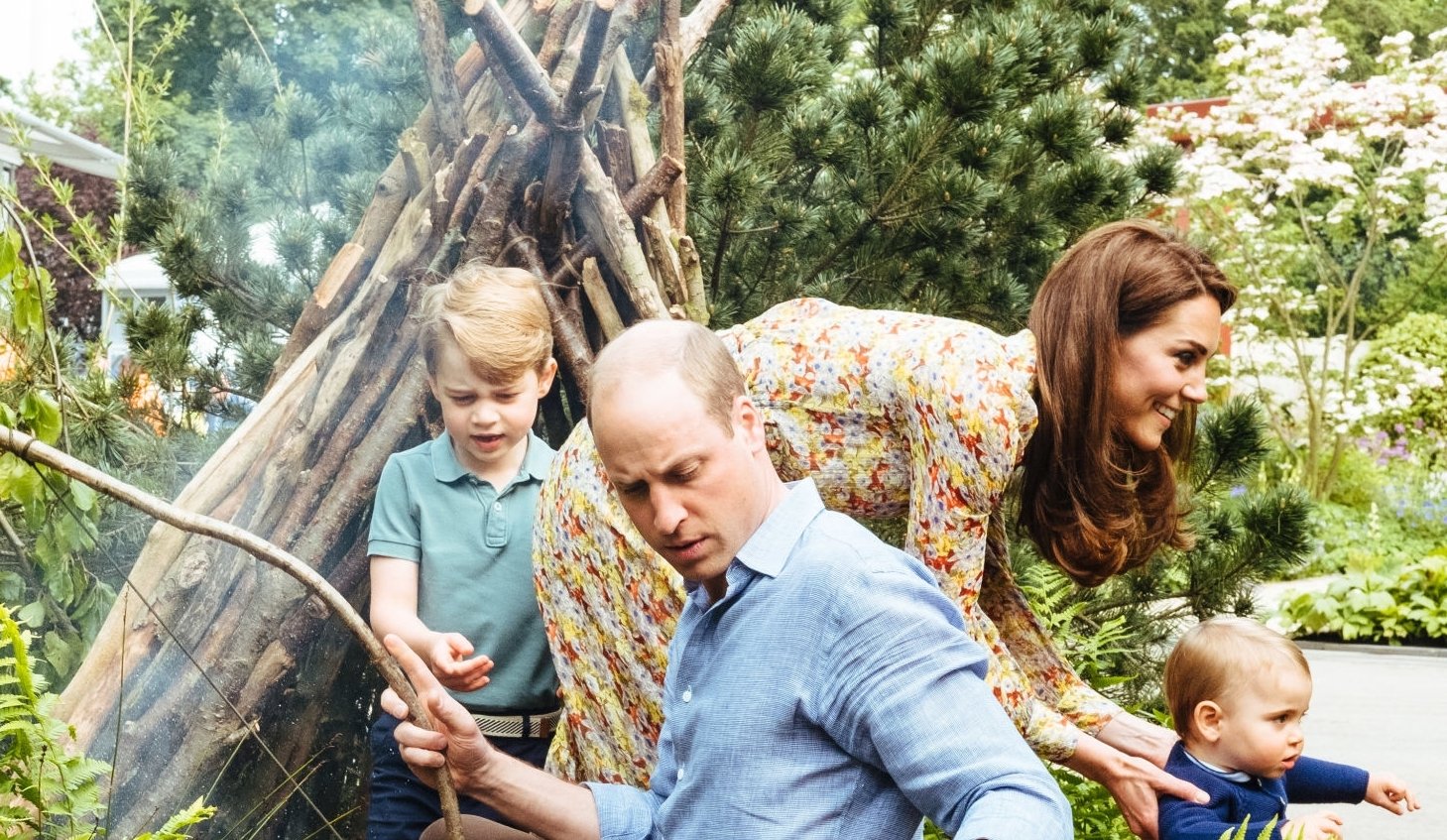 ---
13. Kate's Famous Red Puffer Jacket: $99
Kate has been known for her love of a good puffer jacket! Especially in the colder months. The Duchess also manages to make it look pretty high fashion no matter what. You can get her Nano Puff Water Repellent PrimaLoft Insulated red jack from Nordstrom for only $99!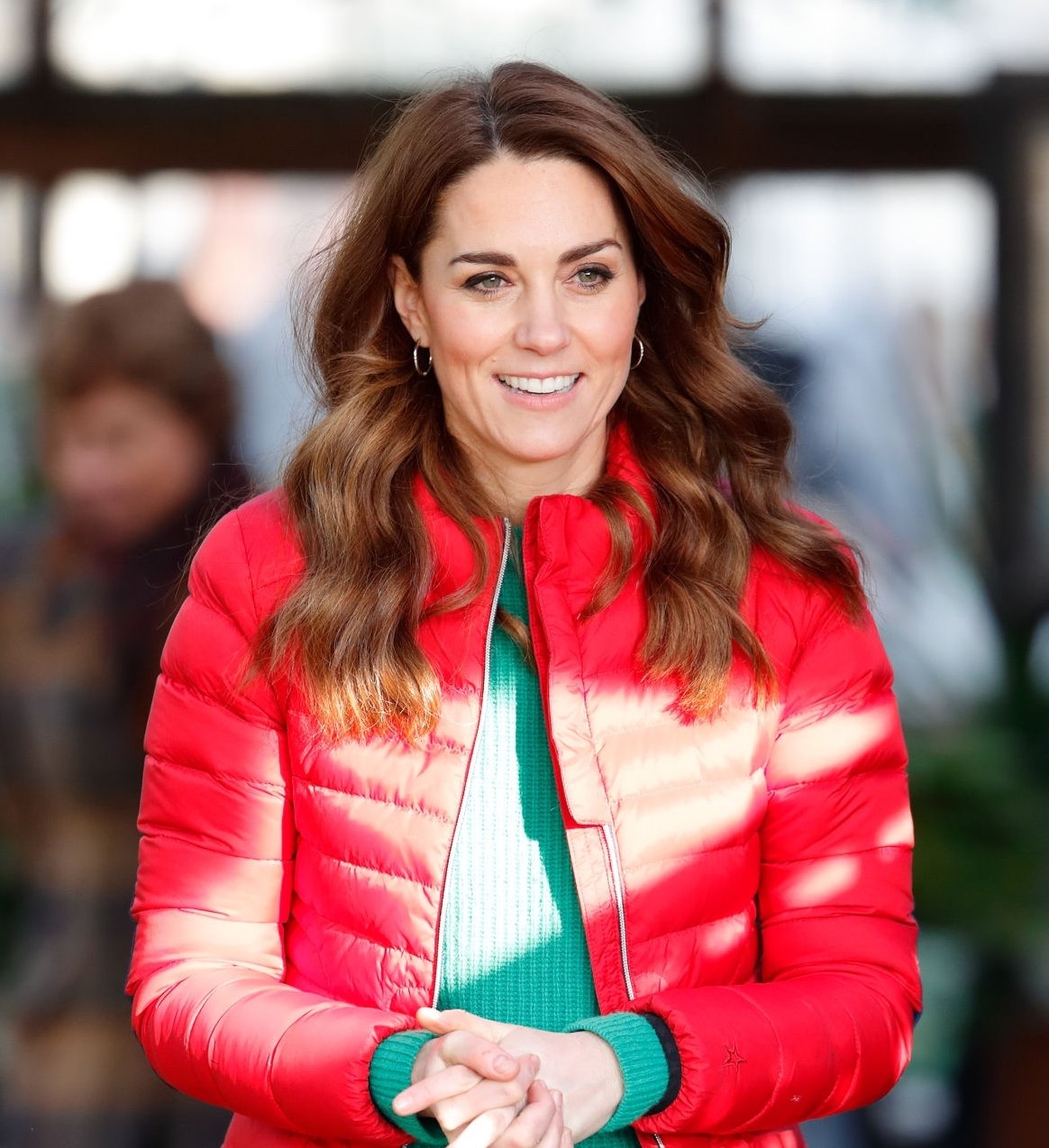 ---
12. This Royal Knows How To Do The Cool And Cozy Look: $90 
Whether she's visiting the scouts to prepping for the flower show, she always manages to take a knitted sweater and make it look extra comfy and soft. She often opts for a cozy turtleneck and likes to get them from the J. Crew store. The added bonus? It goes for $90.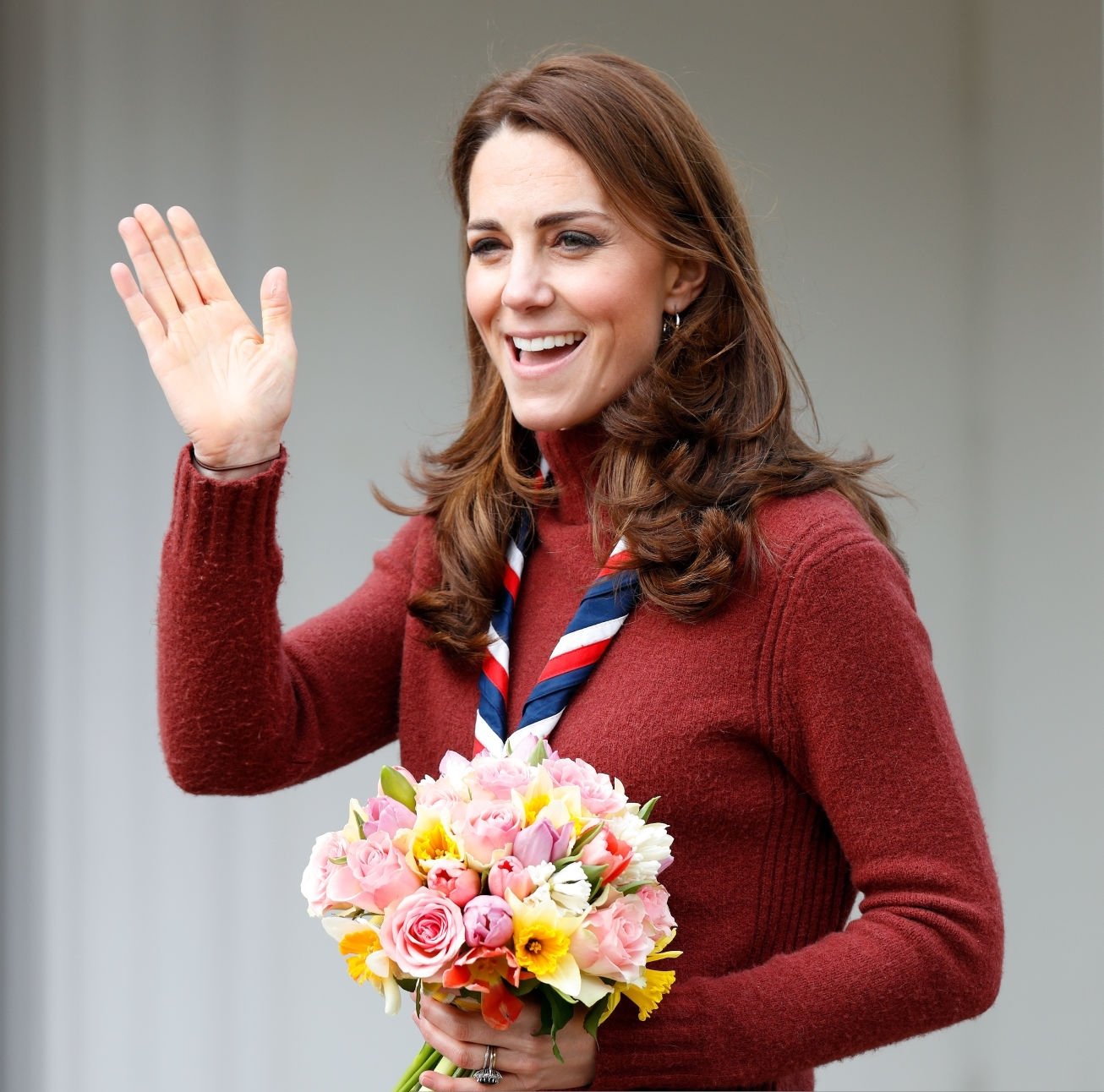 ---
11. The Ideal Wimbledon High Heel: $80
Last year's Wimbledon tournament drew some pretty impressive spectators. Kate was one of them and she even got to do the trophy handover! She looked the part in a soft blue dress that might be a bit out of your budget... Her nude Aldo heel might however make it into your closet for only $80!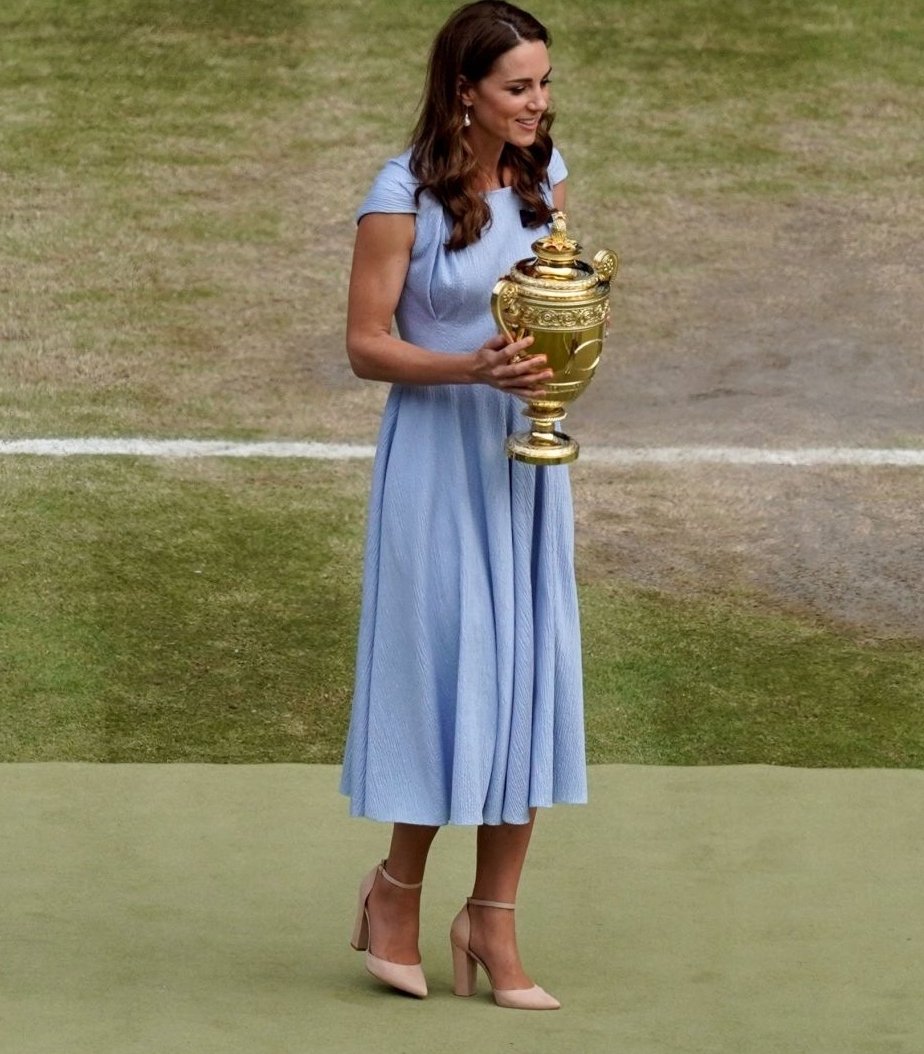 ---
10. Her Dresses From TopShop Don't Break The Bank: $76
Kate is an avid shopper at the trendy store Topshop. Her appearances often involve a great piece from their stores and unsurprisingly, the items she picks always sell out the very next day! When she visited the Warner Bros studio she chose to wear a $76 polka dot dress.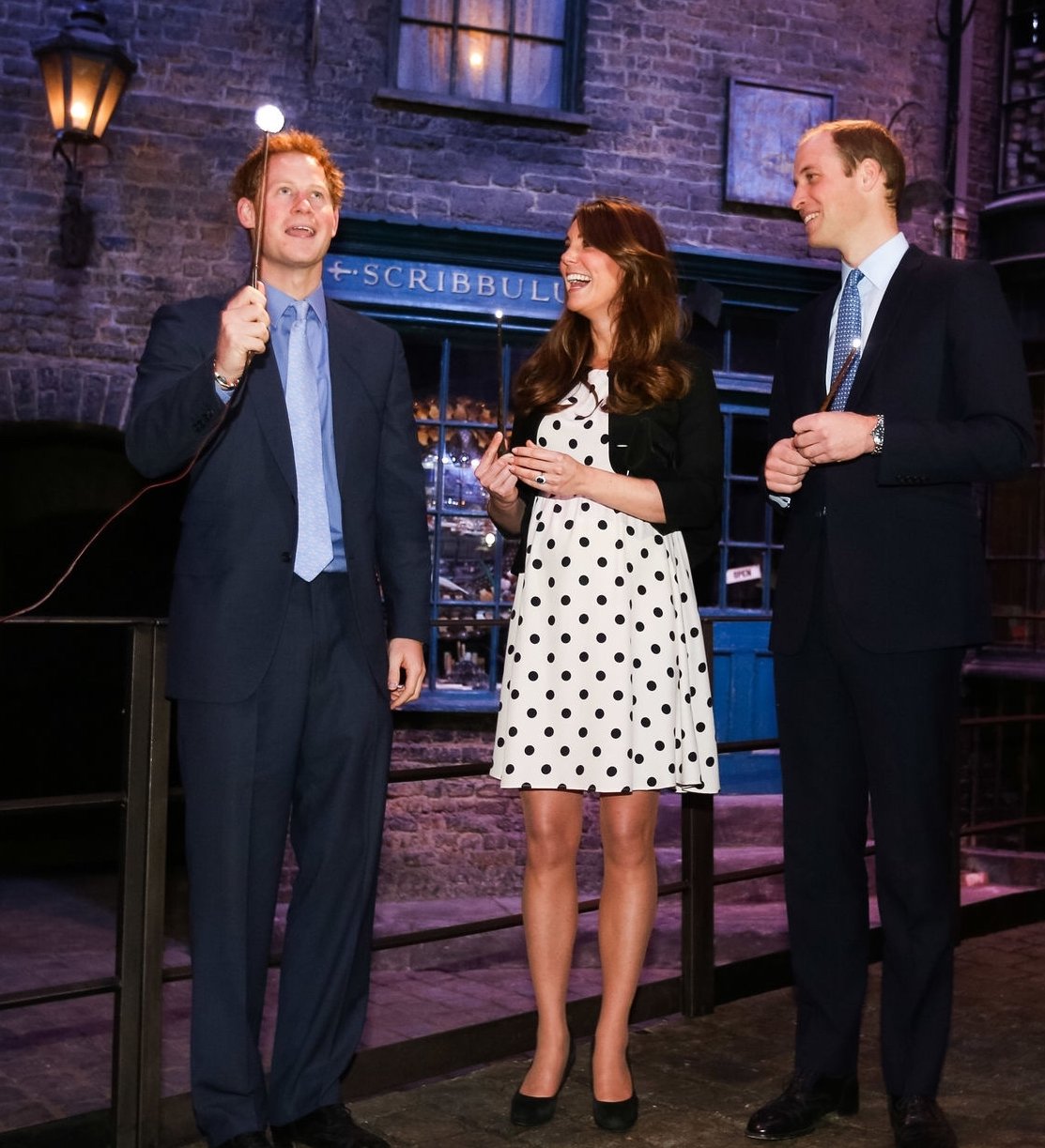 It was an instant hit with the fans and dubbed her a true icon back in 2013 already! The Duchess of Cambridge has continued buying from this store and despite their affordable prices, makes the clothing look like designer wear! We can't wait for her next TopShop purchase.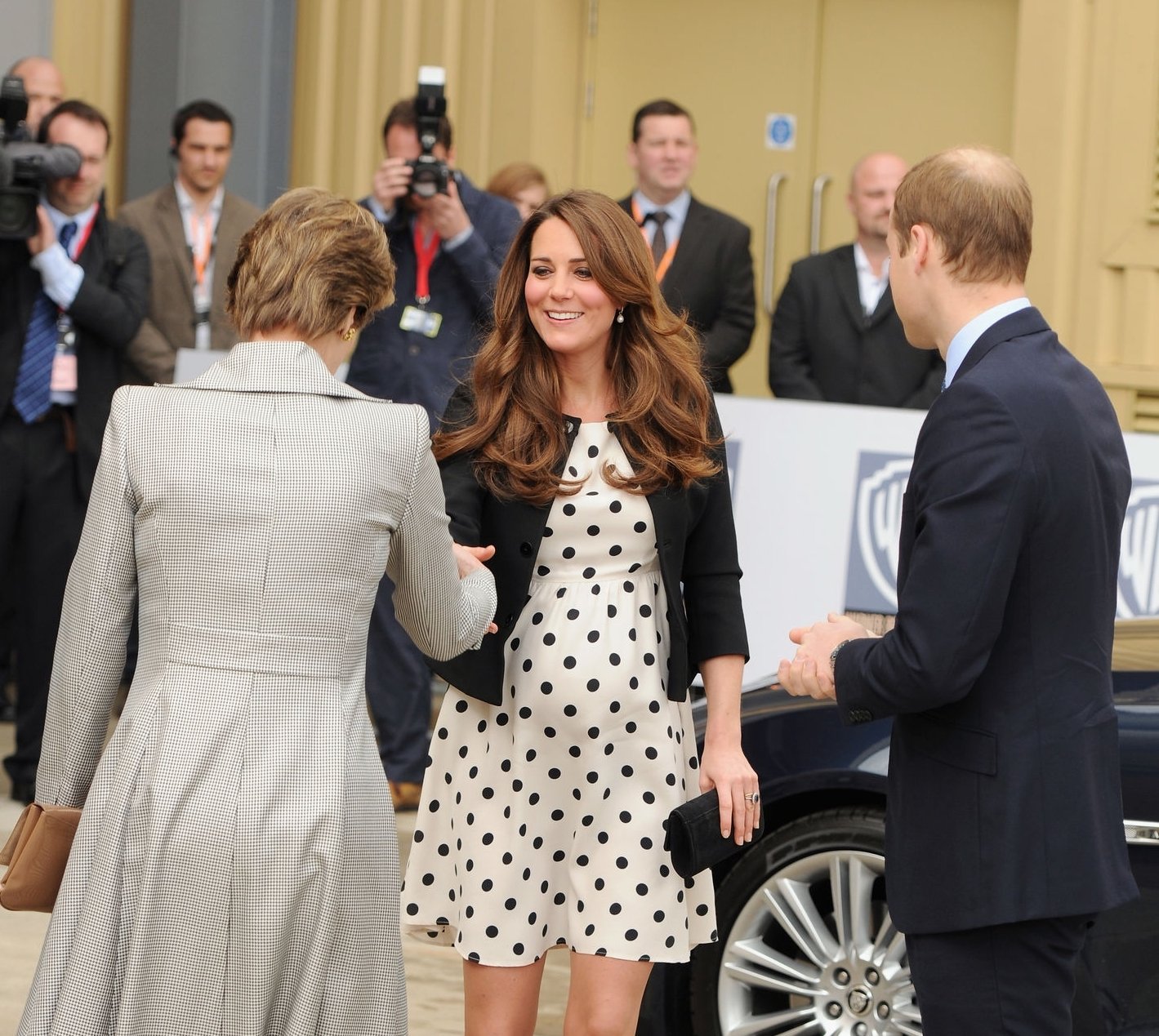 ---
9. Kate Loves Shopping At Zara: $70
Another one of her go-to bargain brands is Zara. It's probably her favorite non-designer shop and she is seen sporting their clothing very regularly. When she watched her husband Prince William play a casual polo match in 2018, Kate was in the stands wearing an $80 classic blue Zara dress.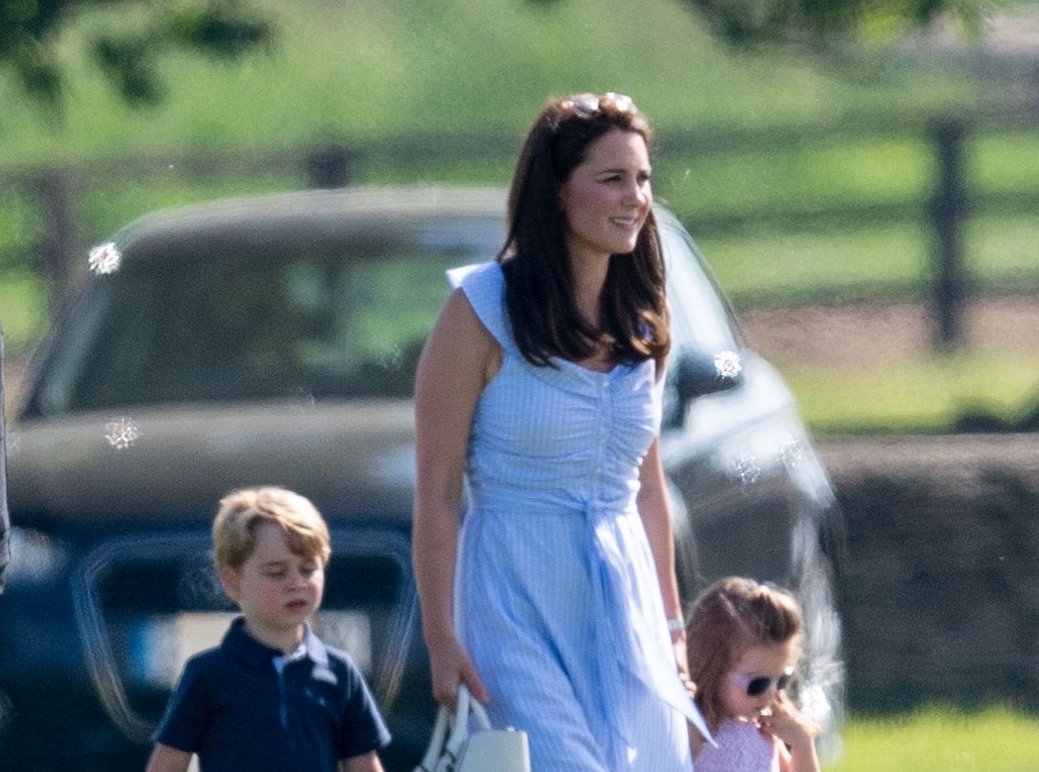 ---
8. The Sneaker Queen: $65
There are days that allow Kate to tap into her more casual side. Days she gets to wear her fav pair of cool sneakers! She's a big lover of the brand Superga. On more than one occasion she's opted to pair the comfy and affordable show with a cute summer dress.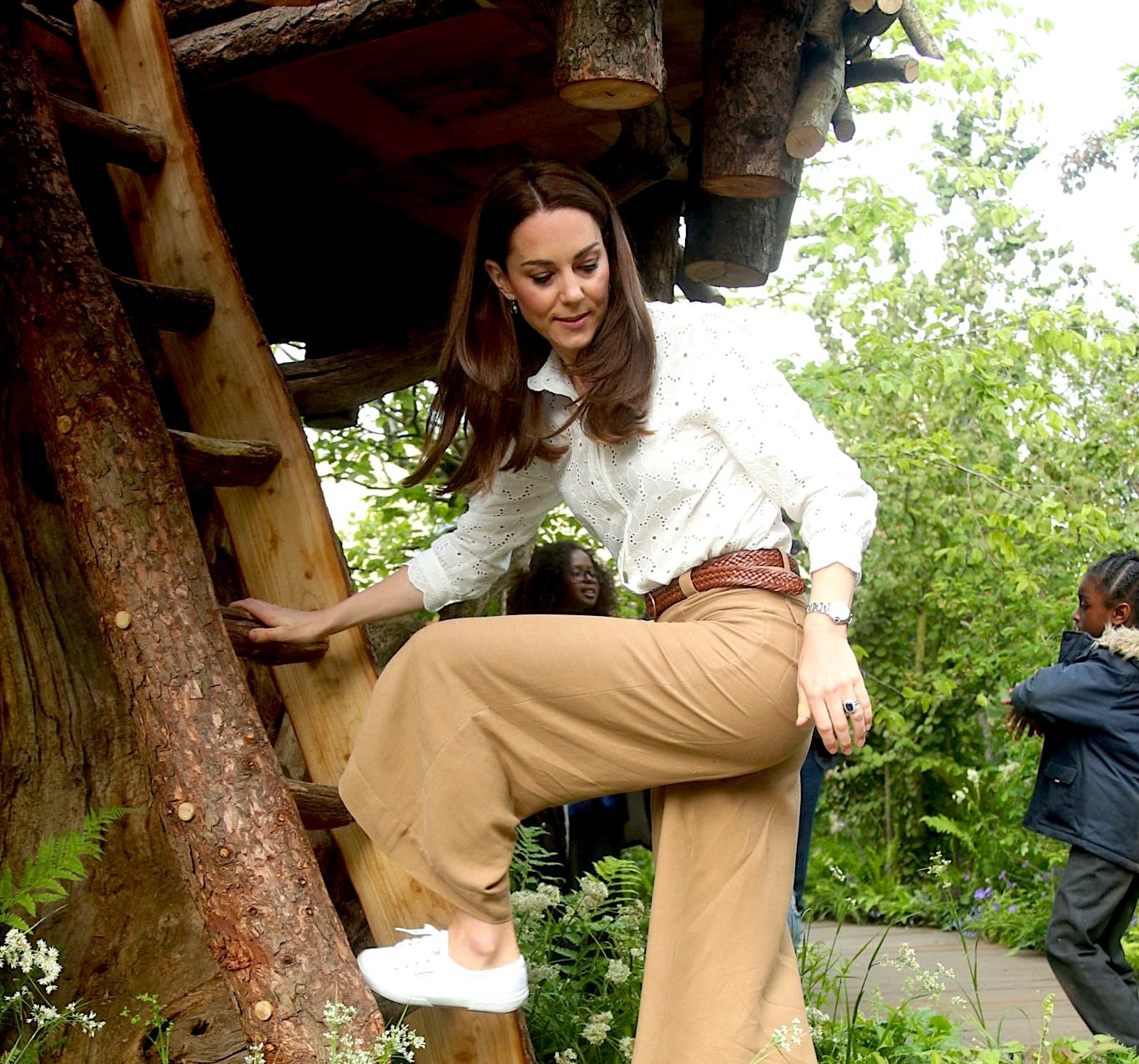 Her everyday staple jeans and minimalistic sweaters accompany this footwear well. While we won't find her matching her $65 Superga sneakers white her coat dresses or cocktail wear, she seems to grab any opportunity to sport this trendy choice. Take a look at her wearing them at the Back to Nature garden visit.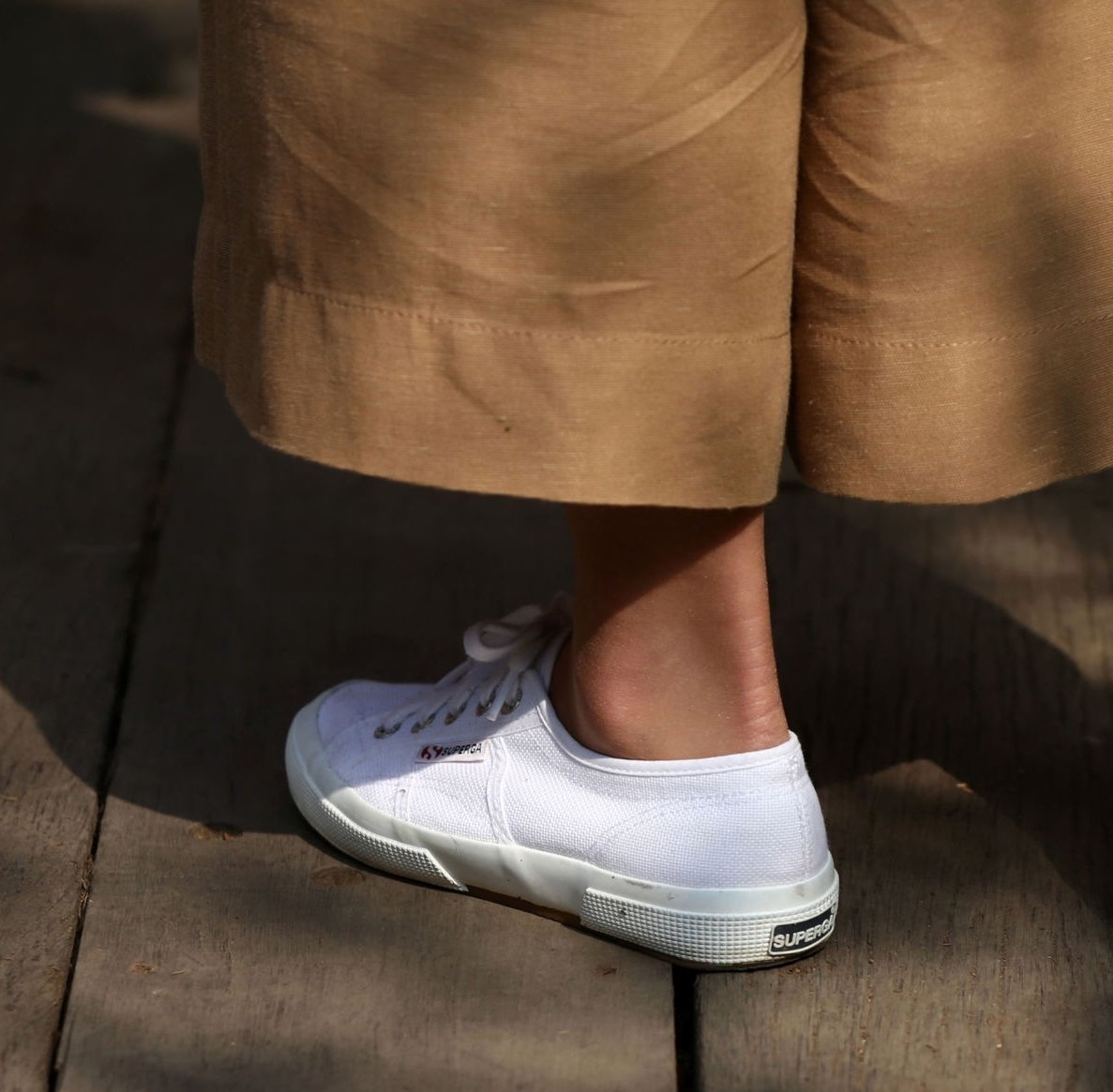 ---
7. This Mother Can Shop On A Budget: $59
Kate Middleton was a glowing mother to be during her seasons of pregnancy. Her go-to brand was Seraphine, the lovely and soft feminine store. She opted to wear a simple $59 maternity dress coat for a New York City trip while she was pregnant with Princess Charlotte.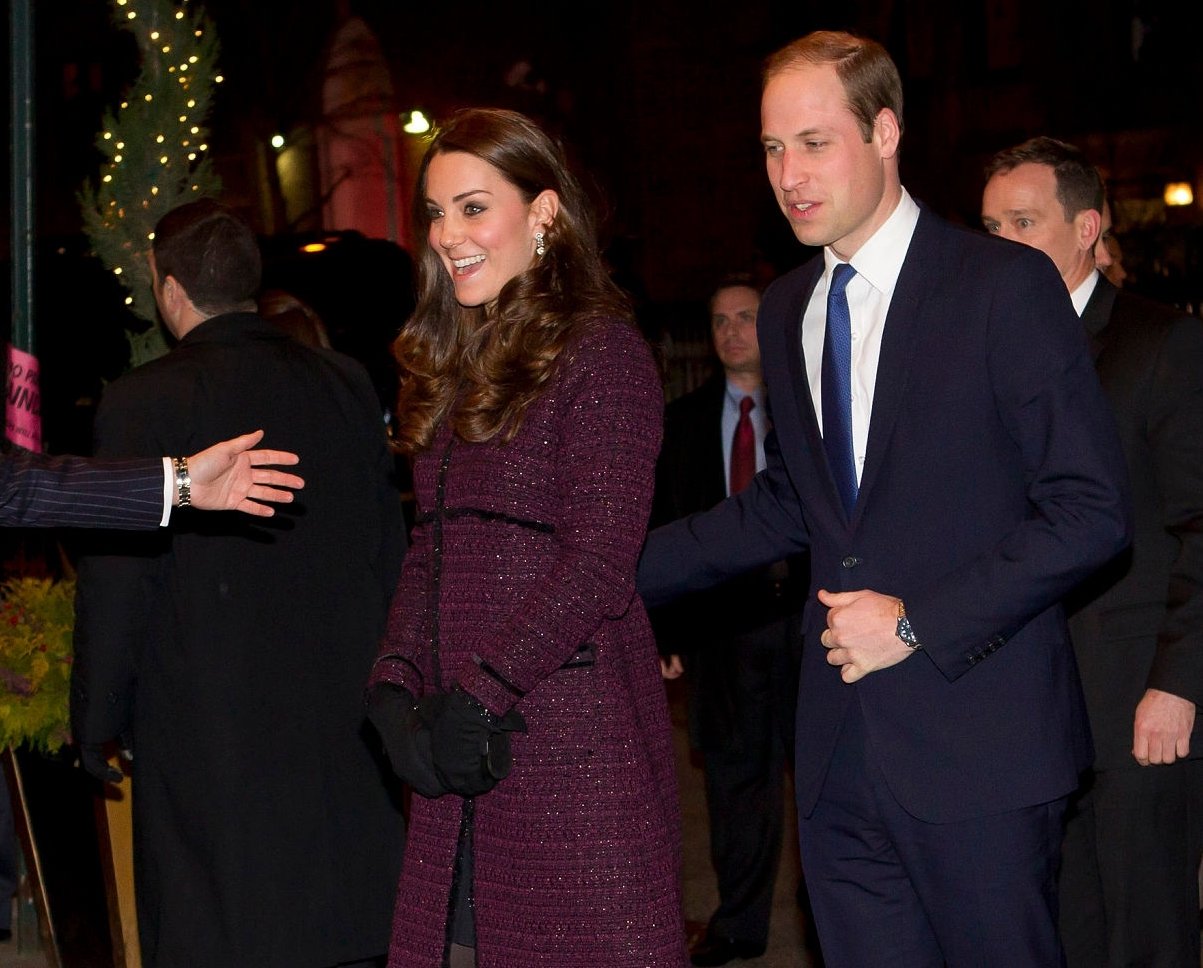 ---
6. The Duchess Buys From The Gap: $55 
One of Kate's other trusted affordable brands is the Gap. The store has high-quality, well-priced clothing which this royal seems to love. She takes a particular interest in their blouses. On a New Zealand winery trip, she chose to wear a checkered blouse which retailed at $55. 
---
5. The Winning Sporty Shoe: $49 
As we now know, Kate loves her affordable sneakers. She is a particularly active royal and she pairs her gym wear with affordable footwear. The Duchess of Cambridge took part in the King's Cup regatta near the Isle of Wight. The casual New Balance sneakers matched her attire well!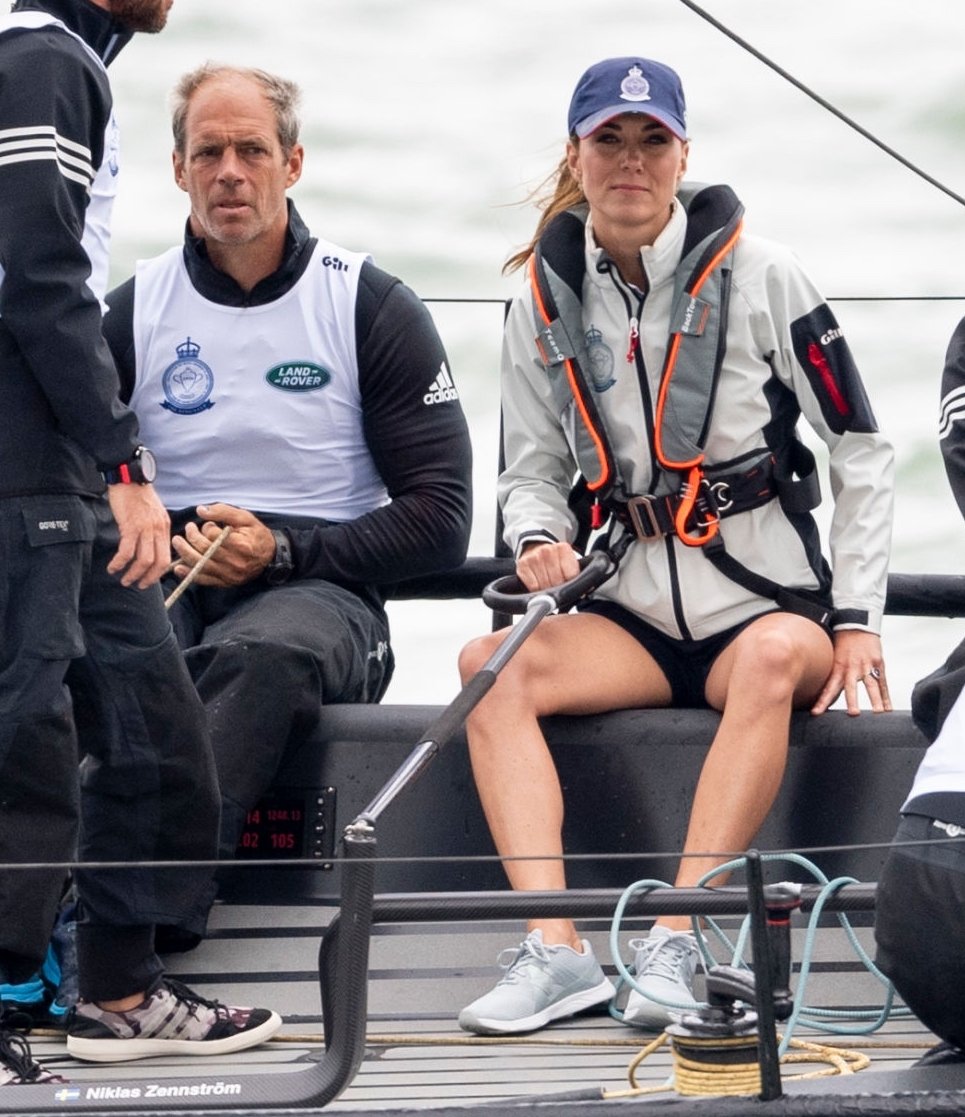 ---
4. Adoring The ASOS Maternity Wrap Dress: $39
The fashionist Duchess stunned us with her cool and trendy ASOS polka dot dress which she decided to wear during her pregnancy with Princess Charlotte. She visited a children's charity in London and created somewhat of a frenzy on the ASOS website...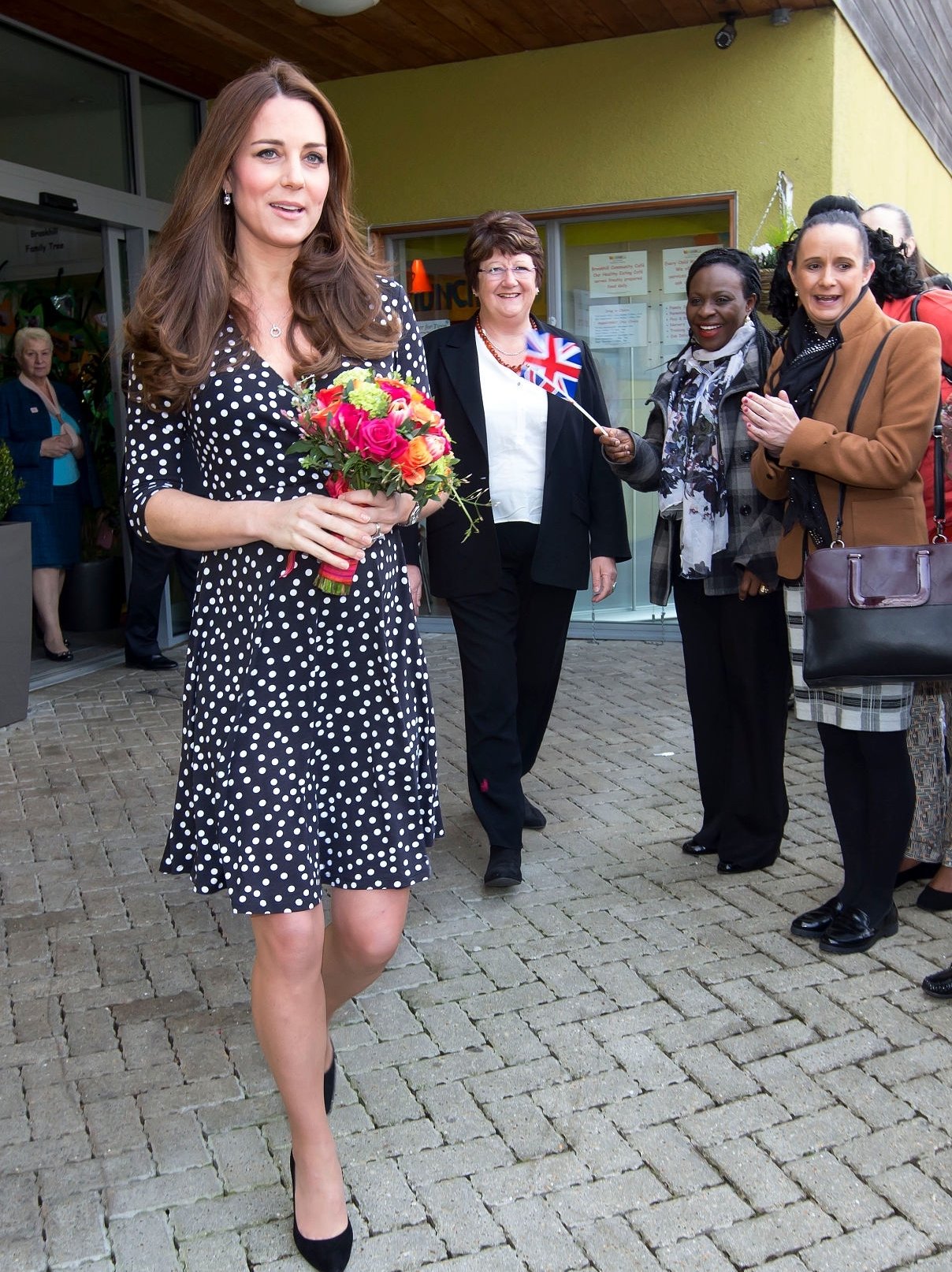 She created what is now called the ASOS Maternity Kate Wrap Skater Dress. The dress was sold out within hours of her appearance. At full price, it comes in just over $50 but if you catch it on a sale it will be a steal at $39! Not a bad price to pay to look like a real-life duchess.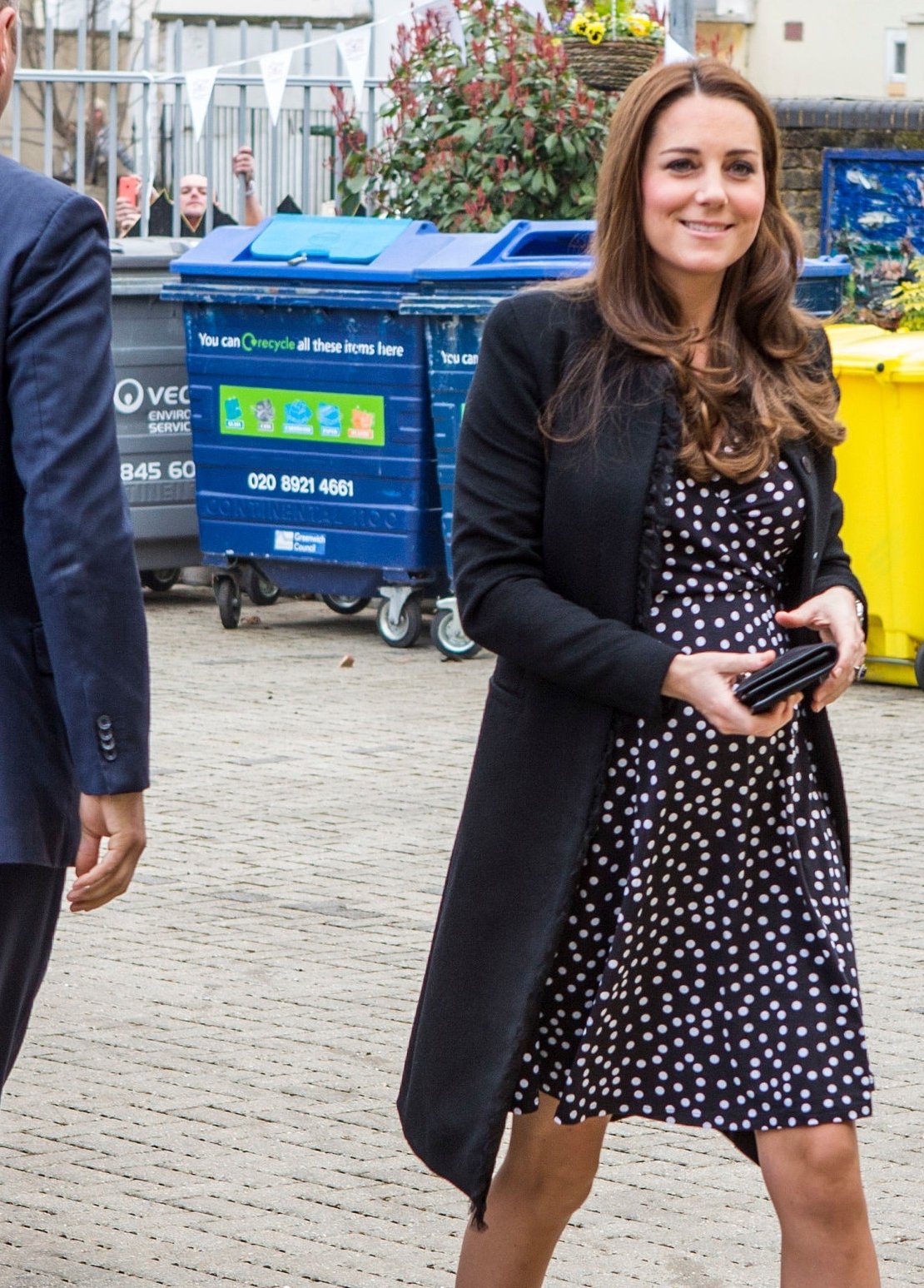 ---
3. Taking The Traditional Mom Jean To The Next Level: $29.99
This royal has an array of different events in her social calendar. Some require a glitzy ball gown with heels but others need a more laid back and casual look. This was the case when the Duchess of Cambridge paid a visit to Farms for City Children where she gave of her time and service.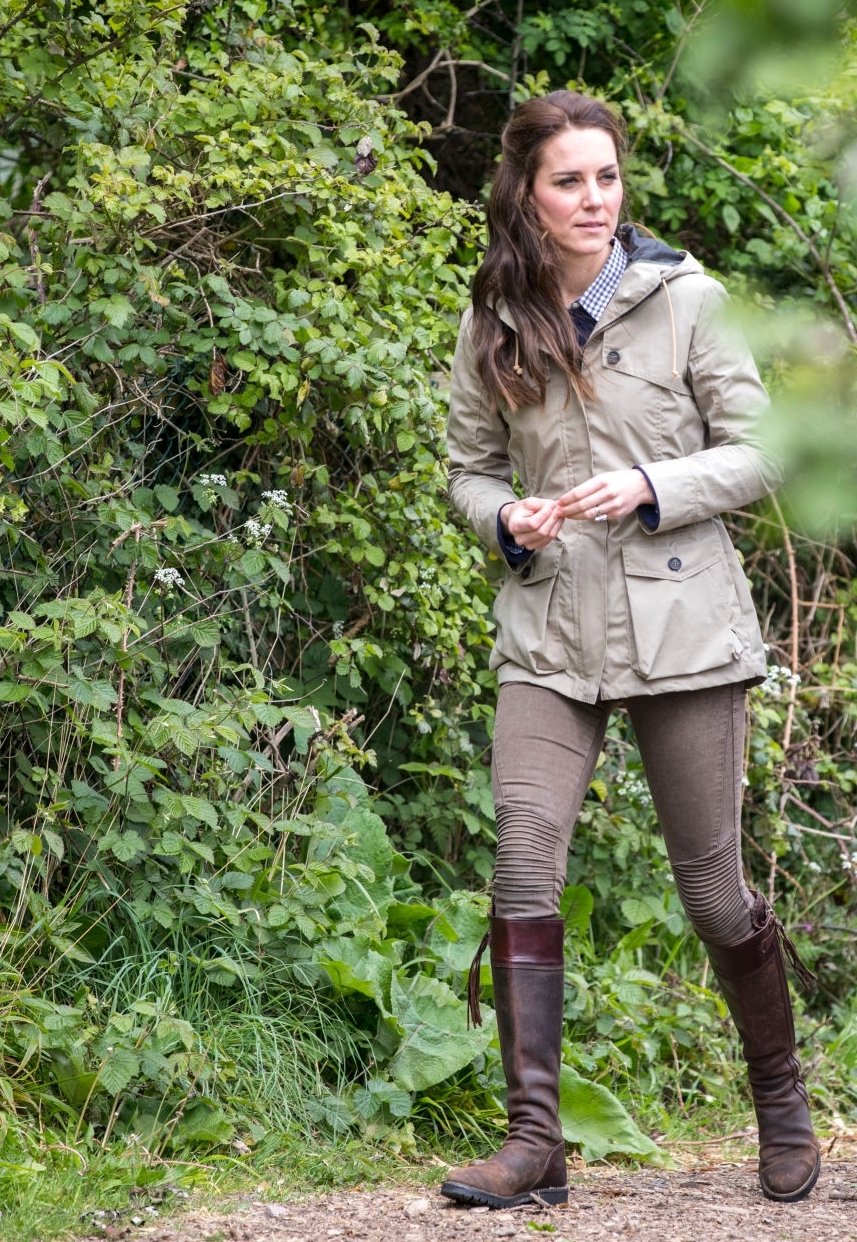 She looked stylish and ready to conquer farm life in her sturdy boots and great jeans. The olive green Mid-Rise Biker Jeans were an instant hit and one can hardly find them for sale anywhere these days. They are apparently available in black and selling at an affordable $29.99.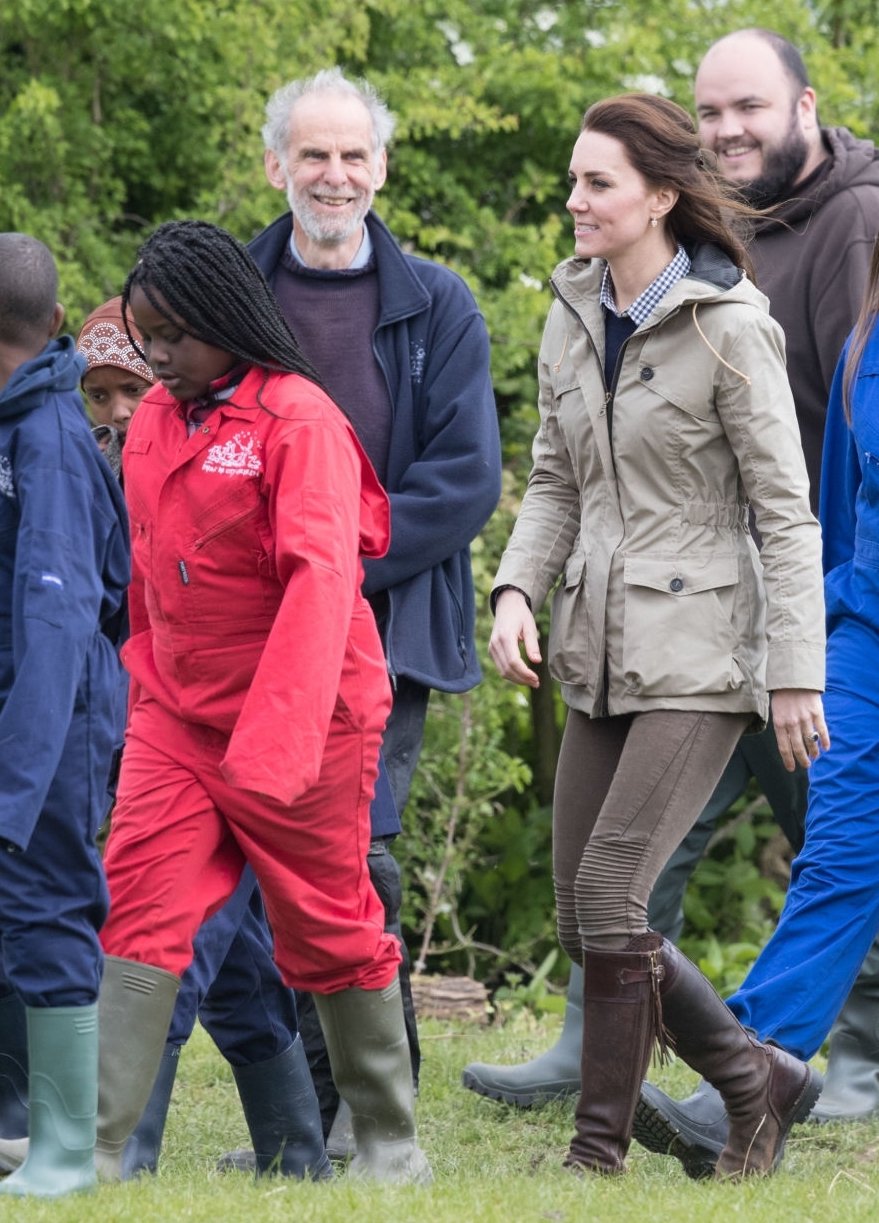 ---
2. Proof That We Can Wear The Same Jewelry As A Royal: $12
Kate Middleton has her pick to some of the world's most coveted jewels. She's been allowed to wear one of Princess Diana's tiaras amongst other royal heirlooms! The ring Prince William gave her is also another example of this. But Kate also supports affordable jewelry collections like Accessorize London.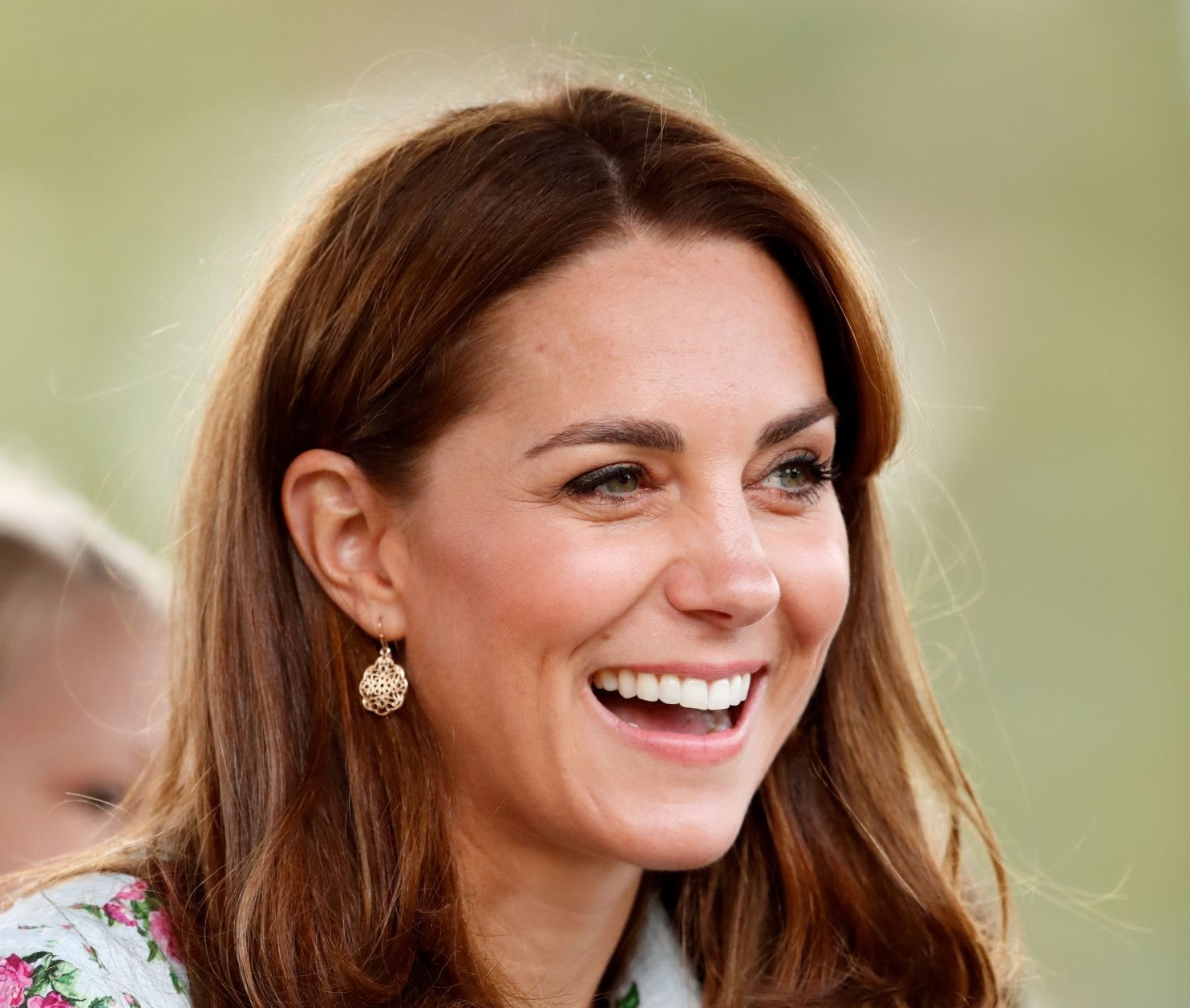 For a lovely gathering and tour of the Back to Nature garden event, the Duchess of Cambridge surprised audiences when she wore a very affordable pair of pale pink drop earrings. The stunningly simple jewelry might not be worth a lot at only $12 but they still looked like a million bucks!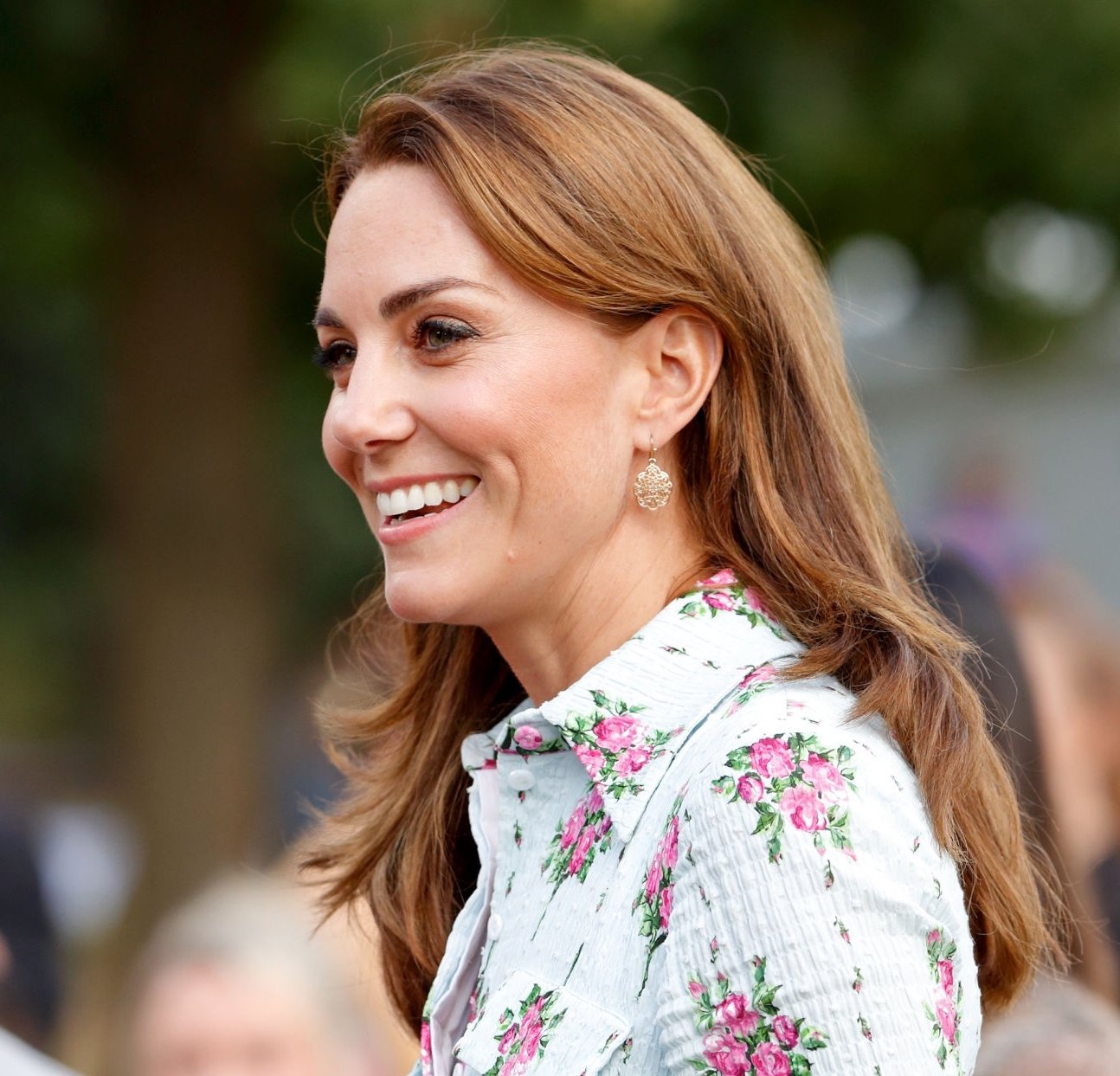 ---
1. The Cheapest Item In Kate Middleton's Closet: $10
You probably can't believe that the stylish Duchess has something worth only $10 in her closet... but it's true! She has been seen wear a stunning pair of Zeen earrings. The royal opted to wear them at the Aga Khan Centre in Pakistan as they were made in Pakistan.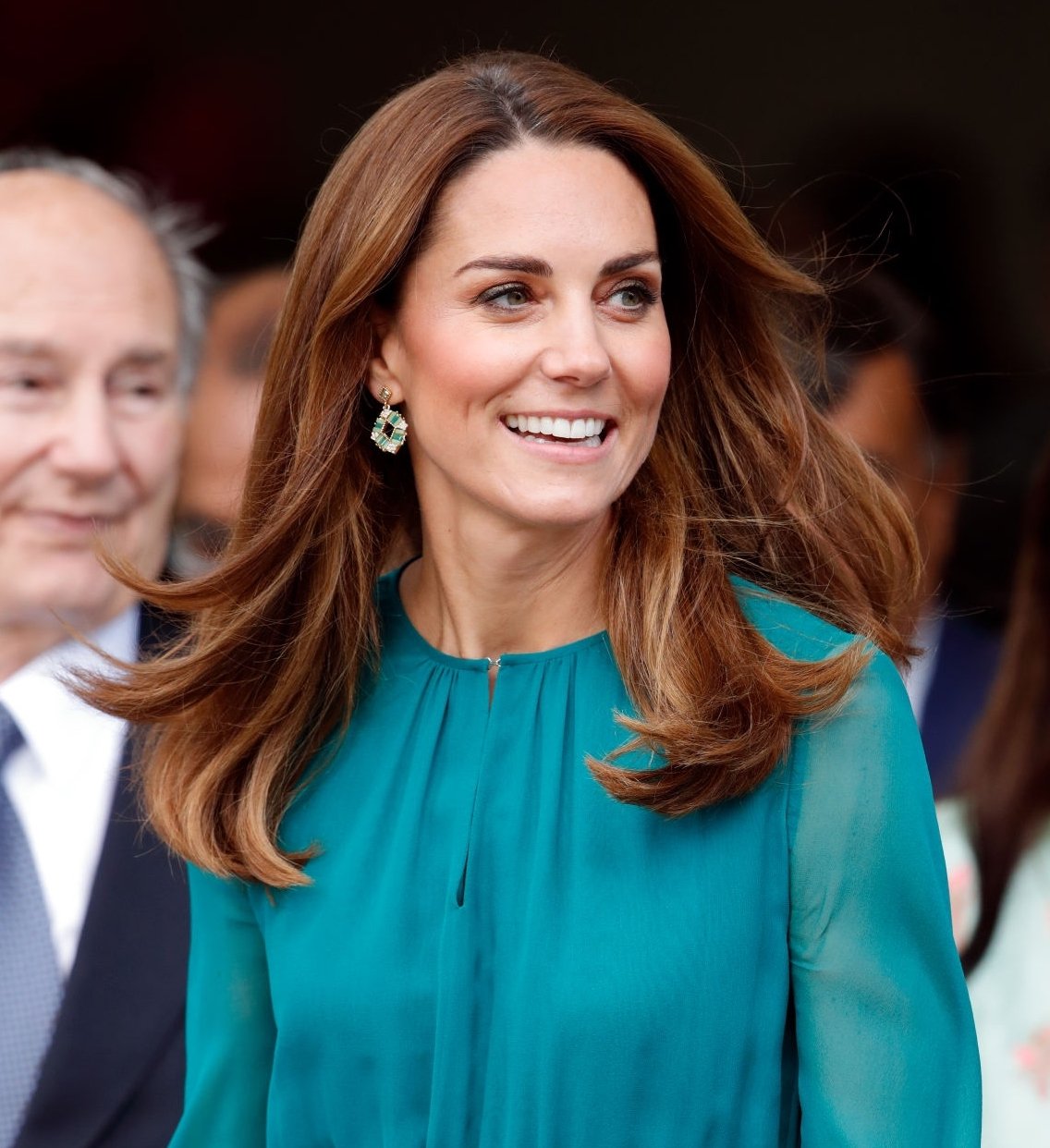 While they cost little more than a cup of coffee, they suited Kate perfectly and we wouldn't be surprised if they were worth thousands of dollars. The Zeen Dazzling Ceramic Drops can be bought online, so if you want to look like this elegant royal, you only need $10!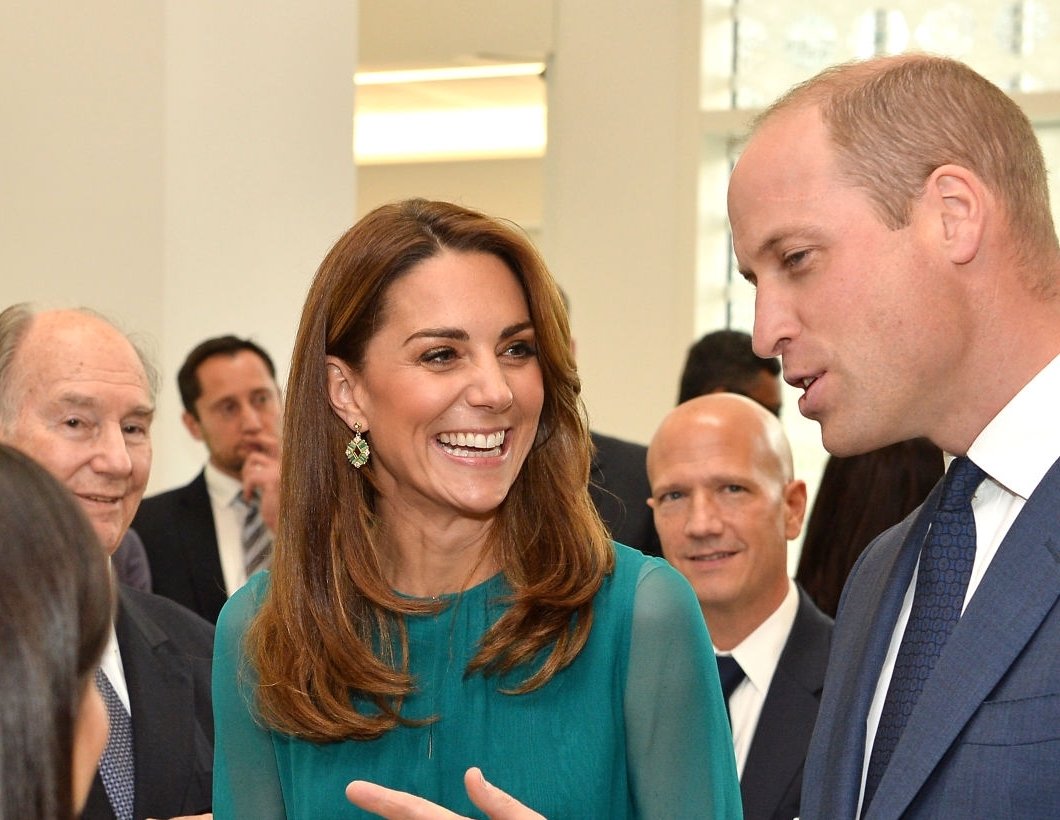 ---
Bonus Outfit: Kate's "Mother In Lockdown Style"
Kate and her family applauded NHS workers for the good work they have been doing. They have also been active on their social media pages. This allowed us an insight into how the lovely lady has been styling herself during the 2020 global lockdown. Lalla Bronshtein spoke about the Duchess' most recent style choices. She said:
"The dress that she wore was a beautiful blue floral Ghost piece known as the 'Anouk' design. The floral print blue midi dress, which was perfectly selected for its soft, feminine feel, was finished with a vintage-inspired frill collar which was mirrored on the cuffs and at the hem." 
Whether its a sneaker or a simple wrap dress, this beautiful royal can do no wrong! She certainly has her own very distinct style and her fans adore it. Now that you've seen some of her most affordable outfits, you can dress just like a duchess... on a budget! Which of these looks is your favorite? Leave us a comment and be sure to share this with your royal loving friends. 
Sources: Pop Sugar, Insider, Bustle, Pop Sugar