List of Meghan Markle's Most Expensive Looks
From the moment she became known as Prince Harry's fiancée, the world knew the British Royal family was opening its doors to a new fashion icon in the making. Meghan Markle's outfits are always the talk of the town not only for their good taste but also for how expensive they usually are. Some of them were as expensive as a car.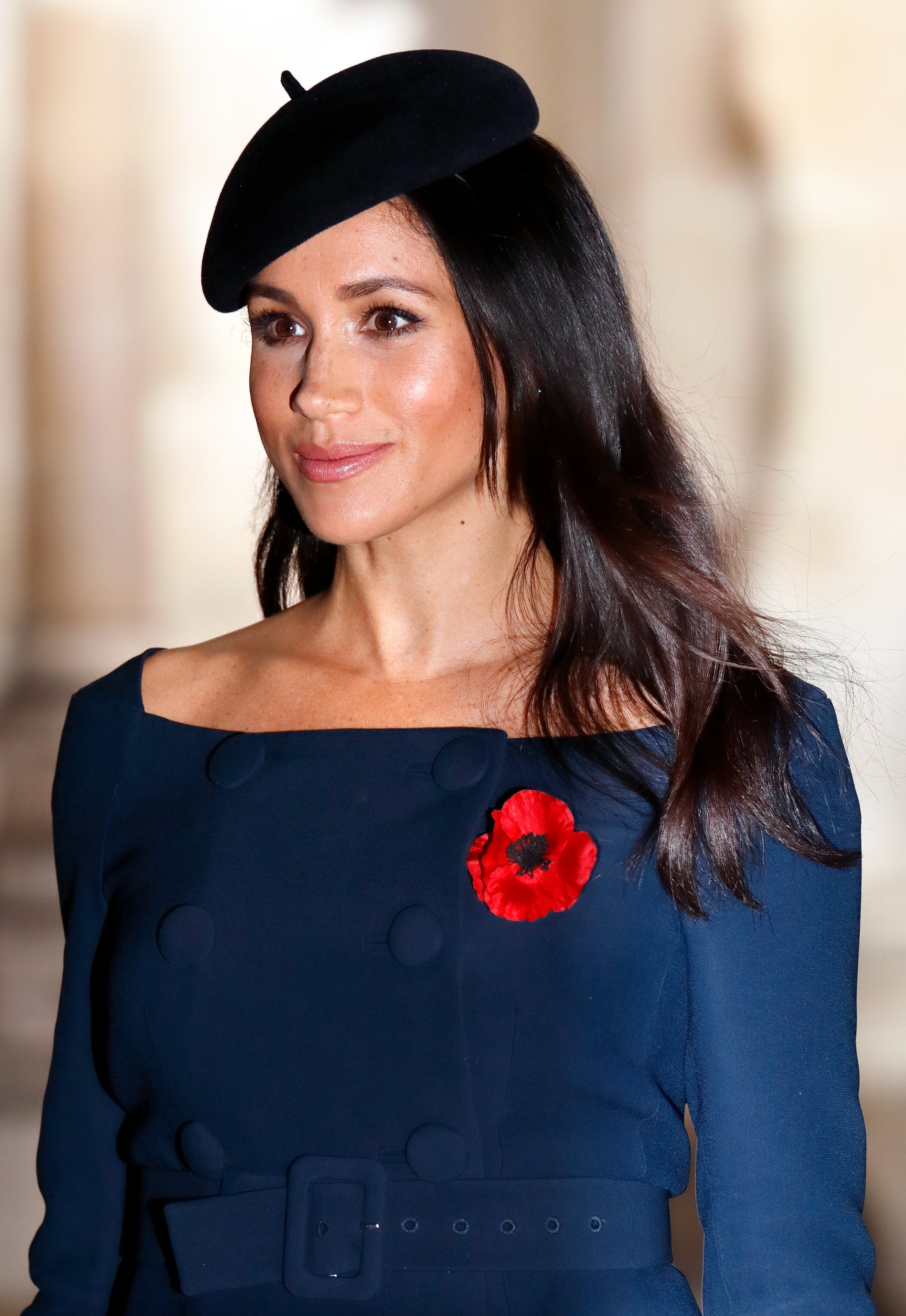 ---
1. Sentaler Red Wrap Coat - $1,395
In January 2018, Meghan was seen wearing one of her most colorful outfits to date on a visit to Birkenhead in the UK: a red wrap coat by Sentaler, valued at $1,395. The Duchess paired the coat with matching Stuart Weitzman red pumps and a Babaton by Aritzia purple dress.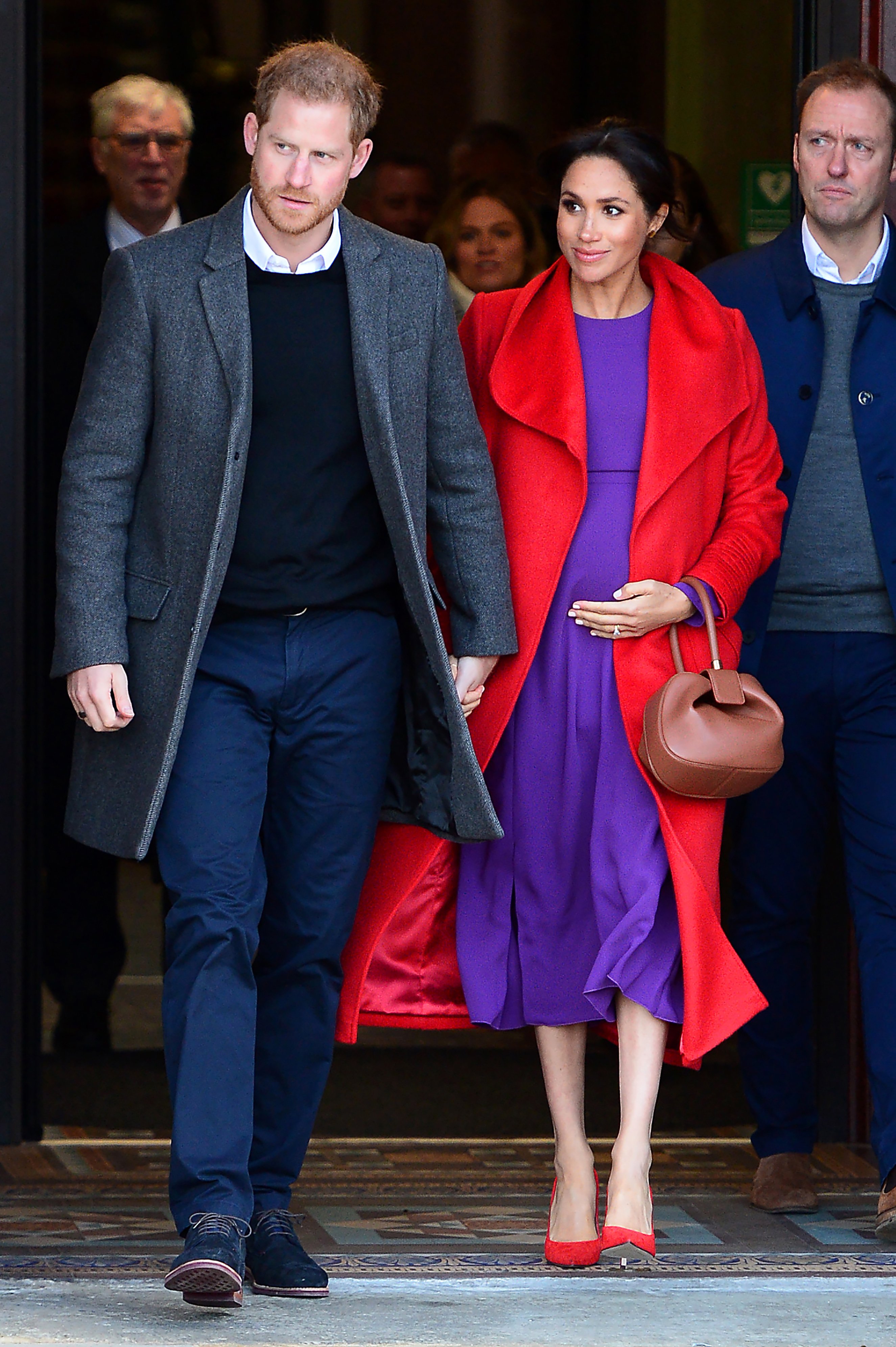 Meghan and Harry revealed to the press on that same day that she was six months pregnant and that the baby was due in late April or early May. They also said that they wanted the sex of the baby to be a surprise so they hadn't tried to find out if it was a boy or a girl.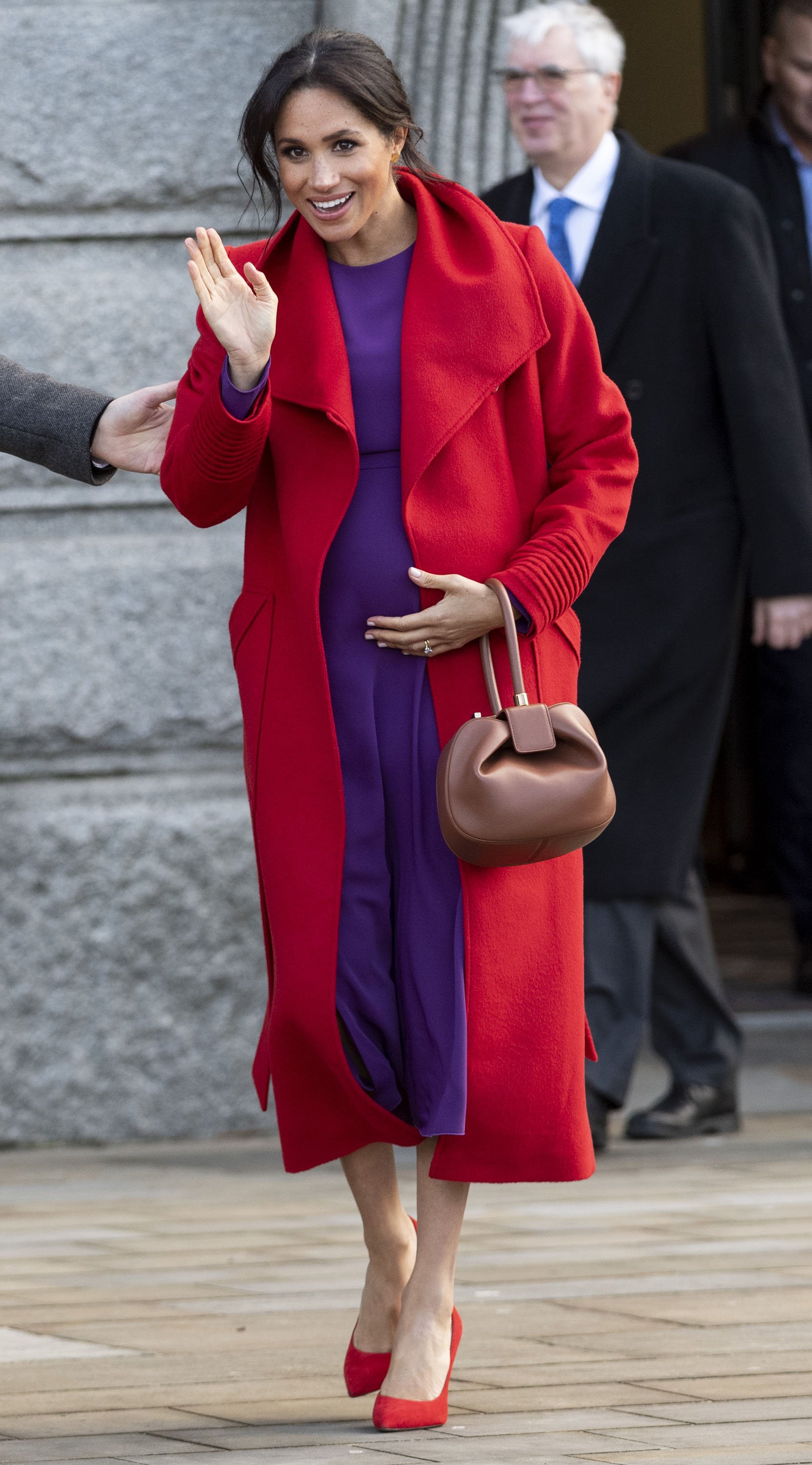 ---
2. Brock Collection White Floral Dress - $1,480
Meghan Markle's pregnancy didn't stop her from looking as elegant as she always did. In December 2017 she showed up at a visit to the Royal Variety Charity's nursing and care home with a completely unexpected romantic and ethereal look, quite different from what the public was used to when it came to her fashion choices.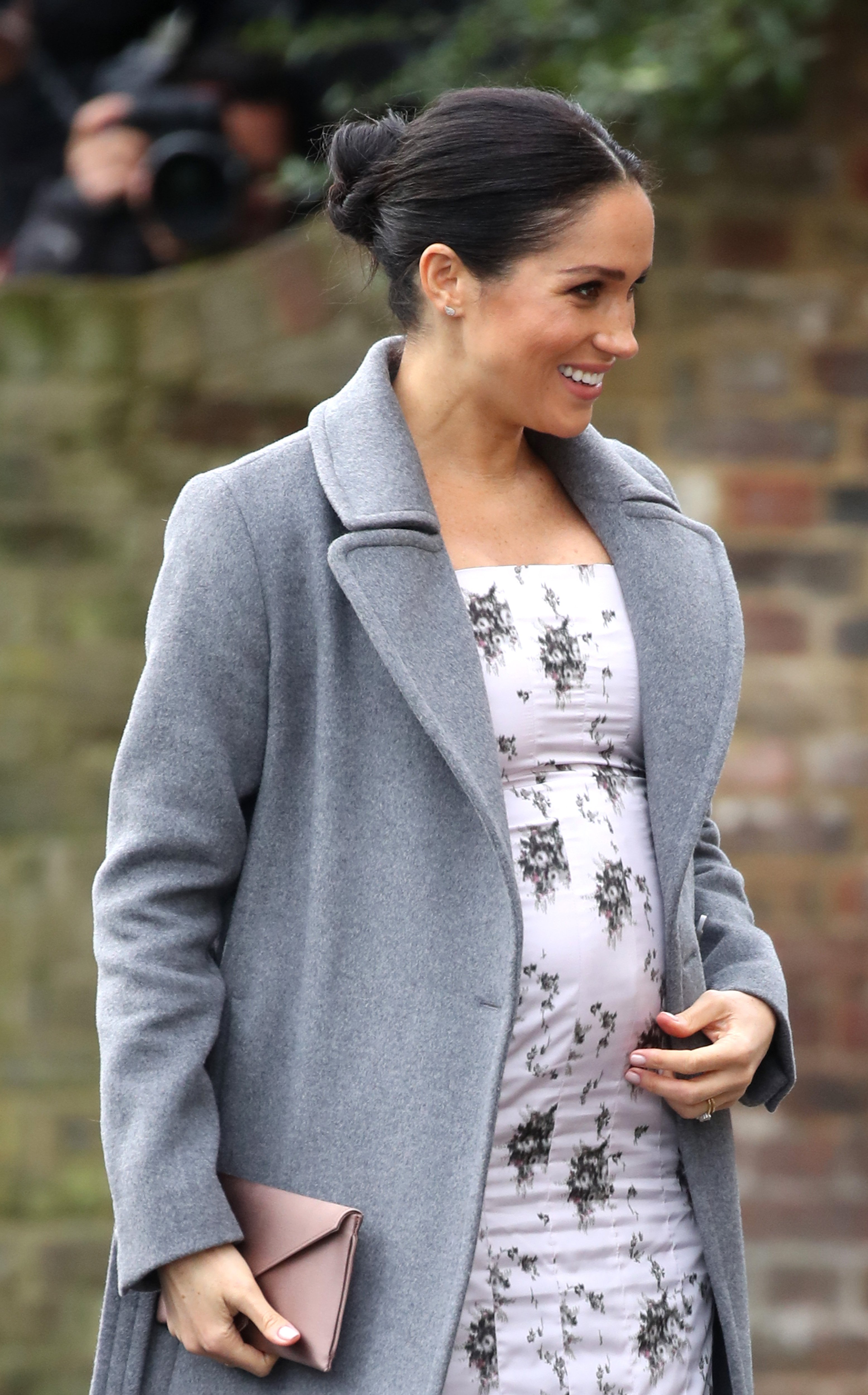 Meghan's outfit choice consisted of a white floral midi-length taffeta dress covered in a delicate floral pattern from Brock Collection. The dress, valued at $1,480 was paired with a grey wool coat by Soia and Kyo. Meghan also wore a pair of classic Aquazzura Deneuve suede pumps. She joked with the residents saying she looked "very pregnant".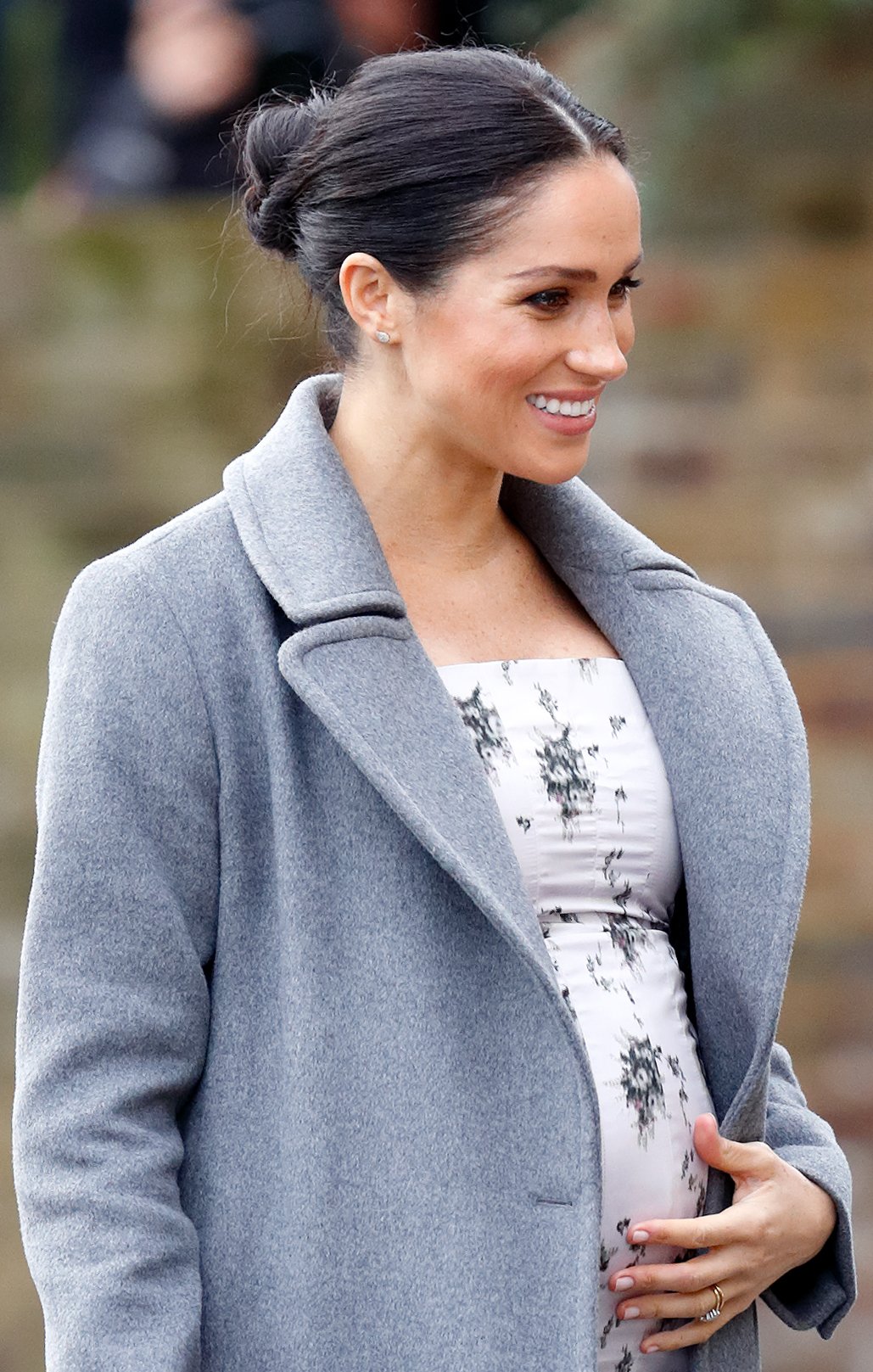 ---
3. Carolina Herrera Denim Dress - $2,190
In July 2018, Meghan showed up to a Sentebale polo match in Windsor wearing her most casual-chic look to date with a denim dress by Carolina Herrera. The $2,190 dress was paired with Aquazzura pumps and a J. Crew clutch. The world was delighted to see a royal member wearing a denim outfit and fans sure did love it.
---
4. Oscar de La Renta Blue Blouse - $2,290
Only 2 months later, in September 2018, Meghan attended the Coach Core Awards at Loughborough University with Prince Harry, a Royal Foundation focused on improving education and job opportunities through sports. Despite the sporty theme, Meghan made sure to present herself as elegant as ever.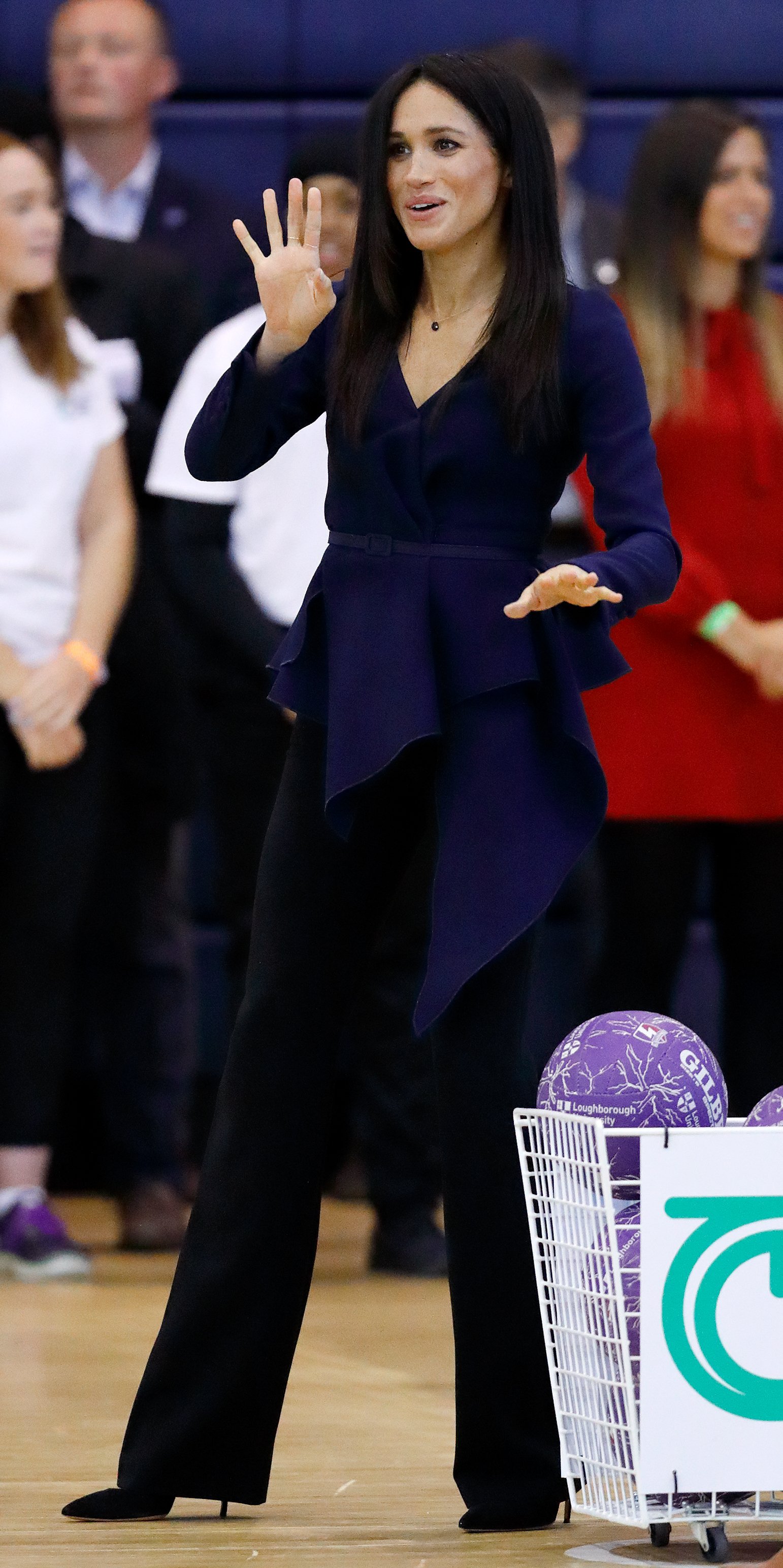 Meghan was seen acting very playful and even playing netball on the court wearing a navy blue Oscar de la Renta blouse, paired with black Altuzarra trousers and black heels. The blouse alone was valued at $2,290. Although the black and navy combination may be considered a faux-pas by some, the Duchess made it look quite elegant.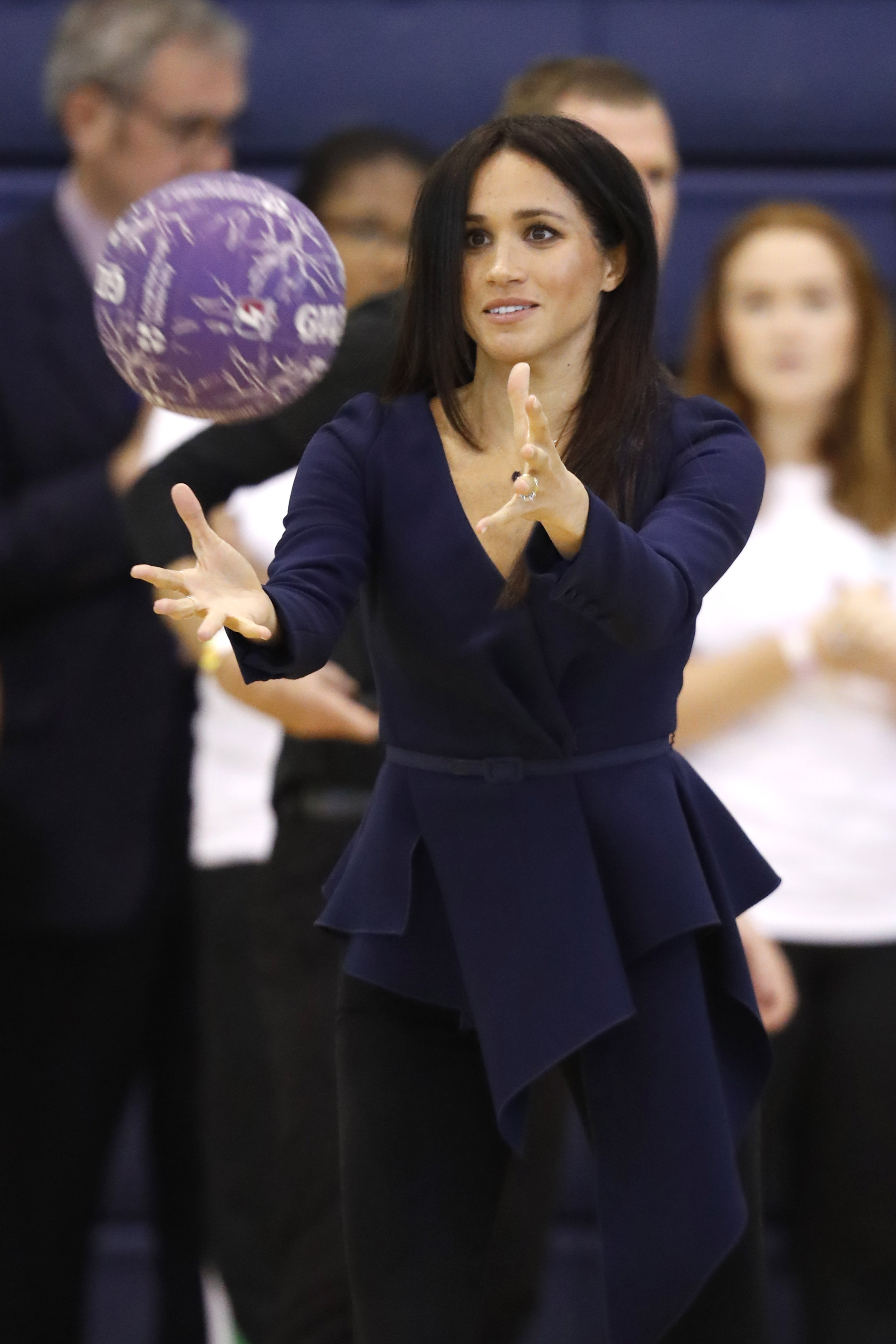 ---
5. Oscar de la Renta Camel Coat - $2,990
In January 2018, Kensington Palace announced that Meghan was named Royal Patron of four charities: Smart Works, The National Theatre, The Association of Commonwealth Universities, and Mayhew. To celebrate the occasion she paid a visit to Smart Works in London to talk about professional clothing and how to prepare for job interviews.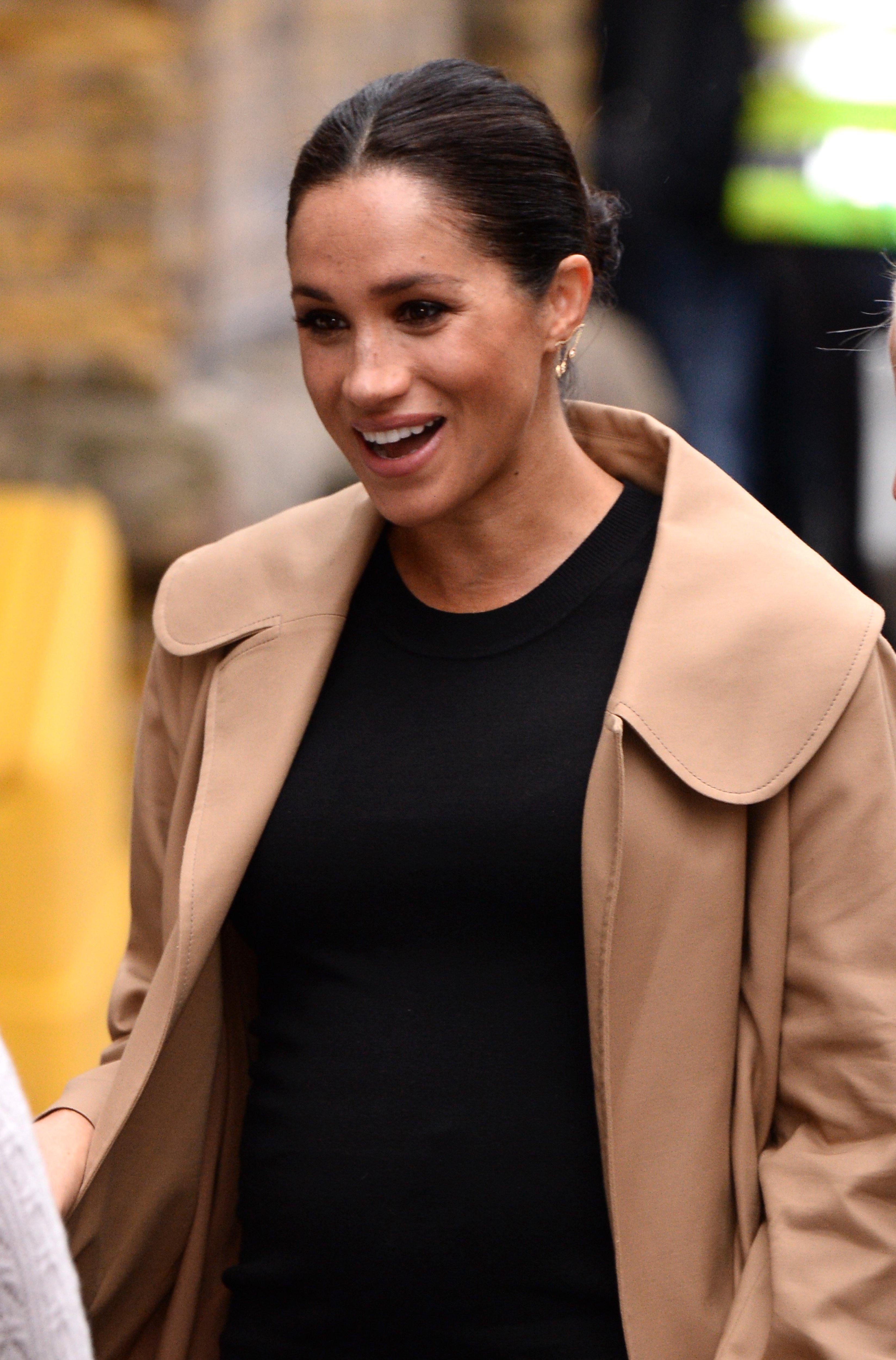 The Duchess set the example with her choice of clothing for the occasion: a $2,990 camel coat by Oscar de la Renta over a black dress by the maternity brand Hatch and a pair of cow print Gianvito Rossi heels, that gave it an unexpected twist.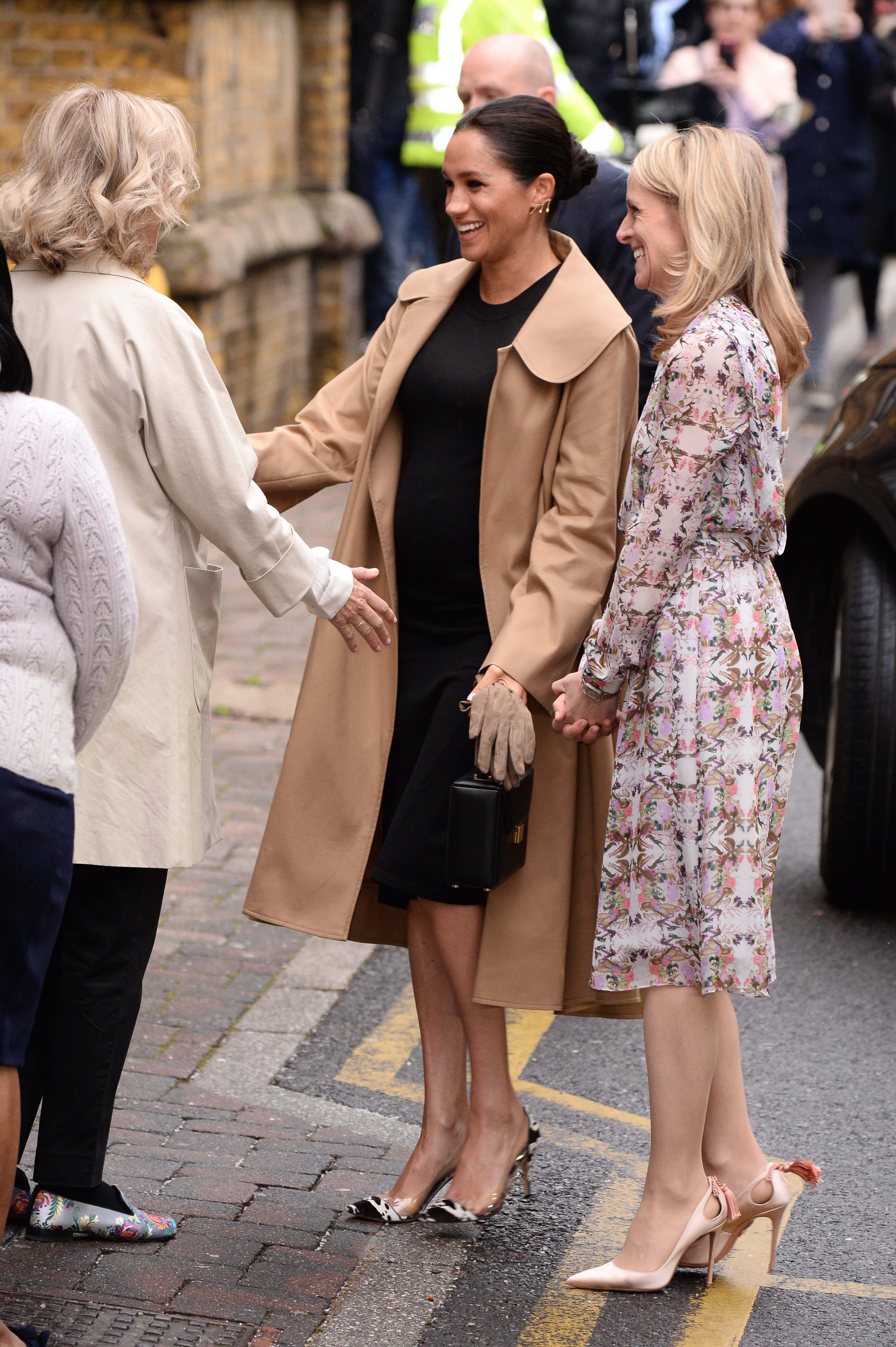 ---
6. Victoria Beckham Coat - $3,085
In December 2018, Meghan spent her first Christmas as a Royal family member, and she made sure to dress for the occasion. While most of us spend Christmas wearing thick wool sweaters and PJ sets, that is not the case for members of the Royal family, who are always seen wearing their finest pieces of clothing.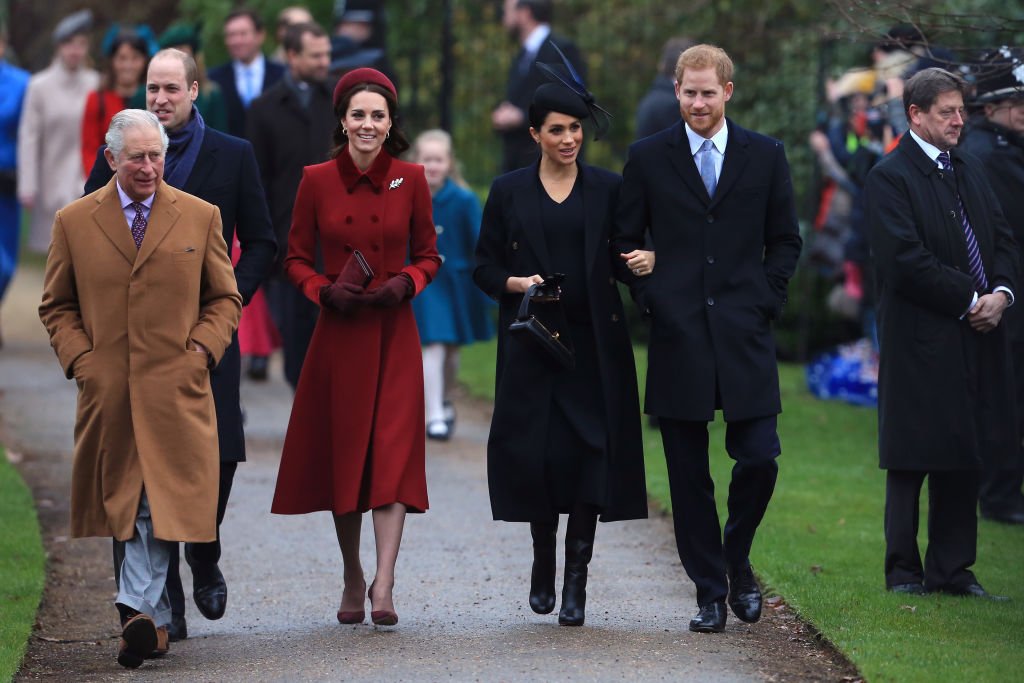 The new Duchess was seen making her way to a service at the Church of St. Mary Magdalene King's Lynn, wearing a navy dress covered in a double-breasted navy coat by her good friend Victoria Beckham, valued at $3,085. She paired the outfit with black boots, also by Victoria, and a feathered fascinator by Awon Golding.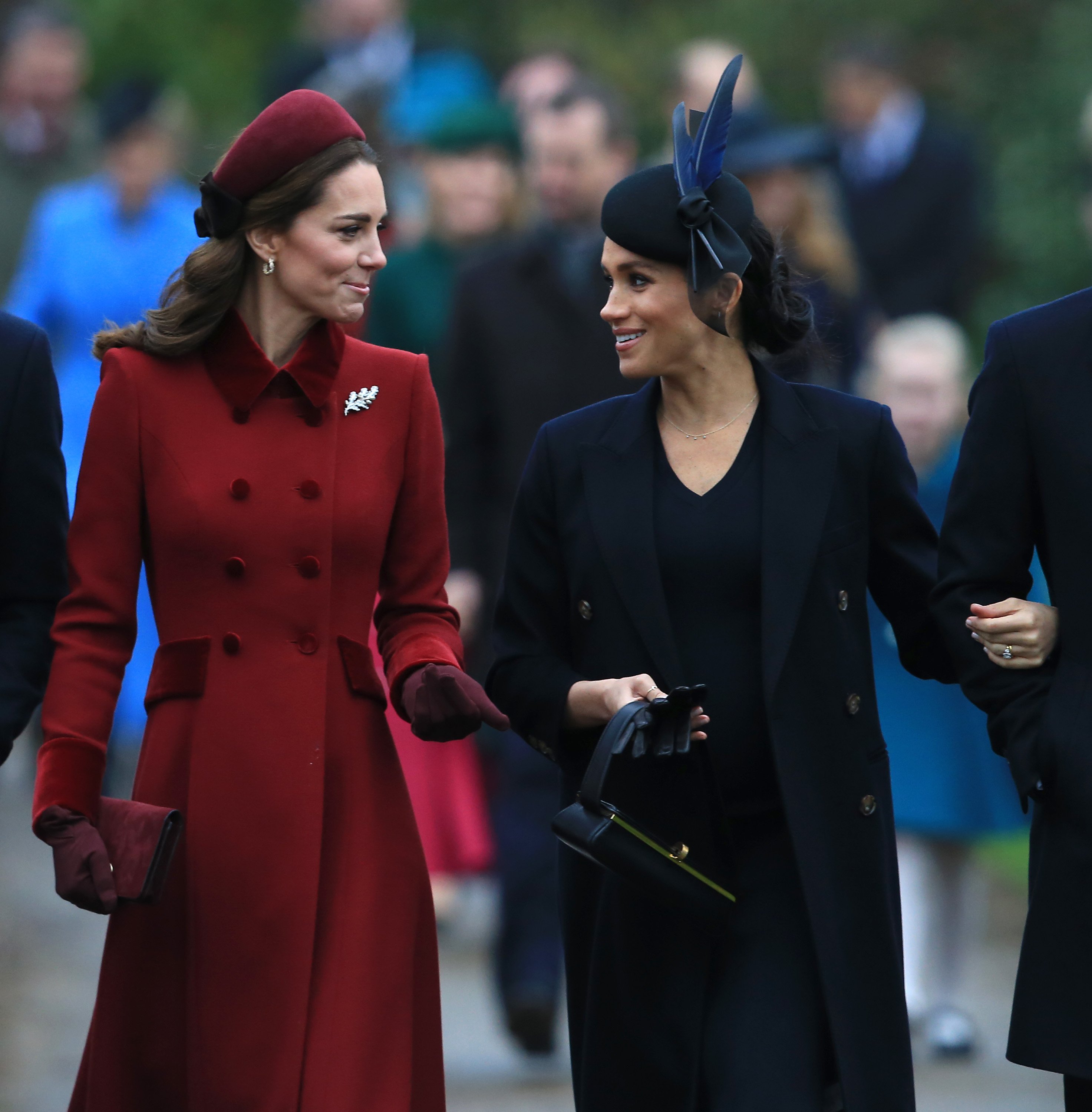 ---
7. Brandon Maxwell Blush Pink Outfit - $5,000
In late January 2019, Meghan paid her first visit to the National Theatre in London after the Palace announced her newly-given patronage. This new role couldn't be more appropriate for Meghan considering her past as an actress. For this special visit, Meghan went for one of her favorite designers.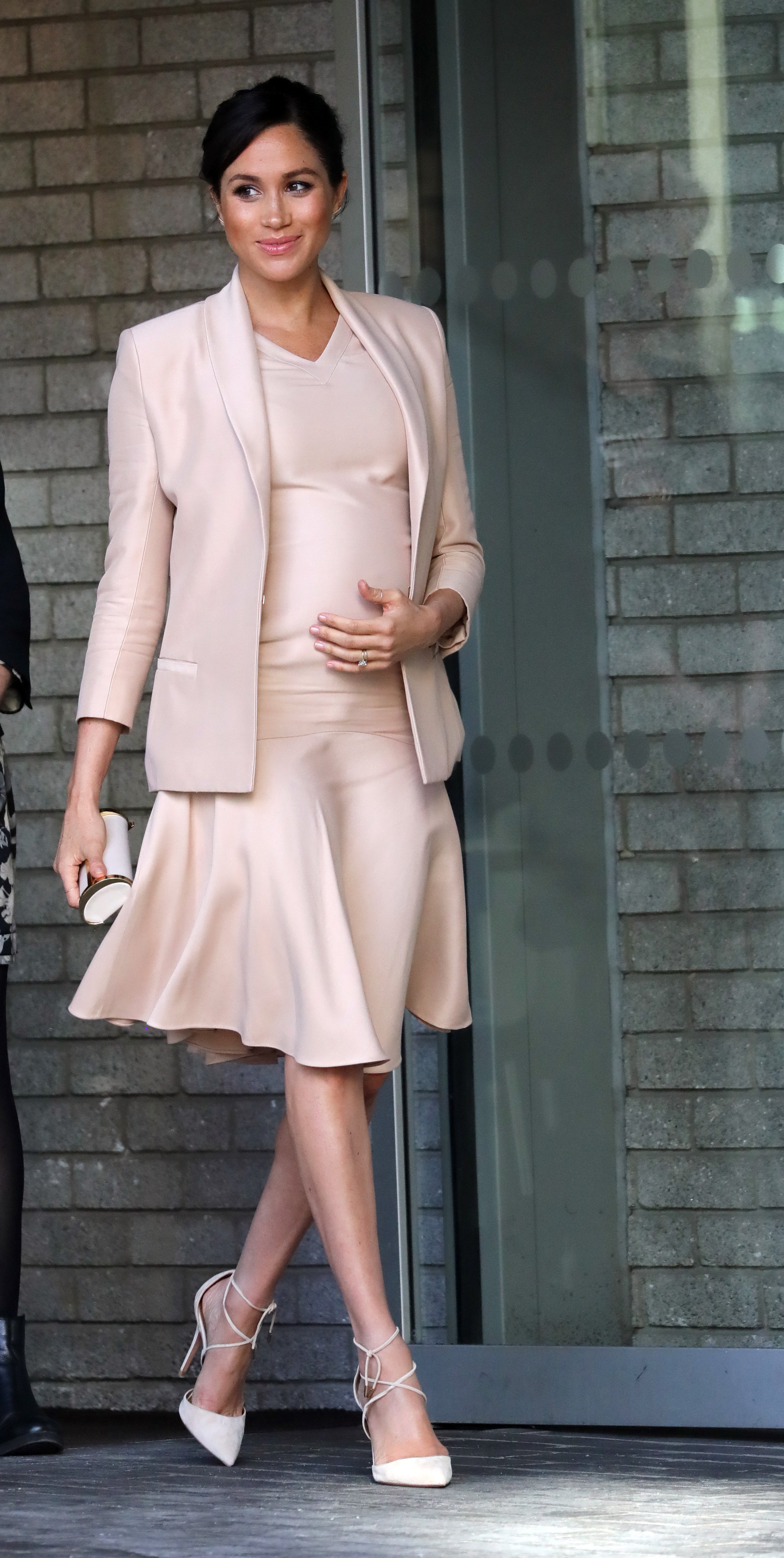 The Duchess wore a matching dress and jacket in a light shade of pink by New York fashion designer Brandon Maxwell. The outfit, valued at around $5,000, appeared to be a slightly adapted version of one of the designer's looks from his Spring collection. Meghan paired it with a pair of nude Aquazzura Matilde heels and a clutch from Carolina Herrera.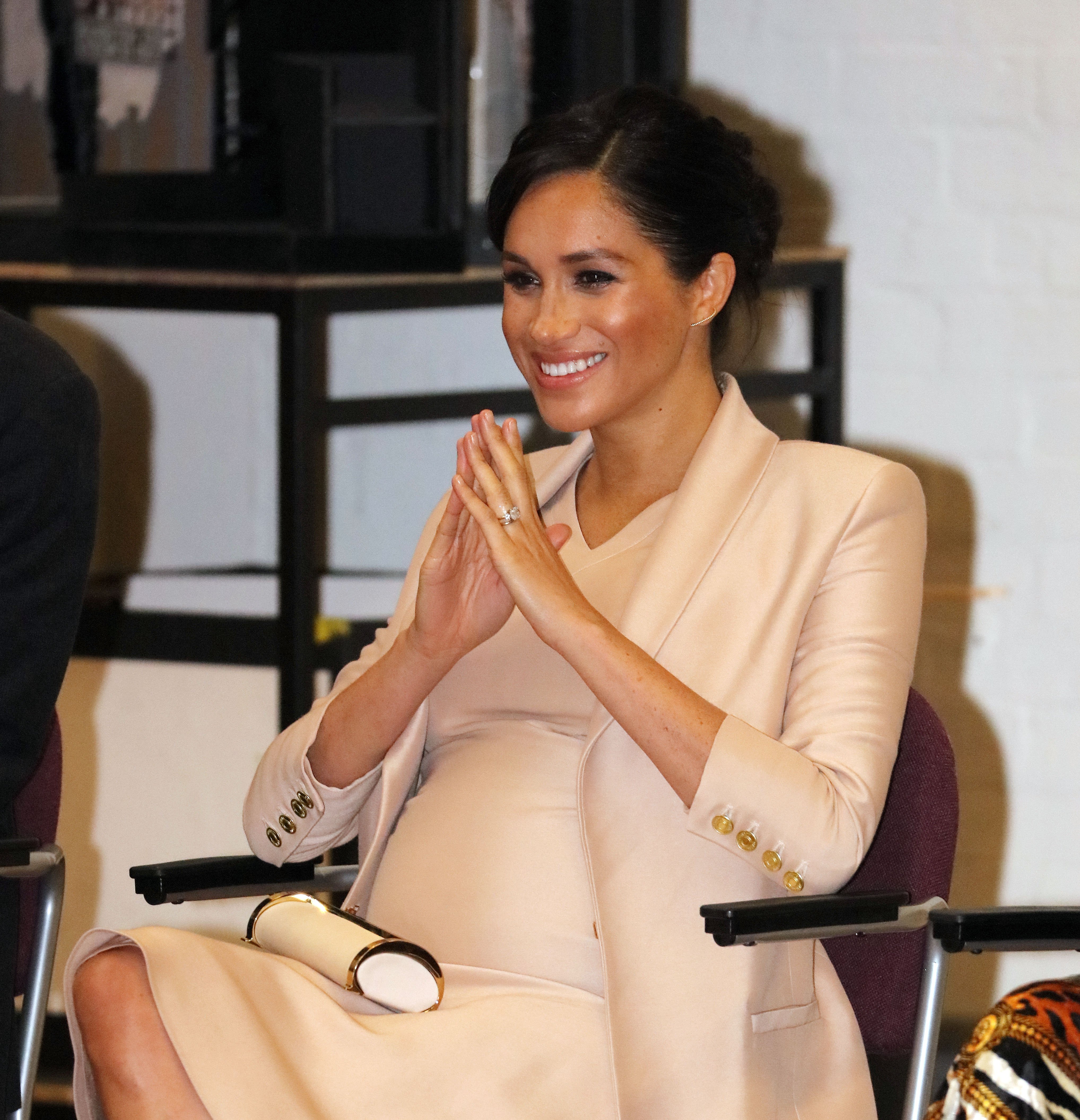 ---
8. Roland Mouret Sparkling Dress - $5,595
If there's one thing her past as an actress taught her, is that you always have to do your best to steal the show on the red carpet - a situation in which Meghan is always very comfortable in. She made no exception when she attended a performance by the Cirque du Soleil in January 2018.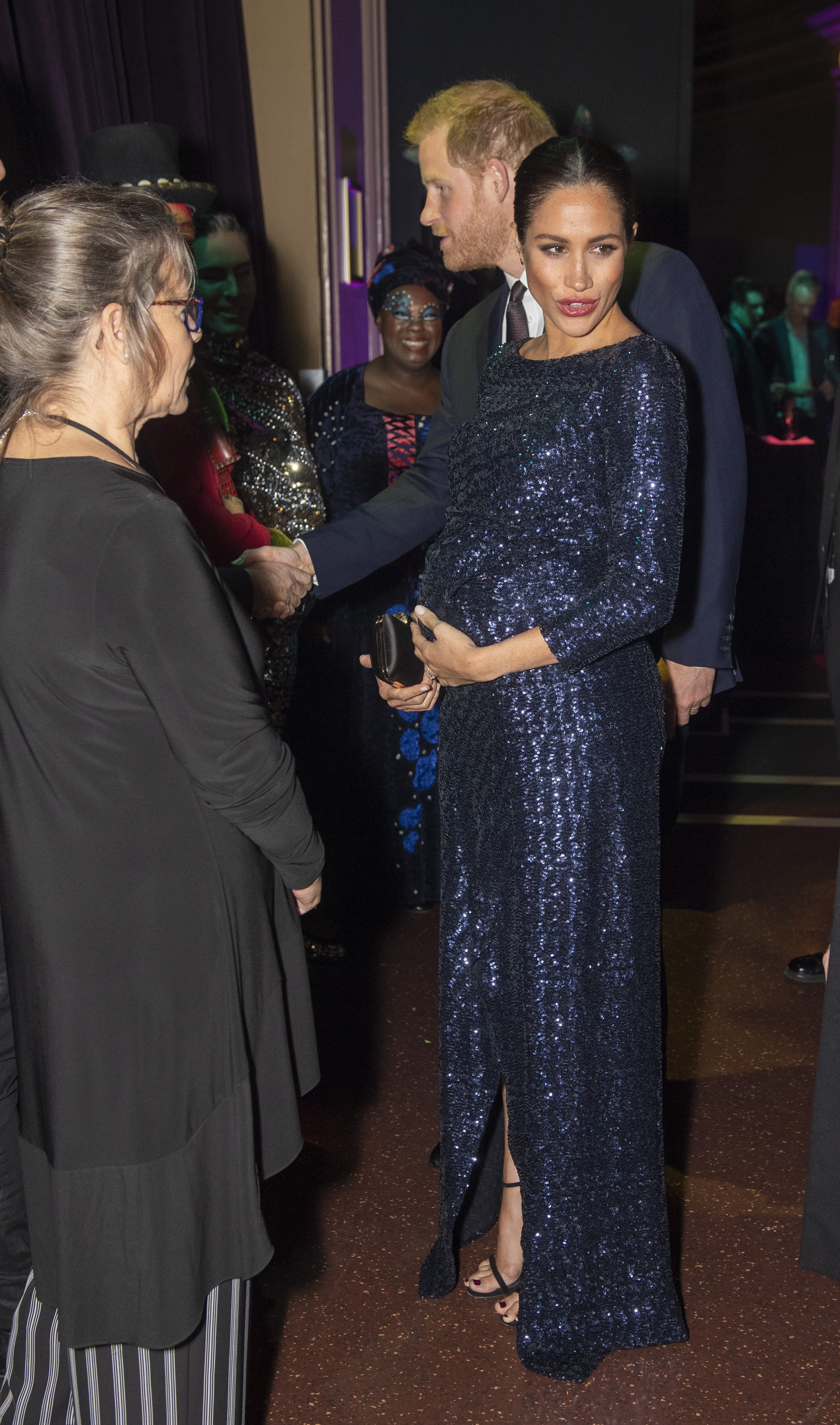 Meghan appeared on the red carpet alongside her husband Prince Harry, wearing a sparkling sequined Roland Mouret gown with a leg slit valued at $5,595. She paired it with Stuart Weitzman heels, a Givenchy clutch, and a bracelet that her late mother-in-law, Princess Diana, wore about 30 years ago. Coincidentally, Diana's dress was similar to what Meghan was wearing this evening.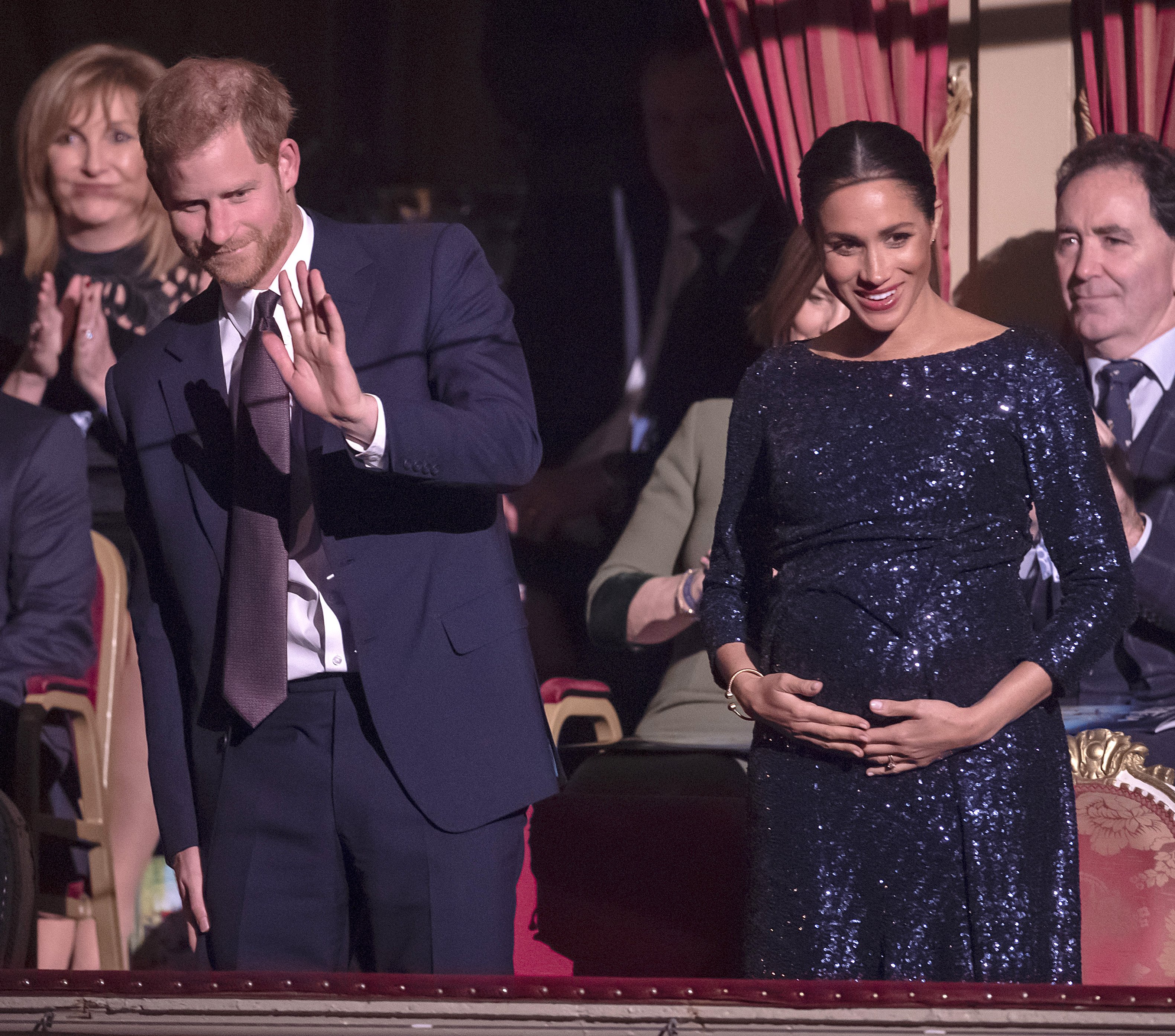 ---
9. Oscar de la Renta Bird Dress - $12,816
In 2018, Meghan made it very clear to everyone that she was a princess by wearing an amazing princess-like dress at the Australian Geographic Society Awards. The tulle dress, designed by Oscar de la Renta's Sarah Esmoingt, featured blackbird embellishments all over it and was valued at $12,816. It was paired with black Aquazzura "Deneuve Bow" pumps.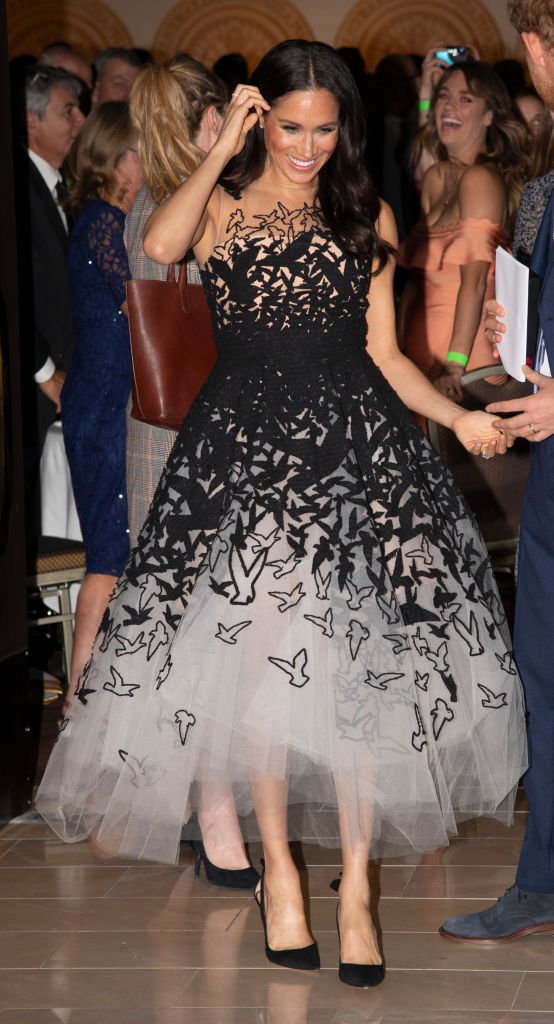 It was Meghan's third outfit for the day, after wearing different ones to her meeting with Tonga's Prime Minister and her visit to Tupou College. At the evening ceremony, Meghan took the stage to present the award for Young Conservationist Of The Year to Sophia Skarparis.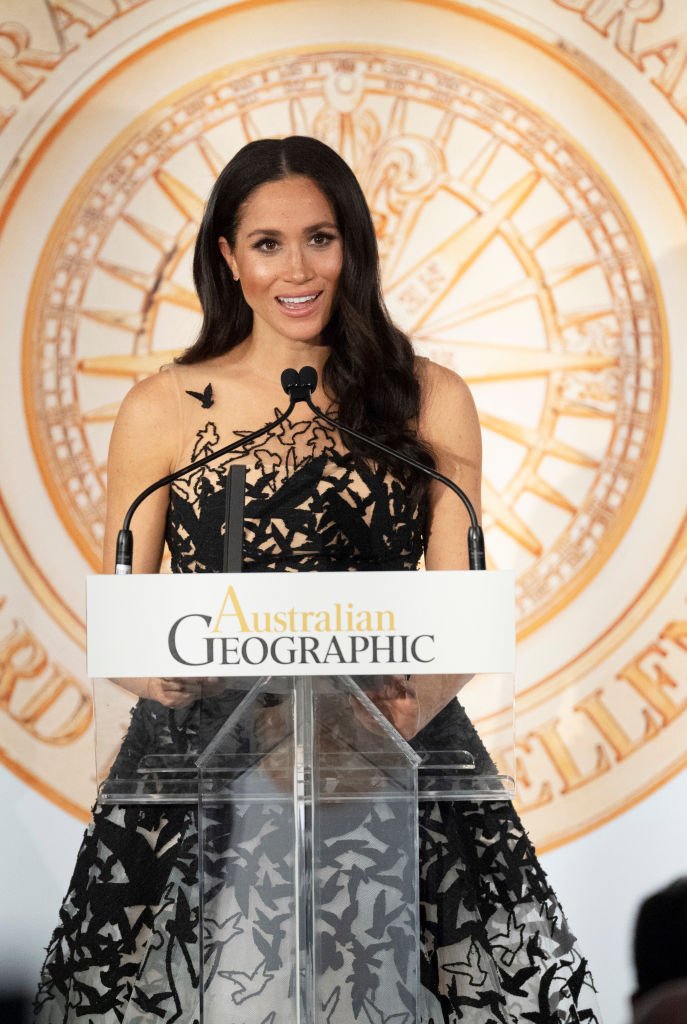 ---
10. Givenchy Dress - $18,000
In June 2018, only one month after her wedding to Prince Harry, Meghan went on her first public engagement with the Queen. Although she was known for her off-the-shoulder outfits, after the wedding Meghan was forced to change her fashion choices a little bit, making them slightly more conservative. This doesn't mean that she stayed away from making fashion statements, though.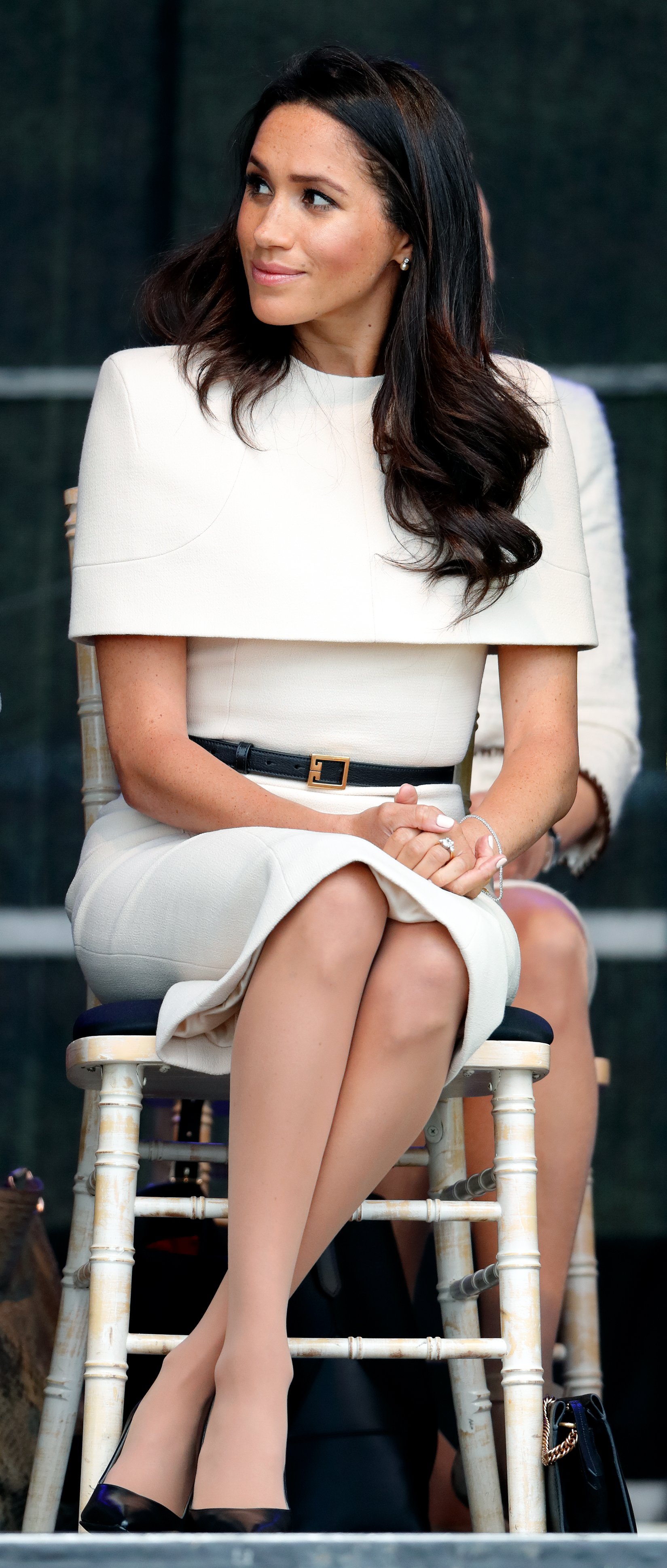 For her first official event with the Queen (without Prince Harry by her side), Meghan chose a nude Givenchy dress, valued at $18,000, which stood out for its elegant simplicity. The Duchess paired the high neckline and caped shoulders dress with a black belt and a black clutch both from Givenchy as well, and simple Sarah Flint black heels.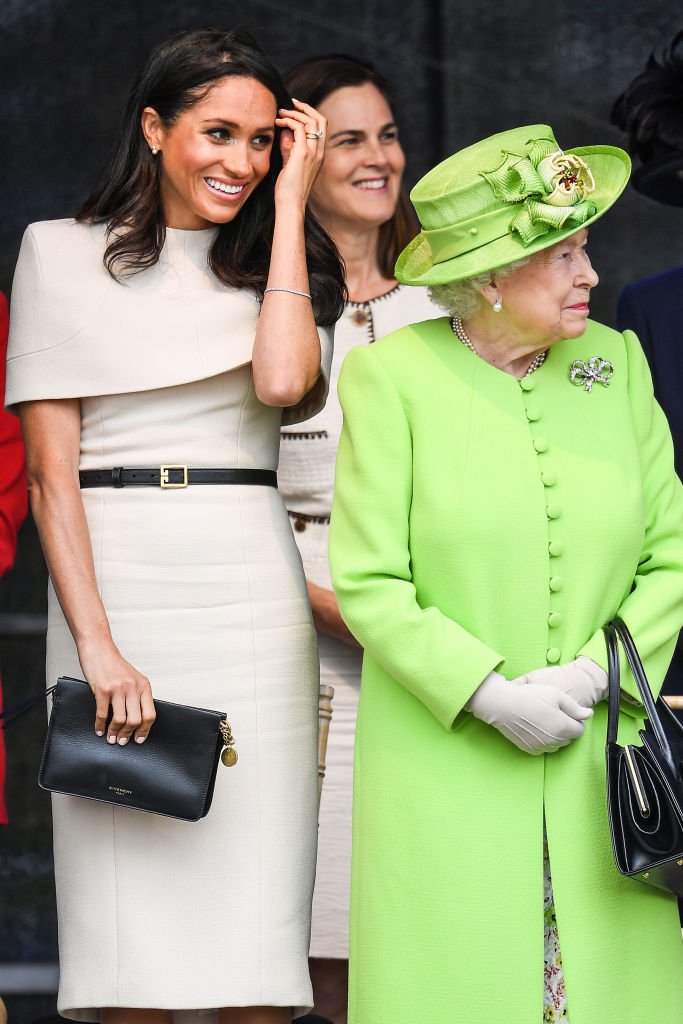 ---
11. Ralph & Russo Dress - $75,000
Meghan sure did present herself with a bang to Royal family fans. For hers and Prince Harry's official engagement photoshoot, Markle showed up wearing a fabulous $75,000 Ralph & Russo outfit featuring a partially sheer top and a long tulle skirt. No one could deny that the newly-engaged couple looked amazing, but Meghan's outfit sure caused some controversy.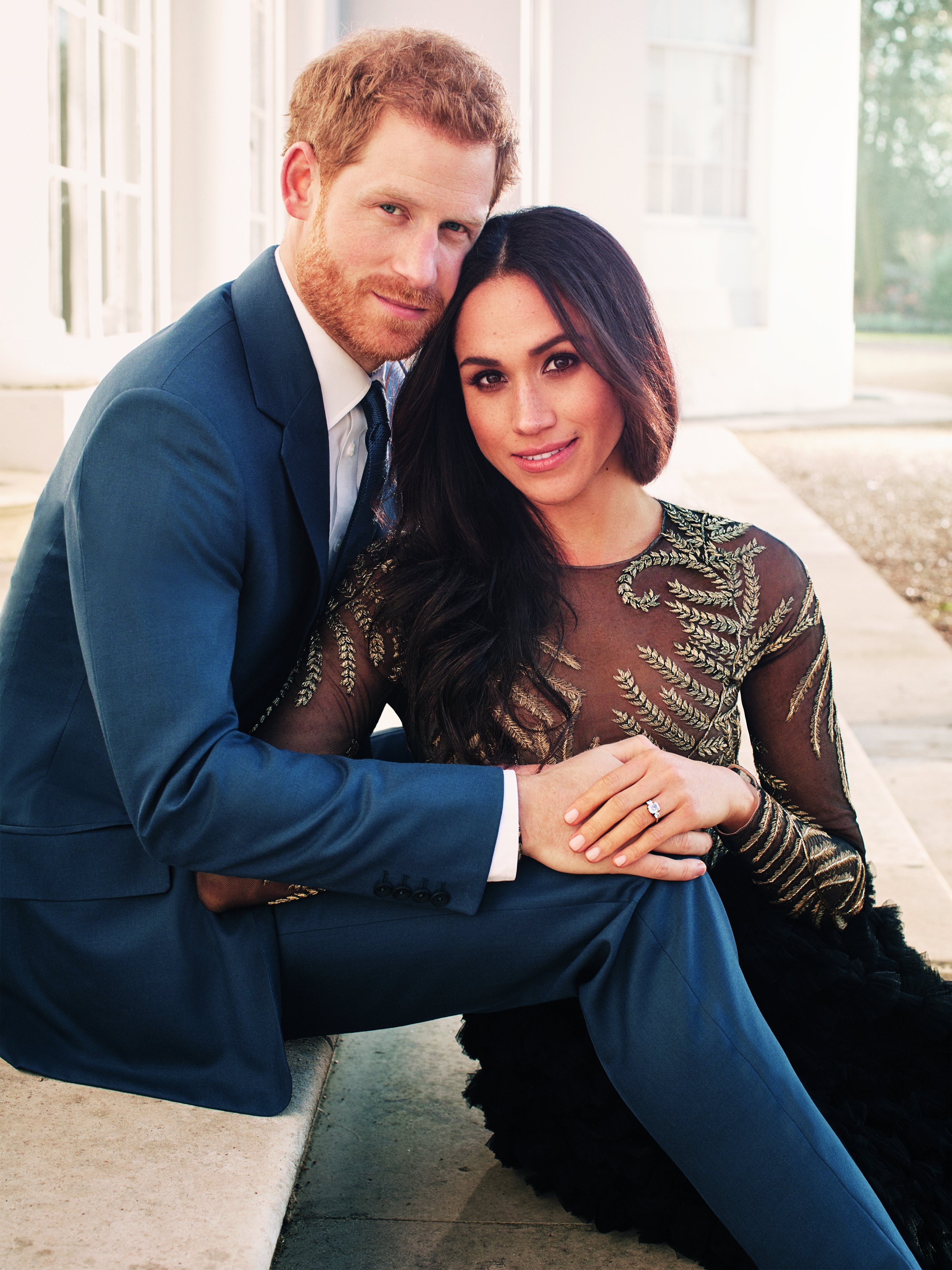 While some couldn't get enough of how beautiful she looked in the outfit from the haute couture house Ralph & Russo's 2016 fall/winter collection, others were not pleased with Meghan's boldness in wearing a sheer top for her first official photo as a (future) member of the Royal family.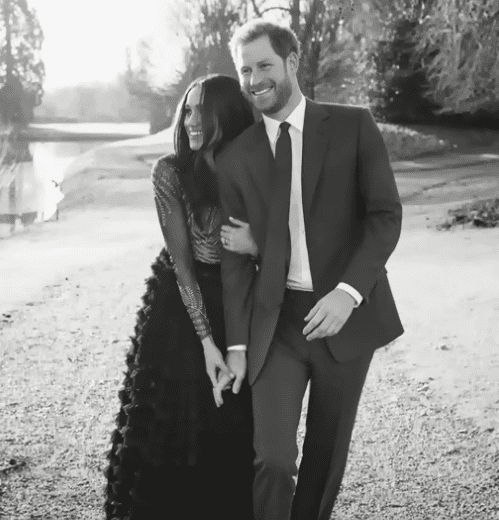 ---
12. Stella McCartney Wedding Reception Dress - $157,000
After the wedding ceremony in May 2018, Meghan and Harry both changed outfits to attend their reception party. Harry changed into a tuxedo and Meghan, of course, stole the show with a classic white dress by designer Stella McCartney. The dress, which looked amazing on her, was valued at $157,000.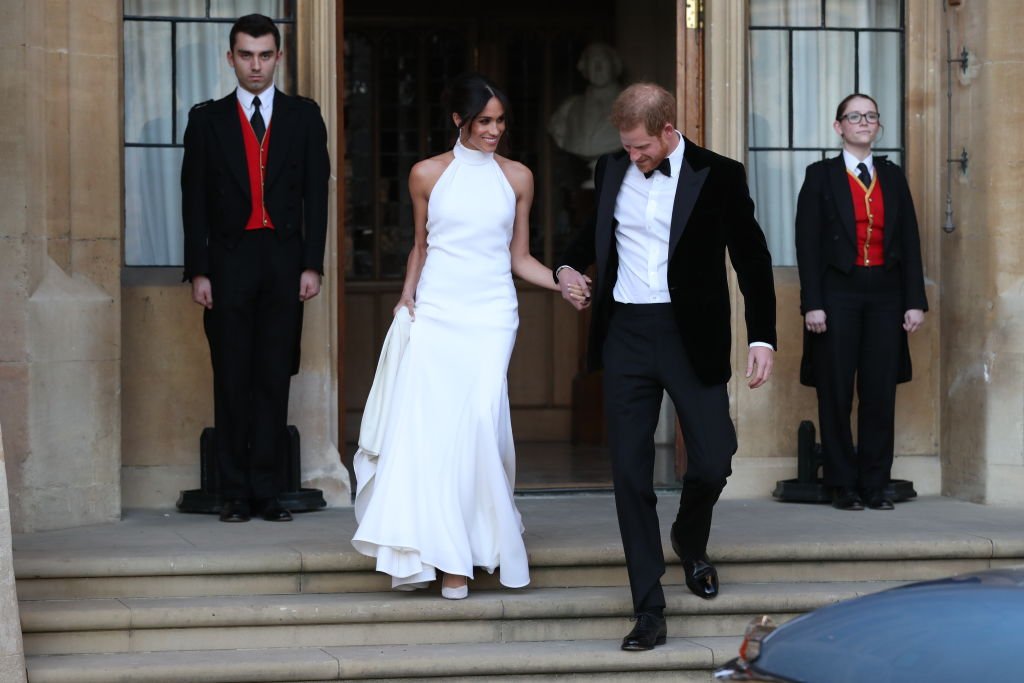 Unlike the ceremony, which was broadcasted to millions of viewers worldwide, the wedding reception was kept private and exclusive. Guests were even asked to surrender their mobile phones before the party so no unapproved images of the party were publicly leaked.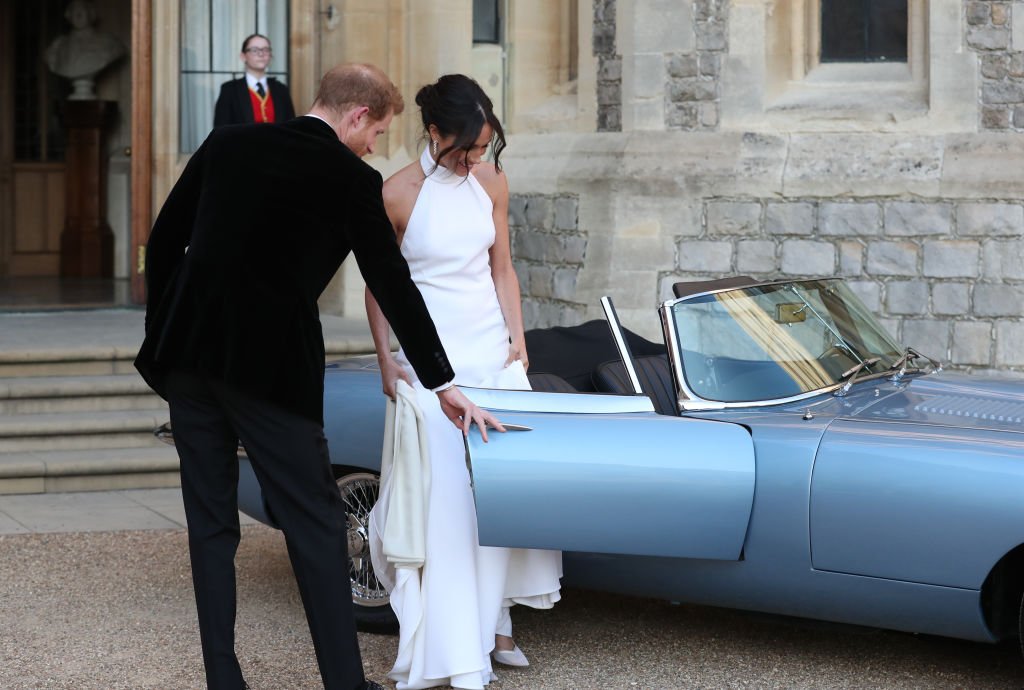 ---
13. Givenchy Wedding Dress - $265,000
Meghan's most expensive outfit to date couldn't be anything else than her wedding dress, of course. No woman in the world doesn't want to look her best when walking down the aisle, and Royals are certainly no exception. For her special day, back in May 2018, Meghan wore a custom made, exclusive Givenchy dress.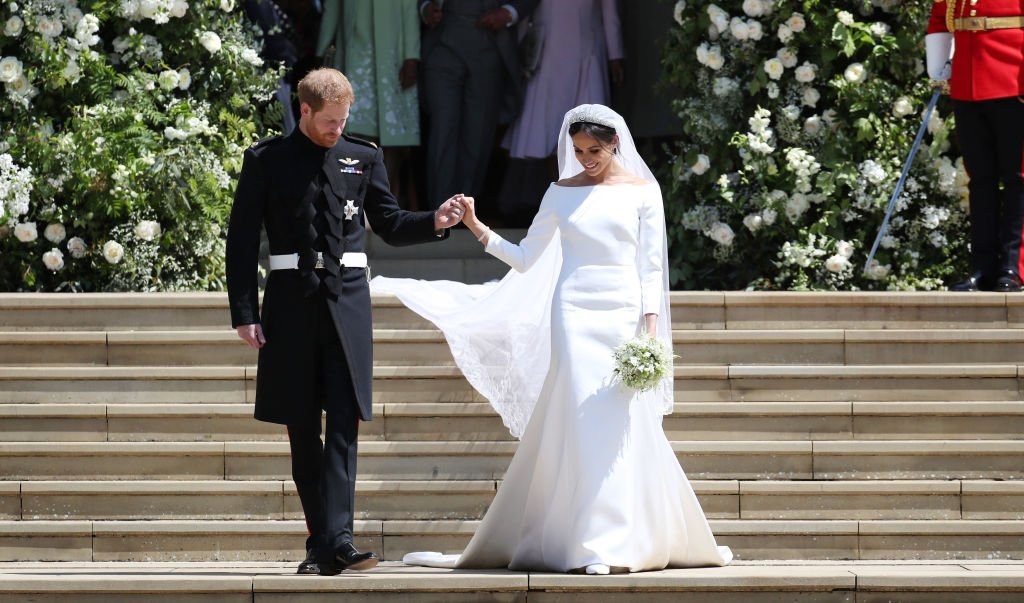 Valued at $265,000, although the dress was from a French brand, it was designed by a British designer, Clare Waight Keller, chosen by Meghan as a tribute to her new country. The 16-feet-long silk veil also featured flowers representing the 53 nations of the Commonwealth. The dress was paired with a tiara from the Queen's collection.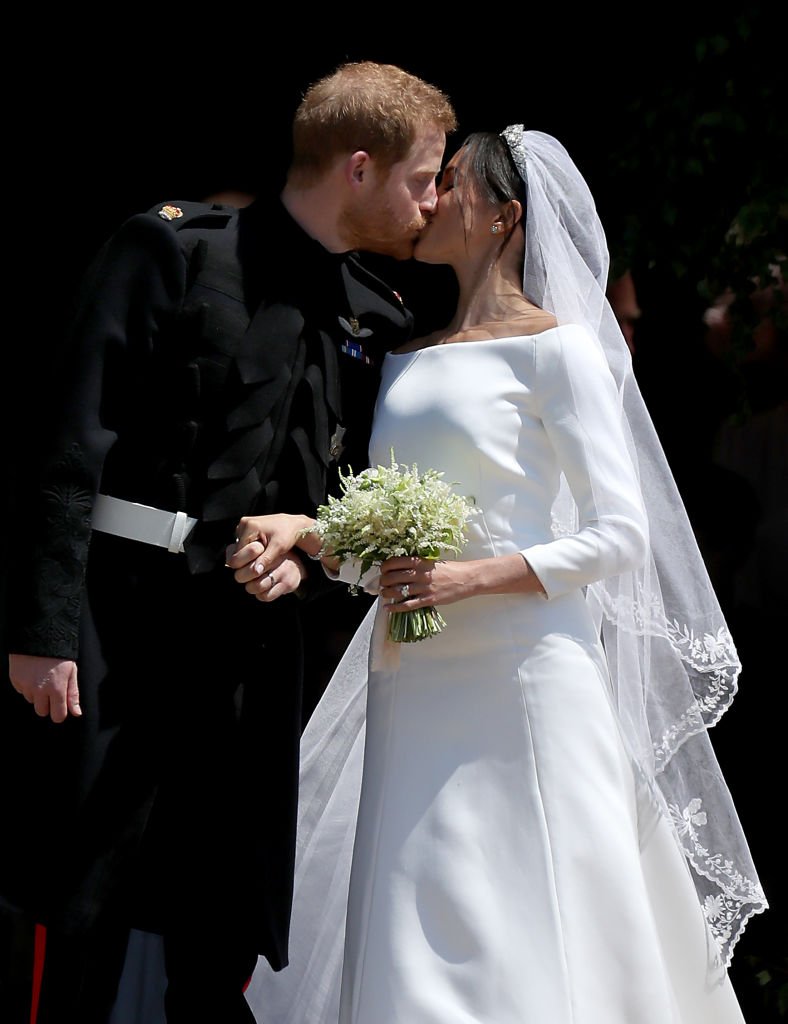 If there's one thing Meghan Markle can't be accused of is of lacking fashion sense. No matter the price of her outfits, we can be always sure that she will look her best at all times. What was your favorite Meghan outfit from this list? Let us know all about it in the comments section and don't forget to share the article!
Sources:
Elle
,
Express
,
Business Insider
,
Insider
,
Reader's Digest