Meet 25 Celebrities Who Surprised Fans with Tattoos
Tattoos are becoming so ingrained into our culture, it's almost harder to find someone without a piece of ink. Now that there are more cover-up options for celebrities, it seems like almost every celebrity has some artwork on their body.  Today, we're unpacking the meanings behind some of the tattoos of these 25+ celebrities!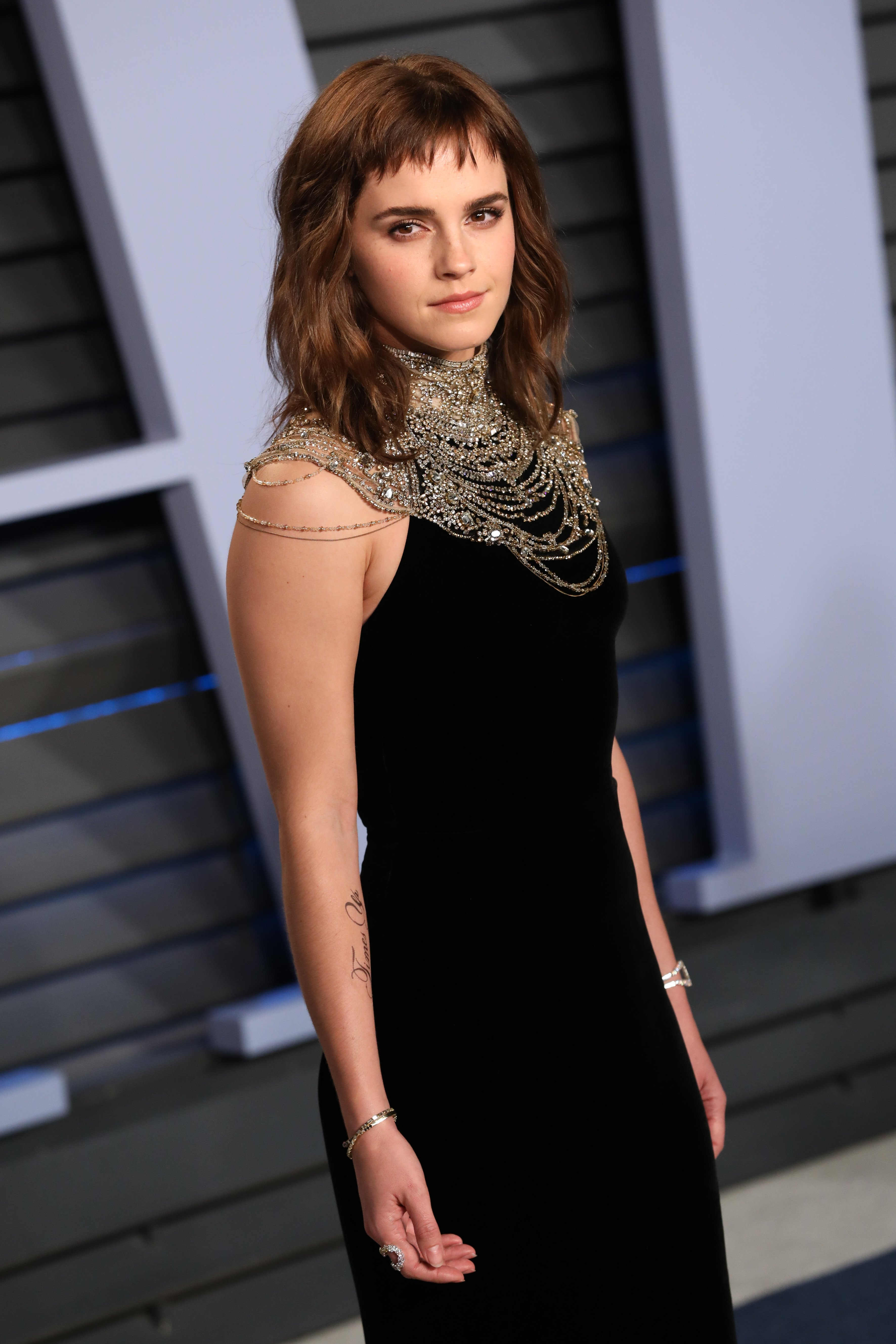 ---
#25 PRETTY LITTLE LIARS CAST
If you watched Pretty Little Liars, you probably know this little tidbit. The six main characters—Lucy Hale, Shay Mitchell, Ashley Benson, Troian Bellisario, Sasha Pieterse, and Janel Parrish— actually got the first initial of their character's name on their index finger (the finger they use to "shh" in the opening scene). Lucy Hale posted this picture of the gang after their session!
---
#24 ASHLEY BENSON
Who doesn't love french fries? Ashley Benson decided to make her love for french fries totally permanent with the word "pommes frites" on the inside of her arm. That's has got to be helpful when she's ordering the savory sides. Her tattoo artist, Jon Boy, does his work at the Moxy Hotel in Times Square.
---
#23 SOPHIE TURNER AND JOE JONAS
In April 2018, Sophie and Joe adopted two Alaskan Klee Kai pups from the same litter and named them Porky Basquiat and Waldo Picasso. Sadly, on July 24th, Waldo sadly passed away in a freak accident to no fault of his owners. On July 29, 2019, Joe posted this picture with the caption, "R.I.P. my little angel."
---
#22 DEMI LOVATO
From the lion on her hand to her "Survivor" neck tattoo, the singer-songwriter is known for her many tattoos. On May 16, 2019, Demi posted her new ink: a life-like portrait of her grandmother on her inner arm. She captioned the photo: "This is for you Mimaw. You at 26 on my arm while I'm 26, and forever. I love you more. ❤️"
---
#21 ARIANA GRANDE
Ariana is known for her incredible vocal range and her many tattoos. In December 2019, Ariana celebrated the end of her Sweetener tour with a simple tattoo on her index finger: "swt". Some of her tour mates also joined in on the ink fun with dates and numbers of their own. Ariana posted this on Instagram with the caption "Family Ties 🖤".
---
#20 CHRISSY TEIGEN
Chrissy Teigen isn't just a regular mom, she's a "cool mom". She has the birthdays of her whole family on her inner arm (so she has no excuse to forget). According to Marie Claire, the order starts with her father Ron Teigen Sr., mother Vilailuck Teigen, husband John Legend, and their two children Luna and Miles.
---
#19 KENDALL JENNER
Remember when Kim gave Khloe a little piece of advice before getting a tramp stamp: "You don't put a bumper sticker on a Bentley." Well, it looks like Kendall found a loophole for the rule: just get a hidden tattoo. While on The Ellen DeGeneres Show, Kendall showed off her "meow" tattoo hiding in her inner lip.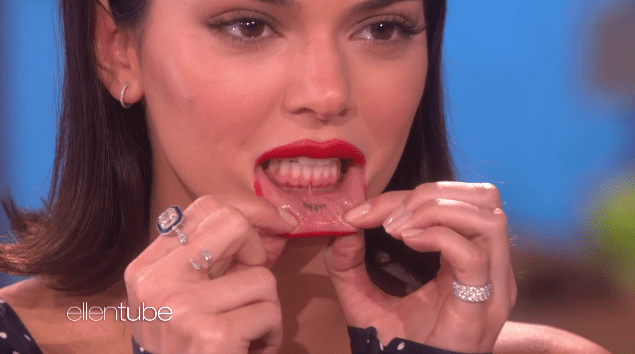 ---
#18 CARA DELEVINGNE
Cara spilled the tea on all her meaningful tattoos with Grazia Daily back in 2018. Her first tattoo was the lion tattoo on her index finger and she has been hooked to the art ever since. Some of Cara's tattoos were actually done by Margot Robbie, which was revealed on The Tonight Show With Jimmy Fallon.
Robbie shared with Fallon, "I don't know what the rules are, but you can buy a tattoo gun on eBay!" she continued, "And I mean, if you've got someone who's willing to let you tattoo them then, I guess, like, we just went ahead and did it." And apparently, that someone was none other than Cara!
---
#17 LILY COLLINS
The actress has a couple of pieces to show off. The first is a fairy sitting on a crescent moon blowing seeds off of a dandelion next to the words "a fragile thing" on her rib cage. The second is the phrase "Love Always and Forever" in cursive above her shoulder blades.
---
#16 HAILEY BIEBER
Mini tattoos are becoming all the rage and Hailey's proven to be a huge fan of them. She has 18 tattoos and they're all so tiny! This one is particularly special because it was designed by Kendall Jenner (done by JonBoy). The "PR" on her left hand and "AY" on her right spell out PRAY when she puts her hands together.
---
#15 KATY PERRY
At the end of each album tour, she has made it a tradition to get a small tattoo to symbolize her music eras. The strawberry is for "One of the Boys", peppermint for "Teenage Dream", a rainbow triangle prism for, well, Prism. It all started when she was 18 years old and she got her first tattoo: "Jesus" in cursive on her left wrist. 
---
#14 MEGAN FOX
Most people remember when Megan Fox had Marilyn Monroe's face on her inner arm but she has since had it removed. Beneath her right shoulder, you'll find a loose quotation from Shakespeare's play King Lear: "We will all laugh at gilded butterflies". She also has a sun and moon on her right ankle. Seriously, Fox is inked up!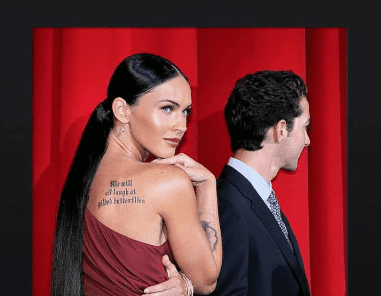 ---
#13 SELENA GOMEZ
Gomez publically has 10 small tattoos. Numbers are a big part of her collection: she has the roman numeral "76", the number "4" for her tight-knit friend group, and her and her day one Courtney Barry got the number "1" on their sides. Most recently, she got the word "Rare" on her neck in honor of her latest solo album.
---
#12 HILLARY DUFF
The former Disney Channel star is also a big fan of tiny tattoos! In 2015 (during her fabulous blue hair phase), she shared on The Ellen Show, "Part of me loves tattoos, but part of me doesn't want the full commitment of getting to see them all the time." Among her mini tattoos, she also has her son's name "Luca".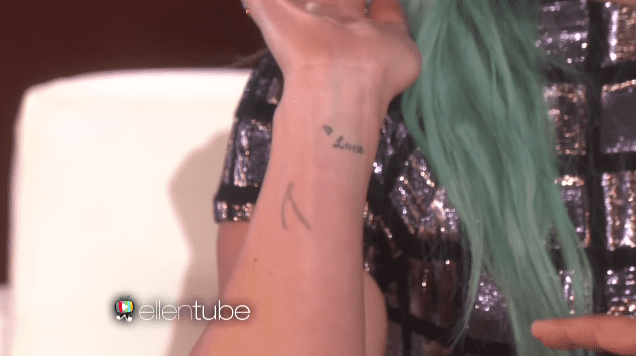 ---
#11 EMMA WATSON
In 2018, Watson caught a lot of flack for her "Time's Up" tattoo which she showed off at the Vanity Fair Oscar party. It was spelled without the apostrophe on her arm. Fortunately, while it was a powerful statement against sexual harassment, the tattoo was also just temporary. She joked about the grammatical error on Twitter.
Fake tattoo proofreading position available. Experience with apostrophes a must.

— Emma Watson (@EmmaWatson) March 5, 2018
---
#10 KAIA GERBER
While Cindy Crawford has never had ink done, her daughter is a big fan of discreet tattoos. She has said that each of her little tattoos "is a memory". Just some of her pieces include her middle name "Jordan" on her inner bicep, "I Know" crossed out on her wrist, and a Picasso recreation on her left elbow by JonBoy.
---
#9 LADY GAGA
According to Refinery29, the Mother Monster has over 24 tattoos! At the age of 17, she used a fake I.D. to get her first tattoo: a treble clef on her lower back. Five years later, she worked with Kat Von D to get it covered up with roses. She also has a peace sign, daisies, and "Little Monsters" in honor of her fans.
---
#8 RIHANNA
Rihanna is an incredible artist who expresses her style through so many different ventures: music, fashion, and of course, her body art. She has a couple of Egyptian-style tattoos including Queen Nefertiti on her ribcage and the Goddess Iris on her chest. Below, you can see the remnants of her Maori tattoo which was covered up with her henna-style tat.
---
#7 KYLIE JENNER AND TRAVIS SCOTT
The celebrity parents were both spotted with matching Stormi tattoos. Kylie, who owns one of the most popular accounts on Instagram, posted pictures and videos of Stormi's birthday celebration earlier this year. If you scroll to the third slide of the post, you'll see the video of Travis and Kylie getting their new matching tattoos of Stormi's name. #ParentsoftheYear!
---
#6 ANGELINA JOLIE
Jolie is one of the actresses on this list who has used makeup in order to cover up her many tattoos. Her left shoulder blade is covered in a Pali Buddhist incantation in the original language of Cambodia, Khmer, which was made by Noo aka Sompong. The geographical locations on her upper arm are the birth locations of her kids!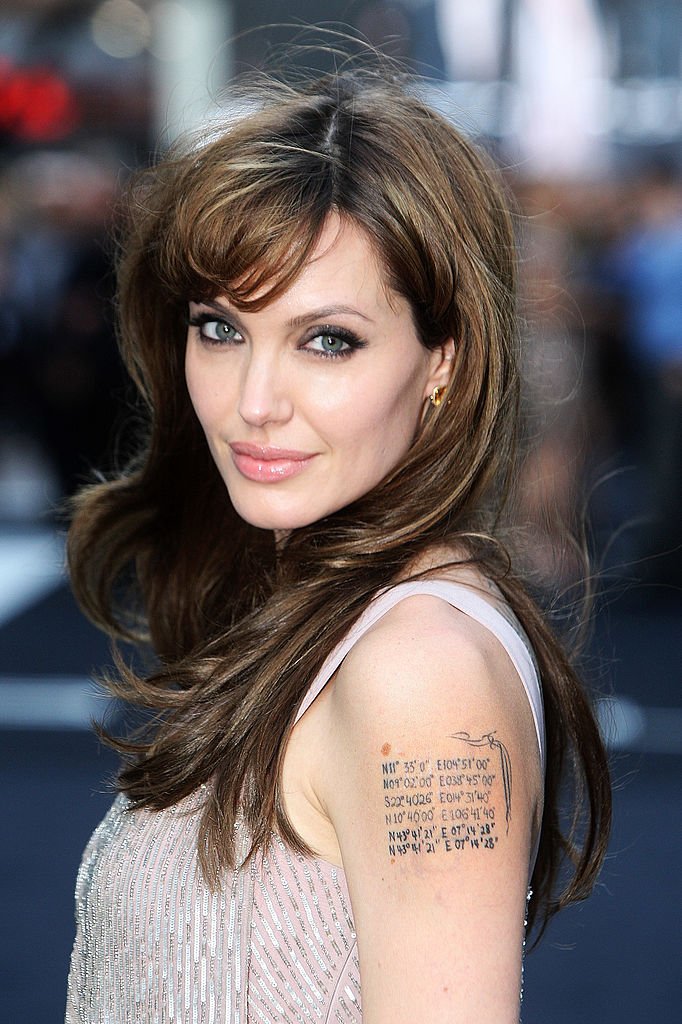 ---
#5 DAVID BECKHAM
The former professional soccer player has both of his children's names, Brooklyn, Romeo, and Harper, tattooed on his neck. There are several dedicated to his wife, Victoria (the former Posh Spice) including a hummingbird and her name on his wrist, a rose tattoo, and then her name in Sanskrit. In 2018, Goal.com calculated that he has between 40 to 50 tattoos.
---
#4 KELLY OSBOURNE
While Kelly has almost always been a tattoo lover, she has admitted that she regrets a couple of them. Her first tattoo was the colorful midi keyboard on her arm but in 2013, it was reported that she got it completely removed. However, she does have very sentimental tats like her white bumble bee which she got in honor of Joan Rivers.