Bewitched' Mistakes Eagle-Eyed Fans Might Have Missed
Never had witchcraft made so many people happy as during the years "Bewitched" was on TV during the 60s. Who could resist Samantha and Darrin's chemistry and attempt at living a normal life without witchcraft? But in addition to making people laugh, one other thing witchcraft could have been useful back then was to handle all the mistakes spot in many of its episodes.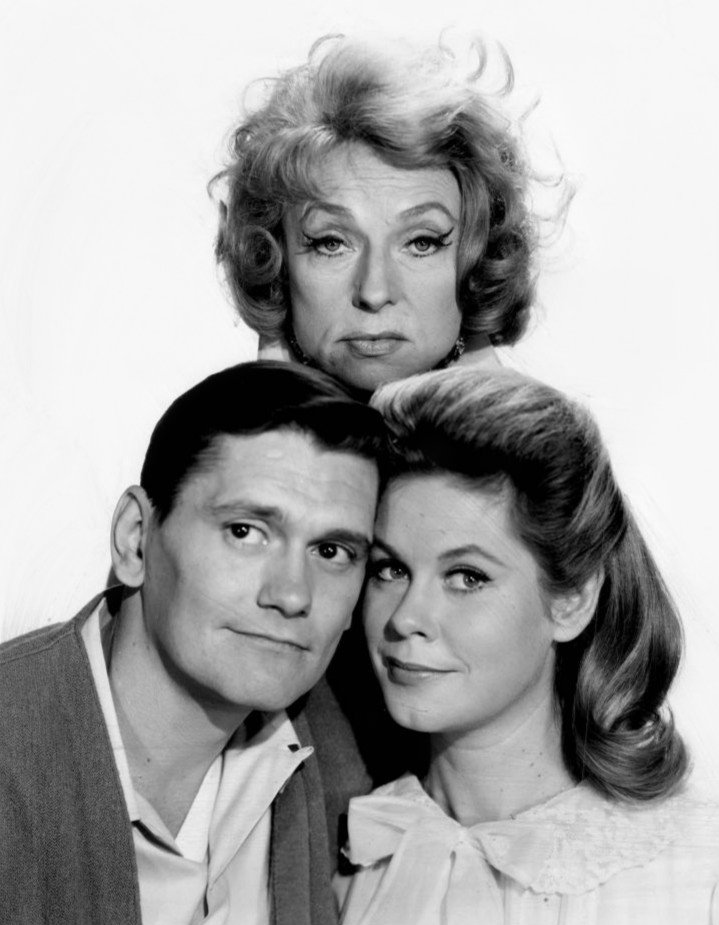 ---
Miles for kilometers (Episode #67: "Follow that Witch")
On the "Follow That Witch" episode, one of Darrin's new clients hires a private investigator to check on his background. The PI finds out that Samantha is a witch and starts blackmailing her, threatening to tell Darrin's client about it unless she helps him to get rich. When Darrin finds out about it, he and Samantha decide to get back at Leach.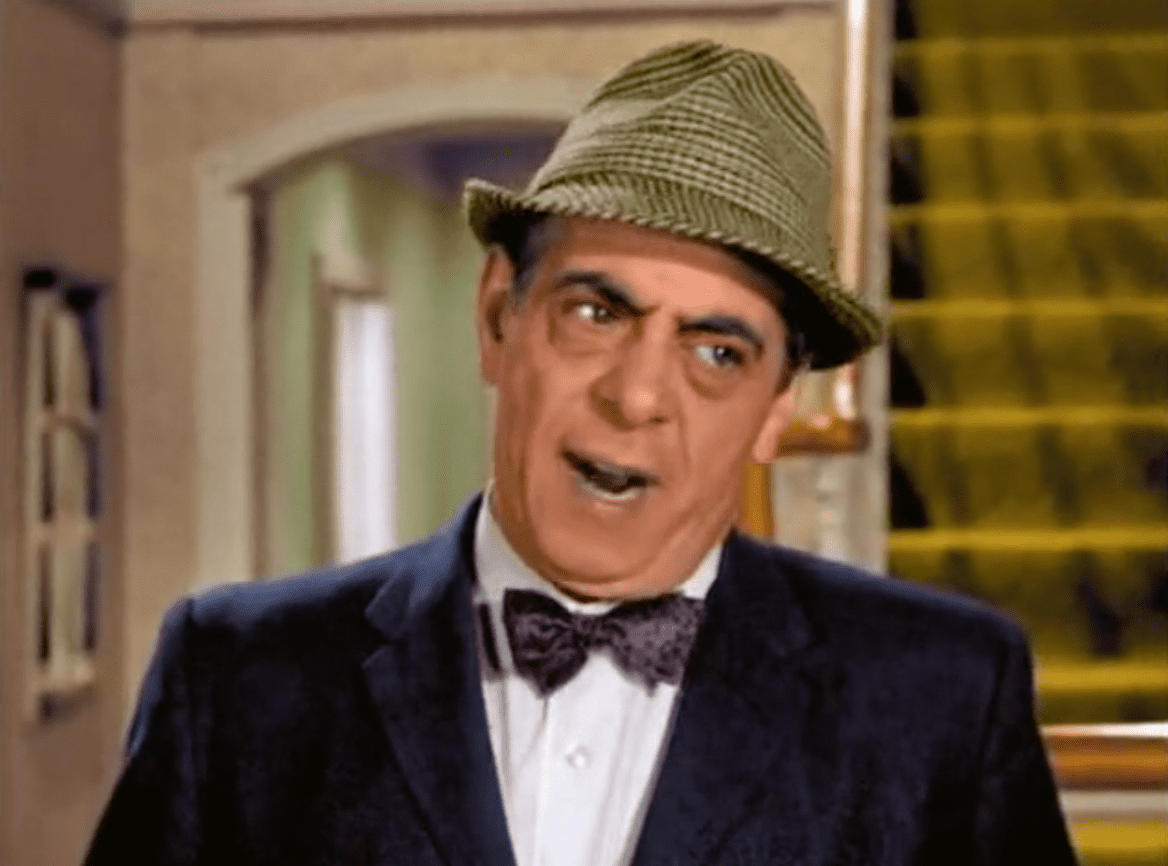 To teach him a lesson, Samantha zaps Leach to Mexico. As he is walking back to the US, he stops to look at a sign that has "New York" written on it in Spanish, but the distance is in English and the wrong unit. Instead of "2138 miles," it should say "2138 kilómetros".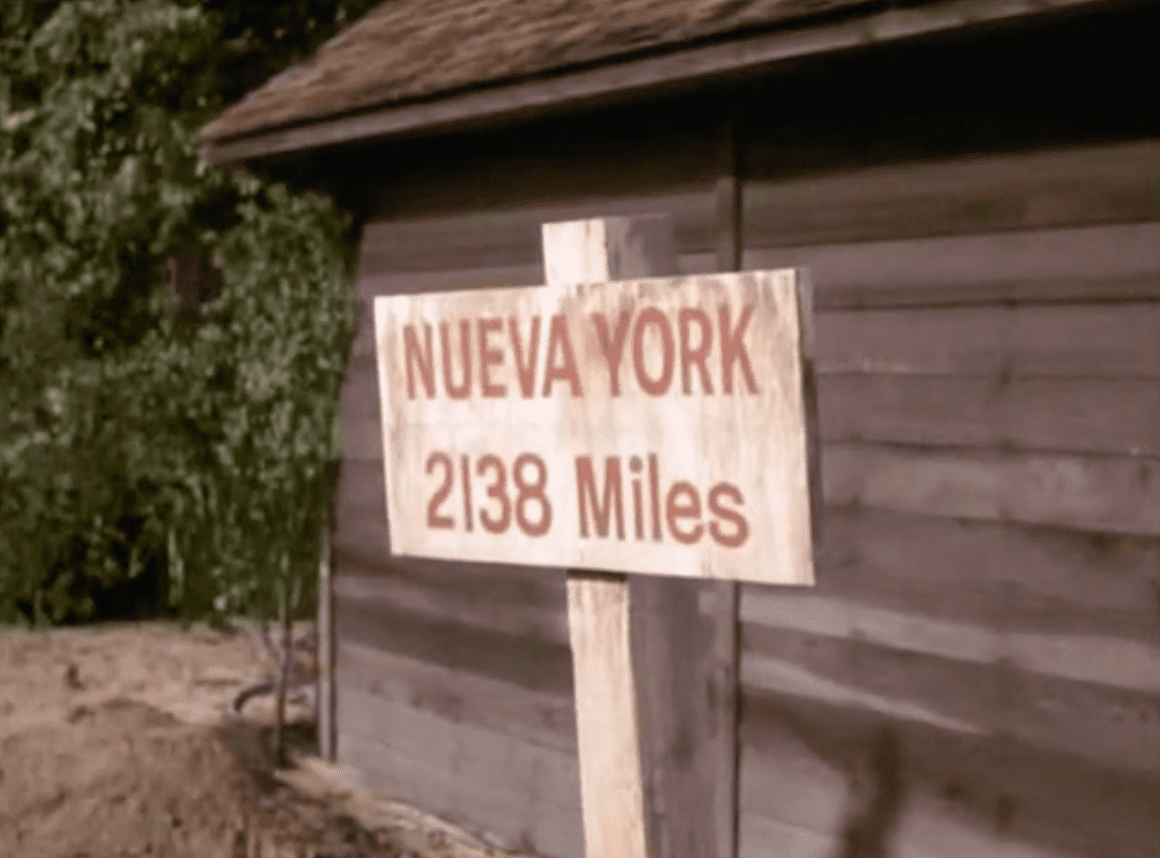 ---
Try the door (Episode #28: "Open the Door Witchcraft")
On the "Open the Door Witchcraft" episode, Darrin buys an automatic garage door when their neighbor, Gladys Kravitz, sees Samantha using magic to open their former manual garage door. The new door is affected by an electric malfunction, which makes it open and close at will. This situation caused problems between Darrin and Samantha, as Darrin thought Samantha or her mother was behind this problem.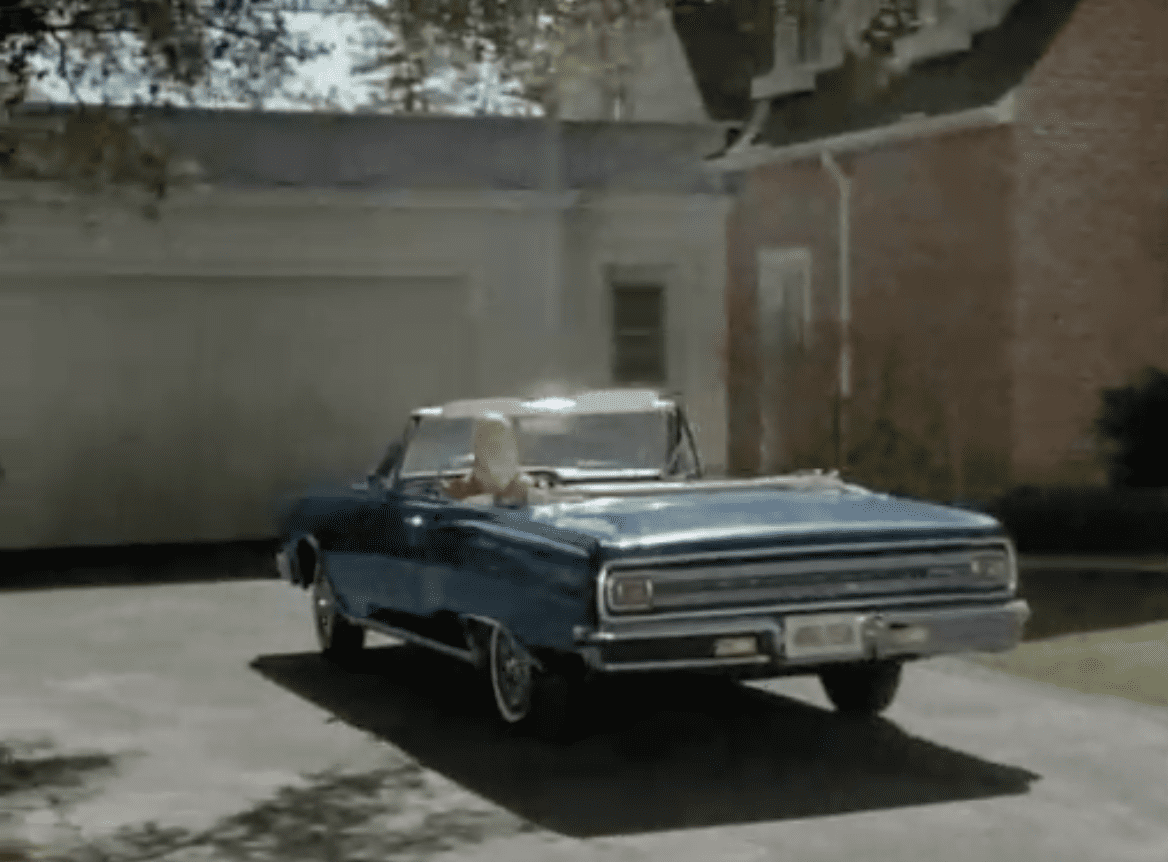 In one of these door-malfunctioning moments, Darrin and Samantha end up getting locked in their garage. They could have actually gotten out of the garage, even if the automatic door didn't have a safety lever for manual operation, just by using the other east door, which appears in other episodes.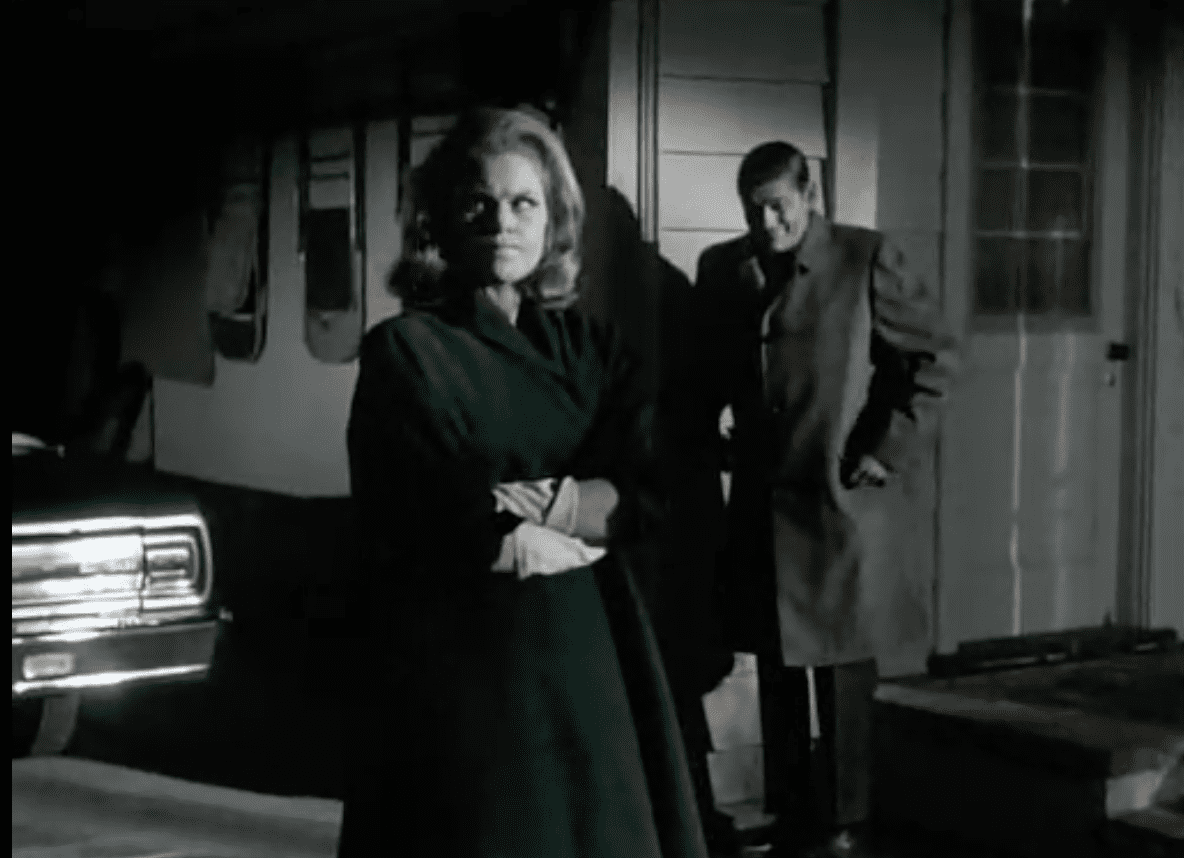 ---
Seeing double (Episode 14 "Santa Comes to Visit and Stays and Stays")
In this episode, Samantha asks Esmeralda to babysit while she is busy taking care of the house before Christmas. Esmeralda starts accidentally doing magic while sneezing. Most of the things she conjures end up quickly disappearing, but she ends up conjuring Santa Claus, who doesn't seem to fade away. Samantha and Darrin end up having to hide him from visitors like neighbor Gladys Kravitz.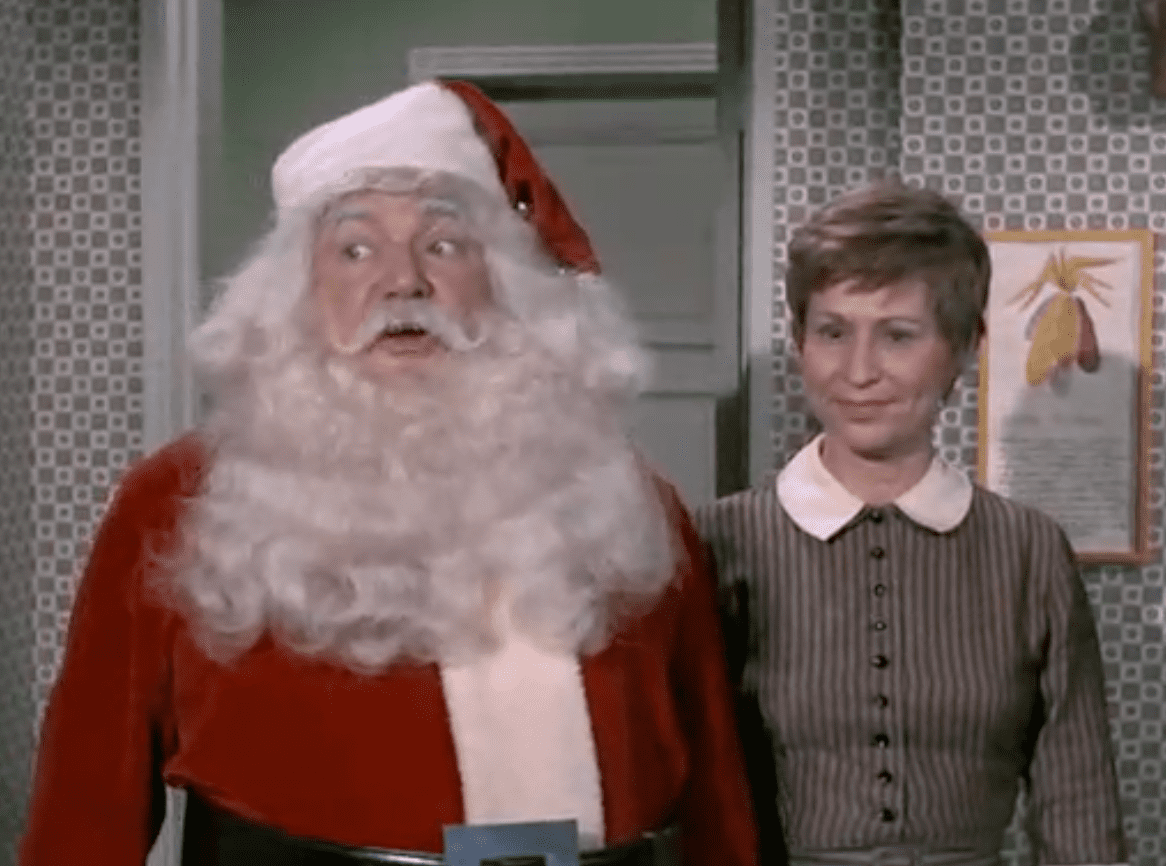 At one point, Mrs. Kravitz sees Santa Claus while standing in Samantha and Darrin's front doorway, and assumes it's just Darrin in a costume. In the next shot, Santa is seen coming out of the kitchen (located around the corner) and moving through the hallway toward the living room. Mrs. Kravitz could never have seen Santa when she said she did.
---
Shifting houses (Episode #30: "George the Warlock")
On "George the Warlock" episode, Darrin becomes smitten by Danger O'Riley, their neighbor Pleasure O'Riley's younger seductive sister. Endora sees out neglected Samantha feels while Darrin attends to Danger's every need, so she asks George, one of Samantha's former boyfriends, to come and seduce her daughter again. But George becomes smitten by Danger as well and doesn't know who to chose.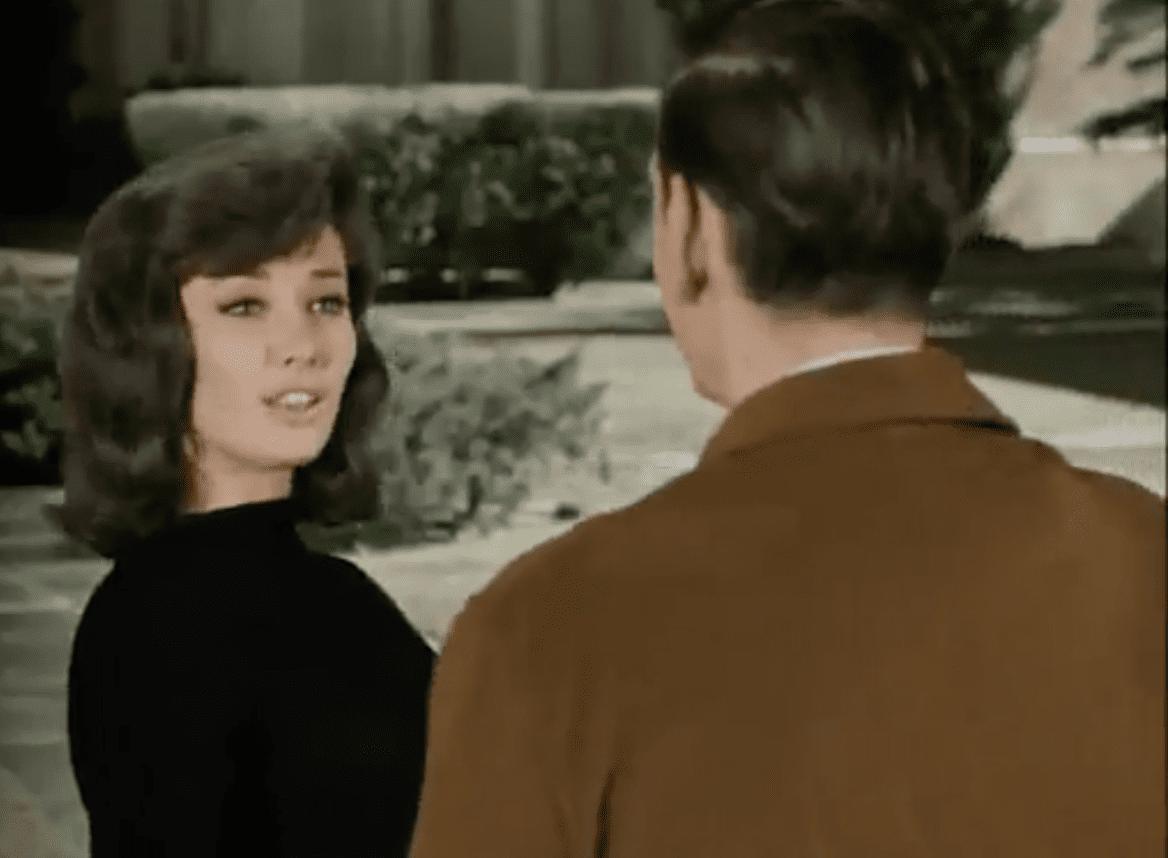 Throughout the episode, the kitchen windows of the Stephens and O'Riley are facing each other, but in reality, both houses should have their garages sitting between their main living areas. Later in the episode, when George arrives, the view from Samantha's kitchen is completely changed, and then, by the end of the episode, viewers can see Danger's kitchen from that same window again.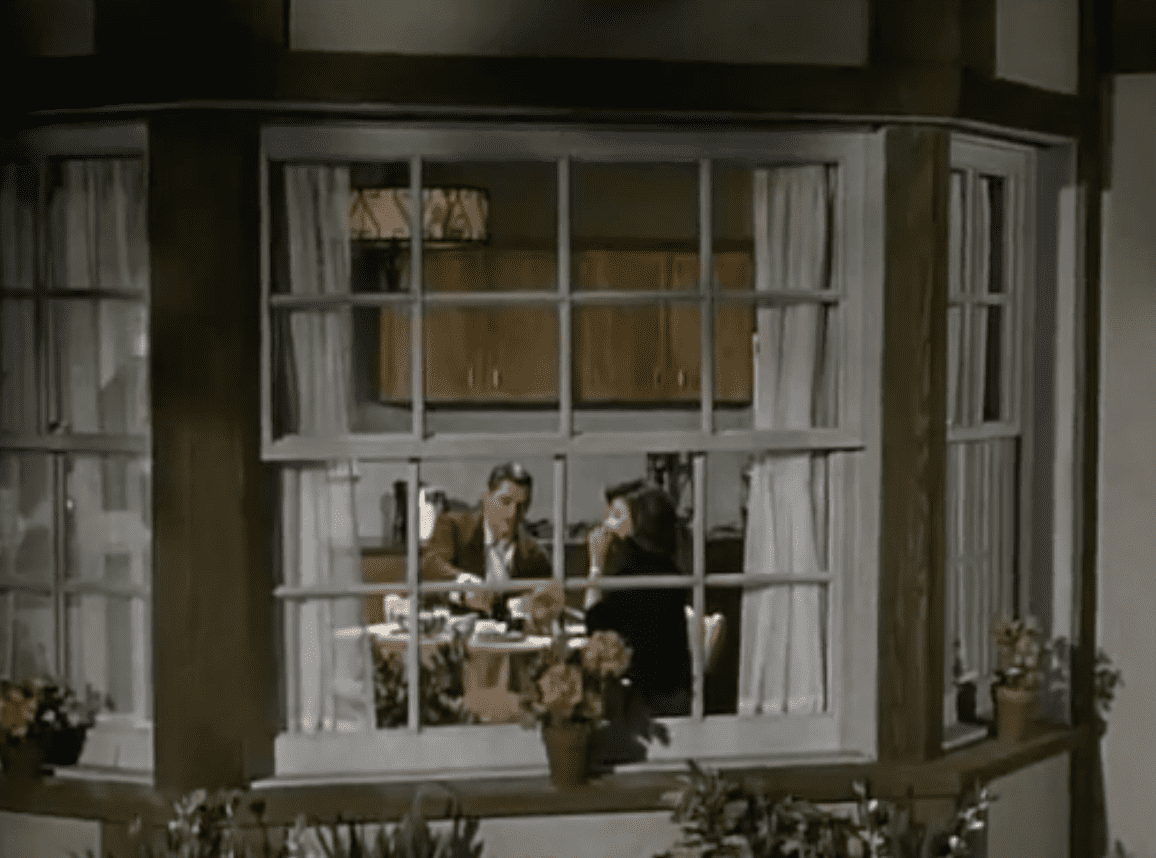 ---
The mystery glass (Episode #1: "I, Darrin, Take This Witch, Samantha")
On Bewitched's first episode ever, we see Darrin and Samantha on their honeymoon shortly after getting married. One thing Samantha didn't do before the wedding and during their short courtship, was telling Darrin she was a witch. When she finally tells him. He makes her promise not to use her witchcraft skills so they can live a life as normal as possible.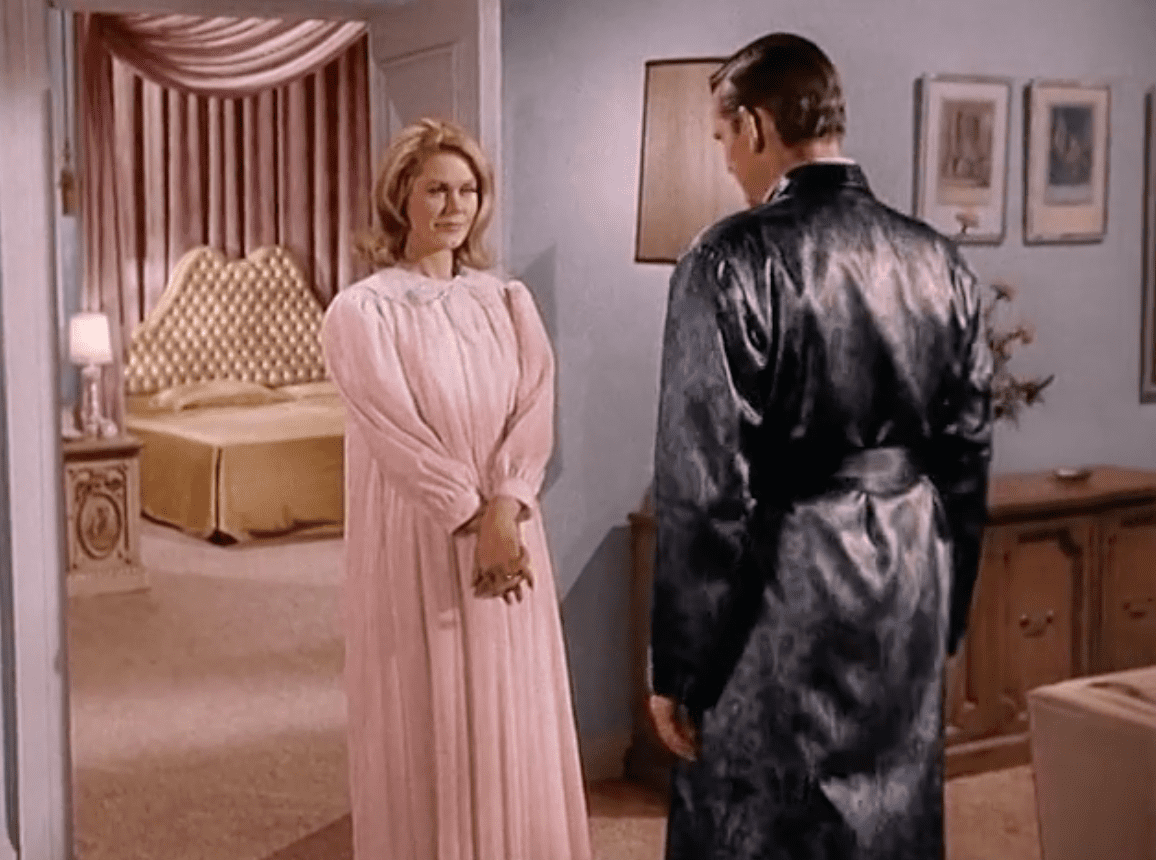 When Darrin almost passes out for discovering that Samantha was a witch, he is seen holding a drink with his left hand, but when he falls back into the chair, the glass is now empty and on the table. This happened because, in the original script, Darrin was supposed to drink and put the glass down on the table.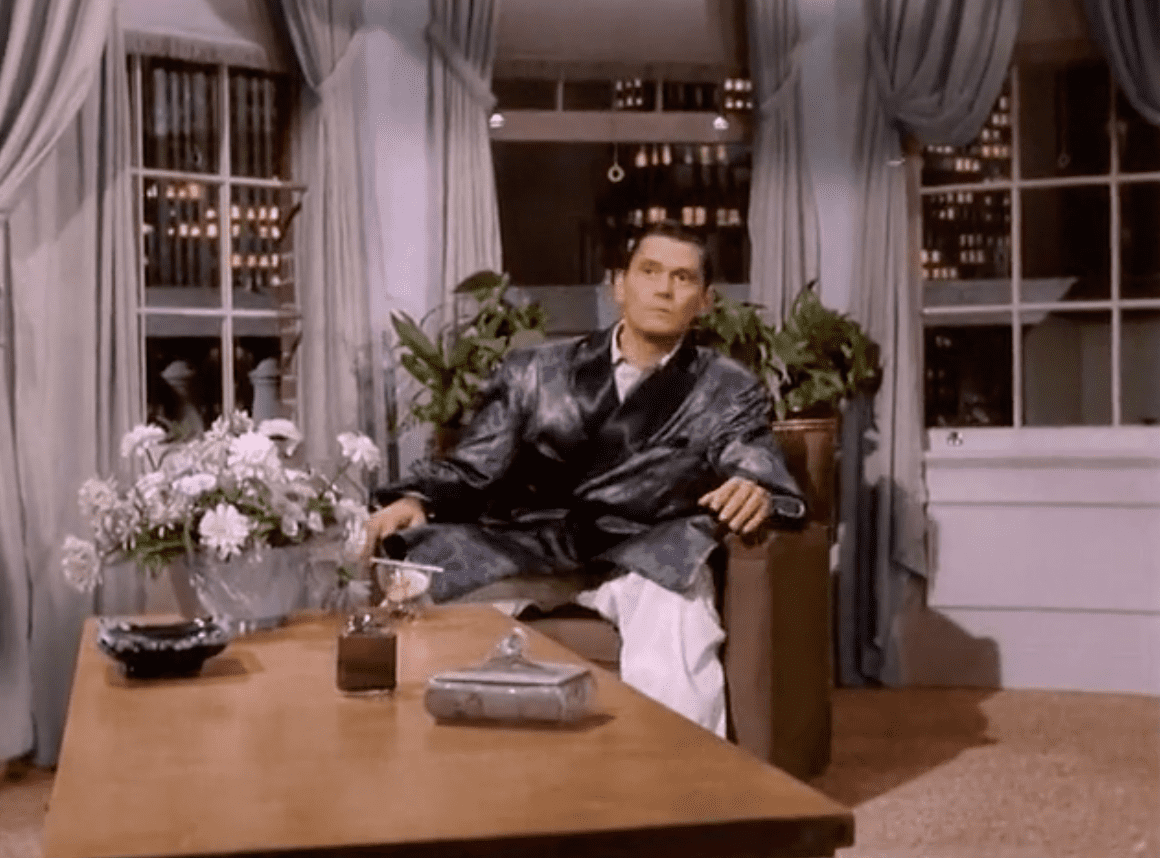 ---
Hiding a pregnancy (Episode #2: "Be It Ever So Mortgaged")
On Bewitched's second episode, Darrin and Samantha find a brand new house to live in. Samantha manages to convince her skeptical mother, Endora, to visit the house with her. The two women start using some witchcraft to do some landscaping and interior design. Nosy neighbor Mrs. Kravitz becomes very confused by seeing a totally furnished house and then suddenly not.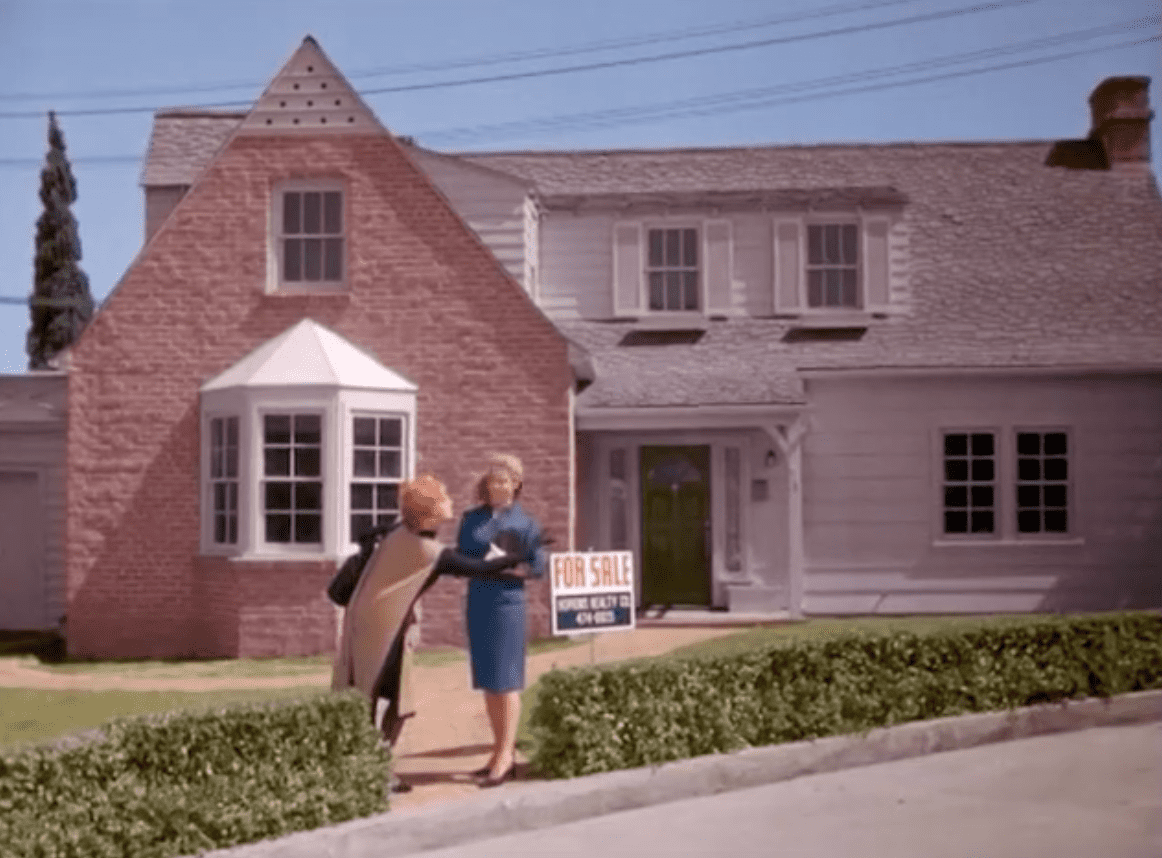 The episode's intro sequence shows a pregnant Elizabeth Montgomery, the actress who played Samantha. Montgomery was pregnant with her and director William Asher's first child back then. The show tried to go around it in the early episodes, hiding it as best as they could, but it is very much visible in the intro.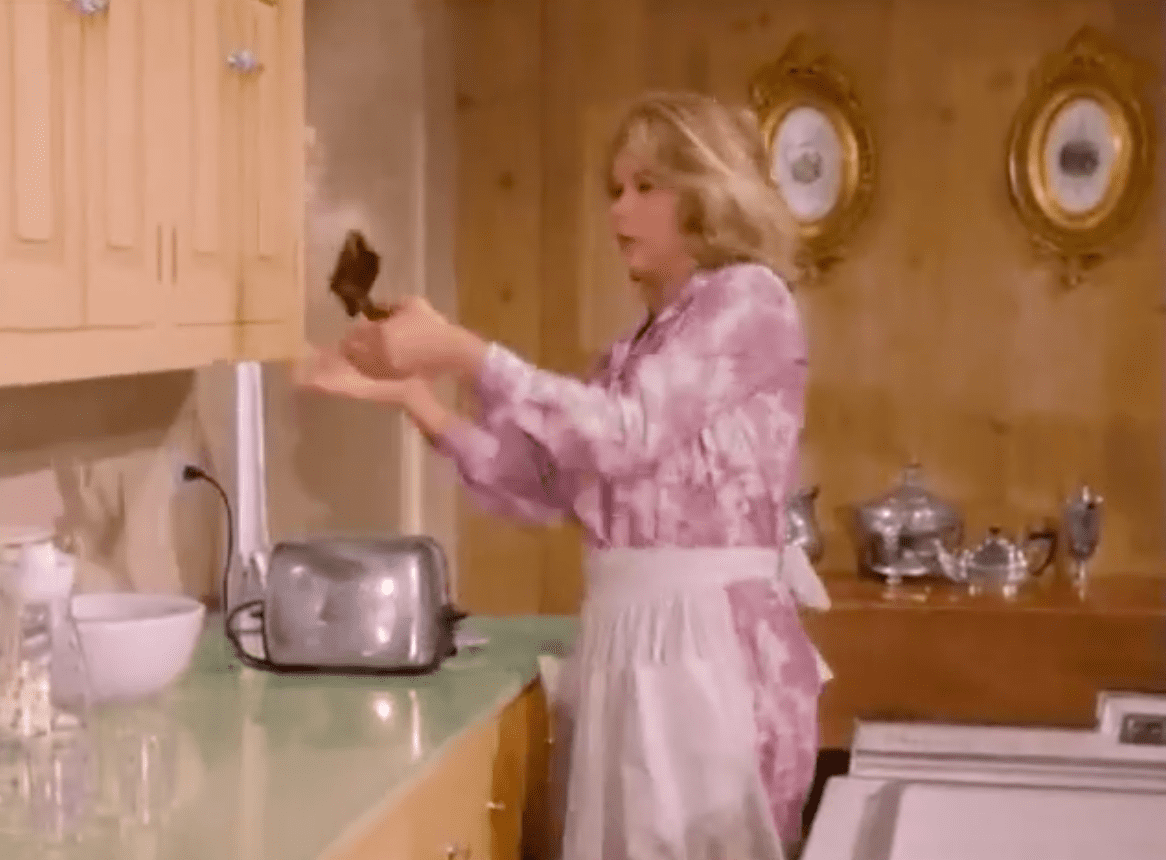 ---
Instant hairdo (Episode #3: "It Shouldn't Happen to a Dog")
On the "It Shouldn't Happen to a Dog" episode, Darrin invites Rex Barker, one of his potential clients for dinner at his house, looking to win him over. When Barker shows up, he becomes more interested in seducing Samantha. During one of his advances, Samantha turns him into a small dog.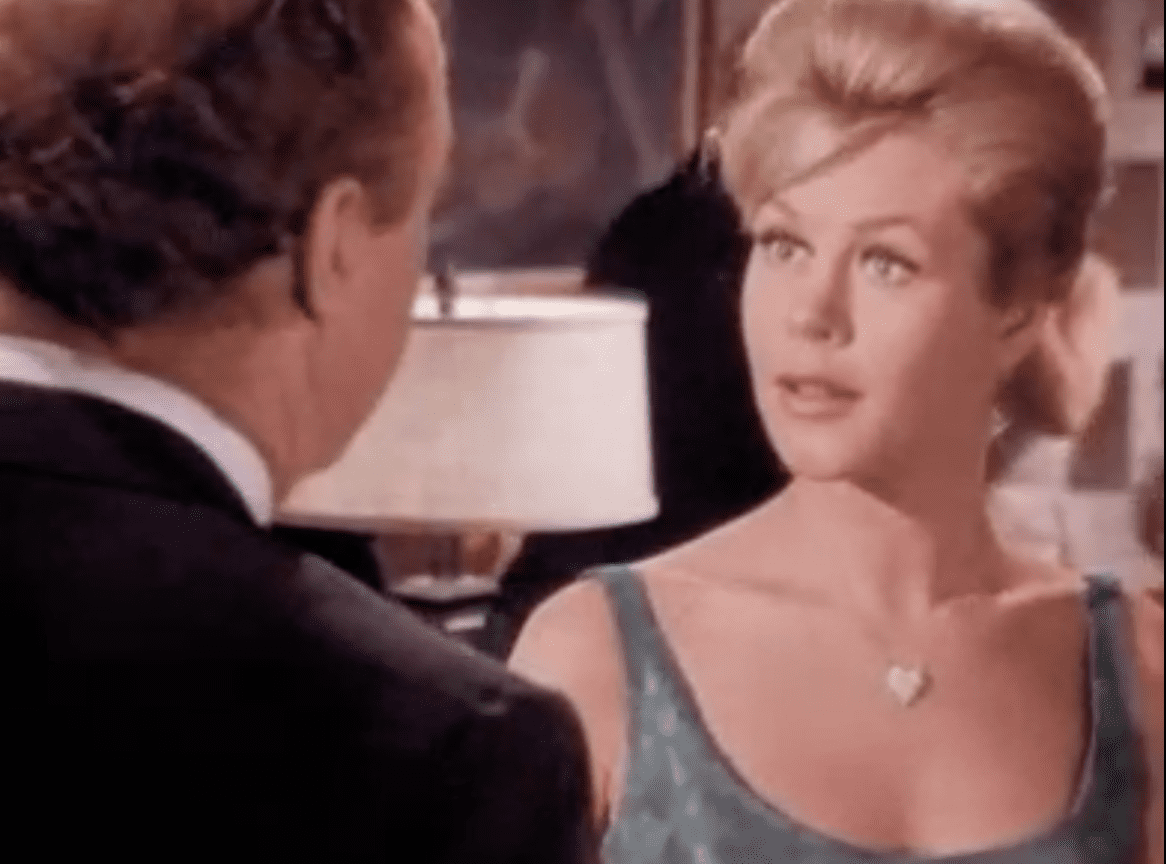 At a certain point, Samantha is seen chasing the dog down the alley. The camera keeps cutting back and forth from her to the police officers who have meanwhile arrived. During those shots, Samantha's hair is seen changing continuously from messy to neat.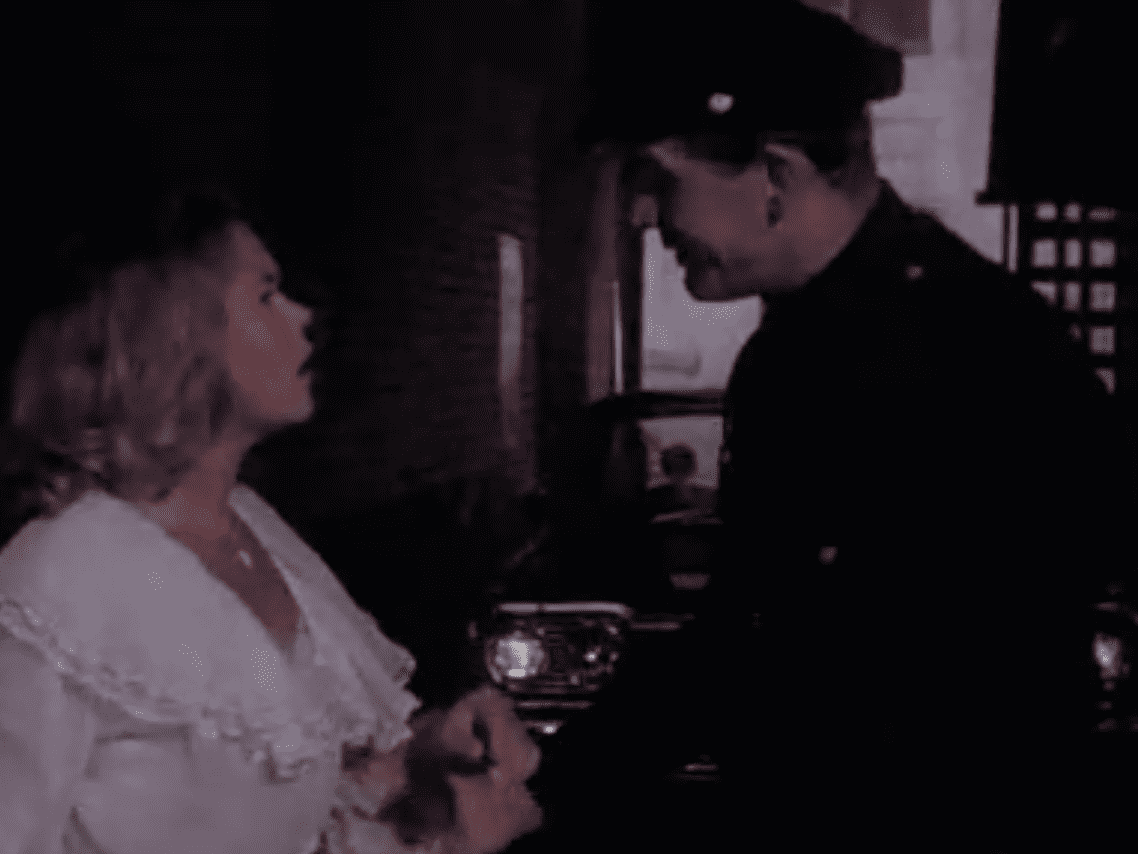 ---
Wrong way (Episode #7: "The Witches Are Out")
In season 1's episode 7, Samantha is visited by her witch aunts during Halloween. They come to her looking for advice on how to change American's stereotypes about witches being old and ugly. Samantha asks Darrin, as an advertiser, to help them, but Darrin is actually working for a client who asked him to use that stereotype on a new advertising campaign.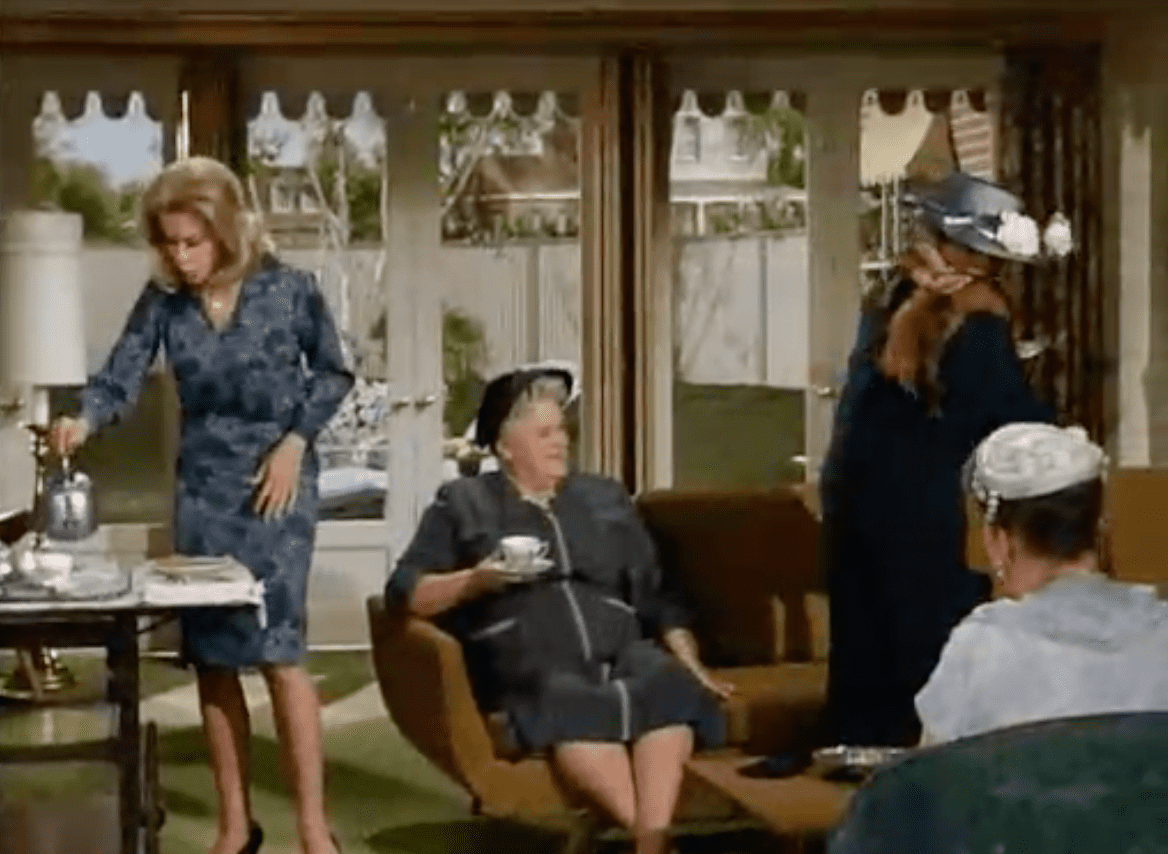 At a certain point, Darrin is sitting in the living room, and Samantha walks in carrying some groceries. The kitchen door is closed, and when she passes with the groceries, she turns left instead of going straight the hall into the kitchen. That turn would actually have her leaving the house, into the driveway.
---
Keep in a cool place (Episode #10: "Just One Happy Family")
On the "Just One Happy Family" episode, Endora tells Samantha her father Maurice is coming by to visit after hearing about her getting married. Afraid that Maurice would try to destroy Darrin once he finds out he is a mortal, Samantha does the best she can to keep Darrin out of the house during her father's visit.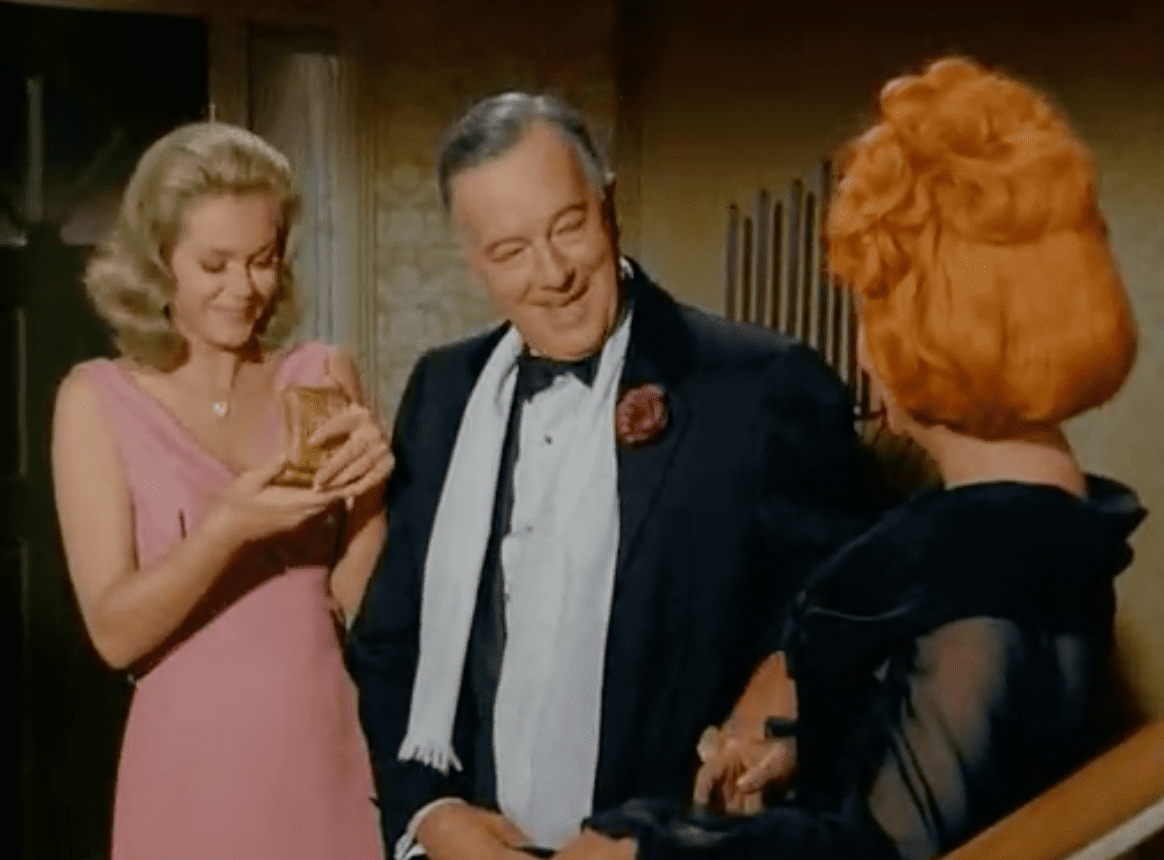 In the shot where Endora appears to Samantha inside her refrigerator, she is sitting on top of a package of Albain butter (most probably named after the show's special effects director, Dick Albain). Next to the butter, there is a bottle of olive oil, which doesn't make much sense as olive oil doesn't need refrigeration.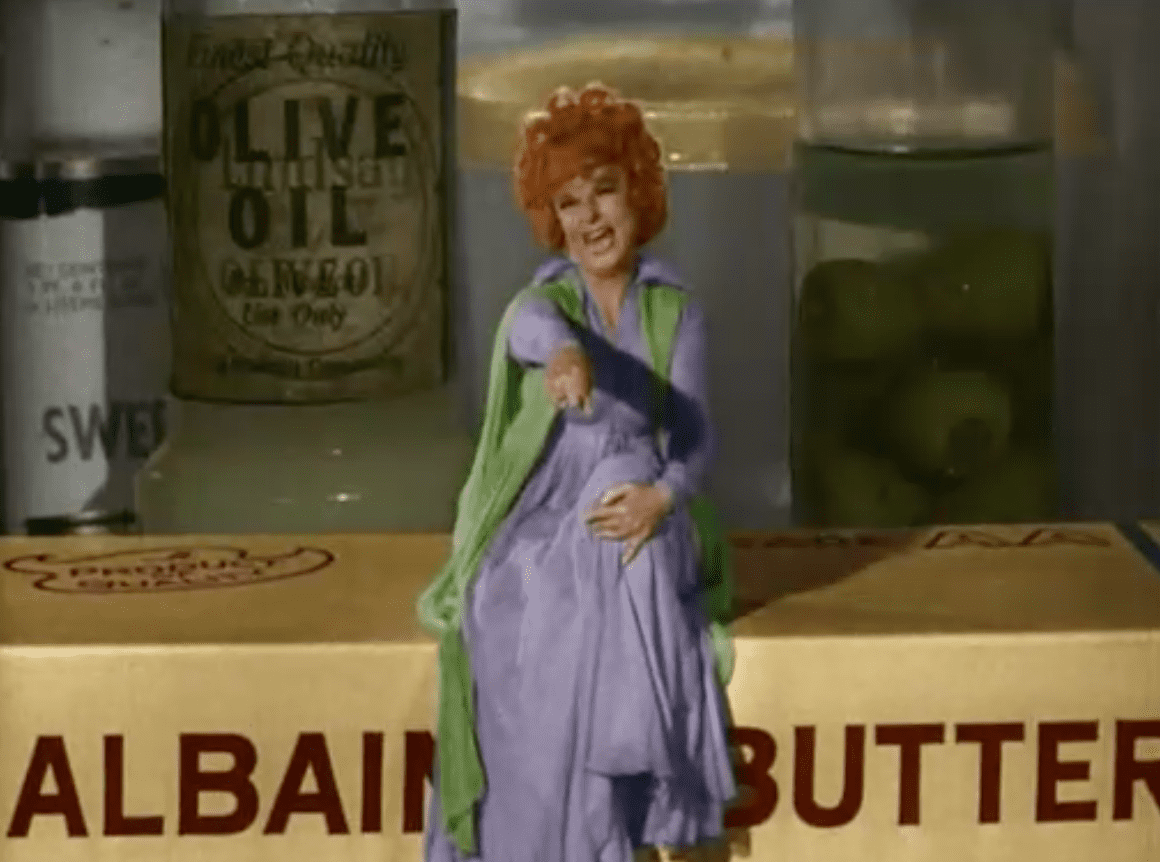 ---
Wrong train (Episode #19: "A Nice Little Dinner Party")
In episode 19, Darrin and Samantha organize a little dinner party and invite Darrin's parents, Frank and Phyllis, as well as Endora, Samantha's mother. Frank spends the evening being extremely lovely to Endora, which makes Phyllis believe he is trying to seduce her and leave. Samantha is forced to use a little witchcraft to remind her parents in law of happier times together.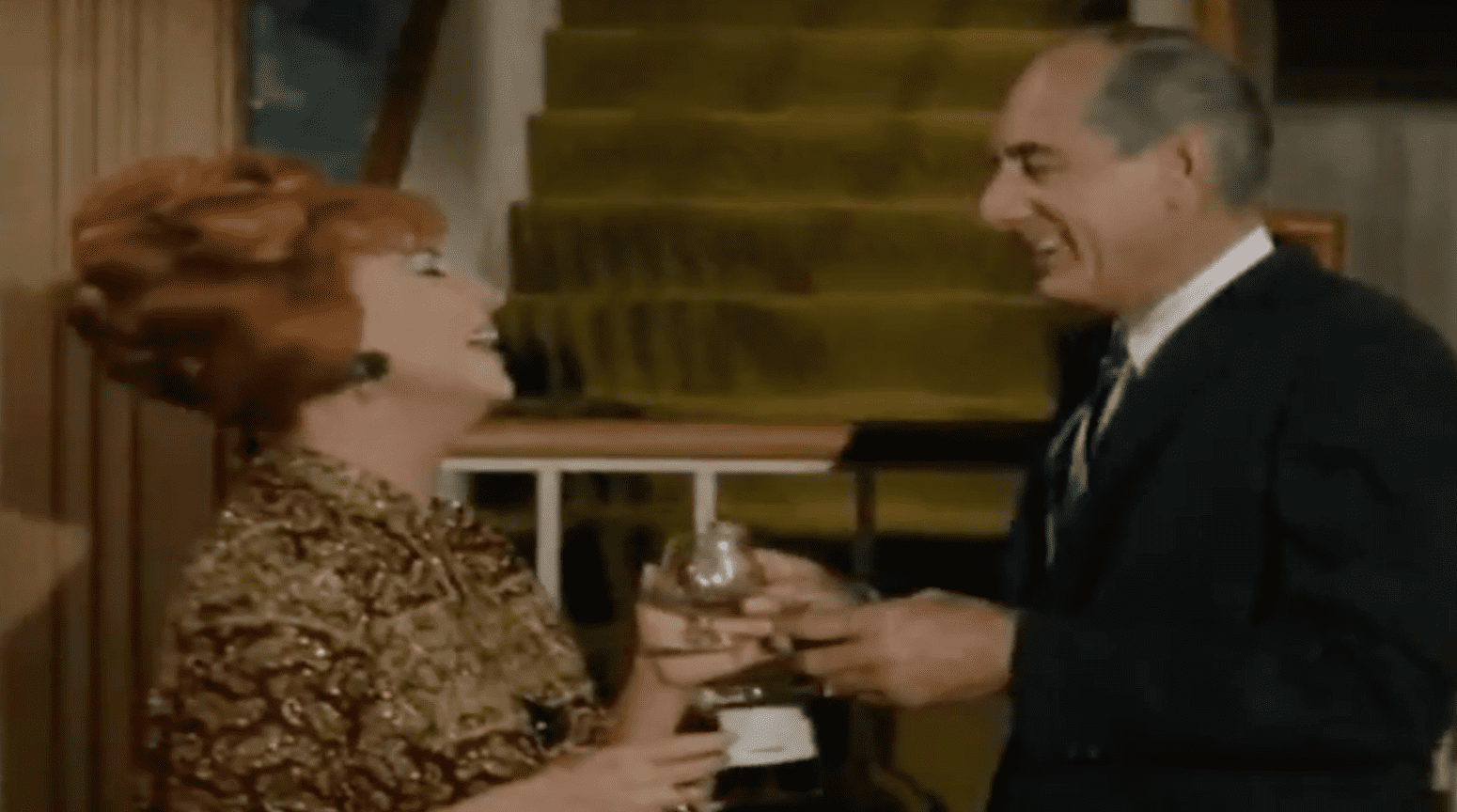 When Phyllis finally returns to Angell Falls to get back with Frank again, she is seen riding a train pulled by EMD E class DIESEL locomotives. Still, every time she stands up to pull the emergency cord, a locked-up large-diameter passenger (Pacific type) STEAM locomotive (a completely different train) is seen suddenly stopping.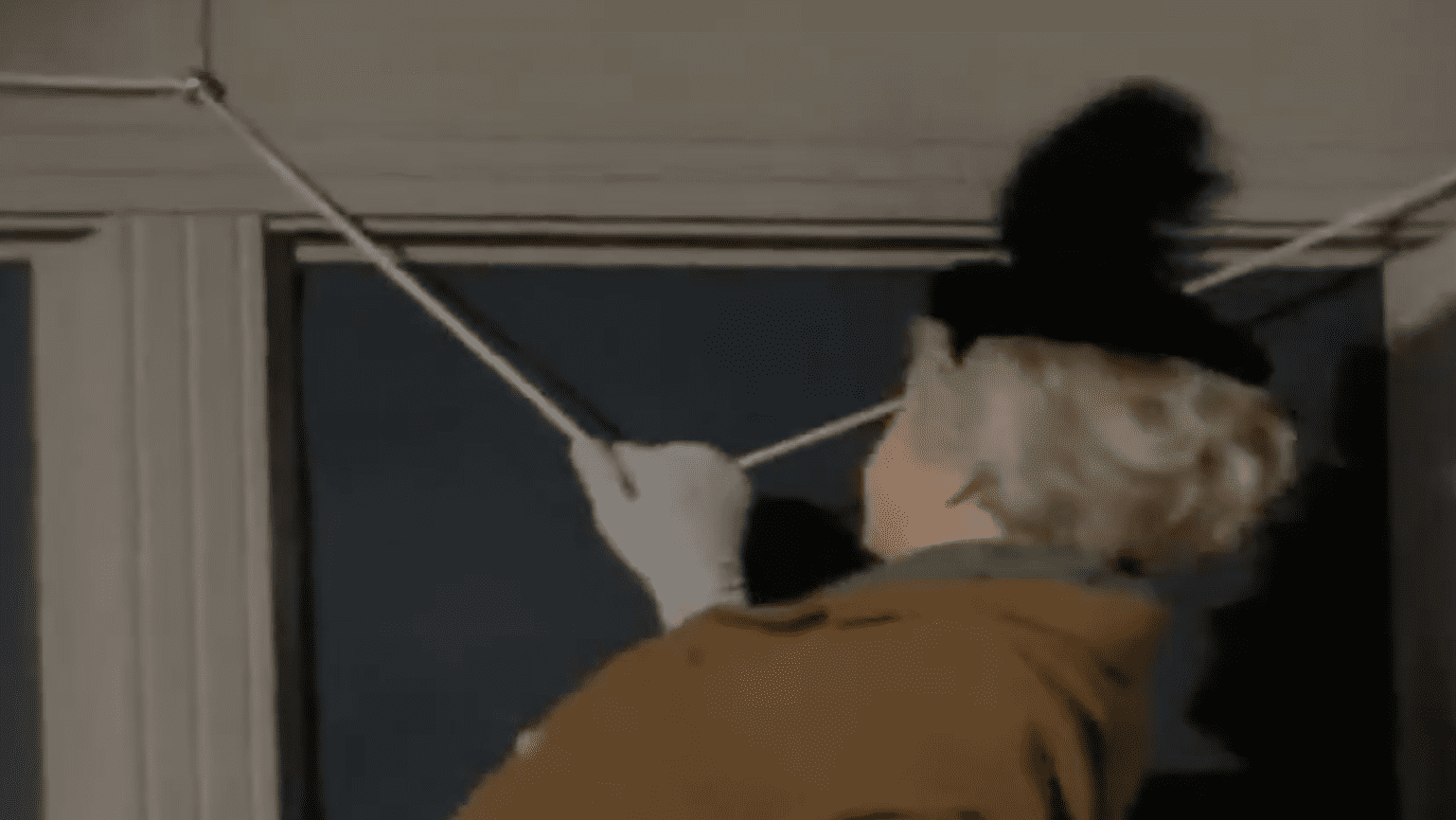 ---
Hanging shadow (Episode #27: "There's No Witch Like an Old Witch")
In this episode, Aunt Clara's friend Bertha goes to talk with Samantha about Clara's fading witchcraft skills, suggesting that a transition into mortal life was probably the best for her. Samantha and Darrin agree to help Aunt Clara and find her a job as a babysitter. Everything seems to be going great until Clara starts telling the children about being a witch.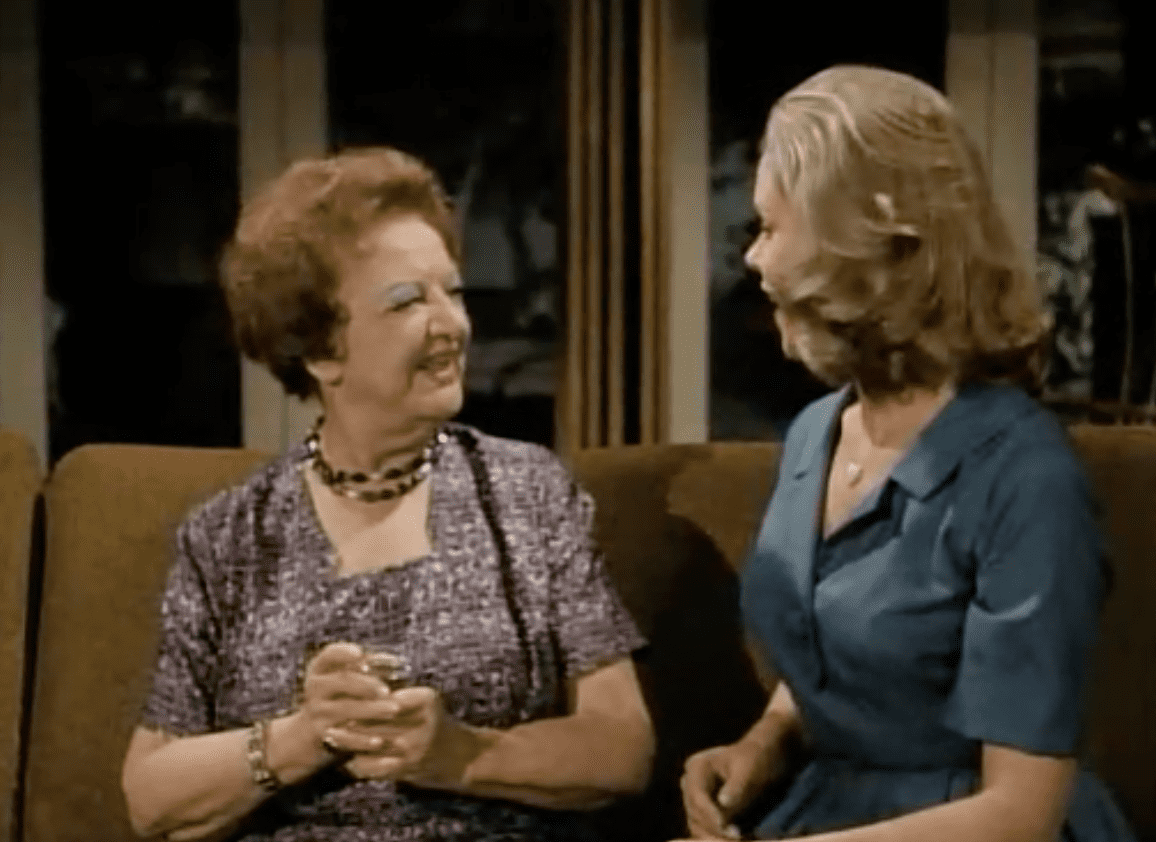 At a certain point in the episode, Samantha goes to get her Aunt Clara from the hall closet. In that particular scene, you can see clearly the shadow of a microphone swinging down into the shot and hanging over the two actresses.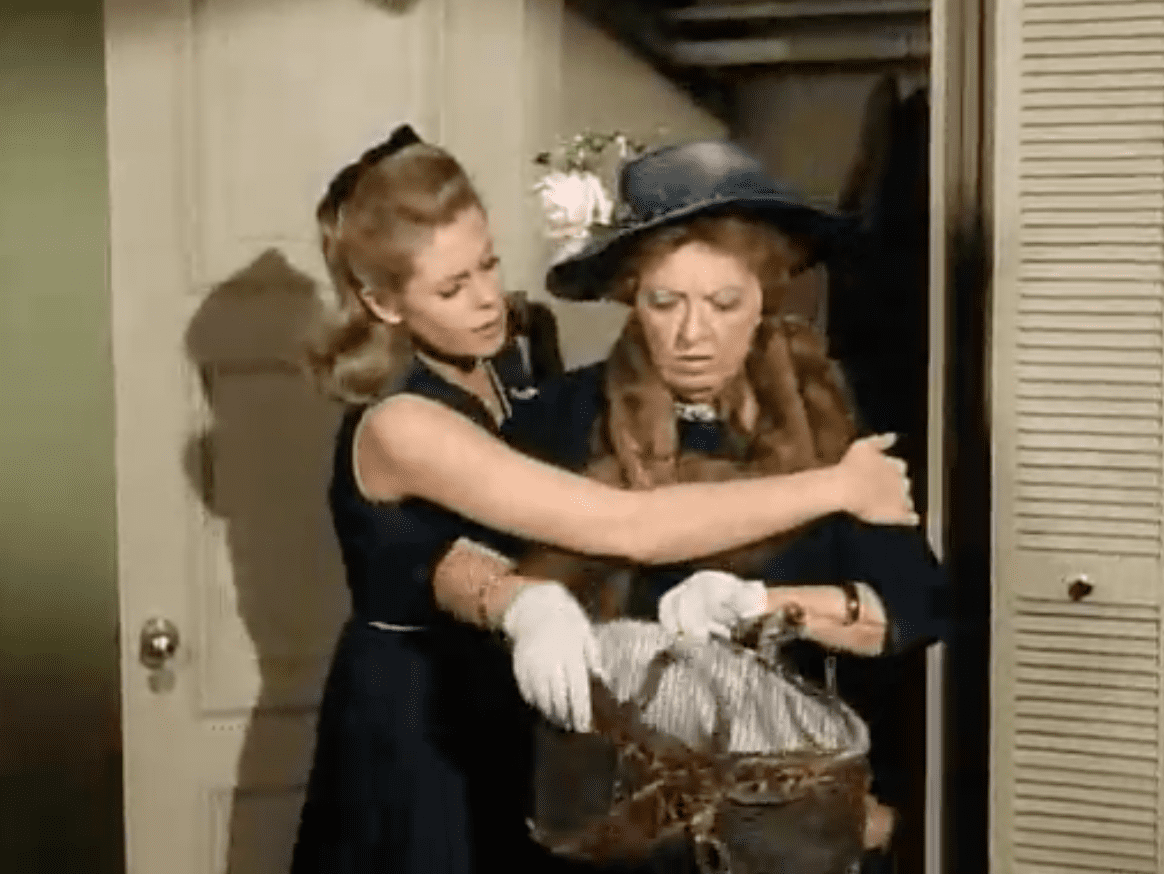 ---
Reverse house (Episode #32: "Illegal Separation")
On the "Illegal Separation" episode, Abner Kravitz, Samantha and Darrin's neighbor gets into a fight with his wife Gladys and ends up intruding on one of the couple's romantic evening, asking them to stay there. Seeing him as an intruding presence, Darrin allows Samantha to use her magic to get him to go back to his wife and leave them alone.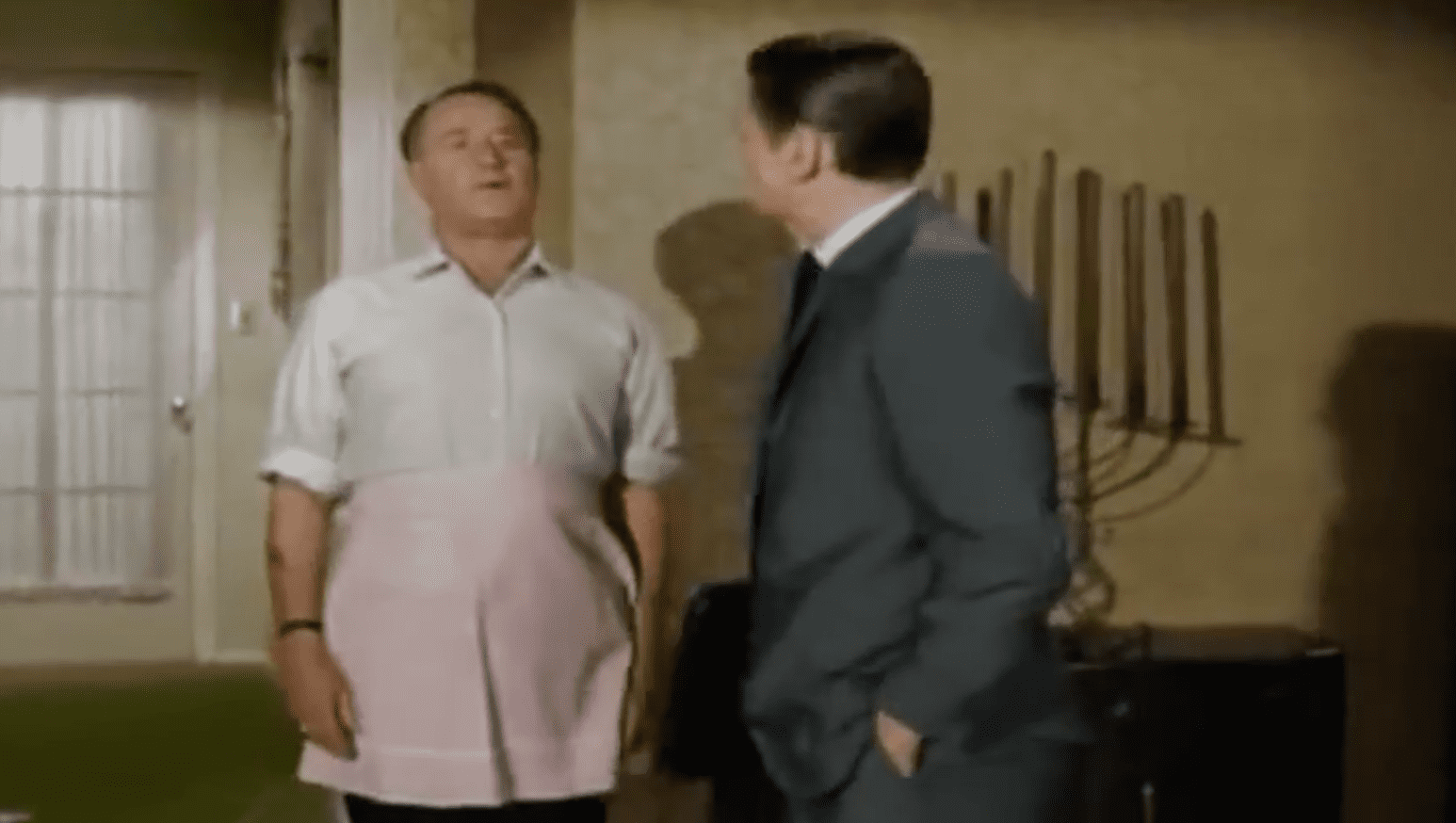 During the scene where Abner and Gladys reconcile because of a magical spell, Samantha and Darrin are seen looking out one of their bedroom's back windows and seeing their neighbors reunite in the front of the house. It doesn't make sense that the bedroom's rear windows would face the front.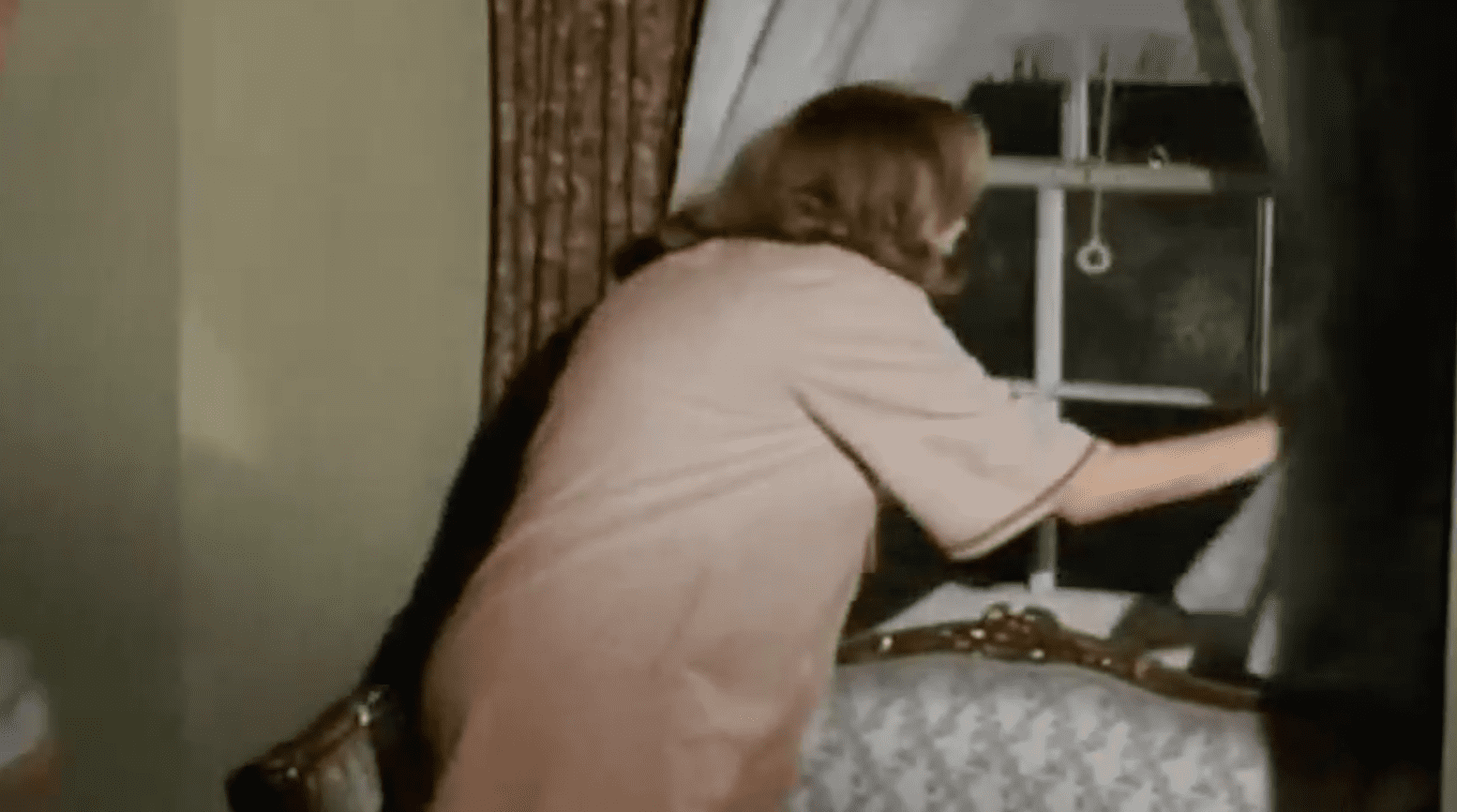 ---
Not that much of a staller (Episode #40: "My Grandson, the Warlock")
In episode 40, Larry and Louise Tate ask Samantha and Darrin to take care of their little boy Jonathan while they're on vacation in London. Maurice, Samantha's father, thinks the baby is his grandson and takes him away to train him in witchcraft. While Samantha tries to find them, Darrin has to stall the Tates who are looking for their son.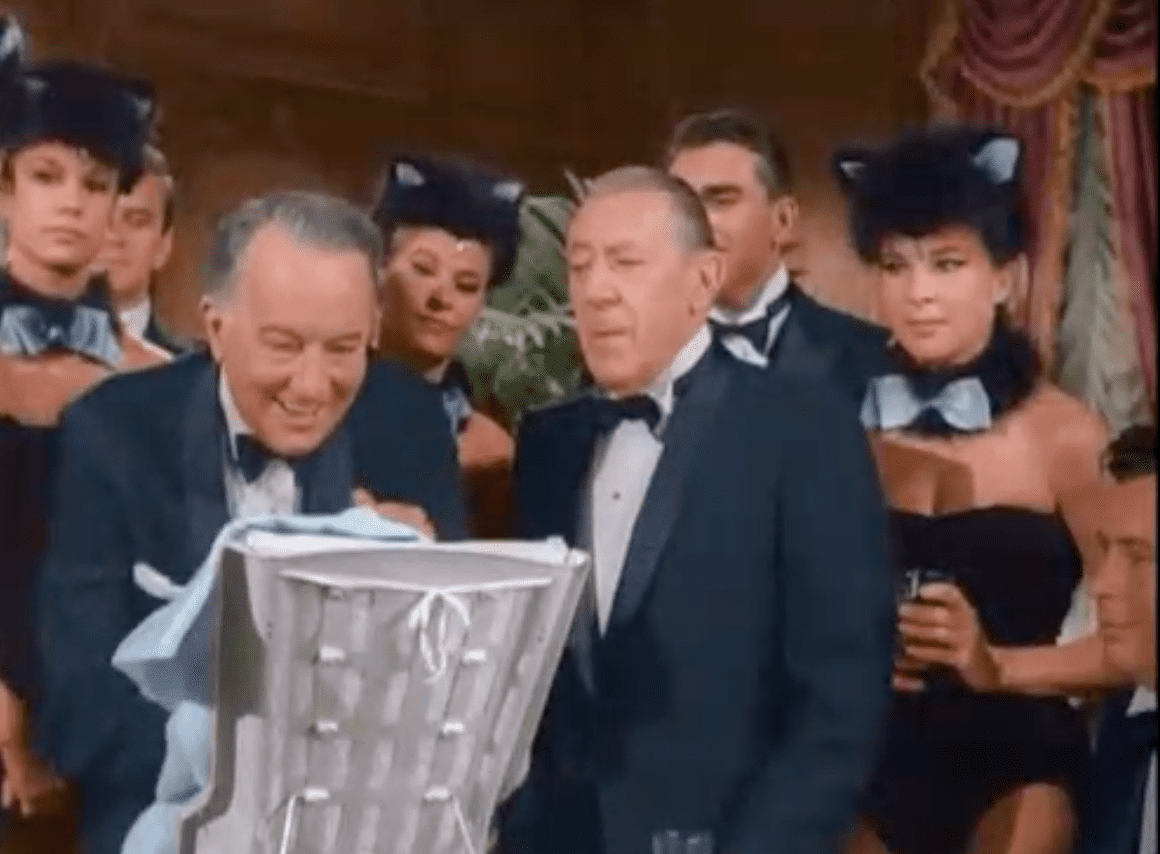 While trying to stall Larry and Louise from getting to his house to get their son, Darrin pretends his car broke down. The thing is that the house seen in the background is Stephen's next-door neighbors, and Darrin's car is standing across his driveway, so the scene doesn't make much sense.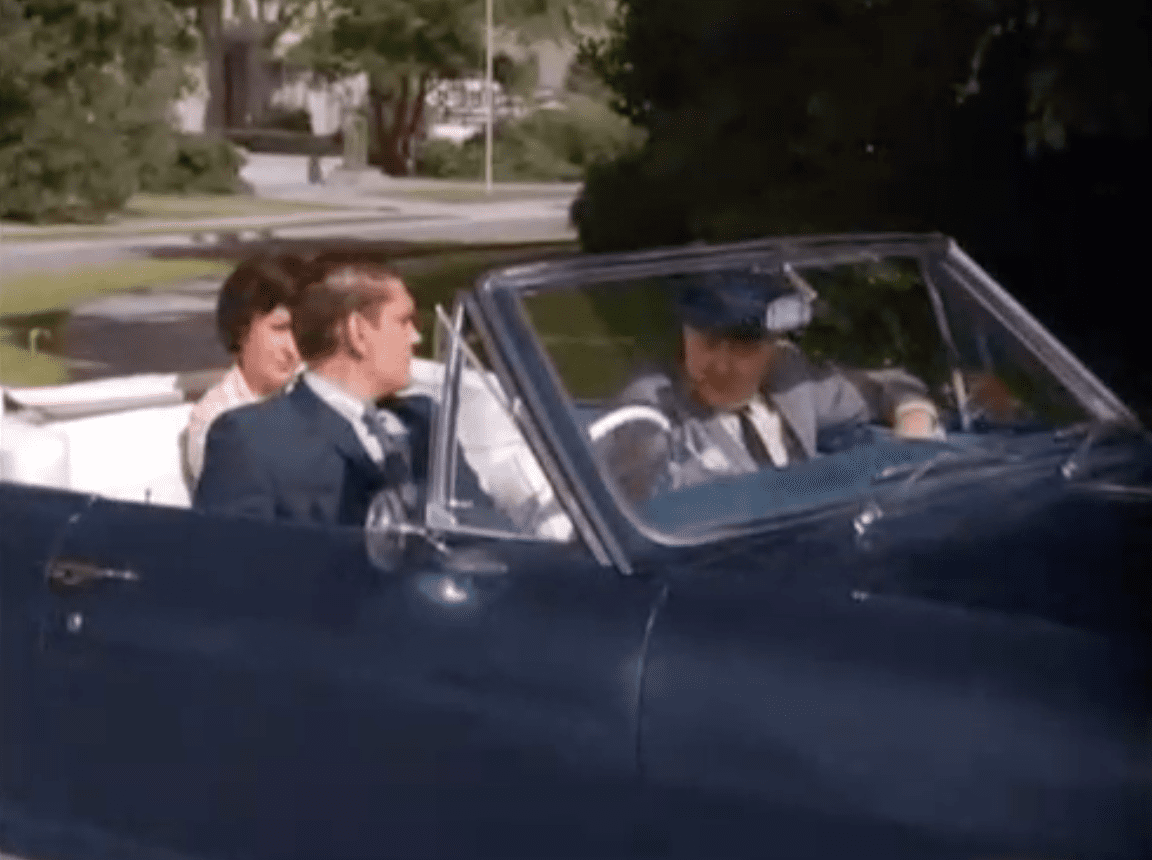 ---
Recycled newspaper (Episode #57: "Fastest Gun on Madison Avenue")
In episode 57, Samantha is being hit upon by a drunk man while waiting for Darrin in a restaurant. When Darrin arrives, he ends up getting into a fight with the drunk man to save his wife's honor. Upon her husband's imminent defeat, Samantha helps him win the match with witchcraft. The story ends up on the news as the man happened to be a heavyweight contender.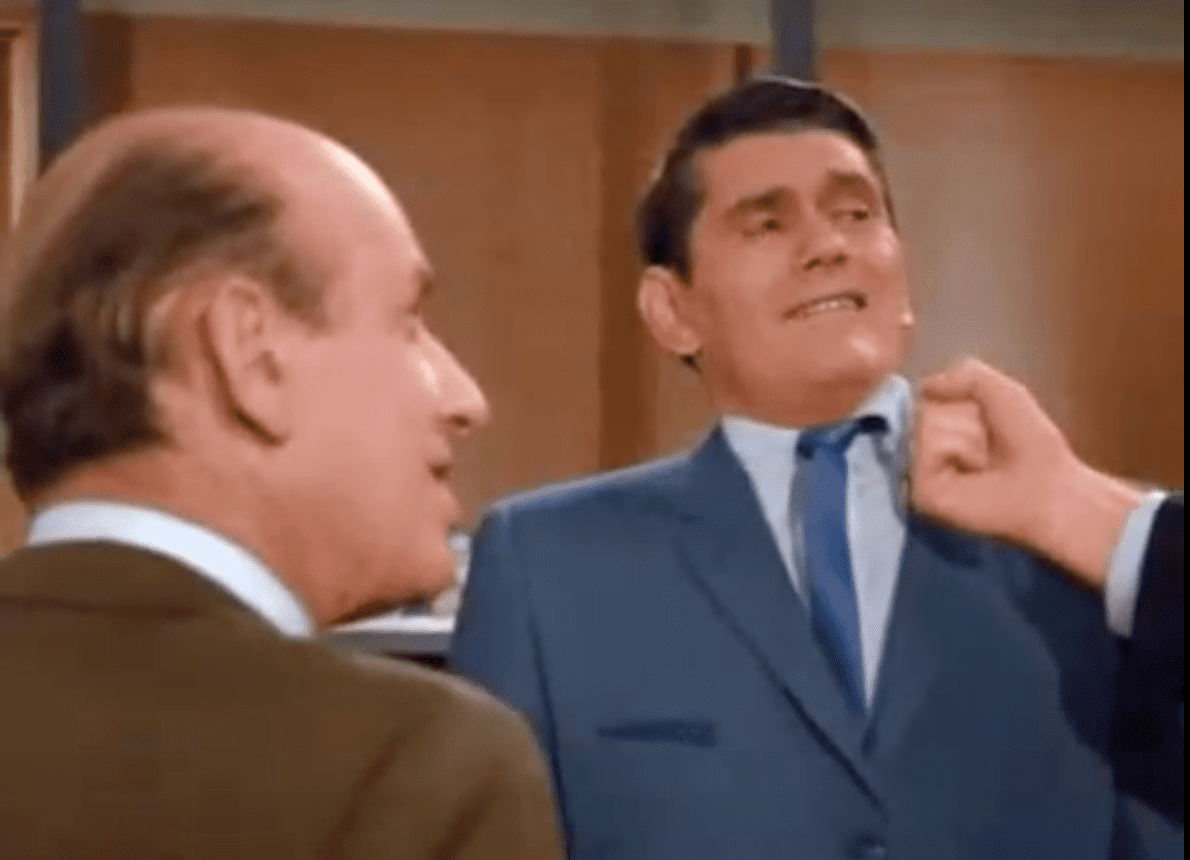 In the scene taking place the morning after Darrin's fight, he is seen reading a newspaper. Later on the episode, he is seen reading a supposedly different newspaper, but it is visible that it is the same one, only with different frontpage headlines in the close-up shots.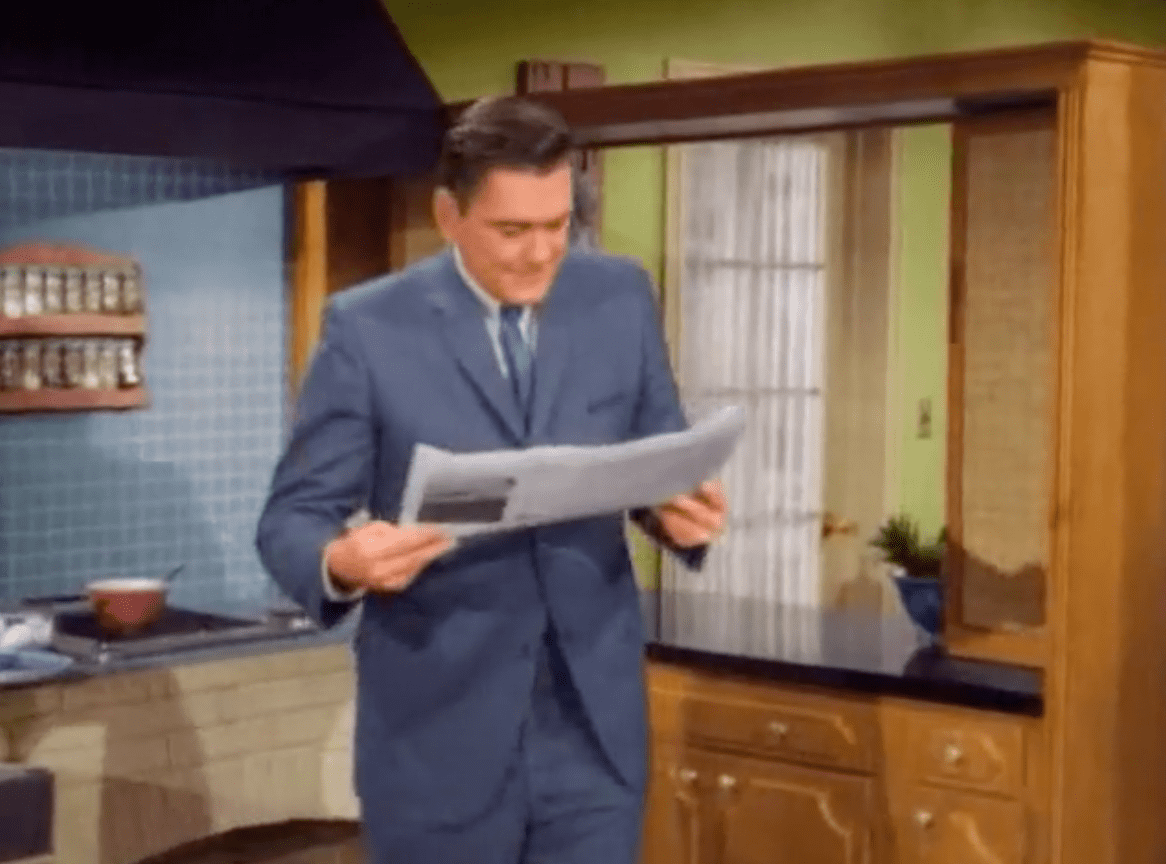 ---
Rare details (Episode #62: "Baby's First Paragraph")
Unable to find a babysitter to take care of her daughter Tabatha, Samantha reluctantly accepts to let Endora take care of her. Although she promised not to use witchcraft while babysitting, Endora makes baby Tabatha speak in front of Gladys Kravitz, who then, amazed by what she saw calls the press. The Stephens then have to find a way of making people forget about the story.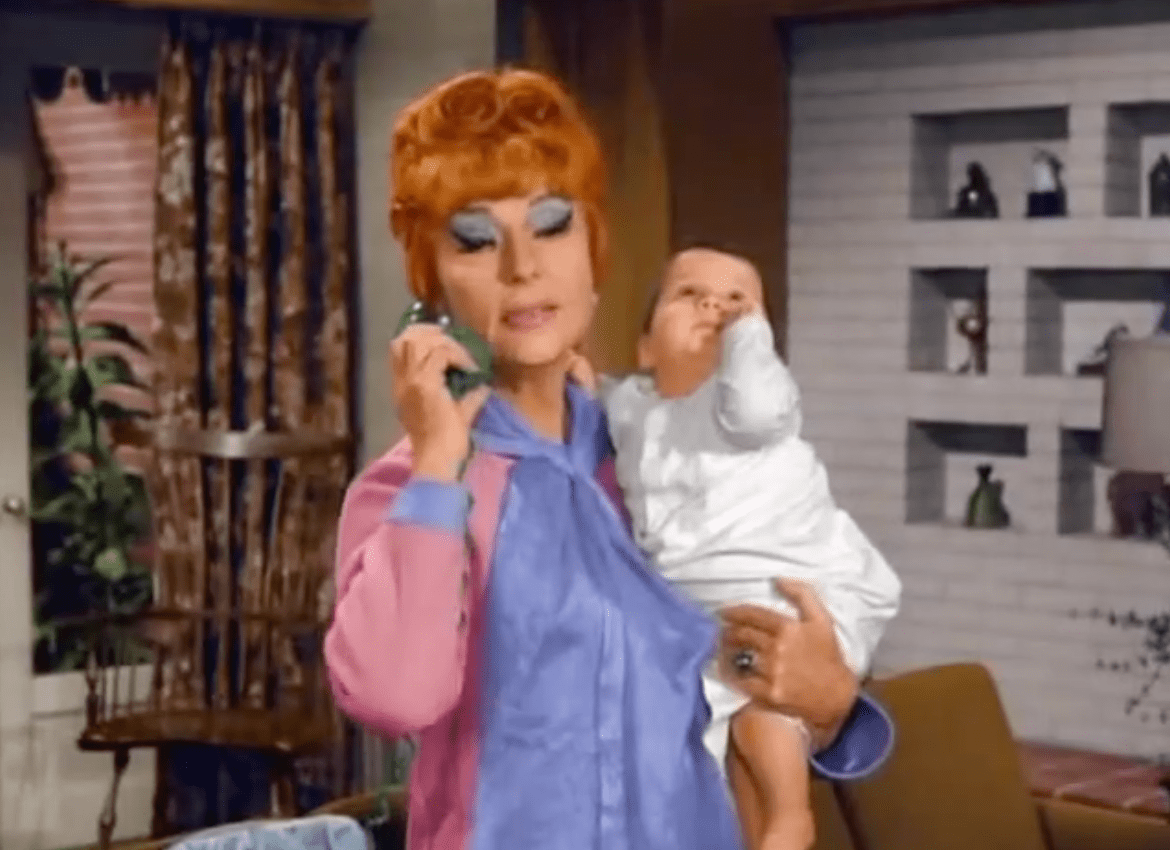 At a certain point in the episode, cameras show the extraordinarily high and unusually-shaped living room ceiling featuring a large flat board sitting on top of the round corner beam work that allowed Endora to have more room to sit on. This set detail is seen in other episodes as well.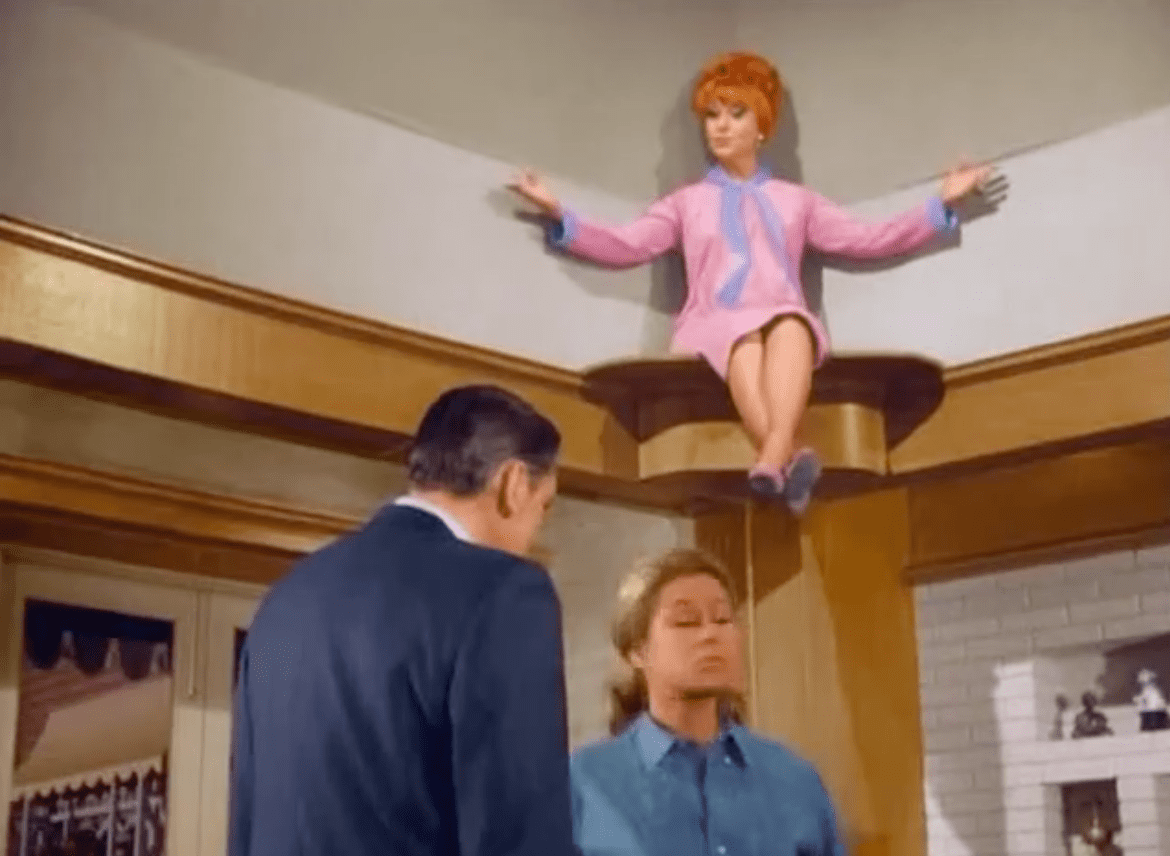 So, what do you think about these "Bewitched" bloopers? Had you ever noticed any of them while watching the show? Which ones did you already know about? Let us know all about it in the comments section, and don't forget to share the article!
Sources:
Bewitched House
,
Movie Mistakes
,
IMDB