Outlander's Caitriona Balfe: 20 Little-known Facts
The Outlander star Caitriona Balfe rocketed into the movie industry. She became one of the reasons why fans binge-watch the show, empathize with Claire and Jamie's love story, and anxiously anticipate new episodes. But, who is Caitriona Balfe, and what stands behind her thriving success? Dig into our article to uncover all the most thrilling details!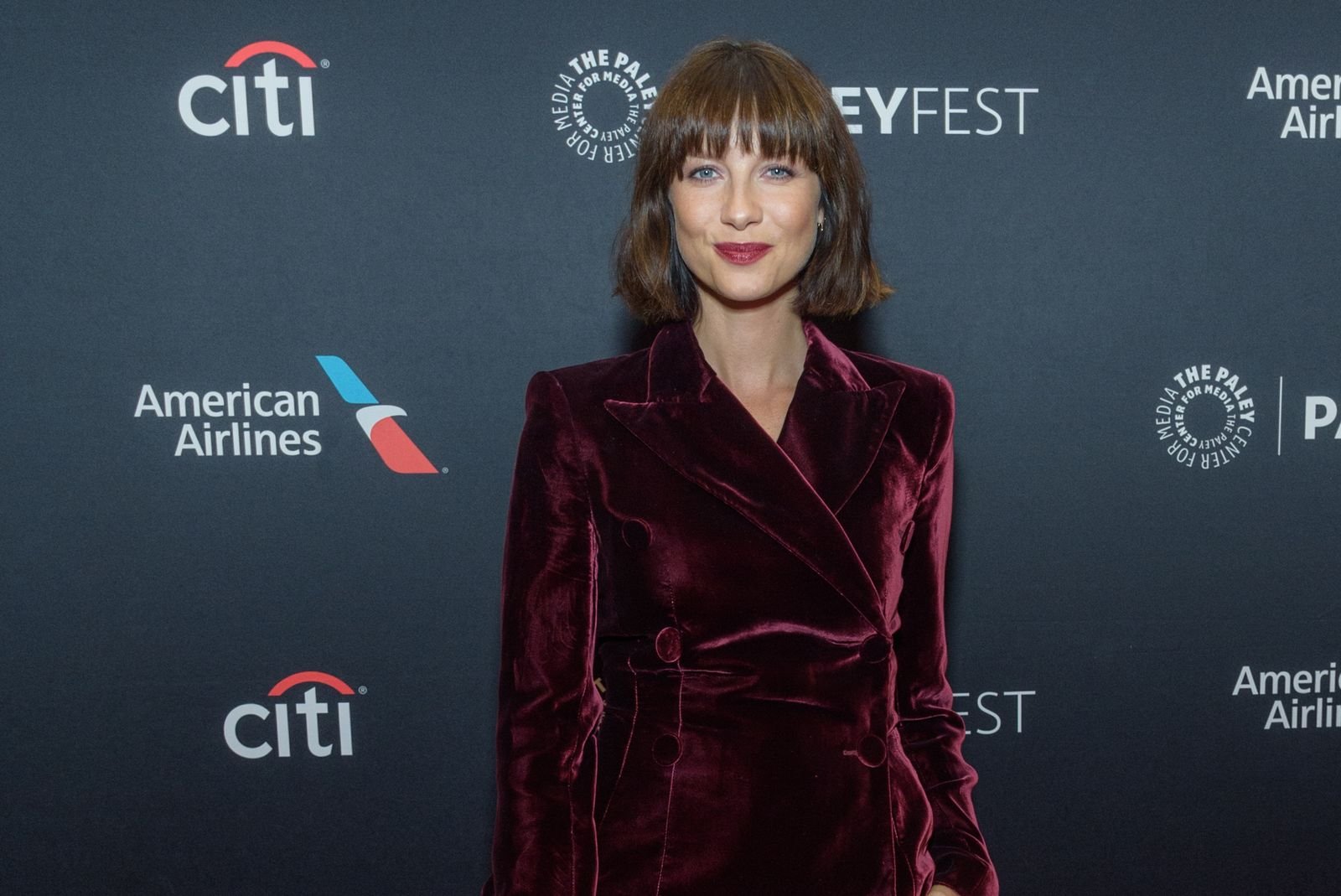 ---
20. SHE WAS CAST ON OUTLANDER DAYS BEFORE FILMING STARTED
Can you imagine Outlander without Caitriona Balfe? Well, that might have been the case - Balfe joined the cast days before the series began filming! As executive producer Ronald D. Moore shared, his team planned to find the actress for Claire's role first and then begin their search for 'The King of Men', the future Jamie.
---
However, things turned out in the exact opposite! The actor for Jamie's part was cast almost straight away. Sam Heughan was the very first one to join the team. But for Claire, it was "a great Scarlett O'Hara search." Let's not forget: Claire is a central character of Outlander, so her role was tricky.
---
The production crew was looking for someone very smart, someone you could watch 'thinking.' Executive producer Maril Davis recalled that they reviewed plenty of talented actresses, but 'it just wasn't Claire'. As the beginning of production was getting closer, the absence of the main character started to scare everyone.
So when the Outlander team received Caitriona's tape, it was a real light-bulb moment. 'Once we cast her, she was on the plane to Scotland within a day and shooting like two days later'. - Moore admitted.
---
19. SHE STARTED HER CAREER AS A FASHION MODEL
Caitriona planned to pursue an acting career from a young age. At 8 years old, she began her journey with performing in her hometown's community theater - the Dublin Institute Conservatory of Music and Drama. But one lucky circumstance changed her path for 10 years.
Balfe was scouted by a modeling agency when she was seen collecting money for charity in a shopping center. "I was doing a theatre programme at D.I.T. when I took this sort of detour into modeling', - she recalled.
---
Over the next decade, she lived in France, Italy, Germany, and even Japan. Caitriona worked for fashion giants such as Dolce & Gabbana, Chanel, Louis Vuitton, Miu Miu, and Givenchy. She walked the runway, featured in advertising campaigns, and graced the fashion magazine covers, including Elle and Vogue.
The Irish edition of the Independent even titled Balfe as the 'Ireland's first supermodel'! On top of all, Balfe became a muse of Cuban-American couture Narciso Rodriguez. He describes her as "the kind of woman that you dream of".
"She was quite poised and always grounded, and smart, and funny, and knew where she was heading." - said Rodriguez. 
---
18. SHE WAS A VICTORIA'S SECRET ANGEL
Did you know that Caitriona Balfe became a Victoria's Secret Angel? In 2002, she joined Victoria's Secret runway show alongside Alessandra Ambrosio and Lindsay Frimodt. The actress confessed that the show wasn't the easiest to complete. She was the palest girl on stage, so using bronzing sprays came in handy.
"I'd gone and gotten a spray tan, and they were like, can you get another one? And then I came back with my second spray tan, and I was still the whitest girl on the stage." - Balfe shared in the interview with Conan O'Brien. 
---
17. SHE DECIDED TO TRY HER LUCK IN ACTING JUST BEFORE 30
Fashion wasn't Caitriona's only passion and after years of modeling, she began feeling burnt out. Does she regret about this experience? No, not at all! She spent a decade modeling; she got to travel the world, meet talented people, and learn a lot about life. 
---
But at the end of the day, Balfe decided to return to her unfulfilled dreams. As we mentioned before, she started acting in community theatre when she was a kid. However, then she didn't perform as a professional actress till 30-31... The actress confessed, that in 2009 she made a "personal battle" to get back into acting: 
'I moved from New York to Los Angeles and started taking classes'
---
16. SHE'S STARRED ALONGSIDE A-LIST ACTORS
The role in Outlander isn't Caitriona's only on-screen appearance. For the last few years, she joined multiple projects, including an Oscar-winning movie. The actress had her first big break in 2011 when she received a non-speaking part in JJ Abrams's Super 8. She acknowledges that it was a massive deal.
'I'd been struggling to get roles and a work permit, which JJ arranged for me through Paramount. He really went into bat for me when he needn't have." - shared Balfe. 
---
In 2013, she landed a role in Now You See Me, where she starred alongside such heavyweights as Michael Caine, Morgan Freeman, Mark Ruffalo, and Woody Harrelson. According to Balfe, it was another small part, but she got a chance to spend three weeks watching renowned actors.
Later she joined Escape Plan (with Sylvest Stallone and Arnold Schwarzenegger) and Jodie Foster's film Money Monster (with George Clooney and Julia Roberts). Her latest work outside Outlander is Ford v Ferrari (Le Mans '66), where she worked alongside Christian Bale and Matt Damon. The movie received 4 Oscar nominations and won two awards.
---
15. SHE HAS FOUR GOLDEN GLOBE NOMINATIONS 
During the last 4 years, the actress received 4 Golden Globes nominations for Best Actress in TV Series-Drama (in 2016, 2017, 2018, 2019). Unfortunately, Balfe hasn't taken an award home yet, but we have no doubts that one day she will! 
Her role of Claire Fraser helped the actress win other prestigious awards including a BAFTA Scotland, two Saturn Awards, People's Choice Awards, TV Guide Awards, Irish Film, and Television Awards and Women's Image Network Awards. 
---
14. SHE COMES FROM A LARGE FAMILY
Balfe grew up in a large catholic family outside a small Irish village Tydavnet, County Monaghan. According to her, it's a tiny place, and there are just one church, one school, and two pubs. The actress has 6 siblings, and, as Balfe jokes; she's the only one who doesn't have a "real" job. 
What are her most precious memories? The actress shared that her mother makes 'the best brown bread in the world.' When Caitriona and her brothers and sisters were kids, their mother served bread with marmalade. As Balfe recalls, it was like breakfast in bed.
---
13. SHE LIVED IN DIFFERENT COUNTRIES AND LOVES TRAVELING 
Balfe left Ireland at 18. During the beginning stage of her modeling career, she lived in Paris for 2 years. Then she moved to the US where spent 12 years in New York and Los Angeles. Presently, the Irish star lives with her husband (about him we'll tell you a bit later) much closer to her homeland - in Glasgow, Scotland.
---
Some of her siblings live in London so they have an opportunity to spend more time together. Another interesting fact about the actress is that she's a sophisticated traveler. During a quarantine live interview, Balfe was asked about her favorite places she's traveled to.
The Outlander star told viewers that it's hard to pick just the one! She mentioned Nepal (which is beside her absolute favorites), Costa Rica, Italy, France, Argentina, Brazil. 
'The world is a beautiful place and I miss traveling. And once we'll be done with this [covid], it'd be really nice to go travel again', - the actress said.
---
12. SHE KNOWS A VERY RARE LANGUAGE
The Outlander star speaks several languages, including French, Italian, and... Gaelic! She's the only one member of the cast who knows the Irish language. Unfortunately, she doesn't need to use it because her character is an Englishwoman. Luckily, during the filming of Season 2 of the series, she got to show off her French skills.
---
11. PEOPLE OFTEN MISPRONOUNCE HER NAME
No one likes it when their name is mispronounced. Caitriona Balfe admits that she's become used to it as it is a popular occurrence. Lots of people call her "Ky-troi-na" and once her name was pronounced as "Kal-tro-nia"! 
In 2017, during an interview with Stephen Colbert, the actress said that her name Caitriona, as we know it, is a simplified version. Initially, there was "a fada" (a little accent) on the second "i." But she decided to drop it to simplify the pronunciation for Americans. 
---
10. SHE CARES ABOUT CHARITY
Caitriona is a proud patron of World Child Cancer. The actress released a few T-shirts campaigns inspired by Outlander to support the cause. She also raised over $41,000 for World Child Cancer during her first marathon in London!
---
In 2018, the actress, accompanied by her sister Anne-Marie, ran Virgin Money London Marathon, her first marathon. She finished it in 4 hours and 47 minutes. Her co-star Sam Heughan supported the actress online while watching the marathon streaming with her cat Eddie. 
GO @caitrionambalfe !!!!!

Eddie and I watching, with our feet up... 🐱 🏃‍♀️
good luck everyone running @LondonMarathon #LondonMarathon18 pic.twitter.com/2Or2uFlvTw

— Sam Heughan (@SamHeughan) April 22, 2018
'That was the most intense, amazing, horrible and fun experience .... Marathons are a fun day out but they are also how people show love and support and remembrance' - Balfe shared on her Instagram.
---
9. SHE HAS A CAT NAMED EDDIE
As we mentioned before, the actress has a cat. Her name is Eddie, and she's already a 16-years-old madam. In the interview with Collider Balfe, Eddie was born in Brooklyn, NY, and lived with her in LA, and then she had to travel to Scotland.
"She is a well-travelled cat" - the star jokes.
---
8. SHE MARRIED MUSIC PRODUCER TONY MCGILL
If you were amongst those fans who hoped to see Caitriona Balfe and Sam Heughan dating in real life, we have to disappoint you. Last year Caitriona married her fiancé, music producer Anthony McGill. Before that, Balfe and McGill had been dating for two years and got engaged in 2018.
---
The actress confirmed the news on the Golden Globe red carpet. The couple tied the knot in August 2019, during a ceremony in Bruton, Somerset, in the United Kingdom. The happy newlywed Balfe said:
'I managed to squeeze it in on the weekend during production, but it was beautiful, and I had all my close friends and family there.'
---
The actress also added that she feels fortunate because she's found someone who makes her very happy. And what about Sam Heughan? Fans assumed that the actor attended the ceremony. He marked their wedding day with a special Instagram post captioning it 'Remarkable weekend. ☂️💞🍾🎊'. 
---
7. SHE FOUND NEW FRIENDS ON THE SET OF OUTLANDER
Caitriona Balfe explains that she and Sam Heughan enjoy each other's company, and she feels fortunate to have such great alchemy with him on set. 'Sam and I are great mates" - she said. And when she was asked about whether Sam Heughan is annoying, she stated:
'He's annoyingly perfect, he's an annoyingly nice person. And also he has boundless energy.'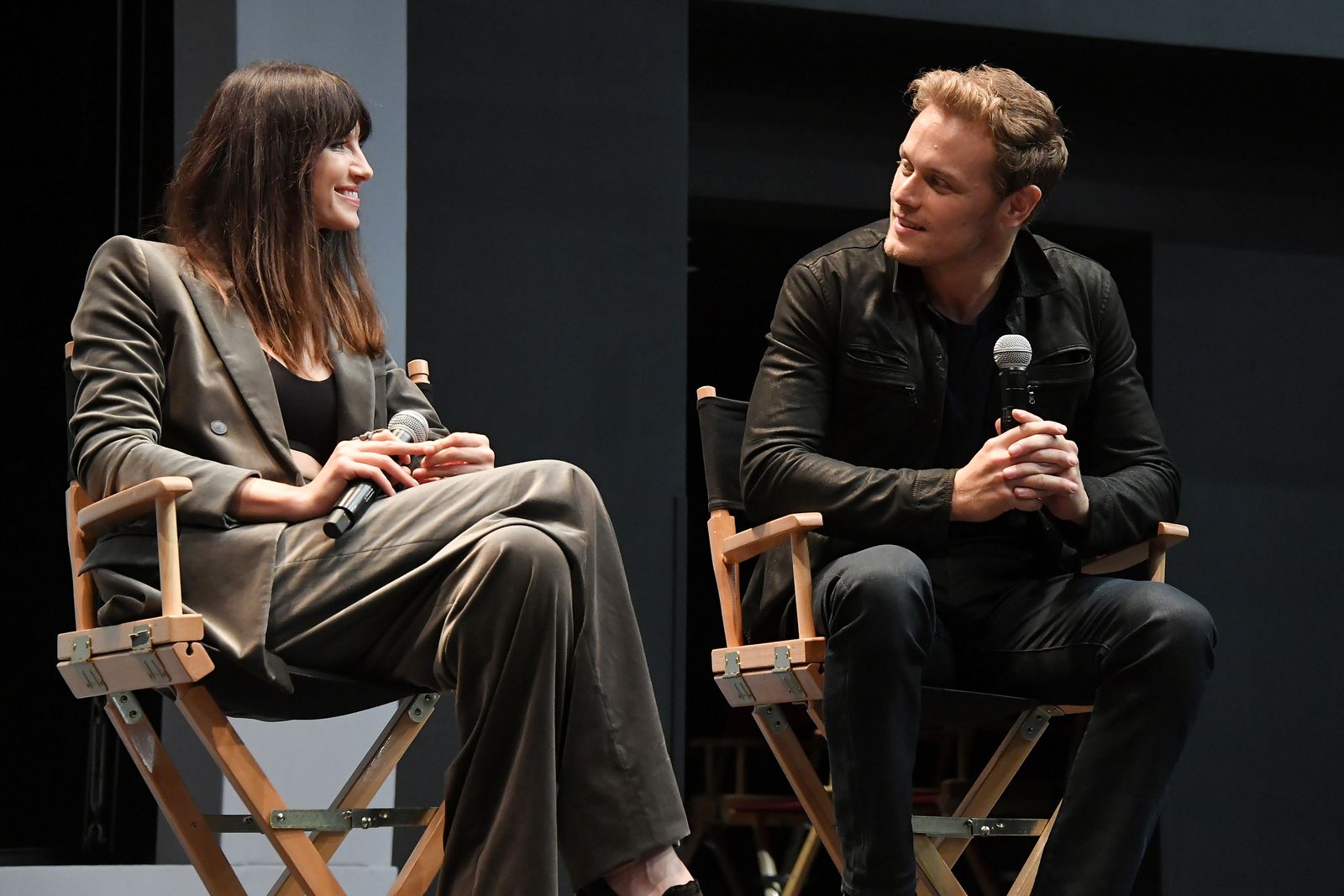 ---
At the same time, Heughan admits that he and Balfe know each other well as they've been working together for six years. He compares Caitriona with a family member: "She's like my sister and tells me exactly what I'm doing wrong, and I need to know these things!". Oh, how sweet...
But how about Tobias Menzies, who played Claire's husband from 1940's Frank Randall and on-screen enemy Jonathan Randall? Balfe recalled him as an incredibly talented actor, with whom she had a good laugh on set:
'He is so lovely, he is quite goofy.'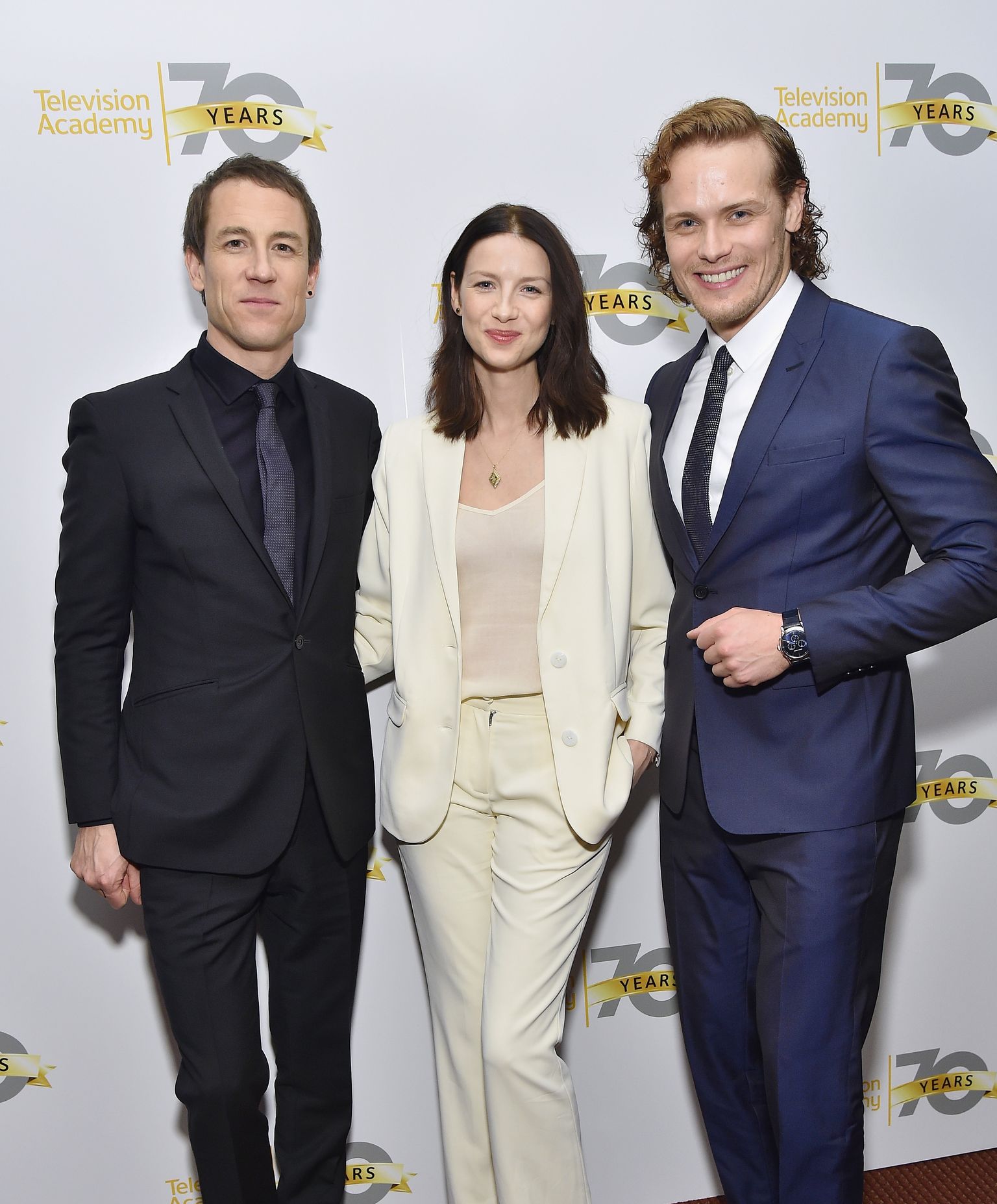 ---
And the last one: what about her on-screen daughter Brianna aka Sophie Skelton? The actress shared that Sophie is an awesome young actress, and she loves this girl. What do they have in common? Yoga! Yep, the actresses often go to yoga together. 
---
6. ACTING IS NOT HER ONLY AMBITION 
We reckon that acting in Outlander is only the beginning for Caitriona Balfe. As you might know, she and her co-star Sam Heughan took on producer roles while shooting Season 5. In fact, they will be continuing the hard work for next season. 
"If it is good, we will take full credit. If there are any complaints, don't call us," Balfe jokes about their new positions.
---
The actress was pleased with such a great chance to see how different departments work behind the scenes. According to her, just being a part of production meetings and listening to everyone's input has been eye-opening. 
Is there a limit for Balfe? It seems there isn't! The actress stated, she'd love to be a deeper part of this great show. For example, to start directing soon, and the writing part is interesting for her as well! For now, she's trying to absorb as much as she can from others. 
'There's a confidence that comes with watching other people doing it day to day and learning from them. You feel like, Oh, I can do it." - she says.
---
5. SHE HAD HER OWN 'SARAH JESSICA PARKER' MOMENT 
Do you remember the opening scene from Sex and The City, where Carrie Bradshaw (Sarah Jessica Parker) was so shocked by a bus with her portrait on it that she had that famous fall in a puddle? Almost the same story Caitriona Balfe had!
As she shared with TODAY, once she was standing at the street and then the bus with Outlander pictures went by:
"And I was "Oh God, that's me. Thankfully, there were no puddles and I didn't get wet". 
---
4. SHE HAS HER OWN RECIPE FOR SUCCESS
What stands behind Balfe's success? The Irish star emphasizes that during her life, she understood one important thing: we shouldn't be afraid of our goals. People don't experience success due to a special magic source. While some might allow their fear to stop them, other people are proactive and create opportunities. 
"We can do anything. The difference between successful people and not successful people is not some magic equation, it's people who actually do'. - said Balfe. 
---
3. SHE ENJOYS READING
The actress Maria Doyle Kennedy, who played aunt Jocasta in Outlander, said that you could always find Caitriona Balfe on set with a book.
"She's a ferocious reader," - Maria explained. 
---
Balfe admits that it would be lovely to lock herself away and just read for a month. When she was a kid, the actress didn't have a television at home, so she found her main entertainment in a bookcase. During the quarantine live, she said that when she was a teenager, she'd read Wuthering heights multiple times. 
It was an incredibly special book for that period of her life. However, she has one more recommendation for fellow bookworms: when the actress was asked about her favorite non-fiction book, she mentioned Legacy of Ashes: The History of the CIA. 
---
2. SHE WASN'T AN OUTLANDER FAN. AT FIRST
When Caitriona sent her self-tape for the Outlander audition, she barely understood anything about the show. The actress didn't know that there is a whole book series about Claire and Jamies' love story. The plot of the show sounded pretty silly to her: "Time-travelling bodice ripper? Eh."
"I didn't realise how many books had sold and how die-hard the fans were'. - said Balfe.
---
But when the actress received the second invitation from the casting team, she went straight to her local bookstore to pick up a copy of the book. Did she like it? Balfe admits: when she read a book, she loved Claire!
'She is an incredible, strong female character who's not only incredibly intelligent and passionate. But even for her time, of the 1940s, she is very modern, very forward-thinking'. - added the actress.
---
Interestingly, some of her siblings enjoyed the book series as well. Caitriona shared that one of her sisters is an avid reader; so, within 3 months, she had read all of Diana Gabaldon's books about Outlander and kept giving her spoilers about the plot!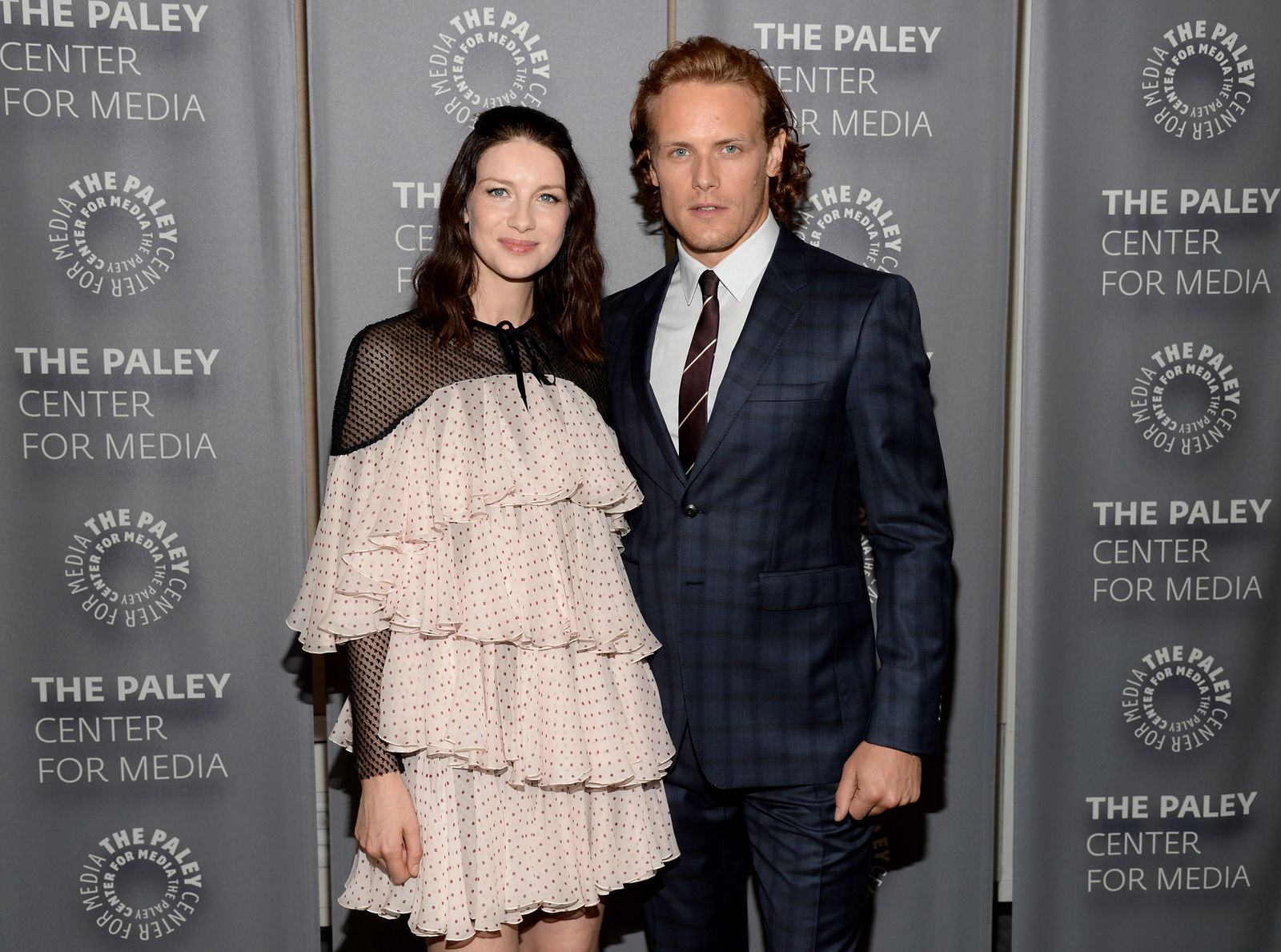 ---
The actress has since fallen in love with the story and states that there is a lot of fun in the series. She also appreciates that it includes the exploration of feminist themes: patriarchy, women's need to control their own reproductive choices, etc.
In terms of the similarities between Caitriona and Claire, the actress assumed that they share some qualities: 'She is slightly stubborn. A little bit headstrong. So I really enjoyed that part of it too'.
---
1. SHE DOESN'T LOOK LIKE CLAIRE FROM THE BOOK SERIES
If you're not a huge fan of Outlander books, you might be a little bit surprised. The author of the series Diana Gabaldon confessed Caitriona doesn't look anything like her fictional Claire. For example, Caitriona is taller than Claire, she is model-thin, and doesn't have curly hair.
---
Moreover, some fans even complain that the Irish actress seems sort of sullen and humorless. Anyways, Gabaldon is sure that Balfe does a beautiful job with Claire. As she shared in the interview with Entertainment Weekly:
'She is different than the book, and that's because most of what you find funny about Claire is the things she's thinking, and you can't do that on a show without constant voiceover'.