Outlander: Audition Tales From Behind-The-Scenes
Outlander has been running for 5 seasons and with every season, it keeps getting better. One of the reasons why the show is so great is because of the cast; each character is portrayed perfectly and there is a synergy between cast members. But how were they cast? Let's take a look at the casting stories from behind-the-scenes.
---
1. SAM HEUGHAN WAS THE VERY FIRST ON THE CAST
The producers of Outlander were sure that they would find the actress who'd play Claire before discovering their prince charming Jamie. However, in reality, things took an opposite turn when they viewed Sam Heughan's audition tape. Executive producer Ronald D. Moore was immediately convinced that the star was perfect for the role.
"I watched the tape and sure enough, I was like 'Oh my God, there he is. That's him so let's grab him now.'"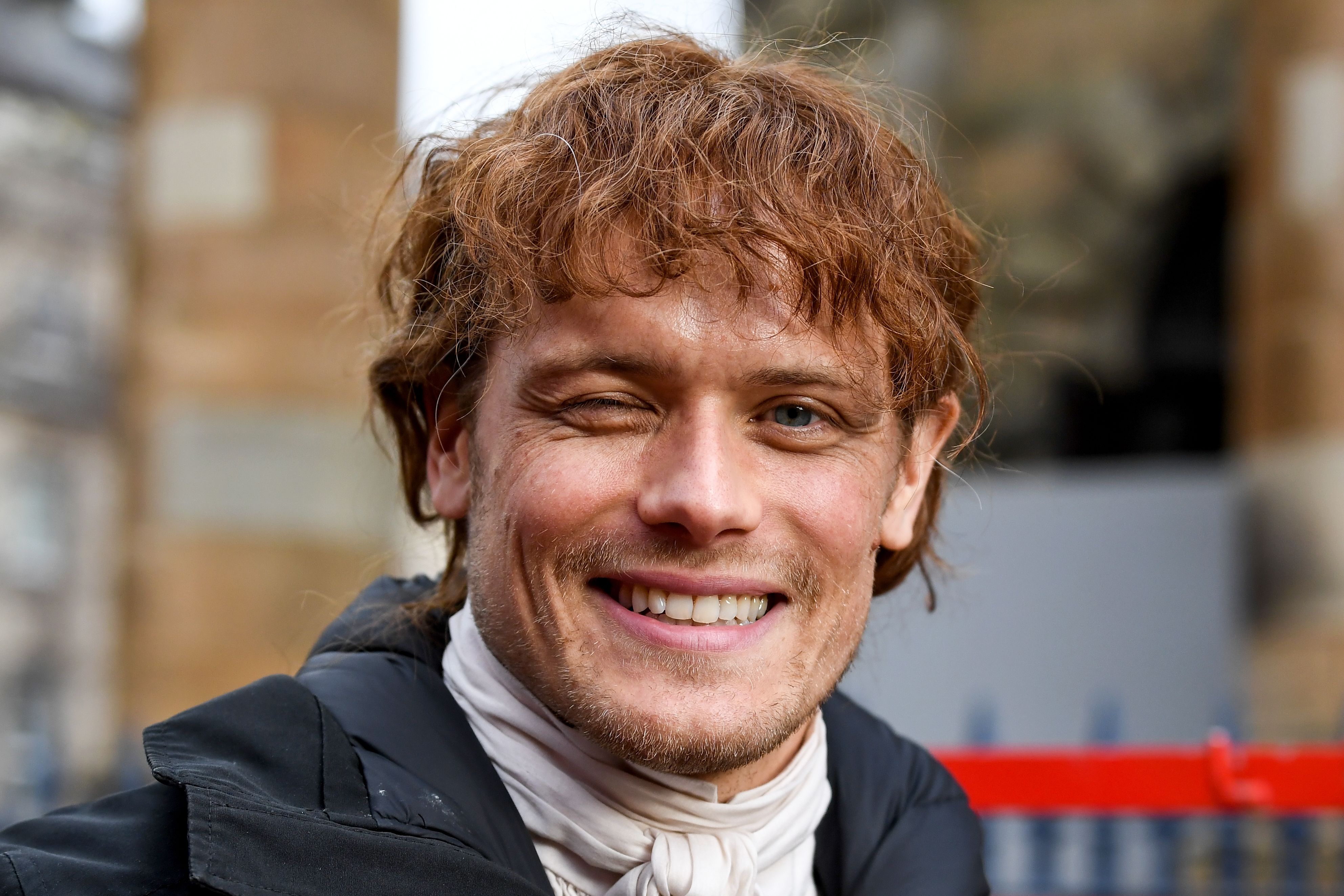 ---
In preparation for his audition, Sam had to learn 21 pages of the script over a weekend and he also read the Outlander novel. And so, Sam became the first addition to the cast. Co-executive producer Maril Davis was impressed with his charisma and charm; it solidified his ability to take on such a charismatic character.
Maril stated: "Sam is naturally very charming and in some ways has a lot of Jamie there."
---
2. SAM DIDN'T IMPRESS THE OUTLANDER AUTHOR AT FIRST
After viewing pictures of Sam, Outlander author Diana Gabaldon was not impressed. It's hard to believe that she thought of the actor as "grotesque." He didn't have any good pictures of himself on the internet and it almost lost him the job. Diana stated: 
"I was driving from Santa Fe to Phoenix at the time, so I couldn't watch them right away, but I was Googling Sam Heughan and looking at his IMDb photos, and I thought, He looks grotesque! What are you thinking?!"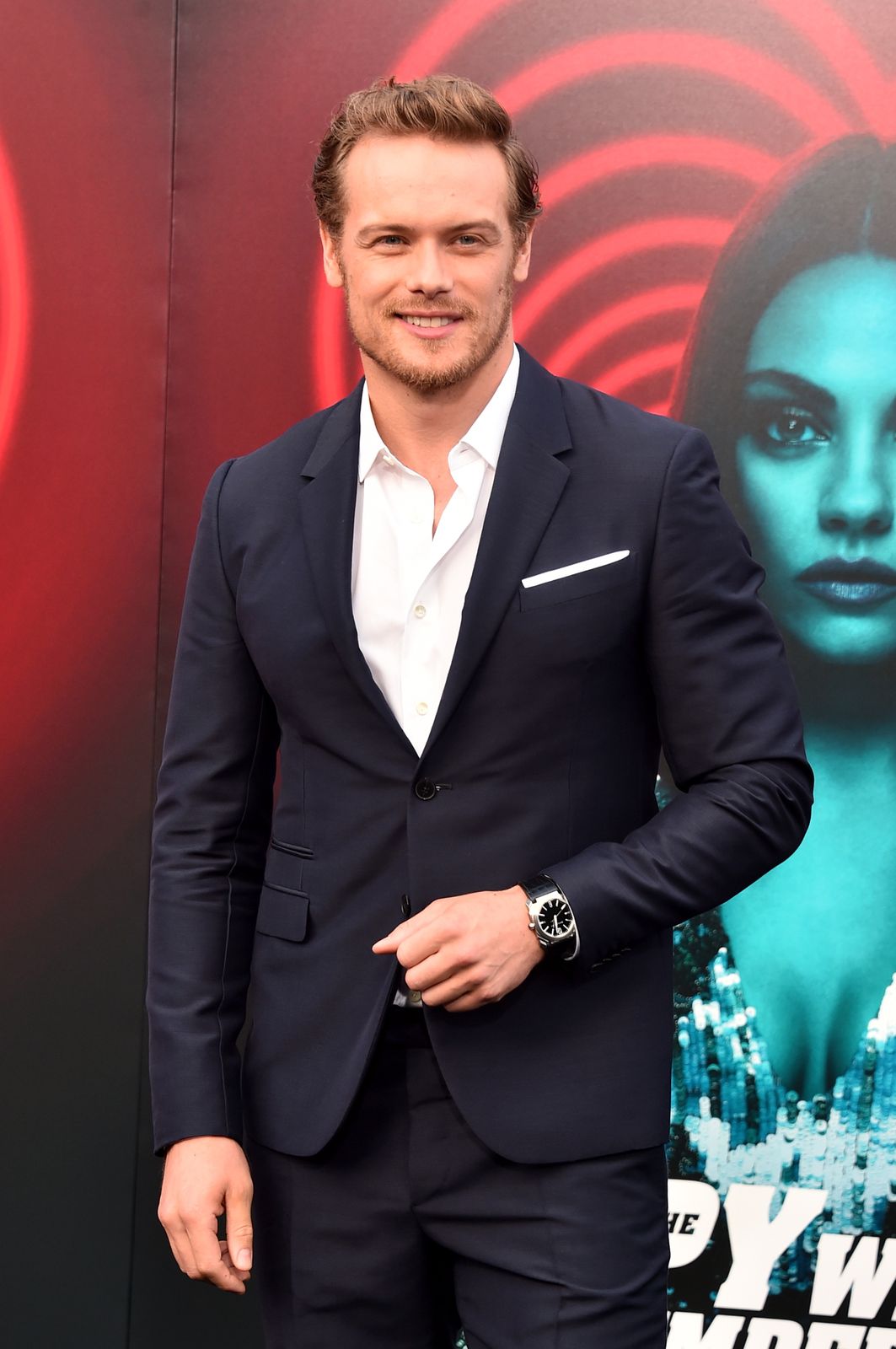 ---
Thankfully, Sam changed her perception when she watched his screen test. And now, we all can't imagine anyone more perfect than Sam Heughan for the role. Diana can't either - in a description of how she felt about seeing him audition, she said:
"..The audition gave me goosebumps absolutely...I watched it over and over and it measured up every single time."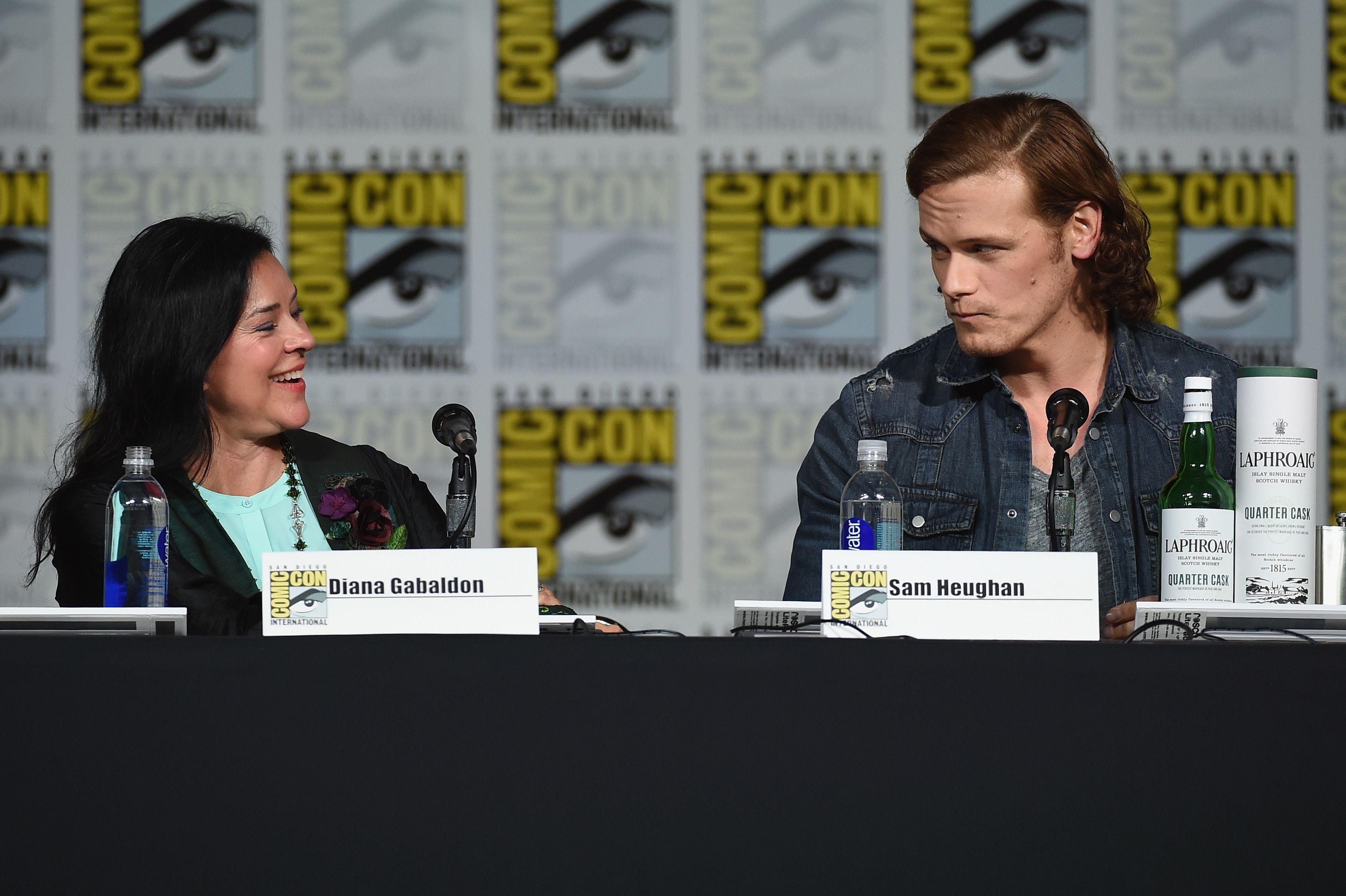 ---
3. LIAM NEESON AND SEAN CONNERY WERE CONSIDERED FOR JAMIE'S ROLE
When Diana was approached about a film adaptation of her novel, Liam Neeson and Sean Connery were strong contenders for the role of Jamie. So, it's quite understandable why she was apprehensive when Sam Heughan was made a suggestion, they all have different looks.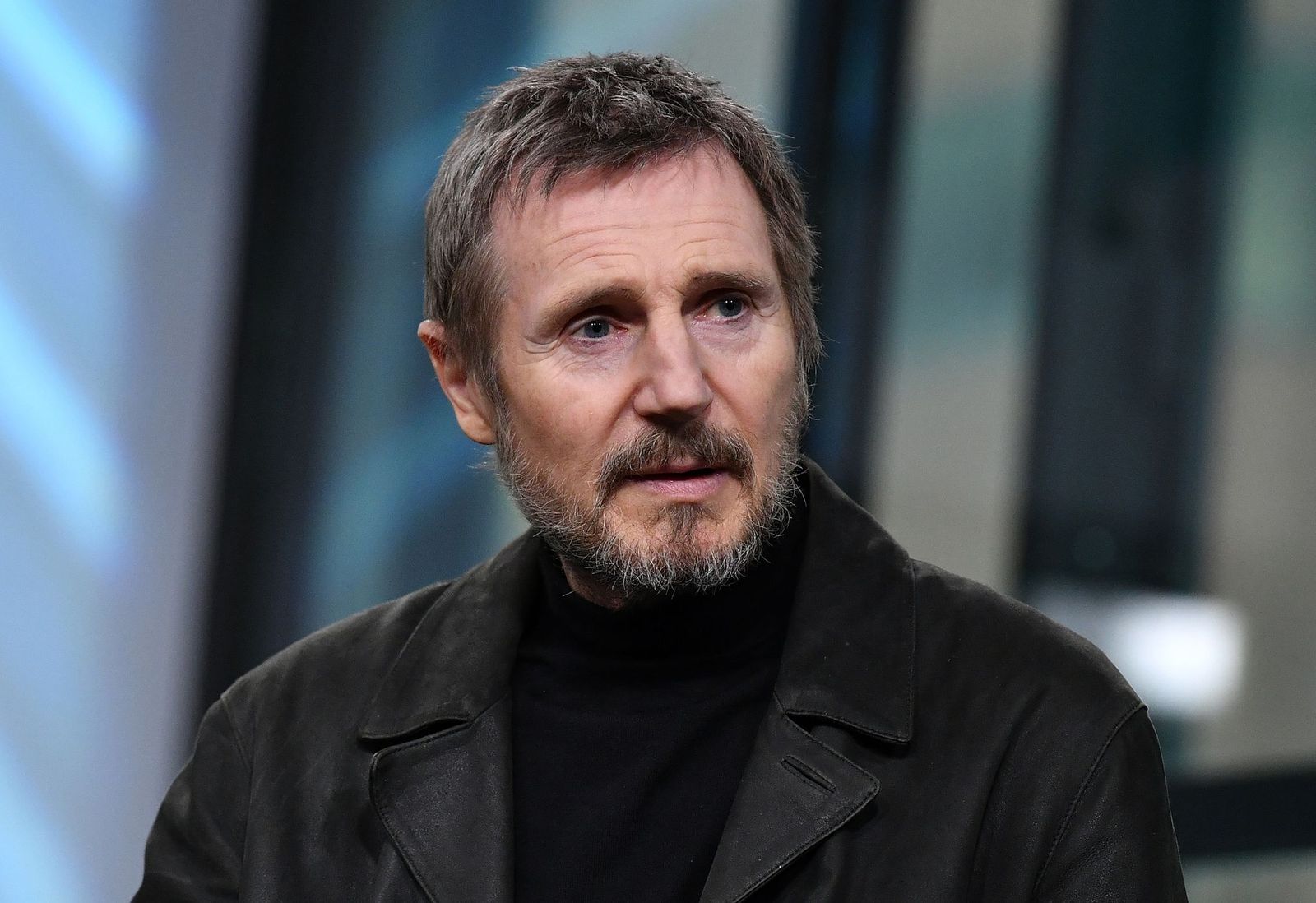 ---
Fans of the novel have developed their own thoughts about what the actors of Outlander should look like, but what does the author think? Gabaldon stated:
"People say, 'Do Sam and Catriona Balfe look just like your imagination?'" Gabaldan muses, "And I'm like, 'Well, how could they?' But they don't need to. What an actor does is magic."
---
4. OUTLANDER COULD HAVE BEEN A KATHERINE HEIGL FILM
Before it became a television series, Outlander was in the pipeline to become a feature film starring Grey's Anatomy alum Katherine Heigl as the beloved Claire. In 2010, The New York Times wrote a profile article on Katherine and gave a clue that she that Outlander might be her next movie.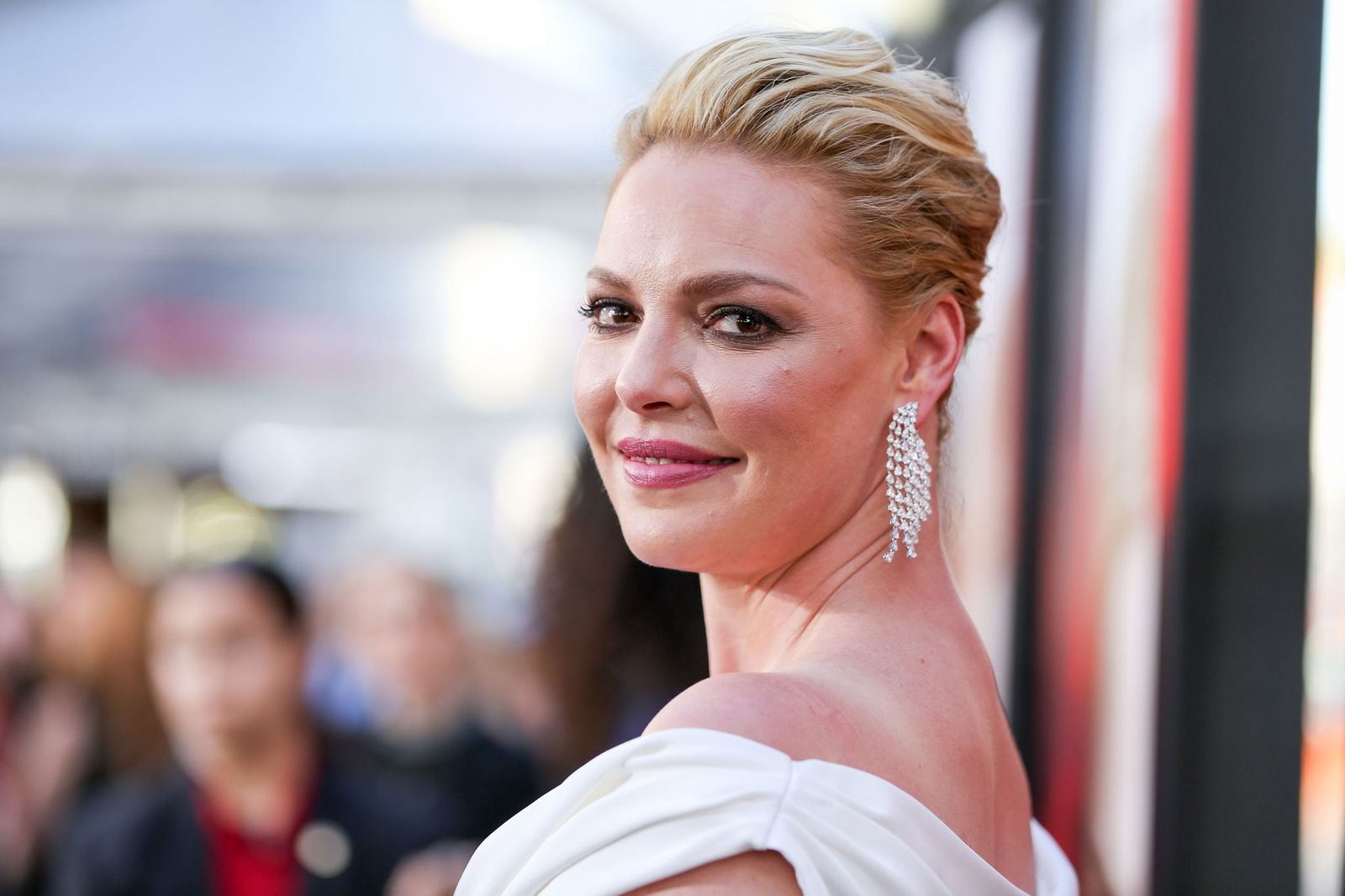 ---
Maybe there is still some hope that Katherine will take up the challenge and give us a fresh adaptation of Claire on Outlander. In The New York Times Interview when she asked whether she will do it, she simply responded: "Scotland? 2012? What do you think?"
Well, it's 2020 and even though there seems to be no prospect of this actually happening, we're still intrigued as to how she'd play the role of Claire. If we don't get the feature film, a cameo or a short storyline involving Katherine would also be quite appealing. Who knows, anything is possible.
---
5. A GREAT SCARLETT O'HARA SEARCH
The closer the producers got the production of Outlander, the more nervous they became about whether they would find Claire. Caitriona's audition tape came in right in the nick of time. The actress had submitted a tape she made herself and thereafter, she participated in a screen-test with Heughan which proved to be successful.
'Once we cast her, she was on the plane to Scotland within a day and shooting like two days later'. -  executive producer Ronald D. Moore admitted.
---
If it wasn't for one line, Caitriona might not have landed the job. During a testing scene from the pilot episode when she's on a horse with Jamie who happens to be injured. She says, "Help, stop, he's going over". Ronald recalls this moment as an eye-opener:
"We heard that line so many times we wanted to cut it from the show," Moore said, "but when Cat did it, we all just suddenly were engaged in the scene again, and we all just went, "oh my g*d, there she is, that's Claire." 
---
6. CAITRIONA BALFE IS DIFFERENT FROM CLAIRE
If you've read Outlander then you might have an inkling that Caitriona looks nothing like Claire. Caitriona is 5ft 10 and Claire 5ft 6 and curvaceous. Caitriona is also a bit more serious than the novel's heroine; Claire had a bit of a sense of humor. However, Caitriona does admit that she adores Claire.
 "She is an incredible, strong female character who's not only incredibly intelligent and passionate. But even for her time, of the 1940s, she is very modern, very forward-thinking."
---
Caitriona does a stellar job of portraying Claire and the difference stem from Claire's thoughts and you can't depict thoughts through the series all the time. But regardless of how significant the differences are, the two do share some similarities.
 "She is slightly stubborn. A little bit headstrong. So I really enjoyed that part of it too."
---
7. TOBIAS MENZIES'S FACE SHAPE CHANGED
The most challenging aspect of Tobias's role in the show is that he had to play two characters - Frank Randall and Jack Black. David Brown, a producer of the show, remembers Tobias's first scene as Jack Black:
"It was as if he was a different actor. He'd somehow been able to change the shape of his face and the furrows on his brow and on his cheeks, by becoming Black Jack. "
---
Without a doubt, Tobias is a talented actor. He was able to be dark and devoid but then also show a gentle side. In an interview with ABC News, Caitriona shared a few words about Tobias:
"He gifts such heart to Frank. I think in a book series Franks is a little bit less sympathetic character. But in the show, Tobias really gives him this lovely gentleness and his heart."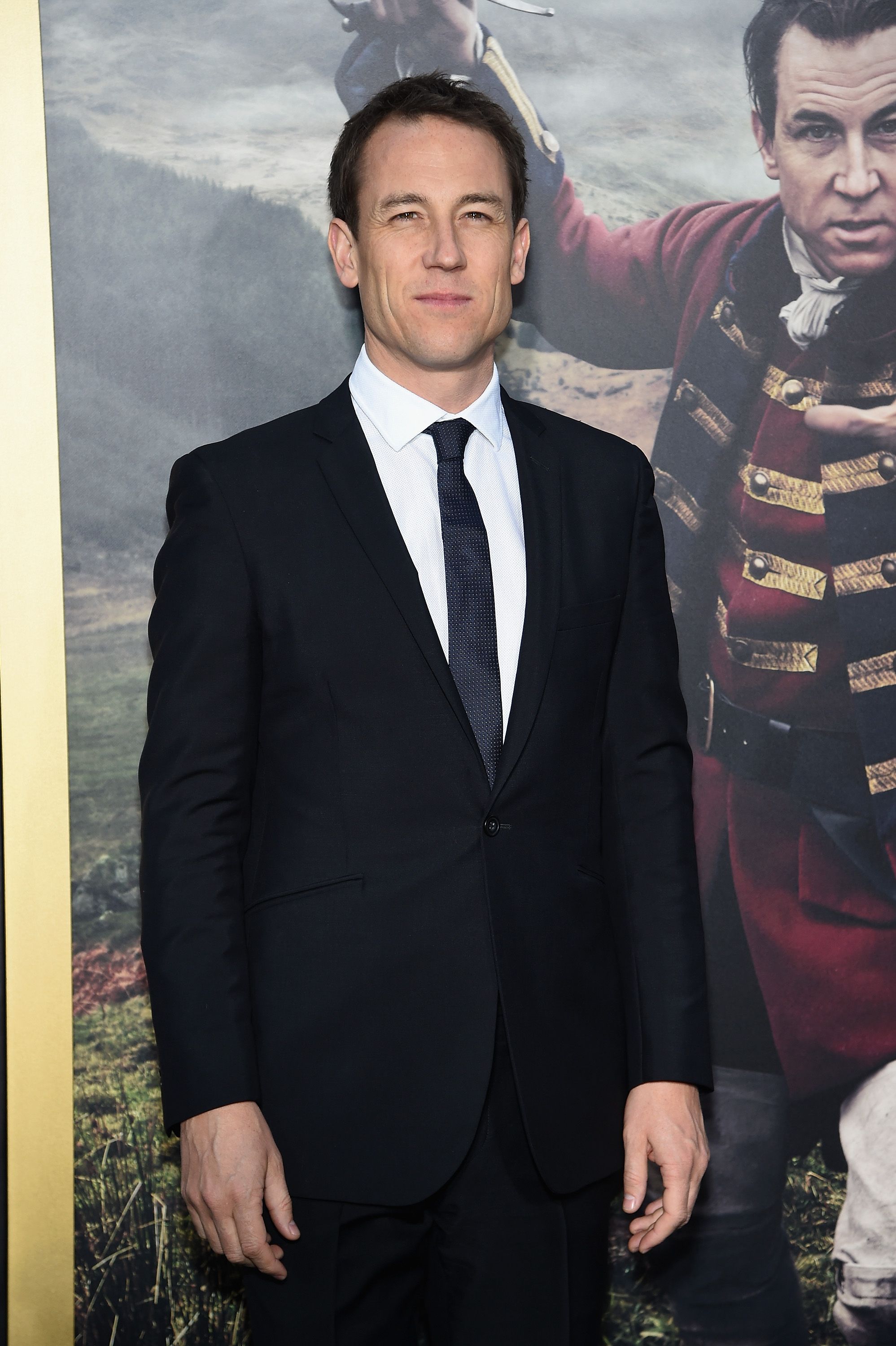 ---
8. SOPHIE SKELTON ALMOST WASN'T BRIANNA
Sophie had auditioned for the part back in 2014 and she received no response for a whole year. She admits that she became territorial over the role and as a result, she was very hurt. The good news is, the producers decided that they wanted to introduce Brianna to the story later in the season. This came as a huge relief for Sophie.
"I was like, 'Oh. Sometimes it can be as simple as that.' You have to have such a thick skin because there are so many cogs turning that you don't know about."
---
9. HOW THE BALLET HELPED SOPHIE SKELTON
The Brianna character has red hair so Sophie's hair had to be dyed in order to match the character. Despite this challenge, executive producer, Maril Davis applauds Sophie on her depiction of the character:
 "We were really blown away by her performance. There was a strength to her and a steeliness, but she was also able to bring some warmth to Brianna that I think is necessary because Brianna is a very strong character."
---
Sophie says the only way to put herself in the character's mindset was to focus on Brianna's physical traits. Sophie looked for qualities from Cait and Sam that she could translate into her character.
 "There's a certain frown that Sam does and a certain movement with the lips that Cait does when she folds her arms. I also grew up doing ballet, and Cait has that same stance, with the straight back."
---
If you didn't know before acting Sophie was a ballet dancer. She's been dancing since the age of 3. When asked if she finds any similarities between the two performative arts, the actress shared that it has equipped with advantages in many ways:
 Even just in terms of stamina. I mean, filming days are so long and intense and happen over and over and over again, and that's one thing with ballet that you really do learn."
---
10. BEFORE OUTLANDER RICHARD RANKIN WAS GOING TO WORK IN IT
Just imagine an alternate universe where Richard Rankin works an IT job and Outlander is not quite as perfect? This was almost a reality because if Richard hadn't decided to be an actor, he would be working in a cozy computer technology job.
---
The actor revealed that his father was not excited about his decision to pursue acting and had a difficult time adjusting; however, his mom welcomed it.
 "My dad was not impressed, but my mom is very liberal, and I think she thought she could have the experience vicariously. But my dad thought it was maybe a passing phase."
---
11. DAVID BERRY GOT A ROLE FOR HIS 'ARISTOCRATIC LOOK'
The actor behind the character of Lord John Grey is actually Australian. During the casting process, there were very few English and Scottish actors available for the role. So, the producers had to