Wildlife at the Chernobyl Exclusion Zone Captured By Camera
It's almost more than 30 years since the Chernobyl nuclear disaster, and things are only now starting to change in the area. Cameras were set up in the exclusion zone for a five-year project to see how wildlife would return. Sergey Gashchak and his team managed to capture some surprising moments of nature. You won't believe the ones caught at night. Let's take a look!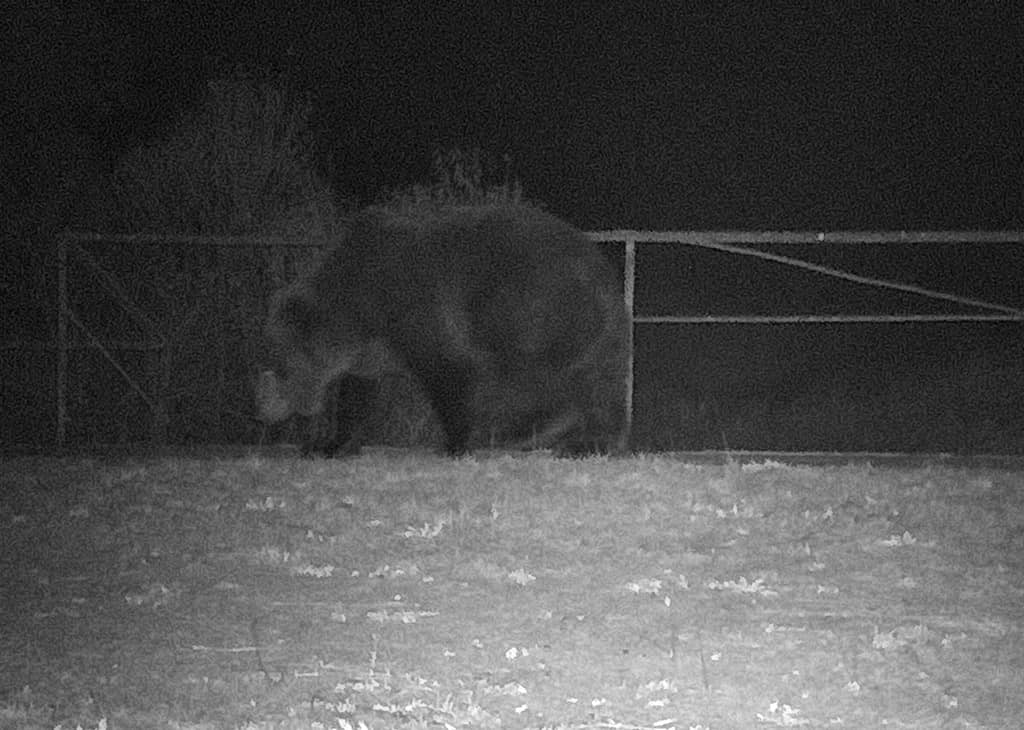 ---
THE PRZEWALSKI'S HORSE WANDERS IN THE NIGHT
We have seen several shots of this horse in daylight, but now, here it is at night. One of the best things about this situation is that hunting is illegal in the CEZ, and only a few people live there at all. However, it's not recommended to do so. The disaster presented a new opportunity. It's rewilding an area that was full of humans more than 30 years ago.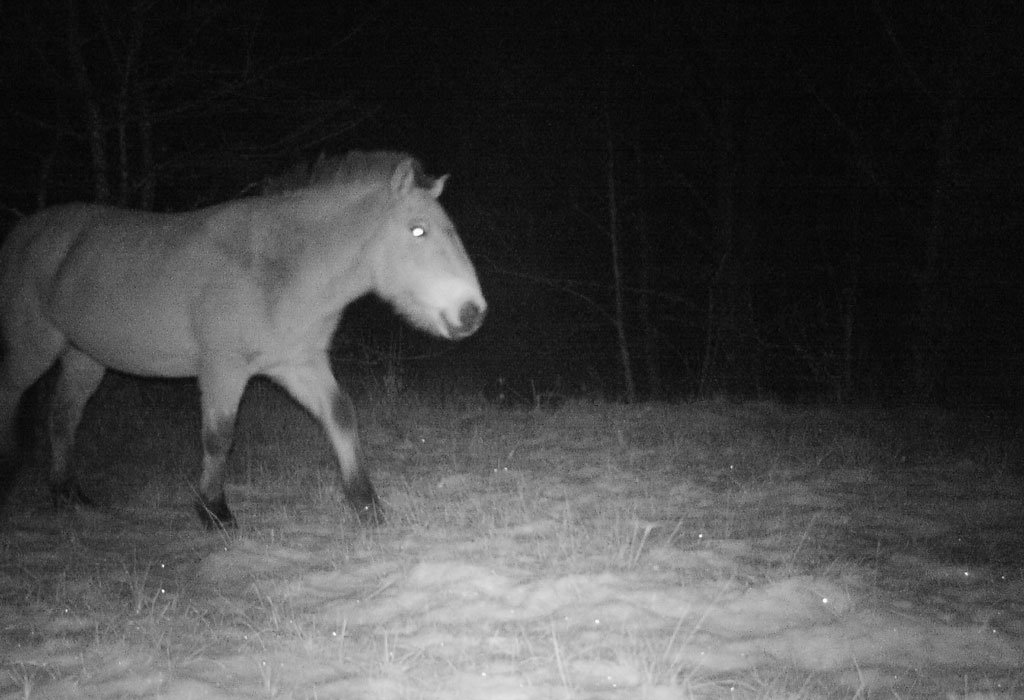 ---
THE EURASIAN LYNX
This picture was taken in December 2012 by the cameras. These cute felines can normally found in several parts of Europe, as well as Central Asia, Siberia, and more. They mostly enjoy being in forest areas with altitudes of 5,500 m.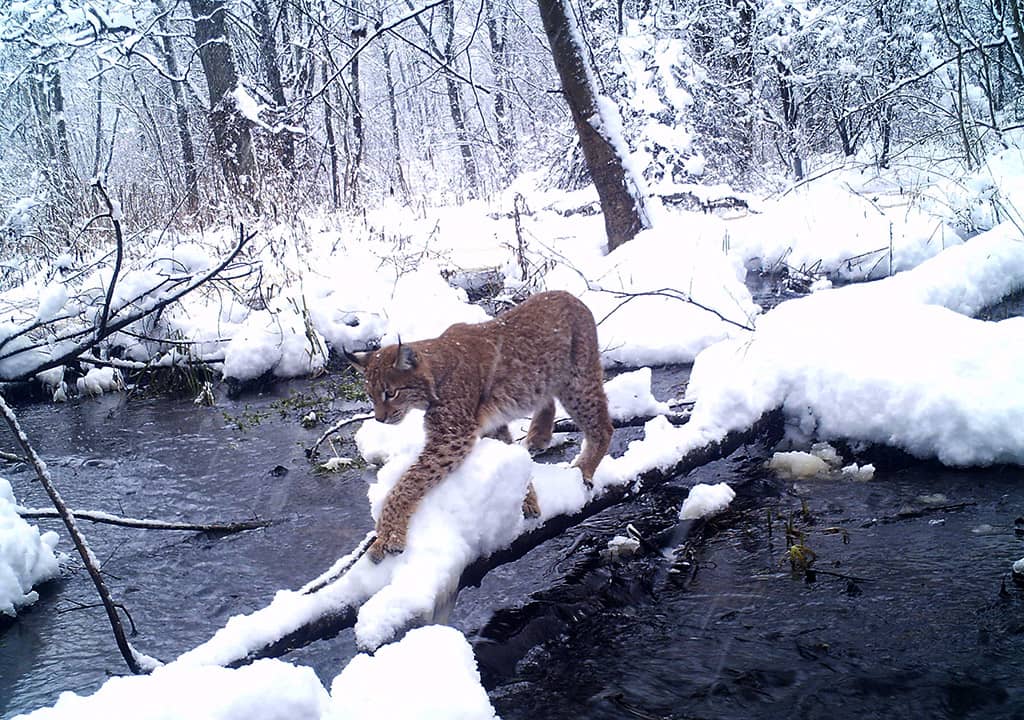 ---
A EURASIAN ELK
This image was taken in April 2013. The Eurasian Elk is more commonly known as moose, and it's the largest of the deer family. Their antlers are much sturdier, and they are heavier. Meanwhile, Beasley saw all kinds of animals during his exploration of the exclusion zone. So, even though biologists don't know exactly how they are being affected, it's clear that they like the area.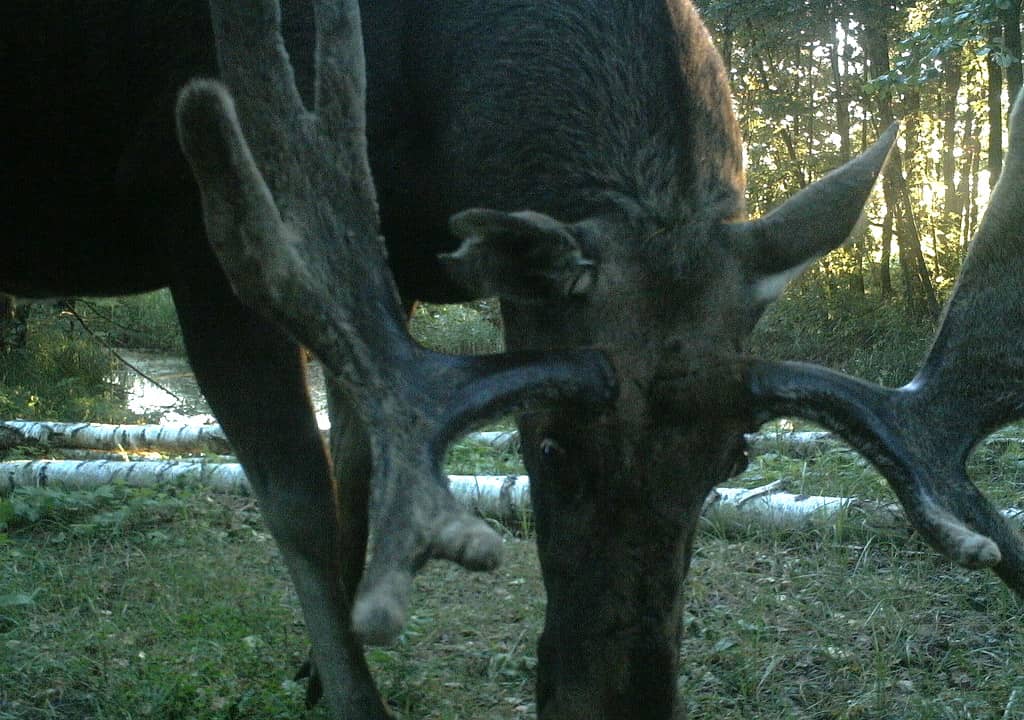 ---
UP CLOSE OF THE BROWN BEAR
This image was taken in February 2014. It seems that many animals have thrived in the area because there is no human activity. But Anders Pape Møller from the University of Paris-Sud thinks that they are in danger. "Even if the actual dose for one hour is not extremely high, after a week or after a month, it adds up to a lot. These effects are certainly at a level where you could see dramatic consequences."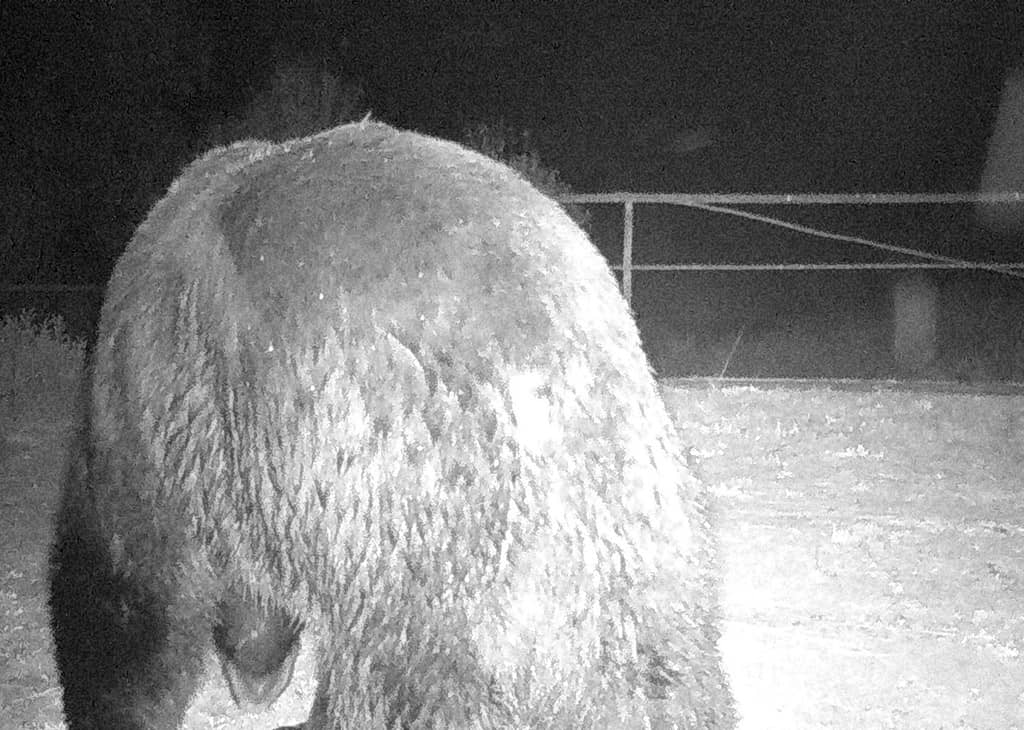 ---
THE HERD OF BISON
This amazing picture shows a herd of bison in the Exclusion Zone. While we have to celebrate that these animals are thriving in the area, we also have to remember the effects of the disaster. The city of Pripyat was affected the most. The leaves of trees turned a rusty color, which is why the surrounding woods were renamed as "The Red Forest".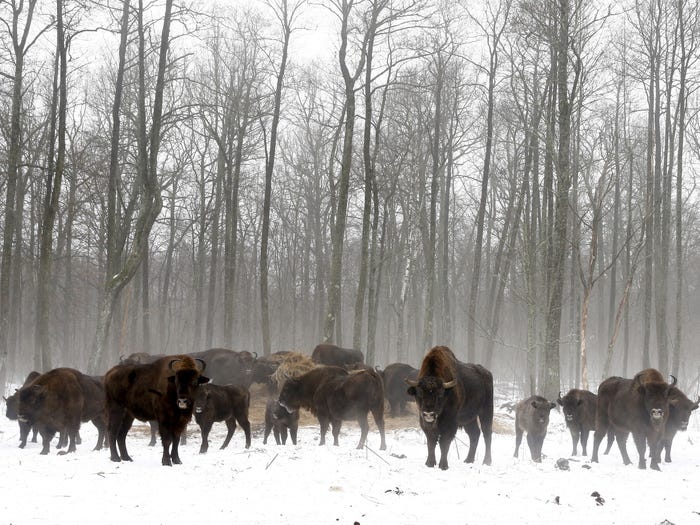 ---
THE PREY
Now, this picture showed what the wolf in the previous image was hunting. It seems like a moose or an elk, as we can see. The picture was taken in December 2013. It's almost weird that while humans completely deserted the area, life went on for animals. Of course, they instinctively stayed away for a long time, but it's now back to normal.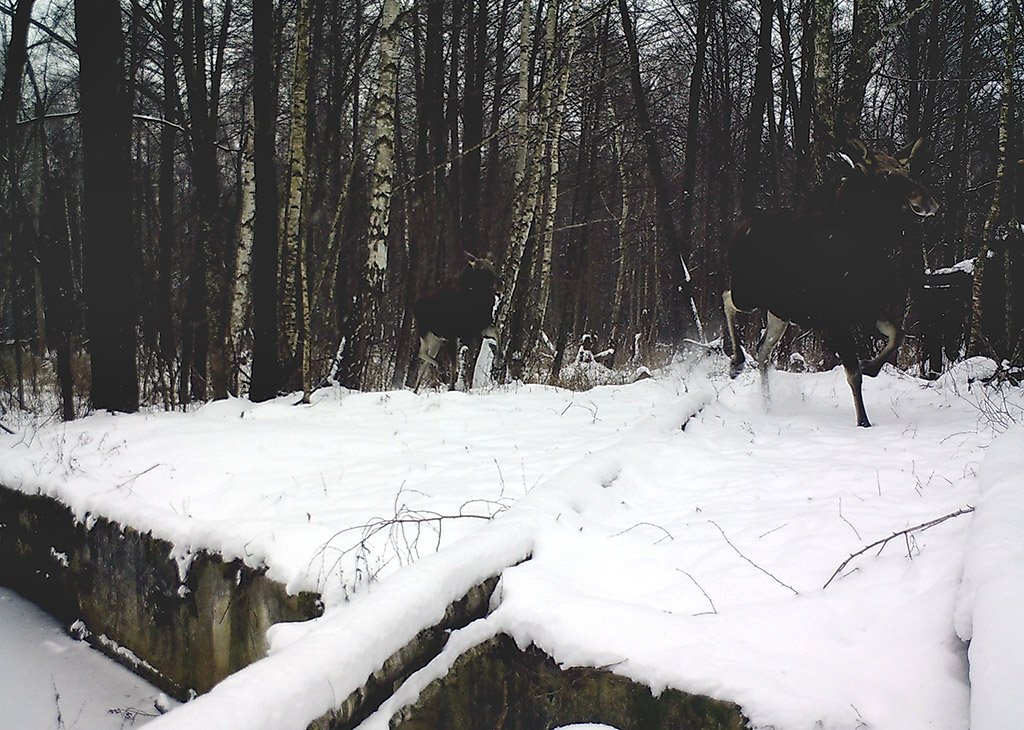 ---
THE WILD BOAR
This image was taken in November 2012, once again by Sergey Gashchak and his team at Chernobyl Center, Ukraine. You might remember that Pumba from Disney's 'The Lion King' is a wild boar, and they look just like the animated movie too. The exclusion zone is right at the border between Ukraine and Belarus, and Beasley was surprised that many mammals have gathered on the Belarusian side.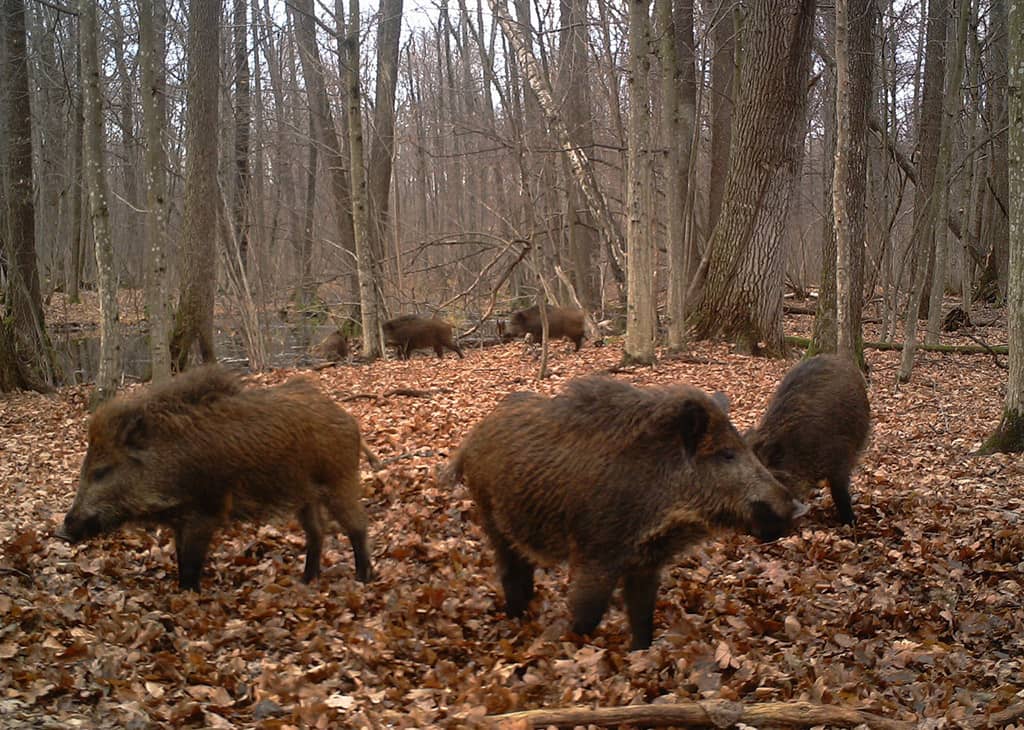 ---
SMILING BOAR
Here we have another wild boar hanging around, and looking right at the camera at night. Interestingly, biologists like Beasley are changing the way they attract animals to the areas that have cameras. They have started using fatty acids, which have a strong smell. When the creatures get nearby, the camera is triggered, and they can see all kinds of species.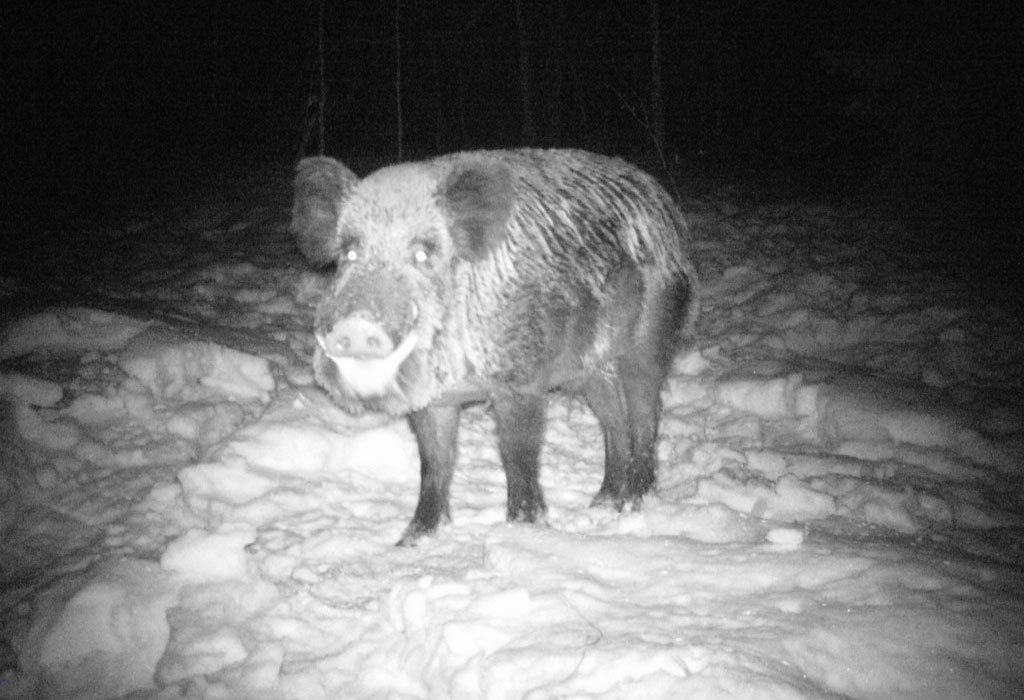 ---
ANOTHER GRAY WOLF FROM EUROPE
This is another picture of the wolves that now roam the Exclusion Zone in Chernobyl, but this one seems to be hunting. They are also known as the Eurasian wolves or Canis lupus. It's a subspecies of wolf that can be found all over the continent, including several parts of Russia. Before the Middle Ages, it was all over Asia and Europe.
---
THE RED DEER
The exact date of this picture was never disclosed, but it was obviously not Winter anymore in Ukraine. This is one of the largest species of deer, and they can be found in Europe, many parts of Asia, including Iran, and more. Meanwhile, it seems that biologists are still wondering if the animals are actually doing great in the exclusion zone, according to Jim Beasley of the University of Georgia's Savannah River Ecology Laboratory.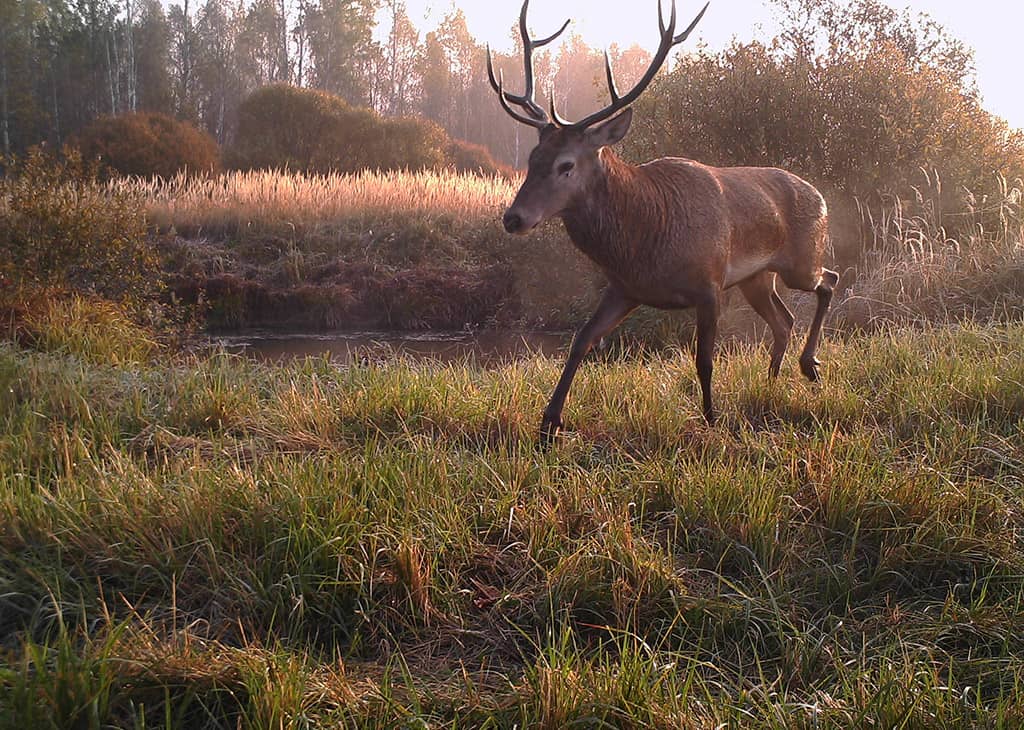 ---
THE RED FOX
This image was taken in August 2014. The red fox is the largest kind of real foxes, and they can be found all over the northern hemisphere. From the Arctic Circle to North Africa and more. Meanwhile, during National Geographic's John Wendle's investigation, one biologist said that he was not going to find birds or any animal. But, that person was wrong.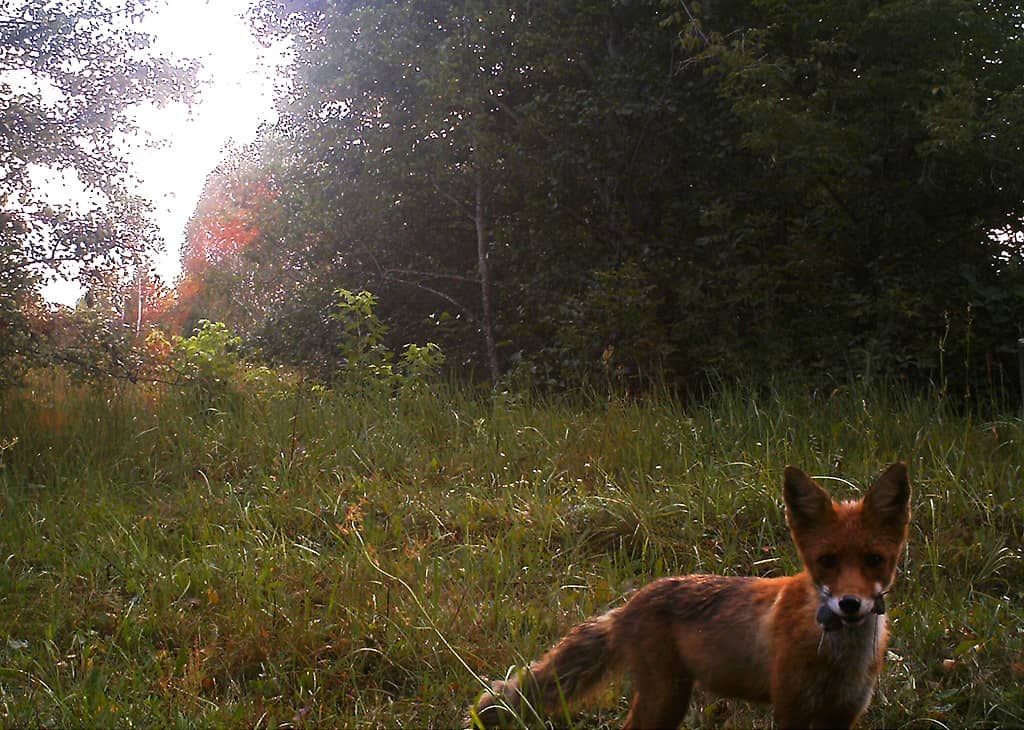 ---
A BABY OWL IN AN ABANDONED HOME
This tawny brown owl, or Strix aluco, has a home in an abandoned house in the city. Since there are no humans around, its momma probably felt completely safe building a nest there. It's probably nearby looking for food. While domesticated animals need a home, the rest are doing pretty well, especially if no one hunts them.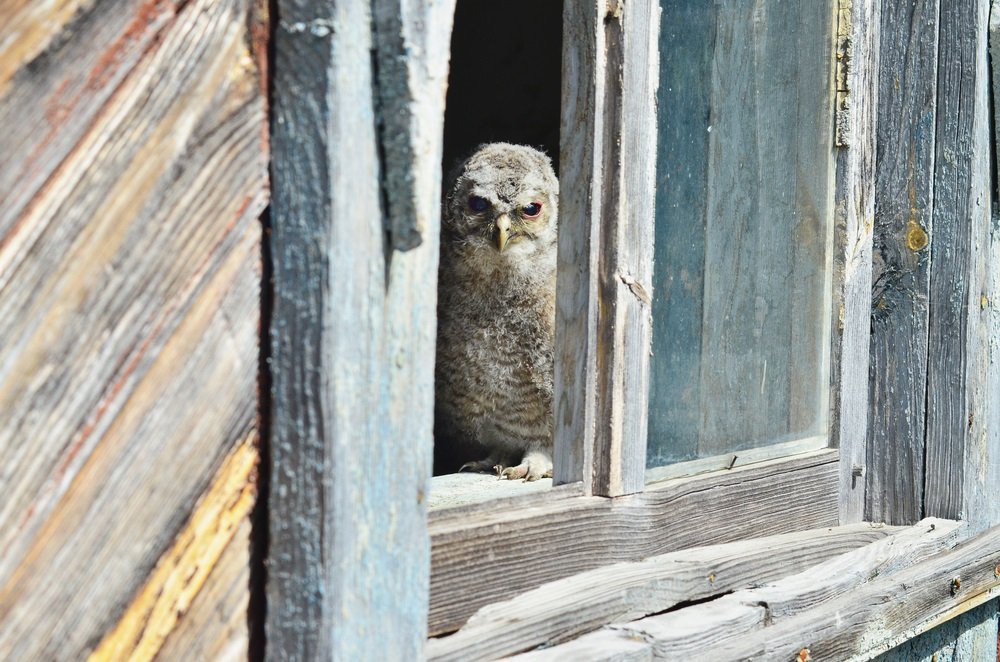 ---
A PRZEWALSKI'S HORSE
This picture was taken in April 2014, and it's another unbelievable sight because these horses were considered extinct in the wild. There were around 200 members of one herd, but poachers reduced them to 60. These are also known as the Mongolian wild horse or Dzungarian horse. The government of Ukraine is currently trying to make the area a nature preserve to stop poaching.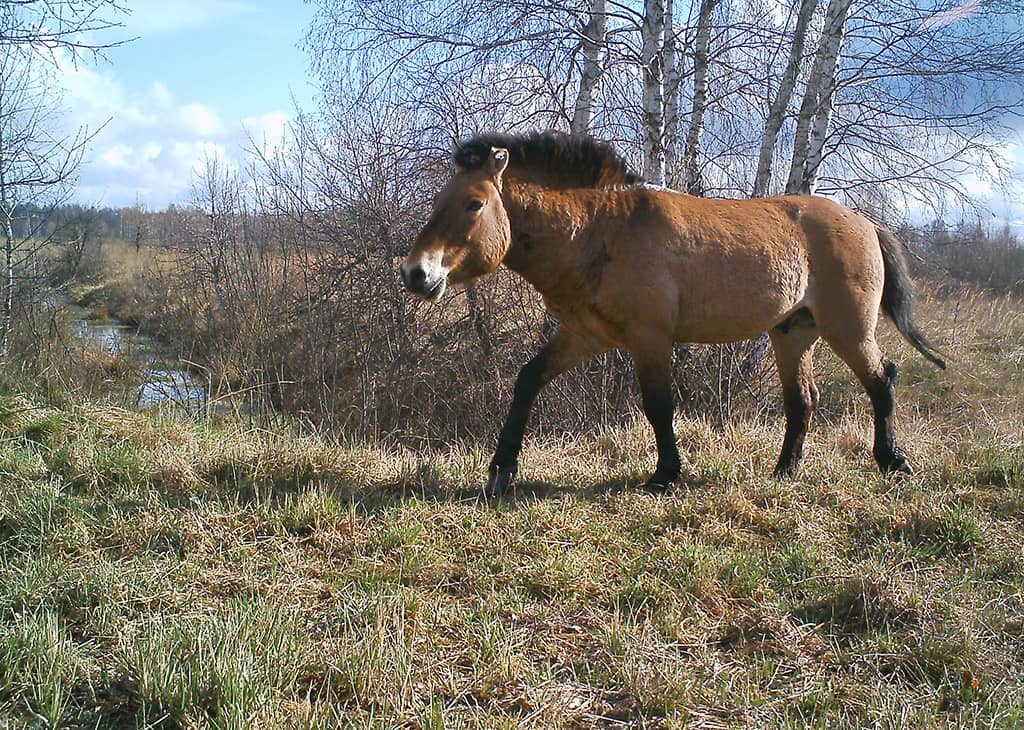 ---
THIS FOX IN PRIPYAT
For the most part, the animals are the forested areas of the CEZ, but this fox is right in the city of Pripyat. It got used to being fed by tourists. The image was taken on July 8, 2018. Some of the foxes in the abandoned area are not afraid of people, and they act like stray dogs. This cutie is taking a little nap.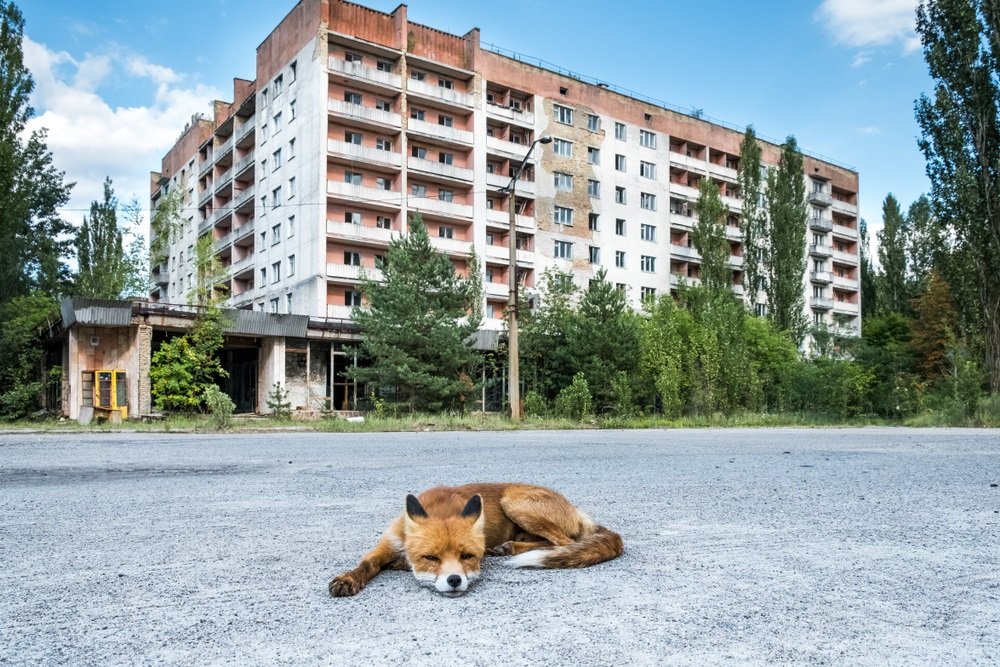 ---
A GOOD VIEW OF A ROE DEER
This is a better image of the roe deer, and it was taken in March 2013. It has been more than 30 years since the disaster, and the woods are finally recovering. Meanwhile, the debate on whether the area is safe or not for these creatures still rages on. Some, like Jim Beasley, published the evidence that disproves some studies that said that animals don't go into the exclusion zone.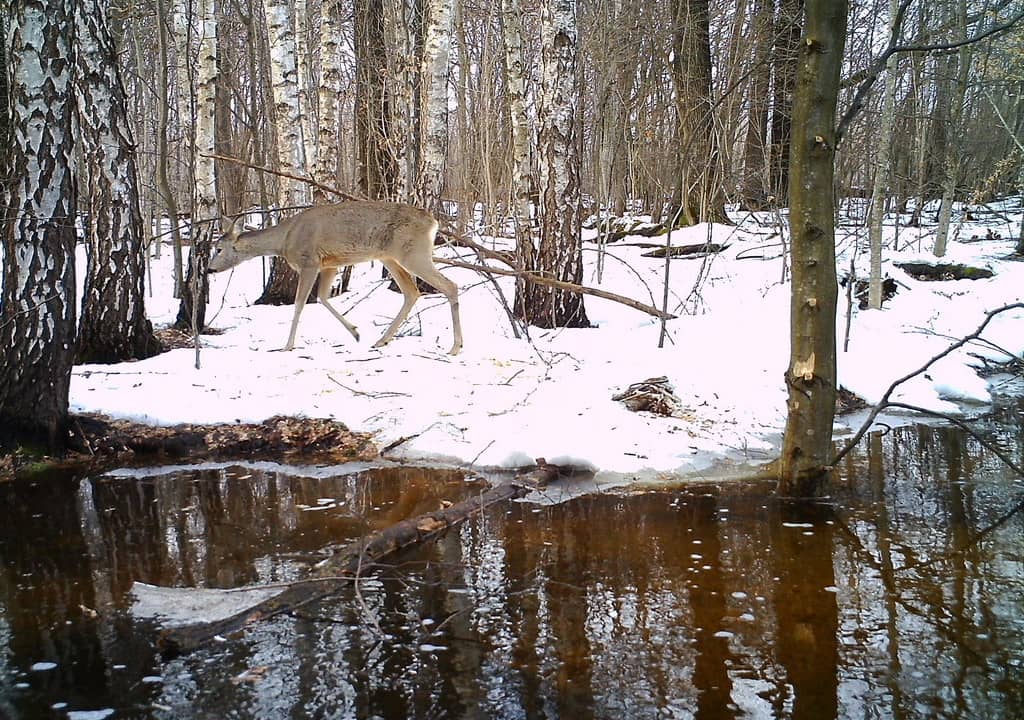 ---
HUNTING WOLF
Apparently, tour guides had told the visitors that Chernobyl's animals were more resistant to the radiation because of their pelts. Some researchers said that the most serious mutations had to happen right after the disaster. So, we won't be seeing any weird effects later on. Luckily, none of the animals are glowing.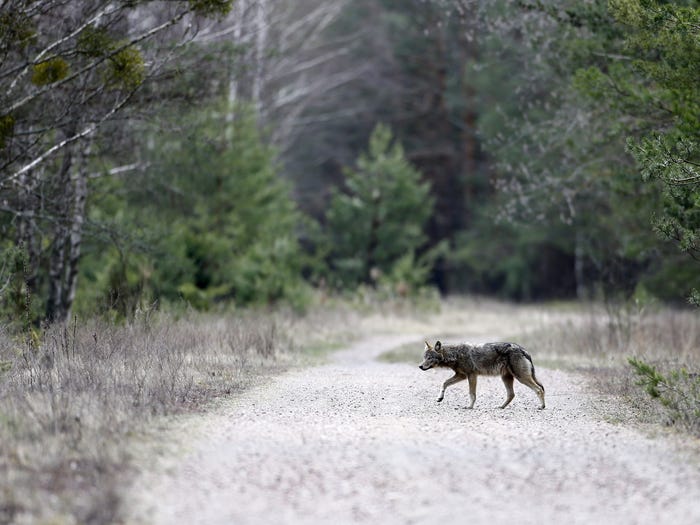 ---
THE HERD OF PRZEWALSKI'S HORSE
This image was taken in December 2013, and it's completely adorable. We hope that these animals get to live in peace and that poachers are dealt with properly. The Minister of Ecology and Natural Resources of Ukraine hopes that by making it a nature preserve, they will get more international support to get rangers.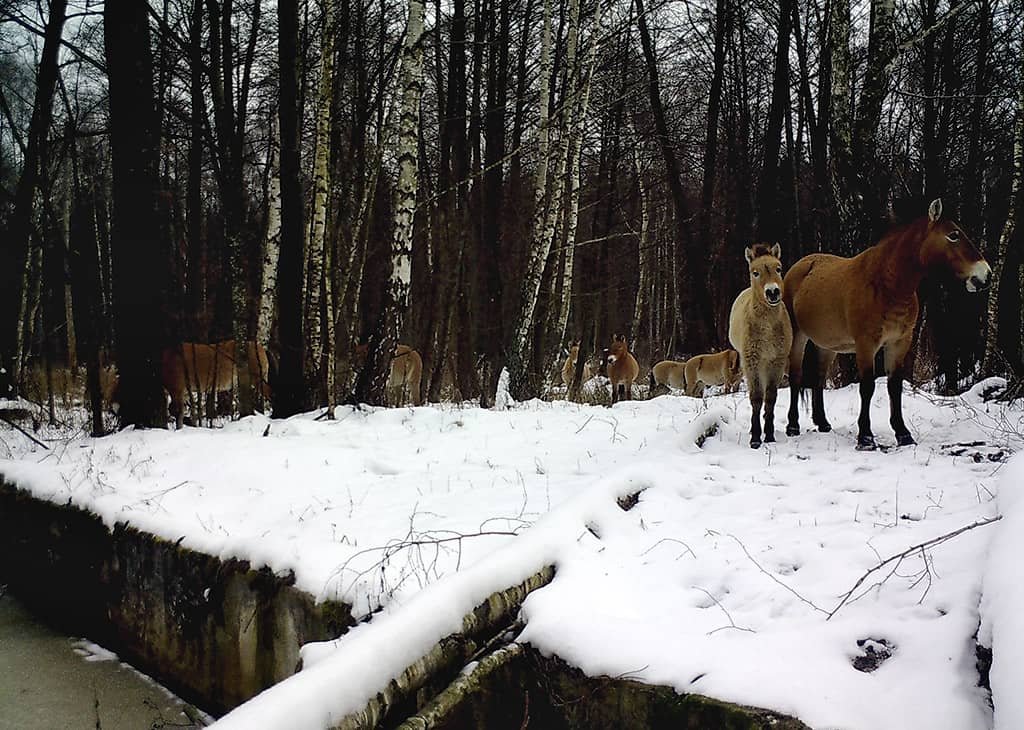 ---
ANOTHER WOLF IN THE VALLEY
This beautiful creature is walking around, and the background looks like it is right out of a movie. It's winter, and it's beautiful. In regards to the low levels of invertebrates, it seems that the phenomenon reoccurred after the 2011 nuclear disaster in Fukushima. Many birds, cicadas, and butterflies were affected, while other animals were fine.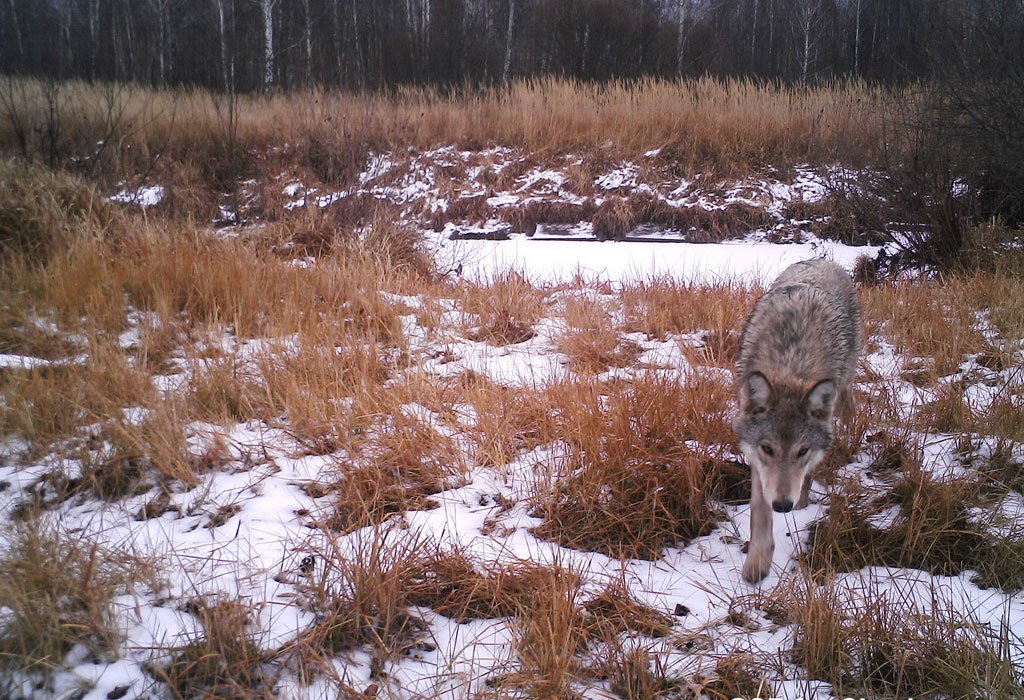 ---
THE BROWN BEAR
This is another amazing sight, but not just because it's another animal at the Chernobyl Exclusion Zone or CEZ. The fact is that brown bears had not been in that area for more than 100 years. So, everyone was surprised to have caught them on camera. This image was taken in February 2014.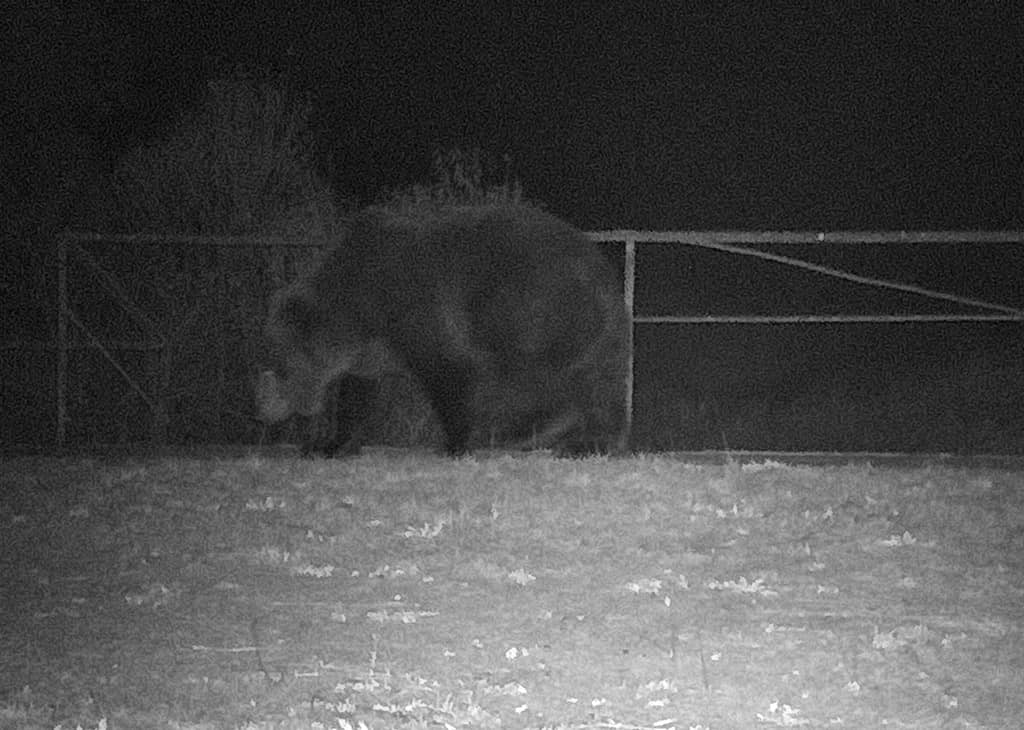 ---
THE FERAL DOG
Aside from wildlife, there have been many sightings of dogs, and there's even a movement to get many of Chernobyl's puppies adopted. They have been decontaminated and are ready for a loving home. However, the remaining ones are presumed to be feral now. This image was taken in August 2013.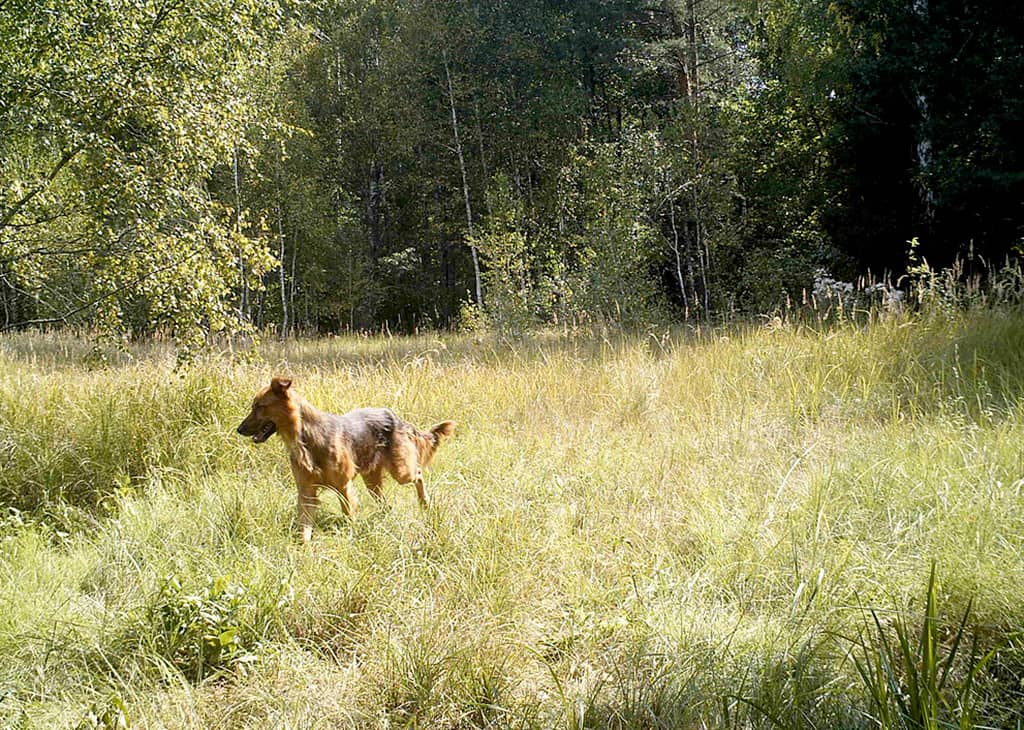 ---
A WHITE-TAILED EAGLE
This picture was taken in January 2009, and although eagles are associated with America, there are many species found all over the world. In fact, this one is mostly found in Europe and Asia. Camera traps have been able to capture shots of all kinds of animals like bison, boars, badgers, and even wolves. Beasley says, "It's just incredible. You can't go anywhere without seeing wolves."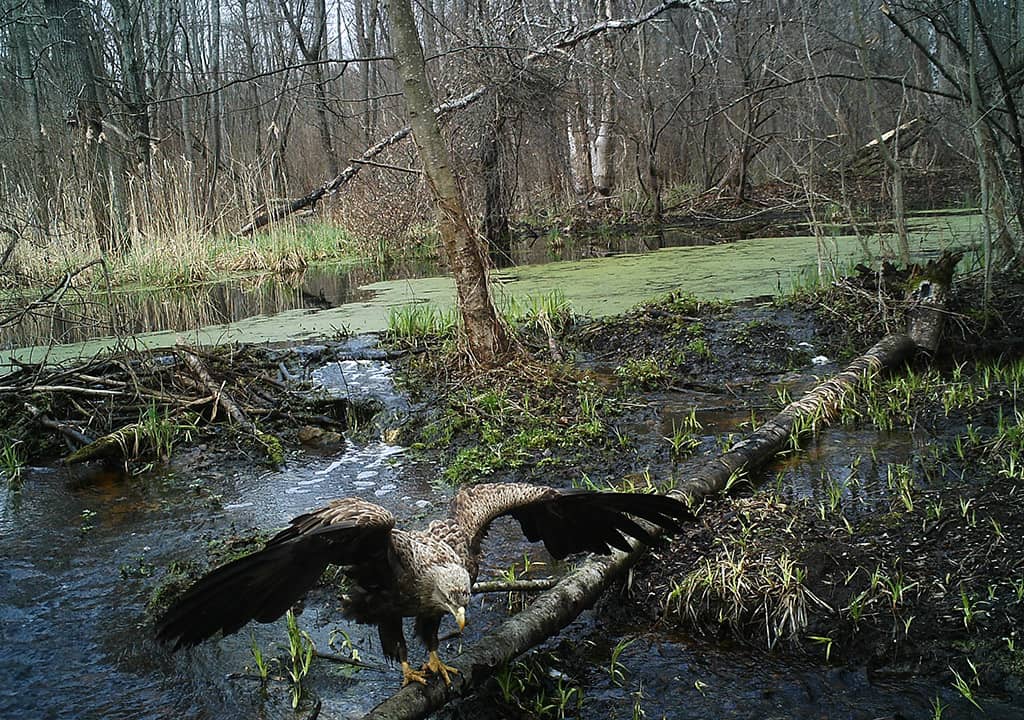 ---
ANOTHER BEAUTIFUL LYNX
This is another black-and-white shot of a Lynx. It seems to have been taken at daylight, unlike some of the others. "One of the things I like about cameras is, images don't lie," Beasley said. The experts have also placed dead fish near rivers and banks to attract otters, as well as mink. Otherwise, they might smell the human presence and avoid it.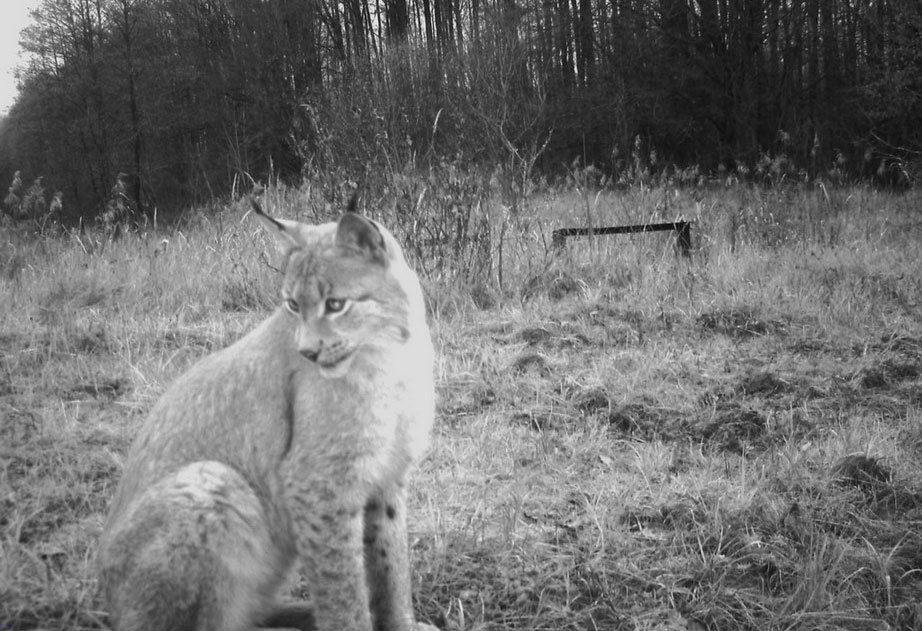 ---
A ROE DEER CLOSEUP
This picture of a roe deer was taken in March 2014 by Sergey Gashchak and his team at the Chernobyl Center. These animals are also known as chevreuil, and the males are sometimes called roebuck. They are a bit small and have red-brownish pelts. They also do great in the cold, which might be why they are thriving in that zone.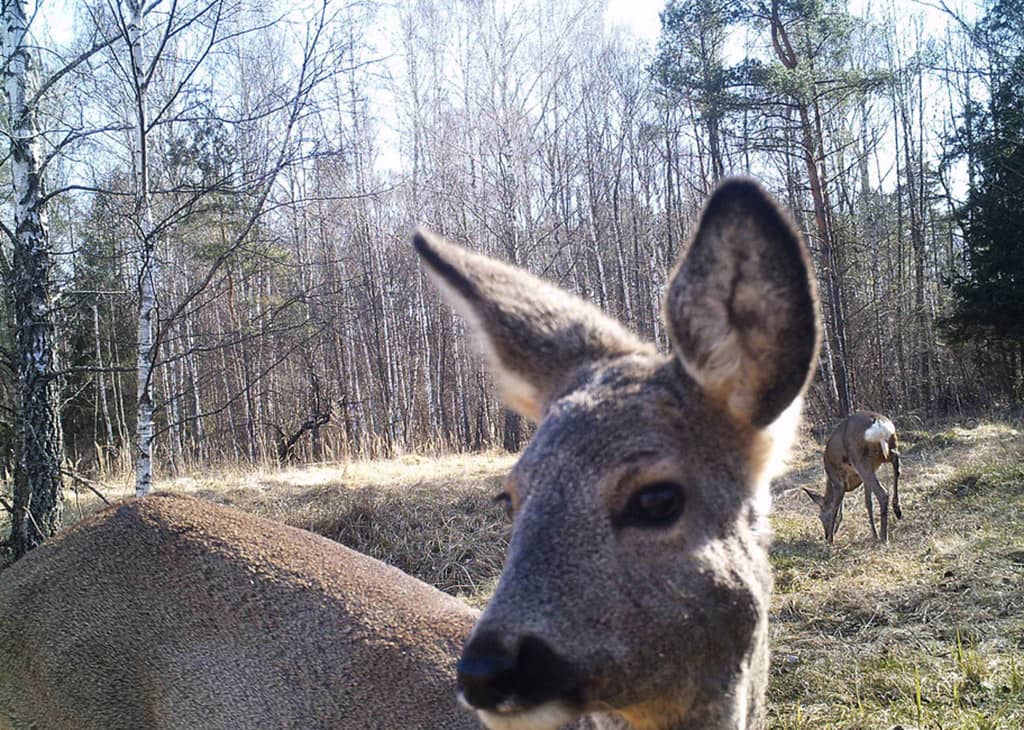 ---
A DEER IN FULL COLOR
If you have seen pictures of the abandoned buildings in Pripyat, you might think that the whole area looks like a set from 'The Walking Dead'. However, what's happening there naturally is amazing. There are more green areas. It's returning the land to a beauty that this generation never got to see. We love our concrete houses and buildings, but we should know what we're giving up for them.
---
THE EUROPEAN CRANE
The picture was taken in July 2013 at the Chernobyl center. This whole project took five years, as experts wanted to monitor the zone around the nuclear power plant, which is an area of around 2,600 km2. According to Mike Wood, the project leader, "Our Ukrainian colleague, Sergey Gashchak, had several of his camera traps running in one of our central areas over the past few months in order to start to get a feel for what (wildlife) was there."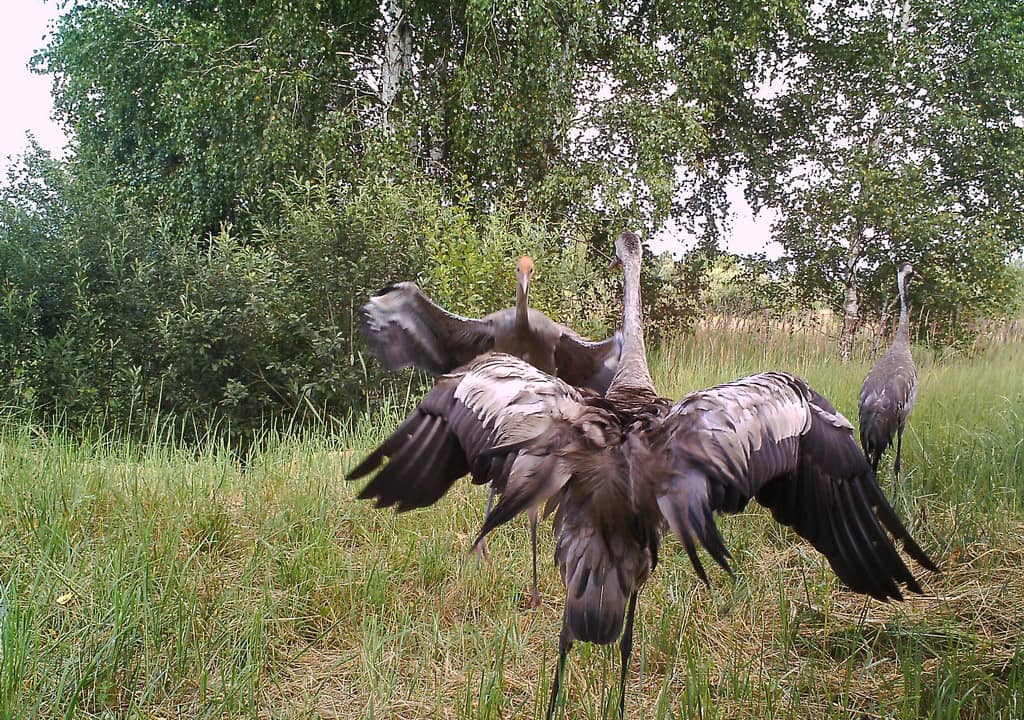 ---
THE WOLF GOT SOME FOOD
While this image is obviously not related to the previous ones, it seems that the wolves know how to get their meals. This one was taken in August 2013 by Sergey and his team. Wolves might seem a lot like dogs, but we have to remember that they are wild animals. Here it is carrying a leg from an animal it just hunted.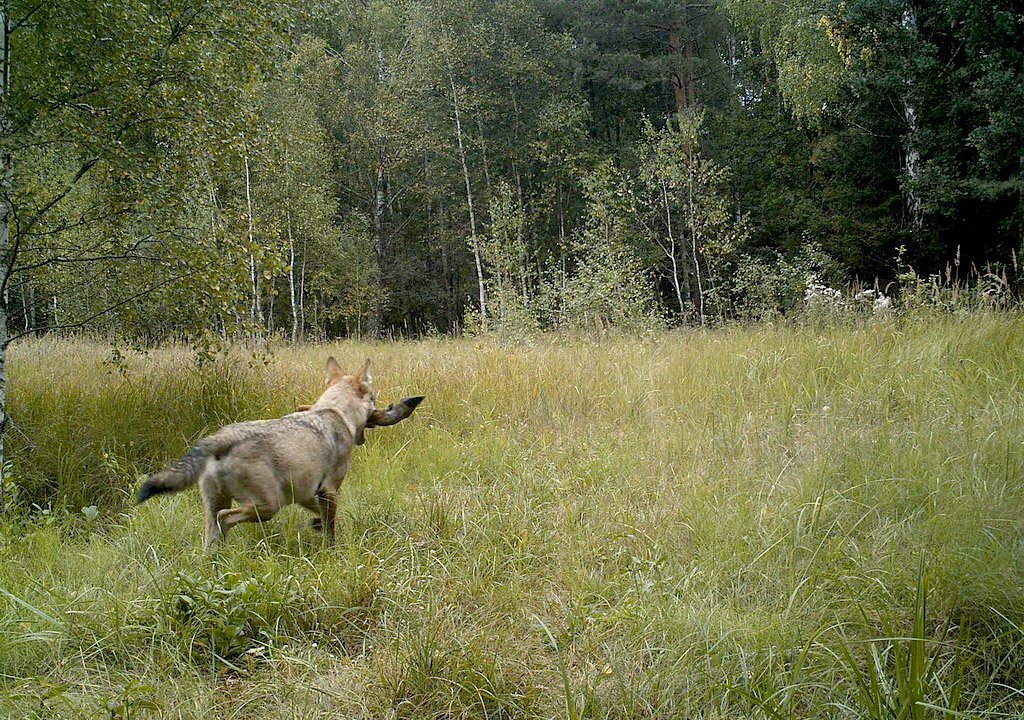 ---
THE DOGS OF CHERNOBYL
You might have read on the news or somewhere online that volunteers are trying to get people to adopt dogs from Chernobyl. However, it's an effort that will take time. Organizations have inoculated them, which means that they are ready to be part of your home. This picture was taken on August 18, 2017, while the puppies were walking near the power plant.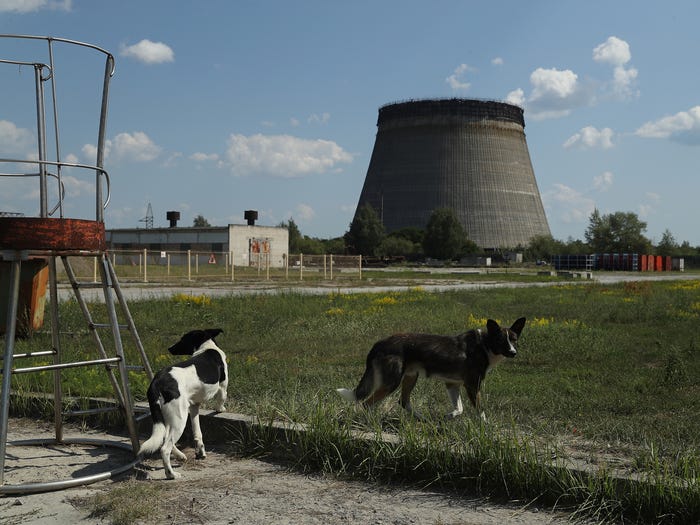 ---
A GOOFY EURASIAN ELK
This image of another Eurasian Elk was taken in July 2013, and it's certainly different than the rest on the list. It's almost like the animal knew that someone was watching and made a silly pose. Animals have better sense than we do, and perhaps they know that they can live well in that land now. Many all of the efforts to restore the area after the disaster are finally paying off.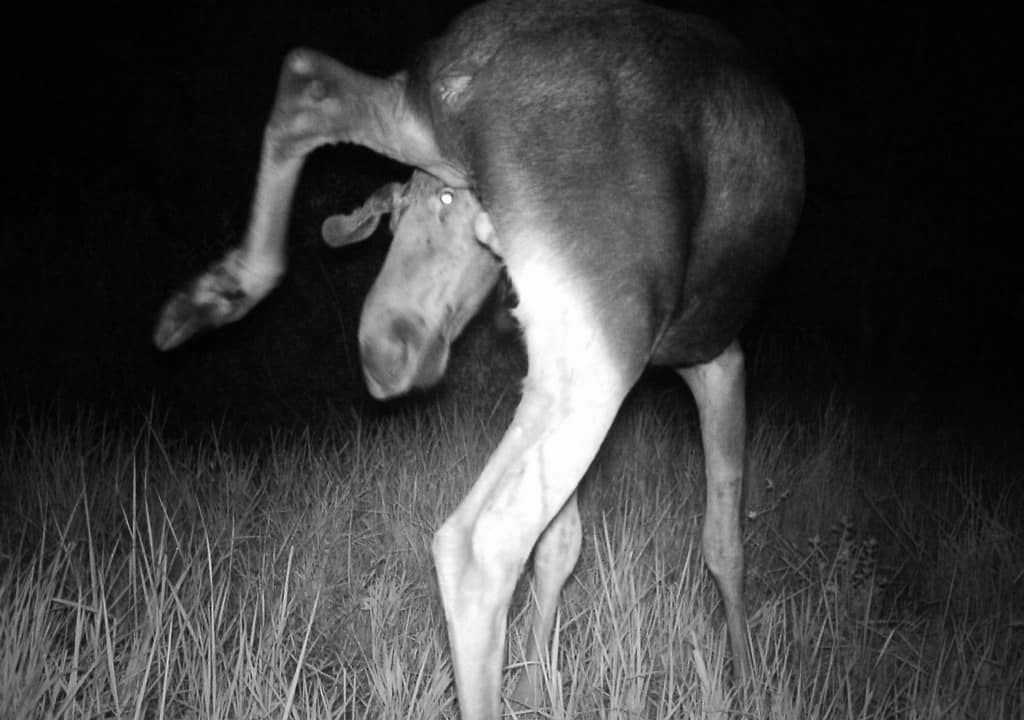 ---
THE OWL TAKING OFF
One of the fears of radiation exposure was making mutants. People imagined that some animals would be born with two heads or worse. However, even biologists have been surprised to see that not much has changed in the wildlife. There is only one effect registered among some animals: albinism. Considering what we had in mind, that's much better.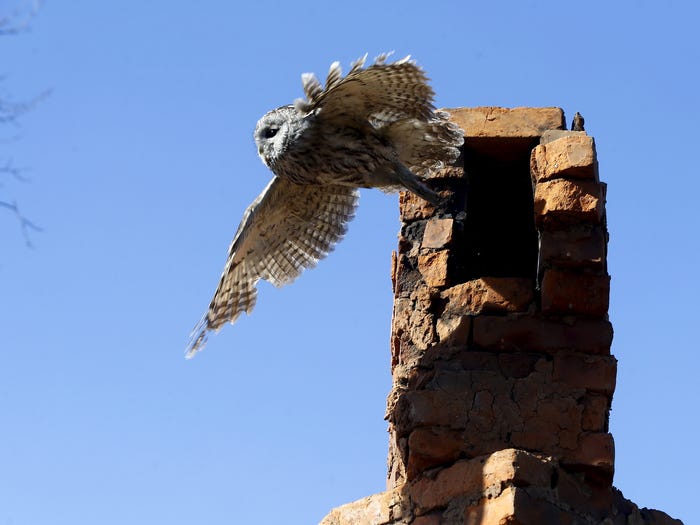 ---
ANOTHER ELK IN THE NIGHT
Here is another elk living his life to the fullest, not knowing that there are hidden cameras nearby. These pictures are almost like the trail camera images we have seen online. Meanwhile, according to some studies, it seems that bugs and spiders have decreased in the CEZ. Apparently, while big mammals are thriving, there's a low population of insects.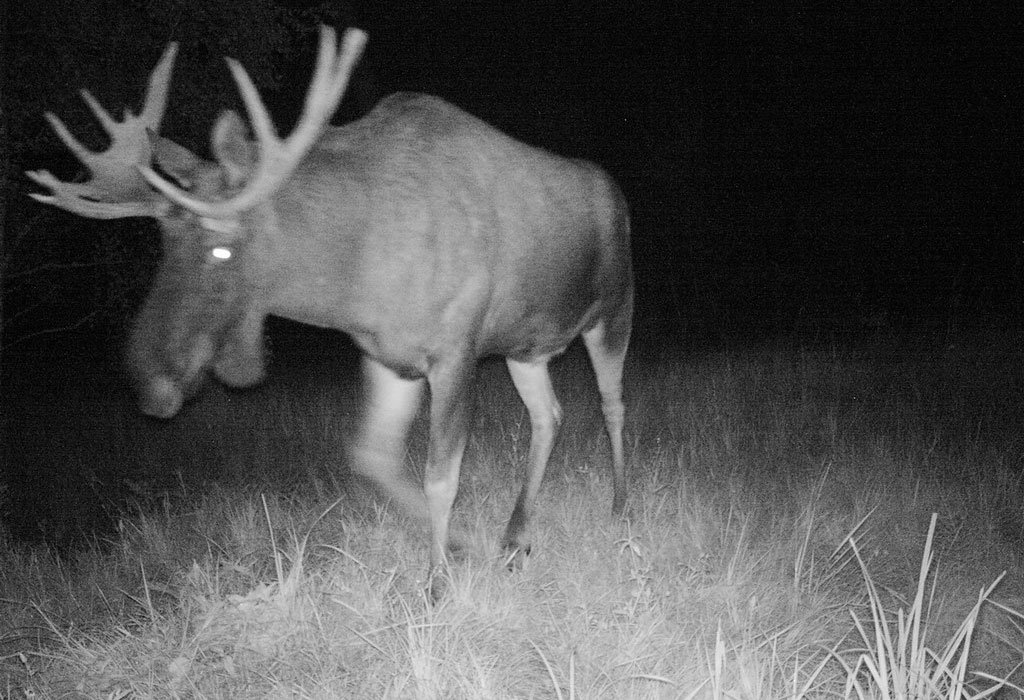 ---
A LONELY WILD BOAR
This little Pumba is just walking by himself, probably looking for something to eat. Although we have mentioned that all the animals look the same, the truth is that they are mutants. Something in their genetic makeup changed after the explosion. In 2001, a study discovered that the mutations in animals and plants augmented by a factor of 20.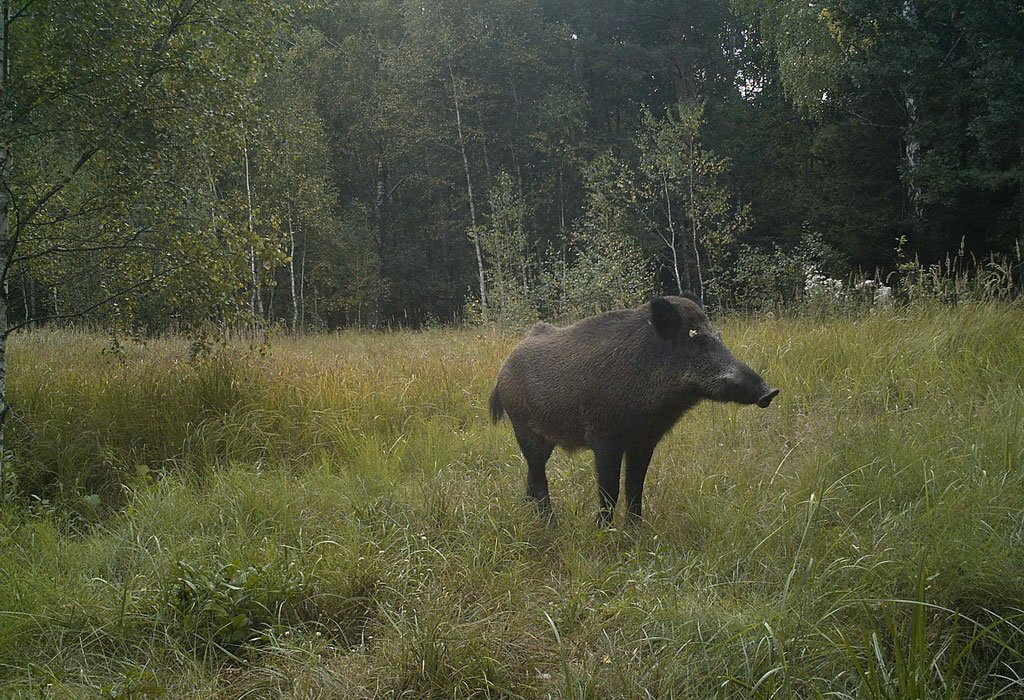 ---
THE HOMELESS DOGS
These babies are most likely the descendants of the dogs that were left in the area on April 27, 1986. Before 2018, it was illegal to take any animal out of the spot for the risk of contamination. Luckily, organizations like Clean Futures Fund and SPCA International have taken it upon themselves to make them safe for adoption.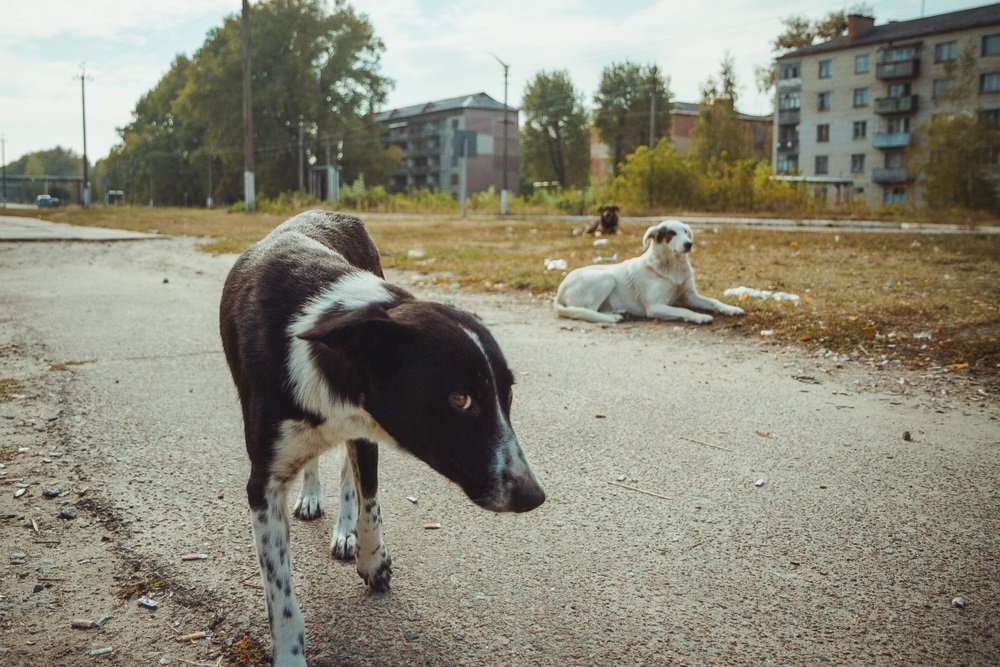 ---
THE EUROPEAN GRAY WOLF
This picture was taken in January 2009 by Sergey Gashchak's team at the Chernobyl Center in Ukraine. While a dangerous disaster that killed so many lives occurred in the area, there's a lesson to learn about recovery. Slowly, wildlife has returned to an area that was completely uninhabitable. It's also a lesson that human actions affect all living creatures.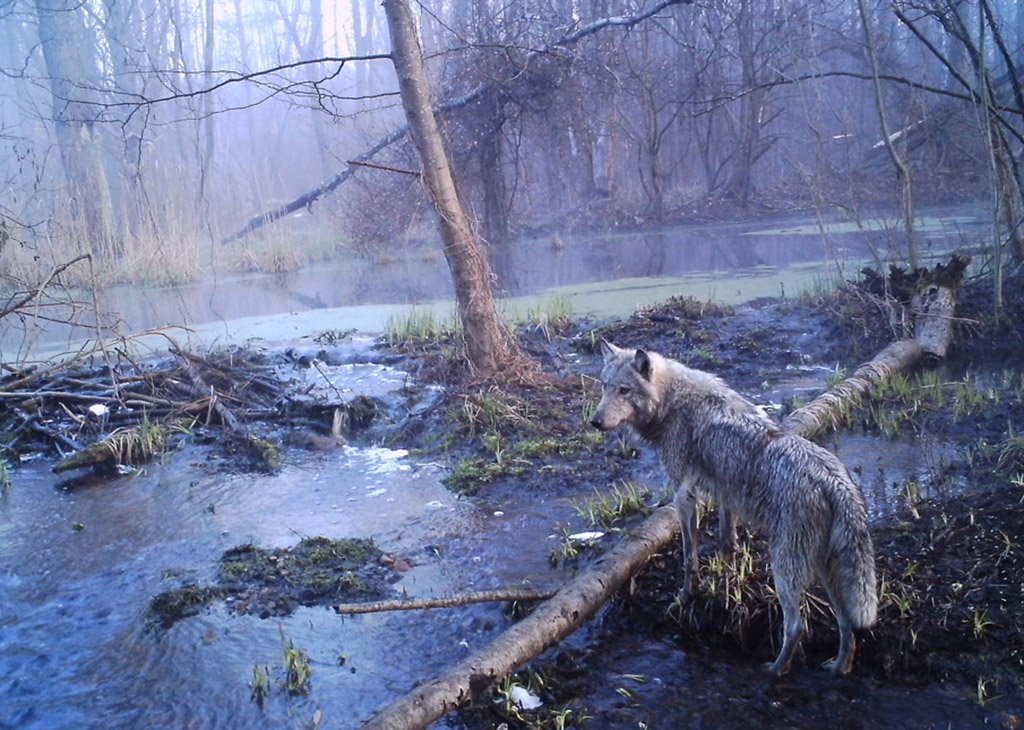 ---
ANOTHER SHOT OF THE LYNX
This is another picture of the Eurasian Lynx that we mentioned before. The best part is that we can see their feline eyes, and how much it looks like a regular house cat but bigger. It's interesting that these animals are back in the area, and maybe, we didn't see the horrible effects on them because we were so busy years ago.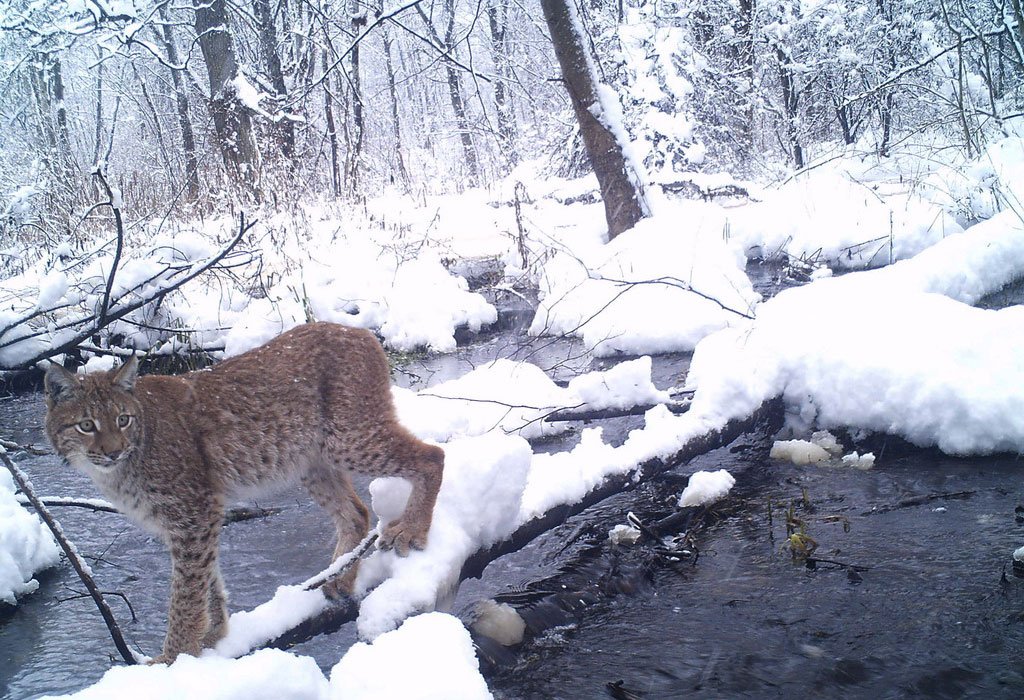 ---
THE GOOFY ELK IS BACK
Here is another cute moment with that silly goose that seemed to have found the camera. There's so much we don't know about animals, although we have studied them for years. Can we truly say that we are smarter than them? Even domesticated pets seem to have these knowing looks. There's more than we can imagine in them.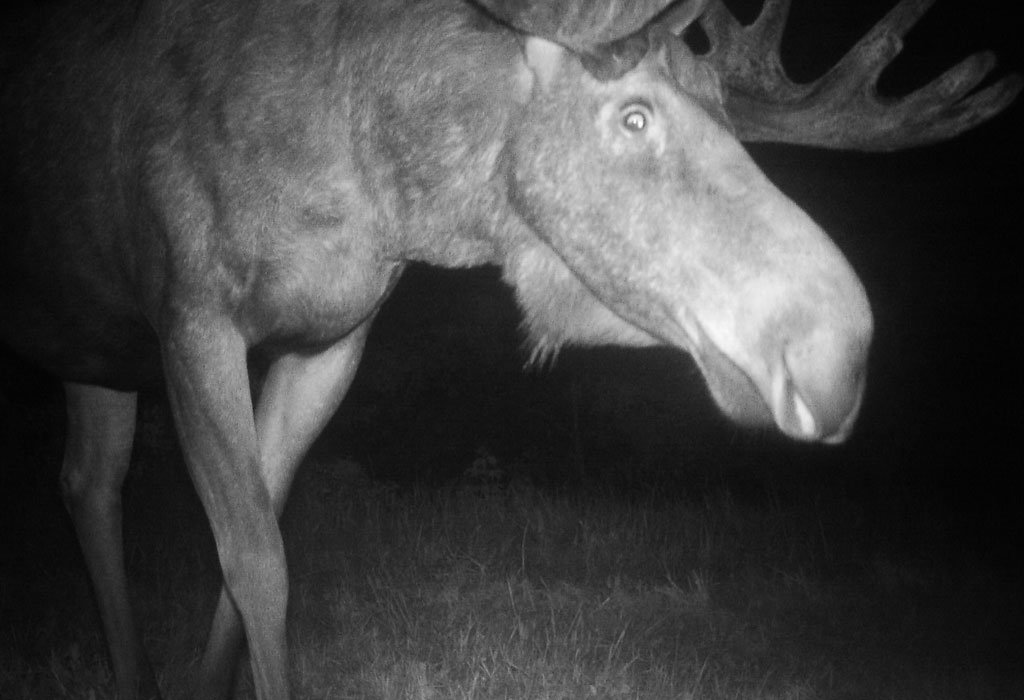 ---
A RARE RACCOON
The internet loves animals, but raccoons are one of its favorites because they look like furry burglars. They also get into shenanigans at night and do some mischief while we sleep. However, this little guy is just minding his business, living in the wild like the rest of the creatures. But, we're sure it still gets into some trouble.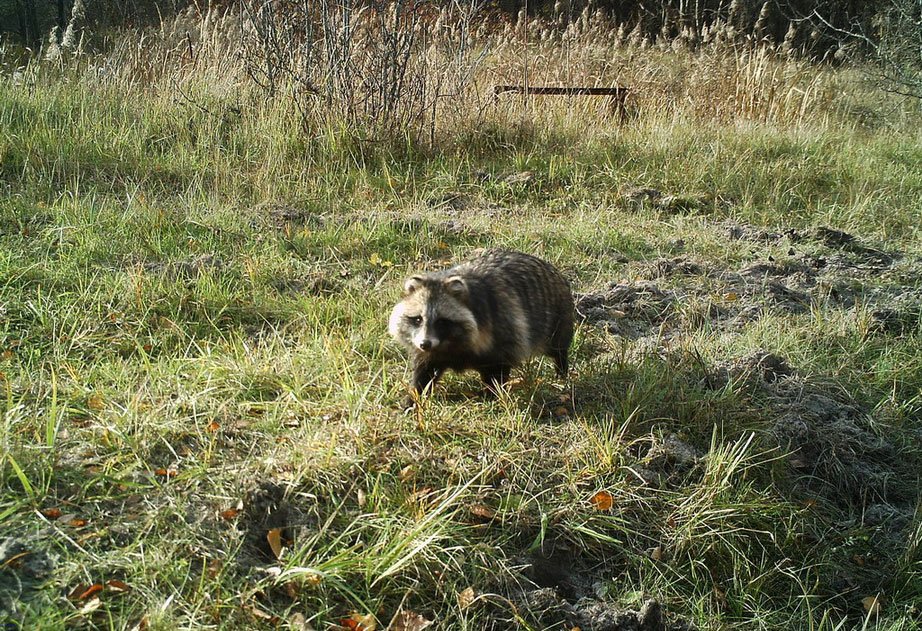 ---
A RED DEER IS SURPRISED BY THE LIGHT
This is another animal that was captured in the area near the camera, which probably had motion sensors. Many animals are actually doing much better in the Exclusion Zone than elsewhere. The amount of wolves is larger than in most other places, and other creatures can be found in the amount at some nature reserves in Belarus.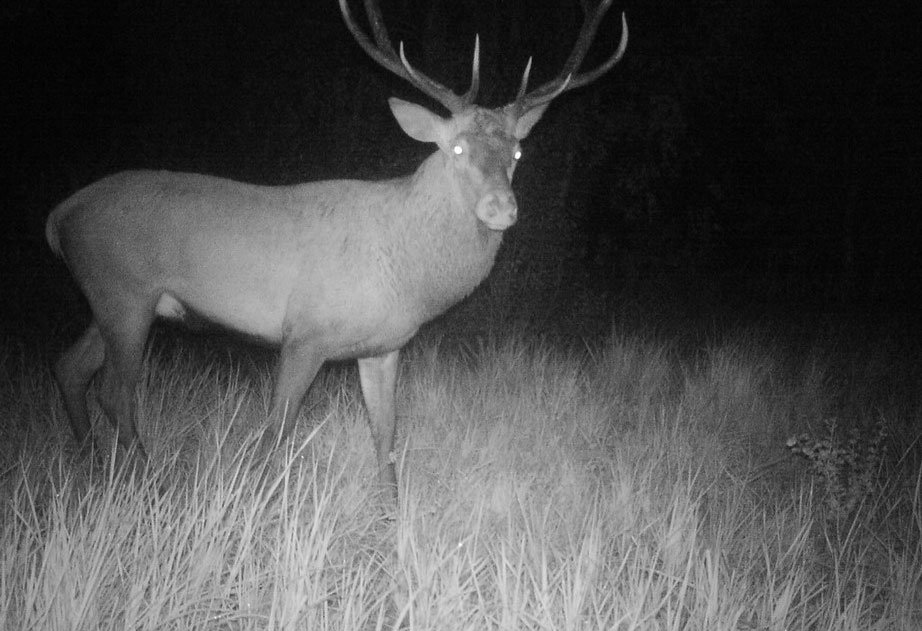 ---
A DEER THAT'S ANGRY ABOUT THE CAMERA
This one seems to have discovered the camera and is not happy about its presence. Of course, we're sure some people hope to repopulate the area sometime in the future. When we can determine that no one will be affected in the long term. However, it's hard to say when that will happen. So many people got sick years after the disaster, and no one wants that again.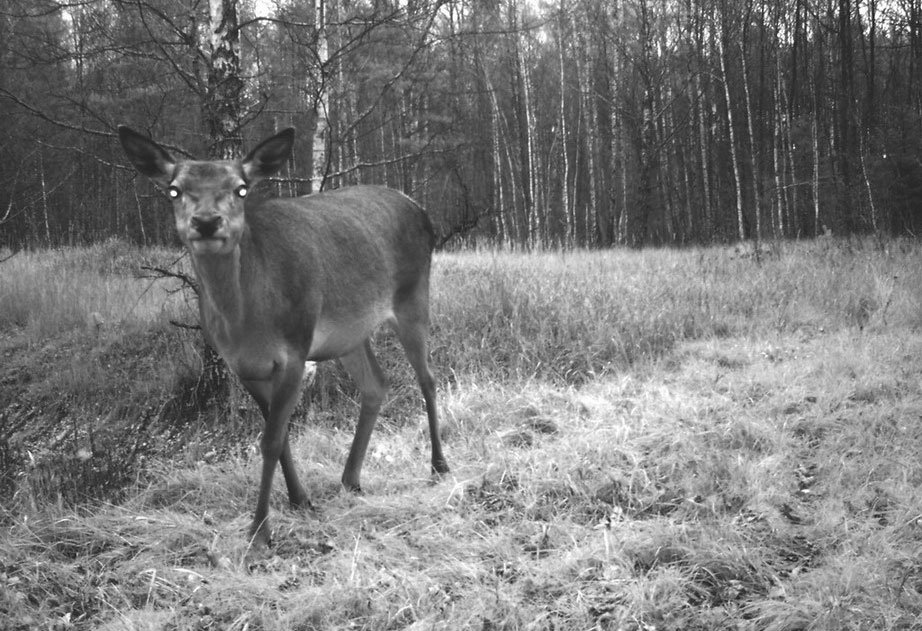 ---
A LYNX IN THE NIGHT
Here is another look at the Eurasian lynx, but with the motion sensor camera. Meanwhile, Anders Pape Møller doesn't think that these animals are thriving, as other experts believed. "Are these populations of large mammals composed of healthy individuals? Or individuals that are sick or malformed or in other ways negatively impacted by radiation? That's not investigated, and that's the big question mark that hangs over the Exclusion Zone."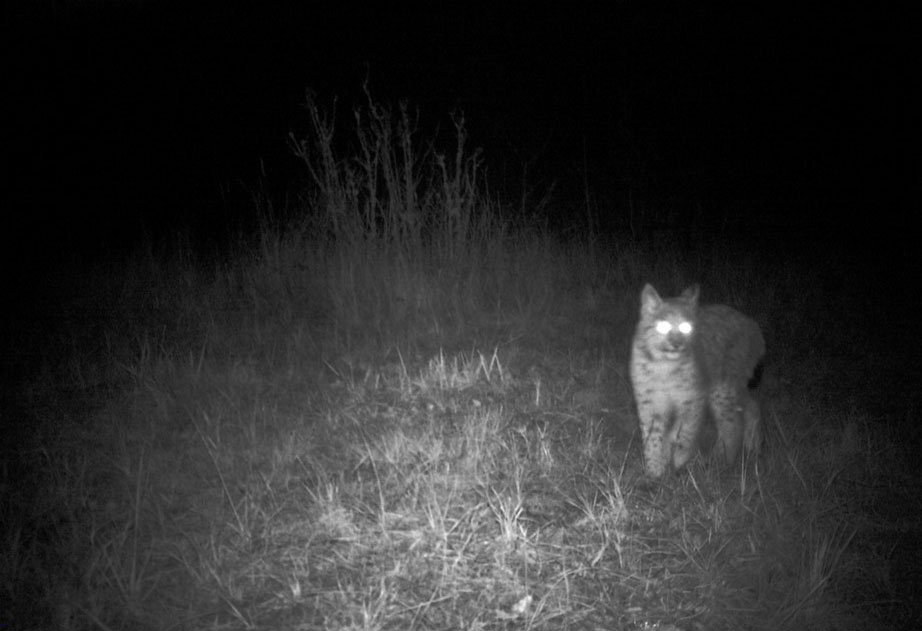 ---
AN OTTER AND A LITTLE LAKE
Here is a rare sight! This cute otter is hanging out just outside the little lake at the Chernobyl Exclusion Zone. Meanwhile, one of the reasons why we have not seen huge mutations could be that the animals that were heavily contaminated died shortly after being born or before they developed cancer. According to Jim Beasley, "Most animals die within their first months of life, and those that make it to adulthood, most don't live more than several years. Cancer is often a long-developing sort of thing."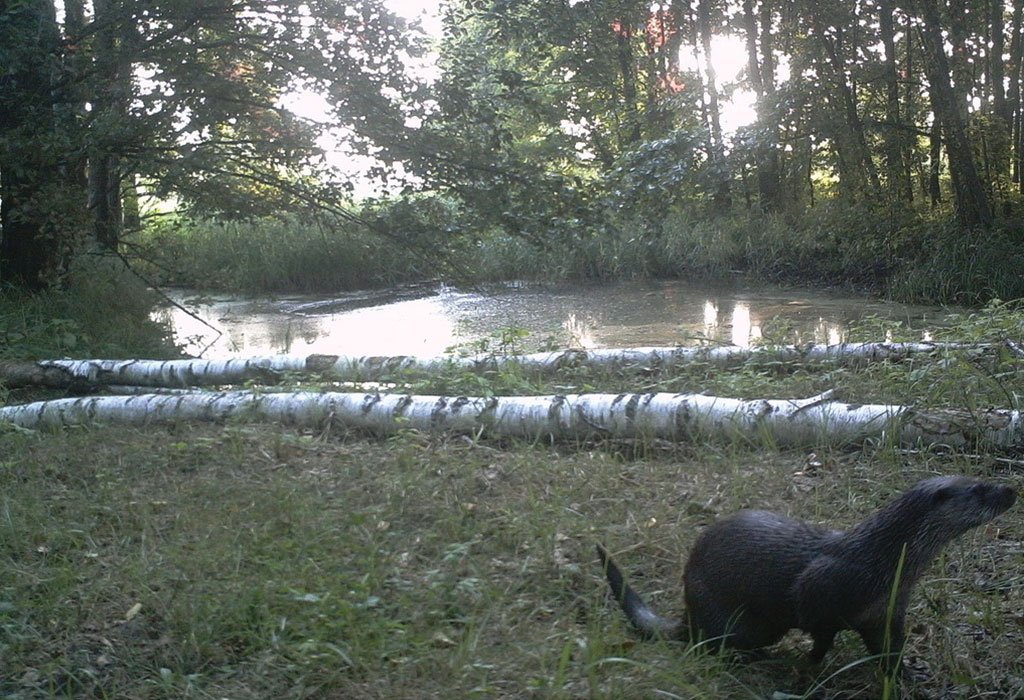 ---
A MAJESTIC ELK
Here is a gorgeous picture of an elk in a dirt road, and it's possible that not many people have been through those roads since the disaster. Although there have been some stories about poaching and illegal hunting, only biologists should be allowed in that area. Tourists mostly take a look around the city of Pripyat.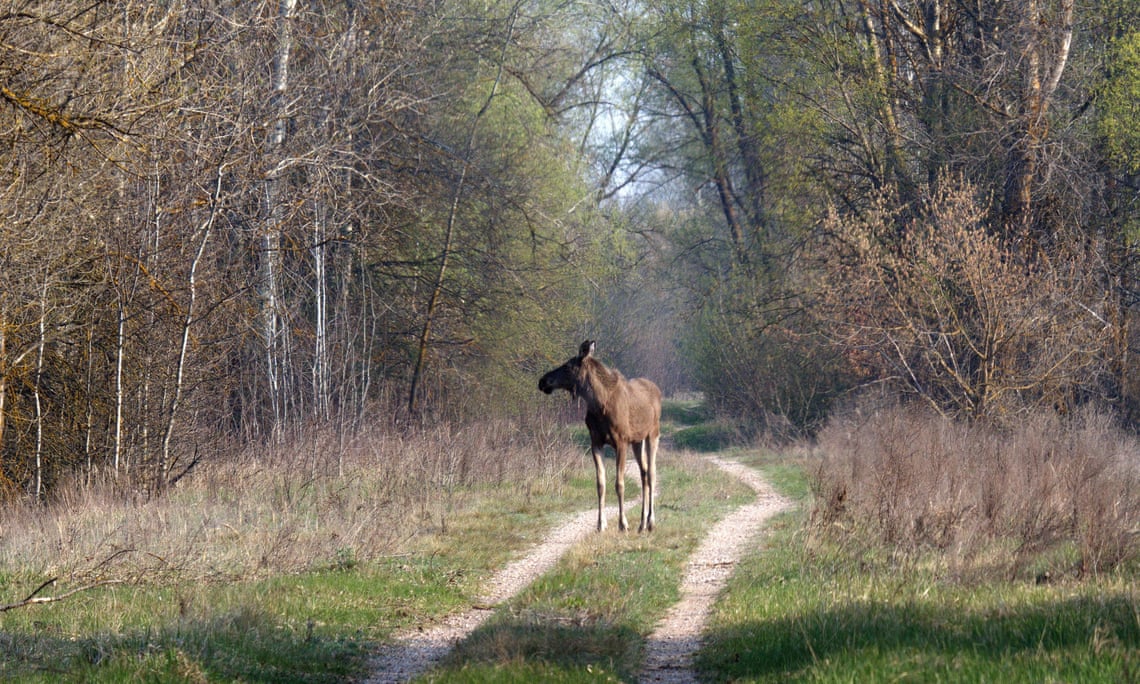 ---
THE LESSER SPOTTED EAGLE
This beautiful bird was seen in the Palieski reserve. It's probably looking for its next meal, and it might be hard to find. Of course, the cameras have not really captured mice or smaller mammals. So, it's possible that this guy has been eating smaller birds, worms, and things that this project has yet to spot in action.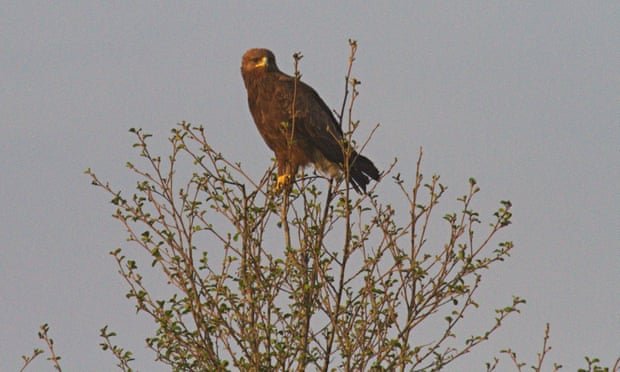 ---
THE PRZEWALSKI'S PLAYING WITH A WARNING SIGN
These gorgeous horses are playing and grazing in a dangerous area like they don't have a care in the world. It's amazing how the endangered species was reintroduced in that spot, and they are doing so well. In the 1990s, these horses were placed in the Ukrainian part of the Chernobyl Exclusion Zone, and according to ecologist Mike Woods, some of the originals could still be alive.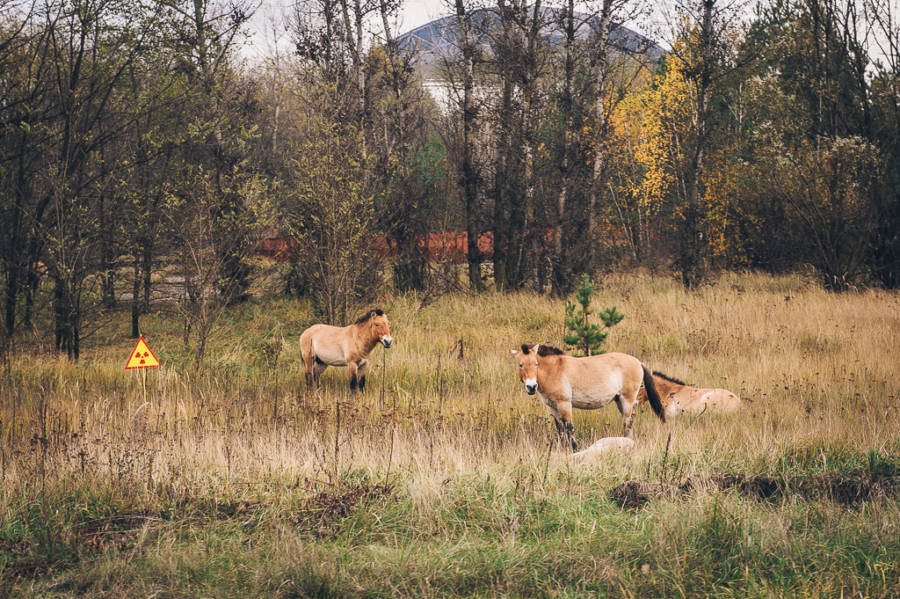 ---
THE FOX IN THE RED FOREST
After the disaster, the leaves in the forest turned red, and then, everything died. This woodland area has also regrown from the ashes like a phoenix. And there's a cute little red fox to prove that things are almost back to normal. However, one of the big issues in this study that no one really knows the radiation levels in the CEZ.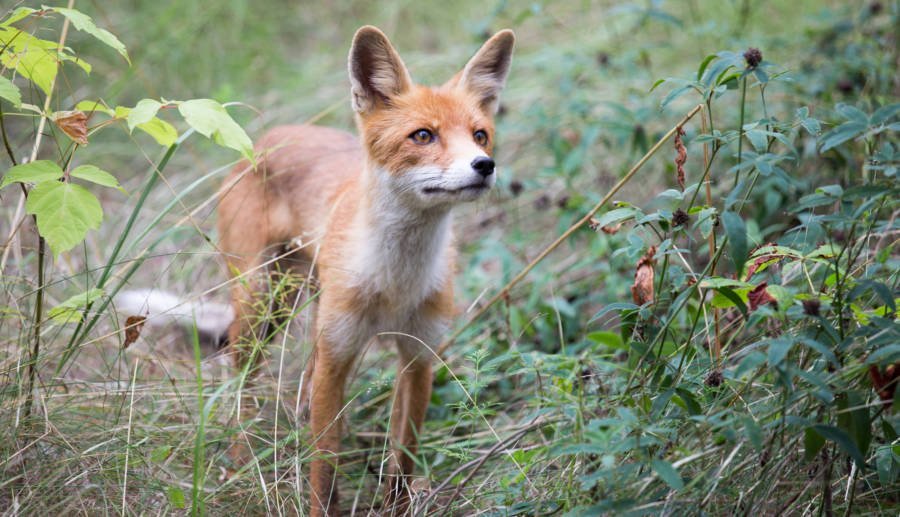 ---
SLEEPING PUPPIES
These little babies are taking another nap in the city, and they are part of the project that hopes to re-home some animals. Thousands of people were evacuated from their homes, and when that happens, most are not allowed to take their pets. So many dogs and cats were left behind, and it's just heartbreaking.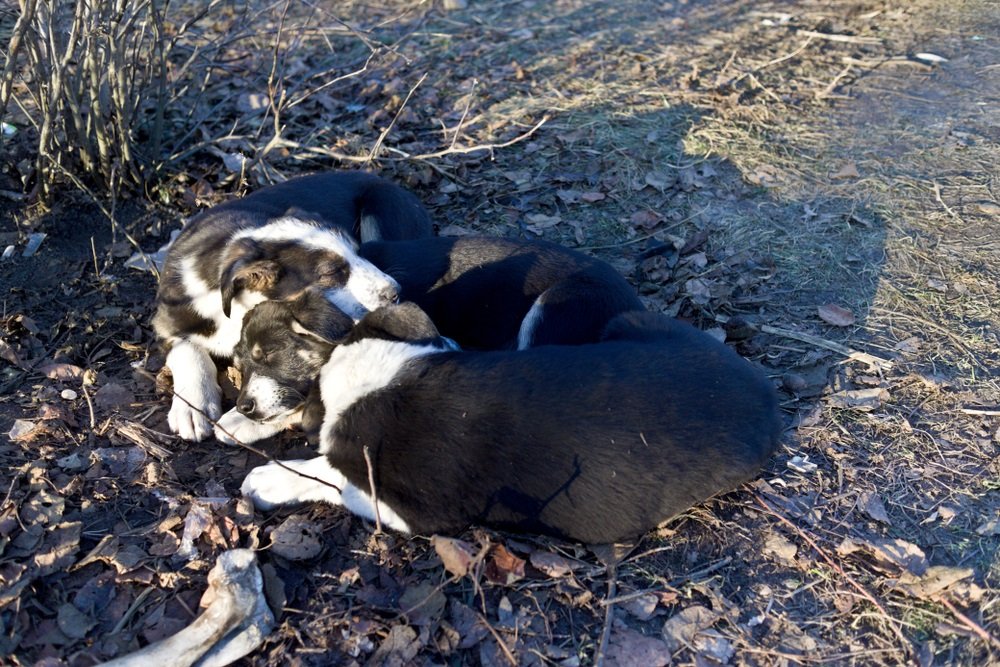 ---
ANOTHER CUTE LITTLE BOAR
Some experts think that many of Germany's wild boars are still a bit radioactive because of the Chernobyl disaster. Did you imagine that an explosion that occurred in one country could affect another? That's why we must think about all the repercussions of our actions. It's something to think about in regards to many issues today.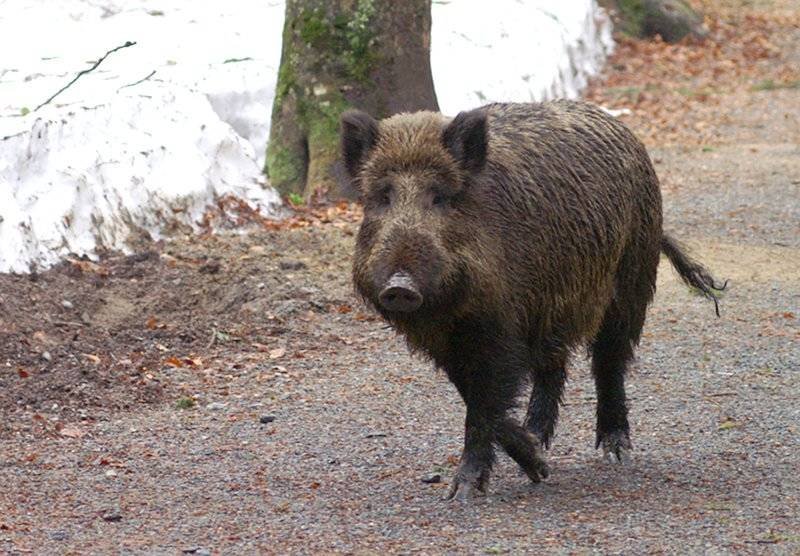 ---
THE DOGS AT THE ENCLOSURE
These puppies are sitting just outside the "local zone", which is heavily guarded. What you see in the background is the sarcophagus that covers reactor four, the one that exploded on that fateful day more than 30 years ago. We have to remember images like this one because the world needs change or something worse will happen to all of us.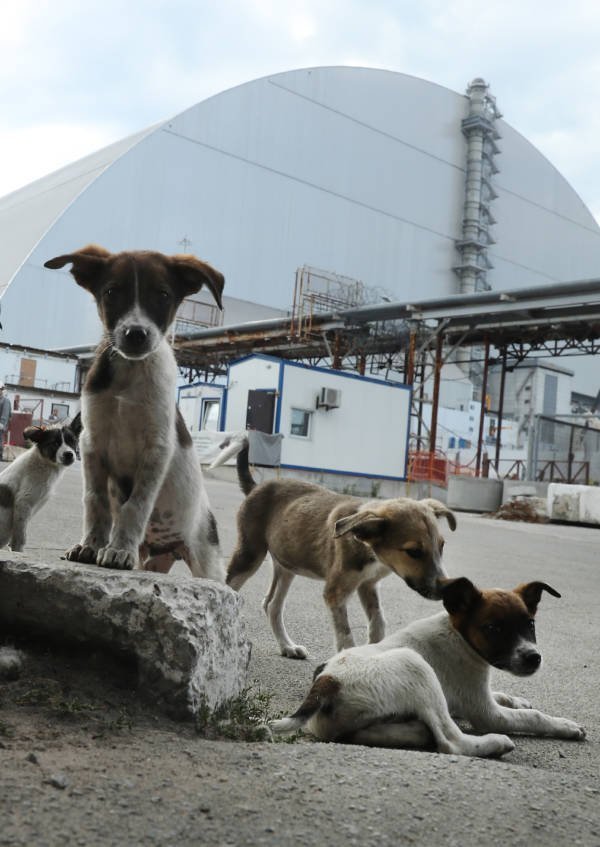 ---
THE BIRDIE AT THE CEZ
This disheveled little guy is hanging out at the Exclusion Zone, and it doesn't look very happy either. We are glad to see it, though, because birds might have been affected heavily by the radiation. Any new animal that we can spot is a cause for celebration. All life is precious, and we cannot take them for granted.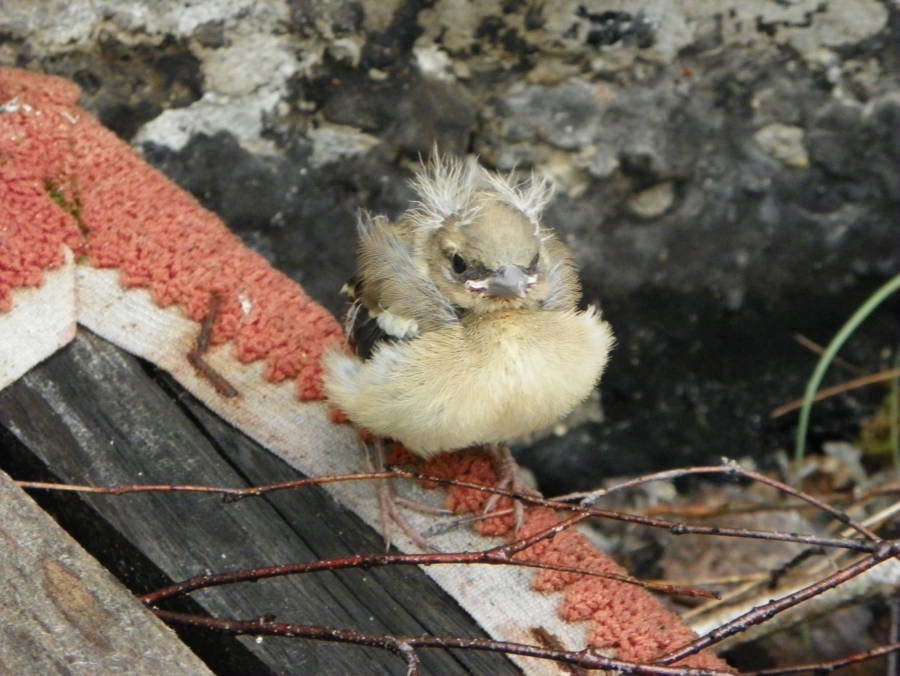 ---
SNIFFING THE GARBAGE
It's just a sad scene to see dogs going through the trash, but this little guy has a tag, which probably means that an organization is taking care of it. The dogs that are ready for adoption have been neutered and are ready for a loving home. However, remember that there are strays and abandoned babies all over the world. Give them a chance at love!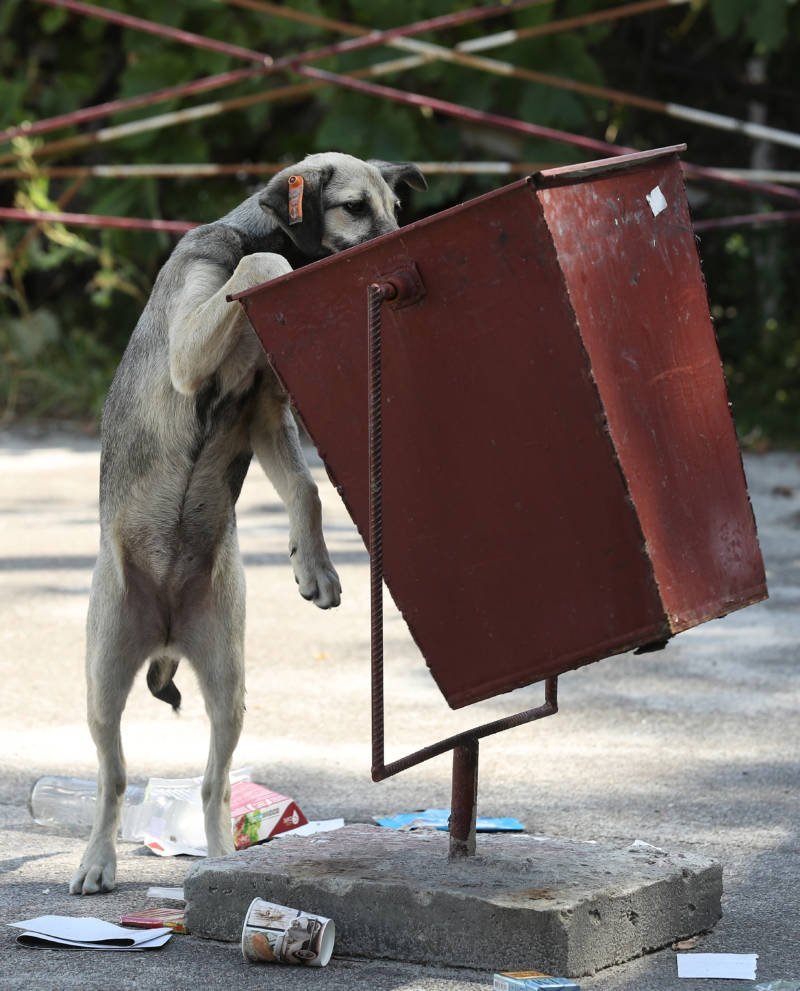 ---
THE COWHERD
Luckily, experts are working to give life back to the area around Chernobyl. They have built water trenches like this one so that animals can hang around. This also helps remove excess water from the dirt so that plants have a chance to grow. This herd of cattle is drinking merrily, and hopefully, other animals enjoy it too.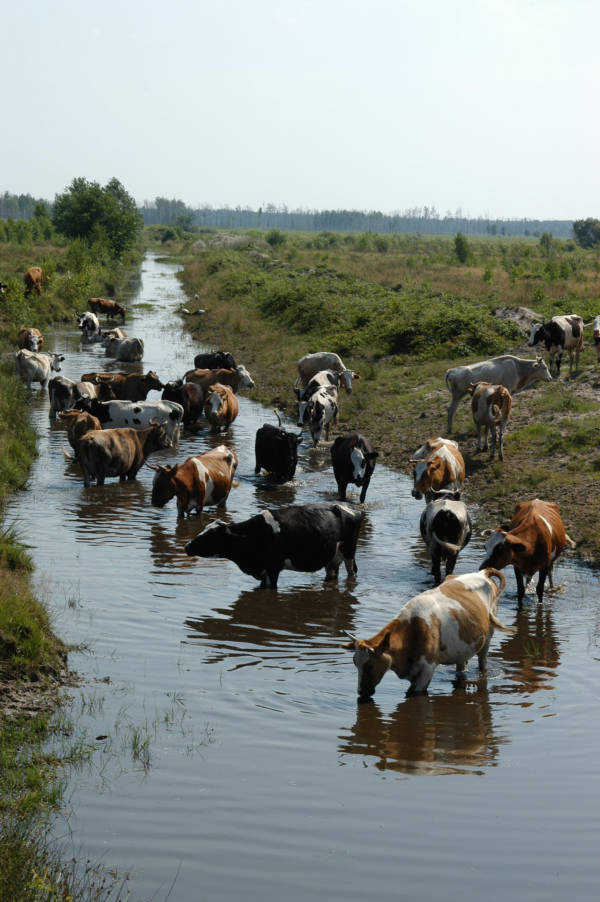 ---
A FOX AND SOME MILK
This gorgeous red fox is drinking some refreshing milk from a cup. As we mentioned before, some of these foxes are not afraid of humans, and they know that most of the tourists will give them food. Although we should not really feed wildlife, this one is probably used to acting like a dog. It doesn't hurt anyone.
---
THE ORIENTAL TREE FROG
Its scientific name is Hyla Orientalis, and this picture of the beautiful green amphibian was captured by Germán Orizaola in May 2018. People mix it up with the Common Chinese Tree Frog sometimes because they belong to the Hyla family. This species has always been found around Ukraine, Bulgaria, Turkey, Romania, and parts of Russia.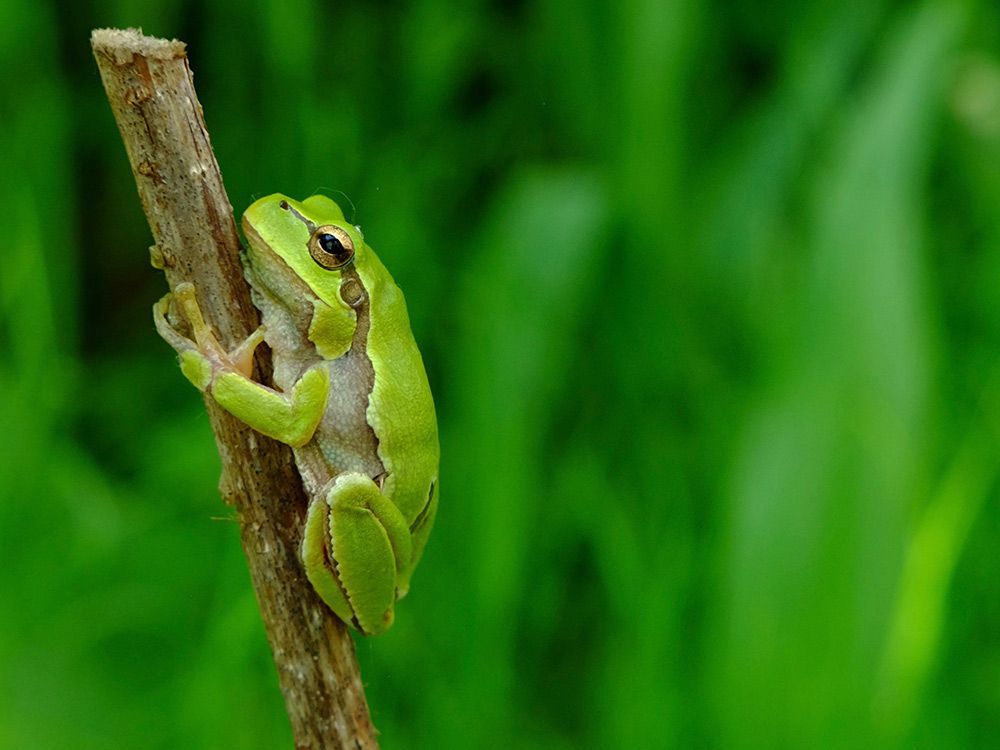 ---
THE BARBASTELLE BAT
This is another amazing encounter at the Chernobyl Exclusion Zone because it's the first time the species was seen in the area in five decades. So, is there a silver lining to some disasters, even one as painful as the explosion of the nuclear reactor? That's a huge debate because scientists are still trying to figure out how these animals are affected.
---
ANOTHER LOOK AT THE WHITE-TAILED EAGLE
Here is a different look at the white-tailed eagle we saw earlier in the list. The previous picture showed him just about to fly off, but here it sits on the log. Could it be looking for some delicious fish in that tiny river? Perhaps it's just relaxing its wing after a long flight. Either way, its beauty cannot be denied.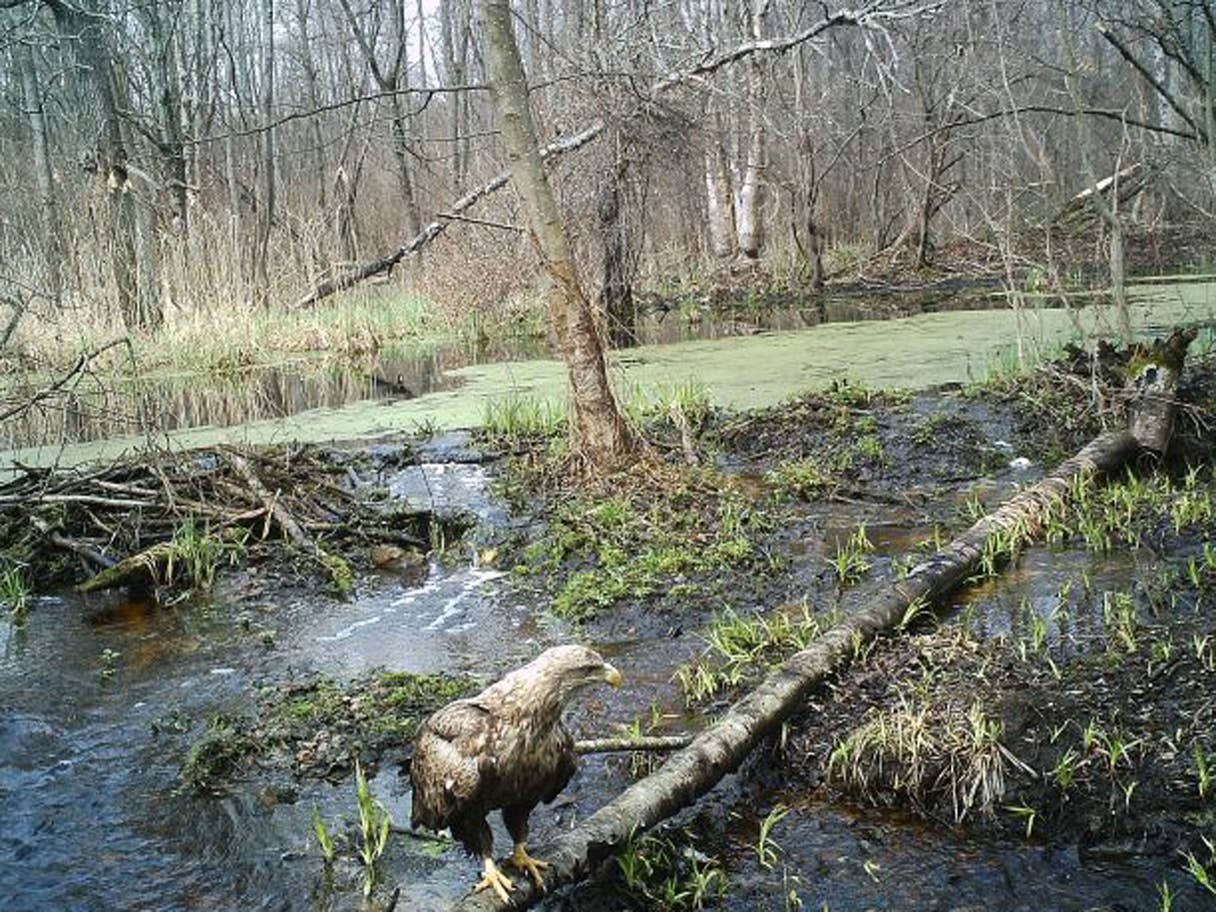 ---
A LONESOME BISON
We have seen some bison with their herds, but this guy was captured gracing the pasture all alone. Maybe its family is nearby. These animals are used to being in a group. These beautiful creatures are thriving in the CEZ. Some people were known to hunt them for food, but no one eats any animals from that zone.