Bruce Willis Had to Wait 57 Years For His True Love
"Age doesn't matter at all" is a famous phrase when it comes to romantic relationships that involve couples with huge age gaps. Willis found Emma Hemming, the love of his life when he was 57, who says that love has an age limit?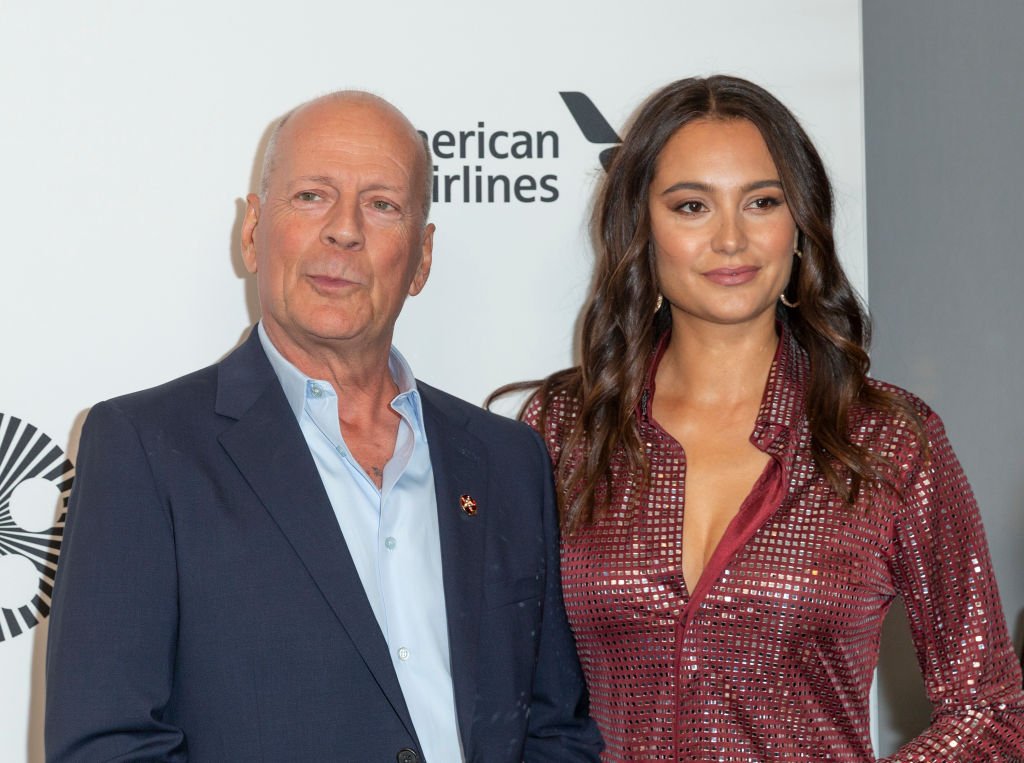 ---
SOMETHING'S MISSING IN THE FAMILY
Hollywood's golden couple, Bruce Willis and Demi Moore were married in 1987. He's 22 and she's 25. She was swept off her feet when Bruce showered her with attention and took her to trips on his private jet. It was a whirlwind romance! After four months of dating, they were married in Vegas, having only some people there to witness their vows.
They had another lavish ceremony in LA with many famous celebrities as guests. Reportedly, Moore fell pregnant on their wedding night, and soon they were a family of three. Two more daughters and it seemed like life was going smoothly for the couple until rumors of divorce surfaced.  They juggled between parenthood and career, and something was missing in the family.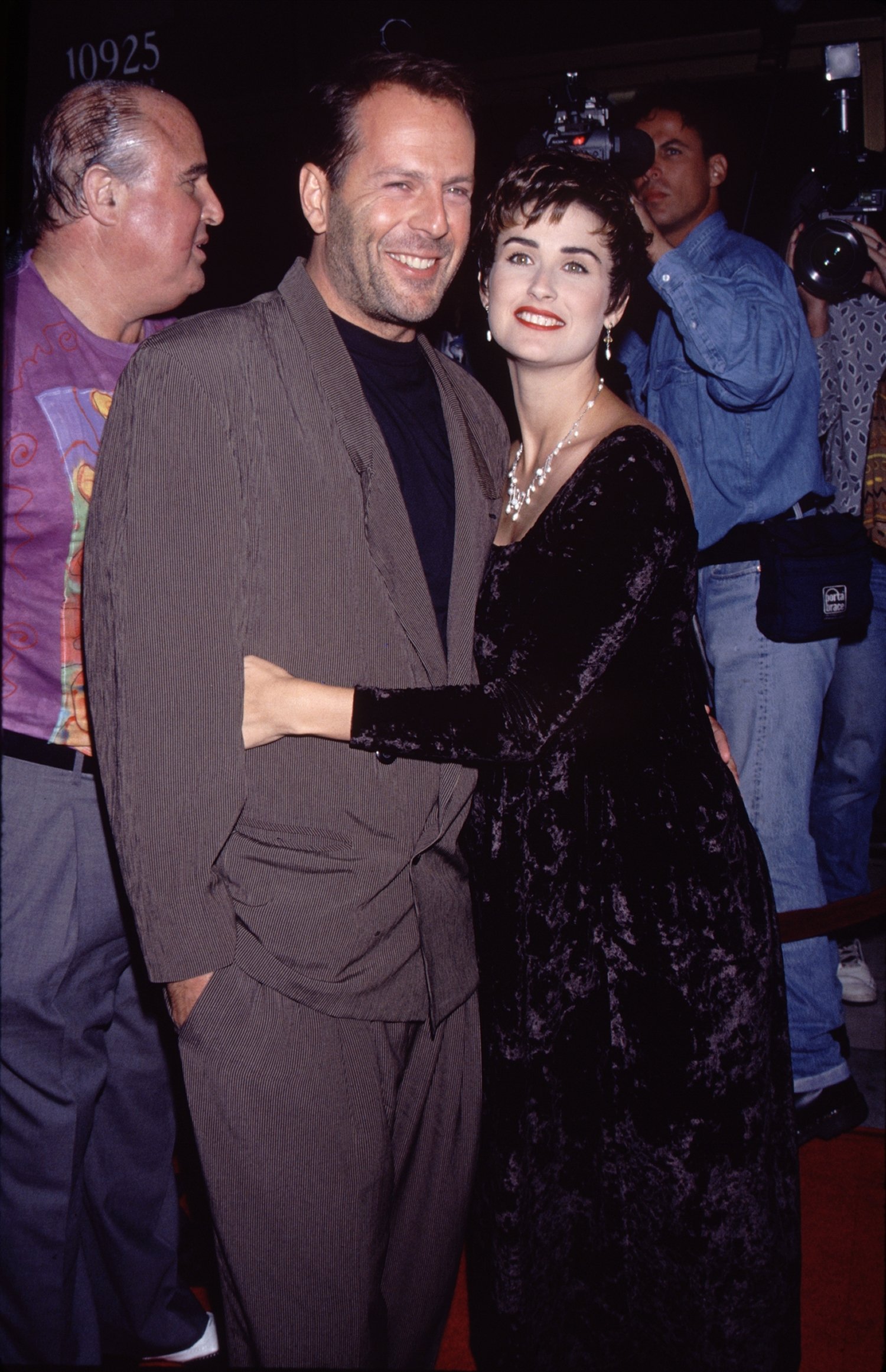 ---
FALLING APART TO FILL THE MISSING PIECES
Their heavy schedules and lack of time for their family took a toll on their marriage. It was in June 1998 when the couple released a statement that they were going on their separate ways and that separation became the glue that saved what they could still salvage. After the divorce, Moore and Willis were able to build a better relationship as friends.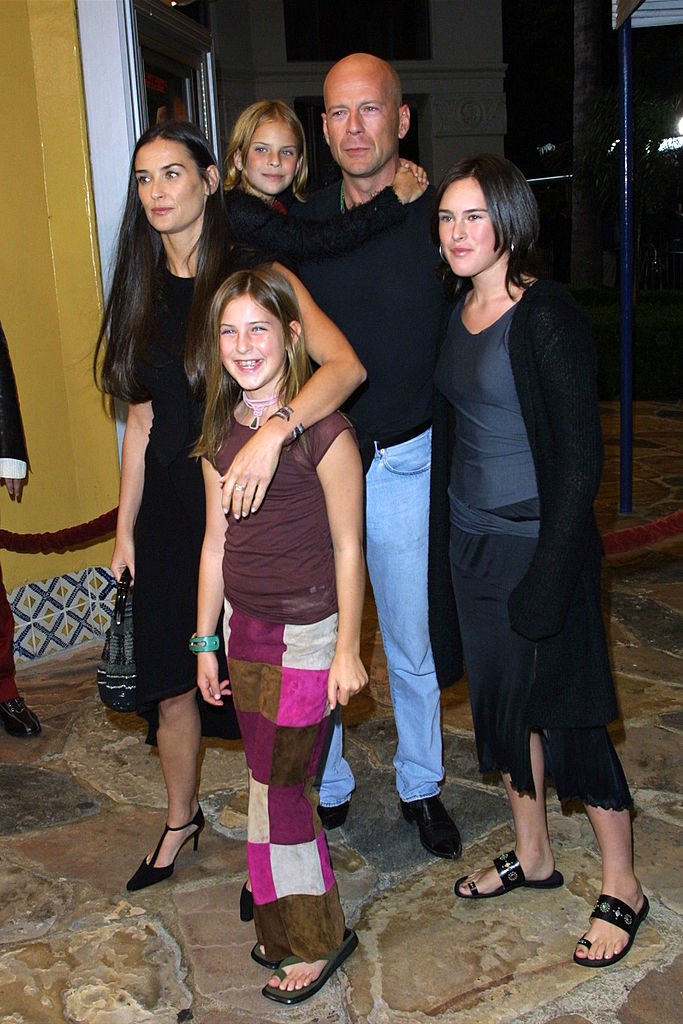 In her 2019 memoir, Moore revealed that she was actually proud of their divorce. Both of them were able to let things go. She never obstructed him seeing the kids and they never used any ploys that divorcing couples used as weapons. It's safe to say that their divorce was peaceful and that their family is still intact until this day.  
---
THE IN-BETWEEN CHAPTERS
After splitting ways, the Actor dated Brooke Burns for 10 months. After their break-up, Willis focused on work and went back to his career, and he spent almost 10 years being single and unhappy. He never thought being with someone else is the answer and he told himself that he's alone but not lonely. Little did he knew…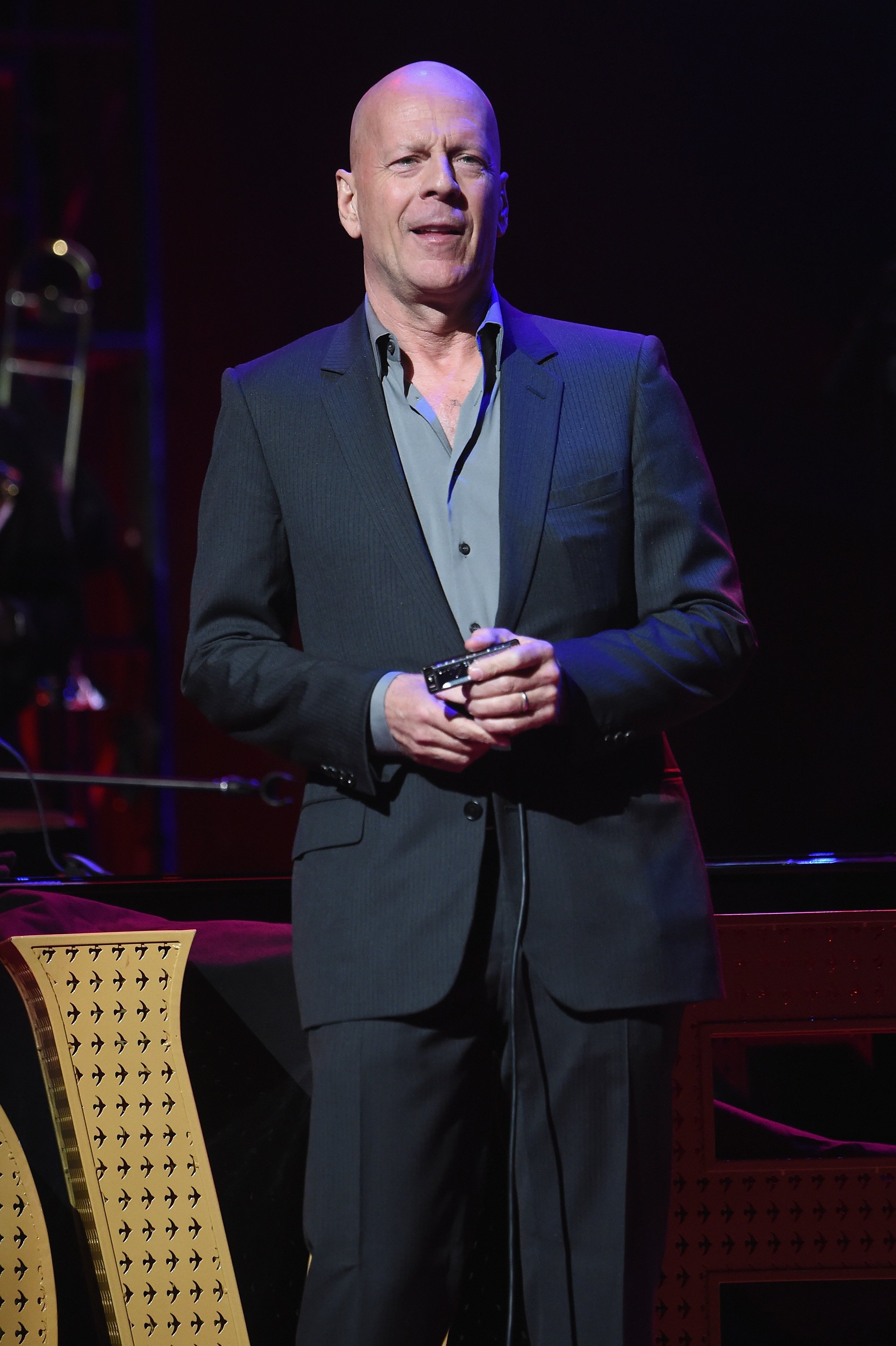 Moore, however, returns to the spotlight as she made a cameo in Charlie's Angels: Full Throttle. She found love again in Ashton Kutcher, who was 16 years younger than her when they met at a play in New York. They made their relationship public when they appeared at the Charlie's Angels: Full Throttle' premiere together with Moore's three daughters.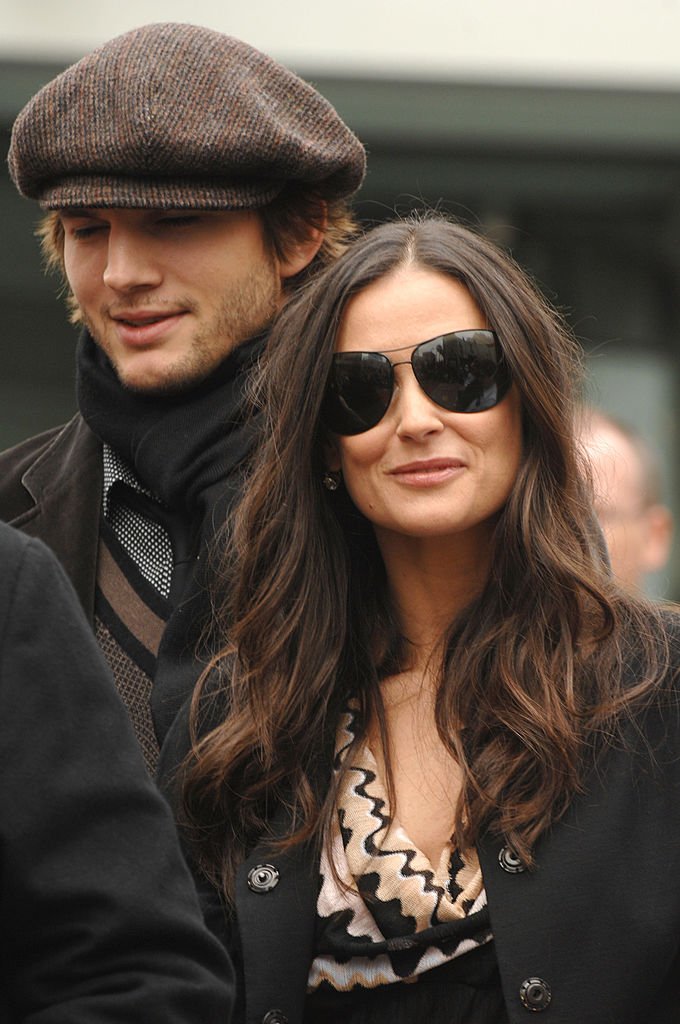 ---
THE SECOND HUSBAND BROUGHT FAMILY DRAMA
After Moore and Willis decided to part ways, the actress married Ashton Kutcher who was almost 15 years her junior. Her wedding attendees included Bruce and their three daughters and it seems like a happy start until her relationship with her daughters deteriorated after she had a miscarriage. The daughters cut their mother off from their lives for 3 years.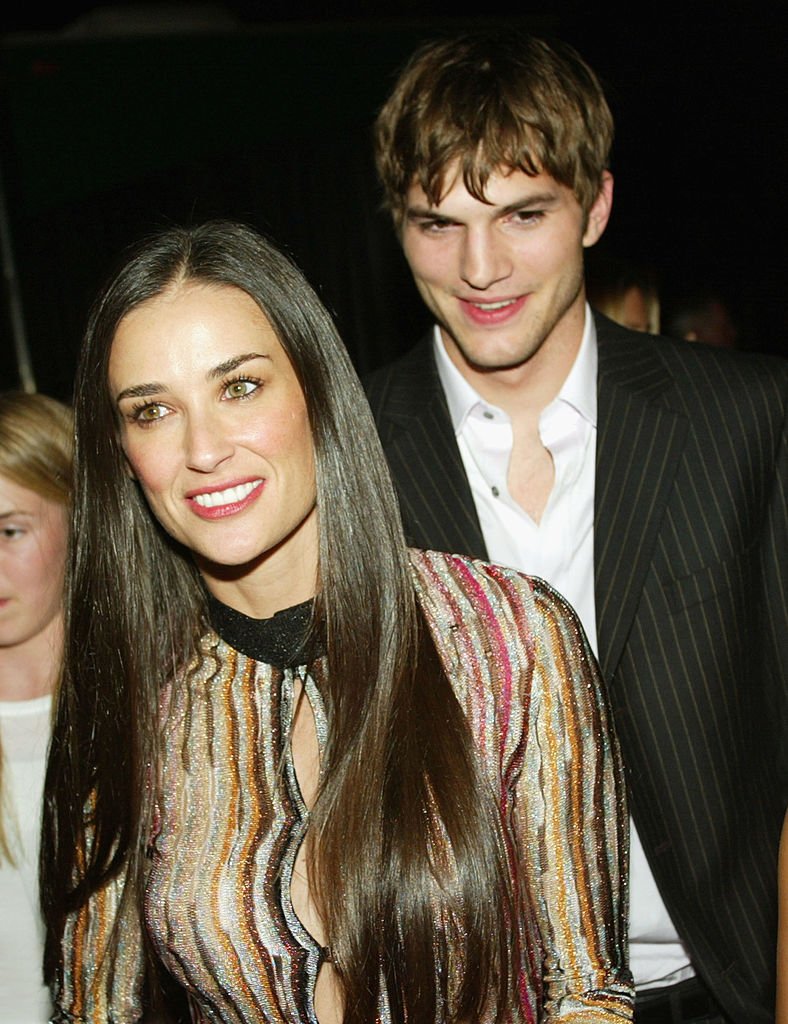 Eventually, the actress and Kutcher split and the mother and daughters worked to repair their broken relationship. Unlike the peaceful life they have with their father's new family, they found their mother and Ashton's marriage confusing. Kutcher however wishes Moore's kids the best in life and said that he makes a conscious effort to stay in touch with the girls.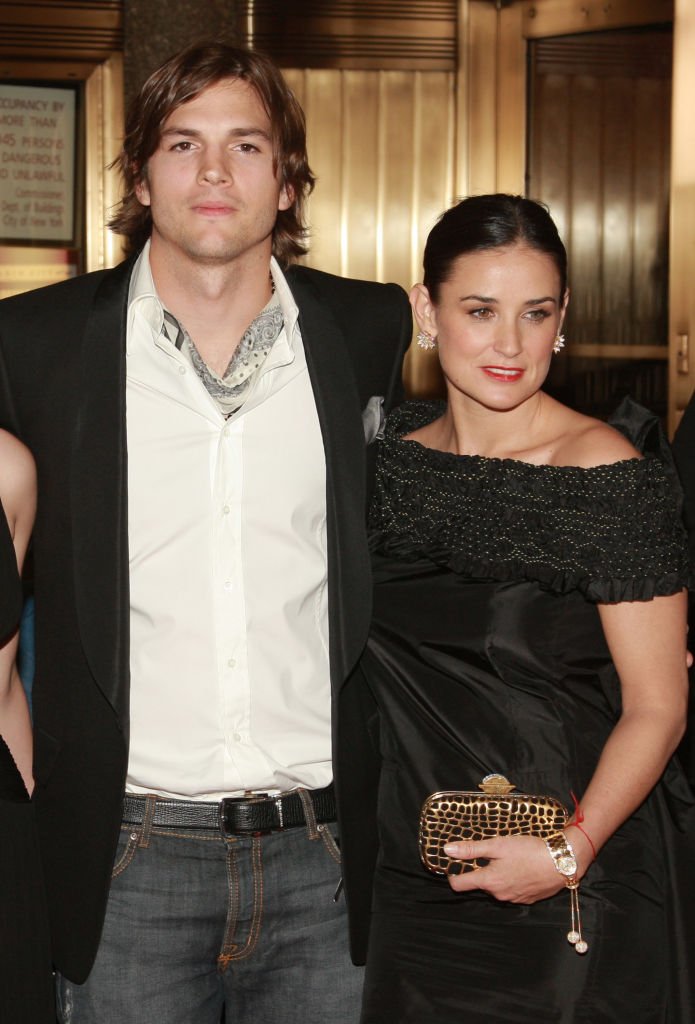 ---
THE SAVING GRACE CAME
Little did Willis knew that his ten years of waiting will be paid-off when he finally found the love of his life when he was 57! That's when he realized that he was just kidding himself when he said he wasn't lonely. Emma Heming came to his life when a common friend introduced them to each other.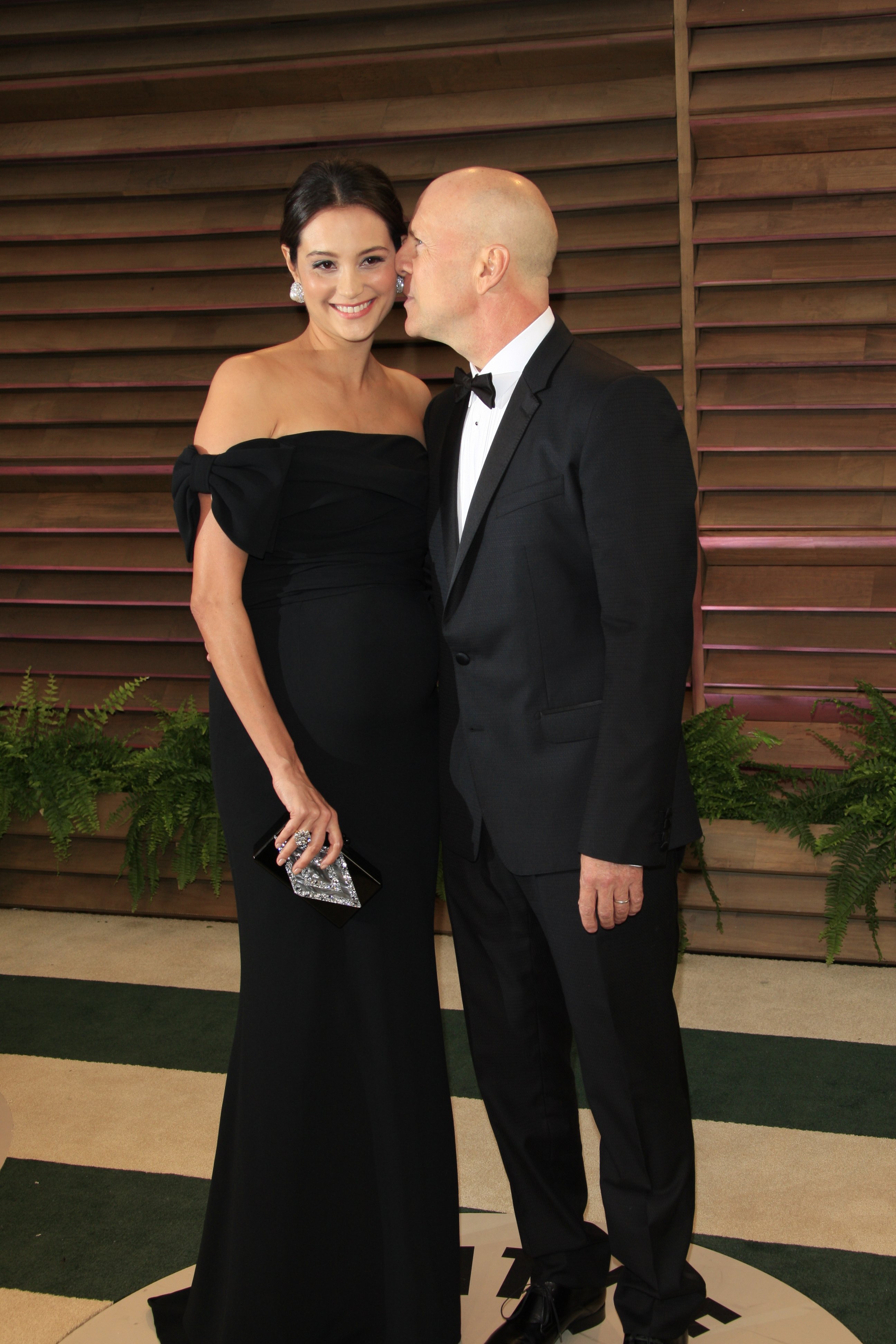 Willis claimed that his outlook on love and everything changed when he met her. He said that hanging out with her on a day-to-day basis made his life much happier. The couple was married in 2009, never paying attention to their 23 years age gap, and that's when they started sharing life together as soulmates.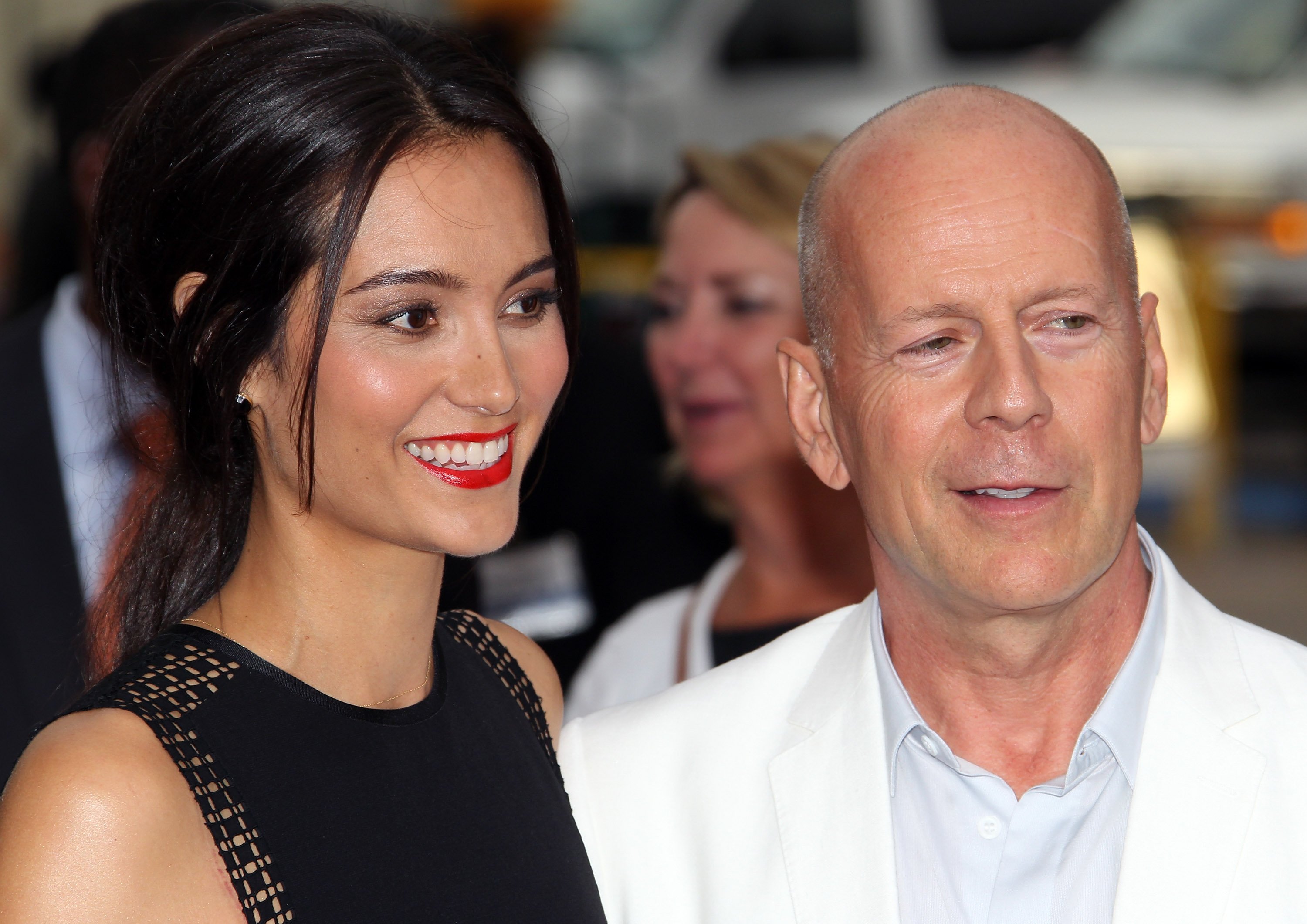 ---
SHE WHO COLORED HIS DARK NIGHT
Well, Bruce Willis married no one but the British Elle Supermodel herself! After winning the modeling competition in London which her mom signed her up for, Emma Heming had the privilege to walk on the world's most famous runways such as New York, Paris, and Milan. She was the face of Dior's cosmetics and the face of the campaign for Clairol and Redkin commercials.
After marrying Bruce Willis, she transitioned from her modeling career to various business opportunities. She has created a business of shoe accessories and a home fragrance line. She eventually partnered with Willis in creating the scents and his first fragrance, Bruce Willis, was nominated for a Duftstar award in Germany.
---
NEW PARTNERS, NEW FAMILY, NEW KIDS
As Willis started his new life with his new wife, his ex-wife's marriage to Kutcher was on the brink of collapse. They eventually ended their marriage in 2013 and they didn't have any children. It was soon revealed though, that Ashton and Demi had a miscarriage 6 months into their pregnancy in 2005, just before they were married.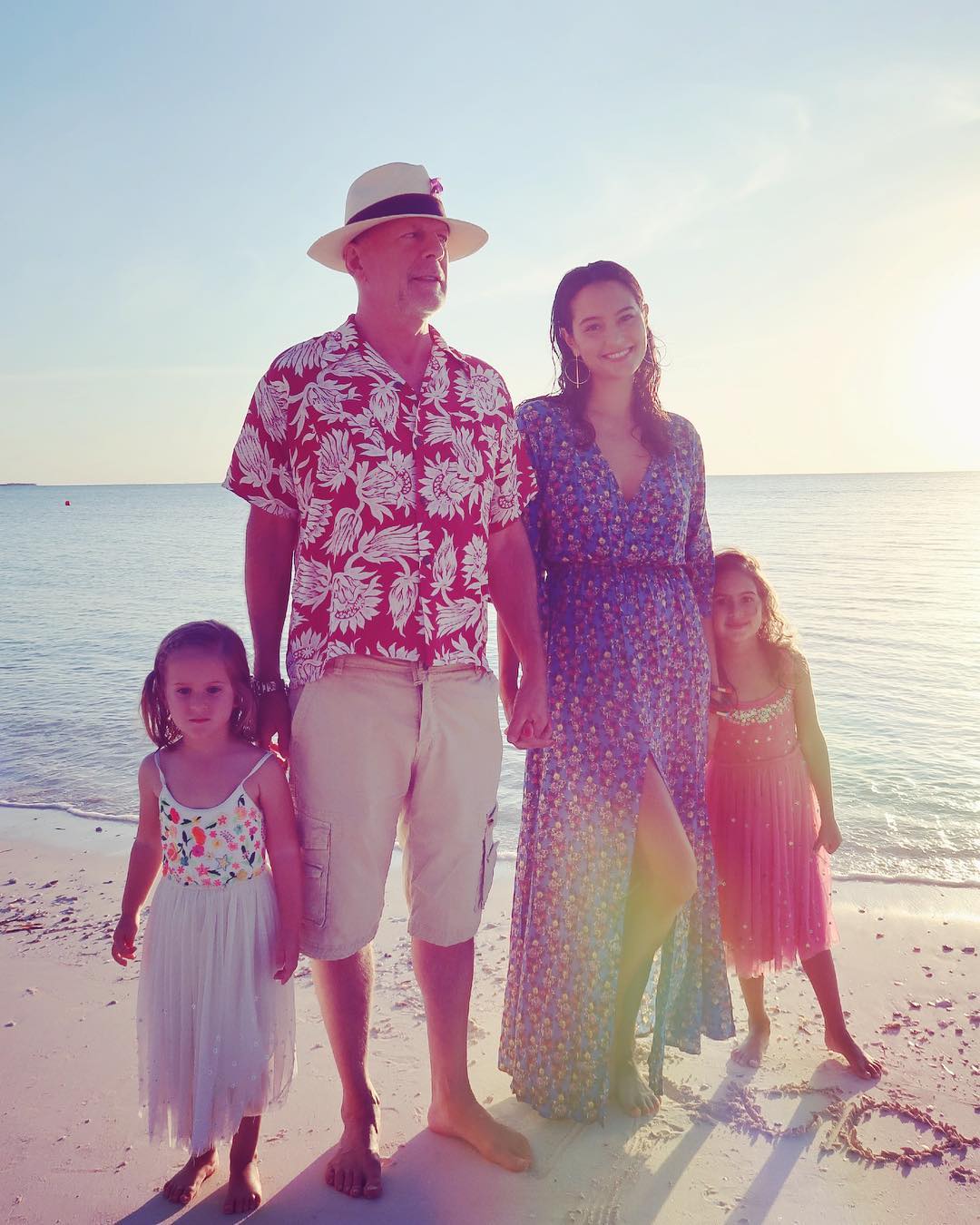 The love of Willis and Heming on the other hand continued to bloom and their first daughter, Mabel Ray, was born in 2012. Two years later, Evelyn Penn, their second daughter, was born.  Emma mentions her three stepdaughters on her blog; Rumer, Scout, and Tallulah, and described them as her own daughters' amazing older sisters.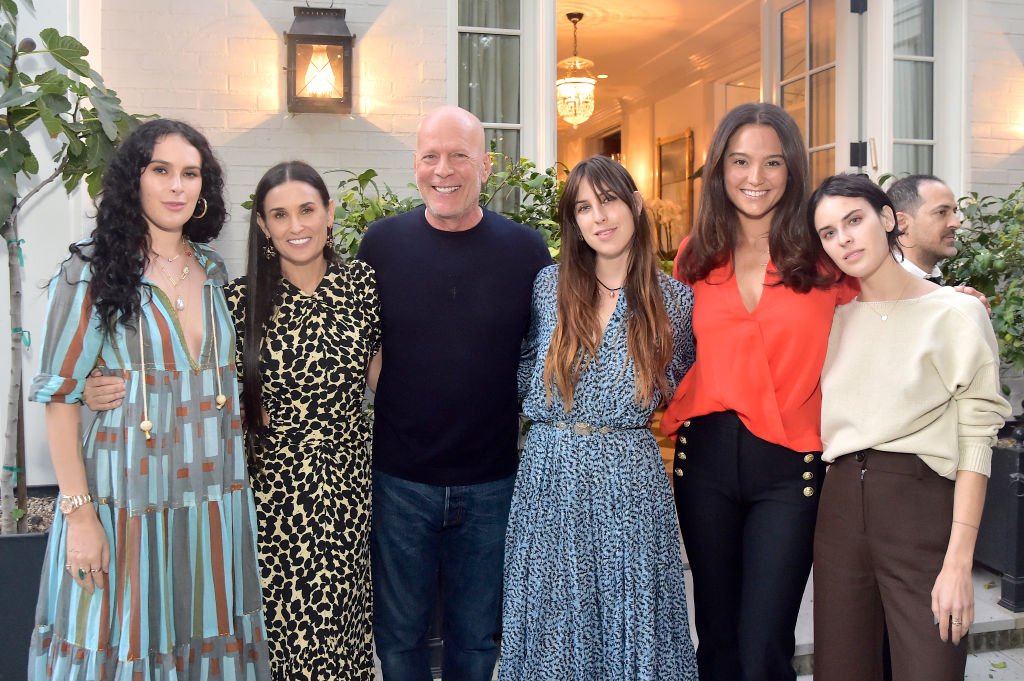 ---
THE DAUGHTERS OF THE DIE HARD STAR
Rumer who is now 31 is an accomplished actress who played many roles alongside her father. Scout, who is 29, is a singer-songwriter, while Tallulah, 26, is a mental health advocate who designed and released a clothing line. The two little girls are still very young, but surely, with the kind of family they have, bright futures await them.
---
SIBLING RIVALRY? NAH! THEY'RE BEST FRIENDS FOR LIFE
Moore and Willis continued to co-parent their daughter and their eldest child praised their efforts, sharing that they never need to split up vacations or birthdays because their mom and dad made ways to do all the family events together. They remain as one big happy family even when Mabel and Evelyn came into the picture.
Rumer, the eldest, was the first one to welcome her young stepsisters in the family. She gushes over them on Instagram, sharing what they do as sisters like what the typical siblings would always do and she labels the four of them as her best friends for life.
---
SUPPORTIVE EXES
There was never a grudge between the ex-golden Hollywood couple at all. They were present at each other's wedding and they even support each other's careers. When Demi released her memoir, Inside Out in 2019, she revealed in a Netflix podcast that Bruce called her and told her that he was so proud of her work.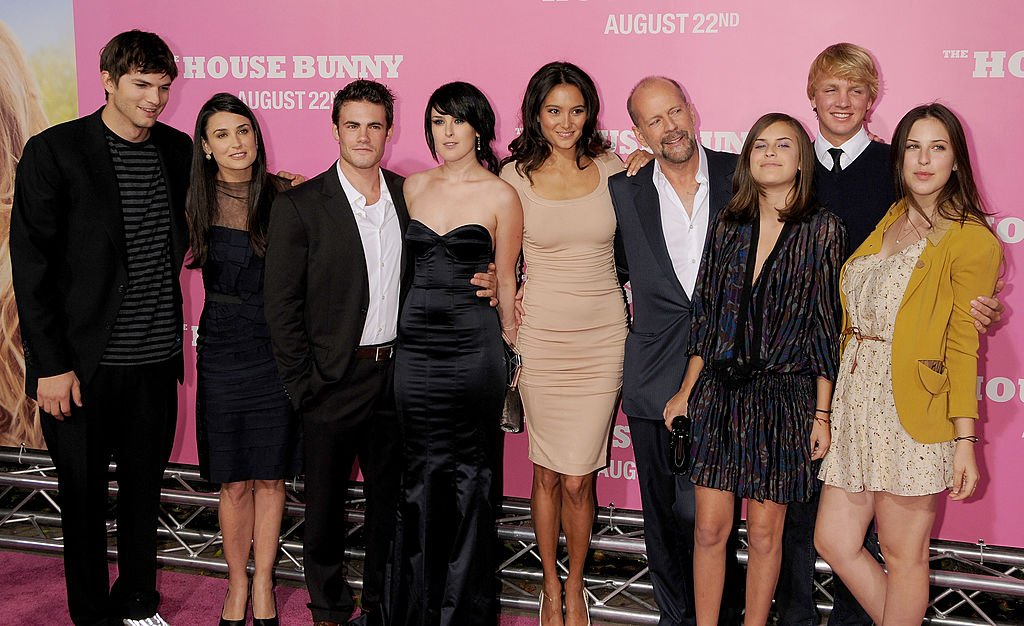 As the Comedy Central Roast of Bruce Willis aired on TV, Demi was one of the stars who playfully threw some shades at him and it showed how they were able to get over their past relationships that they can now laugh about their failed marriage together.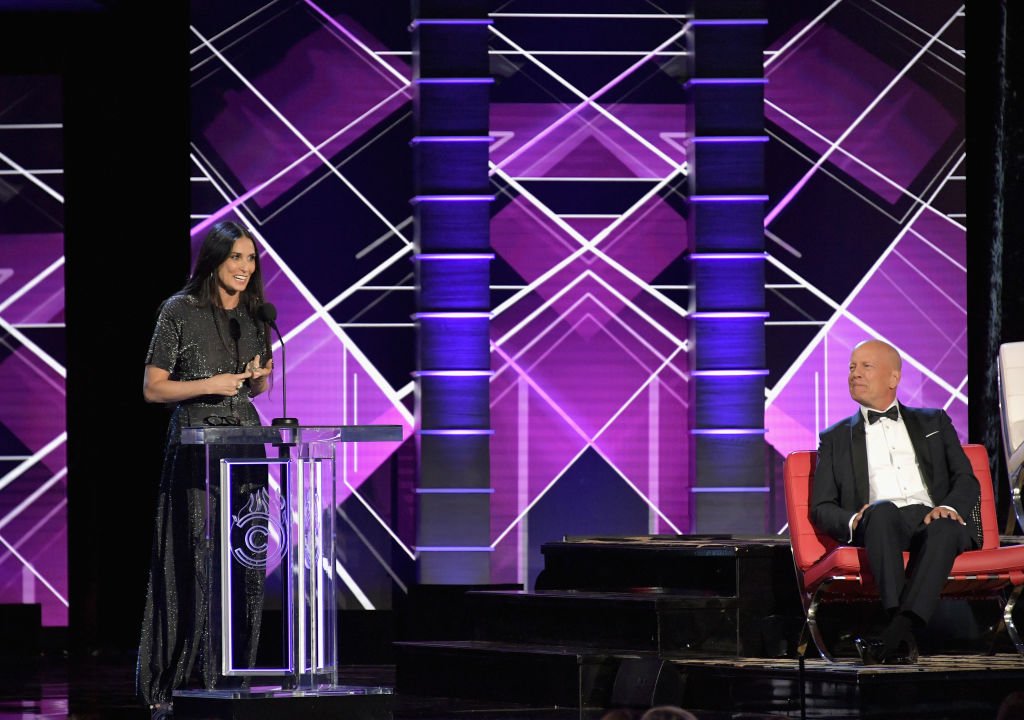 ---
WHOLE FAM AT THE RENEWAL OF VOWS
In March 2019, Willis and Heming celebrates their 10th year of marriage by having a renewal of vows ceremony at their Parrot Cay home in Turks and Caicos. It was a picture of a big happy family that Rumer shared on her Instagram when everyone was present.
Demi and Emma have high respect for each other as well as being supportive of one another. Heming said that Moore welcomed her into their family as she welcomed her into theirs. The couple even admitted that they wouldn't like to do their renewals if Moore wasn't there.
---
THE SECRET RECIPE TO A DECADE OF LOVE
People would always speculate that it is tough when exes still communicate with each other even though they are now living with their current partners. Bruce's large family proves them wrong! During the wedding vow renewals, Emma has nothing but praise for Bruce as to how he is so devoted to their family.
She told US Weekly that their mutual respect and love have helped build a great foundation. She said that he always made her laugh. He's funny and smart and that he always keeps her on her toes so their whole married life was fun.
---
THE QUARANTINE RUMOURS
During the Coronavirus pandemic, netizens go crazy as they made rumors that Emma and Bruce split up resulting in Bruce's quarantining in Demi's house. Willis was seen on Instagram through Rumer's post spending all the weeks of quarantine with his elder kids and ex-wife without having his present family around.
It was soon cleared up when Heming posted on her Instagram on May 6 that they are back together under one roof again. Scout Willis also revealed why her stepmom and stepsister didn't spend the quarantine with the family. They actually planned to spend it together but circumstance didn't allow this to happen because Evelyn poked her foot with hypodermic needles, so they had to wait for her results after taking her to the doctor.
---
HE'S HAVING THE TIME OF HIS LIFE
He still has a house near Demi's estate in Idaho so that he can easily co-parent his daughters. Even now that they are already getting older, his three ladies with Moore are so thankful for this set-up and Rumer even praised their parenting for they never had to experience having separate birthday parties as their mom and dad always make ways to celebrate it altogether.
---
MUTUAL RESPECT, LADIES, IS ALL IT TAKES
Tallulah, one of Bruce's daughters with Demi Moore, posted a photo of the family in matching green striped pajamas on Monday while they were together on lockdown.  There was no hint of bitterness from Emma when she posted on the comment section and said that not many can pull off the color and the squad is looking good!