Smart Storage Tricks That Can Save A Lot Of Space At Home
Our Pinterest is filled with ideal furniture aesthetics and comfortable daywear that we can seamlessly transform into pajamas. But, we also get our kicks from cutesy convenience and life hack videos that become essential. So, we found some incredibly handy storage hacks that will make efficient use of space and everyday products that blew our adulting minds.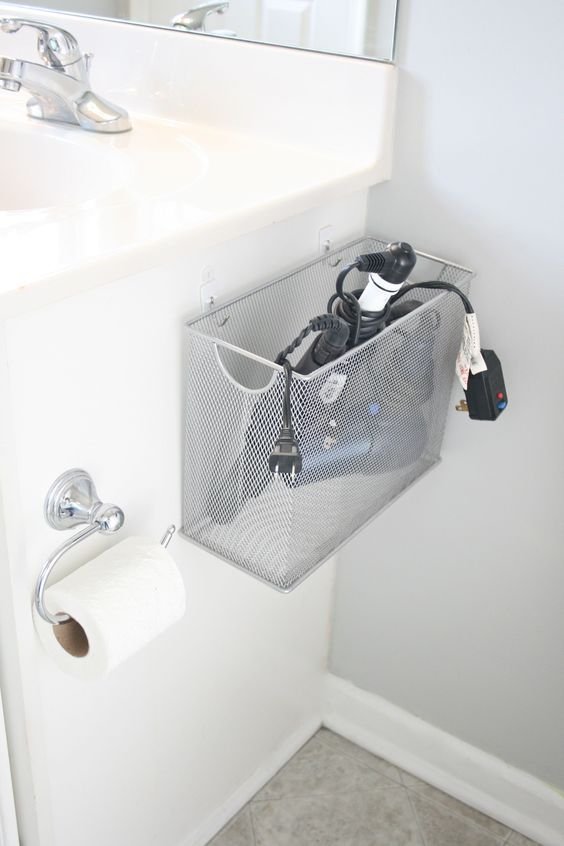 ---
CD Rack Lid Storage
Tupperware is the soul of any kitchen. They're one of the most essential tools to have, and more often than not, they're arranged in the messiest ways possible. There's a clever solution to this that you never realized. You can use a metal CD rack to keep them upright and easily seen. Store the larger lids towards the back and smaller ones in the front to keep them all in plain sight.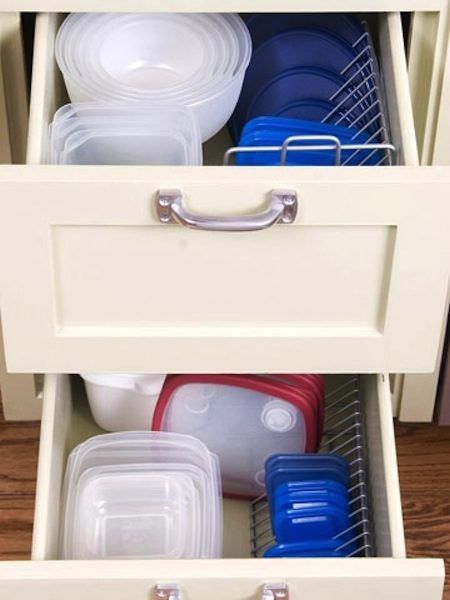 ---
Paper Towel Holder Ribbon Organizer
A lot of things used in the bathroom are dispensable, almost immediately too. But, for something that its name suggests its ultimate usage, a towel holder can be multi-functional. To keep your spools of ribbon organized and easy to get to, use this concept to help you keep it out on a craft desk or closet shelf where you're more likely to see it and use it.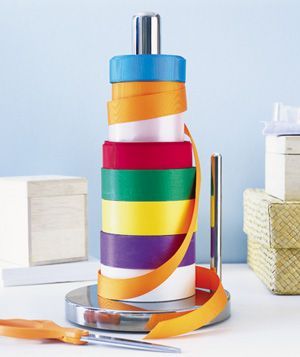 ---
Dinner Plate Cradles
Playing Jenga with plates is sometimes a space-consuming activity. So, instead of stacking your plates on top of each other, how about you invest in dinner plate cradles to keep them upright and easy to pull out of the cupboard. Keeping them so neatly racked up means they're easy to access for whenever it's dinner time!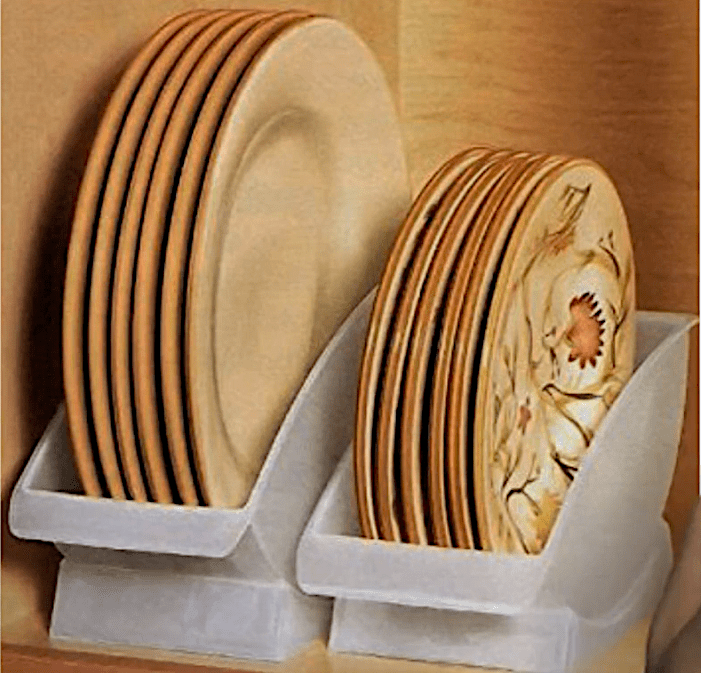 ---
Vertical Bakeware Storage
Similar to avoid plate Jenga, you can avoid playing that game with your pots and pans too. Try to turn a bakeware organizer on its side and secure it to the cupboard with cable clips. This allows you to pull out the pan you need quite easily without having to dig for the pots at the bottom. It operates like a perfect fitted shelf that's just the right size for all of those otherwise hard-to-reach-to pans.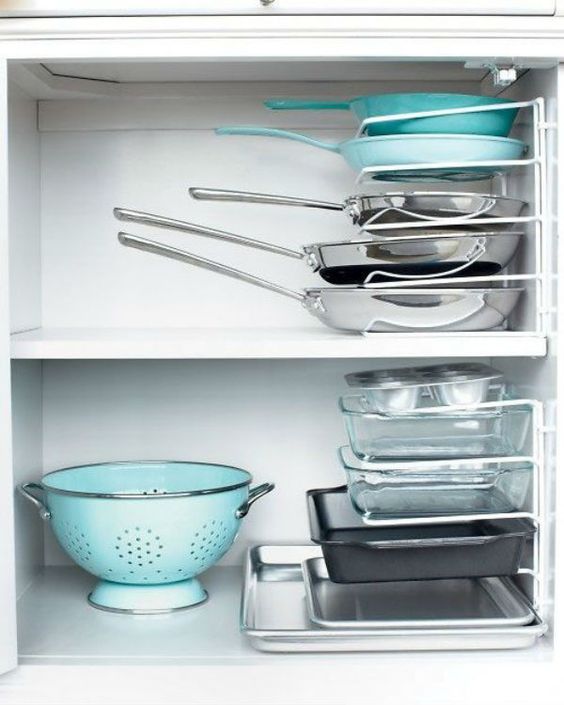 ---
Egg Carton Storage
Egg cartons stack up like no one's business! Now, When you've run out of eggs in your house, you can take pause and consider the wonderful storage unit that it could be for you come Christmas time. It sounds absurd, but, if you look at the picture above, you can store all types of ornaments in a safe and secure place.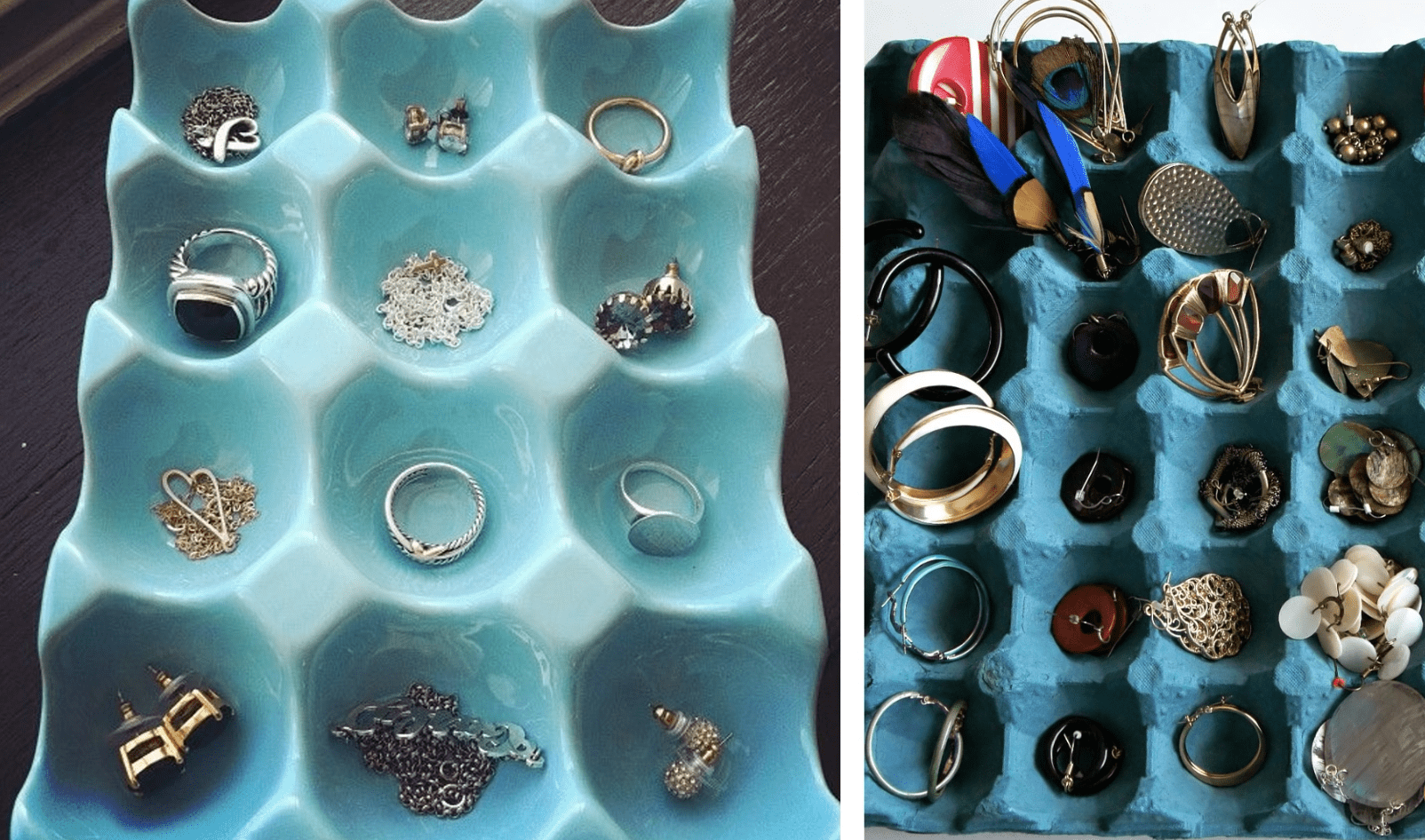 ---
Wine Rack Office Organizer
When the wine runs out, there's no need to panic anymore. You can now use a stackable wine rack and some container bins to store some of your work utensils and stationery! The vertical space allows you to sort your office supplies efficiently, without having to rummage through your congested drawer to write something down.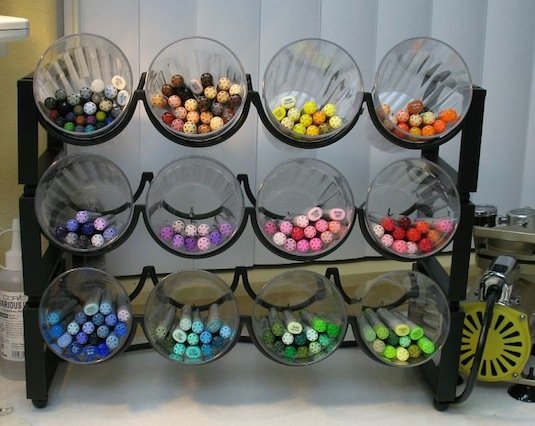 ---
Ceiling Storage
This is how you fill empty spaces! You can use a ceiling rack to store all your wrapping paper after you've used it. You could also do this on the side of a closet to keep them standing upright and out of the way. They become 10-times easier to spot and slip out in a swift manner.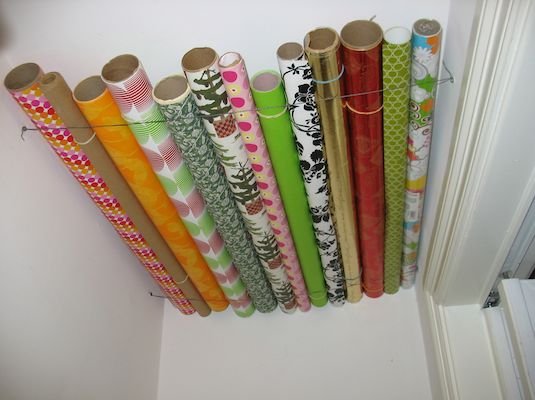 ---
Repurposed Trash Can
A
trash can
, (surprise, surprise), can be used for more than trash now, and who would've thought? Now, all your wrapping paper or even your blueprints for work have a place they can be stored and easily accessed when you need them.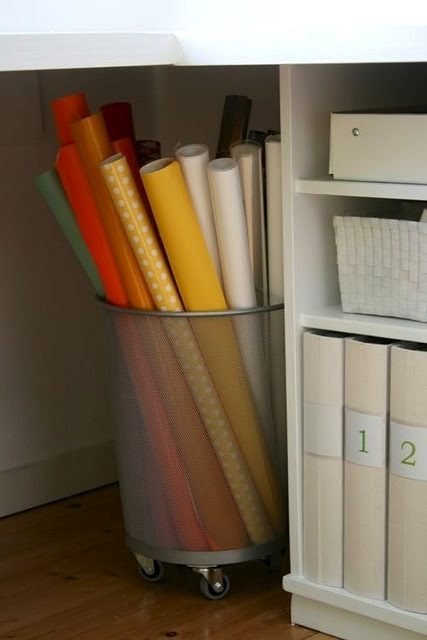 ---
File Box Appliance Storage
Some beauty supplies and appliances leave a heap and a mess of cords and wires that are completely difficult to roll up and neatly coil. But, a file box doesn't need to stay in your home office anymore. Now, you can use that to store all your beauty mechanics such as hairdryers and curling irons in a useful style.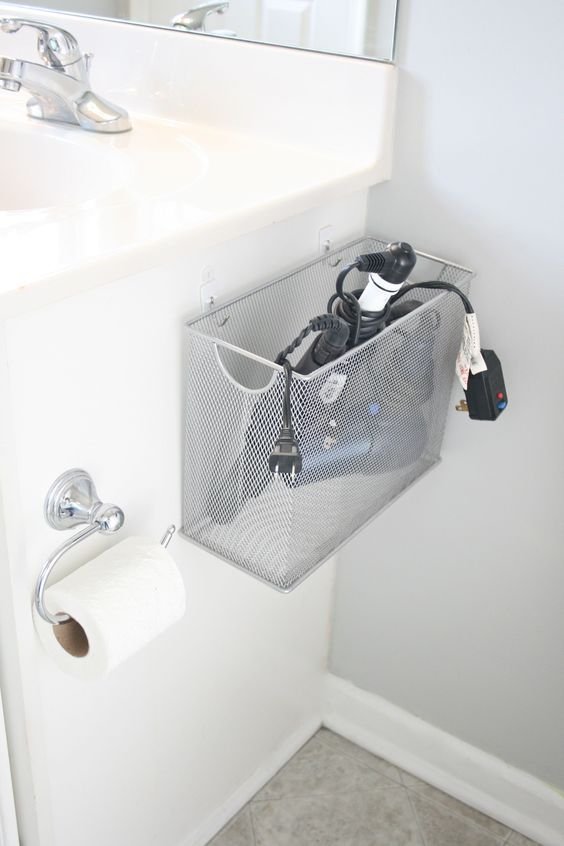 ---
Repurposed Disinfectant Container
A disinfectant container already has a multitude of purposes, but they don't stop there. The disinfectant wipes are convenient tools to use. But, for all of you pet lovers and owners, you can now use them to store away pet remains! You can even decorate the container so it looks nice while it sits within an arm's reach on the counter.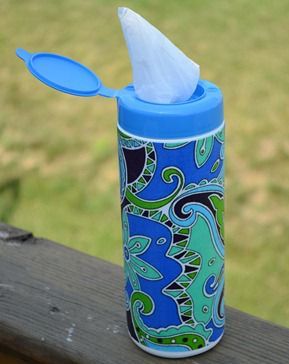 ---
Ice Cube Tray Drawer Dividers
Another example of an item whose name doesn't weigh down its potential to be convenient. Place ice cube trays inside of a drawer to store and organize small items like jewelry, crafts supplies, push pins, paper clips, beads, and other little things that are easy to get mixed up or lost.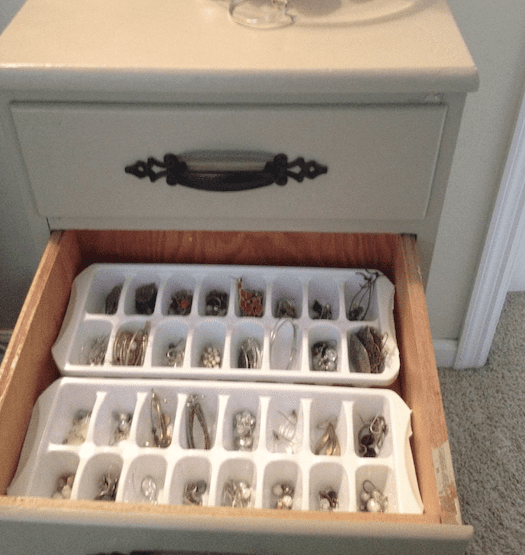 ---
Hang Towel Bars to Organize Scarves and Belts
Belts and scarves are always those items that go missing right when you're trying to pull together the perfect outfit. Now, you don't have to search through the pile anymore, all of your options can be laid out right in front of you to choose from when you hook them on a rail like this.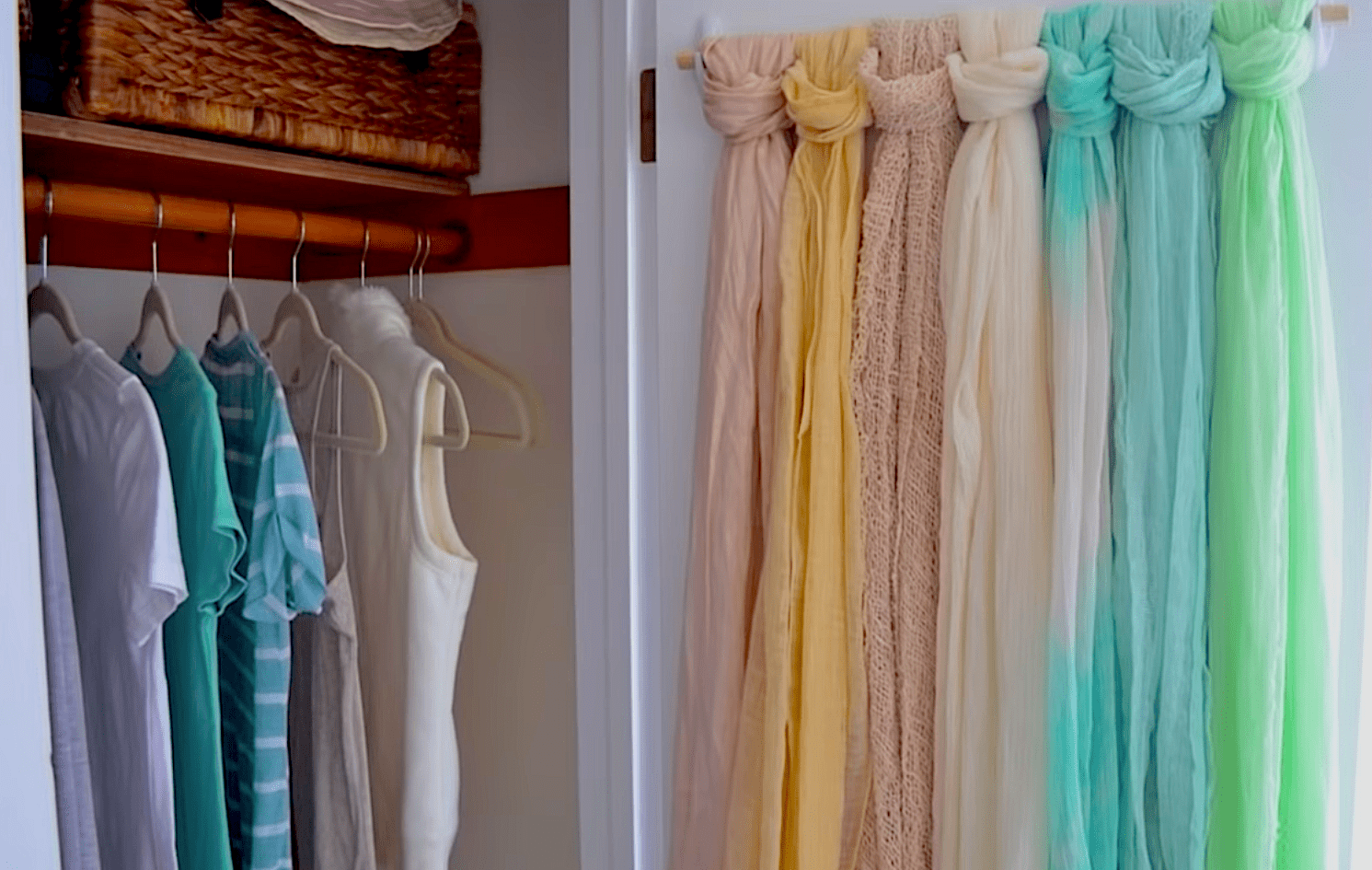 ---
Magazine Holder As Kitchen Storage
Even with the sale of physical magazines on the decline, their decline doesn't have to be concurrent with magazine holders. Instead of stacking your kitchen essentials in a drawer or cabinet, store them vertically in a magazine holder to make more room in your cupboards while keeping them easy to reach.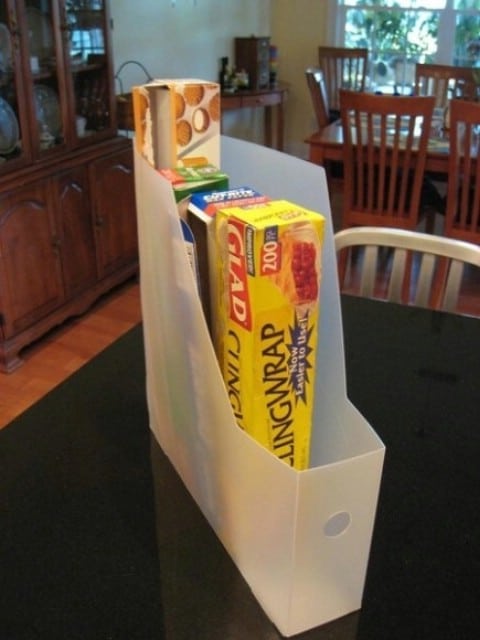 ---
D-I-Y Tape & Ribbon Holder
Wire hangers, as we've already seen in this list, can do a bit more than just hang a jacket. Yet, there's another alternative when it comes to what they can do for you. If you simply cut one end with wire cutters, you can loop them with pliers and slide them out whenever you need them.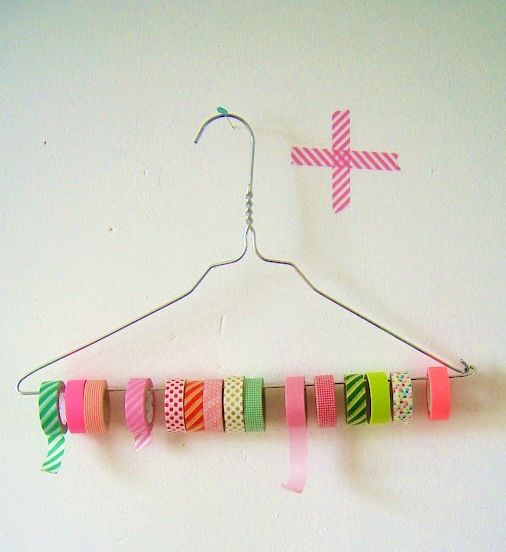 ---
Hang Your Mugs from Hooks
This storage option just happens to be aesthetically effective as well. Before you even know it, your collection has exploded, occupying massive amounts of much-needed cabinet space. To reclaim the room your mugs once occupied, add hooks to the bottom of your cabinets and you'll have tons more room instantly.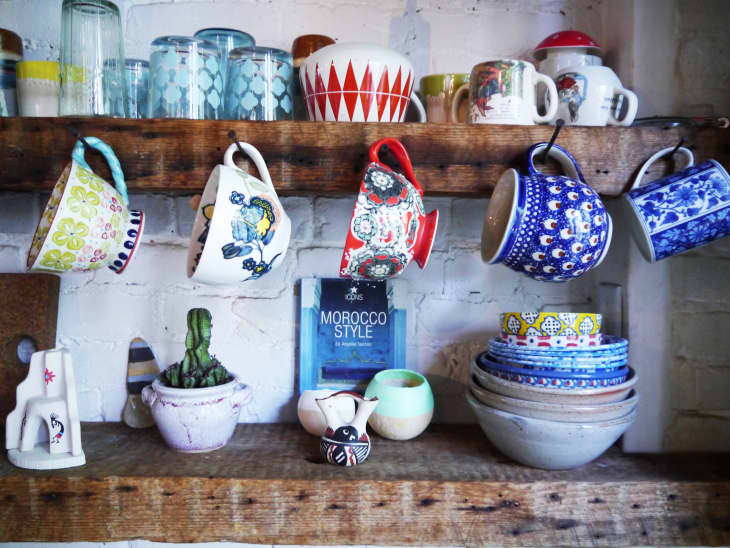 ---
Hang Double Bars in Your Closet
The more seasons that go by, the more jackets you happen to accumulate. Make the most of your wardrobe space by making your closet perform double duty. Just mount one bar up high for items you only use once in a while and mount the other at waist height for clothes you wear regularly, and you can slip in and out of your favorite fits before stepping out.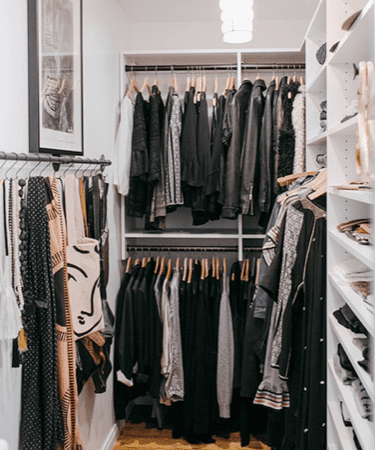 ---
Hang Your Bicycle On Your Wall
This has also become a favorite aesthetic choice of the hipster generation. Biking is a great recreational activity that's easy to do. But, if you have no garage or don't have garage space, then it becomes an issue. You can now hoist and hang your bike on the wall where you can easily lift it from the wall when it's time to go for a ride.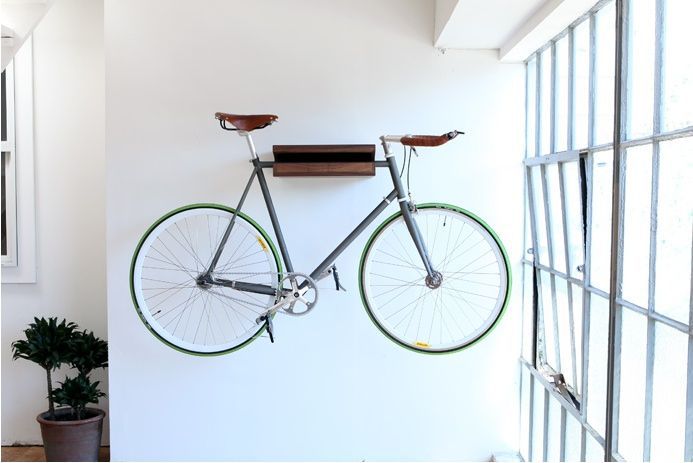 ---
Tackle Box Battery Storage
Batteries are those things that you feel like you know where you put them but when you look for them, they aren't where you put them. But, a plastic tackle box is an all-in-one solution where you can keep them and find them. The individual compartments are perfect for separating your batteries by their type and size.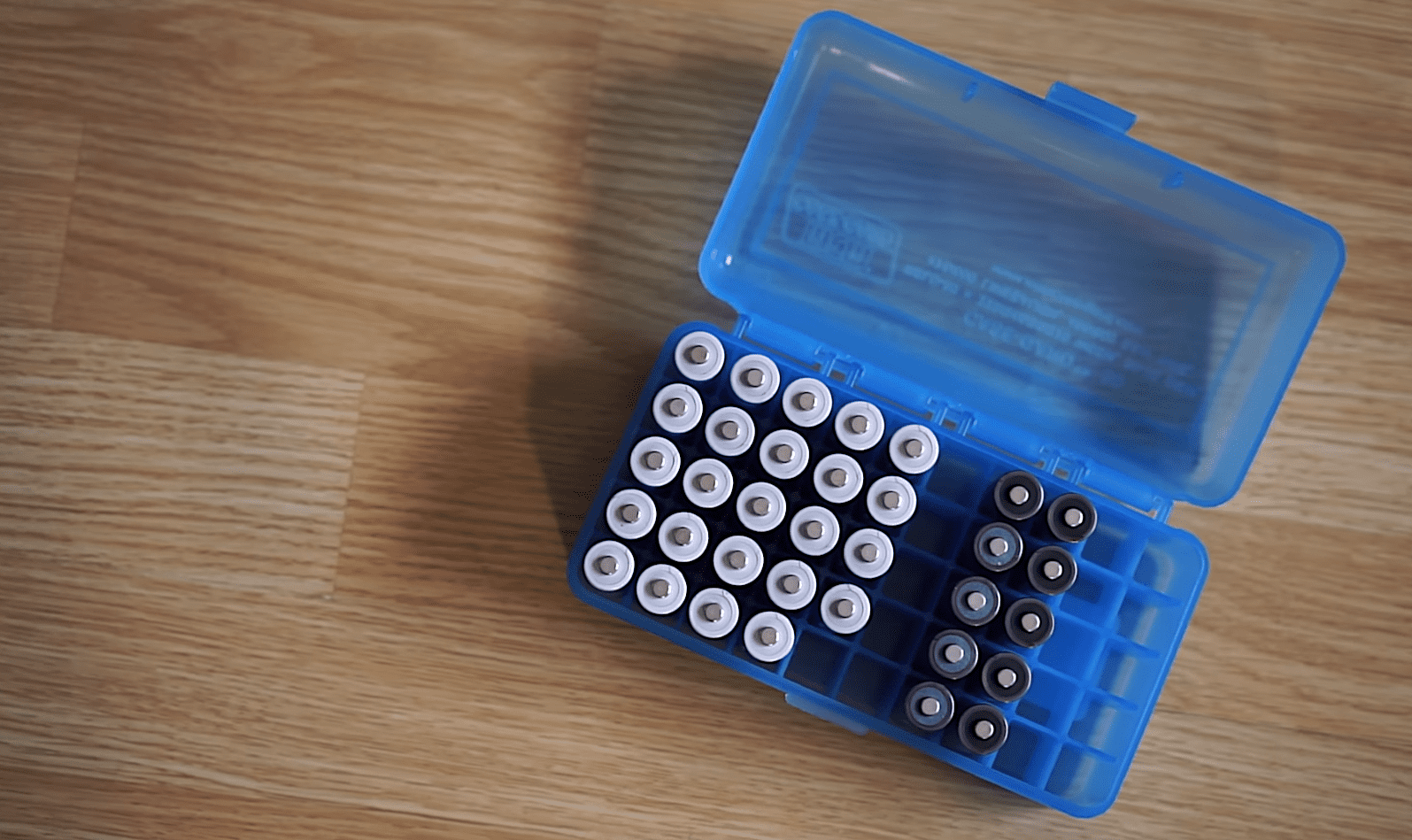 ---
Hanging Herb Garden
For all the plant parents, this one is just for you. Tin cans can be used for a multitude of reasons that are convenient and, more importantly, inexpensive. With the right type of decor, they can be replacement pot plants that are effective and interestingly decorative.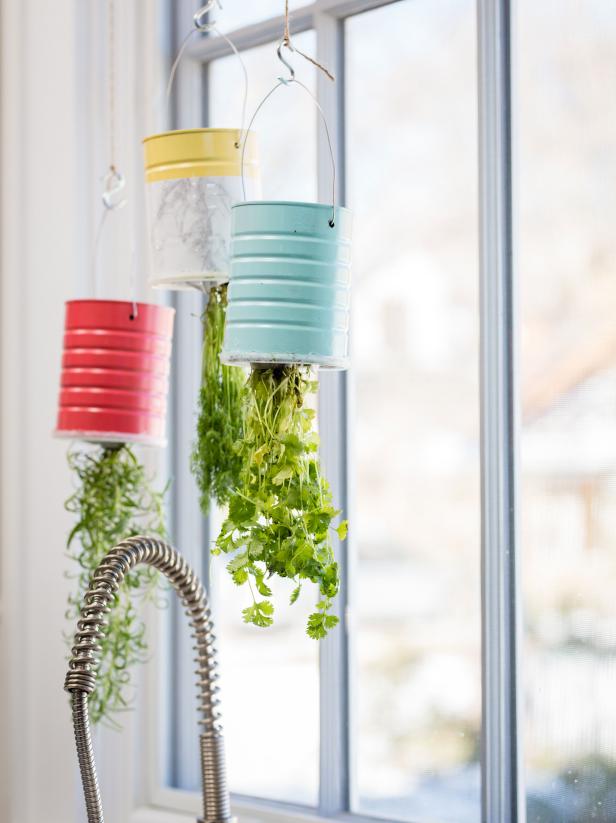 ---
Bucket Full of Crayons
Buckets can carry gallons of water and can also serve other great uses that could ease your life by simply transforming it into a creation station. Simply place a tool organizer around it to keep art supplies neat and tidy in sections. It also encourages fun clean up time for the kids whenever they're done being little artists.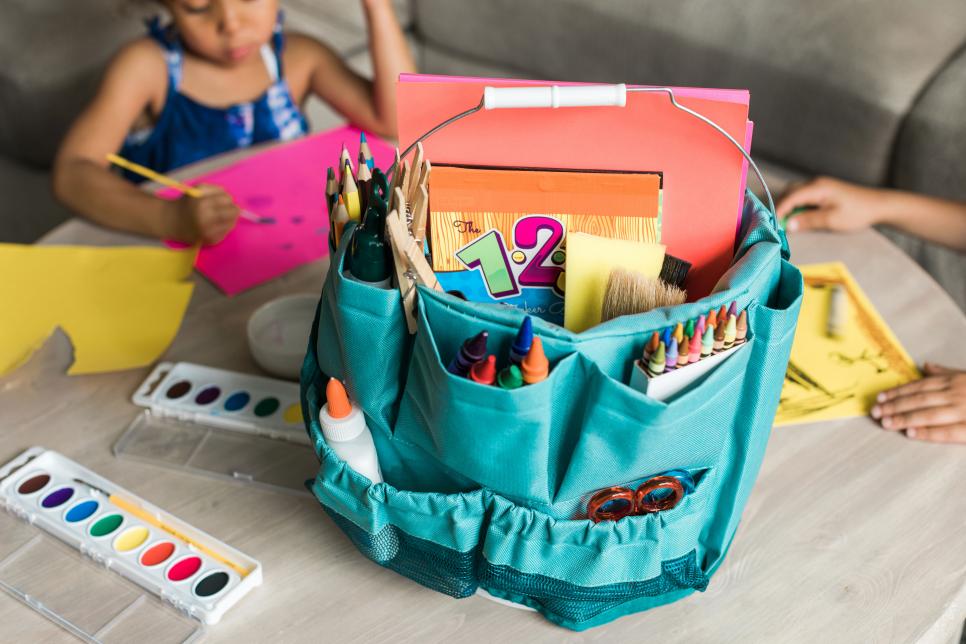 ---
Cute Cutlery Storage
Finding new storage solutions also puts a new spin on our capacity to recycle and kitchen decor. Coffee containers can be great for organizing and storing kitchen utensils that are right in front of us. With a sleek design, it makes it easier and less messy than the traditional spoon drawer vibe.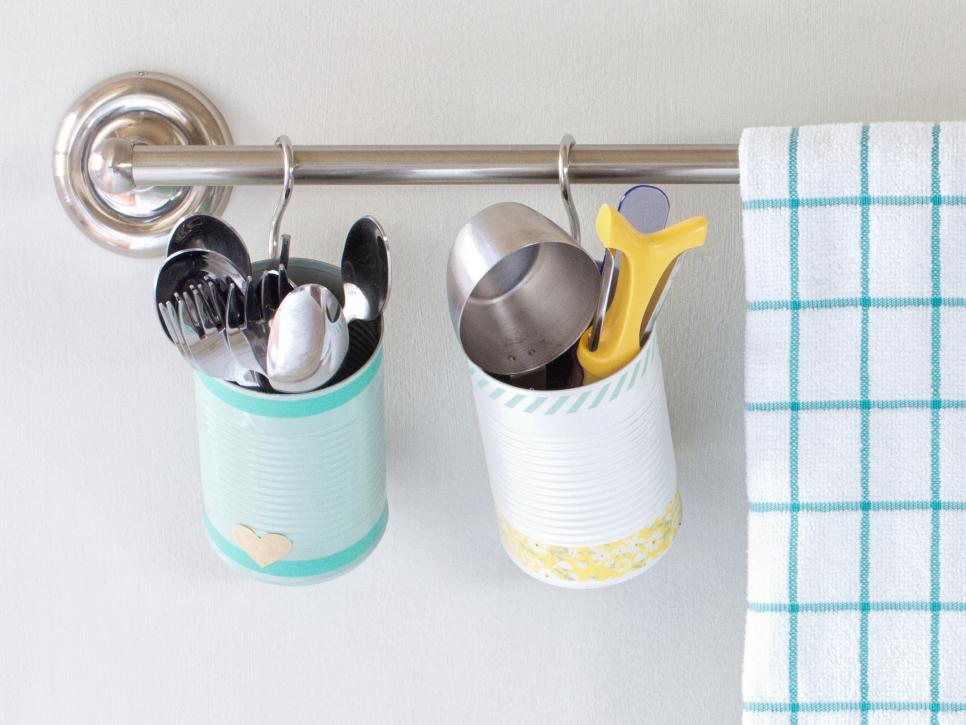 ---
A Cool Pool Hack
On special summer occasions, when you have festive guests over who enjoy a drink and a discussion, then it's a good idea to have the drinks nearby. That's why filling a baby pool with ice is a fun and great way to keep the drinks nearby and flowing.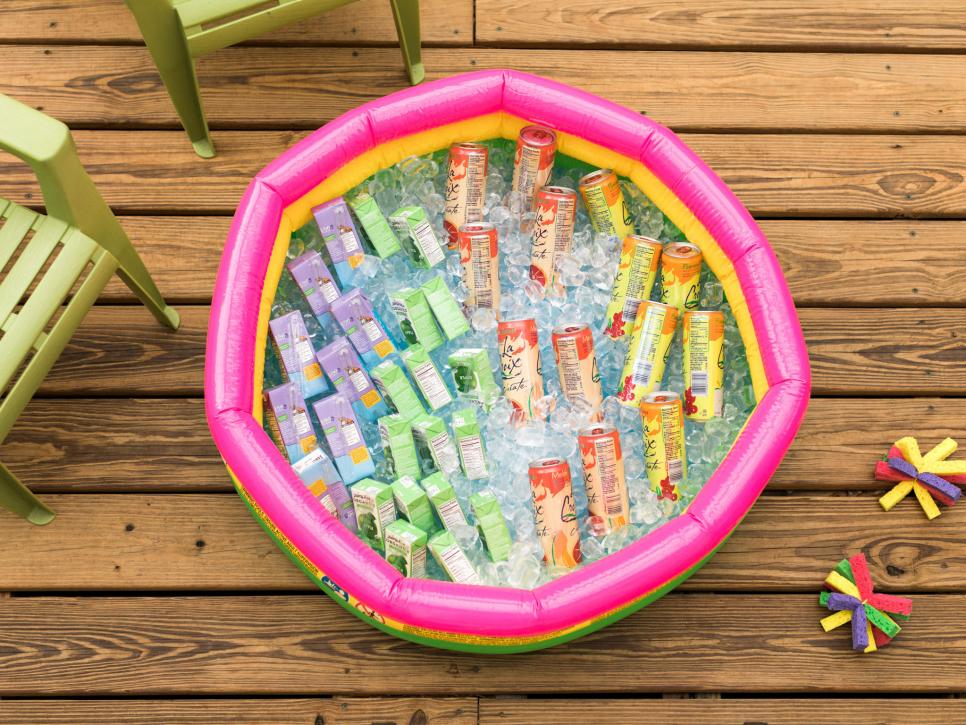 ---
Spice Rack Reuse 
A spice rack, like many things, can be something with a single usage when you give it its name. Racking spice. But some more creative and savvy inspection proves that there's more to it than you realize. You don't have to refill or throw out finished spice containers either now. By saving them, you can store some stationary and create an easy-to-use rack where you can pick out what you need while you work.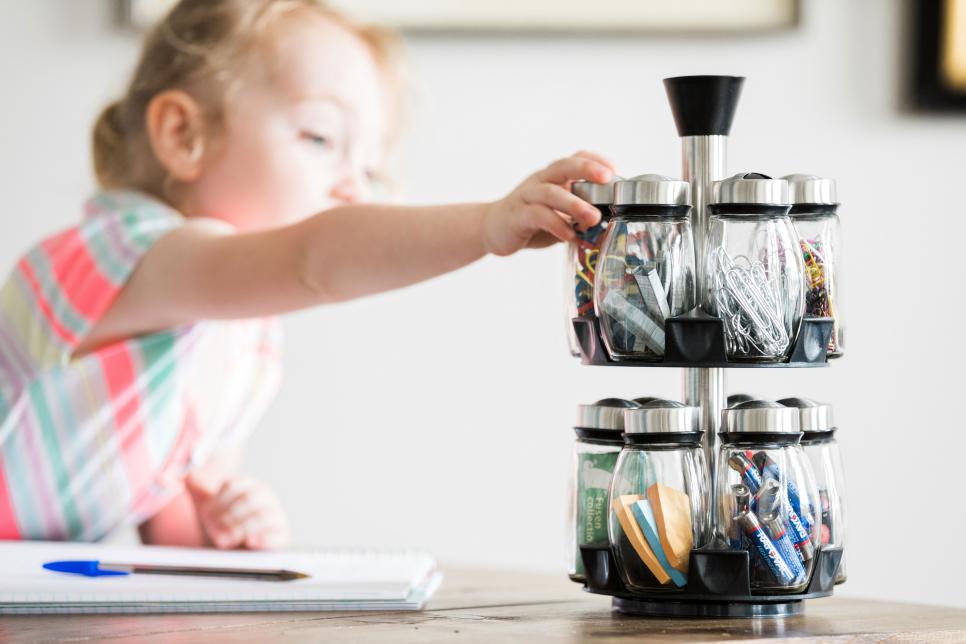 ---
The Wire Basket Hack
Flip and hang a wire basket and suddenly it becomes an extremely useful storage unit for not just clothes anymore, but other clothing-related appliances. But also, with enough space, you can also keep some key sanitation products that are easy to get to.
---
Dish Rack Documents
When the dishes aren't piling up but your office space is a mess, there's a great way to organize all your important documents when you're out of space. Just file your documents and folders on a dish rack. It's a seriously useful and simple solution to make sure you're not wasting time losing your mind while trying to get some work done.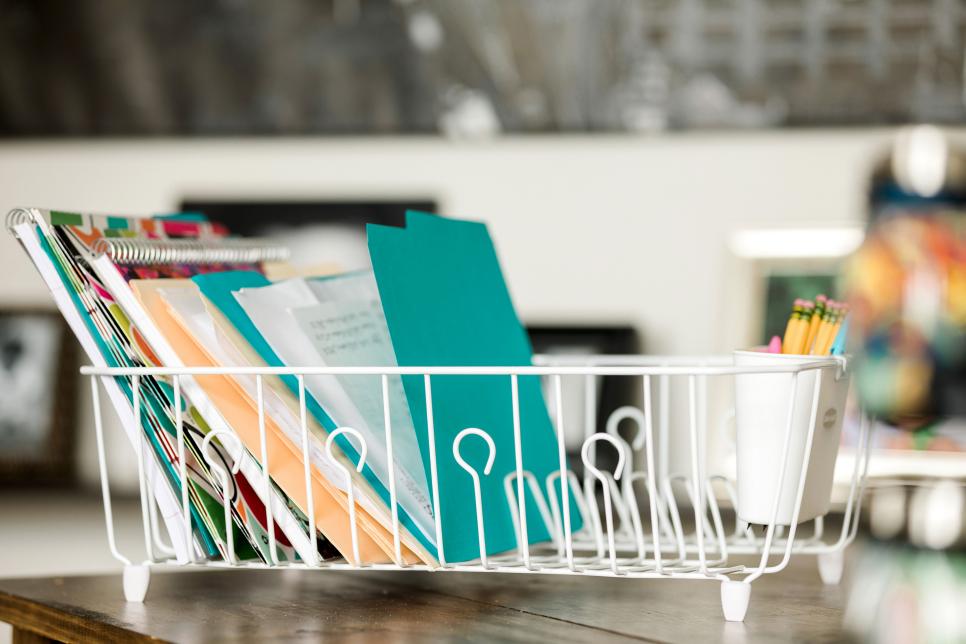 ---
The Simple Hook Hack 
When you're working and cooking intensely in the kitchen, you don't have time when a million things are roasting, cooking, and boiling. So, why not nail a few hooks next to the cooking island you're using so that all your utensils and tools are right next to you at all times?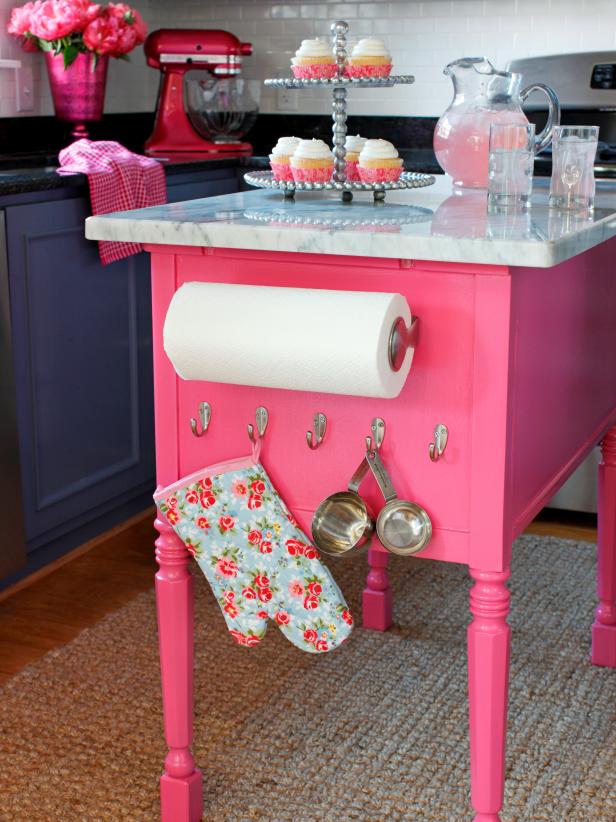 ---
The Car Ride Caddy 
Nobody likes a messy car. It makes any trip at any distance an uncomfortable ride. Kids aren't really known for being the neatness people on Earth. So, the best way to give your car a chance on long trips, give the kids a caddy where you can sort all the drinks and snacks. Your car will thank you for it.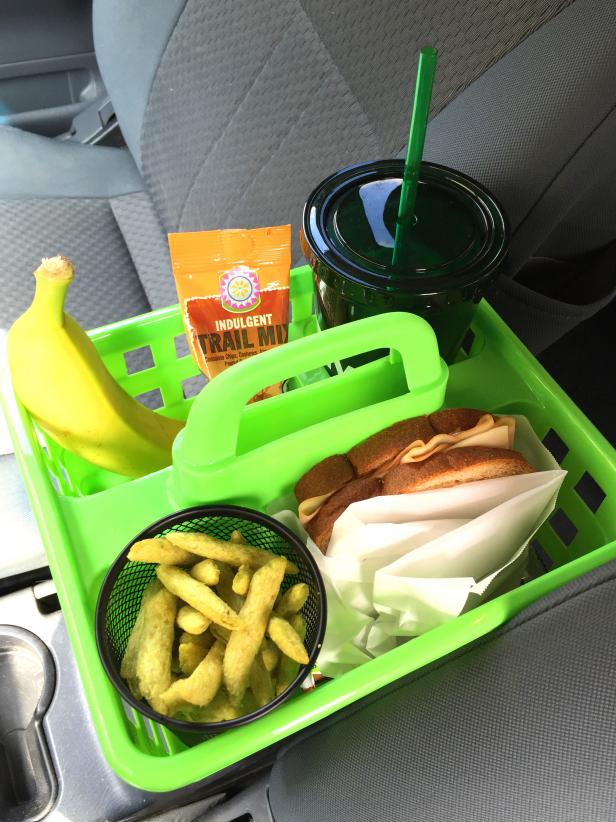 ---
Garden Gear Holder
Clothes pegs are definitely known to hold up clothes. But, like many of the hacks that we've seen, with a little sprinkle of creativity, they can be applied in some interesting and life-easing ways. This clothespins and seemingly useless piece of wood will keep all your garden gear right where you left it when you need it.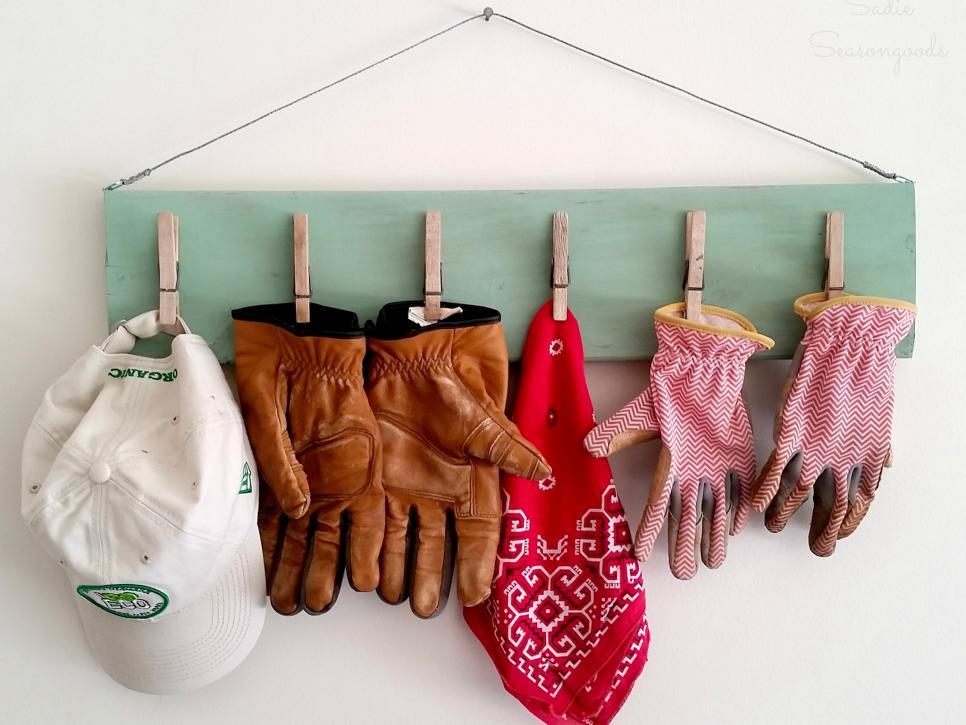 ---
D-I-Y Flop Storage
For all of you flip flop-wearing fanatics, there's a budget-friendly way to keep them organized and not scattered on the floor of your wardrobe! When you have a surplus of hangers, which you many people always do, you can hang the straps of the flops in the curls of the hanger, side-by-side where they should always be.
---
Hidden In Plain Sight
Store some of your books in plain sight with this clever hack. Your lounge will look perfect and uncluttered if your use rope to disguise your shelf. This will add a creative twist to your space and conceal some of your items as they can now be stored in your lounge cabinet.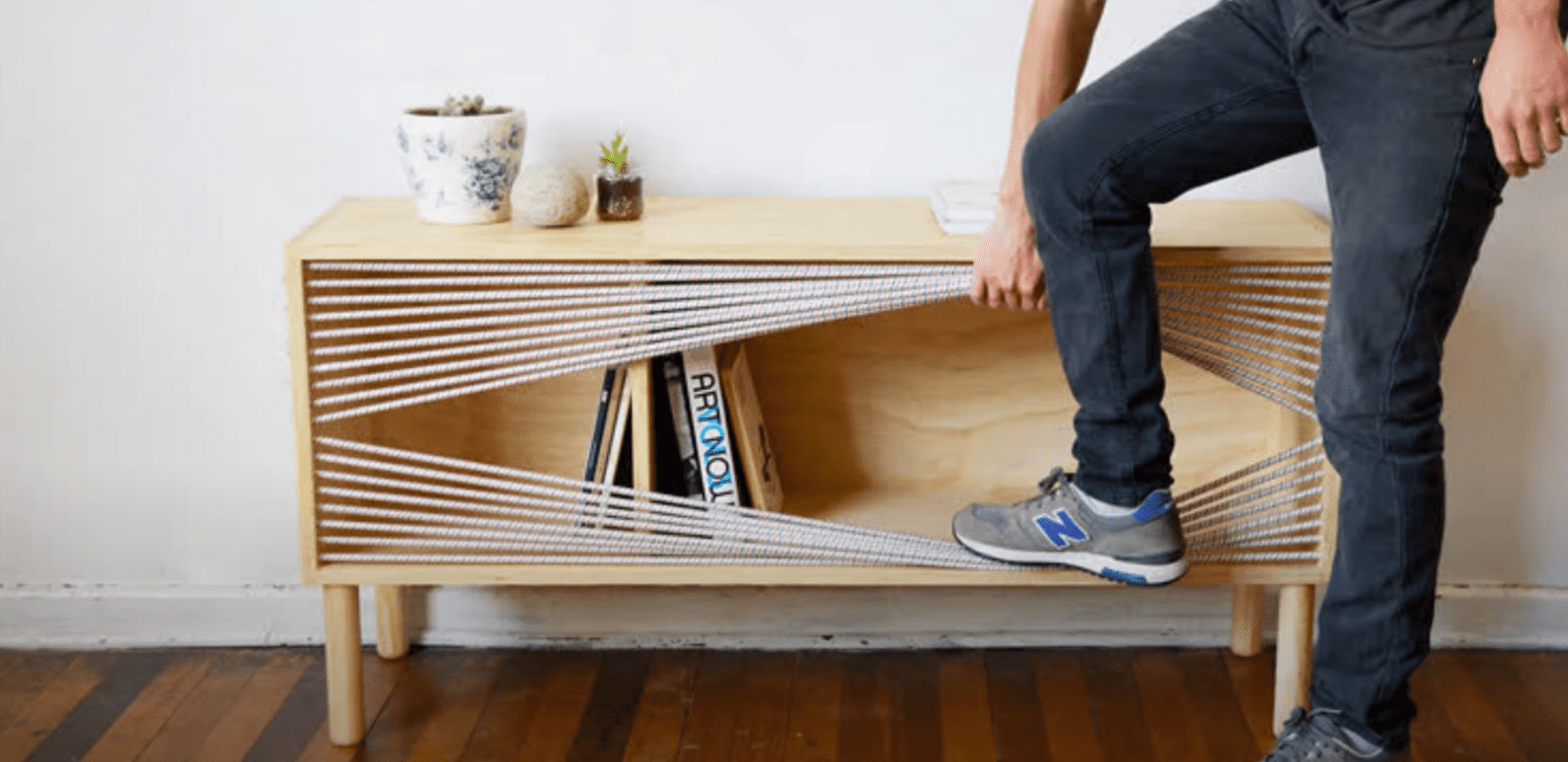 ---
Utilize Every Space As A Place For Storage
That gap between your bed and your wall doesn't need to go to waste. With some simple DIY carpentry you can add a cardboard level in there. This can store a few of your gadgets and keep them out of view for people looking into your room. Clever!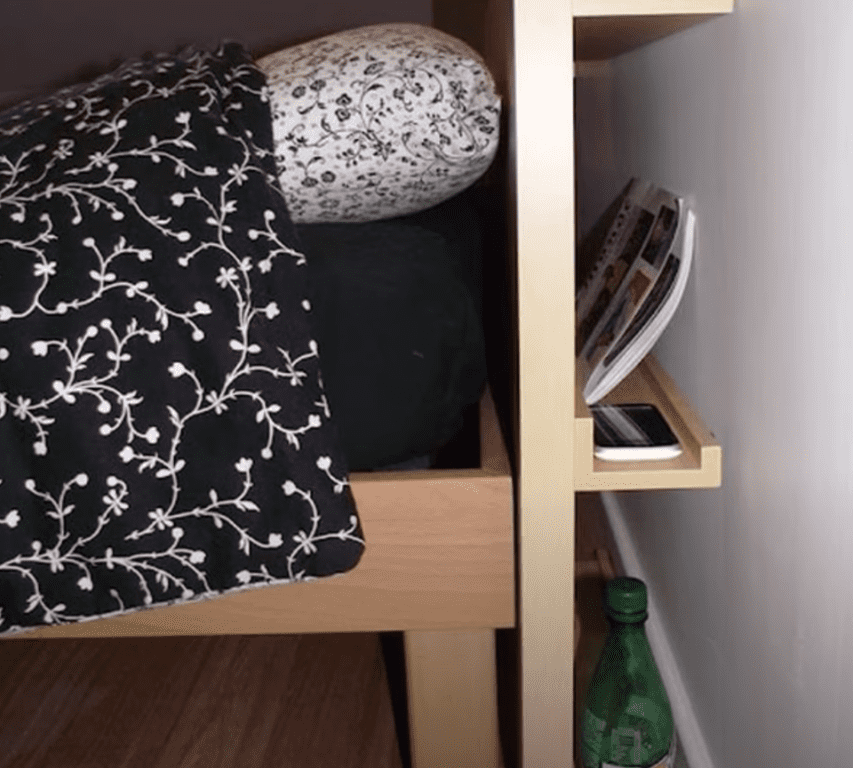 ---
The Hanger Shelf
In no time at all, you can make a Do It Yourself shelf. All you need is two hangers, plastic baskets, and some good hardware glue. Create a shelf like the one below and store your shoes, utensils, or whatever your heart desires in this clever creation.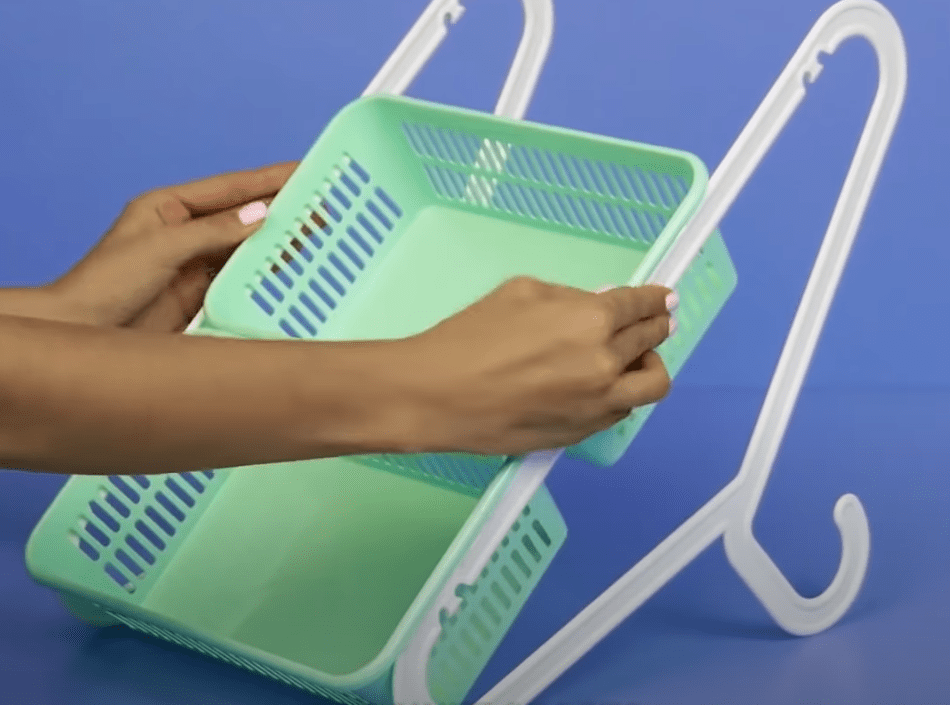 ---
Put That Creamer Bottle To Good Use 
The best storage is free storage. Clean out your used creamer bottles and store anything you like in there. The Coffee-Mate Creamer bottles don't need to end up in the trashcan as you can easily reuse them. They work perfectly for keeping small snakes like nuts.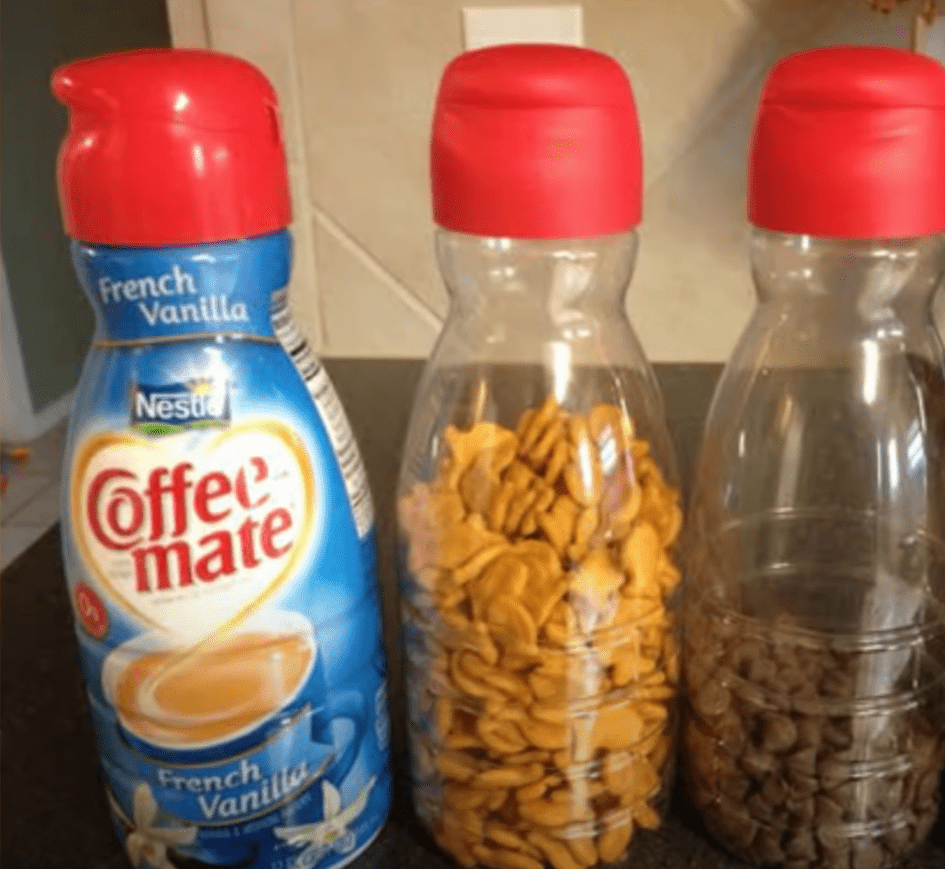 ---
Mailbox Magic
Have you ever needed a spot to store some of your gardening utensils or gloves? Well, a perfect spot might be right by your doorstep. These items fit snuggly into your mailbox and will still allow mail to come in. This is an easy peasy storage hack that will make your garage less cluttered.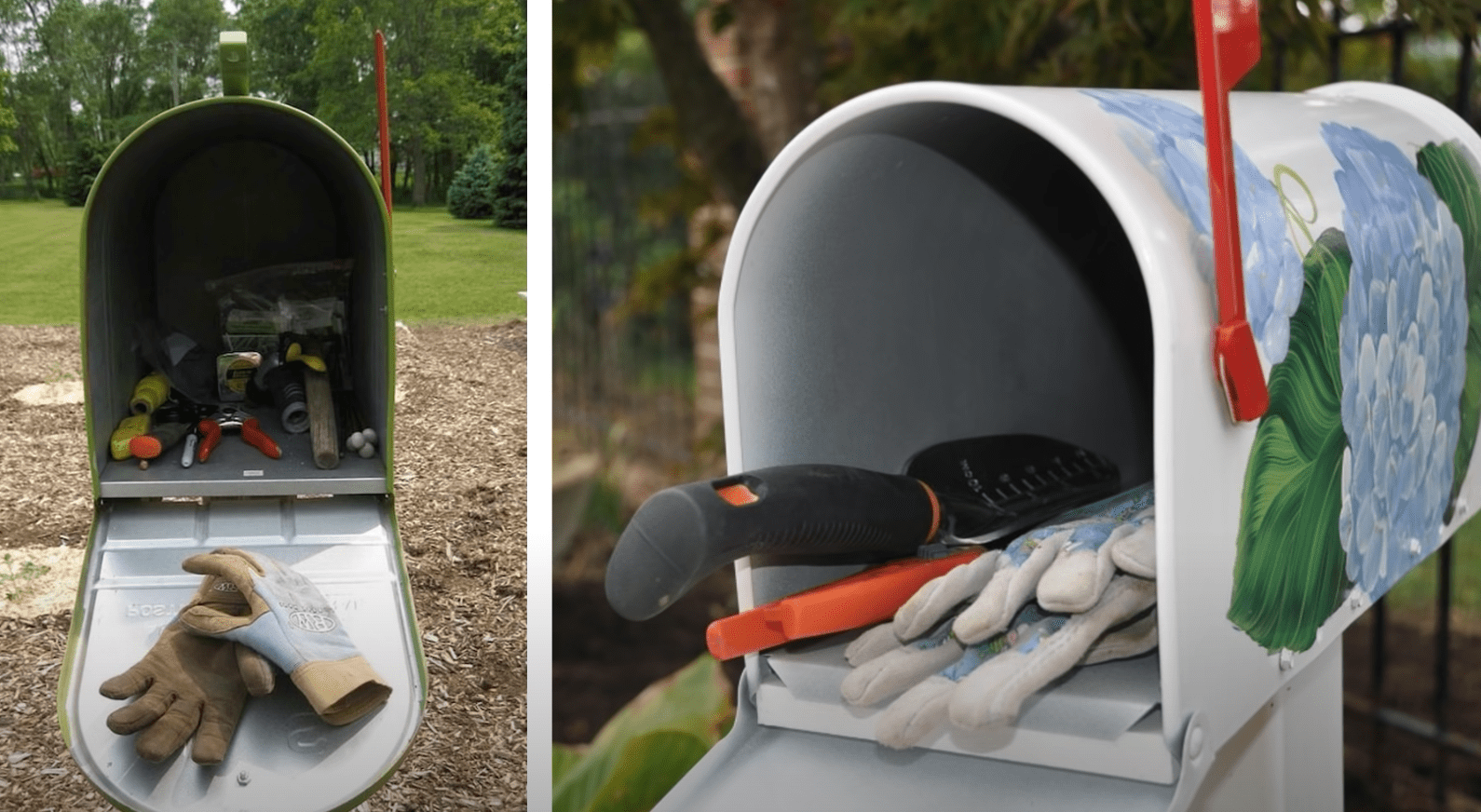 ---
Make Pots & Pans Your Bestfriends
Normally it's a struggle to keep control of your big pots inside a tiny kitchen cupboard. However, if you're smart you can use your pot as storage space. Simply stack a few pots from biggest to smallest on top of each other. This way it will be as if you are storing one pot only!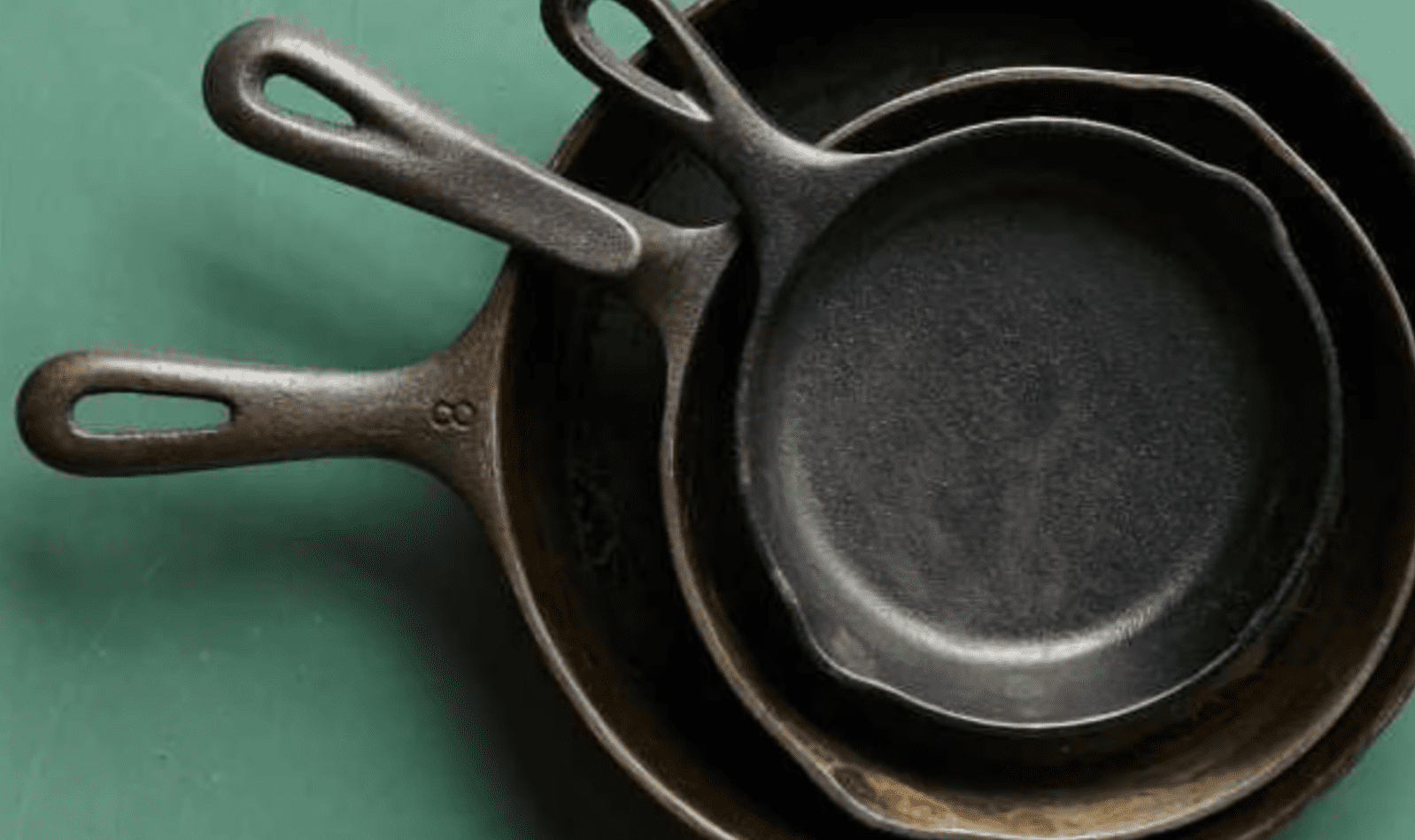 ---
The Best Place For Your Lids
Now that you've sorted out your pots, its time to find a spot for your lids. The ideal place is on the inside of your pantry door. Simply stick on a few towel hooks in a circular position. Then slide your pot lids into place. It's as easy as one, two, three! You can thanks us later.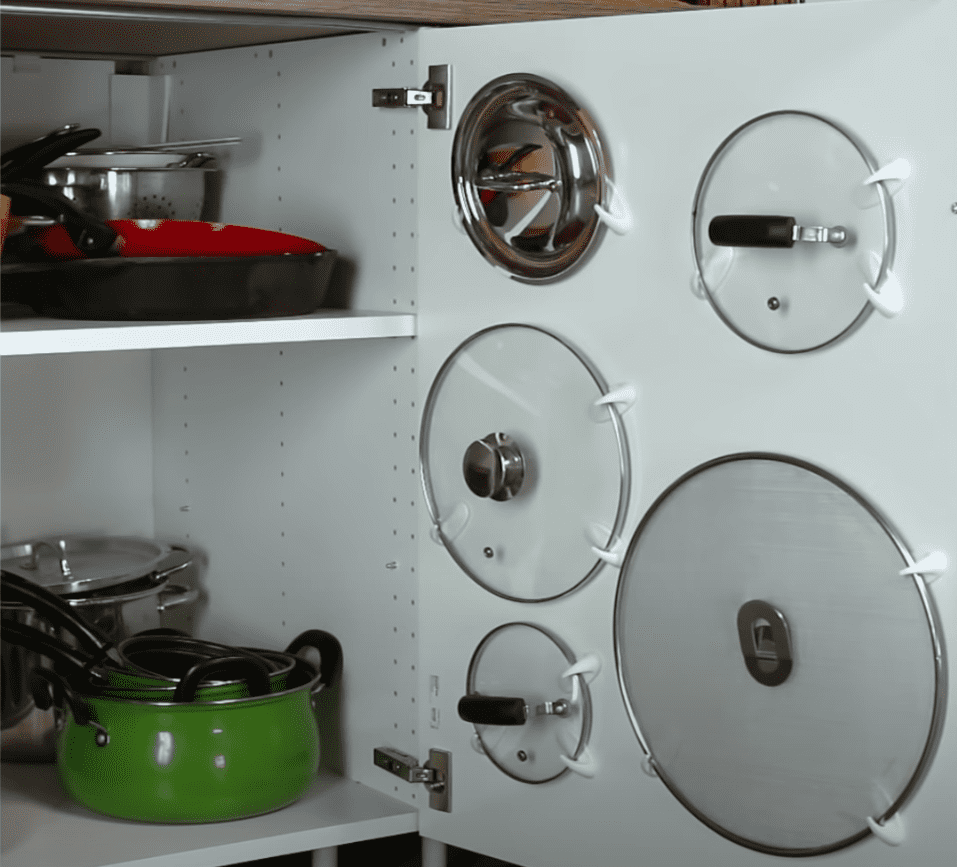 ---
Decorative Storage
Make the best of your wall space by storing some fresh fruit in hanging baskets. Not only does this free up some space on your countertop but it also looks pretty cool. Make sure to find metal or woven baskets that fit with your kitchen aesthetic and you're good to go!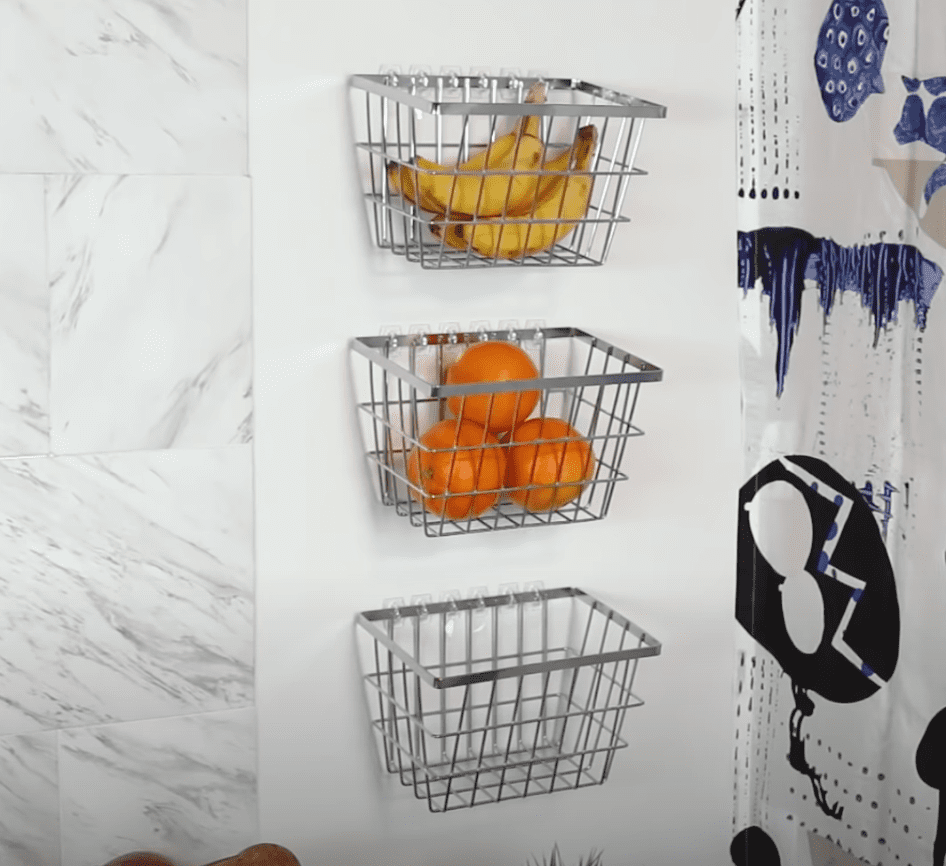 ---
Eggcelent Sauce Storage 
Egg trays are normally something we throw away when we run out of eggs but this carton has an array of great storage uses. Not only can it store bits and bobs but it can help organize things inside your fridge. Slip your sauce bottles into the holes and enjoy a clutter-free fridge!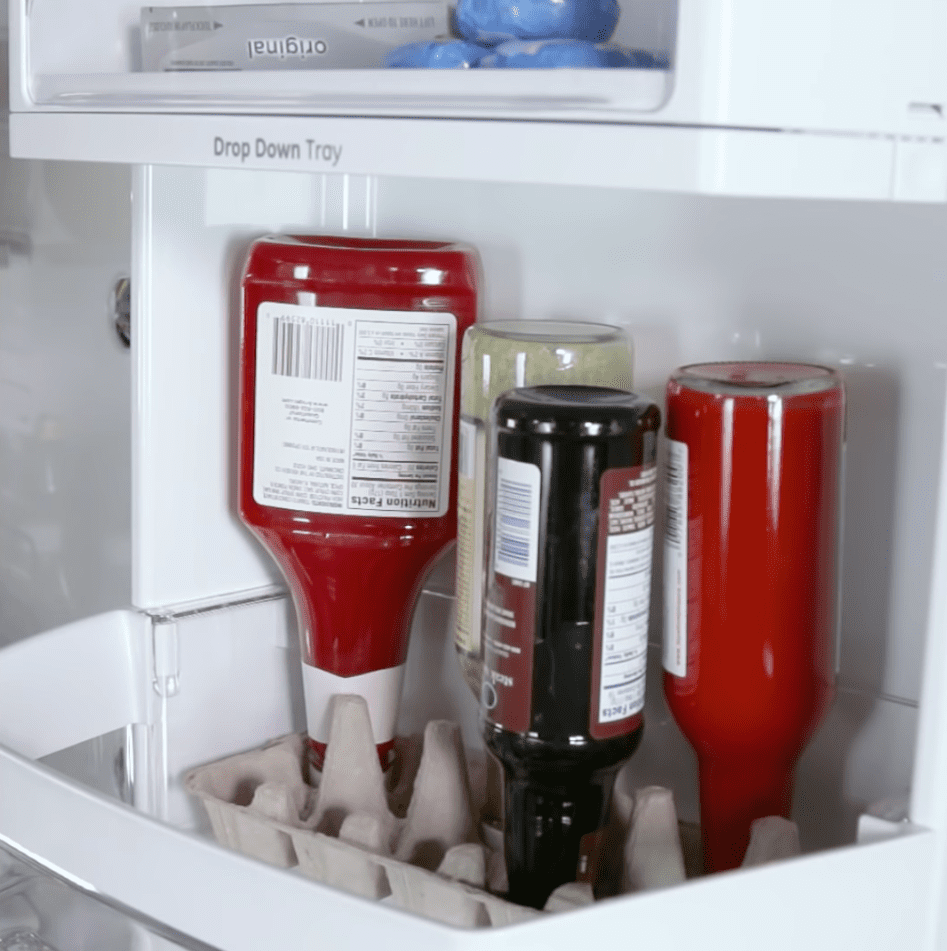 ---
No More Crazy Cupboards
We all struggle with crazy cluttered cupboards. Not only is it messy but it makes it difficult to find what we need. This can be remedied with one simple rod. Insert a tension rod into a cupboard and store all sorts of things on it. It can also help to hang dishcloths and towels!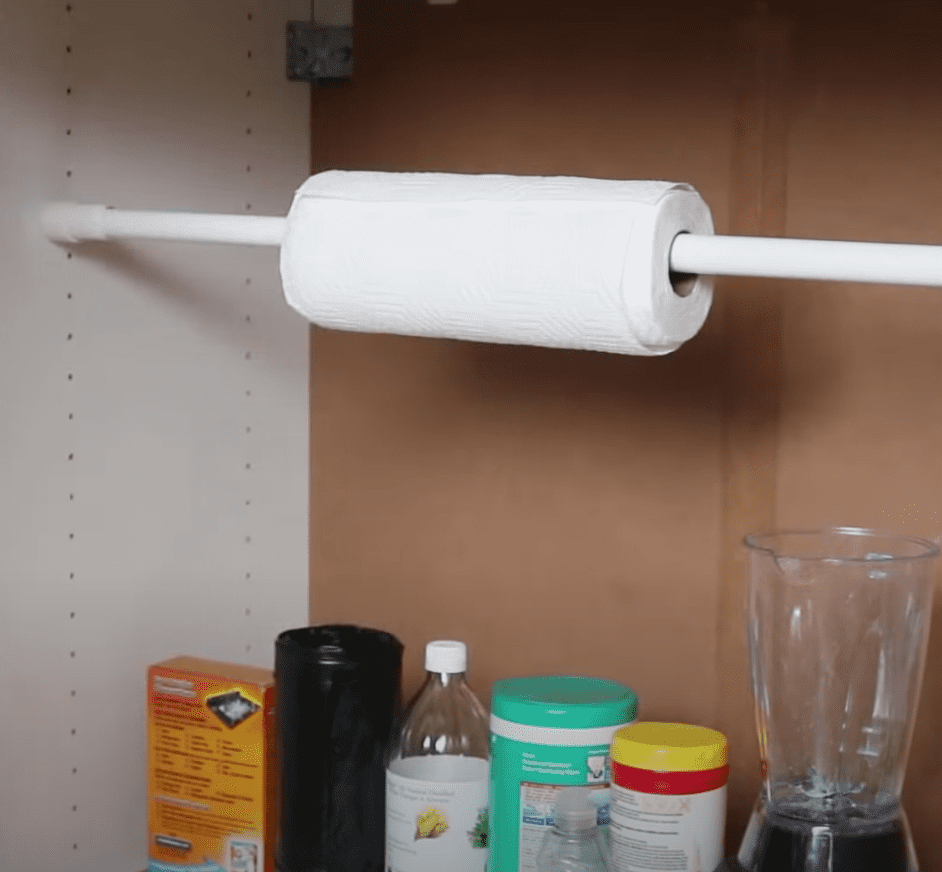 ---
Towels Find Their Home
Make the best of that iron holder that's been rusting away on the wall. Give it a good clean and slide your fluffy towels into the perfect compartments. This will make them easy to grab and display them quite nicely on your bathroom wall. What a simple hack!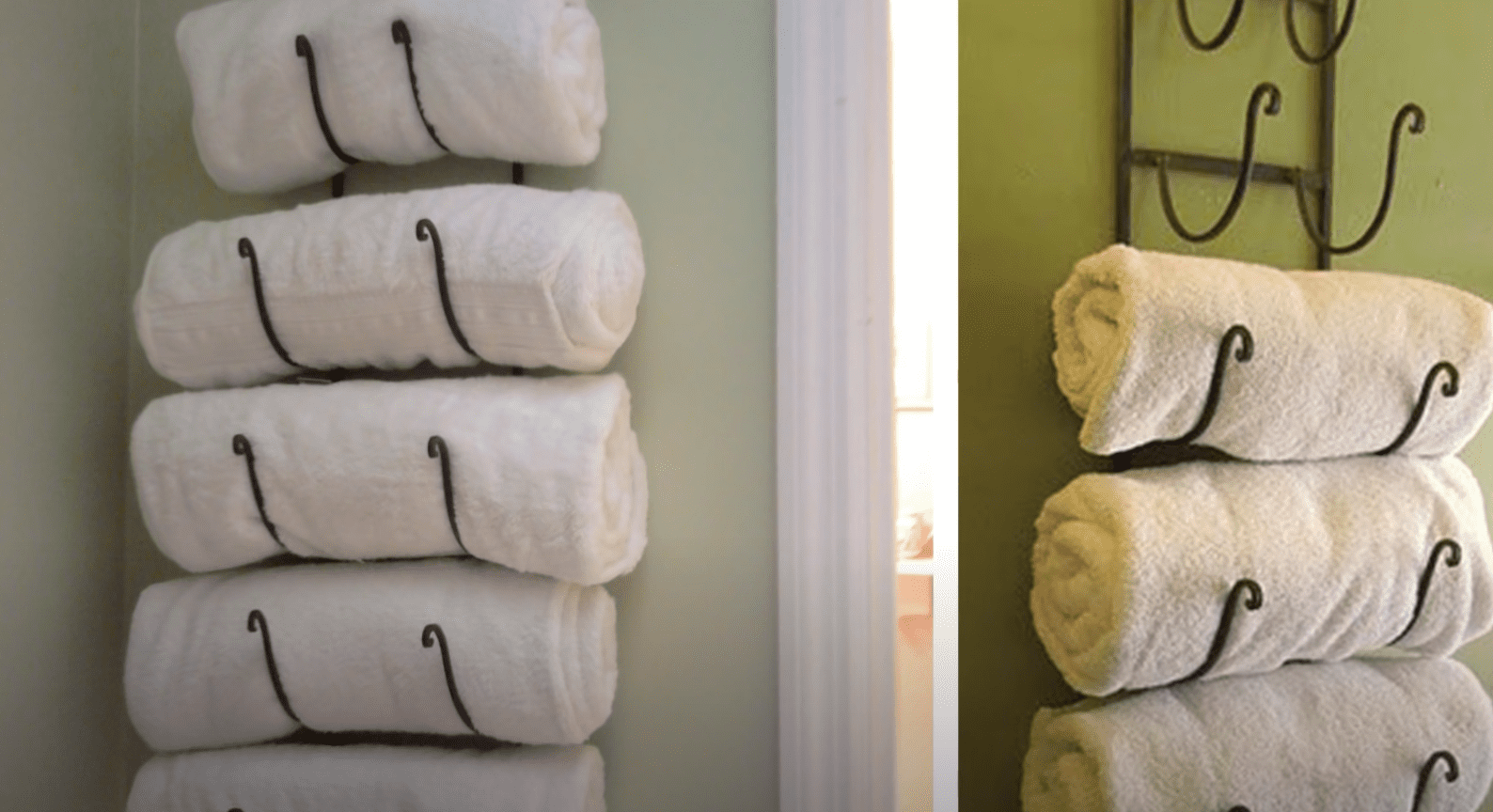 ---
Power Strip Storage
Keep your power strips off the floor and out of view by hanging a wire basket under your desk. This is also a great solution for short cords that don't reach the top of your desk without an extension, like a phone charger.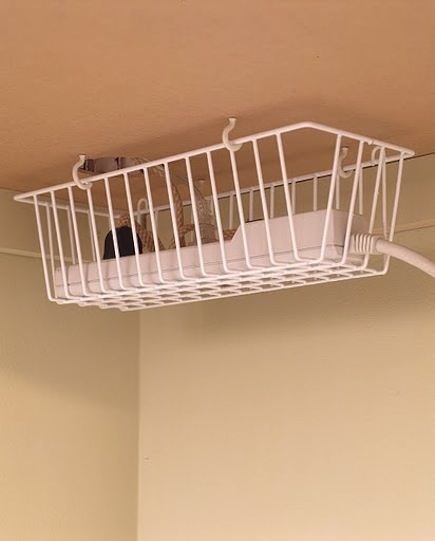 ---
Spice Up Your Storage 
Nothing says organized like recycling storage containers. Make use of those spice holders by peeling their labels off and filling them up with all sorts of fun things. They can be used to store treats or art supplies like glitter and glue. This hack require very little planning and that's always a bonus!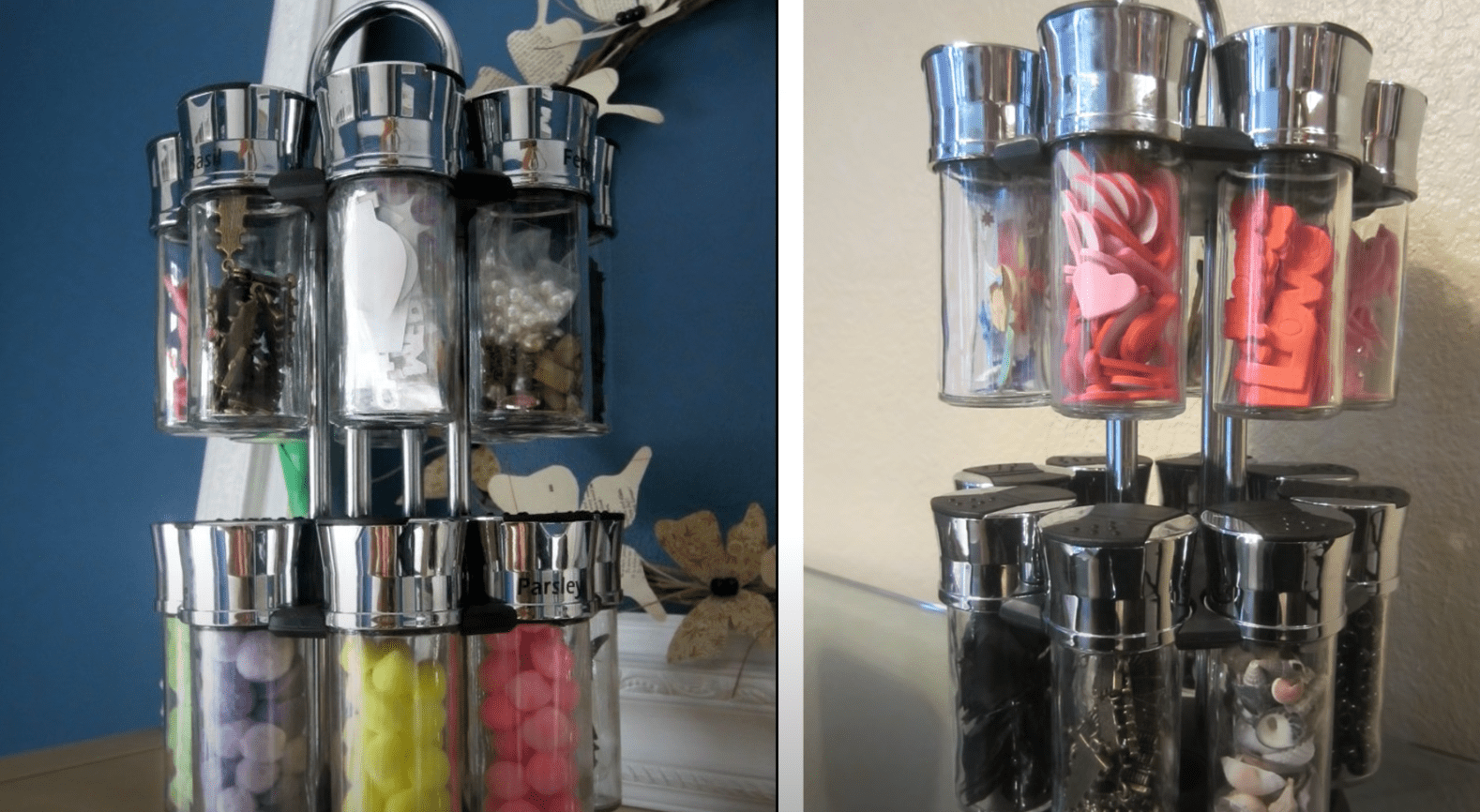 ---
Put A Handle On It 
This is one of those hacks that can serve as storage and as decoration. Place a few creative door-handles on your wall and let them serve as storage handles. They can hang your dishcloths or anything you like. Not only does this help with storage but it looks cool too!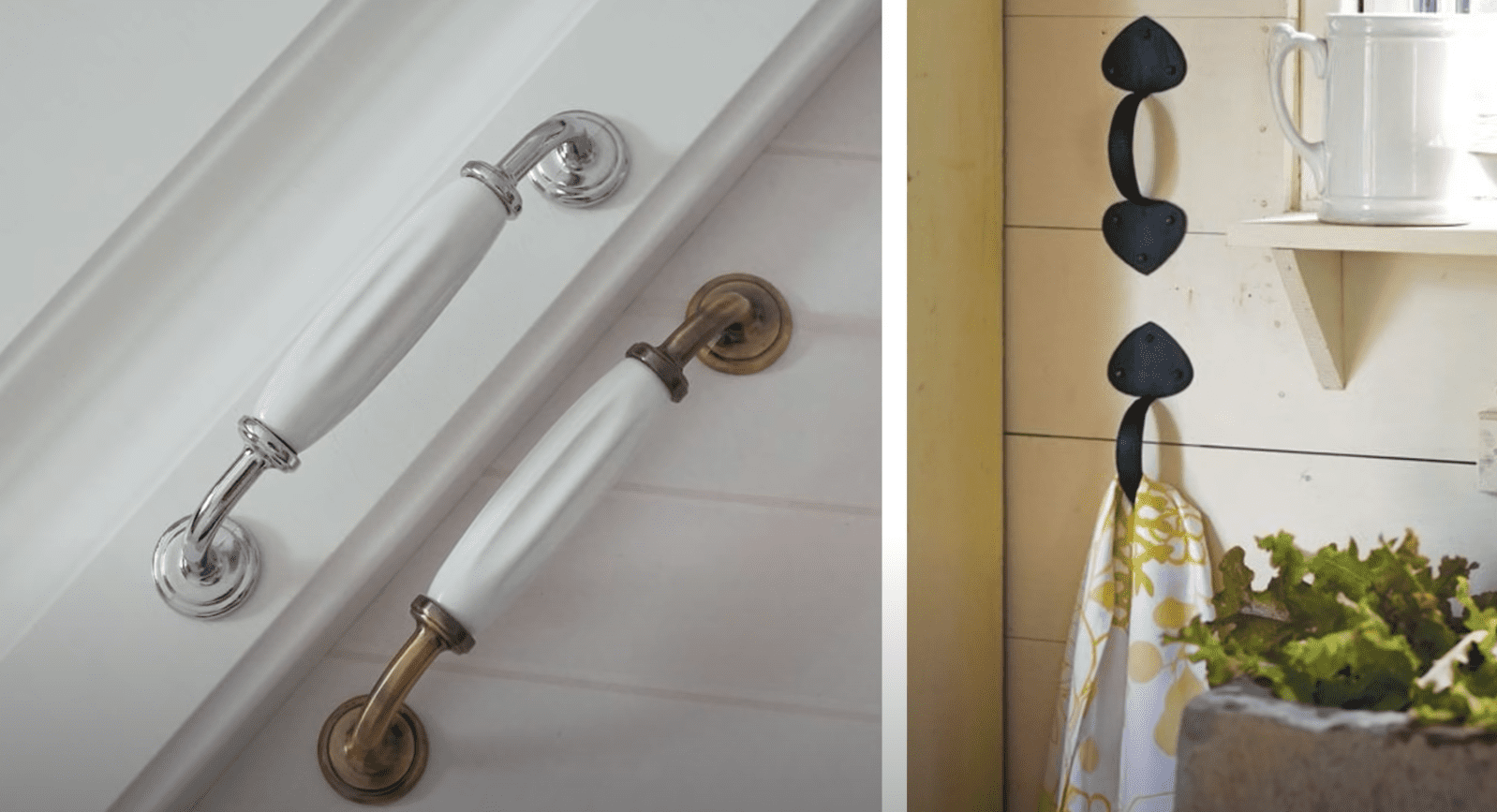 ---
Floating Shelf On A Budget
If you have a few planks and rope lying around the garage you're all set to make the perfect floating shelf with little to no cost. This can store your books, shoes, or anything you need out of the way. In a few simple steps, you'll have created a creative little storage unit!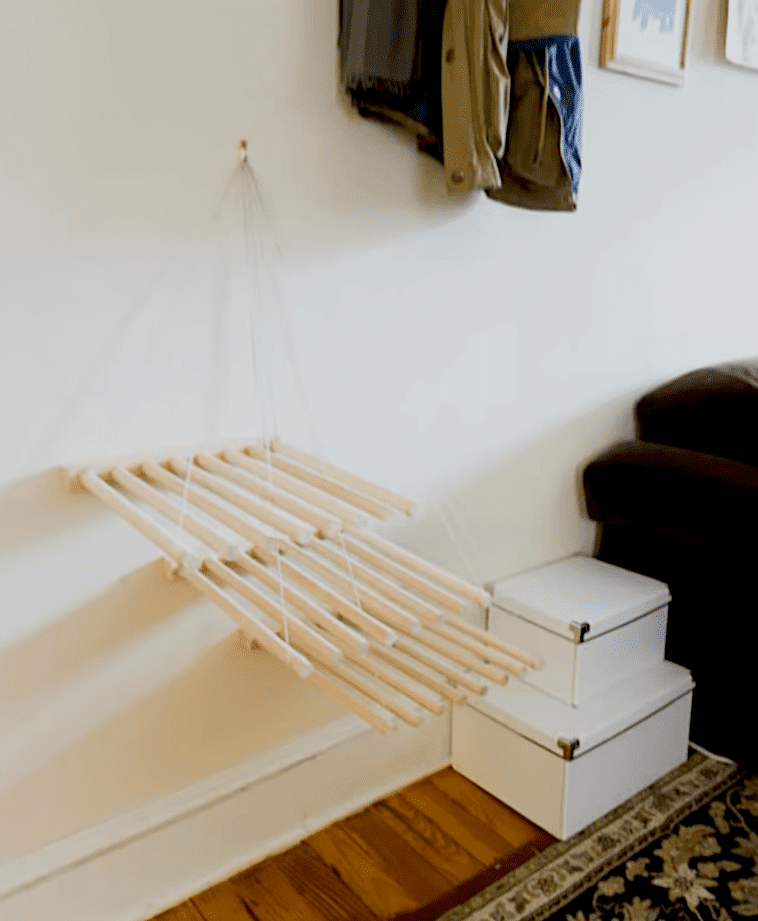 ---
Wool Won't Get In Your Way Anymore
Use your wool to make a storage place for your wool! This hack is like taking care of two birds with one stone and is pretty simple for people who need to find a spot to keep their yarn. It is especially helpful if you have cats around the house as it keeps the wool hanging in a safe place! 
We hope these hacks will come in handy soon for you and your family. There are a lot of other wonderful hacks that will help you make the best of your space and use it incredibly efficiently. What are some of the best hacks that you can think of? And which ones here are you going to get on immediately? Leave us a comment and be sure to click the share button!