The Umbrella Academy Cast: Real Ages And Net Worth
The Umbrella Academy Season 2 is already binge-watched, and we want more! But as for now, let's find out the most thrilling details about the show's cast members. How is Vanya's story in Season 2 similar to that of Ellen Page's? Why Robert Sheehan stalked his co-star? And is it true that Allison and Luther's chemistry went beyond the set? All the answers – right now! 
---
AIDAN GALLAGHER AS FIVE
Aidan is currently 16 years old, and he's the biggest fan of The Umbrella Academy graphic novels out of the cast. He says that Five is actually a dream role for any actor: 
"The role had a lot of layers to it that I knew would be fun to break down and figure out the motives behind. For me, it was a dream project."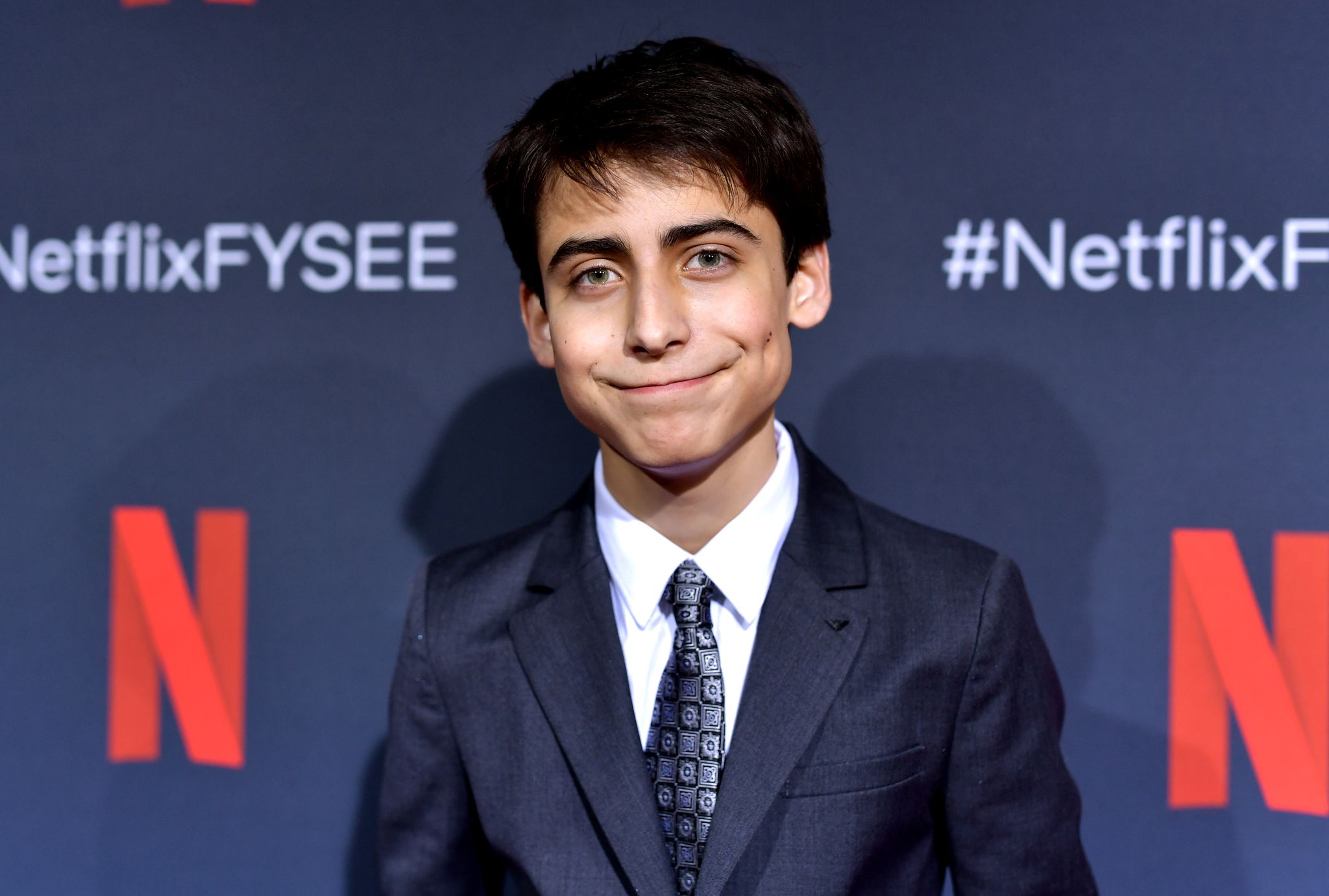 ---
Gallagher also shared that he felt a connection to his character in the sense that he's always considered himself to be older than his age, and struggled to feel like he fit in. In Season 2, Aidan was really excited to get to play the rageful and murderous Five, especially in the paradox psychosis episode, when he had to stand off against his older-looking self.
---
By the way, have you ever wondered how the young actor prepared for such intense scenes? Apparently whenever they would queue up to do a take, Aidan would sprint to his mark from 30 or 40 feet away, so that by the time  the camera rolled he had this out-of-breath, jittery, angsty, violent look in his eyes! Isn't that brilliant?
Aidan has been acting since he was ten, so we shouldn't be surprised that this talented guy's net worth is approximately $2 million. 
---
JUSTIN H.MIN AS BEN
Did your jaw drop just like mine when you saw the new Ben in the finale of Season 2?! It turns out that the actor was equally (!) shocked by the twist. Incredibly, at the time of filming that emotional scene with Ellen Page, Justin had no idea how the season would end! 
---
He actually thought that it was his final scene on the show, and felt like he was saying goodbye to The Umbrella Academy. And then, a few weeks after that, he got a top secret email from the showrunner Steve Blackman, and learned that he was going to stay!
"I read it and just started screaming at the top of my lungs." – Justin shared. – "I was completely shocked and flabbergasted and gobsmacked and overjoyed to be allowed to come back and be a part of this show."
---
Min is now 30 years old. There's little information about his earnings, but given that he only started his acting career in 2012, it's safe to assume that his net worth is less impressive than that of his more experienced co-stars.
The role of Ben is his biggest one to date. Amazingly, he had to keep his landing such a huge role a secret from literally everybody. Even his family thought that Justin was just taking a semester abroad in Toronto! 
---
ROBERT SHEEHAN AS KLAUS
The Umbrella Academy is actually not Robert's first rodeo when it comes to supernatural shows. Although Robert Sheehan hasn't actually got many big film credits to his name (at least compared to Ellen Page),  you might recognize him as Nathan from Misfits.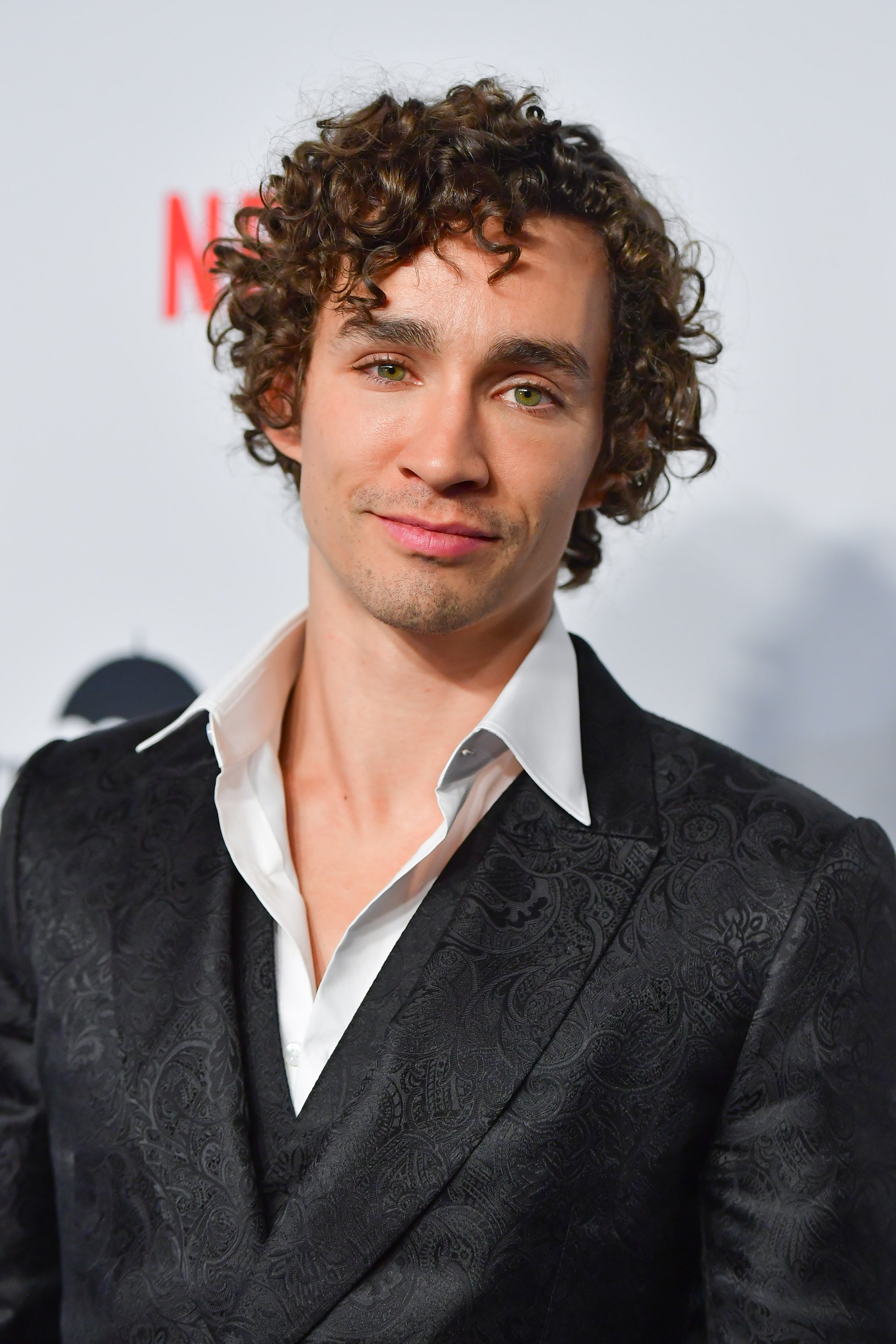 ---
Robert is almost two years older than Klaus, so he felt quite close to his character and dived into developing him from the very start of the show. It was he who proposed that Klaus should be gay.
"It just felt kind of truthful." – Sheehan revealed. 
He also enjoyed the dynamic with his on-screen family, especially with Diego and Ben. And in the second season the actor was pleased to find that he shared a lot more scenes with Allison. But there's one pairing that remains constant – Klaus and Ben. 
---
At one point in this season it became even closer than usual: as you remember, Ben was in Klaus's body, which means that Robert Sheehan was actually playing Ben! So he decided to study Justin H. Min's mannerisms (perhaps with more commitment than necessary!)
"I got Justin to do videos on repeat," explained Sheehan. "Annoyed him. Impersonated him. Followed him around. Appeared as he least expected it — for example, when he was on the latrine." 
---
Oooh, that is so Klaus! Sheehan's role in The Umbrella Academy is the most high-profile of his career so far. But as he's been in the industry from the early 2000's, it's no wonder that his estimated net worth is around $2.5 million. And it's quite possible that this will grow considerably with the next season of the show. 
---
DAVID CASTAÑEDA AS DIEGO
David is actually 23 days younger than his knife-throwing character, which makes him the closest in age to the super-powered siblings than the rest of his cast mates. The show became a break-out role for David, although the actor was already known for his roles in Jane the Virgin and Sicario: Day of the Soldado.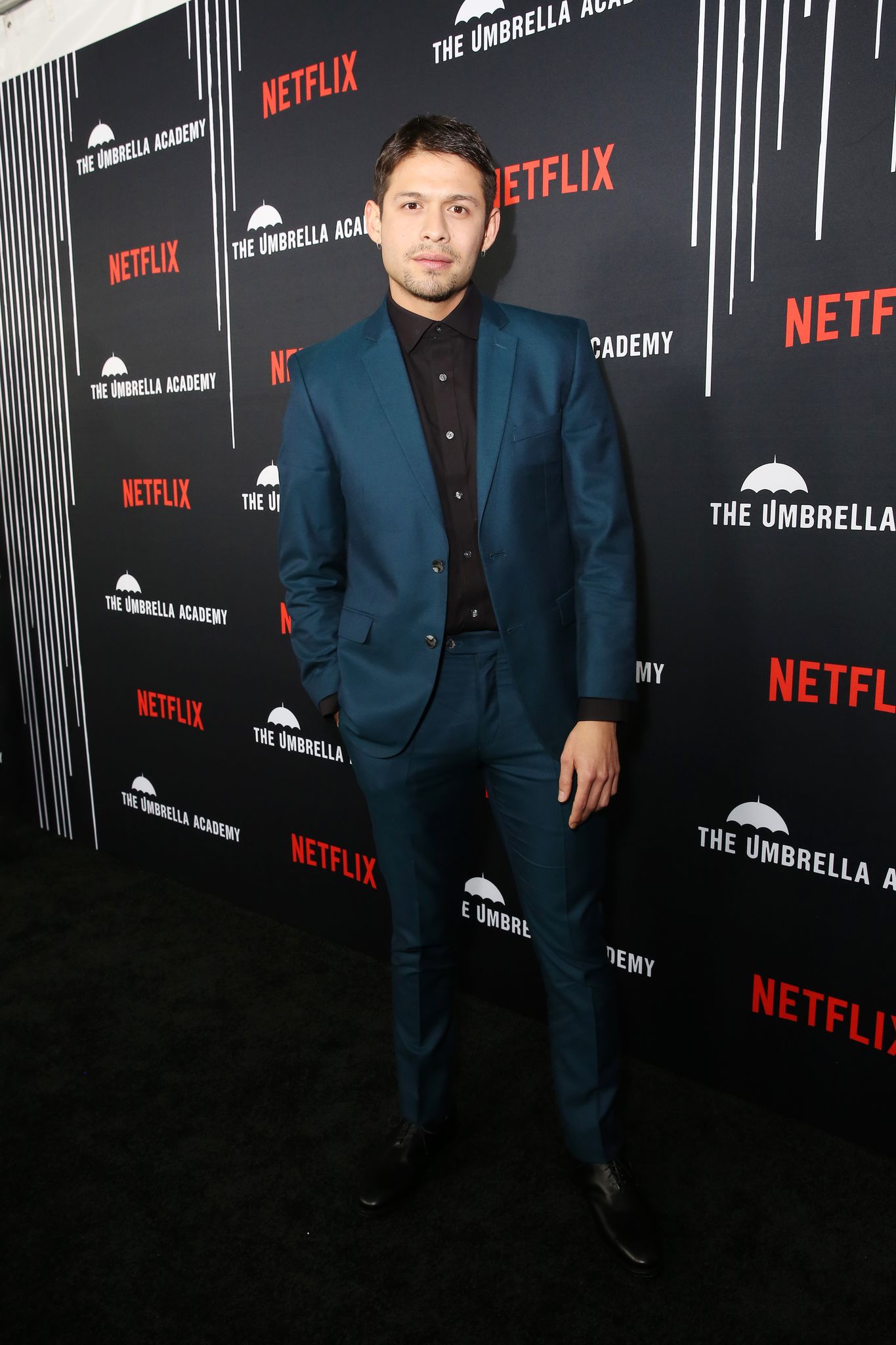 ---
So his net worth is estimated to be only around 5 to 8 hundred thousand dollars. Surprisingly, Castañeda was totally oblivious about how popular The Umbrella Academy comic books were when he first read for the role! But, he did his best to bring his character to life on screen, and he trained hard so he felt confident enough with his knives that everyone would feel safe on set.
---
Fortunately, in Season 2 he met Lila, who brought out a more light-hearted side to the traditionally gruff Diego. David revealed that he really enjoyed working with Ritu Arya, and they actually became good friends! Before filming, Castañeda offered to rehearse with her, and they started developing their characters and the parallel story that they both share.
"Ritu is an amazing actress. I feel like every time we did a scene, and that's not affecting the other cast, who are incredible, but when I was working with her, I didn't have to put on anything. It was a wonderful experience."
By the way, here's a fun fact for you: to achieve that Desperado look Diego has in the second season, David Castañeda went almost 5 months without cutting his hair! The actor joked that the makeup team had to groom him a lot, because he actually looked so sketchy that people on the street "would just jump off the sidewalk" at the sight of him! 
---
RITU ARYA AS LILA
Within minutes of Lila appearing on the screen, it's hard to imagine The Umbrella Academy without her! You might have seen this British actress in the series Humans, where she portrayed Flash, and, most recently, in the romcom Last Christmas. 
---
Just like David Castañeda, Ritu had never heard of the show. But when she looked it up before the audition, she was like - "This is awesome! I want in!" This role became a totally new experience for her: 
"I was just like fighting three times a week." – the actress revealed. – "I had never done anything like that before, I'd never done any sort of stunts or gun training."
---
In real life, Ritu is a bit younger than Lila. The actress prefers to keep her private life very low-key, so we don't even know when exactly she was born. But, knowing that she's been acting since 2013, we can assume that Ritu is in her twenties. Her current net worth is reportedly around the same number as that of David Castañeda – about $500 000. 
---
EMMY RAVER-LAMPMAN AS ALLISON
In real life, the 30-year-old actress can put a spell on virtually anybody with her magical voice. Before joining the cast of The Umbrella Academy, Emmy appeared in a number of Broadway musicals. Her singing resume is stacked (!) with pretty powerful roles, including Angelica in Hamilton.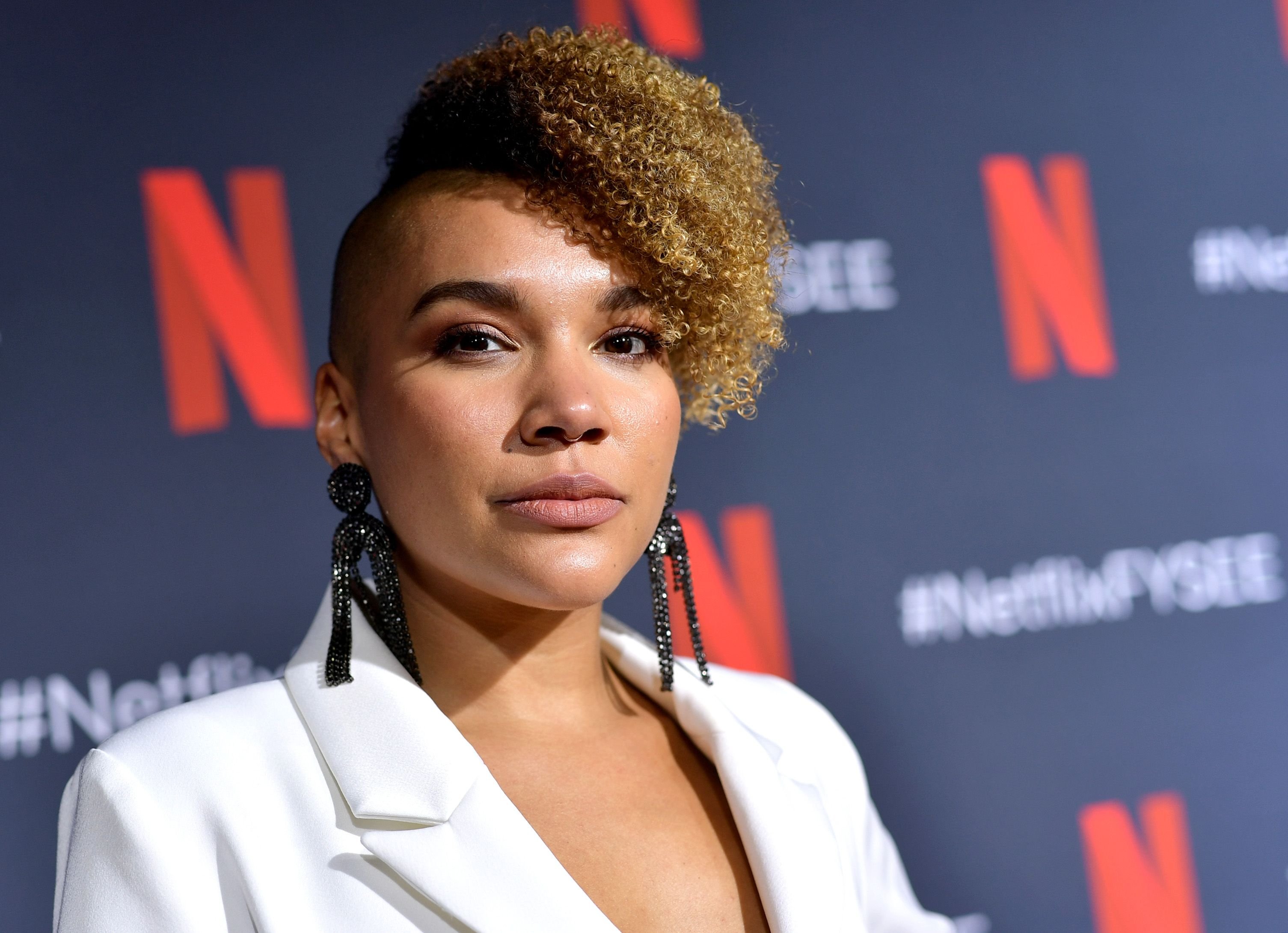 The exact amount of Emmy Raver-Lampman's earnings isn't disclosed. Some of the sites suggest that she has a net worth of $100 000, while others report that she's worth an impressive $5 million! 
Emmy is super-protective about her personal life, but we know that on the set of The Umbrella Academy she became friends with her co-stars. In a recent interview with Harper's Bazaar she revealed that the whole cast gets along very well and that they even take weekend trips and see each other when they're not shooting.
"I see Justin all the time." – she said. - "And whenever Tom visits L.A., sometimes he stays with me. Every time I'm in New York, I hang out with Ellen multiple times. We're genuinely friends and do really get along." 
And what about that deep connection Allison and Luther have on the show? It turns out that both Emmy and Tom Hopper were a little nervous about the chemistry between them. Fortunately, they hit it off instantly – and became friends in real life as well! 
"We talk almost every other day if not every day," she shared, "even though he lives in London and raising two babies and life is crazy."
TOM HOPPER AS LUTHER
Oh yes, Tom Hopper, who portrays Luther, is happily married. The British actor is 35, which makes him the oldest of his on-screen siblings. Although the actor has always been fond of sports, and definitely has an excellent physique, he prefers roles that "aren't just the muscle".
---
Speaking about his role in The Umbrella Academy, Tom explained: "I loved that idea of someone being so huge in stature and looking so strong, but inside he's so small and timid and sensitive and thoughtful and lonely. It's so much more interesting playing a character like that!" 
And the second season of the show gave Tom even more opportunities to show his acting skills, because his character has done a lot of growing up. Also, Luther has become more comfortable in his body – and that was actually a challenge for Hopper!