Alexa & Katie: Cast's Real-Life Partners and Lifestyle
Alexa & Katie is a show that's currently very popular on Netflix as it teaches a lot of valuable lessons. Not only do fans love the plot, but they also love the show's actors, that is why many are eager to know what their real lives and real-life partners look like. We are revealing all the details in our article, so dive into reading right away!
---
ISABEL MAY AS KATIE 
She is perfect as the main heroine's best friend and supporter. Can you believe that Katie was Isabel May's first role? Not her first TV role or whatever, but her first role ever! We mean, she's so talented, how come she has never appeared anywhere again? Her lack of acting experience surprised Isabel's co-star Paris Berelc, too.
---

"She's very professional, and very talented. […] She's really great and very sweet. She's very mature too," Berelc said to Just Jared Junior.
According to Isabel, she still has a lot to learn as an actress, and the show taught her many things. One of them was how to combine drama and comedy. Interestingly, in an interview with Young Entertainment Mag, the actress shared that it was actually easier doing the dramatic scenes than it was doing the comedic ones.
In an effort to be funnier, at some point, May began using her body language. Eventually, the writers included her body language in the show, and Katie became even more charming! Isabel enjoys being on the show not only because it has made her famous, but also because it teaches the audience some very important lessons.
---

"I think there's so many messages that people can take away from watching the show. That's what's so great about it," she said.
Some of these lessons, May says, are loyalty and the importance of family and friends. It looks like another thing that's important for Isabel is privacy because she's really secretive about her personal life. It's completely unclear whether she's dating anyone, and her Instagram doesn't give us any information.
---
JOLIE JENKINS AS JENNIFER 
A single mom to Katie, this woman does her best to keep her family in the nice neighborhood they live in. And she does it with a lot of humor! The actress Jolie Jenkins is phenomenal as Jennifer, and she once confessed that it's her favorite role ever, partly because it's the longest job she's had.
---
Before that, the actress briefly appeared in supporting roles. You may have seen Jenkins in The West Wing, How I Met Your Mother and House of Lies. And you probably remember her as Deirdre from Desperate Housewives. The actress enjoys playing Jennifer in Alexa & Katie, and her castmates have already become like family to her.
"What a total joy and profound blessing this job has been to me," Jenkins wrote in an Instagram post.
---
In real life, Jolie doesn't have to raise her kids alone because she's happily married to artist and designer David Pagani. They have two sons together. Both Jolie and David often post their family photos on their respective Instagrams, and they couldn't look happier together! For example, on Valentine's Day this year, Jenkins posted a photo of herself with her hubby and captioned it,
"Remember when you had a beard and we only had one kid and we got so much more sleep and my skin was glowy? What hasn't changed: my love for you."
---
FINN CARR AS JACK 
Despite being so young, Katie's brother understands Alexa's situation and helps her as much as he can. It's always delightful to see their interactions. And, despite being only twelve in real life, Finn Carr is already quite an experienced actor! 
---
He's been acting since he was four years old, and he decided to become an actor because his elder brother is one. "I wanted to do everything like him," Finn said in an interview. But these days, the young actor has way more role models than just his big brother. Carr looks up to his family, his teachers, as well as the cast and crew in Alexa and Katie.
---
And he also loves Jim Carrey because he makes Finn laugh! Well, who doesn't love good old Jim? Just like his character in Alexa & Katie, Finn is a wild and adventurous boy who isn't shy about anything. When he's not acting, he loves to read a good book, and Harry Potter is his favorite.
Besides that, he also likes playing chess and jumping on his pogo stick. When Carr was asked to share something surprising about himself, he said – and this will surprise you – that he doesn't like peanut butter. What? Is he the only kid who doesn't enjoy a PB&J?
---
TIFFANI THIESSEN AS LORI 
Moving on to Alexa's family, let's start with her mom. Being a strong-willed and competitive woman, she sometimes becomes overprotective, but we get why. After all, she has to help her daughter deal with cancer, and with all the typical teen problems! Speaking of her role in Alexa & Katie, Tiffani Thiessen explained how unique the show's idea is.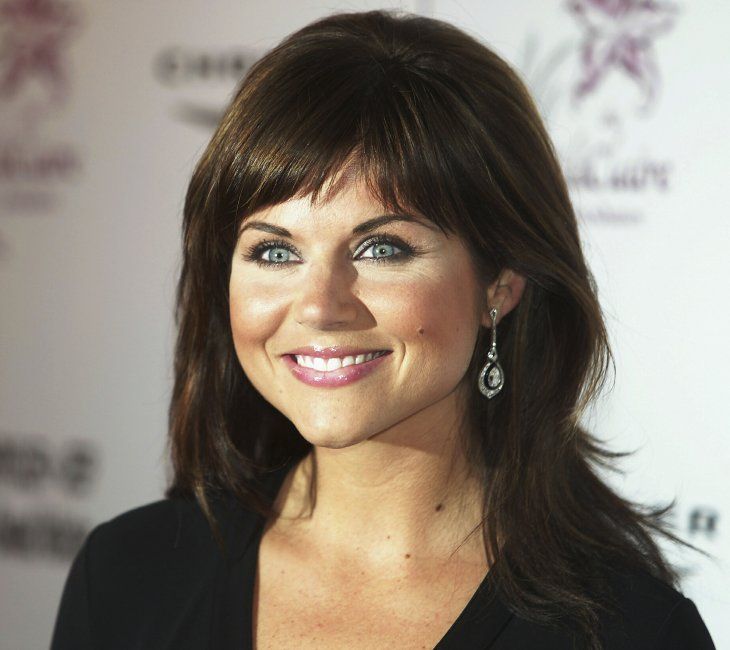 ---

"This isn't something you would normally put together," she said to People Magazine. "It's definitely not a conventional show."
But, despite dealing with chronic illness, the sitcom still shows the usual struggles a high-schooler faces. And this is what reminds Thiessen of her teenage years as an actress. Back then, Thiessen starred in Saved by the Bell and Beverly Hills 90210. 
---

"It's felt a little flashback-y to me because of seeing these girls do what I did 30 years ago," Tiffani shared.
And, of course, since she has much more experience in acting than the girls, she's always happy to give them advice. When she's not acting, Thiessen loves to cook. She even had her own show on the Cooking Channel called Dinner at Tiffani's and brought out a cookbook two years ago. Thiessen has been married to actor Brady Smith for fifteen years, and they have two kids together.
---
EDDIE SHIN AS DAVE
Alexa's father, Lori's husband, and a goofy guy who's immensely proud to be a pilot – quickly became a fan-favorite. After all, he managed to deliver so many laughs in the show. Unlike his on-screen wife, Eddie Shin wasn't very popular before he landed the role in Alexa & Katie.
---
He appeared in many famous TV shows, but mostly only in supporting roles. You could briefly see Shin in ER, Gilmore Girls, Malcolm in the Middle, Castle, NCIS, Westworld, and many other series. Alexa & Katie's executive producer Heather Wordham once shared how happy she was they chose Shin for the role of Dave.
---

"Eddie is just so wonderful, so funny and great," she said. "I actually worked on a show with him years earlier that only went six episodes, so it's kind of funny to wind up working with him again."
Little is known about Shin's personal life. Even his Instagram doesn't have any personal photos, and it's filled with on-set pictures from Alexa & Katie and other shows he's taken part in.
---
EMERY KELLY AS LUCAS
This guy is also pretty funny, especially when he flaunts his hair even after his sister Alexa has gone through chemotherapy and shaved hers. Emery Kelly, the actor behind Lucas, is probably not that preoccupied with his looks, but he can still relate to his character.
---

"I love playing as Lucas, it reminds me of myself when I went to high school years ago," the actor said. "Except the part of being a heartthrob, I was a theater geek."
Theater geek or not, this young man quickly became pretty popular. Seven years ago, Kelly was a participant in The X Factor and, although he didn't reach the final round, he still impressed the judges with his talent. After the show, Emery and two other participants of the show formed a boy band named Forever in Your Mind.
---
The band was together for five years, but these days, it looks like Kelly is focusing on his acting career, rather than singing. But, of course, he still has time for his personal life! As we can see from Kelly's Instagram, he's dating model Iman Fandi. Both of them frequently post photos on their accounts, and they look lovely in all of them.
---
JACK GRIFFO AS DYLAN
Lucas's best friend and Alexa's short-term boyfriend, he's a smart and charming guy. And it looks like Jack Griffo has the same charm in real life. He's been acting for nine years now, and the most notable role he had before Alexa & Katie was in a Nickelodeon TV series The Thundermans.
---
Griffo is also a musician, and he has already released a few singles that became pretty popular on YouTube. No wonder this talented and handsome guy didn't remain single for long! But you'll probably be surprised when you learn who he's in a relationship with. It's his Alexa & Katie co-star and on-screen ex Paris Berelc!
---
You might be wondering how the two lovebirds felt when they were acting together. Well, according to Paris, they felt… a bit too comfy with each other!
"Because I am so comfortable with him, we would be on set and they would be like, 'alright, you have to be not so comfortable with him'," the actress said.
But eventually, they managed to be the perfect Alexa and Dylan on set! Sadly for fans of the famous couple, the couple split up last August - at the same time as their characters broke up in the show. But in January, Jack and Paris reunited, and now they seem to be happier than ever, posting their sweet shots on Instagram and looking radiant together.
---
PARIS BERELC AS ALEXA
This young lady had several roles before landing the lead part in Alexa & Katie. You may have seen her in Disney shows Mighty Med and Lab Rats: Elite Force, and she's also been a model since she was nine years old.