Mysterious Abandoned Places Around The World
Have you ever been exploring in an unfamiliar part of town when you stumbled across an old, abandoned marvel? It doesn't happen to everyone, but when you find something as rare as this, you remember it forever. Come with us on a journey of discovery as we make our own journey around the world's most stunning abandoned places!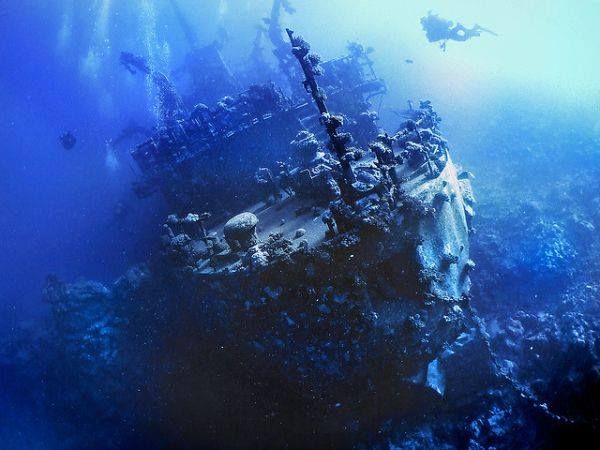 ---
USA
Have you ever seen such an incredible frozen building? The St. Joseph Lighthouse on Lake Michigan is all of Elsa's wildest dreams and more. It's basically a real-life version of the Disney film, Frozen! In this kind of weather, you can get frostbite by spending only ten minutes outside. It was -34C on Lake Michigan when this photo was taken by a Great Lakes Drone company drone!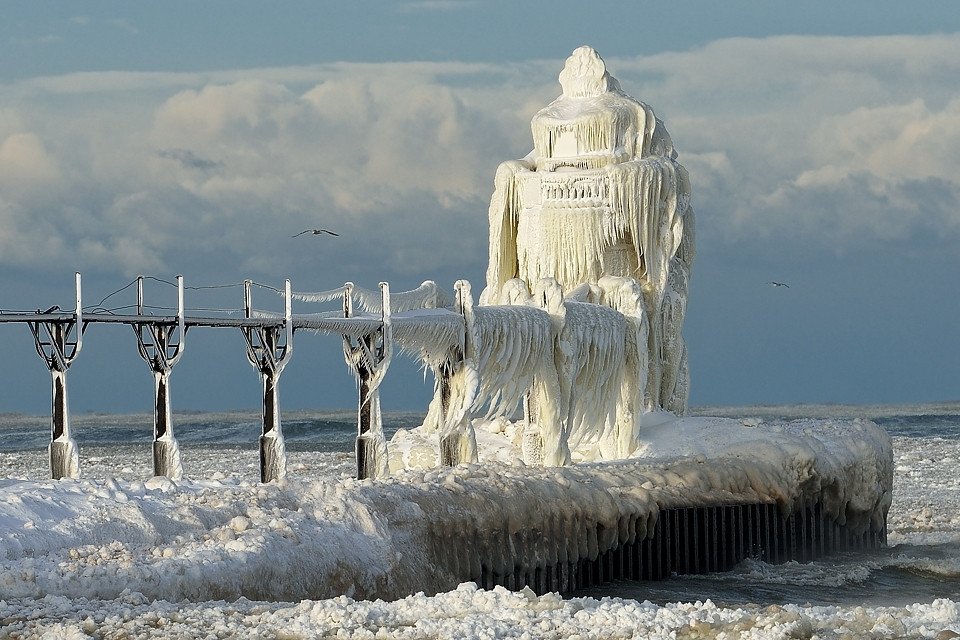 ---
Canary Islands
Here we have yet another imposing shipwreck! The SS America was a passenger ship that sailed the seas for many decades - right from the 1940s until the 1990s! The ocean liner was also part of a historic espionage case where 31 agents from the Duquesne Spy Ring were convicted by the FBI. There had been two Nazi spies aboard the boat in 1941, but it ran aground in the 90s after a storm near the Canary Islands.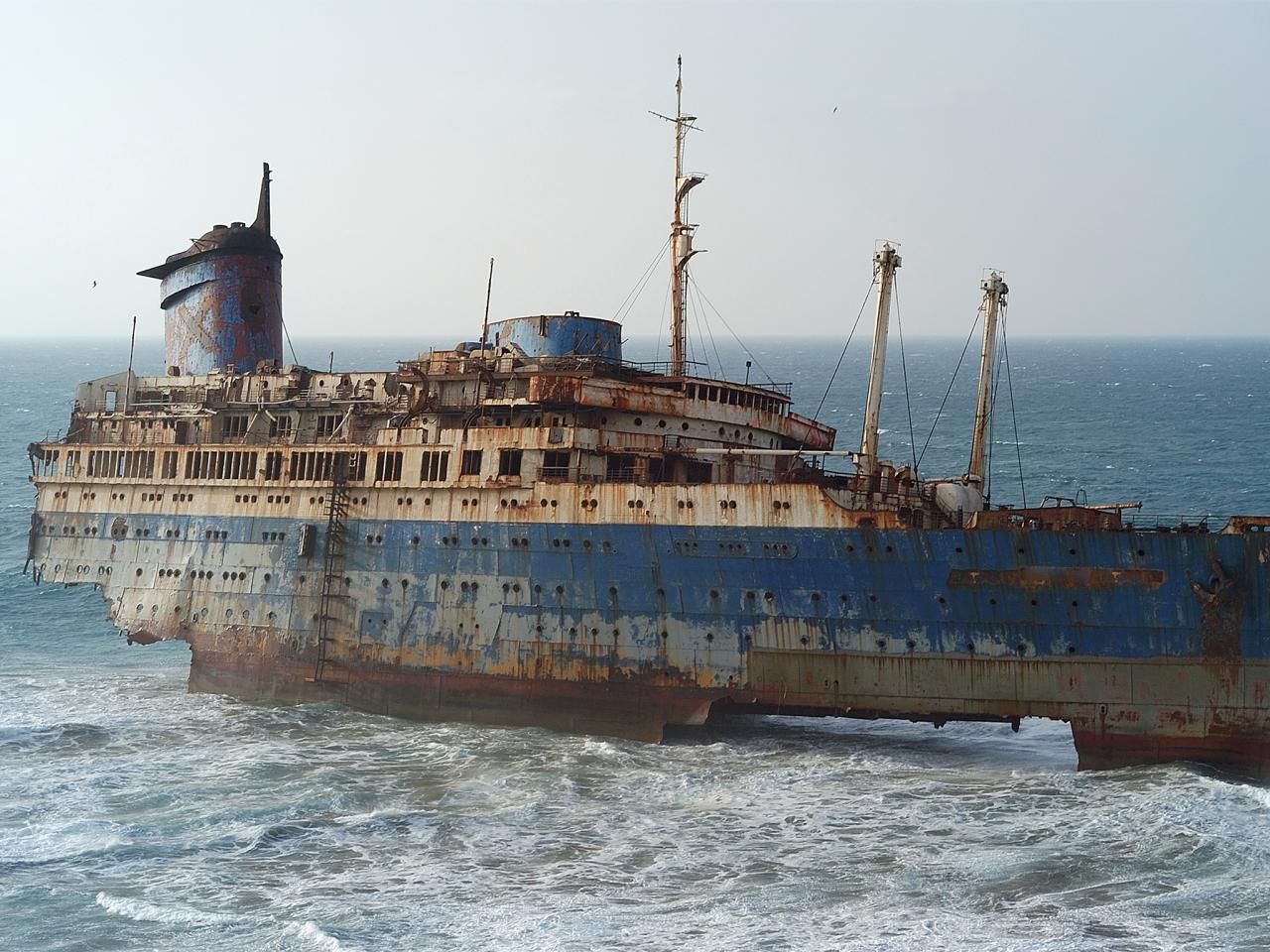 ---
USA
Most readers will remember the utter tragedy that was Hurricane Katrina in 2005. What many people don't know is that many places there are still abandoned, and this Six Flags is included in that. Of course, there have been discussions over what to do with the property, but so far there haven't been many good ideas about how to restore or use the property!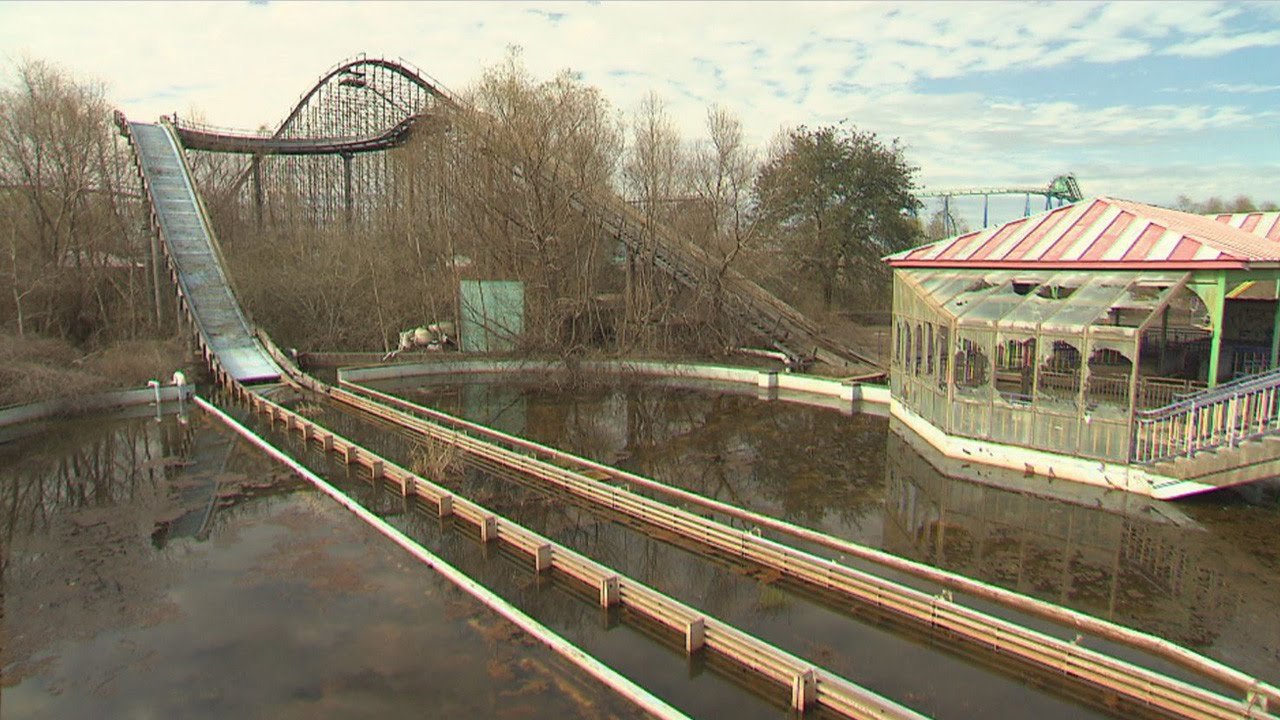 ---
China
Nearly 100 miles South-East of Shanghai lies Houtouwan, which is a ghost town that used to be a fishing village. Like many of the other places on this list, the village is eerily beautiful, and all of the remaining properties are covered in lush greenery. There are still people that live in this village, of course, although most of them make their money from tourism nowadays. 
---
Namibia
This image isn't computer-generated - no, it's from an abandoned house in Kolmanskop, Namibia. The houses in this village used to be inhabited by diamond miners, but when more diamonds were found elsewhere, everyone cleared out for greener pastures. The homes here were all filled with sand, and now, like many other places on this list, are used for movie sets.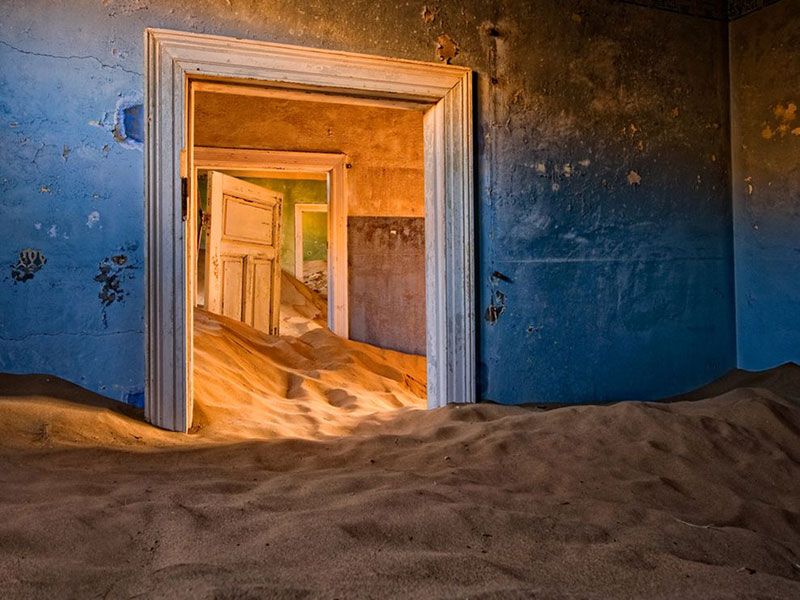 ---
USA
Have you ever been to Detroit, Michigan? There was a fire at the railway station on Boxing Day of 1913, which meant that the new station, which was not quite completed yet, had to be put to use a little earlier than anticipated. Before the First World War, train stations got a lot of use, with over 200 trains pulling out of the station every day. But after the war, the railway was mostly only used for military personnel.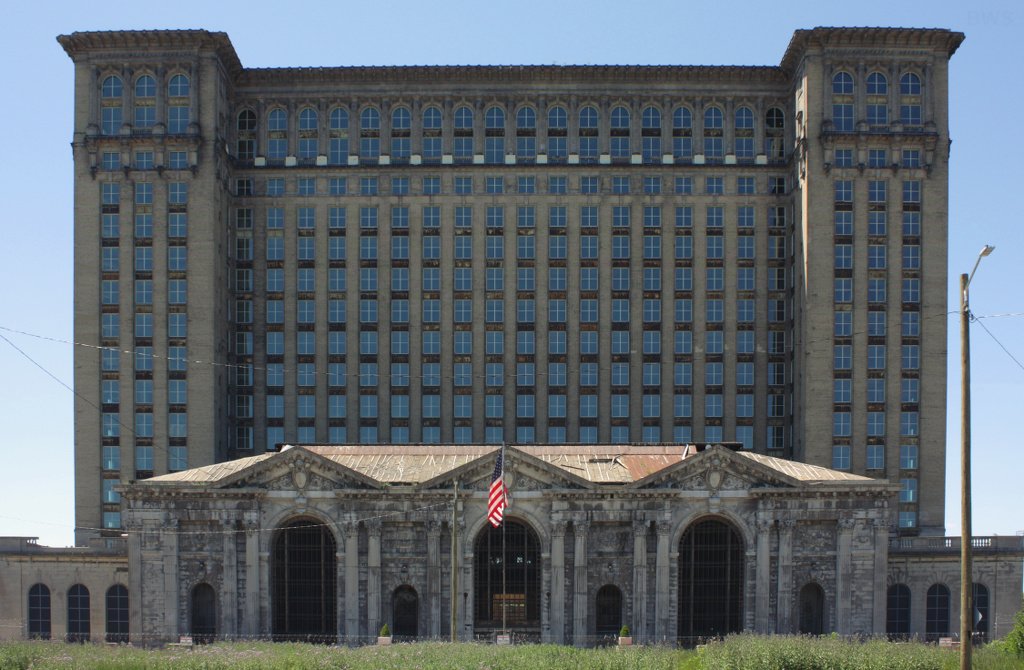 ---
Australia
Moreton Island, near the Great Barrier Reef in Australia, is a stunning place of natural wonder. It's so beautiful, in fact, that it even makes rusty ships look lovely! Boat-owners asked for these old barges to be sunk here specifically to create a little safe haven for smaller ships in these crystal-clear waters off the coast of Queensland.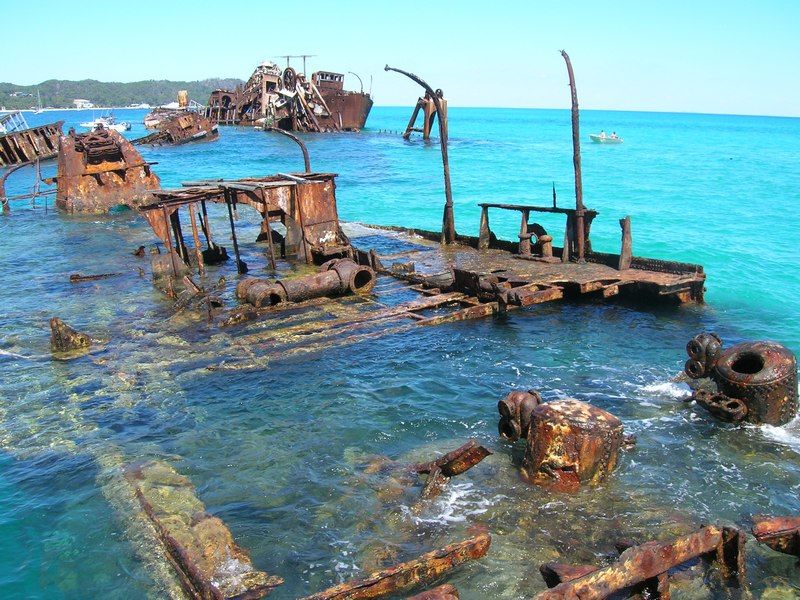 ---
USA
Cape Romano, Florida, is home to these curious abandoned dome houses, which may look like they were built hundreds of years ago, but in fact, they were built in the 1980s. Bob Lee was an oil producer who had these little houses built in the 80s, and in 2005 they were sold to John Tosto, which lasted only a while before the dome houses were destroyed in Hurricane Wilma. They still exist nowadays but are only accessible by boat.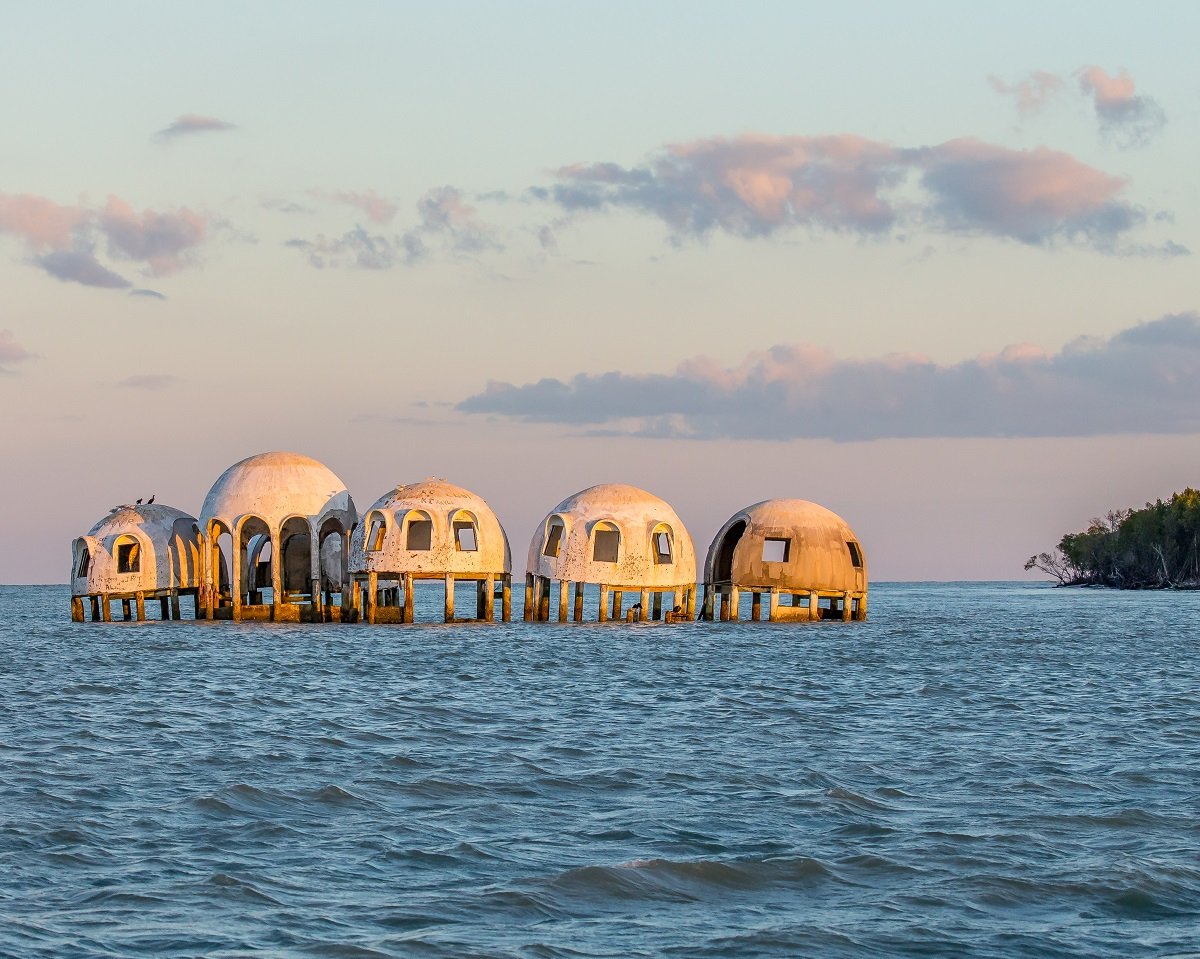 ---
Italy
It might look like a hyper-real scene from a video game, like BioShock or Final Fantasy, but this dilapidated building is in fact, an abandoned Italian castle. There are many of these kinds of old structures across Europe, which are often much spookier than video games! Castles like this are often littered with relics from centuries past, which makes them oddly beautiful.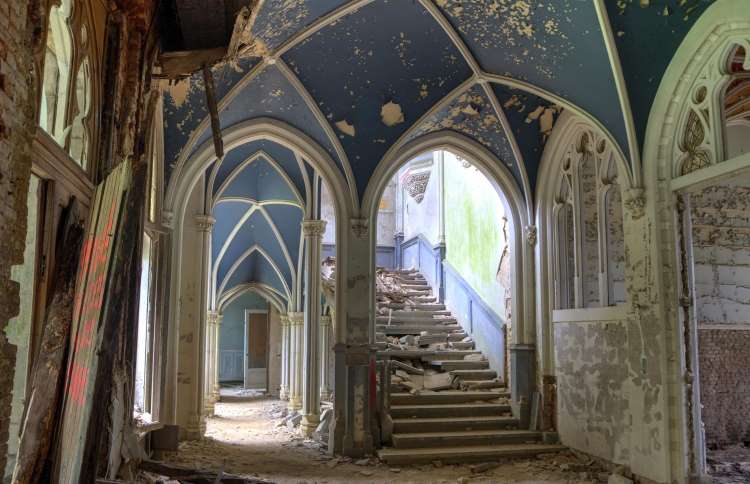 ---
USA
It would be incredible to hear all the stories that this spooky theater inside a hospital could tell us. It was opened in 1904 with only 95 patients but grew up to 3,186 patients in 1955. Many of the buildings in this hospital were connected through underground tunnels. Sadly it was a place full of bad influences and many cases of abuse and negligence of patients were known. Many of the people who were held in this place died for strange reasons, so it was finally closed in 1996.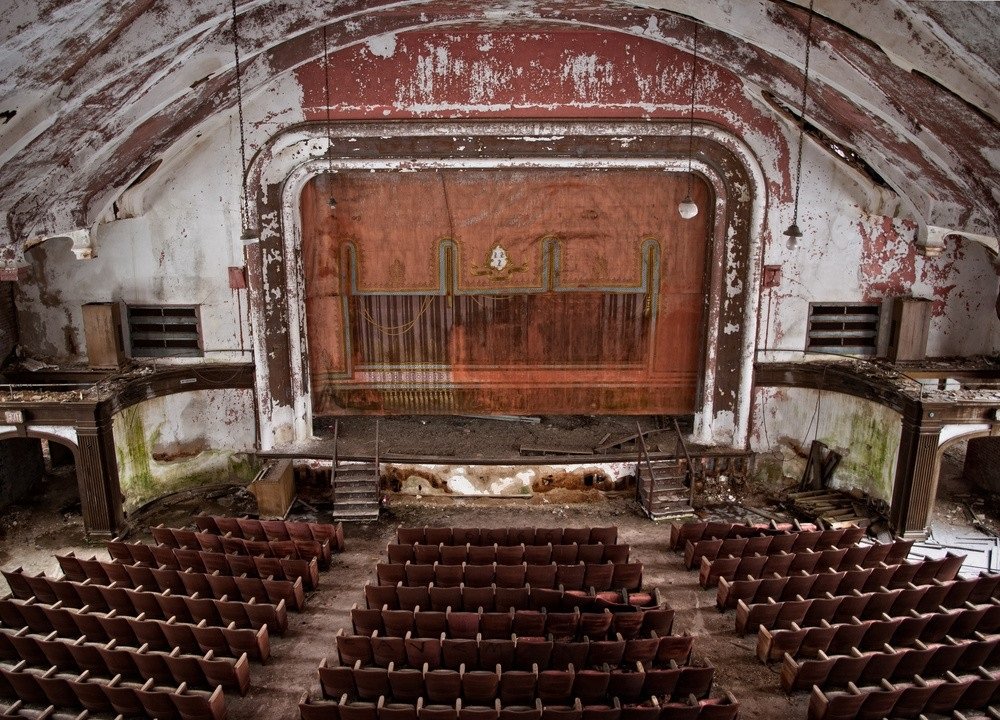 ---
Bulgaria
This remarkable home is the abandoned house of Pencho Semov, a Bulgarian Industrialist. Like many other self-made millionaires, Semov was born to a very poor family, but capitalized on industry to the point that they called him the 'Bulgarian Rockefeller.' When he died, he asked for two of his properties to be turned into boarding schools. One was for poor girls, free of charge, with the other for wealthy girls, and a small associated fee.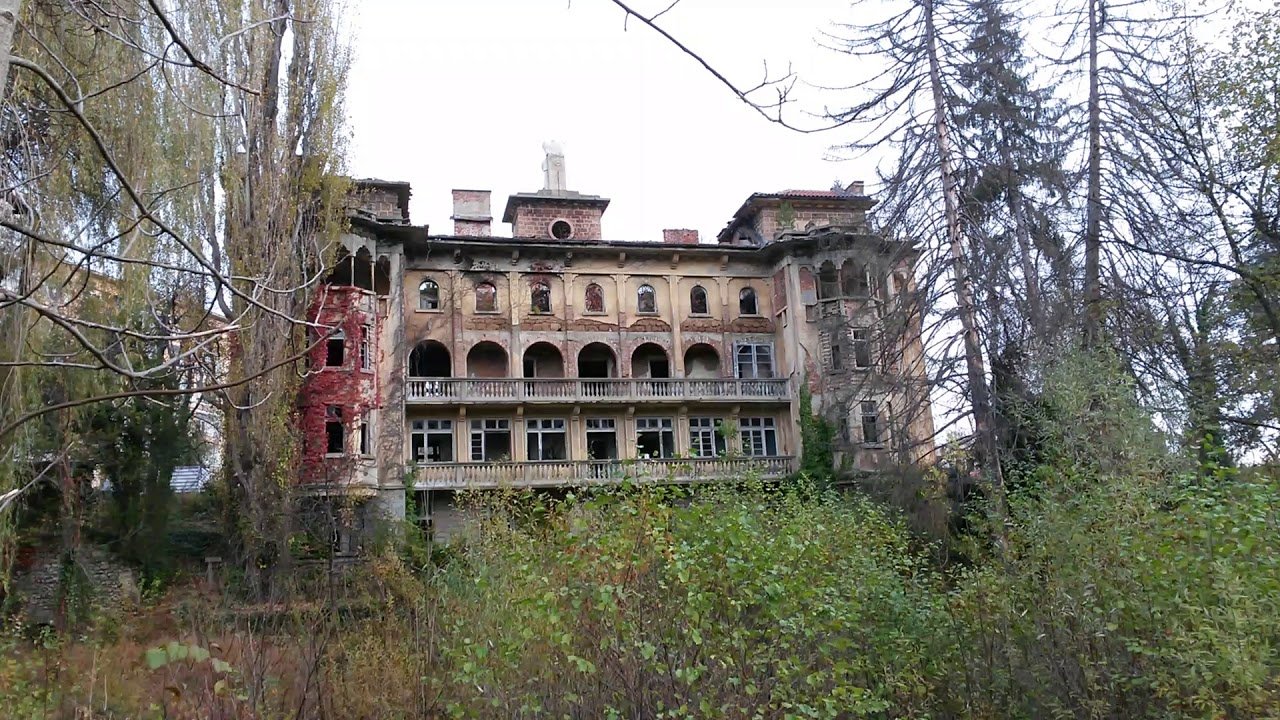 ---
USA
All across the USA there are abandoned railway bridges just like this one. Train travel was the way to go, back in the 1800s, but once automobiles became the norm, many rail bridges were neglected as routes were scaled back and people took their cars instead. This dilapidated old bridge is in Pennsylvania, USA, and would likely have cost a great deal to repair, which may have been why it was left to rot.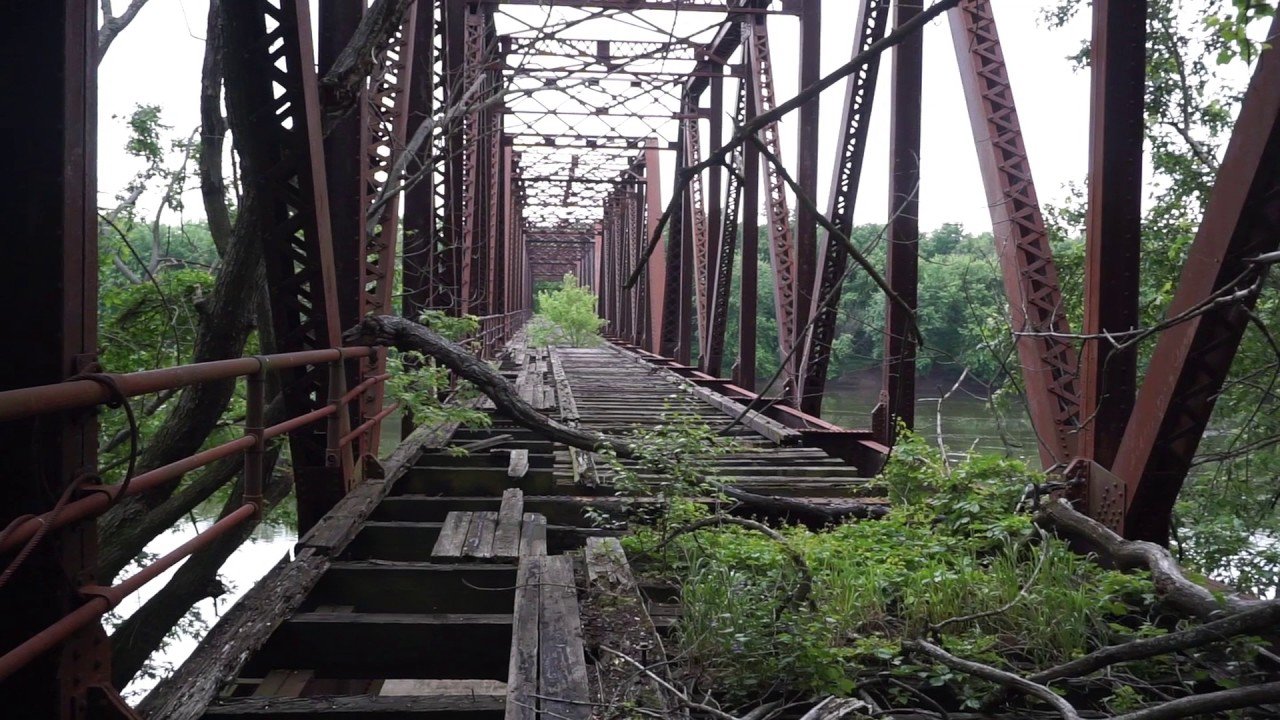 ---
USA
Don't you think that this house looks like something out of a horror film? The image was taken during an electrical storm in Nebraska from the photographer's car. He didn't realize that he had captured such a great shot at the right time and got a wonderful surprise when he got home and went back through his images. You can't quite see what the lightning is striking, which makes it even spookier.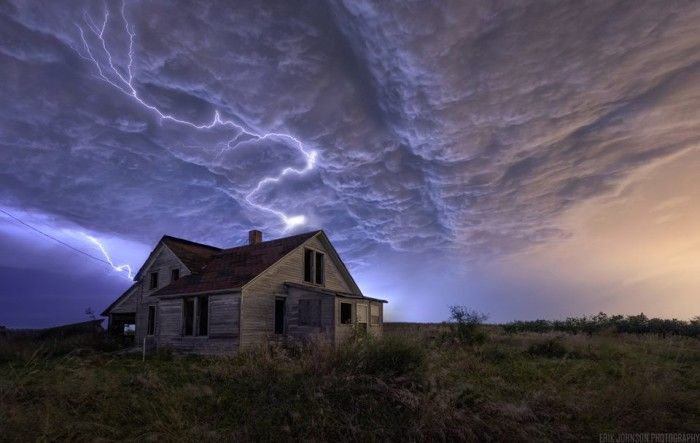 ---
Germany
Here we have another natural German beauty, but this time on Obersee Lake in Berchtesgaden National Park. No one knows who built the original structure, but whoever did definitely had some peaceful alone time in the midst of this natural wonderland. It is a fisherman's hut, which was purposefully built on the water. We wonder what it looks like inside!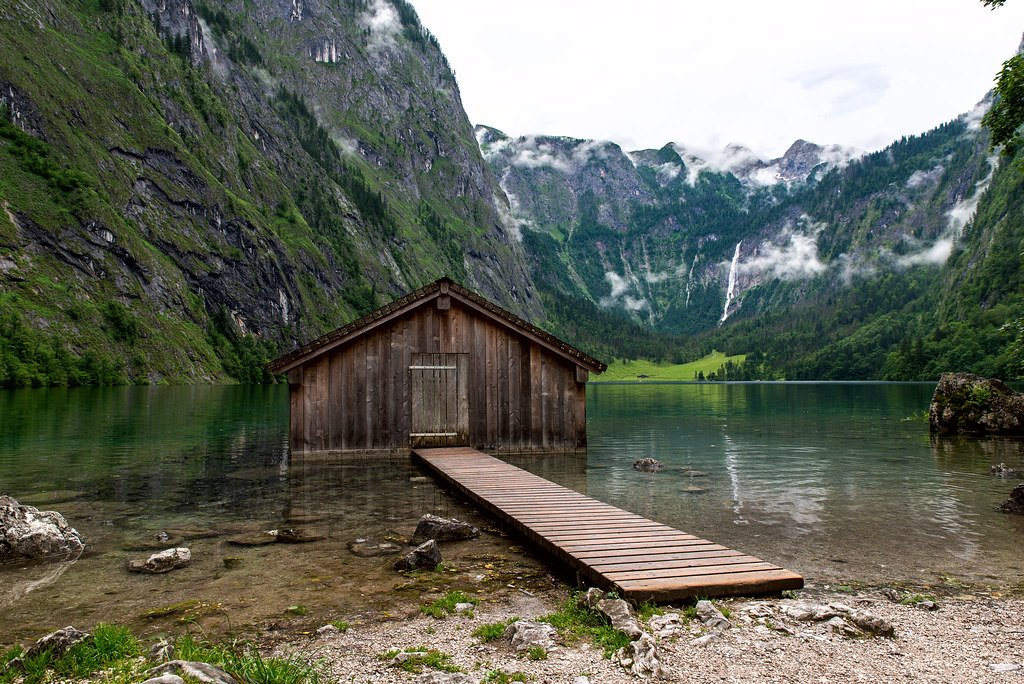 ---
Ireland
In Ireland, between the villages of Sneem and Kenmare, there lie many beautiful abandoned buildings. They are really something to see! This is along the Kerry Way walking trail in County Kerry, and you can walk right around in a circle, 133 miles beginning in Killarney! It's not quite as easy as it might sound - you really want to make sure you're ready to hike that far if you're going to attempt it!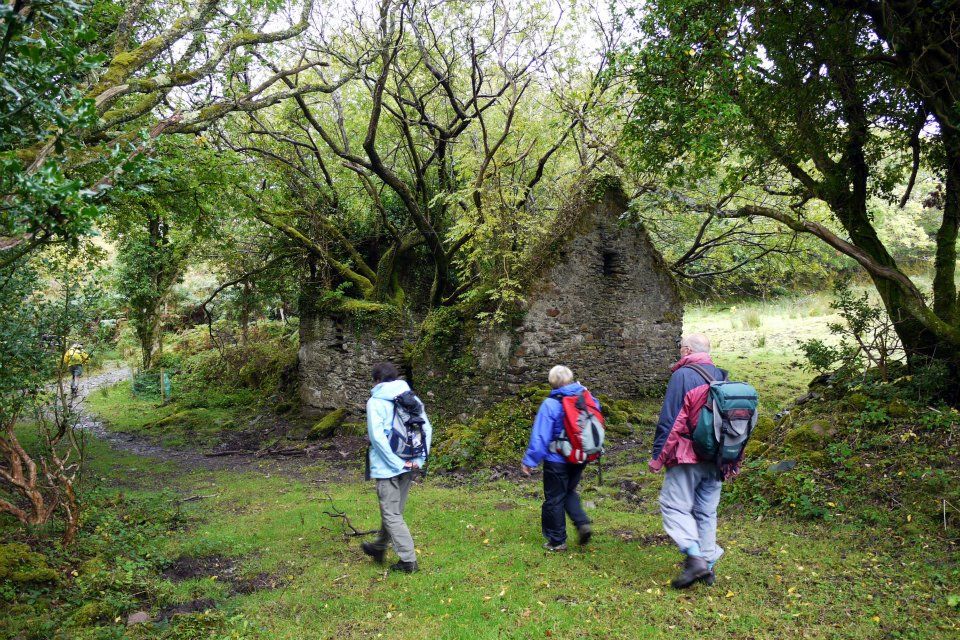 ---
South Africa
If you go to Lagoon Beach in Milnerton, South Africa, you might just find this abandoned little beach bug. Not a creepy-crawly, of course, but a 'Love Bug,' as Volkswagen Beetles are sometimes nicknamed. It's not clear why this little guy was abandoned, but maybe someone just took it out a little too far and it got stuck in the sand!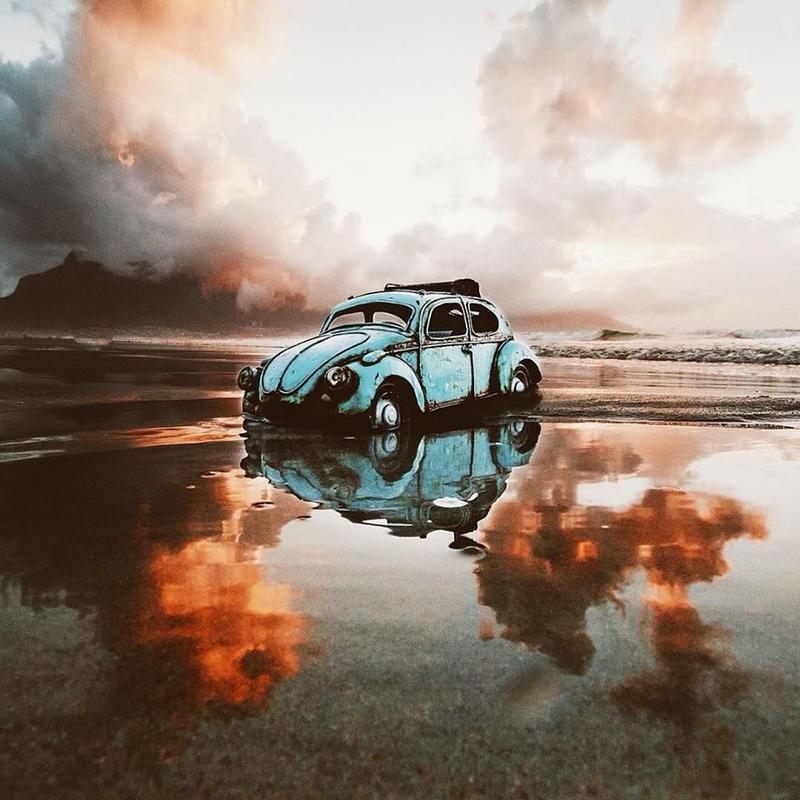 ---
China
Kangbashi, in Ordos, China, is a ghost town which is built in a subdivision of Inner Mongolia. It was designed and built to house around a million people, and the construction began in 2003. The town was built in the middle of a desert, however, and it was difficult to get people to come and live in the community. You can still visit this futuristic town, however, and it is frequented by tourists.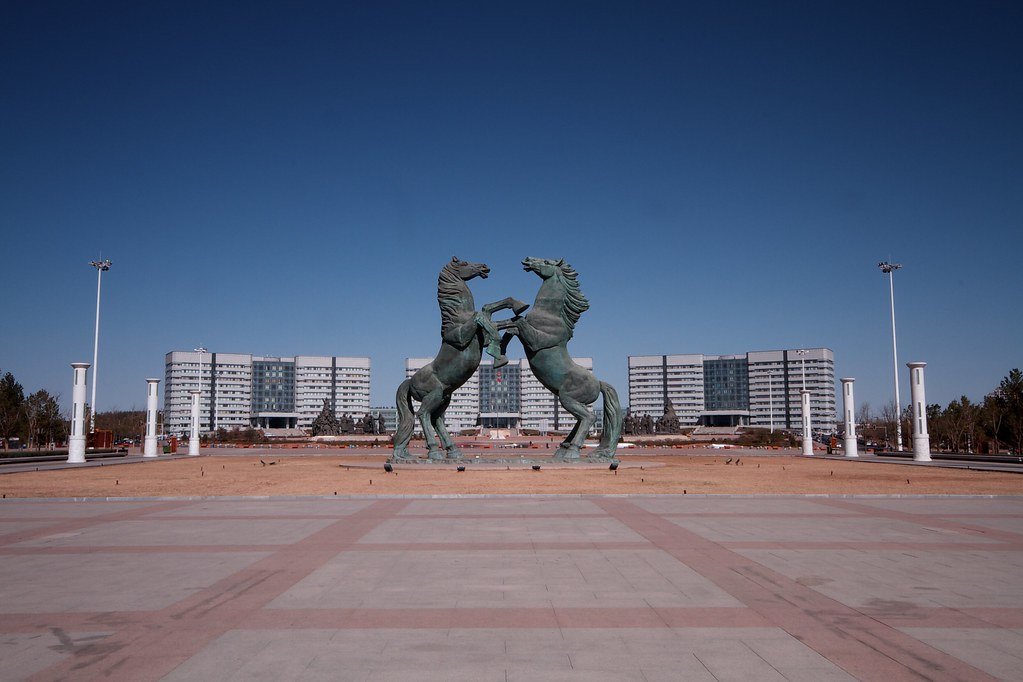 ---
Belgium
Ever wondered what power stations looked like back in the 1920s? Well, wonder no more! This massive structure was the main energy source for Charleroi in the 1970s, but the plant was shut down in 2007 when it was discovered that the plant was causing a tenth of all of Belgium's C02 emissions. Eek! It really does go to show that coal is not the best way to generate energy anymore.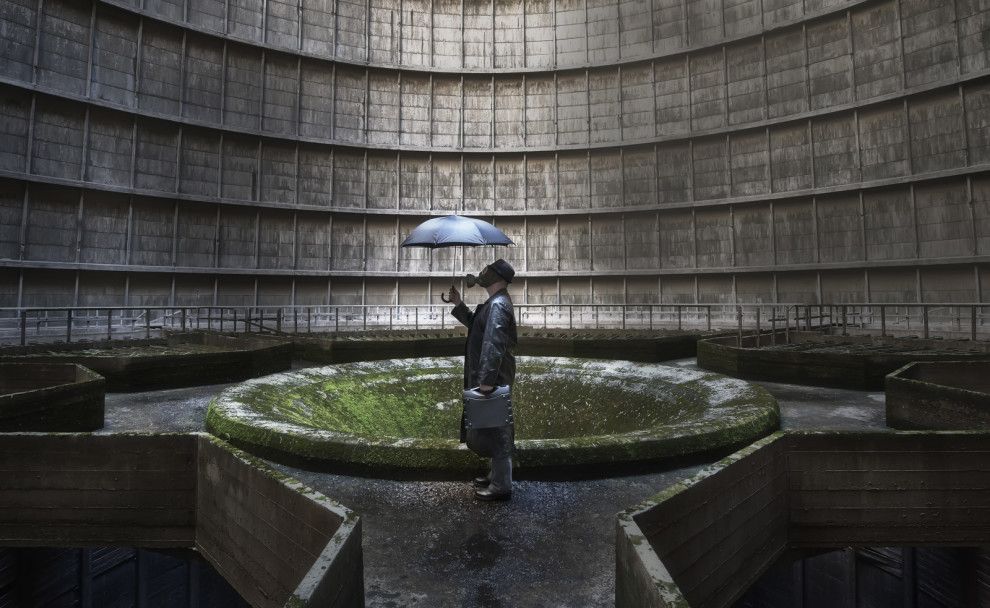 ---
USA
If you'd believe it, this church is where Michael Jackson was born. Located in Gary, Indiana, the City Methodist Church was originally built in 1926. This impressive piece of architecture is over eight stories and is filled with gorgeous stained glass windows and other Gothic architectural features. Sadly, the church was shut down in 1975, although it is still used by Hollywood studios.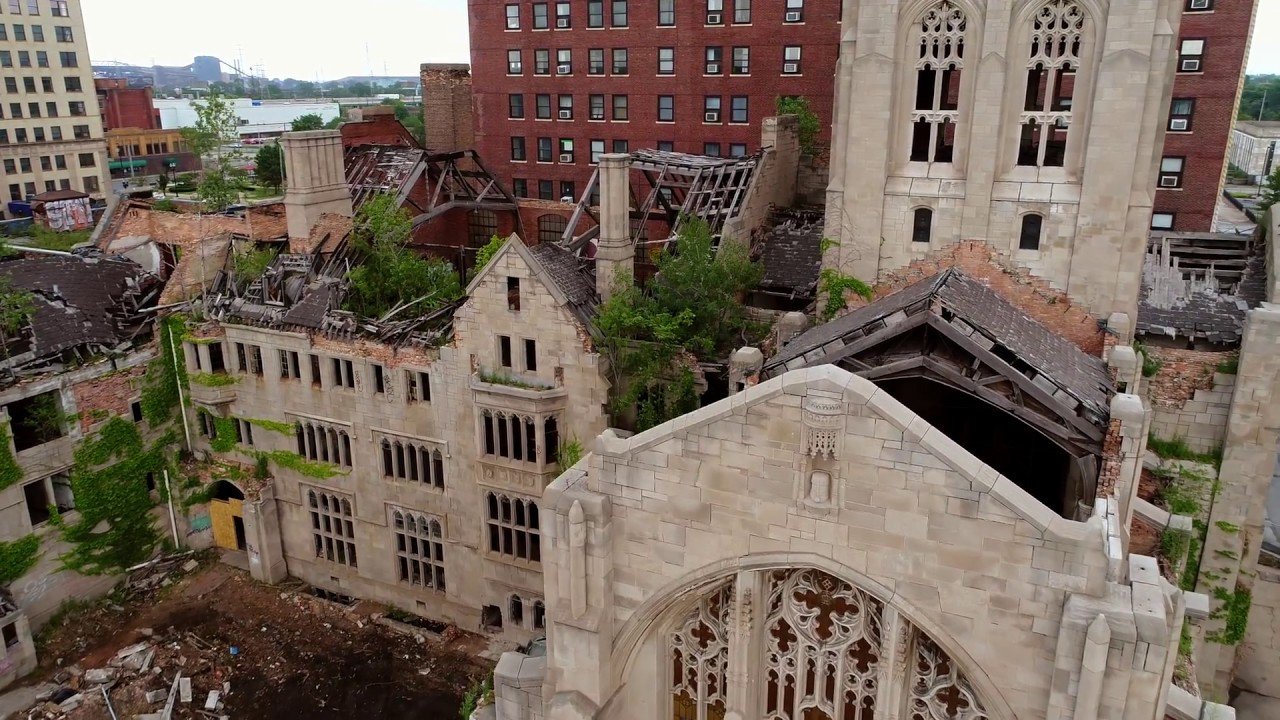 ---
USA
The town of Boyd, Oregon, was disbanded in the mid-1950s. The Great Depression had seen wheat prices plummet, and as the town relied heavily on the wheat trade, it was difficult for businesses to stay afloat. As a result, residents were forced to up and leave without being able to sell their homes, which meant that Boyd became a ghost town filled with abandoned houses like this.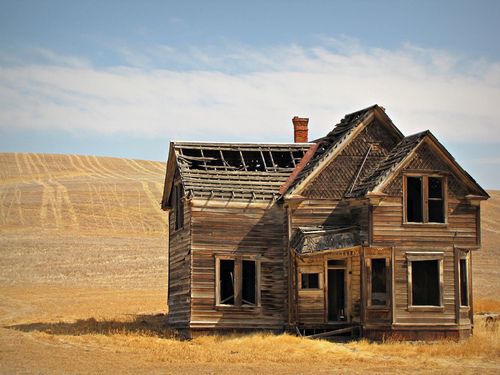 ---
Iceland
Meet Búðakirkja, one of Iceland's most photographed churches. Why do so many people take photos of this simple landmark? Well, it is a popular destination for wedding photos! And you can see why, with how well the bride's dress stands out against the dark panels. Strangely enough, this is the second iteration of the church, as it was taken down in 1703, and then reconstructed in 1987 when the community lobbied to get it back.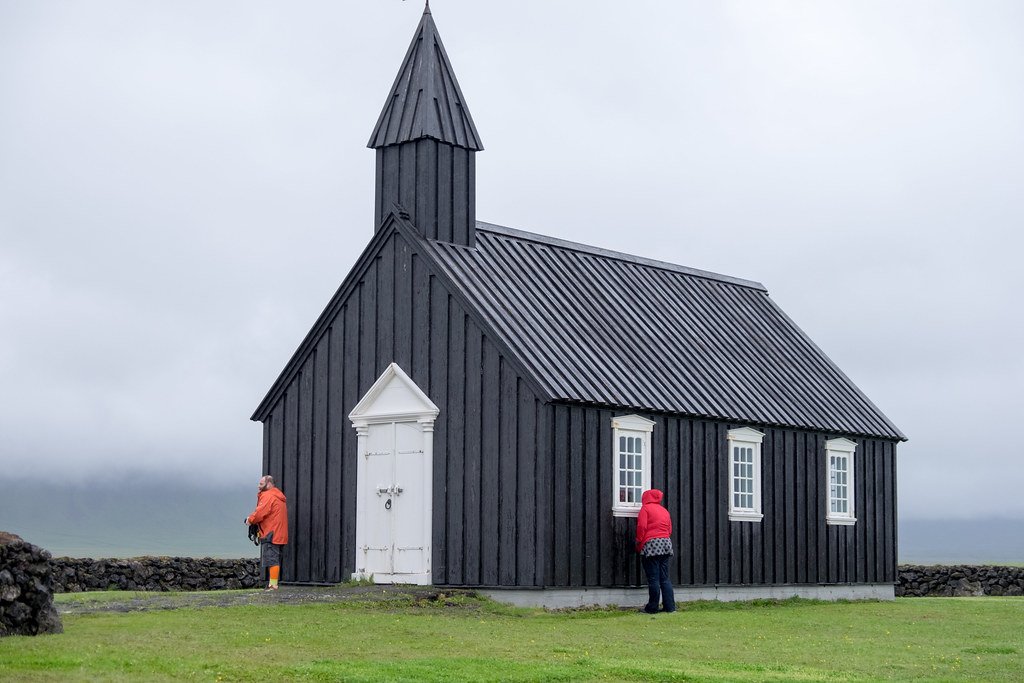 ---
Japan
Everyone knows the story of the phoenix, which is the fire-bird that rises from the ashes. The story teaches us that beautiful things can come out of tragedy, and this abandoned supermarket is eerily stunning in the same way. Why was it left like this? Well, this shop is one of the many Japanese businesses that was impacted by the March 2011 earthquake in Fukushima, which caused a nuclear radiation leak. As a result, the entire city is now empty.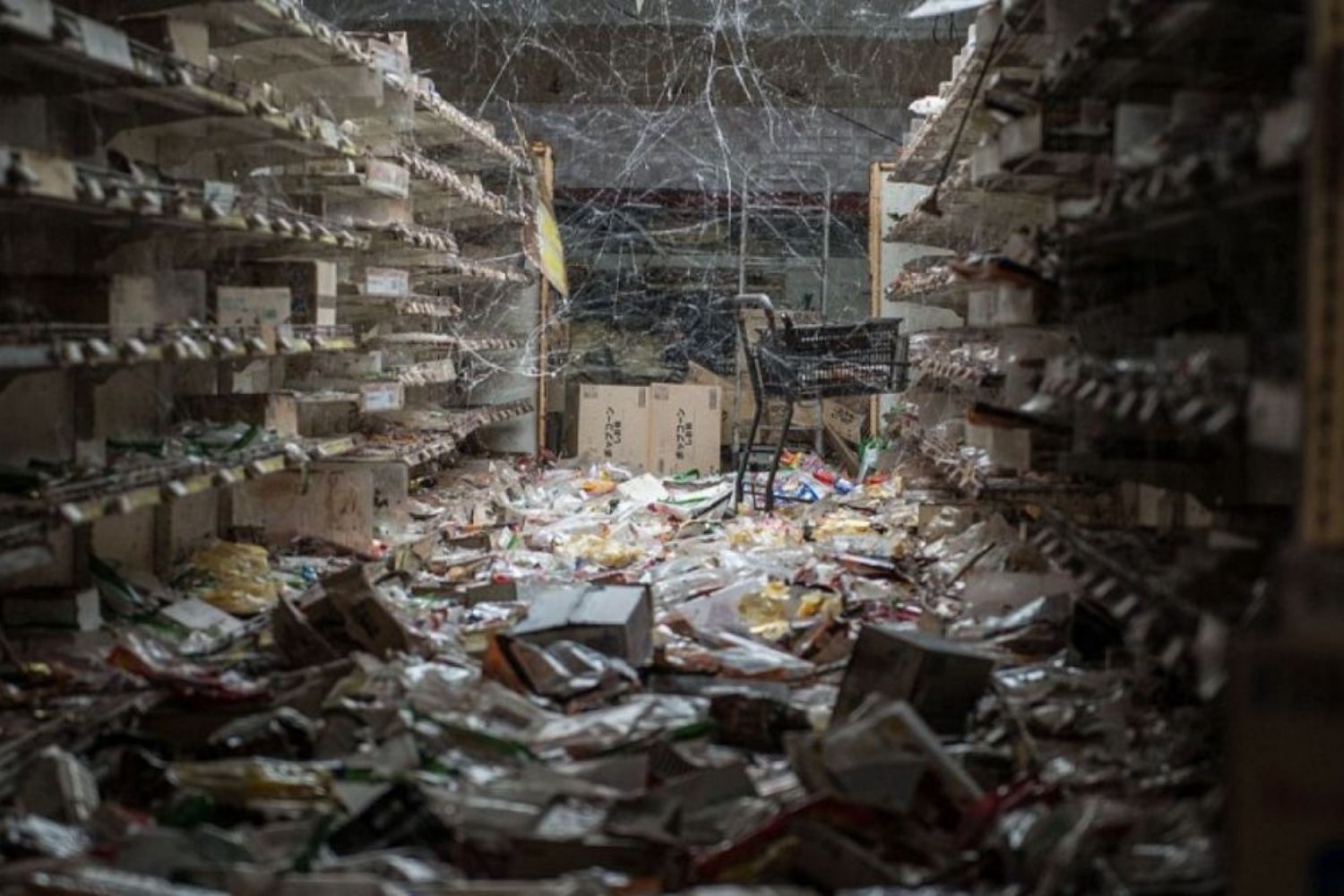 ---
Estonia
This fascinating little ruin might look curious, but it's just the tip of the iceberg. The Rummu Prison was built in the 1940s by the Soviet Union, and by 1991, Estonia had gained independence. At this time, the jail was abandoned, and the limestone quarry was flooded. Nowadays, tourists come from all over the world to explore what lies beneath the waters of this abandoned prison.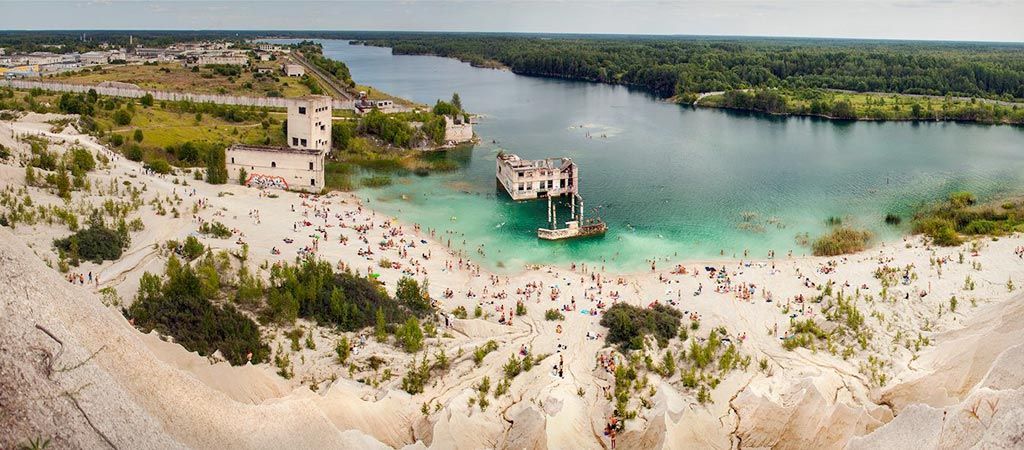 ---
România
This building used to be a treatment house or sanatorium and is in Baile Govora, Valcea Country, România. The house was designed by Ernest Doneaud and had 145 rooms, which is astounding! There were quite a few different types of therapy available at the Pavilionul de Bai. These included compressed air cabinets and water-based therapy.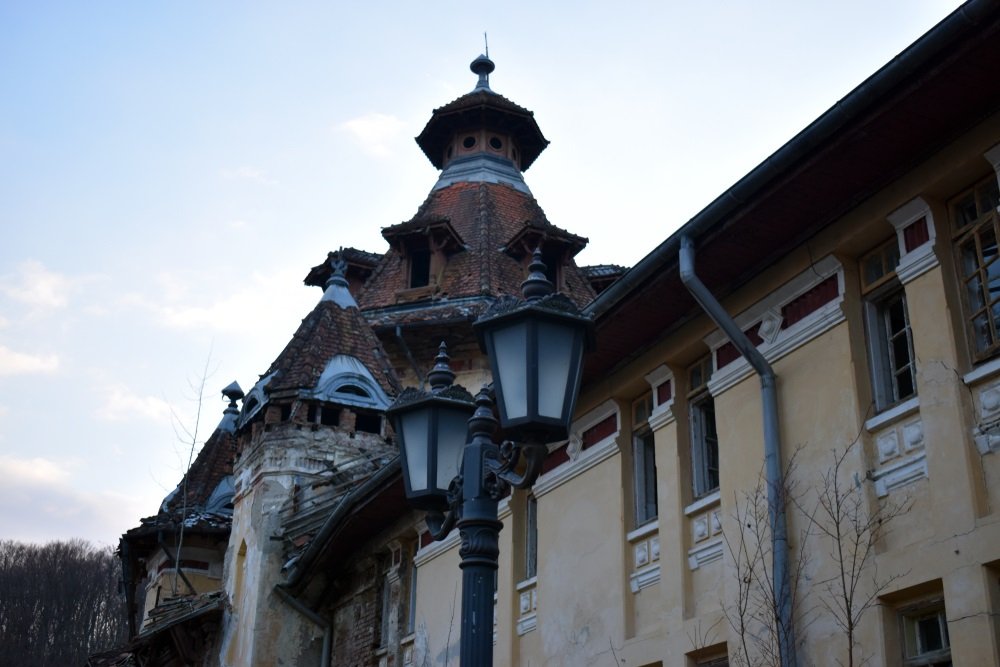 ---
Peru
These motorcycles were owned by the Puente Piedra National Police, located in Lima, Peru. Unfortunately, they were abandoned due to problems with the budget for its maintenance and operation. Some of the Harleys of this police force were sold in bulk to motorcycle lovers because of how difficult it was for them to obtain spare parts. In order to assemble a beautiful Harley, they had to buy several to collect the correct pieces. They were sold for $ 1,300, but with maintenance and renovation, they can be worth up to $ 12,000.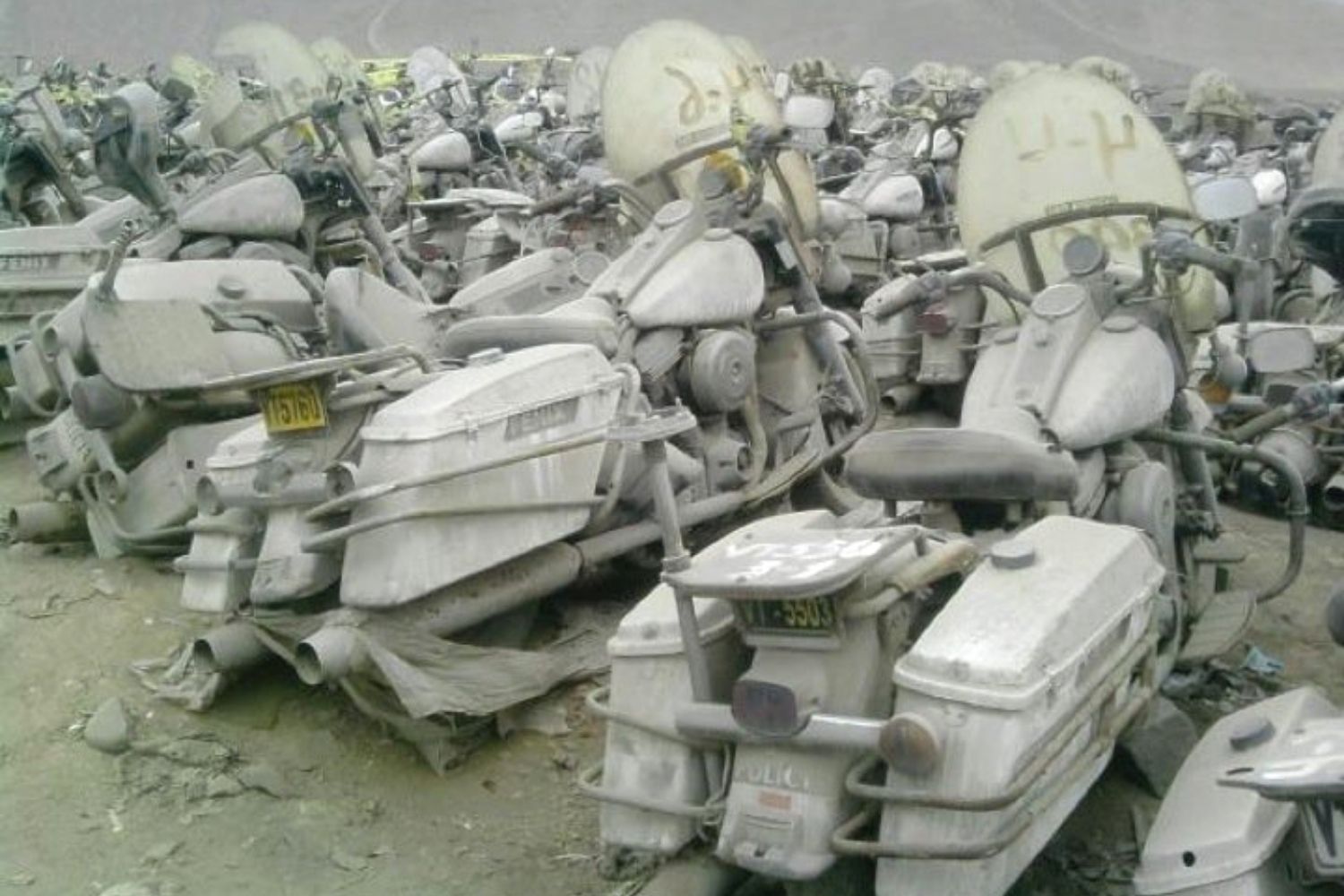 ---
Japan
This image shows a picture of Nara Dreamland, which is a theme park in Japan. This rollercoaster, called The Screw Coaster, has been sitting here for some time. The park was basically a copy of Disneyland, but unfortunately, they couldn't afford to have the same characters as Disneyland. There is a wooden roller coaster called 'Aska' in another part of Nara Dreamland, too.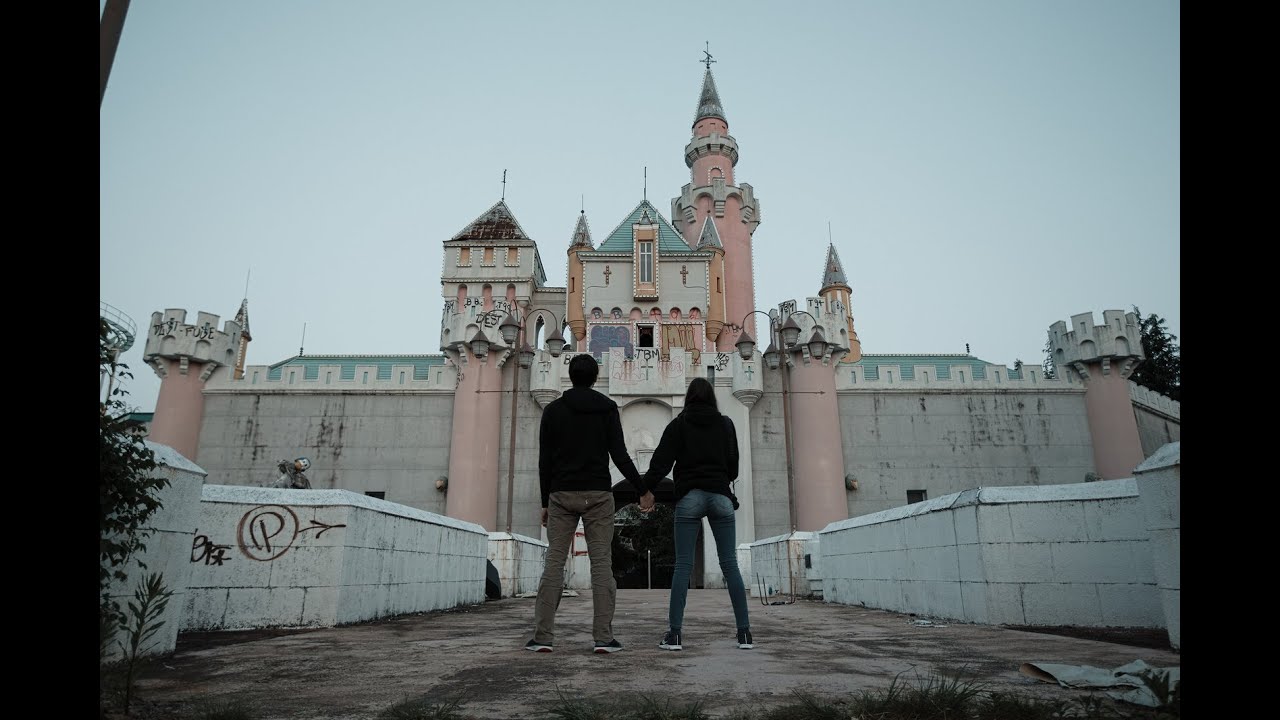 ---
Ireland
If you thought that these apartments looked like they were in the Irish countryside, you'd be correct. Not all are abandoned, but the half that is used to be an asylum in the 1850s. It was called 'St. Anne's Asylum,' and no one is particularly keen to live there now. Can you blame them? Usually abandoned mental health institutions from previous centuries are only seen in horror films.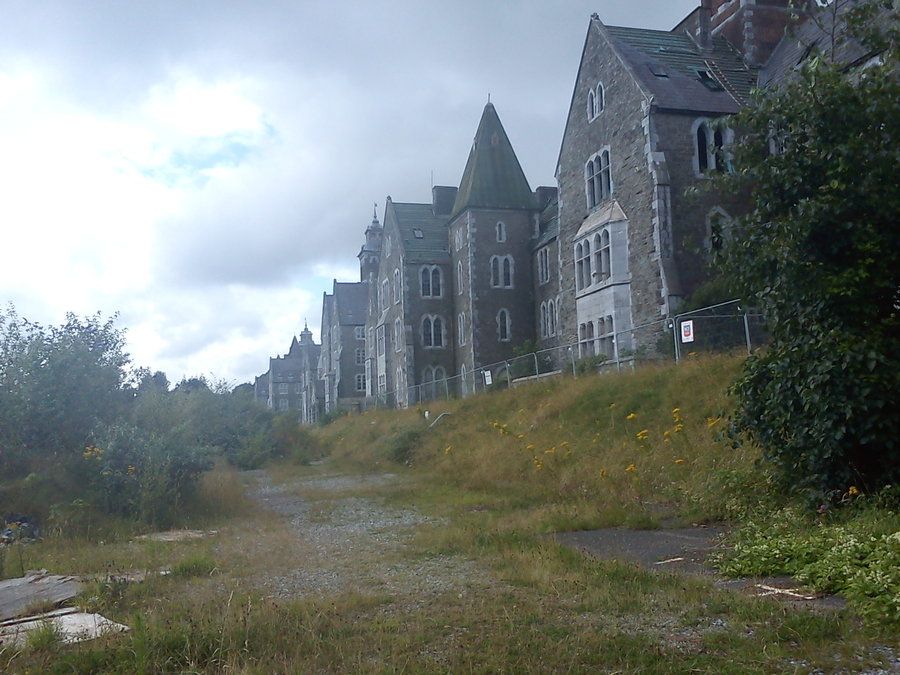 ---
Canada
This breathtaking field of golden dandelions is enough to make anyone wish they could take a trip out to Nova Scotia, Canada. The house looks as though it was abandoned, which is something that has happened to many places in the region. A lack of economic growth or sustainability means that families who have lived in the region for decades have to pack up and move on to er, greener pastures.
---
Taiwan
It is not uncommon to come across an abandoned railway track when walking in a forest. This one is near the Taipingshan Villa and used to be a logging railway. But in 2004, it was turned into a hiking trail, until 2013 when a disastrous typhoon hit the trail and wiped out around 900 meters of it. It is still totally stunning, but we do wish that we could have seen it in its prime!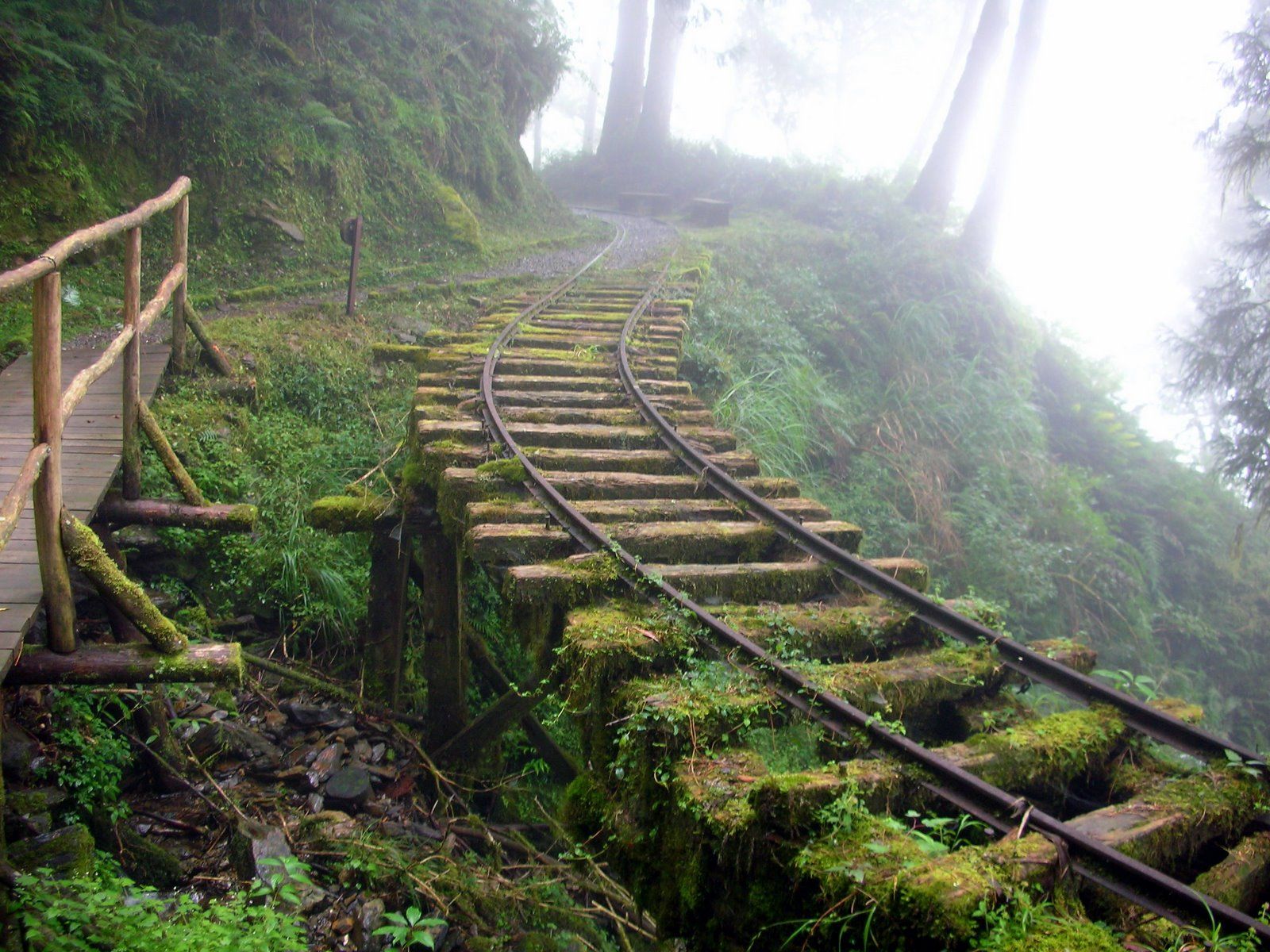 ---
Colombia
Just like many of the other places in this gallery, this impressive stone building was once a regal hotel, perched right on the edge of a cliff near a waterfall. Unluckily for the hotel owners, the Bogota River surrounding the property became very polluted. Tourists became sick and got fewer until they had to close it down, which is why it has been left in a state of ruin.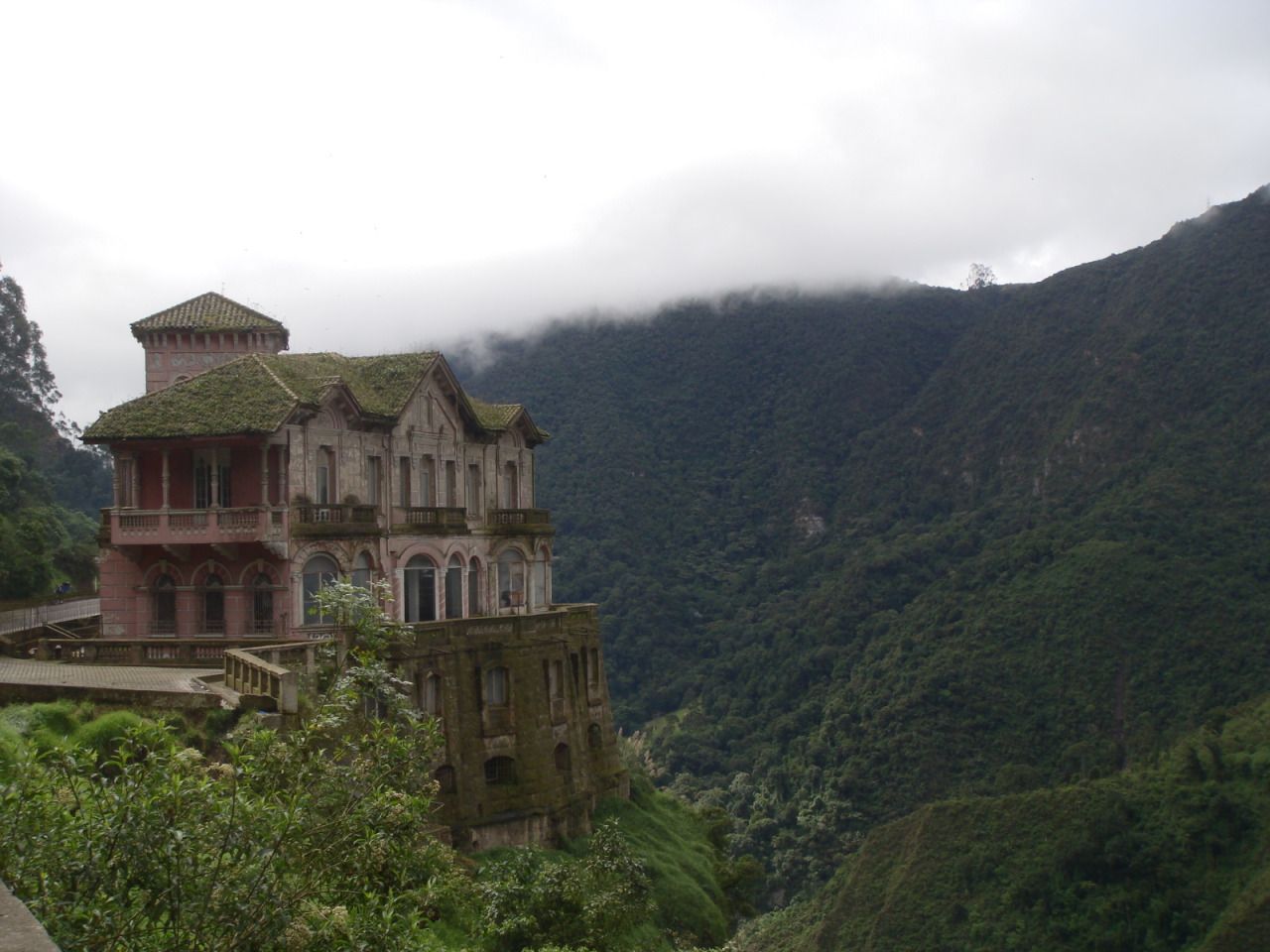 ---
Russia
In a ship graveyard in Perm, Russia, this abandoned Hydrofoil has been left to deteriorate in peace. These super-cool ships were created in the 1960s but sadly were retired in the 1980s when the Soviet Union faced economic hardships. Nonetheless, this one was an impressive machine back then, and it's even more impressive now. It looks futuristic, don't you think?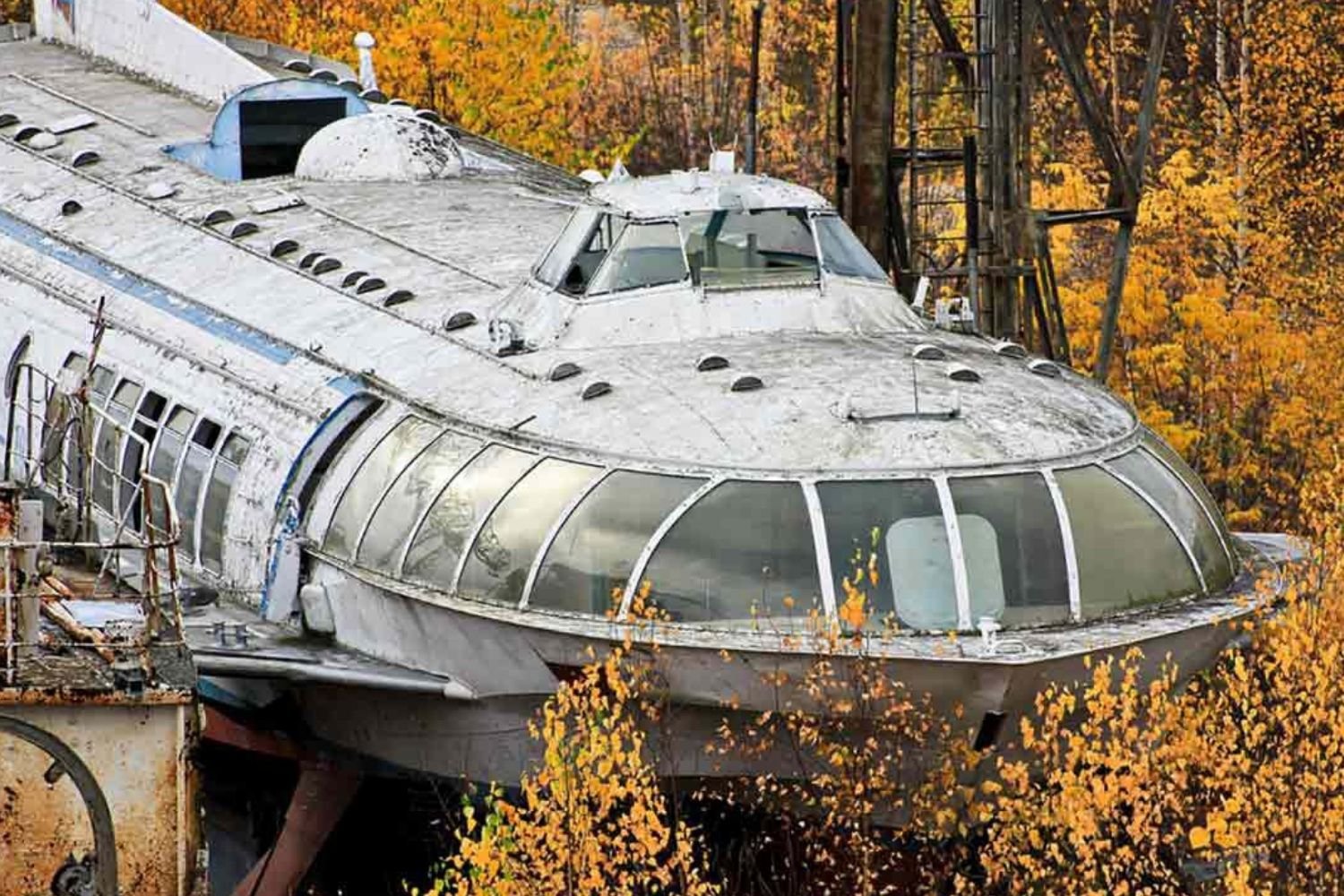 ---
Germany
This abandoned Gentzrode can be found in Neuruppin, Brandenburg. Unfortunately, it seems as though the property brings bad luck! When it was initially finished in the late 1870s, the construction turned out to be so expensive that the von Diebitch family went bankrupt. Other owners only held onto the property for a few years at a time, and the soil quality turned out to be very poor indeed.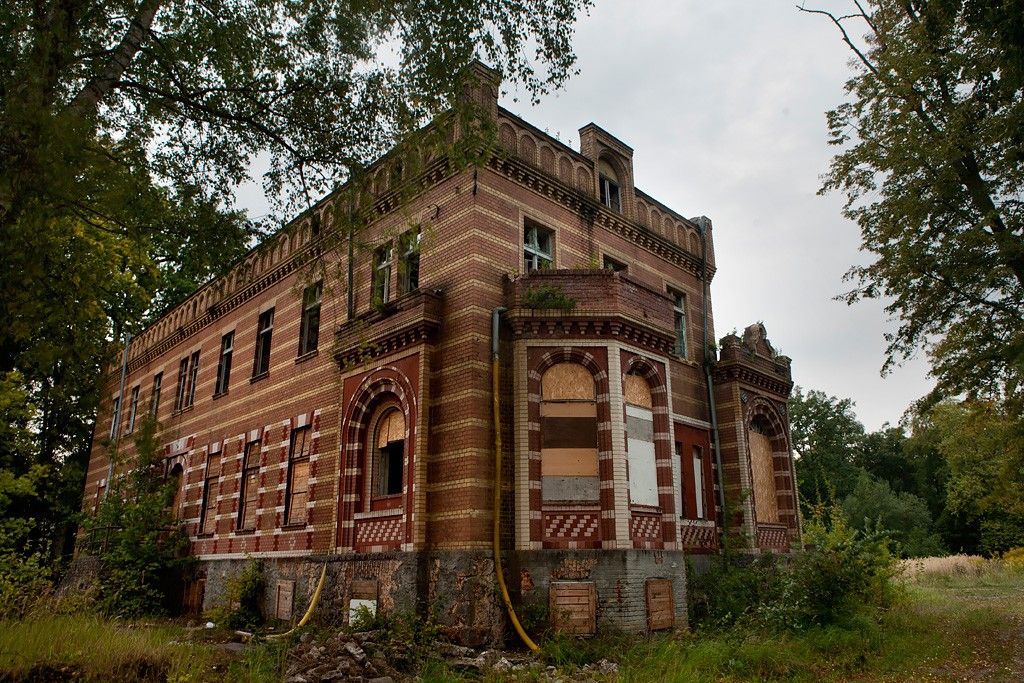 ---
Honduras
In Dixon Cove, Roatan, in Honduras, a violent storm pushed this massive vessel into the channel and left it stranded. There are quite a few rumors about this wreck, including one that says it caught fire and was abandoned, and another that says it was carrying wood. The third tidbit of gossip says that it had marble onboard! Perhaps all of the rumors are true, and it was a boat that caught fire while carrying both wood and marble!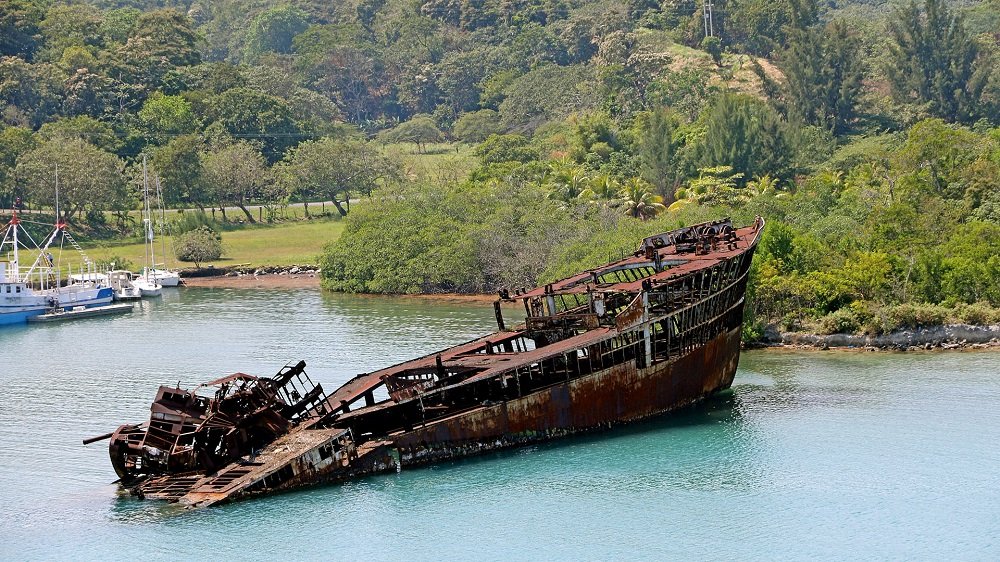 ---
Wales
If you are sharing a nice day at the beach with your family and find something weird in the sand, the last thing you think is on a plane. This particular fighter plane was buried for 65 years since World War II! According to the story, the pilot, Robert F. Elliot, had to make an emergency landing during a practice mission in 1942 because of a fuel problem. Unfortunately, the landing destroyed many parts of the aircraft, but the pilot allegedly escaped unharmed.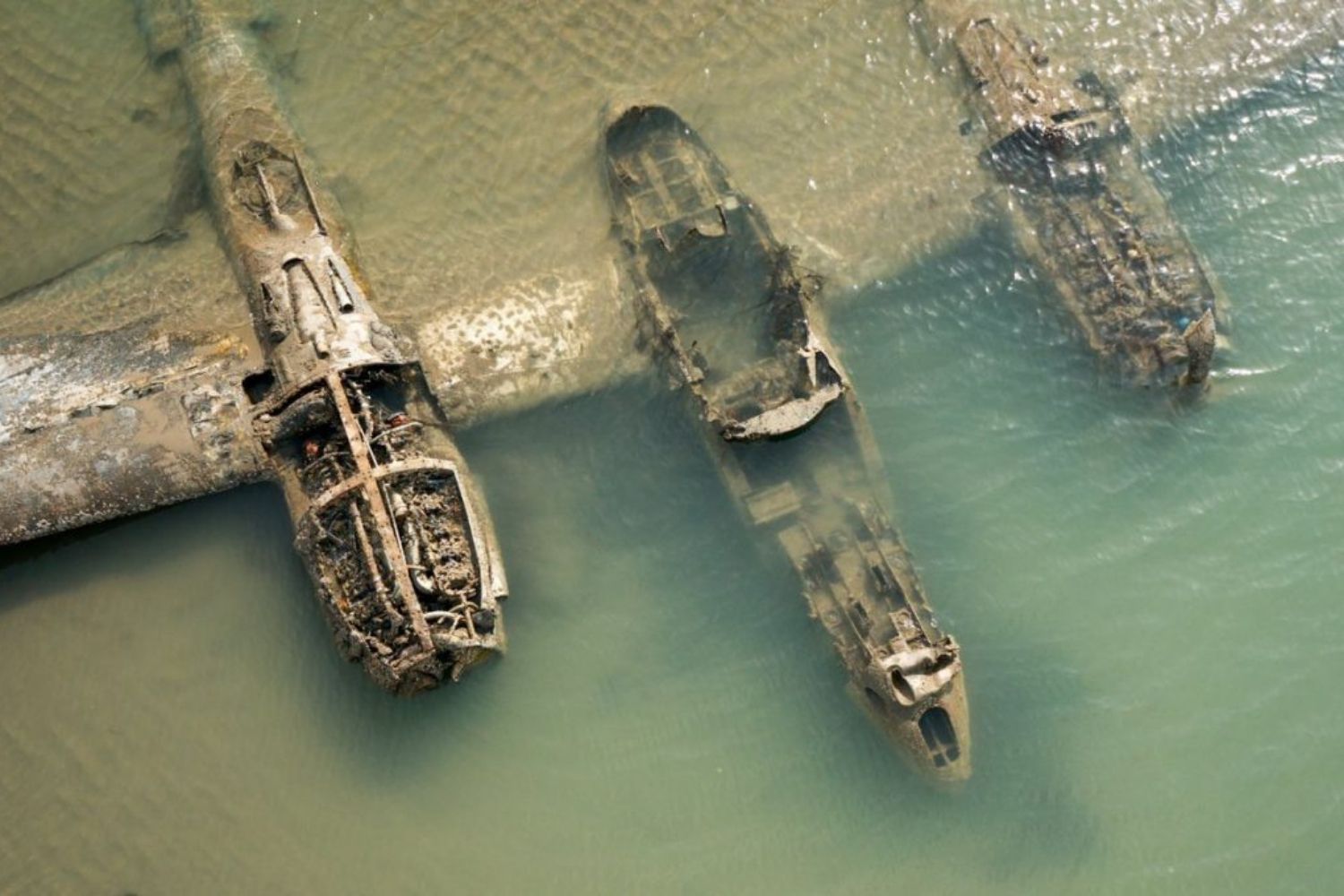 ---
Canada
This shipwreck in Ontario, Canada, was once the majestic H.M.S. Ontario! It was a British warship that sank in the 1780s, which makes it one of the oldest vessels to have been found in Canada's lakes. It was discovered in 2008, between Rochester on the American side of the border, and Niagara on the Canadian side of the border. Jim Kennard and Dan Scoville began hunting for this boat 35 years earlier, but it took them a long time to find it!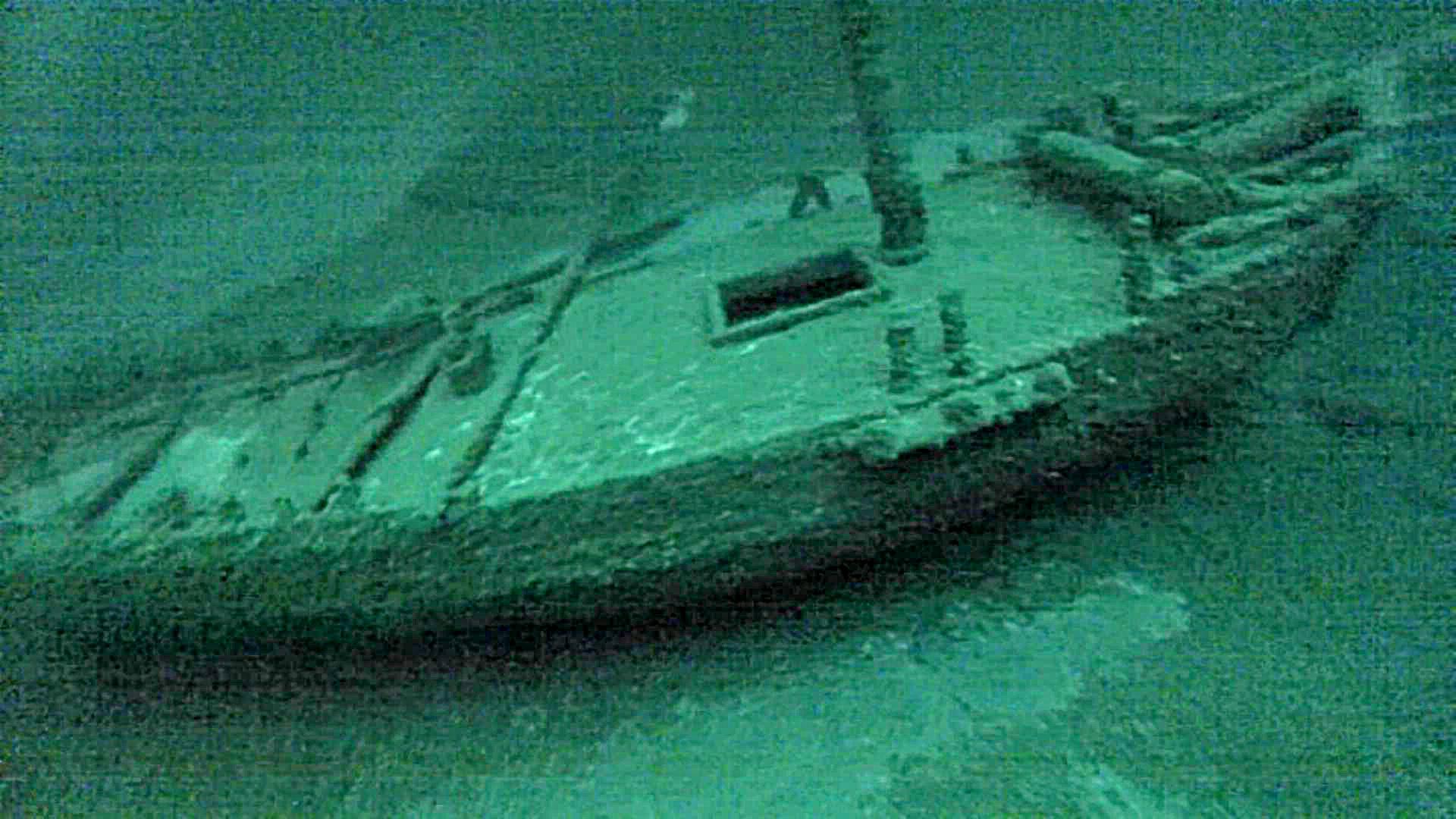 ---
England
London, England, was bombed in the 1940s during the Second World War, and Holland House was completely devastated by the bombings. As a private library, some of the books were quite valuable, so it's not clear whether these people are looting or browsing! The Holland House was abandoned until the early 1950s when it was finally preserved.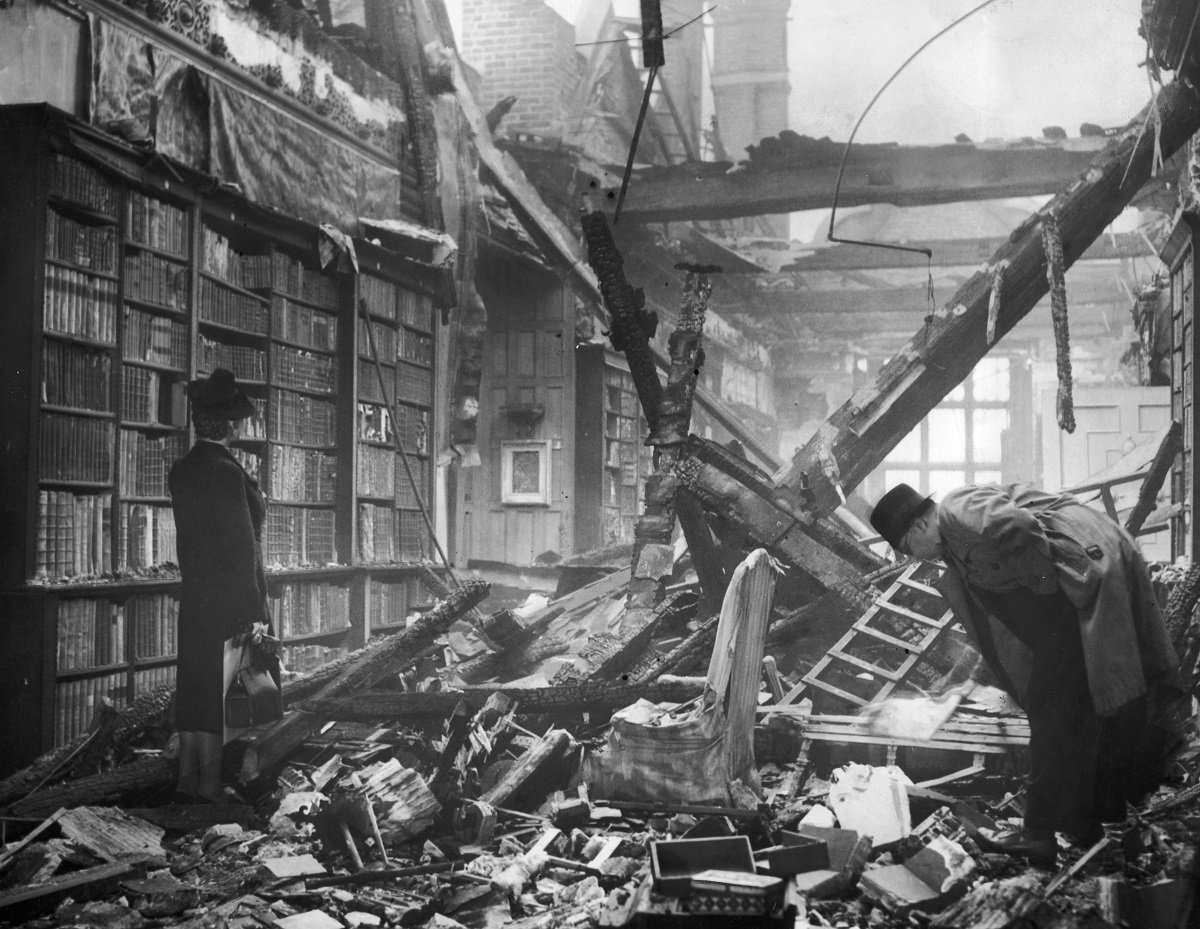 ---
Italy
Doesn't this photo give you chills? You might think it is a relic from an abandoned marine vessel, but instead, it was placed there on purpose in the 1950s. There are three statues of Christ-like this under the ocean near Italy, and they have been strategically placed. This guy was placed near where Dario Gonzatti passed away. Gonzatti was the very first Italian man to go Scuba diving.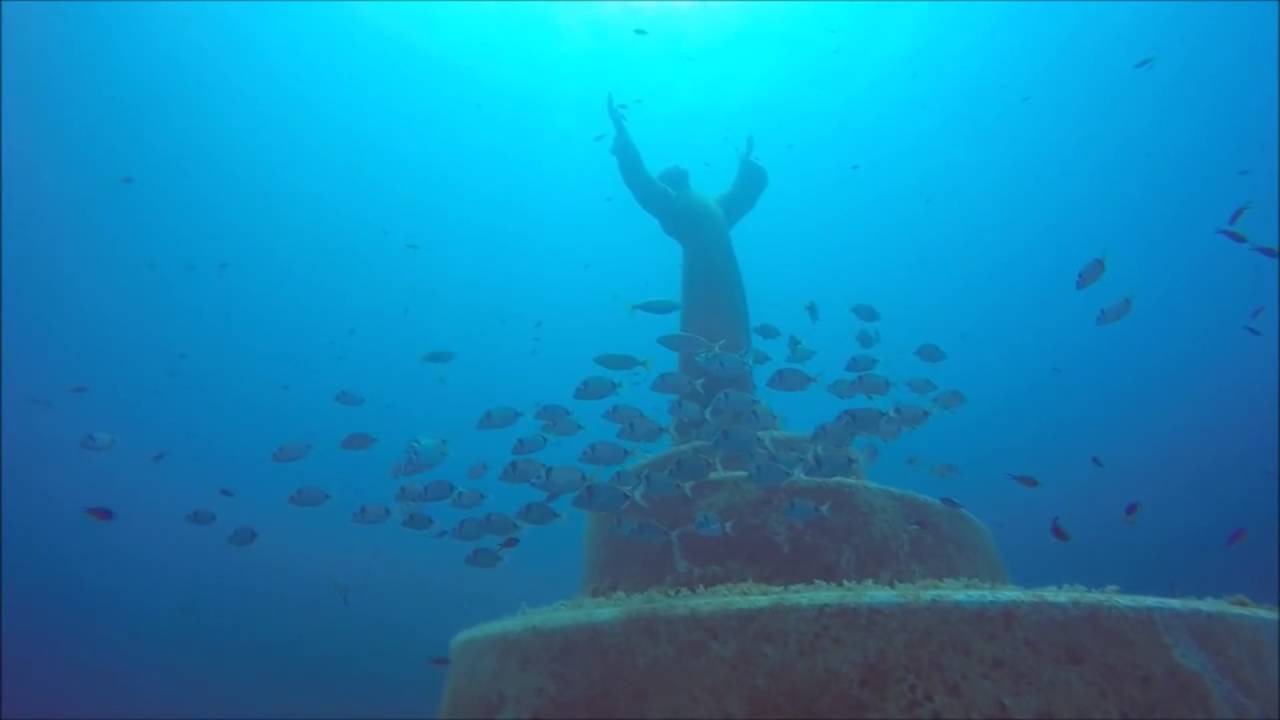 ---
Russia
Prepare to be awestruck! This diamond mine is in Eastern Siberia, Russia, and is one of the largest man-made holes on the entire planet. It is colloquially spoken of as the 'Navel of the Earth,' but its real name is the Mir Diamond Mine. Diamonds were initially found in 1957 in the city of Mirny, but they closed the mine in 2011. It may be ugly and deserted, but it once contained thousands of beautiful riches.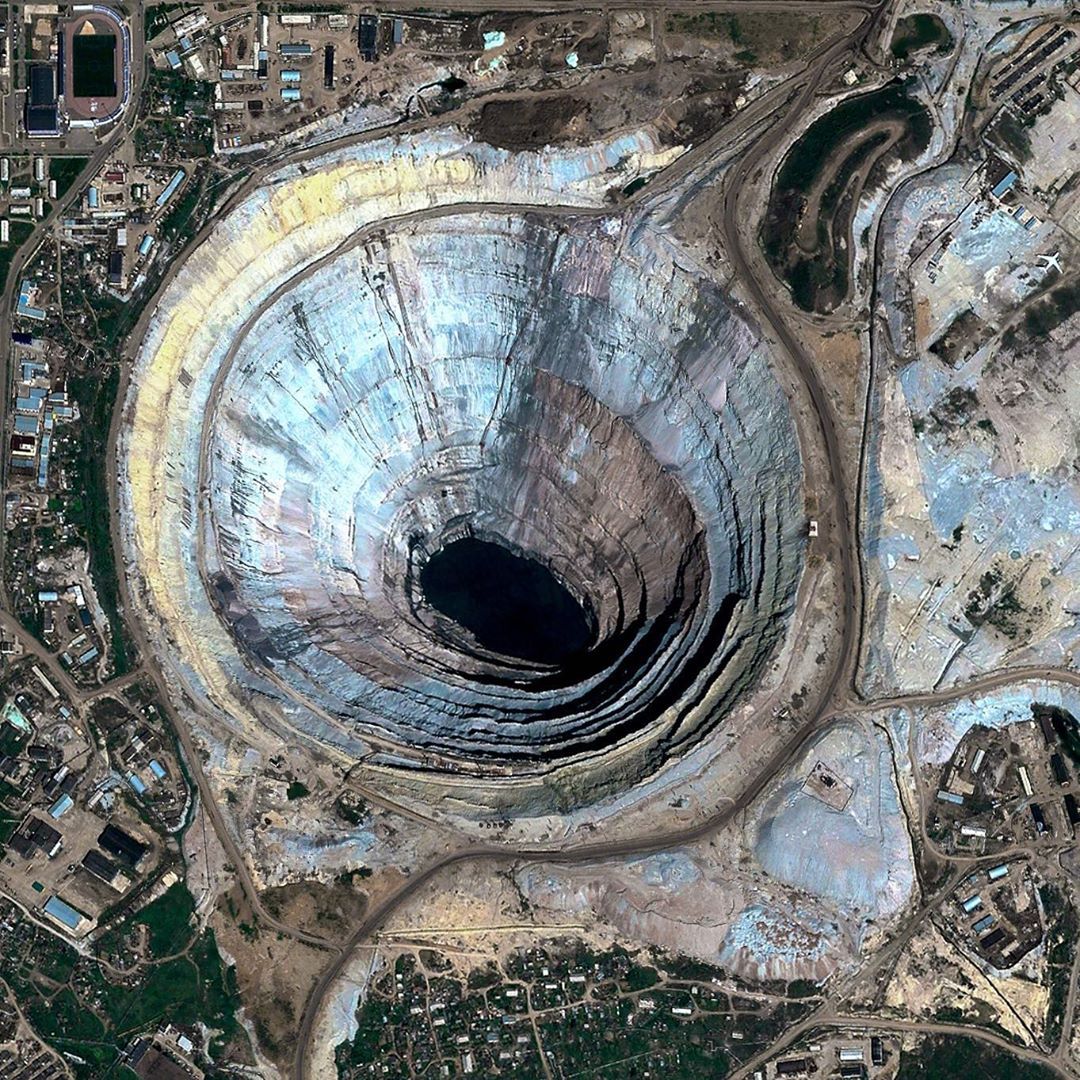 ---
Ukraine
The Pripyat City Amusement Park is located in Pripyat, Ukraine, and was open for only a day before the entire city was evacuated. The people of the city would never return, as the reason that they all had to leave was the Chernobyl disaster. Pripyat Amusement Park remains a ghost town, and parts of it have the highest remaining Chernobyl radioactivity.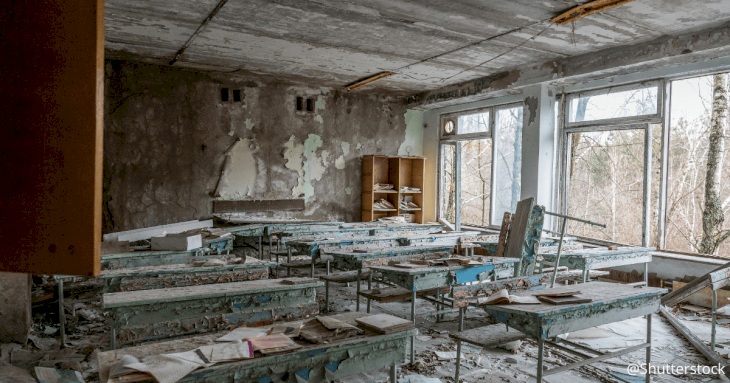 ---
USA
Have you seen the film 'Nights in Rodanthe?' If you have, this house might be familiar! The film was shot on location at this North Carolina beach. Back in the 1980s, there was a lot of room between the ocean and the house. But the house was condemned by 2008, and fans of the film saved it by buying it and moving it further towards the shore! Incredible, huh?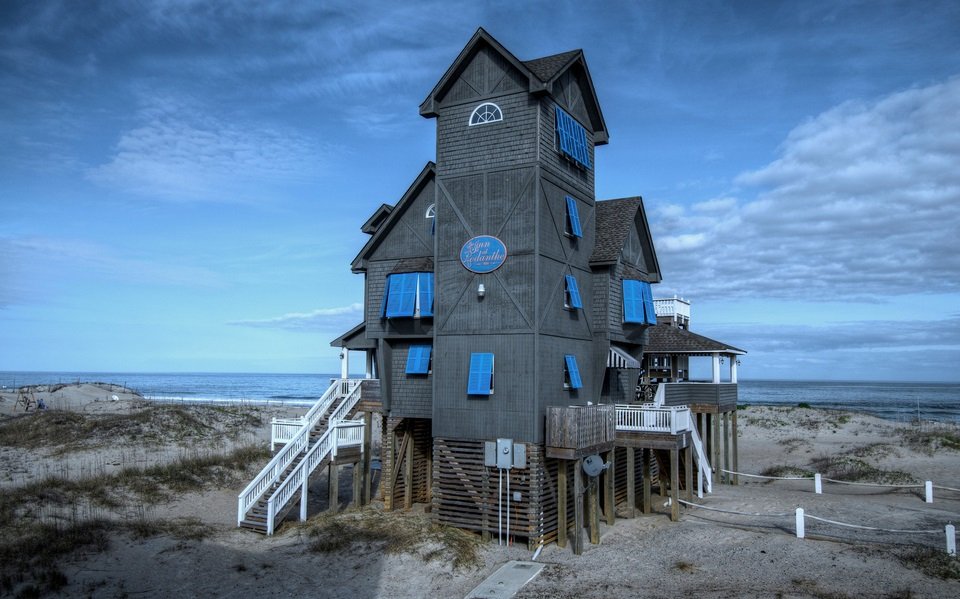 ---
Australia
Homebush Bay in Sydney, Australia, used to be a bustling hub of transport ships filled with coal and oil. The waters were contaminated, and the problem wasn't fixed until after the Sydney 2000 Olympic Games. Nowadays, the area has been totally re-done, and among the only evidence that the place was anything but a suburb of Sydney is this SS Ayrfield Shipwreck, which sits among the mangroves.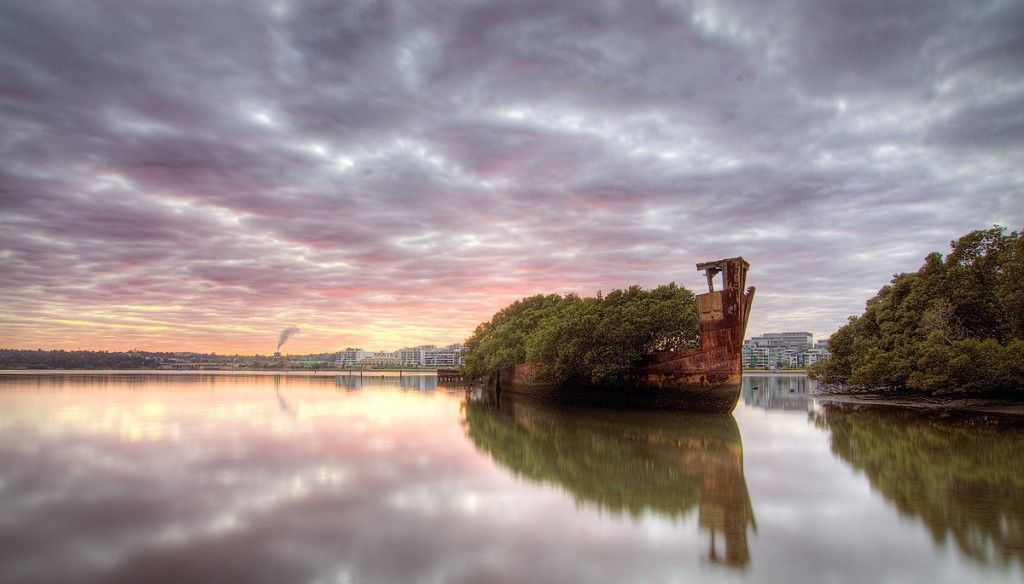 ---
England
While this building may be magnificent, it is also abandoned! It might be a little creepy now that it is derelict, but you can't deny that it is impressive. It was built in the late 1800s, in the Victorian Gothic Revival Style. The building is in Manchester and has been sold several times. The final company to own it began construction in 2015!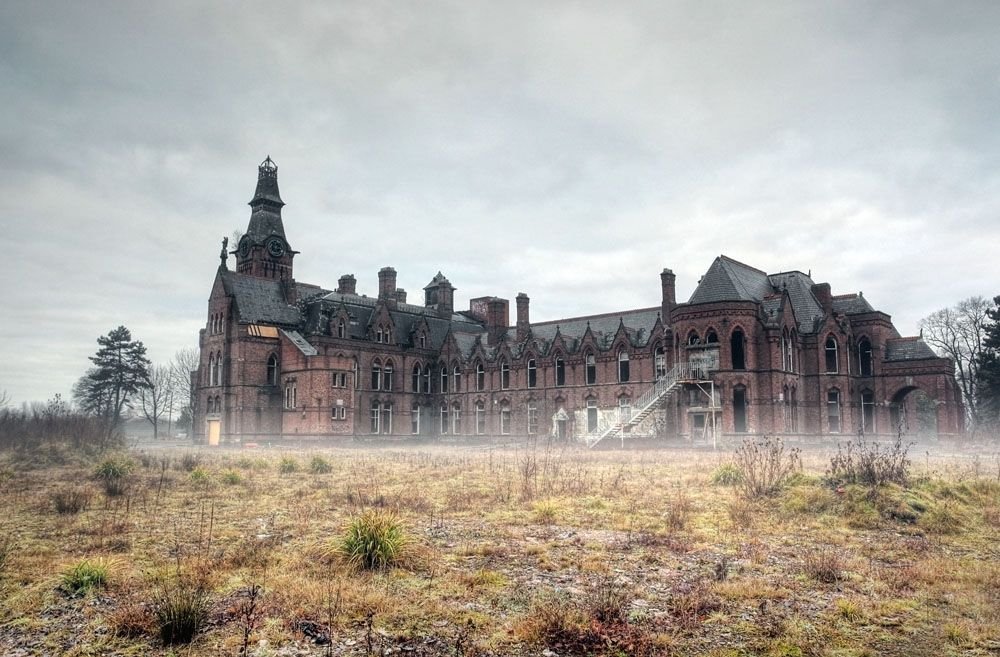 ---
Switzerland
We've seen many houses that have been abandoned, but this one is a little different. It sits in a breathtakingly beautiful meadow, and of course, is in Canton Bern in Switzerland. As time has gone on, Swiss farmers have become fewer and fewer, as the smaller farms drop off and the bigger farms get bigger. This is because of the climate and terrain - it is no longer as easy to grow crops in Switzerland.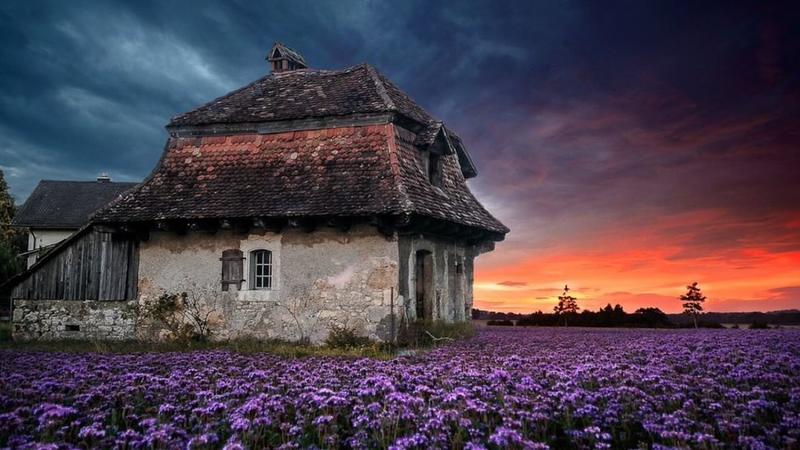 ---
Indonesia
In the Javan jungle, this 'Chicken Church,' known as Gereja Ayam, used to be a non-denominational place of worship, and a rehabilitation center. But sadly, the building was left for the jungle to consume after the building costs became overwhelming. Even though the church is now abandoned, it remains a place of interest for tourists.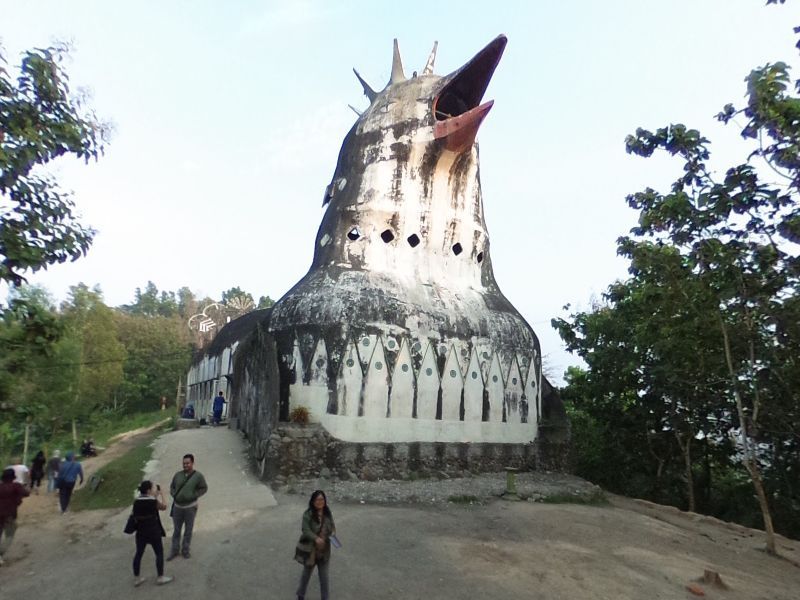 ---
USA
You would be forgiven for doing a double-take at this astounding structure. The elephant, named Lucy, isn't quite the same as the ones you find in the zoo. Instead, she's an old historic building on the New Jersey shoreline, first constructed in 1881 by an ambitious hotelier. It was condemned in 1960 after years of neglect, but since then it has been restored to its former glory as a tourist attraction!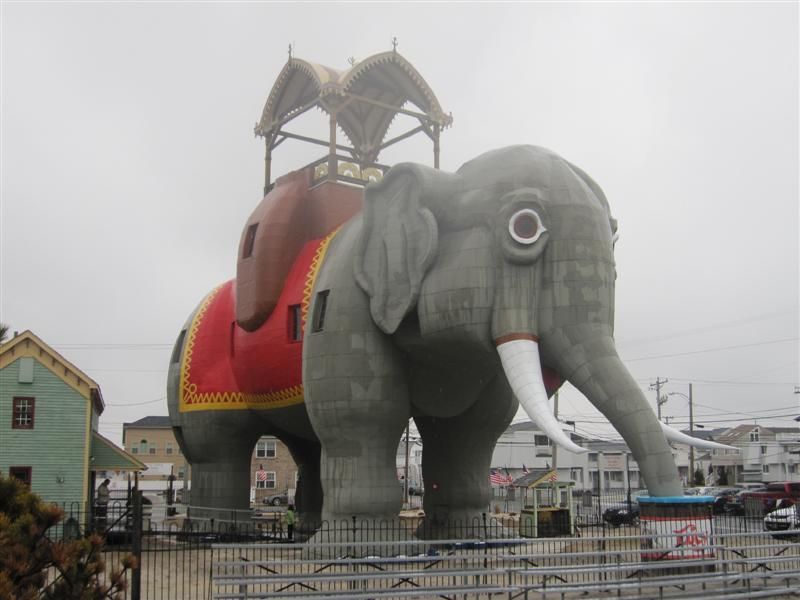 ---
Croatia
This incredible hotel may look futuristic, but it was built in the late 1970s in Krk, Croatia. The brutalist architecture made for the perfect setting for actors and global leaders, but in the 1990s, the war began, and tourism wasn't quite so high up on the agenda. The hotel is now in ruins, but nonetheless, it remains a beautiful building. Maybe one day it will be restored!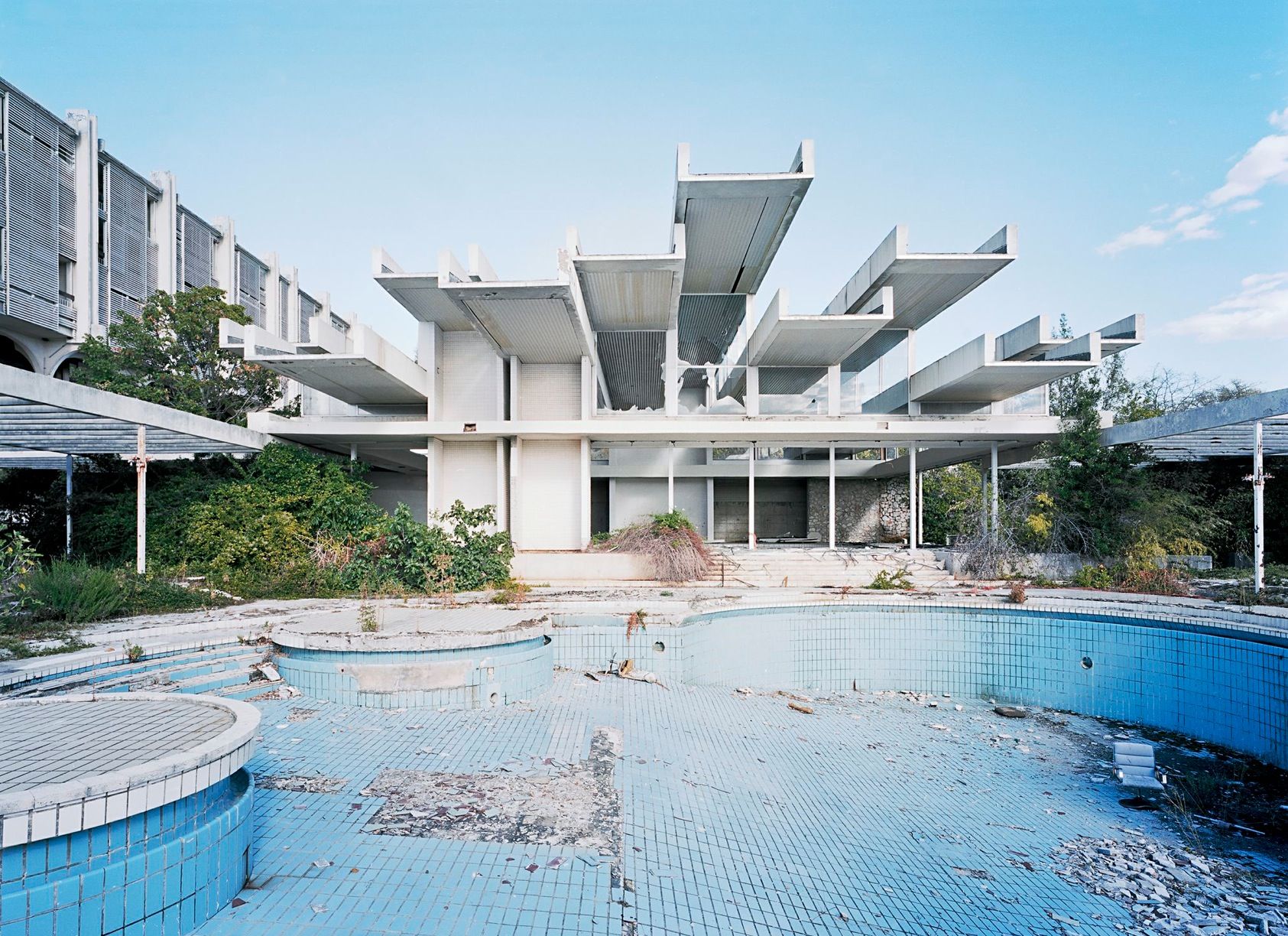 ---
Antarctica
In 1970, this Lockheed Constellation was forced to crash-land right into the Antarctic continent. These planes regularly fly from New Zealand to McMurdo Station, but there is a certain place where the pilots have to decide whether it is safe for them to land. In October of 1970, this plane passed the point of safe return but failed to make the landing. None of the passengers were hurt!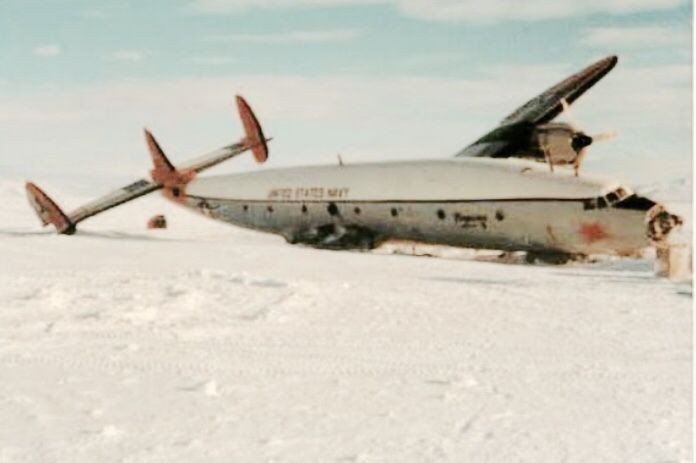 ---
Belgium
If you think the outside of this house is spooky, you should imagine how creepy it is on the inside! This Belgium home was built just after the turn of the century, and it has since been used in films and TV as a haunted house backdrop. It's everything you would expect from a 'haunted house:' peeling antique wallpaper, shattered glass... eek!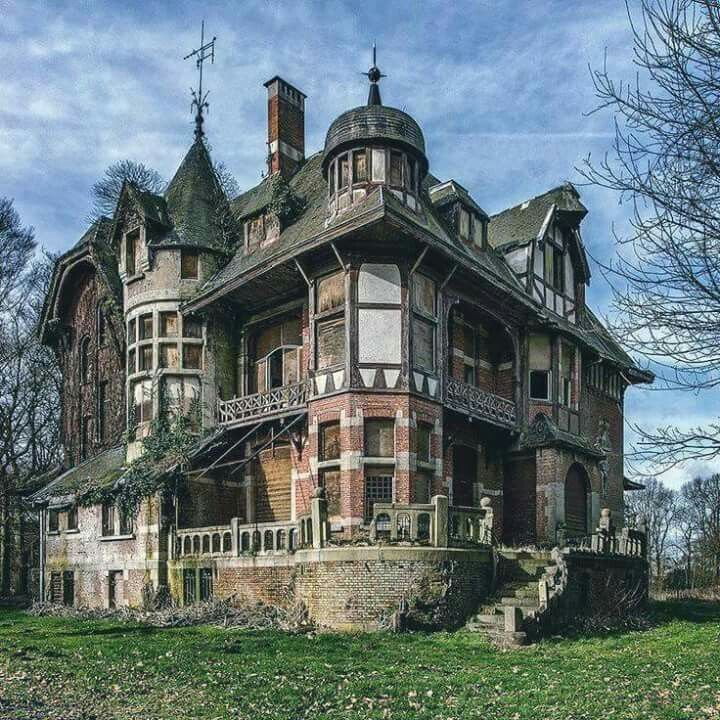 ---
USA
The Selma Plantation Estate in Virginia is another place with some bad karma. The original property was totally gutted by fire and was left abandoned with mold and mildew covering the floors and walls. For many years it was home only to the birds, but since 2016 new owners have begun a restoration project. You can follow it here.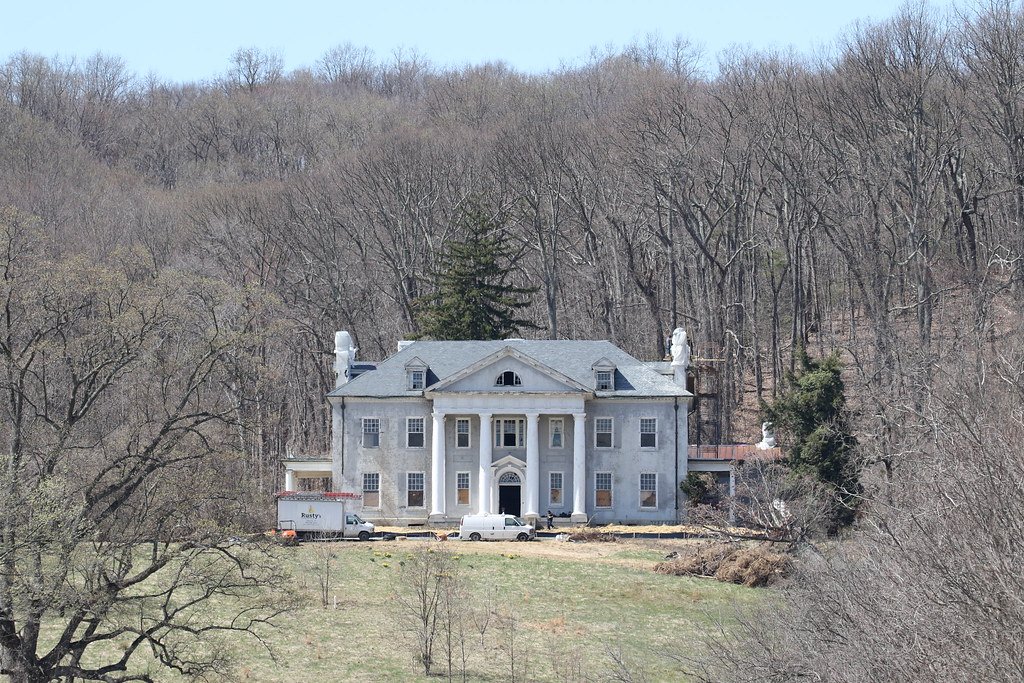 ---
England
No, it's not a scene from the new Star Wars movie! The Maunsell Sea Forts in England. The enormous tank-like structures in the Thames were built during the Second World War, in order to prevent German air raids. They were not used after the war ended, and nowadays, one of the ports is even a part of the Principality of Sealand! You can see these towers from the beach at Shoebury East.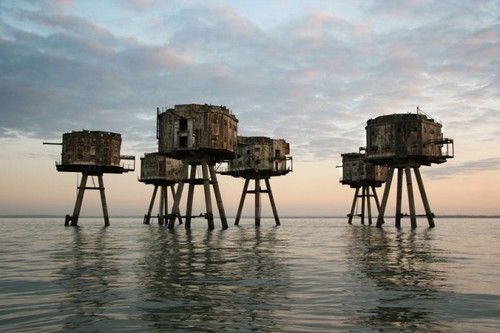 ---
Canada
The discovery of gold, silver, and other mineral deposits tend to cause chaos wherever they are found. In 1845, silver deposits were uncovered here on Silver Islet, Lake Superior, Ontario! The quality of the image tells us that it was taken around 1911 after the tiny town was abandoned. $3 million worth of silver was extracted before it became too costly to run the equipment needed to mine silver.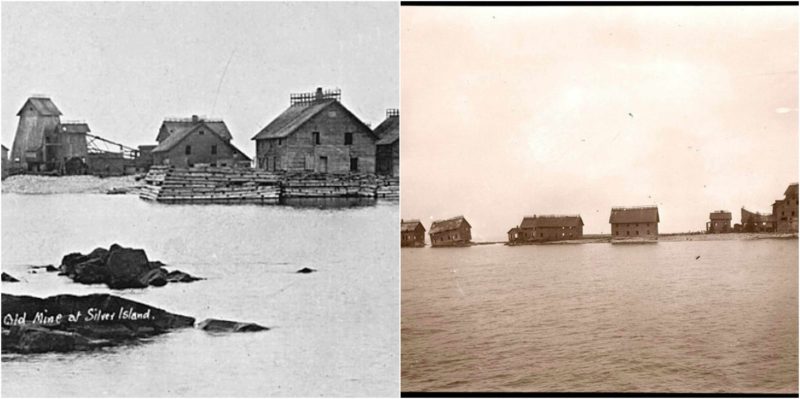 ---
USA
This is most definitely one of the weirdest abandoned places on this list, and what makes it even more unusual is that it is called 'Ponyhenge.' The henge sits 14 miles west of Boston and is absolutely the stuff of nightmares. The collection just continues to grow and grow, and we have a lot of questions. Namely, what on earth...?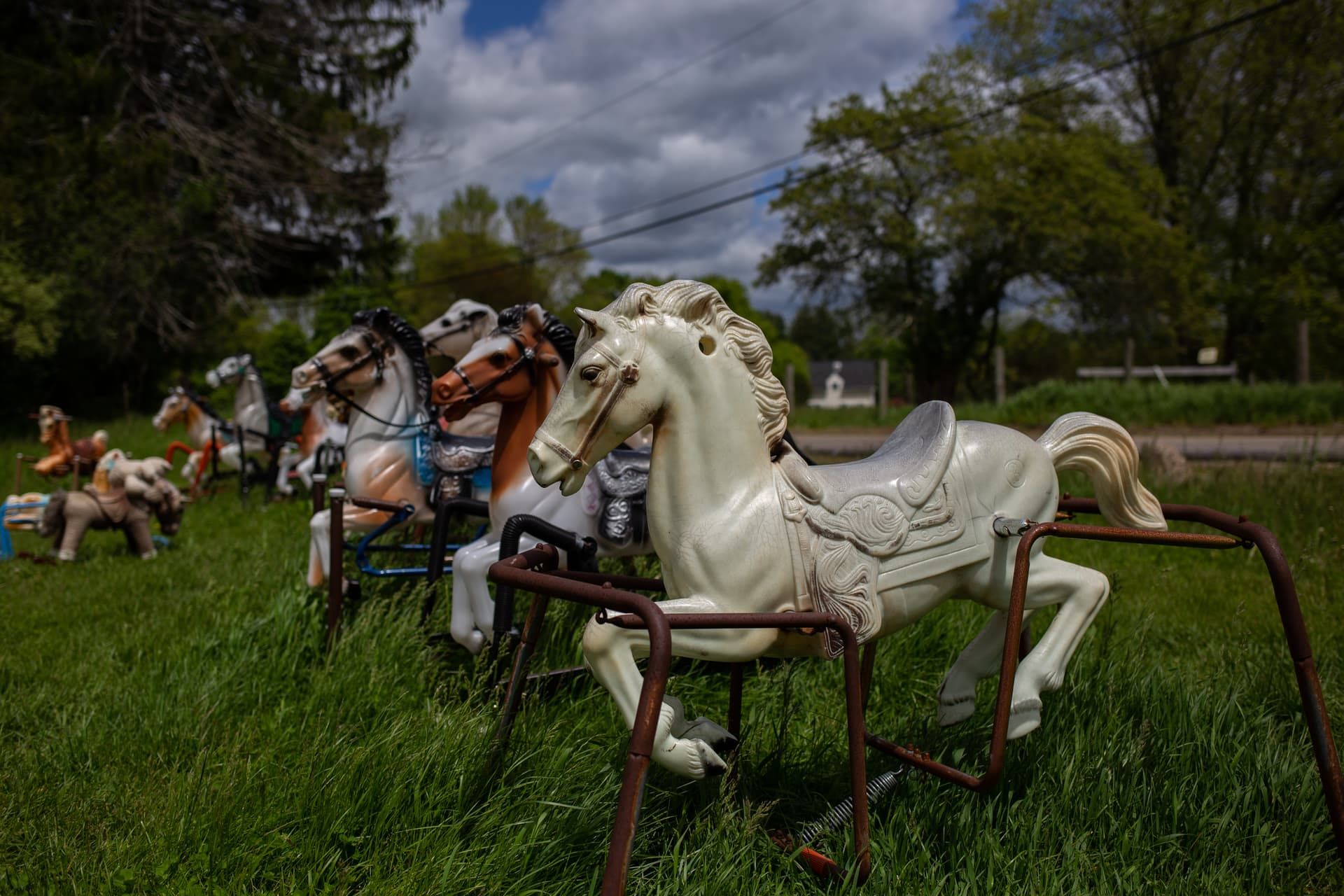 ---
Ireland
Our next abandoned place is a castle, which can be found in Ireland in the southeast of Lough Key. It was built on this tiny island in the 12th century if you can believe it! Unfortunately, it seems that someone in the castle must have had some pretty bad karma because, in 1184, lightning struck. Everyone in the place perished in the resulting fire, either by failing to flee the burning island or by drowning. 
---
Poland
The Łapalice Castle was built in the late 1970s as a studio for Piotr Kazimeierczak, who is an artist. The artist decided to build an ornate castle, with twelve towers, a ballroom, and a swimming pool. However, the idea turned out to be a little too grand. The project had to be abandoned because it was both too costly, and what's more, is that the artist ran out of money!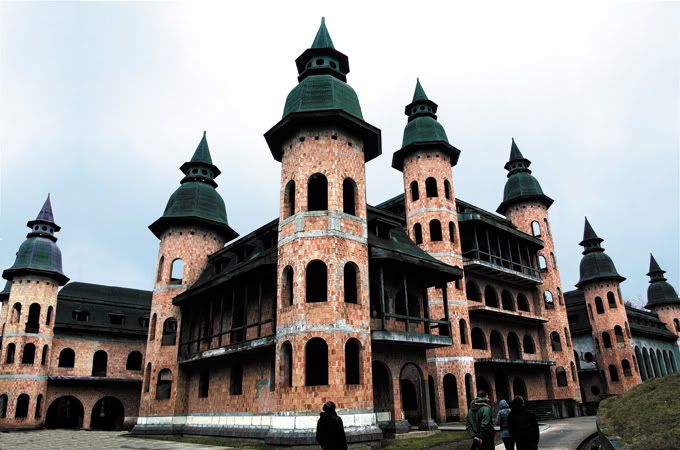 ---
The Red Sea
Back in 1988, this Russian fishing trawler, named Khanka, was discovered at the very bottom of the ocean. It is now a mind-blowing shipwreck in the Red Sea, and even though it looks like a boat used to catch fish, all is not as it seems. The vessel was equipped with an unusual amount of communication equipment, so researchers suspect that it may have been used as a spy ship!