'Married At First Sight': Behind The Scenes
'Married at First Sight', the epitome of bad reality TV that we all have grown to love. This show, which is based on the original Danish reality series 'Gift Ved Første Blikk', takes the concept of blind dating where it was never taken before. We have all seen it, but what was left behind the scenes? Keep reading to find 20 facts that you didn't know about the show!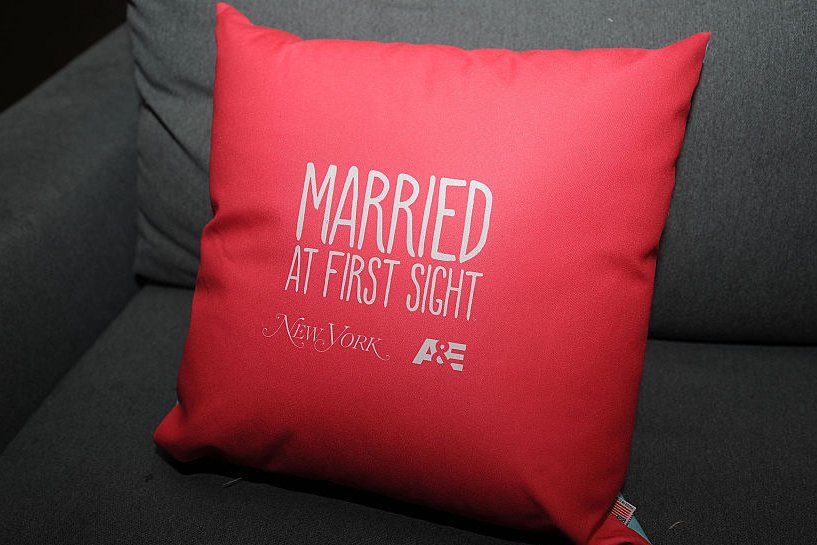 ---
WHAT IS THE SHOW ABOUT?
For those that have never seen 'Married at First Sight' (and trust us, you should!), the show does a very specific casting and the participants go through numerous tests, interviews, and scientific evaluations, which then allows them to be matched with their ideal partner.
So far, sounds great, right? But here's the kick: all potential couples only meet for the first time on their wedding day. They get married, go on a honeymoon together, and start to get to know each other, hoping to make the marriage long-lasting. This is what we can see on the screen, but what is going on behind the scenes?
---
20. FIRST THINGS FIRST: THE ESCAPE PLAN (AKA DIVORCE)
While we all hope that the marriage goes well and they fall in love, sometimes that doesn't happen, so the show has provided an escape route in the form of a divorce. The pairs have up to six weeks to decide whether or not they want to remain married or if they want to get a divorce.
---
19. THERE IS A PLOT BEHIND THE SHOW (IN AUSTRALIA)
We all wish that reality TV shows were as truthful as possible, however, audiences make money, and sometimes reality is not what audiences want. In the Australian version of the show, the producers have a script that they want to follow in order to ensure that they get as many views as possible.
---
18. THE EXECUTIVE PRODUCER OF THE U.S. SHOW MET HIS WIFE ON A BLIND DATE
Chris Coelen is the executive producer of the American version of the show, and his own love life might have drawn him into this. He met his wife on a blind date and they are still happily together, so perhaps his experience allowed him to have some say and interest in a show about finding love with a stranger.
---
17. HOLD UP, THERE IS A PRENUP
While agreeing to marry a complete stranger blindly might be scary, the show has made everything possible to ensure that the participants are not put in financial burden. While signing the show's contract, every cast member also signs a prenup agreement which protects them in case they opt to divorce after the show.
---
16. CHEATING IS ALLOWED (IN AUSTRALIA)
During the filming of the show, all participants have their personal items taken away from them, including mobile phones. However, in Australia, they give the phones back to the couples who are not being as faithful as they should. Once again, Australian producers are doing everything to keep those ratings up!
---
15. IF IT IS NOT ON CAMERA IT DIDN'T HAPPEN, LITERALLY
Ah, the Australian love for high ratings and drama! According to some sources, in the Australian version of the show, the participants can only talk to each other if the cameras are rolling. They don't want to miss even one second of some good and juicy content to spark up the interest of the viewers.
---
14. EVERYONE WANTS TO BE MARRIED AT FIRST SIGHT (SAME!)
The recruiters of the show didn't release the full details of the agreements and contracts, however, they still managed to have 17.000 applications in the first season alone! In the past couple of seasons, this number grew to over 50.000 applications. We guess that everyone is looking for love!
---
13. IF YOU MAKE IT TO THE SHOW YOU HAVE BEEN THROUGH A LOT!
Apparently, the selection process is incredibly strict. According to one of the experts of the show, "Each candidate goes through a very thorough background check to determine if they have significant debts or any sort of criminal record." Another counselor mentioned that they are "looking at things like their psychological testing, their core values." 
---
12. IT'S ALL TRUE (IN THE AMERICAN VERSION OF THE SHOW)
According to some participants, most of what you see on television is pretty accurate. Some scenes are edited and taken out of context, however, the majority is as true as it comes. Courtney, a bride from season one, commented "One of the good things about everything with me and Jason and our relationship is we were "real" the entire time…"
---
11. GET MARRIED BLINDLY, BUT GET PAID FOR IT
Even though the producers wanted people to join the show for real love, that didn't stop them from paying some money for expenses. Chris Coelen has commented he "did not want people who were motivated by the wrong things." However, reports say that payments ranged from $15,000 to $25,000, which is quite a lot for a "nothing stipend".
---
10. NOT ALL PARTICIPANTS APPLIED FOR THE SHOW, SOME WERE HEADHUNTED
"We go to bars, mixers, singles events, and church groups… We also go on every dating site you could possibly think of – OkCupid, Match.com, Tinder, Hinge. We also go on Facebook, talk to family and friends, and try to make the pool as big as possible," Coelen commented on how they find candidates that haven't applied.
---
9. YOU ARE GETTING MARRIED ON THEIR TERMS (AND DECORATION STYLE)
"You choose the wedding you want from a PowerPoint presentation of options. There are six options [...] of different things – the type of food, music, style, and theme of wedding… There's a budget for things – her wedding dress, a small budget for the suits… I was only allowed to invite 20 people," a couple from the U.K. version told Cosmopolitan.
---
8. THE COUPLES ARE STILL IN TOUCH WITH THE SPECIALISTS AFTER THE SHOW
Even though the plan is that once the show is over the couples are happily married, the experts still try to keep in touch with the participants to make sure everything is going well. "Even after the show, they've all reached out to us and let us know that they hope to always stay in touch," a couple commented.
---
7. PRIVATE THERAPY YES, GROUP THERAPY NO
According to some sources, the participants of the show have access to individual therapy in order to process all the tension from the show itself. When asked if there would be group dynamics between the participants, Coelen said no, as he "just wants it to be real" and for him, group dynamics would make the pairs meet other participants.
---
6. THE FIRST APPLICANTS DIDN'T KNOW WHAT THEY WERE GETTING INTO
"We pretty much told them everything except for the fact that they would meet their husband or wife at the altar and see them for the very first time there… We didn't want to tell people what the show was about" because "we wanted to find people who were serious about wanting to be in a relationship," Coelen said.
---
5. UNDERSTANDABLY, MANY APPLICANTS WALKED OUT WHEN THEY FOUND OUT
After selecting around 100 people from the 17.000 applicants, the show producers decided to tell the truth about the purpose of the show. Guess what, according to Coelen "People were stunned by that. Some people got angry, some people laughed, some people were just dumbfounded." Several people withdrew their application as they hadn't signed up for blind marriage.
---
4. THERE WAS A STUNT DOUBLE IN THE SHOW, WHAT?
"I questioned this and was told it was a duplicate of my dress and Naomi would be performing my stunts. Ummm, stunts? I had no idea what was planned for me that day and so this clearly came as a big surprise," a participant from the U.K. version commented on how she needed a double for commercial filming.
---
3. THE BACHELOR WHO? THE SUCCESS RATE OF THE SHOW IS HIGHER THAN THE COMPETITION
Many shows have been made about finding true love, such as 'The Bachelor' and 'The Bachelorette' just to name a couple (pun intended), however 'Married at First Sight' has been the most successful one. With a success rate of 22%, it is the leading reality TV show in terms of successful matchmaking among the participants.