13 Year Old Boy Builds A Tiny House!
If you've ever met a 13-year-old boy, you know that they are primarily occupied with video games, comic books, movies, and all sorts of other media. Not all of them are like that though. Some are into much bigger things. Luke Thill, of Dubuque, Iowa might be into one of the biggest things of all. One summer in 2017, he decided to take on a big project in his parents' backyard. Well, a tiny big project, anyway. What does that mean? How can a project be tiny and big at the same time? It can when it's a tiny house! How did he do it? Let's find out!
---
Where Did He Get The Idea?
Luke was bored one summer. He told ABCNews that he was bored one summer and decided that he wanted to build something. He told ABCNews "I was just on YouTube looking around and came across a tiny house idea and then that spiraled into looking at almost every YouTube video there is, it felt like...I got obsessed with them and decided to build my own."  What did his parents think? Keep reading!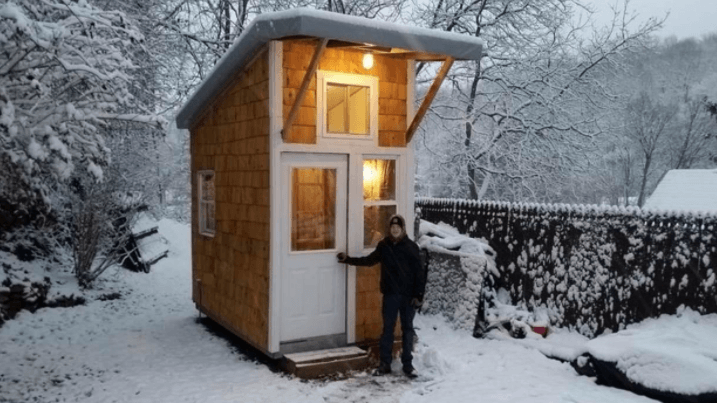 ---
Parental Permission
First, Luke asked his parents, Greg and Angie, for permission to build a house. They thought he was crazy, but they also realized that he was deadly serious about building it. They had four acres of land on their property, so there was plenty of space. They didn't hesitate to give Luke permission, but there were a few ground rules that they needed him to follow. What rules does a 13-year-old need when building a house? It's unprecedented! Read on!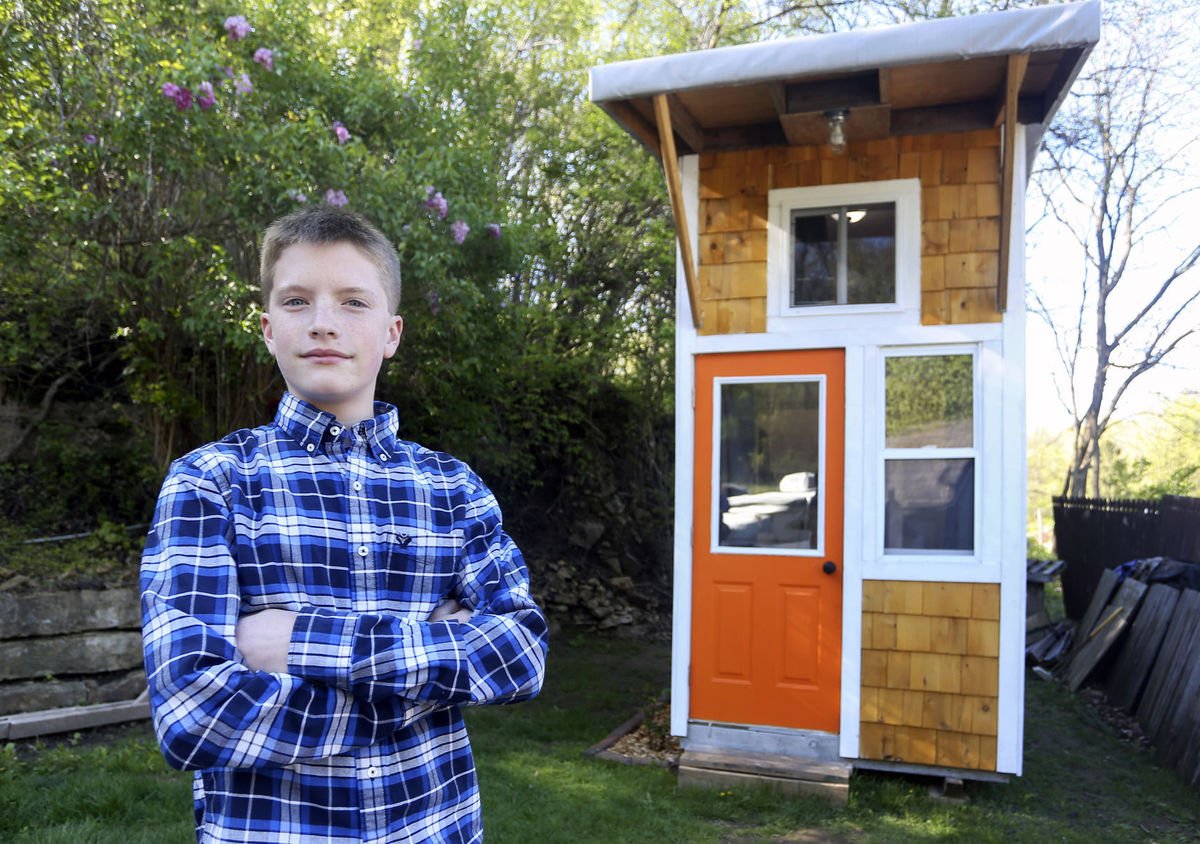 ---
Ground Rules
The first rule was that Luke needed to raise all of the money on his own. The second rule was that he needed to build it on his own. The third rule was that once Luke built the house, it was his to own and maintain. Sounds pretty simple, right? In Greg's own words, "We said, If you're that serious we have to set some ground rules. We told him he had to have the financial responsibility of it, raise the money and choose the materials and stay in the budget." How would he do it on his own? Let's find out!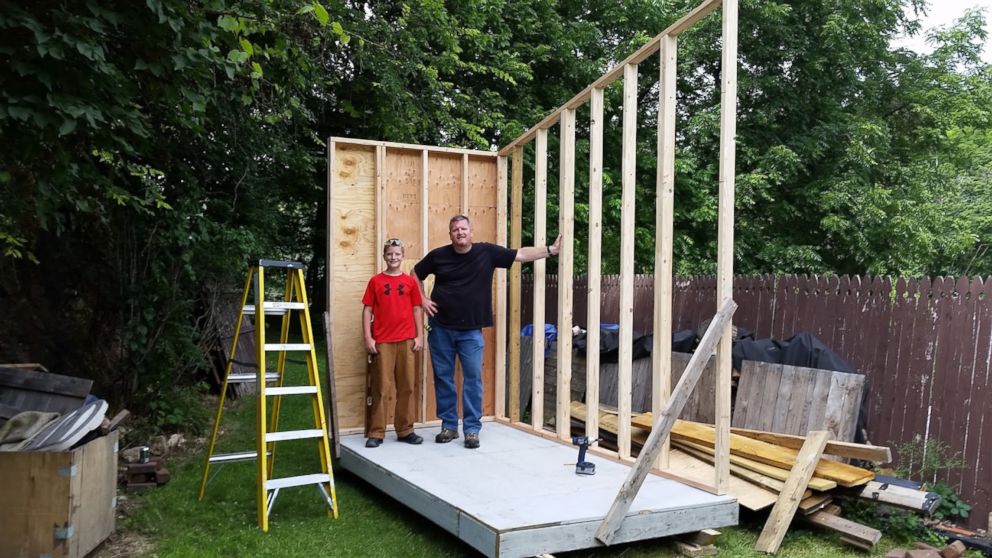 ---
Side-by-Side
Of course, Greg was going to be there to help guide his son. Tiny or not, it's still a house and it was going to be a big project. He helped with the framing and construction. Luke also bartered and worked for other help. He explained to ABC News, "I have a neighbor who is a professional electrician so I cleaned his garage out and he taught me how to wire the house. And in Cub Scouts I knew a guy who was a carpet layer and I mowed at his apartment buildings and he helped me install the carpet." It sounds like he has it figured out! Keep reading!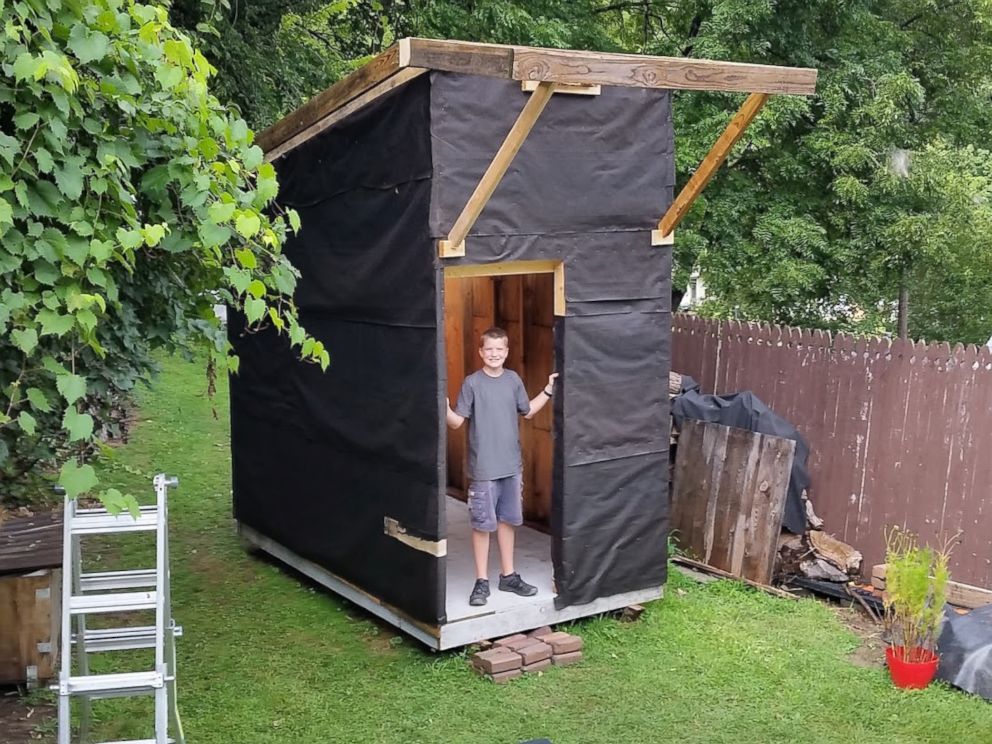 ---
Materials
Many of the materials that were used for the tiny house were reclaimed from other projects. The siding came from his grandmother's house, and the front door came from his friends. All-in-all, the house was made from about 75 percent reclaimed materials. He did end up spending around $1500 to build it, but all of that was also earned on his own. Why a tiny house though? Keep reading!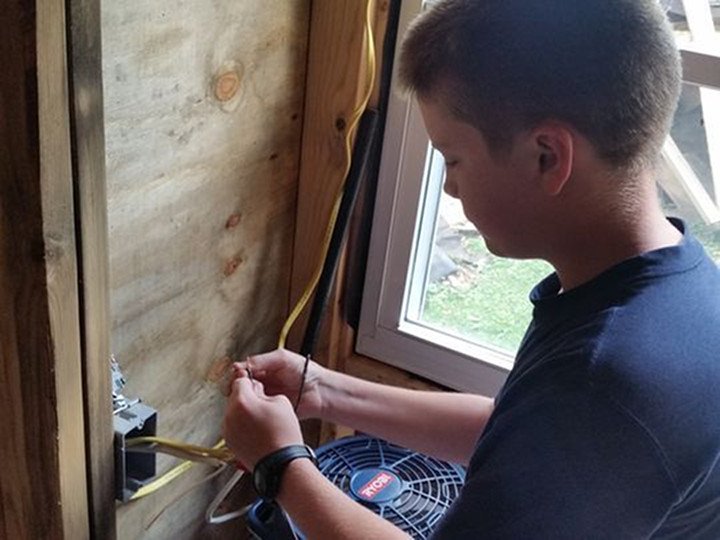 ---
The American Dream
Luke told ABC News that he liked the idea of the tiny house because, "I liked the minimalism and I wanted to have a house without a huge mortgage." He's not wrong there. We'd all like to have that too. His tiny house wound up being 89 square feet. It's wired for electricity, but there is no plumbing. The windows were donated by a friend of his uncle. It is one story, with a loft. Want to see the interior? Check out the next slide!
---
The Interior
The interior of the house is equally impressive. Luke's mom helped with the interior decoration, and the house includes a micro-living room, complete with a TV. There's a small kitchen area, and Luke built some shelves that drop down into an ottoman and seating. He also put a mattress in the loft upstairs in case he wanted to sleep there. He has a refrigerator and some basic climate control. It's really impressive! What does he do in there? Let's find out!

---
Teenage Refuge
Luke built his house in about one years' time. That includes the amount of time he needed to raise the money and the actual construction. He sleeps in it 2-3 nights a week, does his homework there, and has his friends over...well, as many friends as he can fit, anyway. He also hosts his own cookouts right in the "backyard". He says that his new goal is to build a larger, portable house that he can take to college. What else is Luke doing? Keep reading!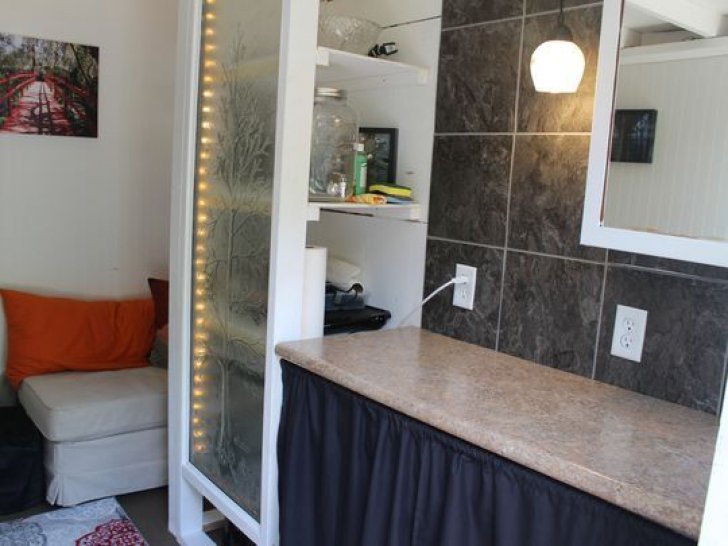 ---
Front Page News
As you might imagine, a kid building a tiny house was a really big deal to the local and national news. It's not often that you hear about a kid taking on and completing such a huge project. He was interviewed by ABC News, both Des Moines newspapers, and was invited to speak at TinyFest. TinyFest is a tiny home festival in Colifax, Iowa. Luke ended up being their special guest! What else has he been up to? Check out the next page!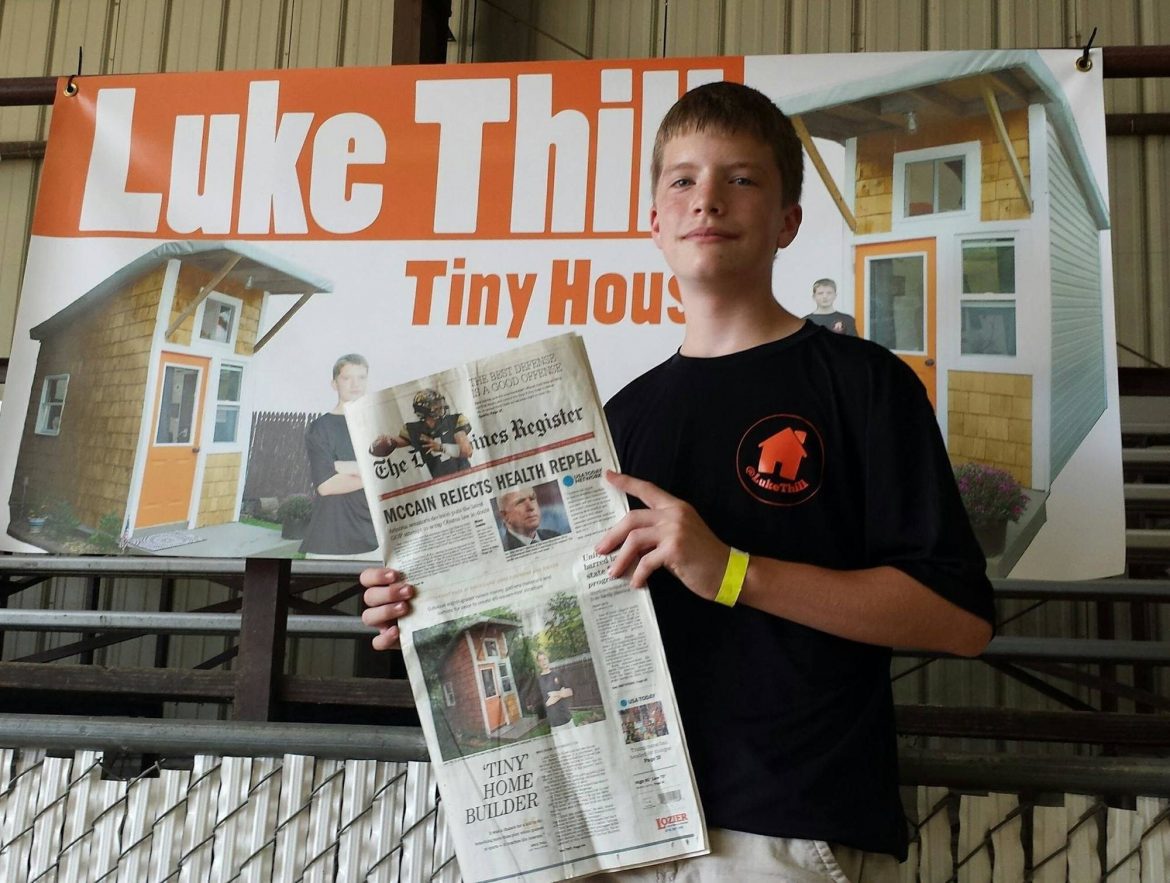 ---
Meeting His Hero
One of the better moments to come out of this for Luke was the opportunity to meet one of his heroes. Derek Diedricksen, who was one of the innovators of tiny houses, saw Luke on Good Morning America and contacted him. The original inspiration for Luke's tiny house was provided by Diedricksen, so meeting him was a big deal for Luke. They've become friends on social media and they've kept in touch ever since. Awesome! What about the rest of his family?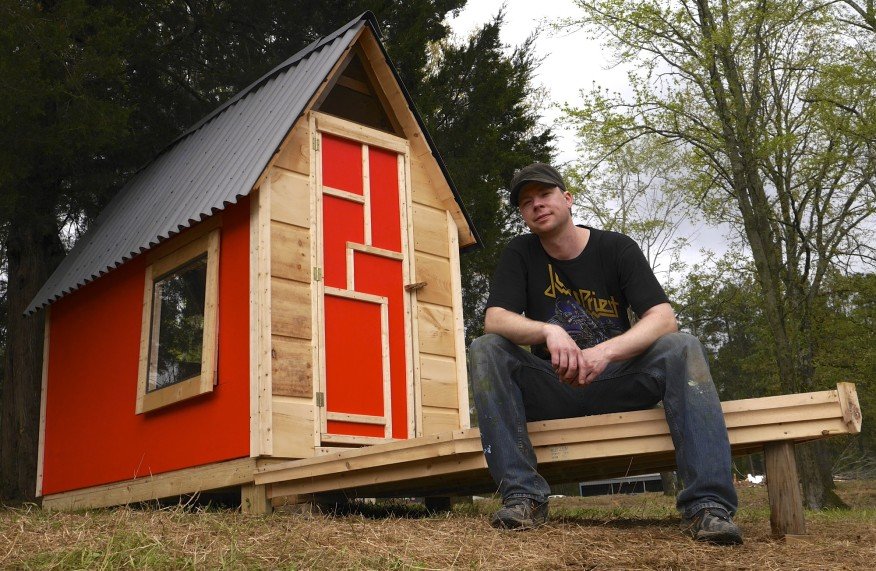 ---
All In The Family
Soon after Luke completed his tiny house, the rest of his family decided they wanted in on it too! His first project was helping his twin brother Cole build a teardrop camper. Like Luke, he was given the same ground rules, but this time, Cole had help in the form of Luke. They opened a YouTube channel too. Now they encourage kids and young teenagers to get in on building their own homes too. What does Luke think of all of the attention? Keep reading!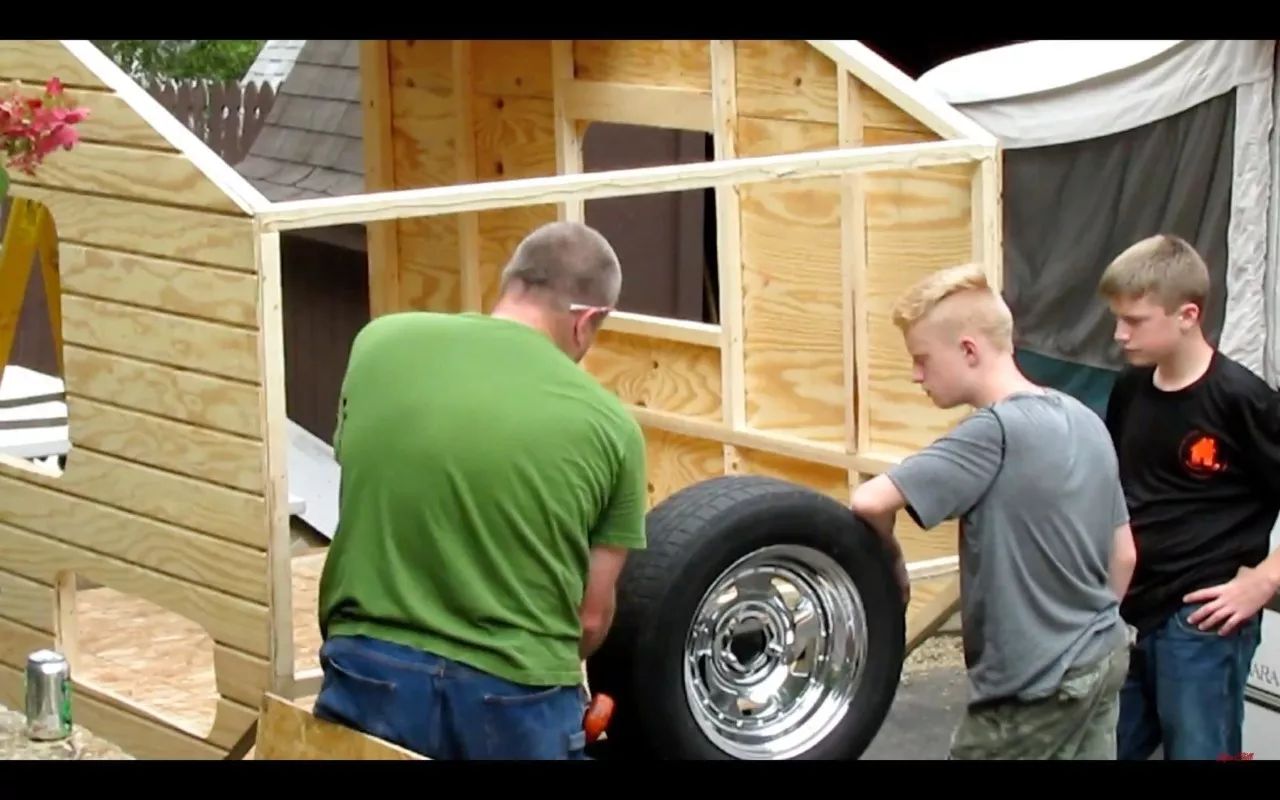 ---
YouTube Hero
Luke has become an inspiration for a lot of people. He said in an interview in 2017, "I couldn't find anyone younger than 14 (when he first started watching construction videos.) I thought if no one is out there, I might as well do it so I started documenting the whole process and putting it on YouTube. Now lots of kids have messaged me and showed pictures of their tiny houses that they're building and they're even younger than me." Pretty amazing! What else has he done?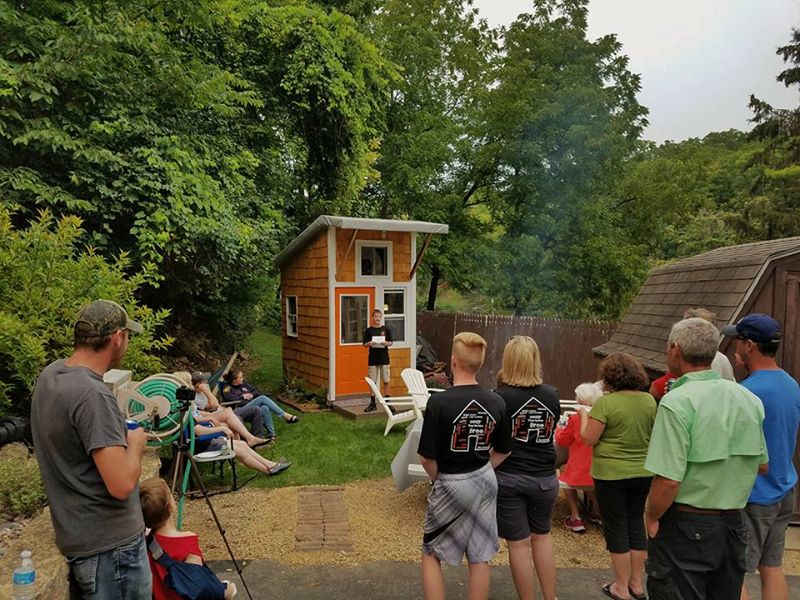 ---
Inspiring Others
Not only has Luke's brother gotten in on the building, but other members of the family have started their own projects too. His mother decided that she would renovate a 1972 RV, and they documented it on the boys' YouTube channel too. She helped design the interior of the first tiny home, and it was only natural that she would also want her own space. That YouTube channel now has 66,000 subscribers! Amazing! What will they do next?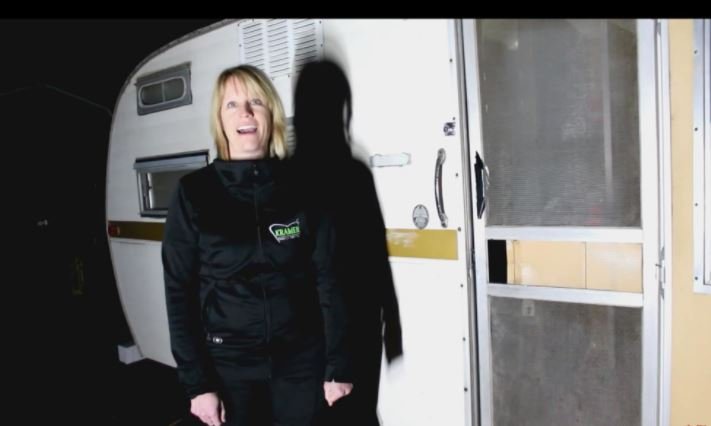 ---
Here And Now
About two years after he completed his first tiny house build, Luke decided to build another one! This one was slightly bigger, with better wiring, and slightly bigger too. He continues his YouTube and Instagram channels, and moved the original tiny house to another section of the property. He continues to upload videos and has opened a Patreon account so that his fans can help support him too! Wow! That's a lot for a teenager! What else can he do?
---
Continued Inspiration
A lot has happened since Luke's initial tiny home build. He's now 16 years old (as of 2019) and continues to try and inspire others. The YouTube channel was recently updated with a video of Luke ice fishing with his father, and in it, he talks about building an ice fishing structure for the two of them. He certainly learned a lot and will continue to keep building in the future too!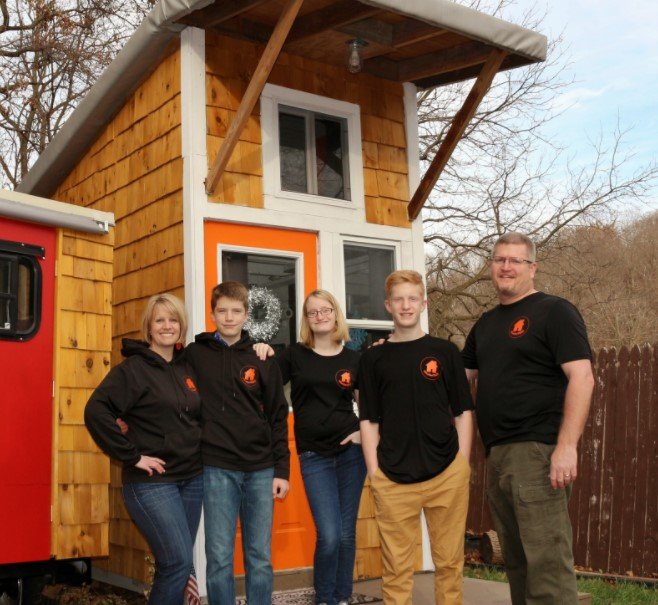 We hope you enjoyed the story about a teenager building a tiny house. It's really a remarkable story, and he will continue to inspire others for years to come. If you liked the story, and you want to inspire someone you know, please share it with your friends! Thanks for reading!
Sources: ArticlesValley, ABCNews, YouTube