Crack Open These Egg Life Hacks For The Best Breakfast Ever
What came first, the chicken or the egg life-hack? Regardless if you like your eggs scrambled or poached, what do you do with the shells, and is there an easy way to peel a hard-boiled egg? Let's shake up your breakfast routine and take a look at these egg-hacks, guaranteed to make your life better!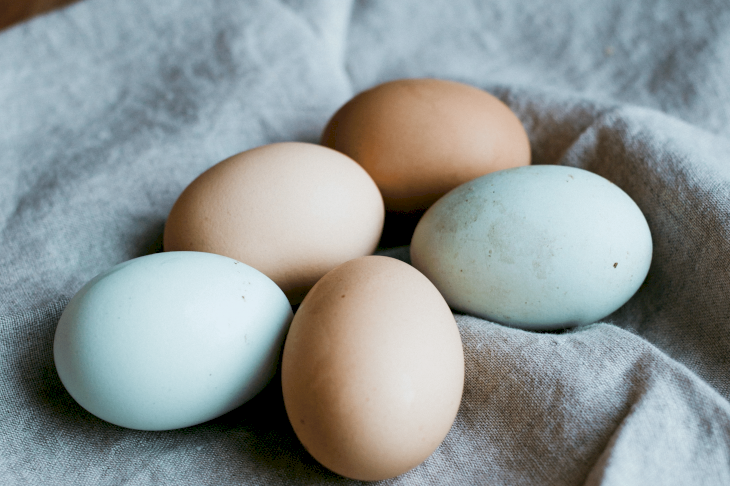 ---
USE A MUFFIN TRAY
Eggs can now be turned into a hybrid muffin and become the perfect grab-n-go breakfast! Easy to prepare on the weekend, you could make one tray of egg muffins and reheat during the week for the perfect warm start to any day. Use this life hack to eat delicious eggs shaped like muffins every day!
---
USE A RED PEPPER 
If you don't want to use a muffin tin, get creative, and cook your eggs inside a hollowed-out pepper. Make sure all the seeds are removed and then pour in your scrambled egg mixture. Bake and top cheese and chives for a yummy, nutritious start to the day.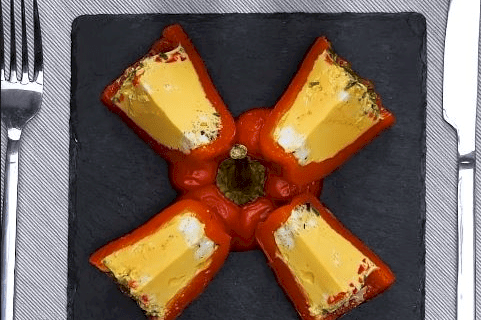 ---
USE A SQUEEZE BOTTLE TO SEPARATE WHITES & YOLK
Sometimes you only want the yolk or the egg whites but separating the two proves challenging and time-consuming. This life-hack will take a couple of tries to get right but the results are incredible. If you need to separate the yolk from the egg white,  we have a plan for you.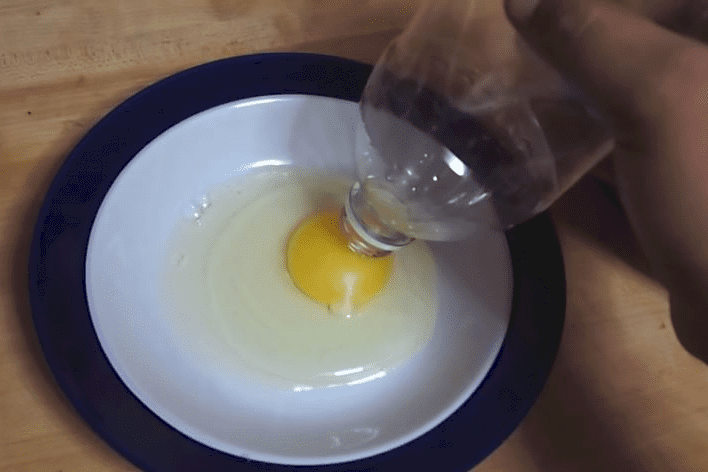 You can crack your egg on a plate and grab an empty water bottle. Squeeze the bottle and then position it over the egg yolk and watch it cleanly separate leaving the whites behind. What a simple but efficient life hack!?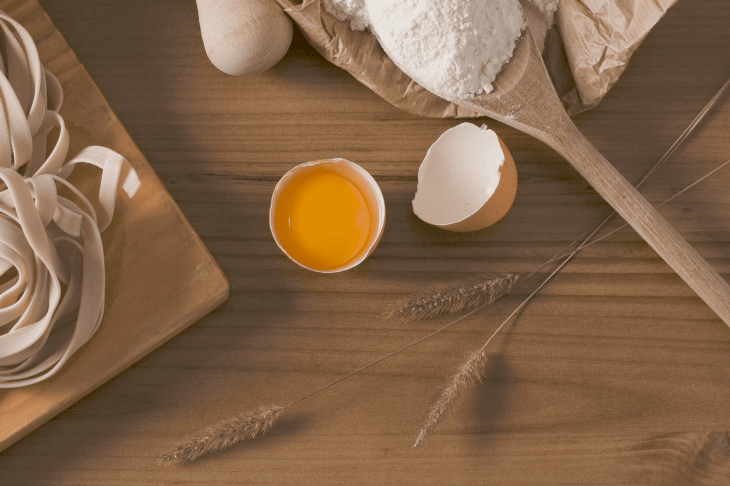 ---
IT'S OKAY TO USE A MICROWAVE
Don't feel embarrassed to use your microwave for a tasty and quick breakfast! Crack one egg into a sprayed ramekin and slightly whisk or scramble. Microwave for 45 seconds and the egg will be ready to go on a sandwich with anything else you want. Mornings are hectic and this hack makes breakfast easy. You can create a poached egg the same way just add water.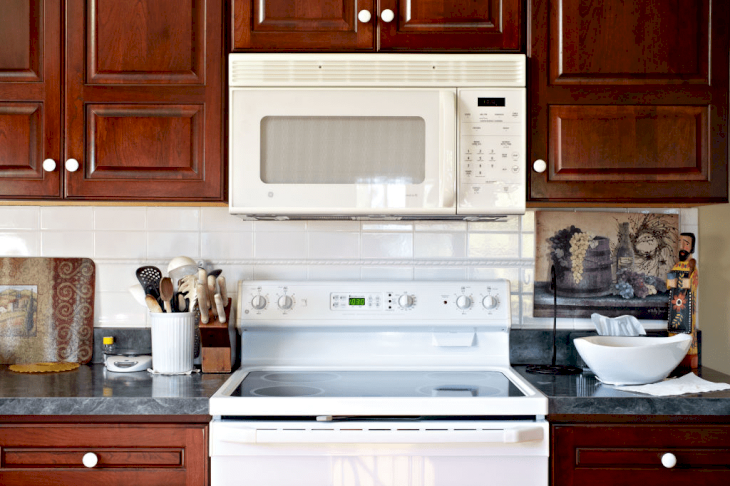 ---
USE A RICE COOKER 
You can crack your eggs directly into the rice cooker and then add your favorite ingredients like mushrooms, tomatoes, and shredded cheese and close the lid. A few minutes later the eggs will be done and using your rubber spatula they'll be scrambled and on your plate! You can also use your rice cooker to boil eggs. Leave them for 12 minutes for soft boiled eggs!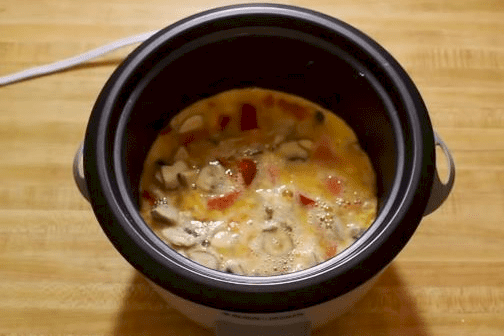 ---
POACHED PERFECTION
Poached eggs have constantly given folks a hard time but here's the second easiest way to make poached perfection. Simply crack cold fridge eggs into a small cup and drop them into a simmer shallow pan of water. Once the eggs are in, put a lid over them and turn off the heat. Your breakfast will be ready in 3 minutes or 4 depending on the size of the egg.
---
CREATIVE PEPPER OR ONION RINGS
We recommend making this simple breakfast to show off a beautiful plate to your fellow foodies! Getting more vegetables in our diet is always difficult but this recipe makes it easy as one two three! Slice your veggie rings ½ inch thick and let them fry on your skillet on both sides before adding an egg to the middle. You'll want to garnish with salt or pepper for yummy breakfast!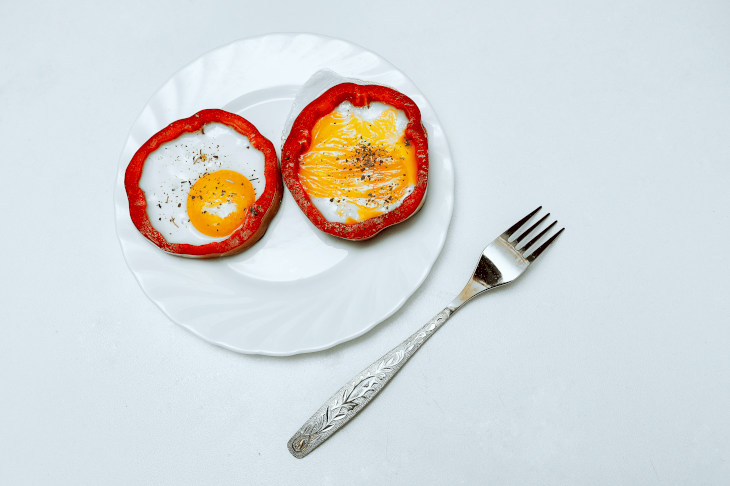 ---
USE EGGS FOR A TASTY WAFFLE
Try this life hack to make a waffle unlike any other using an omelet as the base! You can use any of your normal omelet ingredients, but make sure your meat is cooked first and spread the mixture evenly on a sprayed waffle maker. This hack is bound to please your tummy and your family members!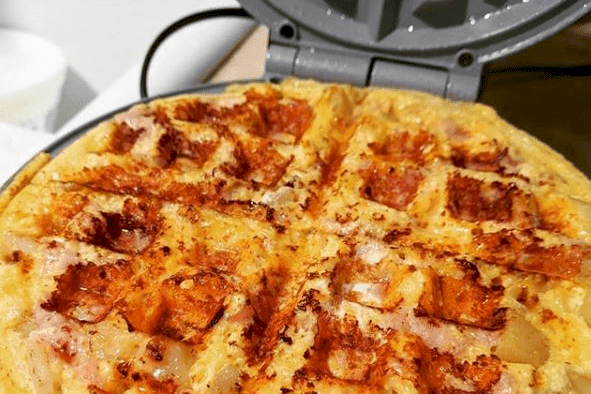 ---
MAKE AN OMELET QUESADILLA
This life hack starts like an omelet until you add a layer of a flour tortilla. Flip once, fill with tasty ingredients and fold while still on the frying pan. You can also make a similar base for an egg style burrito! What other foods will eggs replace in the future!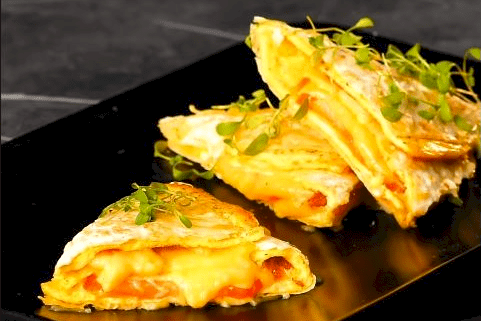 ---
A PERFECT SUNNY SIDE UP EGG
A sunny side up egg can be like a plate of sunshine to start your day so making the perfect crispy bottom and runny yolk top is a hack we're excited to provide! Start with a frying pan that has some olive oil. After the egg is cracked and the bottom gets crispy, put some droplets of water to create steam. Cover the pan with a tight lid and in 20 seconds your egg is ready!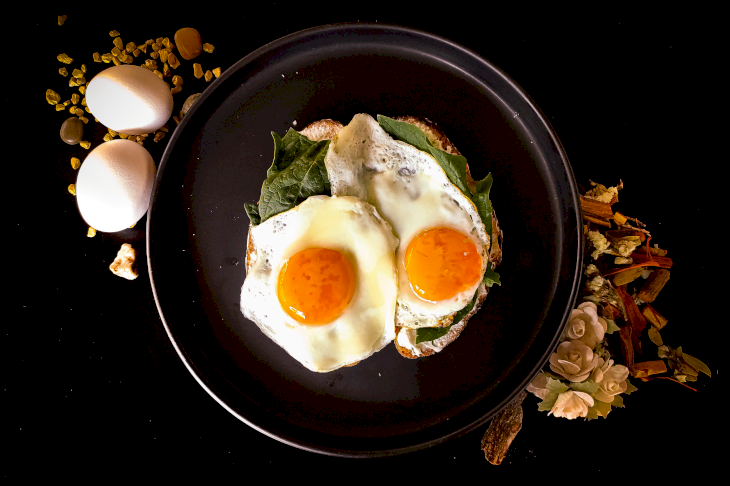 ---
USE YOUR COUNTERTOP TO CRACK AN EGG
There's been a long debate about the best way to crack an egg. So many folks learned to crack against the frying pan, it wasn't until recently that the countertop method became popular. As opposed to cracking your egg on the side of the pan or bowl and dealing with shell fragments, a countertop ensures a clean break along the membrane. Tap on the counter and then pull apart!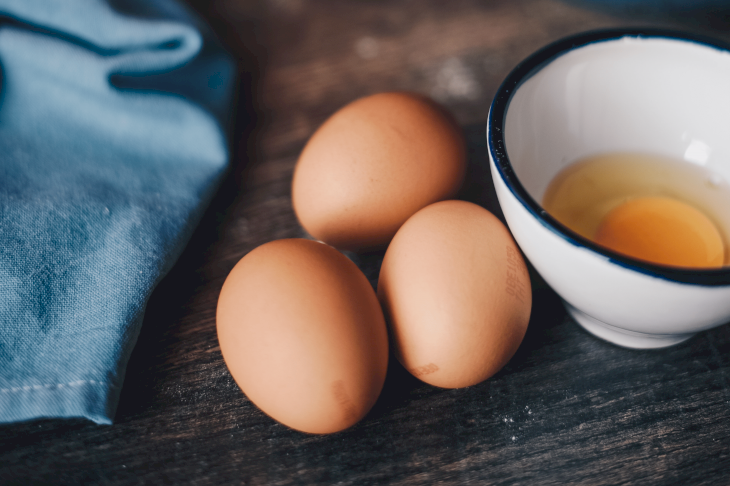 ---
SEAL HARD BOIL EGGS IN COLD WATER FOR AN EASY PEEL
Making a hard-boiled egg is the easiest way to get a tasty egg into a salad or a simple snack, however, peeling them only causes frustration and mess! To have an easier experience put the hard-boiled eggs into a Tupperware with cold water and give it a shake. This should be a gentle shake, with the eggs mainly rolling and tapping the sides. Take the eggs out and voila!
---
PICKING UP STRAY SHELL PIECES
We've all had a moment of frustration seeing a bit of leftover shell in our scramble bowl or heated frying pan. The best way to get this sneaky bit of shell out is to actually use the culprit as a hero! Using the hard eggshell to scoop up any loose shell pieces is faster than trying to use a spoon and safer than putting a finger onto a hot pan!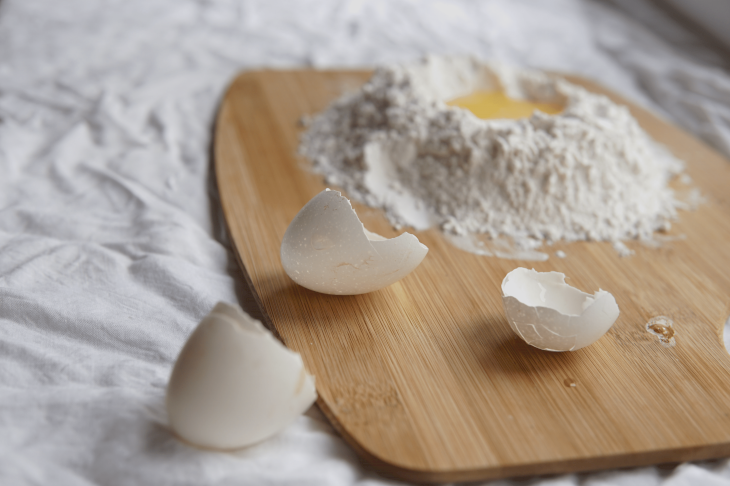 ---
THE MVP UTENSIL
Are you still using the wrong utensils when making scrambled eggs? Recently we found out that the best utensil to use is actually a rubber spatula spoon is the MVP of scrambling eggs from bowl to pan and a perfect tasty finish! Using a rubber spatula is ten times better than the traditional wooden spoon and allows you to access the eggs easier around the pan!
---
MAKE OMELETTES FOR EVERYONE - IN THE OVEN
Are you intimidated to make an omelet because it looks complicated in a frying pan? What if you could just walk away and come back twenty minutes later to a fluffy perfect omelet? Using this oven method will feed your entire family for a Sunday brunch and take the hard work out of it. They'll be begging you for this recipe!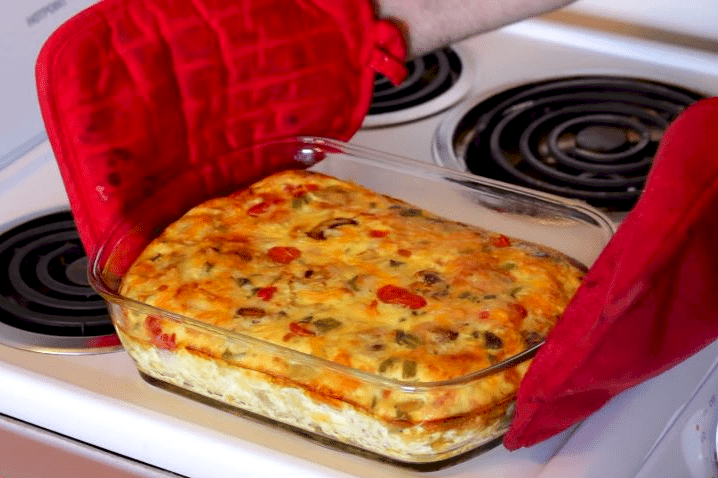 ---
LET A GLASS OF WATER TELL YOU THE FRESH LEVEL
Want a simple way to test the fresh quality of your eggs? Take an egg out from your fridge and drop it into a cup of water. If the egg sinks it's safe to use but if it floats to the top, it's old and you should toss!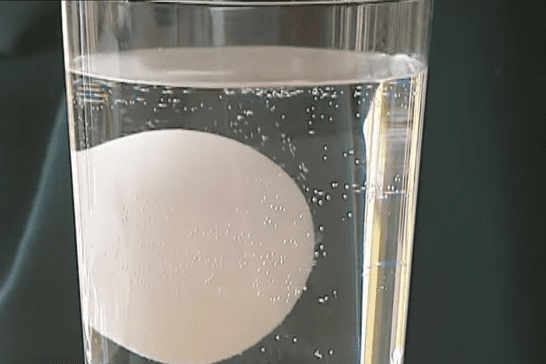 ---
CREATING THE PERFECT SCRAMBLE
Adding different liquids to your scrambled eggs changes everything! Depending on your preference you can add milk, creating a fluffier and heavier finished scrambled eggs. For the more adventurous home cook, you can even add sour cream for richer and firmer scrambled. We had no idea that you could also add soda water and create eggs that are light and delicious!
---
CONSIDER THESE OPTIONS FOR HARD BOILED EGGS
We don't think any egg is less than another but if you find yourself with leftover hard-boiled eggs, consider making a cobb salad or an egg salad sandwich. Slicing up a hard-boiled egg or mashing it down will create a delicious lunch and leave you with no wasted leftovers. Have you tried adding cucumber to your egg salad sandwich, it's our personal recommendation!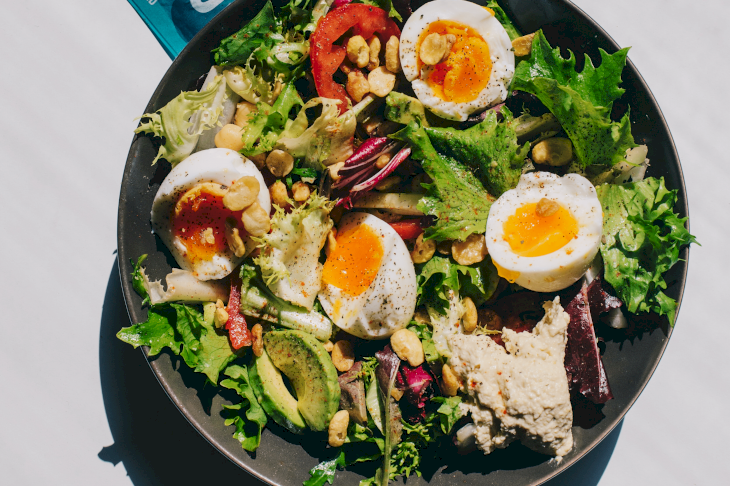 ---
CAN YOU BELIEVE IT'S FROZEN
Try freezing your eggs for 48 hours to have the best-fried egg! By freezing the eggs, the egg whites become loose and the yolk becomes 'egg butter', or a gel-like texture. You won't be able to use them straight from the freezer so leave time for the eggs to thaw before cooking.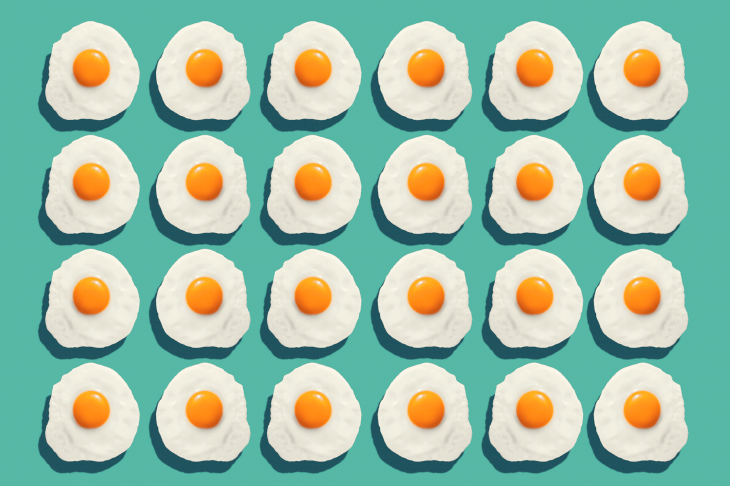 ​​​​​​
---
DON'T ADD SALT
It's easy to add salt whenever we boil water but salt actually breaks down egg whites instead of helping them stay together. Especially if you're cooking poached eggs, the salt will ruin all your hard work by breaking down the egg whites. Salt and season your eggs once their on your plate for the tastiest results.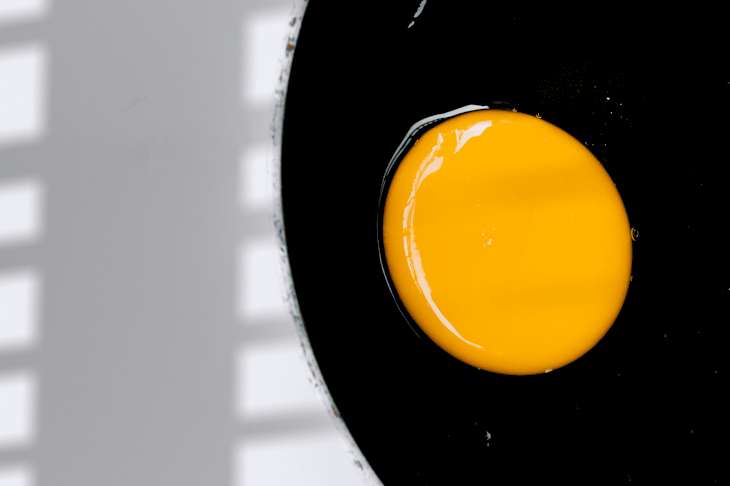 What do you think of our "eggcellent" hacks to brighten up your breakfast, lunch, or dinner? Which egg hack are you most excited to try? We can't get over using a squeeze bottle or adding soda water to a scramble! Remember a big tip is to always cook eggs over low heat for best results! Forward this article to all of your friends that want life to be delicious and easy! Give this article a thumbs up for more cooking life hacks in the future!